Bottom Lounge Wedding Photographer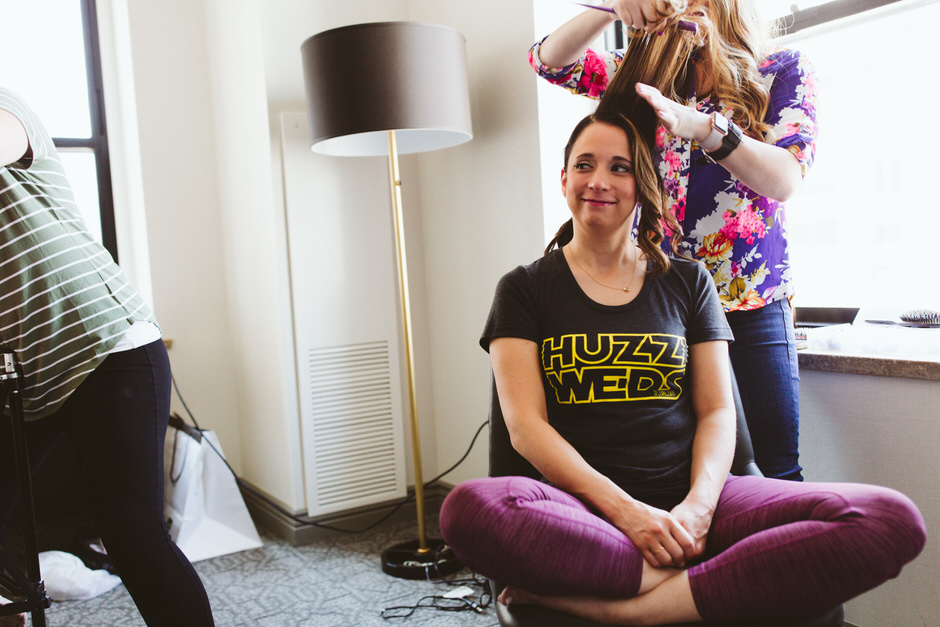 Swipe Right On LOVE y'all!!!! These two are seriously so amazing. This was one of the most emotional days I have photographed EVER and I was so lucky to be a part of it. Thank you so much to Jane and Mike for trusting me with your love story <3 I'll let them take it from here.
Your Story:
Short story: TINDER!!! YES! Swipe right on love.
Long story: Jane was starting to feel a bit run down from Russian Roulette, aka Tinder dating, but she was trying to be more open-minded and keep dates with someone other than Andy Cohen. Mike, having had the Tinder app for a hot minute, was ready to go on his very first IRL Tinder date. Yep. One shot, one kill. We had our first date at The Gage, where Mike nervously drank as many old-fashioneds as the bartender could pour, and Jane awkwardly ranted about how Coachella was lame (shortly before Mike informed her he had just returned from Coachella). Luckily, somehow The AV Club came up in conversation and realizing that we both loved reading very long, detailed, ornery episode reviews of Game of Thrones (for experts), the second date was as good as set 🙂
Jane's Dress
From: Jasmine Galleria
I was NOT expecting to buy my dress that day. Jasmine is a one-stop wedding shop, but I was certain I was going to get my dress at BHDLN–I even had an appointment for BHDLN the day after my Jasmine dress appointment, where my bridesmaids were going to join me and everything. So, casually and with low expectations, my mom and I went to Jasmine to try on dresses. I was pleasantly shocked by how many dresses I loved and how reasonable the prices were. I told the consultant what I was looking for, then we went back to look at the dresses. The first dress I grabbed the consultant smiled and said, "I knew you were going to pick that one." That dress was my wedding dress. I tried on about 5 others, but I knew it was the one.
Mike's Suit
Originally, Mike wanted a dark green tuxedo jacket (Go Green!), but apparently only people who like spending $1000 on a tuxedo like that look (sad). The styling bow ties were all thanks to Paul Angelone, the groomsman MVP and Mike's brother-in-law. Paul was the only person who knew how to tie a bow tie.
Venue:
Bottom Lounge!!!!!
Maybe my favorite thing about Bottom Lounge was when the father of the flower girl snuck into the Red concert that was going on downstairs.
The Decor: 
Theme: Beauty and the Beast
Flowers: Jasmine Galleria
Most amazing vine garland ever: Julie Mizzi
Originally, I thought the ivy wall covering that Mike envisioned was unnecessary, but Mike did not like the idea of having a huge blank wall and he knew his mom could knock it out of the park. She did, and it was my favorite things about the decor from the whole day 🙂
The Ceremony: 
OMG—I wish the faulty aisle runner had been planned all along. The aisle runner was supposed to be unraveled after everyone had taken his/her seat. That didn't happen, and two of my absolute favorite things from the wedding video are 1) Watching people struggle to unroll it just for Mike to eventually throw it to the side, and 2) When the beautiful and adorable Mackenzie decided she was over weddings.
Your Photographer: 
I found Bottom Lounge on a thrifty wedding website, so I was curious what weddings there actually looked like. That search led me to the Rachel Kaye photography website, and considering how much I loved the photographs–not to mention the venue–I figured, why not, maybe she's available, so fill out that contact form. Best. Decision. Ever. From the engagement photos to the day of pictures, Rachel made us feel comfortable, happy, and excited. One thing I really wanted for the wedding photos was to have a first look photo that focused on the groom's reaction, not the back of his head. I still get tears in my eyes every time I see the picture Rachel captured. I absolutely love all of the pictures. Side note, I also just want to be best friends with Rachel, because damn she's awesome 🙂 (P.S. I want to be your friend too!!! LETS BE FRIENDSSS)
Reception/Dancing/Music: All the fun!
The Mizzi cousins and my step-siblings tore.it.up.
Any Advice for couples planning their wedding?
Mike and I love spreadsheets, so we felt like we were pretty well-planned out. I was nervous as heck through the ceremony,  but I have the anxiety. Advice? Be excited! You found your lobster and you want to celebrate that with those you love! Cherish it!
Comments
comments