Grand Rapids Public Museum Wedding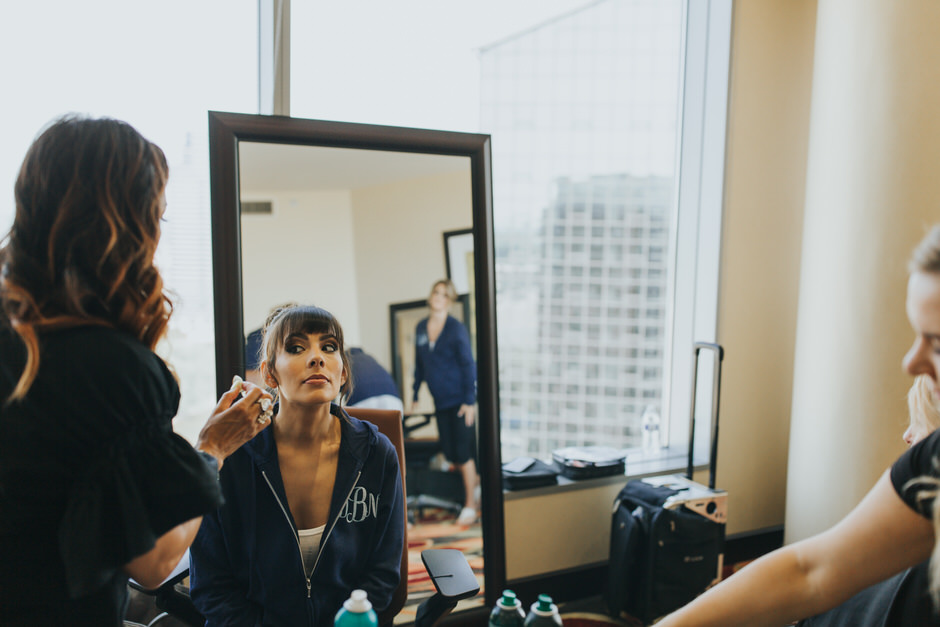 SOOOOOOO PUMPED to finally share this amazing day with Dana and Tony!!! This Grand Rapids Public Museum Wedding is one for the books. The most goregous summer day, with the most wonderful people. ALSO TO NOTE: I got engaged the DAY before this wedding so things were even more exciting :D. Thanks to Katie for taking some snaps of me and these babes throughout the day! I will let Dana and Tony take it from here.
The Beginning: 
We are both Western Michigan University alumni – we were on campus at the same time, knew the same people, were at the same parties but hadn't ever met! We both happened to go back to WMU to tailgate for the WMU/MSU football game on Labor Day weekend 2015 and met through our mutual friends – Chris & Sydney! We went on our first date at Founders Brewing Company two days after we met and have been smitten since!
Dana's Dress:
I had no idea what I really wanted for my big day but knew I loved the uniqueness of designer Hayley Paige gowns, so I went to a Hayley Paige trunk show and fell in love with the first dress i tried on! I ended up trying a few more on but went back to the first one! So many sequins and a trumpet cut to die for, it made me feel like a princess!
Groom's Suit:
When we started planning the wedding there was really only one thing Tony was vocal about – to be wearing his favorite color, blue. He ended up picking out a dark navy tuxedo with a light blue bow tie & boy did he look handsome!
(there were pretzels you guys……..)
The Ceremony:
The Ceremony was so special…….. but SO HOT. It ended up being around 90 that day and St. James does not have AC so things got sweaty up front! Our priest, Father Ron was incredible and made light of the heat and tried to keep it short but sweet to keep our day meaningful but moving. Walking down the aisle has to be the most nerve-wracking part of the day, but that moment of seeing each other for the first time at the Church was something I will never forget!
A few of the groomsmen took a special moment to remember a friend who couldn't be with them on this day <3 I was so happy to walk to the Japanese Garden at Frederick Meijer Gardens with them and capture this for them <3
Venues:
The weekend before Tony proposed (unbeknownst to me) we were on a walk downtown GR after eating too many tacos at Donkey Taqueria and walked past a wedding reception going on at the Grand Rapids Public Museum… I said to him, "OMG how much fun would that be to have a wedding there?!" Fast forward just over a year and our ceremony was at St James Catholic Church on Bridge St. and our reception was at the GRPM! Riding the carousel with our wedding party was one of my favorite parts of the day!
The Decor: 
I would call our theme vintage romance maybe…. my mom and sister and all of my aunts really helped execute the idea but my wonderful mother Julie was the main person executing all of my crazy ideas! We all love to go antiquing for vintage items and spent the year before our wedding gathering vintage brass items for center pieces – vases, animals, bells… you name it we found it! Playing on the museum, I thought vintage is only appropriate and we ended up doing little brass animals throughout different center pieces to incorporate the carousel – including unicorns on the head table! It was romantic and beautiful and better than I ever thought it could be!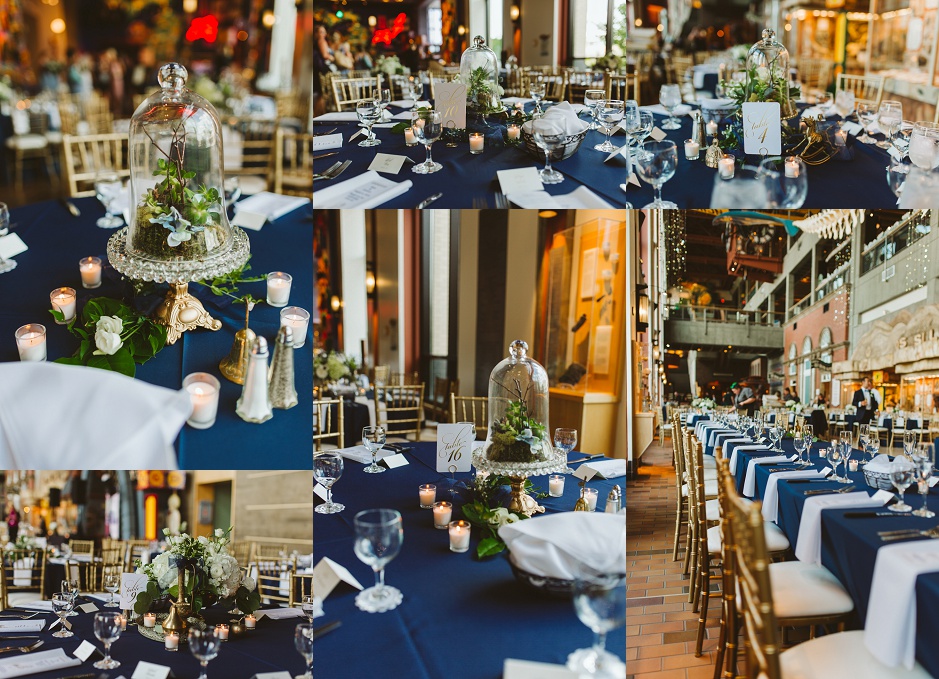 Reception/Dancing/Music:
Well, having a carousel at your venue makes for a ton of fun! I loved seeing pictures of everyone having a blast on that throughout the night! But a really special moment at our reception was Tony and I's first dance. Instead of a traditional love song, we decided to dance to a song that we both love – Free Fallin' by Tom Petty. It will forever be even more special to us! Our DJ, Justin of JM Katz Entertainment was awesome! He accommodated our different tastes in music and had good ideas and tips for the day he shared with us. We both had too much fun dancing with our guests on the dance floor!
(picture of me for reference of how much fun the carousel actually is <3)
Your Photographer: 
I learned of Rachel's amazing talent through a friend who had been in a wedding that she shot last summer. Her creativity and the way she captures light was everything we didn't know we needed for our big day. We did a Skype session to get to know each other and we knew she was it from that moment on! Tony and I were both super nervous about being in front of the camera and Rachel has the ability to make you forget she is even taking pictures. Her passion for what she does is inspiring, her fun and bubbly personality makes you want to have her around all of the time. She did an amazing job keeping our rowdy Groomsmen in check and took the time to capture little special moments all while dealing with the heat of an early August wedding. Thank you a million times over to Rachel and her second shooter for the day – Katie MacGregor. You guys were rockstars and I can't recommend these two enough!
Any Advice for couples planning their wedding?
Don't feel like you have to conform to the old wedding social norms… It is YOUR day and should be focused on you enjoying your special moment, not about what guests will think.
VENDOR SHOUT OUTS:
Planning/Coordination: LG Event Design
Comments
comments