The Pavilion at Orchard Ridge Farms Rockton IL Wedding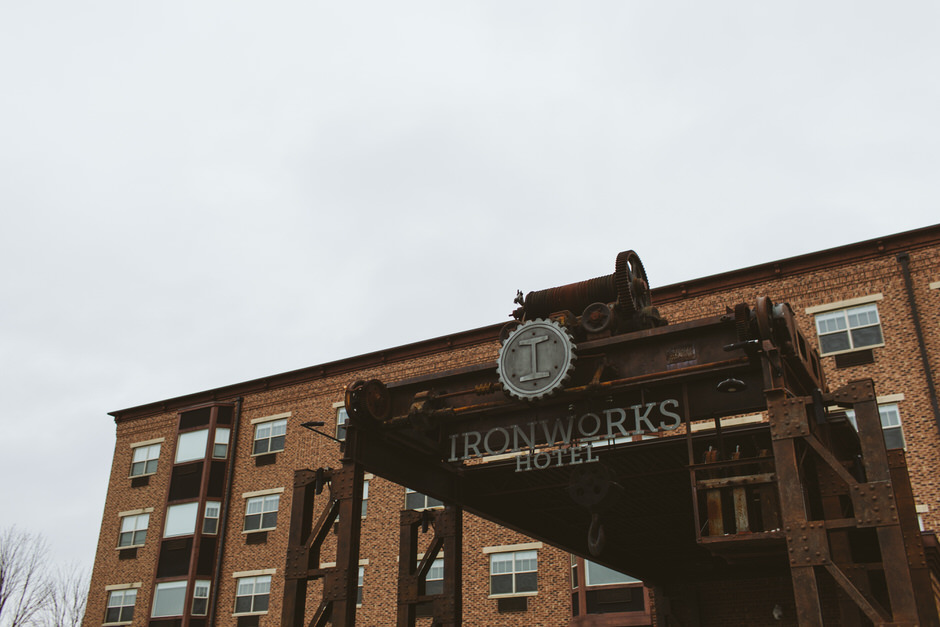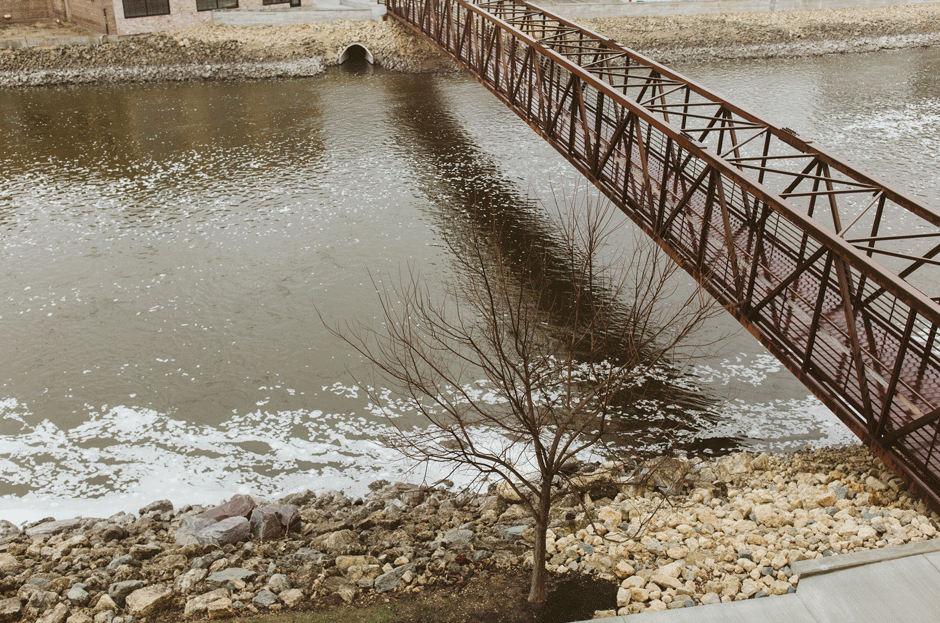 This was such a freaking great day. Despite some sprinkle rain showers (we got VERY lucky….. it was supposed to be just completely storming the entire day! it DID NOT), everyone in this wedding had the BEST DAY EVER!!! I got to take along my partner in crime Matt to help me shoot this and he just did the greatest job ever! Hanging w/ Kaitlyn + Eric and all their bestest friends (and family!) was the most fun <3 I will let them take the day from here:
Eric and I met at Argonne National Laboratory, where I still work and Eric used to work before he moved on to become a Police Officer. Eric describes it as knowing he needed to be with me from the first moment he saw me. I, of course, didn't pay any attention to him for about 1.5 years. Until one day Eric and I got put on an assignment together. He was a security officer and I work internal security. When we were put on this assignment he was so nervous and pretty much messed up everything that I went back and told everyone how little he knew (not knowing he had a huge crush on me). Long story short we end up at the same drinking hole one night after work, shared the BEST kiss ever and the rest is history. I swore I knew I was in love after just one kiss. Cool thing is, my parents met at Argonne as well and we got married just 4 days after their 30th wedding anniversary.
Our engagement was pretty awesome too. Eric was graduating from the police academy and I threw him a surprise graduation party with all of our family and friends. Eric thought we were just going to dinner with our parents and siblings and he had planned to propose at dinner that night (our families had to keep 2 surprises a secret). When we got to the house and everyone shouted surprise Eric was extremely confused and happy and I thought all of the surprises were done for the day. The party went on for about 4 hours before Eric gathered everyone to give thanks for coming to celebrate him, (I was still clueless at this point as he is giving his speech). The speech then turned into a proposal to me in front of all of our friends and family. I can honestly say I have never EVER been surprised in my life because I'm too much of an investigator, but I was and my face sure showed it!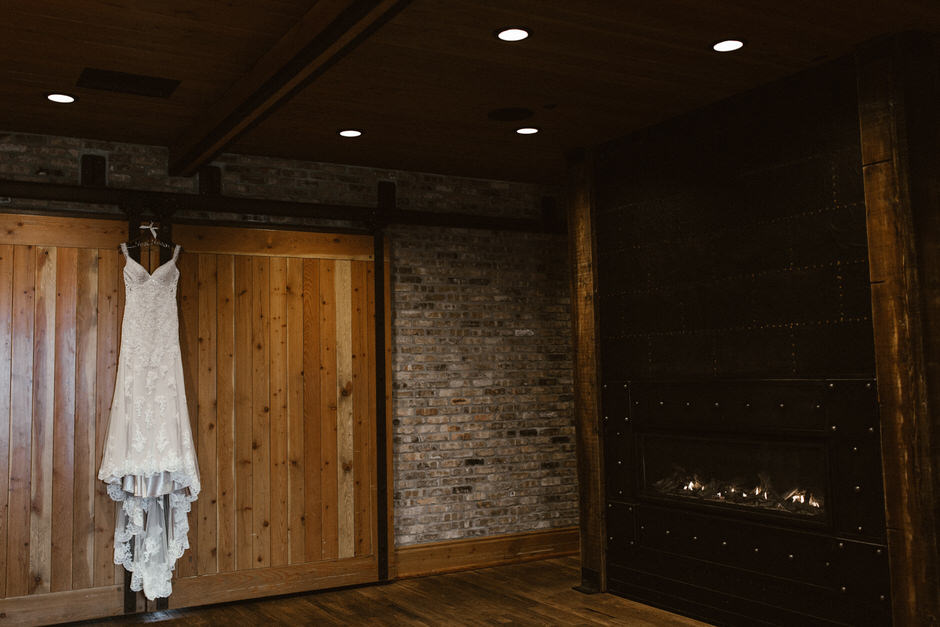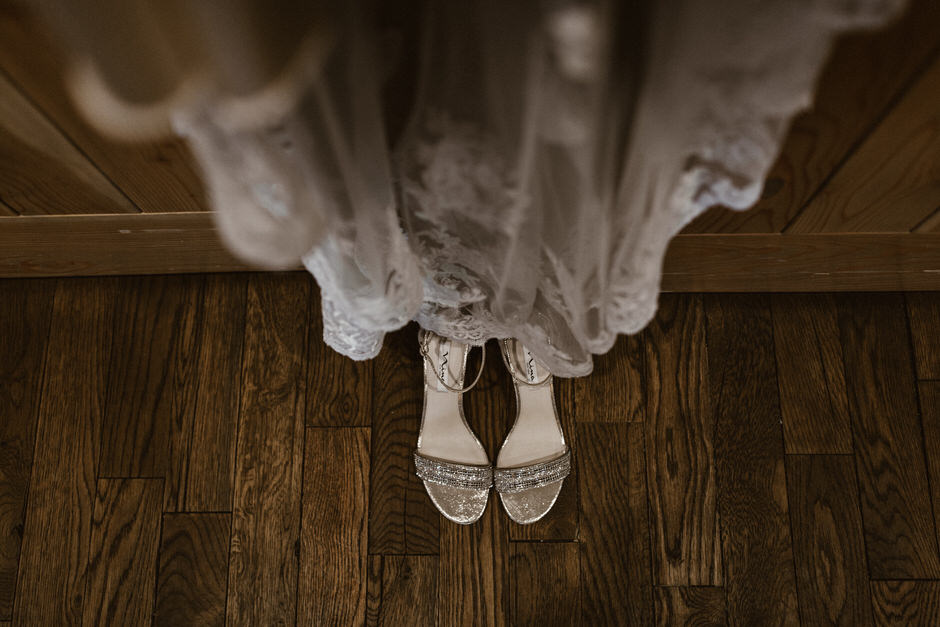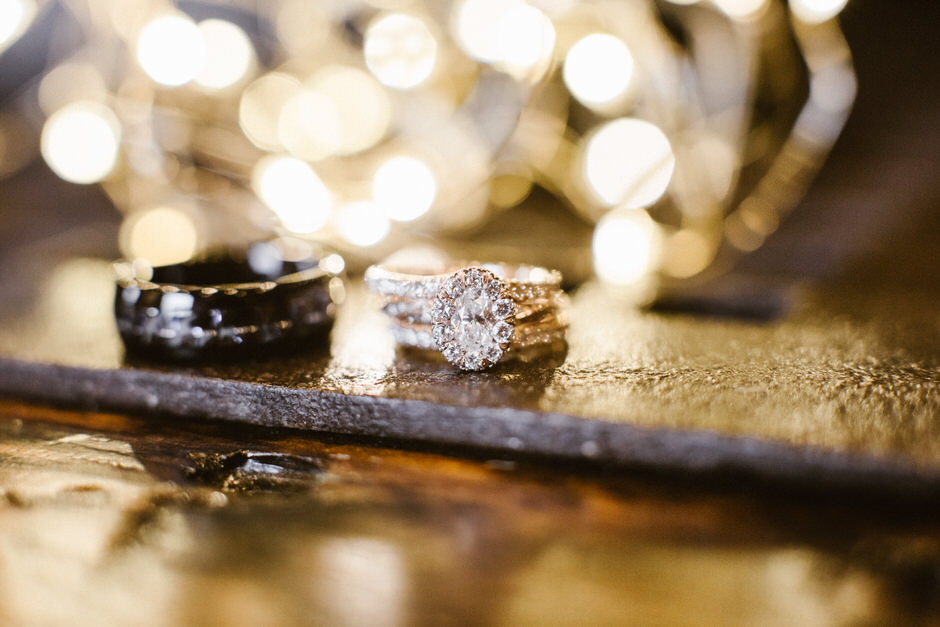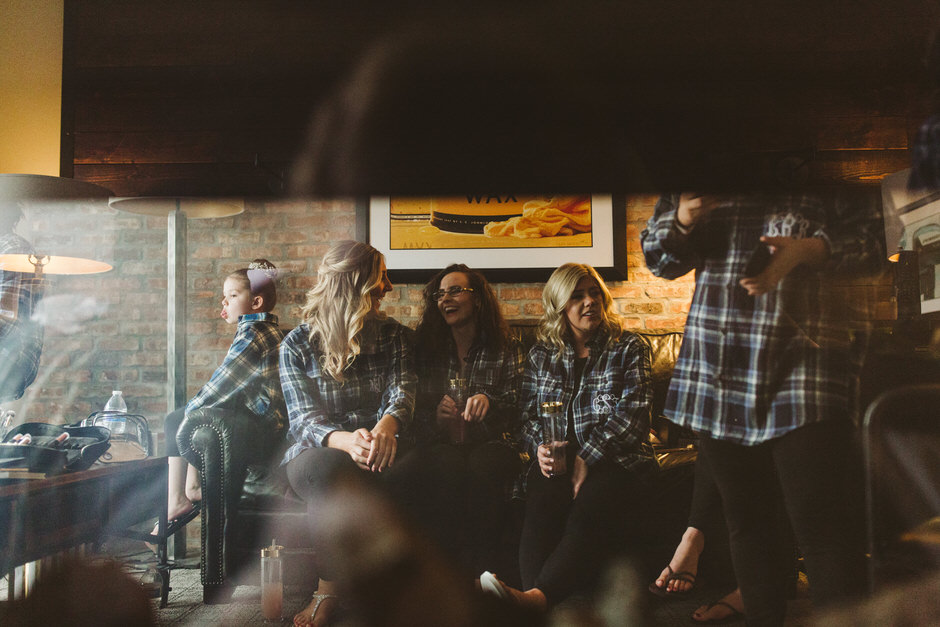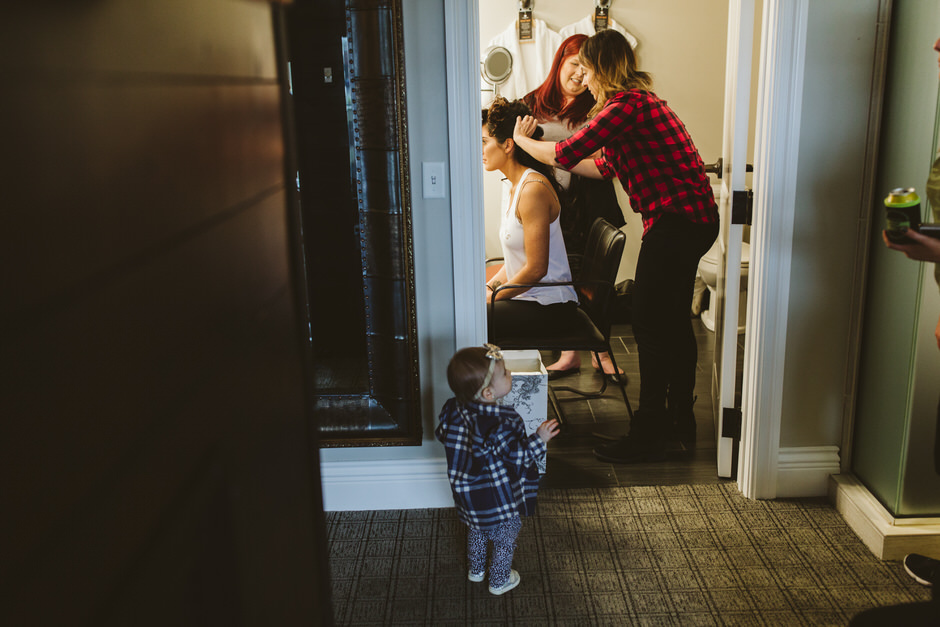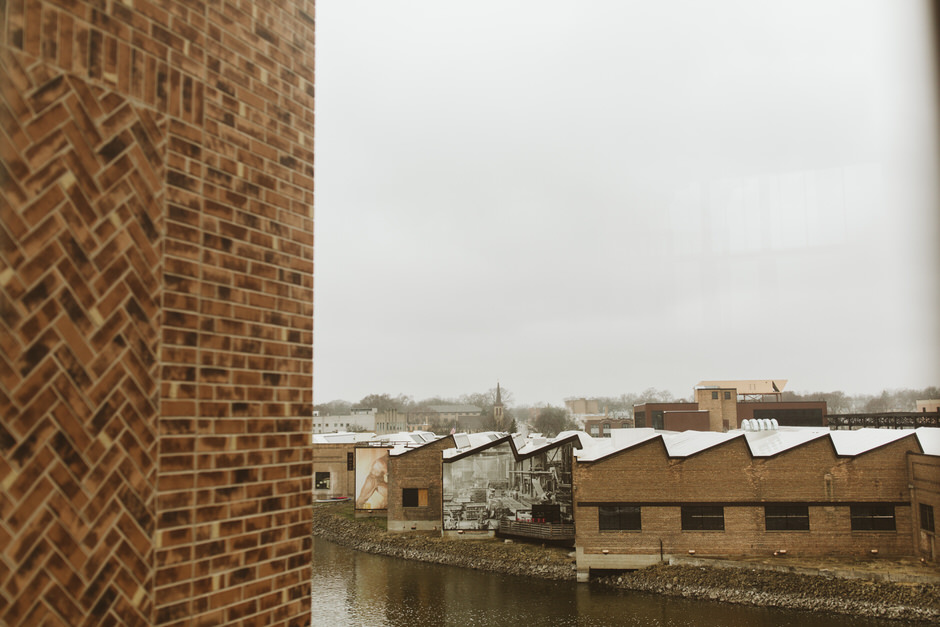 The Pavilion at Orchard Ridge Farms in Rockton, IL is TOP NOTCH. I do not have ONE bad thing to say about this place. I found this venue and fell in love, it was exactly what we were looking for. Rustic/glam. It had all the natural feel we wanted and the staff there knows how to run a successful wedding. We wanted the wedding closer to our home, but we couldn't pass this place up and we are so glad we didn't. The ceremony was supposed to be outside which I'm still a little bummed about, but we can't control the weather and it turned out beautiful inside.  The food was also amazing!
The Ironworks Hotel in Beloit, WI also deserves a shout out. We had many of our guests stay here and I felt like it was such a great touch to our wedding. The décor and structure of the hotel were so cozy and made for great photos. The hotel staff was also more than accommodating and they allow dogs so 5 stars in my book! Eric's mom (Becky) also took time to make favor bags for everyone staying in the hotels we booked, which turned out super cute and the guests were so appreciative(there was alcohol in them ;)).
I got my dress from Bella Sposa in Tinley Park, awesome boutique!!! I brought my mom, mother in law, one of my best friends/bridesmaids (who was super hungover lol) and we face timed in one of my other best friends/bridesmaids form Colorado. My sister/MOH couldn't make it this morning. It was the second dress I tried on and I was in love. To be honest I was most in love with how comfortable and light it was and felt like I could groove all night in it. I also felt like it was simple, yet stunning, and Eric is all about me in simple things. I felt so romantic in it too! I, of course, tried on several others but kept going back to this one. I ended up buying it, but kept second guessing myself because it was hard to believe I found my dress in like 5 minutes at the first bridal shop I went to. Nonetheless, I was so pleased with it and got so many compliments. I decided to do no veil so the back of the dress could be seen because it was just so beautiful. I can't remember the designer (because I just really just don't care about things like that), but the color was ivory and the underlayer was a gold/pink/sable color depending on what light I was in.
We ordered the guys suits on Menguin.com., super affordable and so many options I highly recommend.  We decided against tux's because we wanted it to be more lax. We wanted a brighter navy blue and we definitely got it! When Eric's arrived he said he felt like Ron Burgundy and the Channel 5 News Crew and I died laughing!!! I think he was a little nervous about how bright it was, but they looked so so awesome the day of especially with the gold dresses.
We wanted to go pretty simple with the décor. The Pavilion is so beautiful by itself we didn't want to cover that up. I had Event Floral do pretty much all of our décors. We used a lot of natural greens and whites as well as some accents of blues and blush. They did 3 different types of centerpieces which I loved having the contrast. They also changed up much of the ceremony décor last minute when I moved the wedding inside and it turned out better than I imagined!
Eric's brother, Drew, is an amazing artist so Eric built our main focal centerpiece as well as our welcome sign out of wood and stained them. Drew then took time to paint them both. Drew painted a big "M" and "Mason" on the main piece that was on the fireplace. And he didn't just paint it he did like an ombre white to gold to match our colors. It looked beyond amazing and people have even asked us to make one for them. I love it because it is in all of our photos and we will hang it in our home.
Kaitlyn's mom (Rita) also had the grand idea for our escort cards. We found logs out in the forest and Eric and his Dad (Curt) cut slits into the logs to hold each card. They were then placed on a round table like the spindle of a bike tire. It looked awesome!!
The ceremony was perfect. Our guests are still talking about our vows. Although it was nerve-racking, EVERYONE should write their own vows. It made it so much more special and I cry every time Eric and I read ours. (We bought these cute little-personalized vow books on Amazon.)
Eric's very good childhood friend, Jonny, got ordained so he could officiate our wedding. He did such a great job and it was so much more personal since he knows us both so well. He even took time to meet with us several times to go over details to make sure he had it perfect.
My parents both walked me down the aisle which I loved. They both raised me so they both should give me away right?? I loved having both my mom and dad by my side because that's how it has been my entire life and will be until the end.
Another super cool part of our ceremony was our ring bearer, Eric's youngest nephew, Reid. We bought him an old school metal pedal car that was also a police car (since Uncle Eric is a cop and he is fascinated with that). He was pretty nervous about being "ring security" so we may have had to give him a flashlight, handcuffs, police badge, etc to get him to feel confident. But he did a great job driving that car down the aisle.
Perhaps one of the best things about our ceremony was the fact that our beloved dog Que was able to be part of it. She is literally our love child and we are annoyingly obsessed with her. Dogs, unfortunately, aren't around forever so we are so happy we will have video (side note, because our video deserves a side note, Oscar from Elegante Media Chicago is undeniably amazing. I have watched our video 100 times and it never gets old, he was amazing the day of and his product even better) and photos of her being part of the day her humans got married. (She thinks she is a human too) We could tell she loved being there and she had so much fun getting ready with the girls all day. When one of our friends took her back to the hotel after the wedding (THANKS Matt) he said she passed out as soon as she got in the truck 🙂
Music was perfect. We hired our friends Jake and Bear (acoustic singing duo) to do our ceremony and cocktail hour and oh boy were they amazing!! Let me tell you, you need lives music at your ceremony, it creates such a romantic and sentimental vibe, I absolutely loved it!!
Jeti Entertainment was our DJ for the reception and he kept that dance floor going! Kaitlyn's nephew Jaxon may have been the biggest hit out there with his foot stomps and classic moves. (I also heard he was ripping flowers off the centerpieces and giving them to girls at the wedding, ladies man :)) Our guests were moving and grooving all night.
One thing I loved about the reception was the speeches. Kaitlyn's Dad (Paul), Kaitlyn sister (Shea) and Eric's best friend (Nick) all gave such heartfelt speeches. We love playing them back in our video.
We also loved the way our head table was set up. It made for much better conversation and also looked super cool.
Our bridal party was amazing from beginning to end. First of all, they are a great looking group 😉 but they also made it such a fun day and experience we will never forget. We ended the night at one of the local bars singing along to a live band with our favorite people around us, what more could we ask for.
Rachel and Matt, I honestly have no words to describe how amazing you two were. The preview of photos we got are just breathtaking. Not to mention you guys are super fun to hang with, the bridal party was literally asking for you guys to stay and party. You made the photo part so painless, which I know can sometimes be a drag. But it was just simple and fun with you two. I cannot wait to see the rest and we can't wait until our home is finished and we can print these and hang them up literally everywhere! Can you come everywhere with us and just photograph our lives??? (we are pretty sad you didn't invite us to Hawaii for the honeymoon 😉 😉 NEXT TIME OK?)
It's not easy, it takes a lot of work, but I promise you it is worth it. Try not to focus so much on what the flowers will look like, who is sitting where, or any other nonimportant detail. I get it, it is all important. But what is most important is that your love for one another is expressed and revealed on this day. Focus on your vows, on the songs that mean the most to you, on the people who are by your side, and on the words used for your ceremony. Yes, I put a lot of time and effort into planning this "party" but I put even more time and passion into showing the world our love story on this day.
Comments
comments