St. Joseph Michigan Wedding Photographer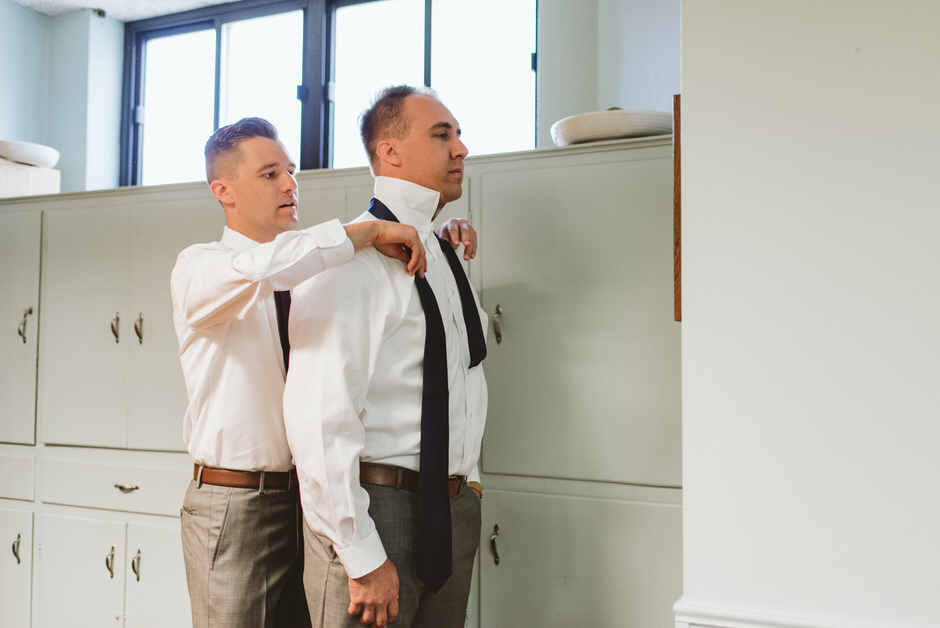 Ok y'all this day was EVERYTHING. Becky and Sean are just the bee's knees and Sydney (of Sydney Marie Photography) and I had the greatest time ever with them bopping around St Joseph Michigan. We LOVE THEM. I will let the two of them take it from here because I have no words. They are amazing.
Your Love Story:
Sean and Becky first met during Becky's last semester of undergrad in Professor Fishback's Math 360 class at Grand Valley State University. As usual, Becky picked a seat in the back of the room where, hopefully, no one would bother her. Sean picked the seat right next to her. For the first few weeks of class, conversations were minimal. Then, it came time for the first big project. Professor Fishback encourages partner work, and after announcing the project, Sean turned to Becky and asked, "Do you want to be partners for this project?" Becky hates partner work, but she didn't want to be rude, so she responded, "sure." Immediately after leaving class she called her dad to complain about the guy who sits next to her asking her to work on this project with him. After all, Becky hated letting other people take credit for her hard work. As the semester continued, Becky and Sean became math partners. They completed all homework assignments and projects together (well, Becky completed them while Sean kept her company). They bonded over funny math pickup lines, marching band, and a few other common interests. At the end of the semester, Becky graduated and moved back home.
After graduation, Becky and Sean stayed in touch. They began to text constantly every single day which eventually led to late night phone calls and Skype sessions. Over time, their friendship grew and blossomed into something more. On March 16, 2013, Sean asked Becky to be his girlfriend using a game of hangman. Since then, they have continued to grow closer each and every year. They developed new hobbies and interests together including wine tasting, exploring new restaurants, visiting new breweries, and identifying the best coffee shops in town. They have had adventures both big and small including trips to Disney World and multiple weekends in Traverse City, MI. While some couples would have crumbled under the rivalry, Sean and Becky's love grew even stronger when she went away to graduate school at THE Ohio State University (Go Bucks!). They even got a cat together, even though Sean wanted a dog. Ultimately, on March 17, 2017, Sean asked Becky to spend the rest of her life with him. On May 19, 2018, they tied the knot and made it official in St. Joseph, MI. They are excited about their future together and cannot wait to see how their love blossoms in the years to come.
Becky's Dress
Ever since I was younger, I had always dreamed about wearing a ball gown style dress (most likely from the Disney Princess collection) by Alfred Angelo. When it was time to start looking for my dress, I scheduled an appointment at the Alfred Angelo store in Grand Rapids, MI and picked out all of my favorite styles to try on during my consultation. The day before my appointment, Alfred Angelo announced their bankruptcy and closed their doors. I was devastated. As I drove to my parent's house in tears, my mom scheduled me an appointment at a local bridal shop that carried the Alfred Angelo Disney Princess collection. The next day we went, and I found a dropped waist ball gown in that collection that I liked, but did not love. Because this seemed like my only chance to have my dream of being an Alfred Angelo Disney Princess bride come true, I purchased the dress off the rack. That night, I cried again: although I liked the dress, I did not love it.
The next weekend, I went to a local bridal shop by my home in Naperville called A Joyful Occasion. The owner's daughter, Kelly, was my consultant. After hearing my story, she pulled every dropped waist ball gown they had in their store. When I first put on the Kenneth Winston, I was surprised because it seemed like a dress I would never have picked for myself. When I came out of the dressing room, I told my family I was not a fan of the dress, but my dad said that he really liked it. Later on, I put the dress back on for my dad and realized that it was everything I didn't know I was looking for. I loved this dress, and I felt like the princess I wanted to look like on my wedding day. Kelly and her mom, Susan, at A Joyful Occasion found my perfect dress and made my wedding day dreams come true. My dress made me feel beautiful and sexy on my wedding day, and Sean's reaction when he first saw it is something I will never forget. 😉
Sean's Suit
We decided to go a more modern route and did custom suits from Jos A Banks rather than tuxes. Doing a custom suit we were able to design the guys' look exactly the way Sean wanted and chose a sharkskin grey, 3-piece, slim fit suit. The groom's accessories were navy blue because that is the color that represented him in the wedding. We wanted the groomsmen's accessories to match the bridesmaids' dresses, but the bride picked an "eggplant" colored bridesmaid dress which was a very difficult color to match in men's suit accessories. We searched for weeks to find the groomsmen's ties. We were unable to find affordable pockets squares that matched, so we had the bride's mother and sister make pockets squares from fabric that matched the bridesmaids dresses exactly. The groom's favorite part of the entire ensemble was the matching goofy socks he bought for himself and all of the groomsmen. That way there was a little bit of Sean's style underneath everything. Not only did the men look dapper on the wedding day, but all of the guys now have a custom fit suit to keep after the big day! We think they will definitely be put to good use. In fact, we're pretty sure we've seen the best man in his suit outside of the wedding already. 😉
Venues:
It didn't take us long to pick out our venues for our wedding. The first venue we picked was our reception venue, Shadowland Ballroom. After deciding on a physical location (St. Joseph MI), we spent weeks researching potential venues in the area like every couple does. We decided to set up an appointment to meet with Nicole at Shadowland Ballroom first. As soon as we walked in, Becky was sold. The room was large and open with plenty of room for dancing. The "sunset room" had glass French doors that allowed the natural light to come in and provided a nice view of the surrounding park. The patio was lit up with lights, and Becky could already picture how beautiful that would look the night of her wedding. All of this just over 600 feet from Silver Beach.  As soon as we left the meeting Becky said "so, do we go back in and lock this down before we lose the date?" Sean told her "We cannot sign with the first place we visited, we have to shop around." We didn't shop around. On Monday, we called and put a deposit down. The venue was perfect for us.
 For our ceremony, it was very important to us to get married in a Church. Because we are not from the area, it was difficult to find a Church that would allow non-parishioners to get married. Lucky for us, we found Saron Evangelical Lutheran Church. Pastor Joan Oleson was very welcoming and opened her doors for us to be married there. The Church was very close to Shadowland which was an added bonus. We still get compliments on how much our guests enjoyed our venues and the beautiful choices we made.
The Ceremony: 
Our wedding ceremony was the perfect blend of religion and personality that we were hoping for. Pastor Joan did an amazing job at giving us a ceremony that was tailored to us. We were able to customize our ceremony to include the exact wording that we wanted. She spent a few hours over the course of our pre-wedding sessions really getting to know us as a couple, and she used the information from those sessions to make our ceremony personal and special to us. Some of our favorite parts of the ceremony included the option to honor family members who were no longer with us as well as Pastor Joan's sermon about us as a couple, our love story, and our future together. The ceremony was fantastic and reflected our values and love for each other in a magnificent way. Our guests still comment on how beautiful it was.
The Decor: 
Since the Church for our ceremony was already elegant and traditionally decorated, we chose not to add any decoration to this space. In order to save money, we decided to DIY all of the décor for our wedding reception. We started with the centerpieces, and our first idea was very different from the final product. Our final centerpieces not only incorporated our color palate (eggplant, navy blue, and silver), but they also incorporated some of our favorite activities together. We painted wine bottles silver, and instead of table numbers, we turned our engagement pictures into wine bottle labels and gave each table a different picture. Our table cards were wallet size engagement pictures placed inside a wine cork, and guests matched the picture to identify the table they were seated at. We painted wine glasses purple and blue, and then we filled them with water and floated a candle in them. The third piece was a beer bottle which we covered with silver glitter and tied a purple bow around. The entire setting was topped off with eggplant tulle around the pieces and loose stem flowers inside the wine bottle that were provided by our florist, Andylous Flowers.
For the head table, we frosted wine bottles and filled them with lights. We then placed these around some more of the painted wine glasses with candles. For the center of the table, we painted "Mr. & Mrs." signs and used Becky's bridal bouquet as the center floral arrangement. The Bridesmaids bouquets were used to fill out the remainder of the table. Our favorite decoration was a wine barrel that Becky and Sean bought impulsively to have guests sign during the reception. They plan to turn this barrel into a table that they can keep in their home to always remind them of their wedding day, and all of the amazing people they shared it with.
DIY-ing all of the decorations took a lot of time and work. Luckily, Becky's sister and maid of honor was there every step of the way to help through the process. Besides her (and a little help from the bride's parents), Becky and Sean spent months putting together all of the decorations that were used in the reception. Finally, some of their closest friends worked very hard the day of the wedding to make sure their vision was executed perfectly.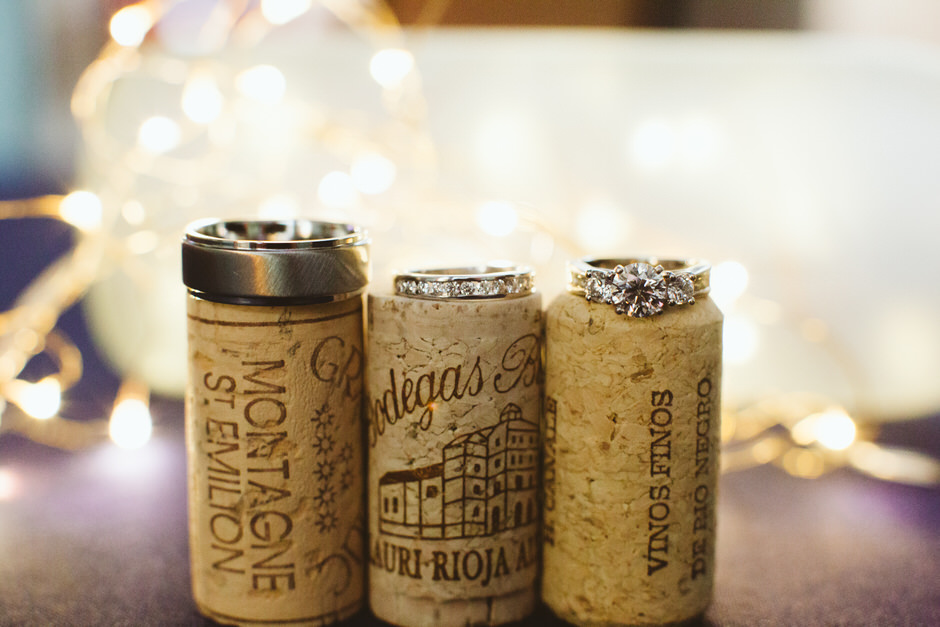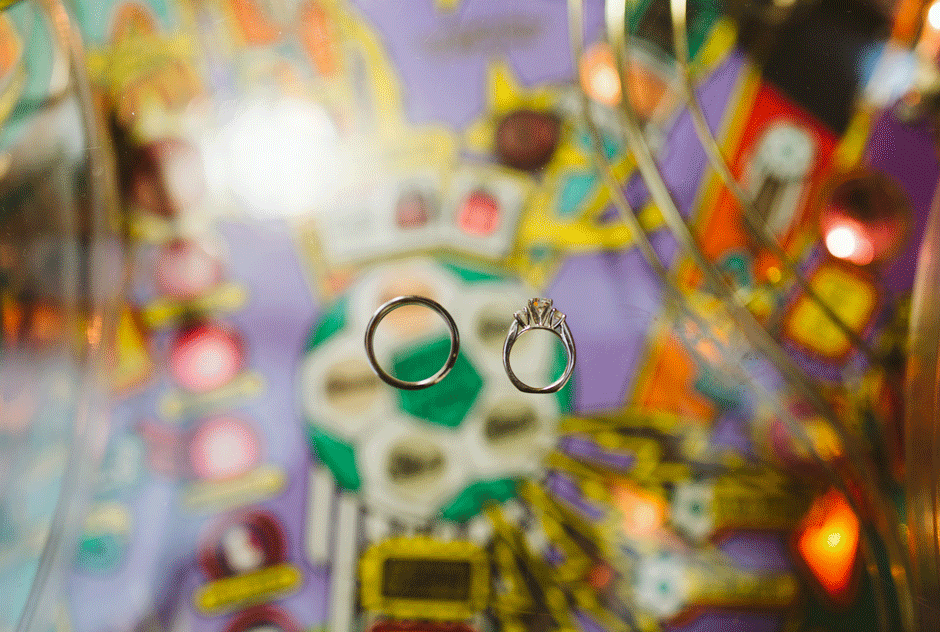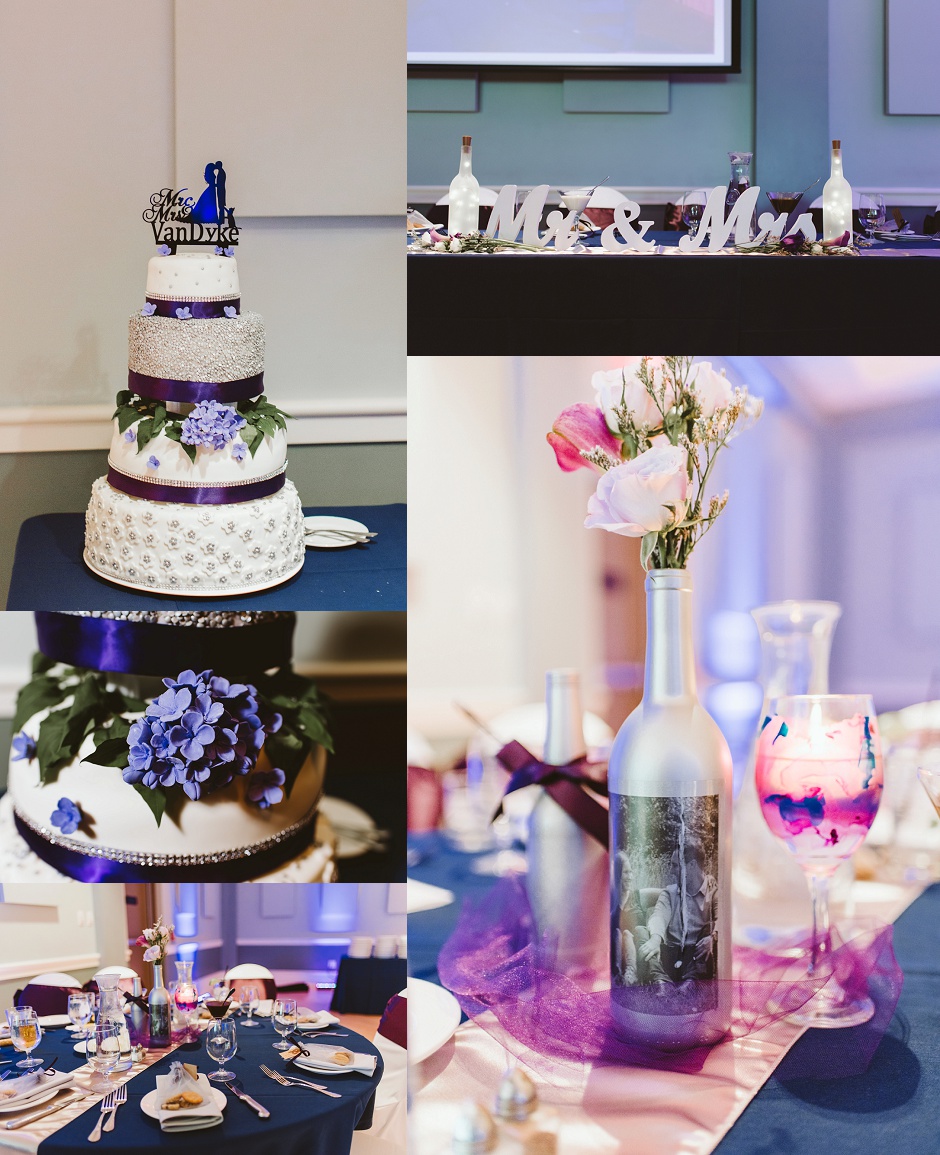 Reception/Dancing/Music: All the fun!
For our wedding reception, we wanted to throw a once in a lifetime party. Thanks to all of our vendors, we were able to make that happen. Our reception venue, Shadowland Ballroom provided our tasty appetizers and dinner. They also provided the alcohol or the bar, allowing us to feature and enjoy some of our favorite local drinks such as Vandermill ciders, Bell's Oberon, and our favorite local wines such as Gravity's Michigan Magnetism. The best part of the bar, however, was Shadowland's house special sangrias: white strawberry sangria and red berry sangria. The bar choices were definitely a hit with our guests! Our baker, Country Cottage Bakery, provided our gorgeous wedding cake and yummy desserts. We even rented the Silver Beach Carousel for half an hour so that our guests and wedding party could have private carousel rides. The carousel rental gave us the experience to remember and also provided some very memorable pictures.
After dinner, the dancing began. We wanted the dance floor to feel like a club, and our DJ's at 27 Entertainment, delivered just that. Once the dance floor opened for dancing, the party didn't stop. Even at the end of the night, when there were only about 25 people left, we were still having a blast on the dance floor. Our reception was, without a doubt, the night to remember that we were hoping for, and all of our guests still talk about how great of a time they had. We are eternally grateful to all of the people that helped make our day special. We couldn't have asked for a more perfect wedding.
(HI! It's Rachel, just gotta chime in here because I was BLOWN away by how fun and amazing your DJ's were. I work with SO MANY DJ's and the 'dancing DJ's' were my favorite of all time. Who knew having your DJ dance around w/ your guests would make it that much more fun! Shout out to them cause they rock)
Your Photographer: 
There is not a single bad thing to say about our experience working with Rachel. She is an amazing photographer and a true professional. The proof is in her photos. She is so fun and quirky, and makes the photography experience something that you will never forget. Our wedding party and family members still comment on how awesome she was to work with. On our wedding day, our photo locations did not work out the way we planned (for reasons beyond Rachel's control), and yet she made the best of what we had to work with. We ended up taking pictures in a random parking lot, and although it may not sound romantic, the pictures still turned out beautiful. Rachel (and her second photographer Sydney) were worth every penny. They captured our special day in a way that will allow us to relive all of our favorite moments for the rest of our lives. We cannot wait to do future business with Rachel!
(Rachel again, omg you guys make me want to cry!!! You can see how fun and quirky I am above 😉 I am ALWAYS dancing with your guests to get those good shots (and sometimes I have to take a little dance break as seen above :P)
Any Advice for couples planning their wedding?
Weddings can be expensive and everyone wants to tell you how your wedding should go. Remember that this day is about the two of you. Spend your money on the things that are going to make or break the day for you, and don't spend money on the things that don't matter. Tune out the noise and ignore what everyone says you are supposed to do. This is your day, and as long as it is what you want, everyone, including you, will have a fantastic time. Take it in and enjoy it. The day goes by very fast, but the memories you make will last forever.
Comments
comments