Detroit Masonic Temple Wedding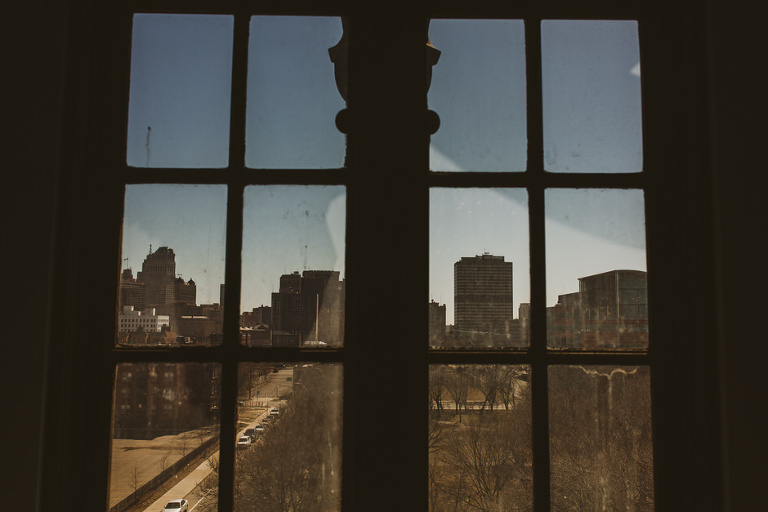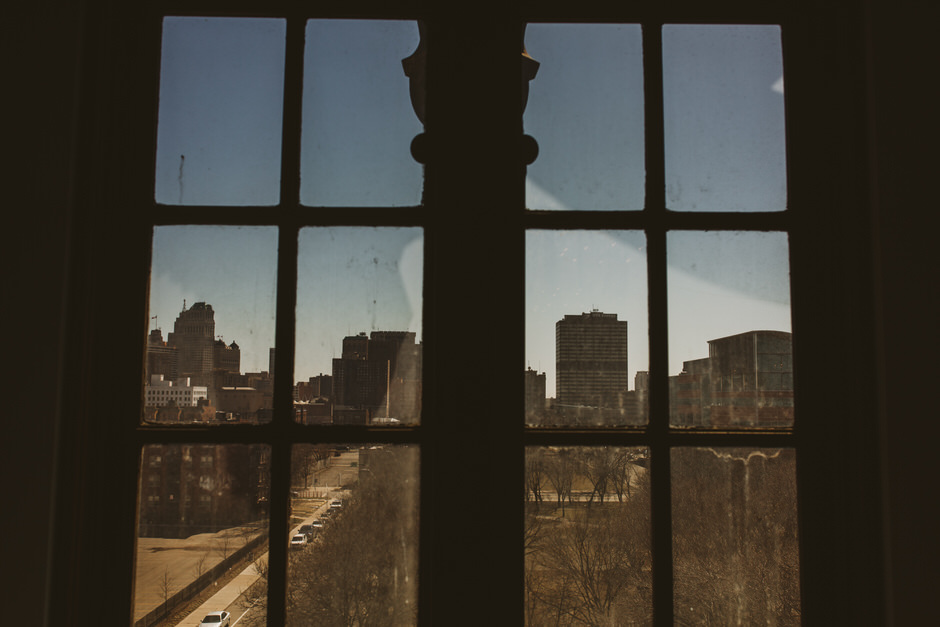 This day was exactly what I needed in this season of life. A week before this wedding day, my mothers health went south and I was worried I would be attending a funeral (real dark for a wedding blog Rachel….). HOWEVER things turned around and 2 days before this wedding my mother came home 🙂 I asked Brennigan of BG Photography Studios to tag along just because I wasn't sure how I would do after such a stressful week. WELL, it turns out that what I needed was this wedding. Not only are Amy and Justin some of the most laid back, wonderful people ever. But they curated their day to just be so relaxed and awesome. They also hired my favorite DJ in the world who just made all the difference in having an awesome party. My favorite thing EVER was that he really involved everyone in the first dance, not a single person wasn't watching!!!! I seriously couldn't have asked for a better day after such a chaotic emotional event. This day really reminded me of what is important and why I do this job. I absolutely LOVED connecting with all of the people on this day and wish we could go back and do it again and again <3
The Beginning: 
We met our freshman year of college in the dorms at Michigan.  We became good friends and even lived together for two years.  We both moved away and never dated, but always kept in touch, and 10 years later something just clicked!  Things got serious quick – within 6 months Amy moved to Texas, a year later we got engaged then after a ~6-month engagement here we are!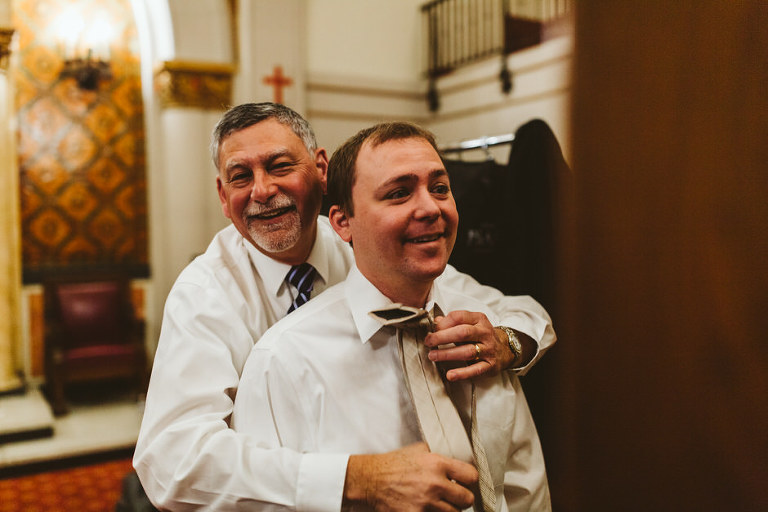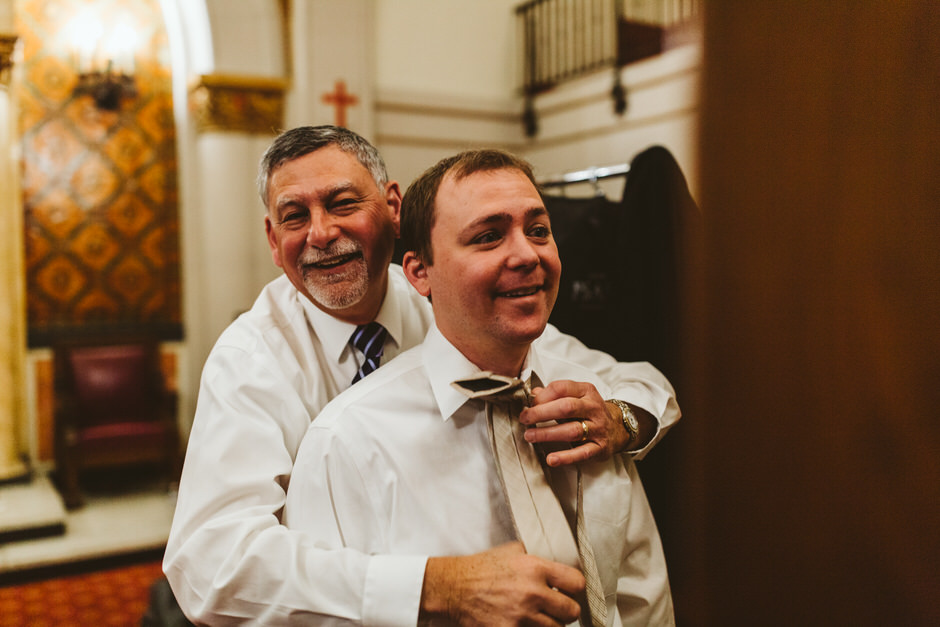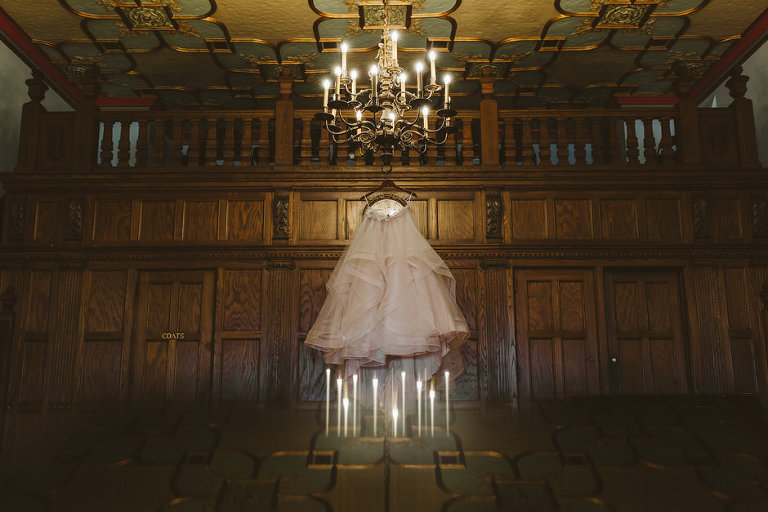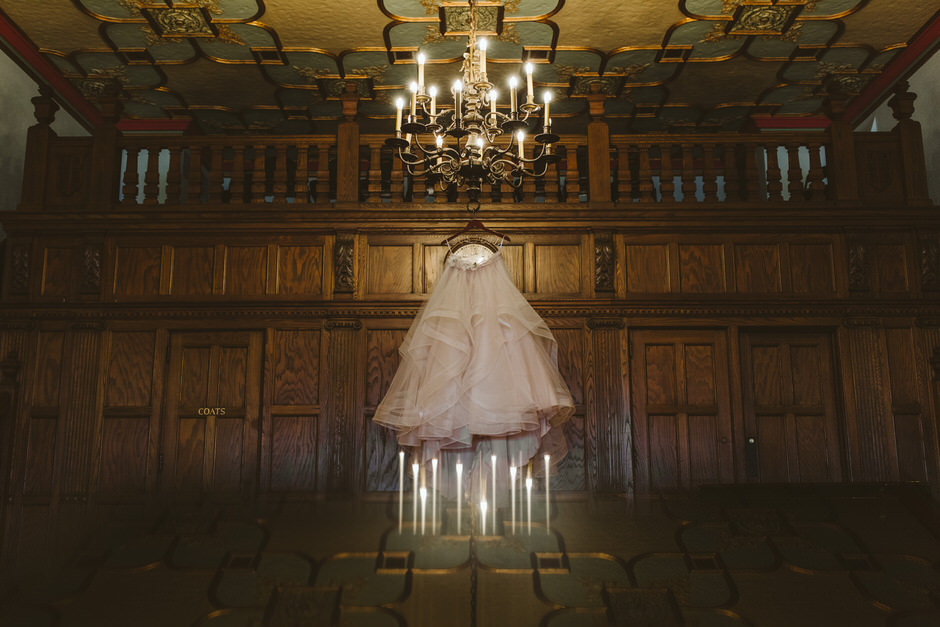 Amy's Dress
Amy went looking for a dress with a BIG group – my mom, grandma, two future sisters-in-law, cousin, two aunts and maid of honor.  Luckily, B Ella Bridal in Plymouth, MI had the space and welcomed us with open arms.  Dominique, the stylist working with us, was amazing and he helped guide us through the process and kept our search focused while pushing me out of my comfort zone!  I ended up with the 2nd dress I tried on – nothing like what I pictured, but an amazing Moscato 2 piece! (I would highly recommend a 2-piece to anyone starting a dress search!!!)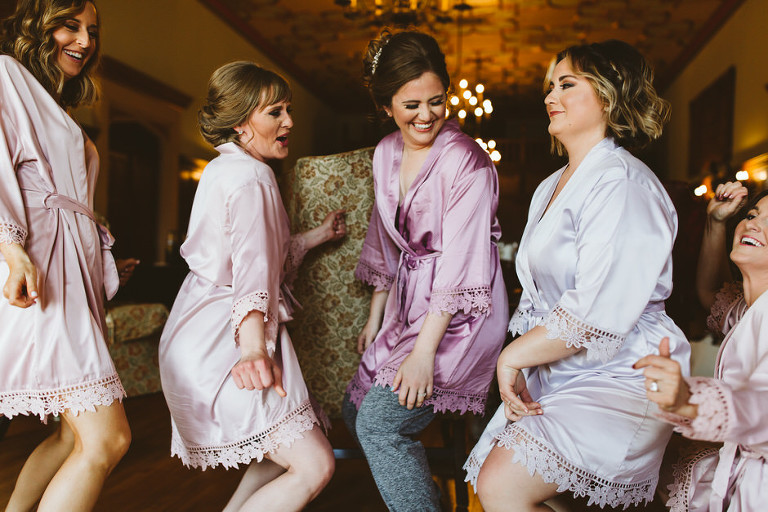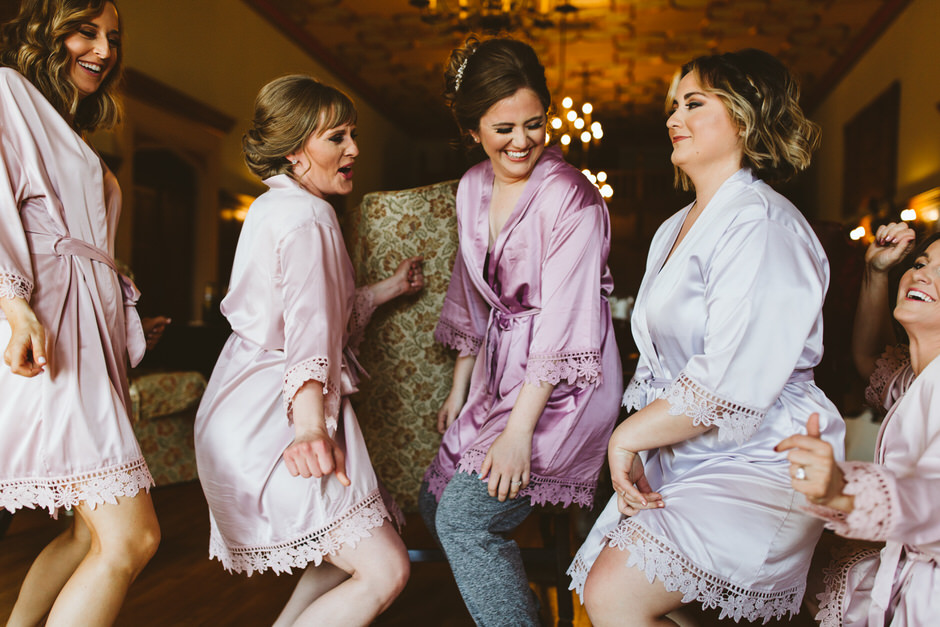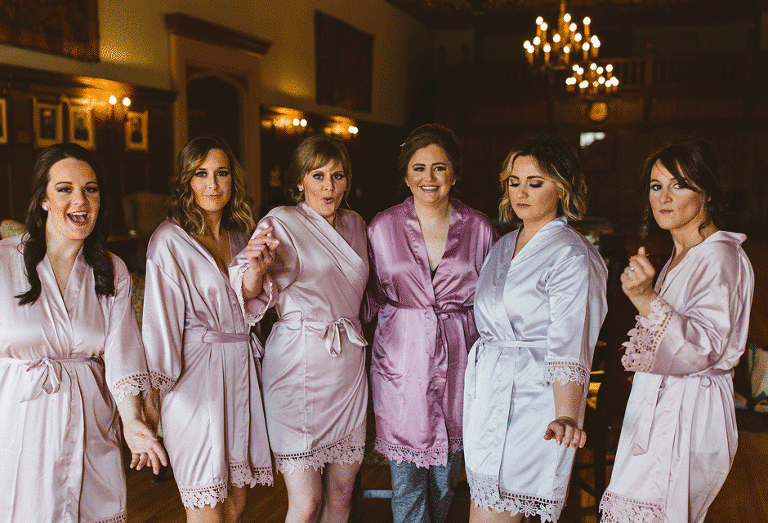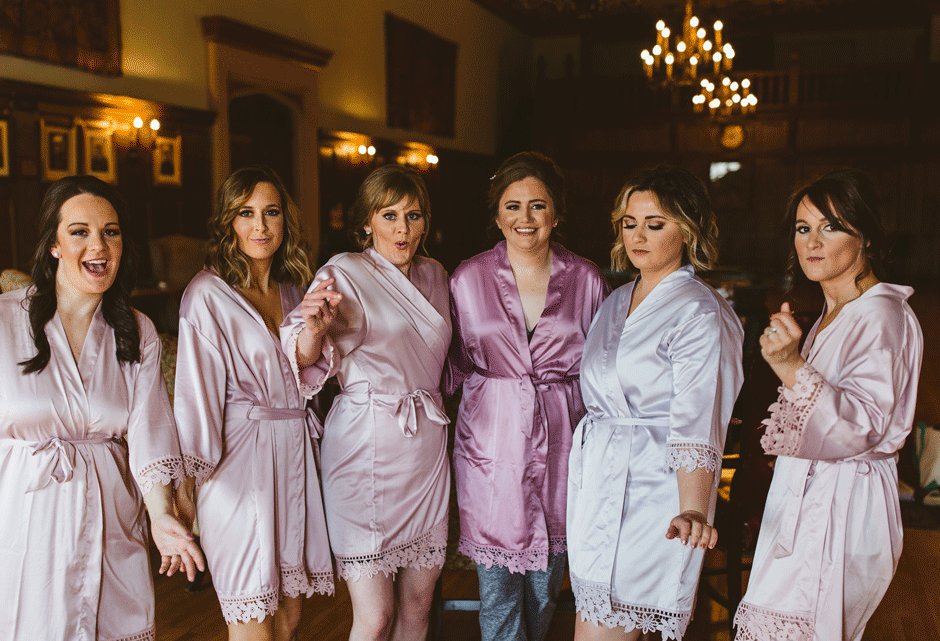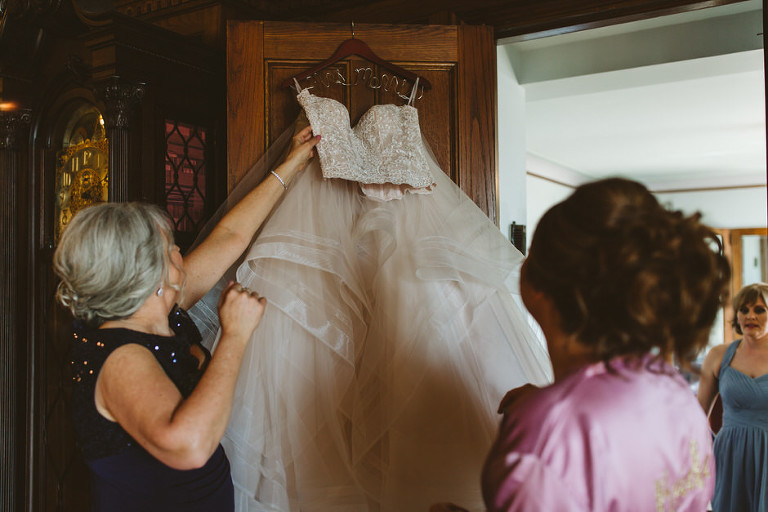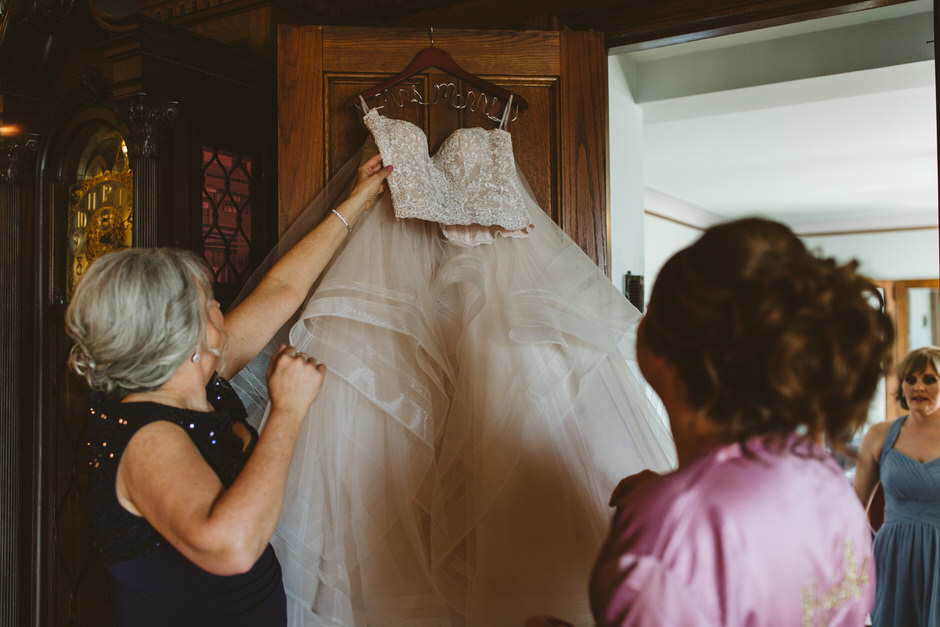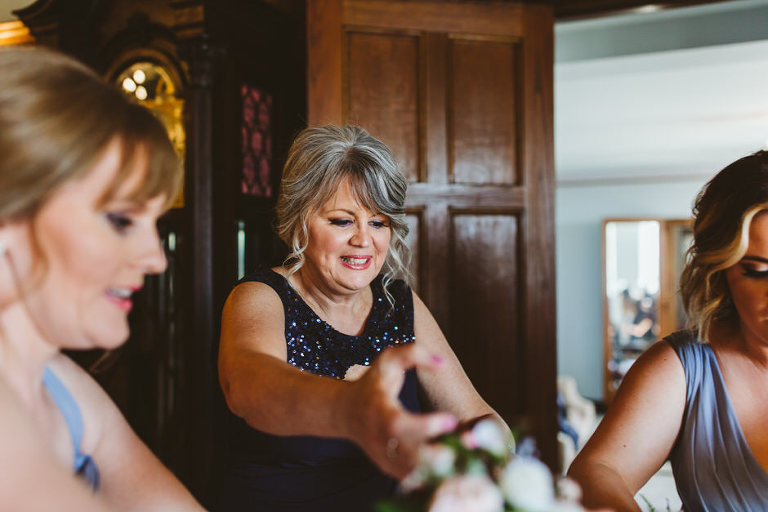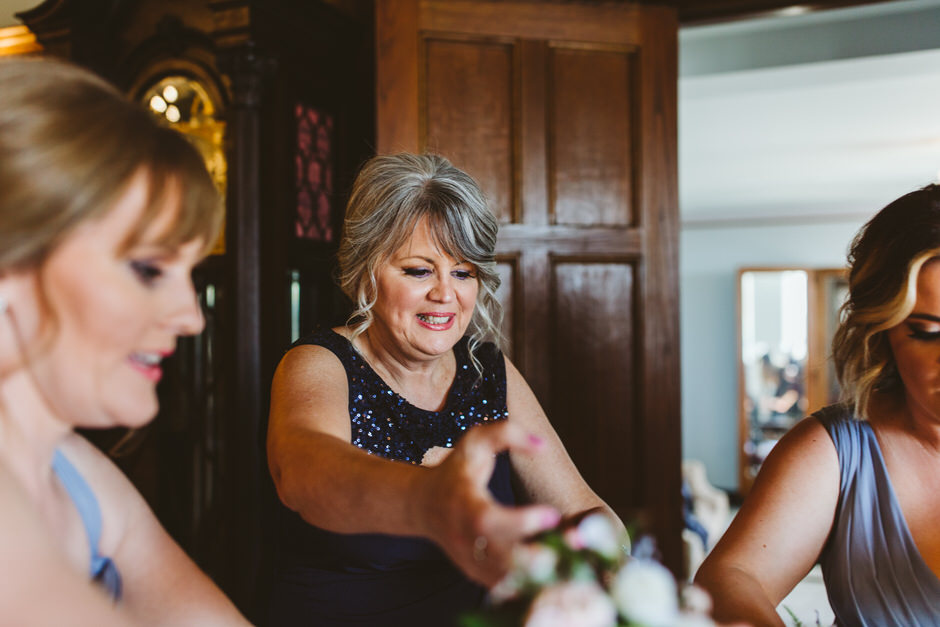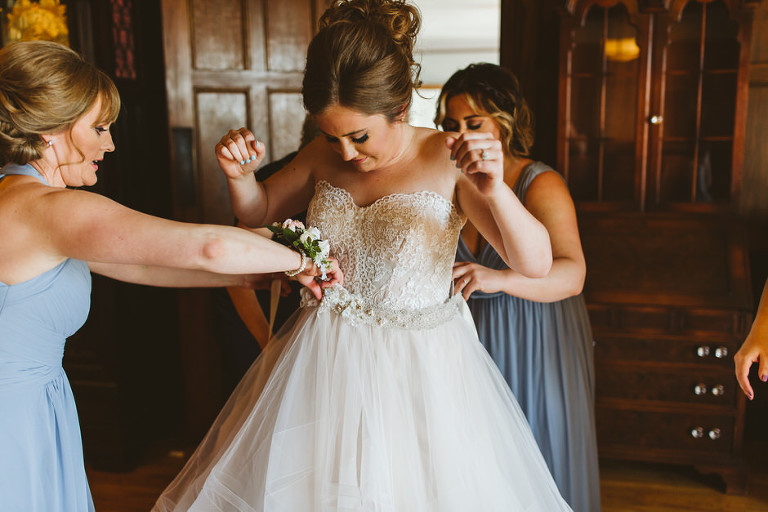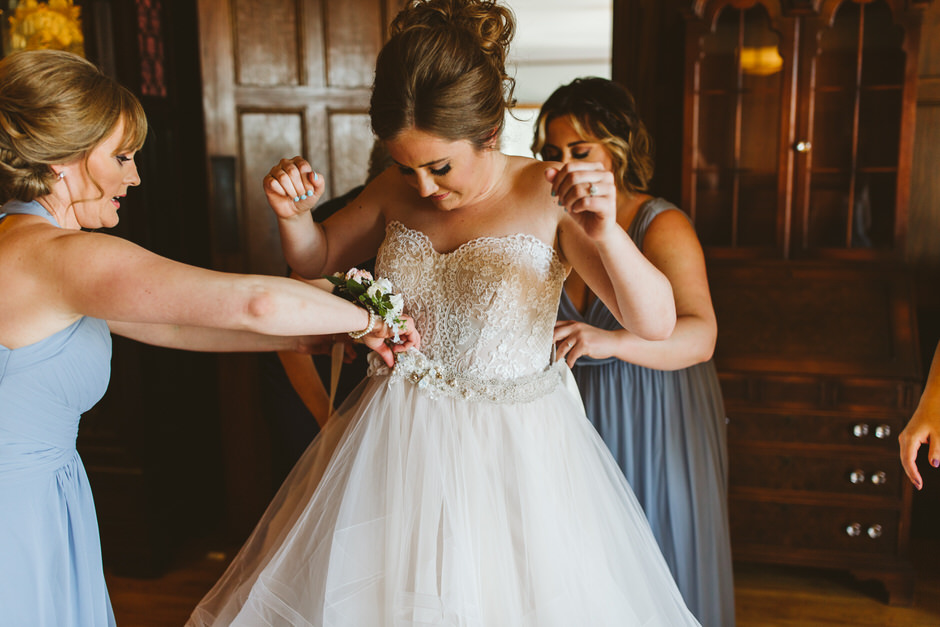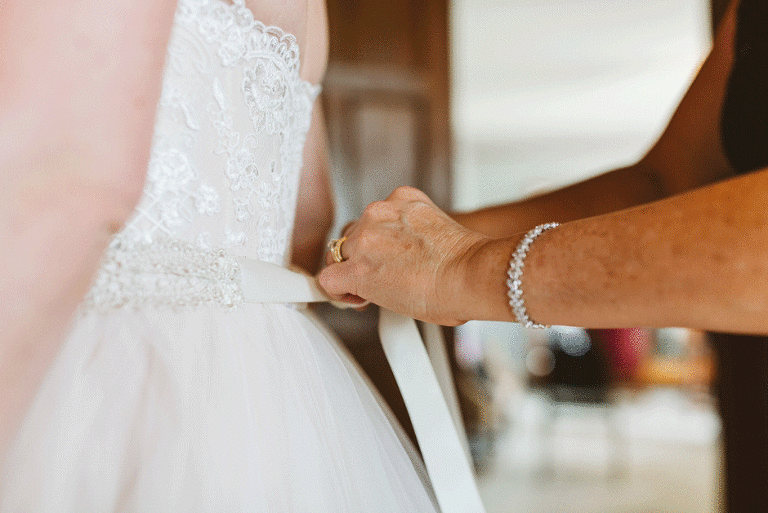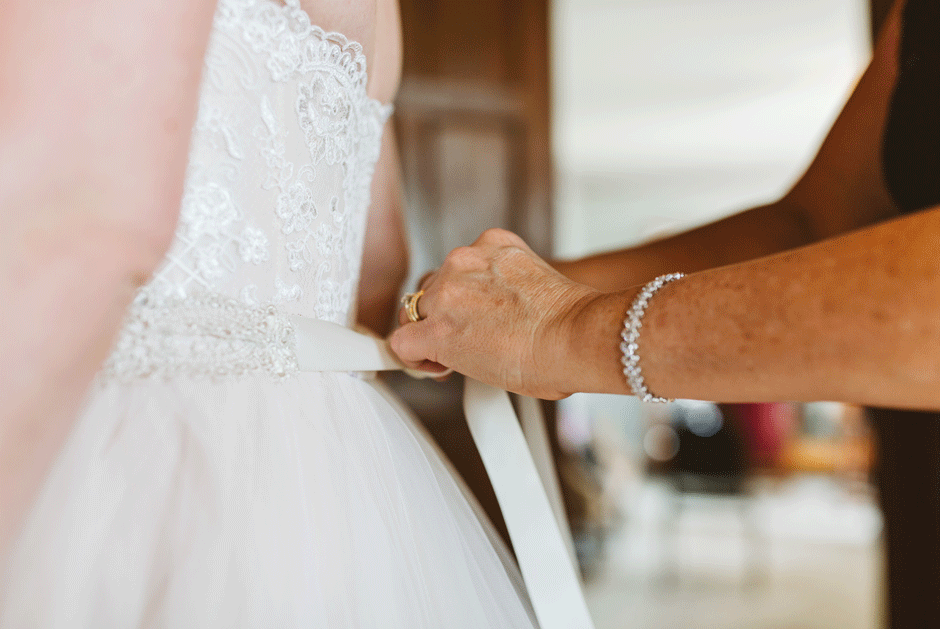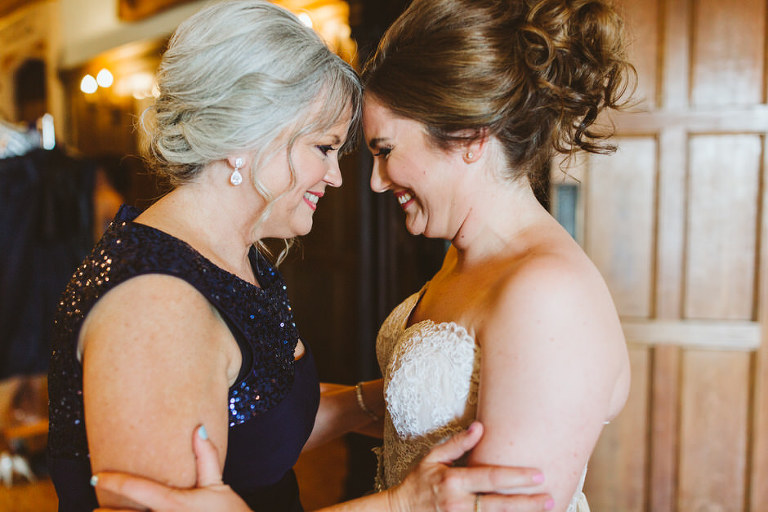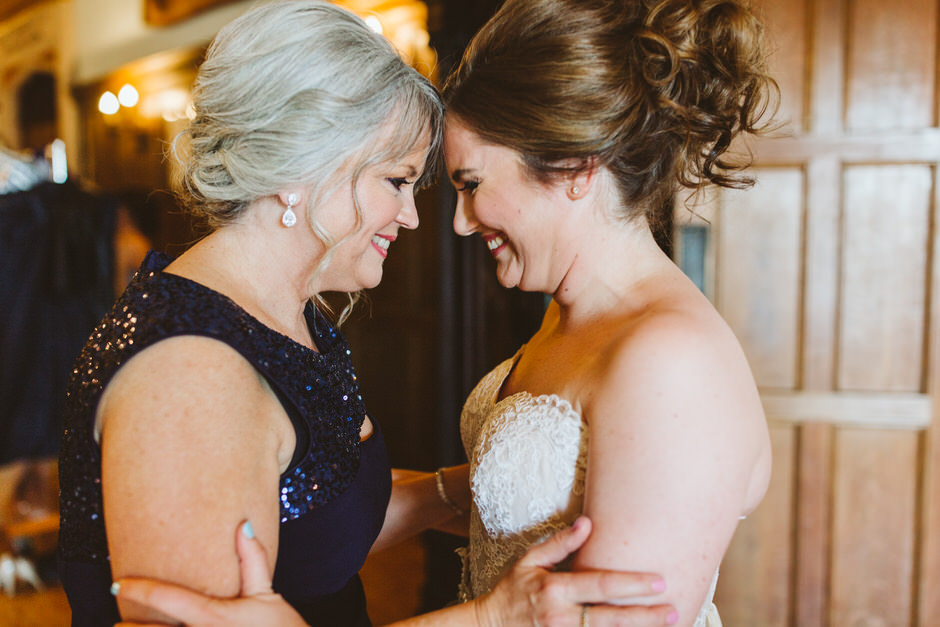 (i wasn't crying during this mother-daughter moment or anything 😛 😛 NOPE)…*itotallywas*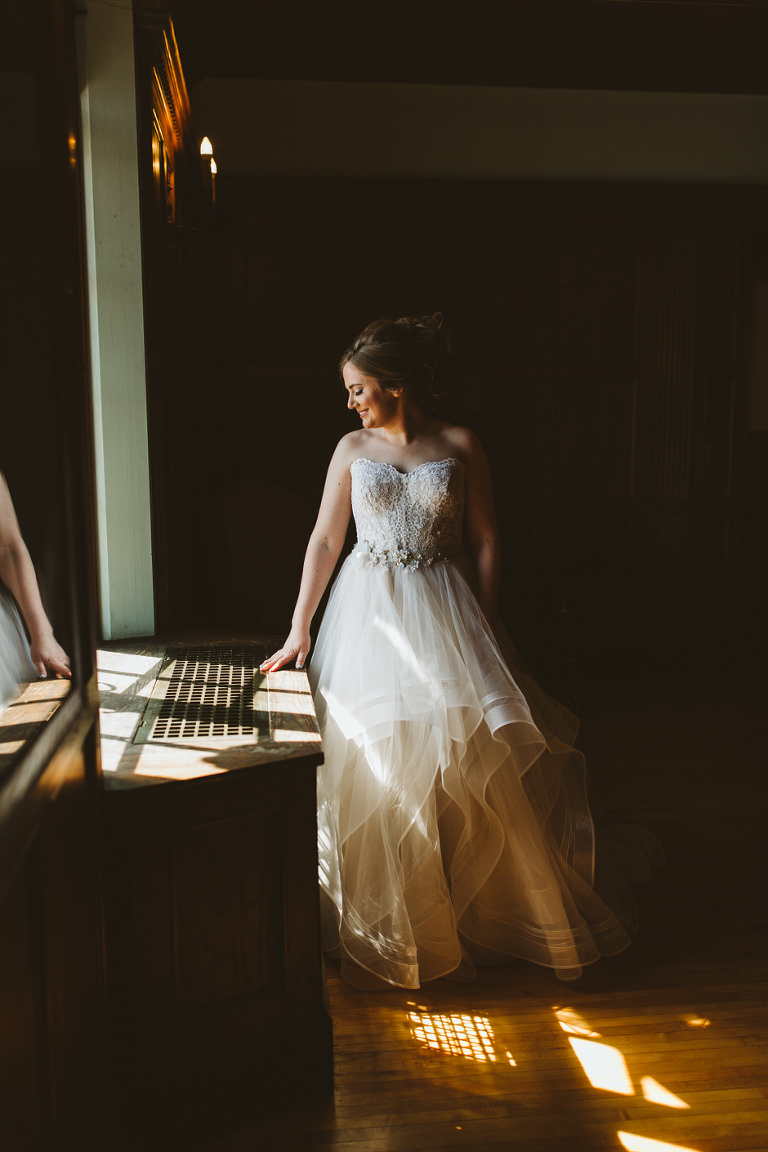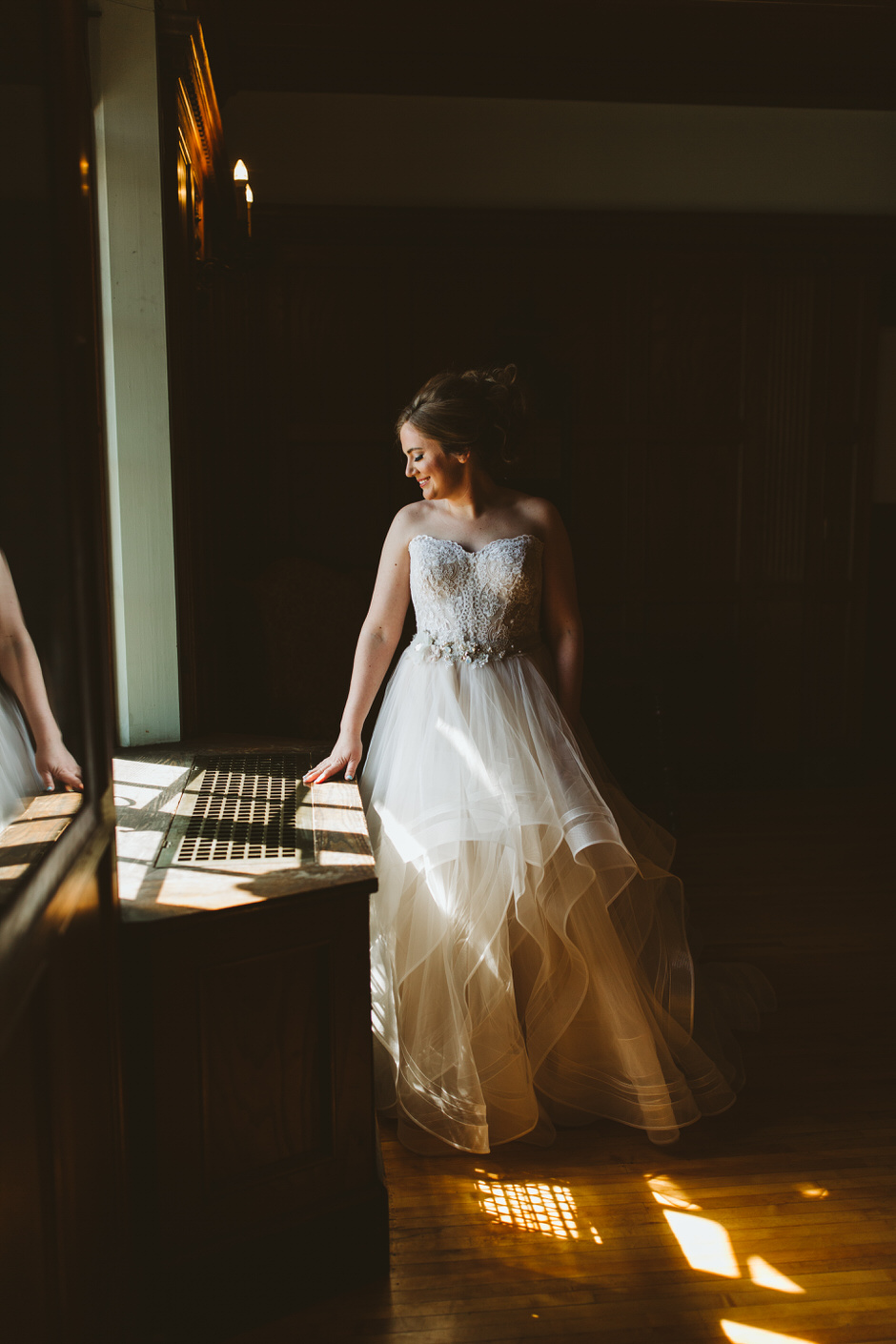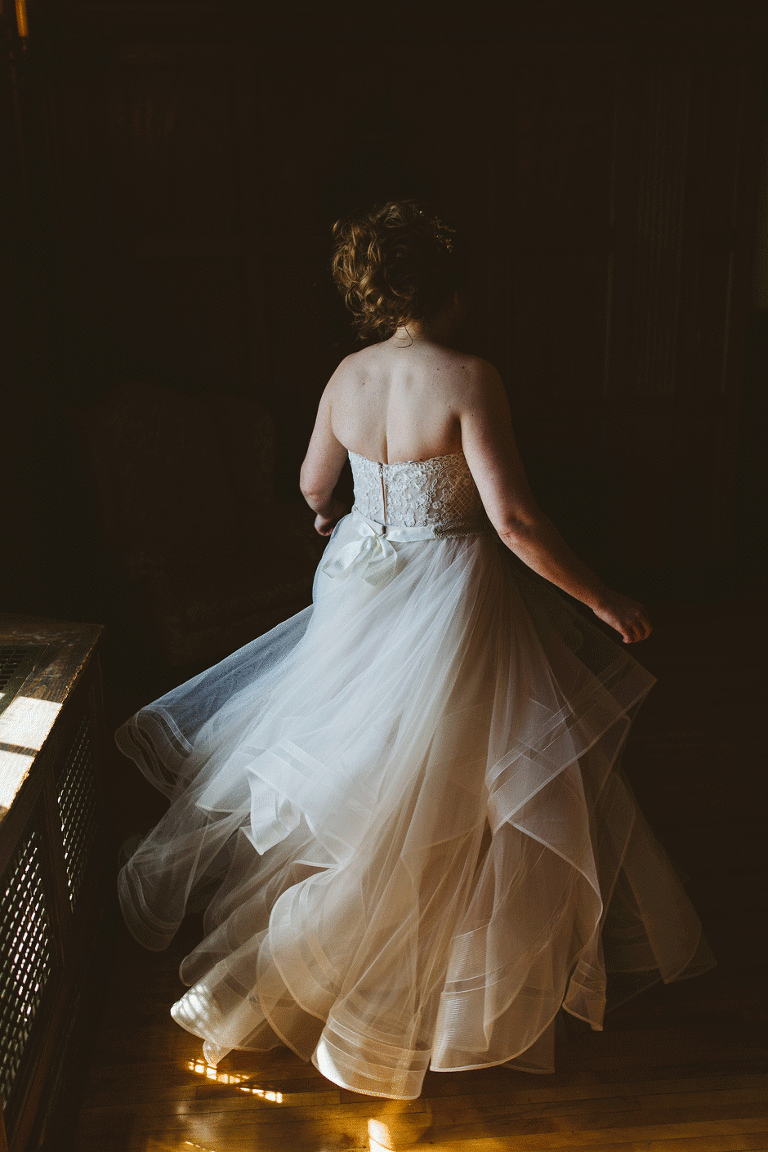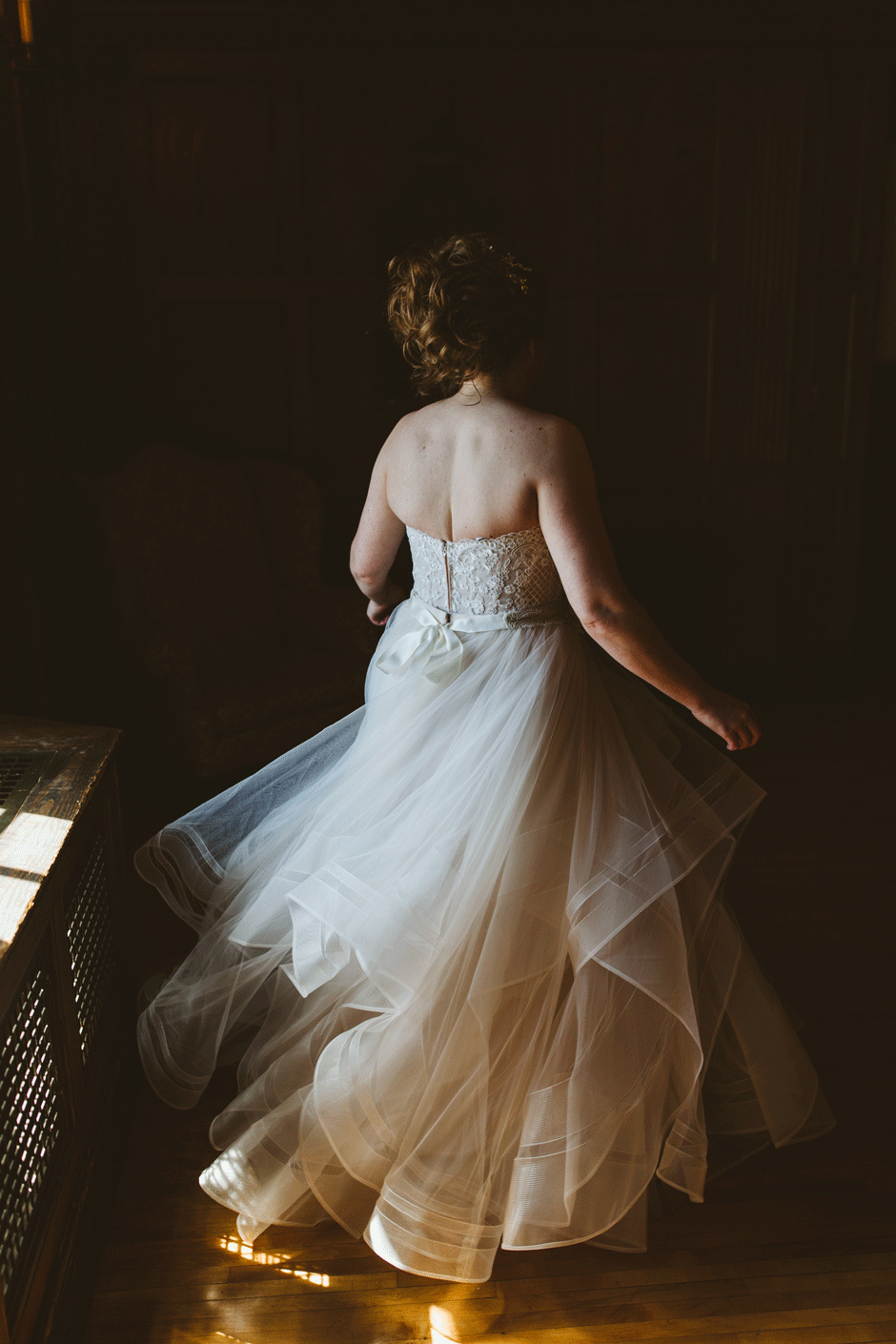 Justin's Suit
Justin wanted a suit that was different from those he already had, and would continue to wear for other occasions – so he and the guys all ended up getting custom plaid blue suits!  Everyone got to pick inscriptions and fun fabrics for the inside which was a fun personal touch.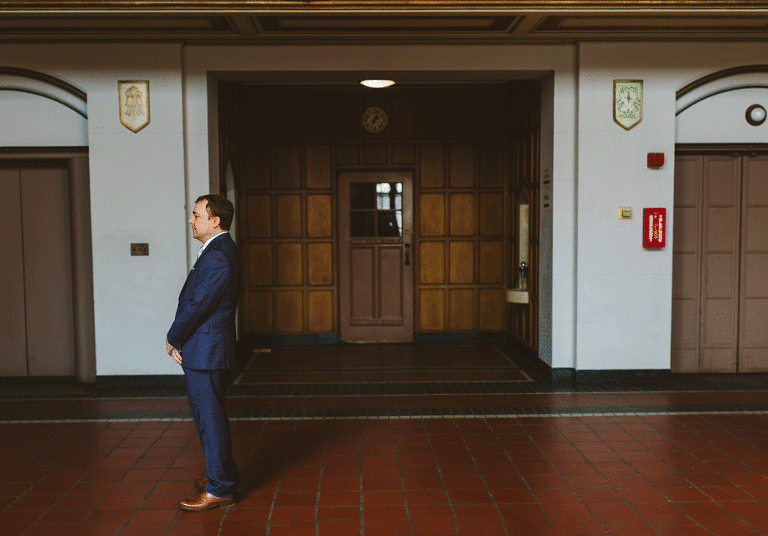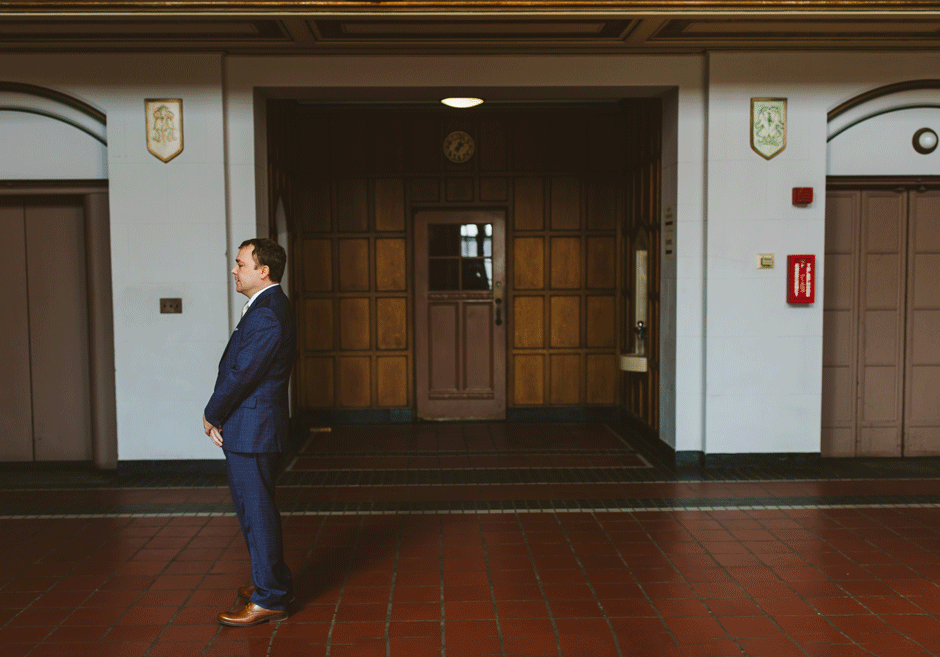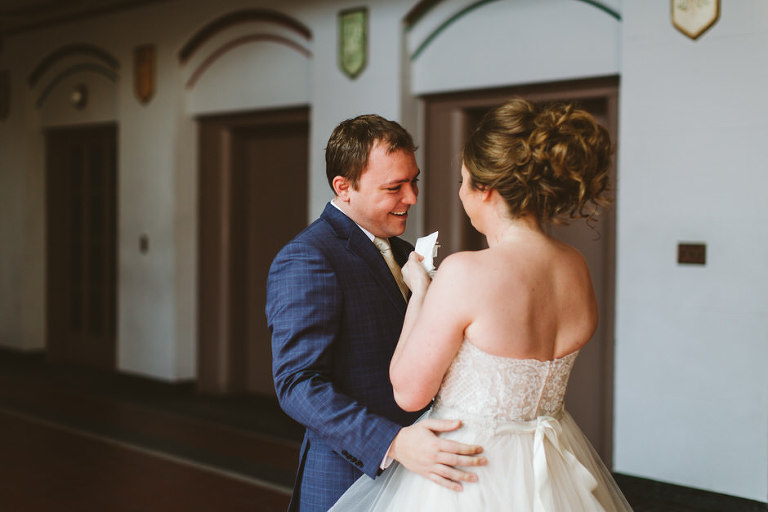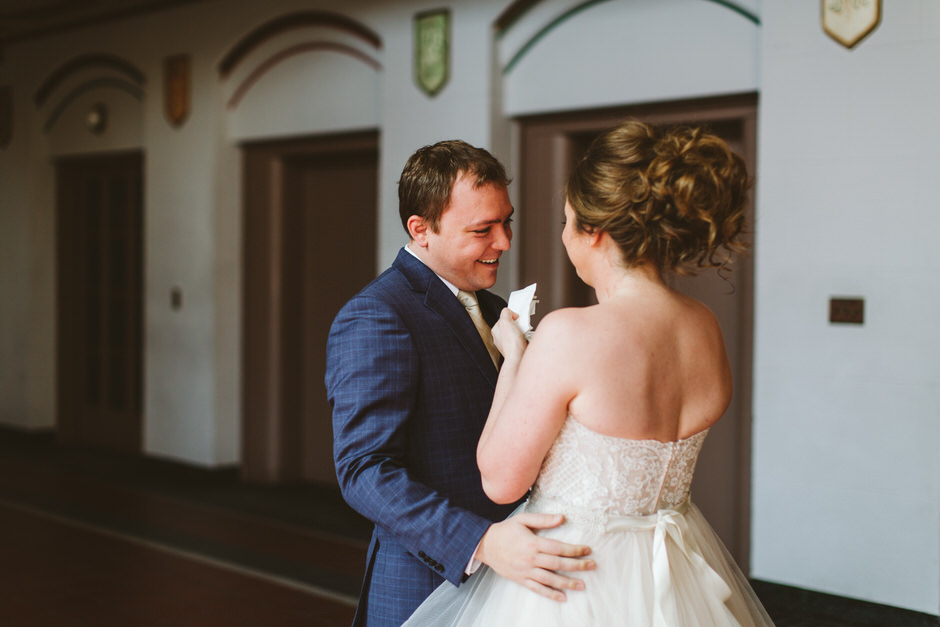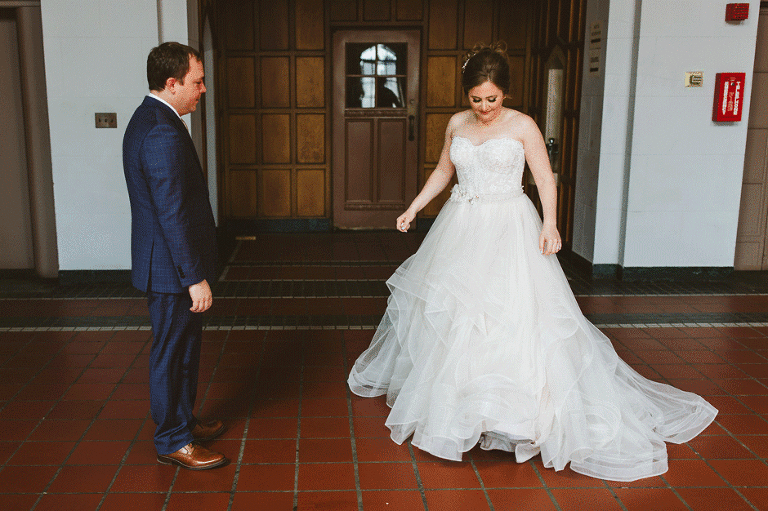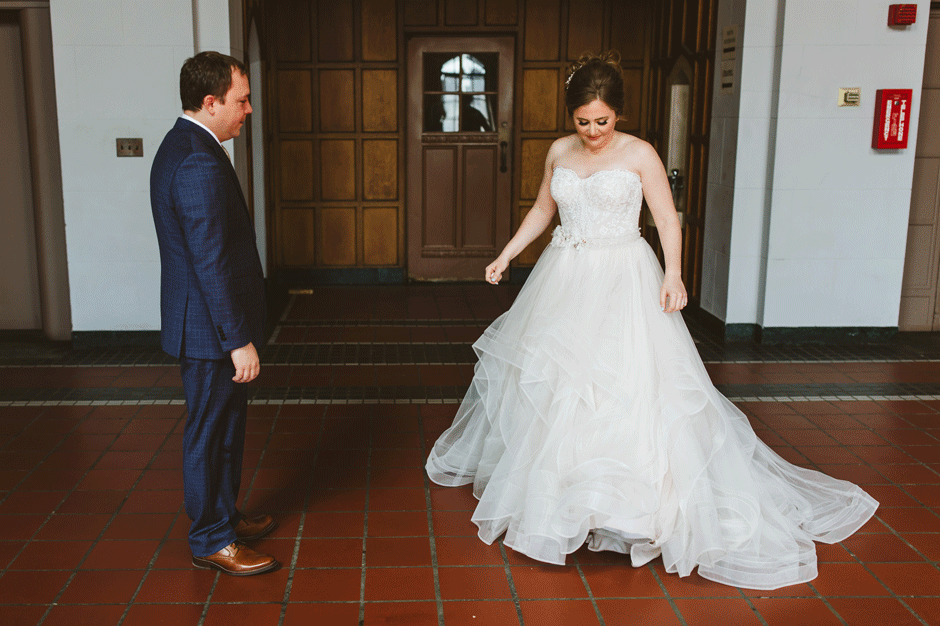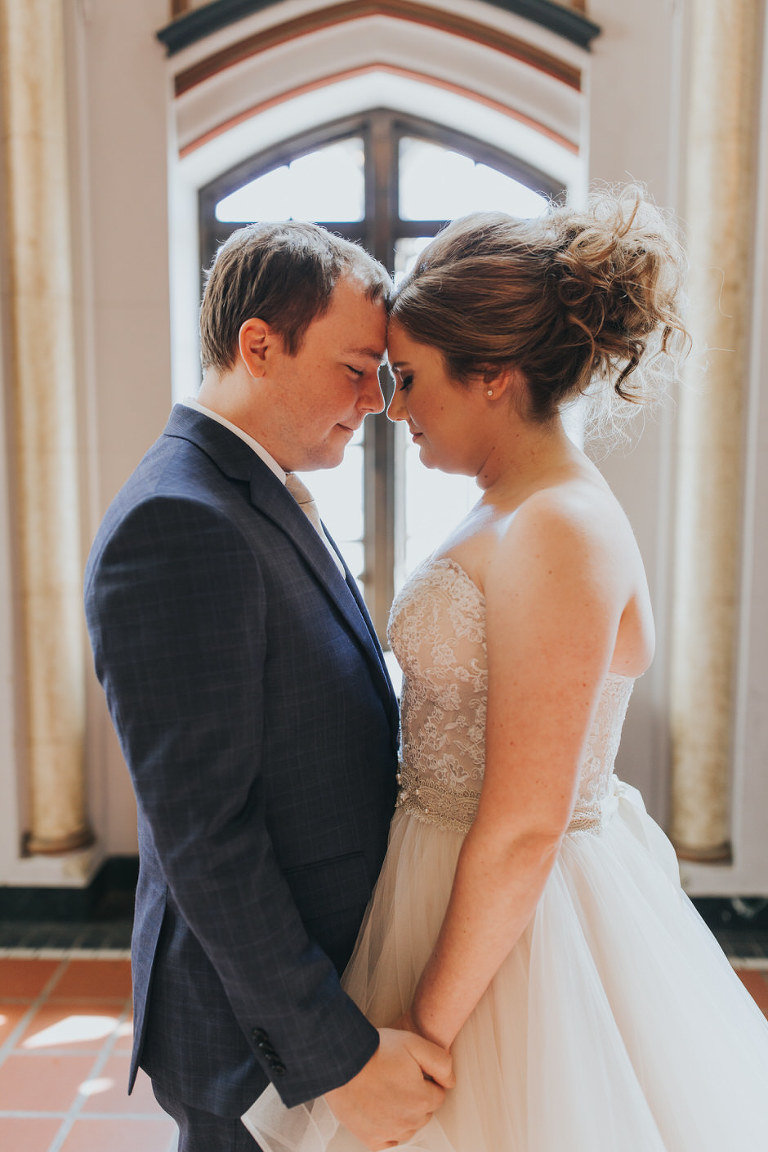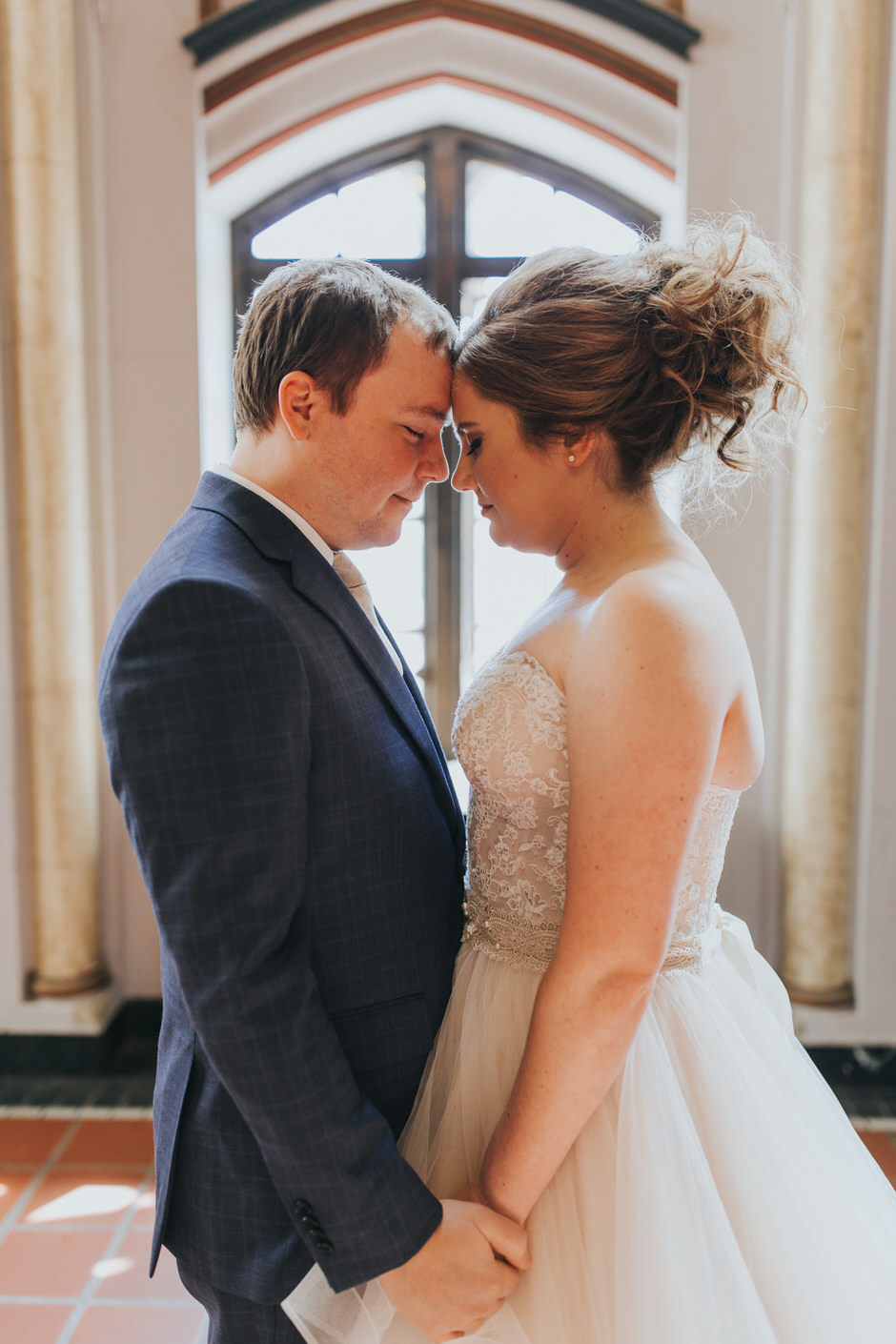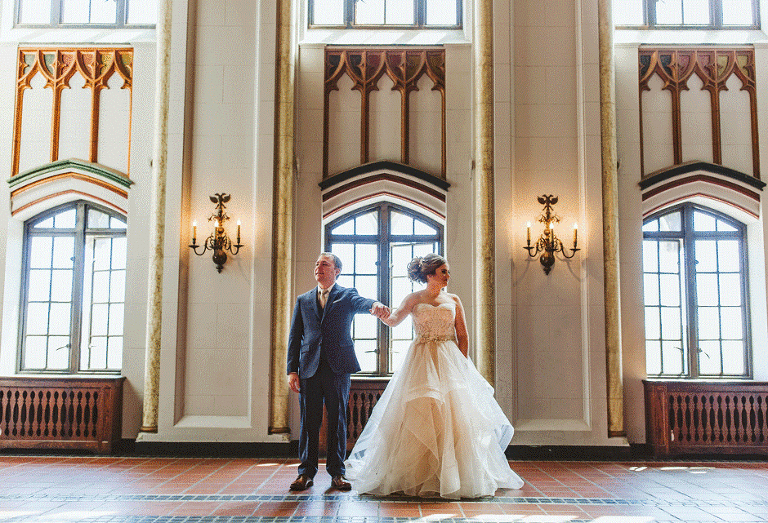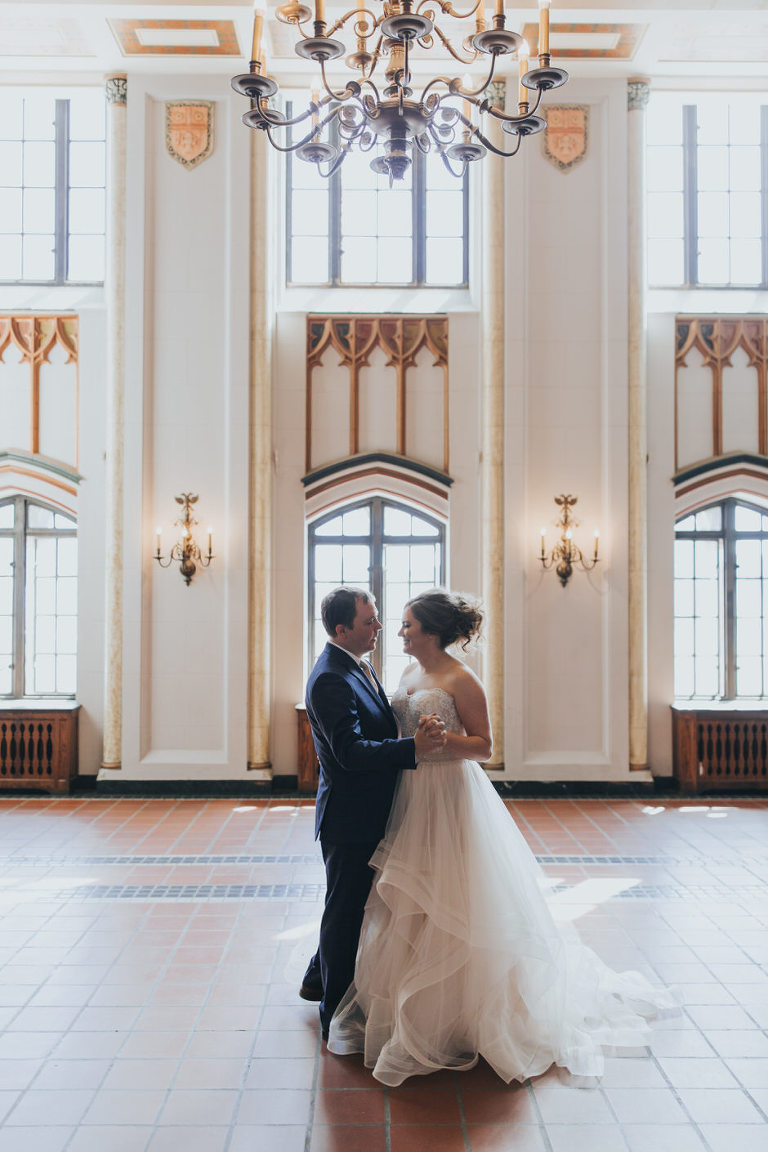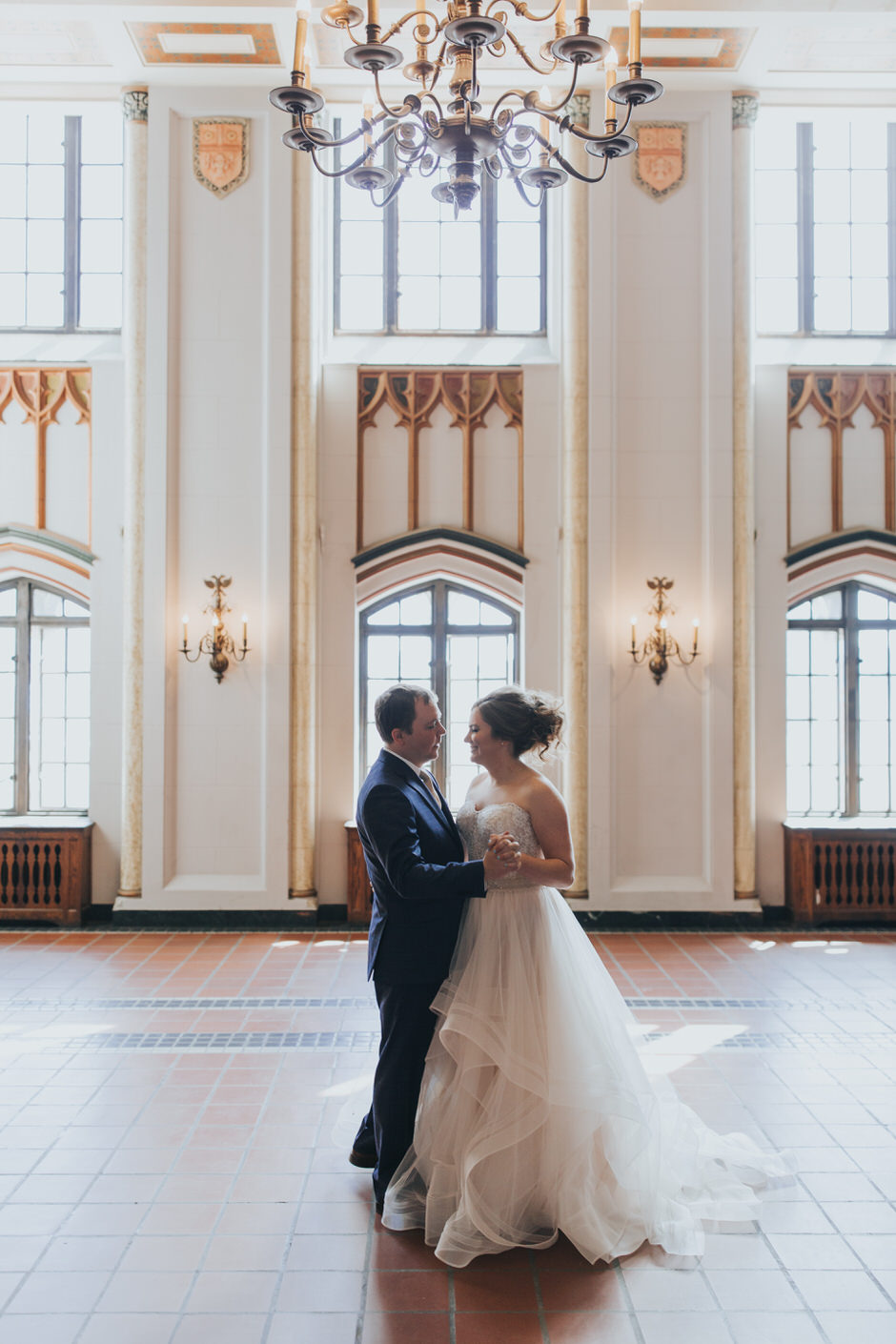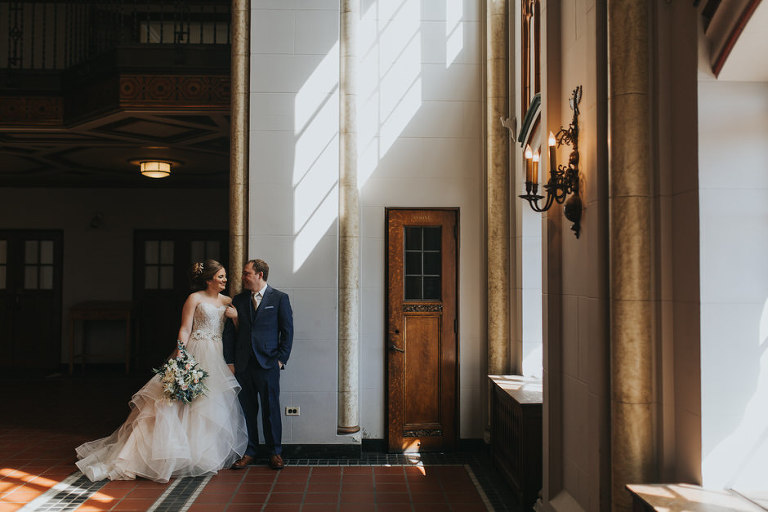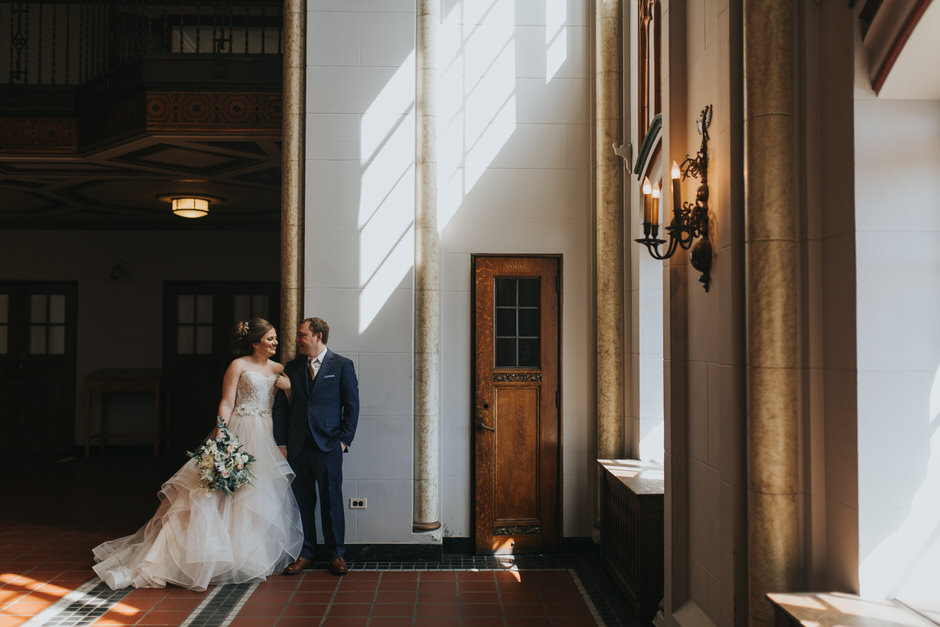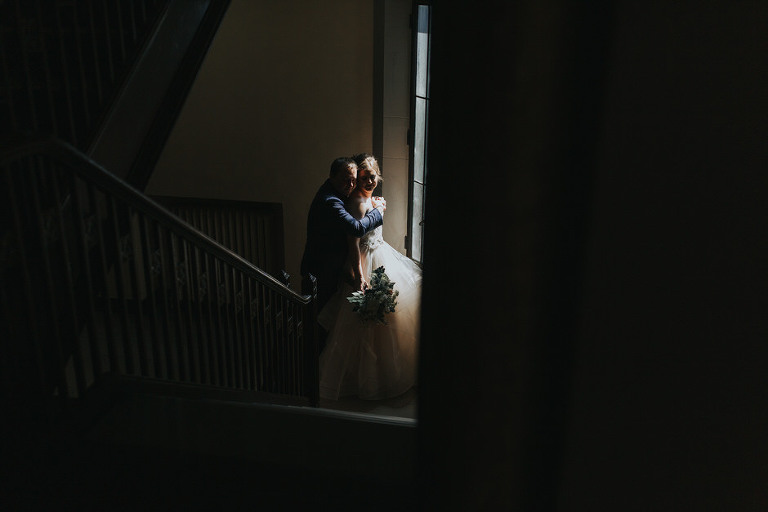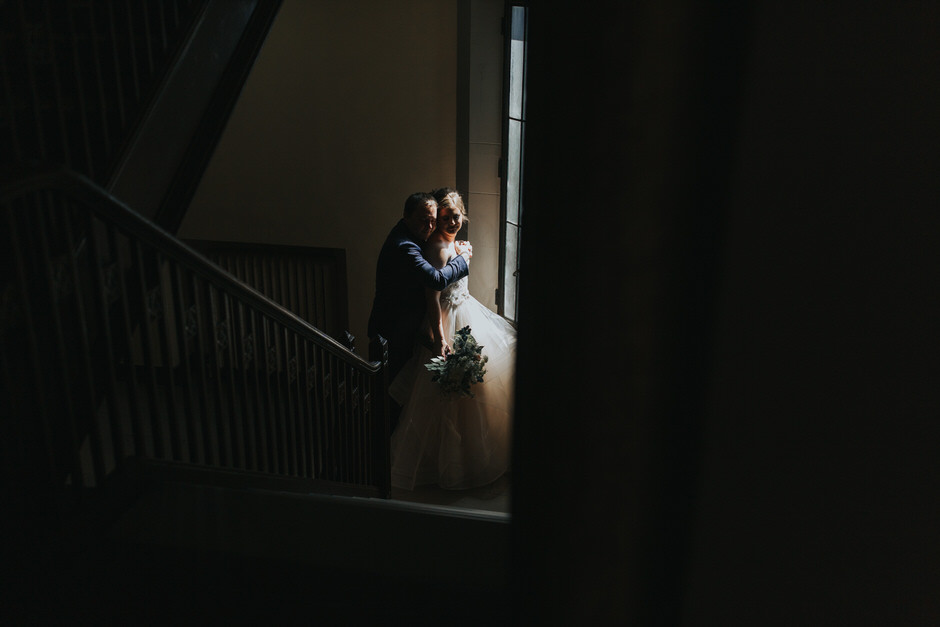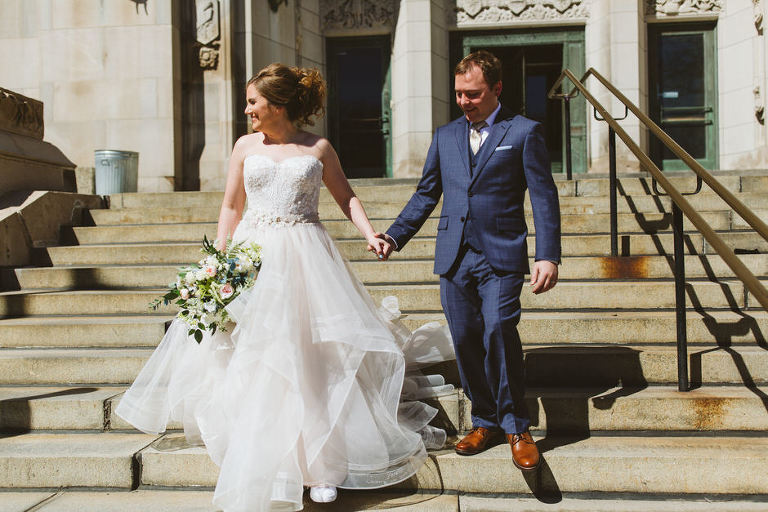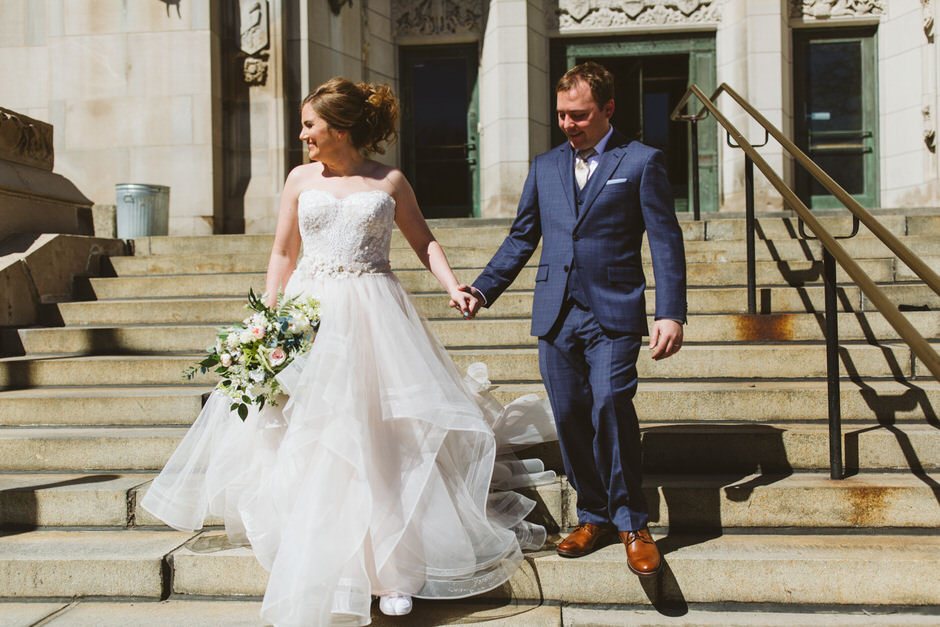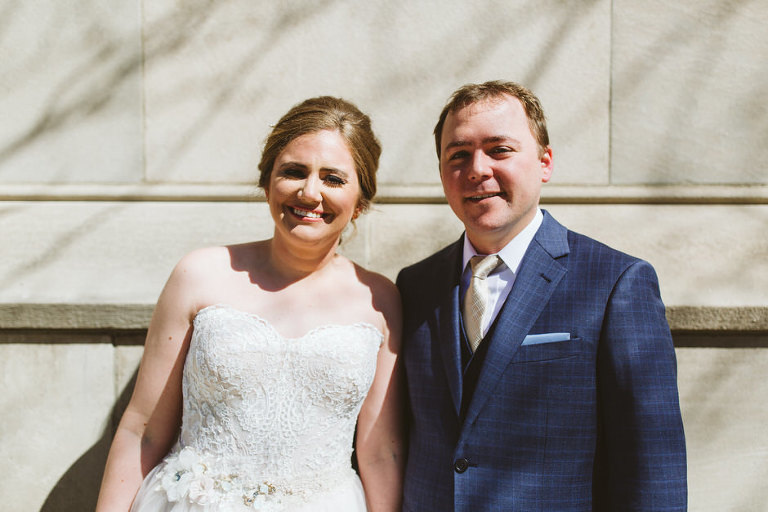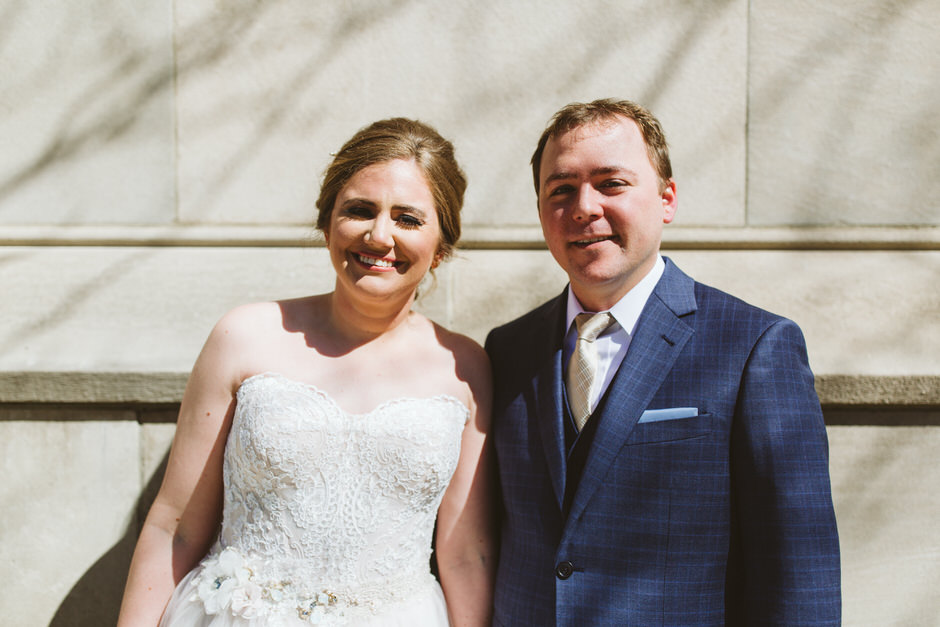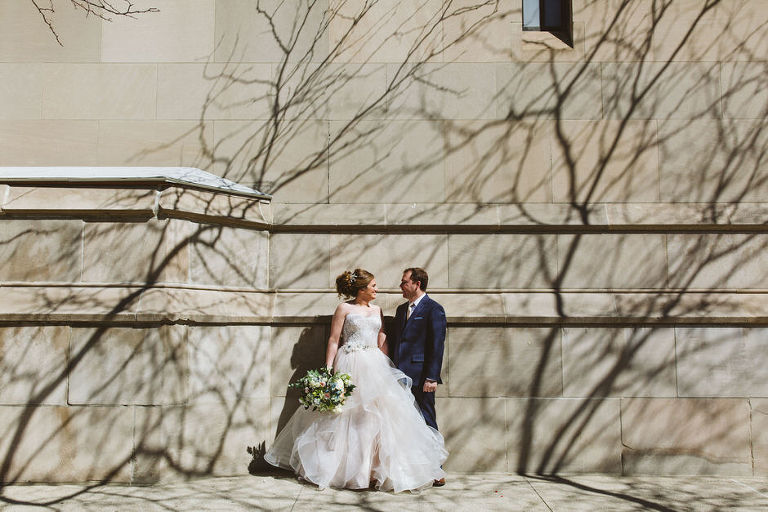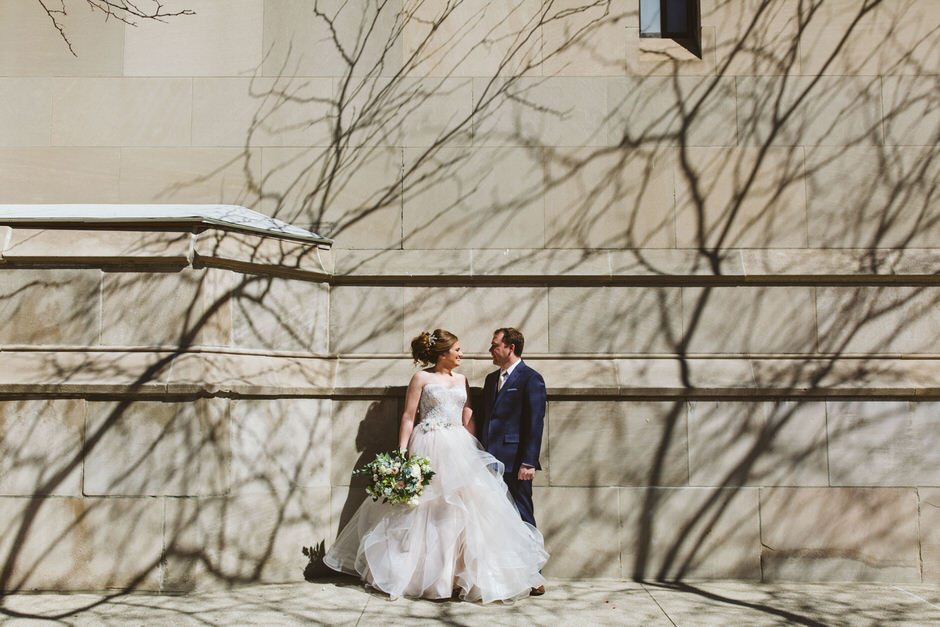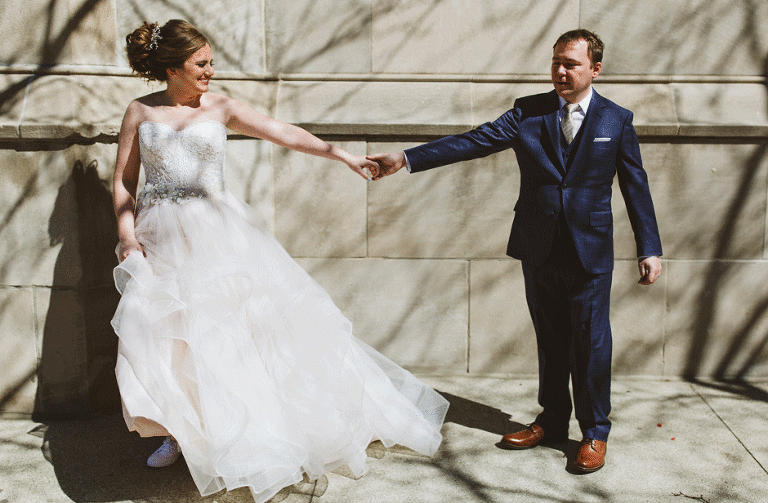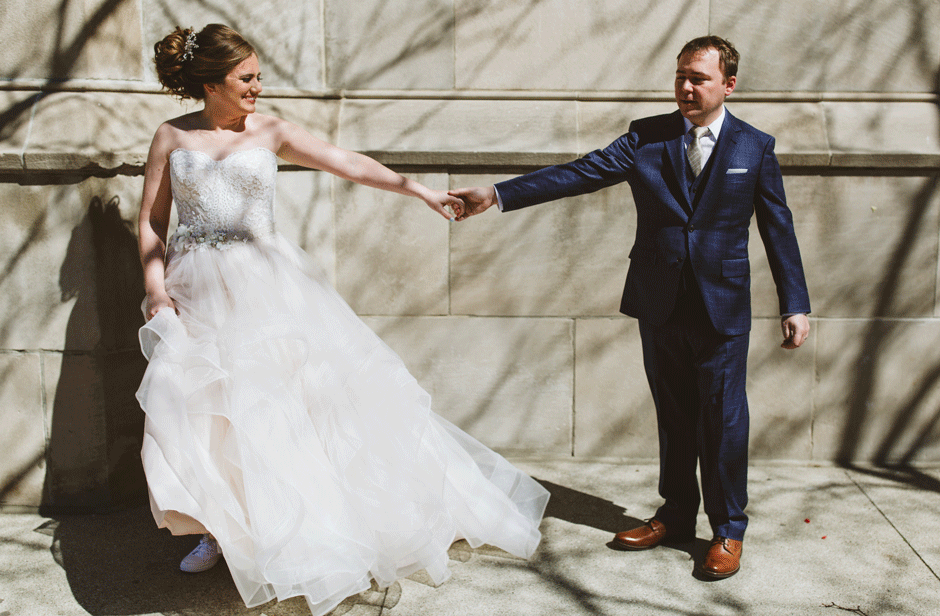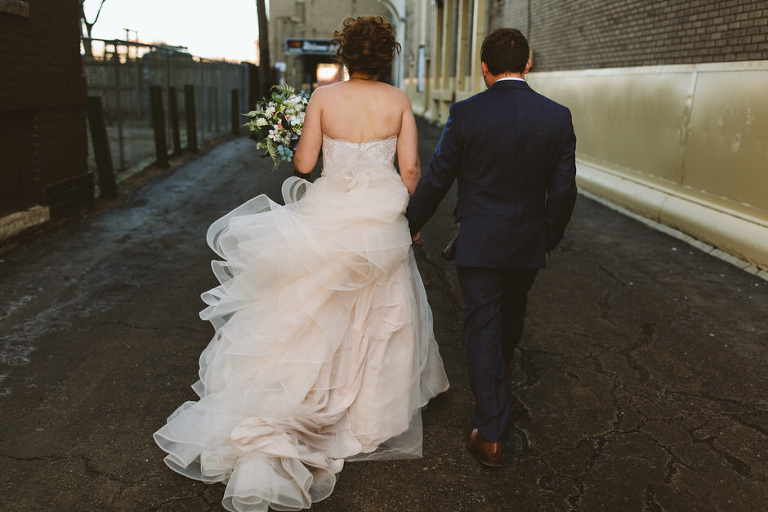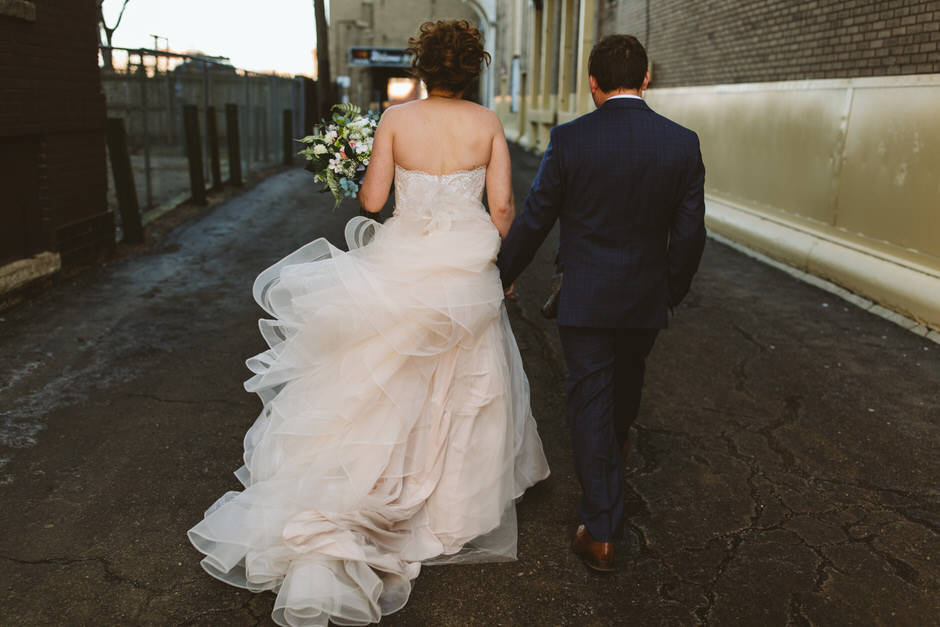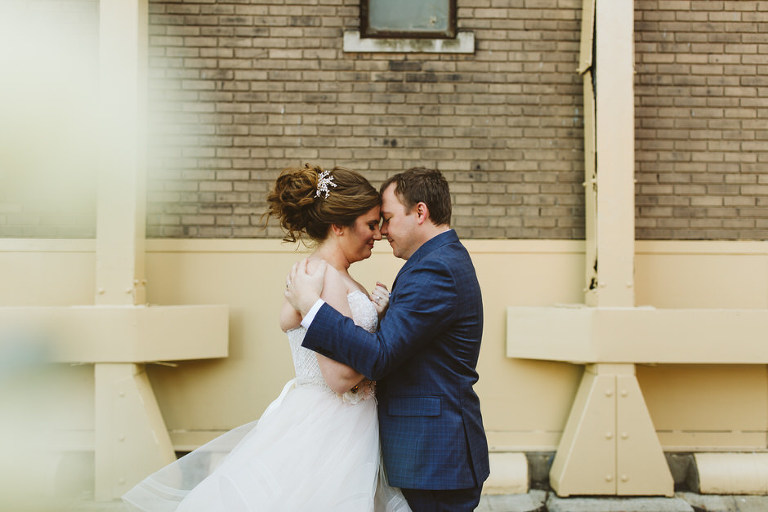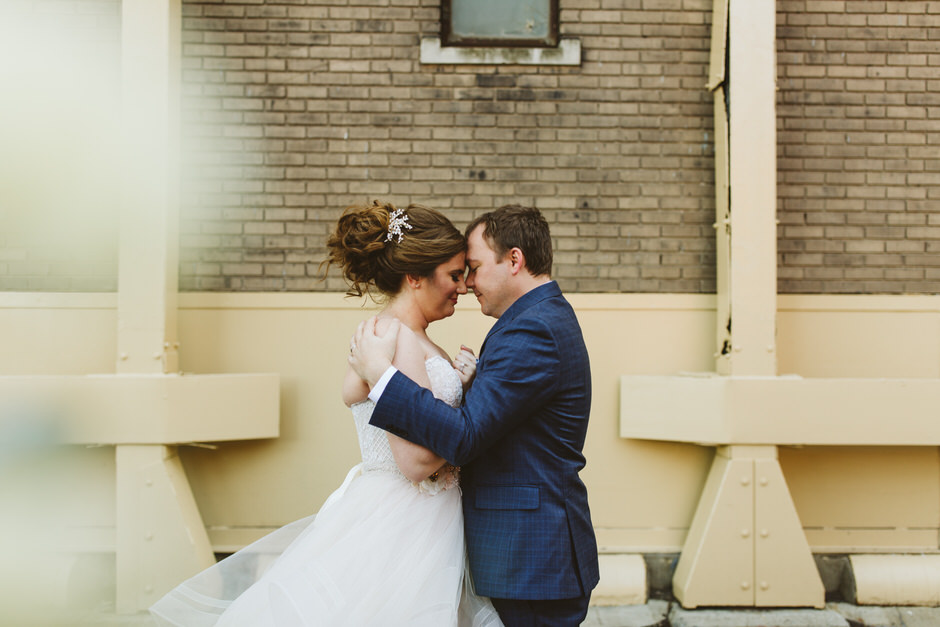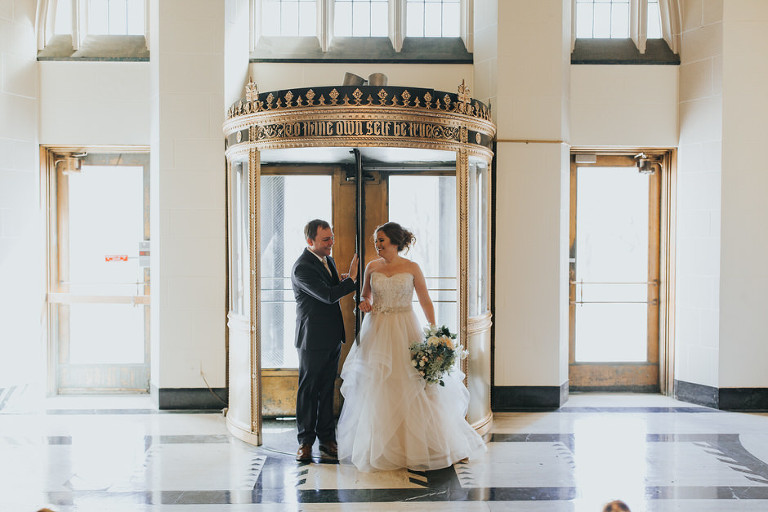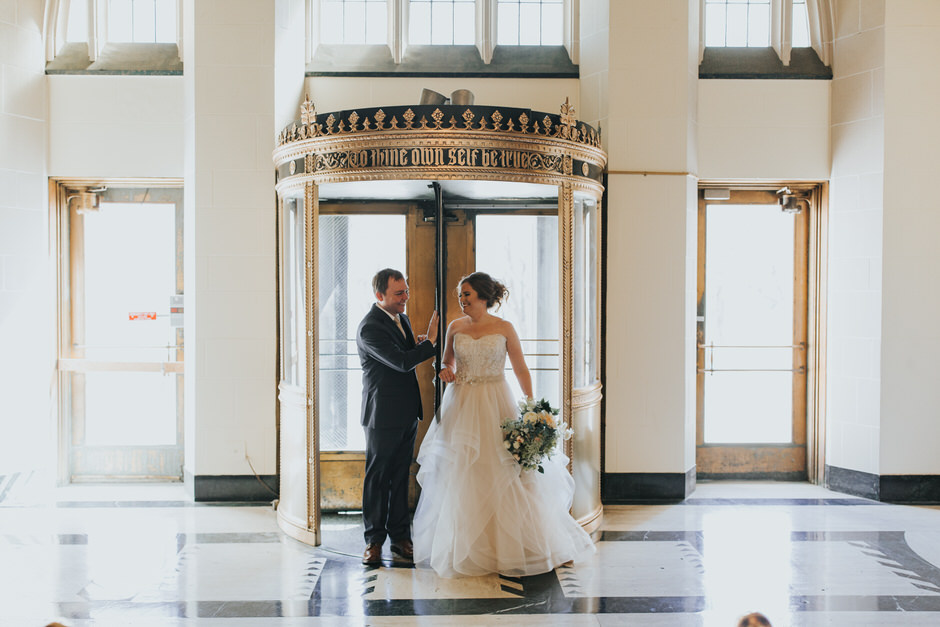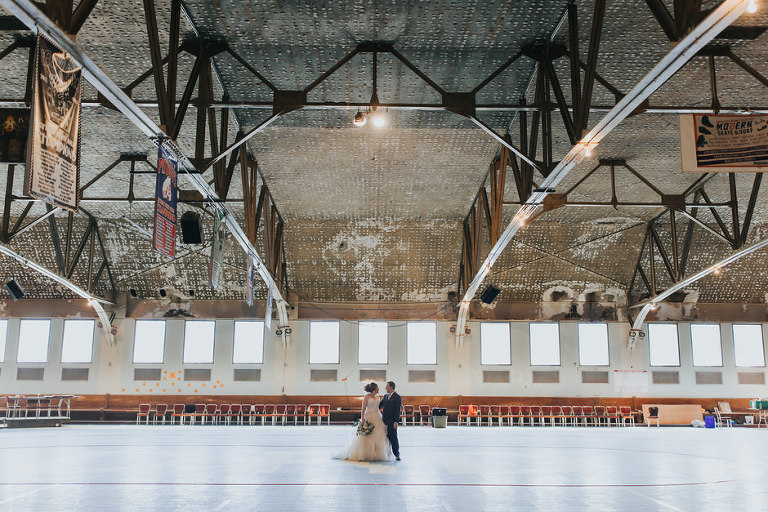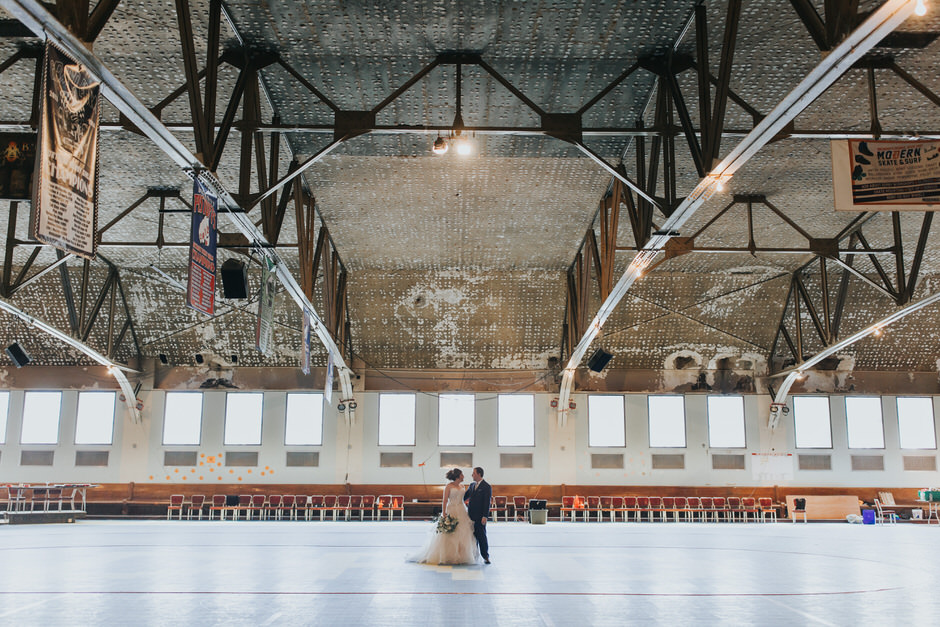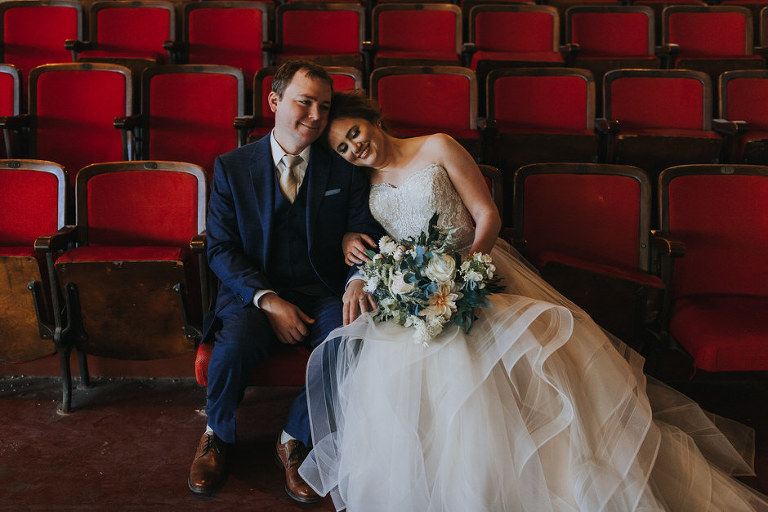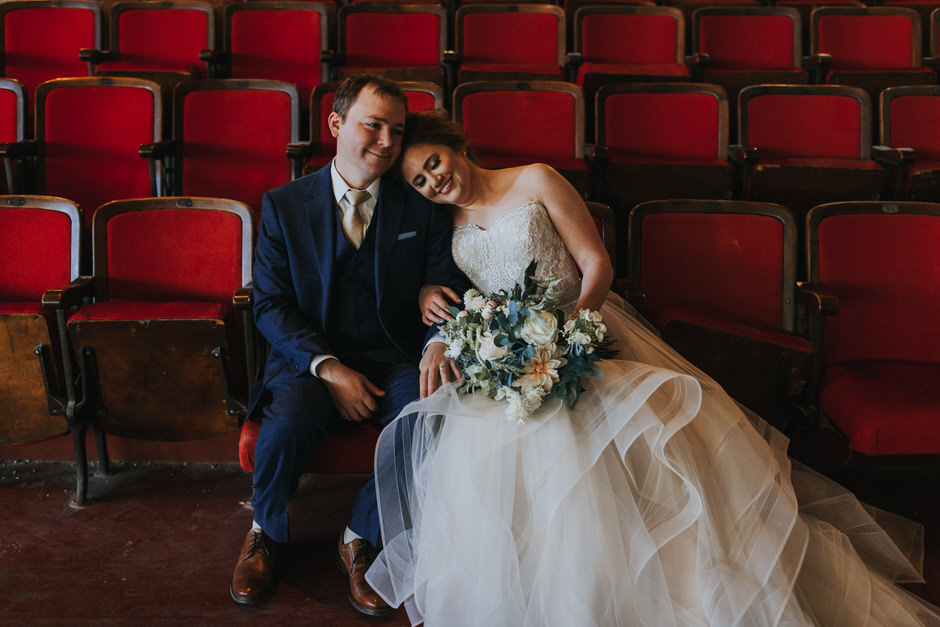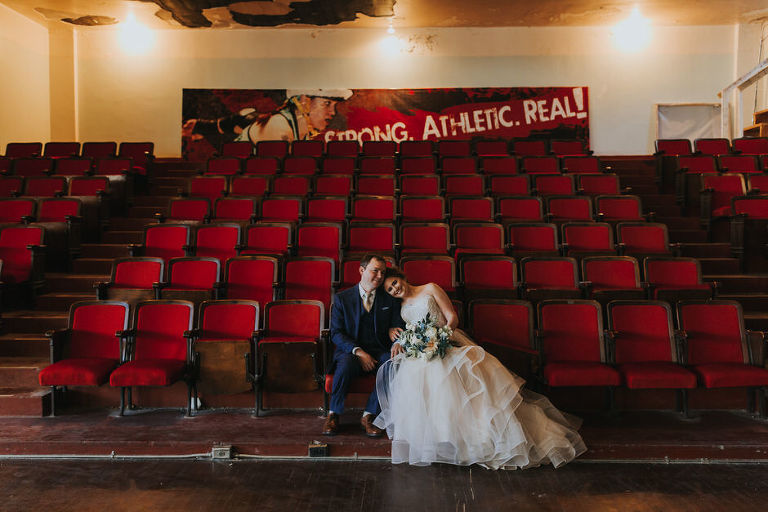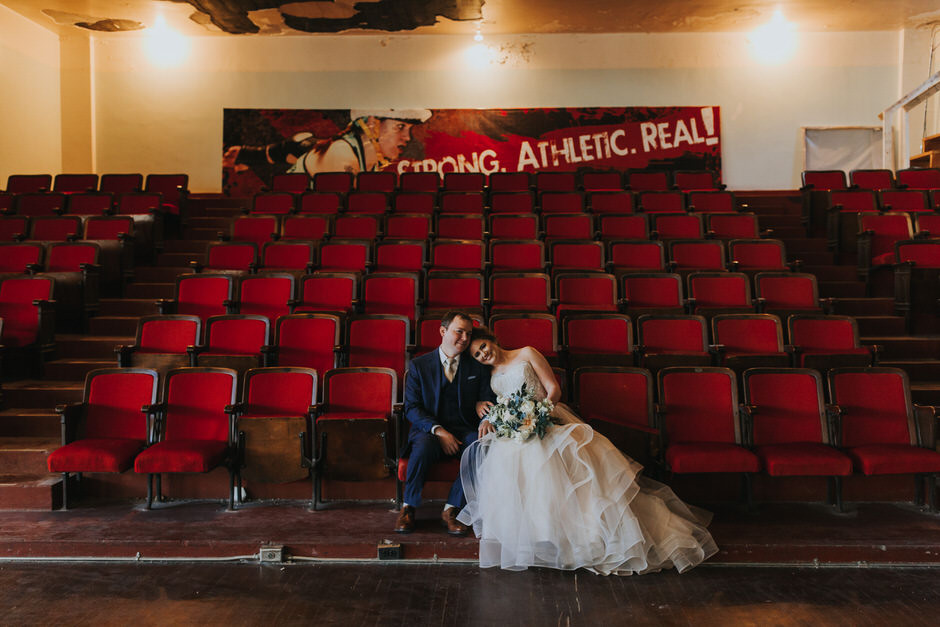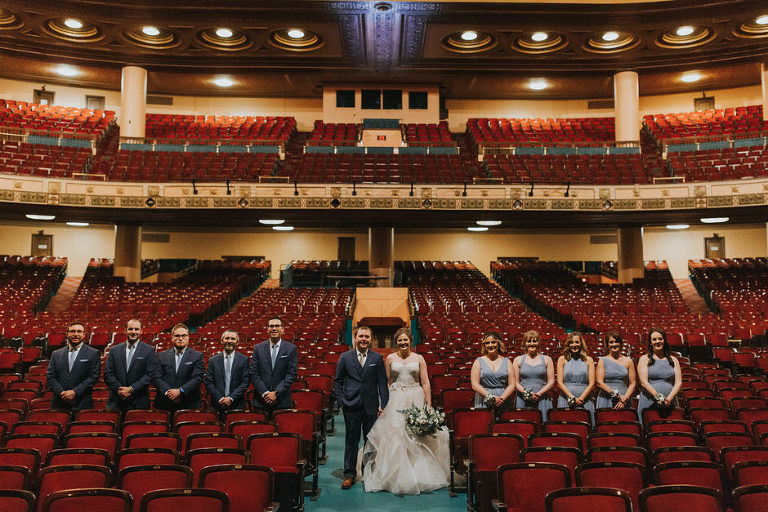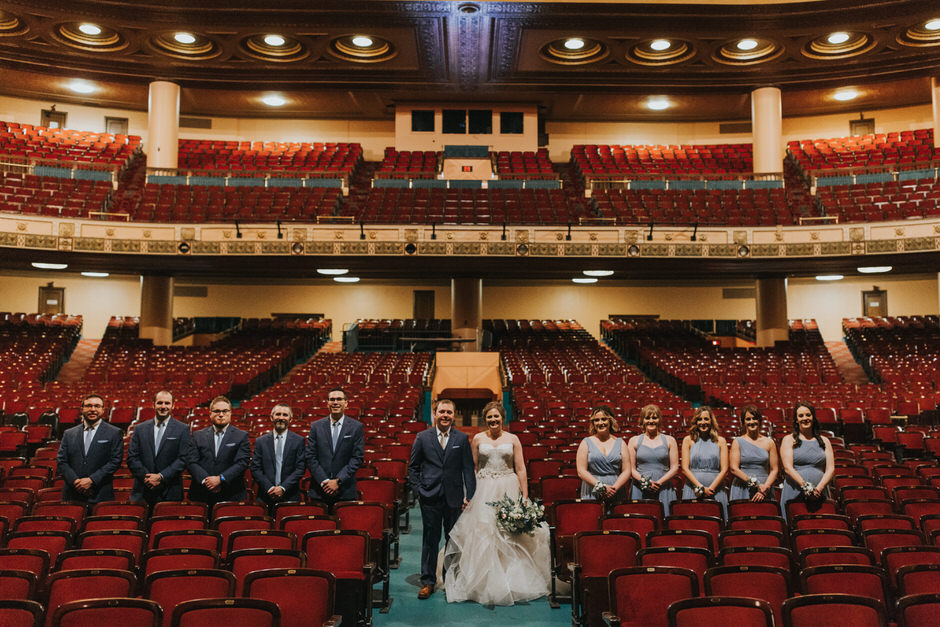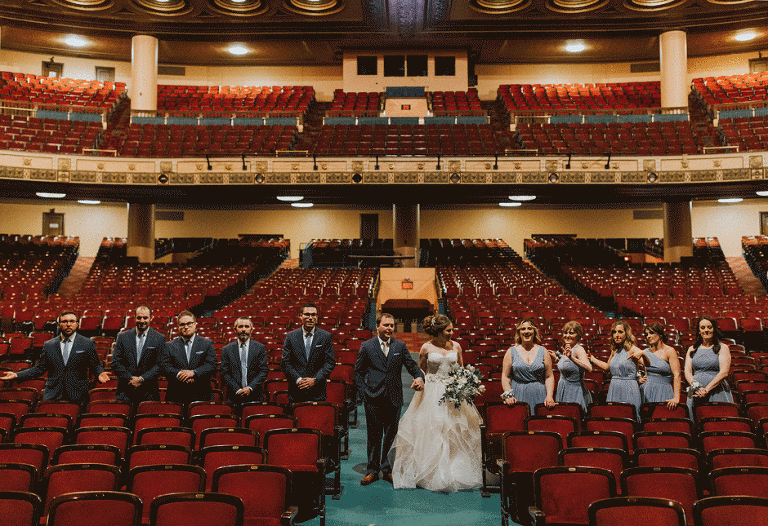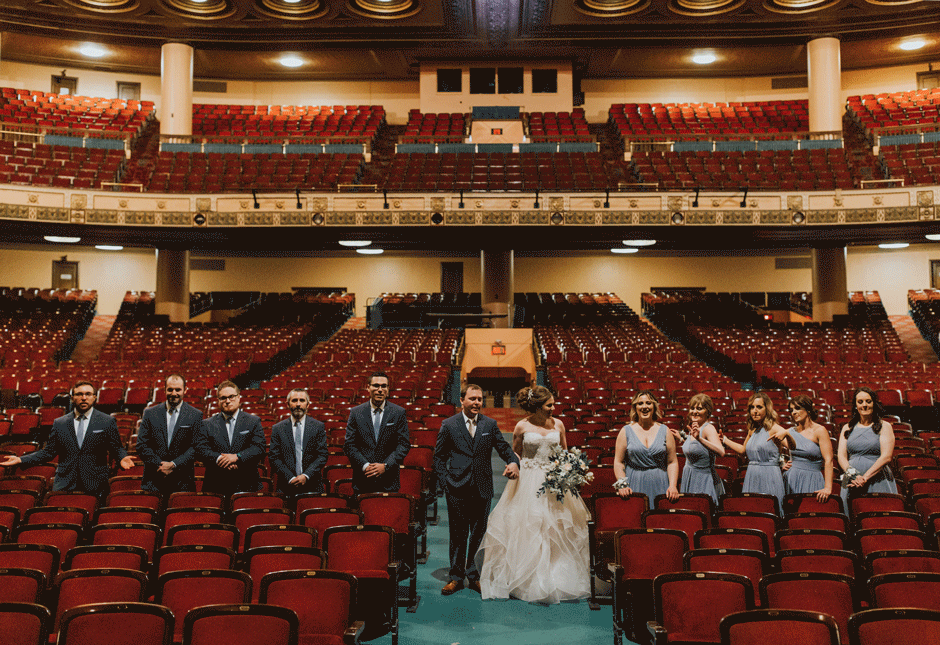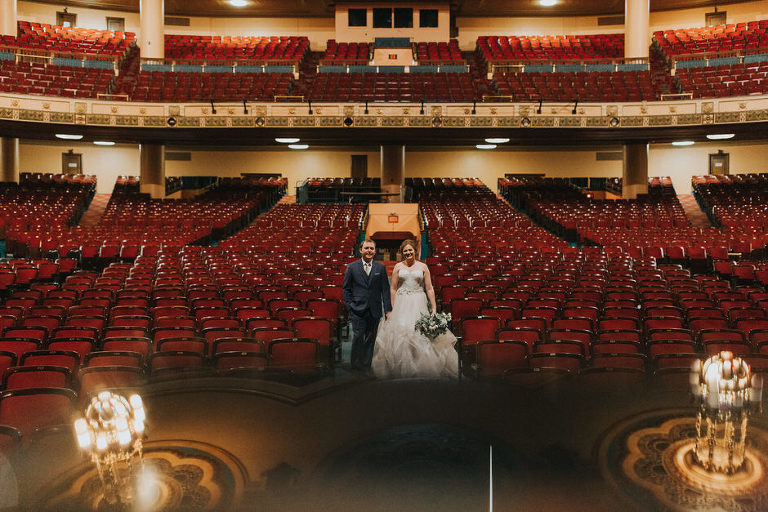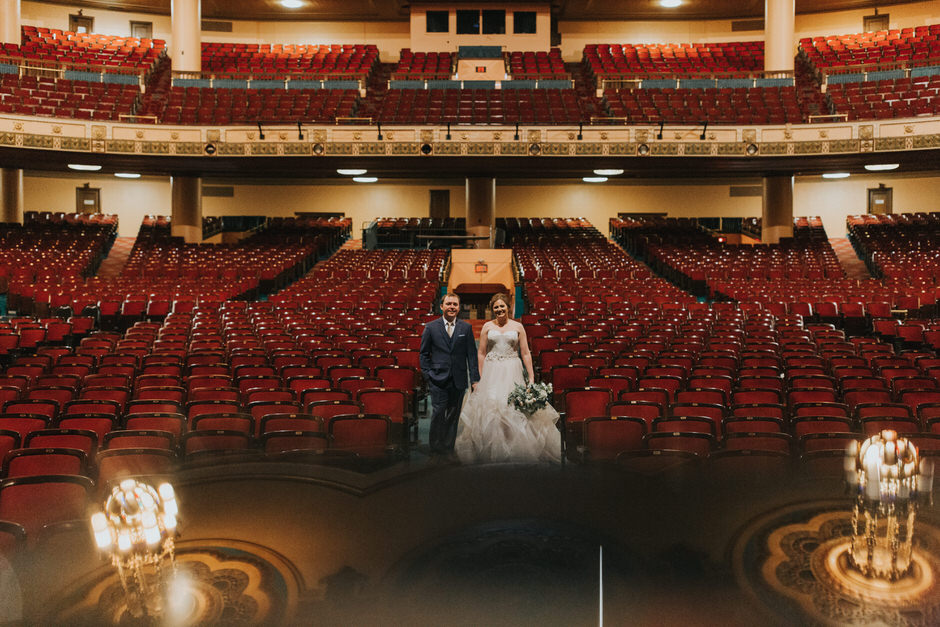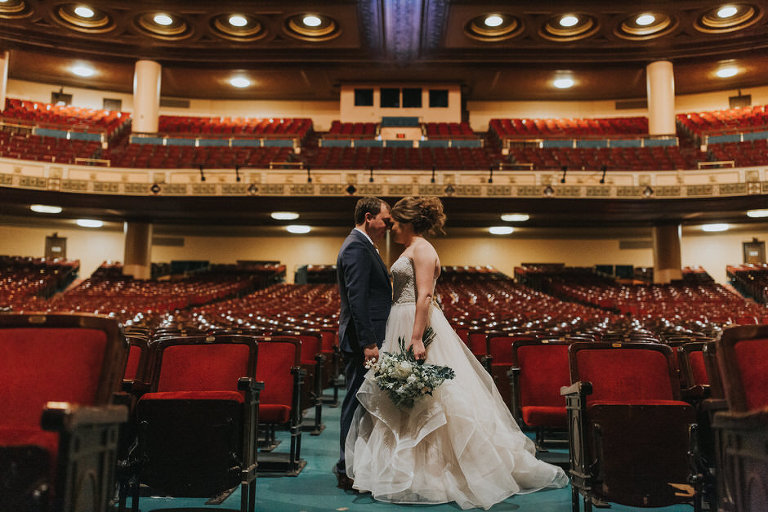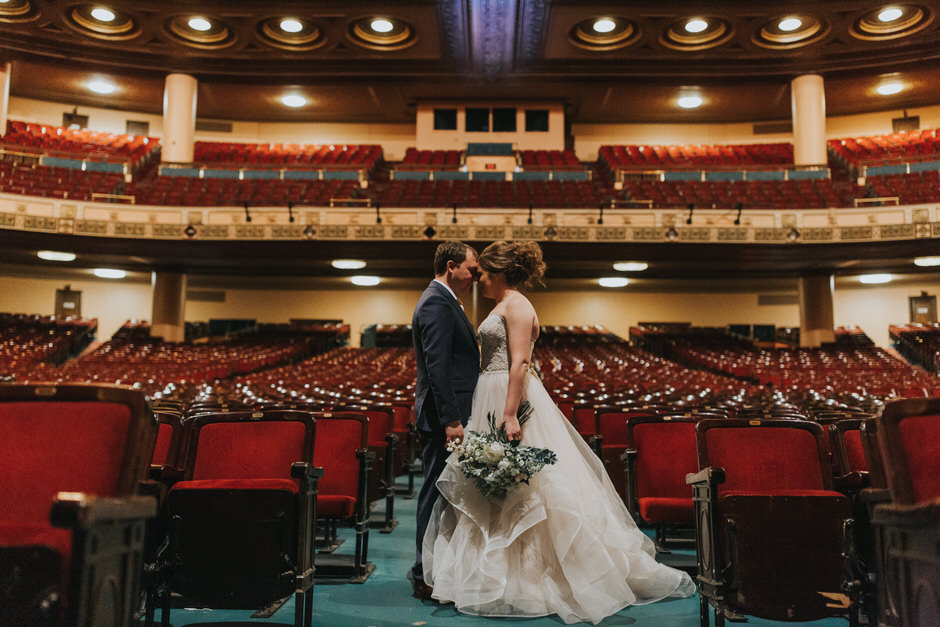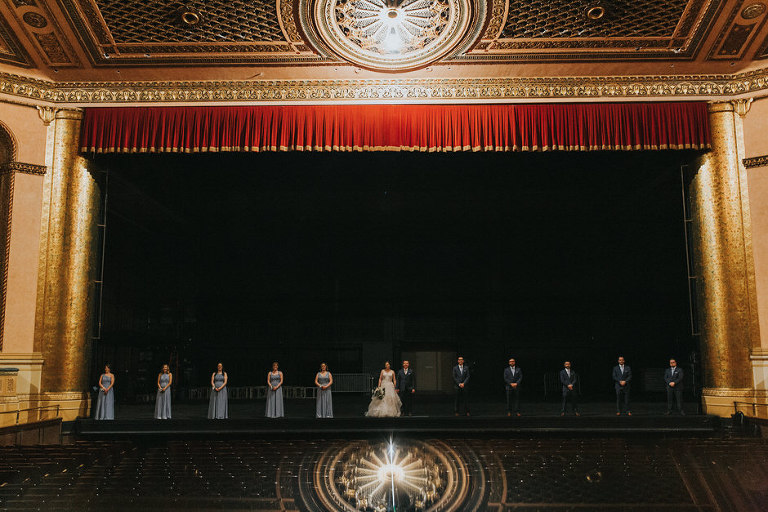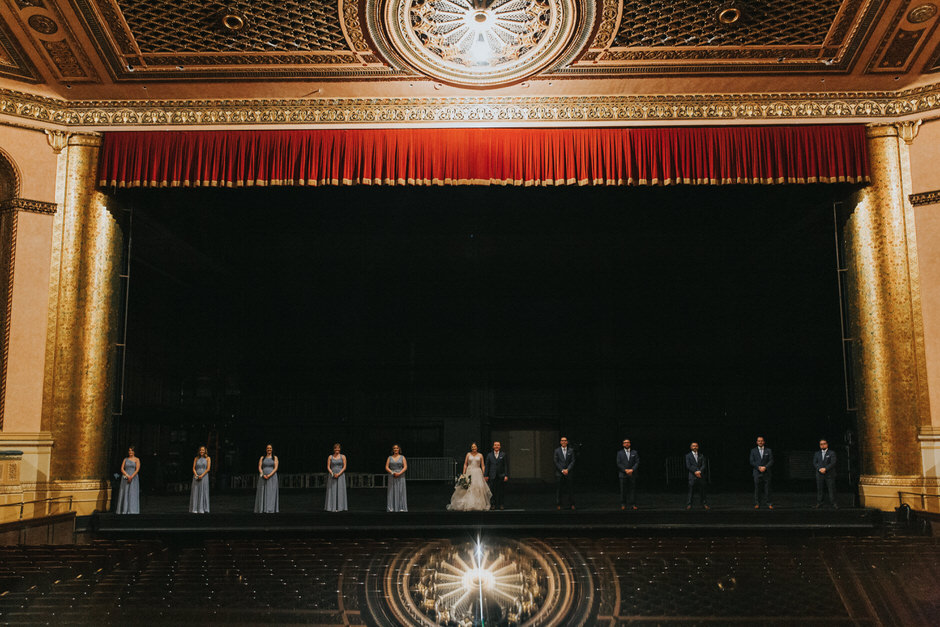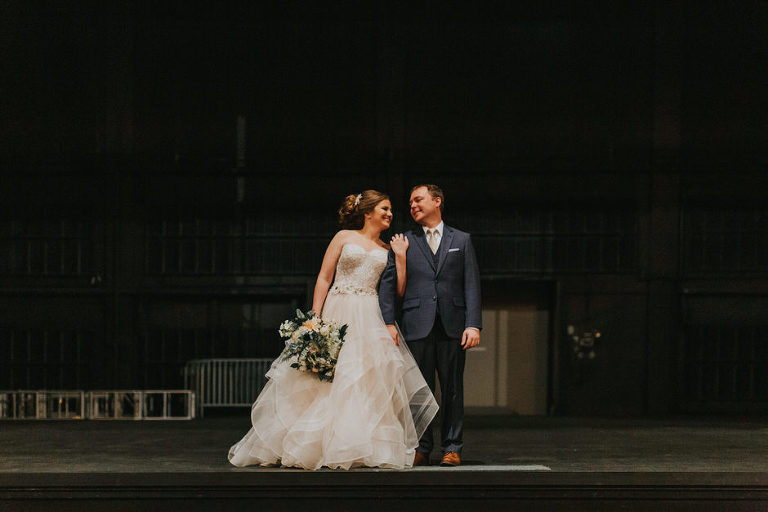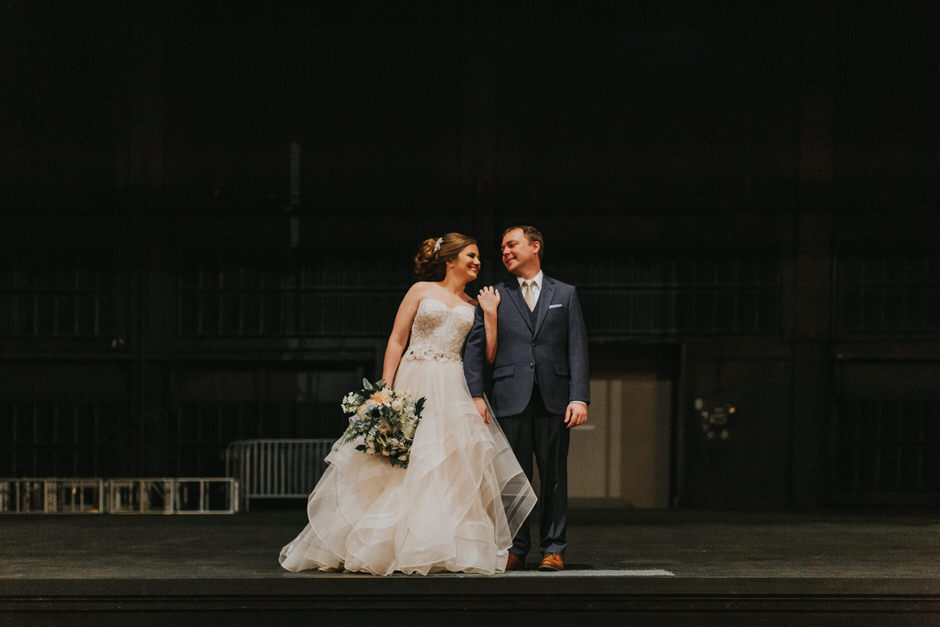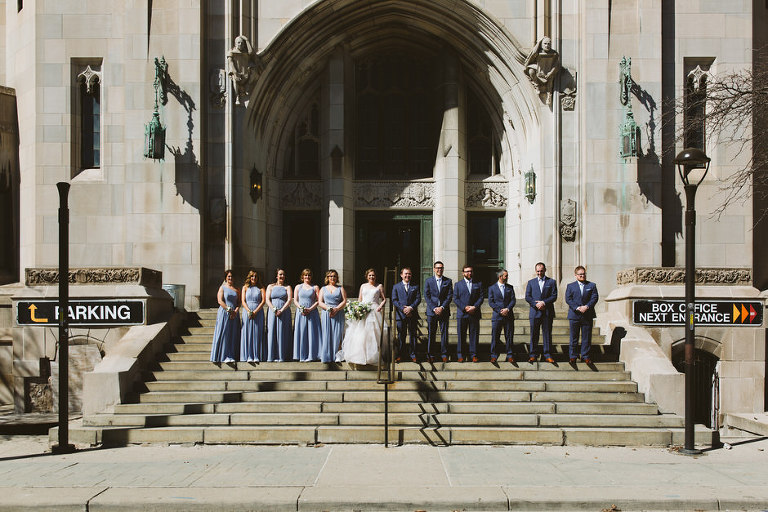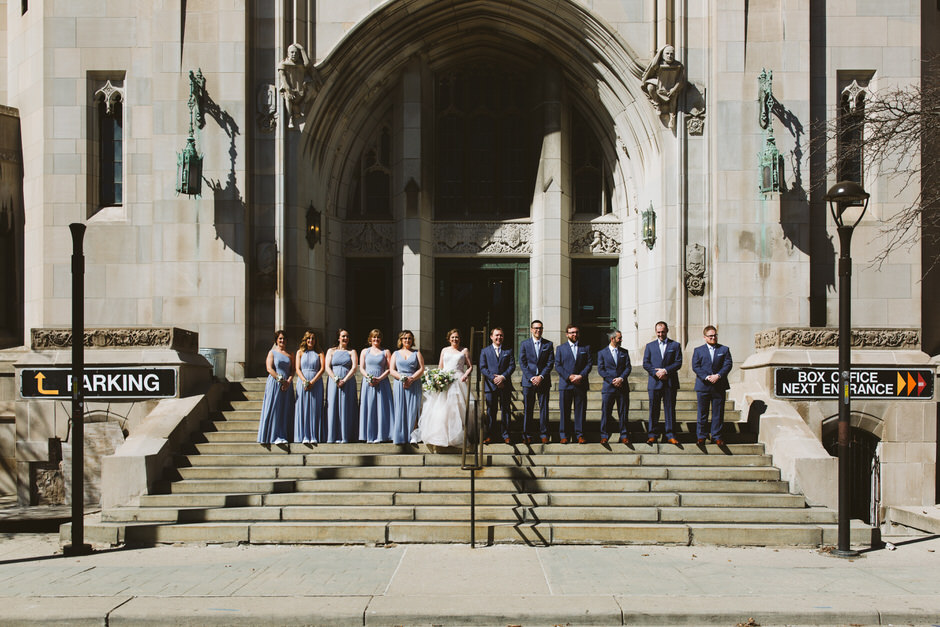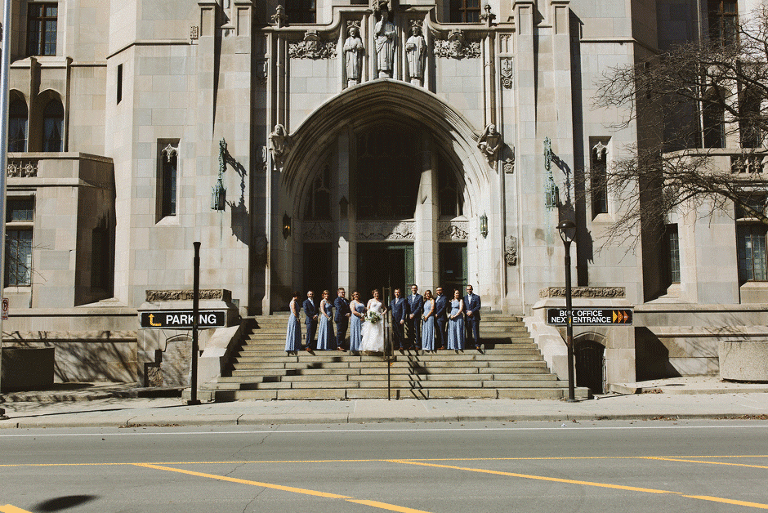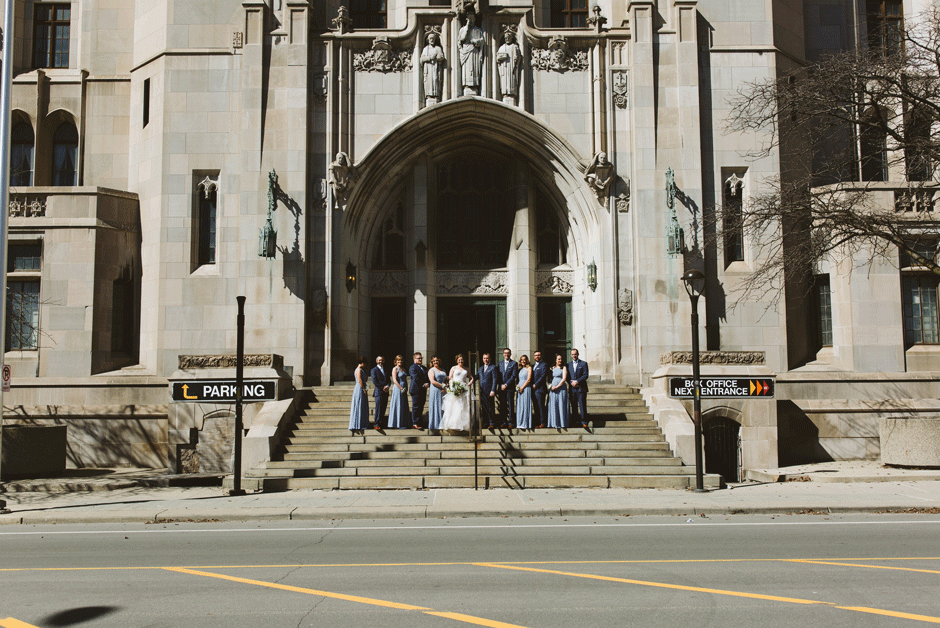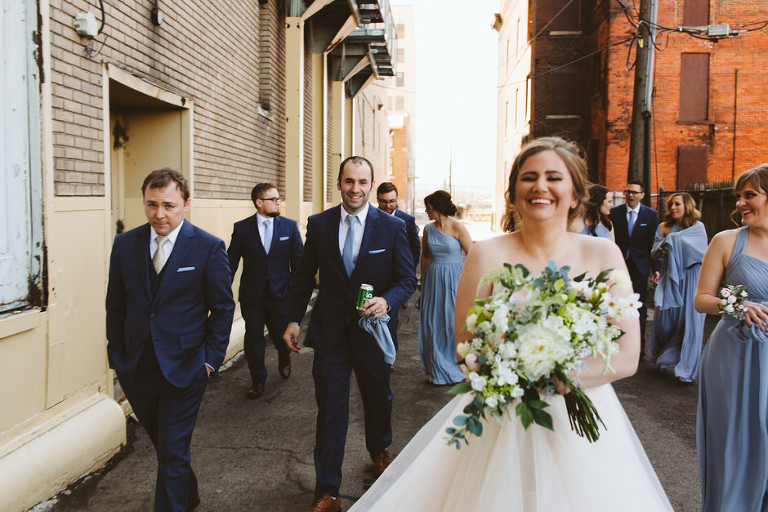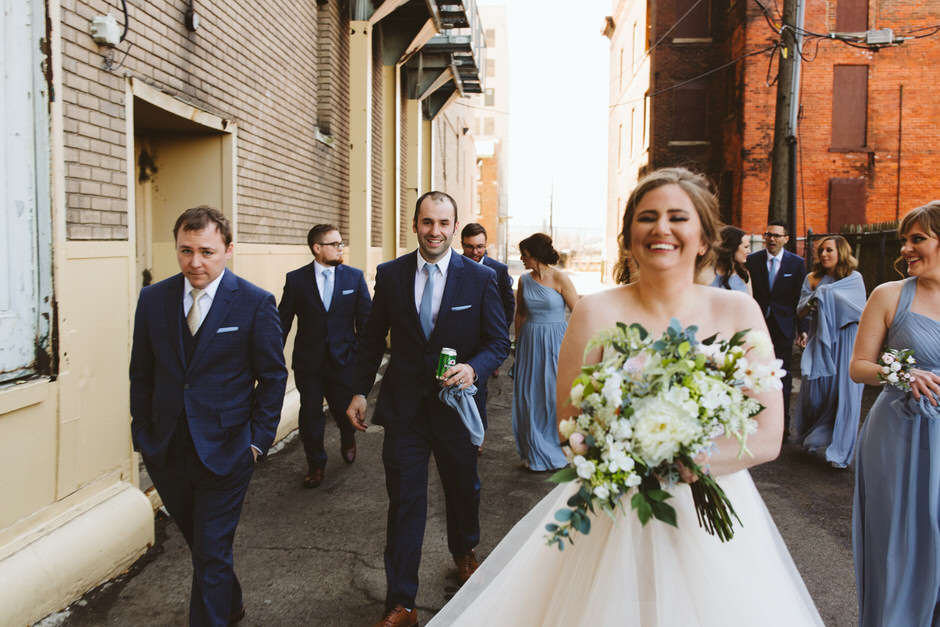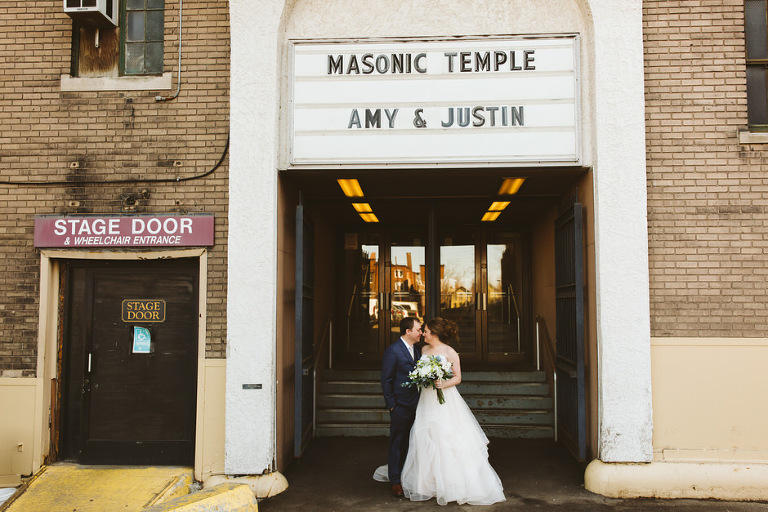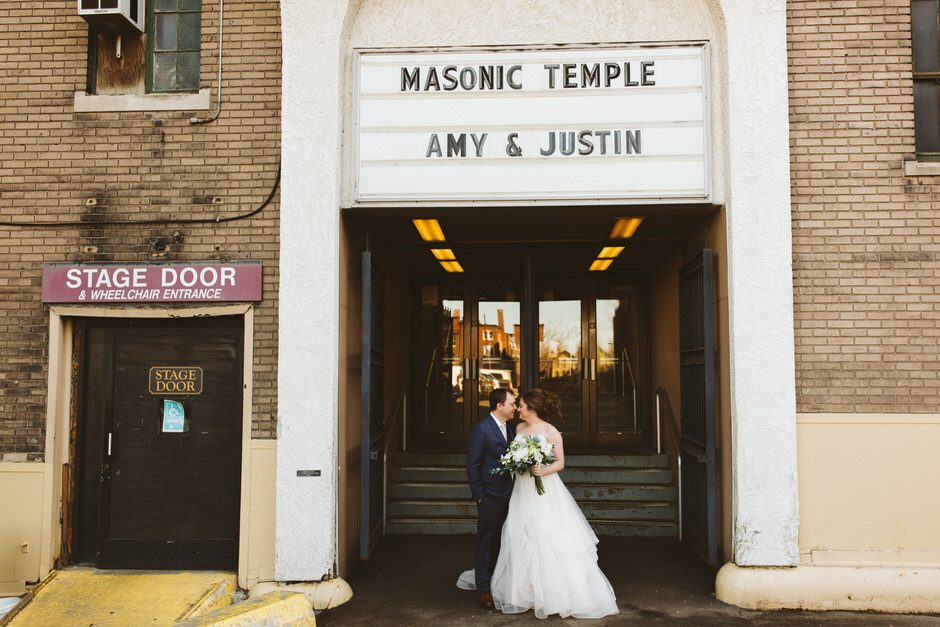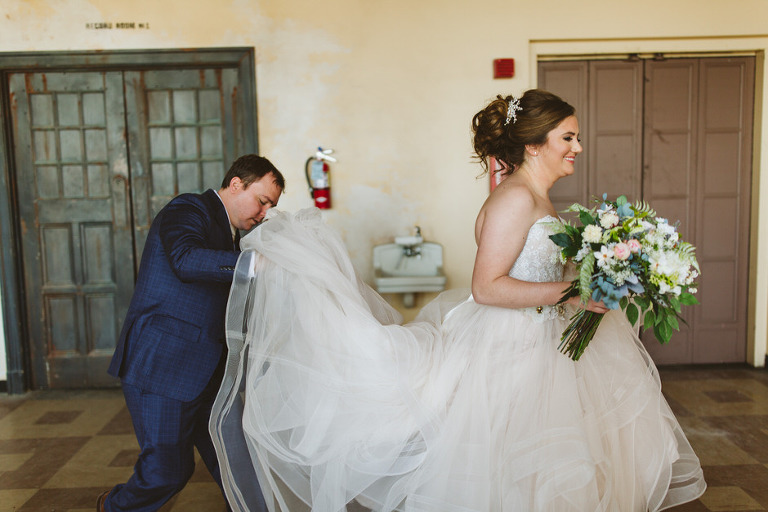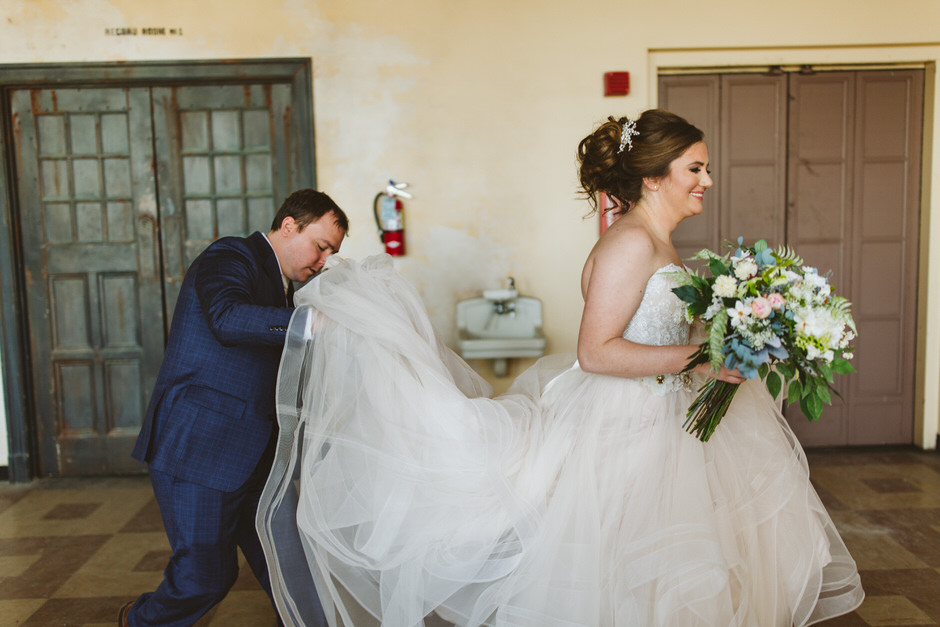 Venue: 
We wanted a venue that mixed our tastes of eclectic & traditional – the Masonic Temple in Detroit was perfect for this!  The huge, historic venue alleviated space concerns we had, the staff were AMAZING through both planning and event phases, and the look of the room night-of blew away our expectations.  We got married in the chapel there, by Denise Tucker of Perfect Day Celebrations, who did an amazing job, then had our reception and cocktail hour in the ballroom.  There were even huge spaces for getting ready on site!  The size of the venue and breadth of events held there was also great for pictures – we wandered around and ended up finding a roller derby setup, the main concert hall and even got to take some pictures on the roof!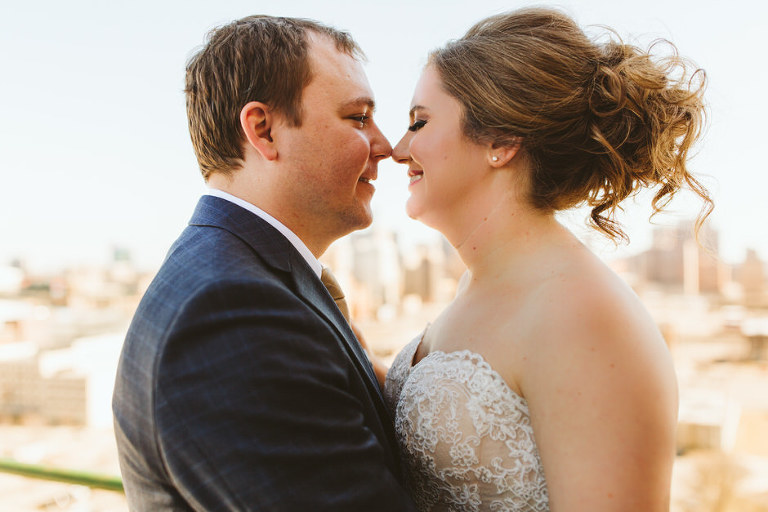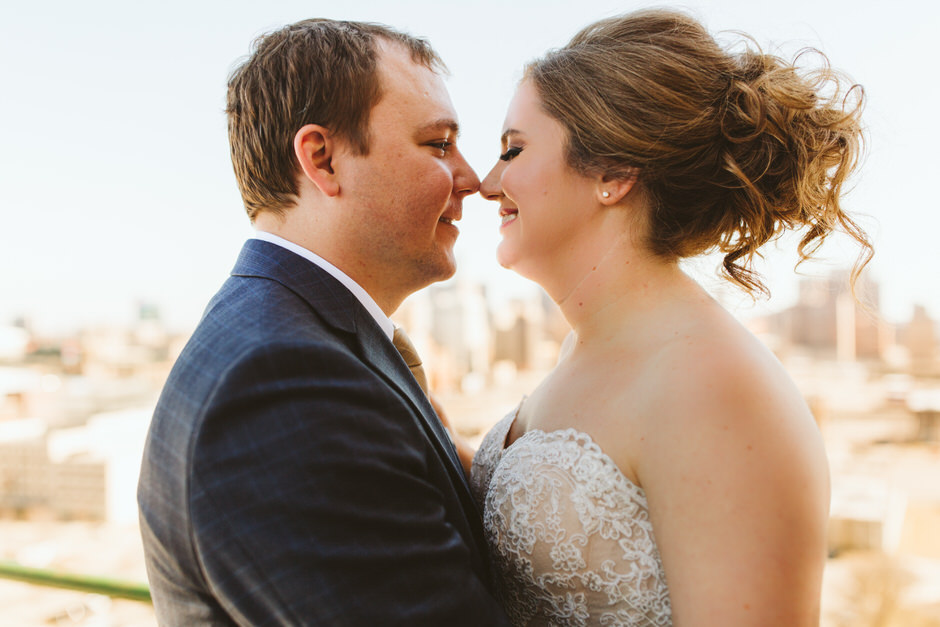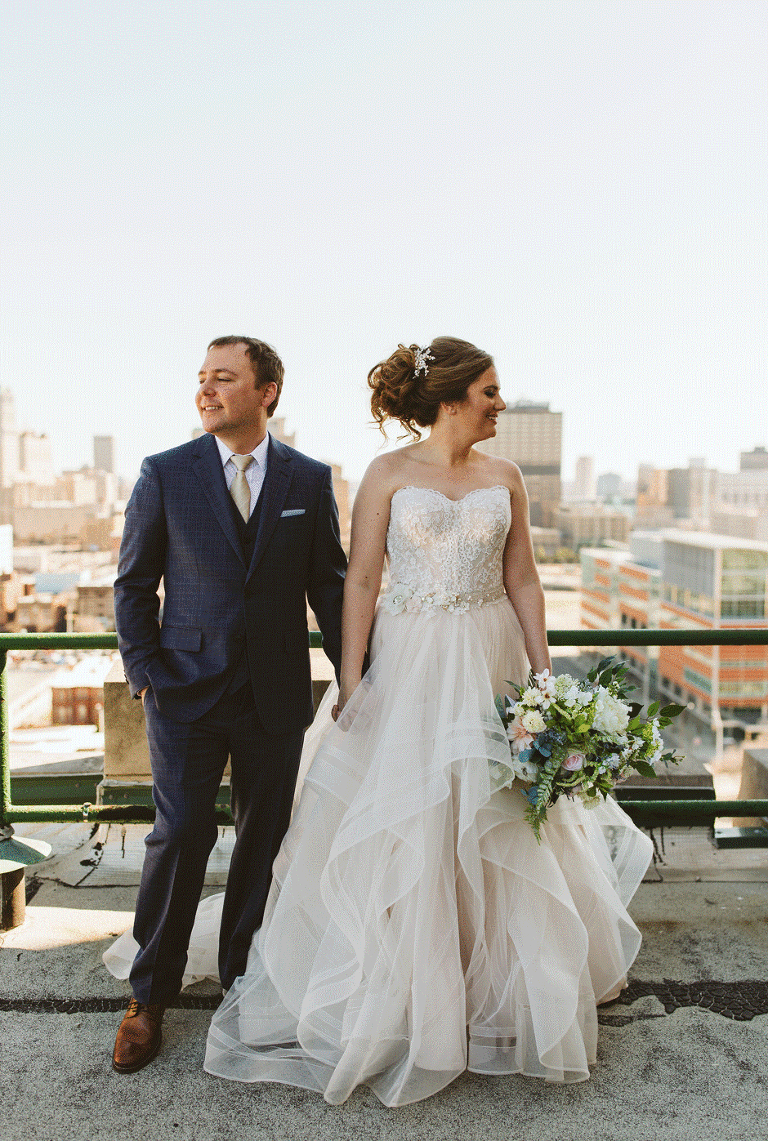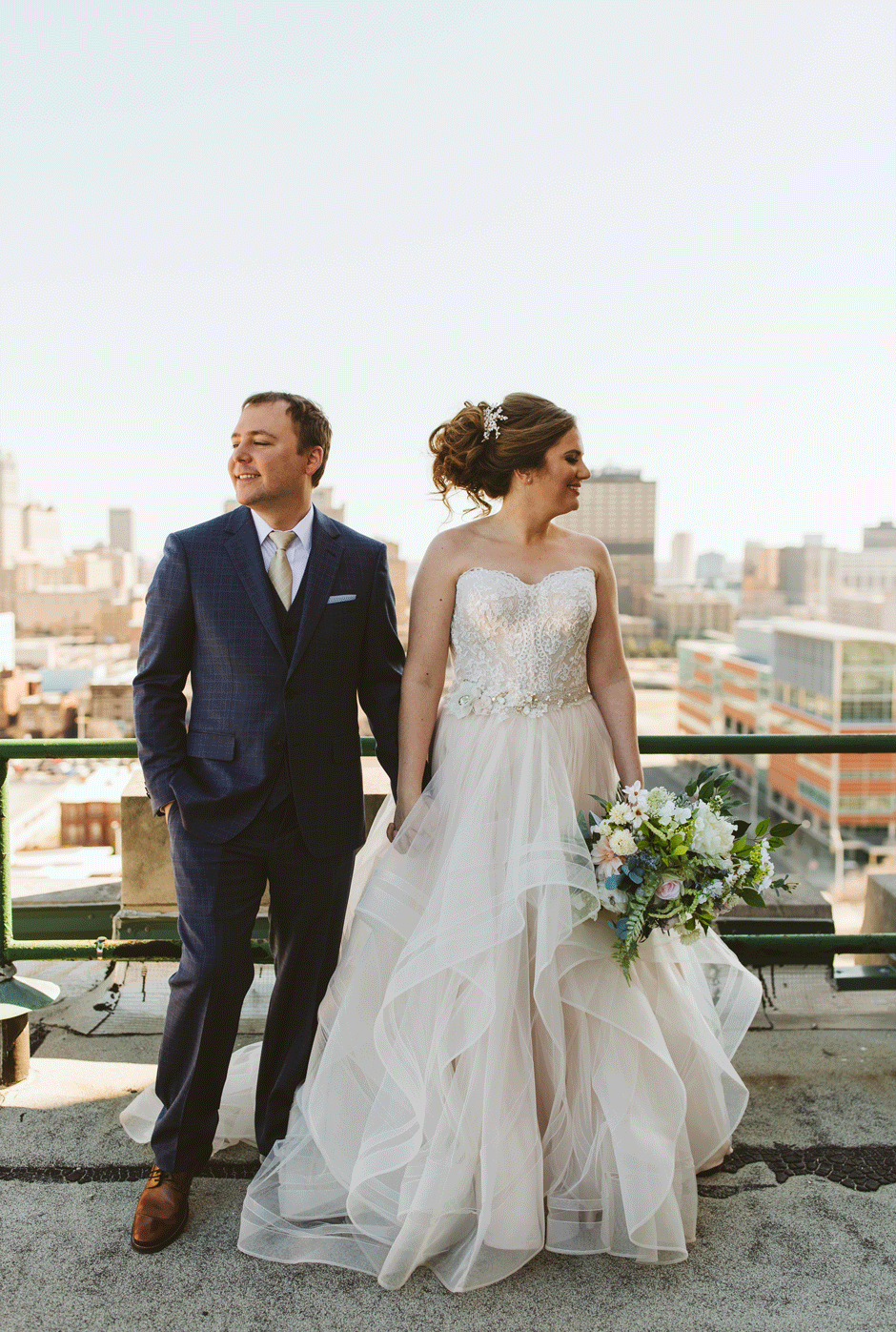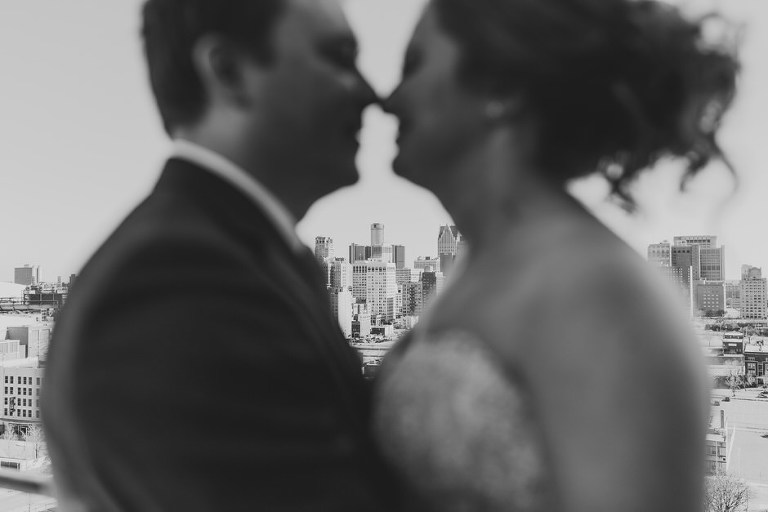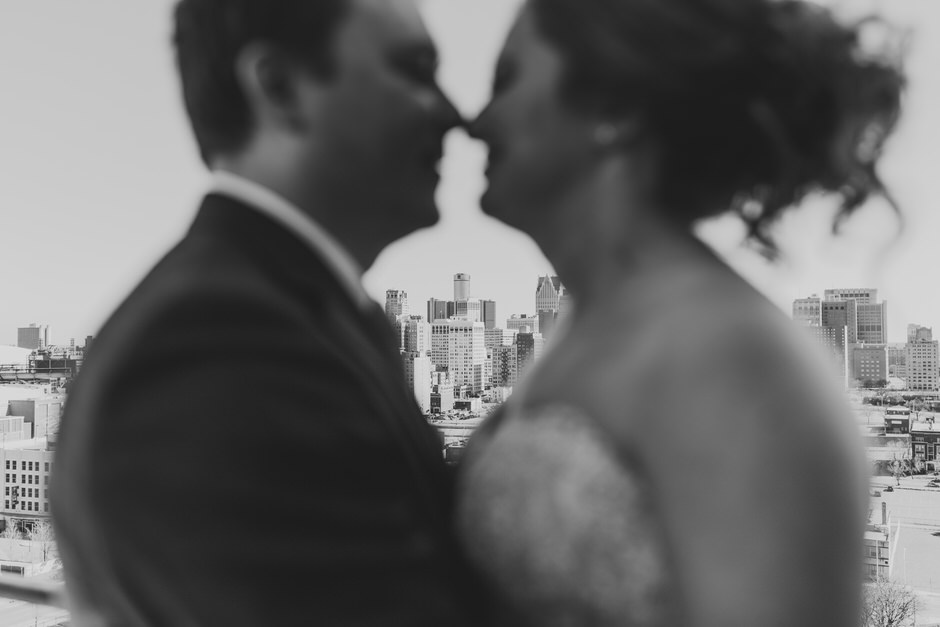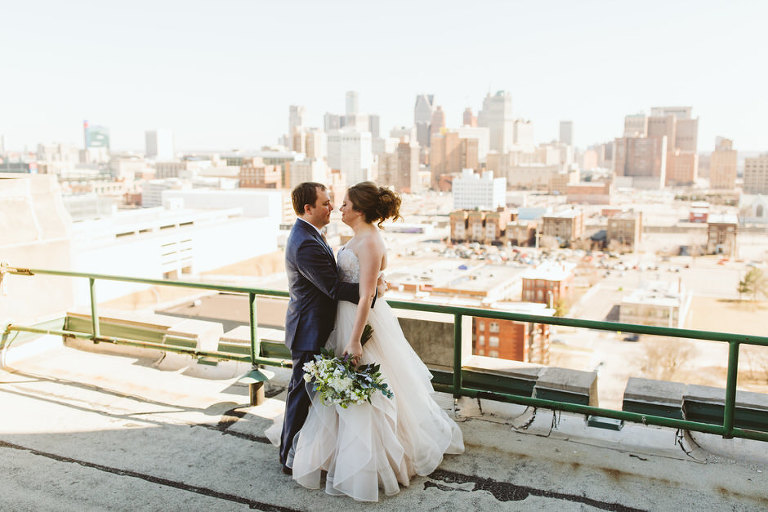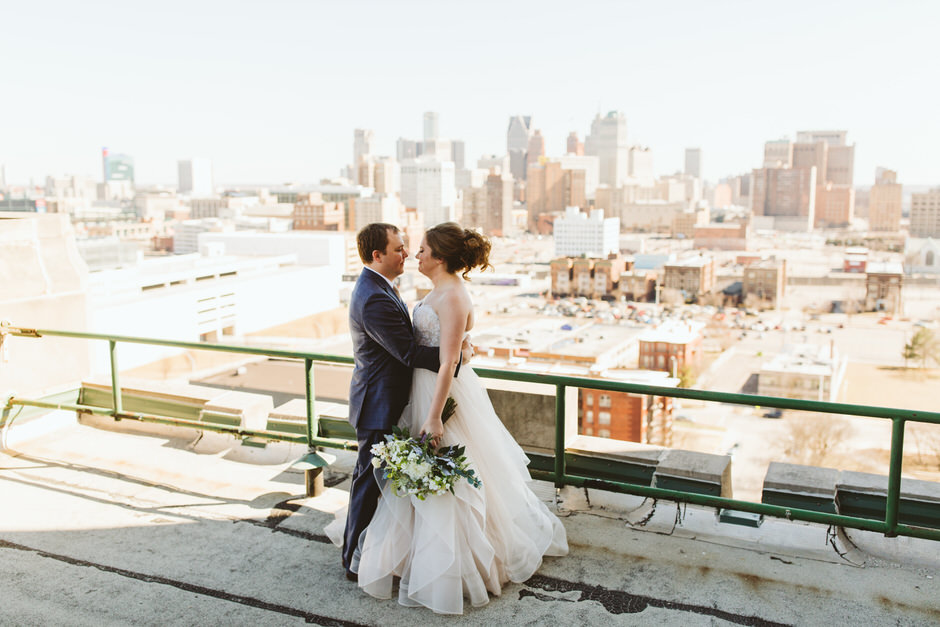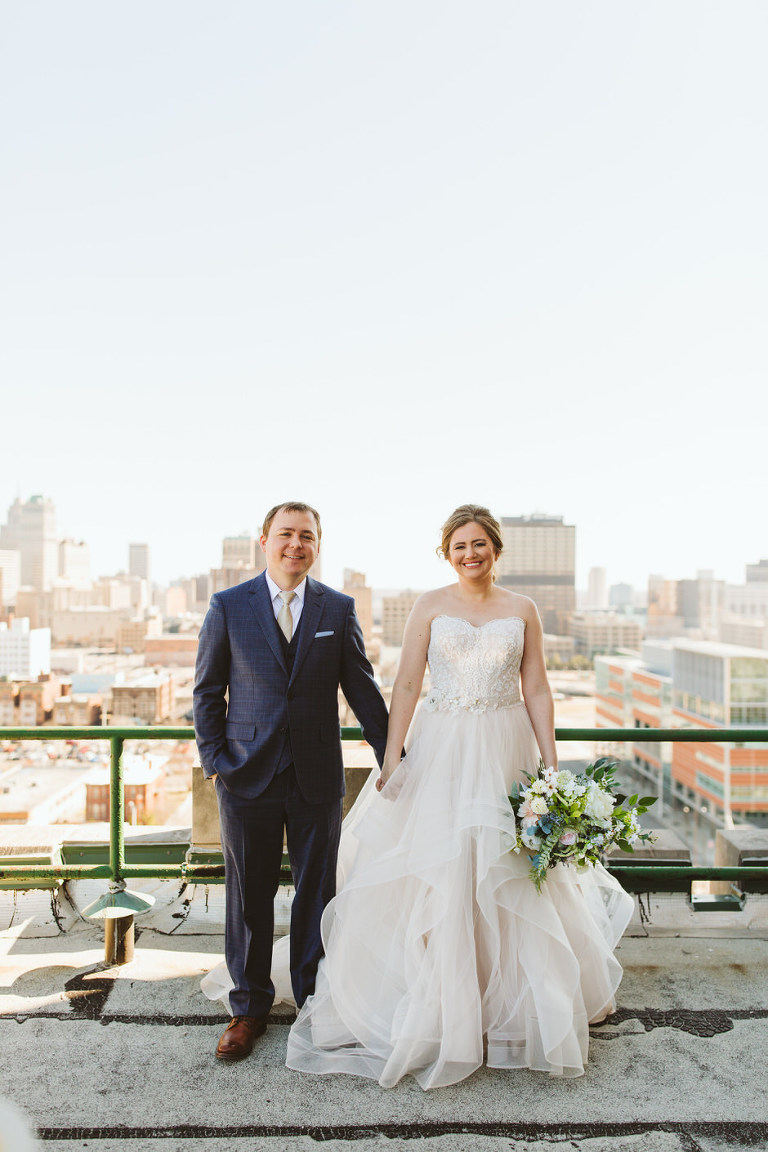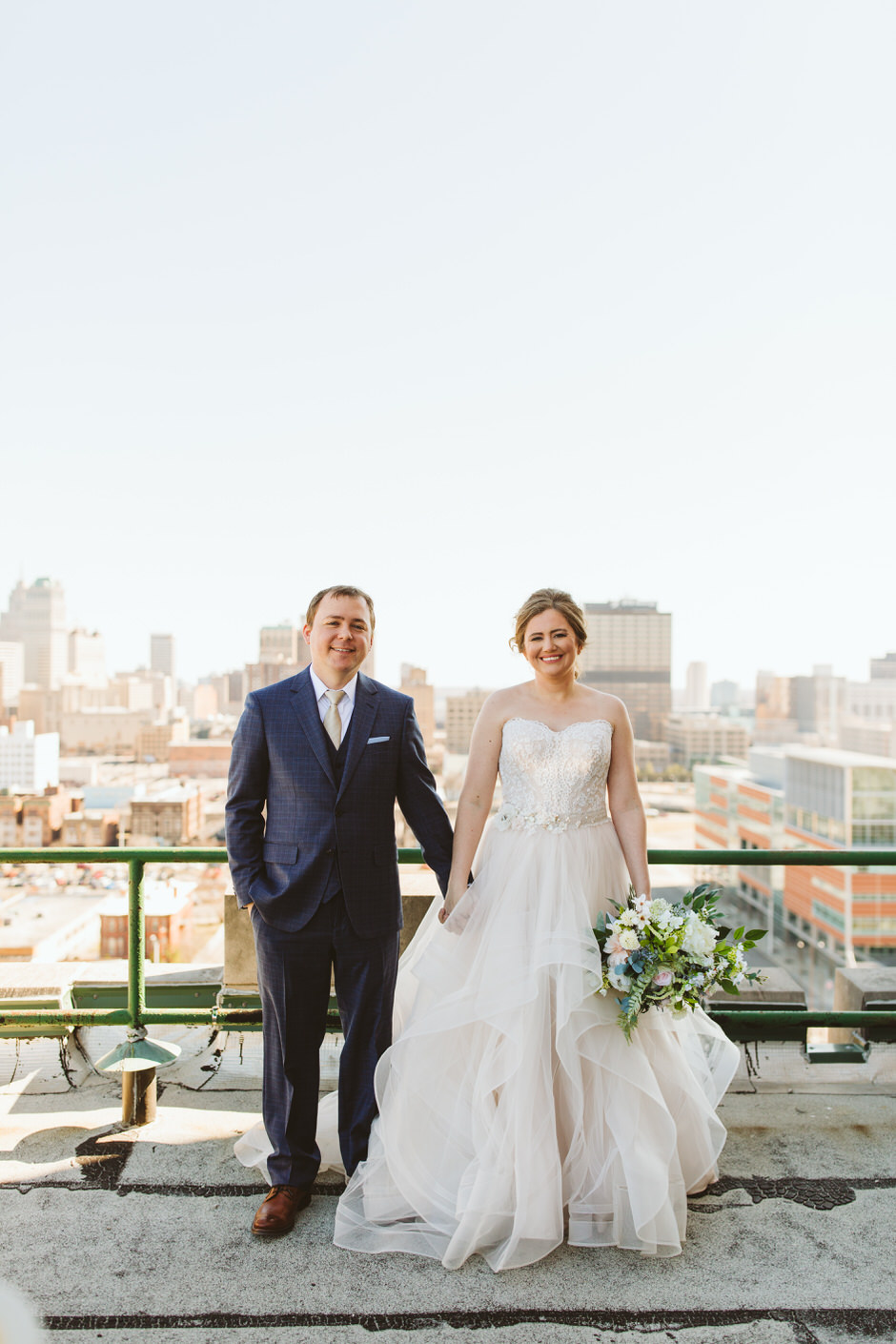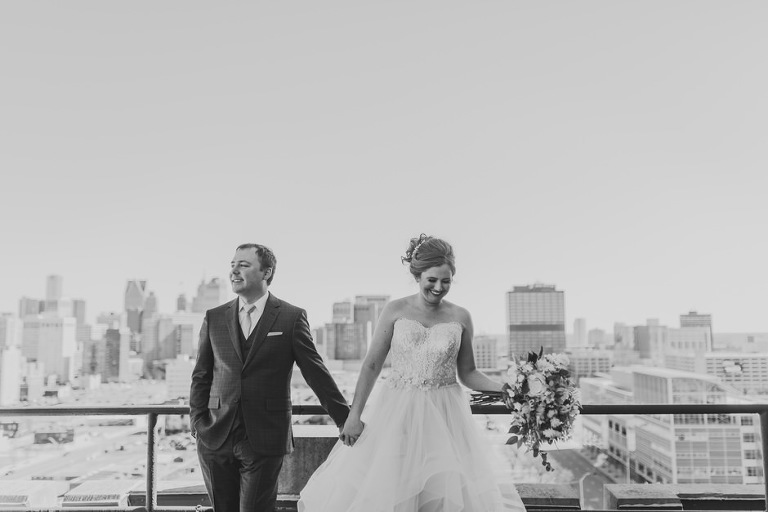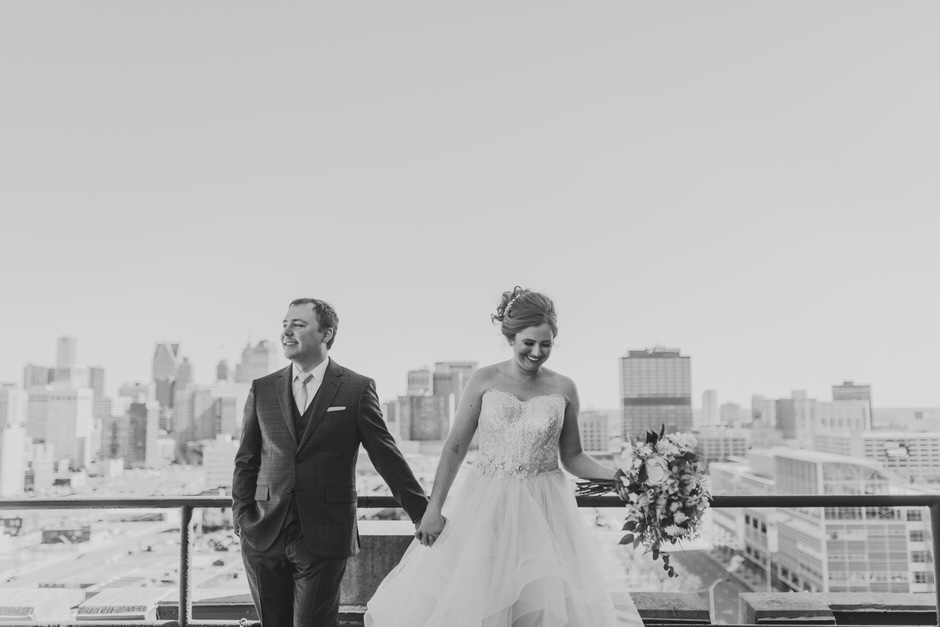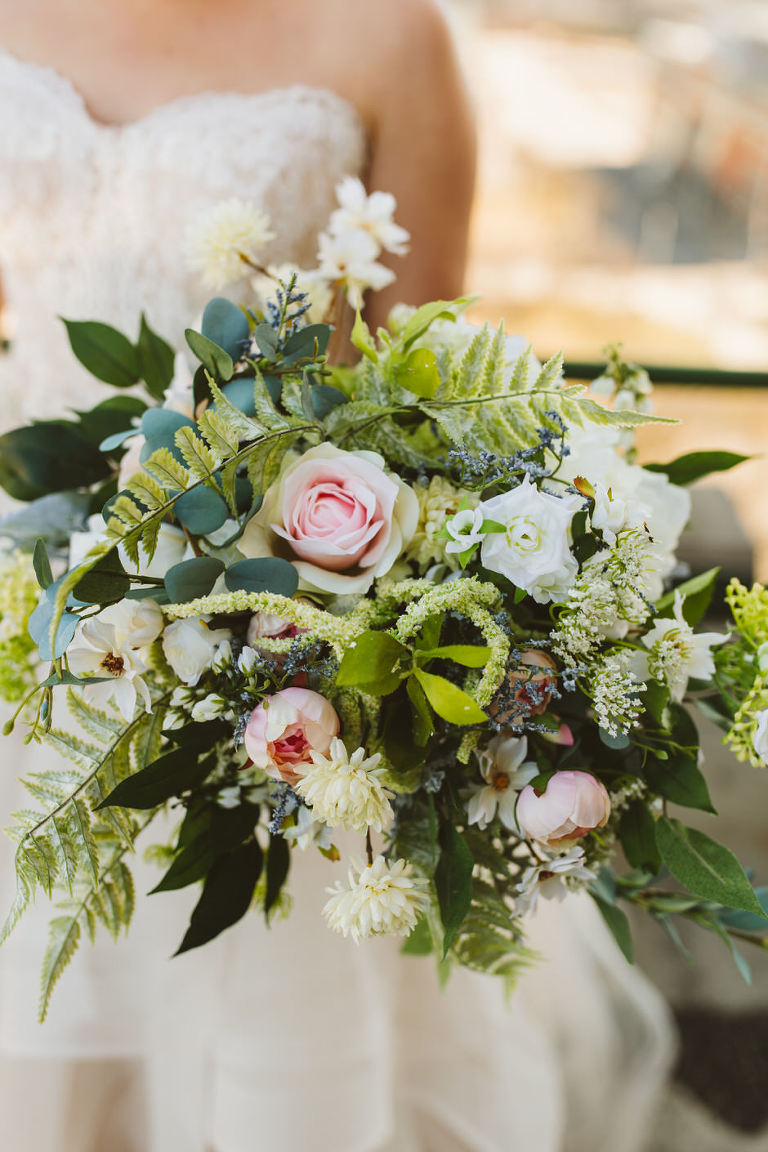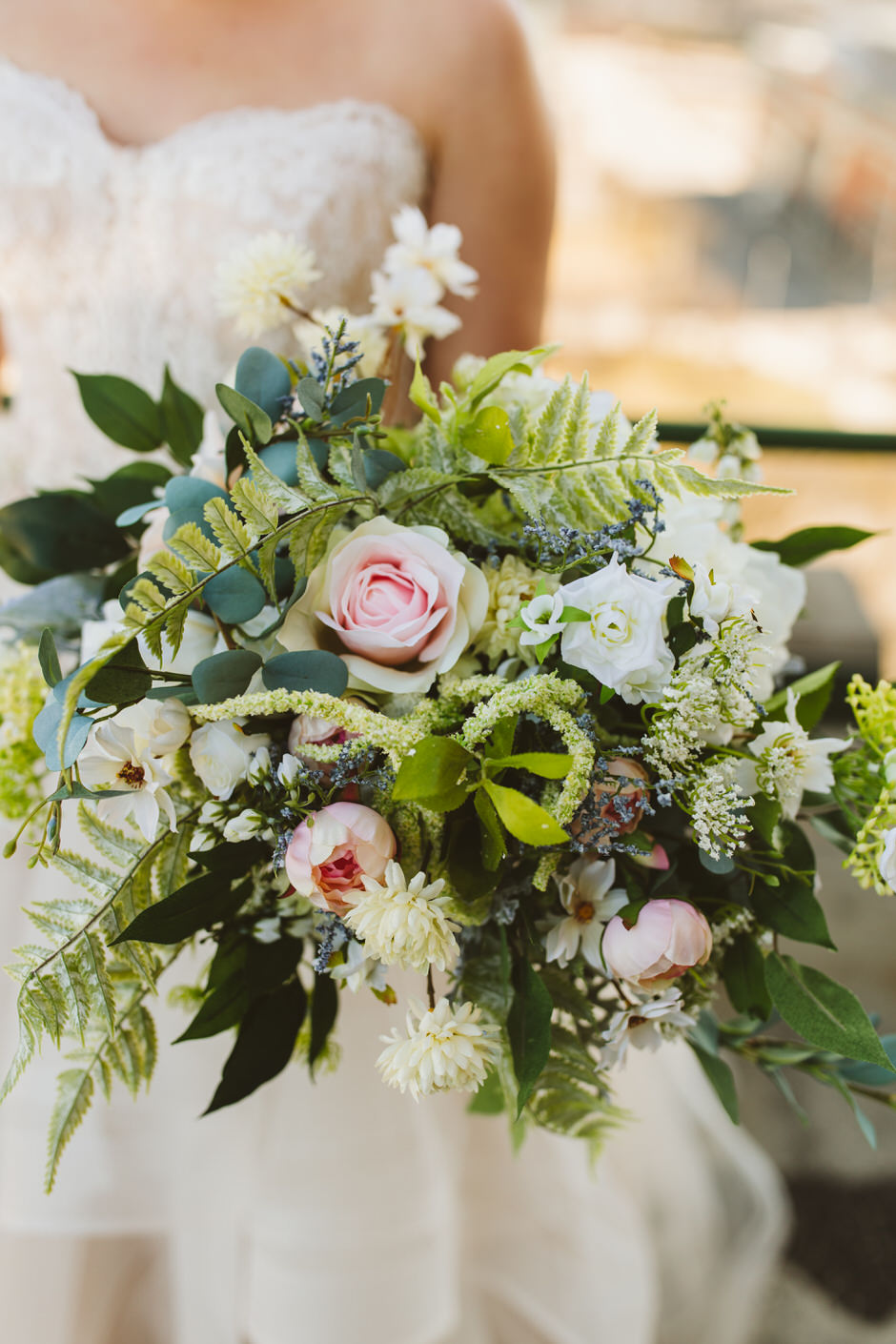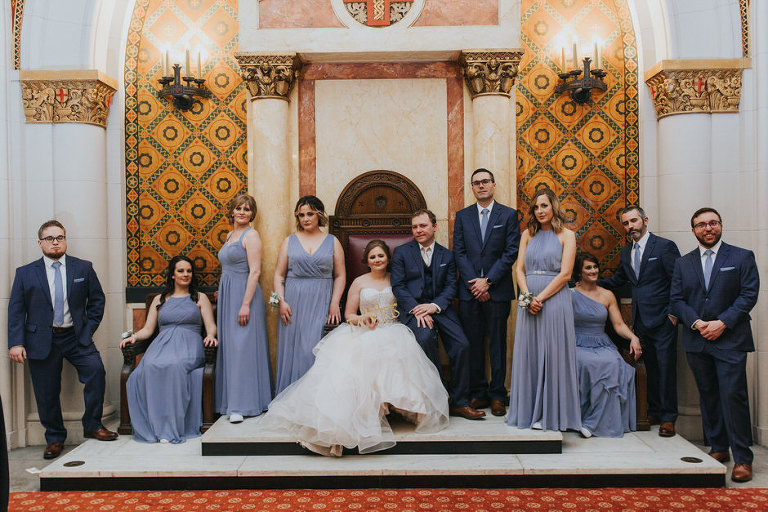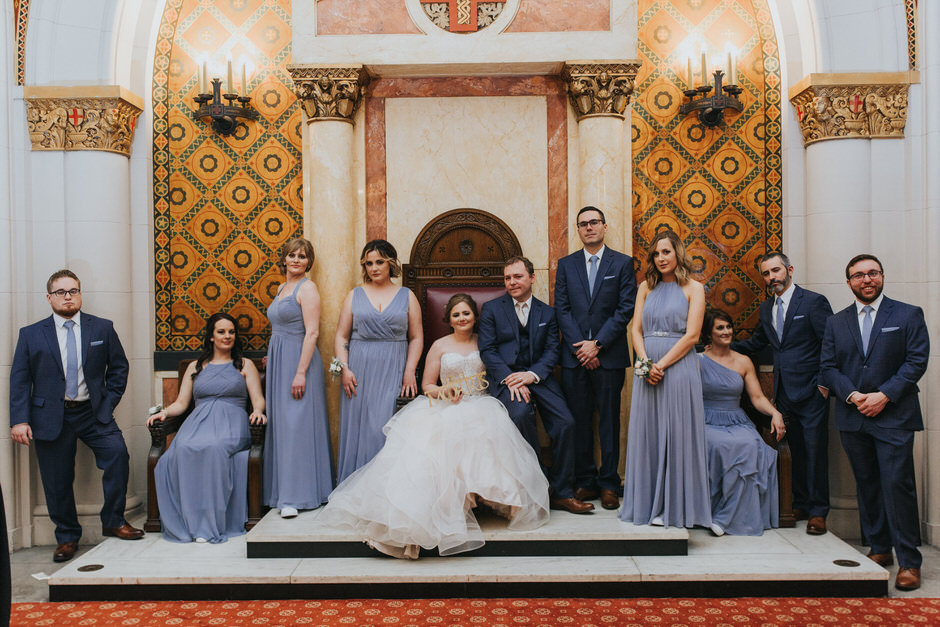 Ceremony: 
The ceremony was great!  We kept it short and sweet with a couple friends speaking and let Denise do the rest.  We also went with a fun "newspaper" style handout we had seen at another wedding, which was a fun alternative to traditional program guides.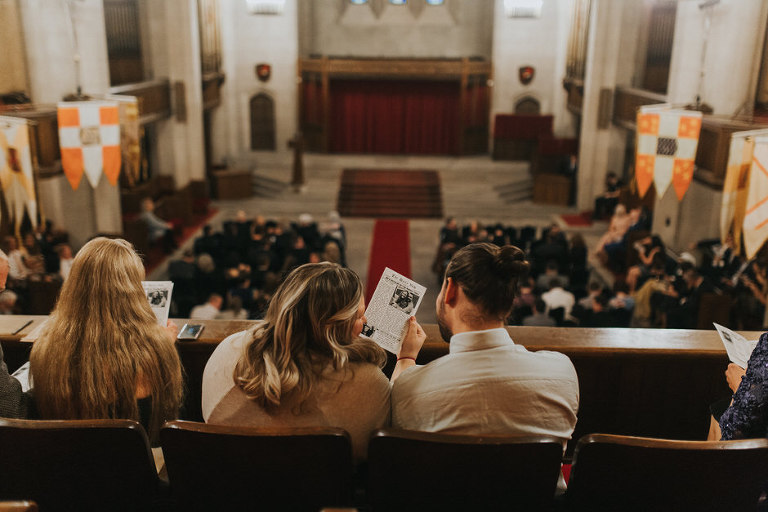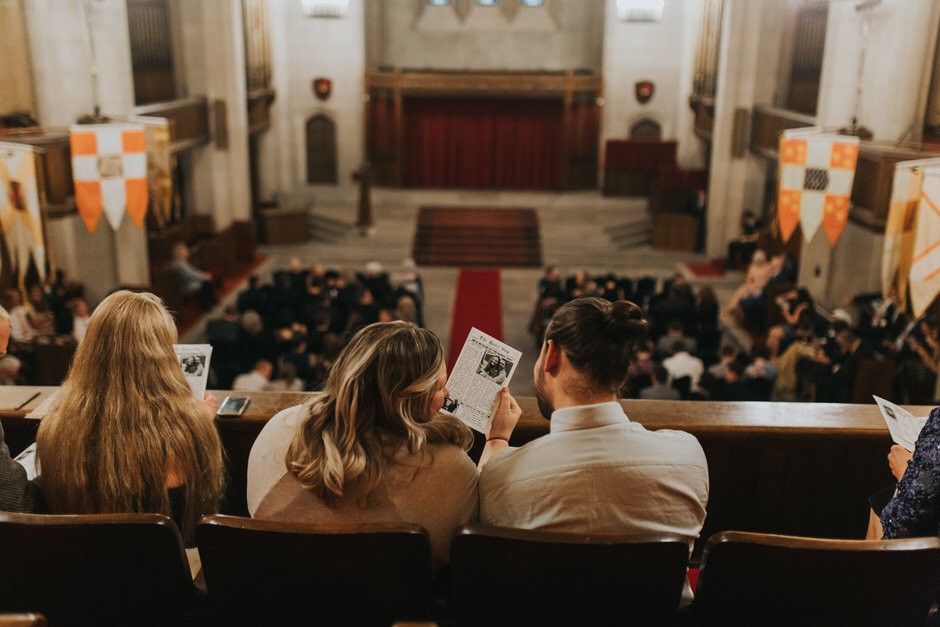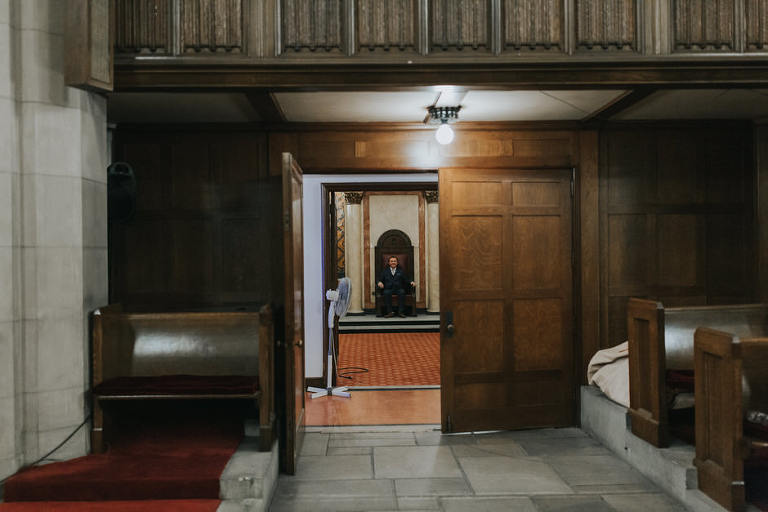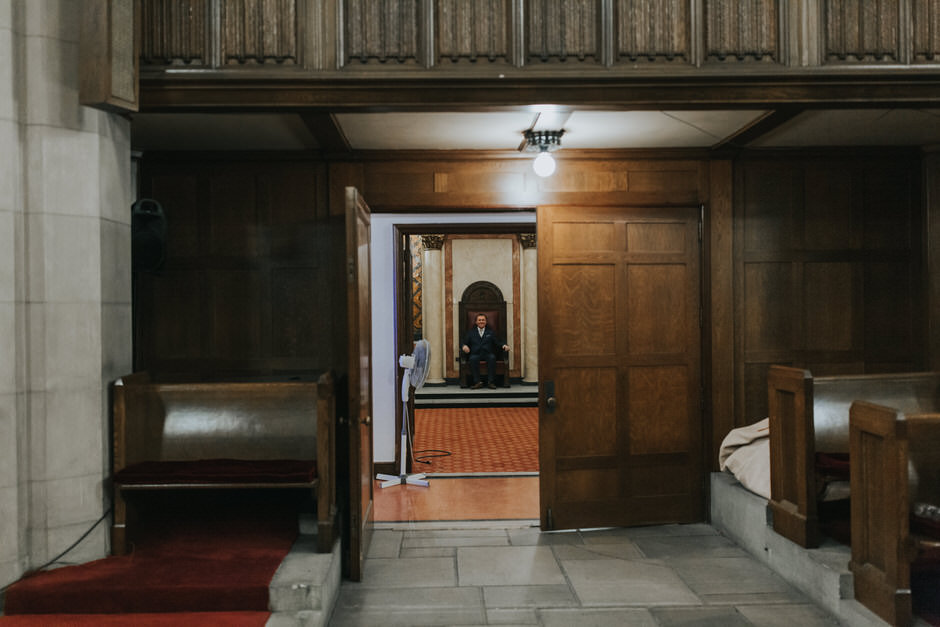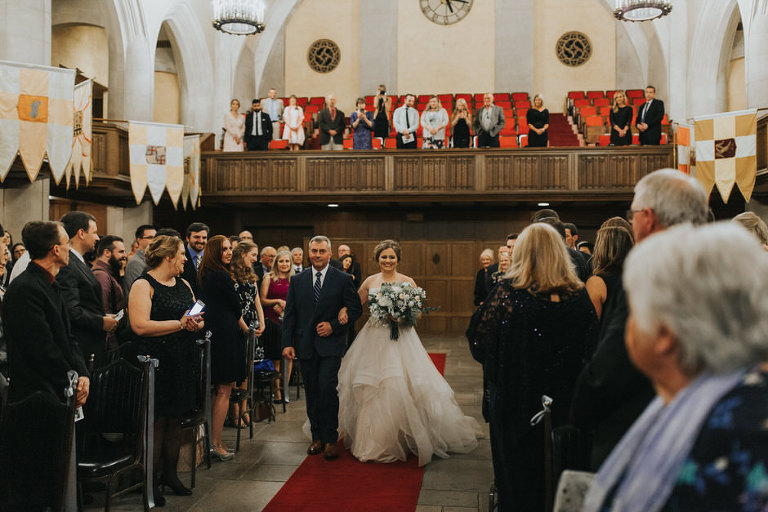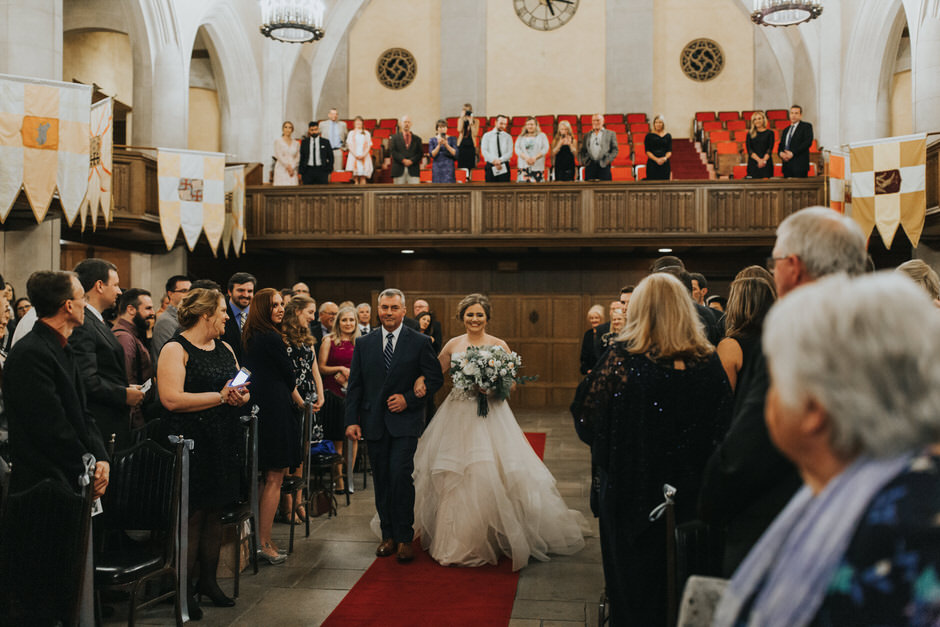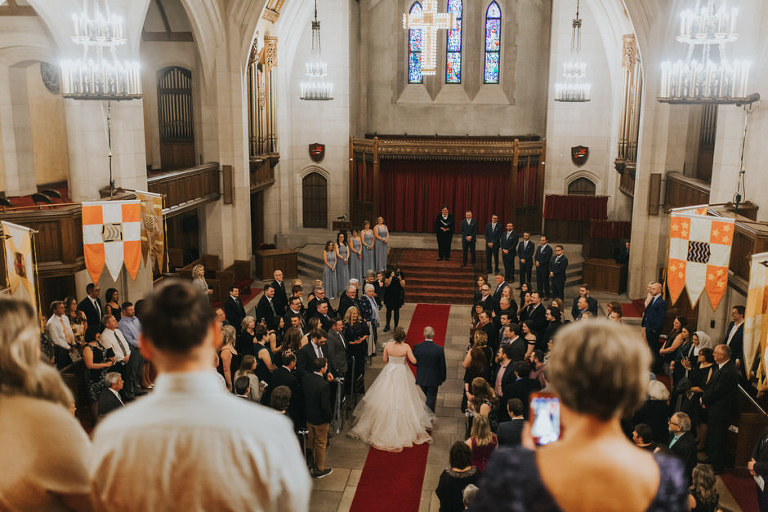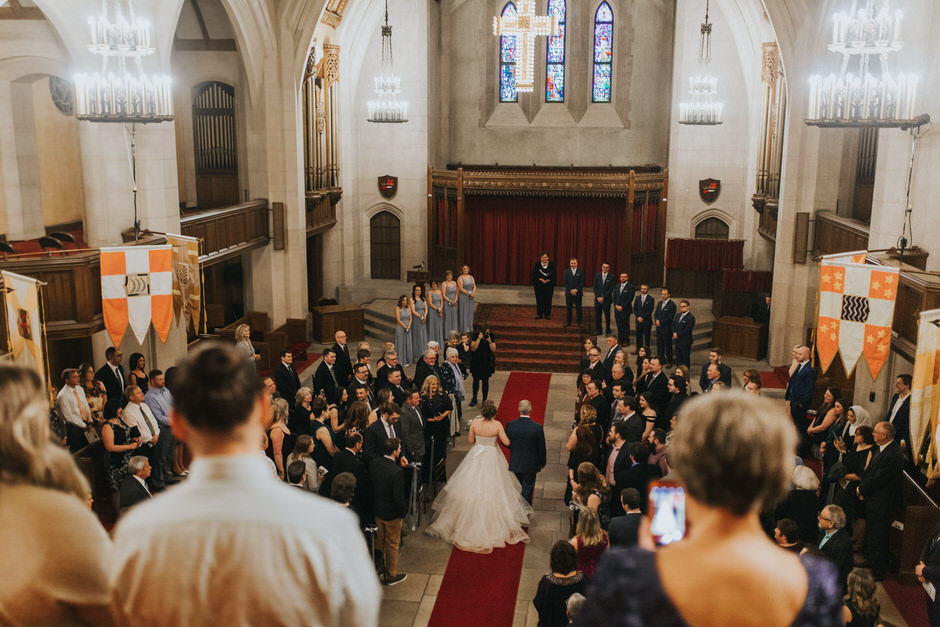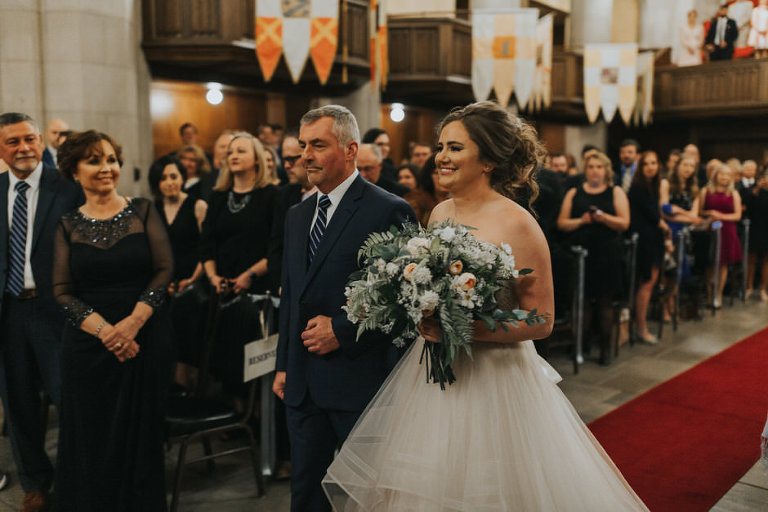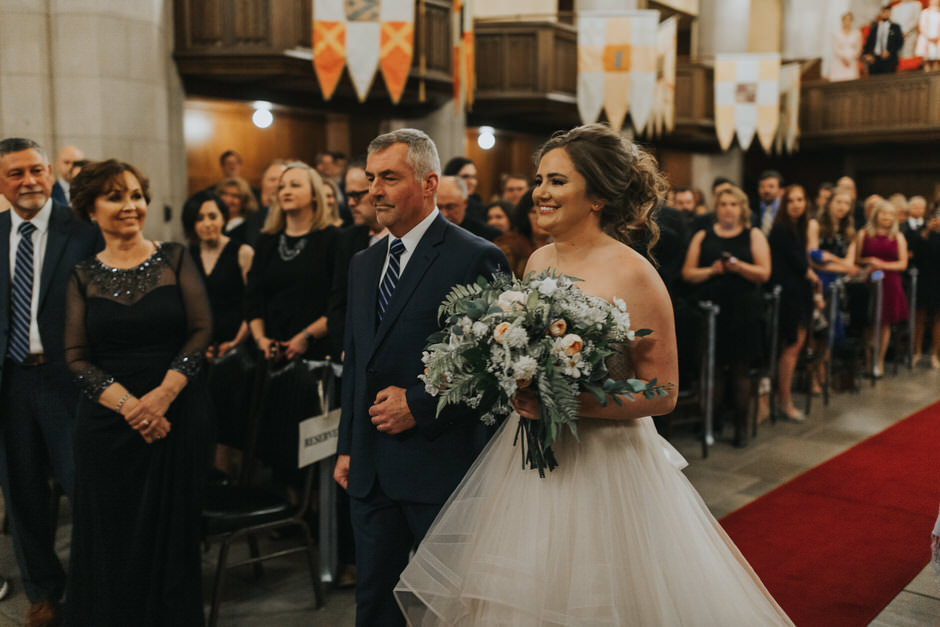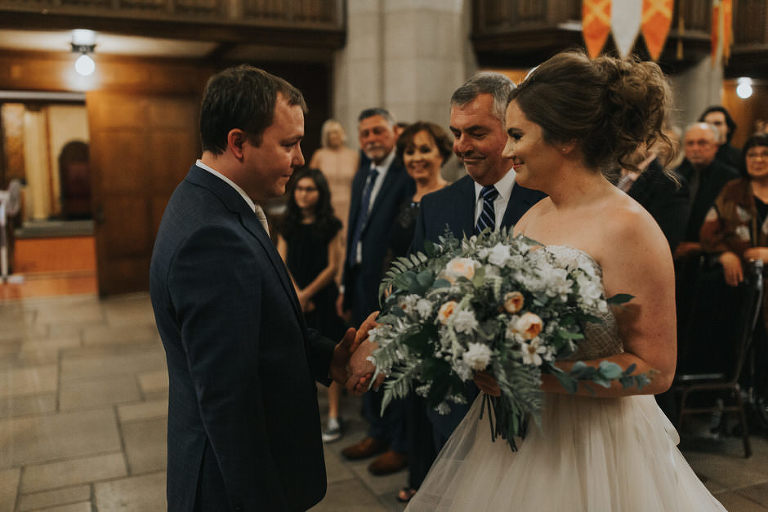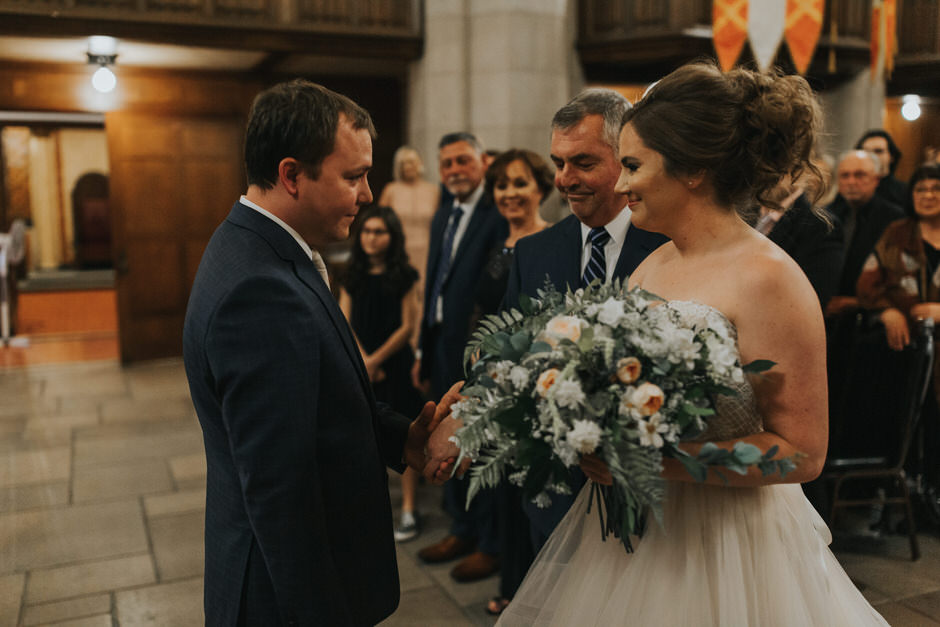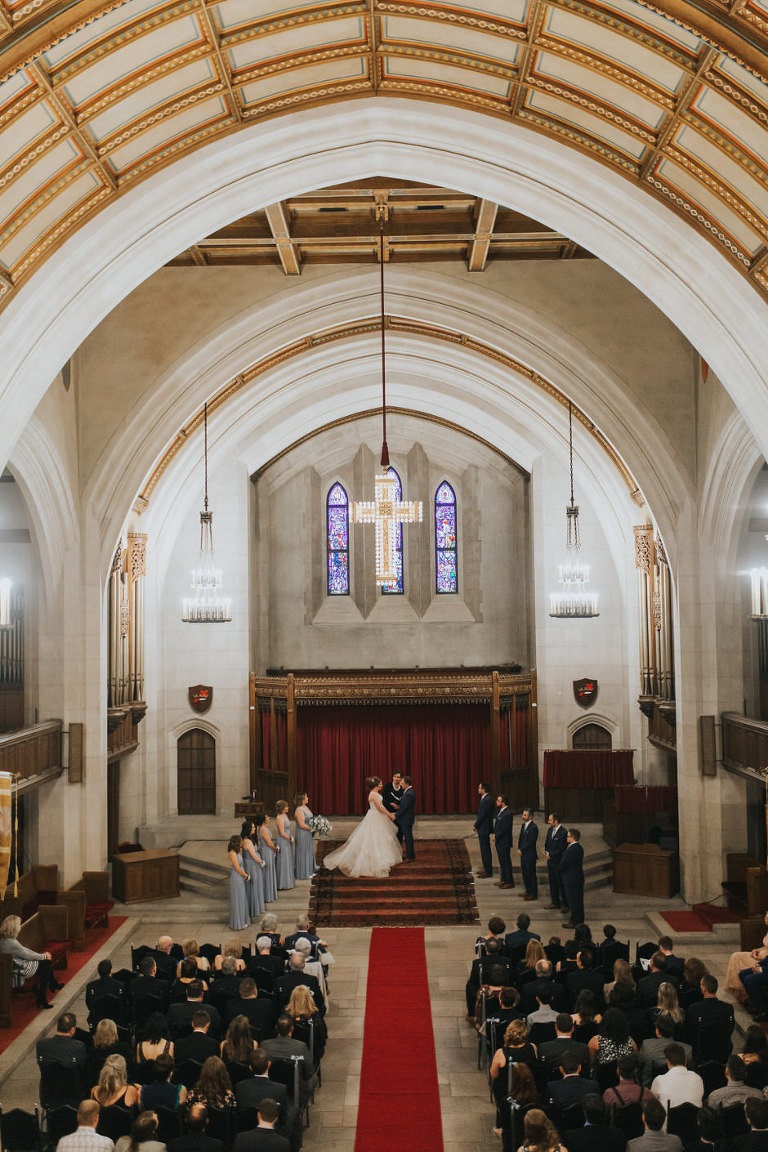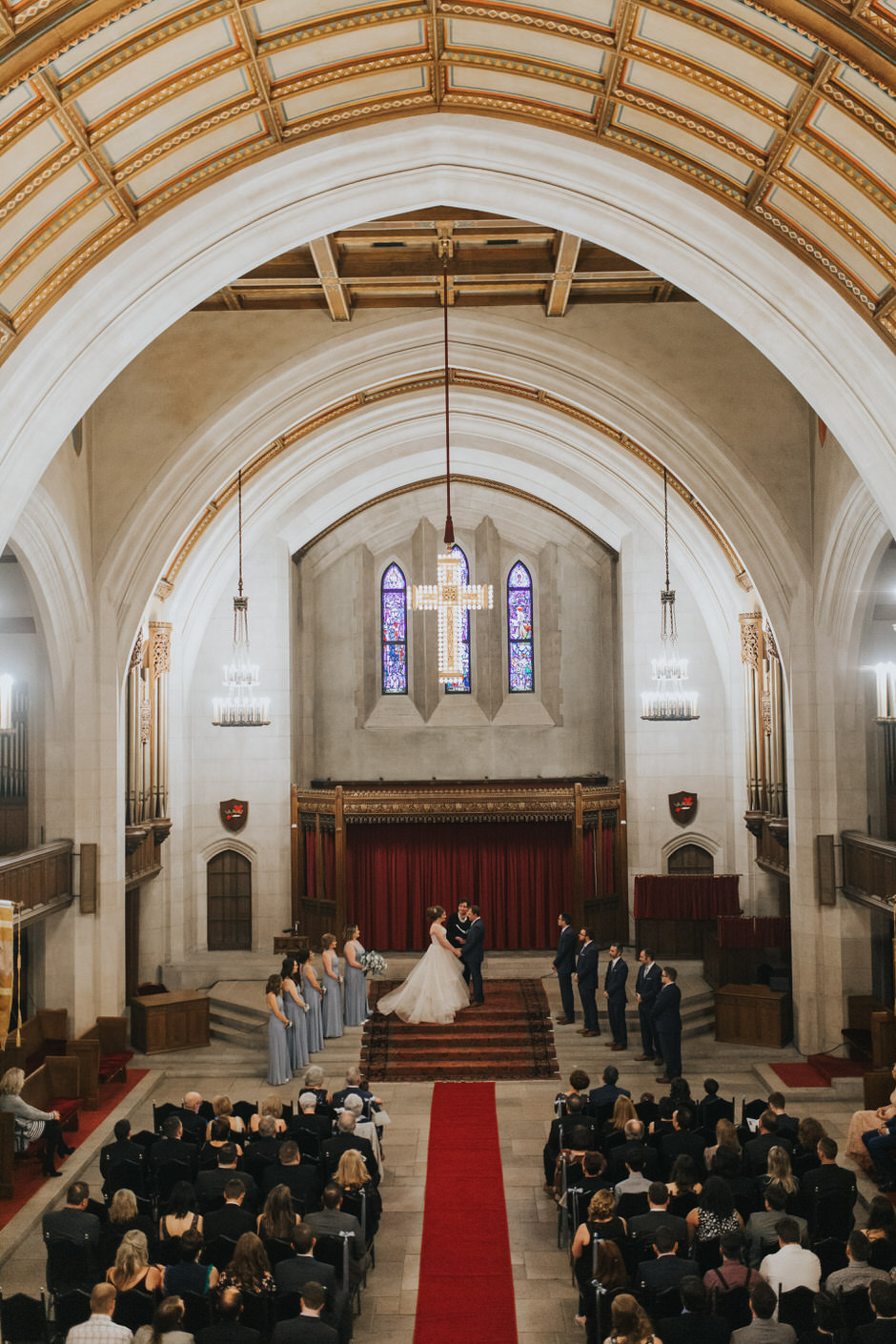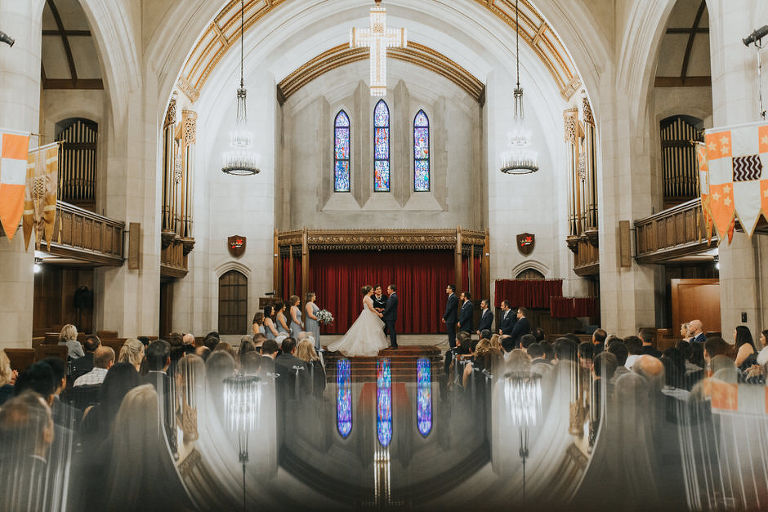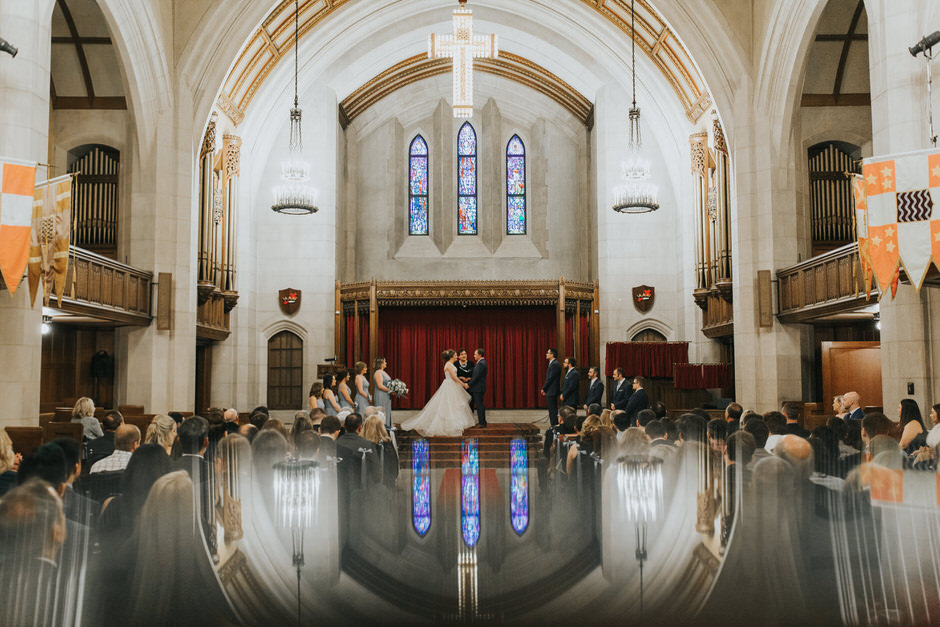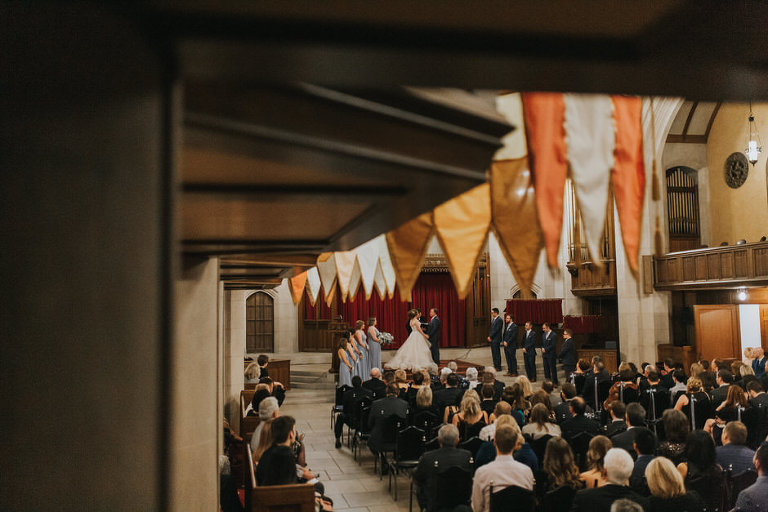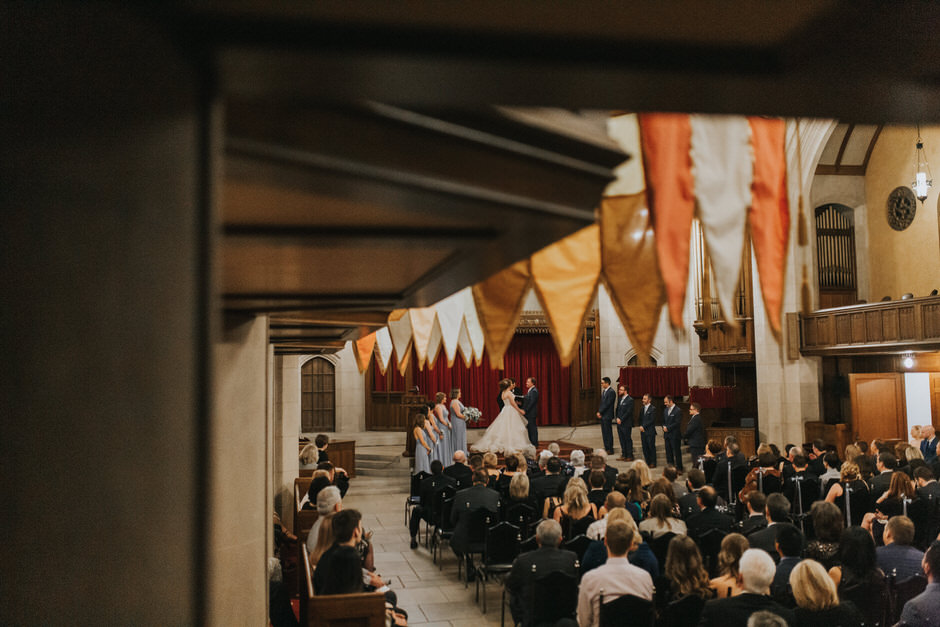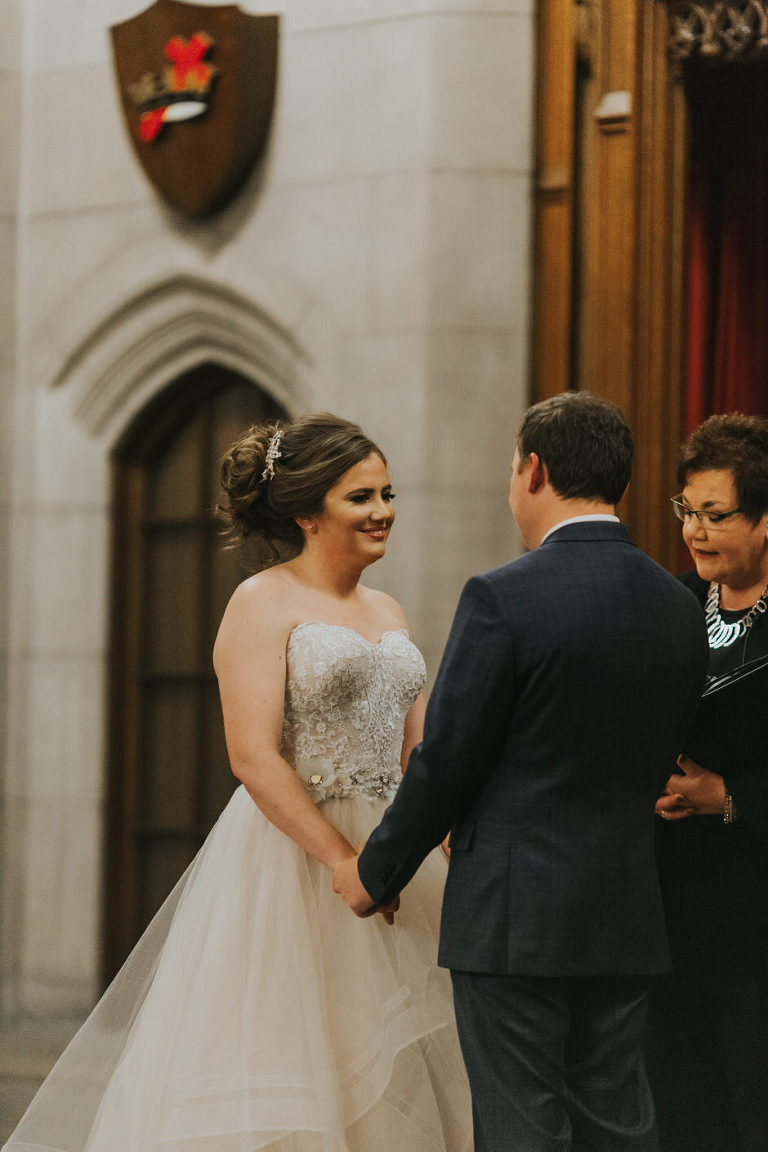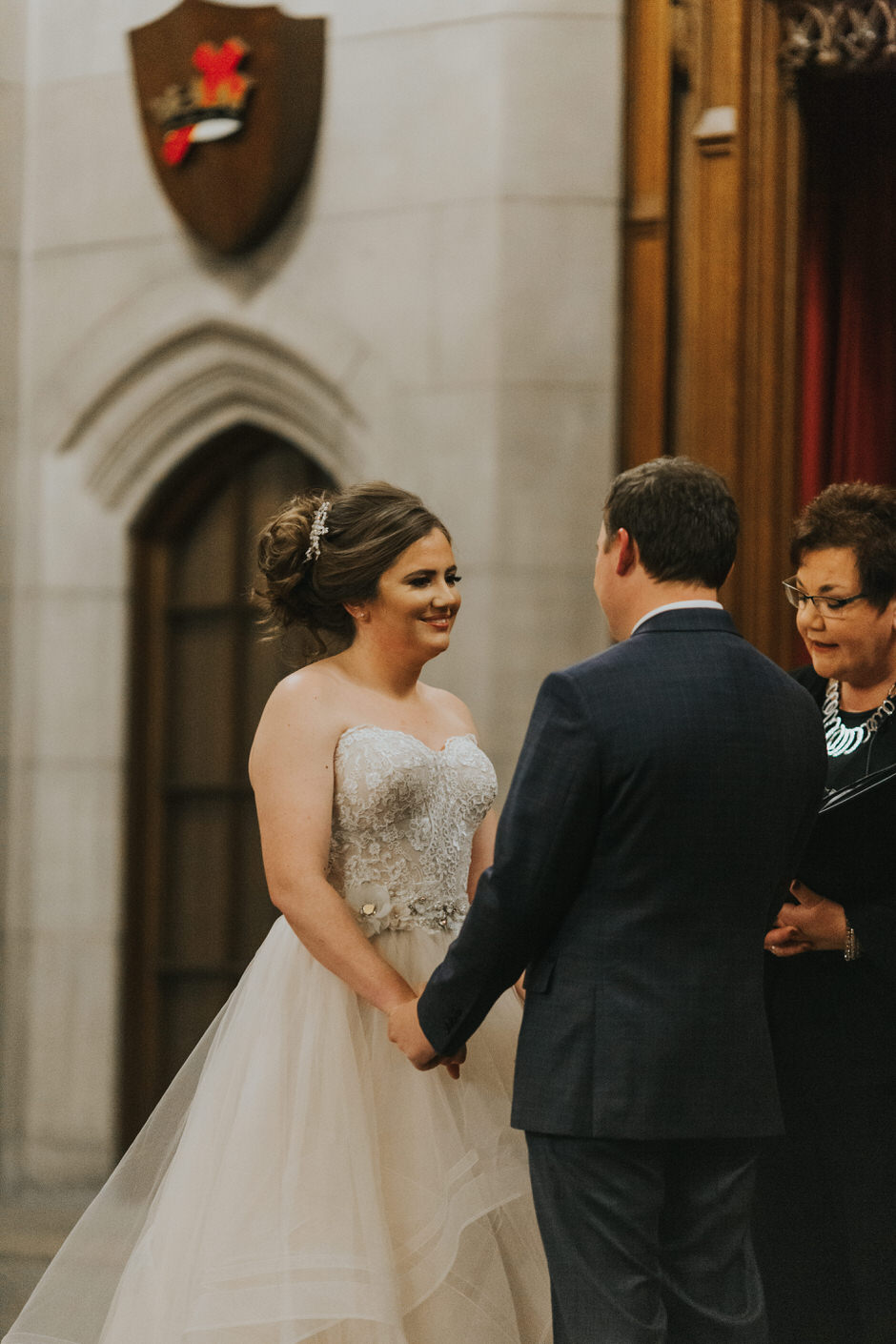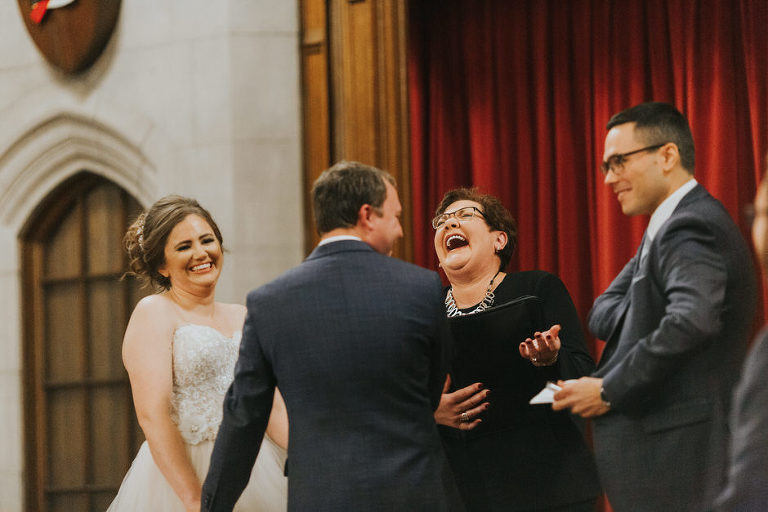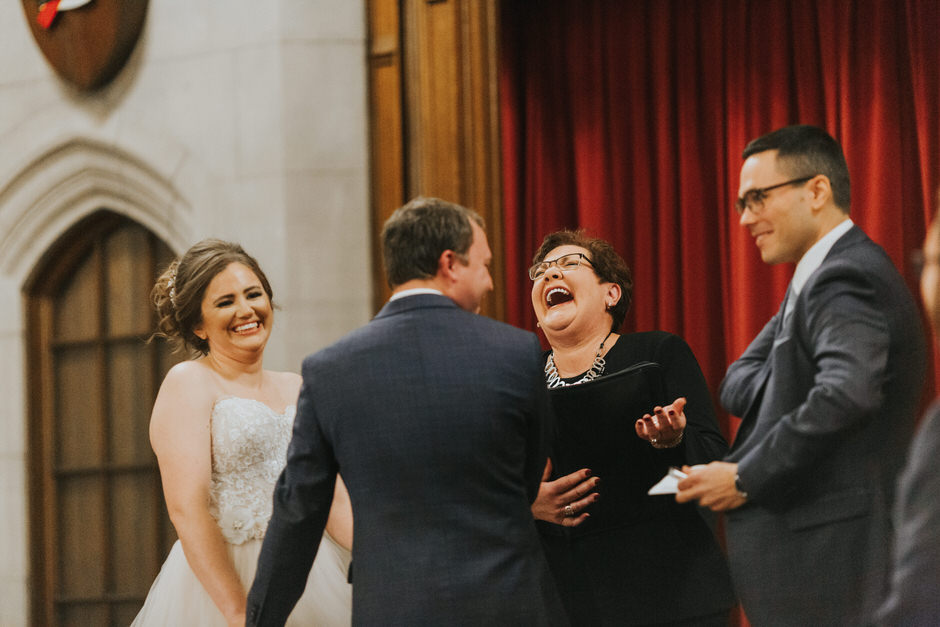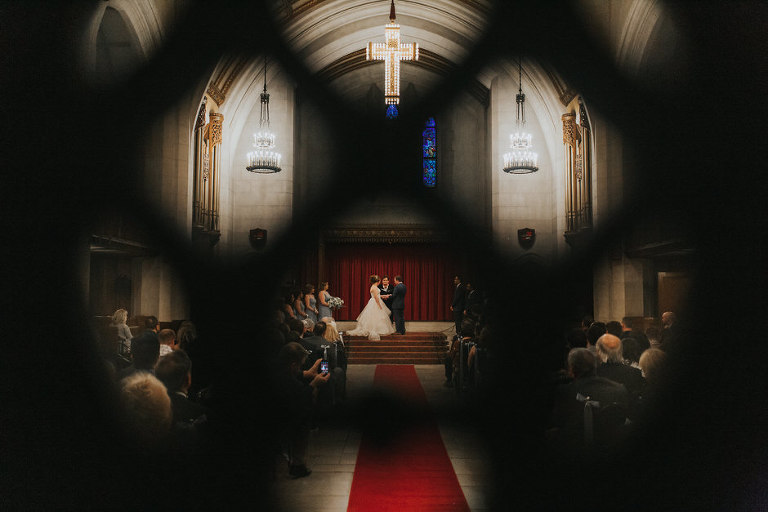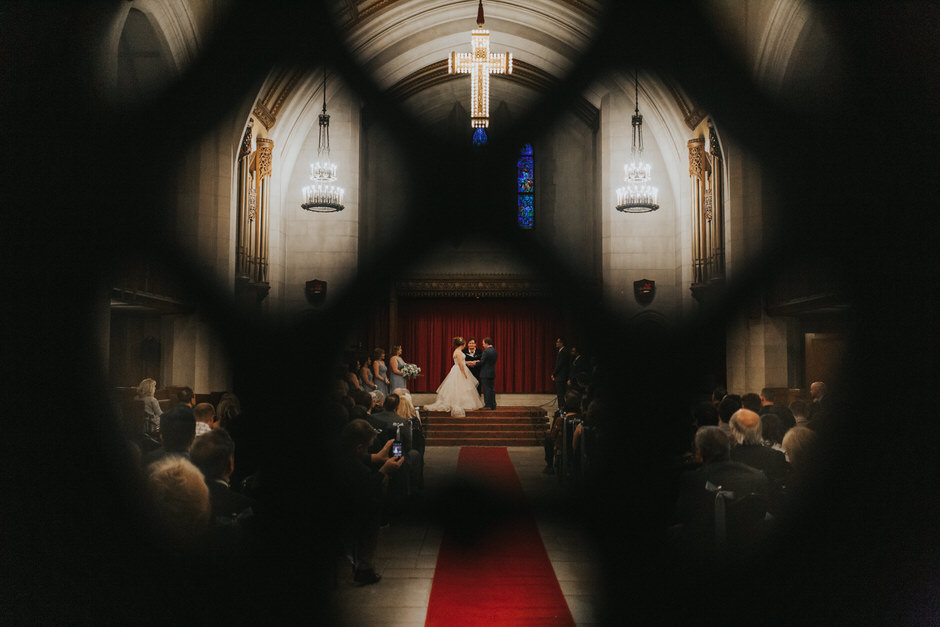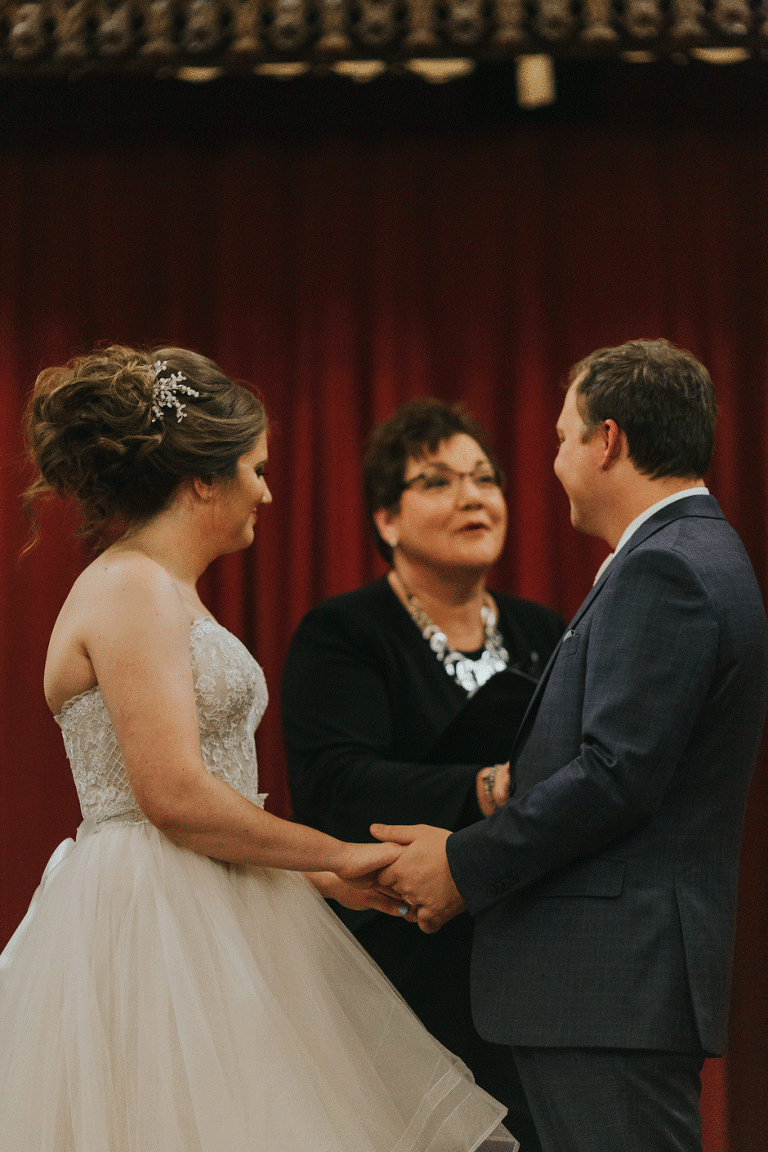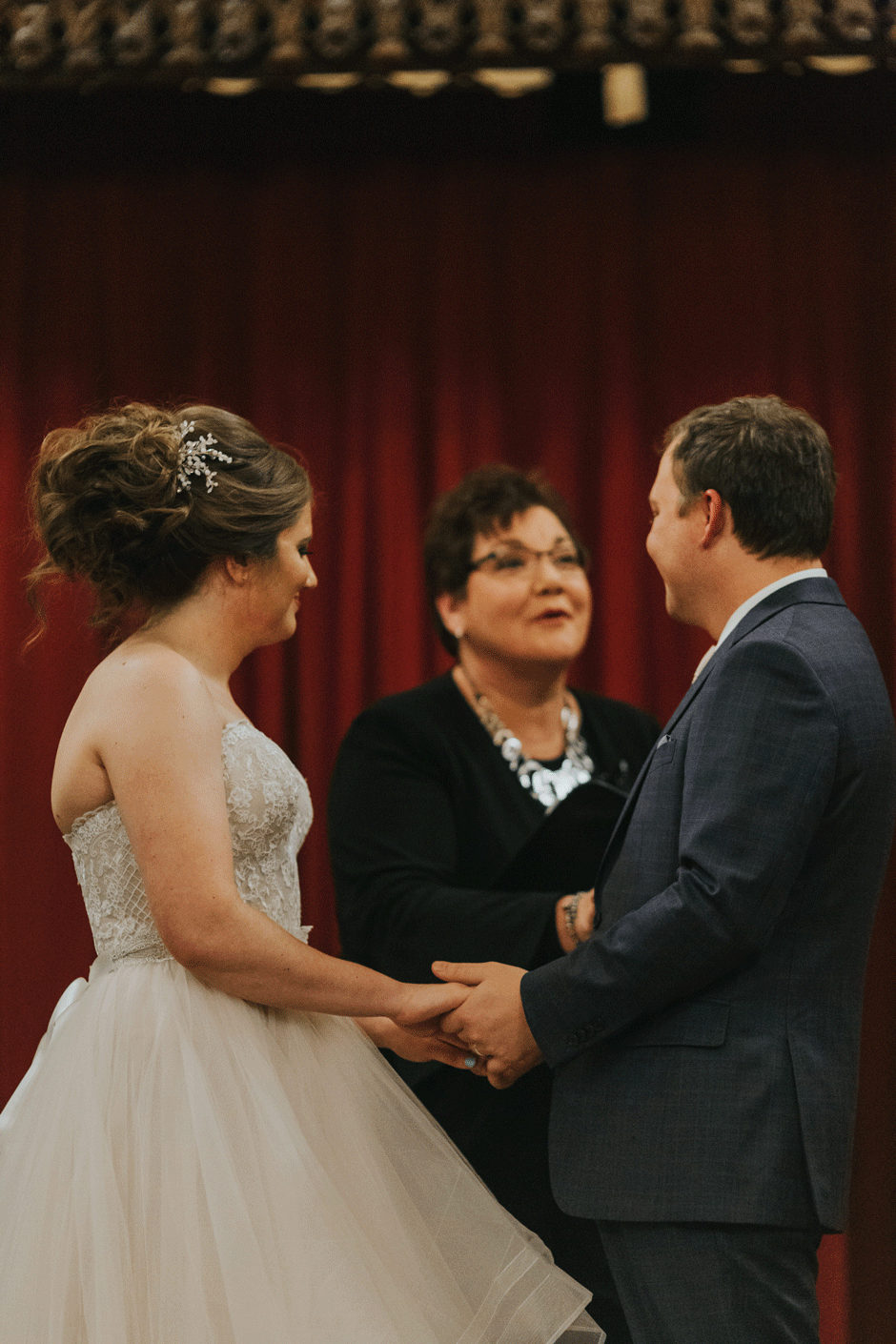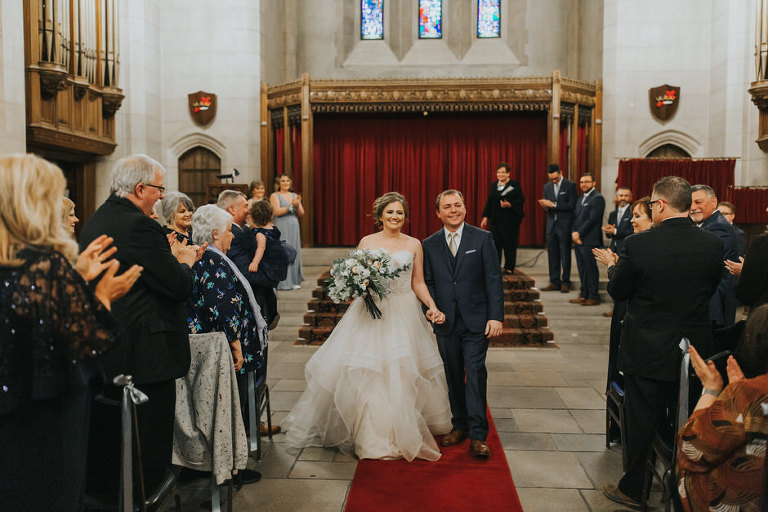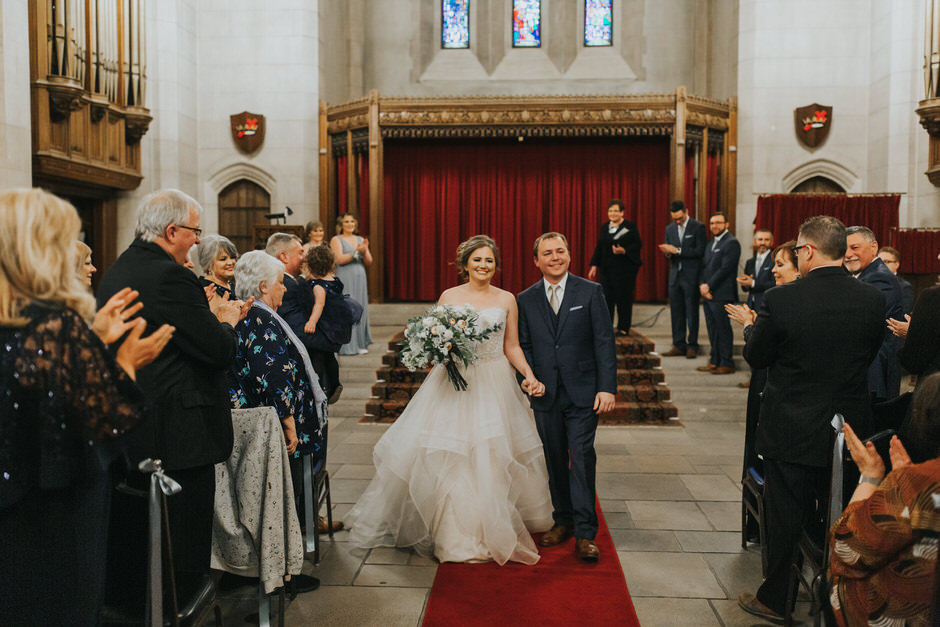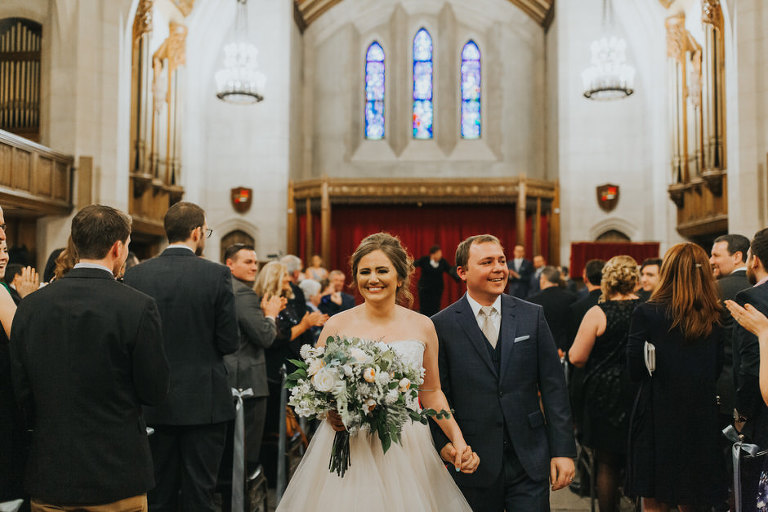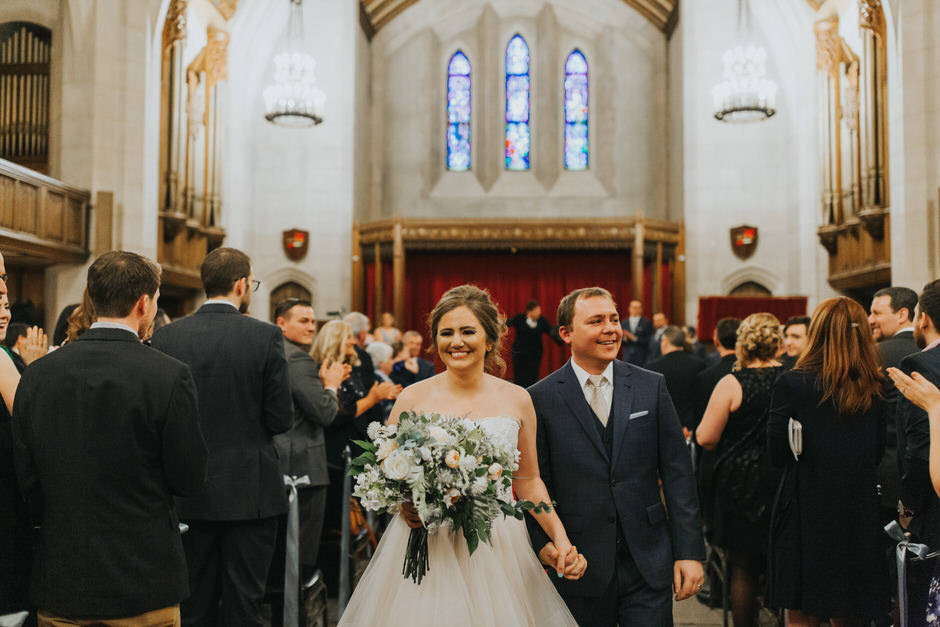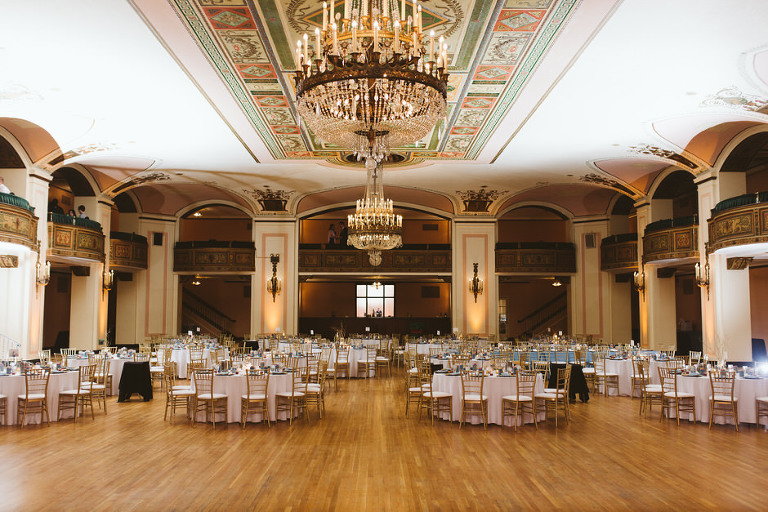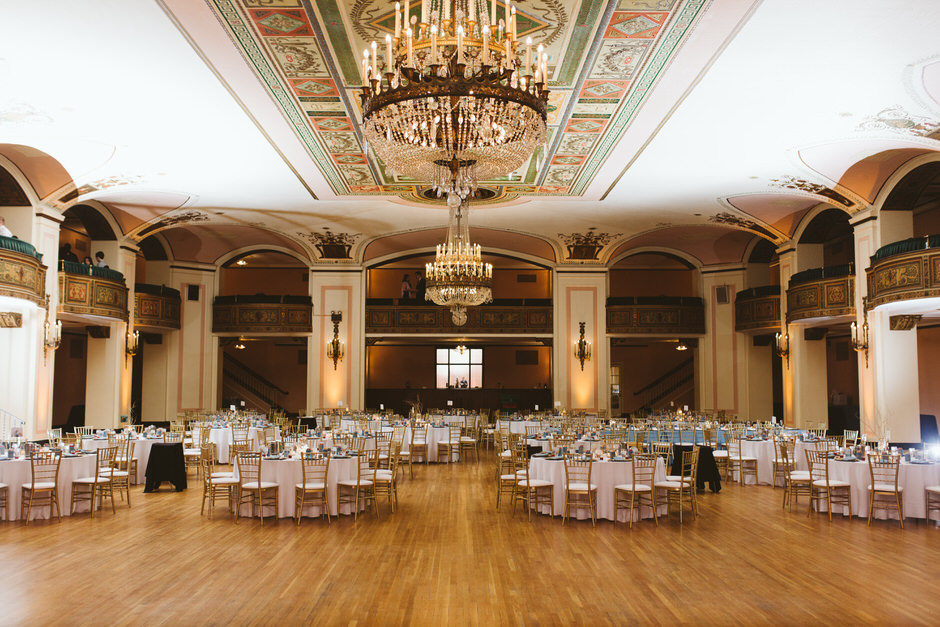 The Decor: 
Another great thing about the venue was that it was already so decorative.  We didn't want to add too much, so ended up getting no real flowers and decorated the room primarily with uplighting and gold & light centerpieces.  These were different on each table with geometric shapes, gold twigs and gave each table a little something different.  Our families, especially our mothers, helped so much with everything about this day – especially considering we were living out of state and couldn't handle a lot of local things ourselves!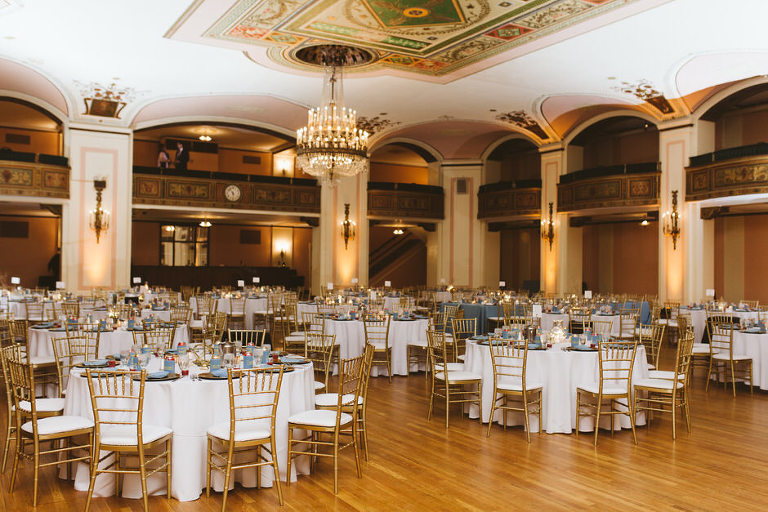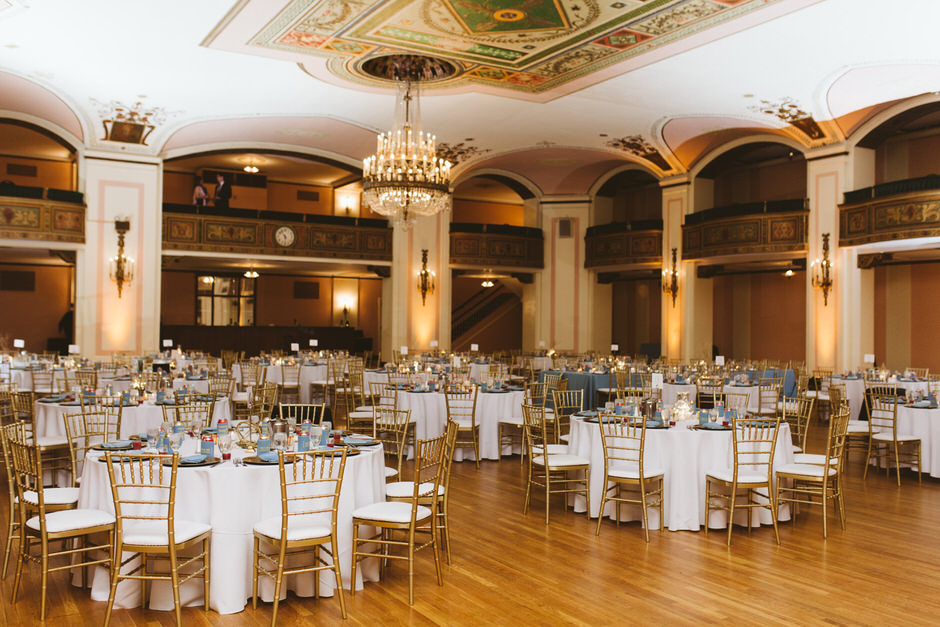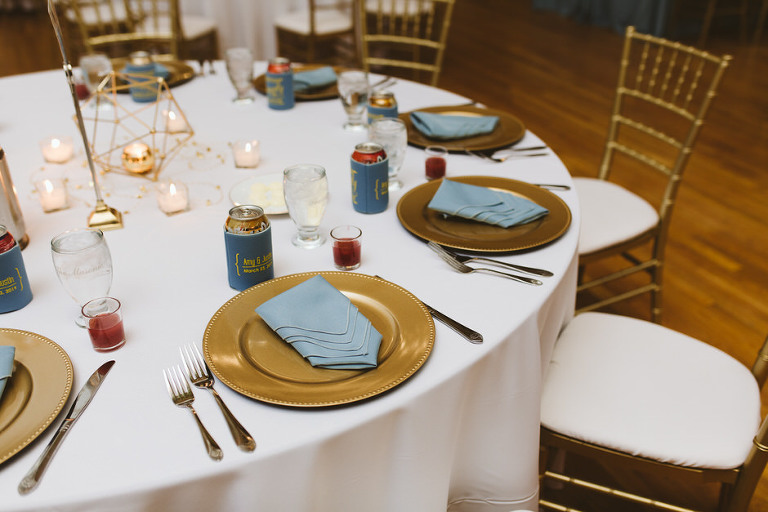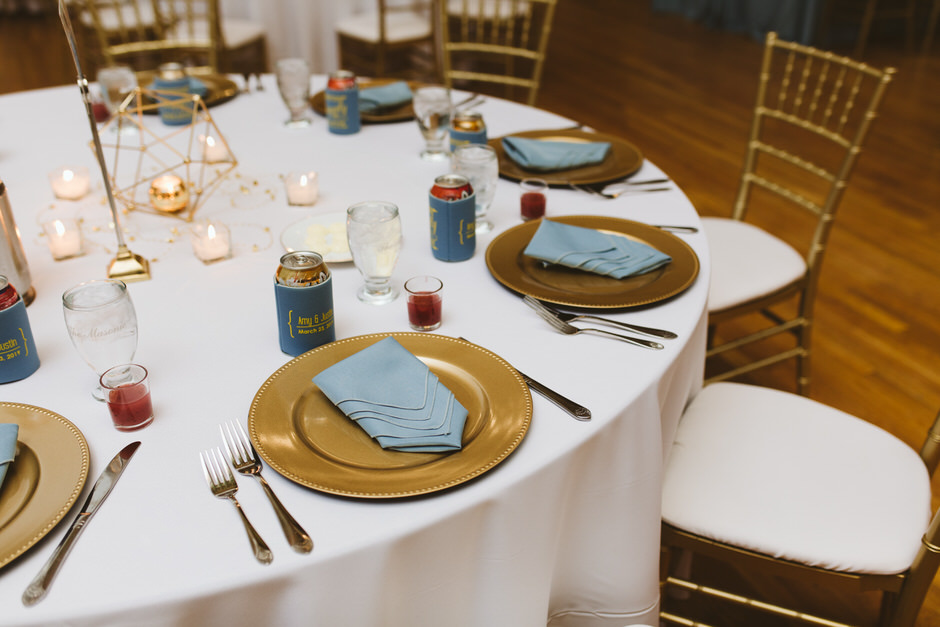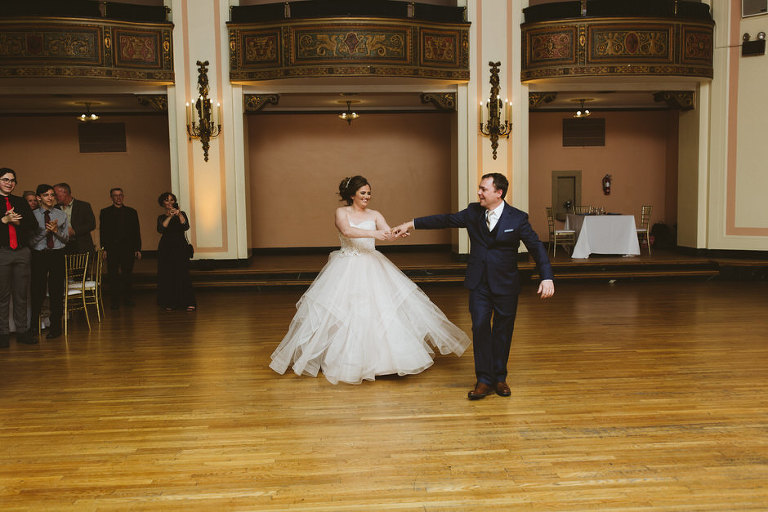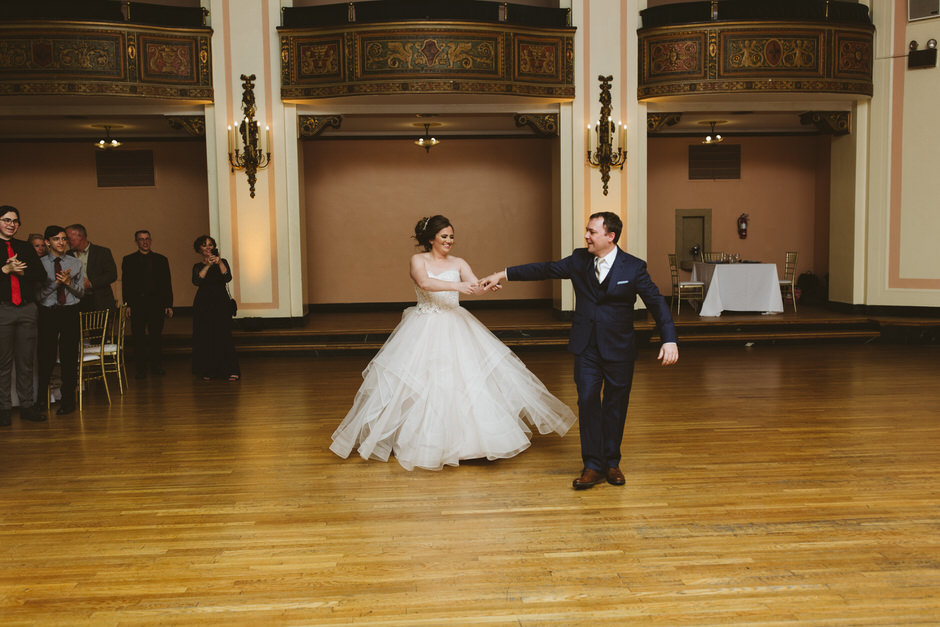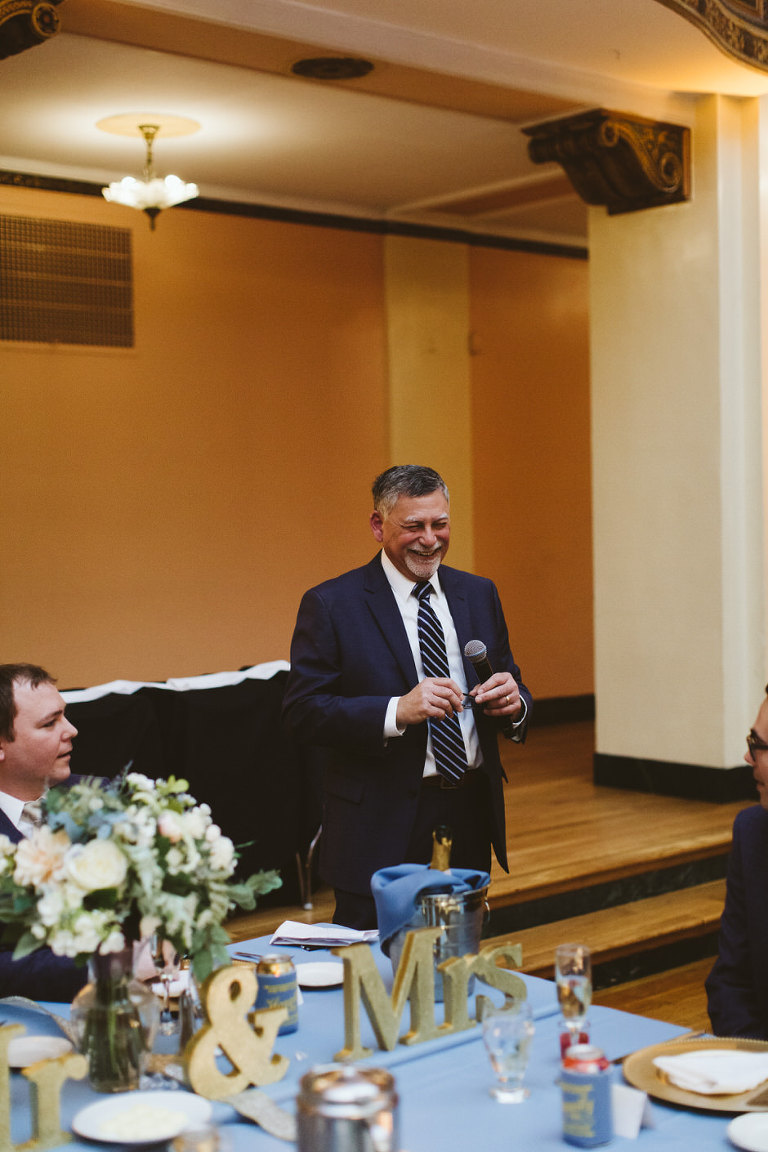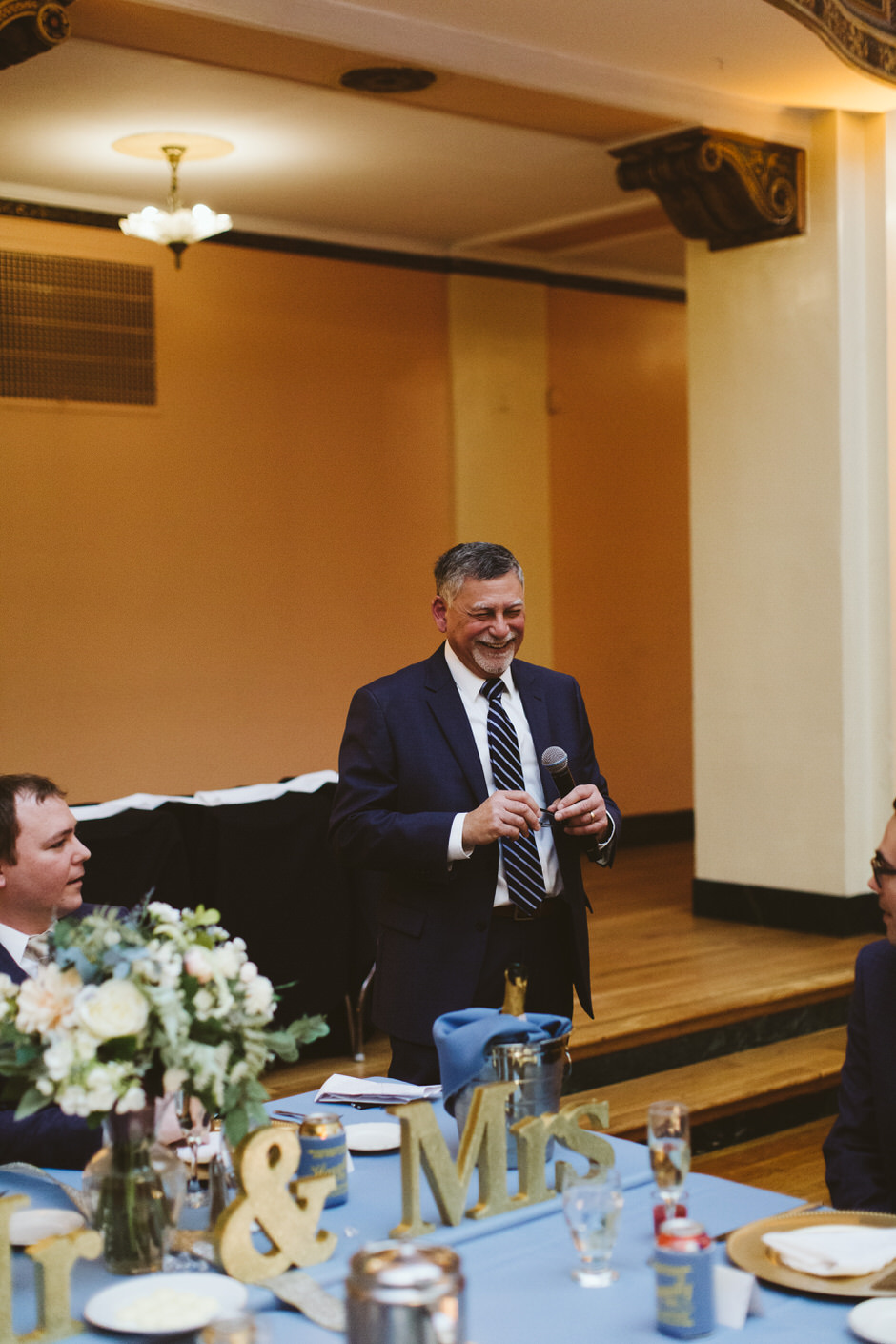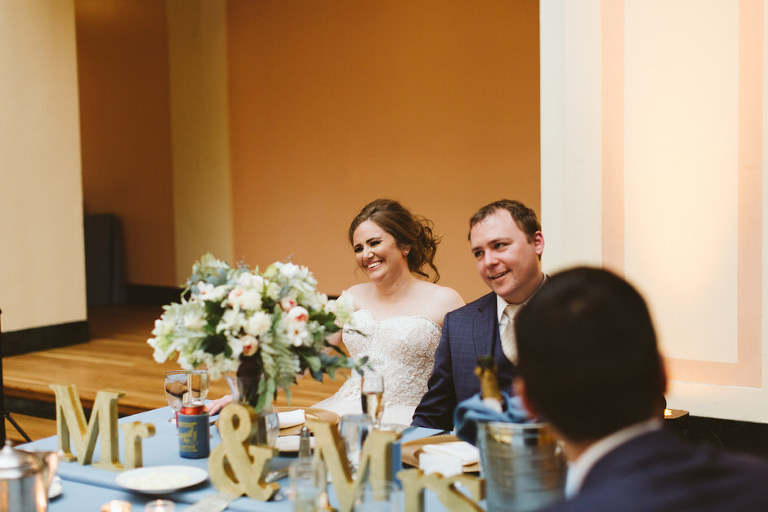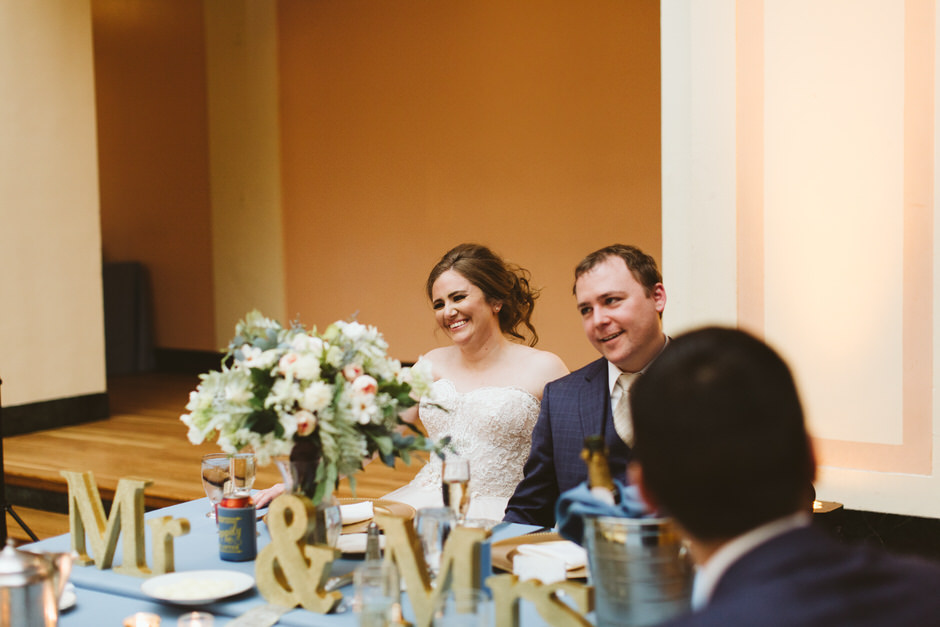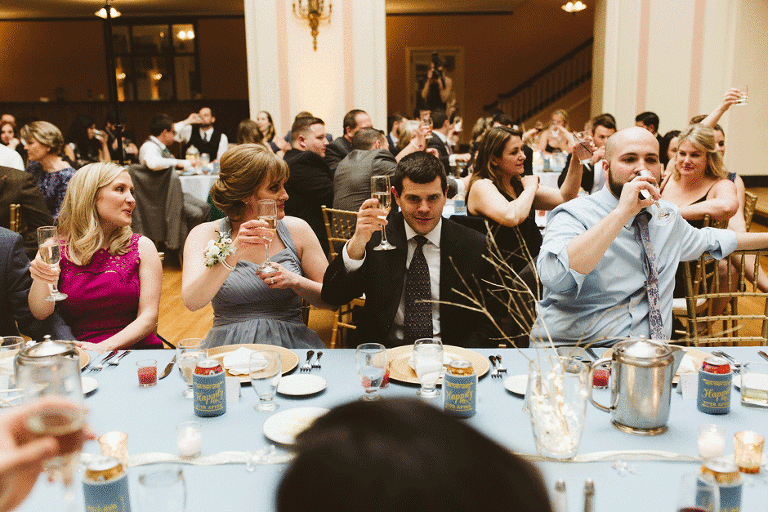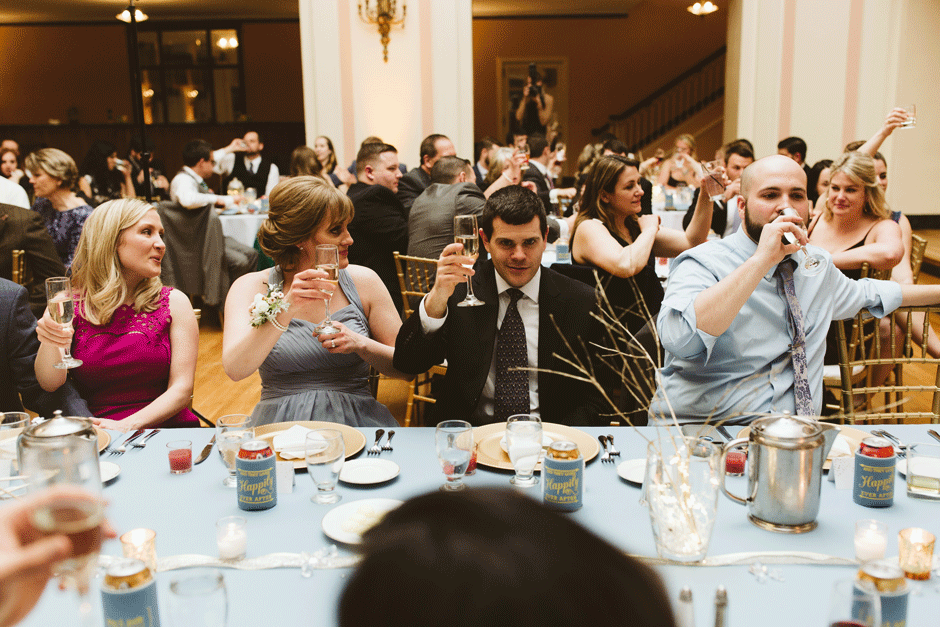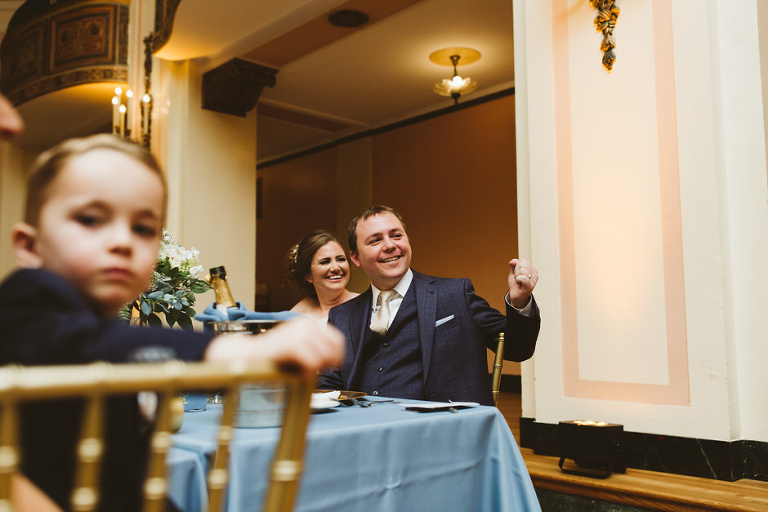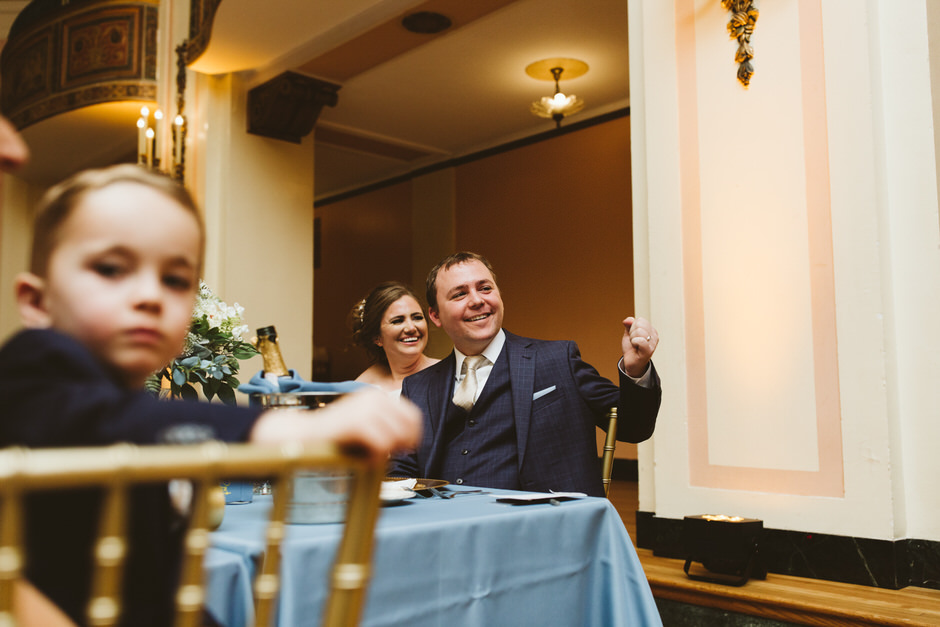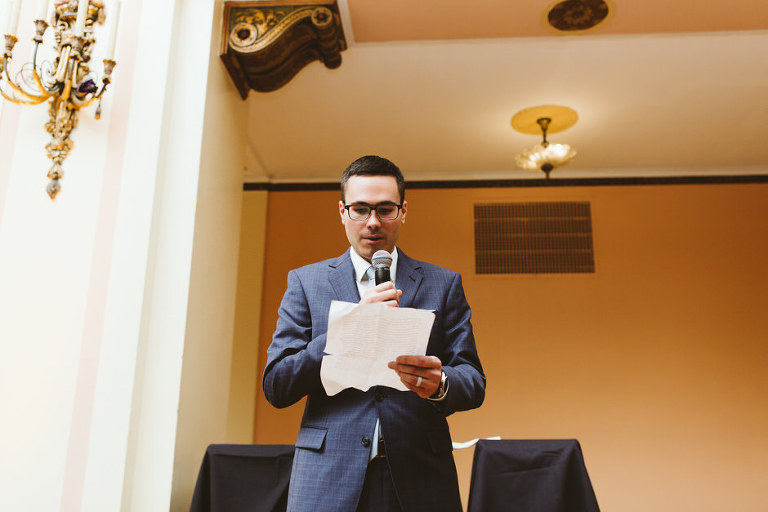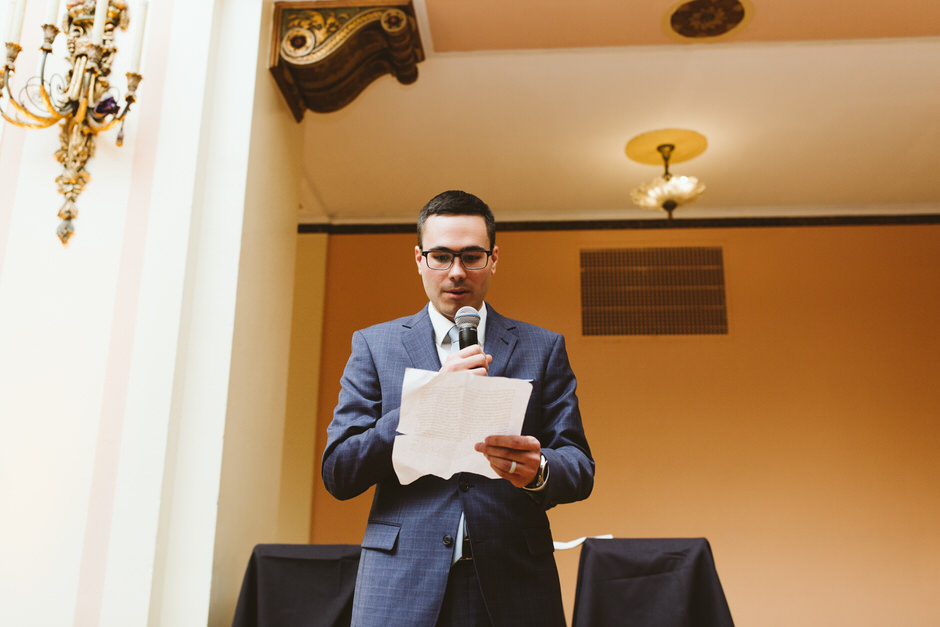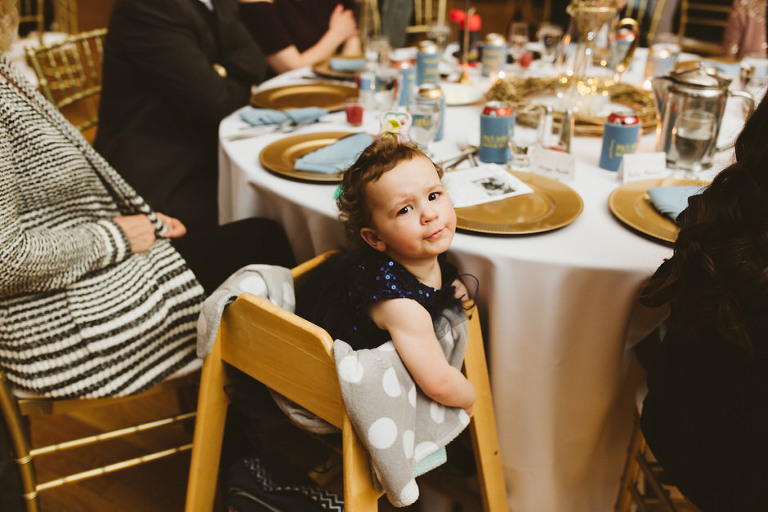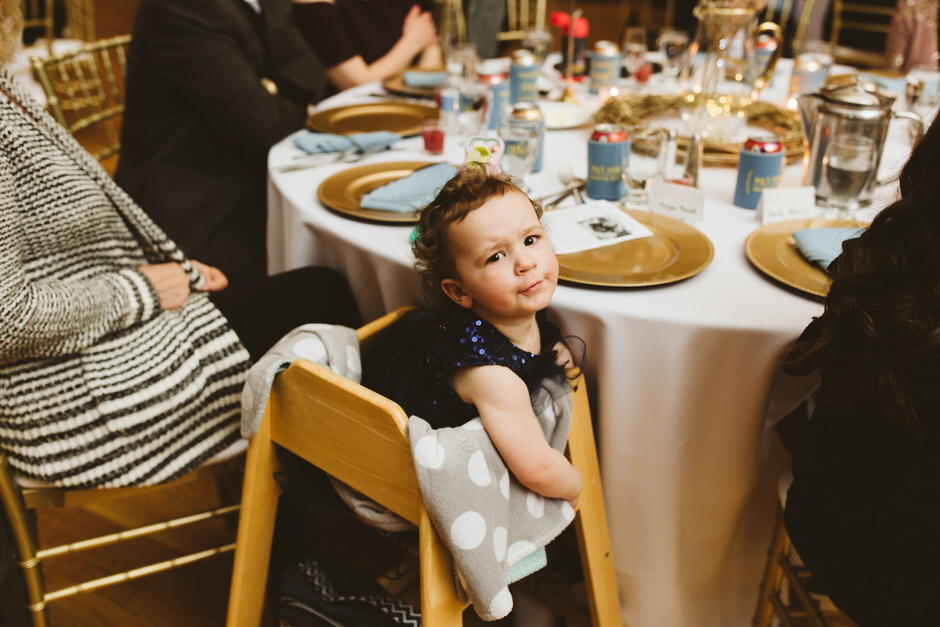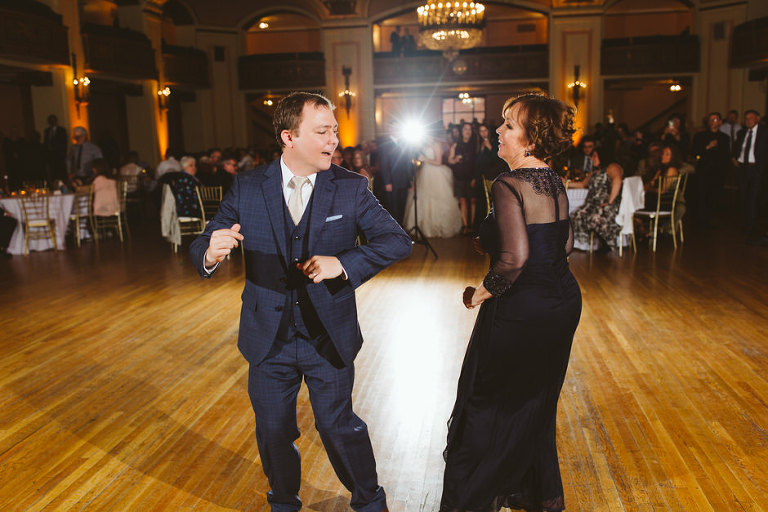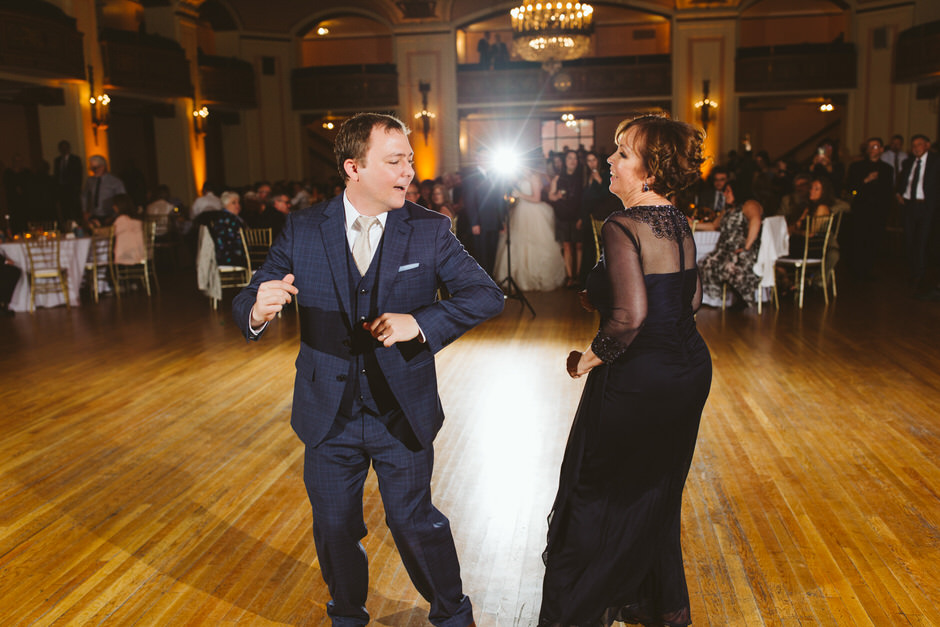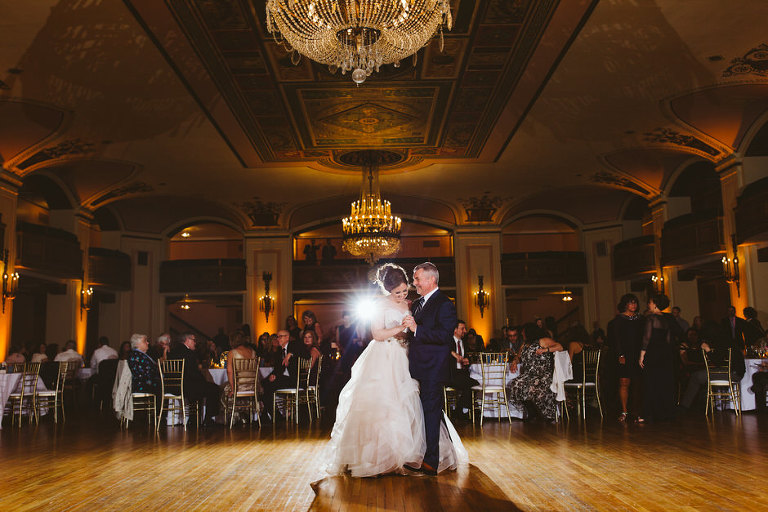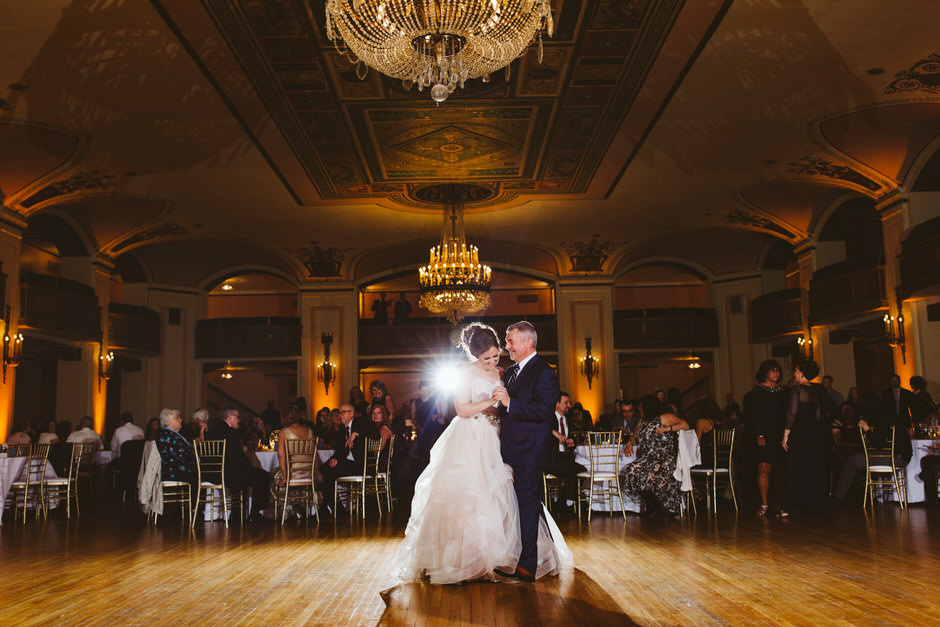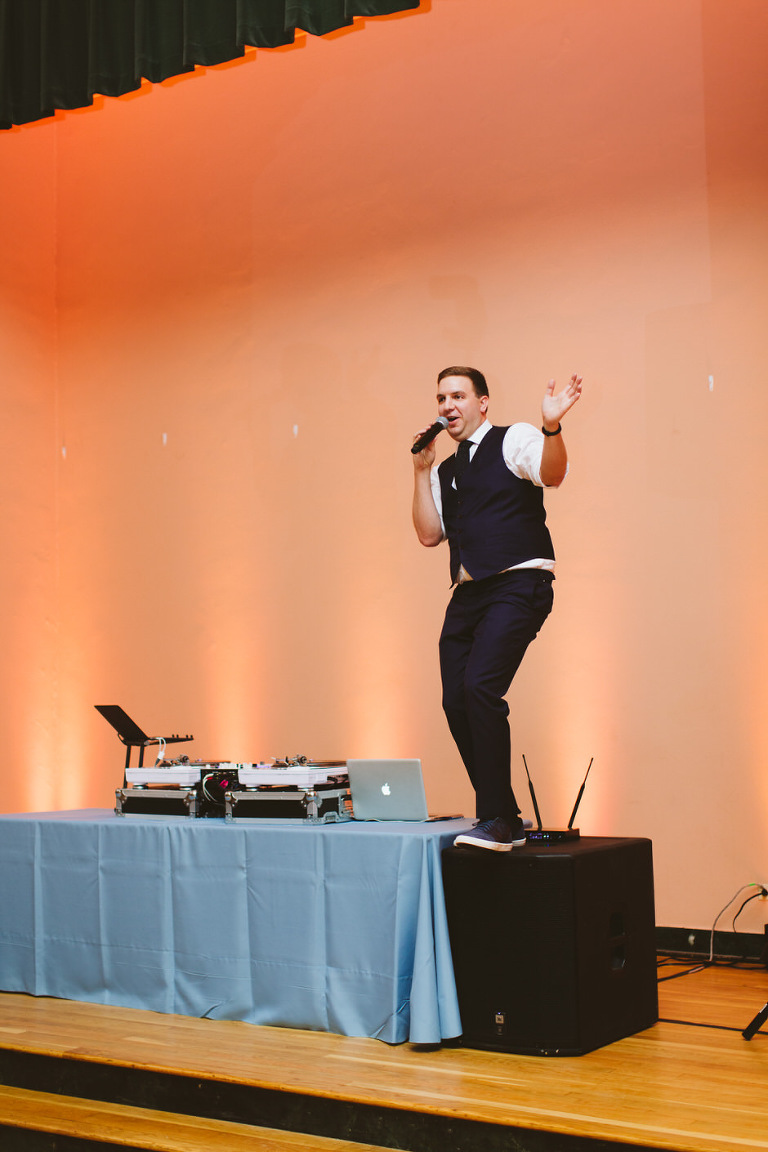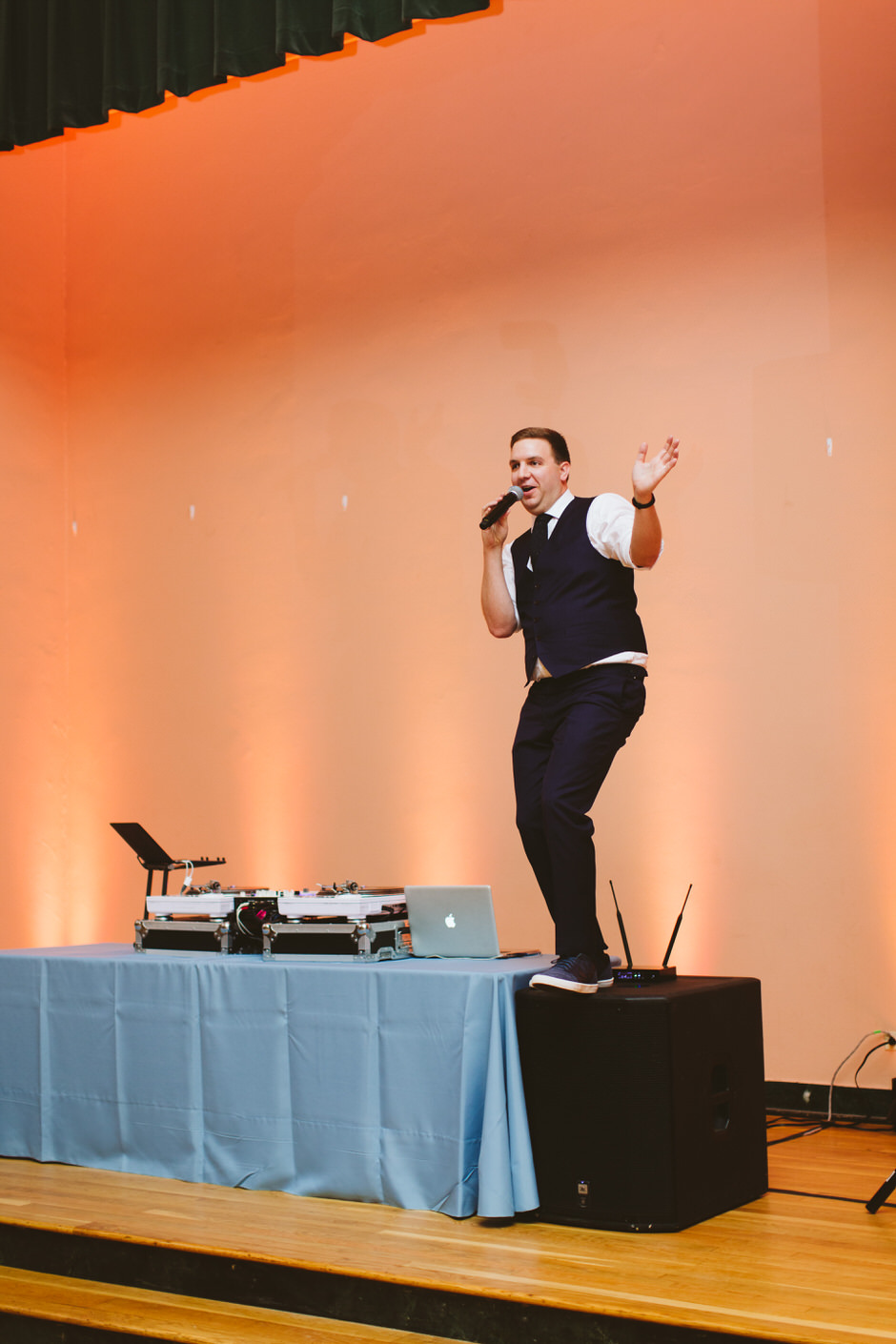 Reception/Dancing/Music: 
This was what we'd been looking forward to for MONTHS.  SO FUN.  Derek from The Block Party was our DJ and saying he was amazing was an understatement.  He guided the reception from speeches to dinner music to dancing and everything was perfect.  Our first dance was a blast and we had an enormous crowd, who all joined in with us towards the end.  We wanted this day to be about having a blast with people we love, and that's exactly what it was.

Your Photographer: 
Rachel was amazing!  Obviously she takes great photos but her personality fit great with us and we were instantly comfortable.  She also did a great job with our bridal party – we can be a chatty/distracted group – and made sure we got everything we needed.  She did great with going with the flow too since there were tons of last-minute picture requests.  We knew from reading her bio online she would be perfect, and she exceeded our wildest expectations!  Best day of our lives!
Any Advice for couples planning their wedding?
Do what you want to do, not what you *think* you should do.  We chose to have no flowers and no cake, and we didn't miss either.  We also decided to go "Adults-Only" besides our 5 nieces and nephews.  This was tougher, but everyone understood and found sitters – and it allowed them all to stay later and party for longer with us!  Also – go with vendors that you trust and that feel right.  It will make all the difference!