The Ballroom at McKay Tower Wedding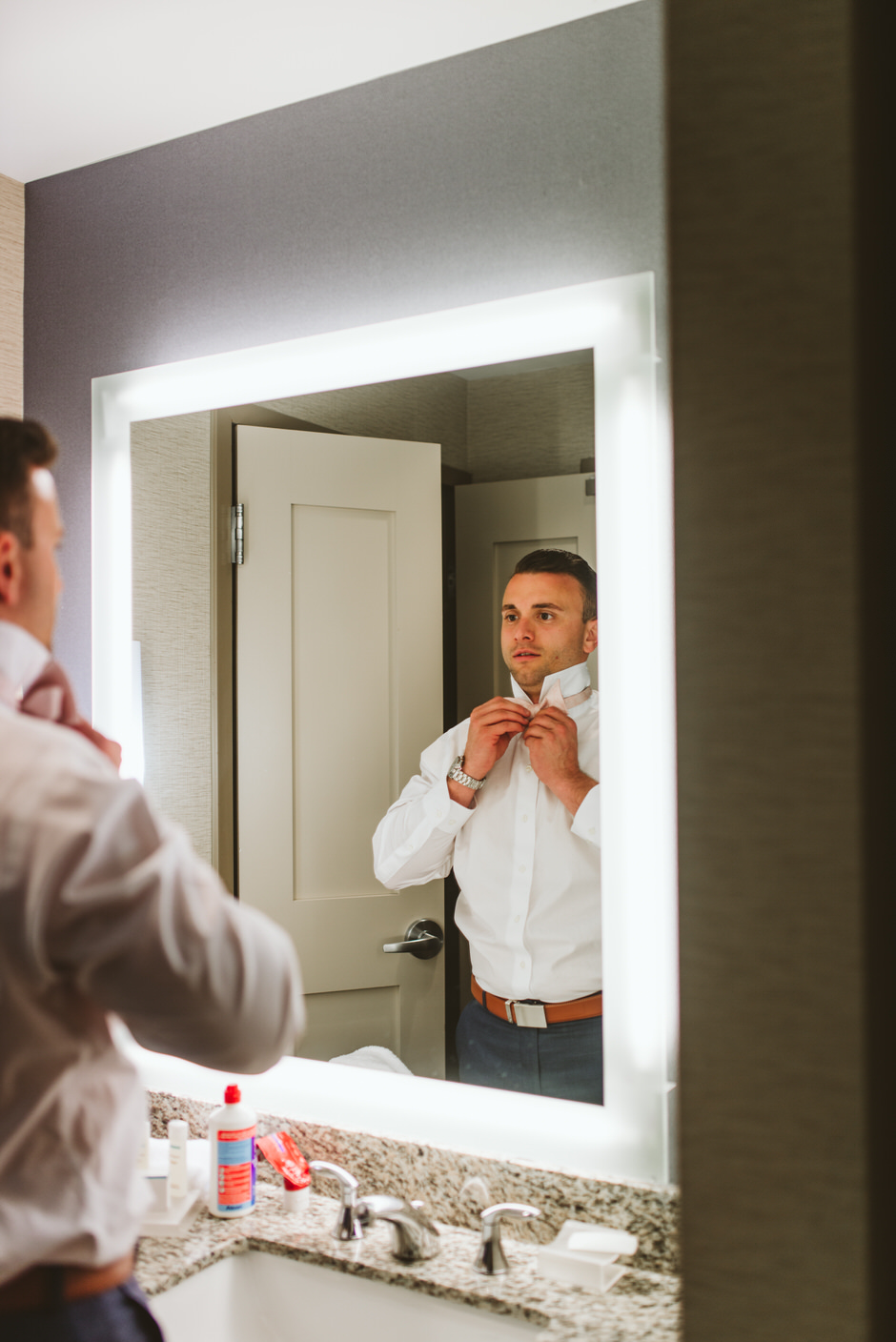 This wedding was a whirlwind! So much fun and action with this amazing group of people. Some of my favorite parts of the day were Emily and Blake's emotional first look at Zoko 822, the adorable flower gals and how much fun this group was! There was an AMAZING dance party with this crew so lots of those shots :D. I will let Emily and Blake take it from here <3
The Beginning:
Blake and Emily met through a mutual friend (Emily's high school bestie who went to Blake's university) the year after finishing university. Emily was coy and Blake was smitten. After multiple group hangouts, Blake surprised Emily with a date at Target shooting range and dinner.  Shortly after that he surprised her again, meeting his parents at his new house.  After a few months, Emily knew she wanted everyone to know that she and Blake were "a thing" and posed Blake to ask her to be his girlfriend (she said yes).  Blake met Emily's parents during a China work trip (they lived in China at the time) and continued to travel together during their relationship.  The moment that Blake and Emily knew they wanted to be with each other for the rest of their lives, was in Blake's basement working together cleaning up debris after the crazy 2014 mass flood, Blake said out loud, "I can't wait to marry you" (Eeeee!!!). After 5 years of dating, Blake proposed to Emily at the Detroit Symphony Orchestra Hall, with both sets of parents and the same mutual friend there to witness, to which Emily obviously replied, "Are you kidding me, Yes!!!" (jumping up and down).
Blake's Suit: 
Blake and his groomsmen were styling in their dark blue suits, and accessories to match the bridesmaids.  Blake and his fraternity brothers had stood up in multiple weddings together and decided to be thrifty and use the same suits as a previous wedding, but add new accessories. Blake wore a blush bow-tie while the groomsmen wore regular ties.  They had matching blush pocket squares and argyle socks.
Emily's Dress:
After the engagement, Emily, and her two best friends, Courtney (the same mutual friend that hooked them up) and Kristen, arranged a girl's trip to Nashville (pre-bachelorette party!!!).  During that trip, Kristen made reservations at a fancy bridal boutique to try on dresses.  After listening to Emily's likes and dislikes, the boutique consultant was the bomb, and picked out THE dress … on the first try!!!  Of course, Emily wanted to be sure and also get her mother's approval and tried on the dress 3 more times at different bridal salons and finally purchased her dress at Becker's Bridal, where the bridal consultant was the most patient with Emily's nervousness to finally purchase the dress.  The dress was a lace Enzoani dress with small sparkle details along the straps and matching sparkle details on the veil.
Venues: 
Blake and Emily were married at East Congregational Church – United Church of Christ in the main sanctuary and signed their marriage license in the chapel.  The reception was at the Ballroom at McKay Tower.  Emily and Blake loved the close proximity to downtown and wanted to have a "party vibe" with ambient lighting (that came with the ballroom!).
The Ceremony: How did it go? Anything special?
Witty/Quirky Pastor Robyn and amazing pianist Jameson made the ceremony an ease.  The flower girls and ring bearer were the cutest. And the bridesmaids' dresses sparkled walking down the aisle.
The Decor: 
My mom was the biggest helper.  The idea was "Mix'n'Match". The ballroom was decorated using mixed metals, different shades of green and pink flowers (from Posh Petals), white textured table clothes (Special Occasions West).  The mix'n'match theme came from the mix'n'match bridesmaids dresses, all different shades of pinks/rose/and metallics.
Reception/Dancing/Music: 
Fun shenanigans!  DJ Eddie Kleinfeld kept the dance floor packed and everyone had the greatest of times!
Your Photographer:
Rachel Kaye and Katie were champs!  They were on point for all the photos requested by the bride and were energetic, involved, and motivating  (for groomsmen that don't care for pictures). I am so thankful that Rachel Kaye stayed for the Sigma Chi Sweetheart Song (sing along) which meant a lot for Blake and his fraternity brothers as well as Emily's uncles, who were also in the same fraternity.
We can't wait to see the pictures!!! The only thing I wish I had was more sneak peek pictures right after the wedding.
Rachel Here!: I so so wish I had more time to share larger sneak peek's! It's something I am always working on getting better at. So pumped to share ALL these images with you two now <3 <3
Any Advice for couples planning their wedding?
Things will not go according to plan and you have to be okay with that!  Go with the flow and have fun with every moment!  Our hiccups included, but not limited to: a change of pastors, a change of bar managers, the hottest day of the year, boutonniere flowers wilting during outdoor photo shoots and an open air trolley that we assumed was A/C.
The day is a celebration of the future of you and your spouse creating a life together, but the celebration doesn't stop on that day, it continues throughout your life together!
Comments
comments