Black Barn Vineyard and Winery Wedding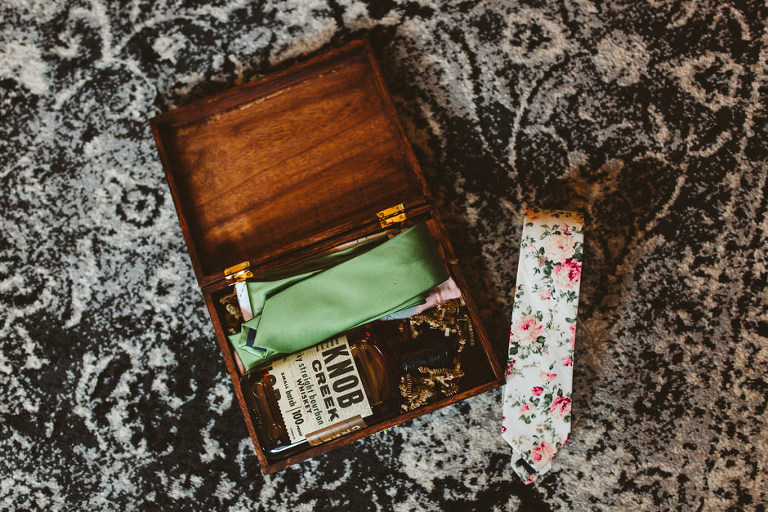 This wedding is one of my favorites this year! Not only was the venue amazing and perfect for this rainy on and off day, but Sydney and Andrew were literally my favorite people ever. We had so much fun back at their engagement session, it's no wonder we had a blast with their Black Barn Vineyard and Winery Wedding. ON TOP OF THEM BEING AWESOME their wedding party was the absolute best, we even have inside jokes (FINGER GUNS! FINGER GUNSSS!) featured in this blog ;). While it was supposed to rain for the ceremony so we moved it inside, everything was still perfect. I absolutely ADORE the ethereal/magical look that getting married in front of big windows gives. It's one of those things venues always warn me about saying photographers HATE shooting in front of them, but I kinda love it. It's a common thing that happens when I shoot at The Bottom Lounge as well and I really enjoy it.
Some of my favorite parts of this day included: hanging with goats, fries, dance parties during family photos, the decoration in the barn (I never share this many detail shots), the emotional First Look AND walking down the aisle <3 (proof you can have your first look and tears down the aisle too!), photos with all the wedding party couples and the lack of rain when it was supposed to pour the entire day. I just loved this Black Barn Vineyard and Winery Wedding. But I will let Sydney and Andrew take it from here:
The Beginning: 
Andrew and Sydney met through a mutual friend when they were in college (who ended up being their best man!).  Sydney went to Central Michigan University where she met one of her best friends, Peter.  One weekend, Peter's childhood friend, Andrew, came to visit him at school.  That's when Andrew and Sydney first met.  After spending some time together, Andrew told Peter that he was interested in Syd, but Peter told him that she was too sarcastic for him.  So Andrew moved on.
Andrew visited CMU a few more times in the next year.  Finally, Peter decided that Andrew was, in fact, able to handle Syd's sarcasm, and executed a phone number swap.  After that, Sydney and Andrew were constantly Skyping, texting, and calling.  After another month, they started dating long-distance (Andrew went to school in Detroit).  They continued this long-distance relationship for years, seeing each other only on the weekends, until they finally moved in together in the same city.  That's when they realized that what they had was wonderful, but seeing each other every day was the absolute best 🙂  From then on, the story is pretty average- he proposed, she said yes, and they got hitched!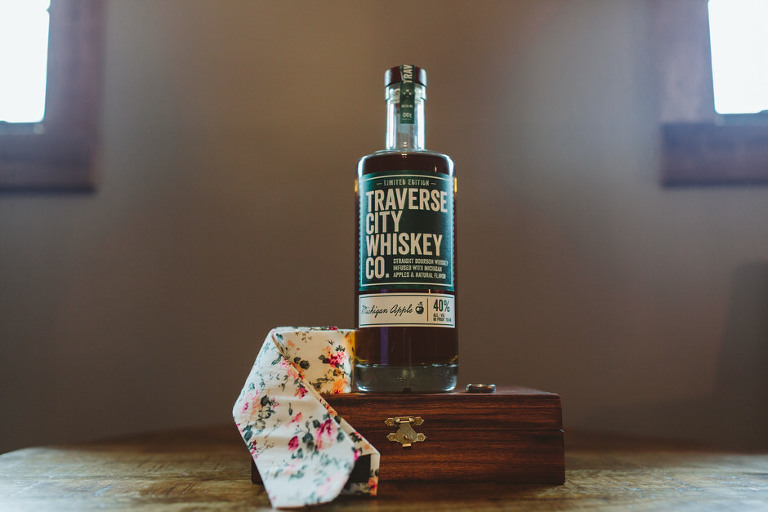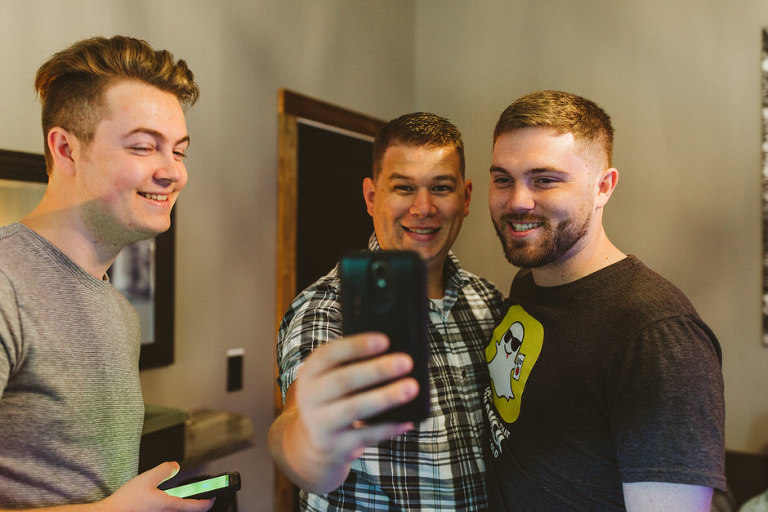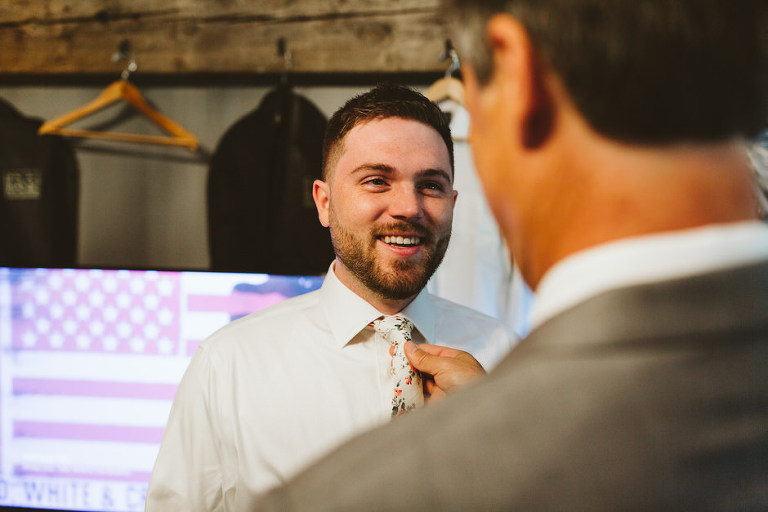 Andrew's Suit
Andrew wanted his groomsmen to spend their money on something they could keep and use, so instead of rending tuxes, they bought suits from Jos A. Banks.  But what really left Andrew spending hours on the Internet was the search for ties.  They bought (and returned) multiple shades of pink and green until they found the perfect hues.  Then Andrew found the tie of all floral ties that ended up going perfectly with the wedding decor and bridesmaid dresses.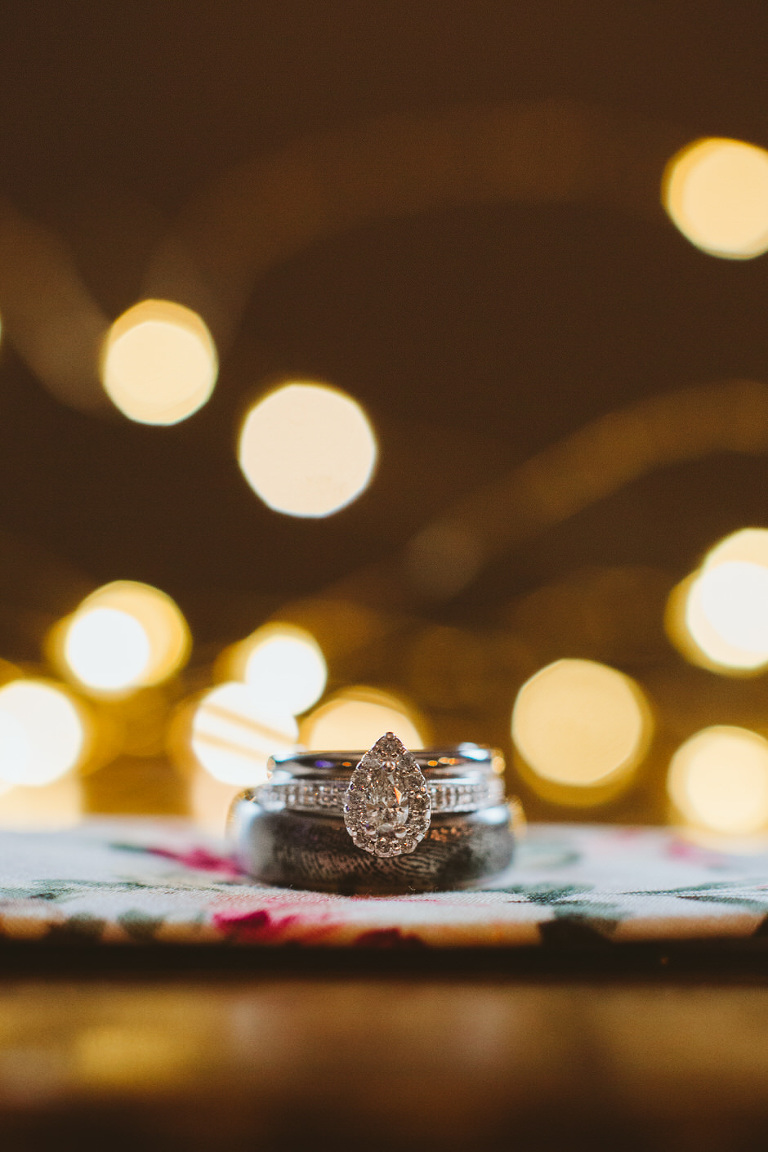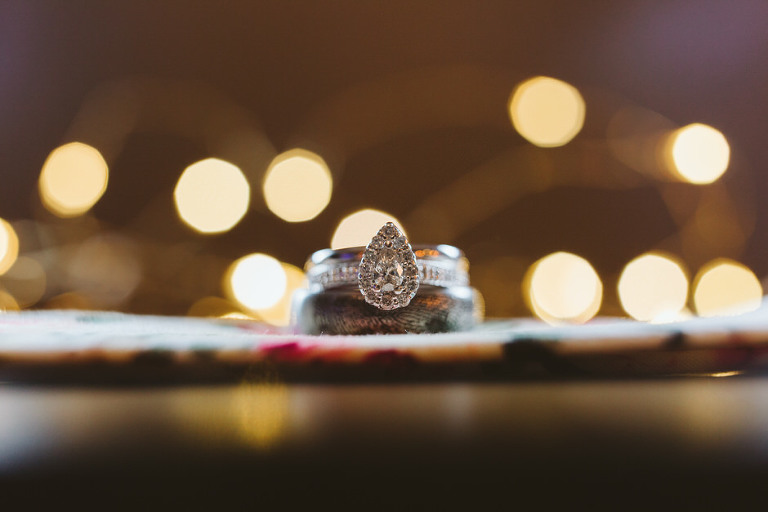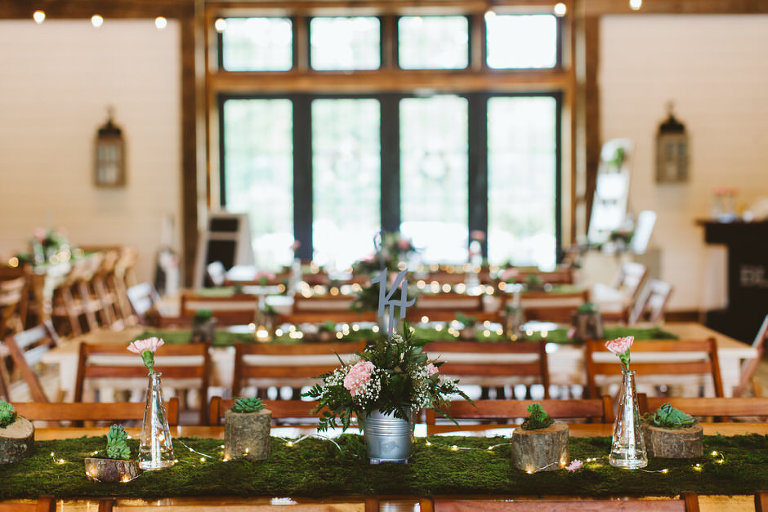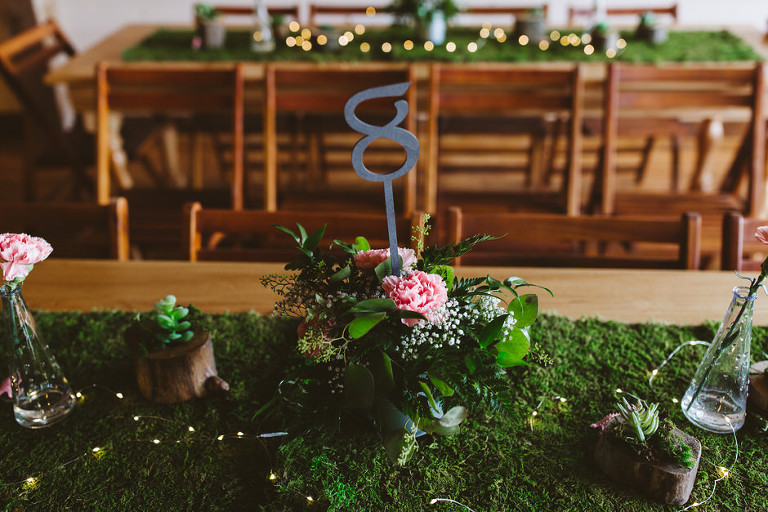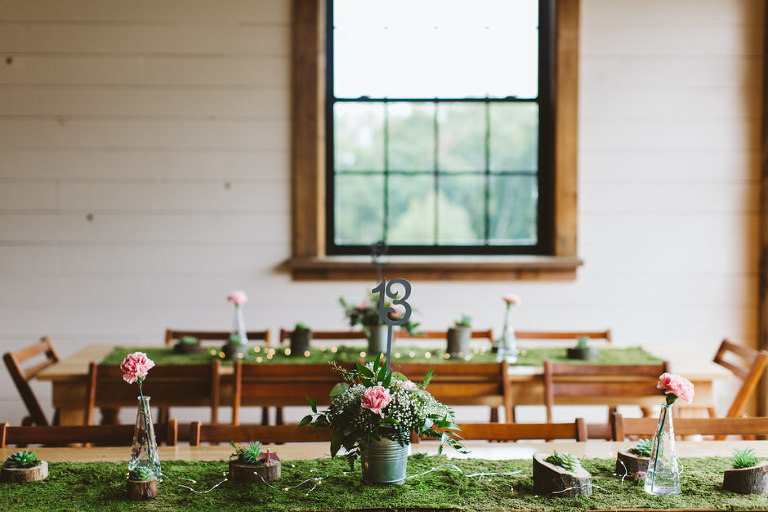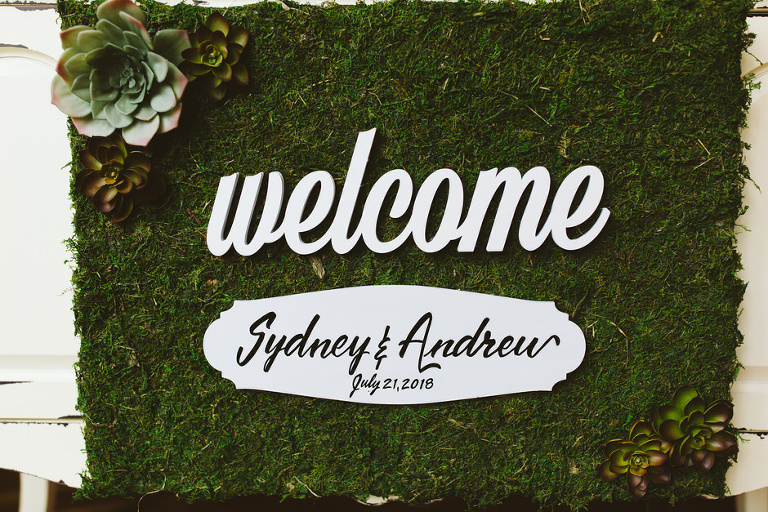 The Decor: 
Sydney is not a detail person.  She had been buying/renting some decor here and there, and just figured everyone would help figure out where to put it when they decorated the day before the wedding.  That would be fine, right?
Apparently, wrong.
When Syd shared her plan with her mom and some other vendors, they politely told her that that's not how things work.  Who knew?!  That's when her mom offered to take over the decorating for the wedding (with the understanding that Syd would have to do what she decided on).  That was fine with her.  One less thing to worry about.
Syd's mom then enlisted the help of Aunt Trina, the AMAZING, CREATIVE, ANGEL who pretty much designed the entire look of the wedding.  AND IT WAS PERFECT.  She put together rented items (beautiful rustic decor from Shenandoah's Rustic Rents), homemade items, and other secret ingredients, to make a garden wonderland with the perfect touch of Harry Potter references.
Also, the florist was MAGNIFICENT.  She reflected the theme and feel perfectly in her arrangements and created a totally gorge floral arch for the ceremony.  And she spent way more time and energy setting everything up than we ever expected her to.
And then Syd and Andrew added tiny plastic dinosaurs to everything because life can't be too perfect 😉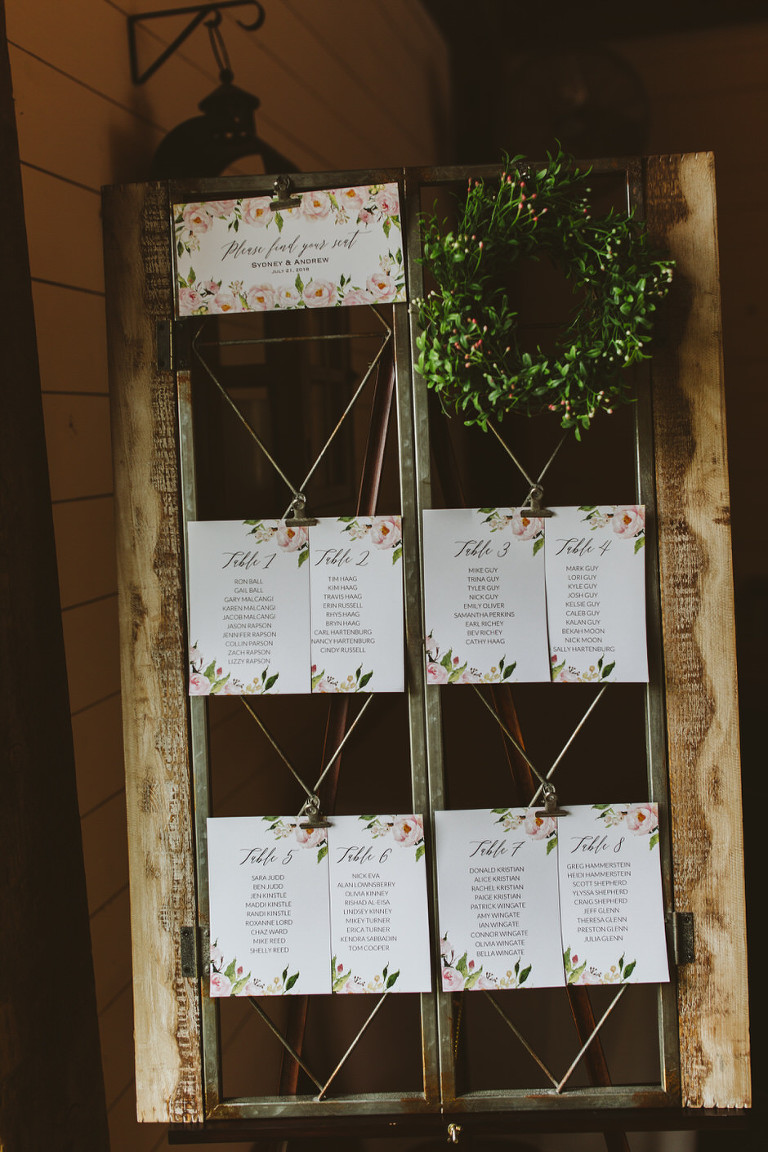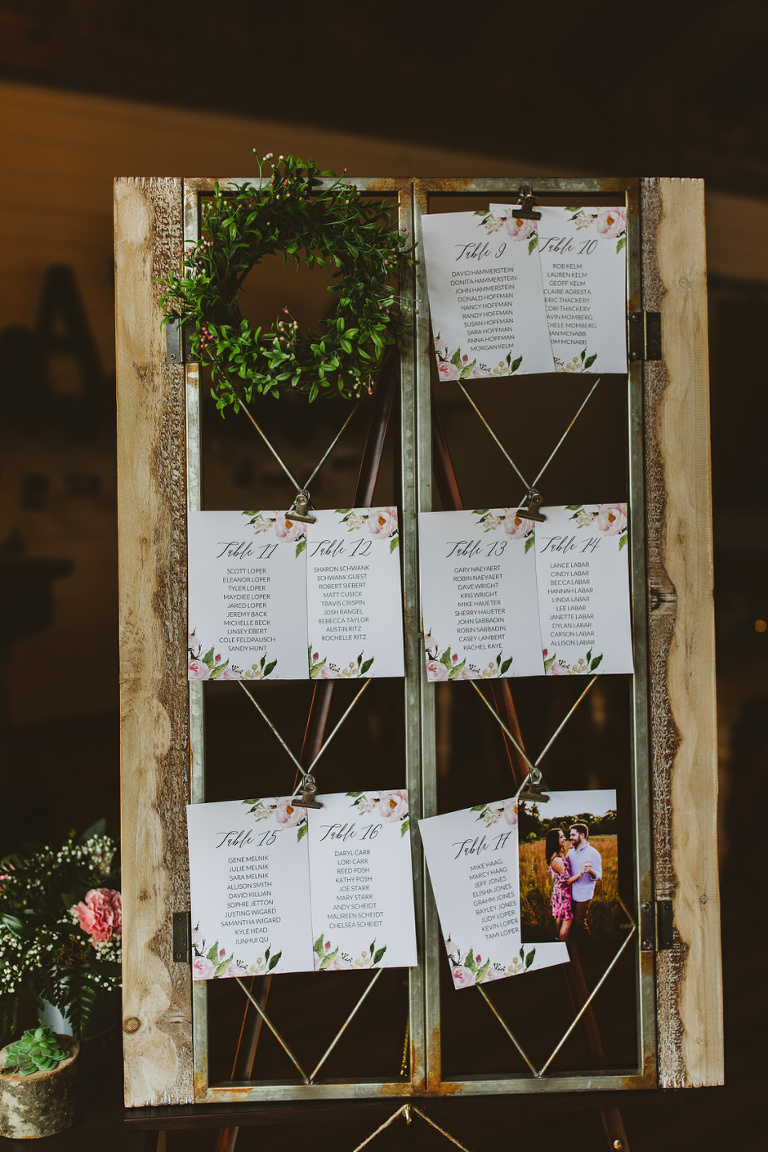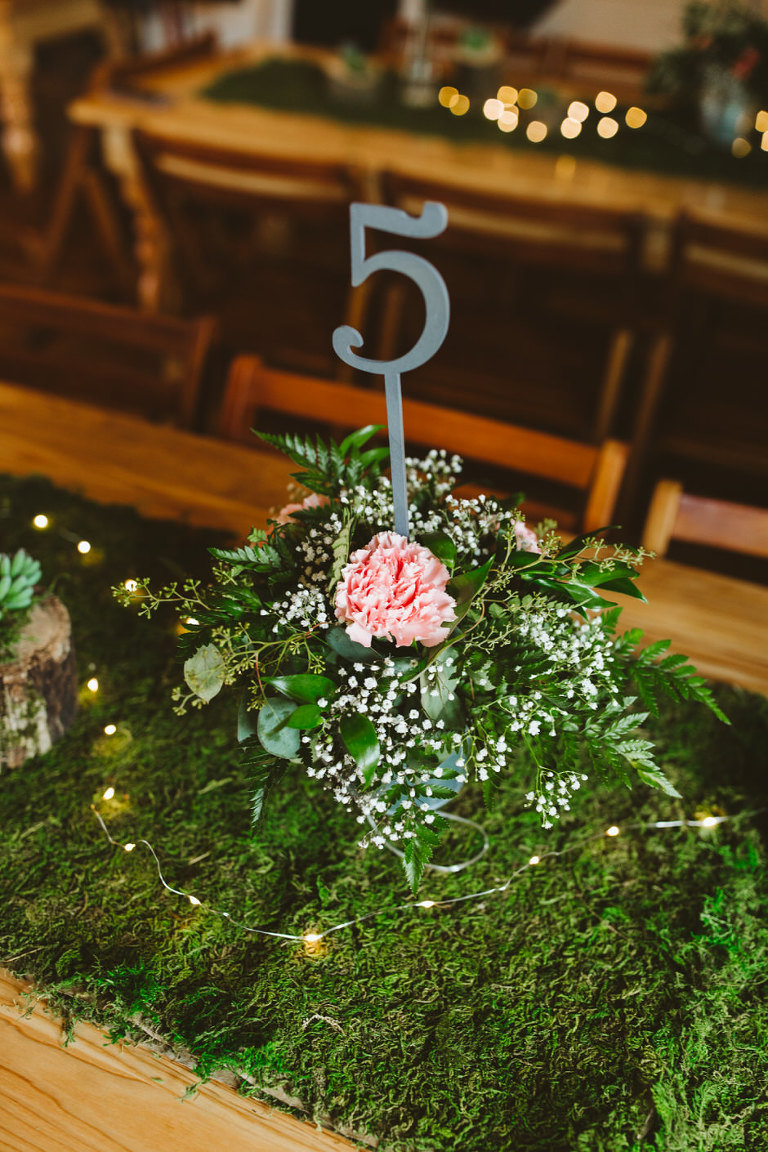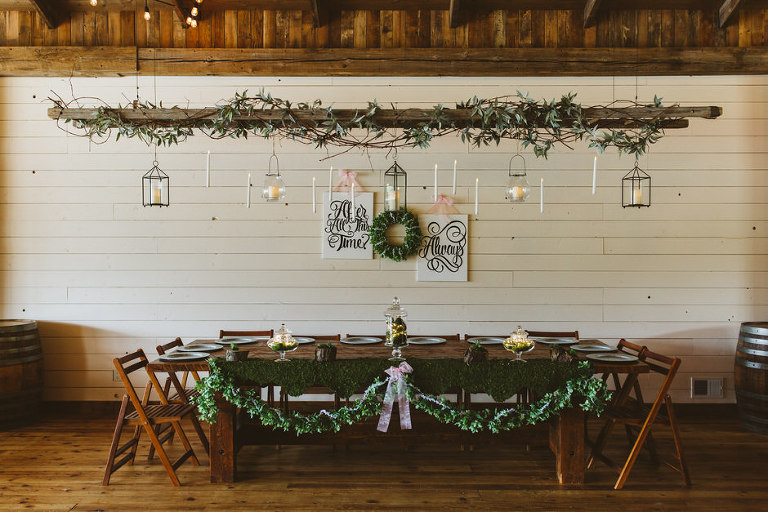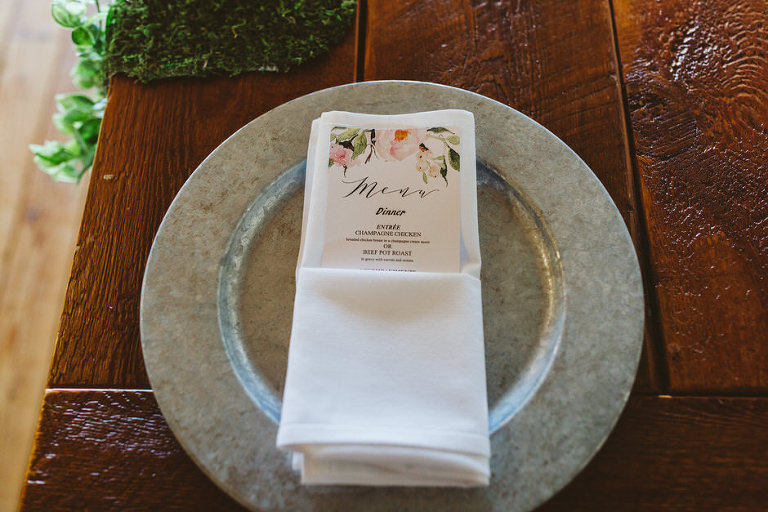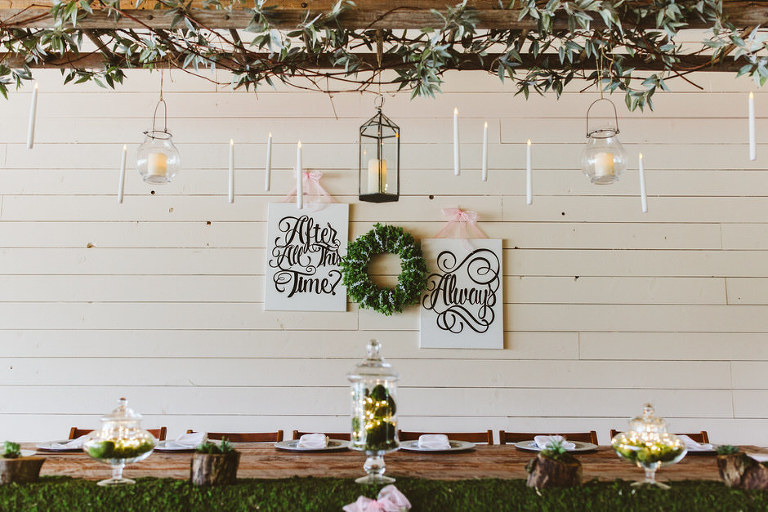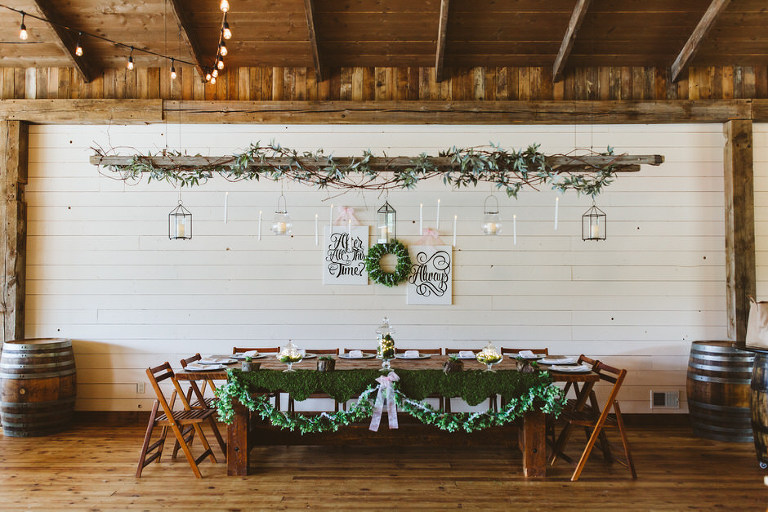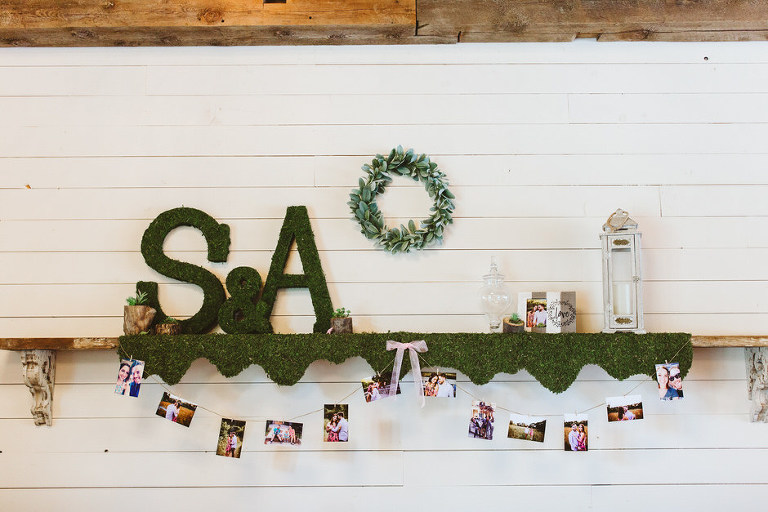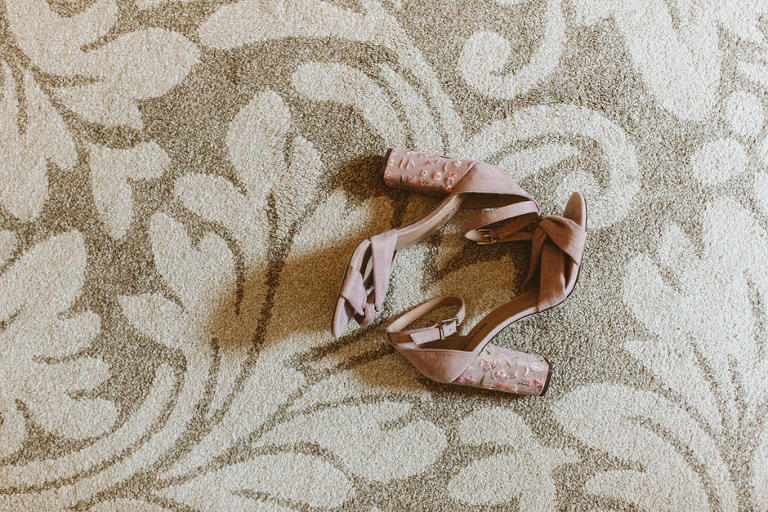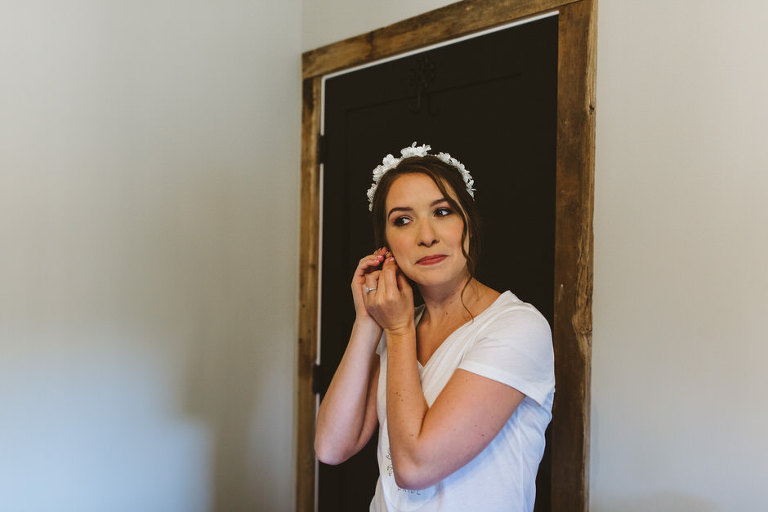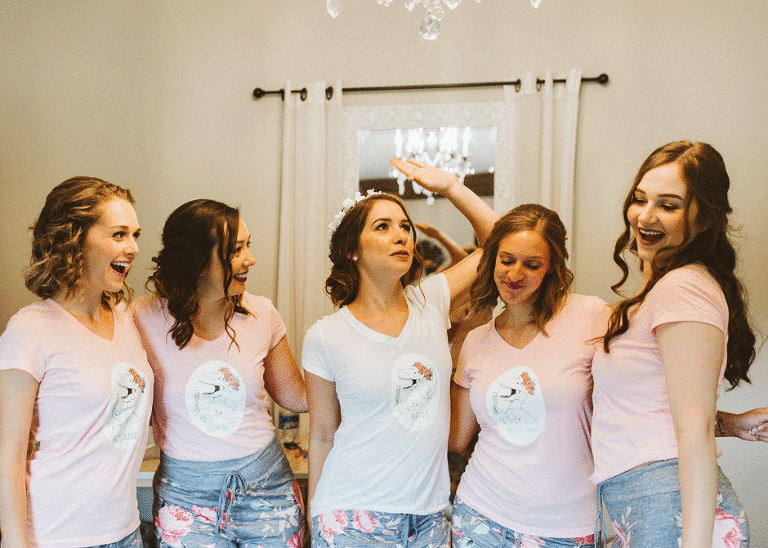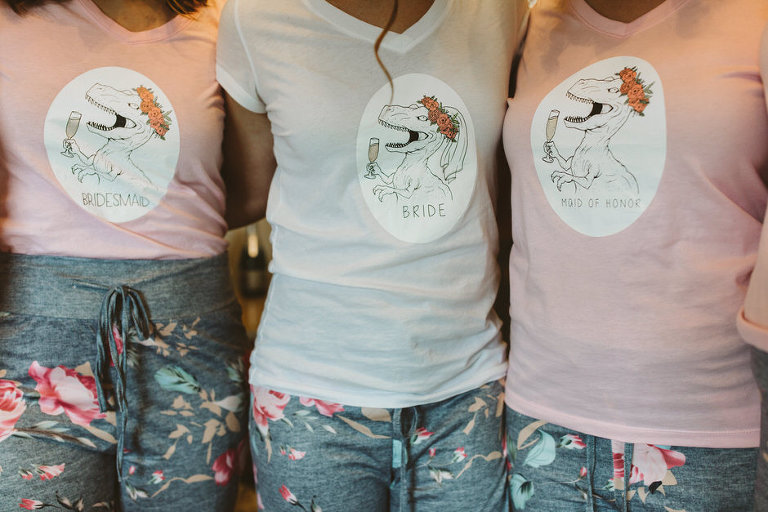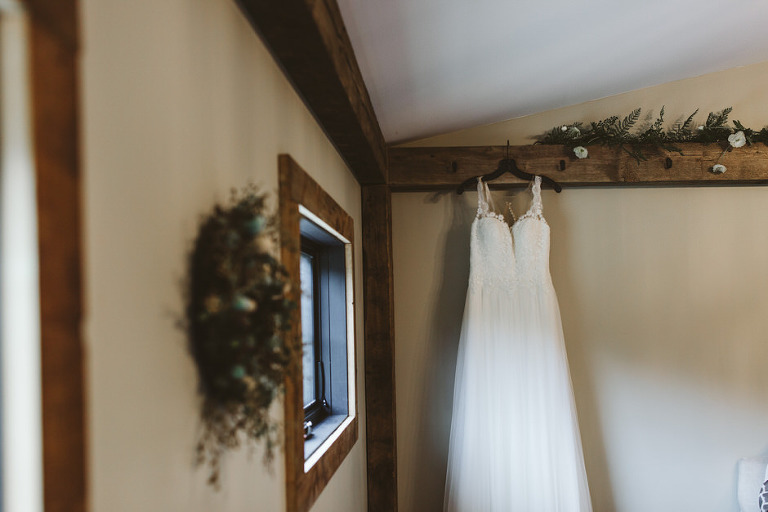 Sydney's Dress:
"The Dress" came from Becker's Bridal in Fowler, MI.  This is where Syd's mom had purchased her wedding dress, some 200 years ago (just kidding, more like 40).  Syd gathered her mom, grandma, aunt, and maid of honor to go check out dresses.  The dress she bought, a Beautiful Bridal a-line number, was the second dress she tried on.  But she still tried on 8 more, just to make sure she had it right.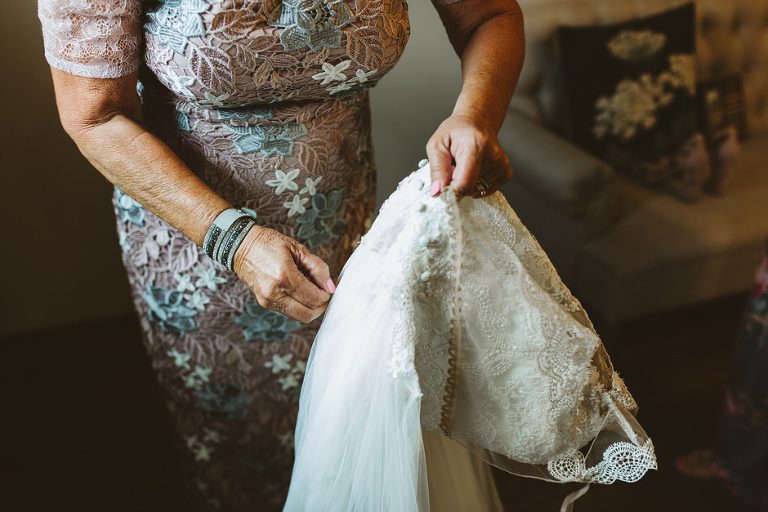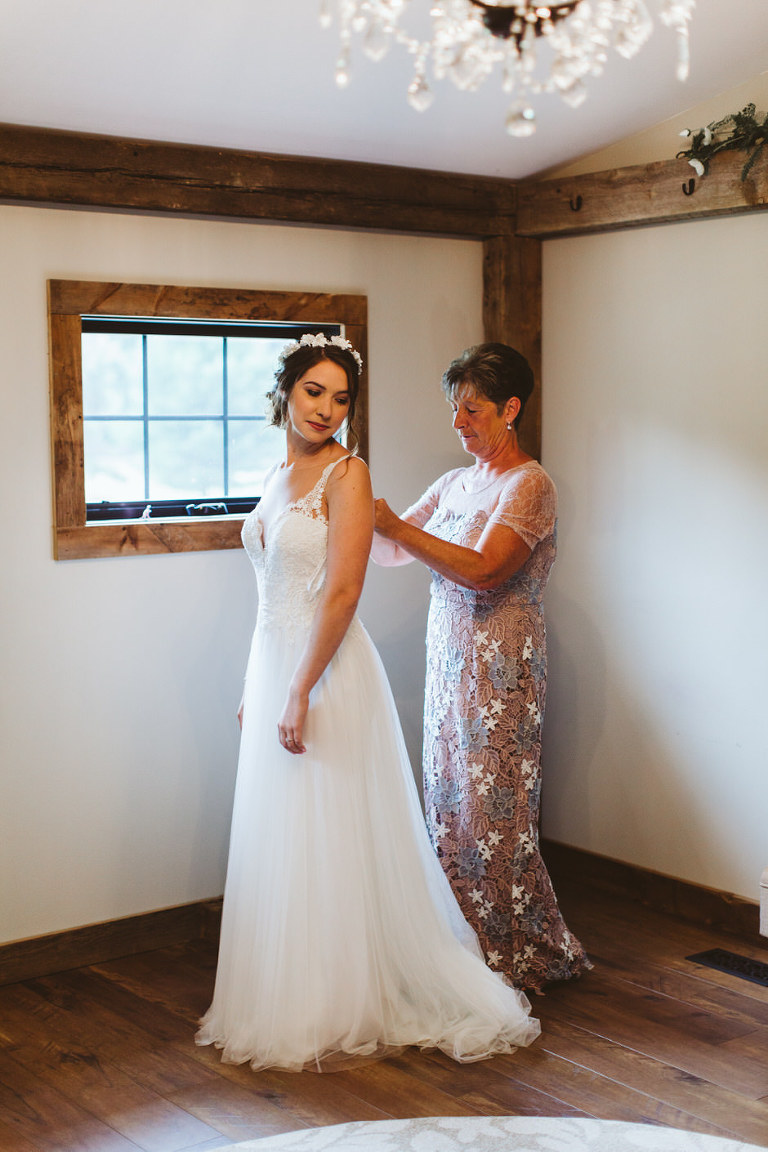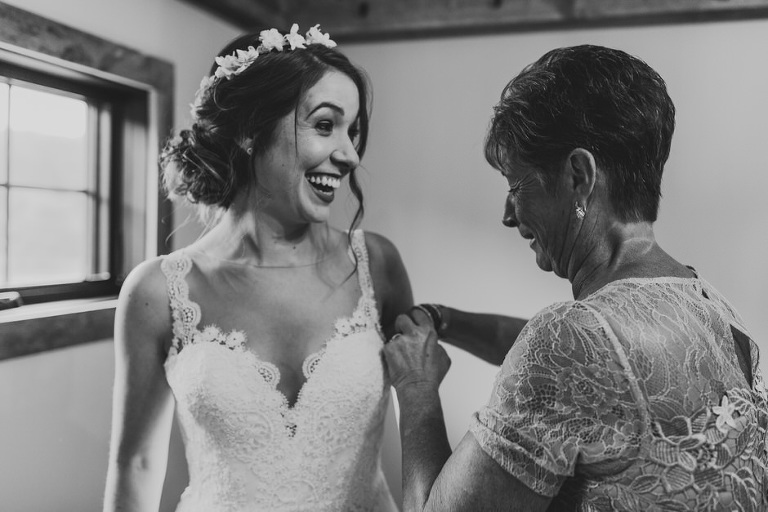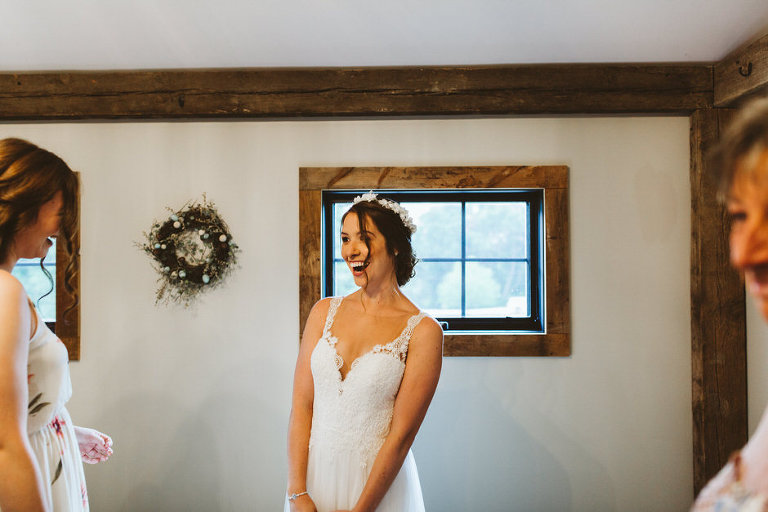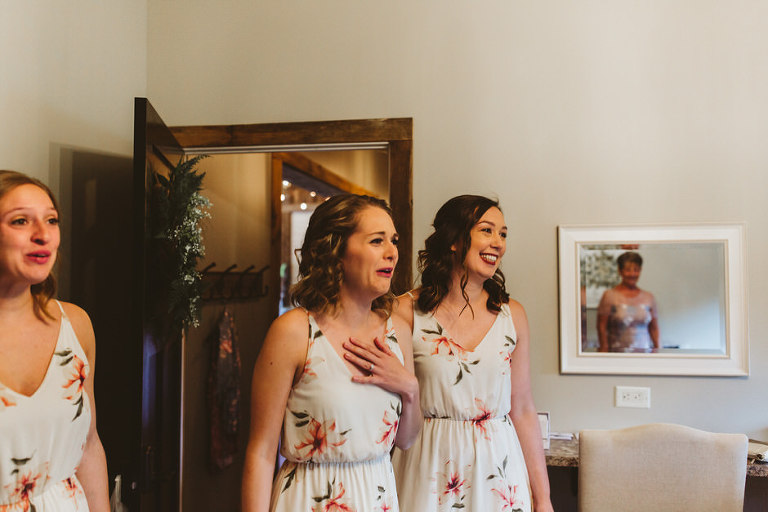 Venue:
The Black Barn Winery is the most beautiful place in Michigan (in our opinion).  Andrew and Syd had looked at a lot of venues, but nothing seemed "right".  Then they visited The Black Barn, and there was no question- this HAD to be where they got married.  It was all Syd could do to keep it together through the tour.  When they got in the car afterward, they both looked at each other and know this was the place.
The Black Barn staff were THE most accommodating, sweet, and helpful people ever.  The grounds of the winery and renovated barn were immaculate.  There was literally nothing wrong with this place.  It was nature-y without being too country.  WIN!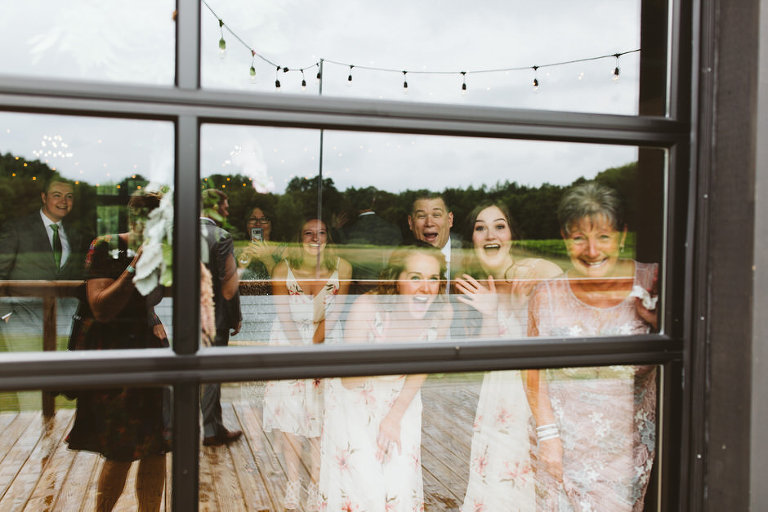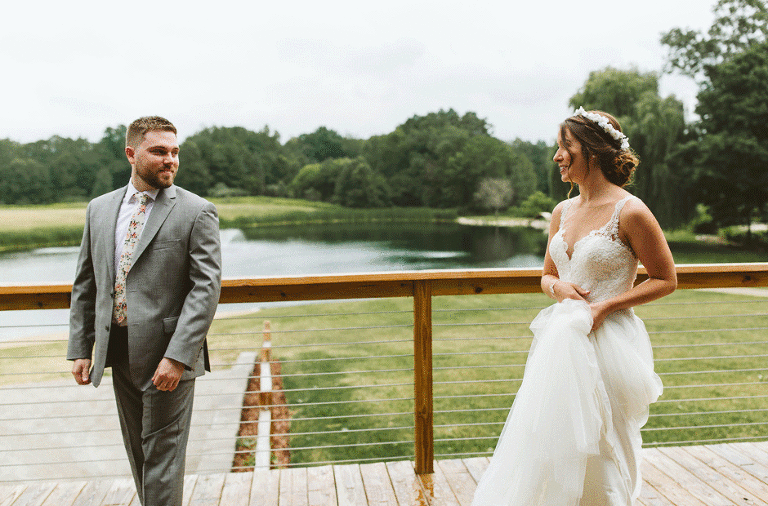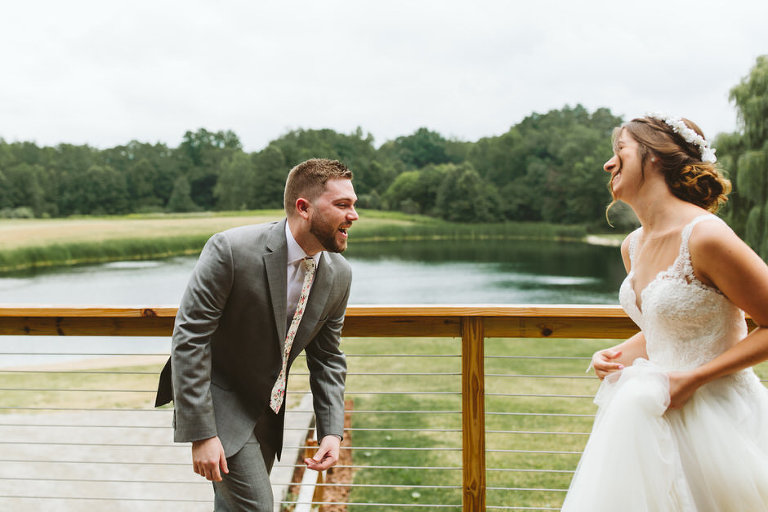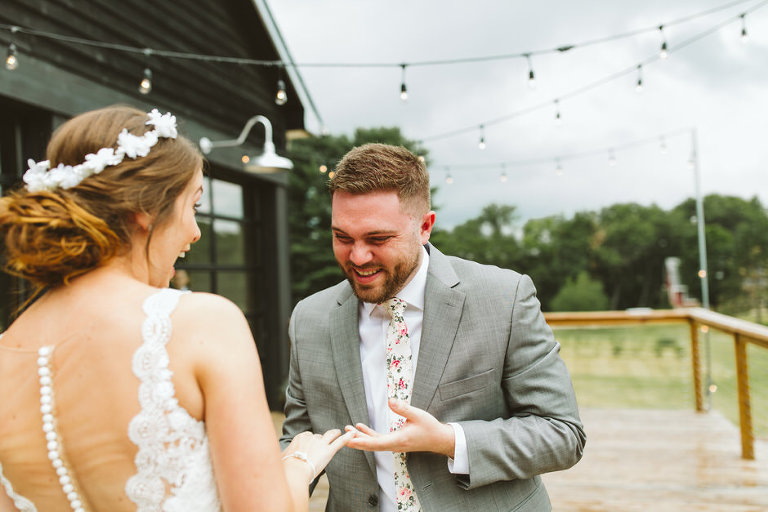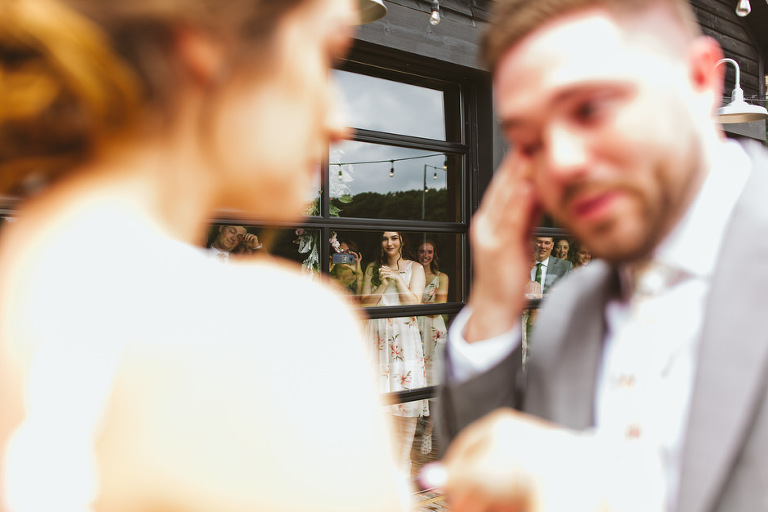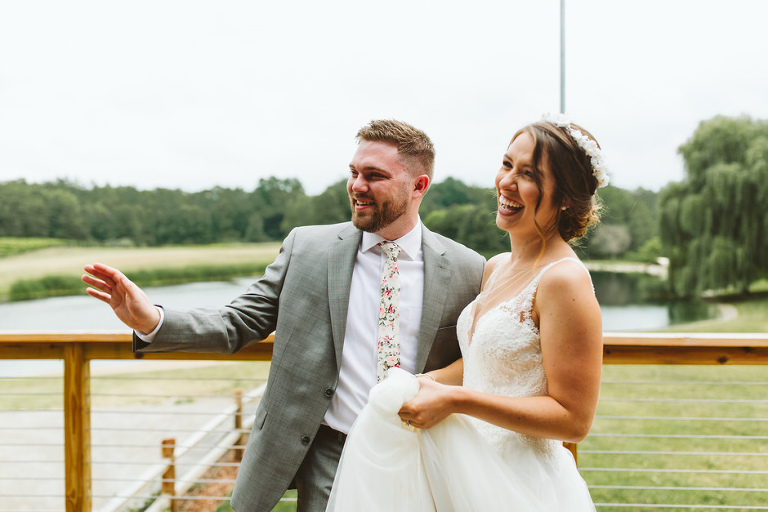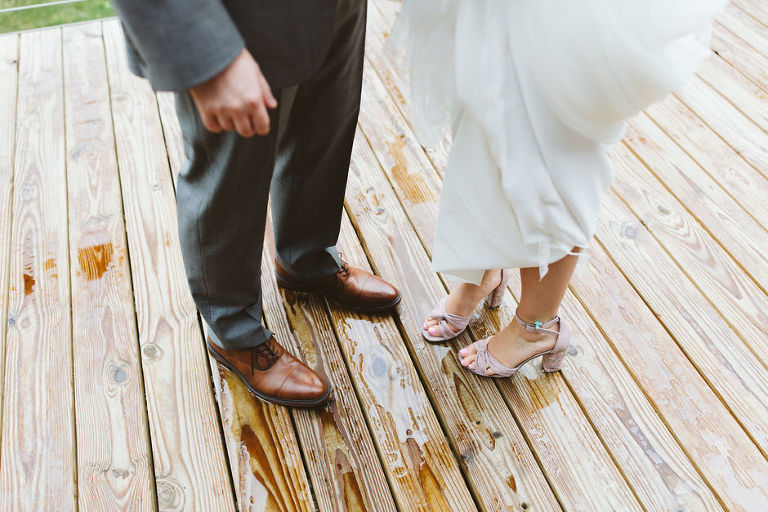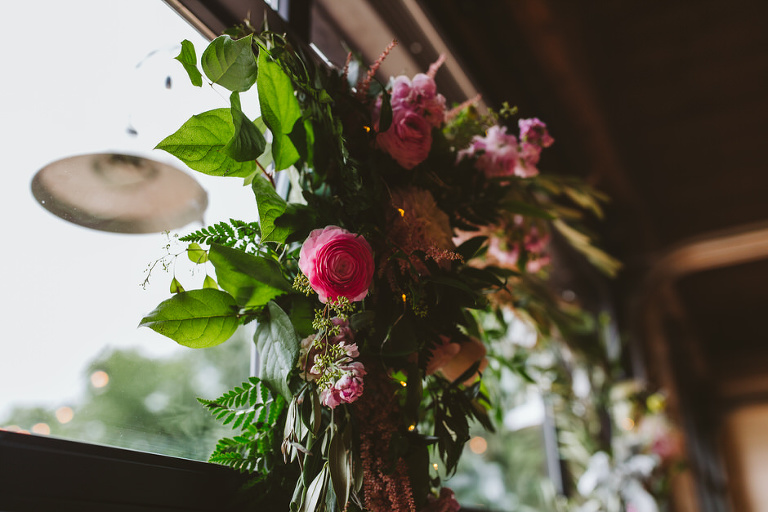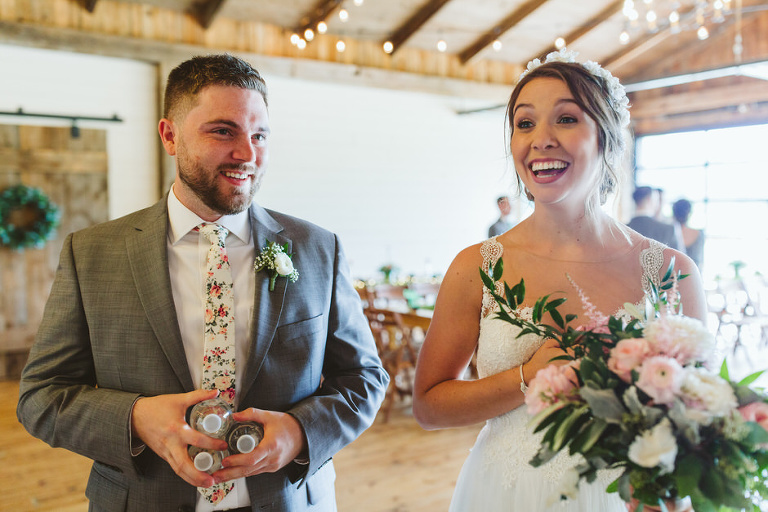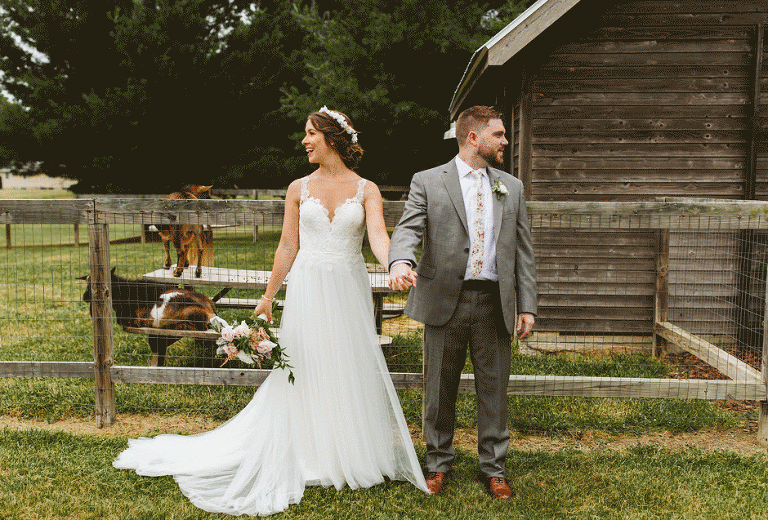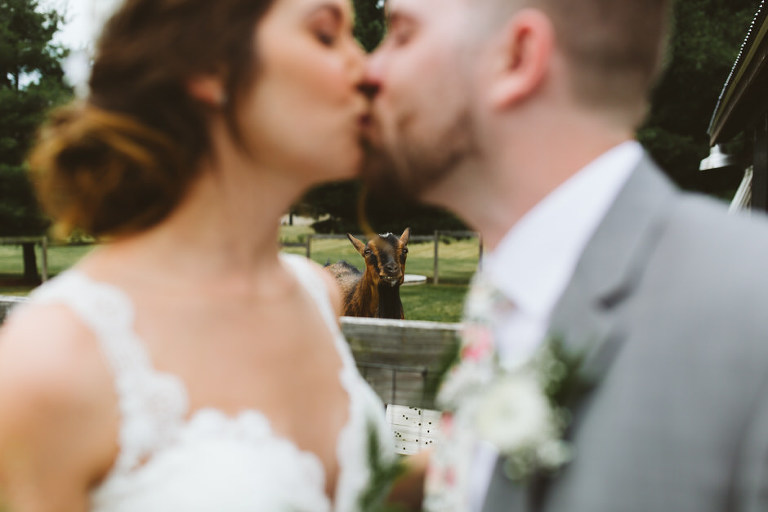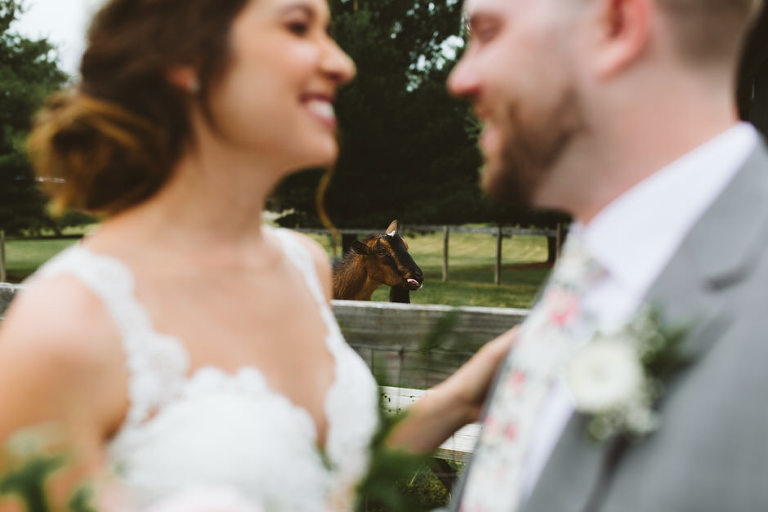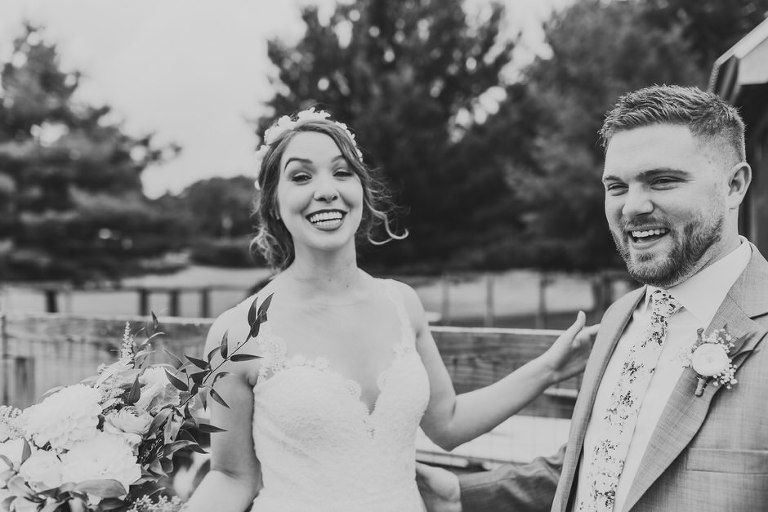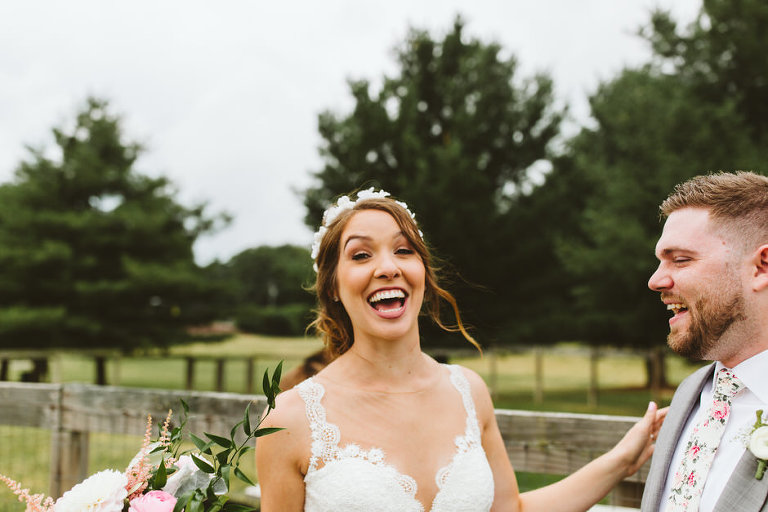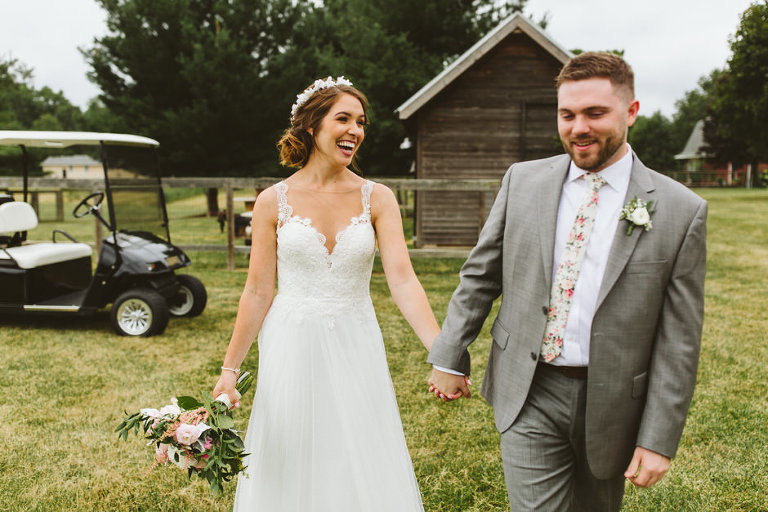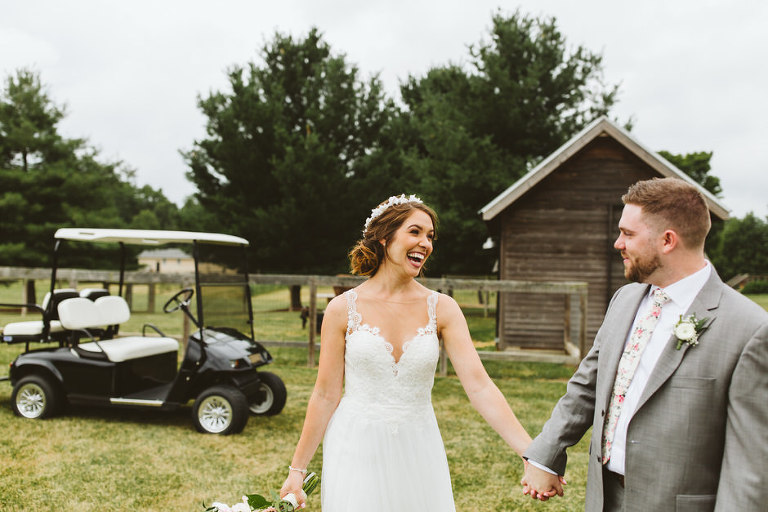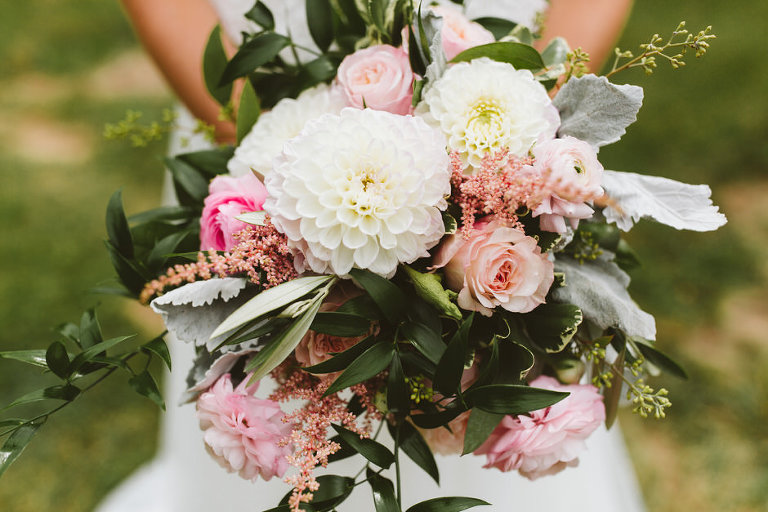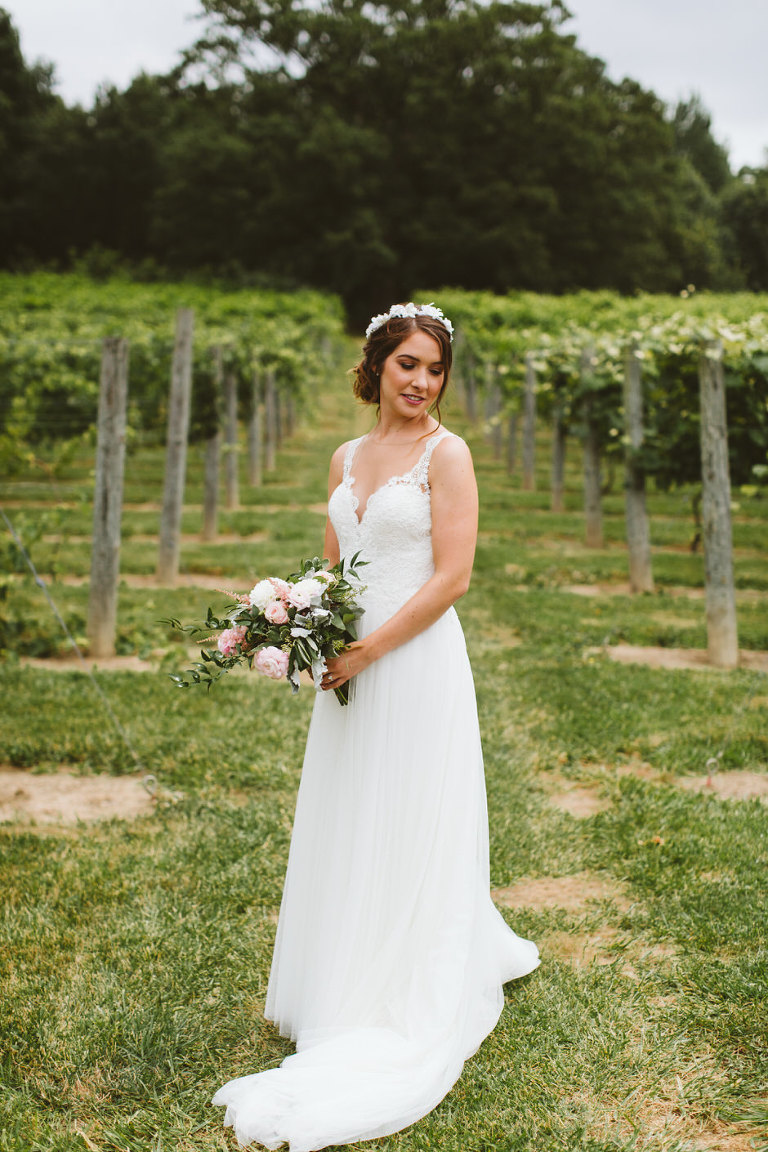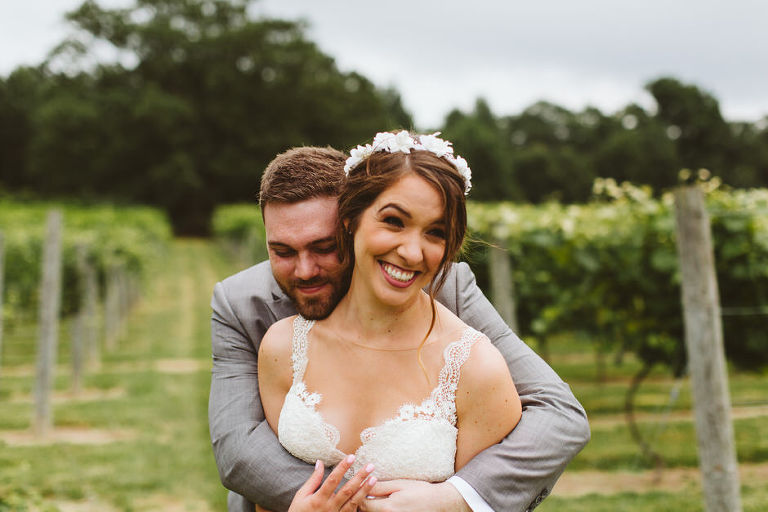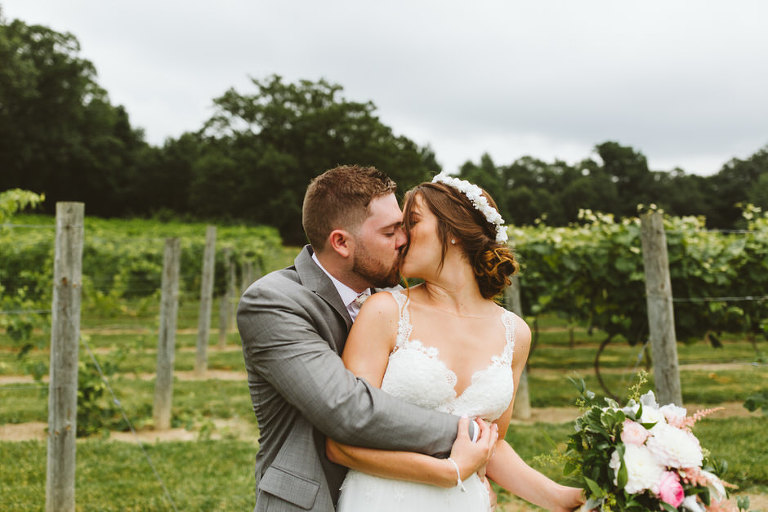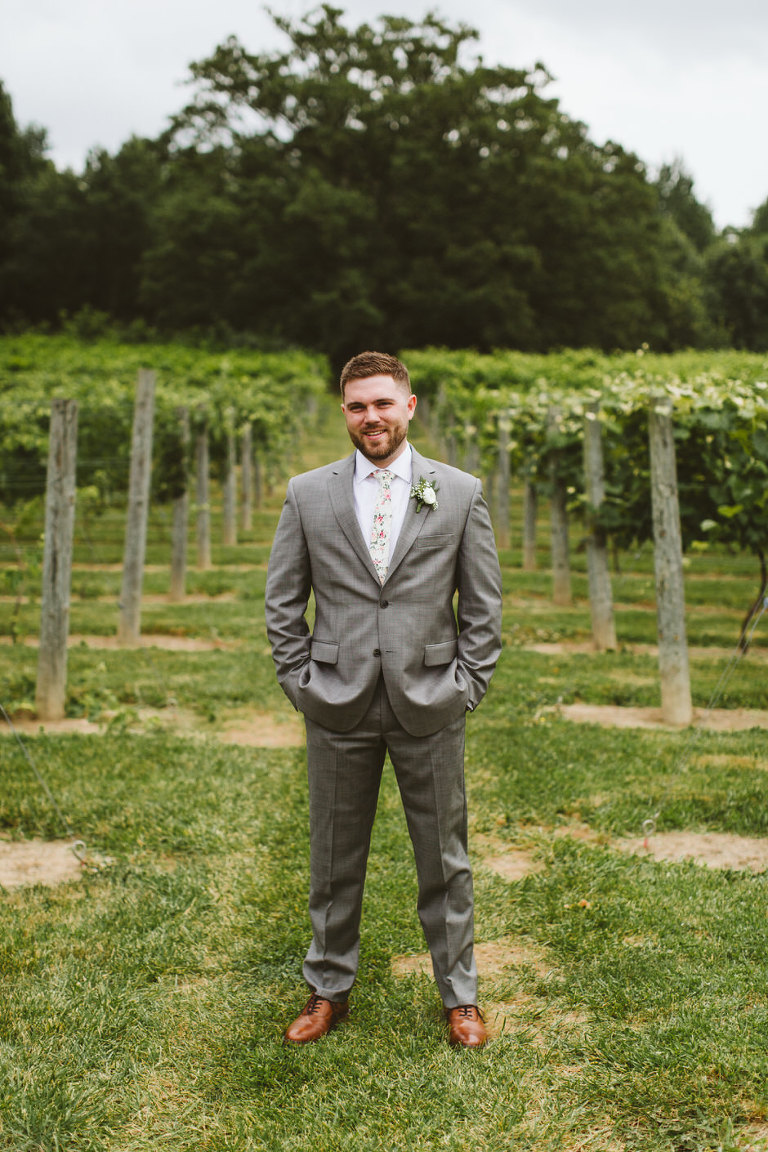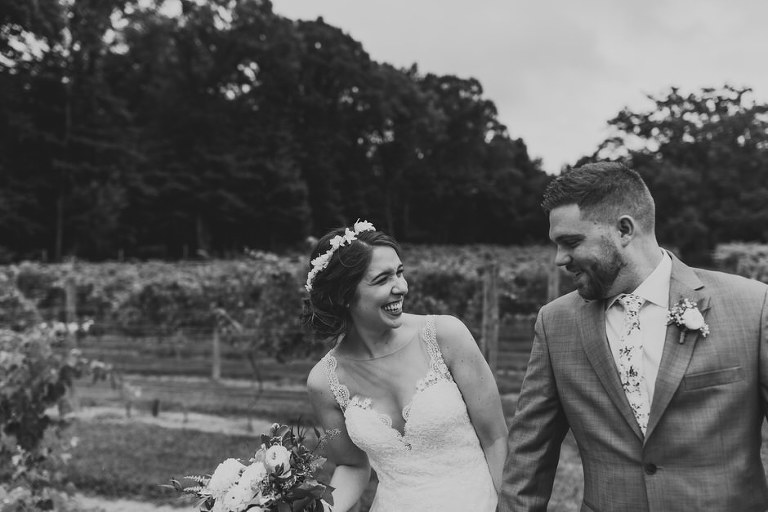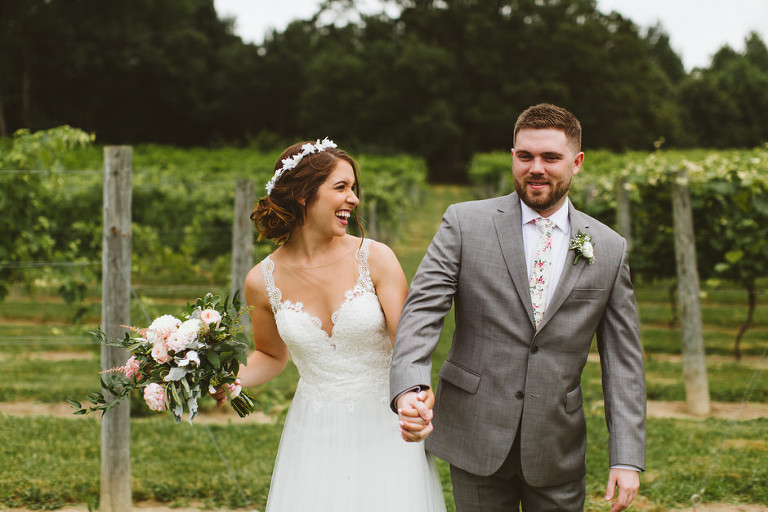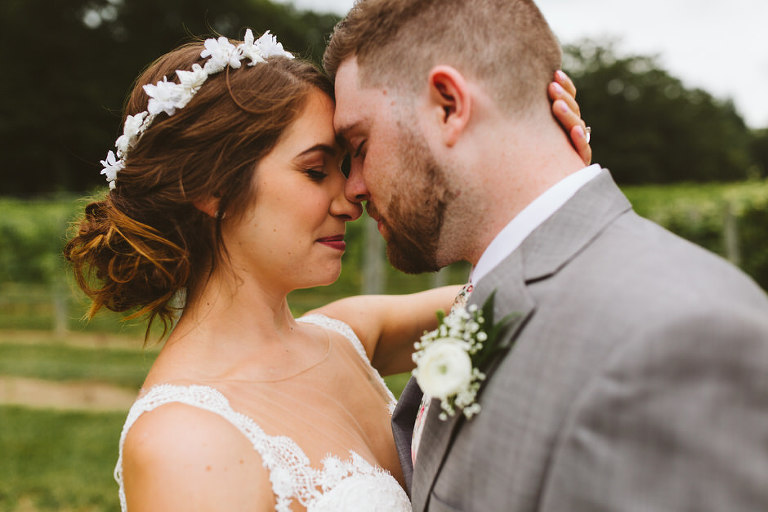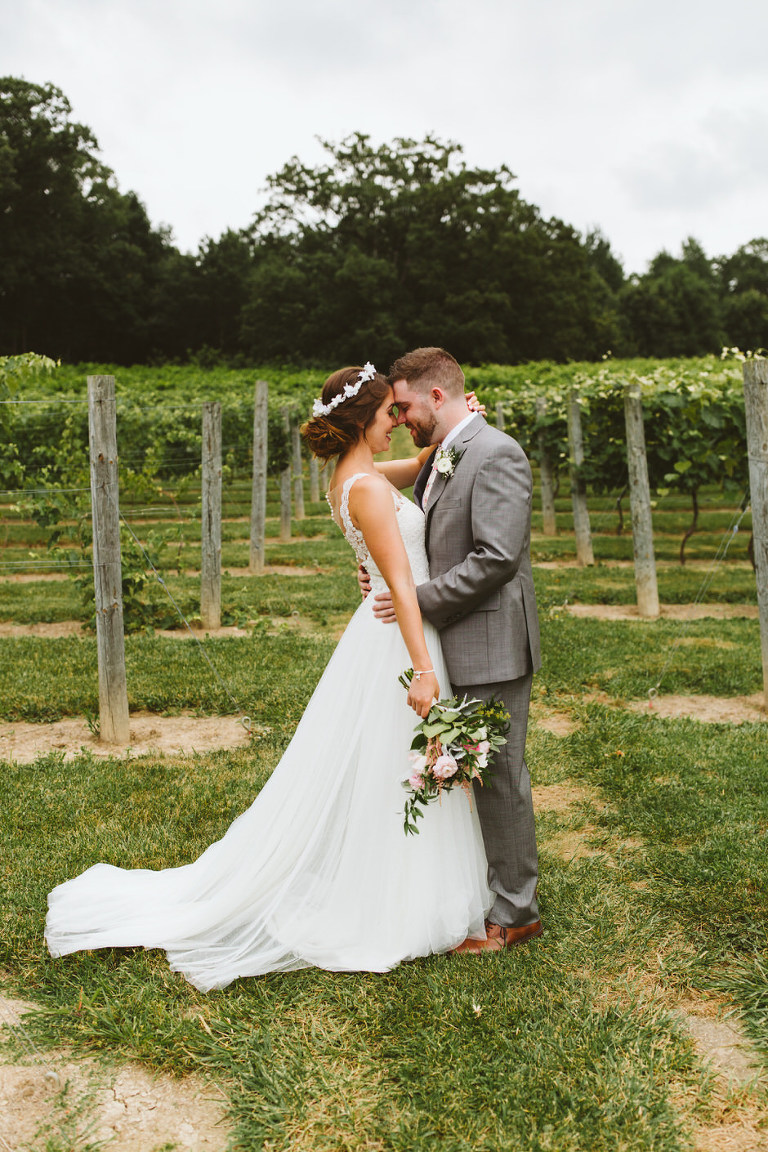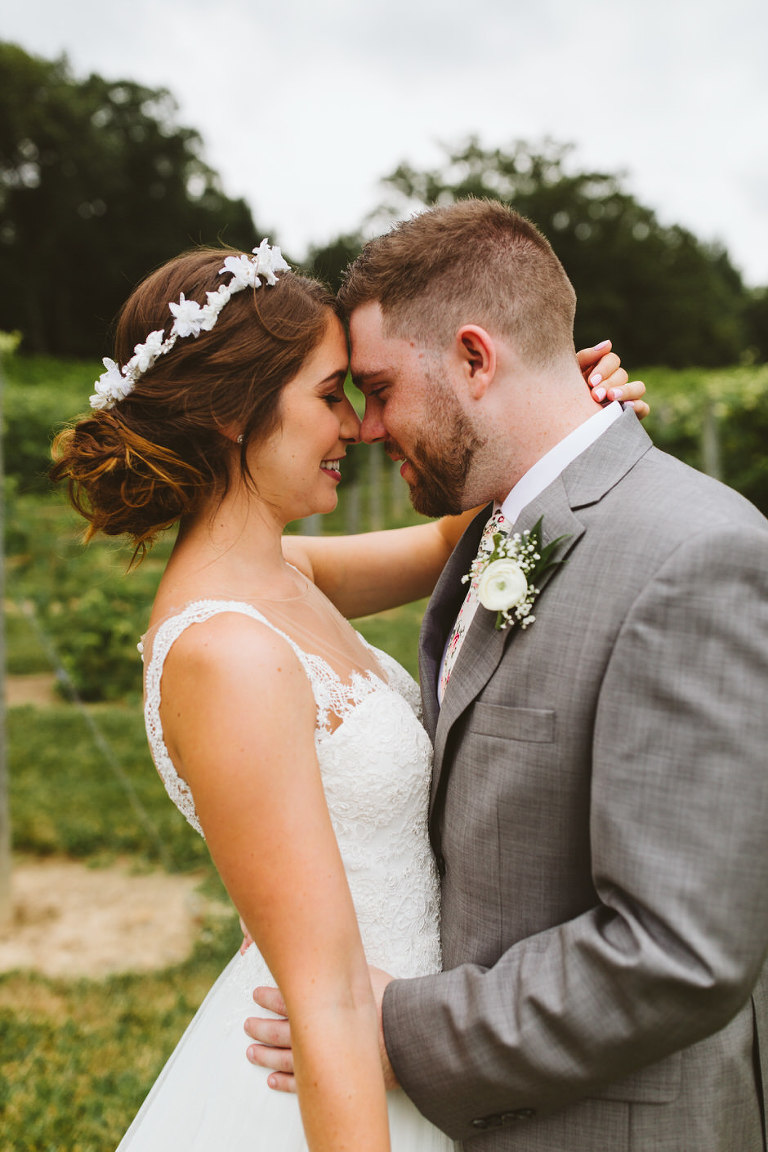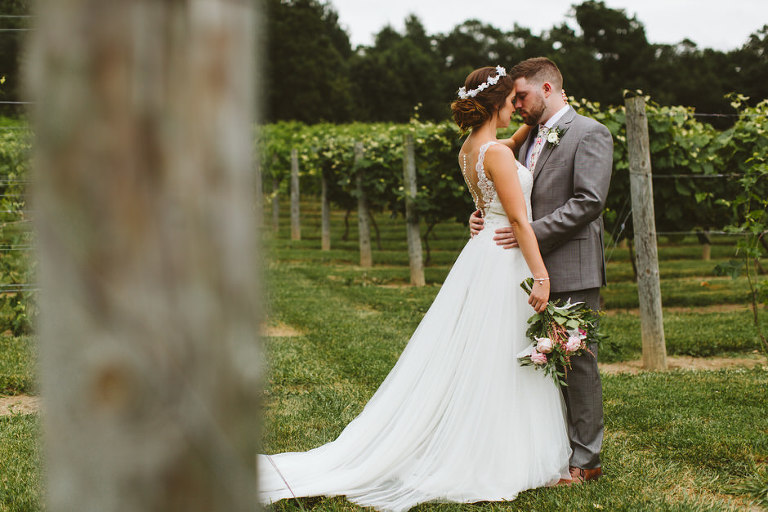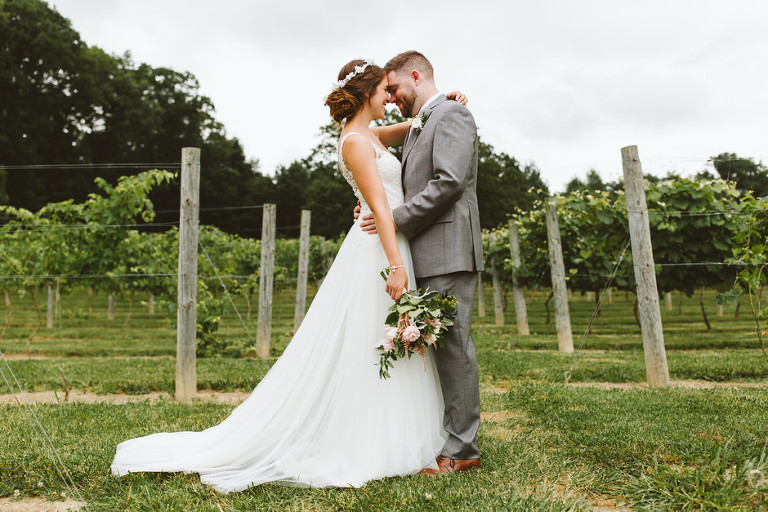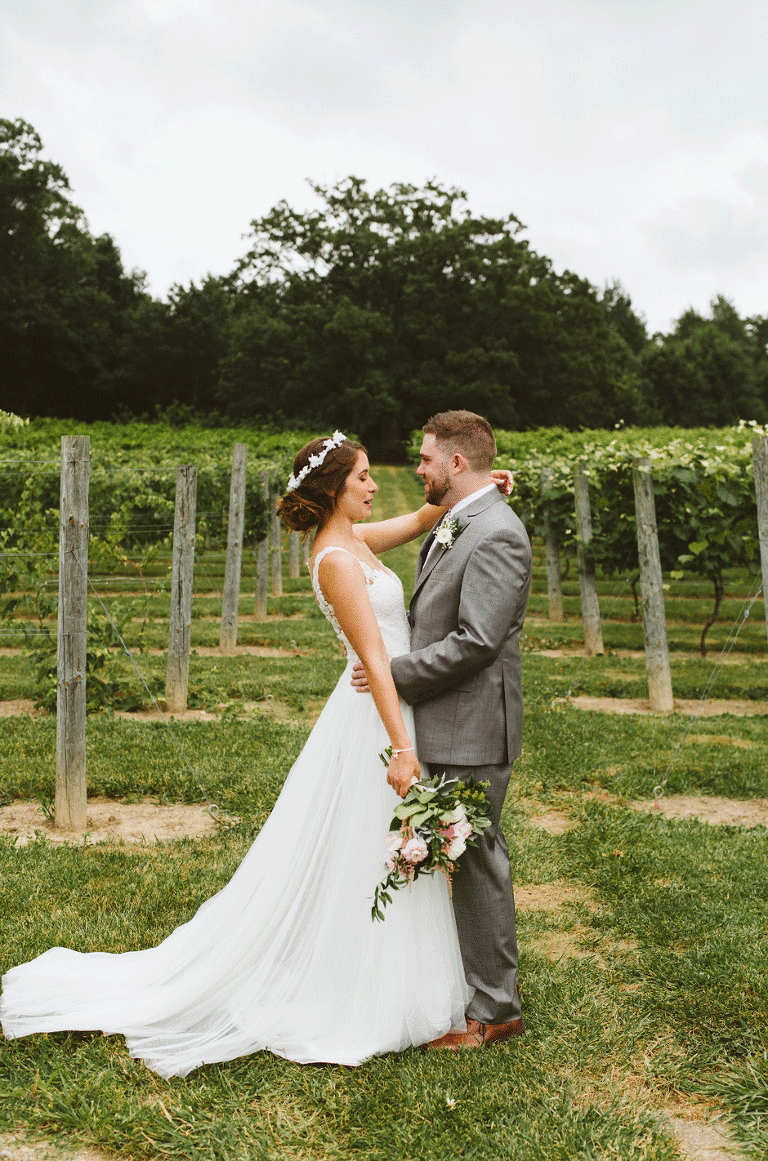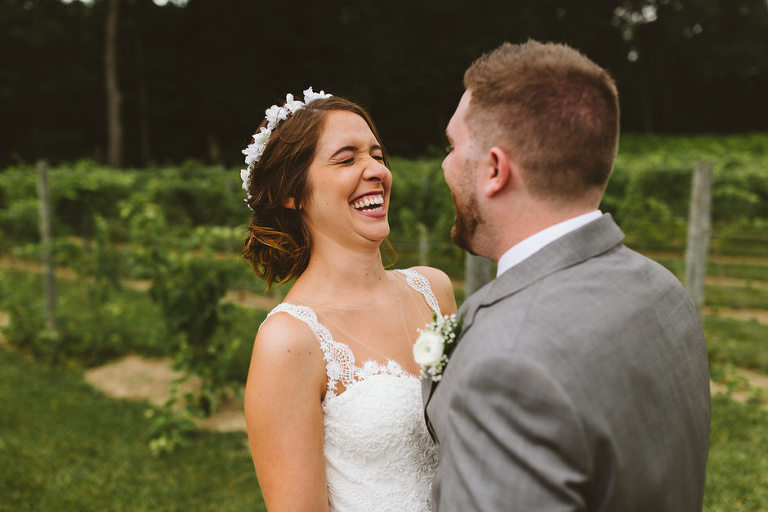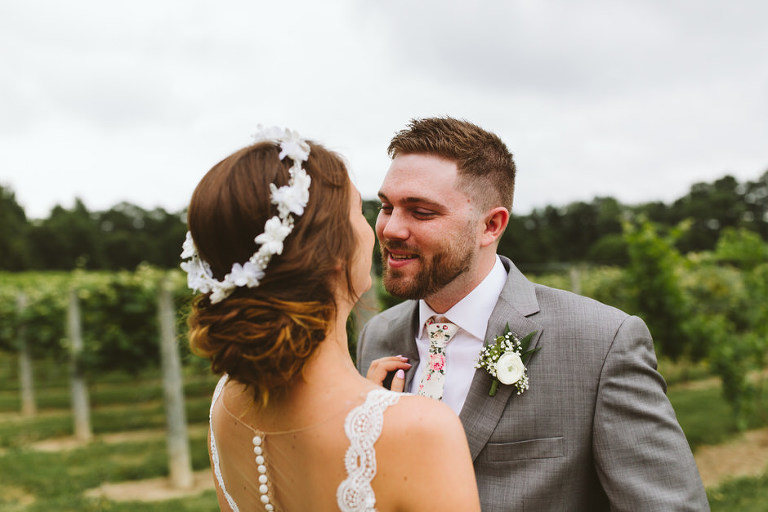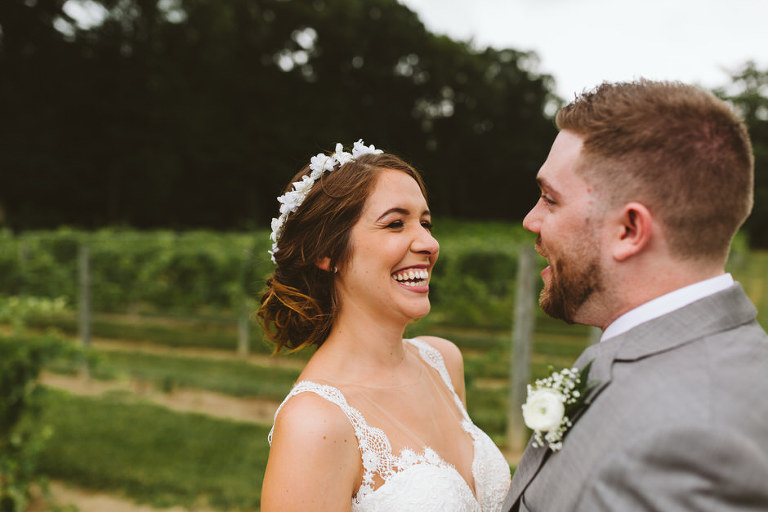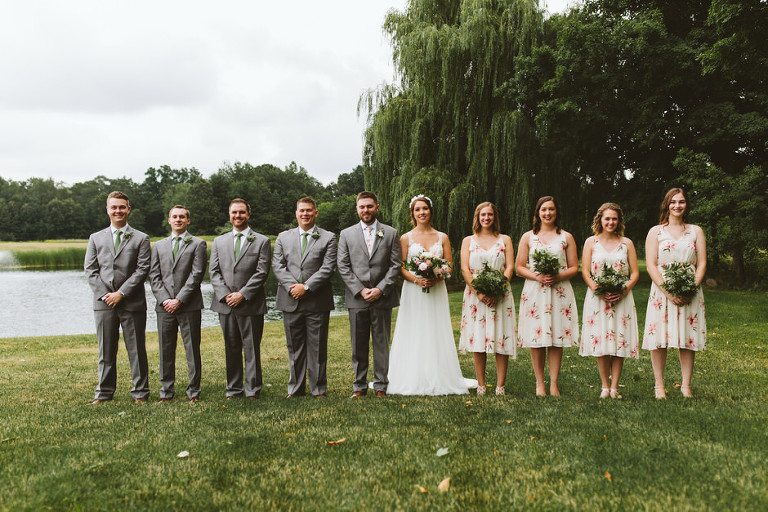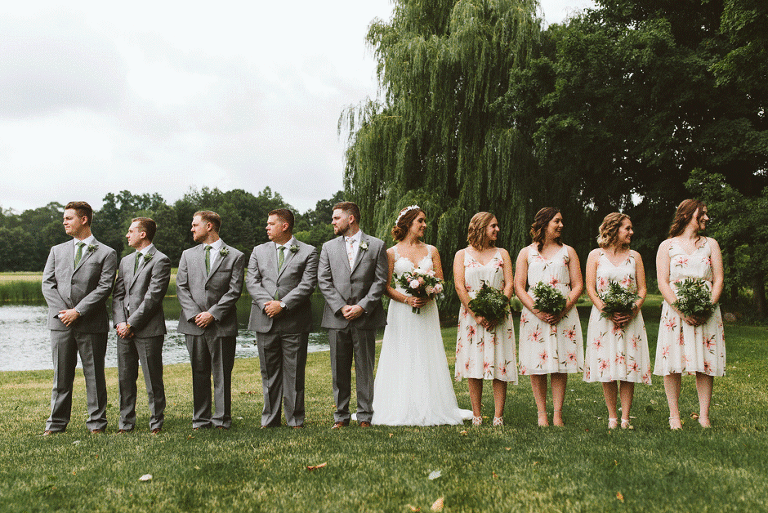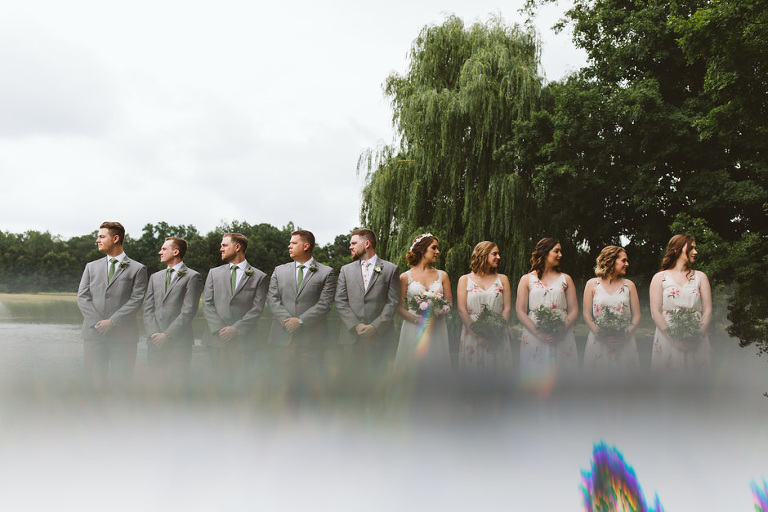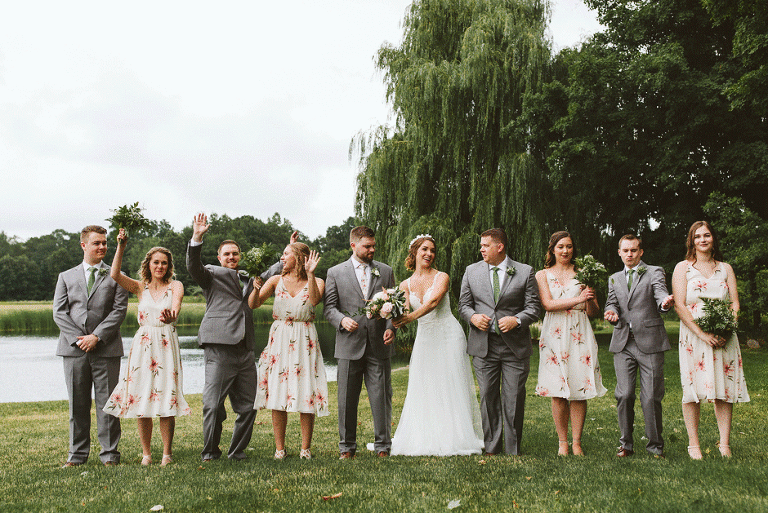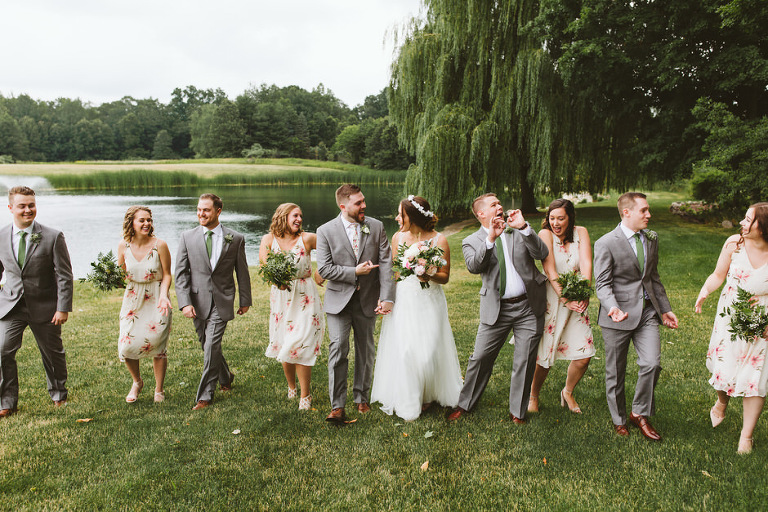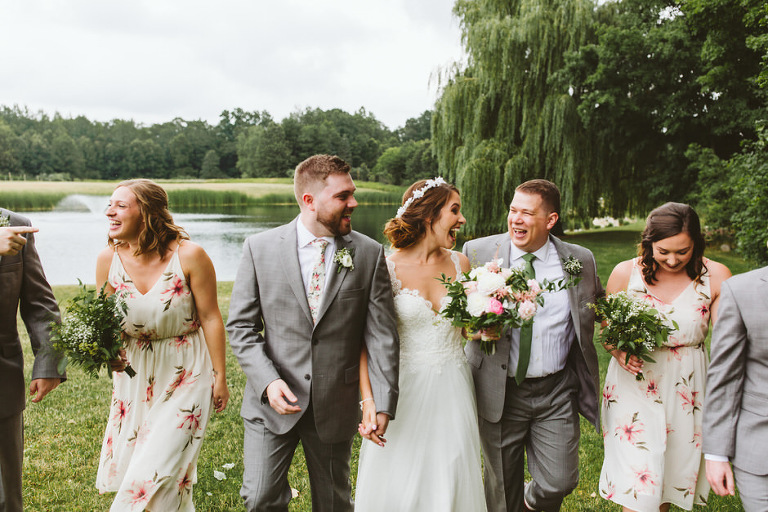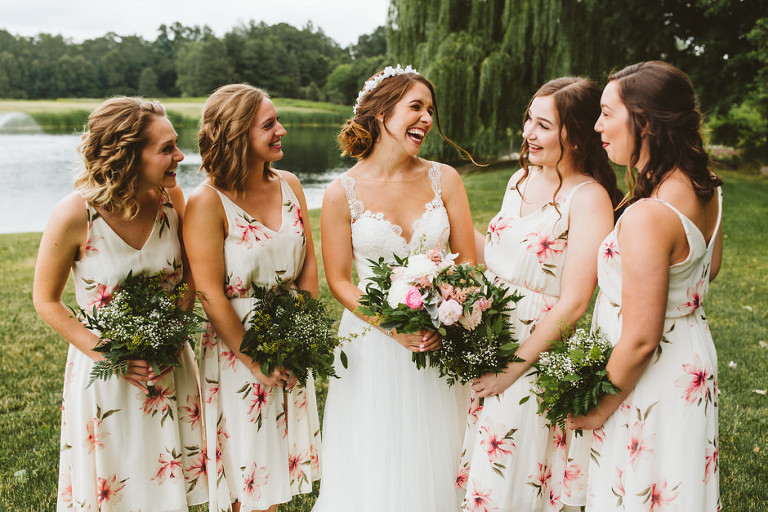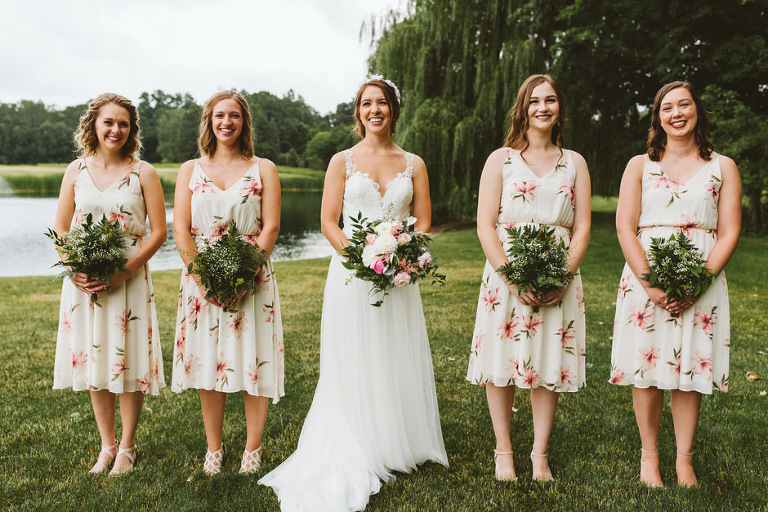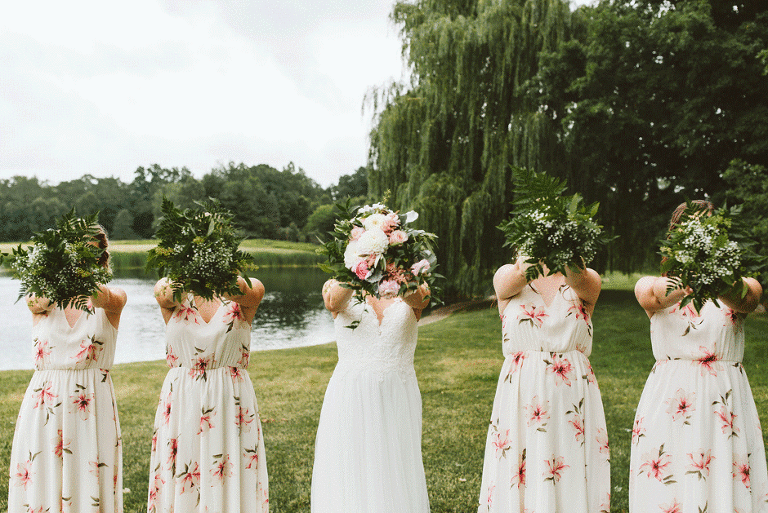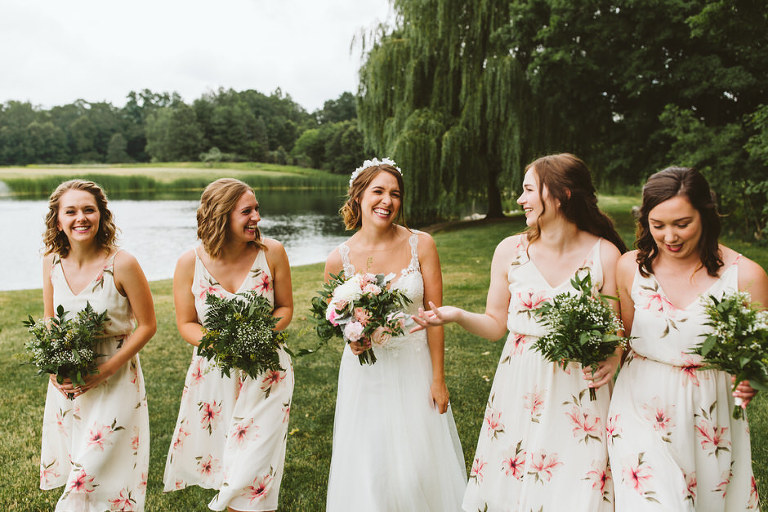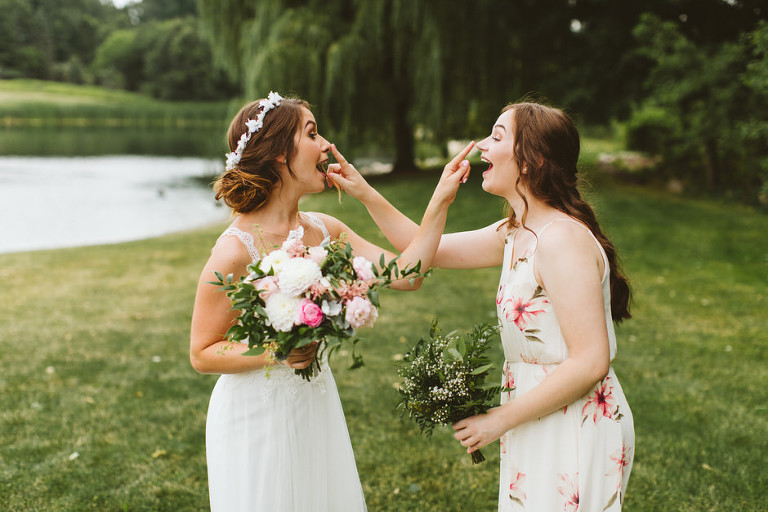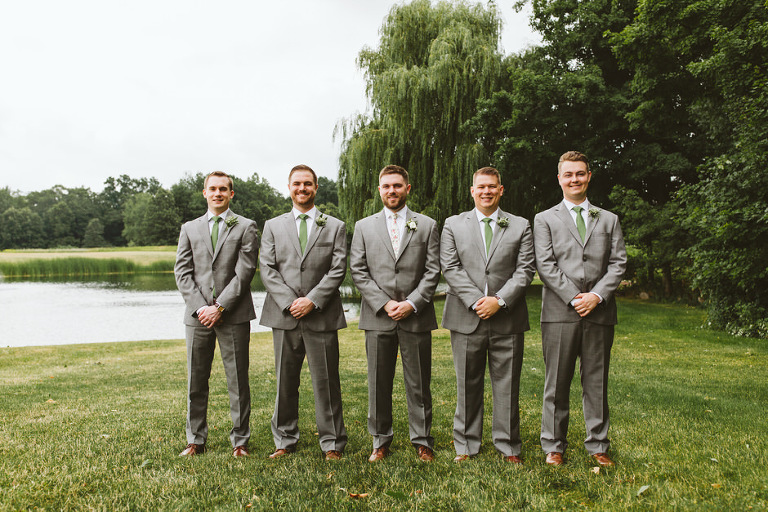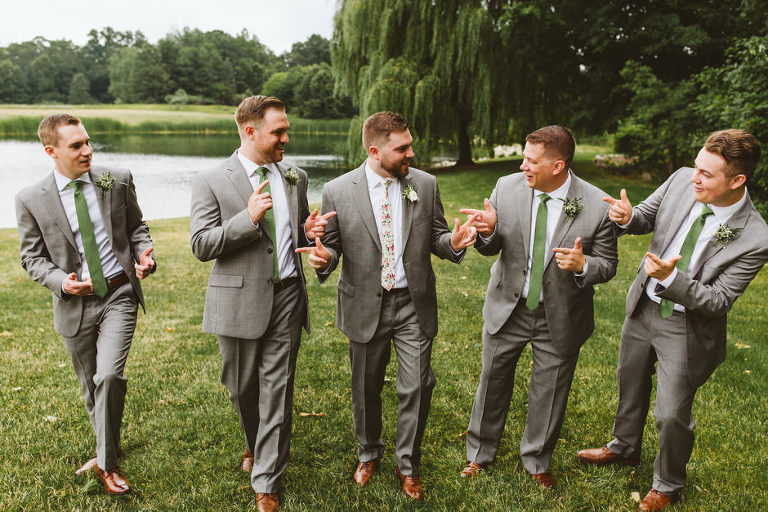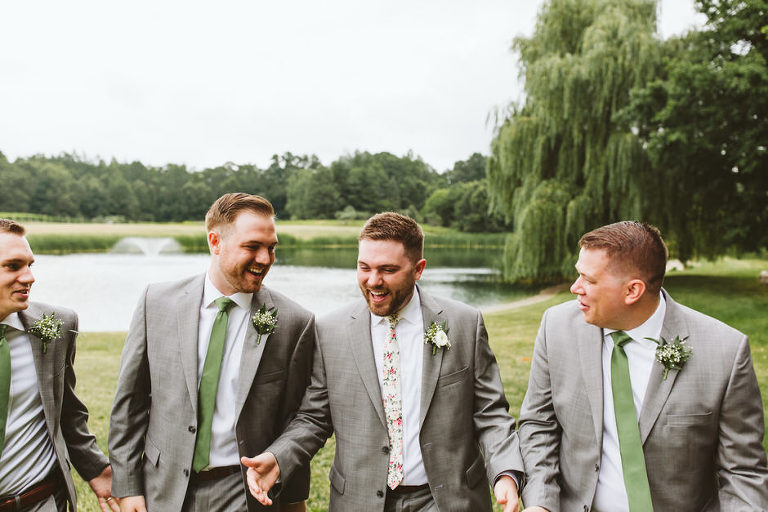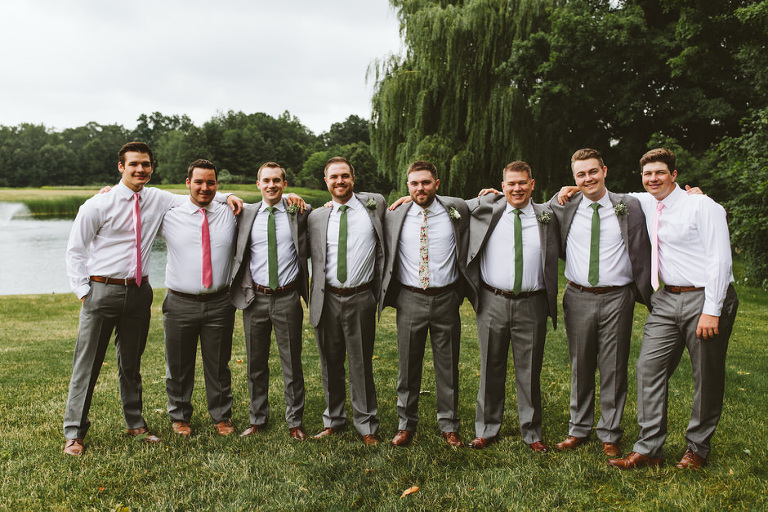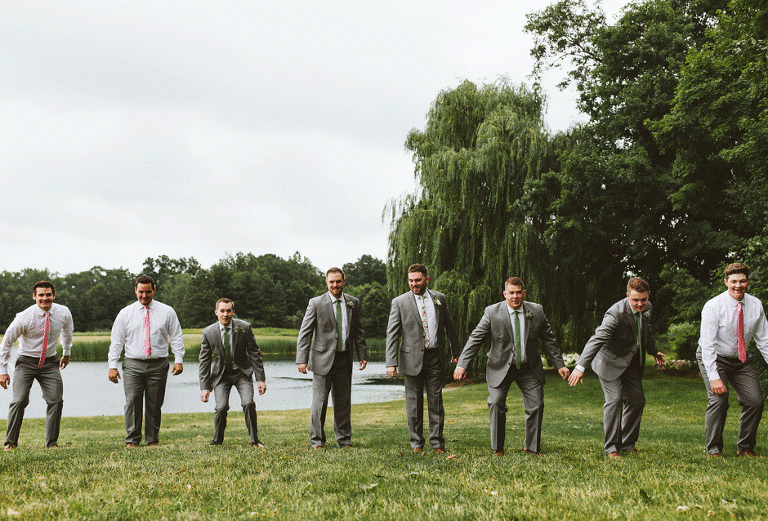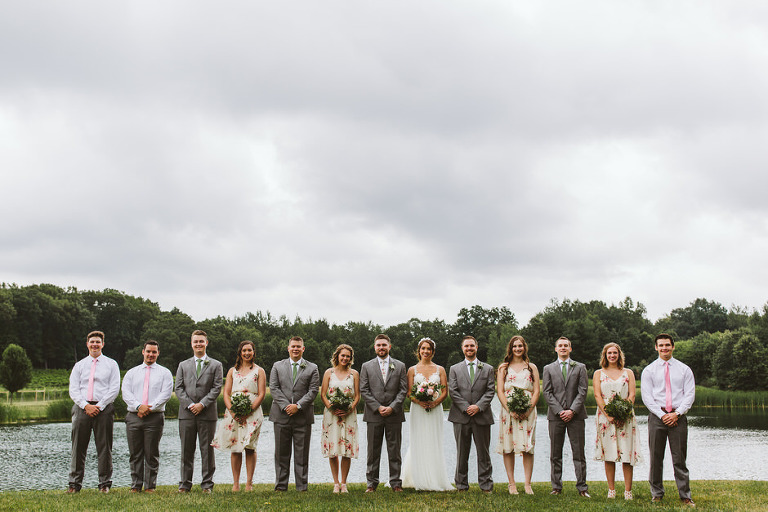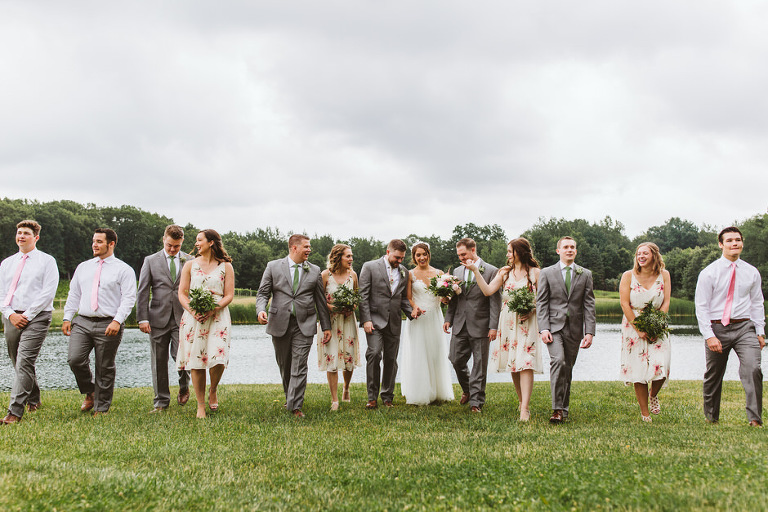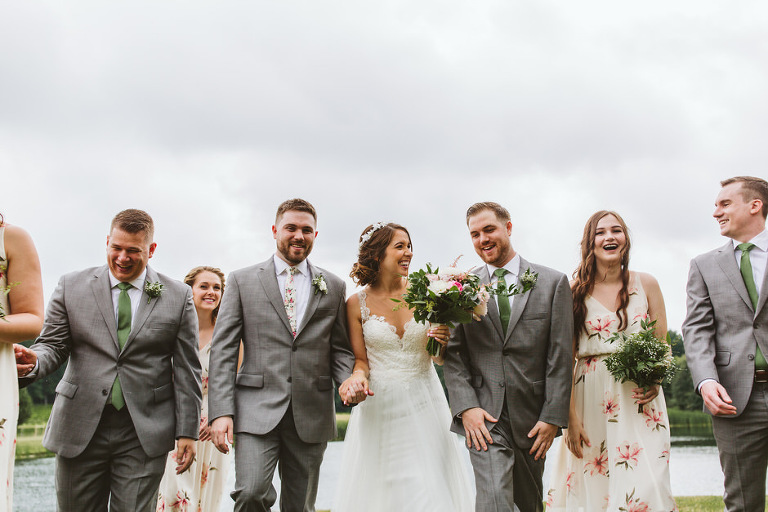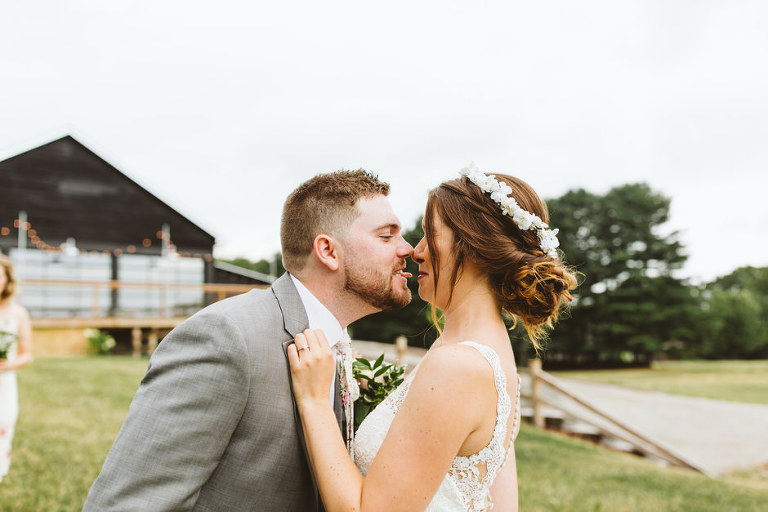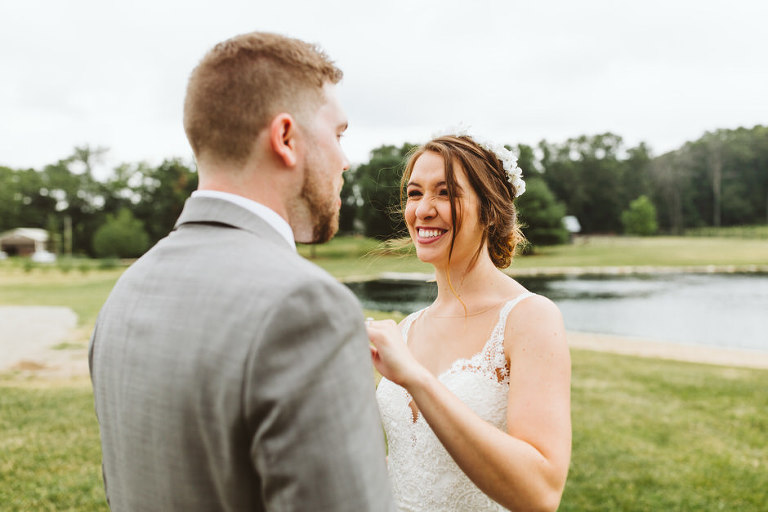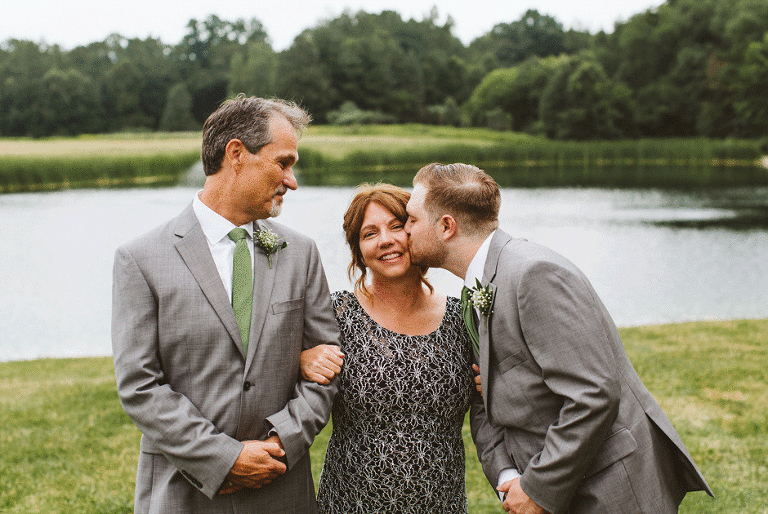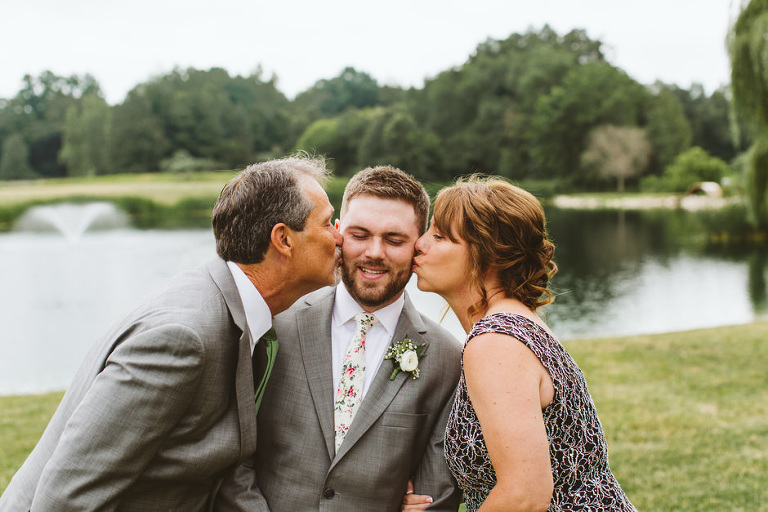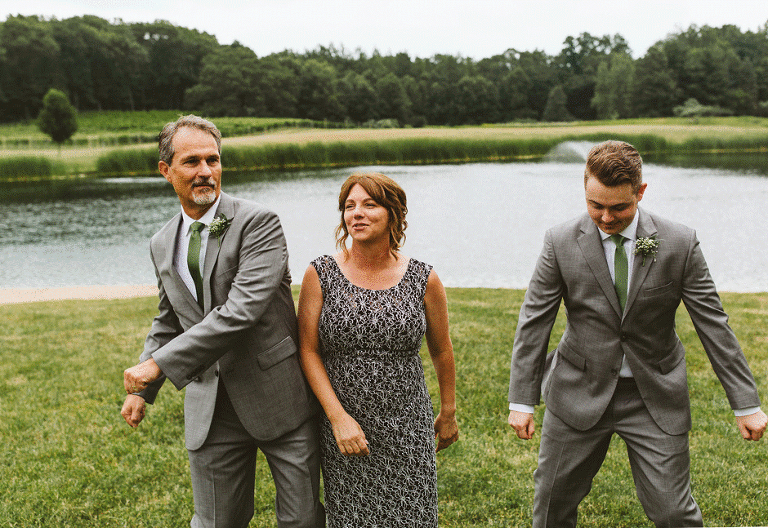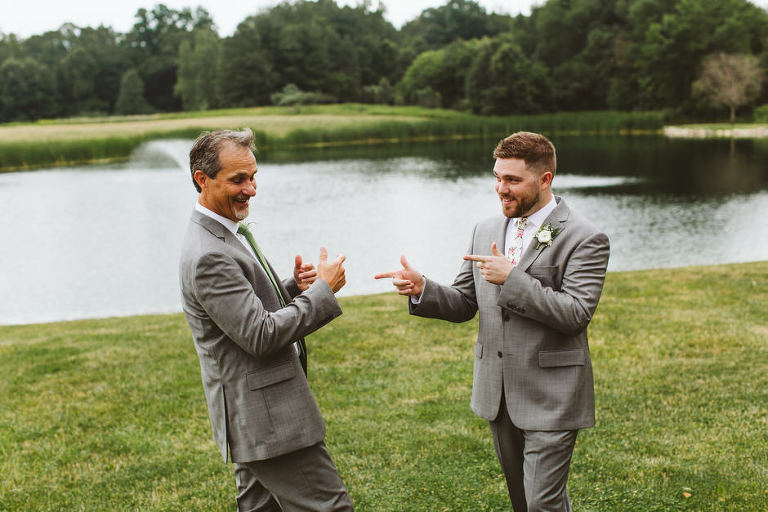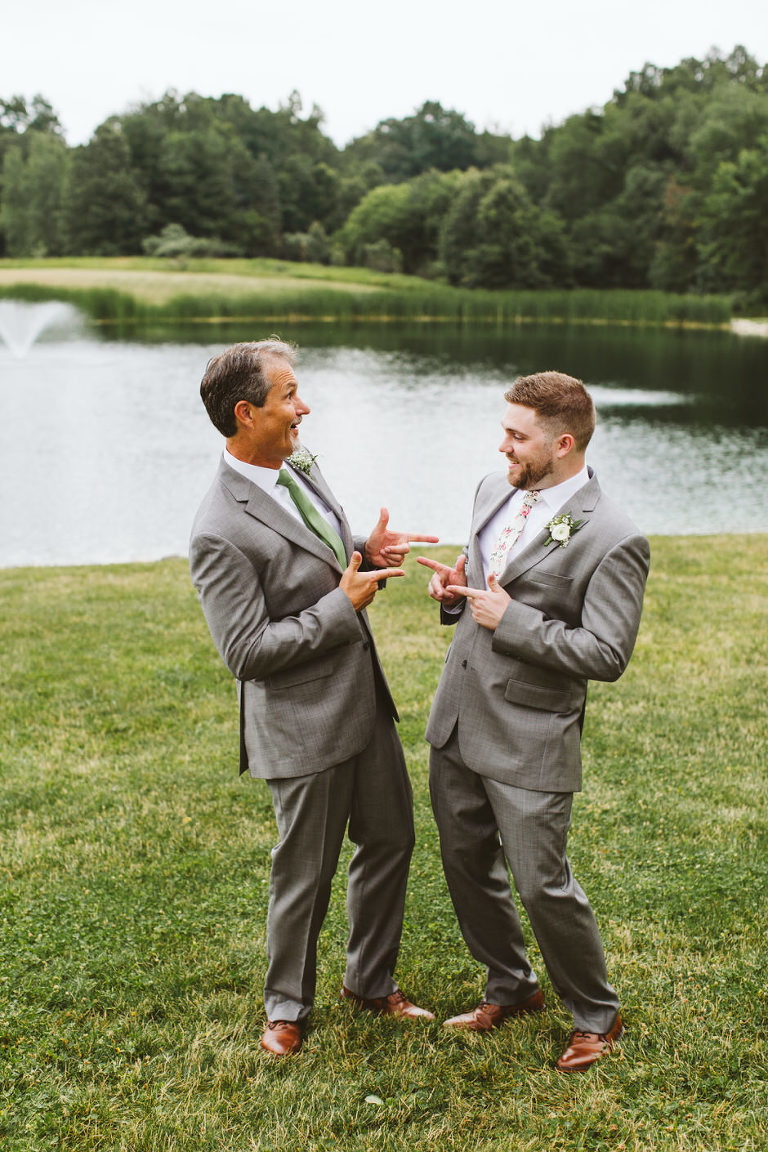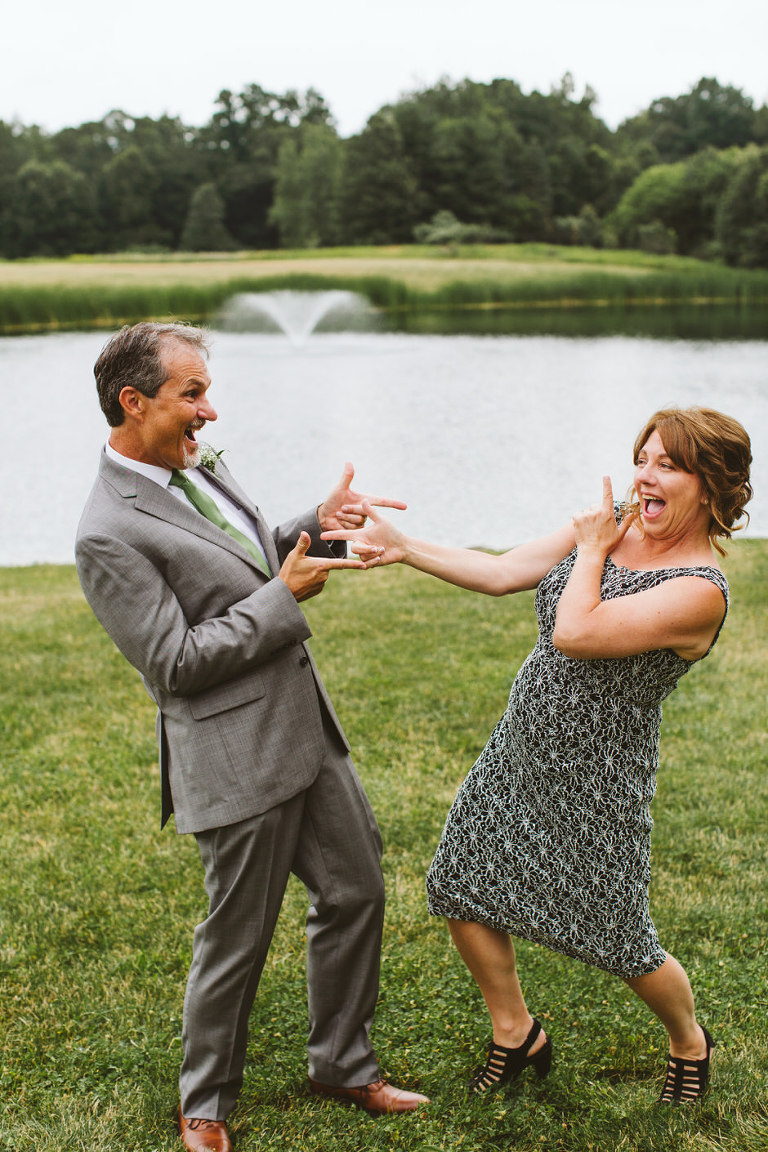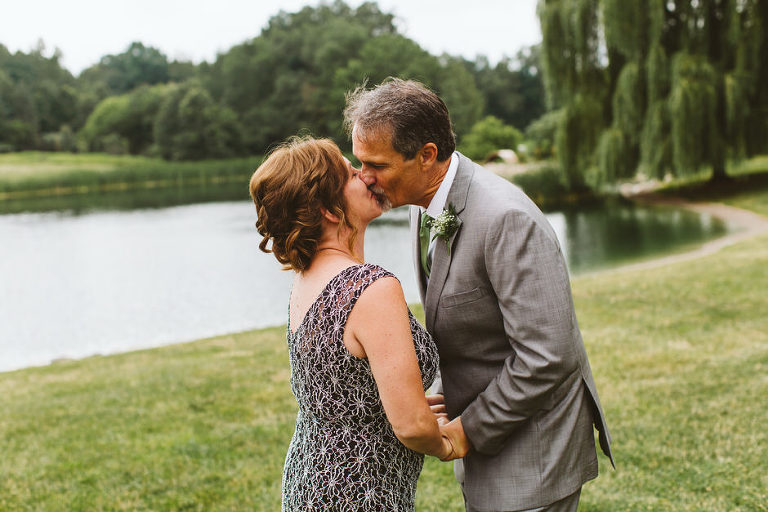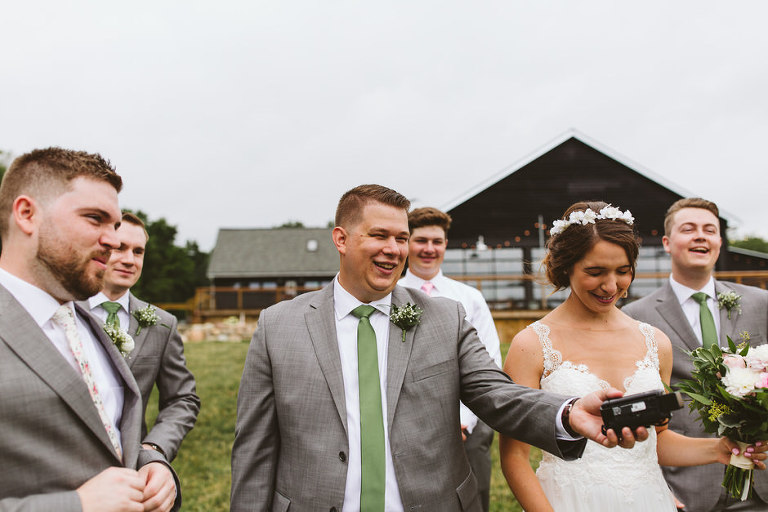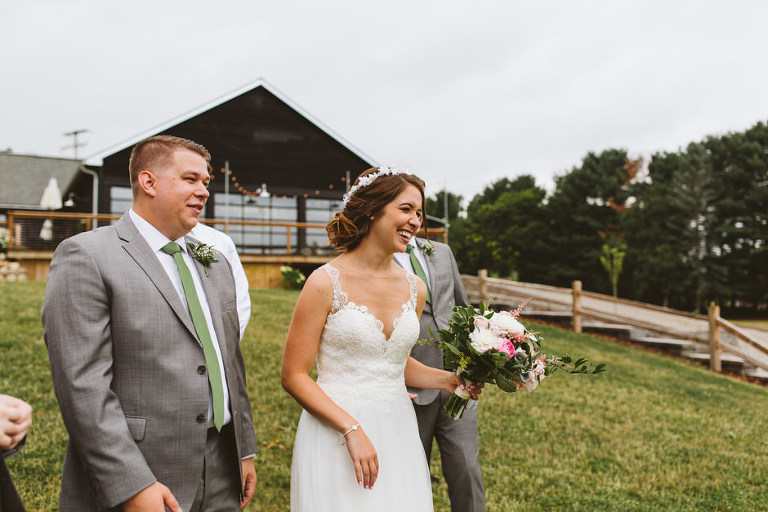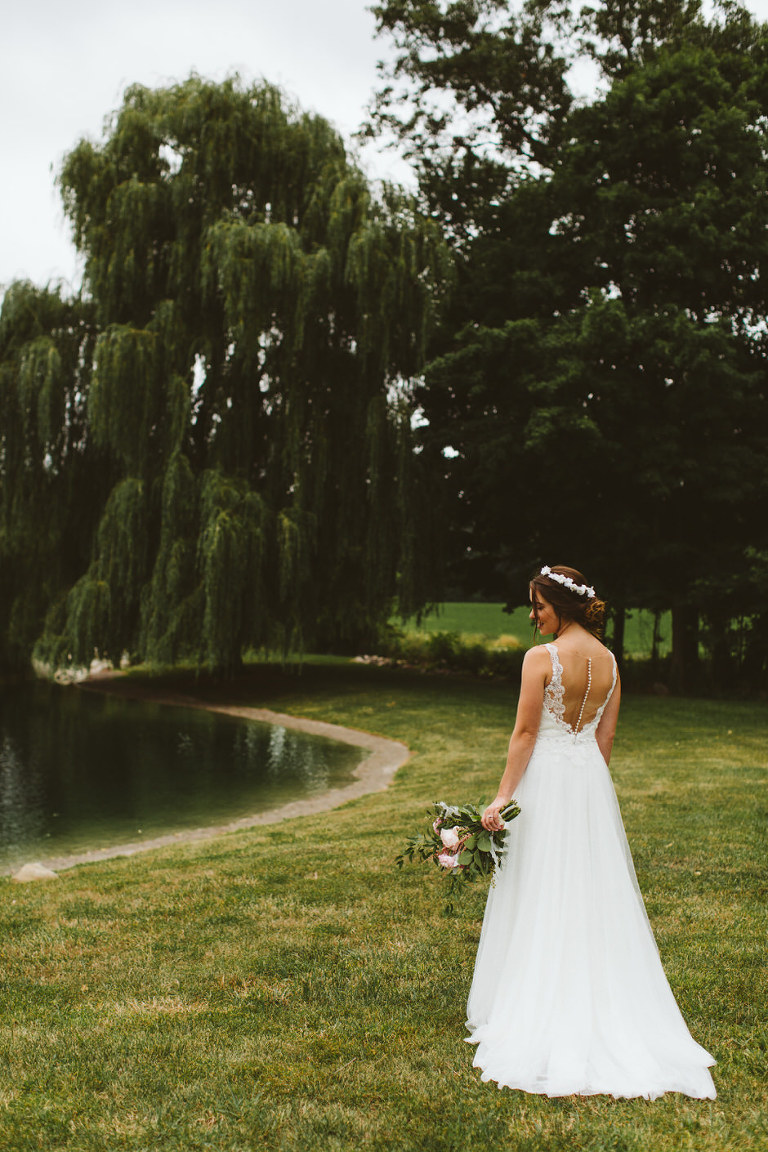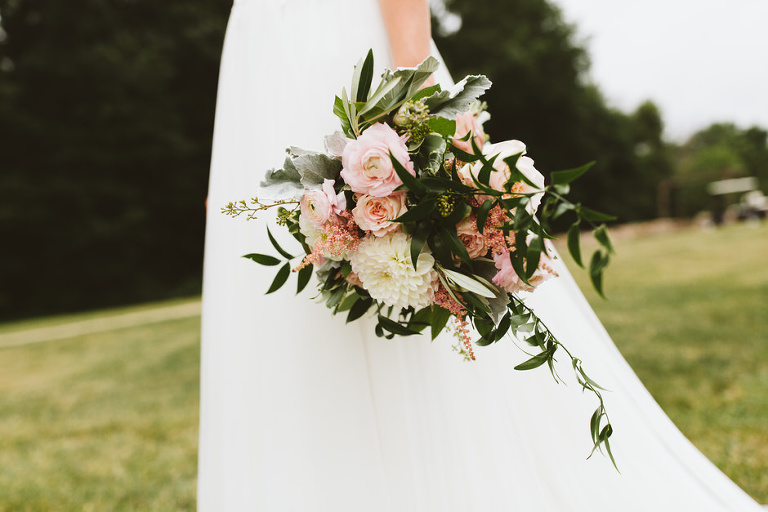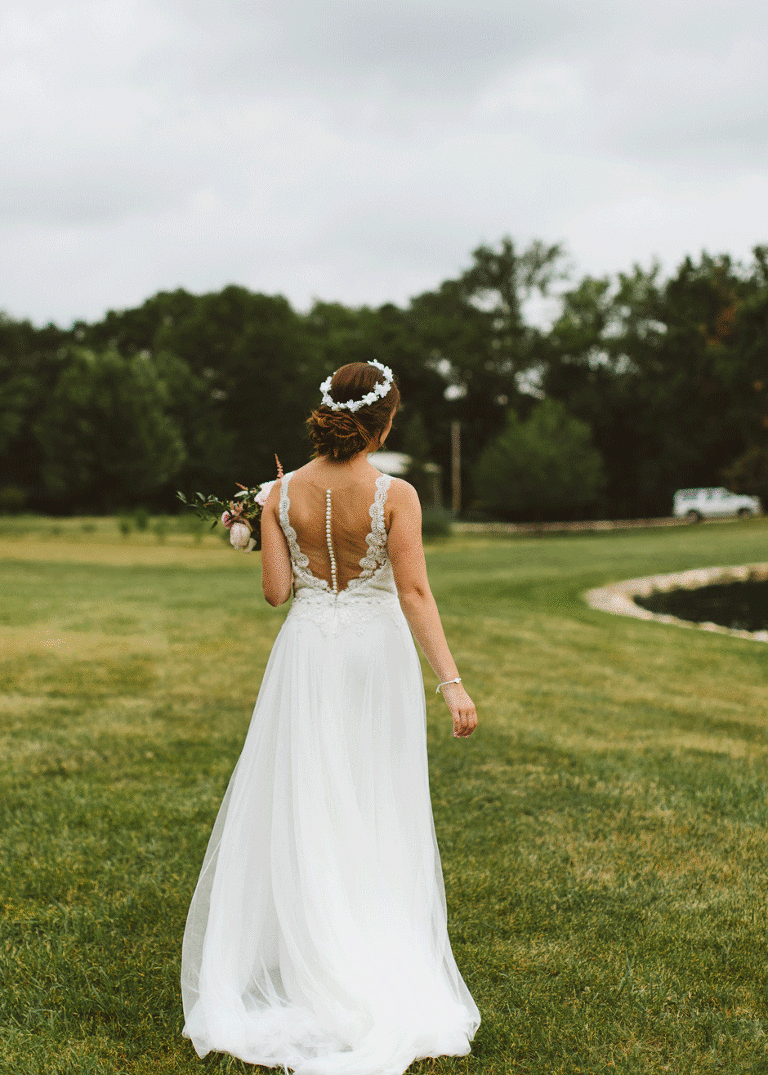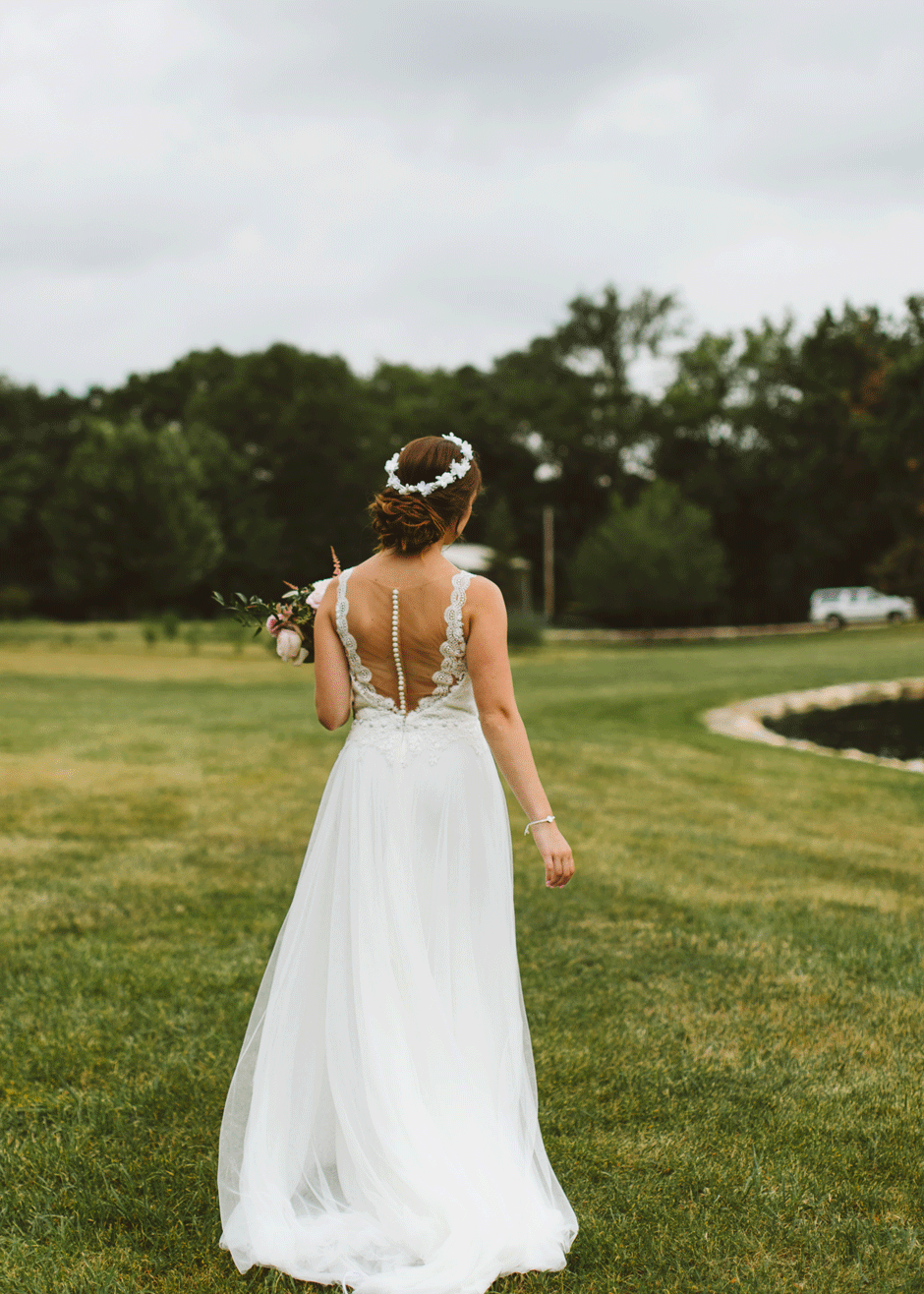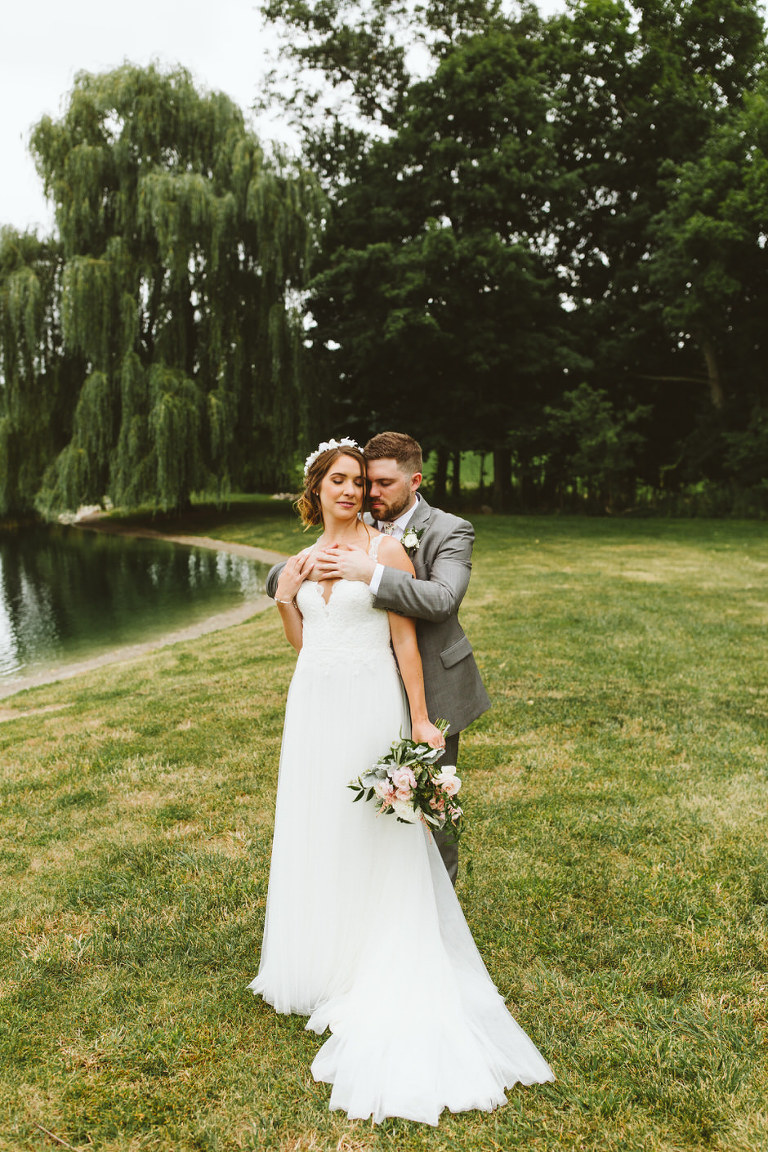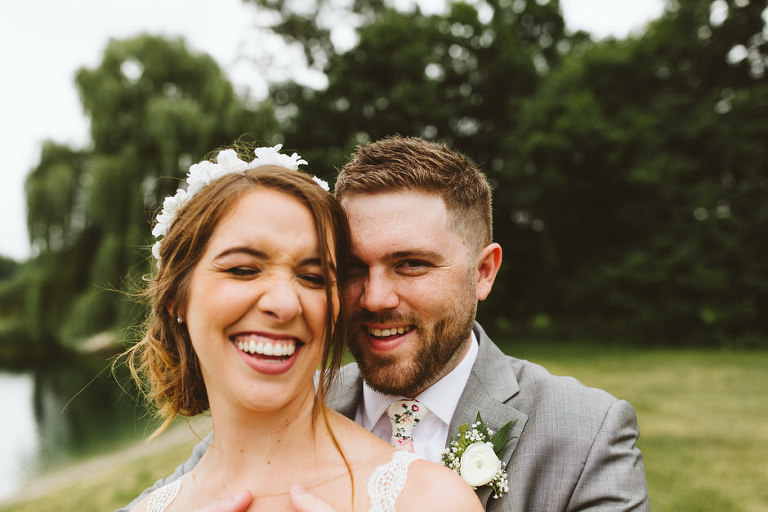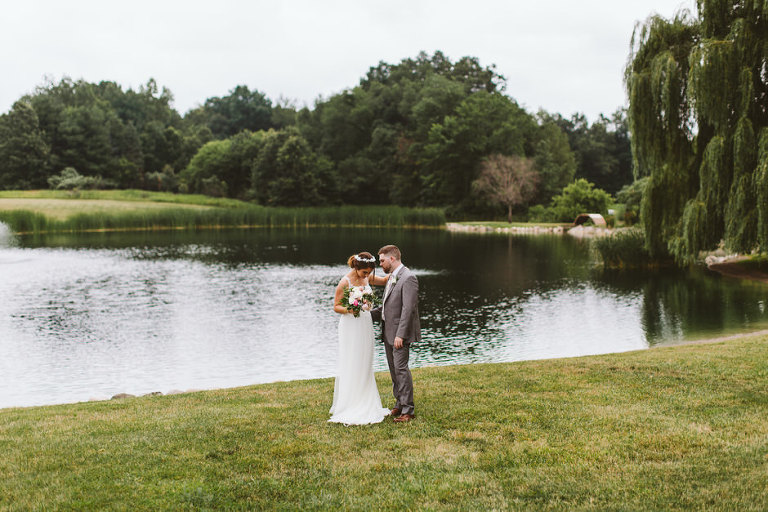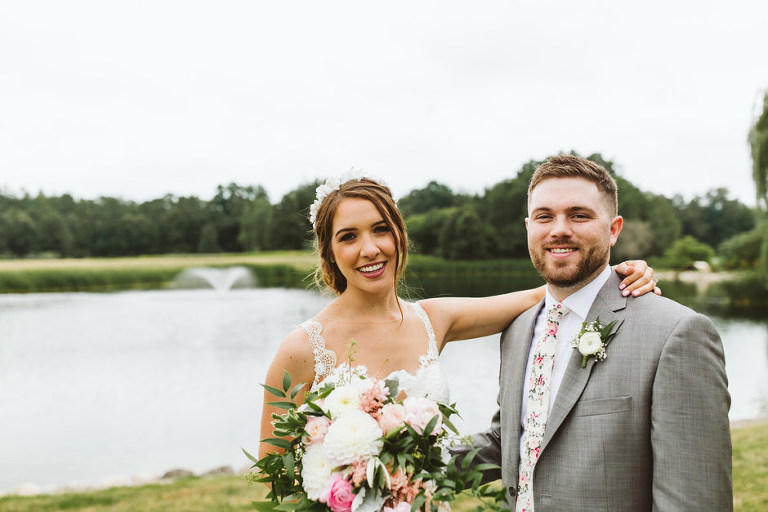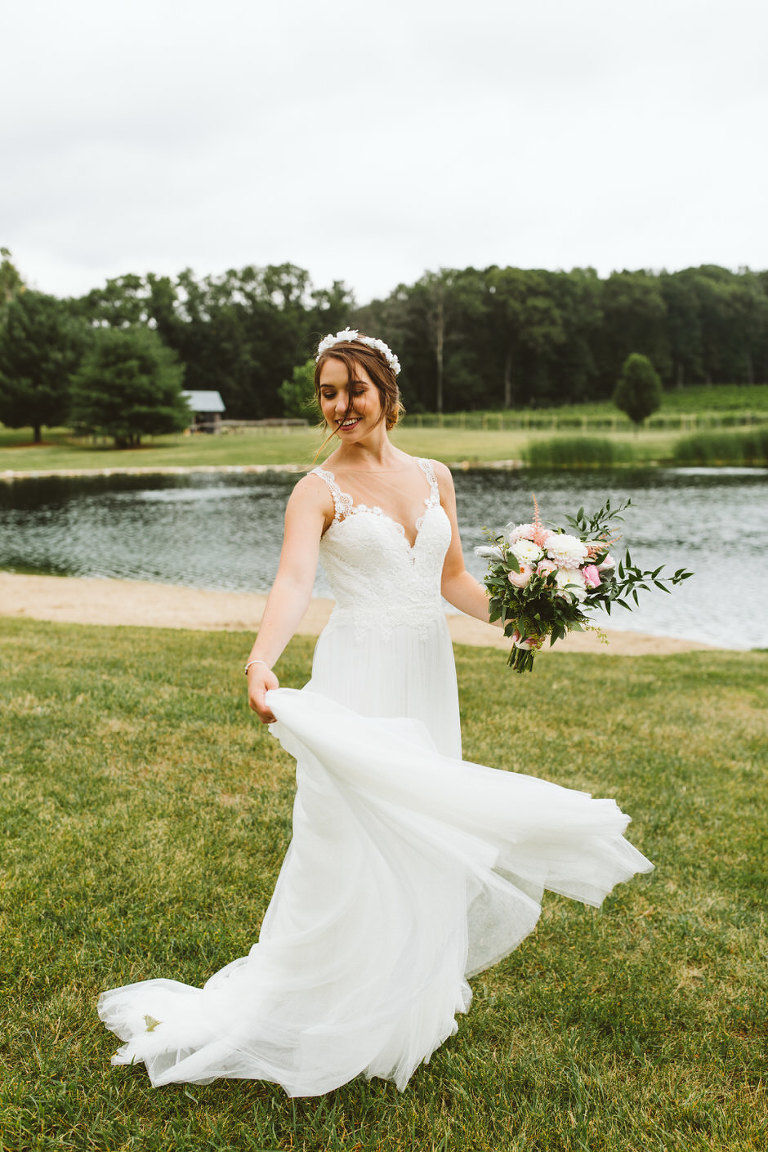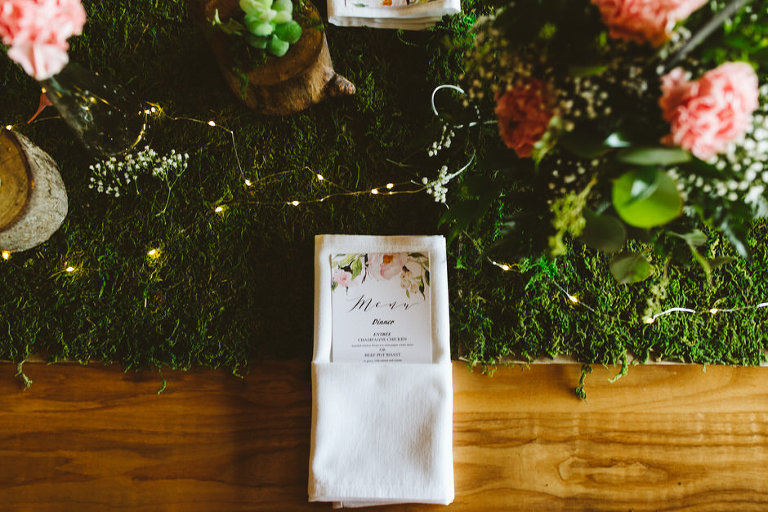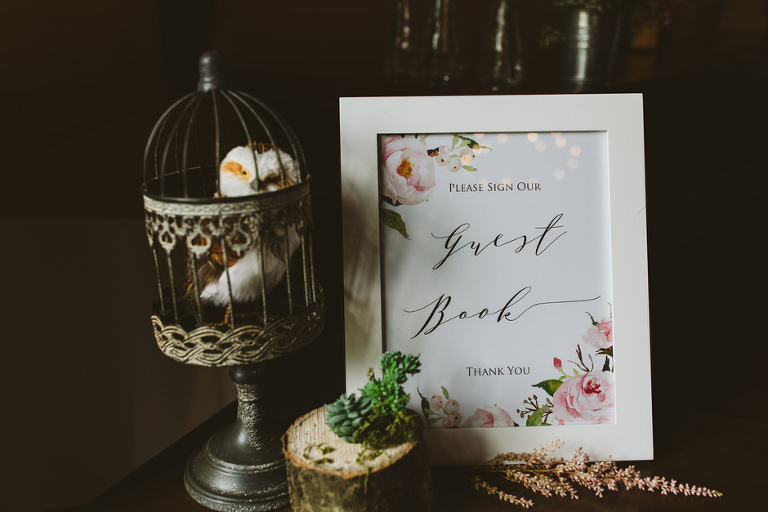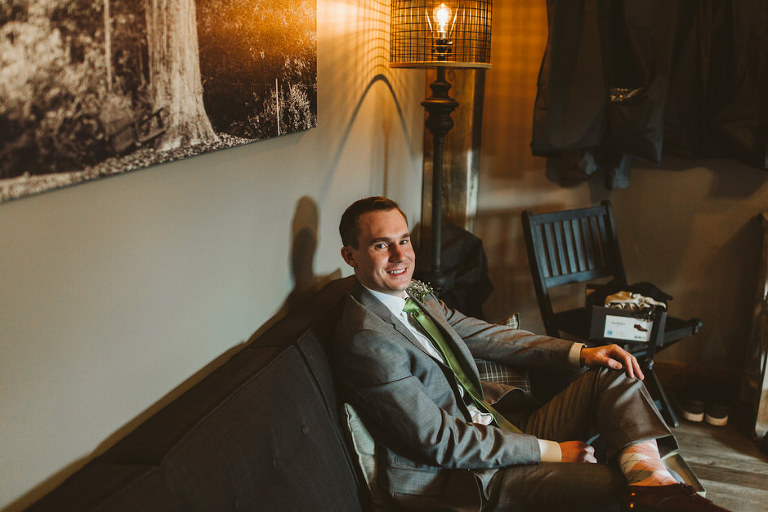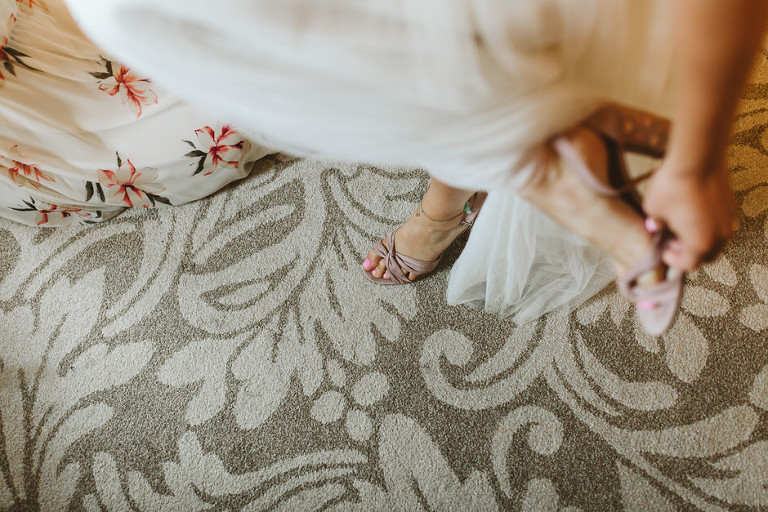 Thank goodness for friends who secure post-photo / pre-ceremony french fries from McDonalds. Those are true friends.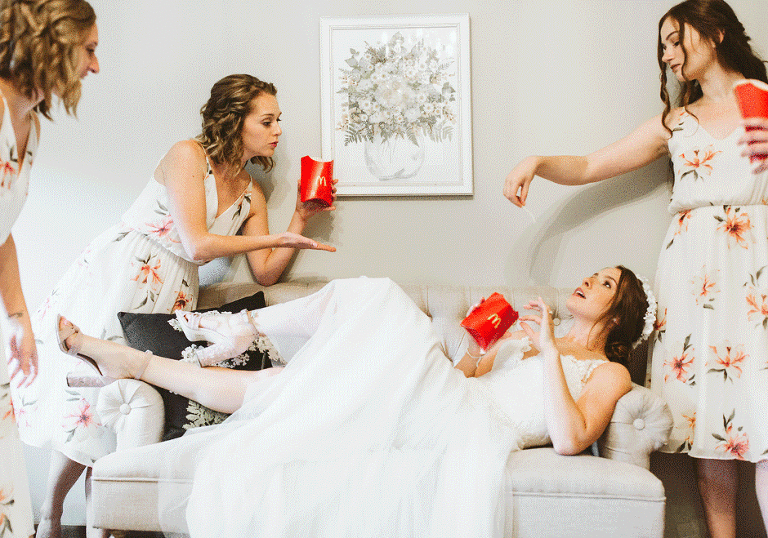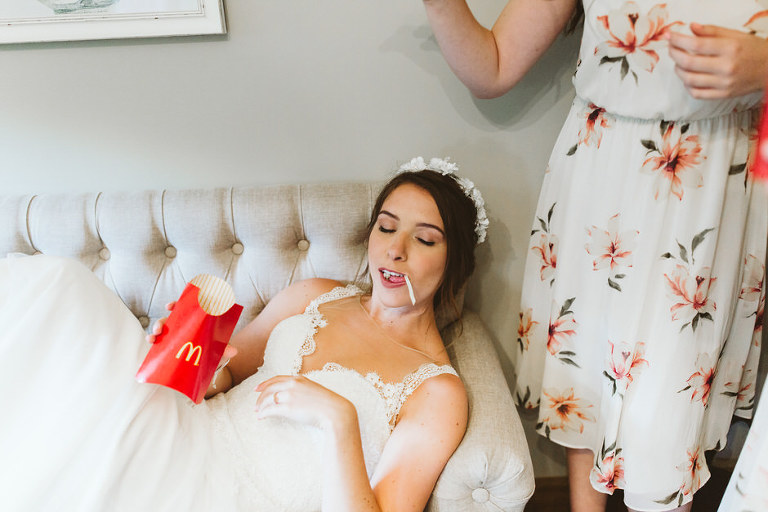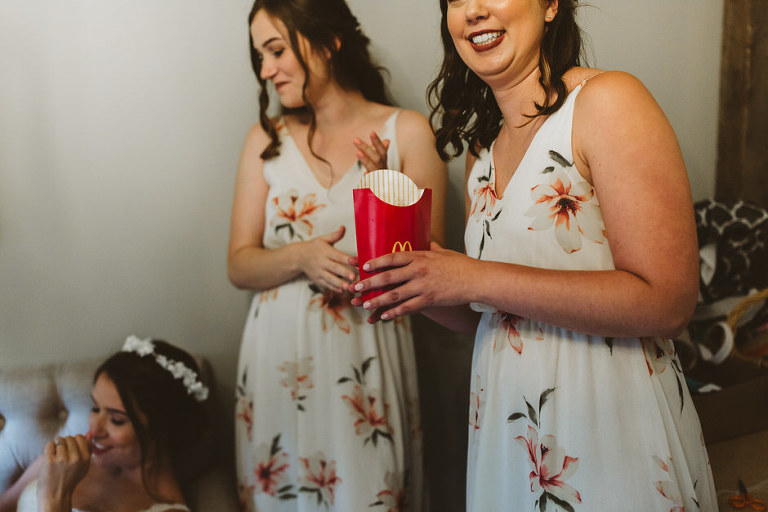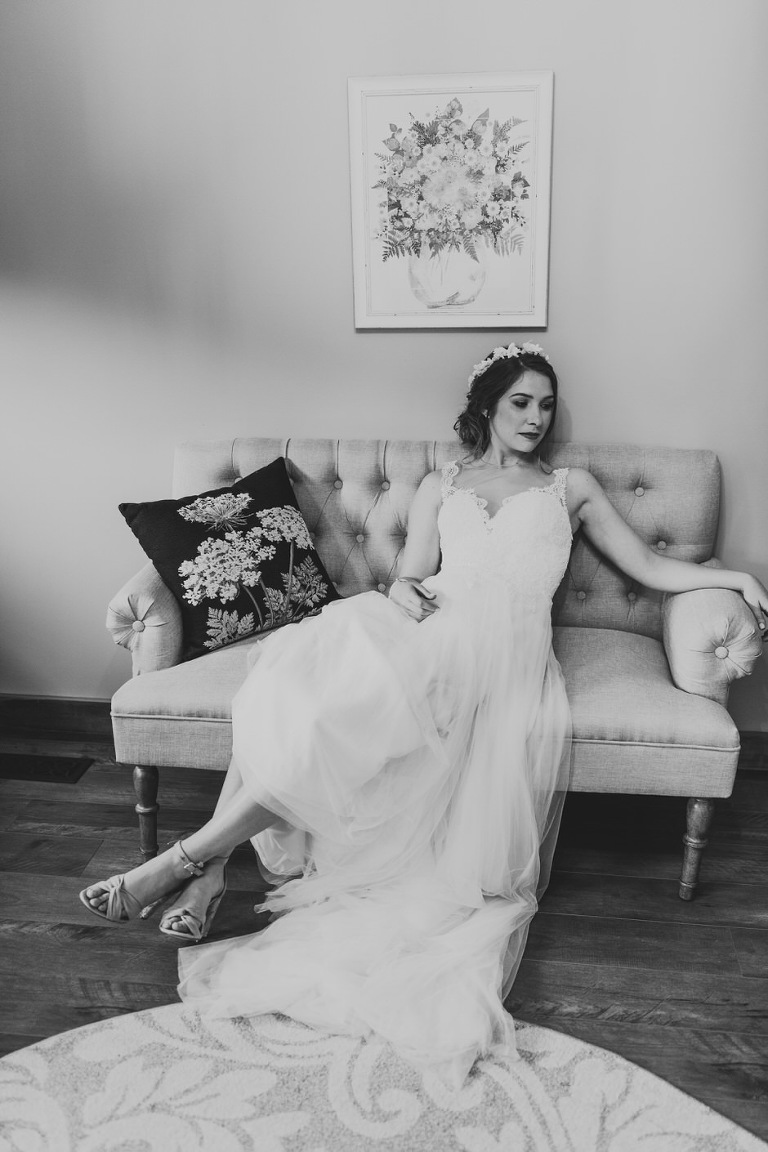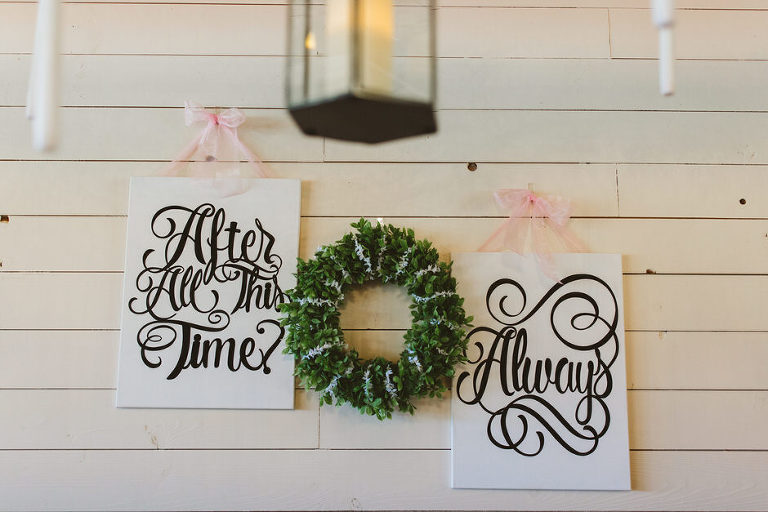 The Ceremony: 
The ceremony was to be held outside in the vineyard, under a glorious oak tree.  Unfortunately, the weather didn't want to be predictable that day.   Even though it never actually rained, the grass was very wet from the rain the night before, and Sydrew (couple name) decided that they didn't want the guests to get their shoes and clothes all wet on the walk out there.  So they moved the ceremony to the barn.
BUT WHO CARES because it was just as beautiful.  They held the ceremony in front of giant glass doors that looked out to the venue's pond.  The florist magically attached the arch to the wall and added pretty lights.  It was honestly just a beautiful as the vineyard would have been.  No regrets.
Literally, the only thing that went "wrong" the whole day was that the flower girl got sick on her dress on the way to the ceremony.  Luckily, Syd had gifted her some cute floral bell-bottom pants (so that she could match the bridesmaids), and those, coupled with a borrowed shirt from a guest, made for the hippest flower girl that ever walked the aisle.  You see, Bryn had been practicing this for a year, so there was no way Syd would allow her to miss her moment.  And she rocked it.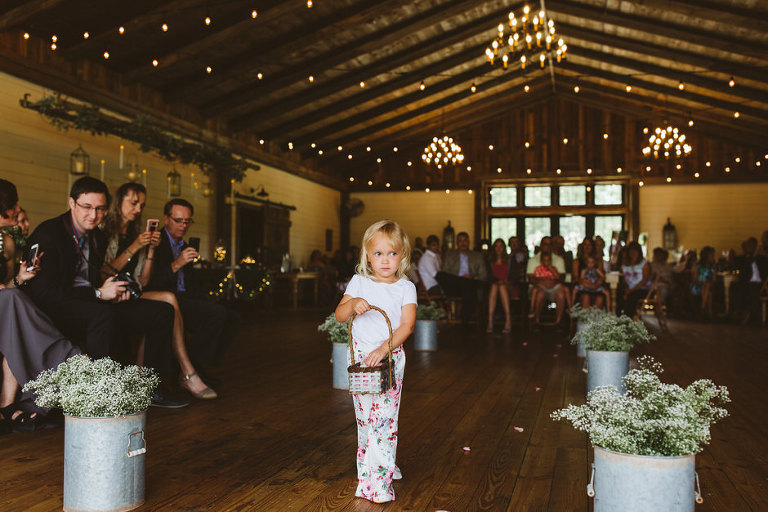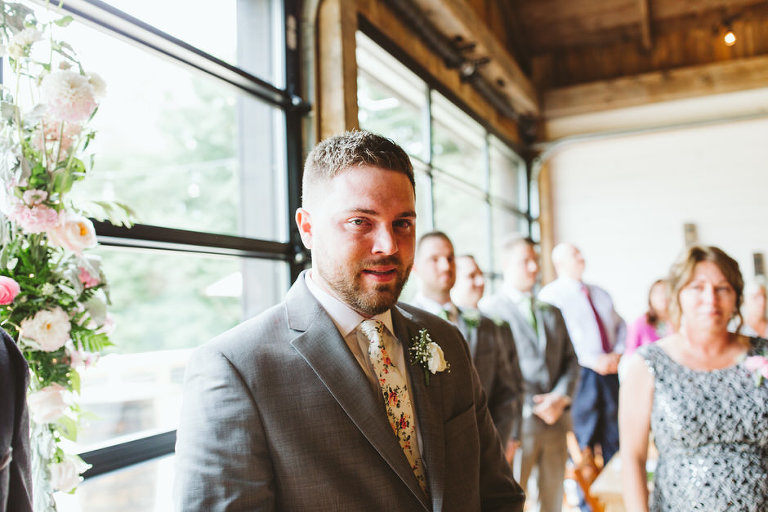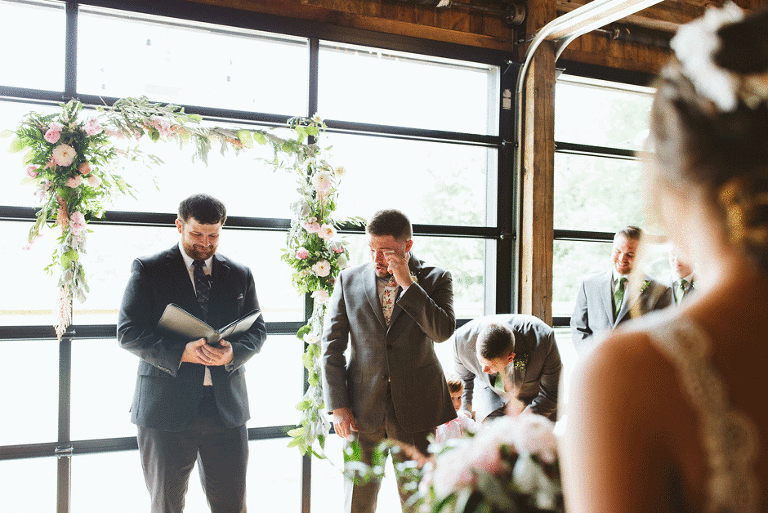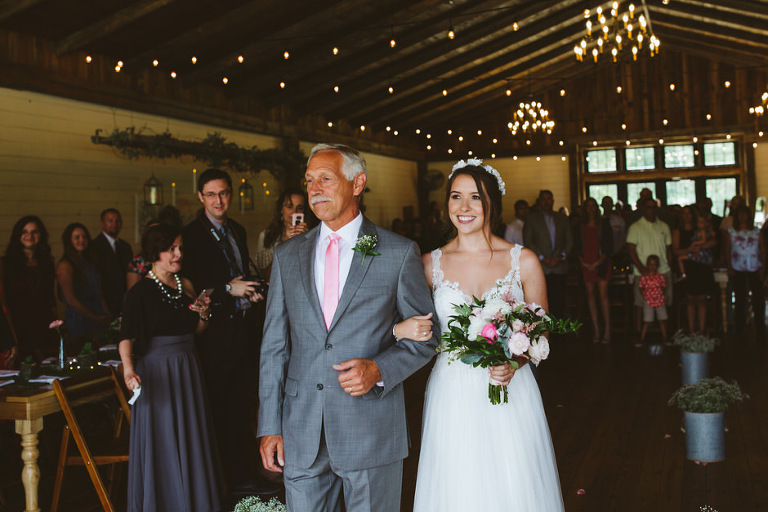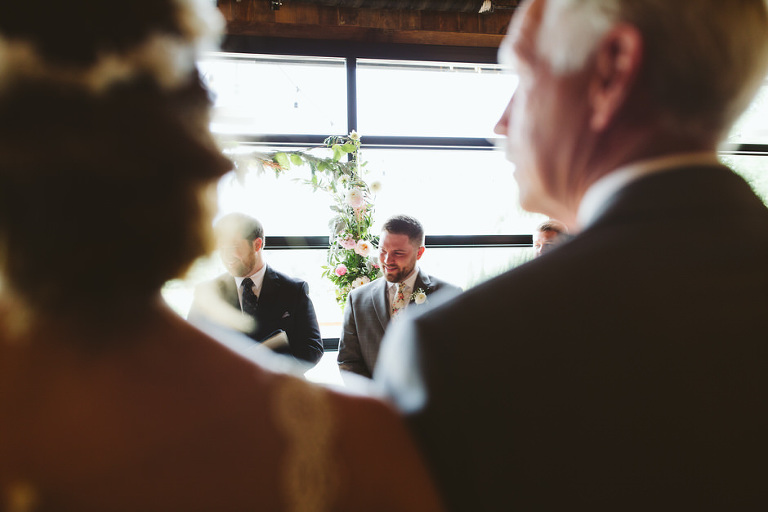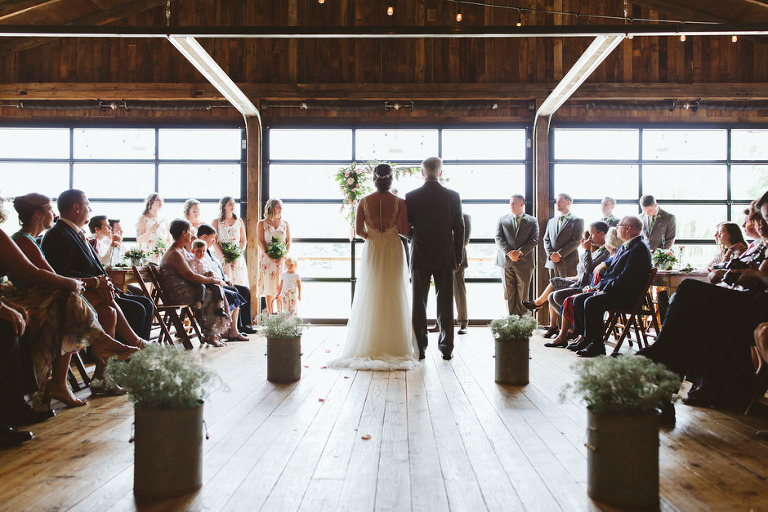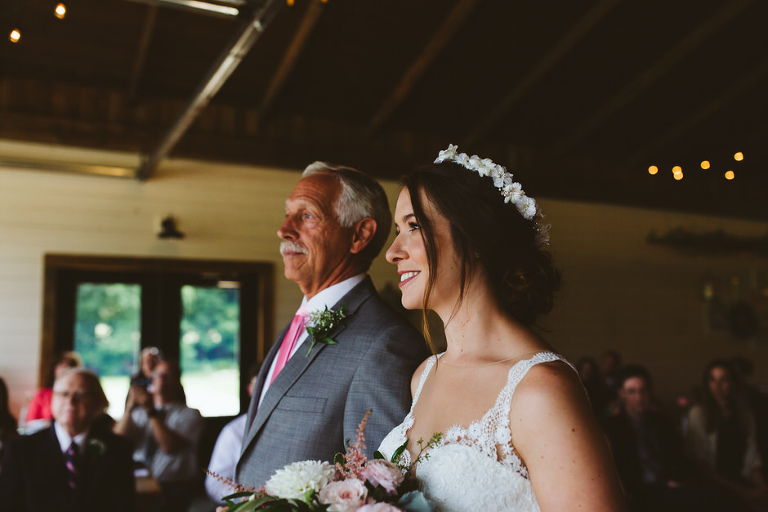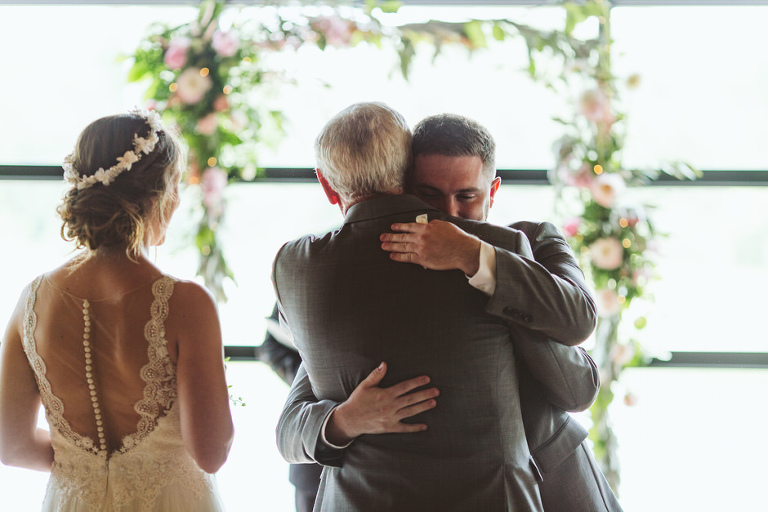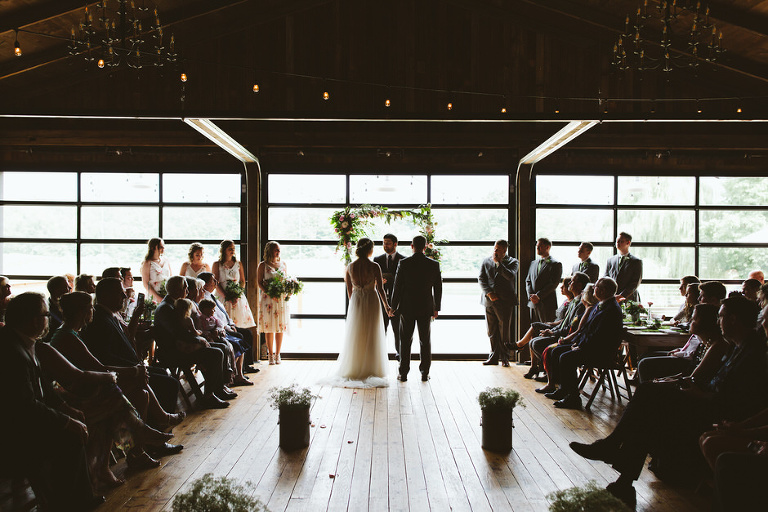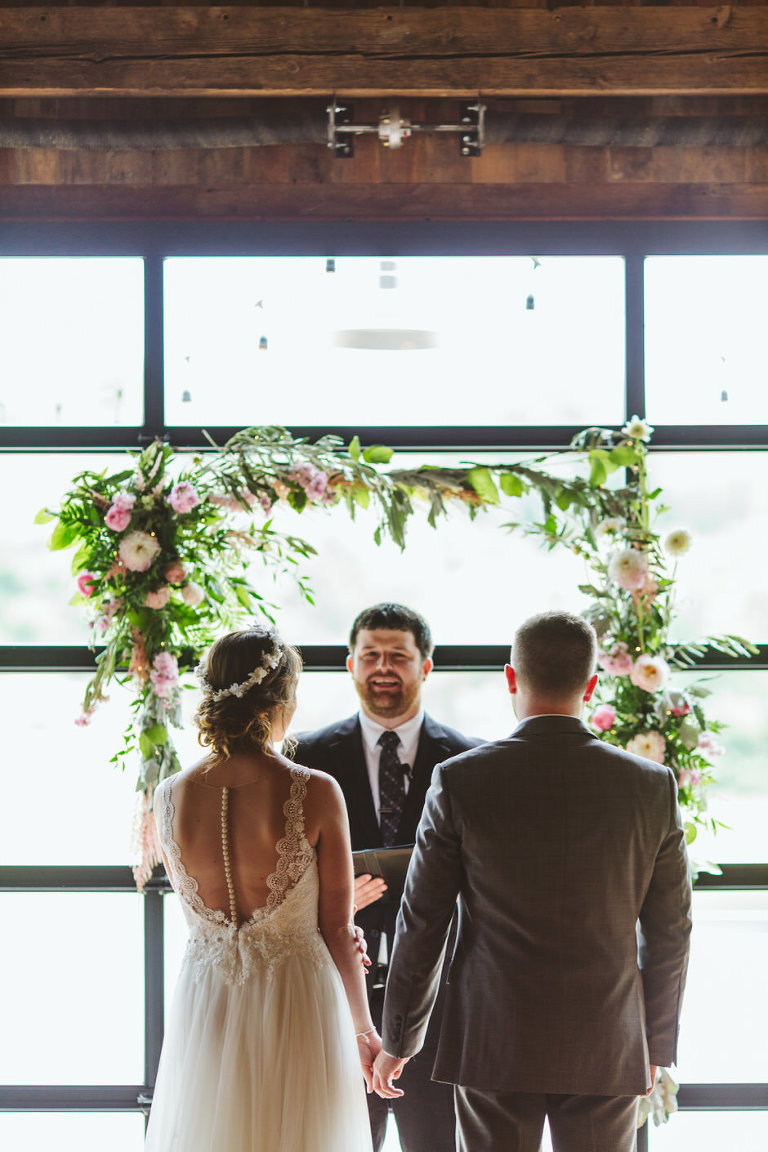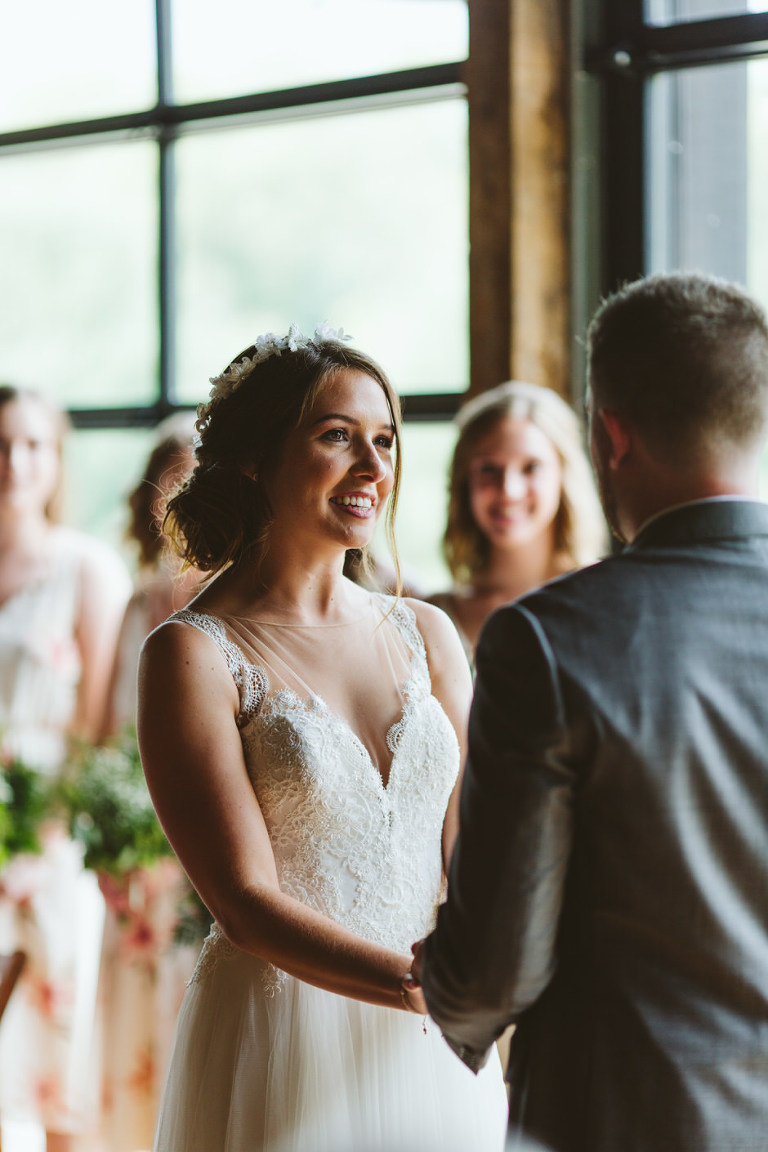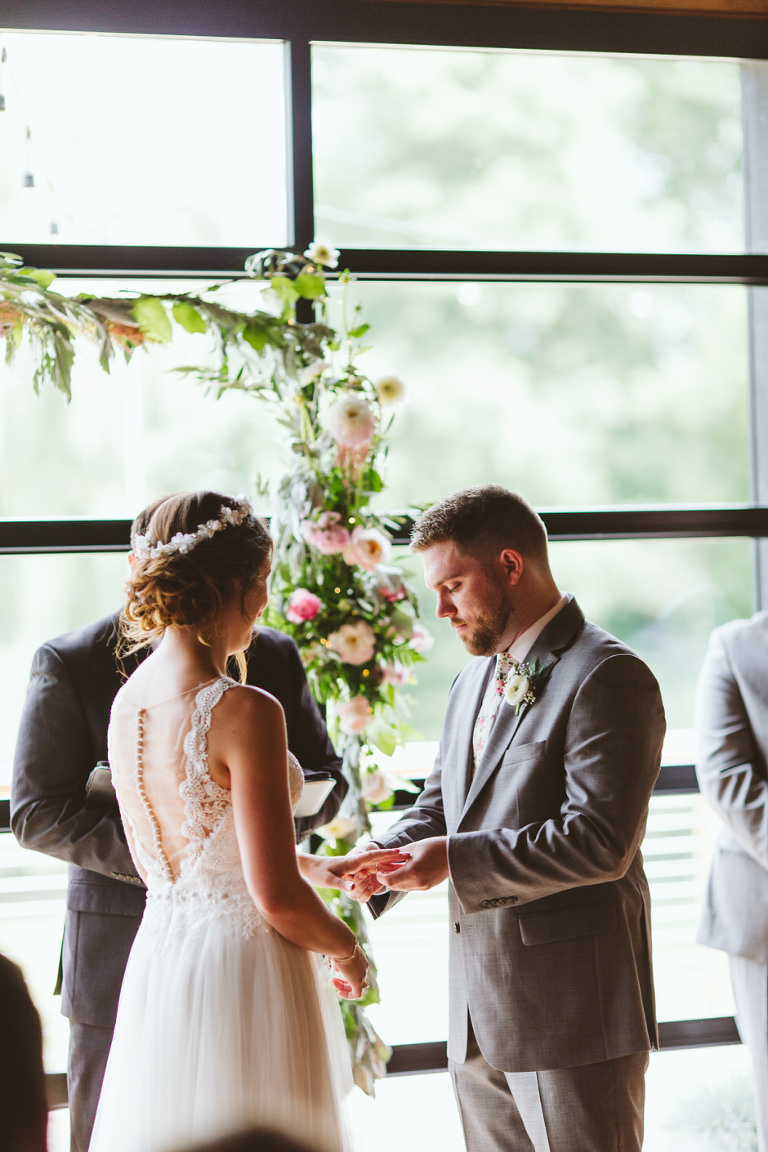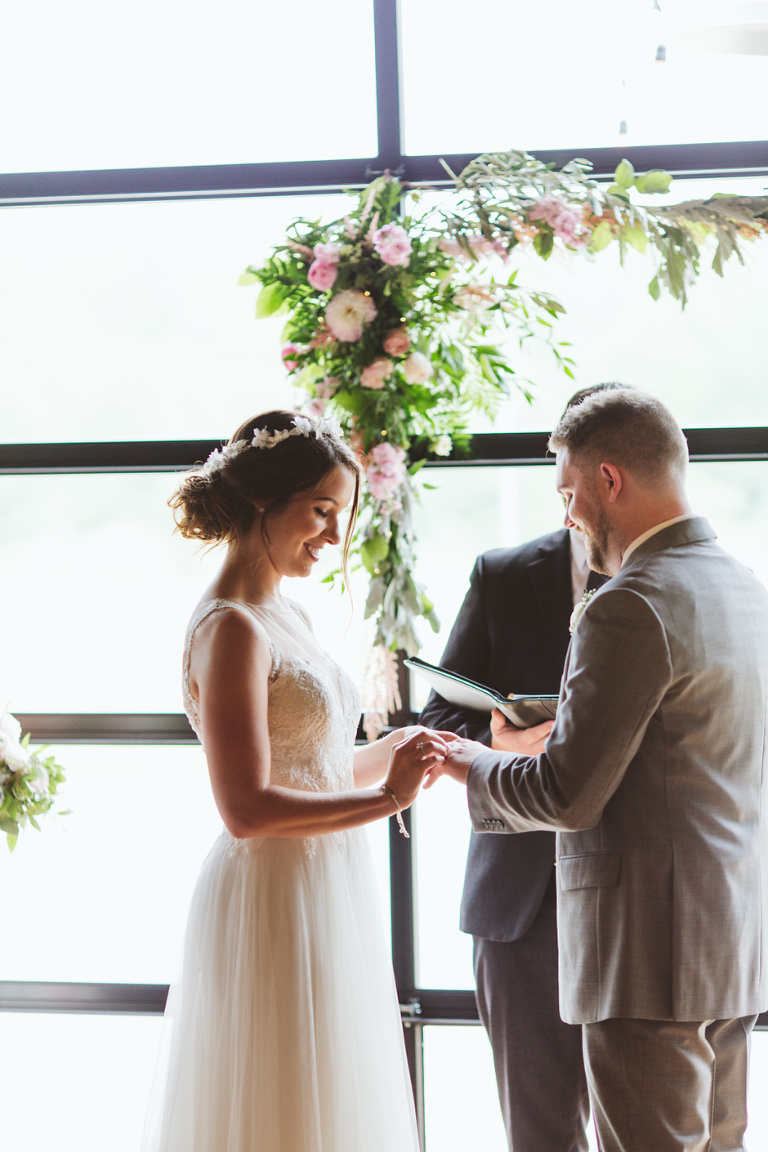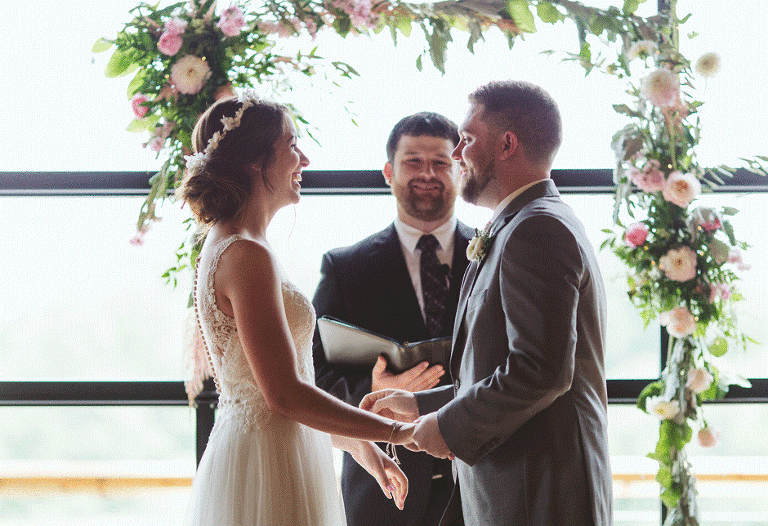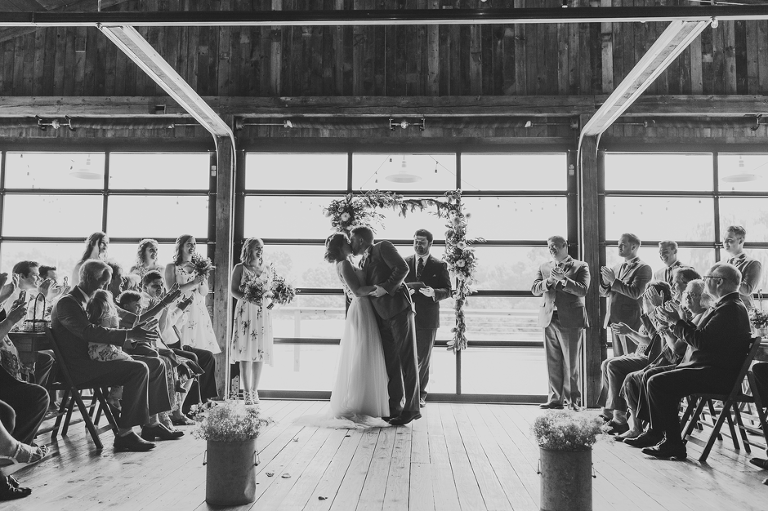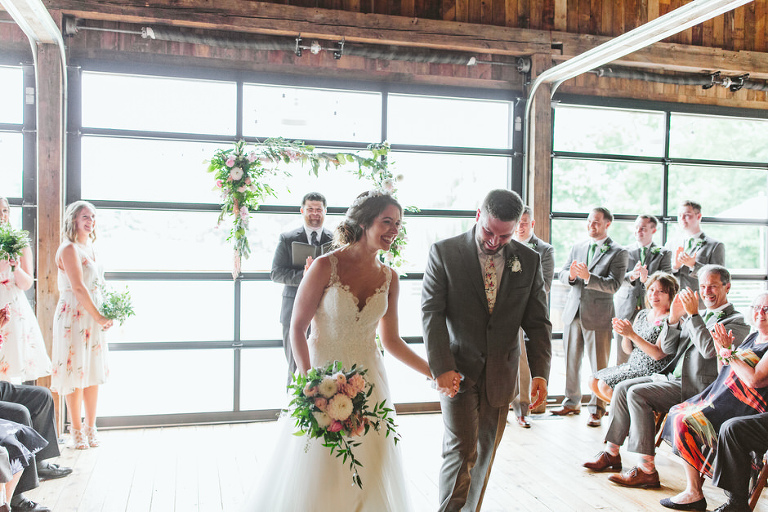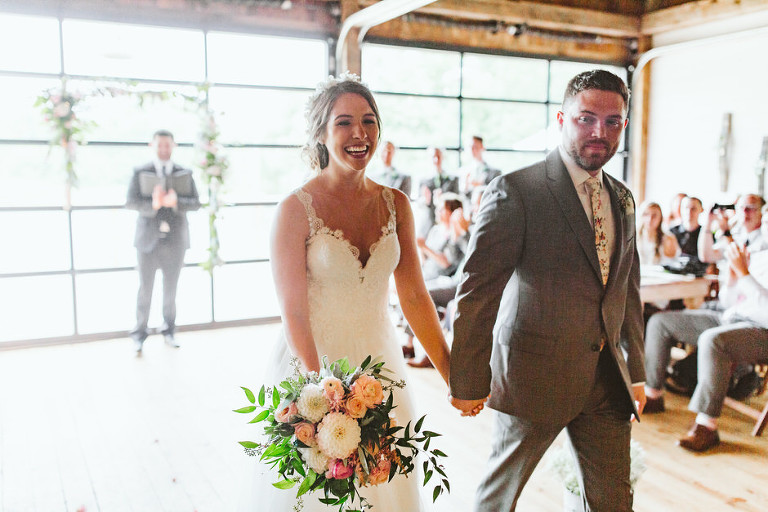 Reception/Dancing/Music: 
The reception, DJ'd by the raddest guy around, DJ Chewy, was a blast.  Syd pretty much never left the dance floor  (she even did the worn, synchronized with Uncle Mike).  Andrew got to catch up with all of his out-of-state family.  Guests played corn hole and ladder ball, toured the grounds, and drank grape cider.  Everyone had a blast.  It ended with a not-so-epic-but-still-awesome lift, a la Dirty Dancing.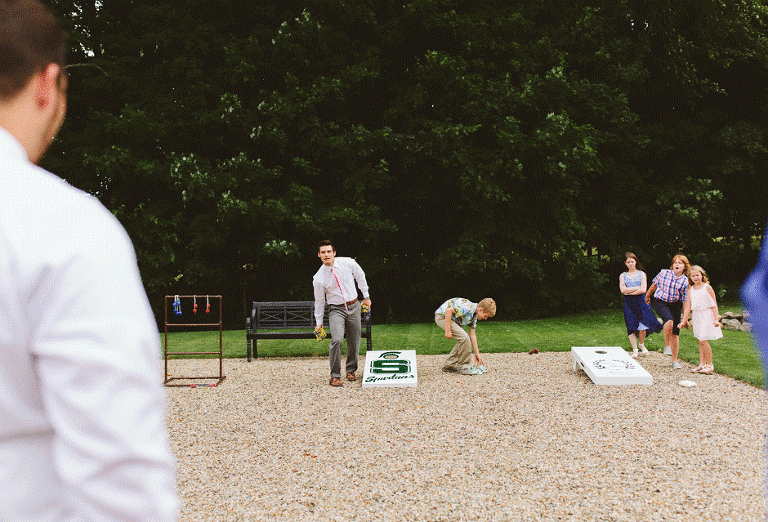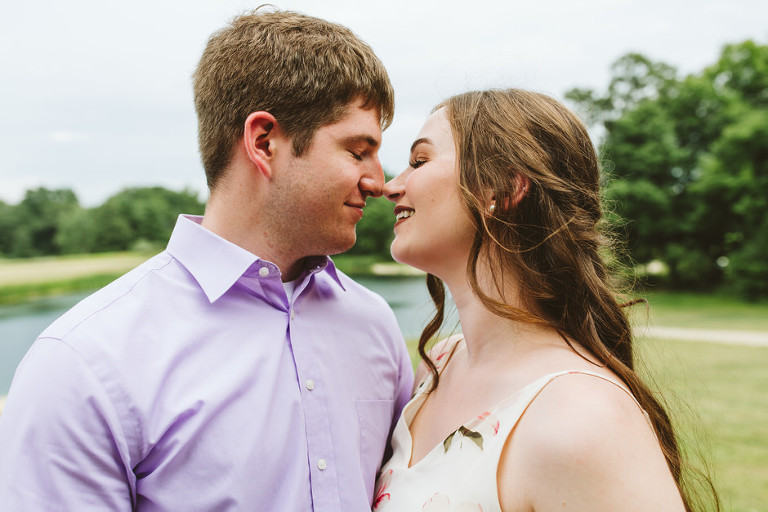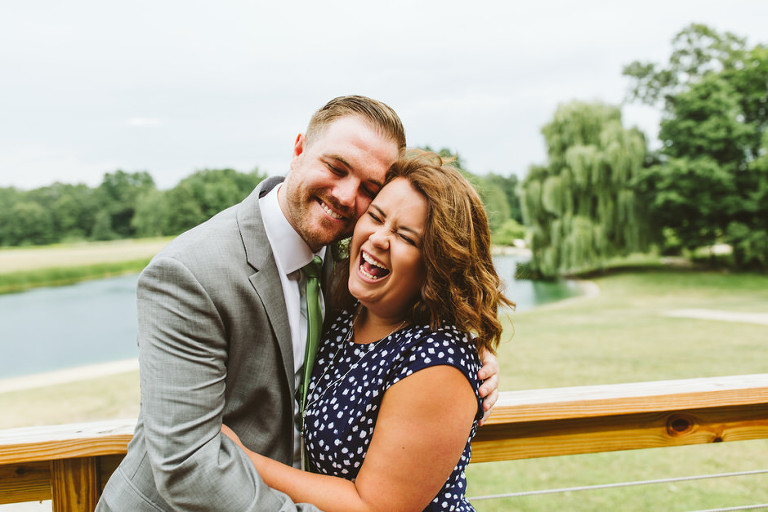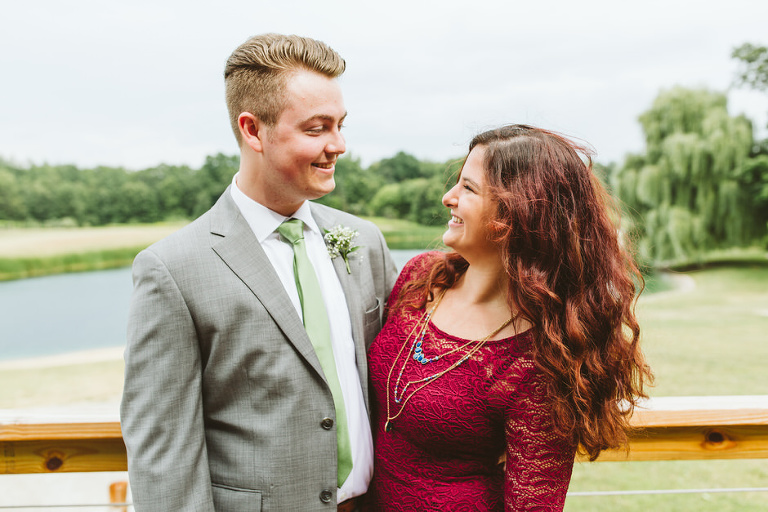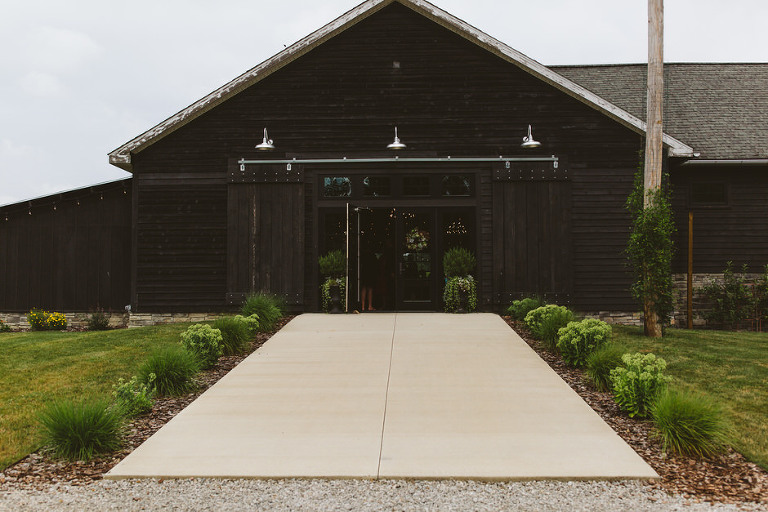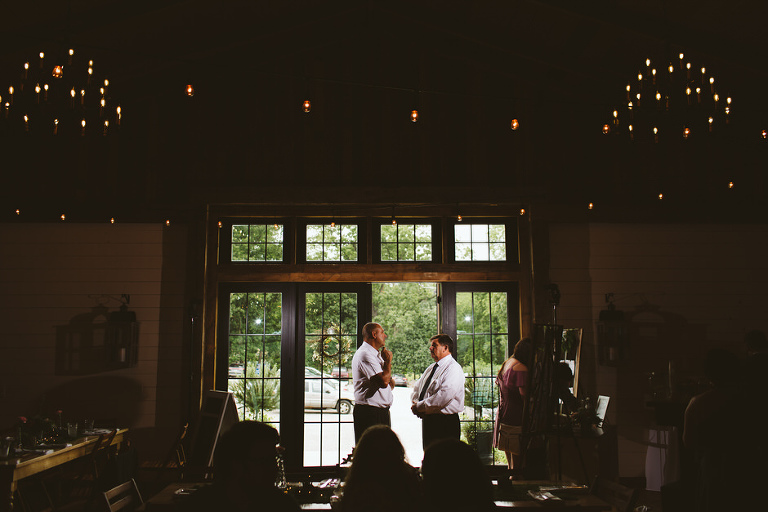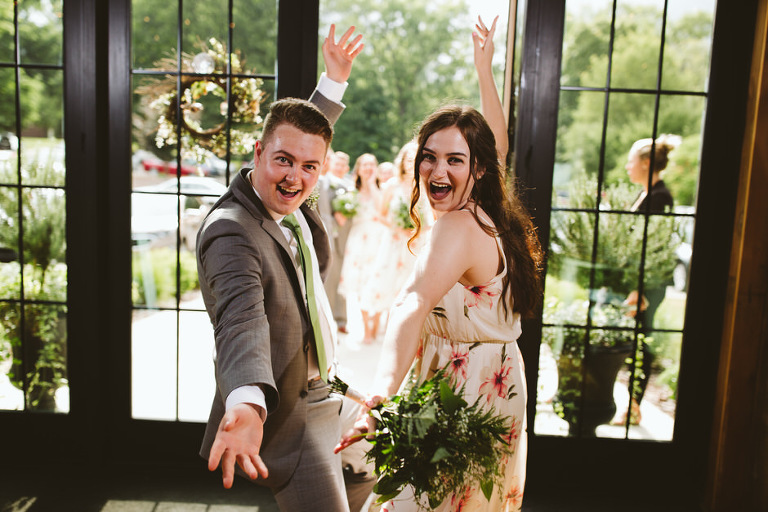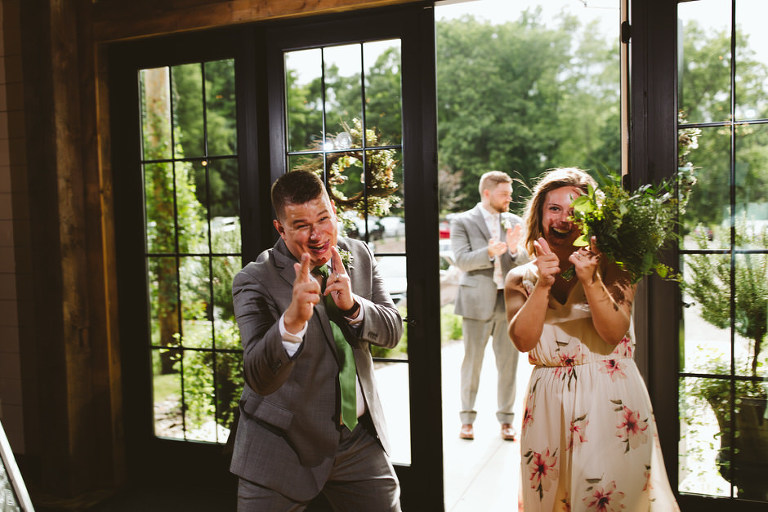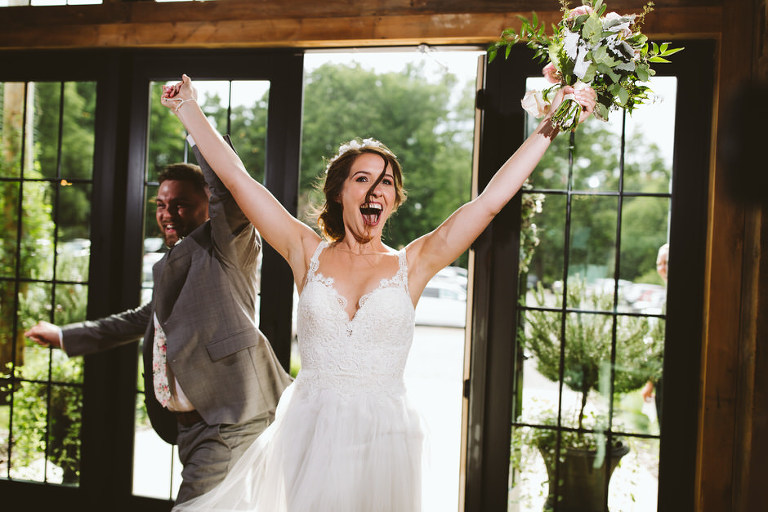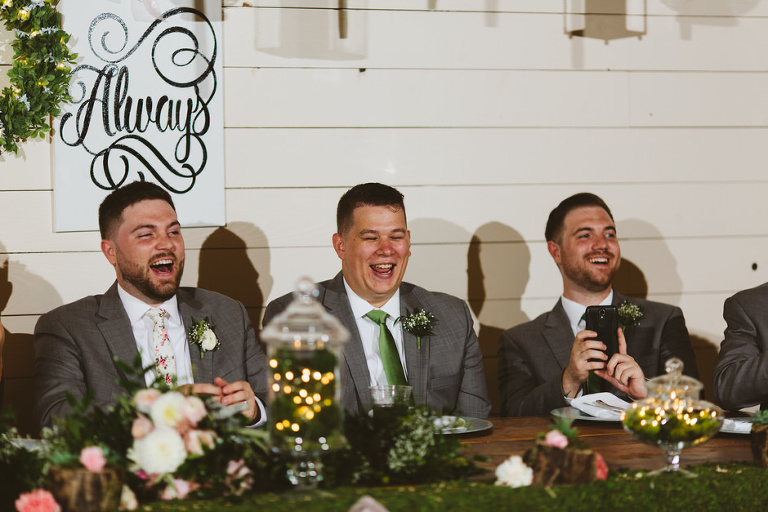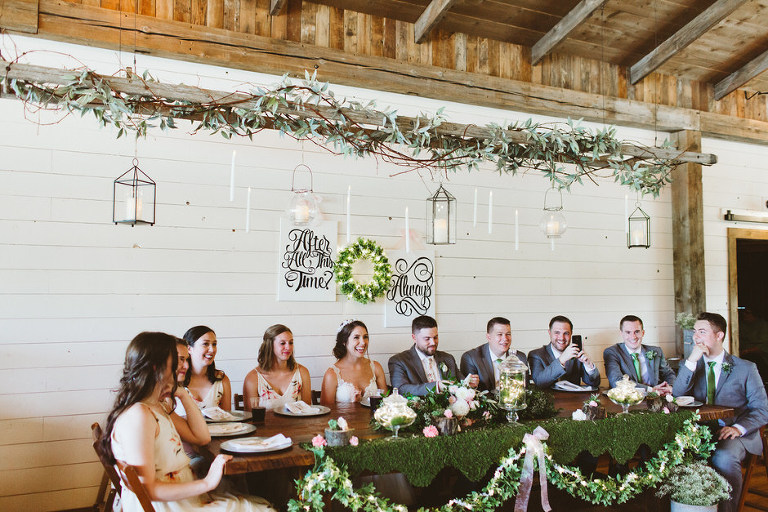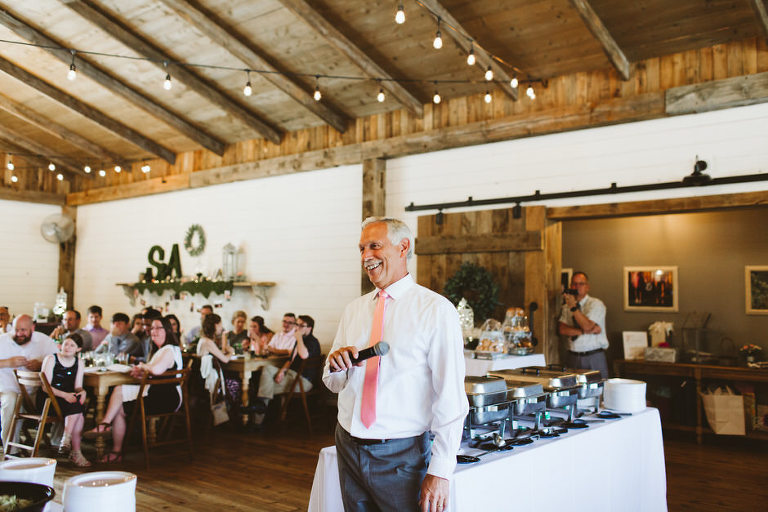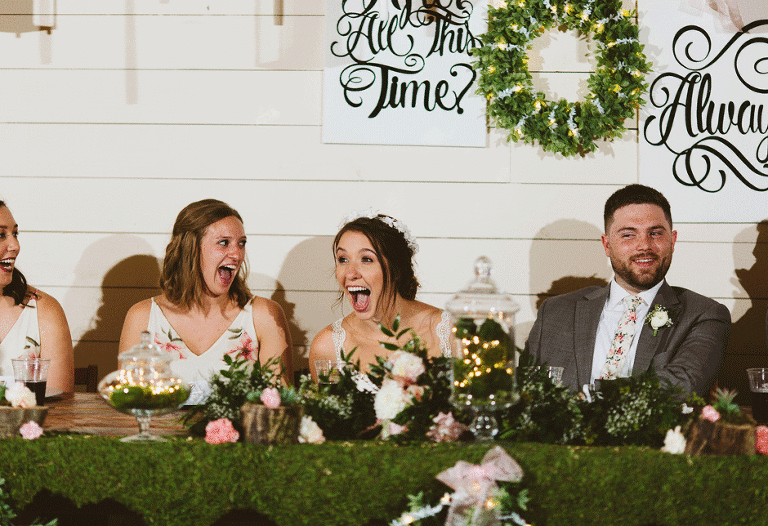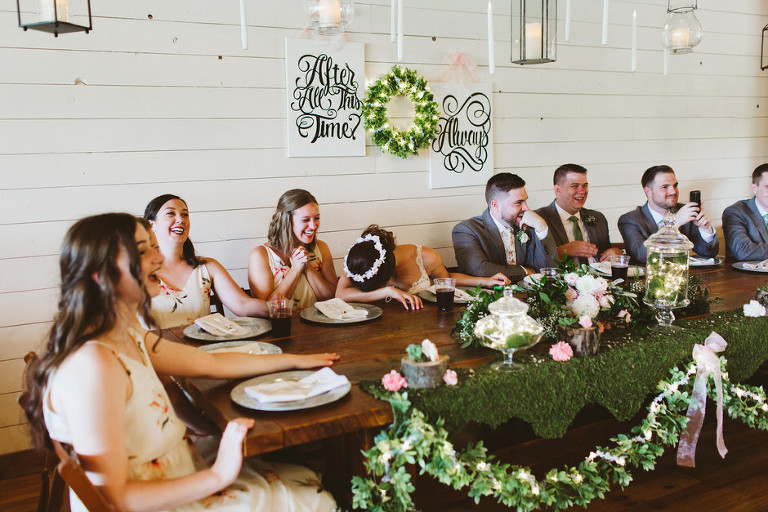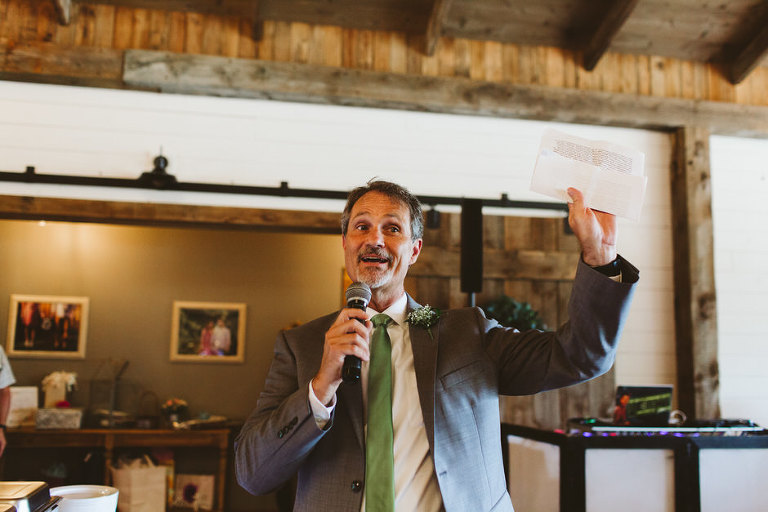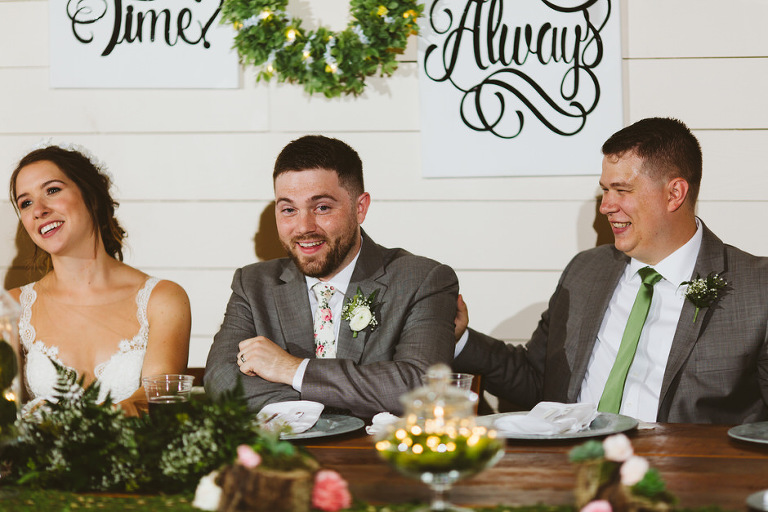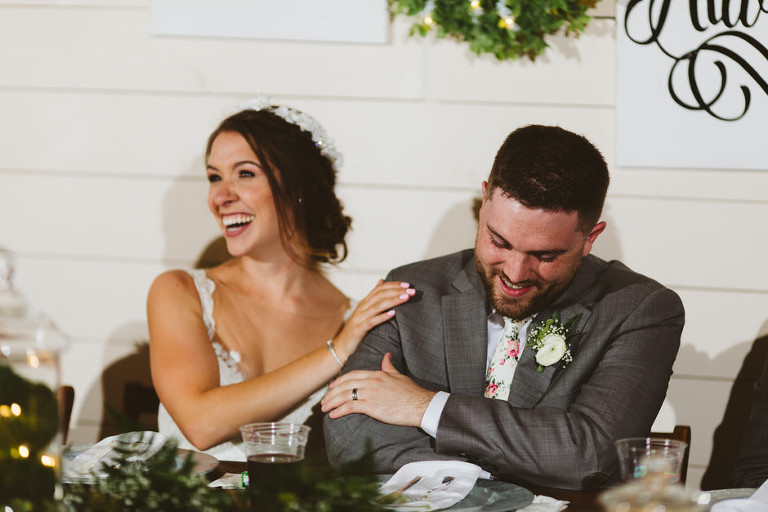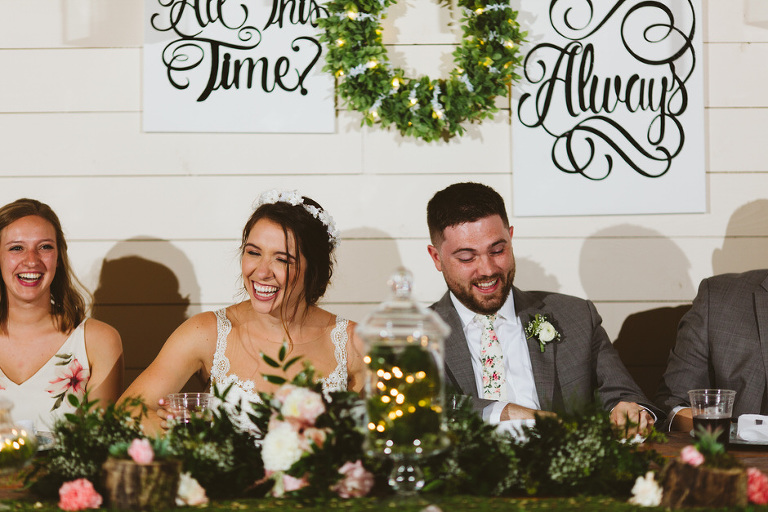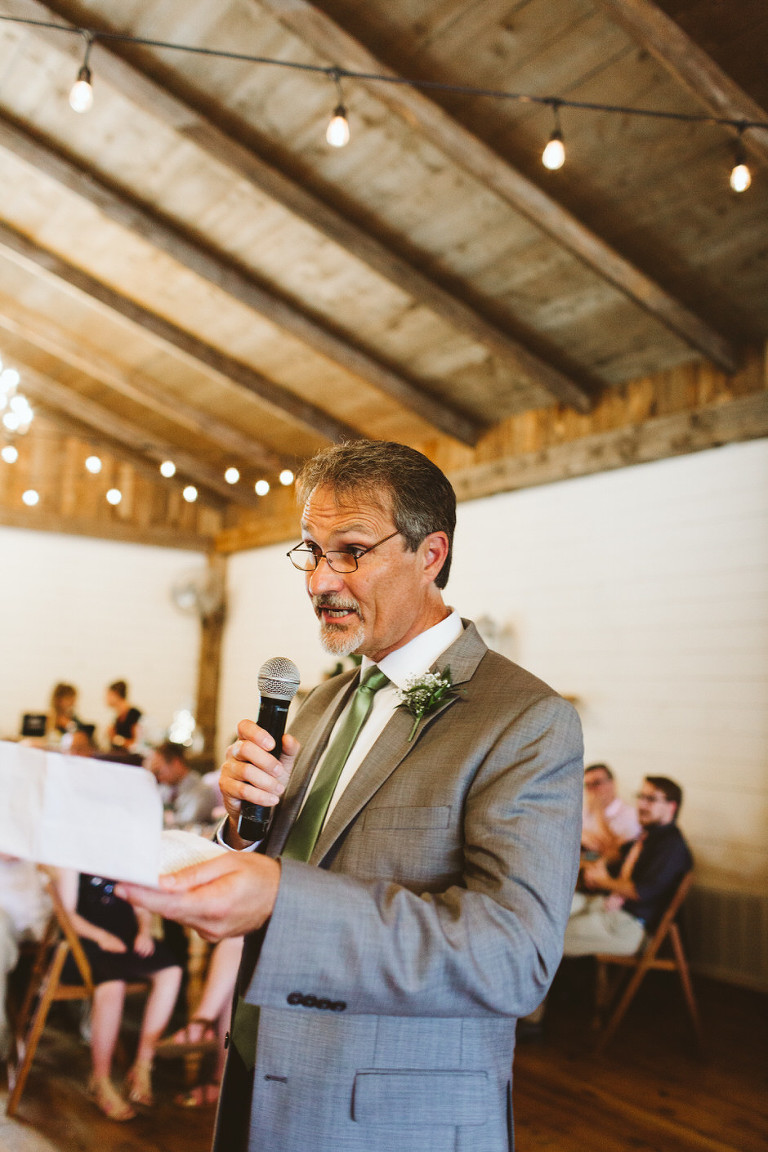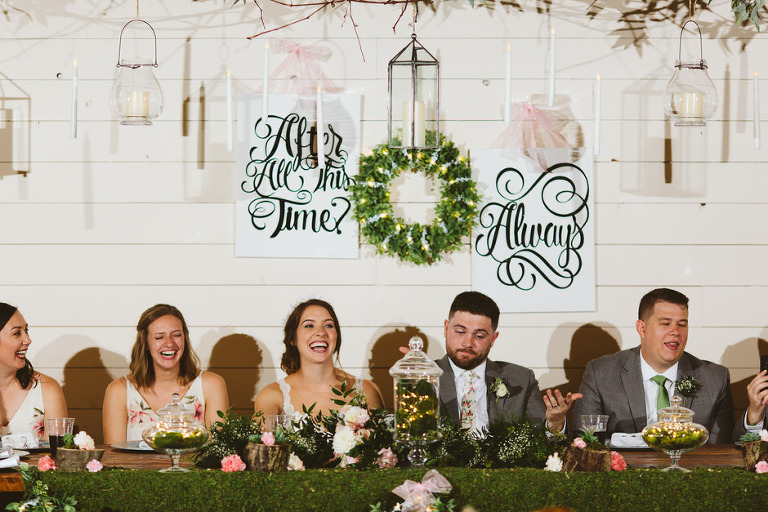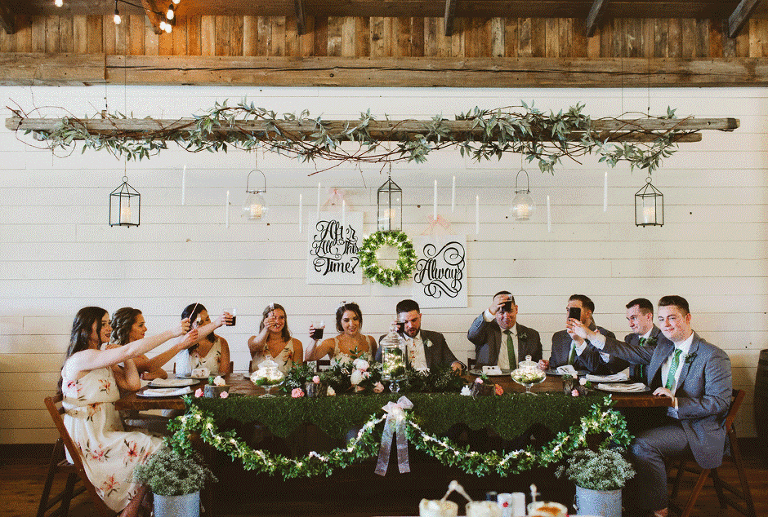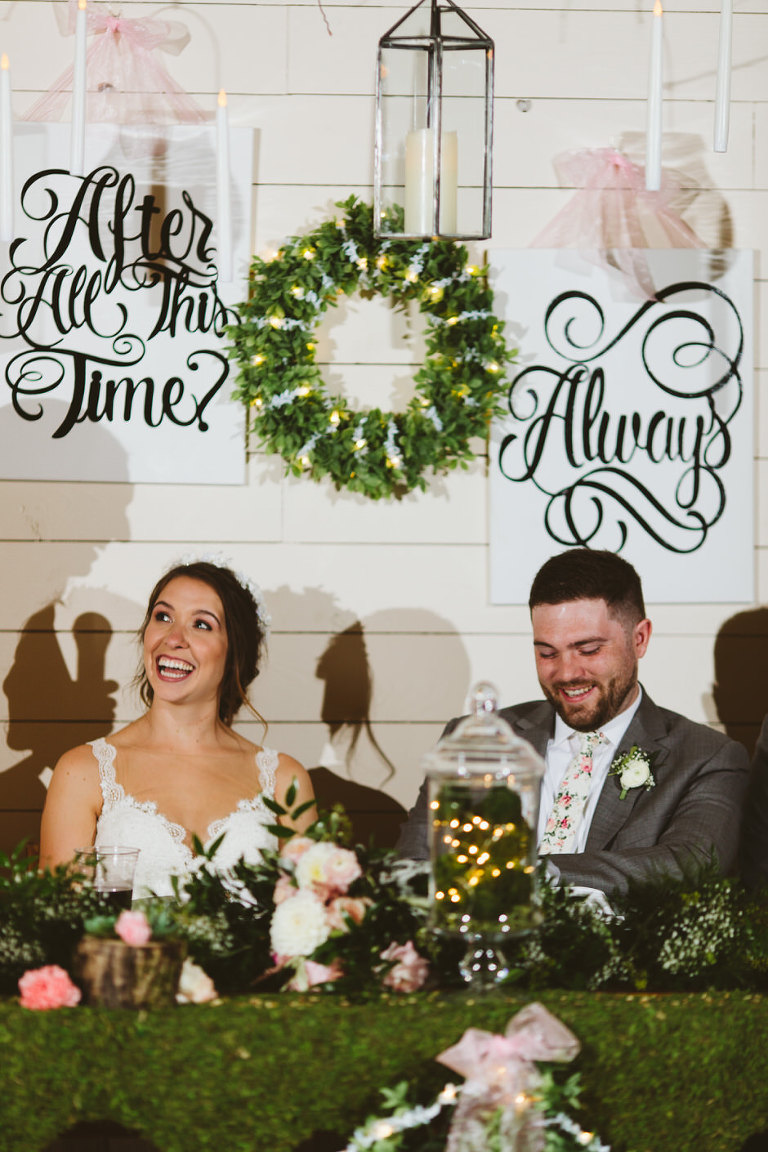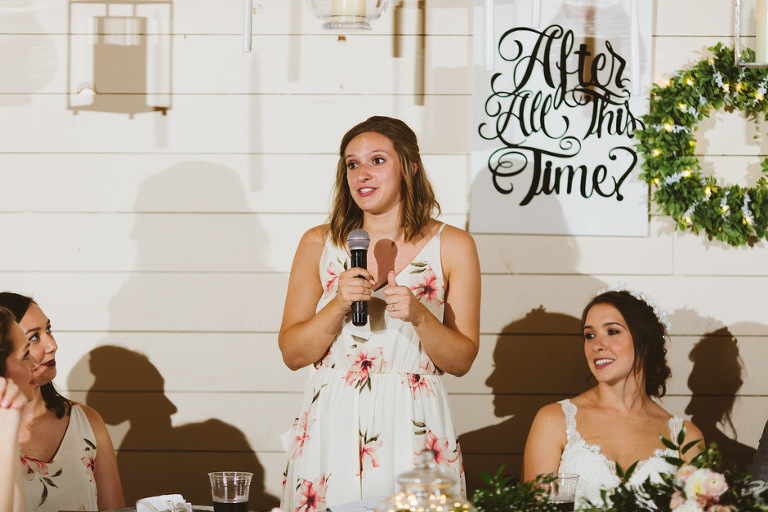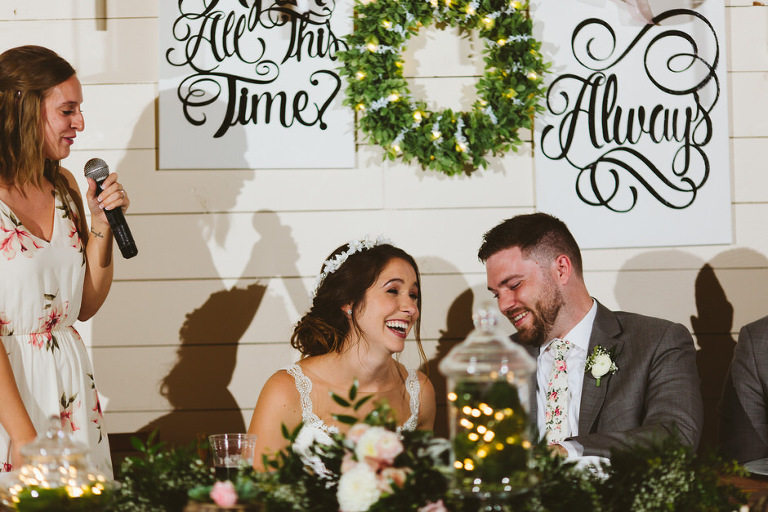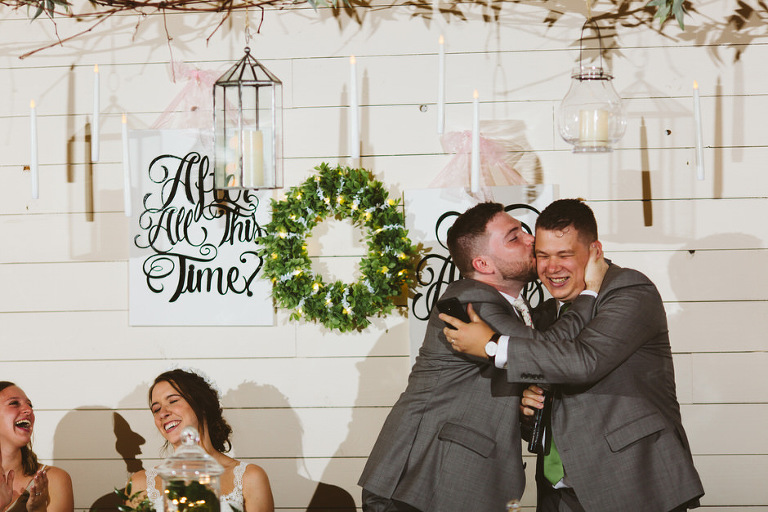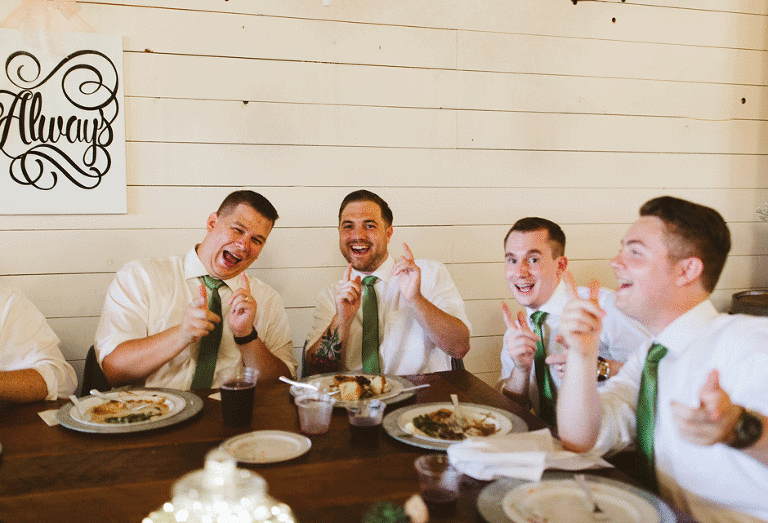 Your Photographer:
Rachel is the bomb diggity.  She is the best hype woman you will ever have.  Taking pictures can be awkward, but she makes everything seem completely normal.  Her positive attitude, expertise (on everything, not just photography), and talent make for the trifecta of wedding photography.  Plus, her pictures are gorge.  Rachel has to be our favorite vendor that we had.  She's a ROCKSTAR.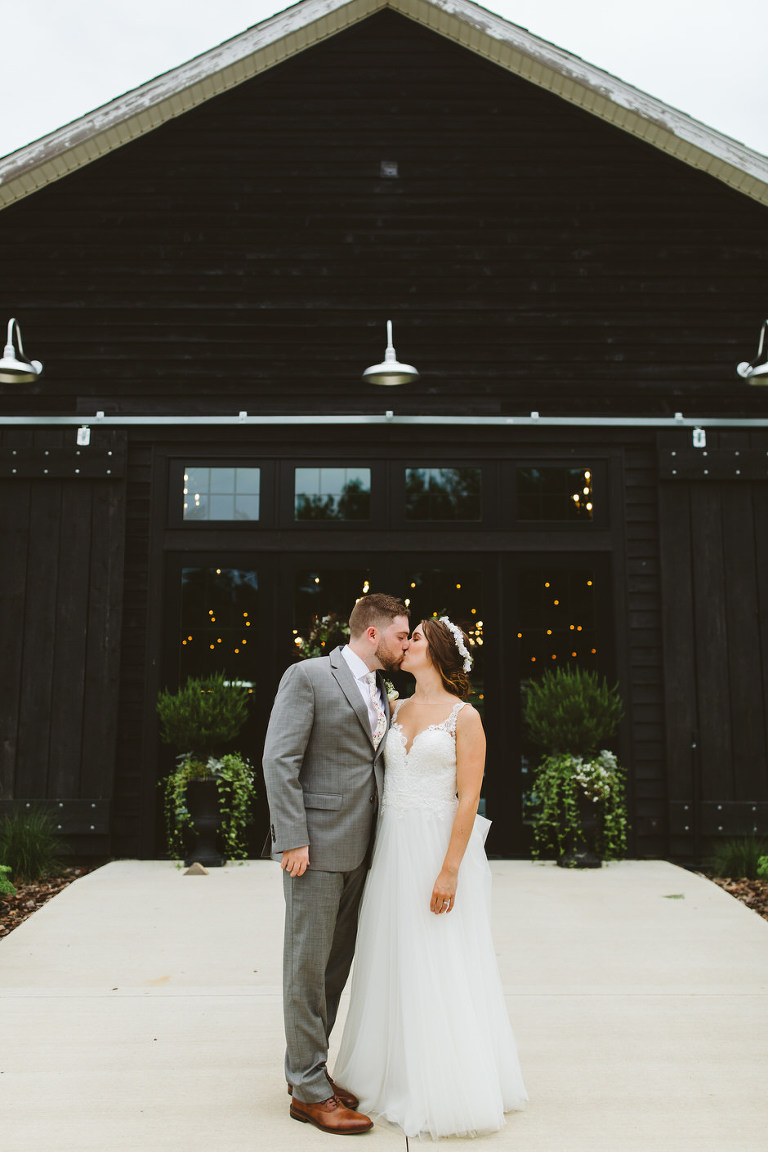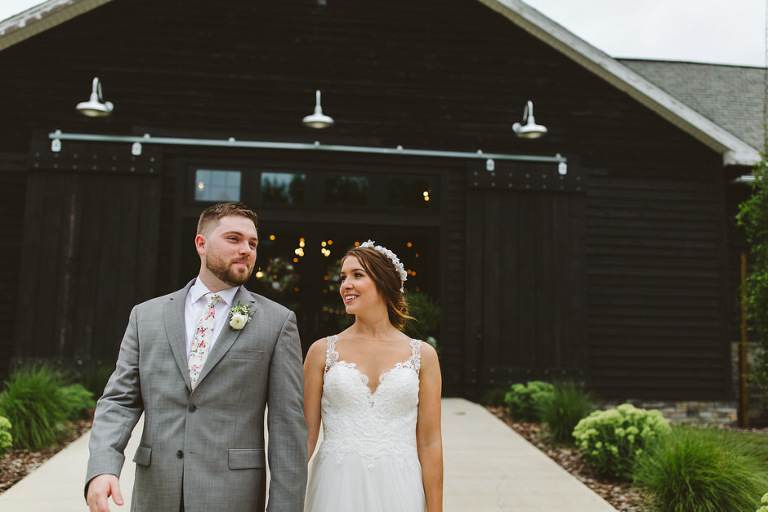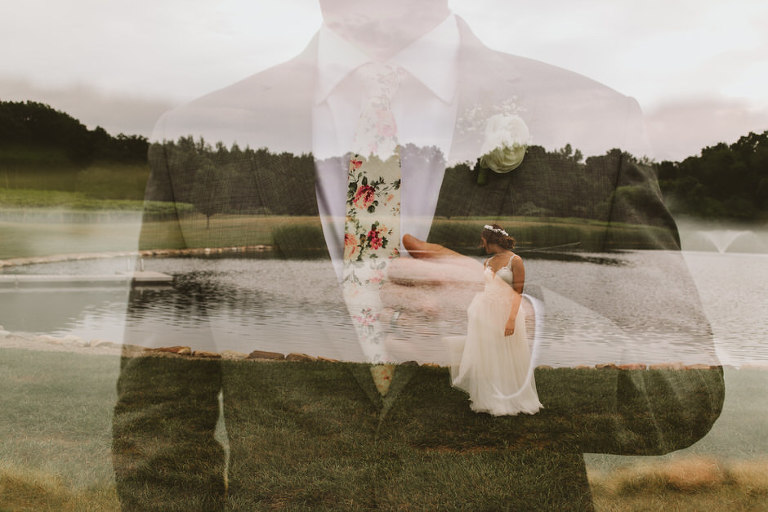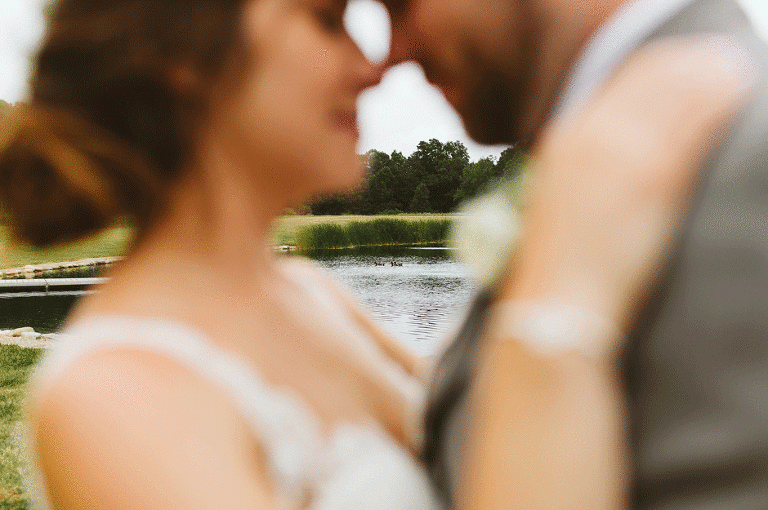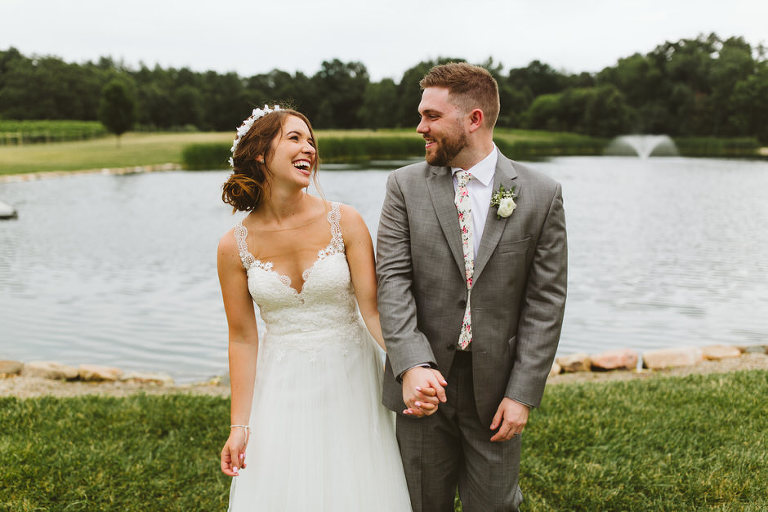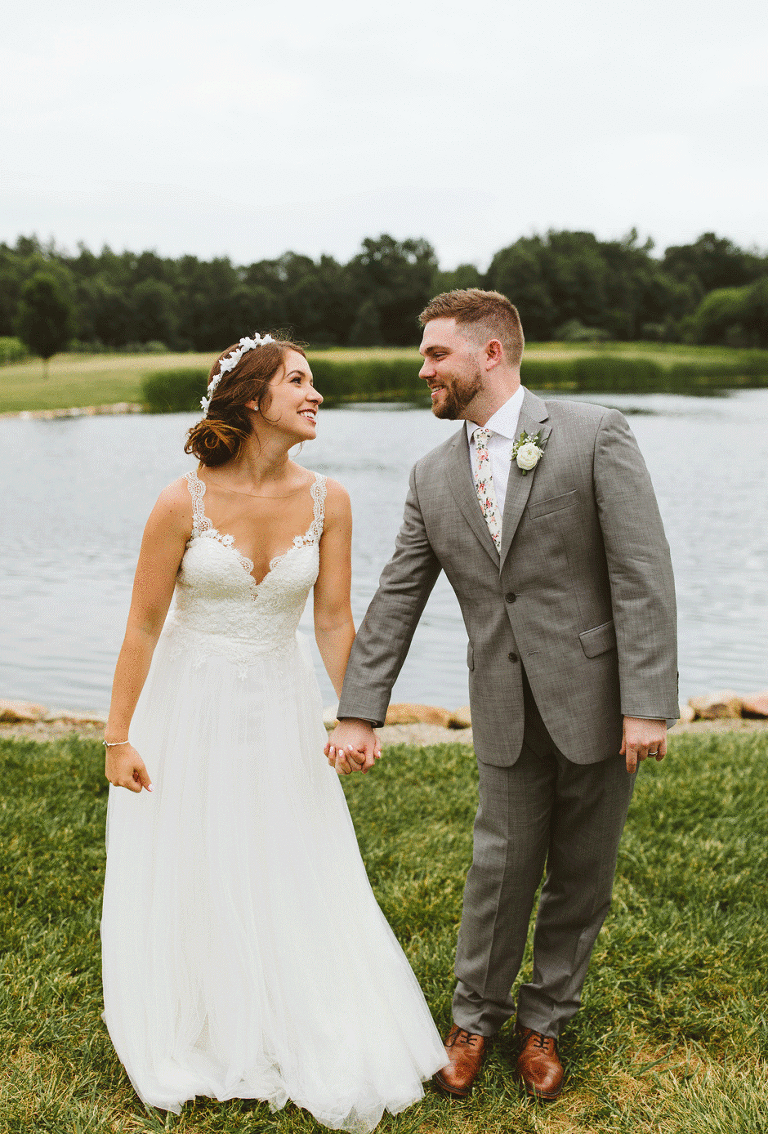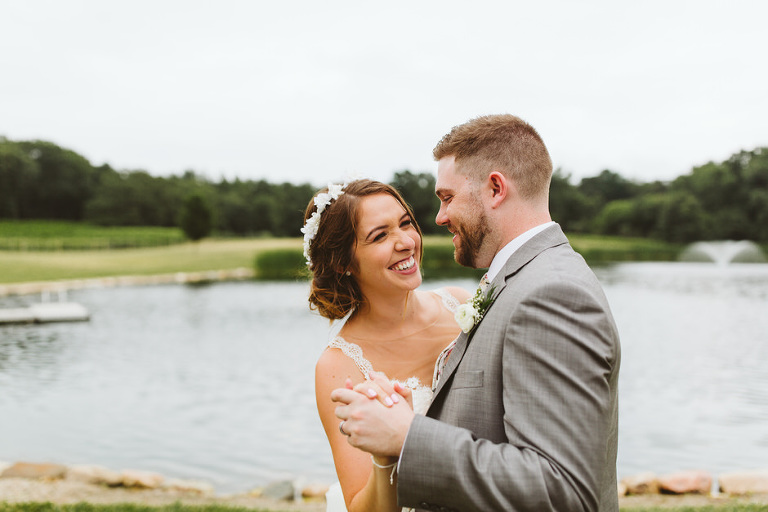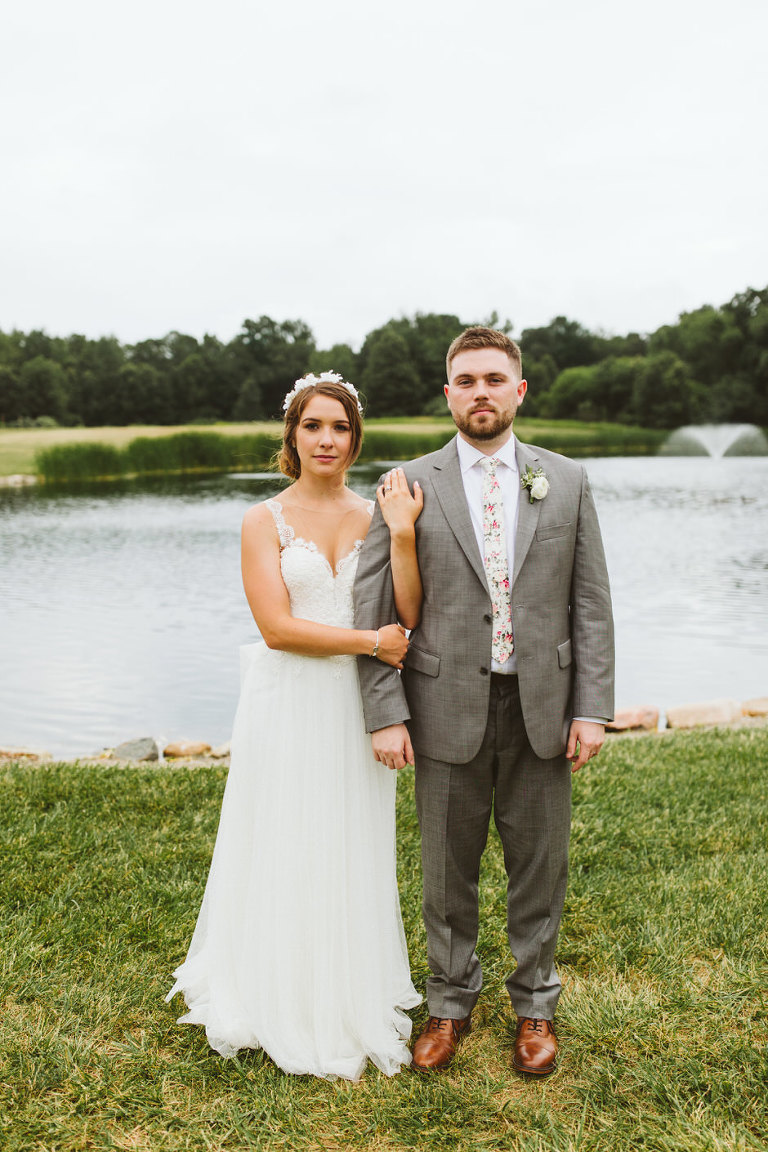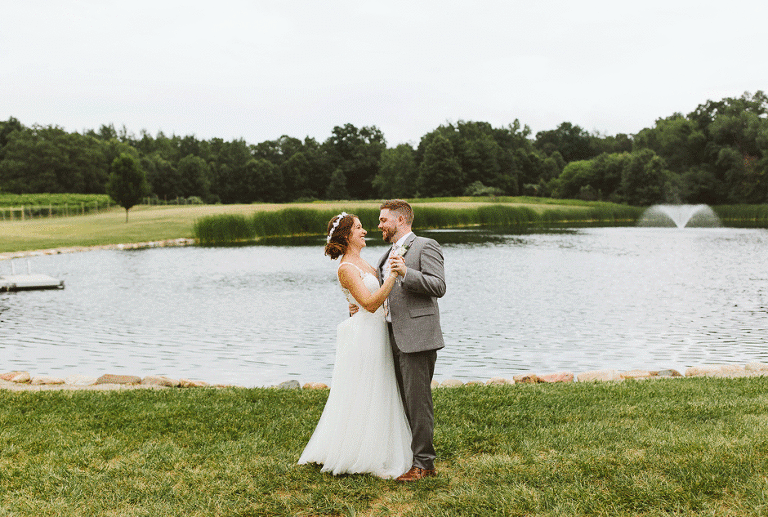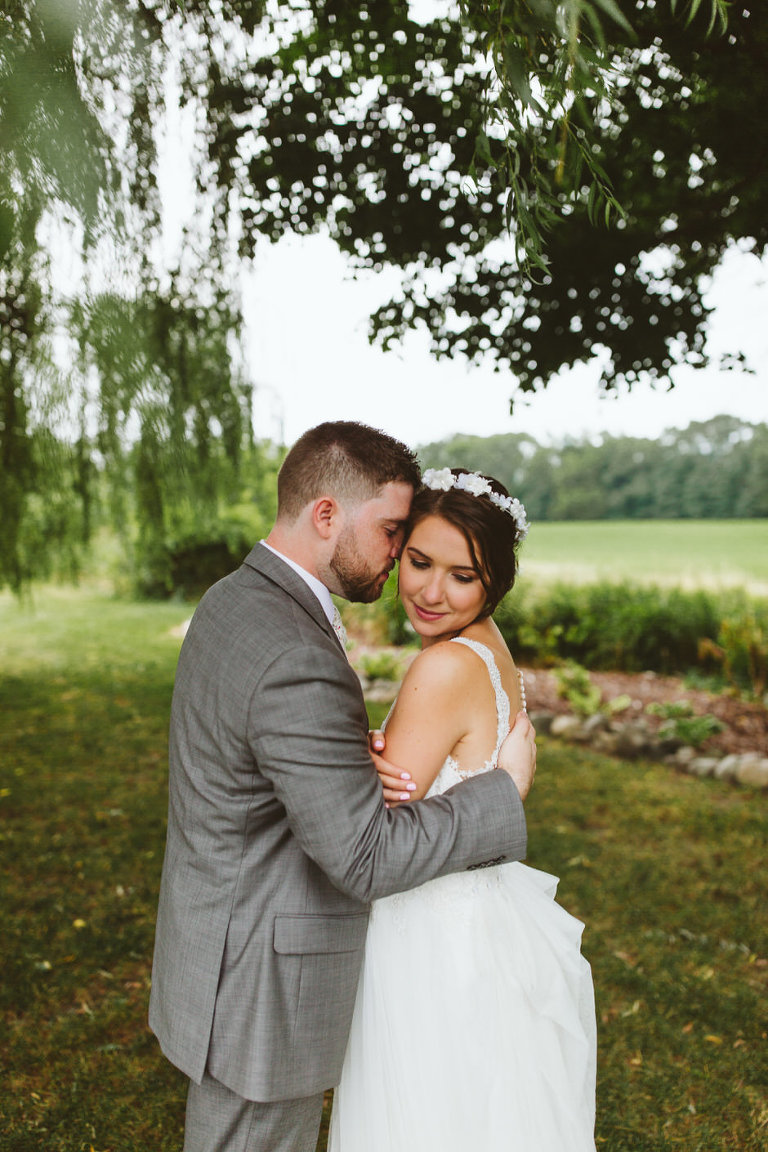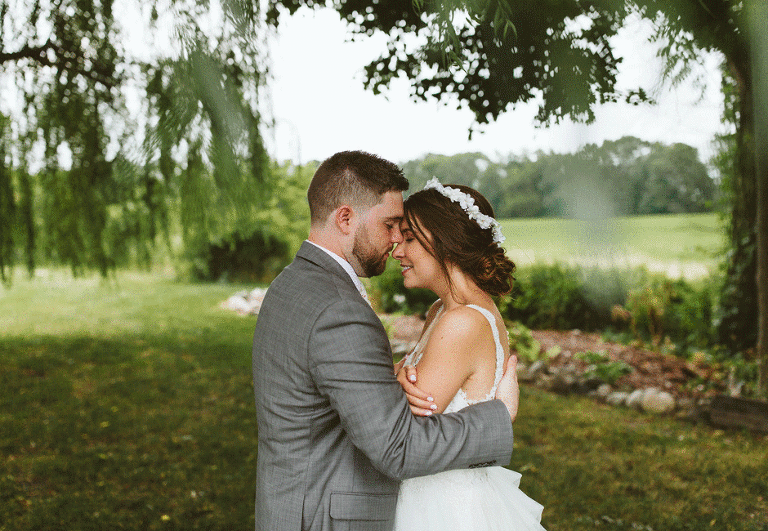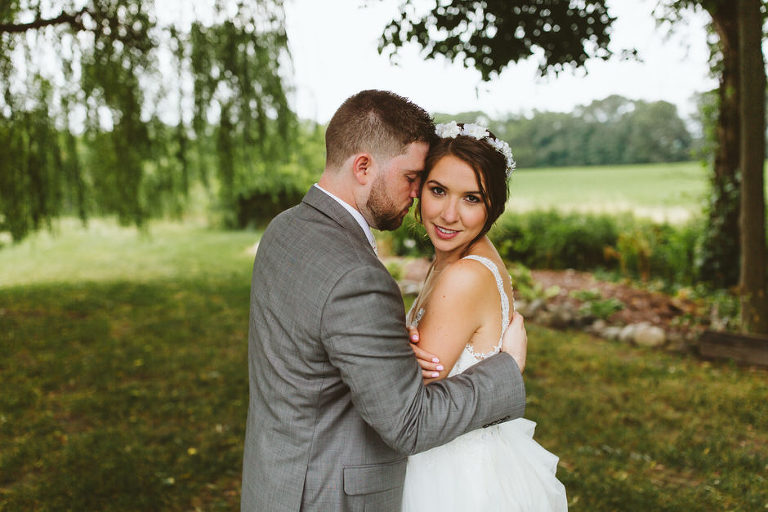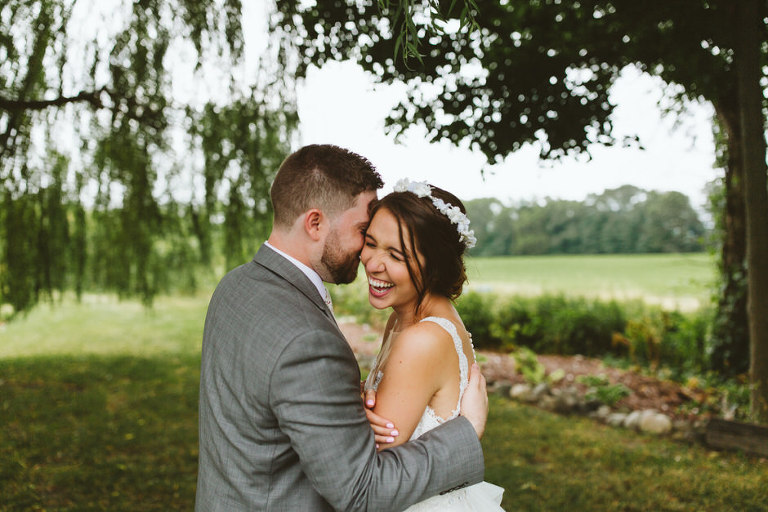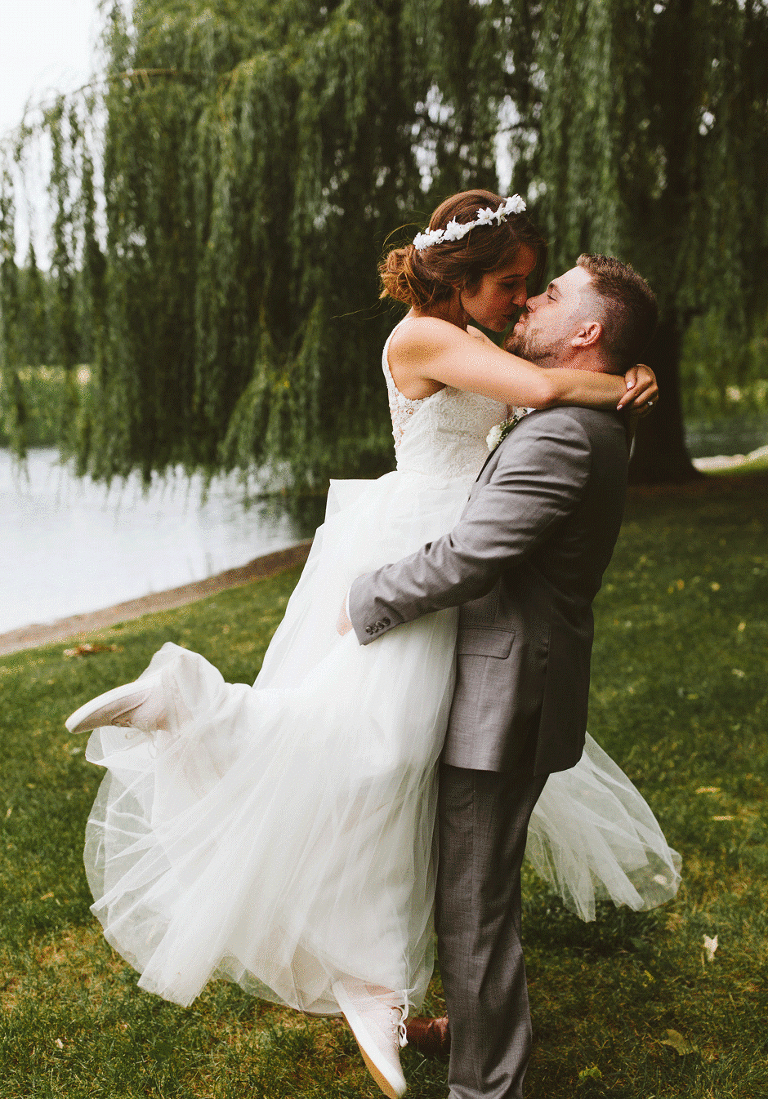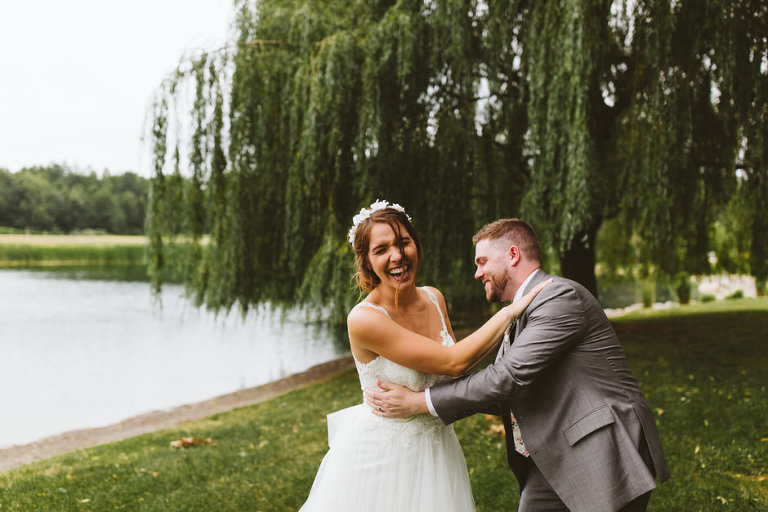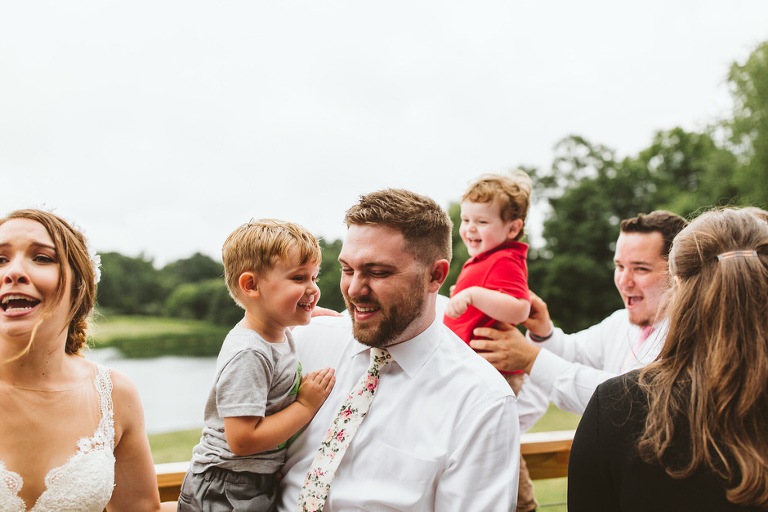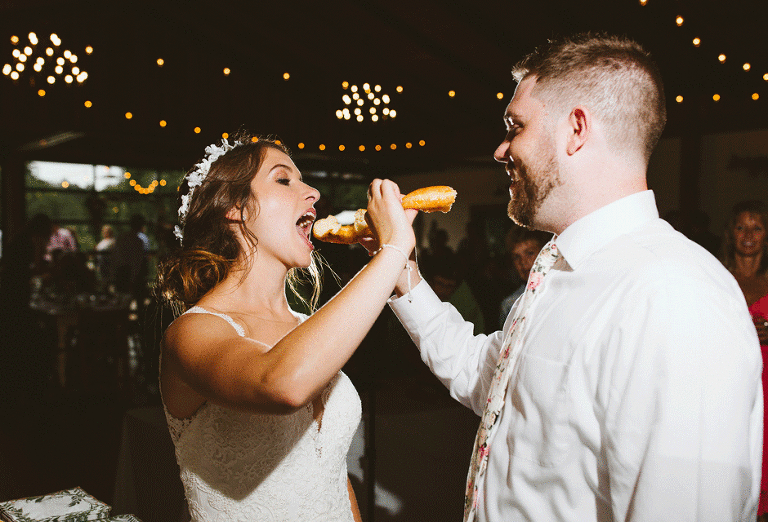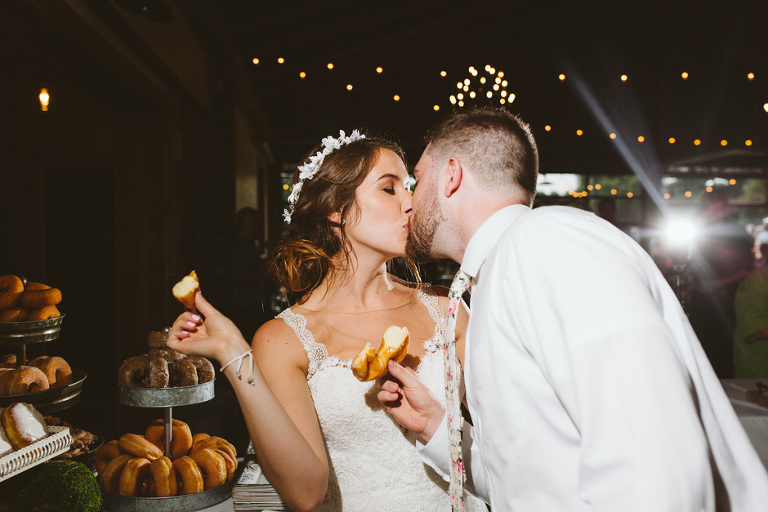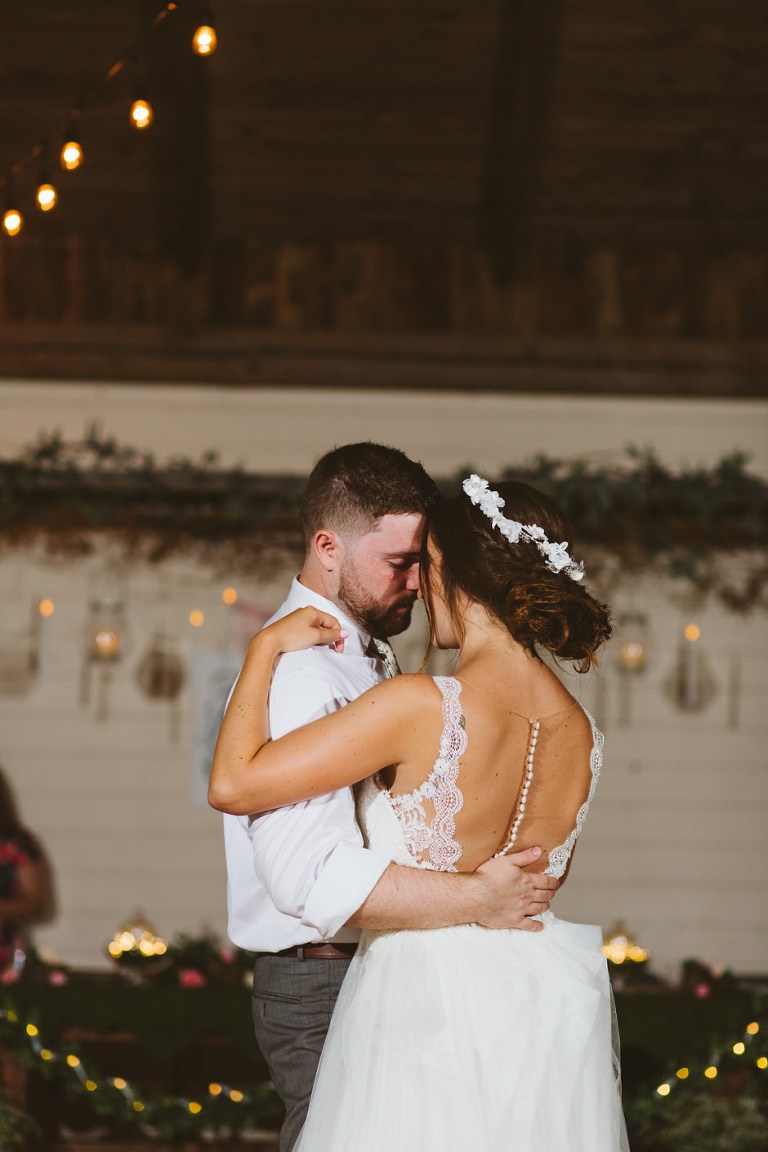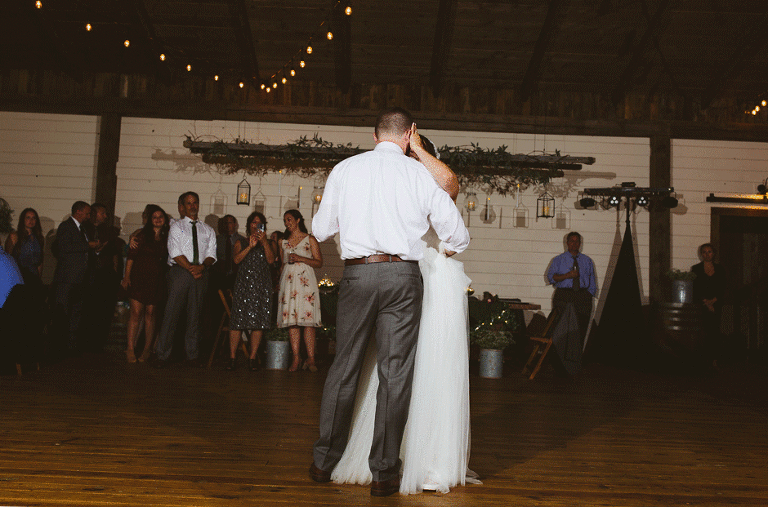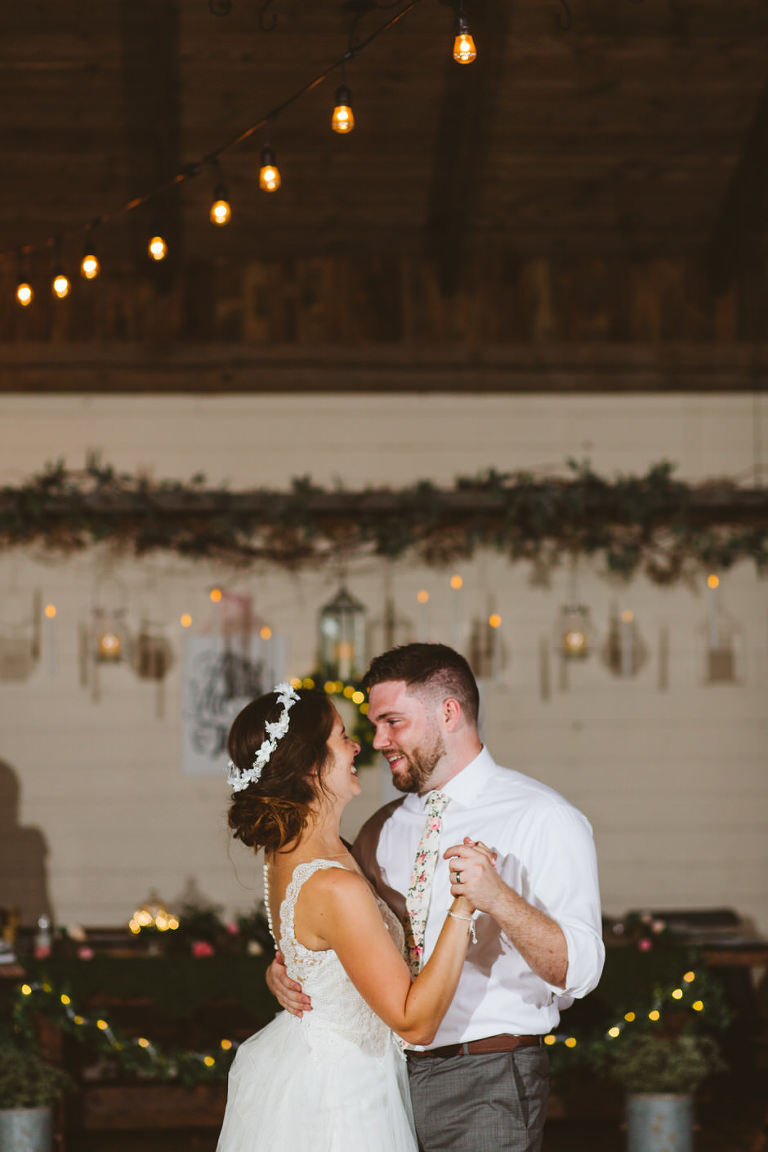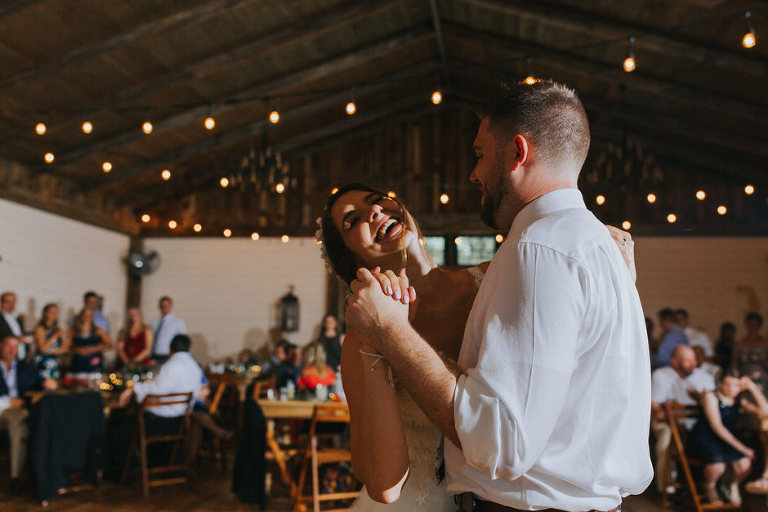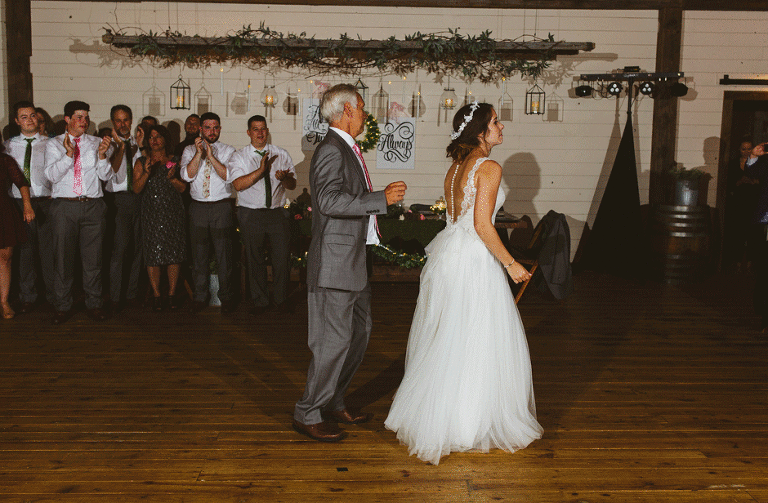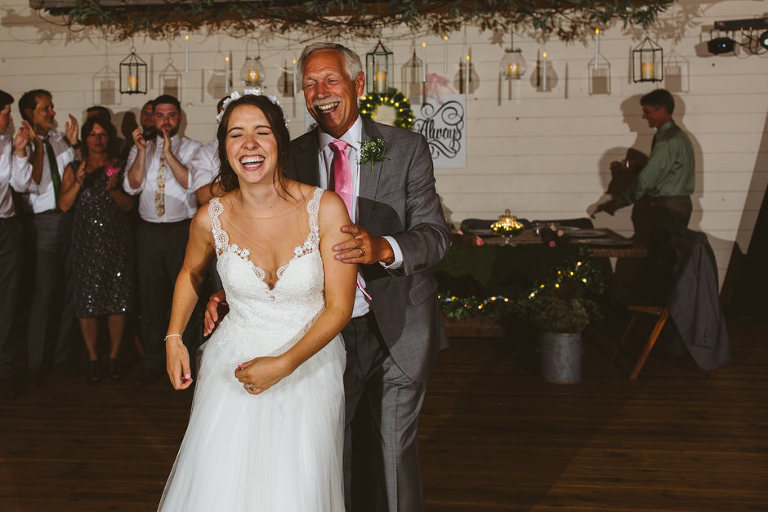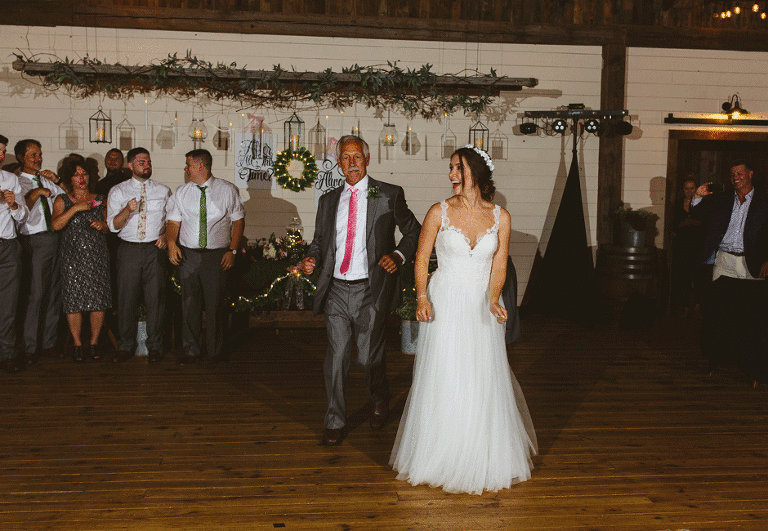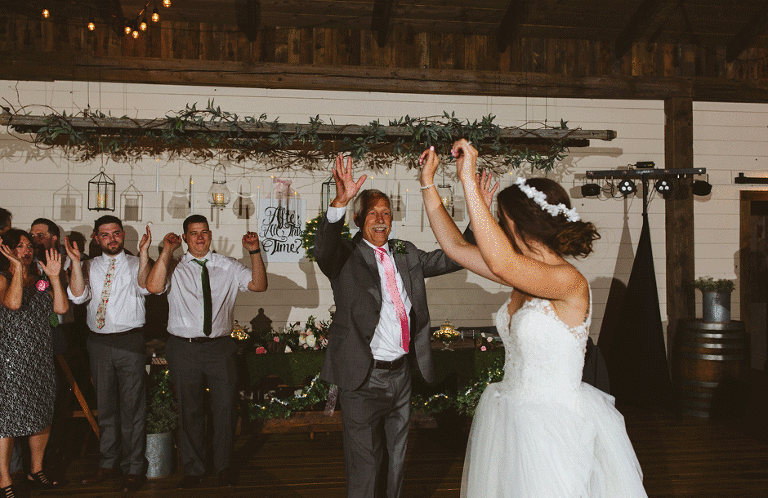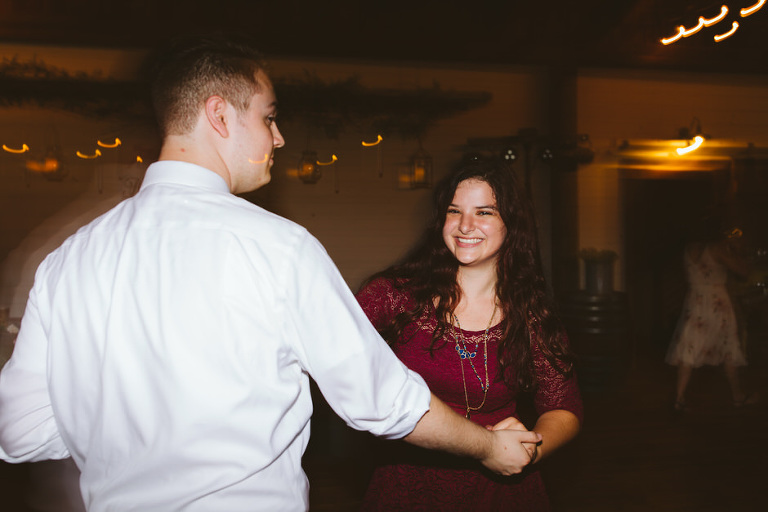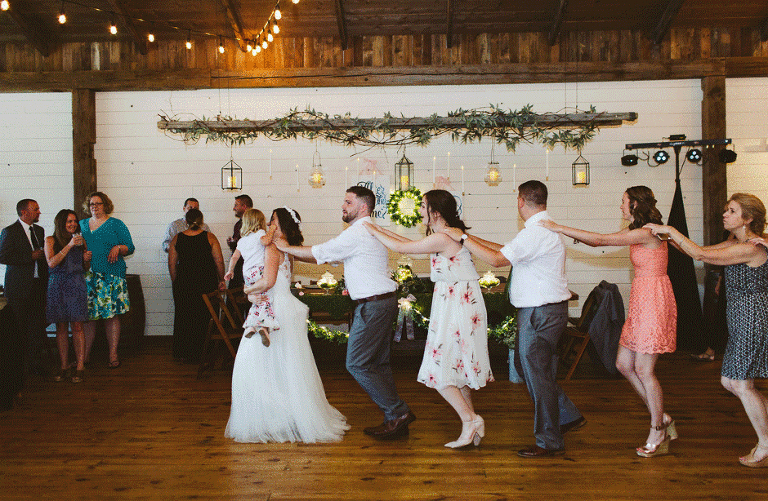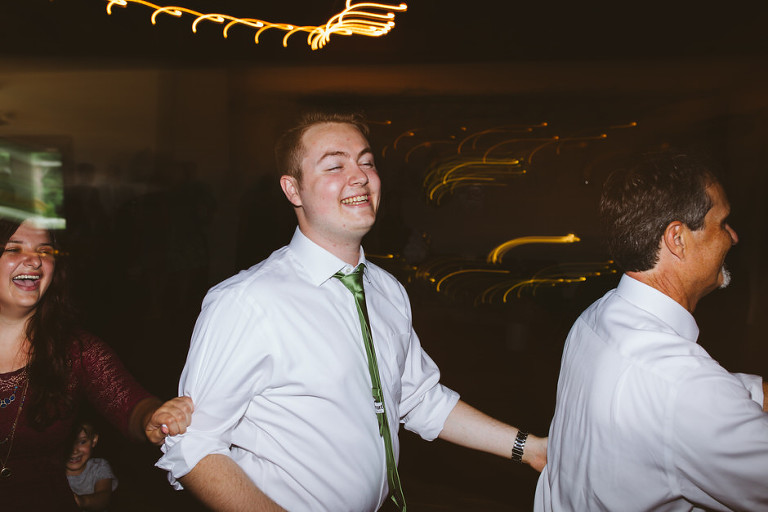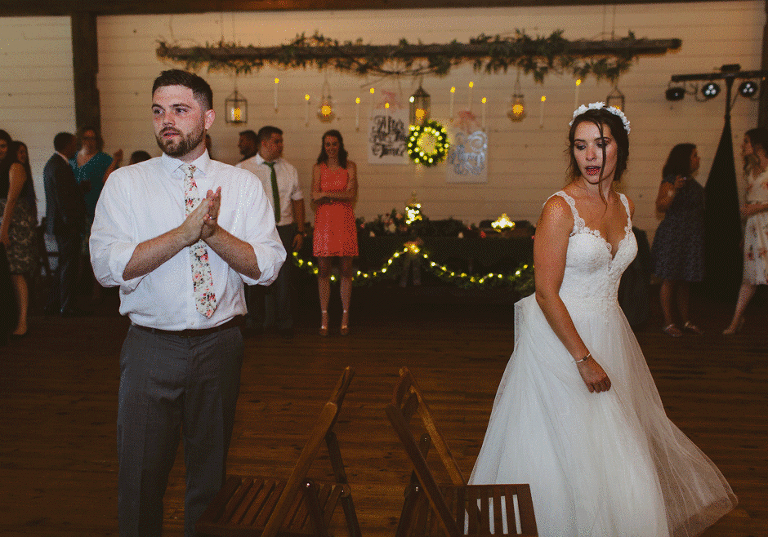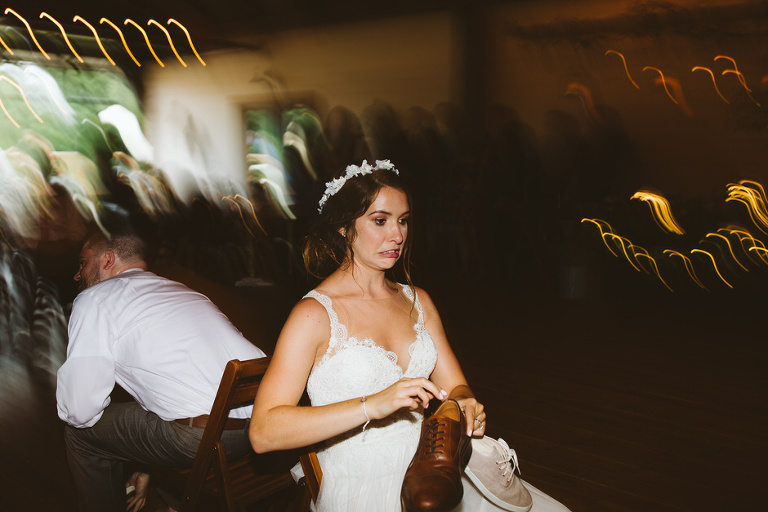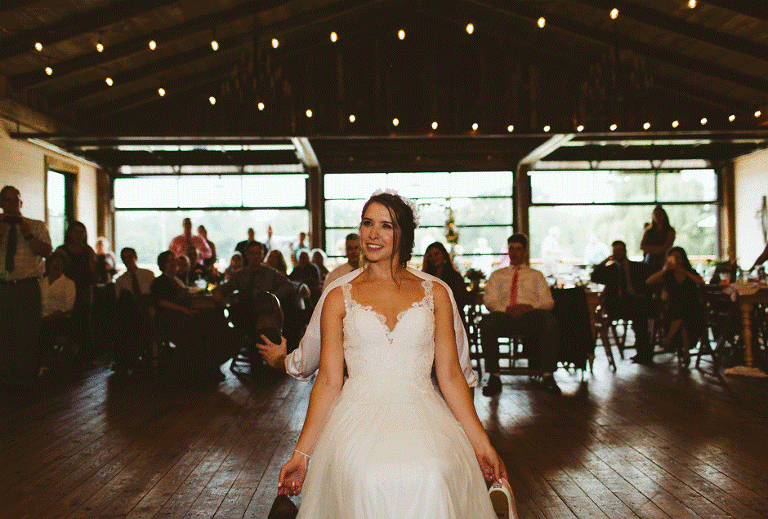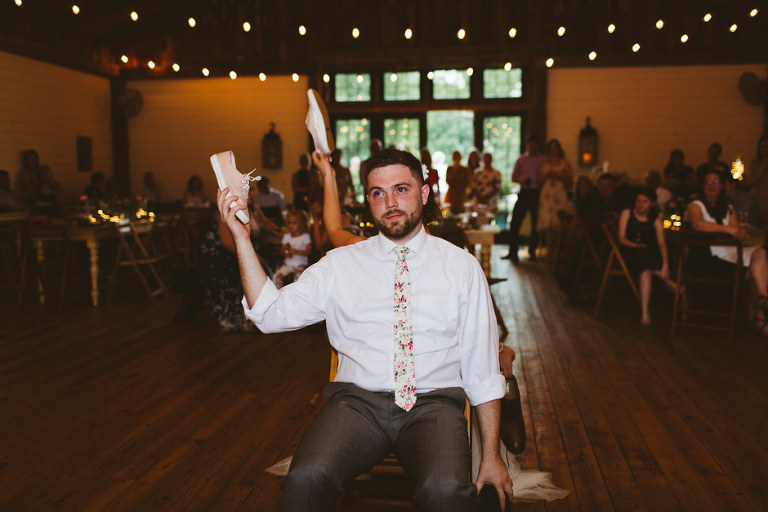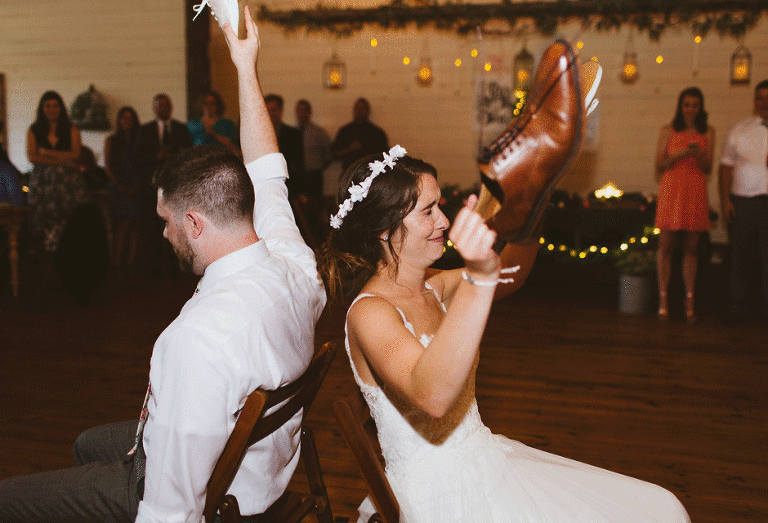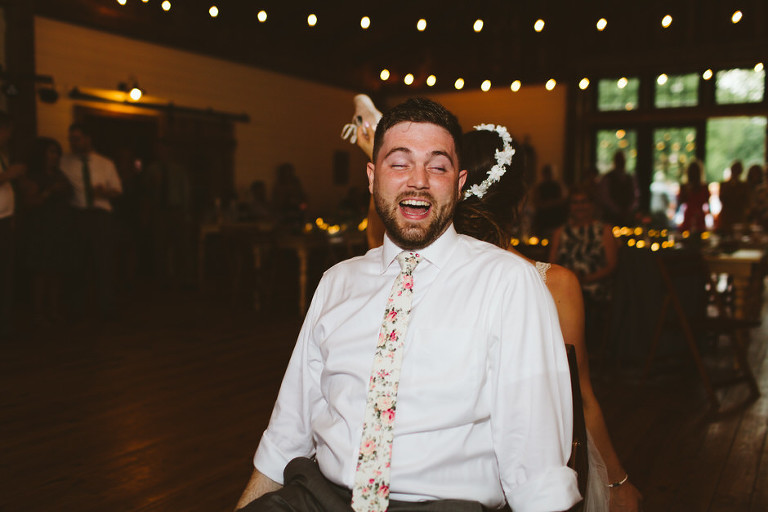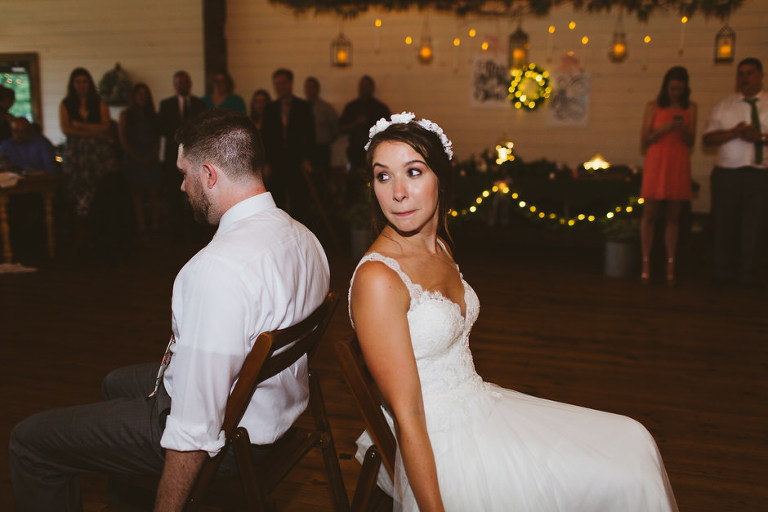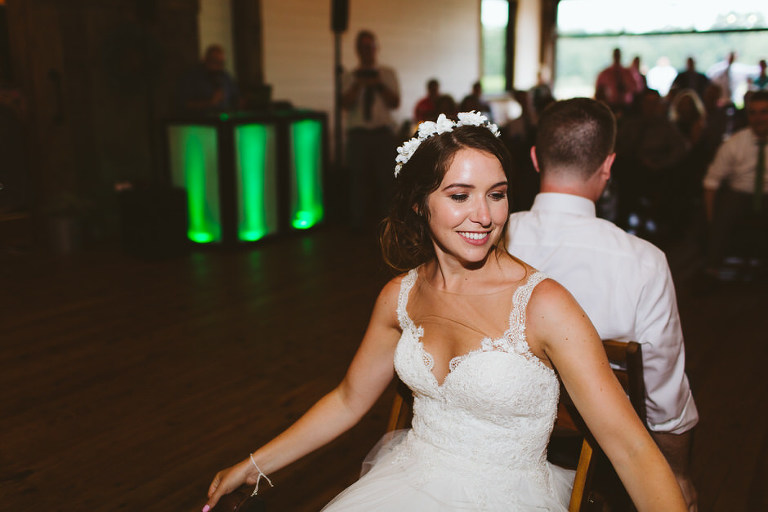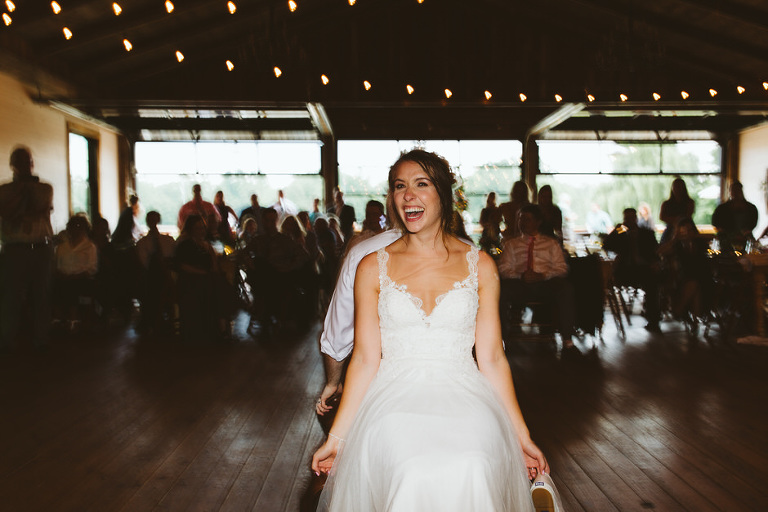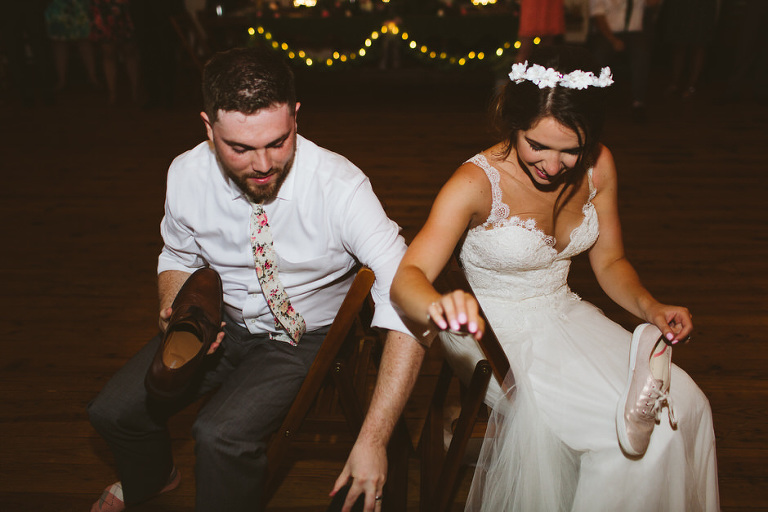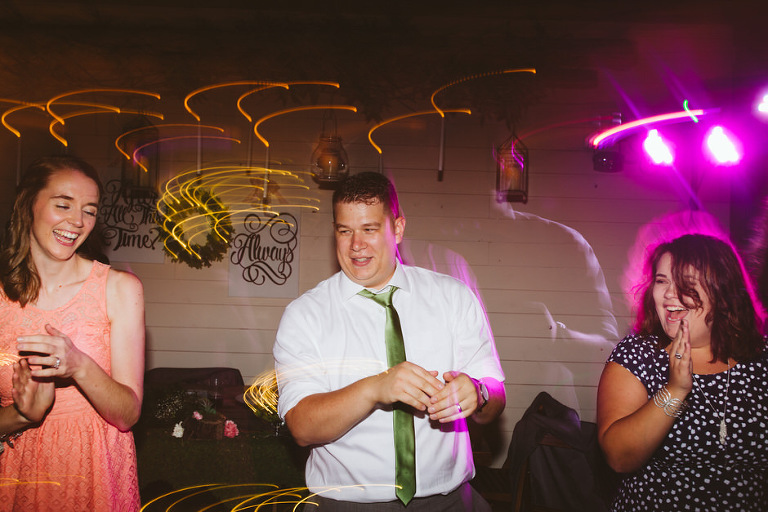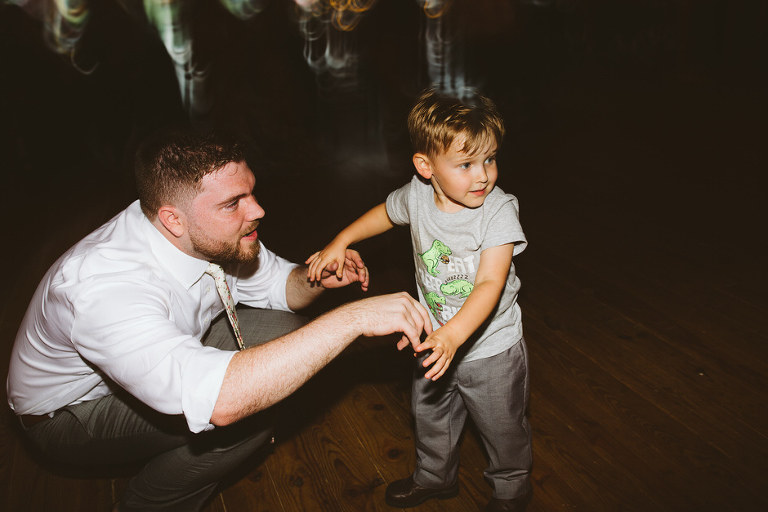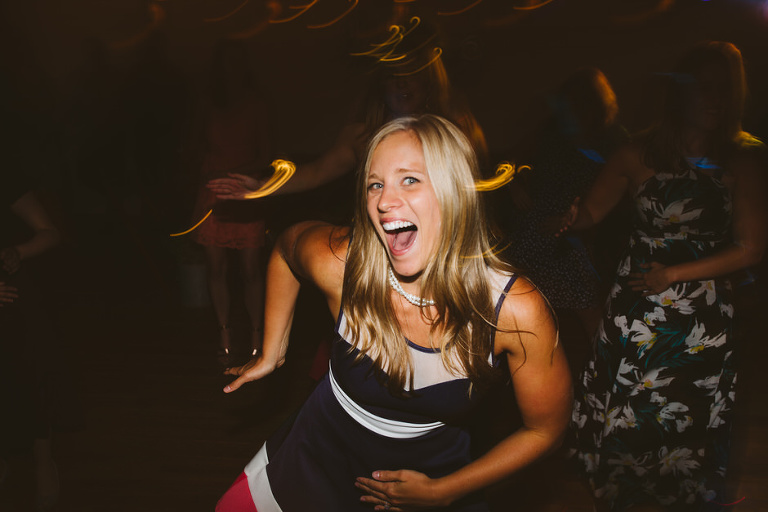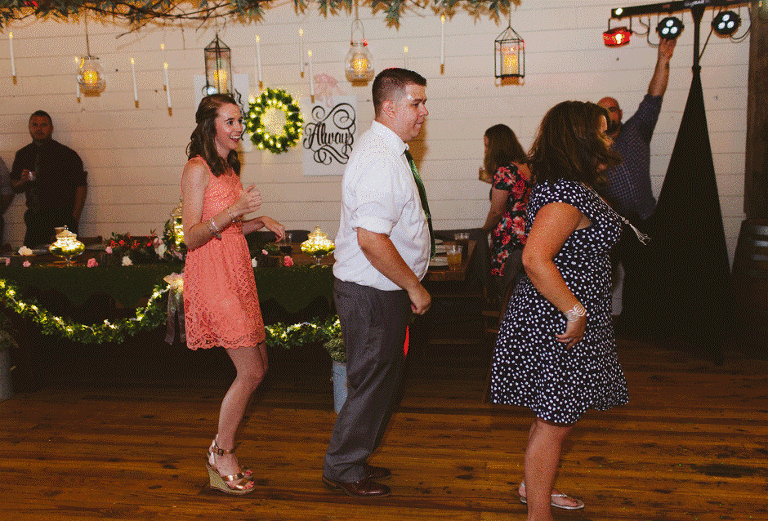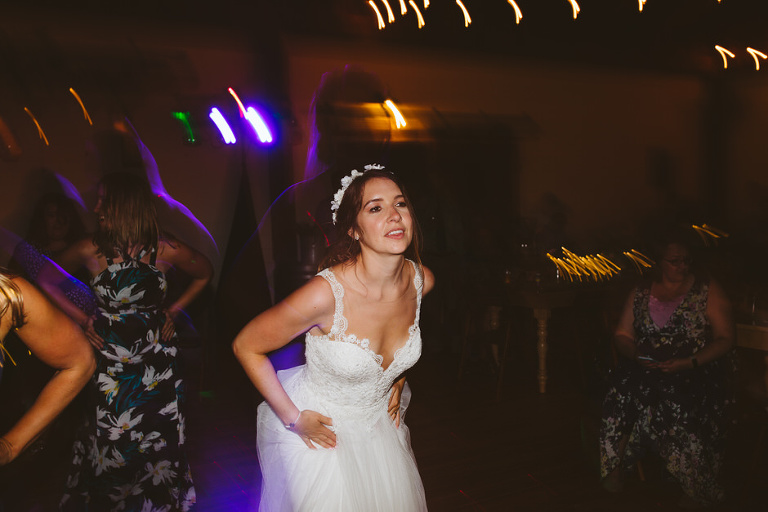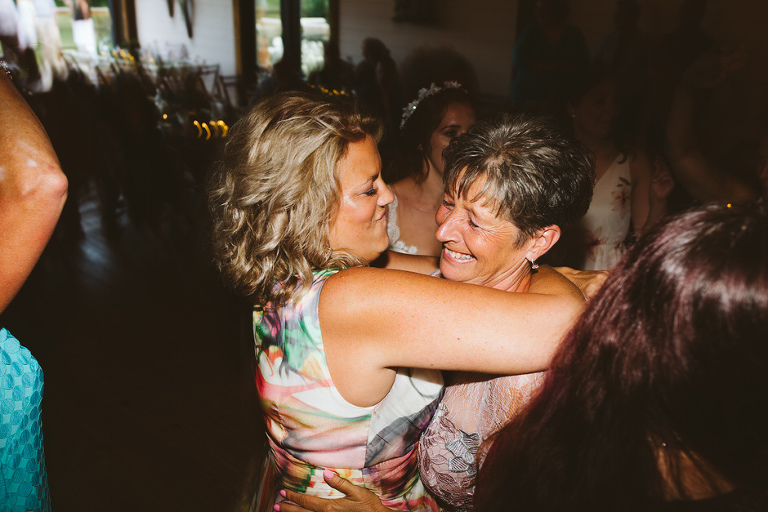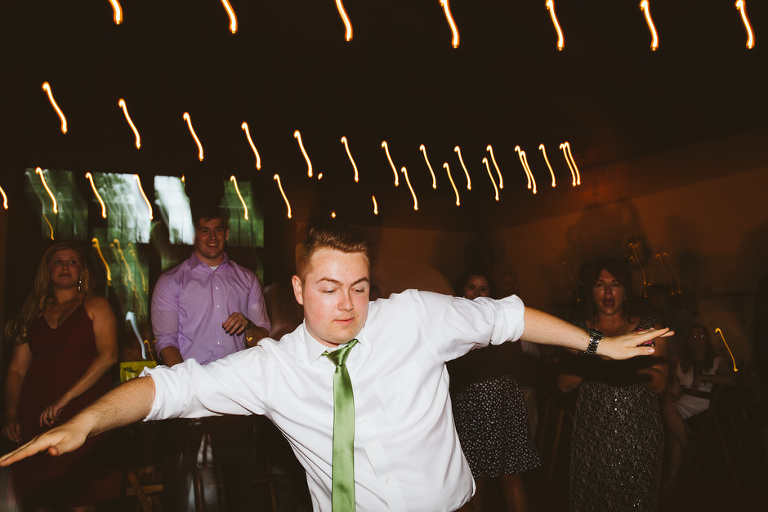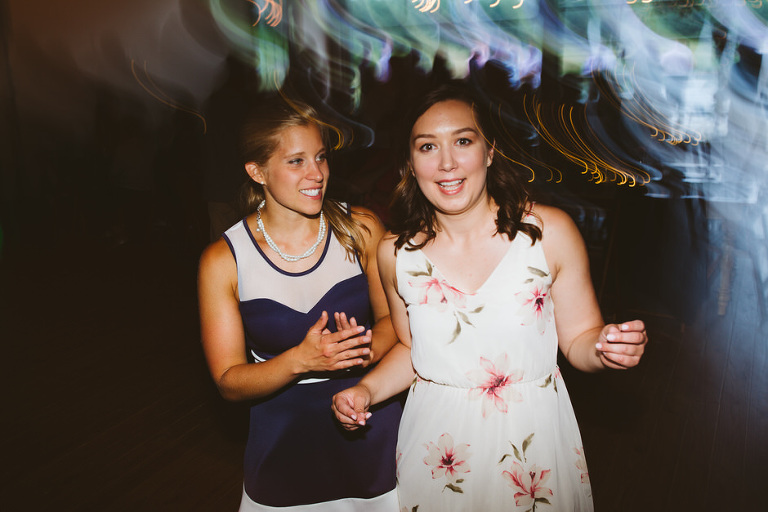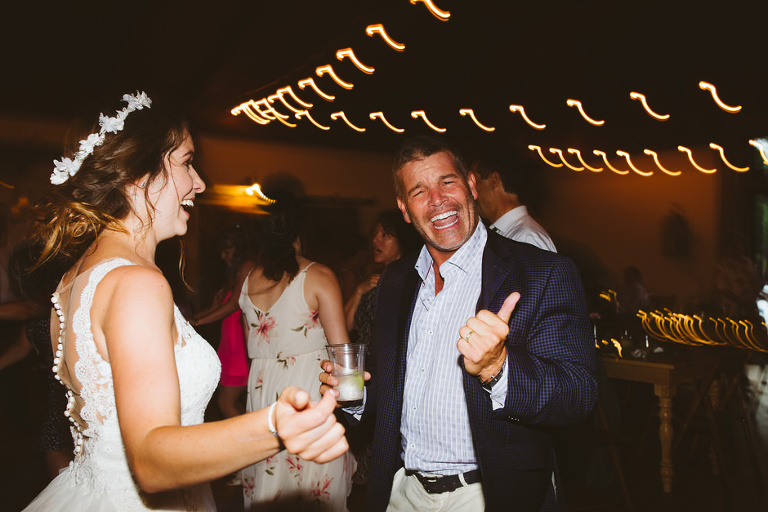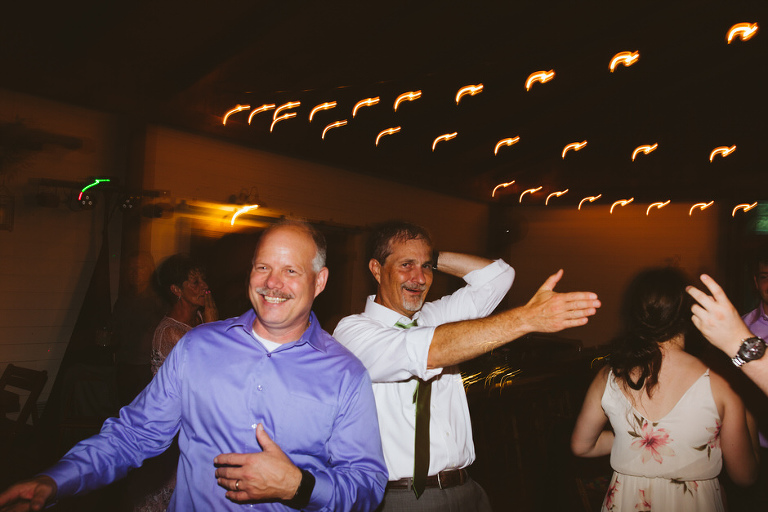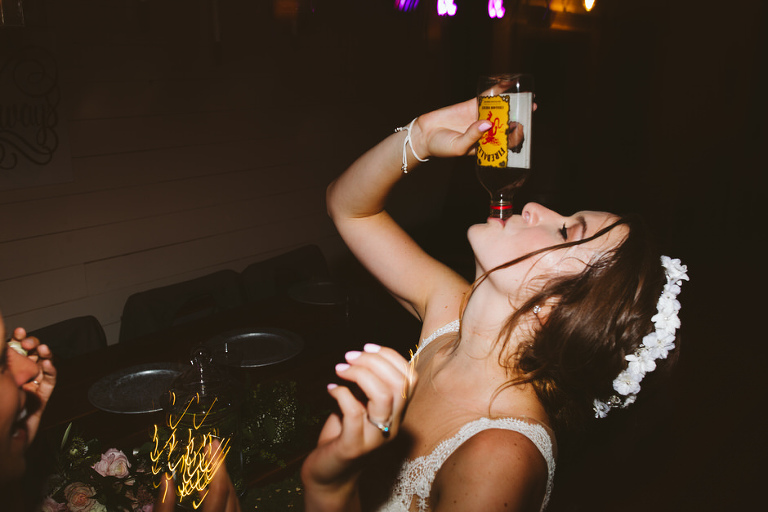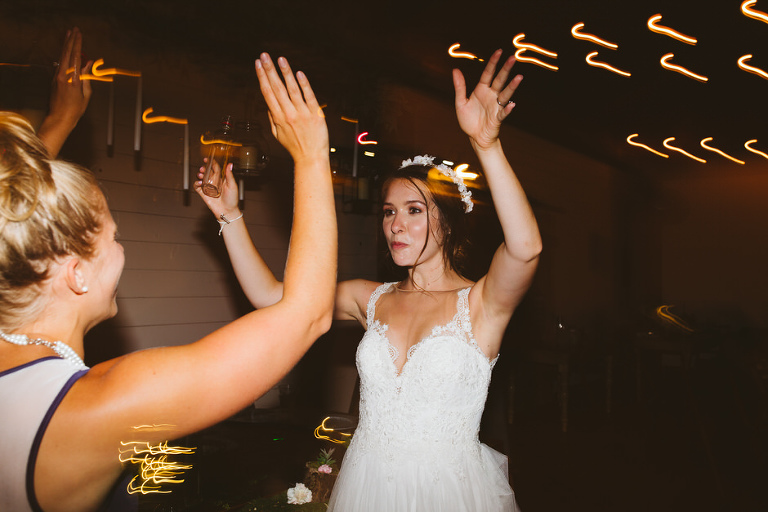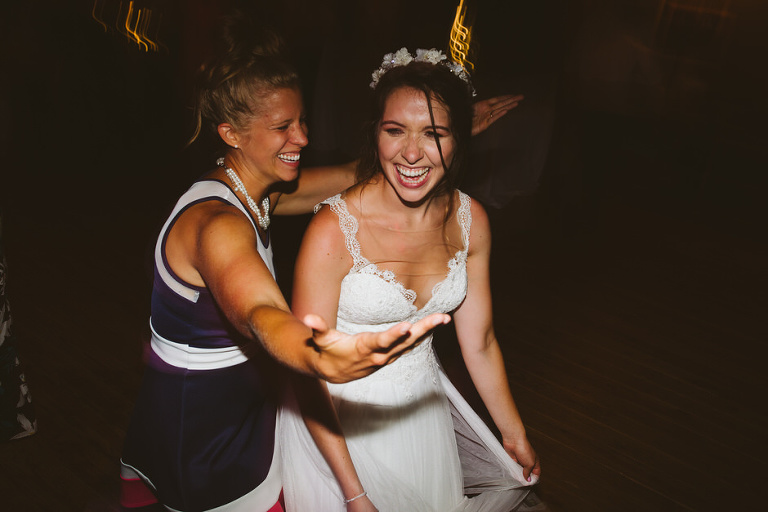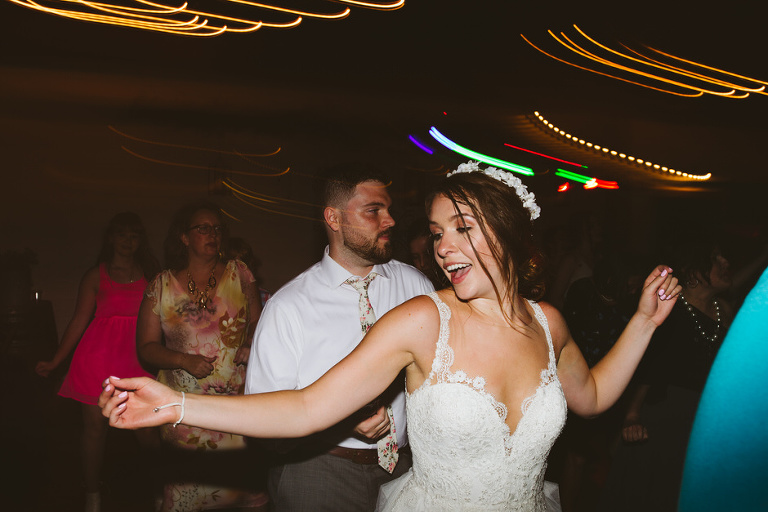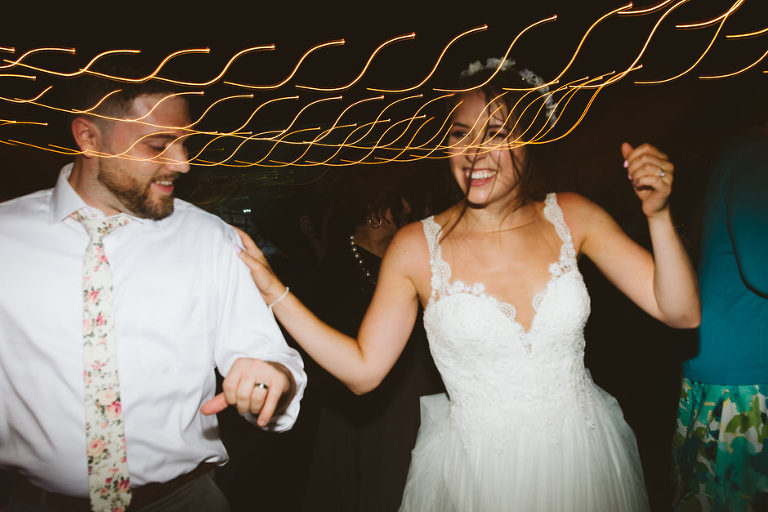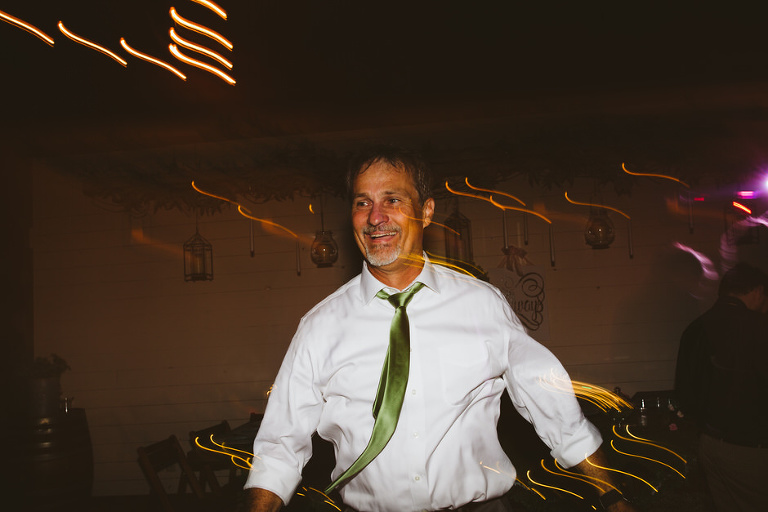 Any Advice for couples planning their wedding?
#1:  Get a day of coordinator.  We paid a little extra to have a person at the venue do this and it was the best decision we made.  She handled everything, knew everything, and was probably actually an wedding angel sent from heaven.
#2:  Don't let the little things bother you.  EVERYTHING WILL WORK OUT.  We promise.
#3:  Plan a breakfast the morning of.  It calms your nerves and gets you wedding parties pumped.  We suggest bagels.  They're tasty.