Kalamazoo Wedding Photographer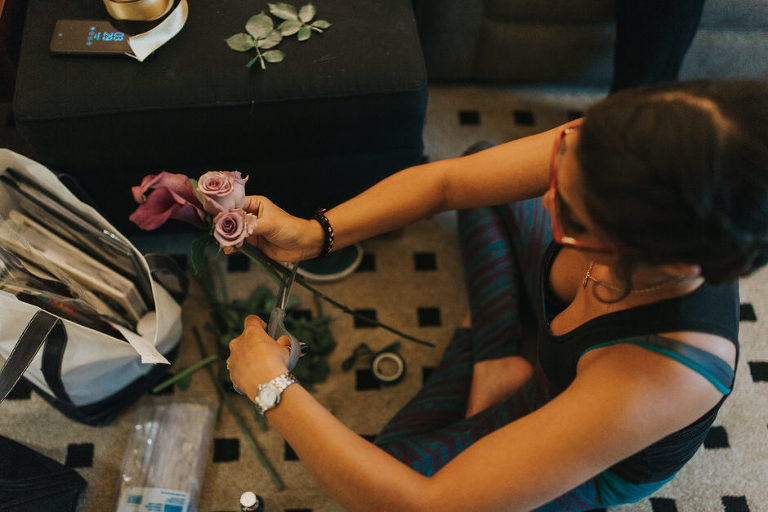 This was a most wonderful day! Despite a VERY RAINY DAY we had a blast exploring the hotel and getting creative for portraits. Super thankful for awesome clients like Ruby and David who planned a most amazing day and got so much help from family and friends to put on this event! Can't wait to come back to Kalamazoo for more weddings 😀
The Beginning: 
David and I met through a mutual friend at the time while attending Wayne State University.  We would all meet up at a table in the undergraduate library and study together, and eventually, David and I became friends.   One day, we really started talking and he asked me out on a date to go get Thai food together at both of our favorite restaurant.  I didn't actually want to go,  or make it a real date,  because I wasn't interested in a relationship at the time, but one of my friends really pushed me to give it a chance.  I'm glad I did because we had a great time and were really compatible.  We began dating, eventually, David went away to the University of Arizona for over two years for his master's degree, and we lasted through the distance and the difficulty.  We figured if we could get through that together then we could really get through anything.  After 5 years of dating, David proposed!  We designed a ring together, but he didn't tell me when he picked it up, and he proposed to me at midnight the night of our 5 year anniversary.  A little over a year later, we were married!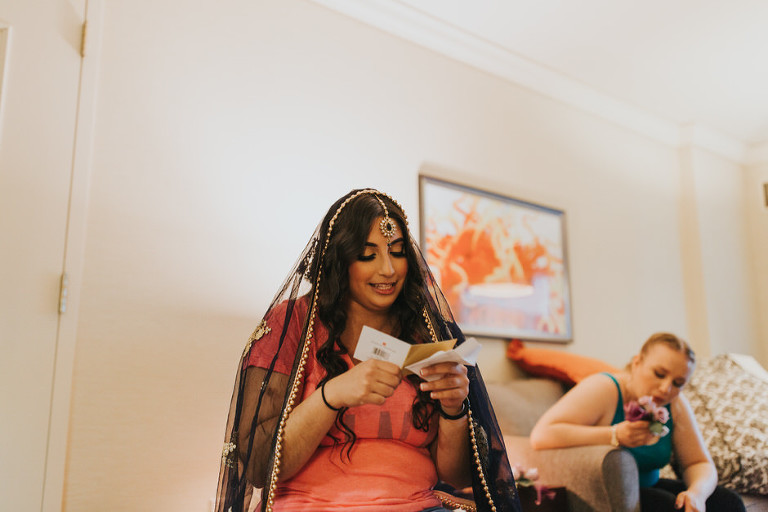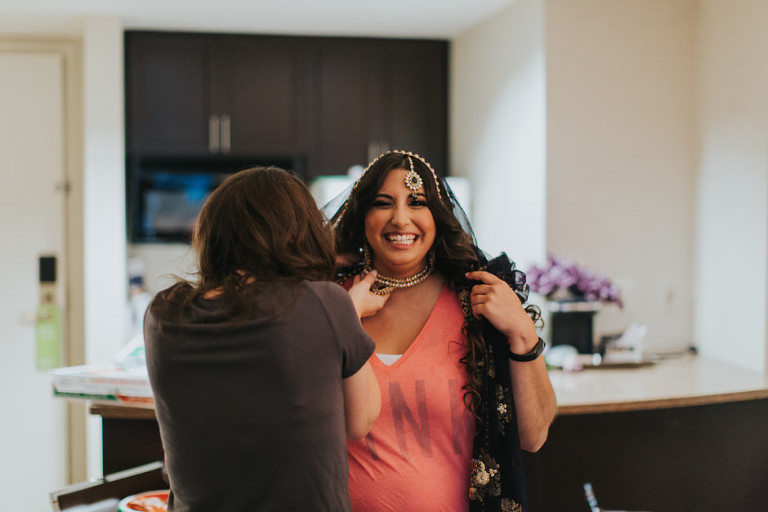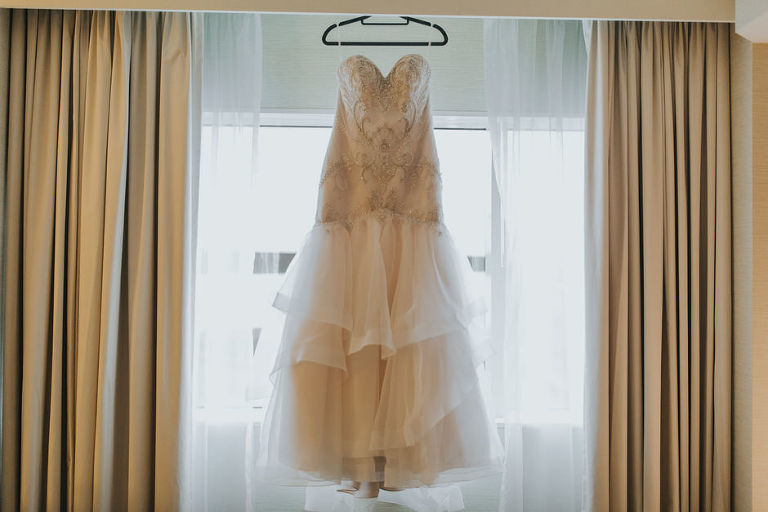 Ruby's Dress:
I spent so much time looking for the perfect dress!  I went to a total of 6 bridal shops, 5 of them without my fiancé at the time, and couldn't find anything.  The last shop I went to, I brought David with me, and we picked one out together in 20 minutes!  It's called Poppy, by Casablanca, and I ordered it in light champagne.  I had such a difficult time finding a dress, because Indian brides can't wear white, so I had to find something appropriate, comfortable, within my style, and also in as close to gold as possible, which was a real task.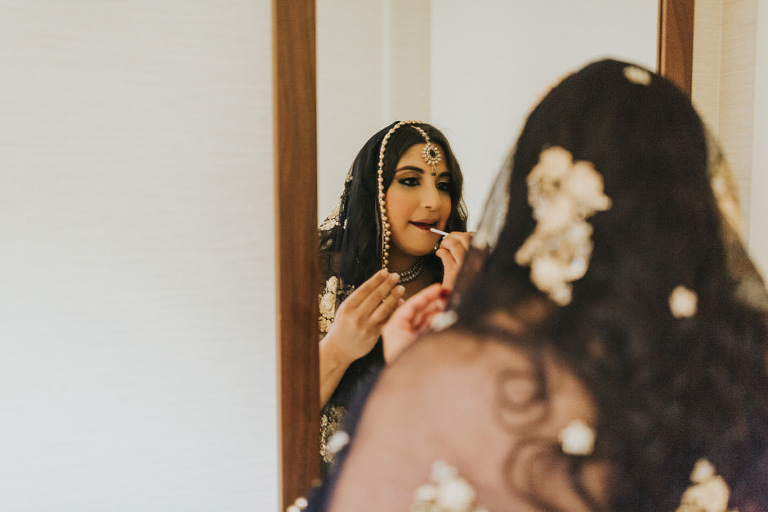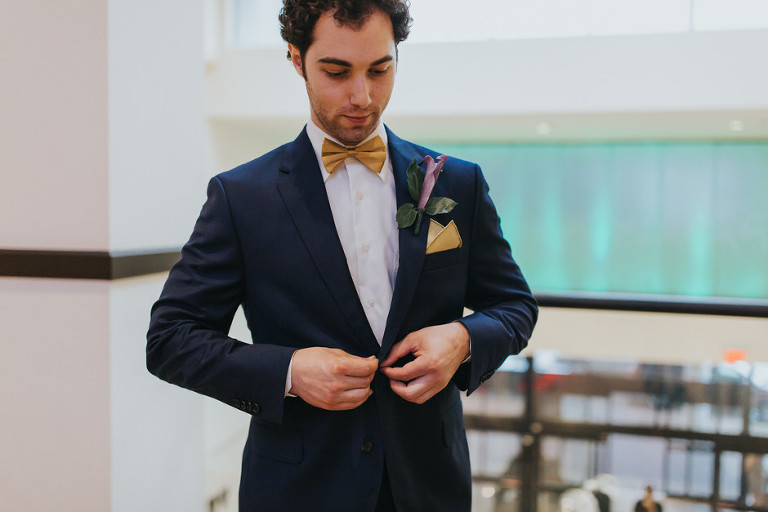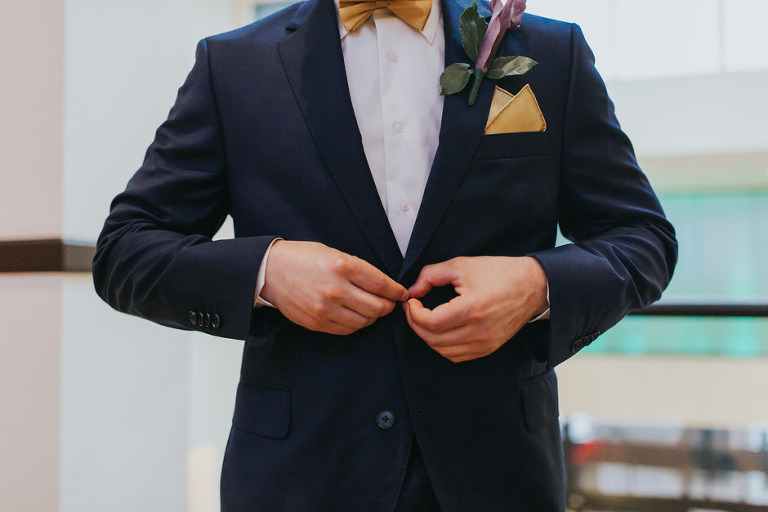 David's Suit:
David purchased his suit from a wholesale retailer near our apartment at the time.  It was navy blue, and he wore the most adorable gold bow tie with it.  He looked so very handsome, even though he had forgotten the matching belt to his shoes at home!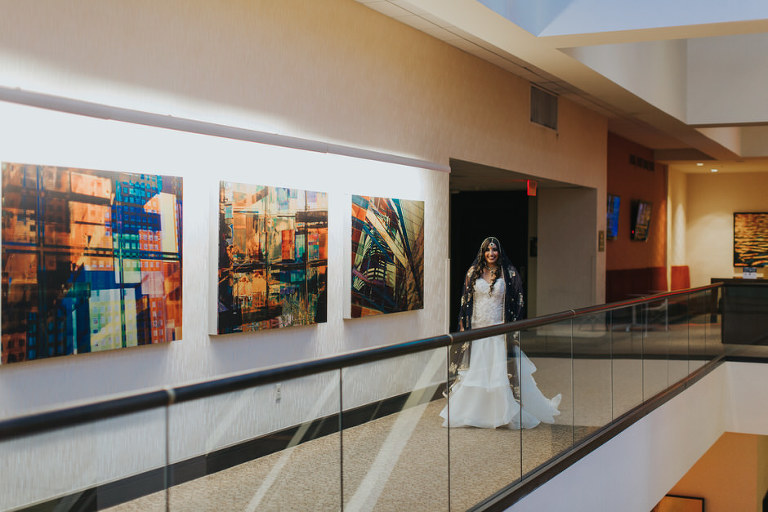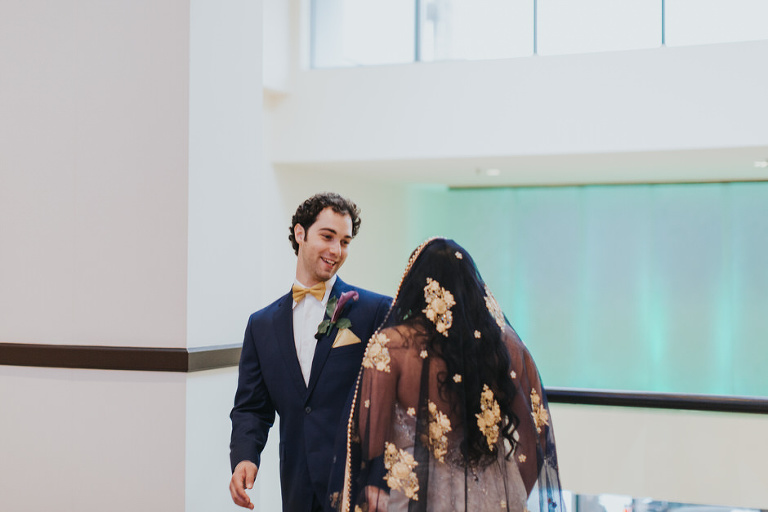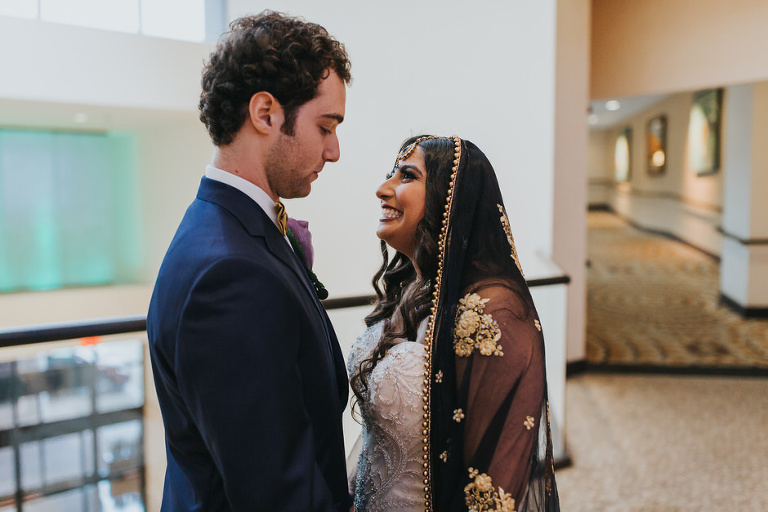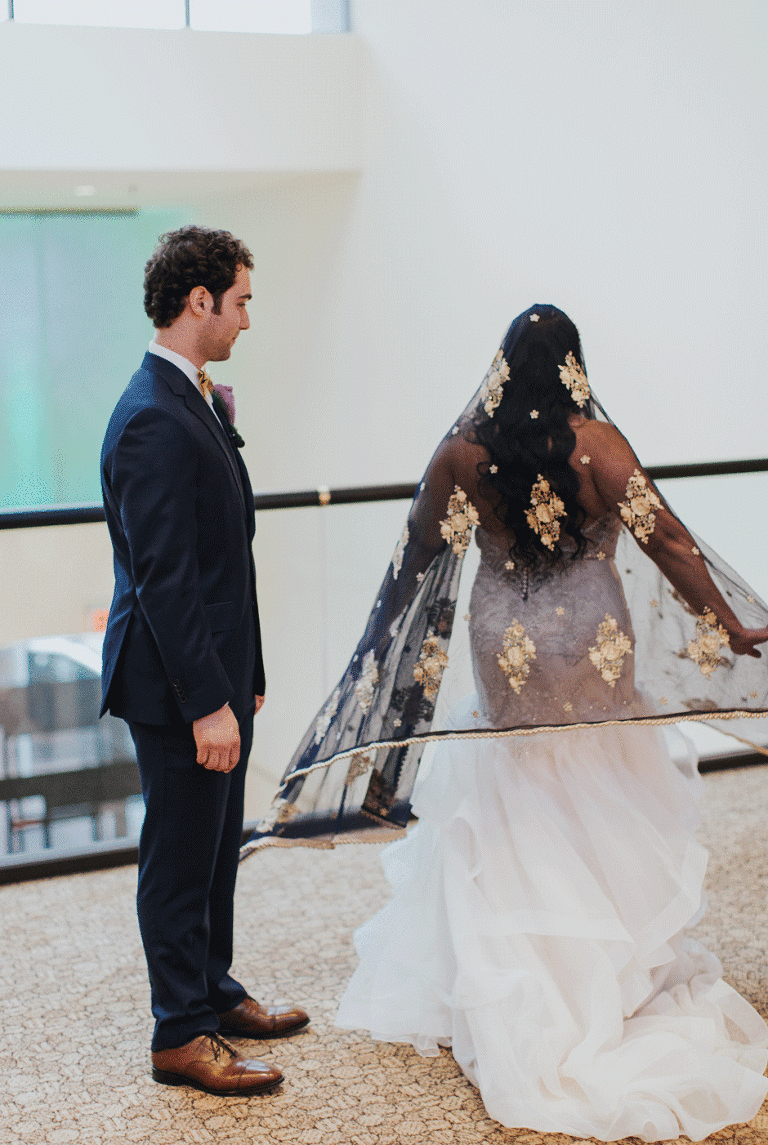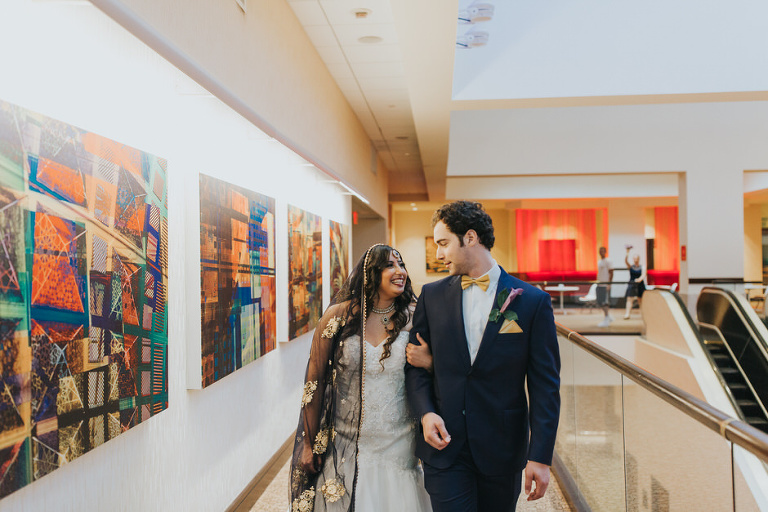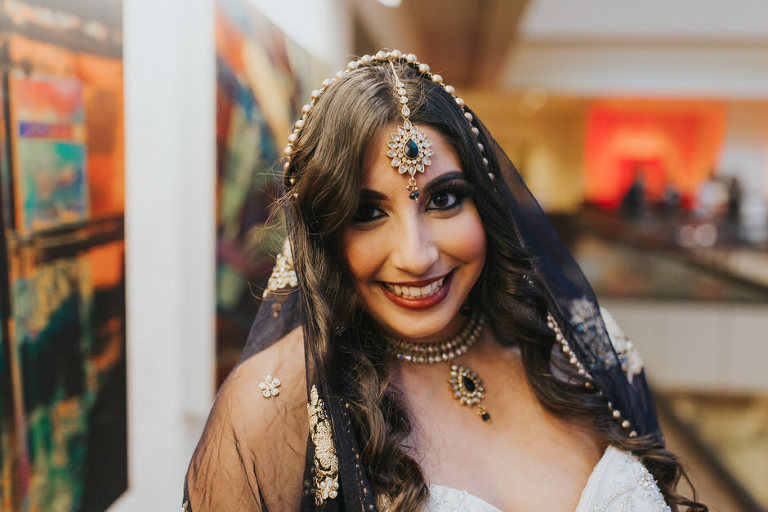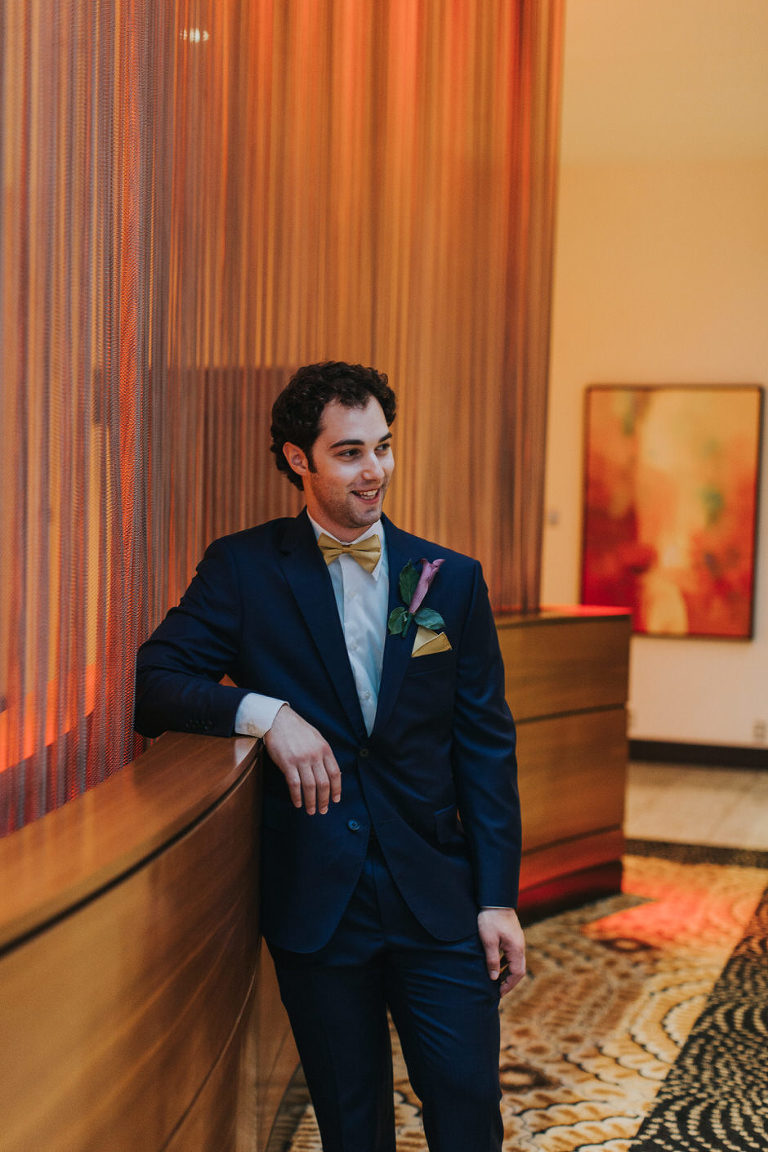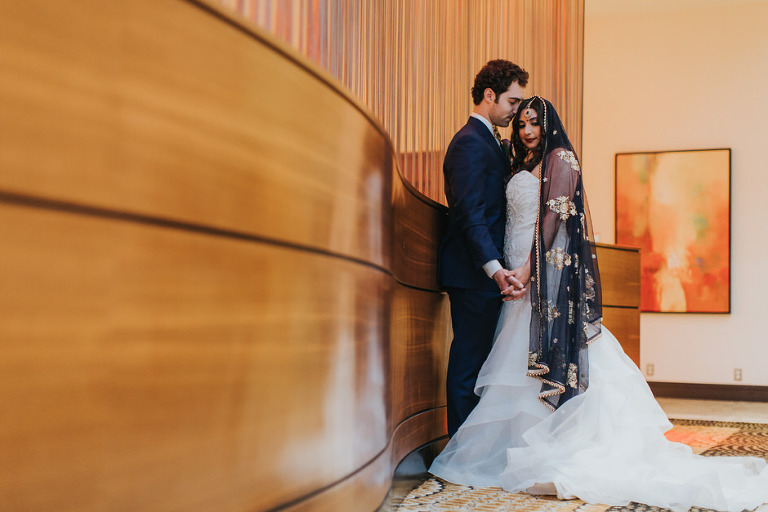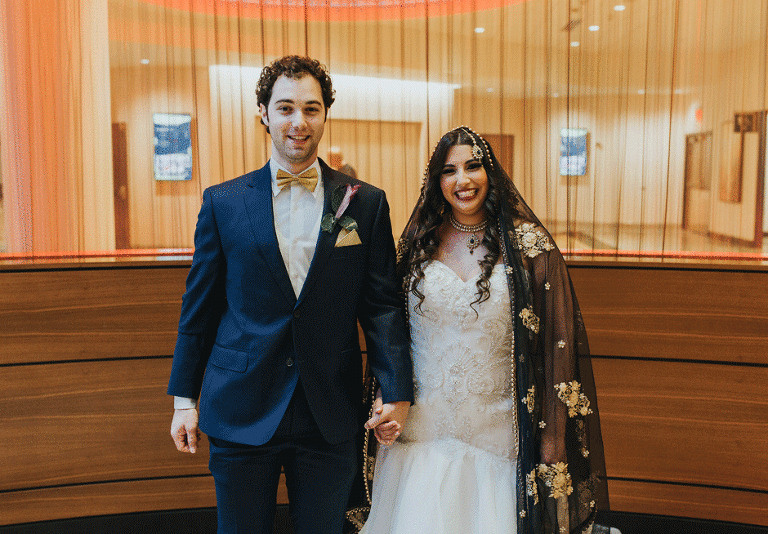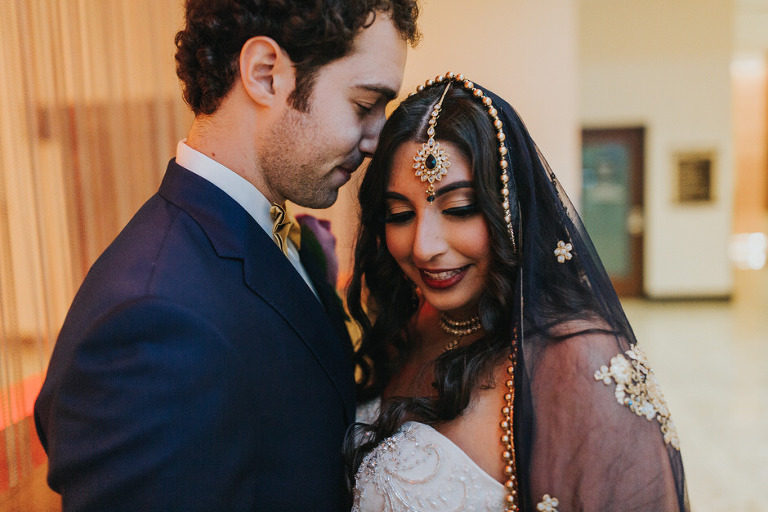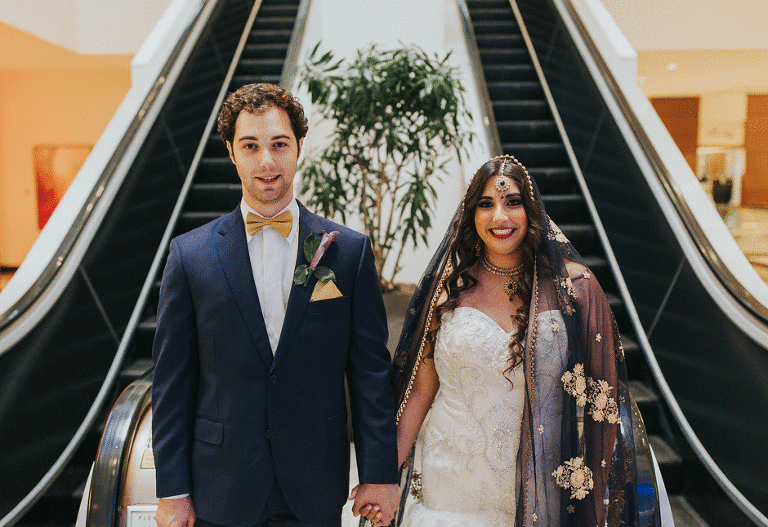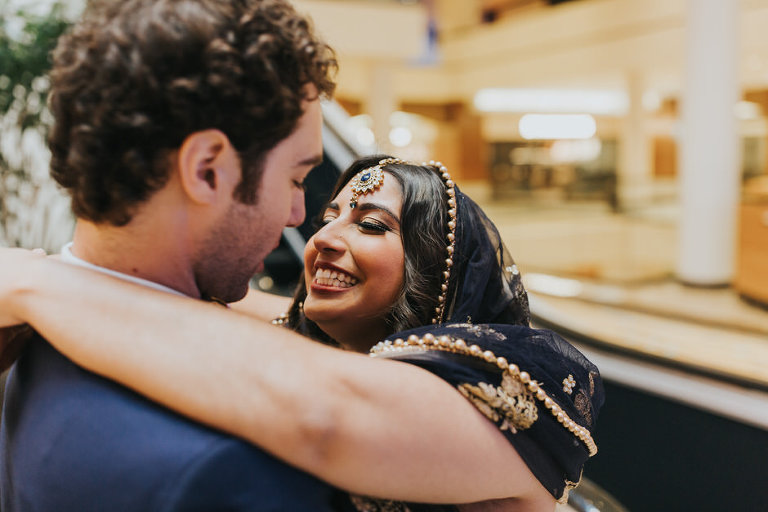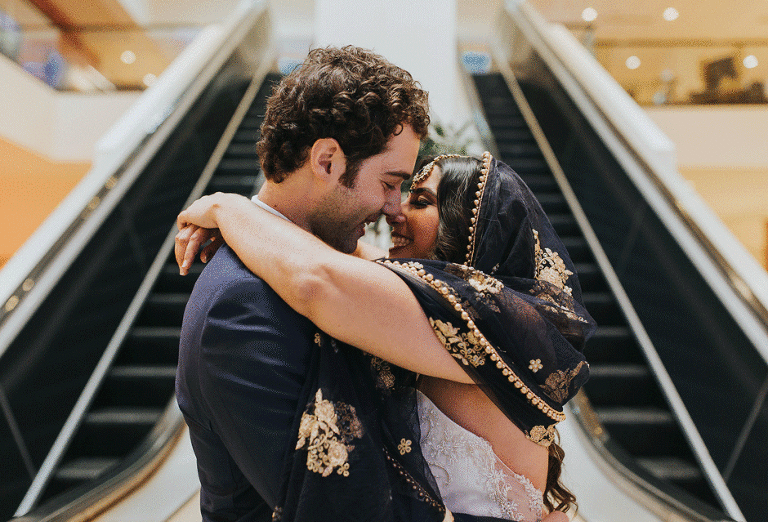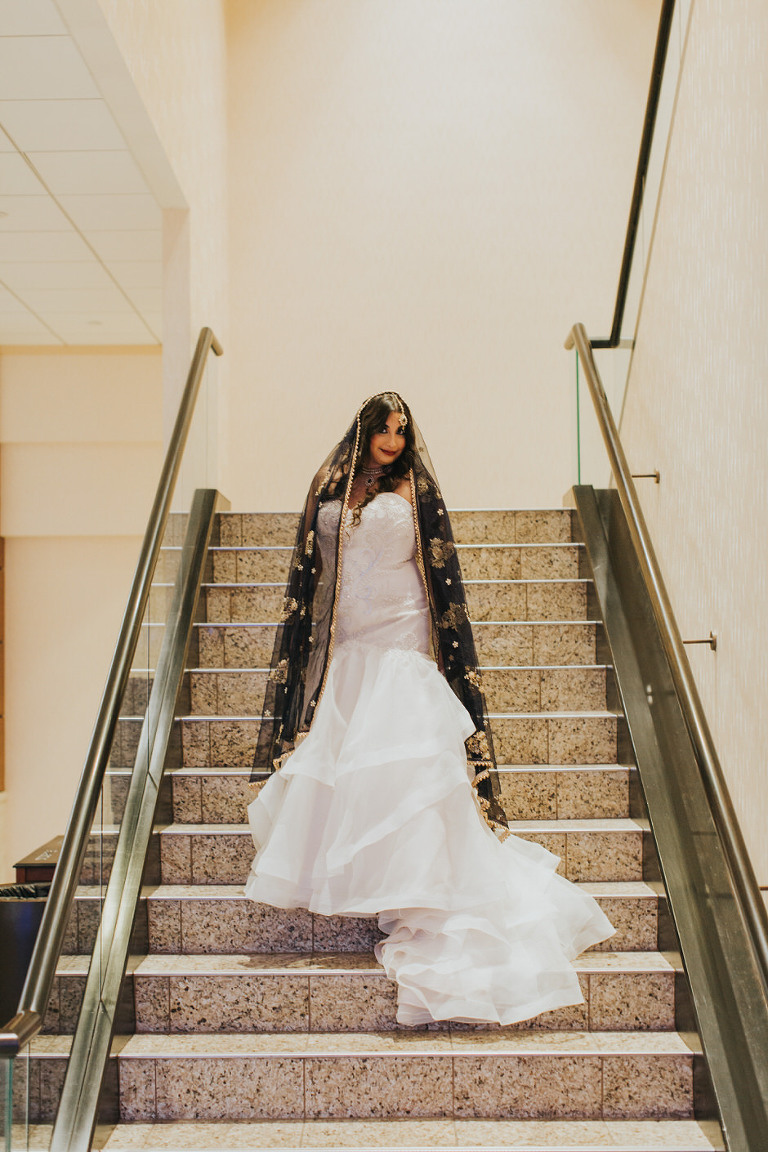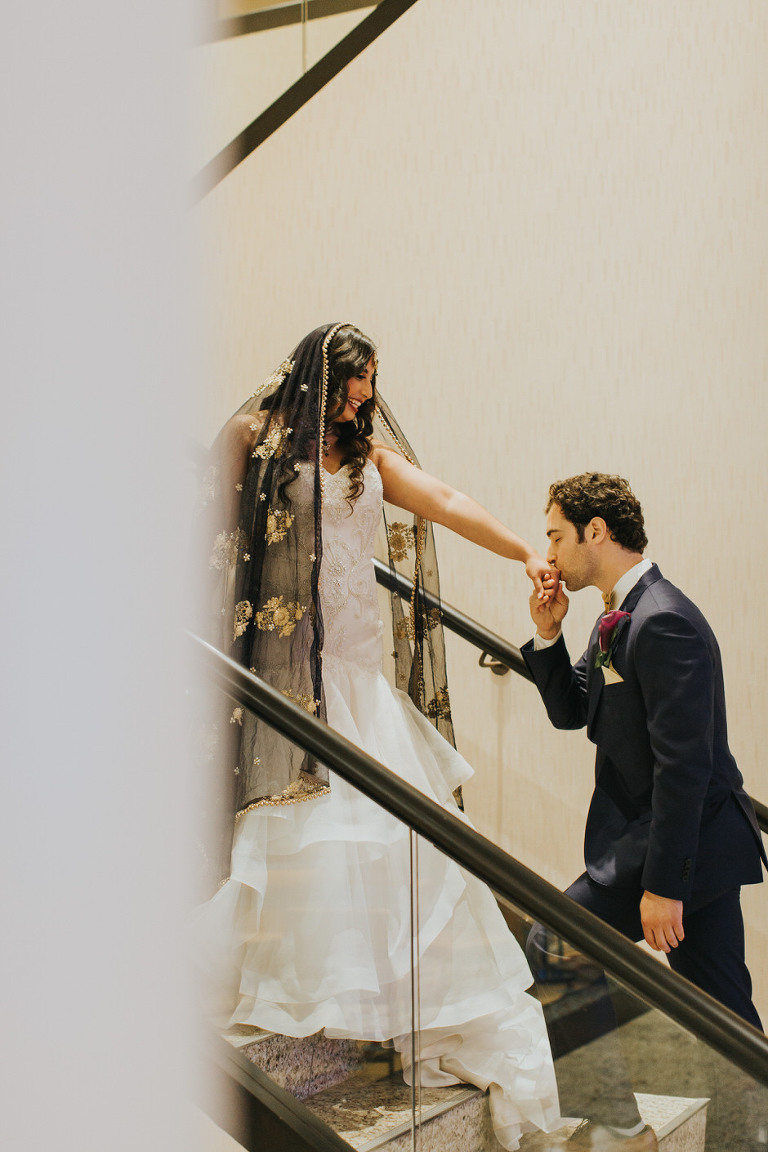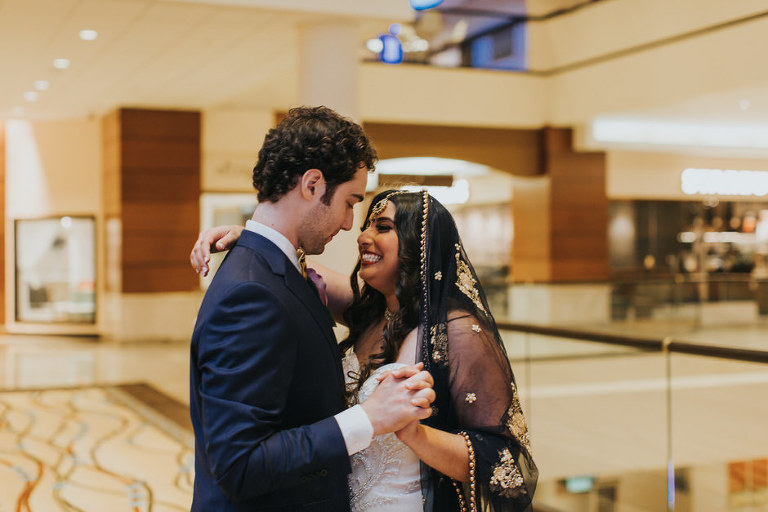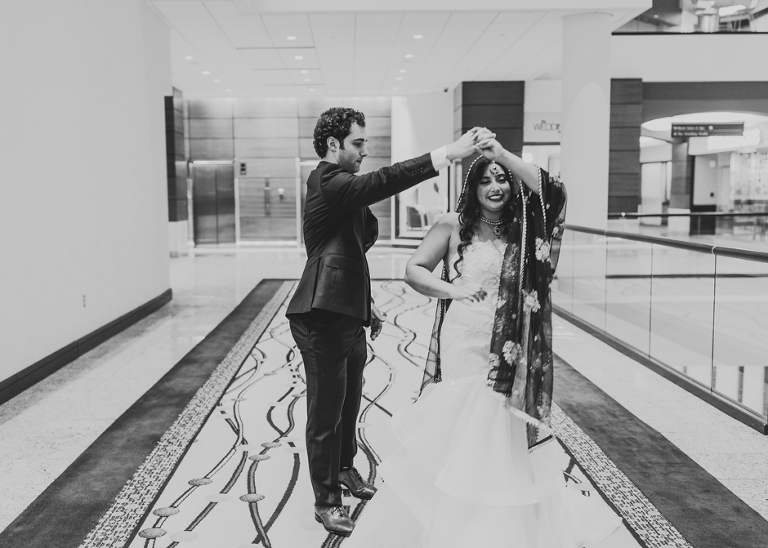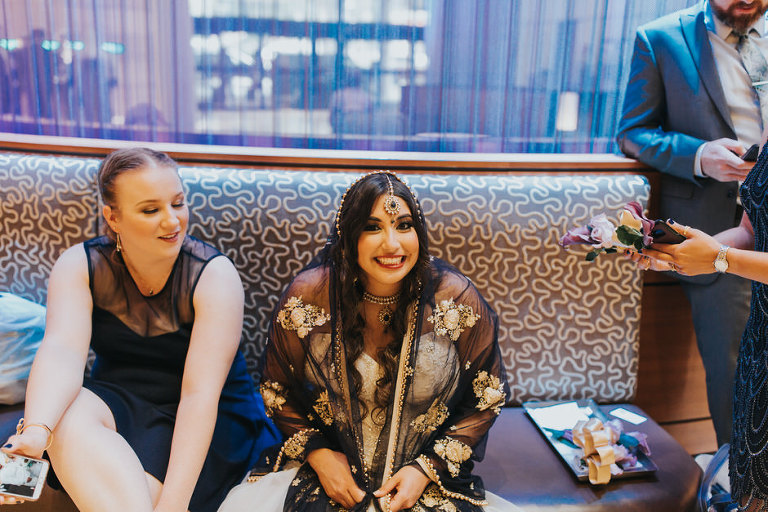 Locations:
We searched for venues for what felt like ages!  I think we went to around 10 different locations to try to find the perfect one.  We were really trying to keep within the budget, but also stick to a particular look.  There was always something off about all the locations we went to, until we found Cityscape Event Center in Kalamazoo!  We were able to do our ceremony and reception in one location, one ballroom even, just separated by draping.  It had a very modern and classy feel, which is what we really wanted.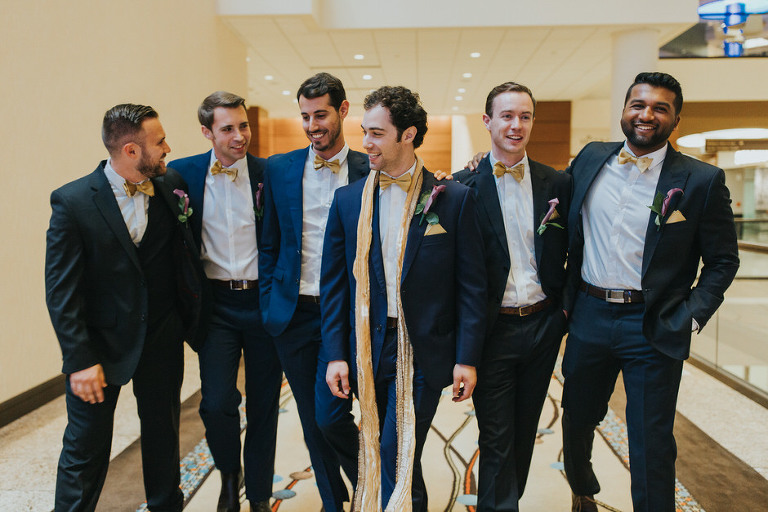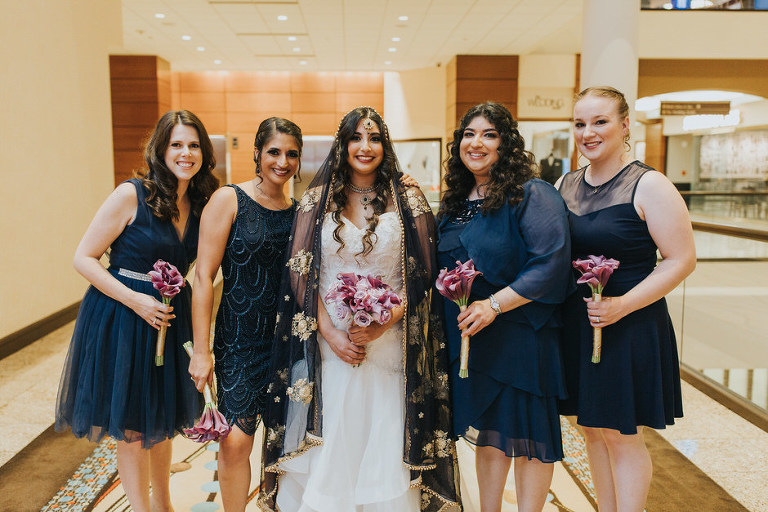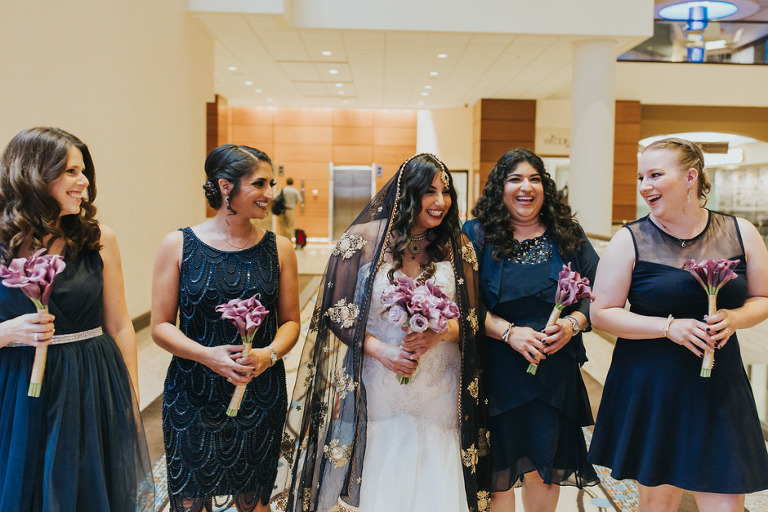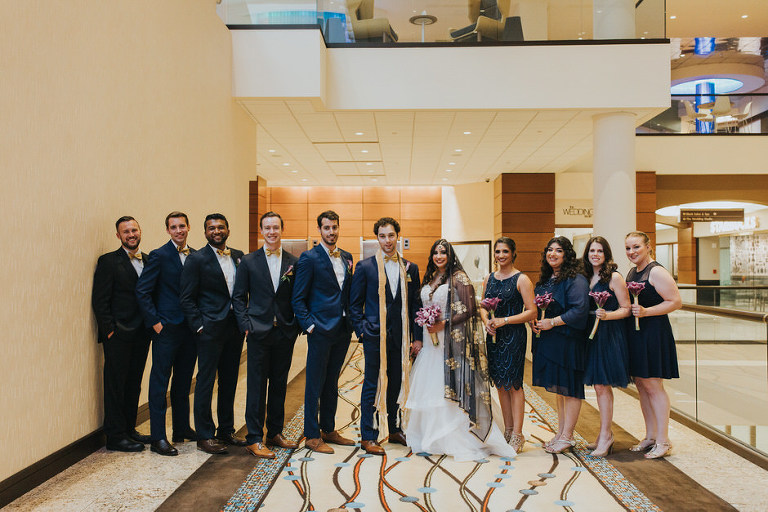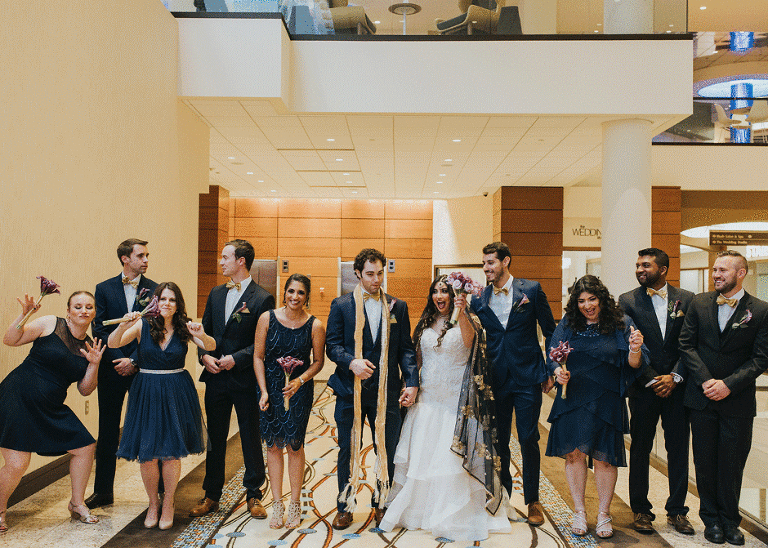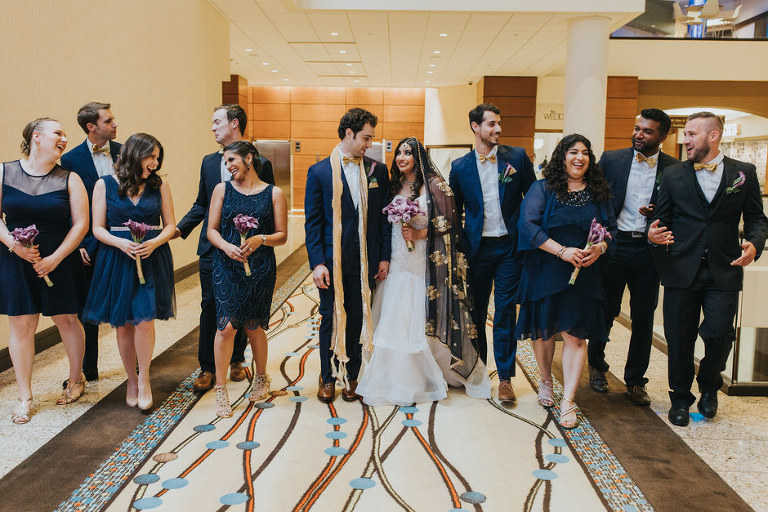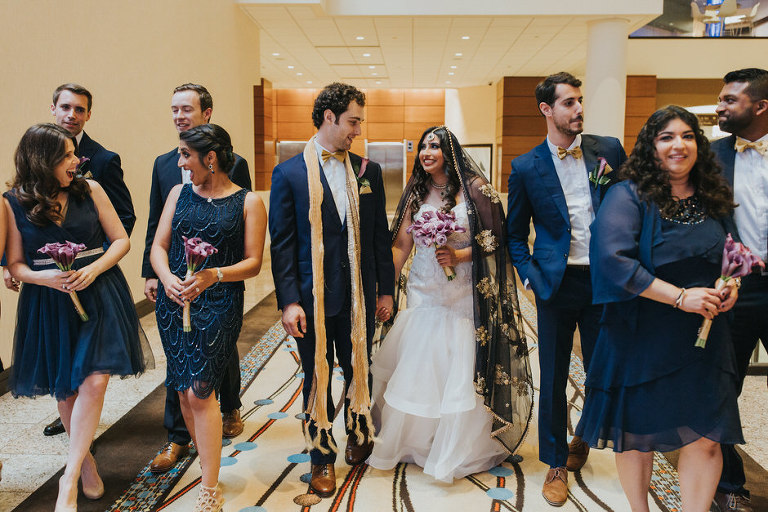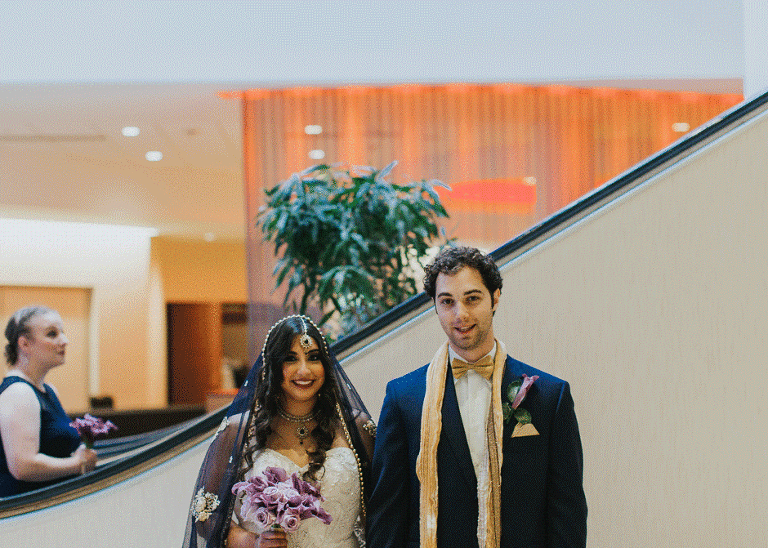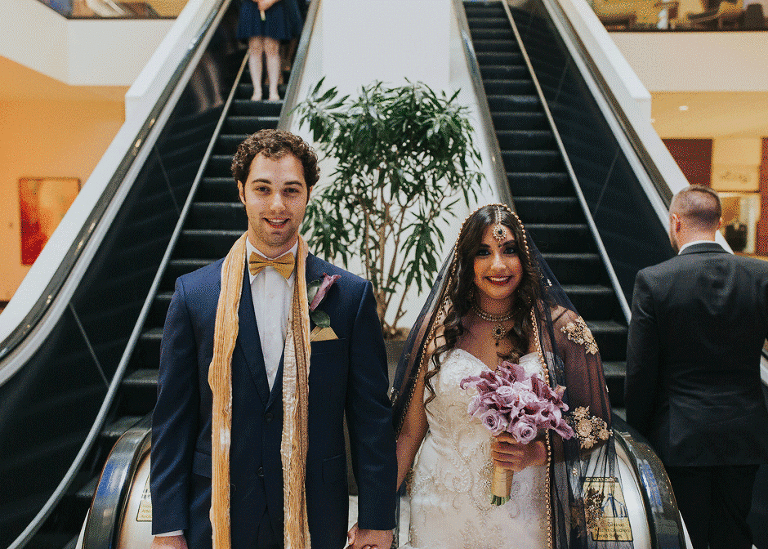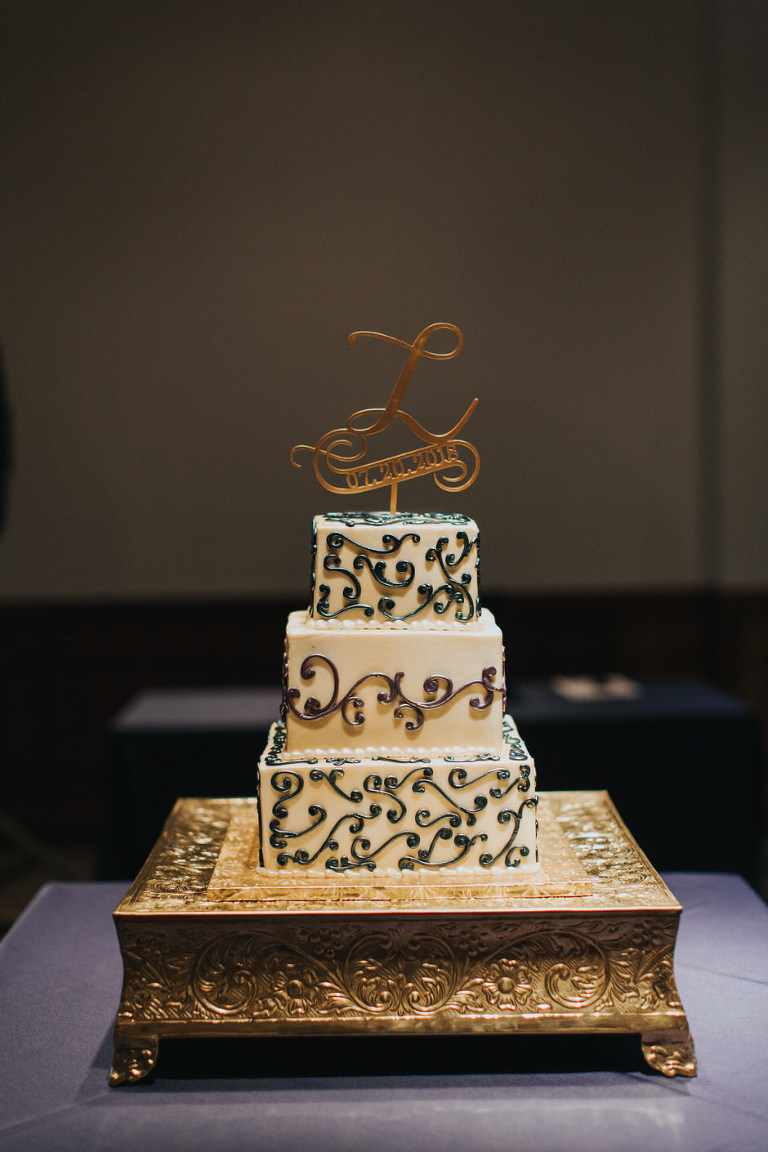 The Decor: 
Our colors were mainly navy, gold and just splashes of purple.  Groomsmen and bridesmaids wore navy outfits, with gold bow ties for the men and gold shoes for the women.  We purchased wholesale flowers, and my matron of honor, Sonia, and bridesmaid, Liz, really helped so much in getting the centerpieces and bouquets together the morning of the wedding!  They spent so much time gluing ribbon together, and cutting the flowers!  I also have to give a shout out to the guys, particularly David's groomsmen Pratik and Ryan for helping so much with carrying things back and forth from our hotel to the venue!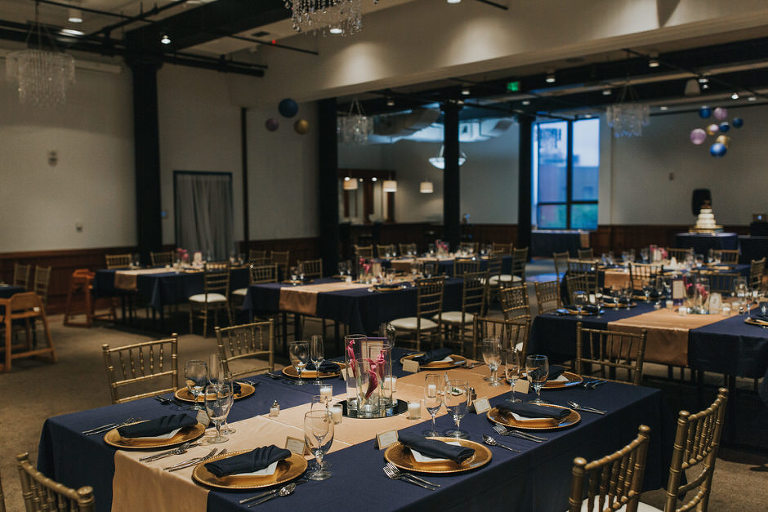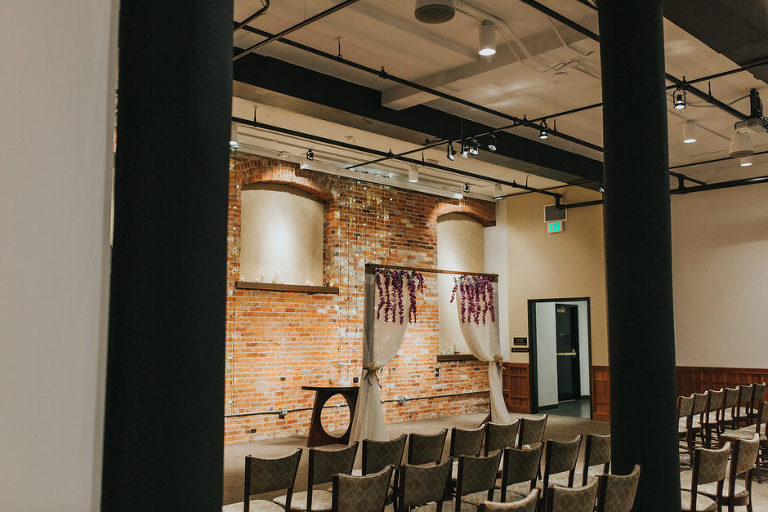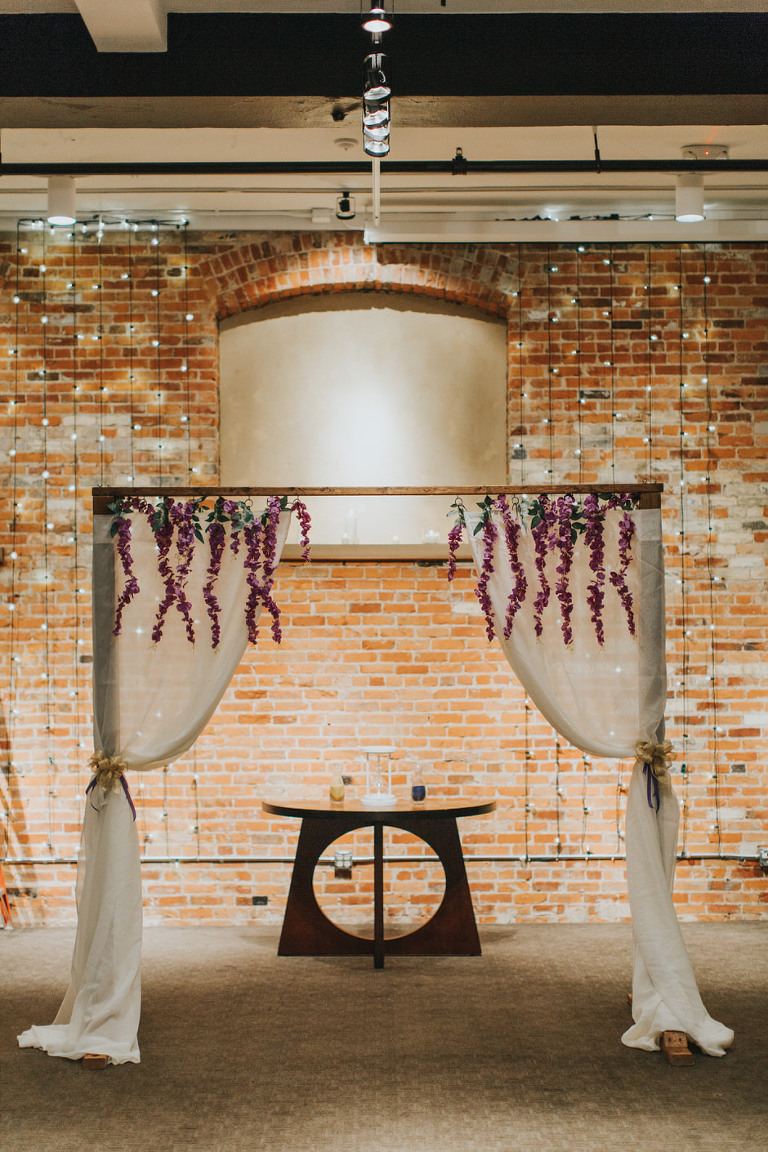 The Ceremony: 
For our ceremony, we tried to combine as much Jewish and Hindu tradition as possible to accommodate both of our families, while still keeping it short, sweet and to the point!  We didn't want our guests sitting or standing around for too long.  We had our officiant, who was one of David's best friends, perform a part of the Hindu fire ceremony, in which the couple takes 7 steps around a sacred fire, getting blessed 7 times as they go.  We also married under a chuppah which is a kind of Jewish wedding alter, and David did the ceremonial breaking of the glass at the end of the ceremony.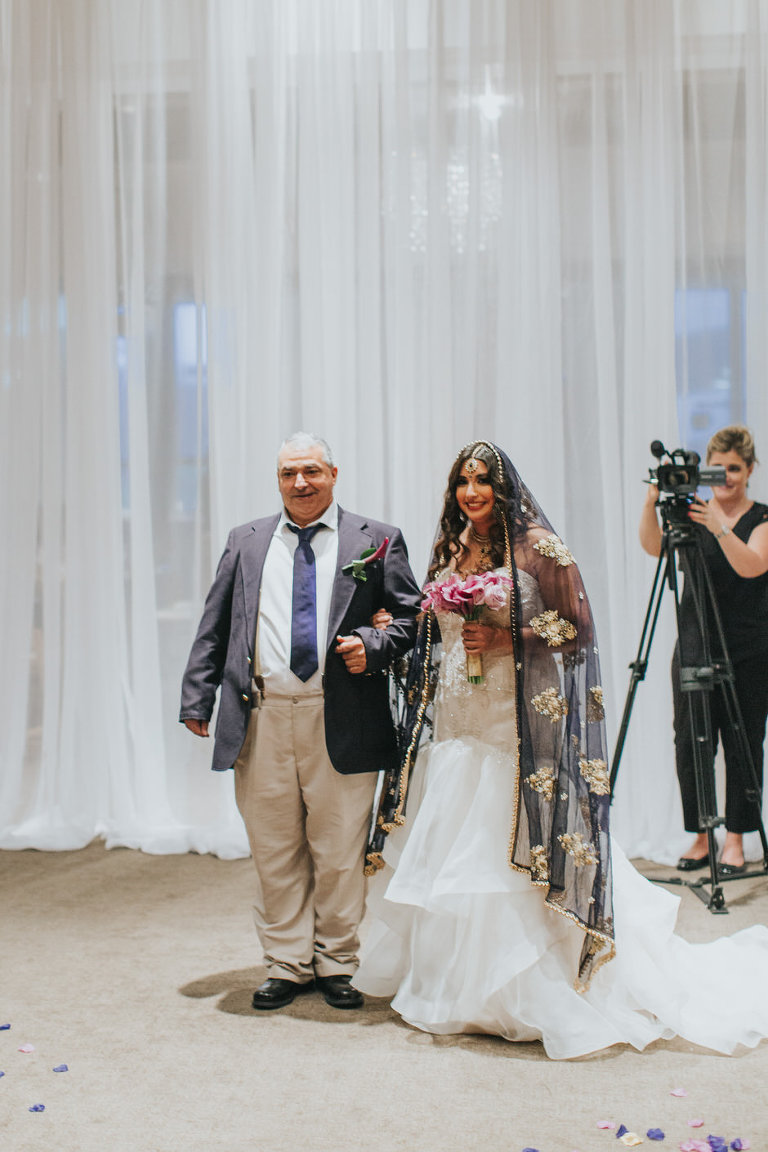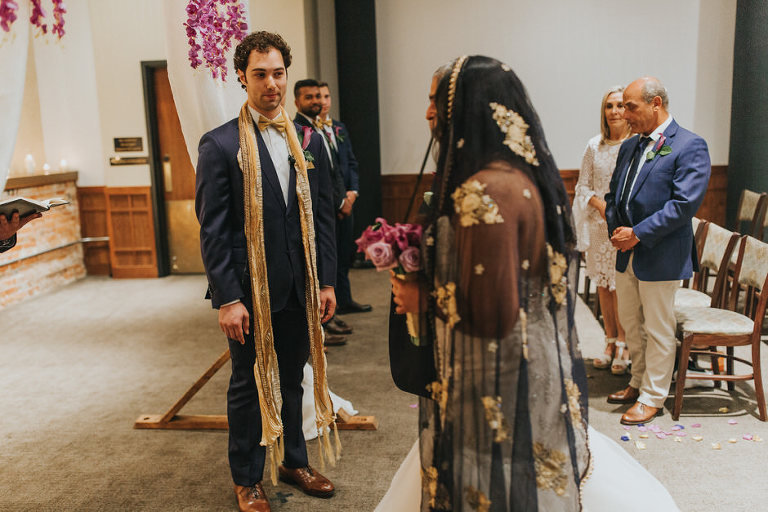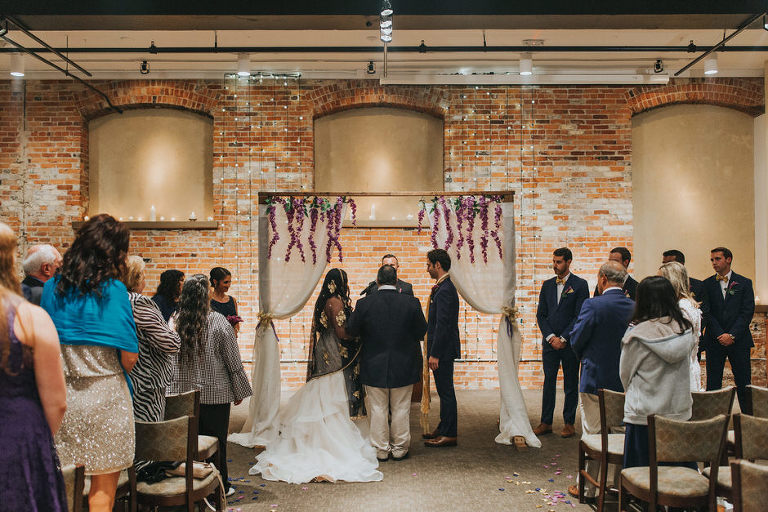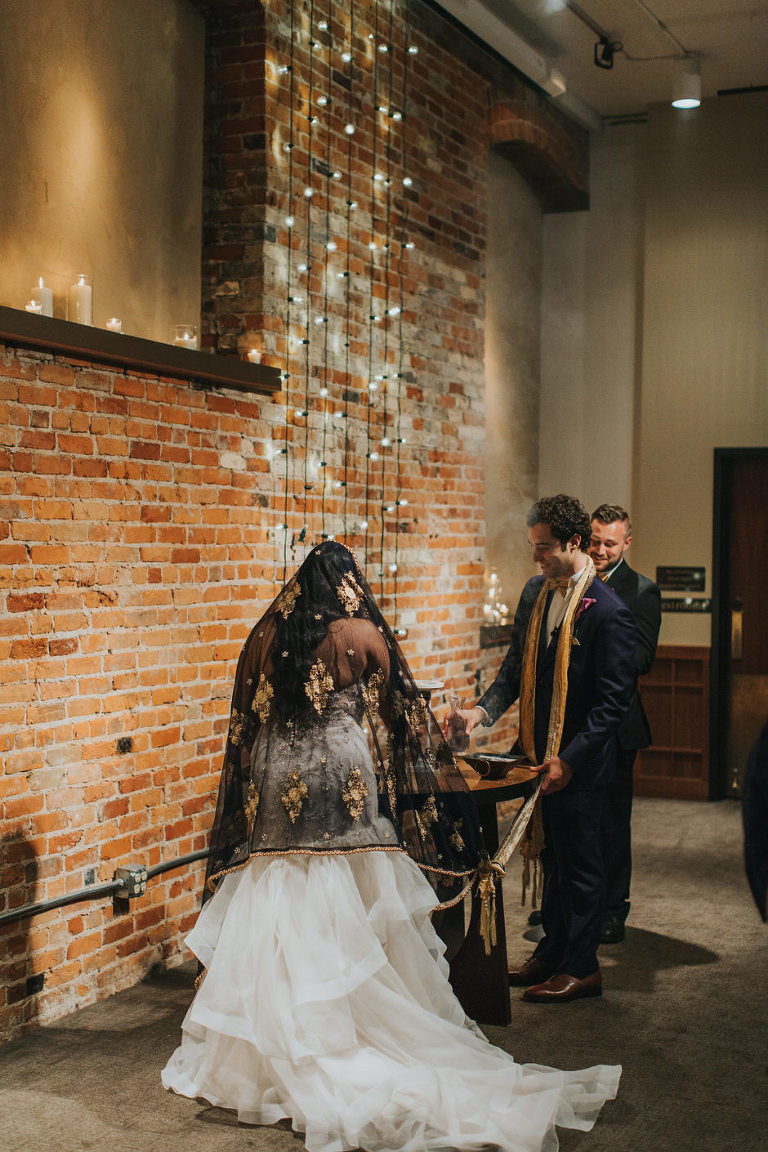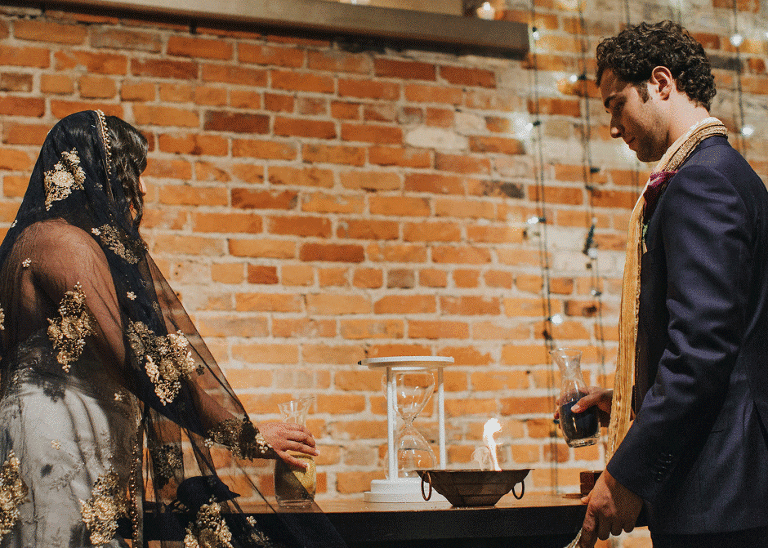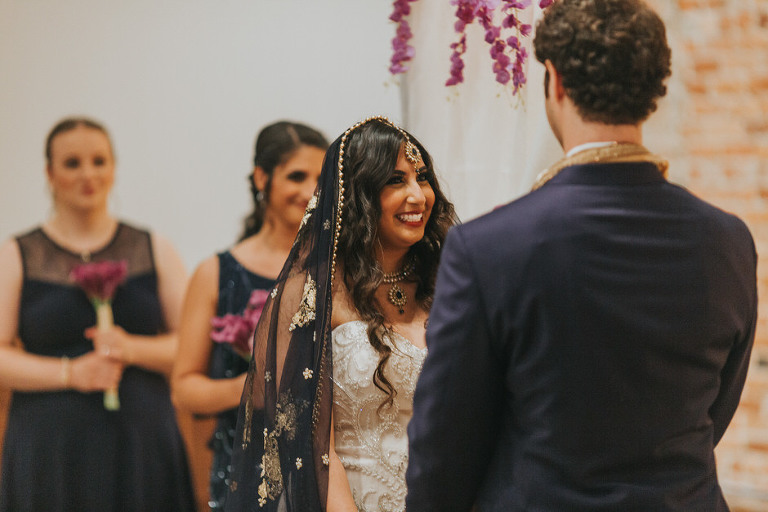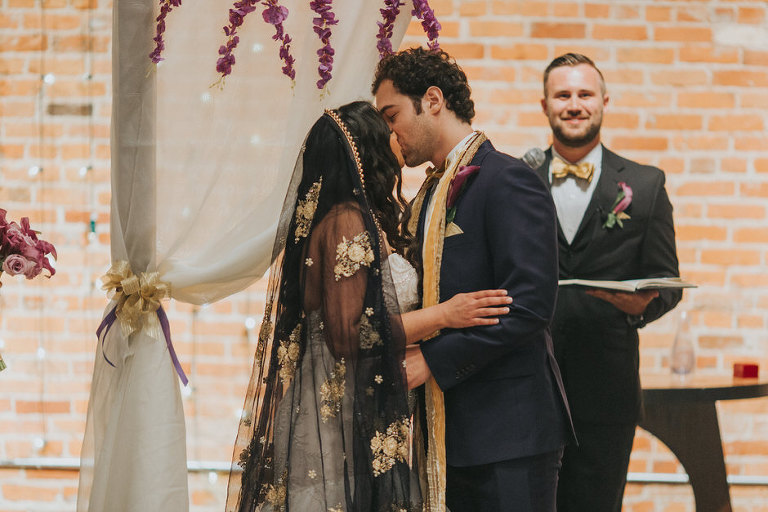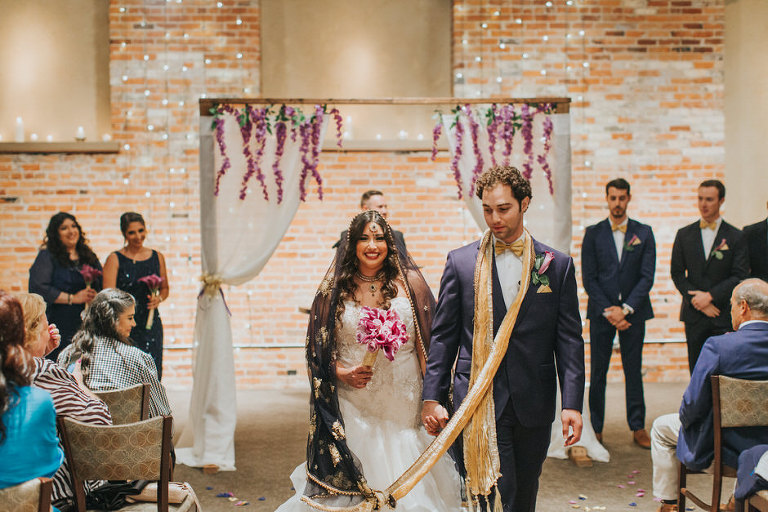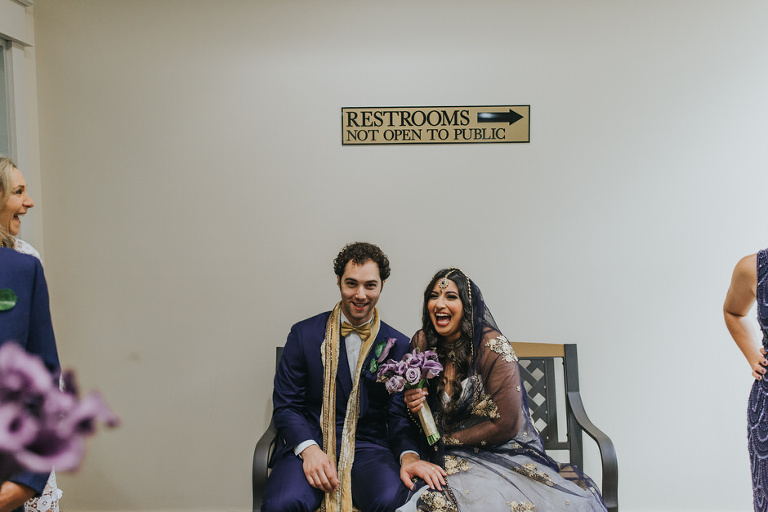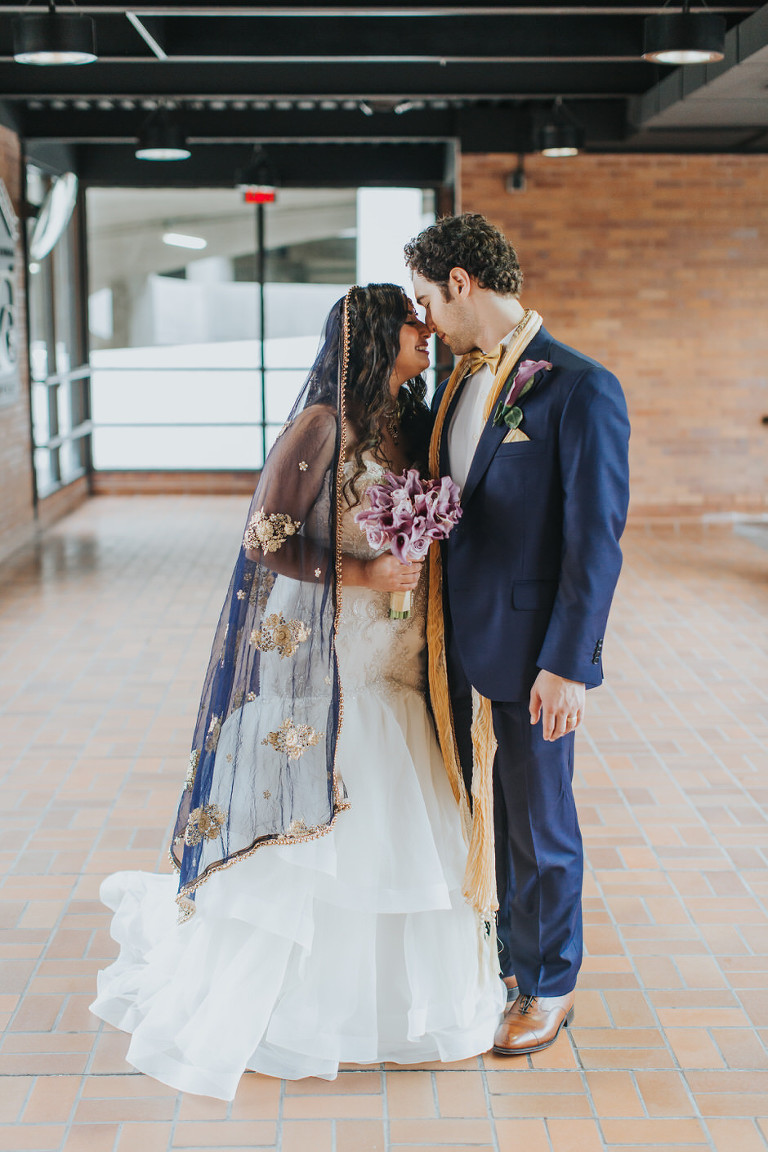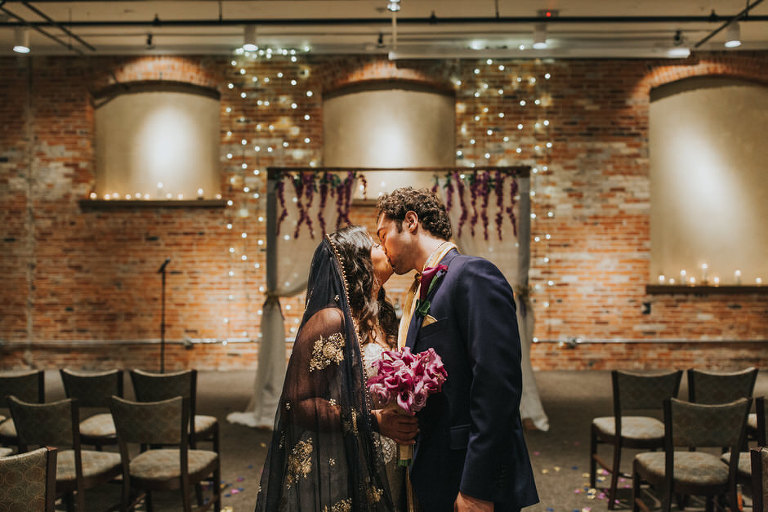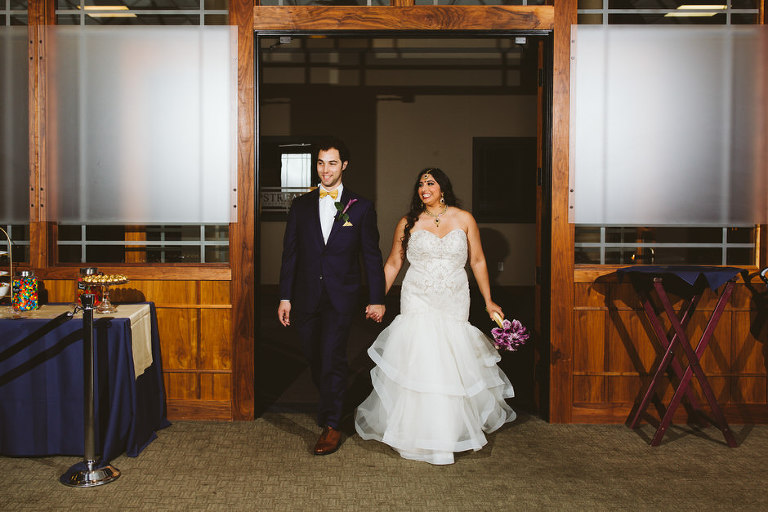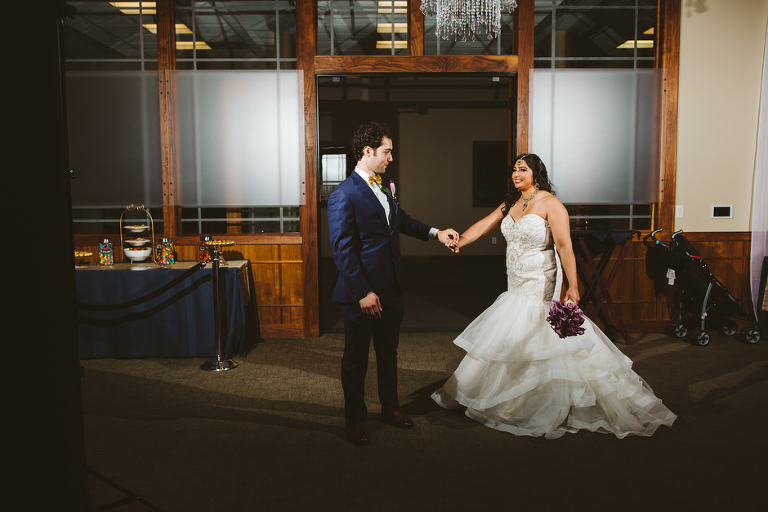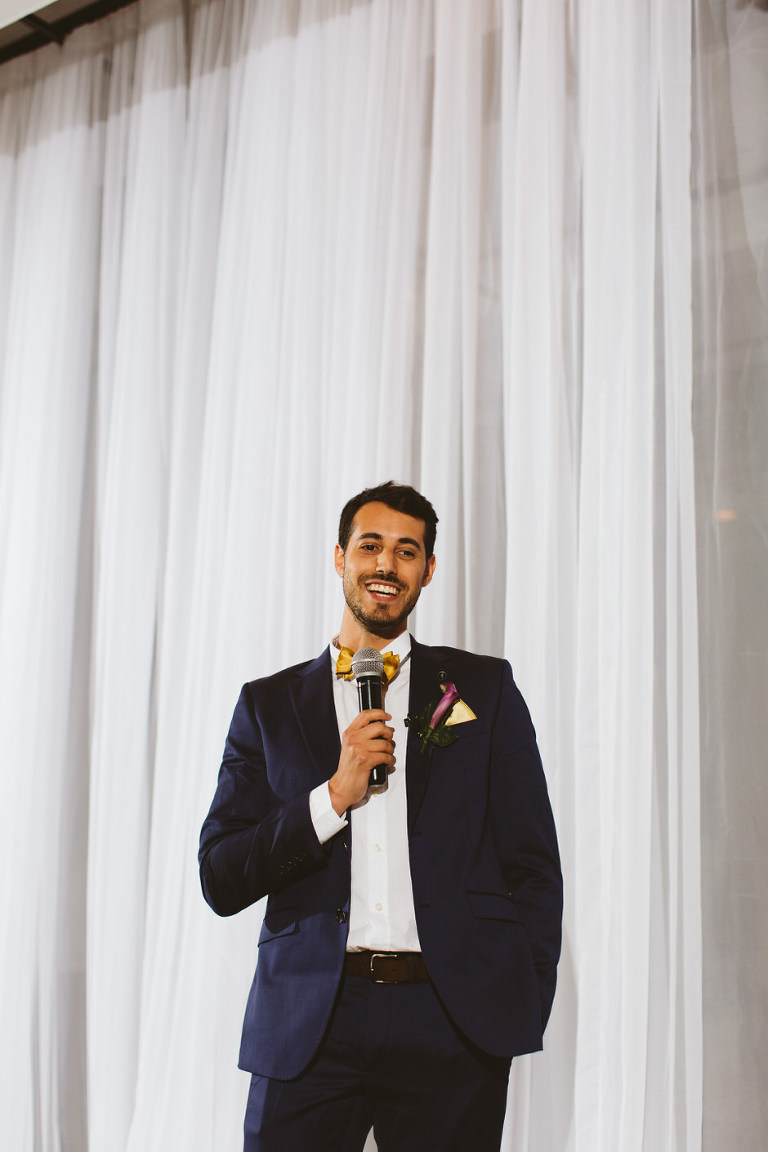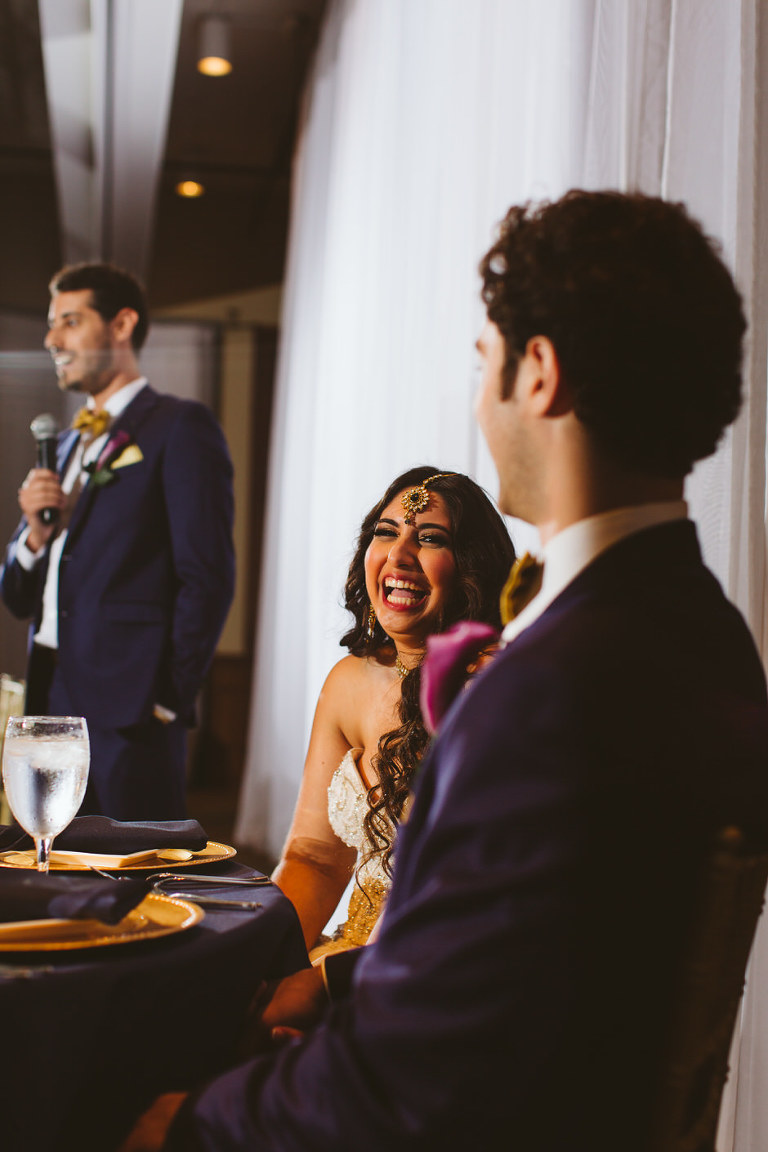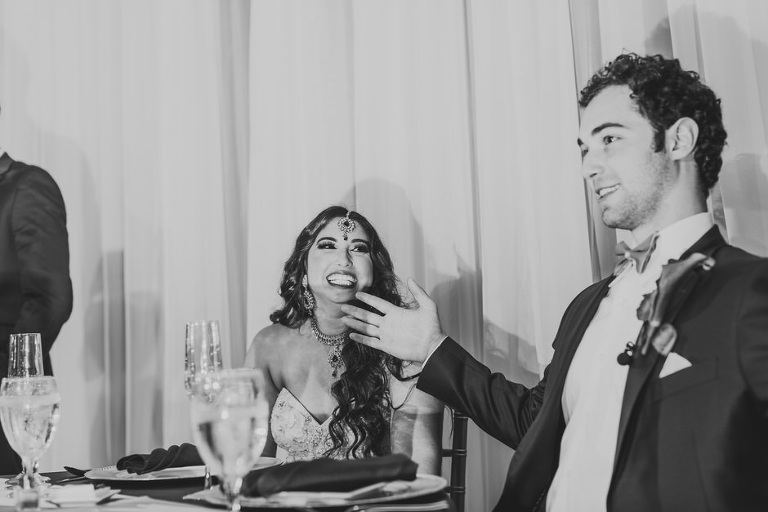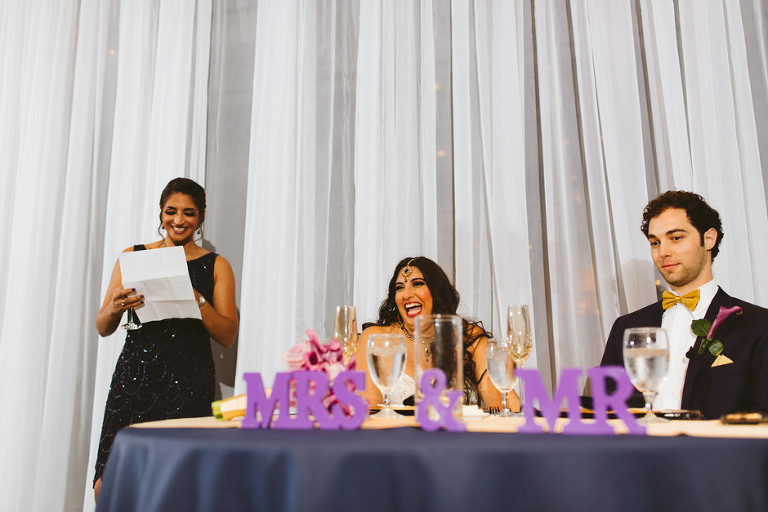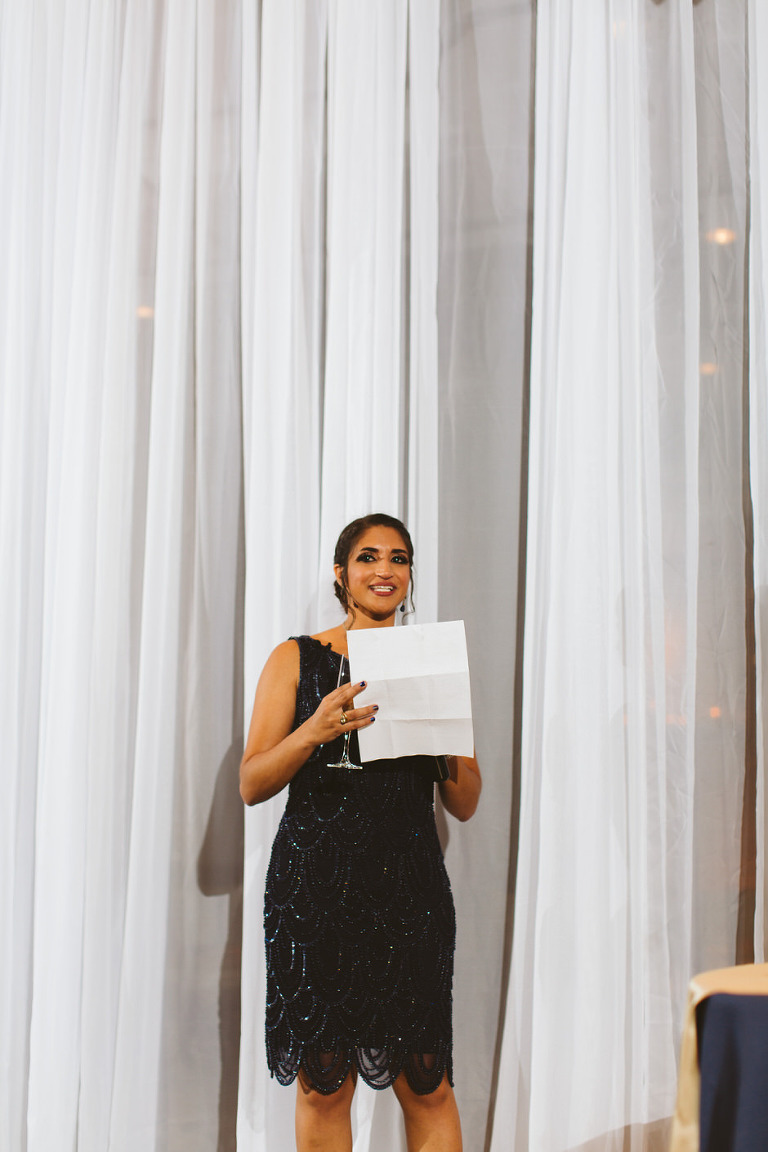 Reception/Dancing/Music: All the fun!
Our nephew, Ethan, was really killing it on the dance floor the entire time!  We had no idea he could dance so well!  Our officiant, Brad, was also giving Ethan a run for his money on the dance floor!
Our cake, purchased from Sorella's bakery in Livonia, was amazing!  It was beautifully done, and tasted so great!  Everyone loved it!
Our bartender was also great – good conversation and was great at her job.
Any Advice for couples planning their wedding?
Start planning so early!  Time runs away from you so quickly!  We thought we had so much time, but with life happening at the same time, and moving to a new house, we were scrambling to do so many of the little details at the last minute.  I didn't end up getting the chuppah that I wanted, or the exact flowers, and so many little things were left at home, but at the end of the day, David and I were married, which is the entire point of the whole day!  Don't stress about the little things, because there will always be something that goes wrong!  Just enjoy your day and have a good time!
Your Photographer: 
Rachel Kay was fantastic!  Everybody loved her personality, energy and vibe!  The photos we've received so far are so much more than what we expected!  I wish that we were able to book her for a longer period of time!