Bottom Lounge Wedding Chicago
Have I mentioned that I love everything about weddings at The Bottom Lounge?
I'm just finding a general trend in that allllll of my couples who get married there are legit the chillest most fun people ever. They plan these rad parties and want to enjoy time w/ family and friends. I'M A HUGE FAN. I could go on and on about this day but Sarah and Brad did it better so I will let them take it from here 😀
The Beginning: 
We first met the summer before 7th grade and started dating junior year of high school, spending two years taking awkward dance pictures, declaring our everlasting love, and experiencing the ups and downs of high school sweethearts. At separate colleges and nine hours apart, we broke up after three years together.
Another three years came and went until we grabbed a coffee before Sarah left to work in Spain. Spain brought many calls and even a visit from Brad! Though still apart, we were very much back together.
Sarah moved back stateside and Brad popped the question! We tied the knot and threw our favorite party ever nine years after we first started dating.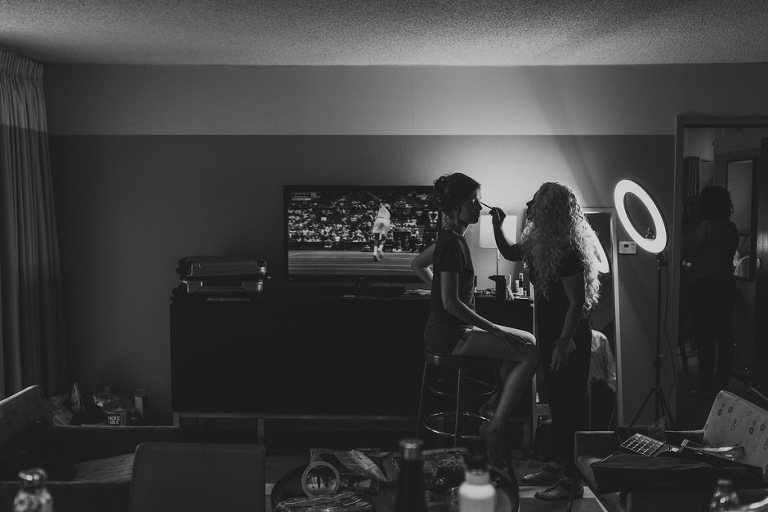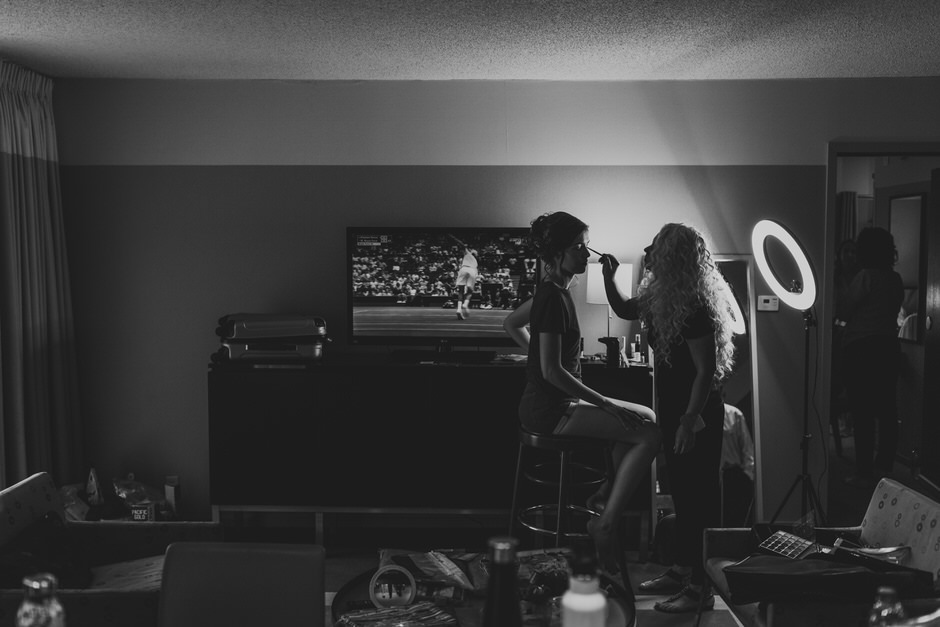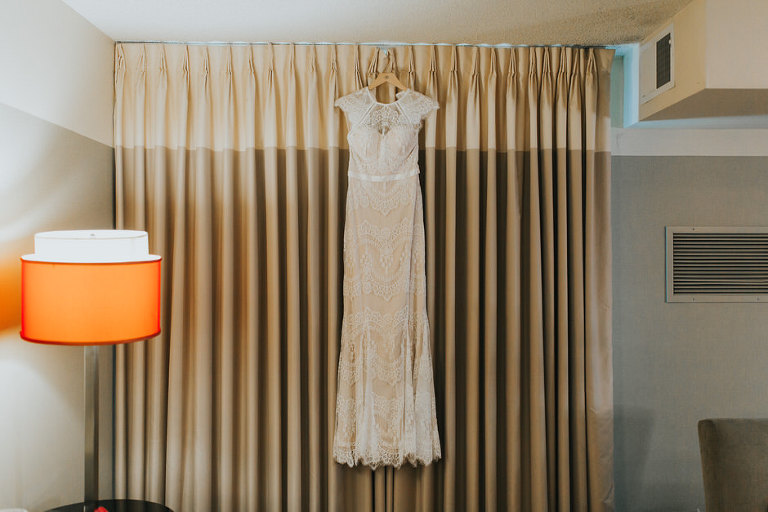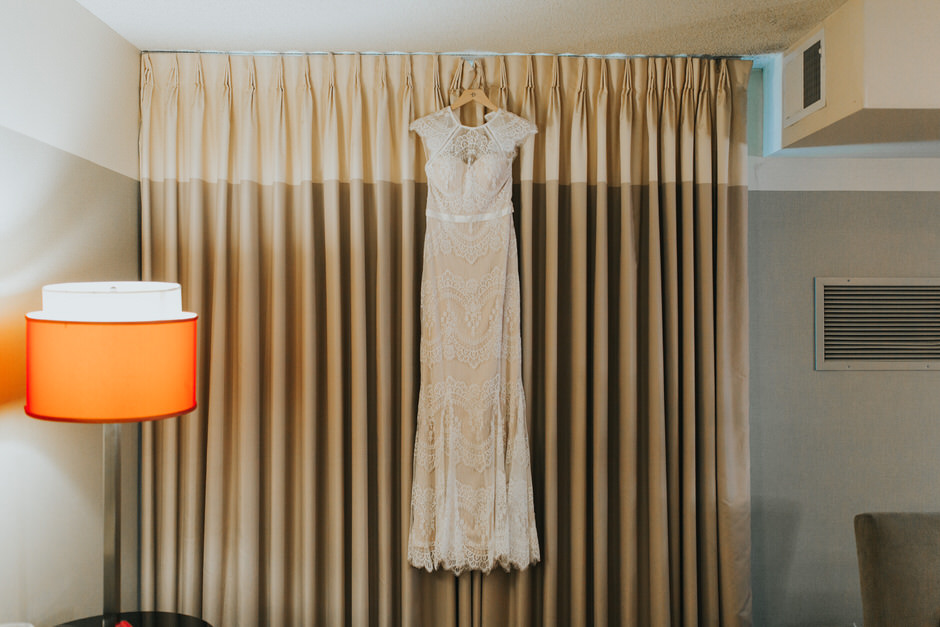 Sarah's Dress
I fell in love with getting a dress from BHLDN before I actually found a dress to love at BHLDN. On that first visit I tried on many a dress to tepid "Nice's" from mom and sister but was determined to return. I brought in a family friend and my dad to continue the search. My dad pointed out the winner, the Suri Gown, and I felt awesome and COMFORTABLE for every pic and dance. Good call, Dad!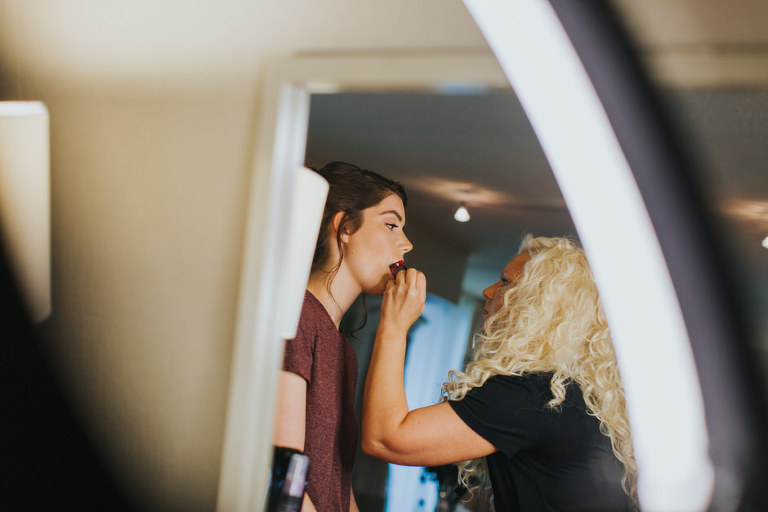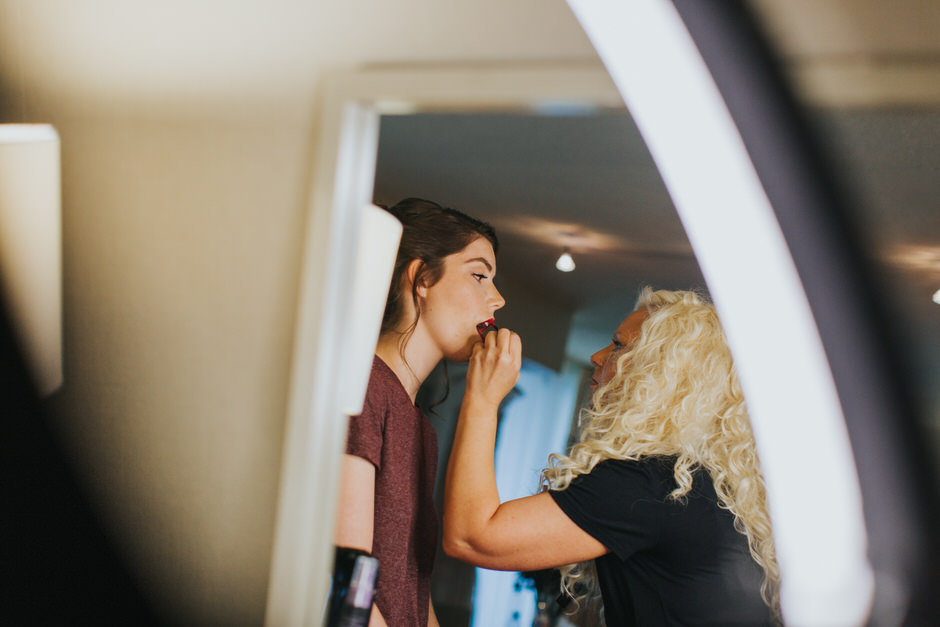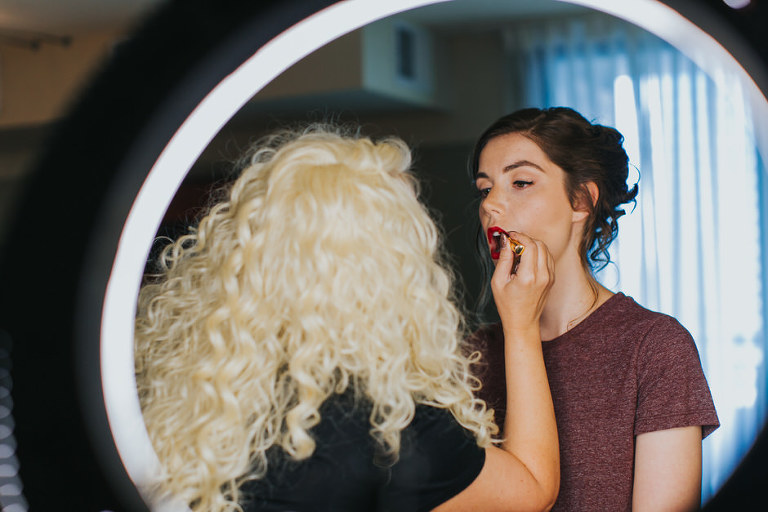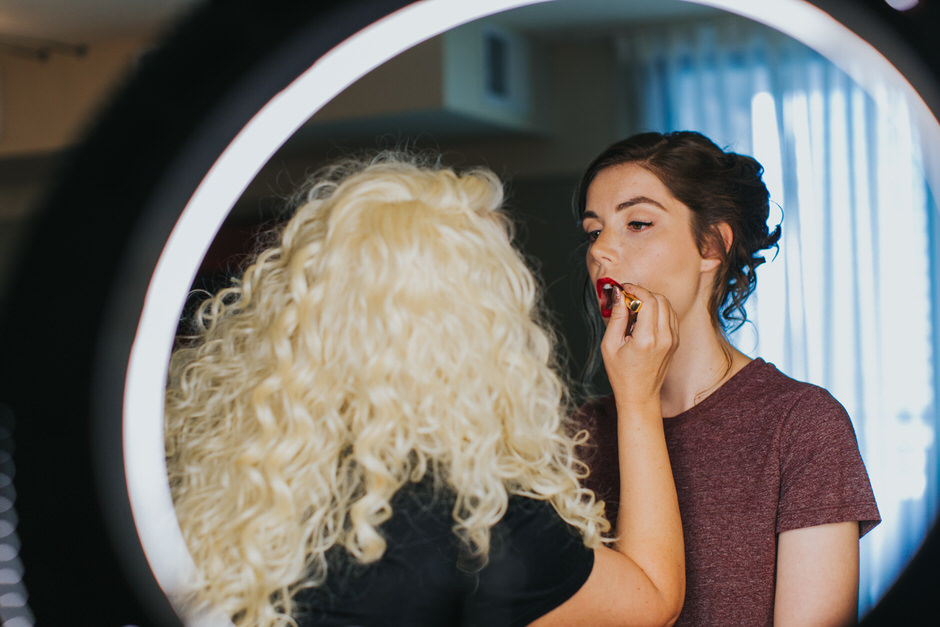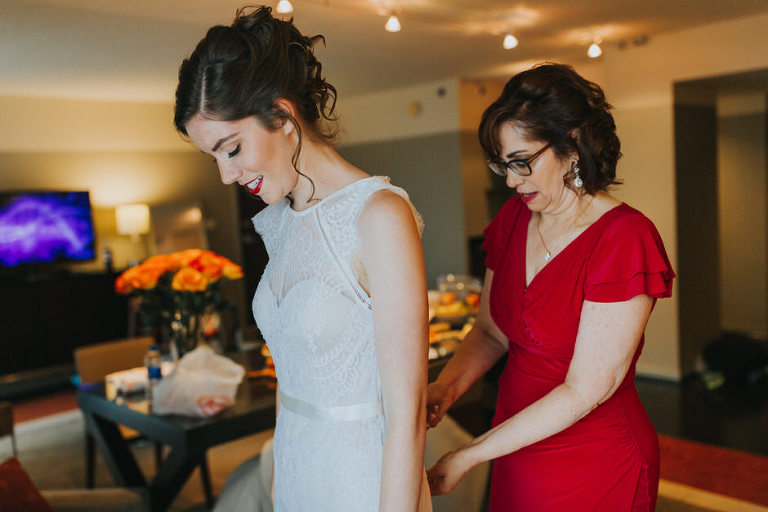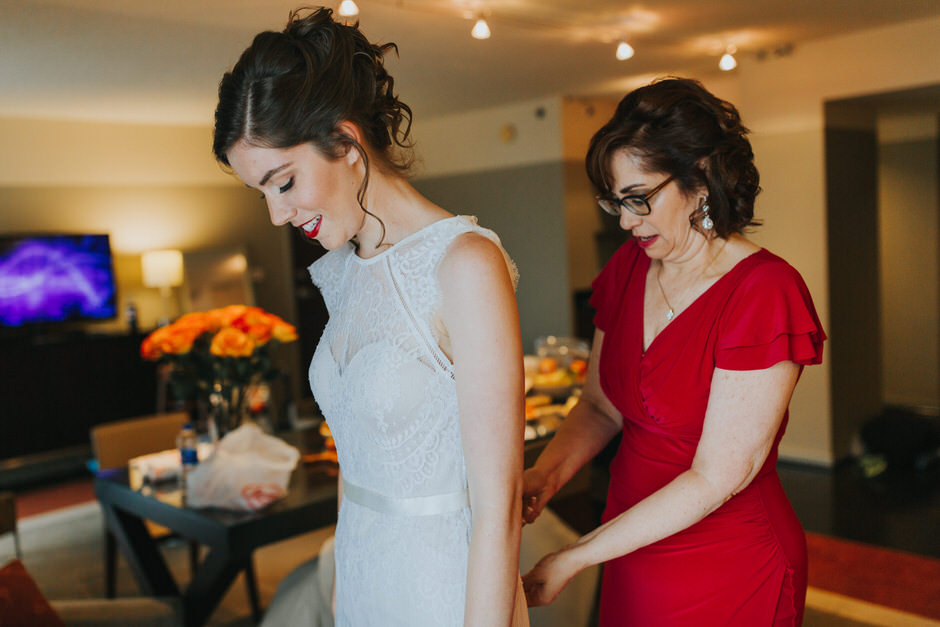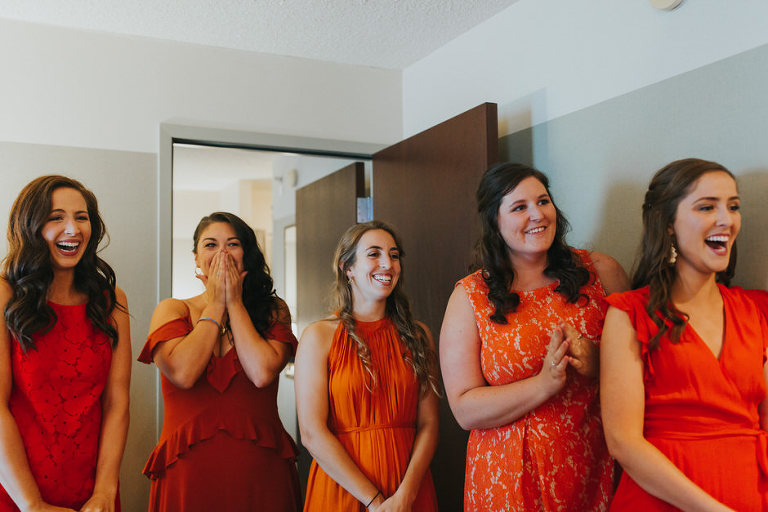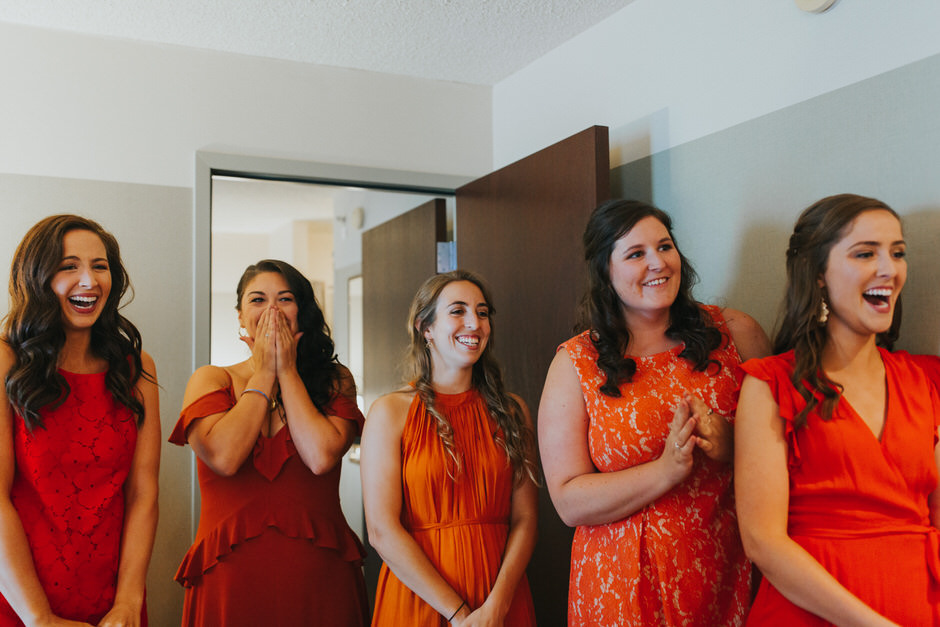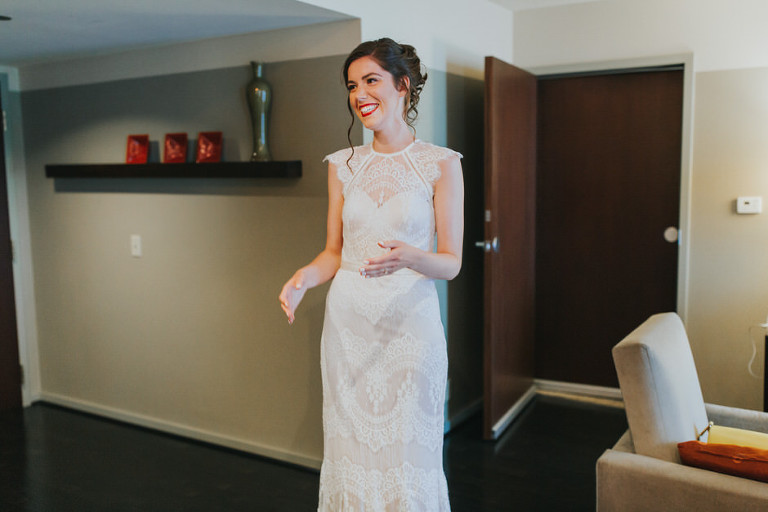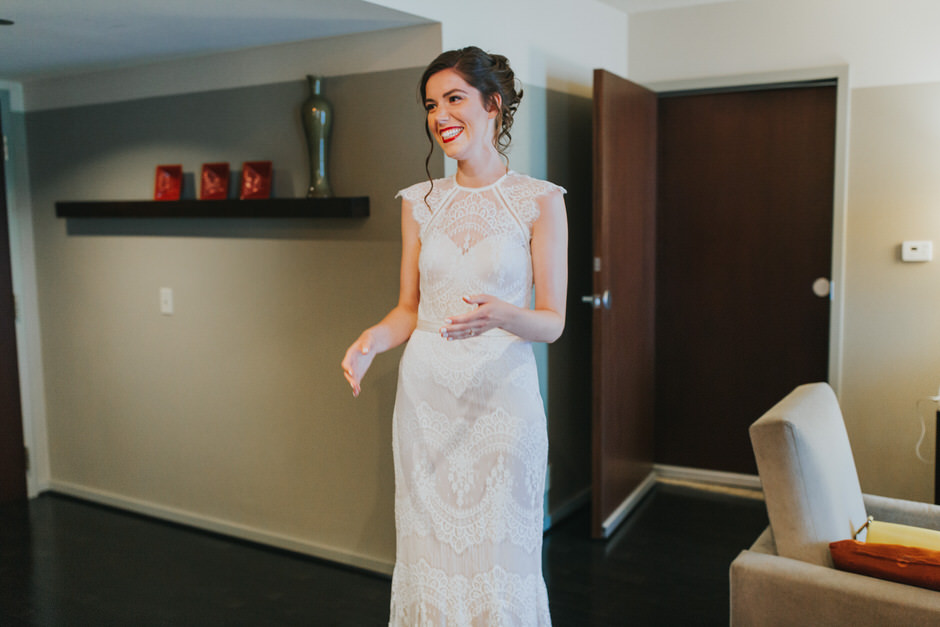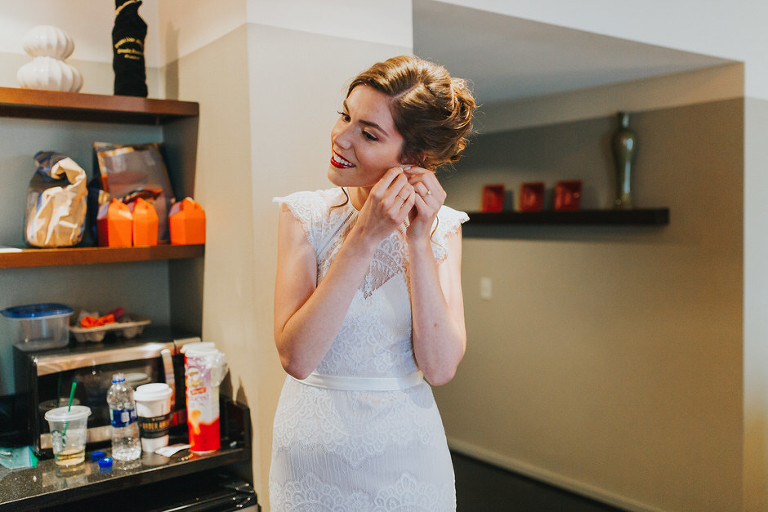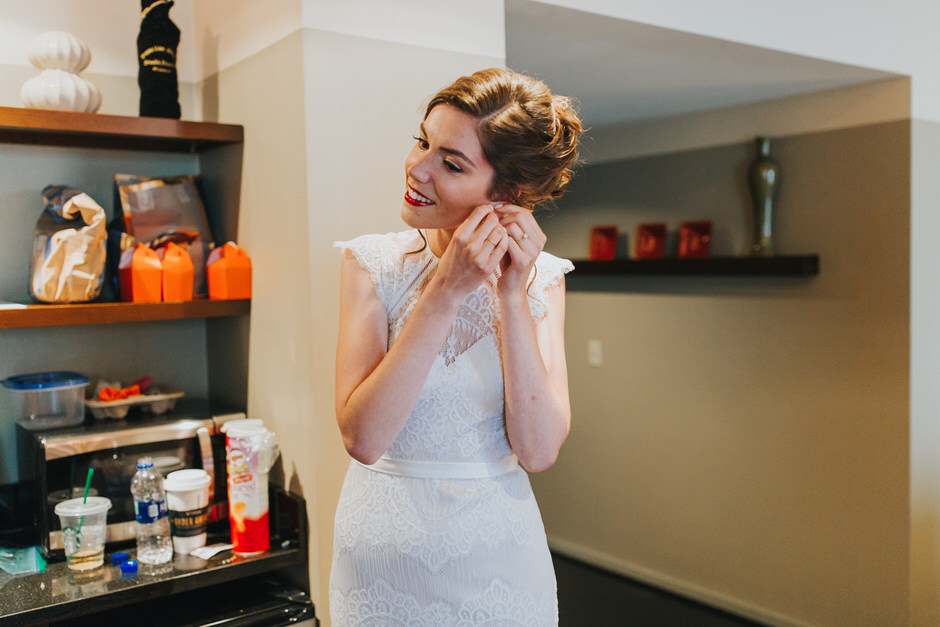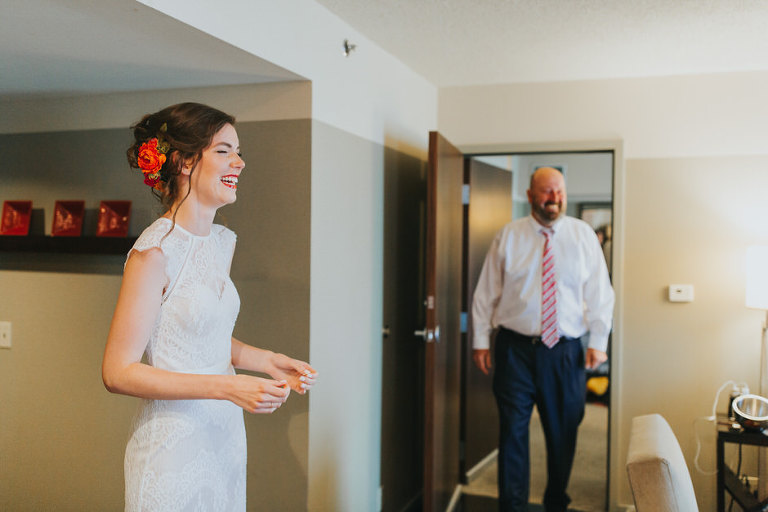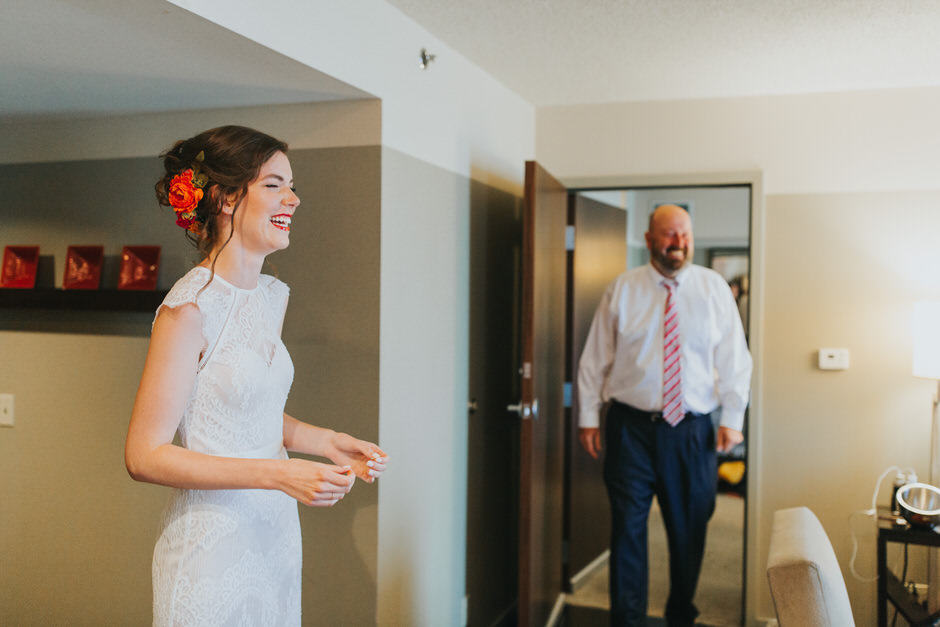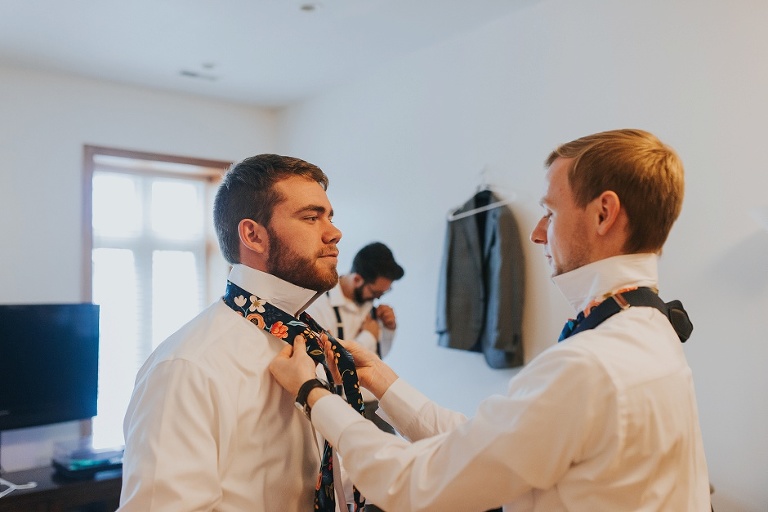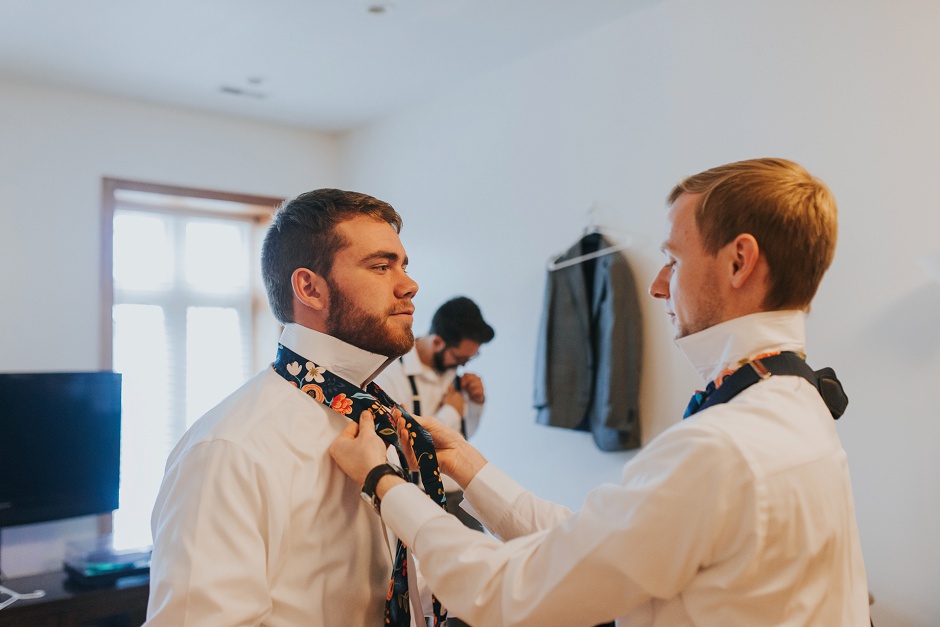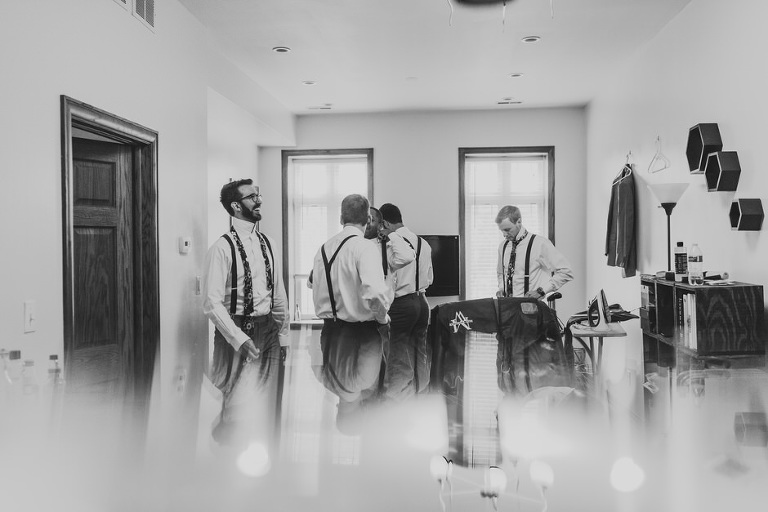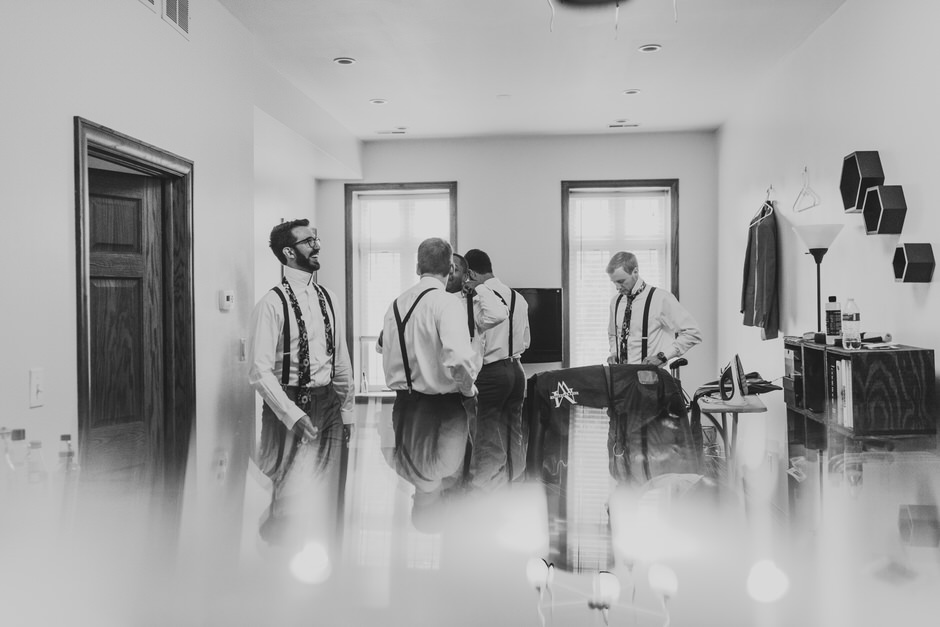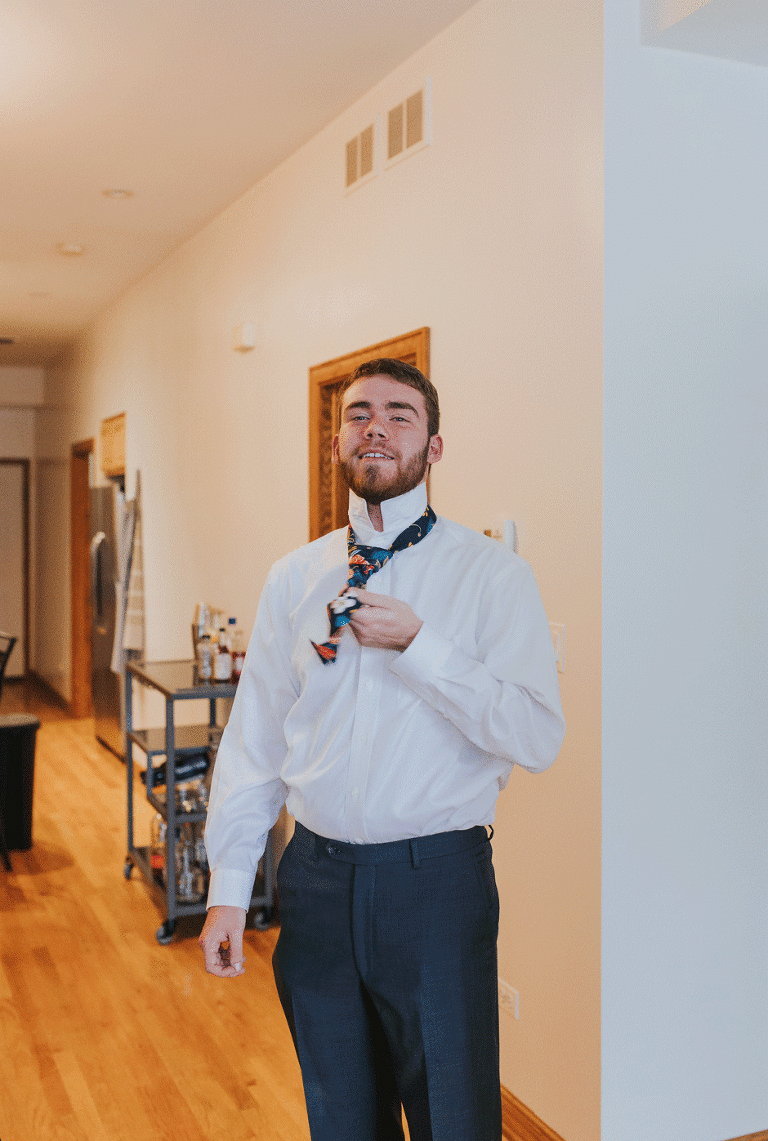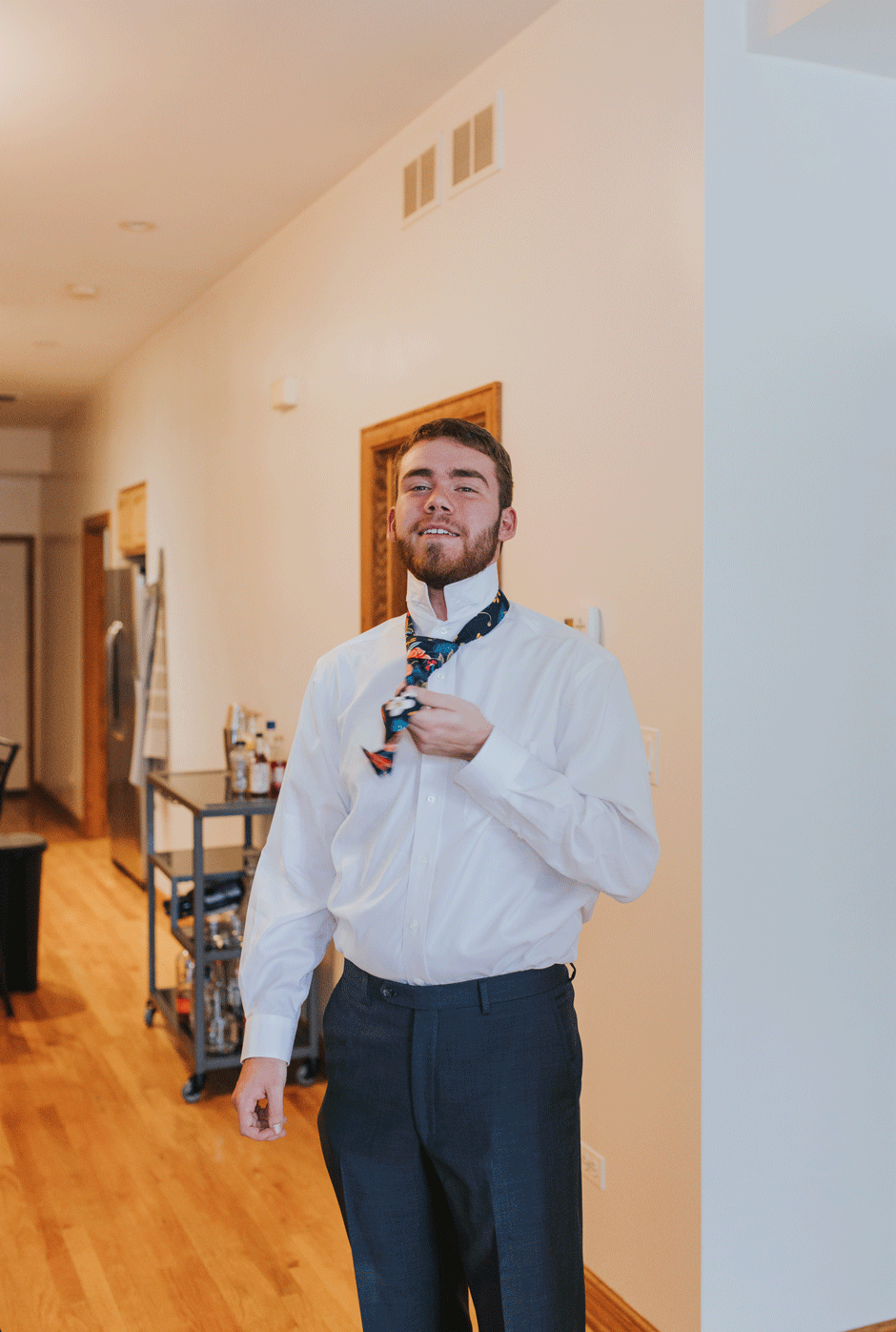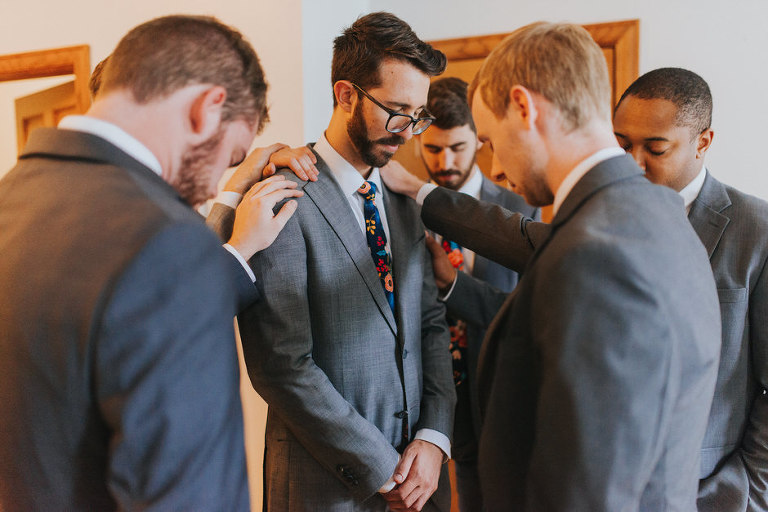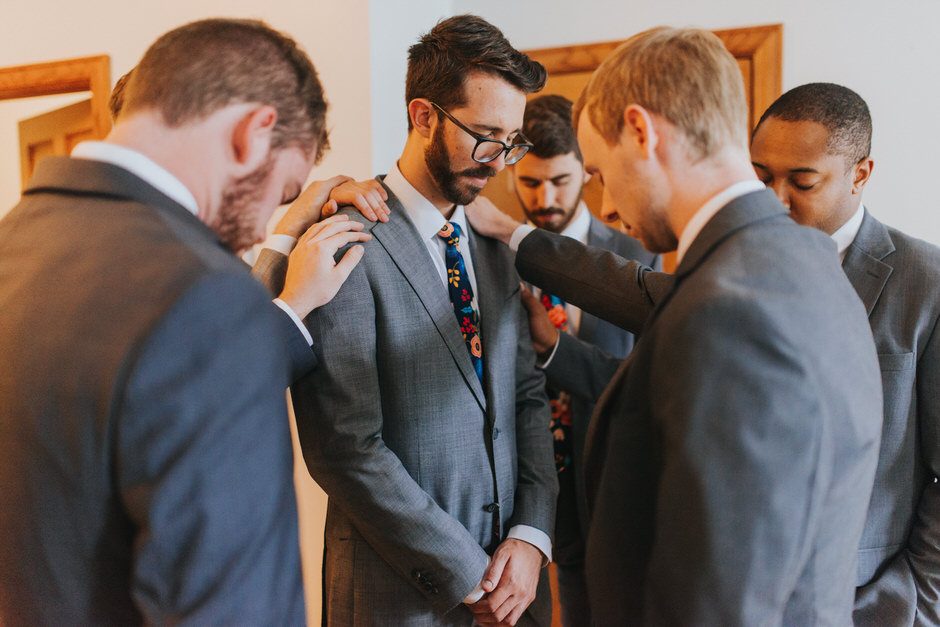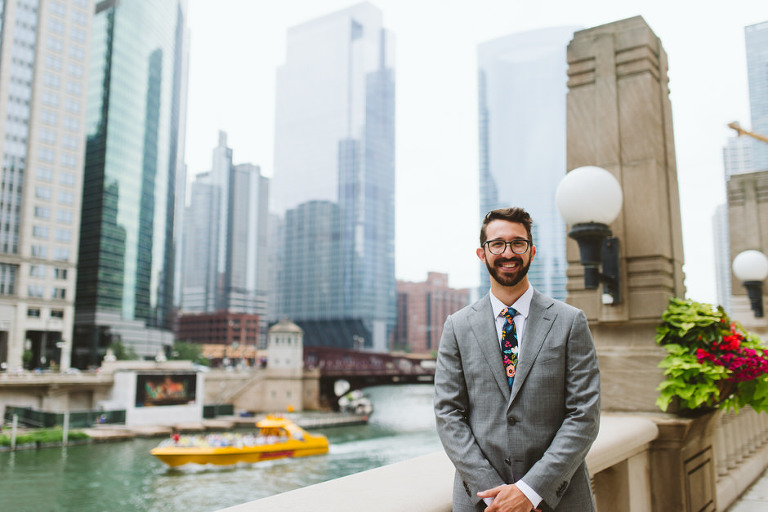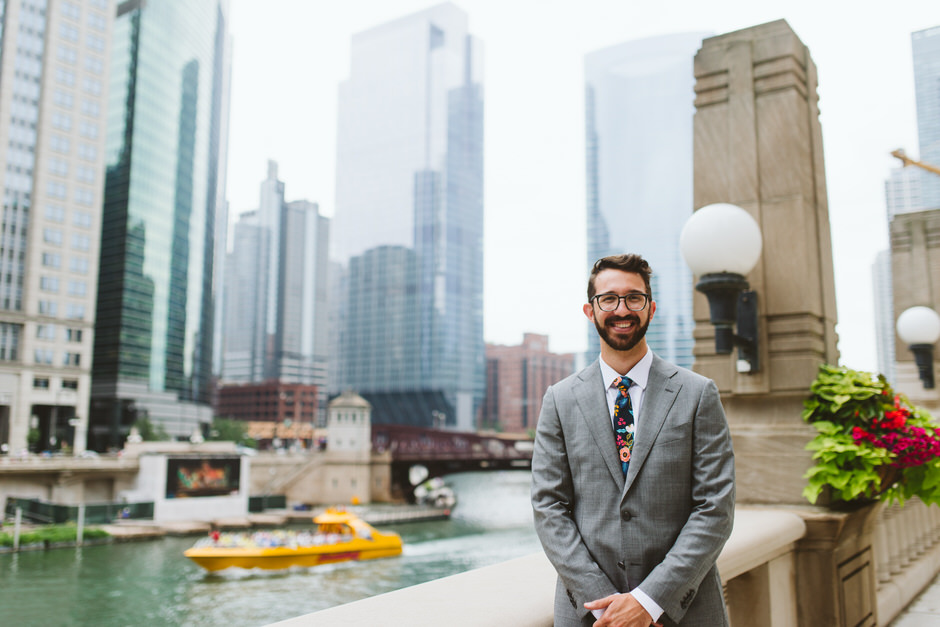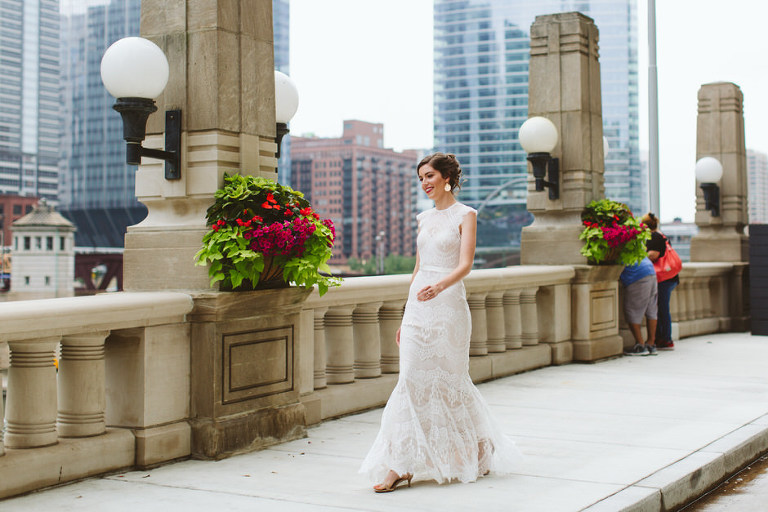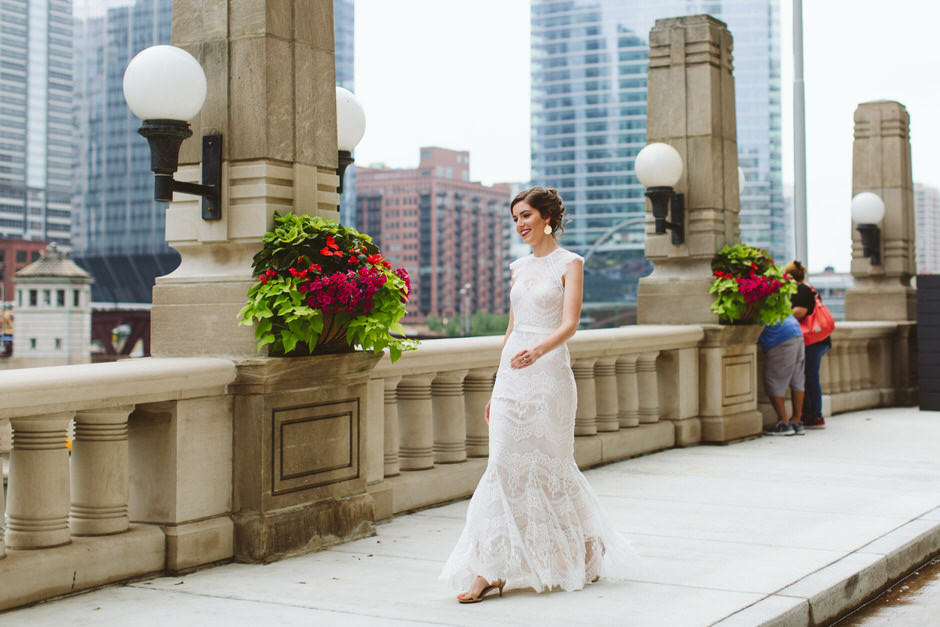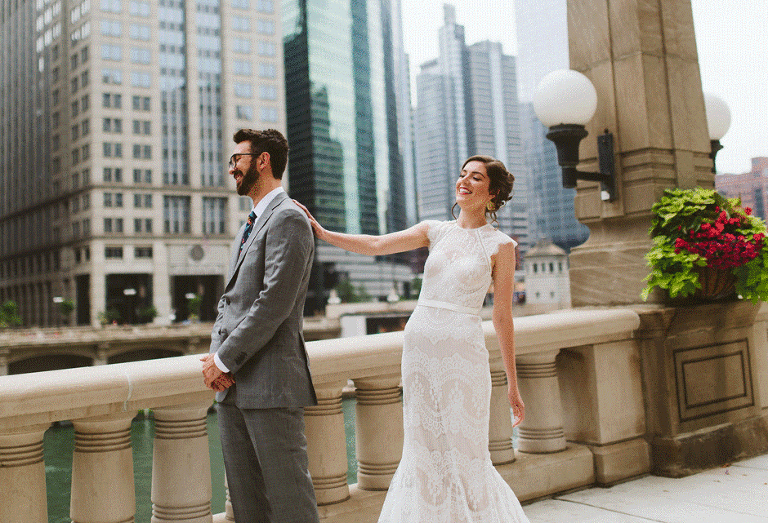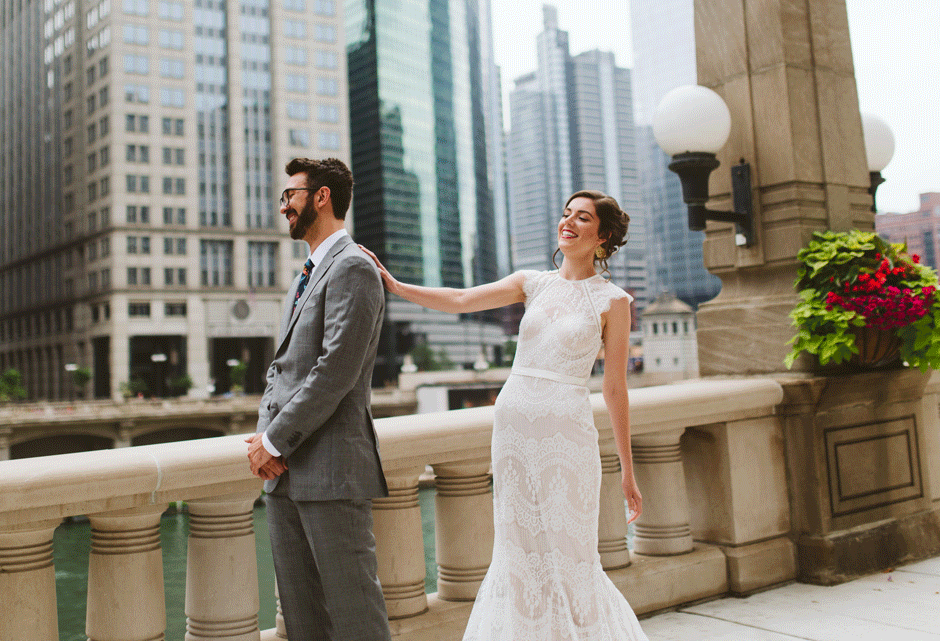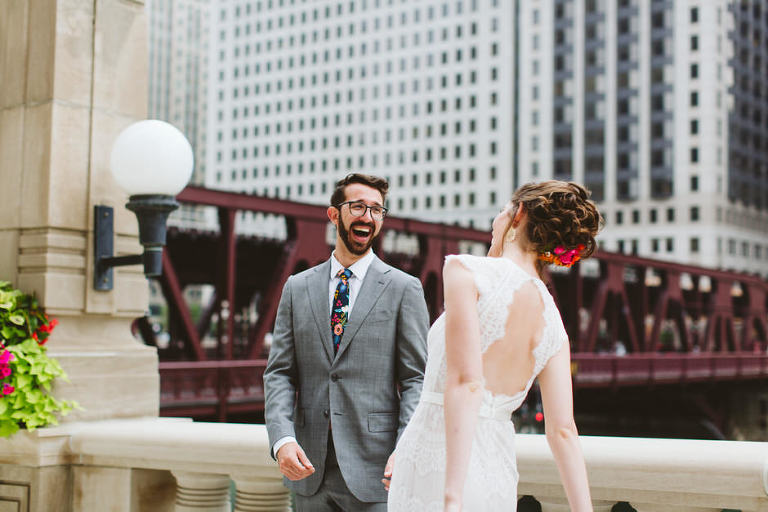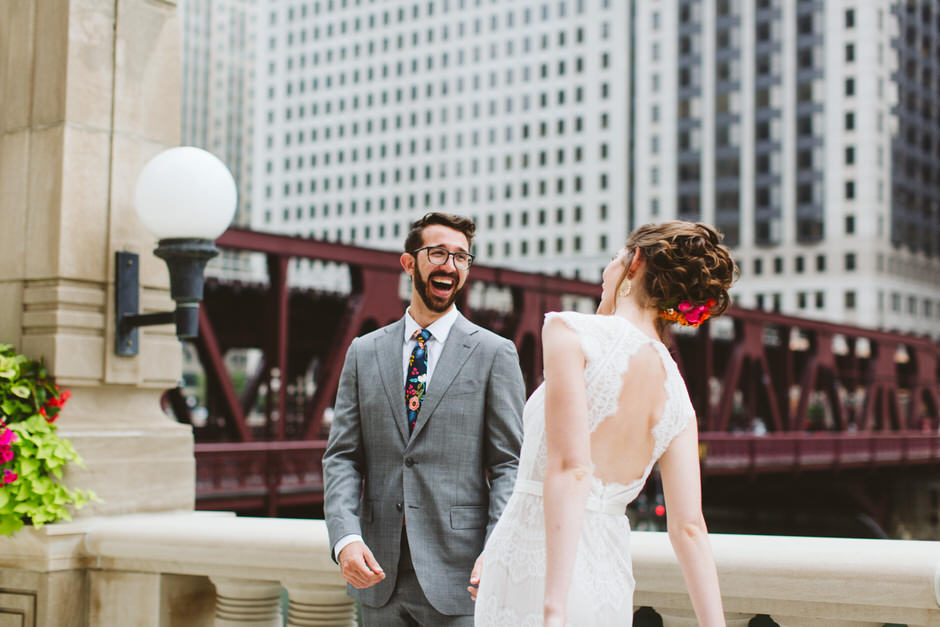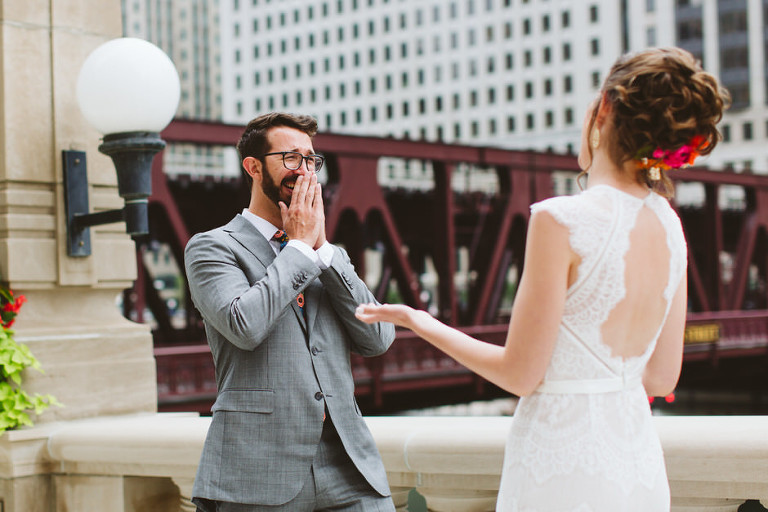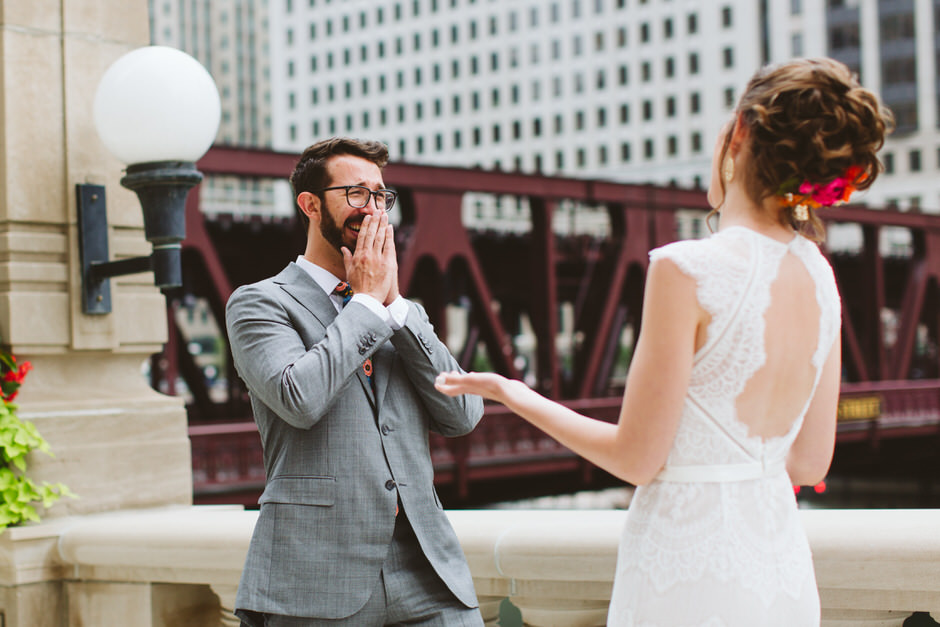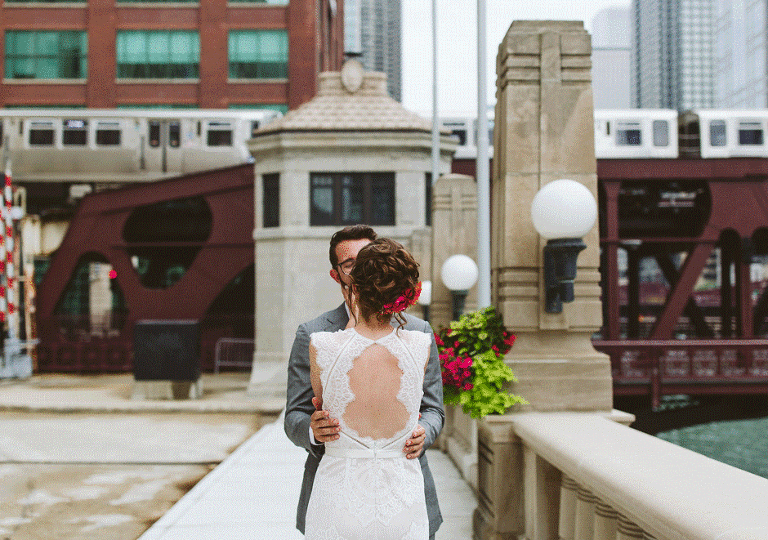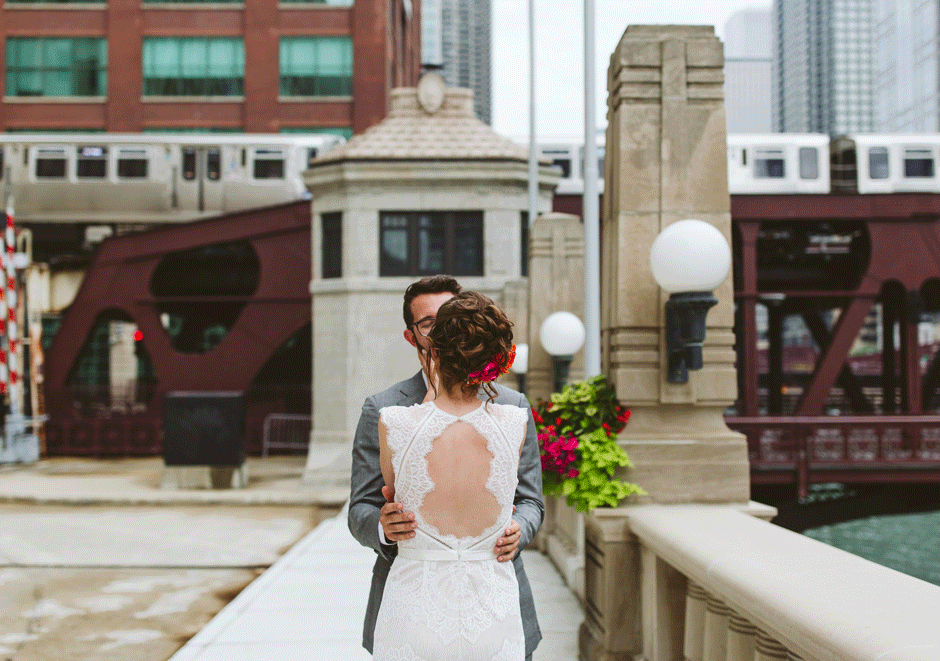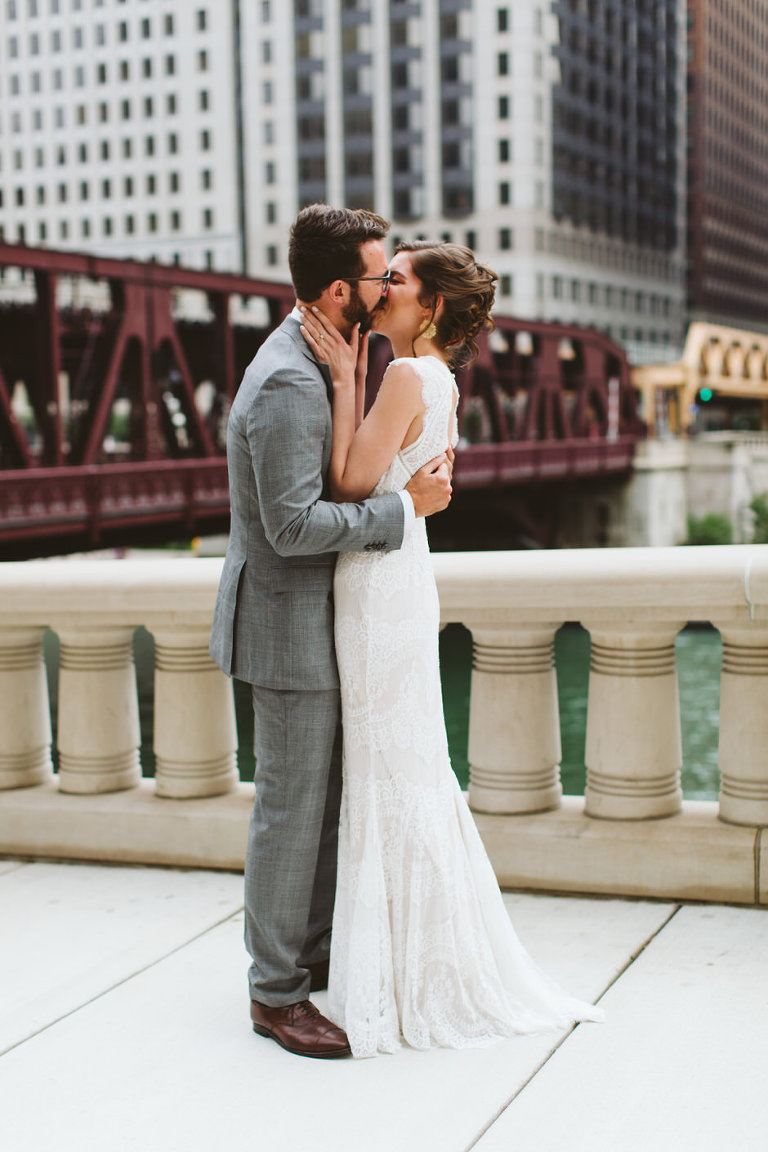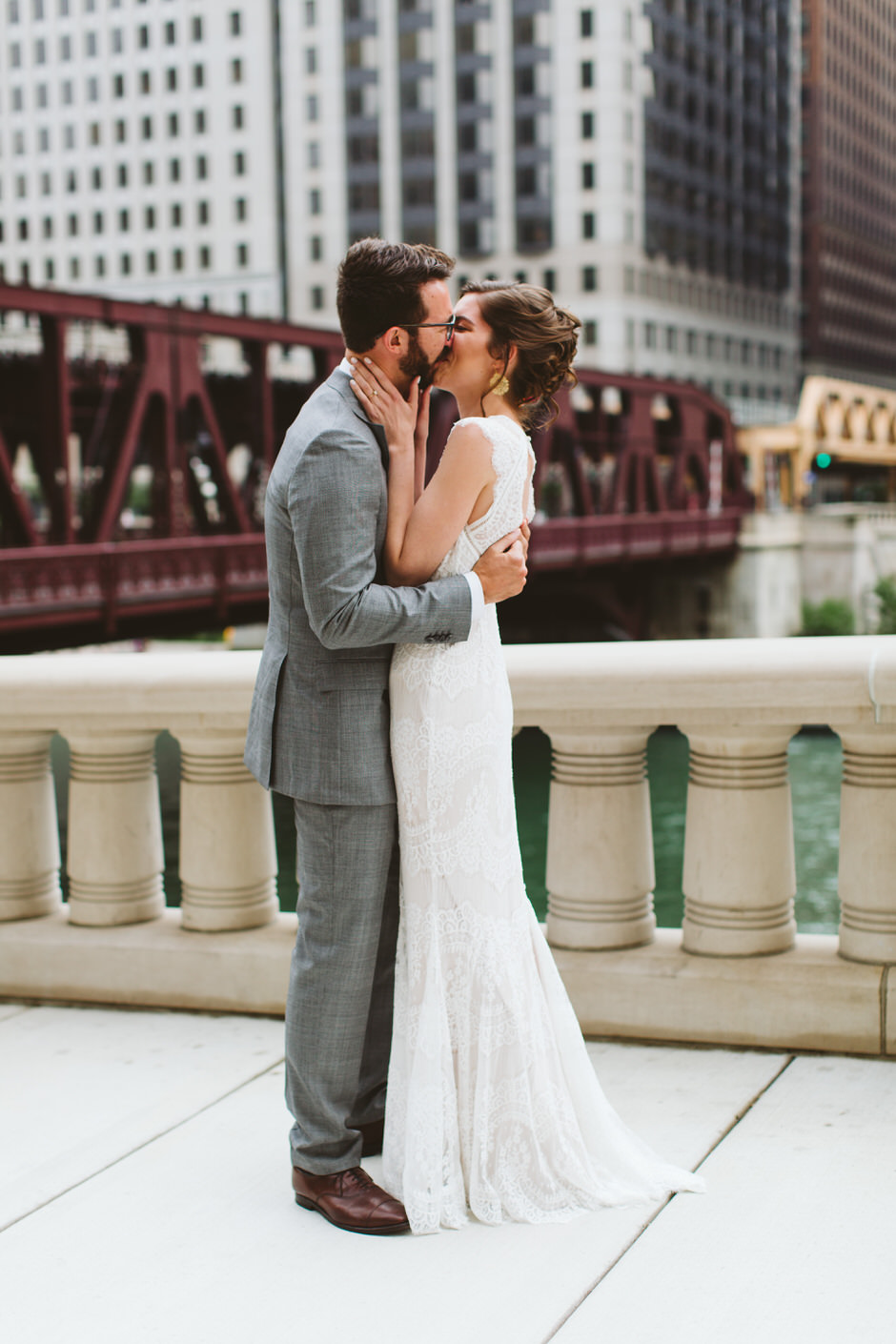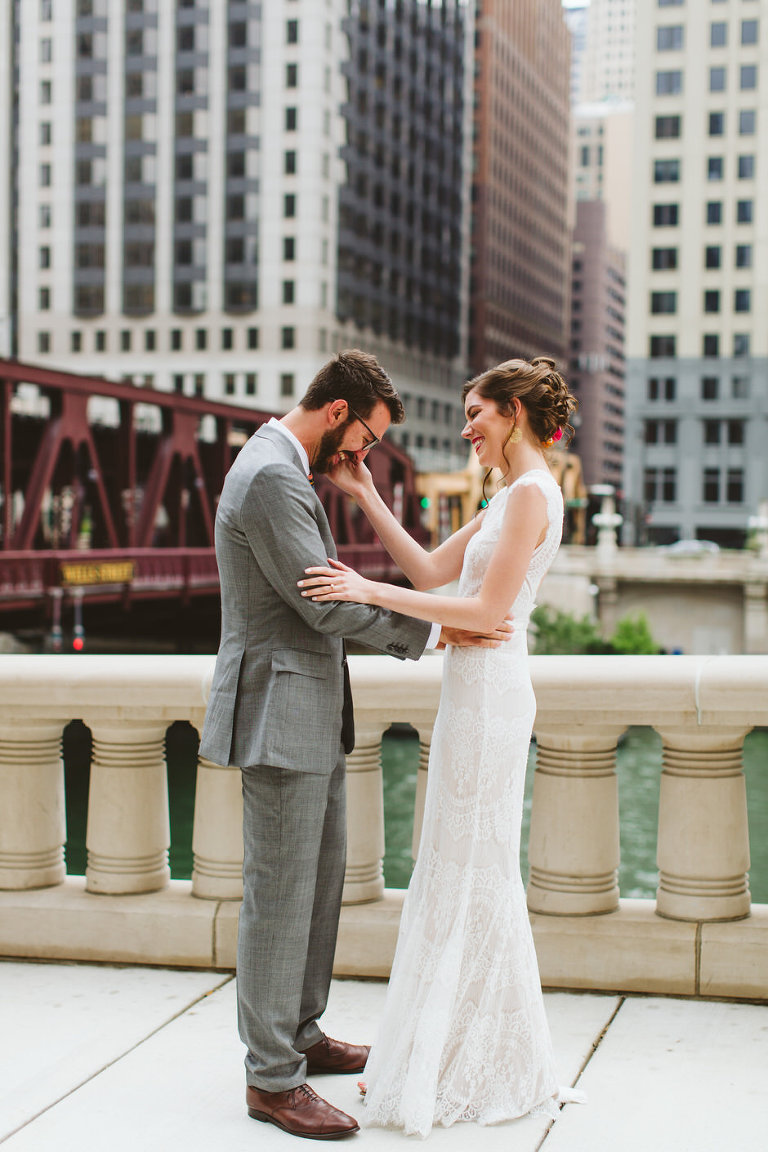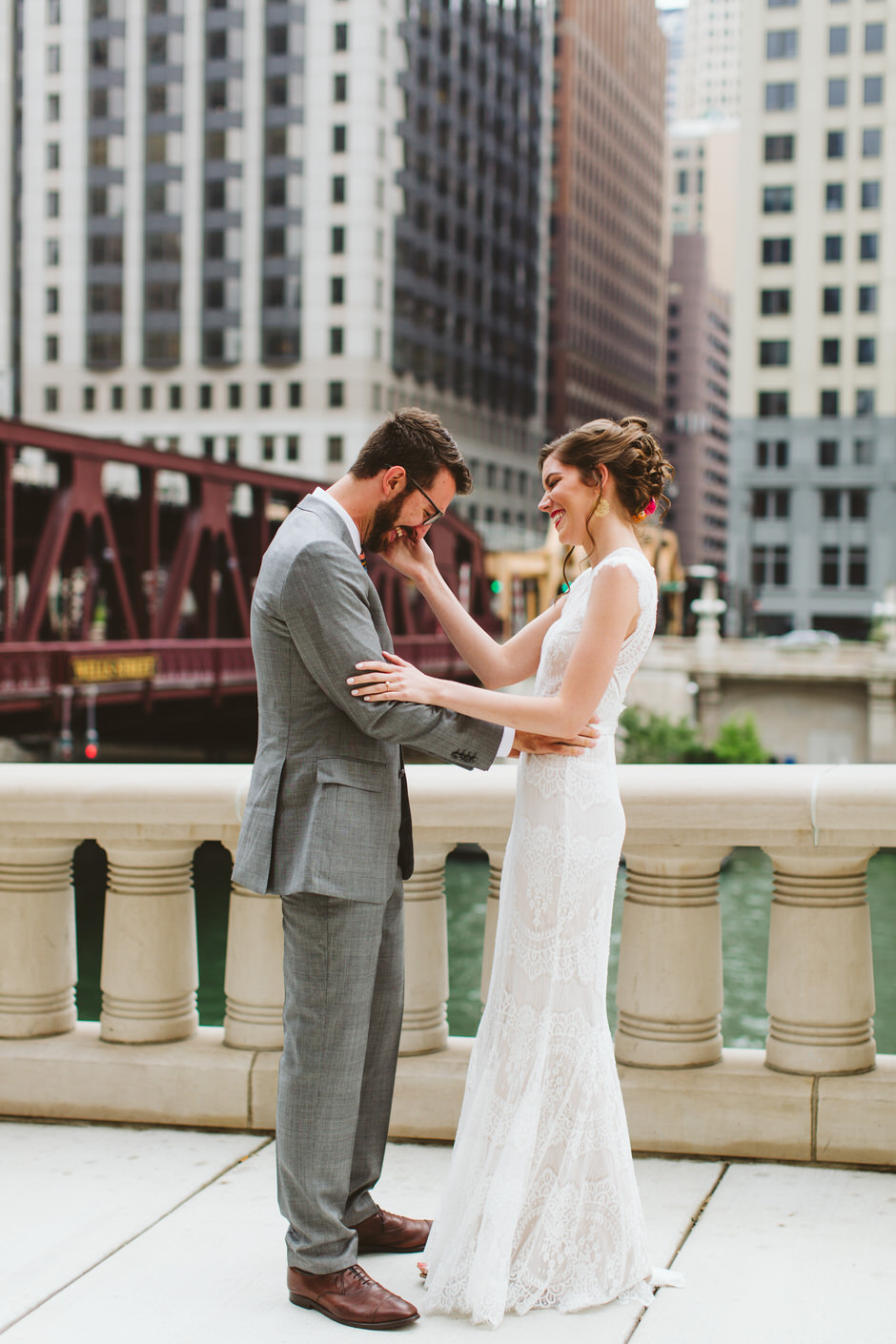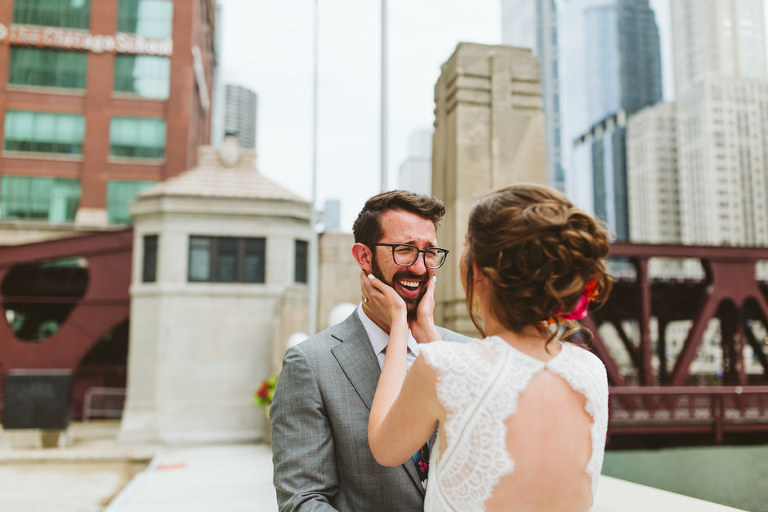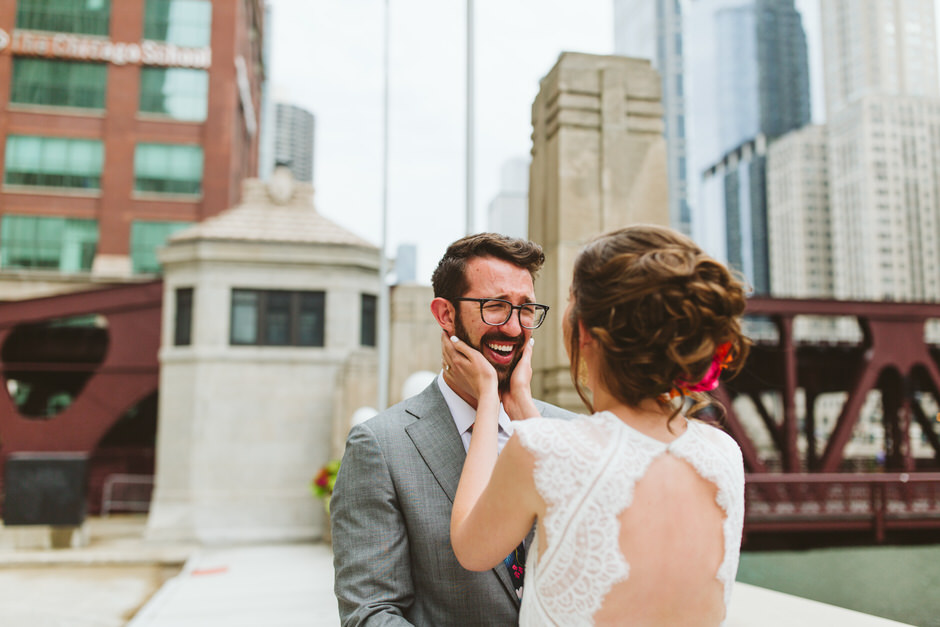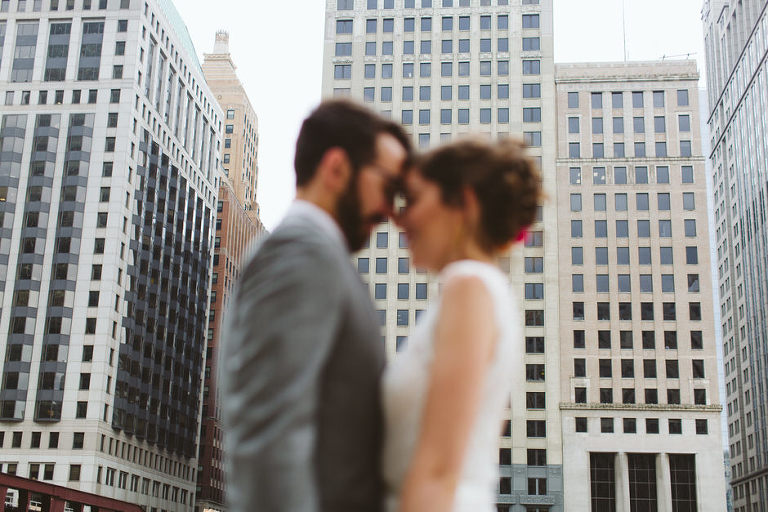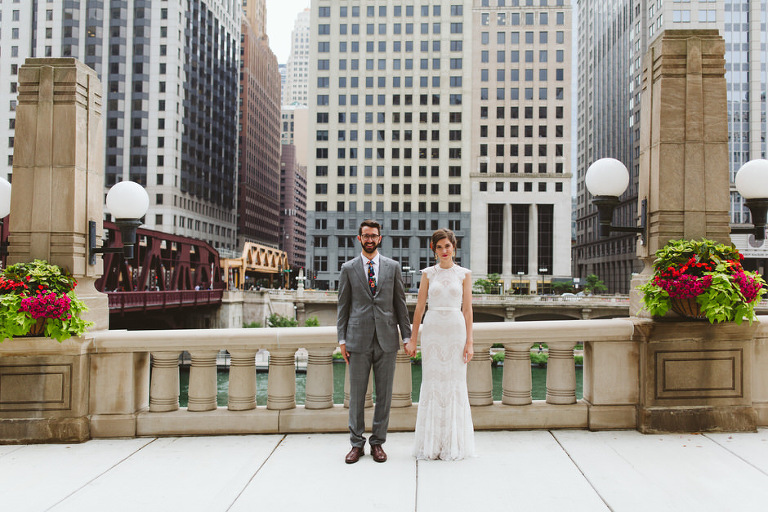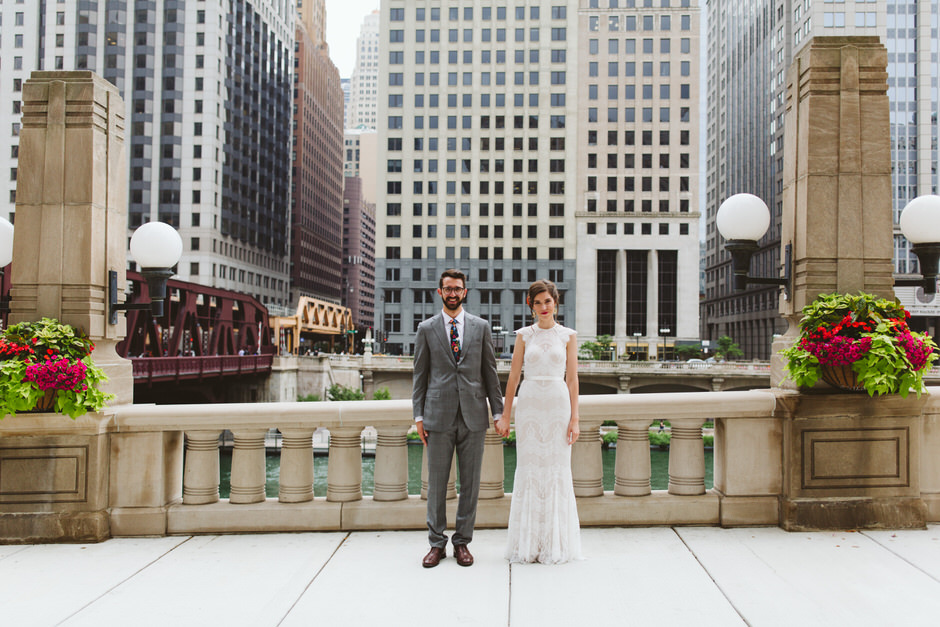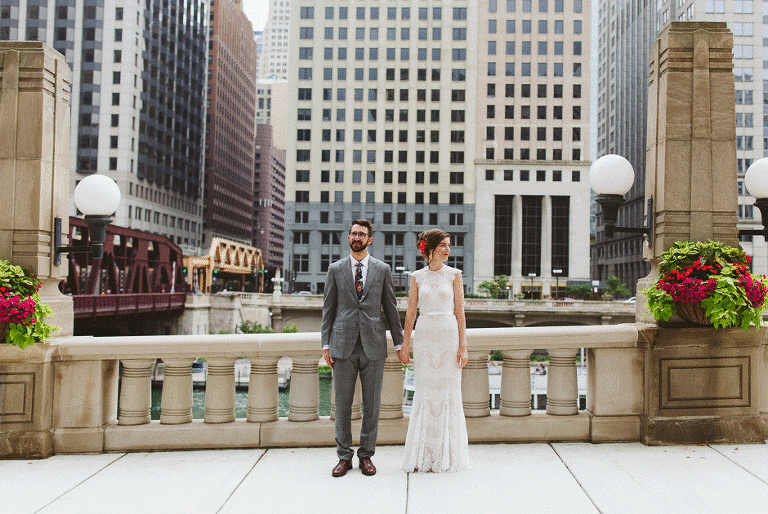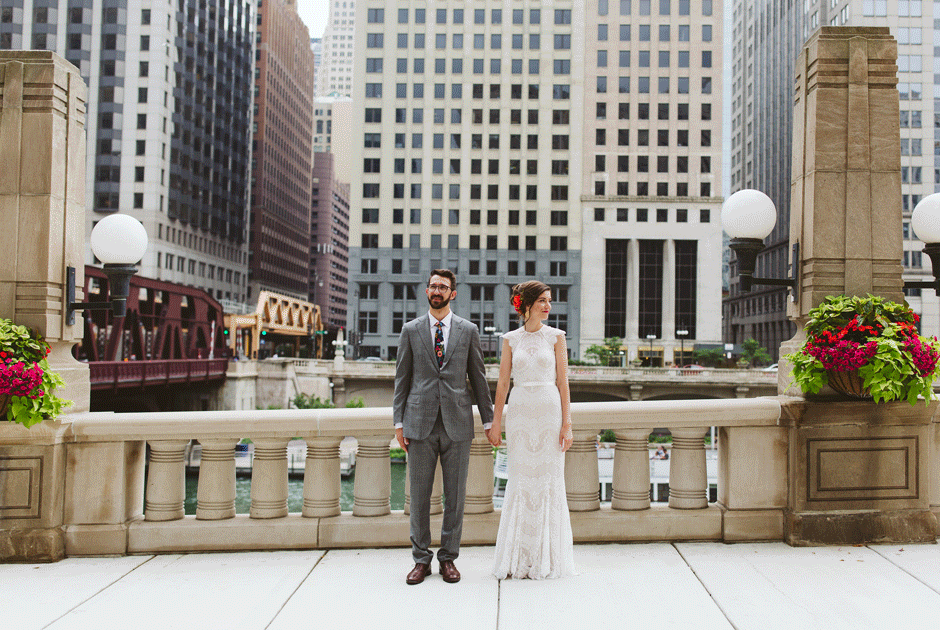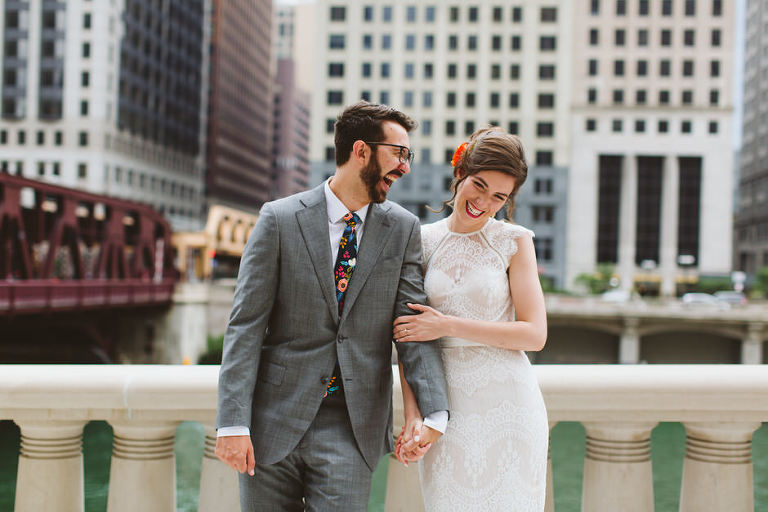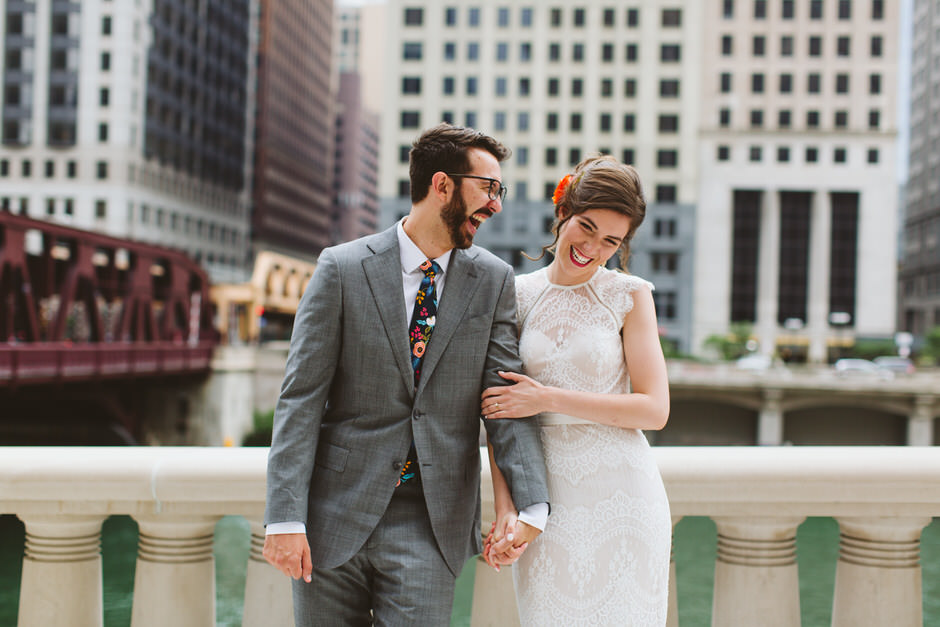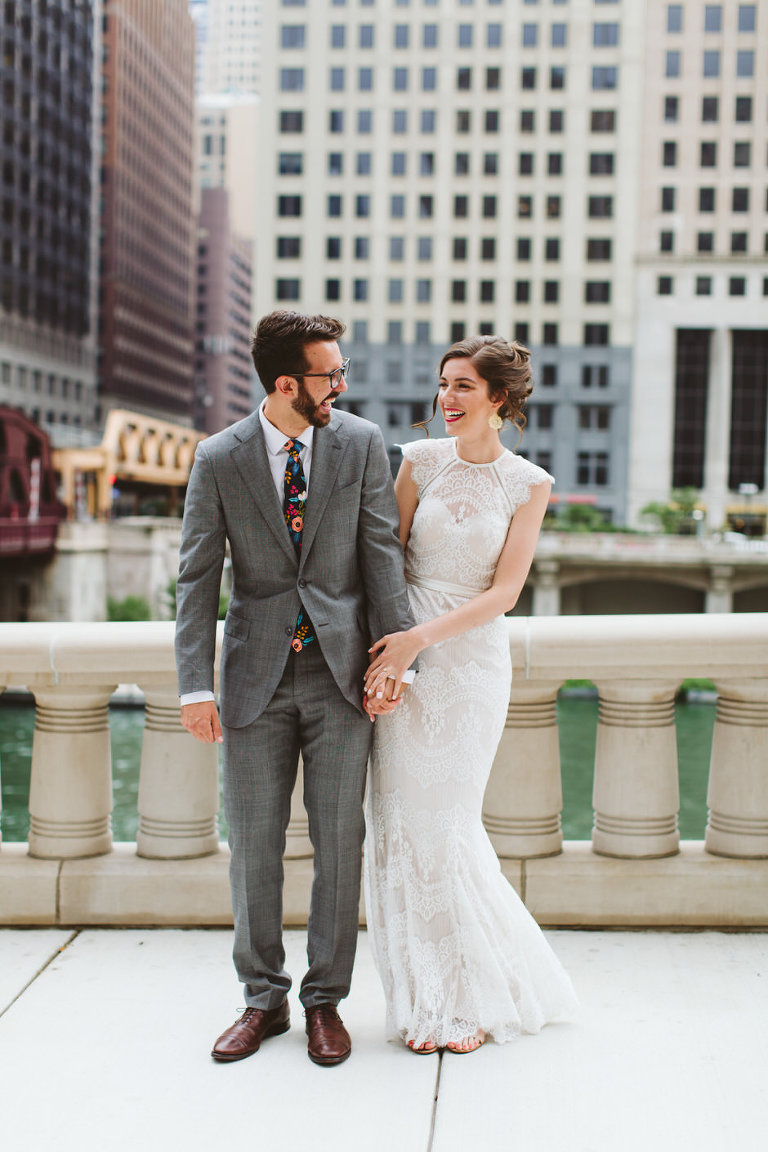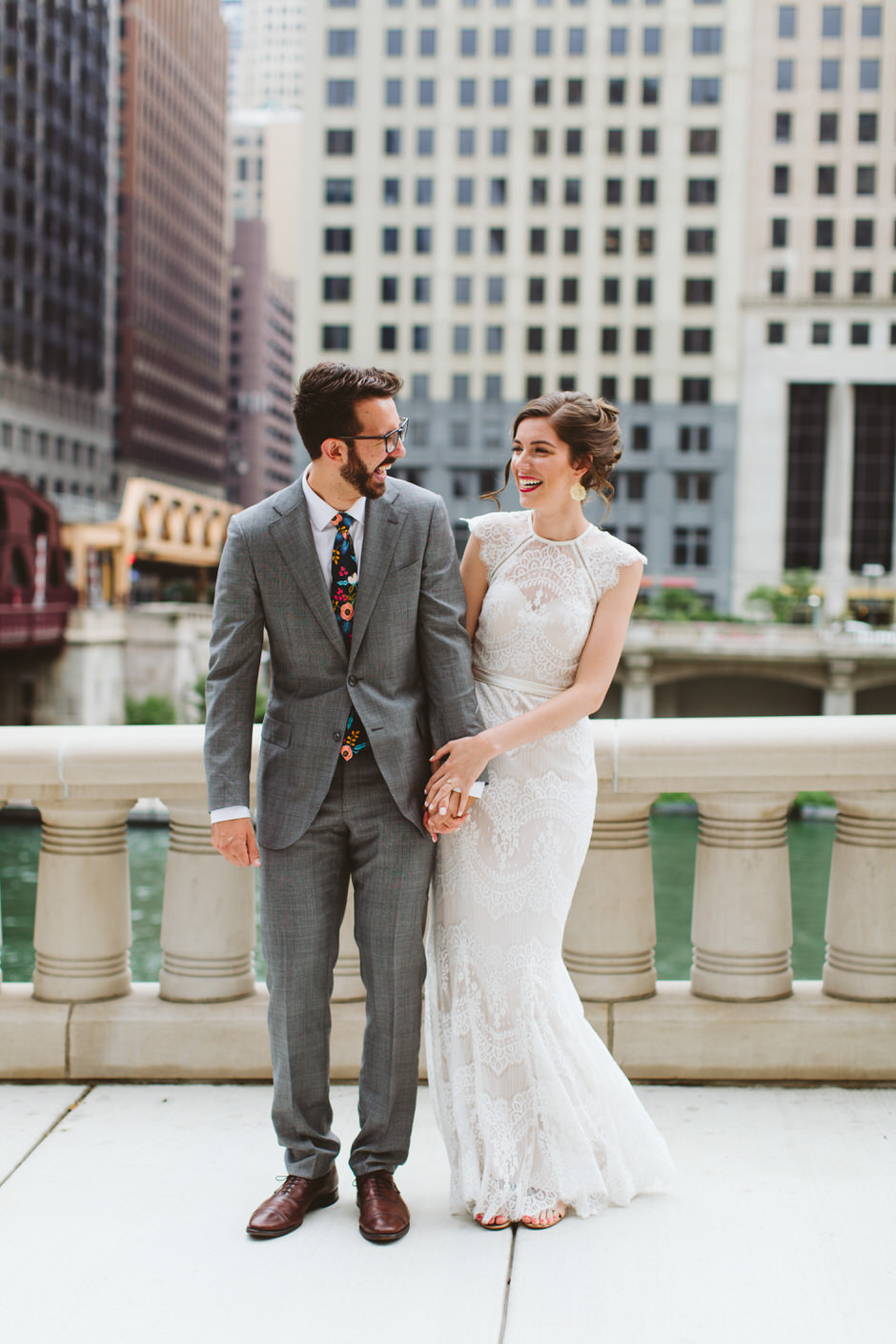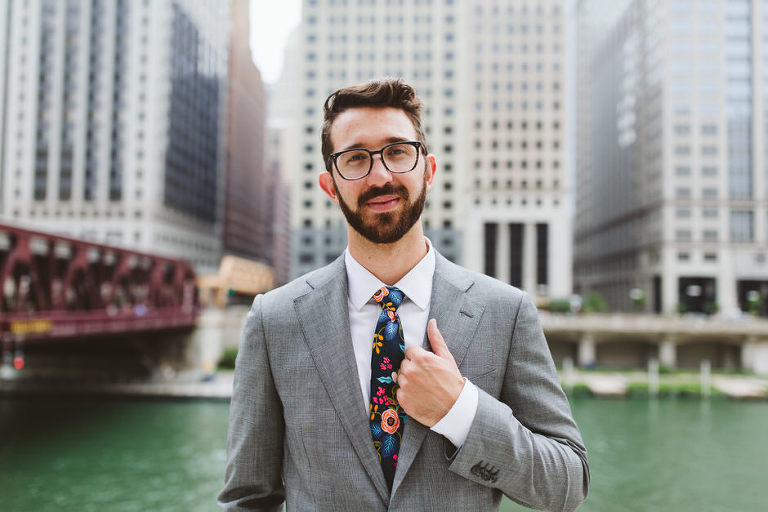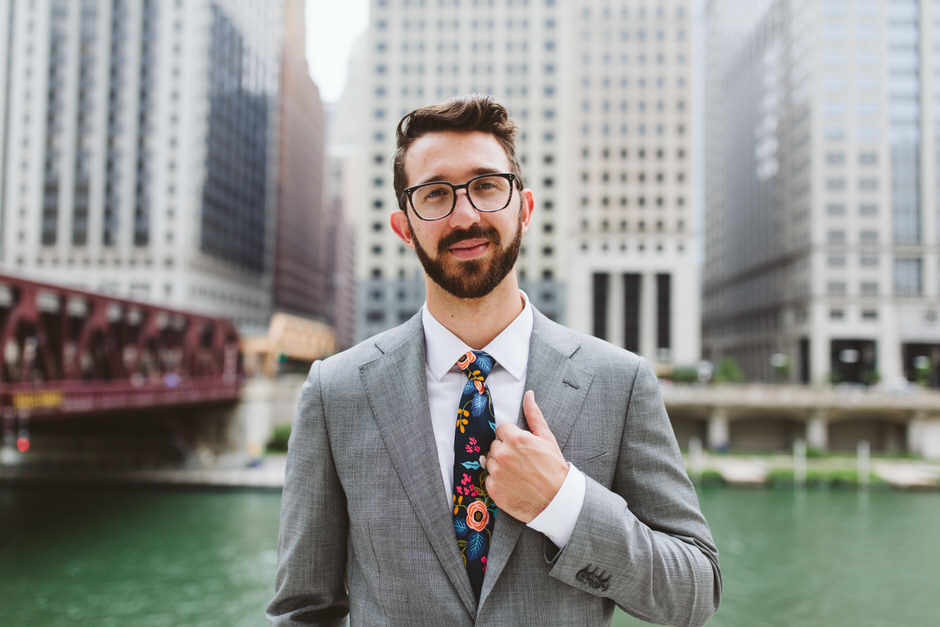 Brad's Suit
Brad wanted a gray suit and I wanted it to be at least a little fun! We headed to Suit Supply downtown and found a medium gray suit with a light pattern (that was the little fun). He looked so sharp! To bring in some brightness we added an orange ranunculus boutonniere and a floral tie.
Venue:
We got married at Bottom Lounge in Chicago's West Loop neighborhood. The bar/music venue was perfect for our Spain in Chicago vibe–BL made us sangria and paella to enjoy and we had the city as our backdrop! Their event manager, Natalie, was a huge support for the months ahead and the Big Day itself. (rachel here, Natalie is AMAZING and the most fun ever <3 I just love her and it's a huge reason I love BL)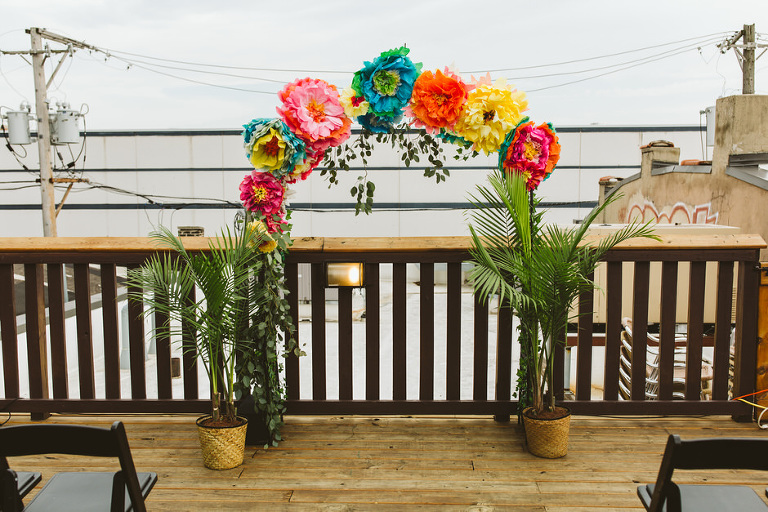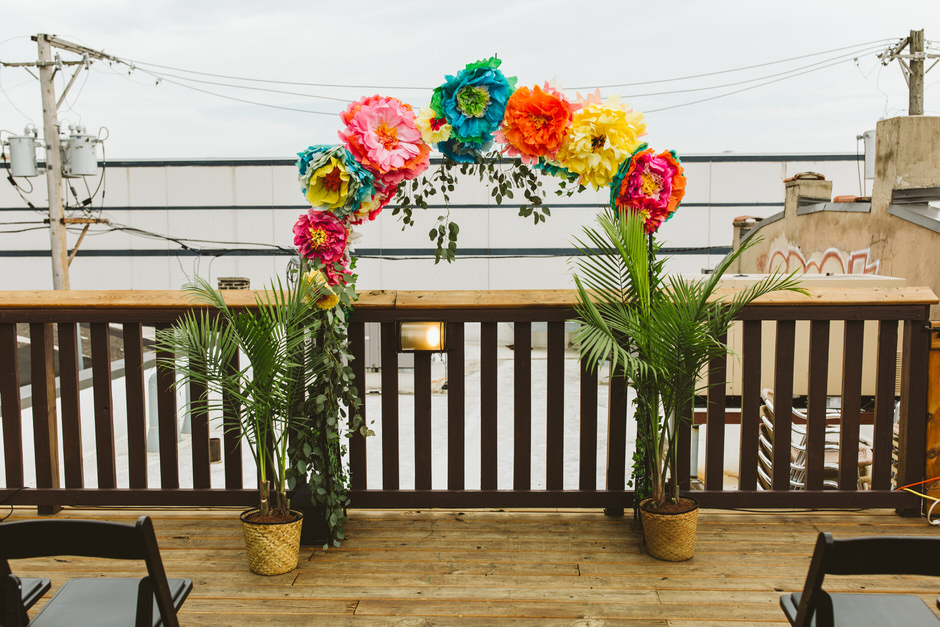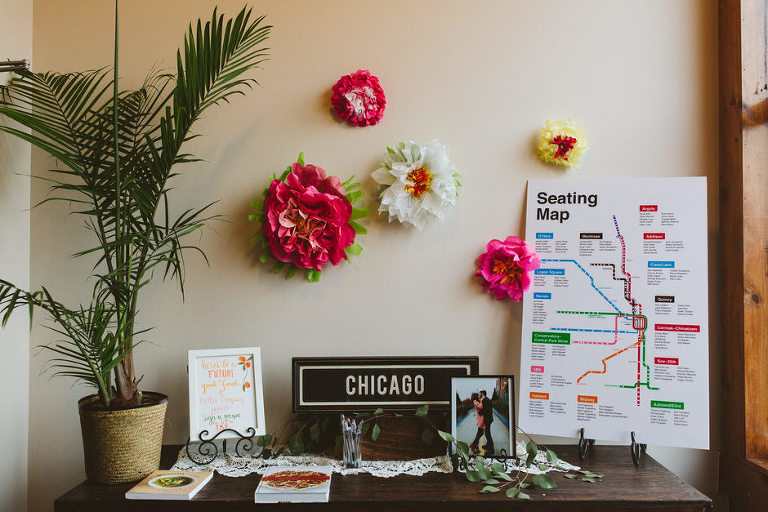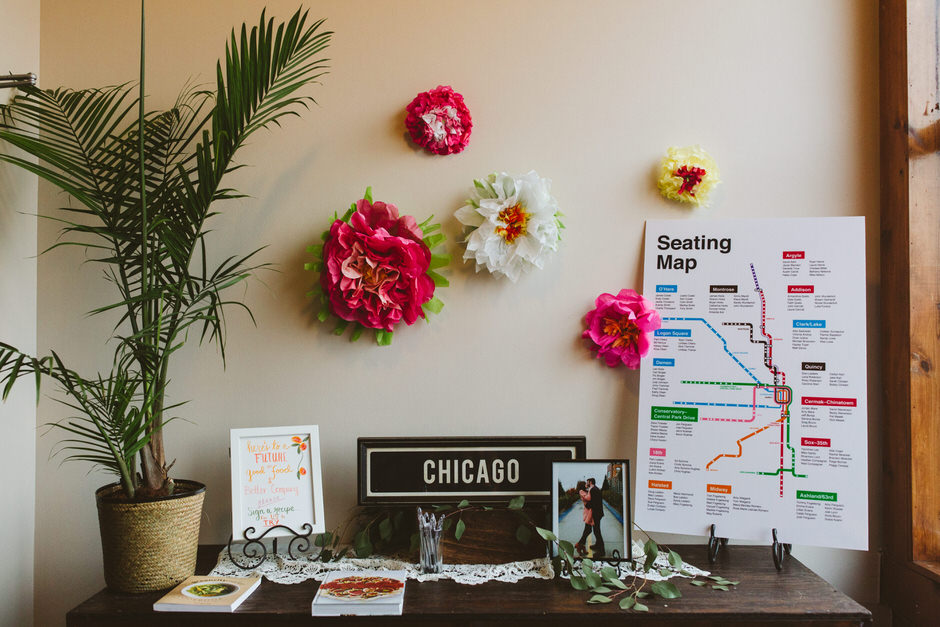 The Decor: 
We wanted bright, bold colors with some Chicago touches. Brad's Aunt Martha was a godsend when it came to turning our nebulous ideas into beautiful sketches and, ultimately, gorgeous final products! Paper flowers made by friends and family, a hand-painted floral tablecloth by Martha and Aunt Leslie (they even did the bridesmaids and table flowers!), and stenciled tiles for the centerpieces gave us our Spanish feel. Our graphic designer friend Lena created our "Seating Map"–a recreation of the Chicago's El Map for our seating chart. It came together beautifully. We feel so lucky to have our talented, generous friends and family who helped us pull it off!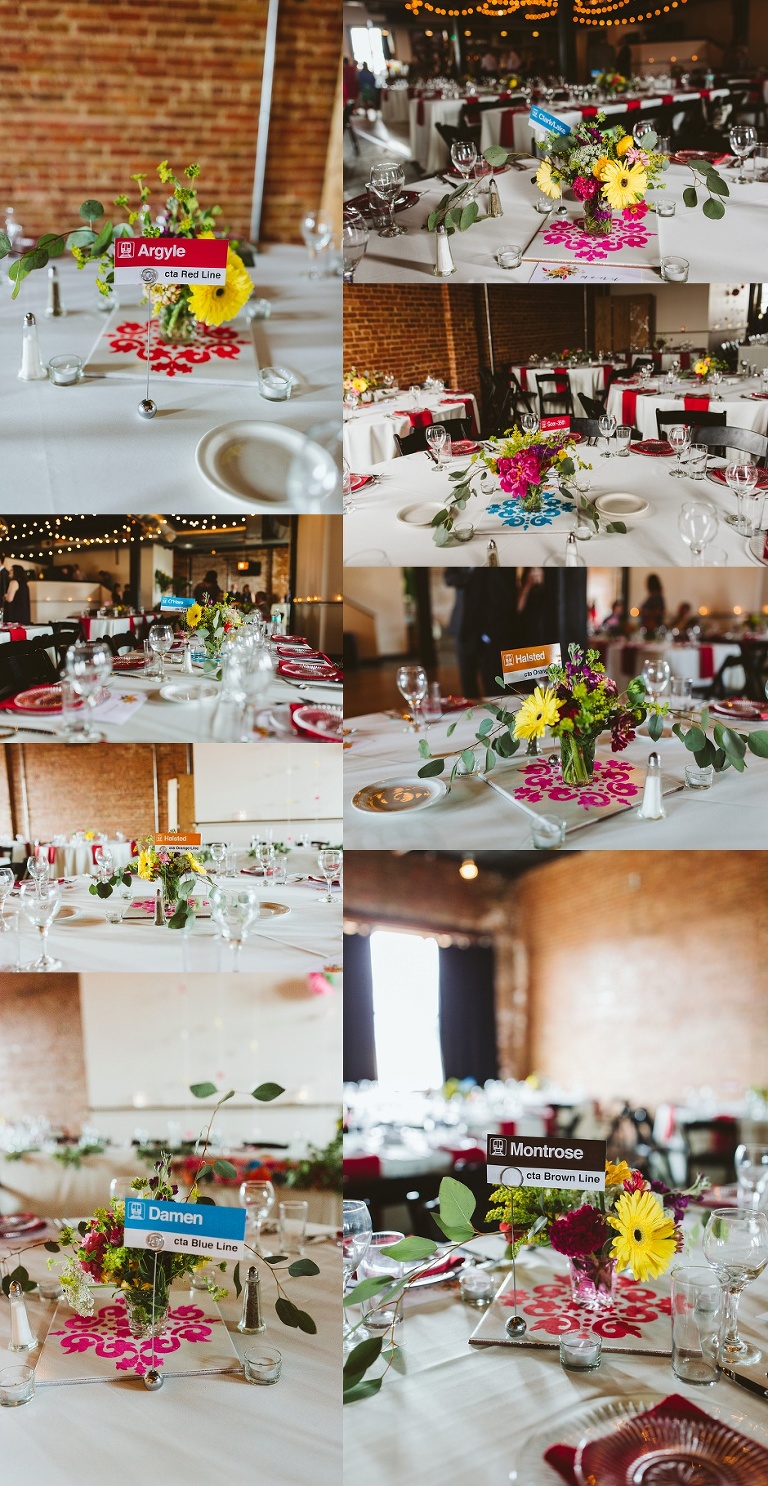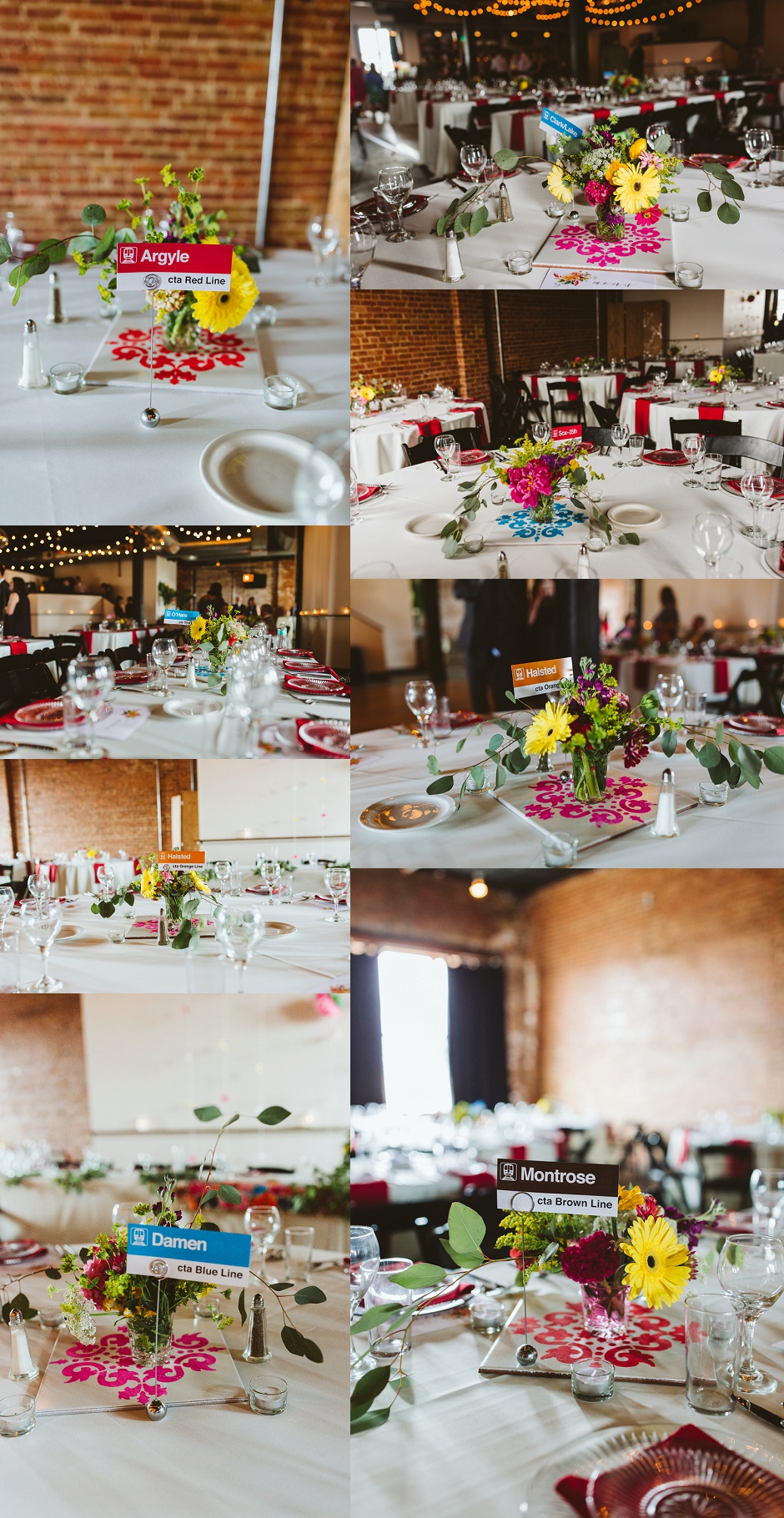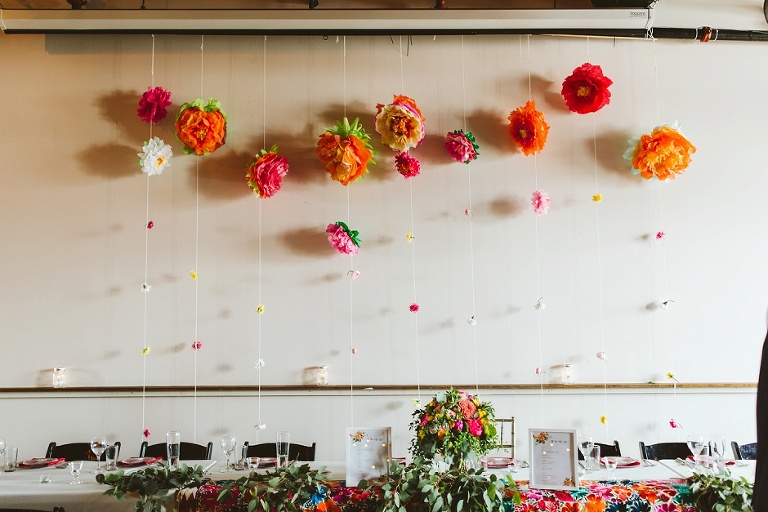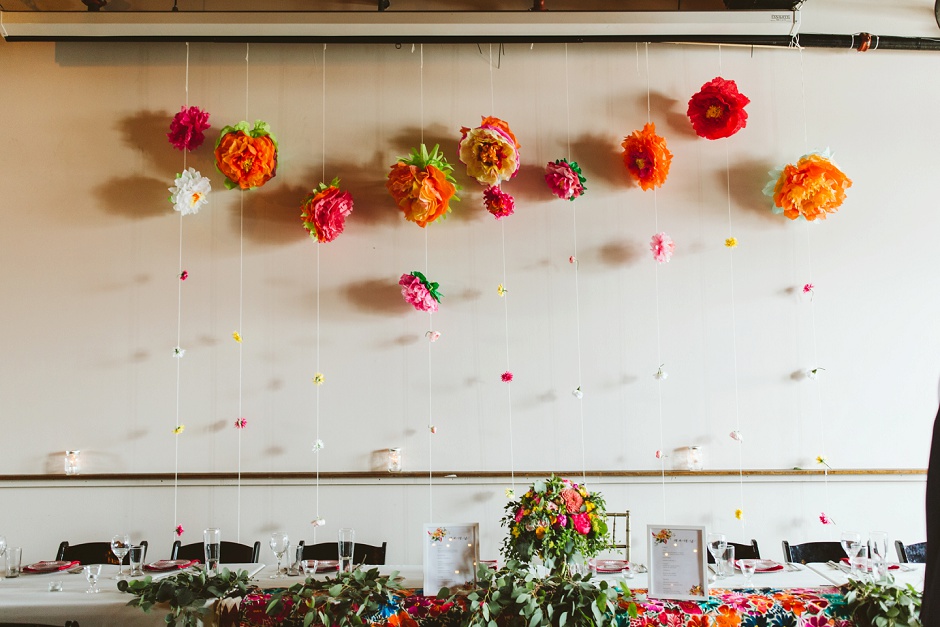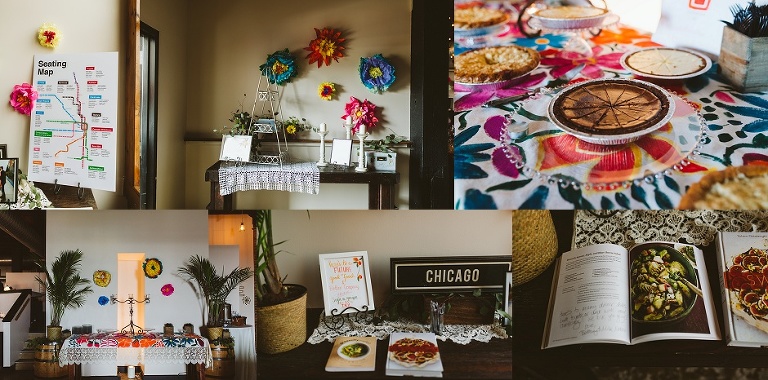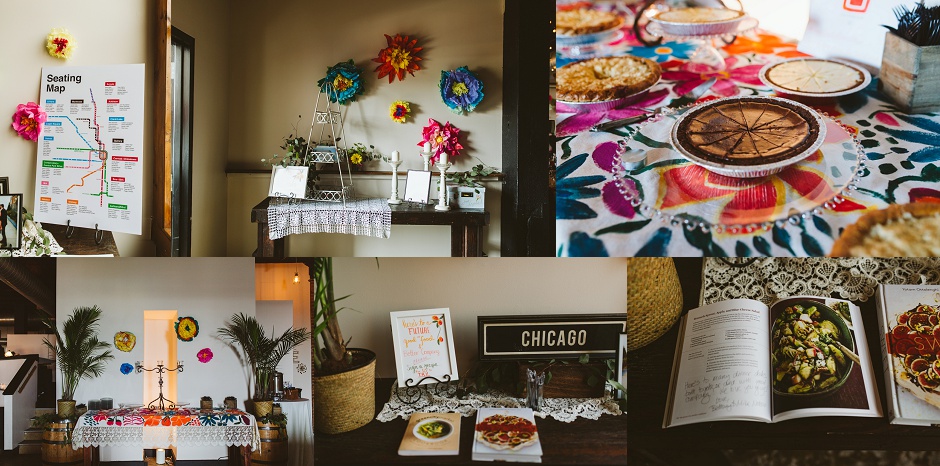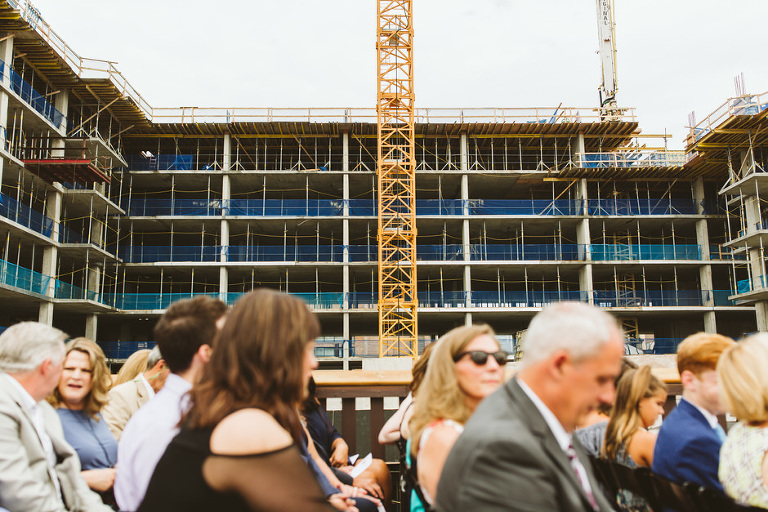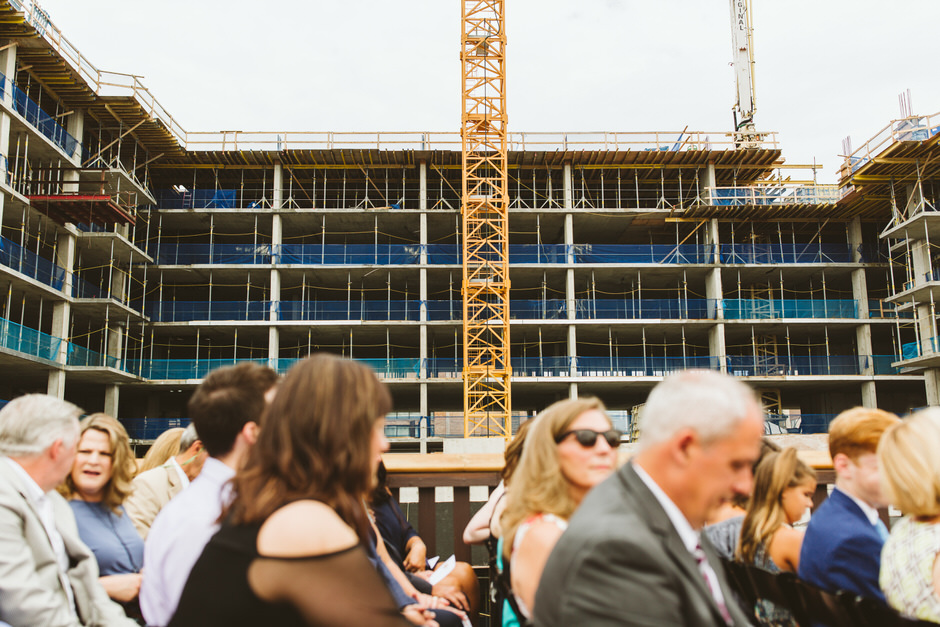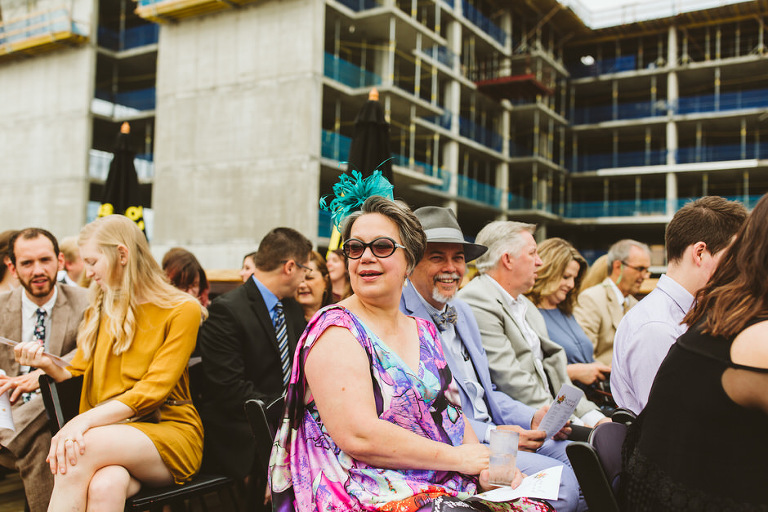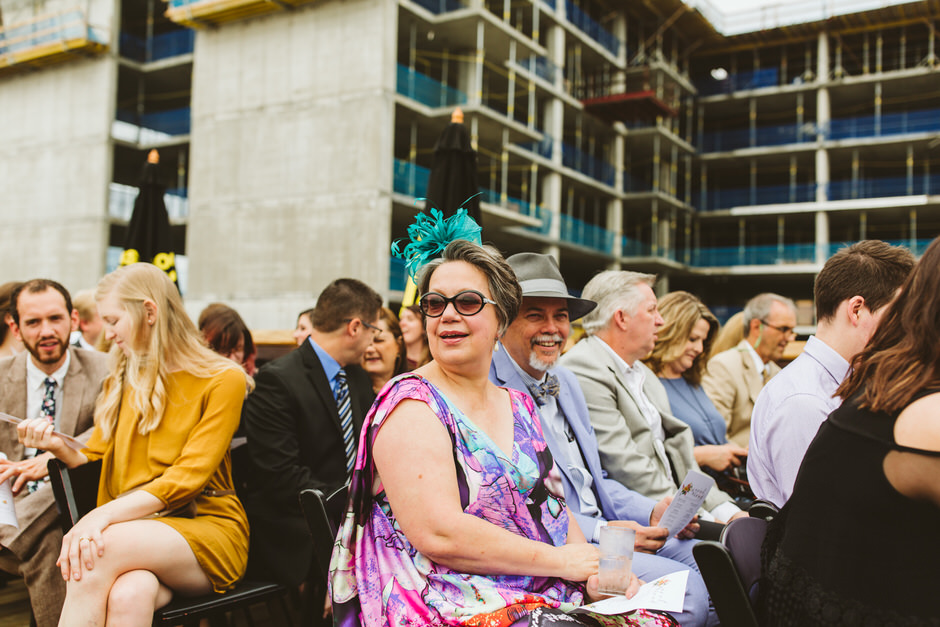 The Ceremony: 
The ceremony started off with the HVAC loudly kicking on and the El whizzing by. Safe to say it began with a bang! The pastor of our home church, Dave, performed the ceremony and the vows we cry-wrote each other were cry-read. It all felt very personal and true to us.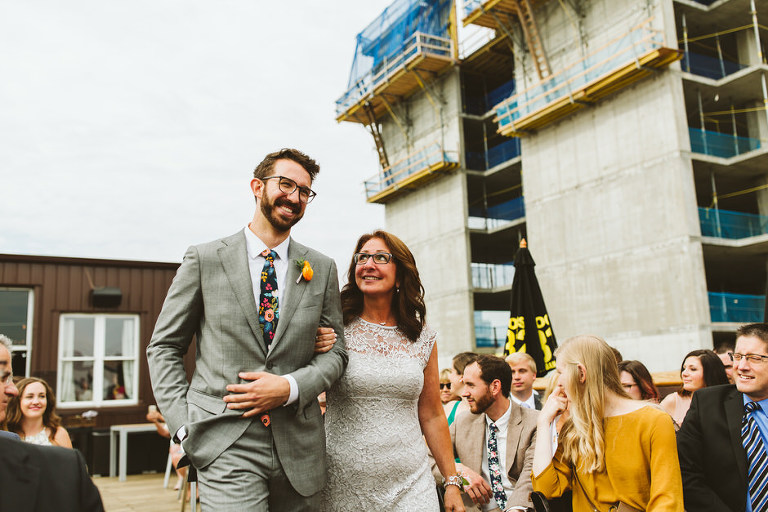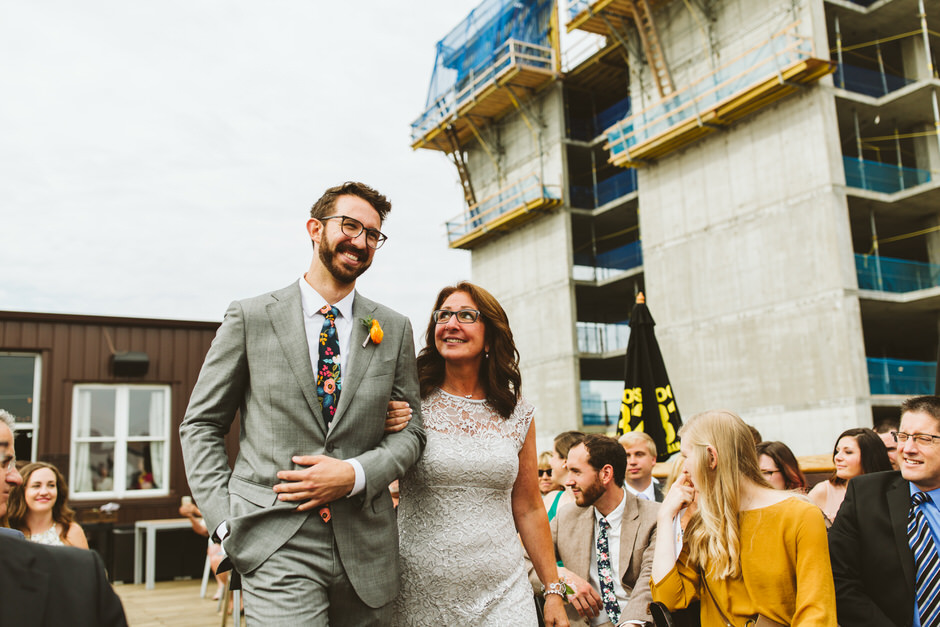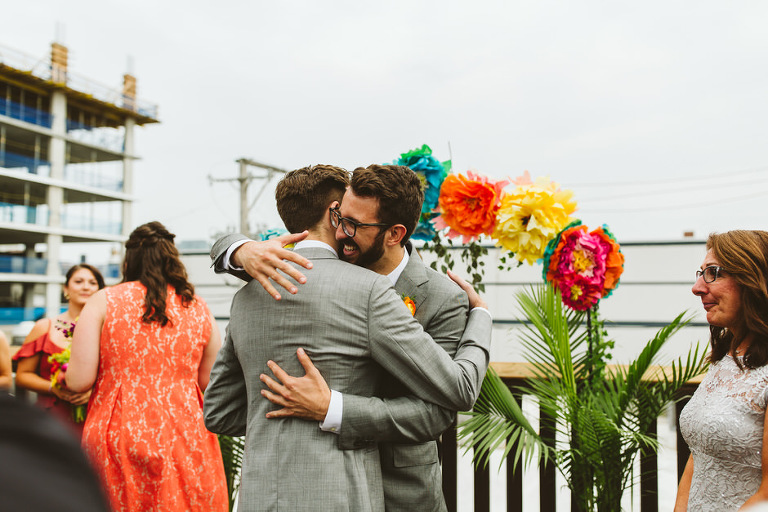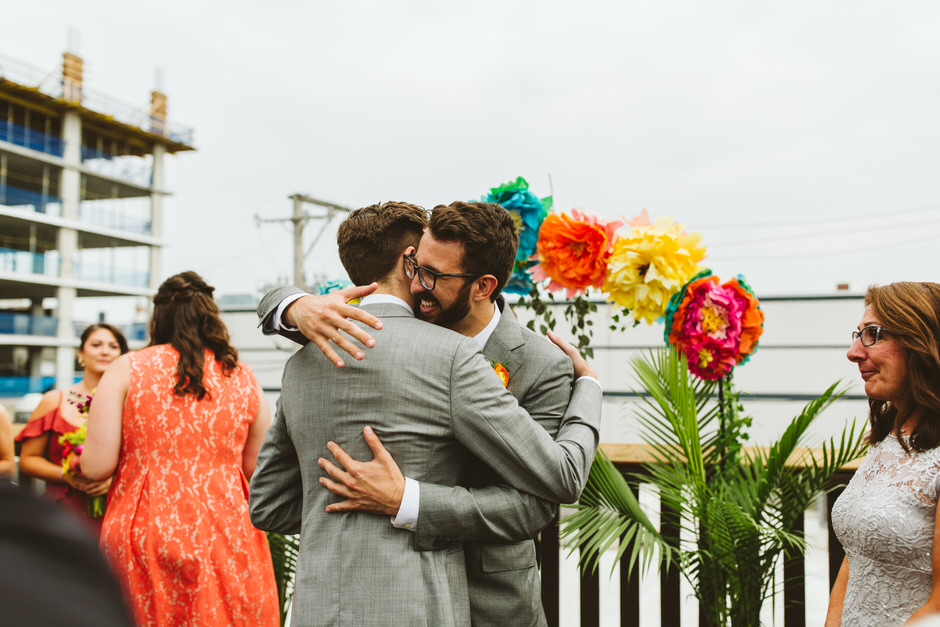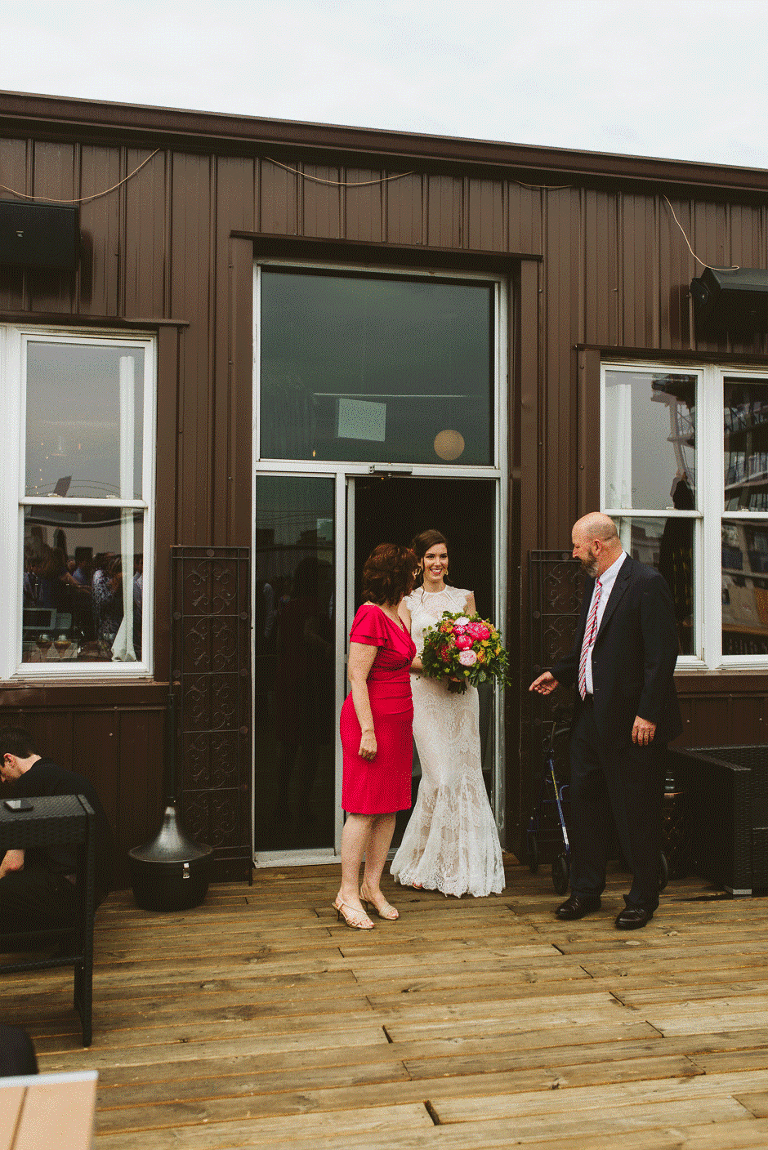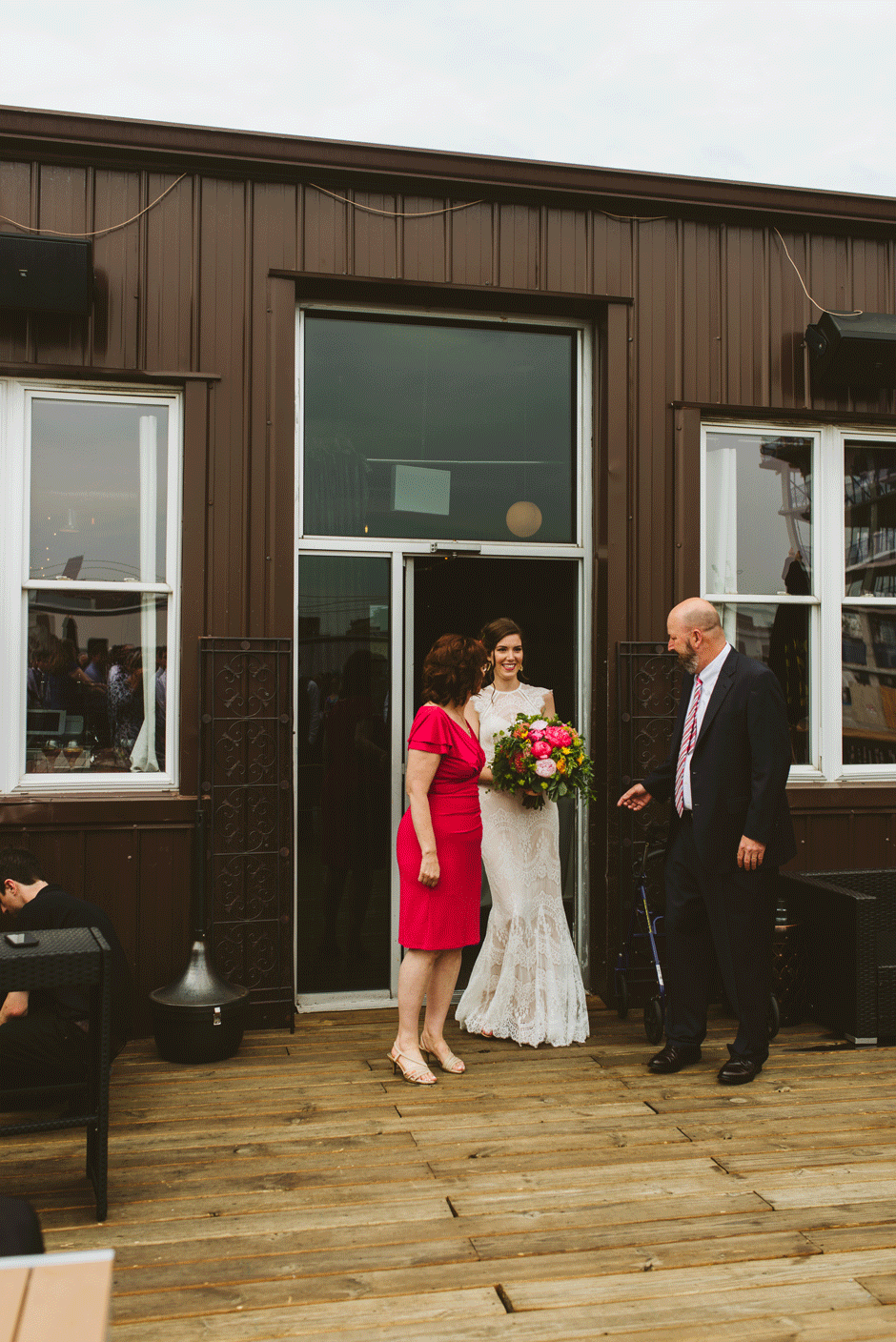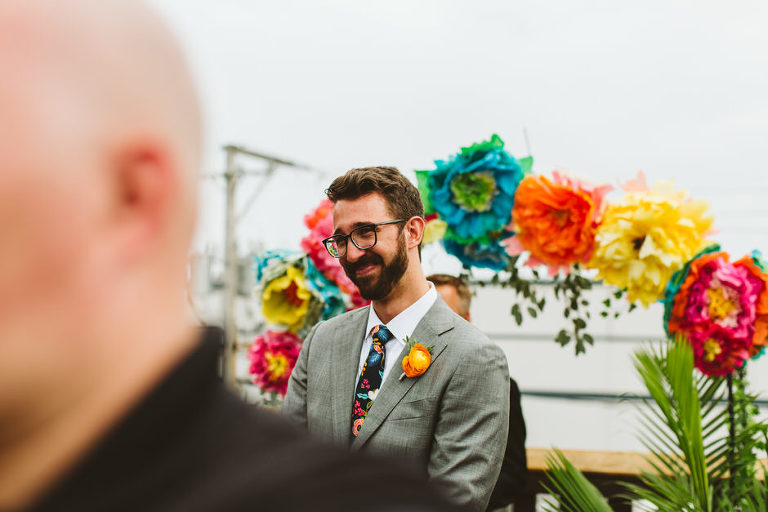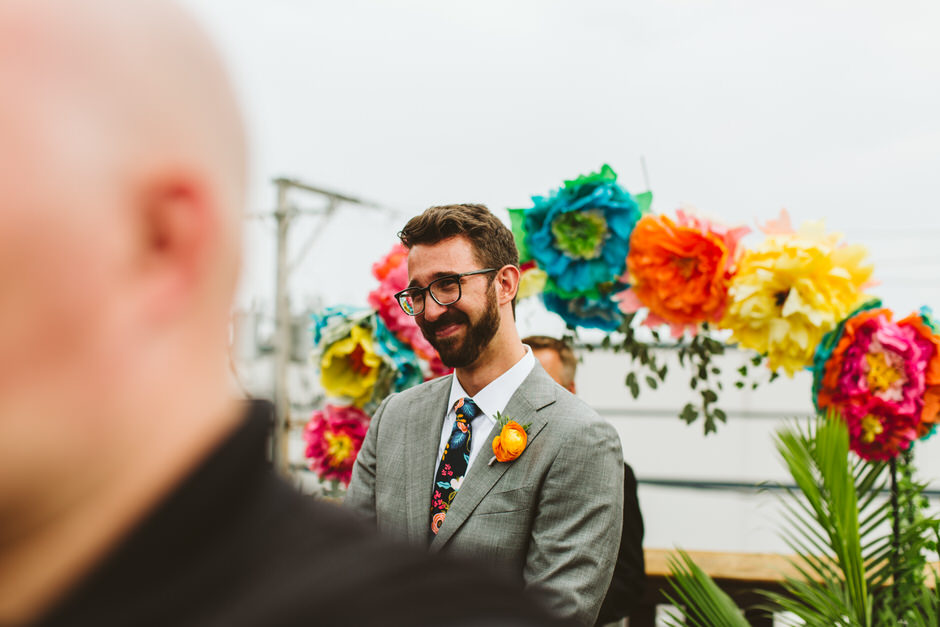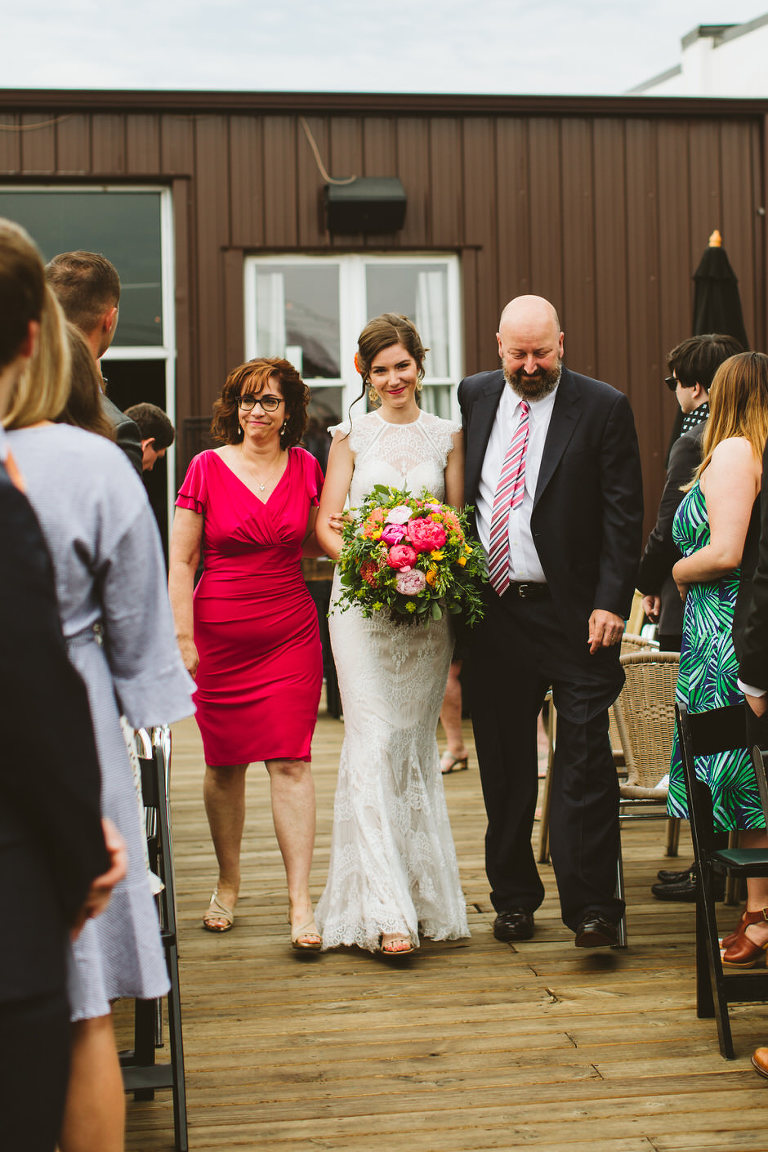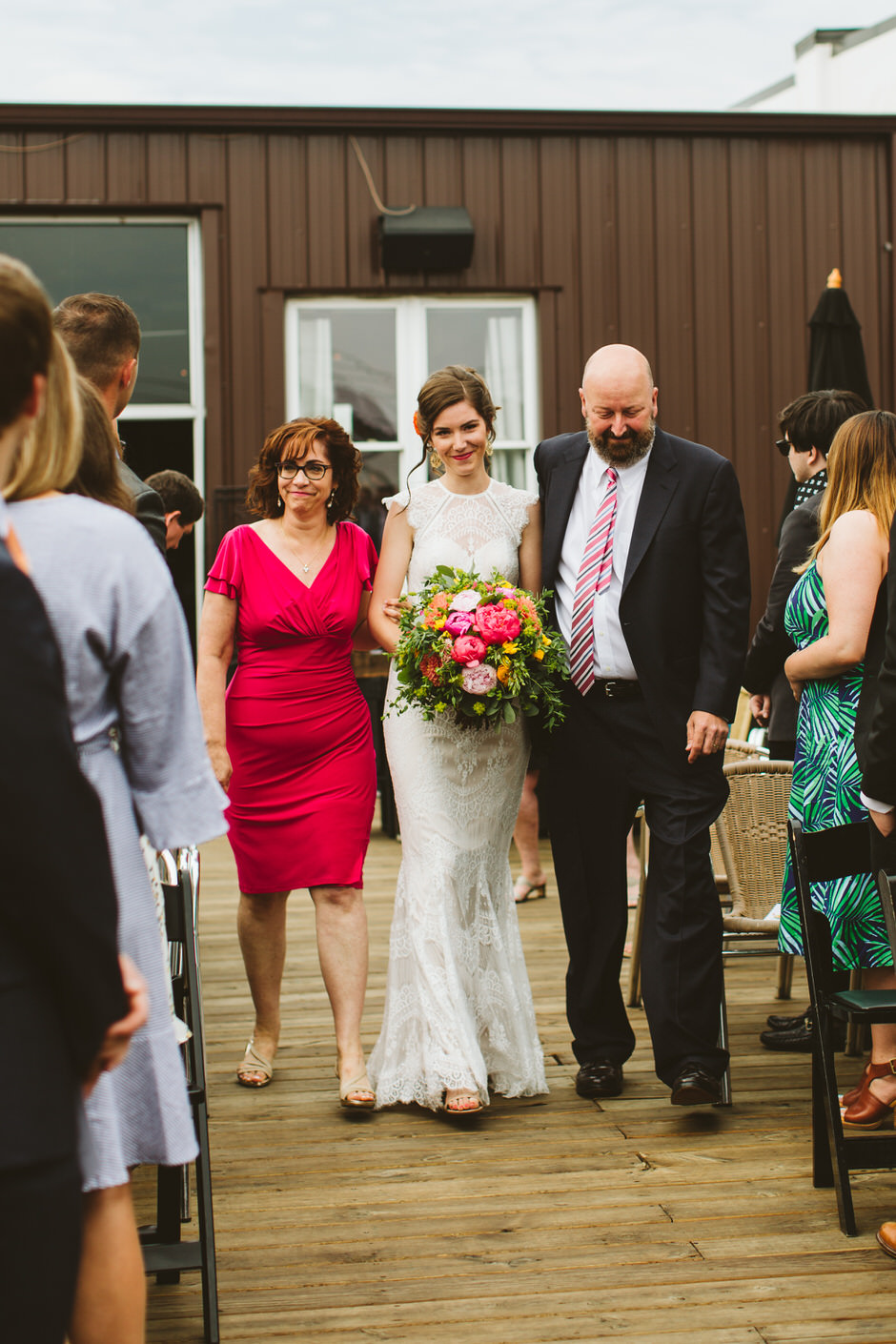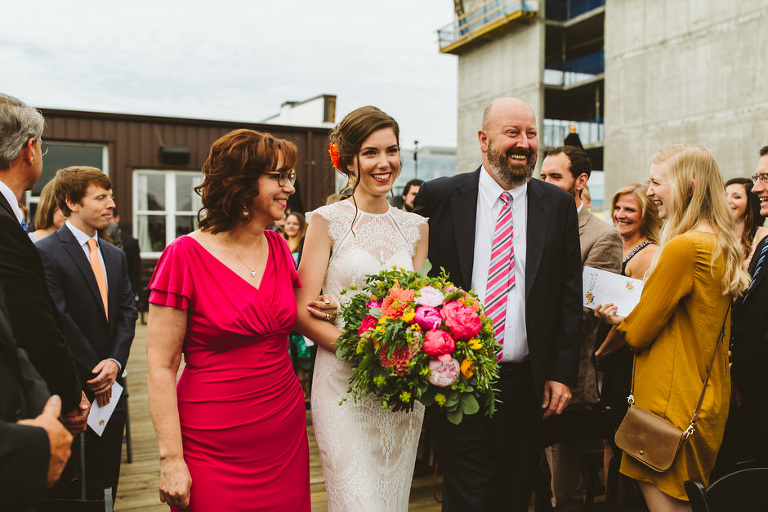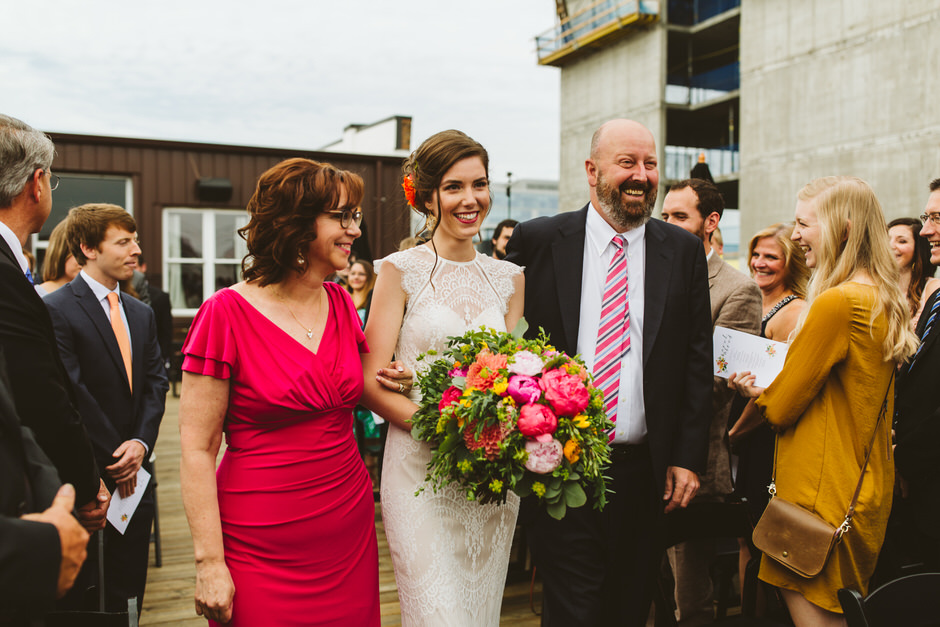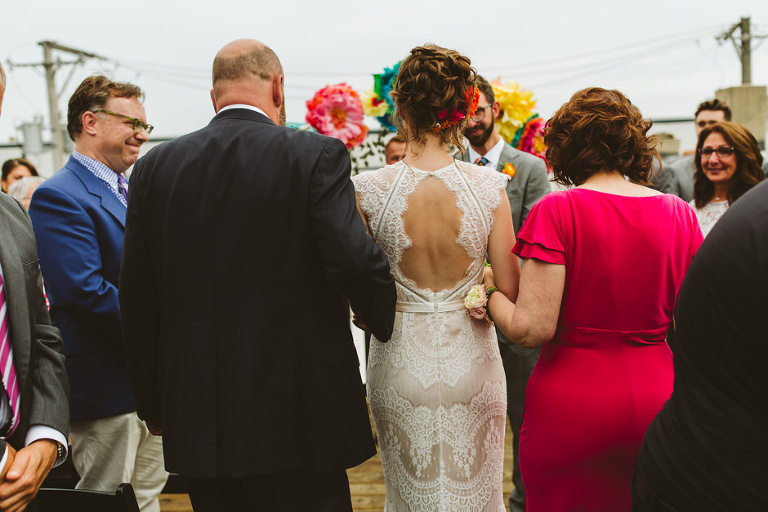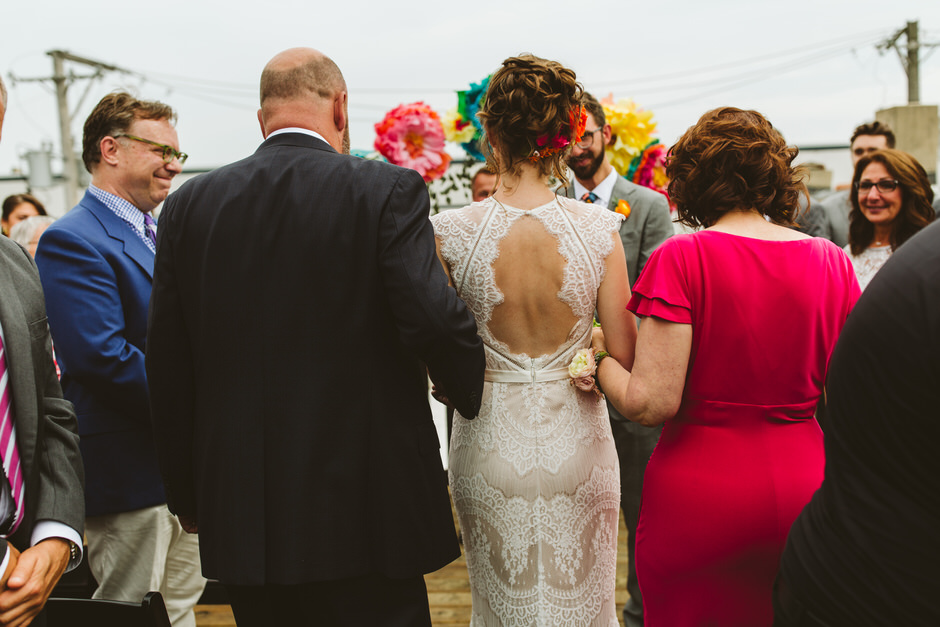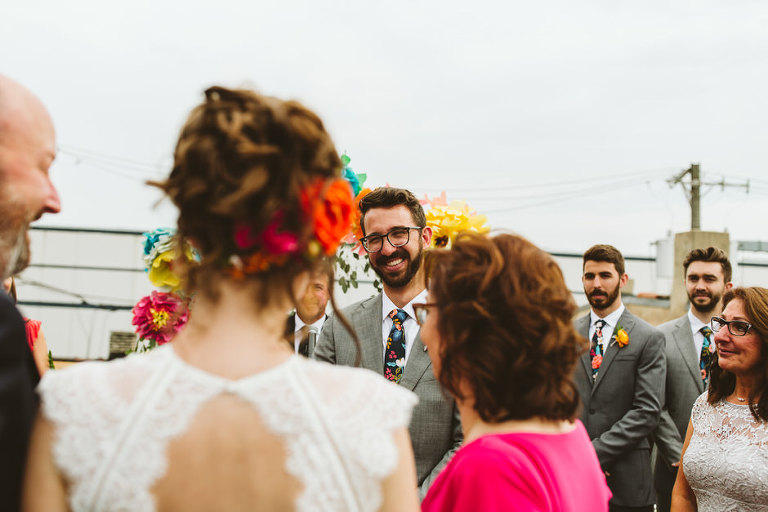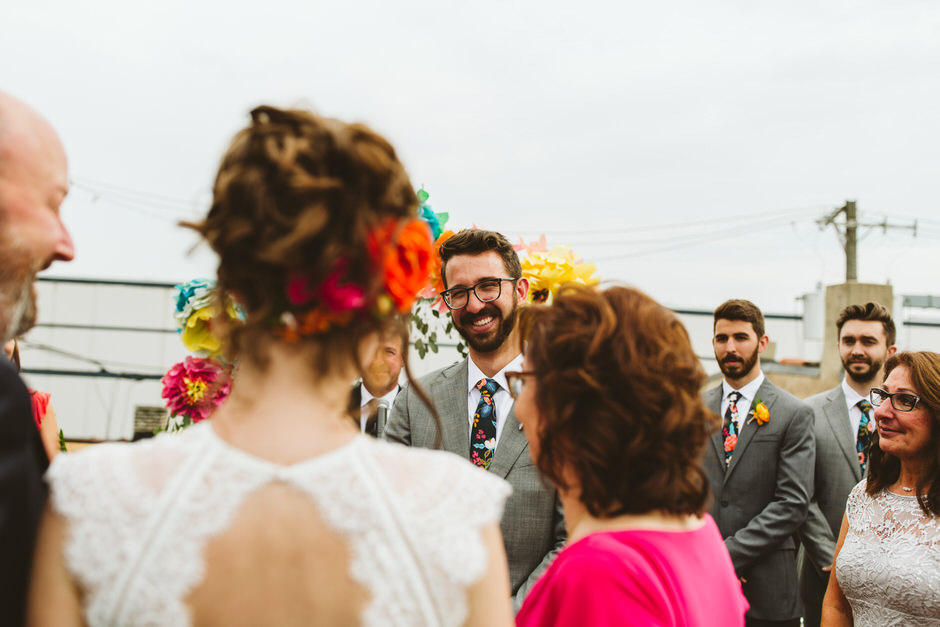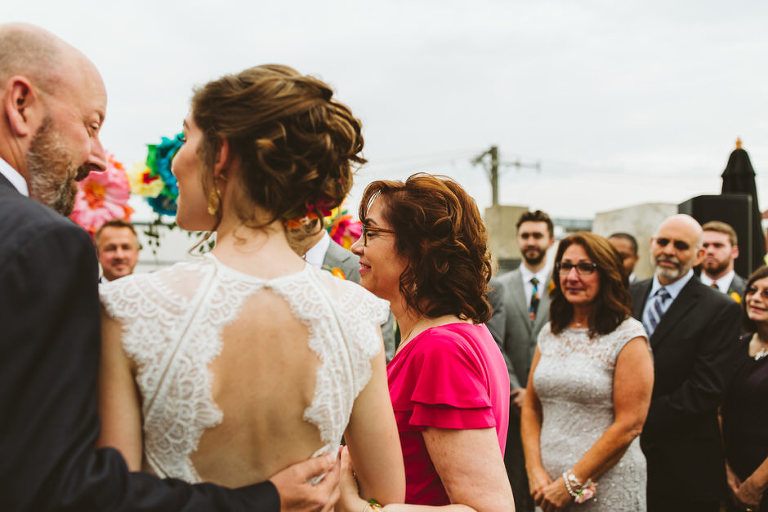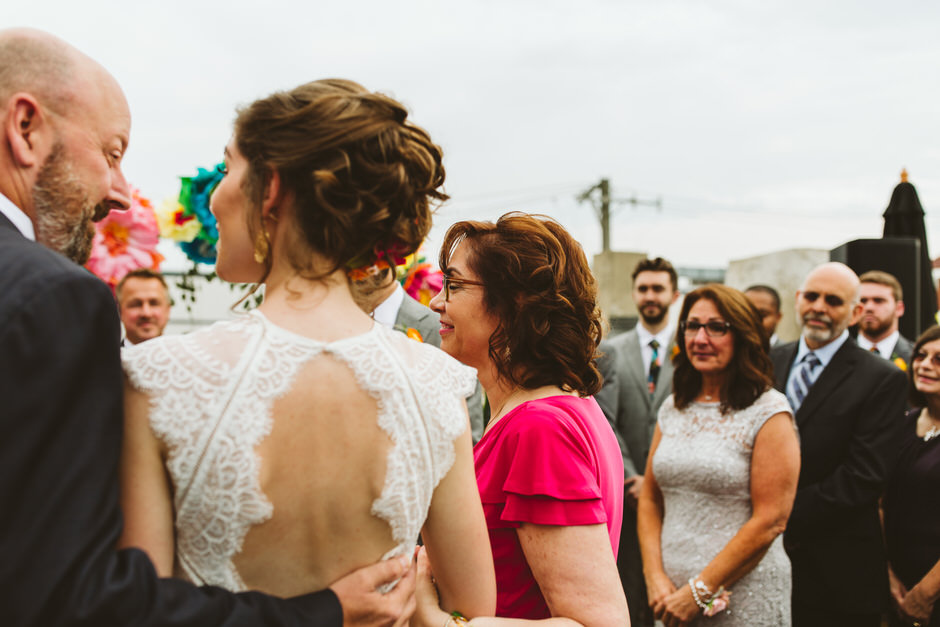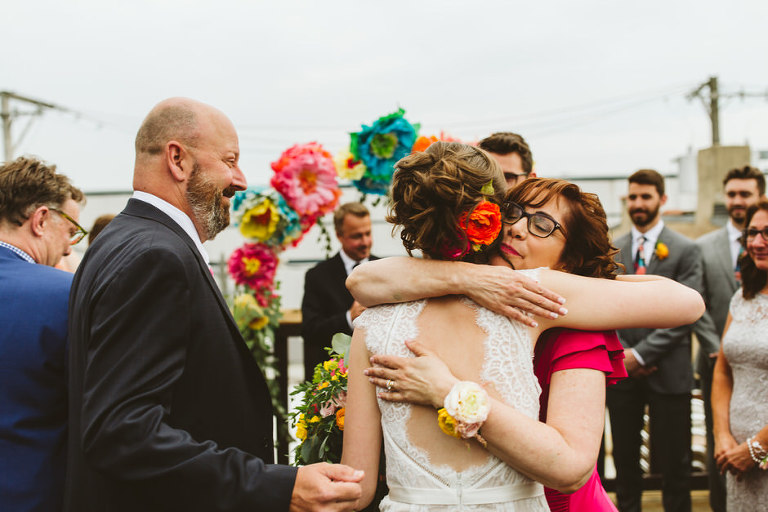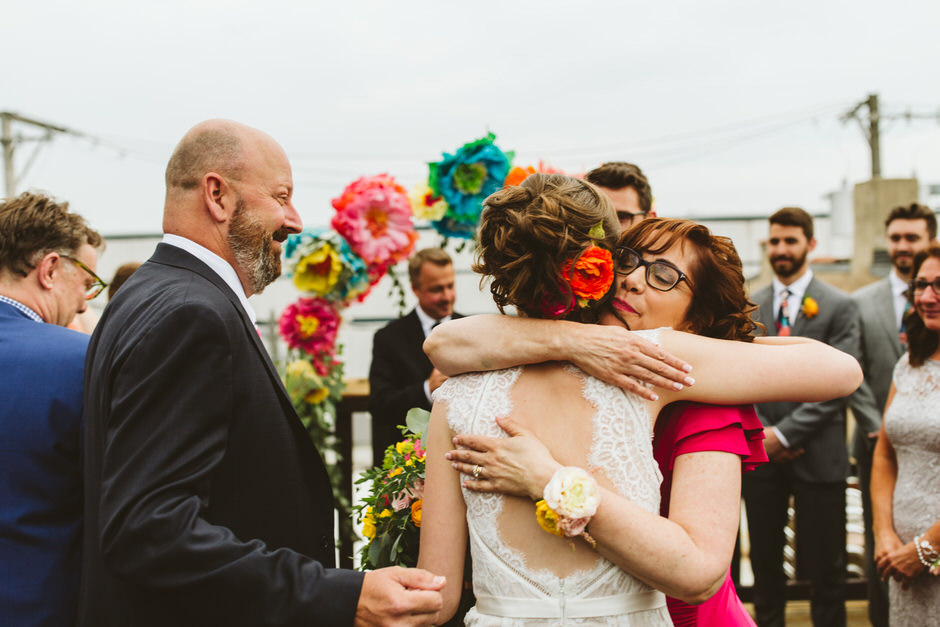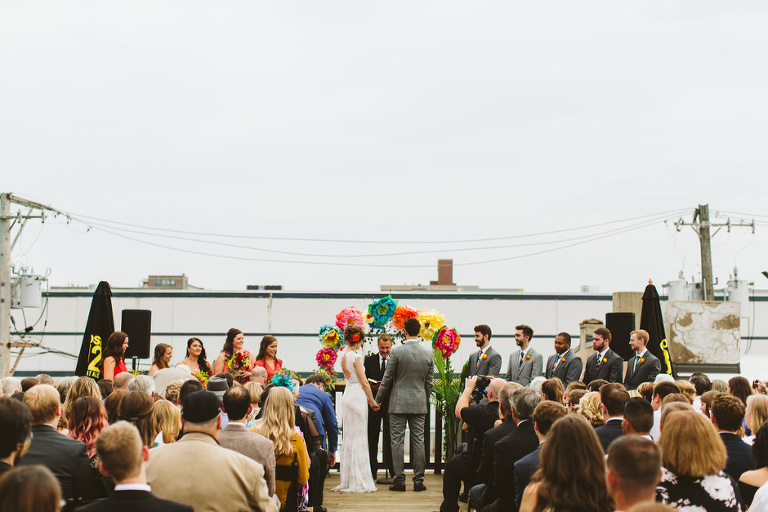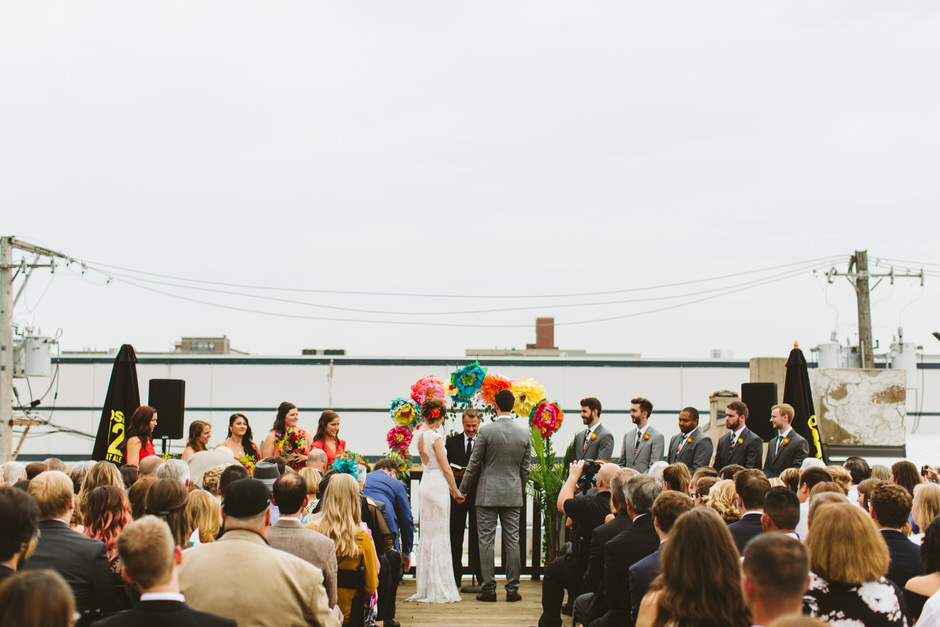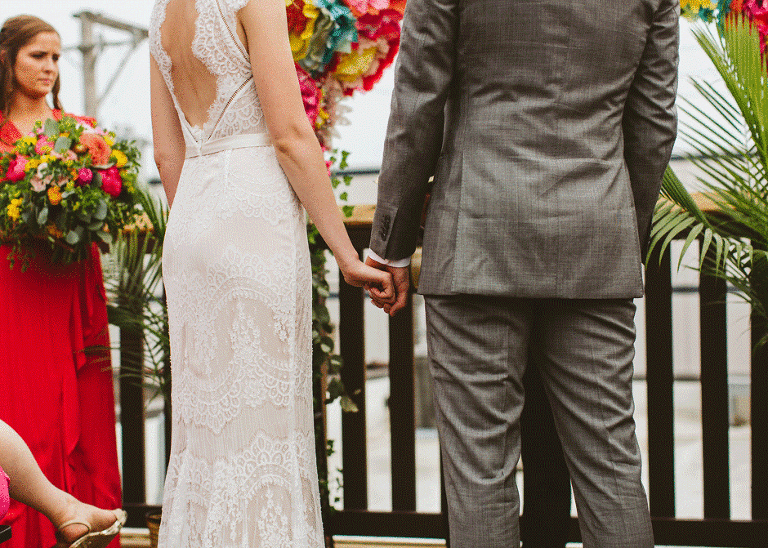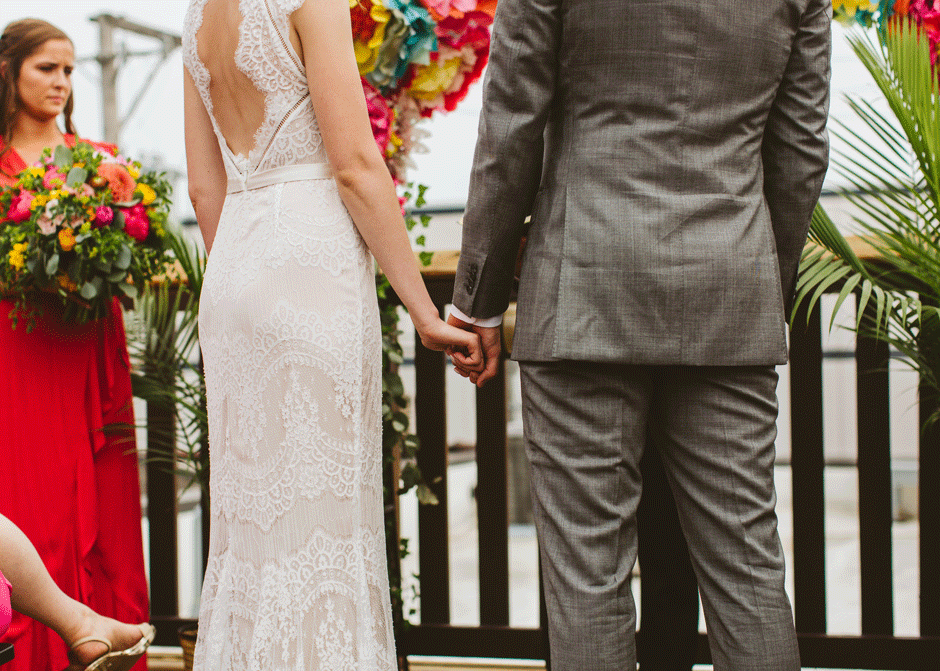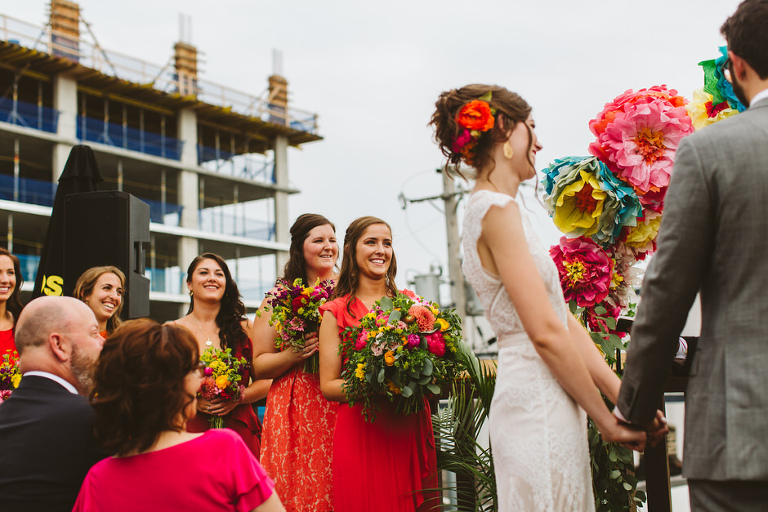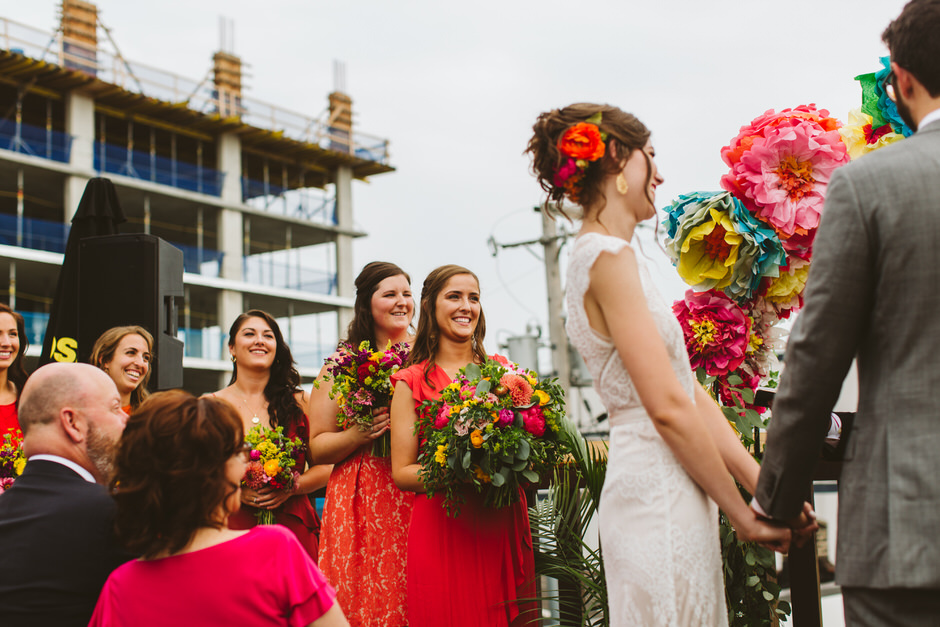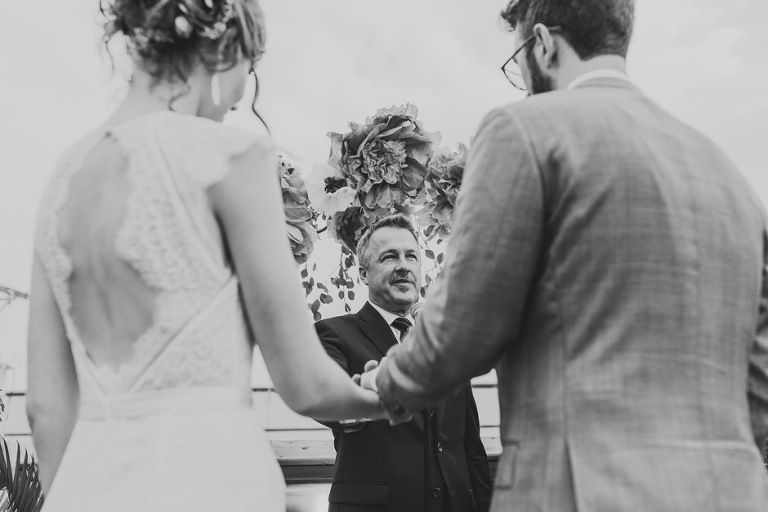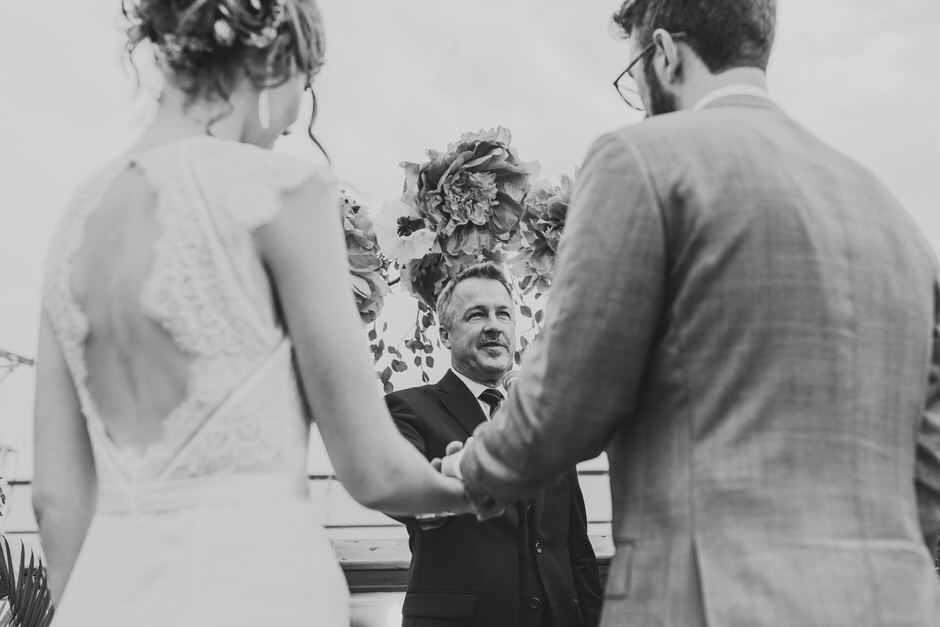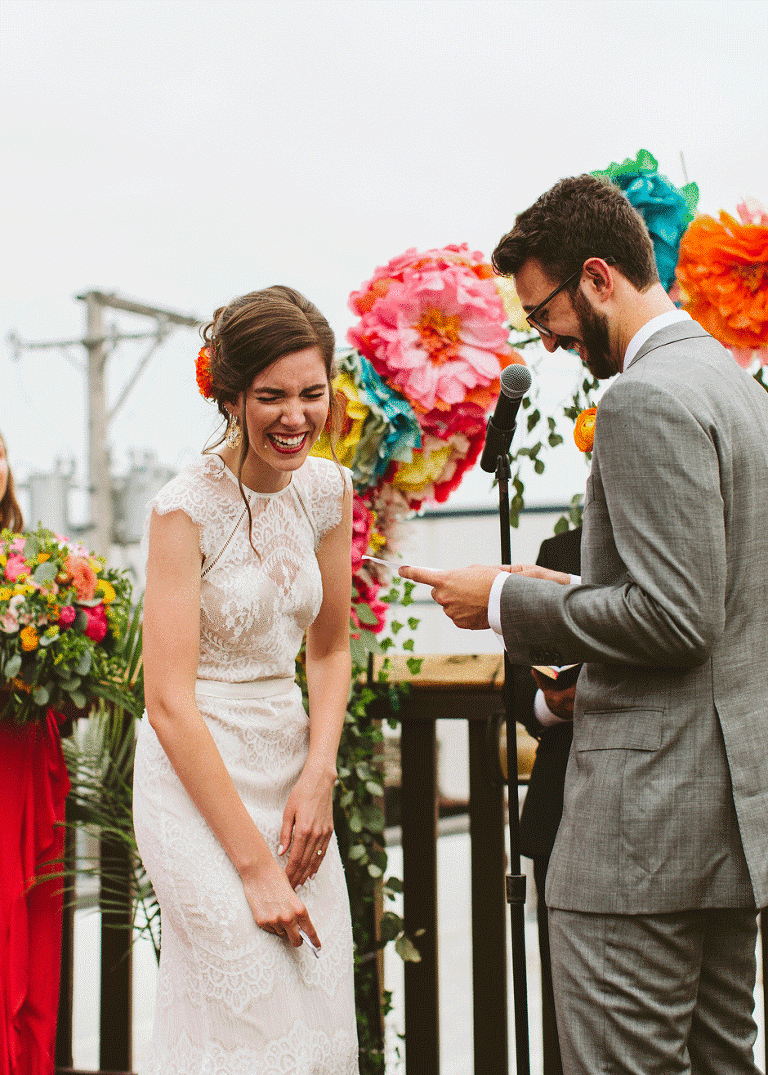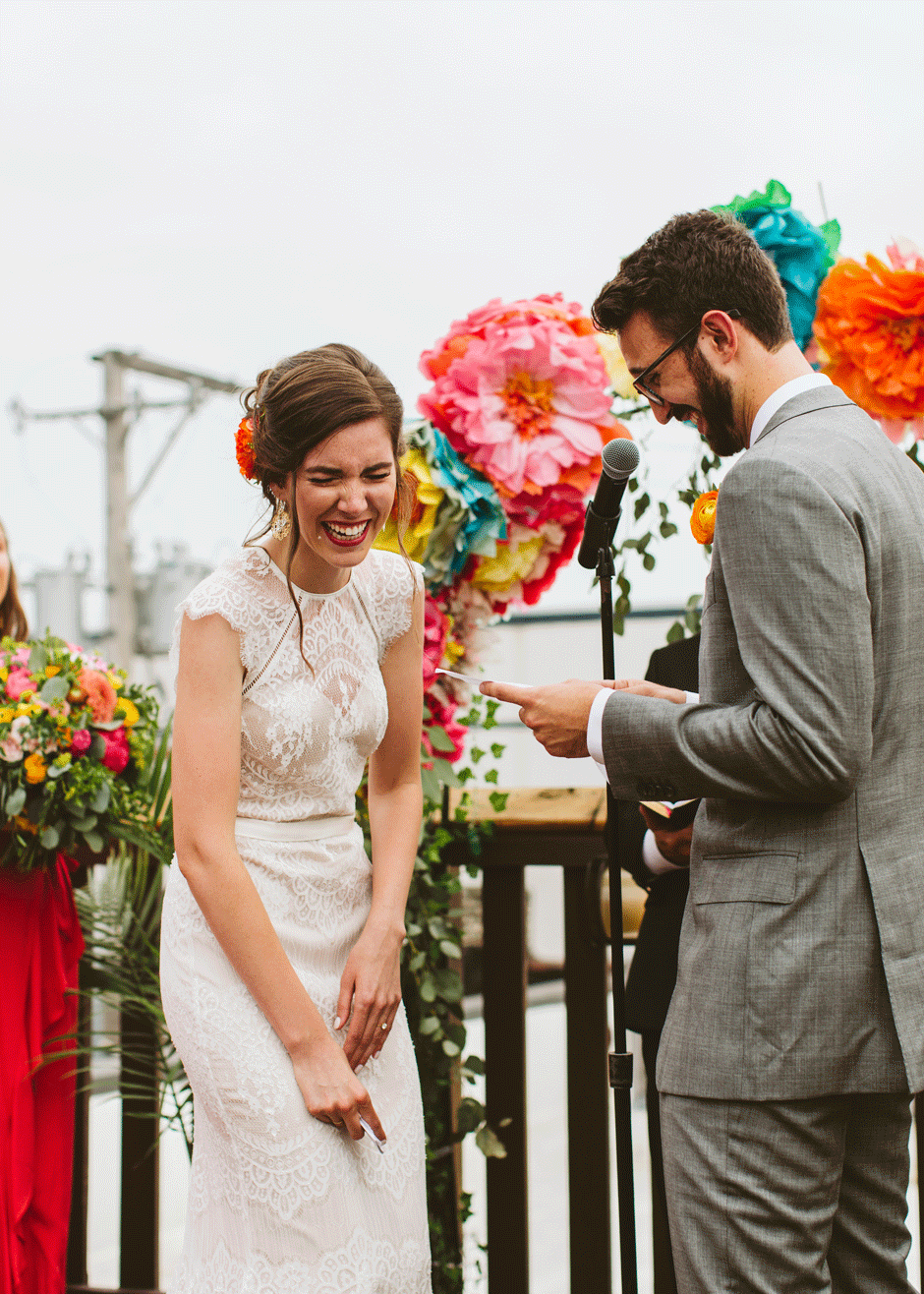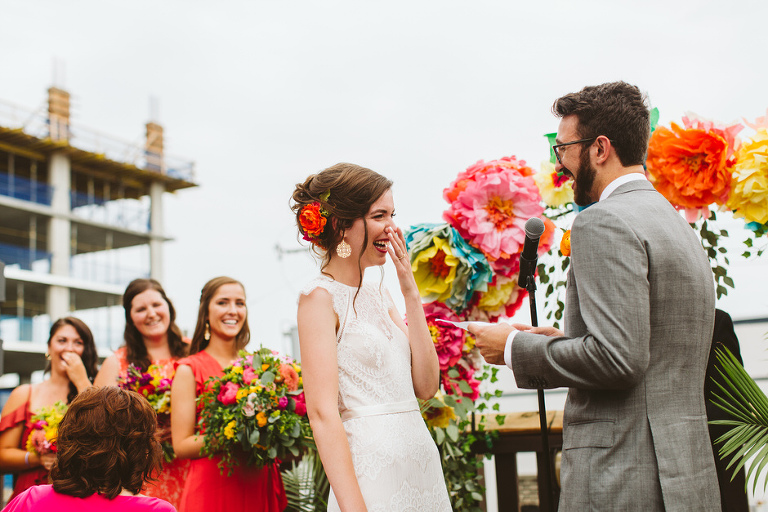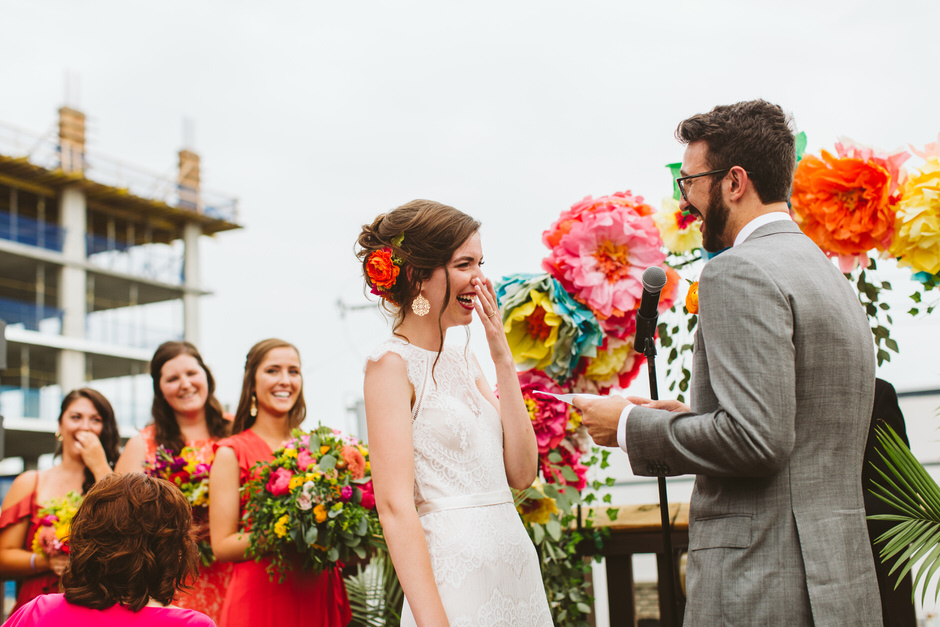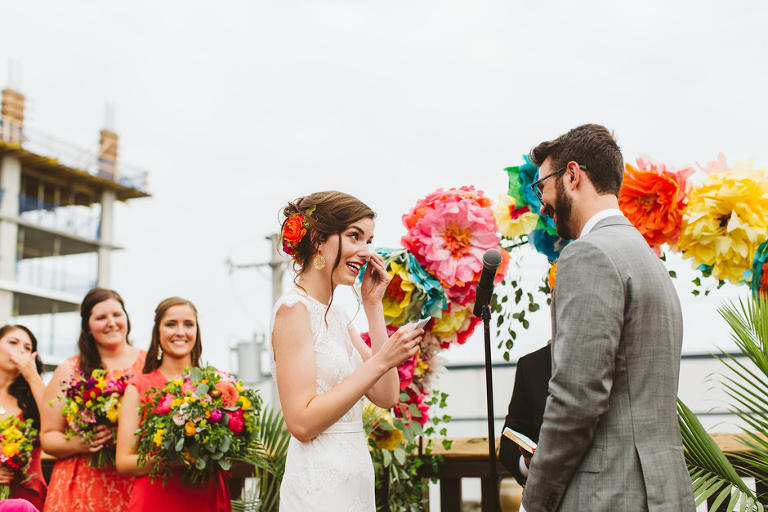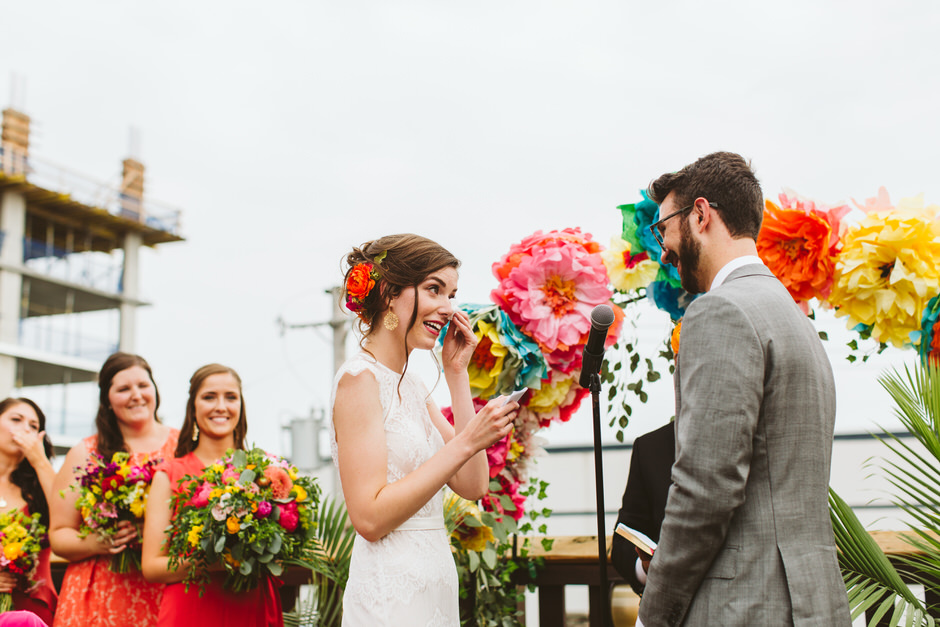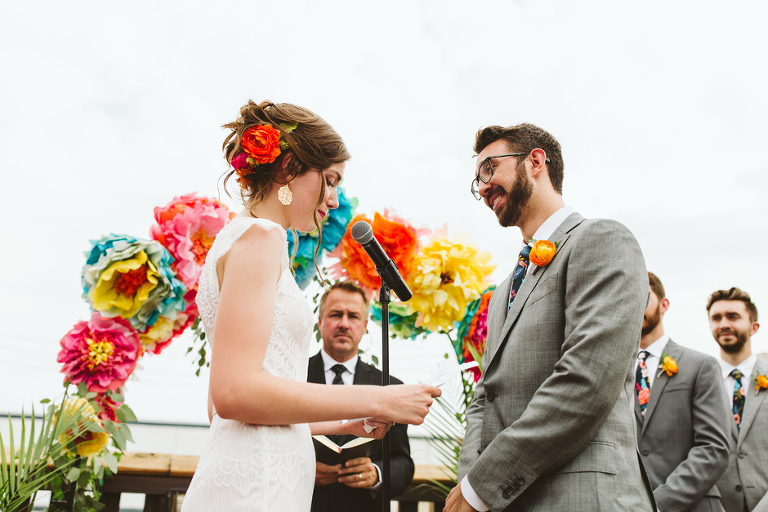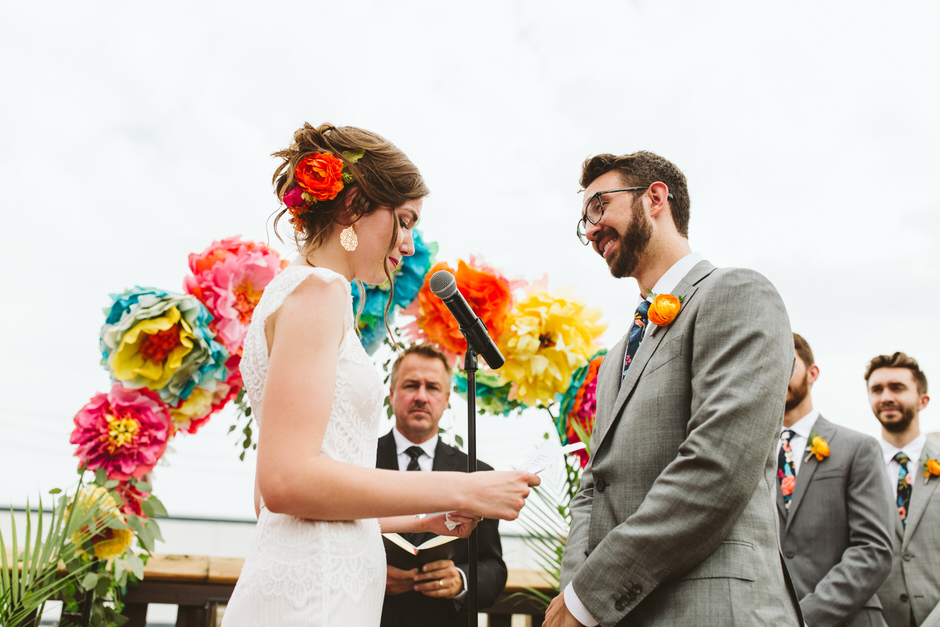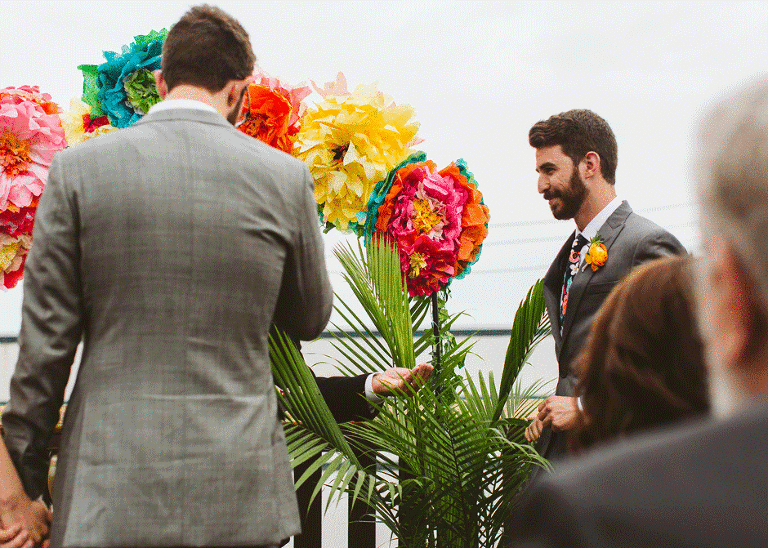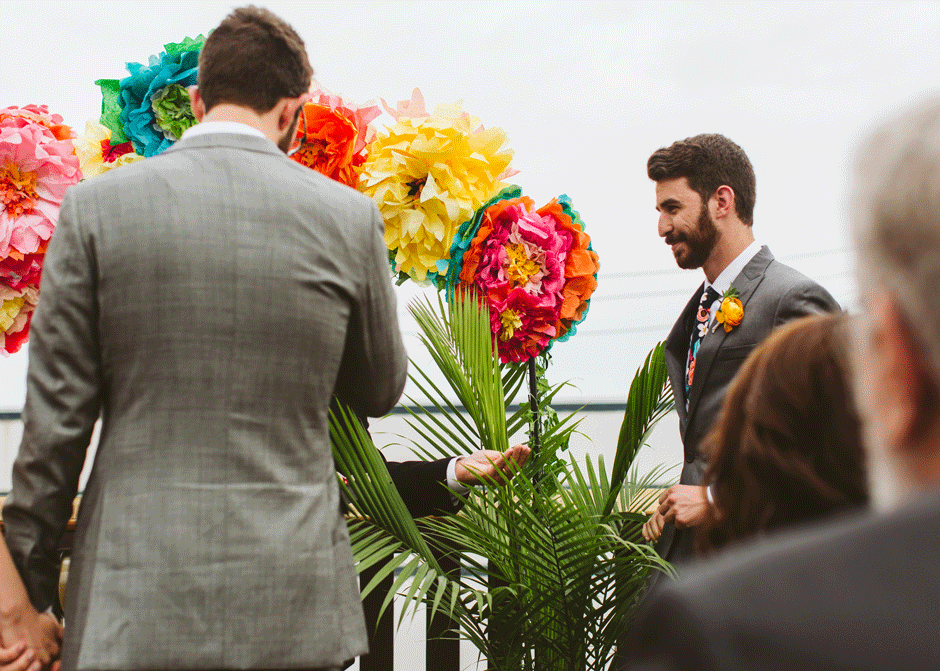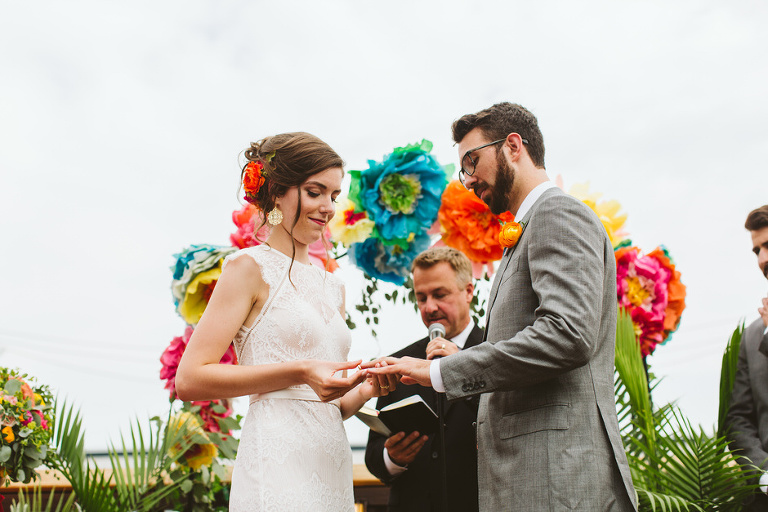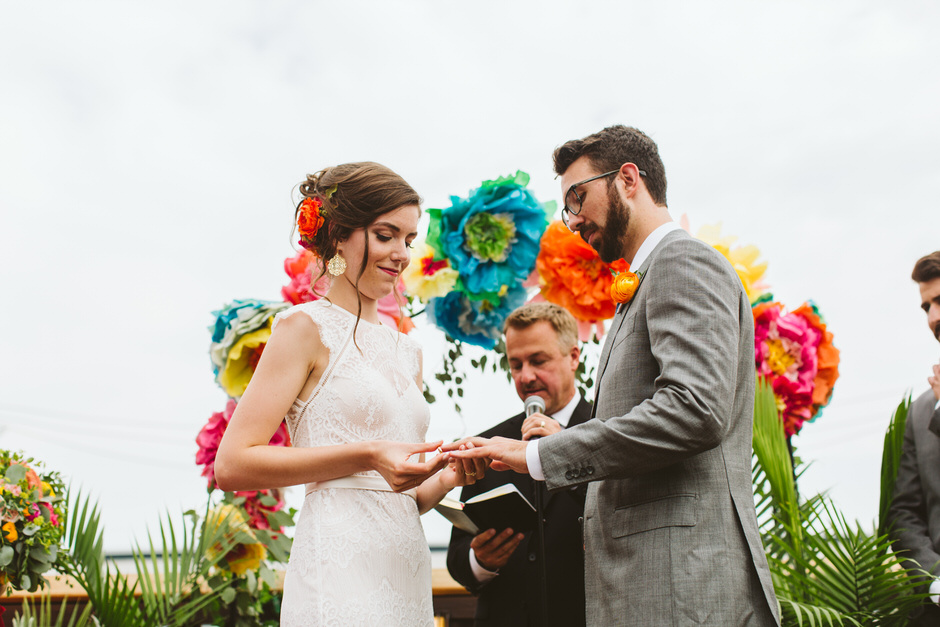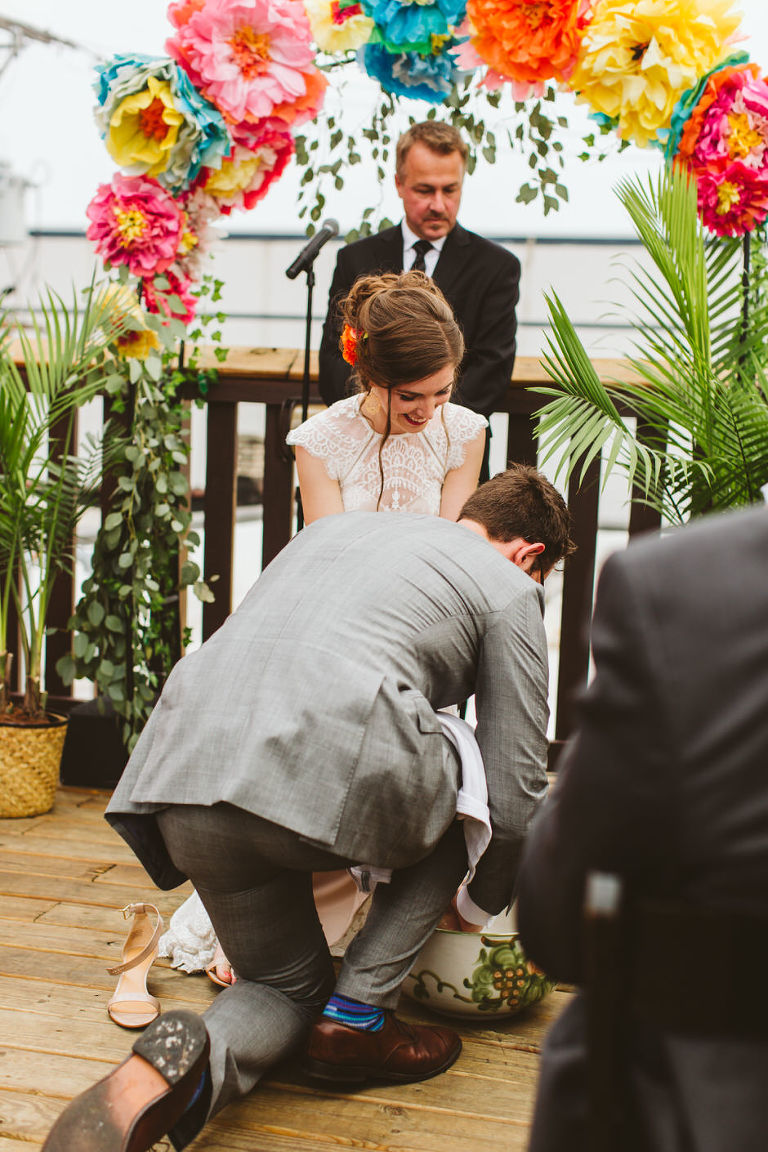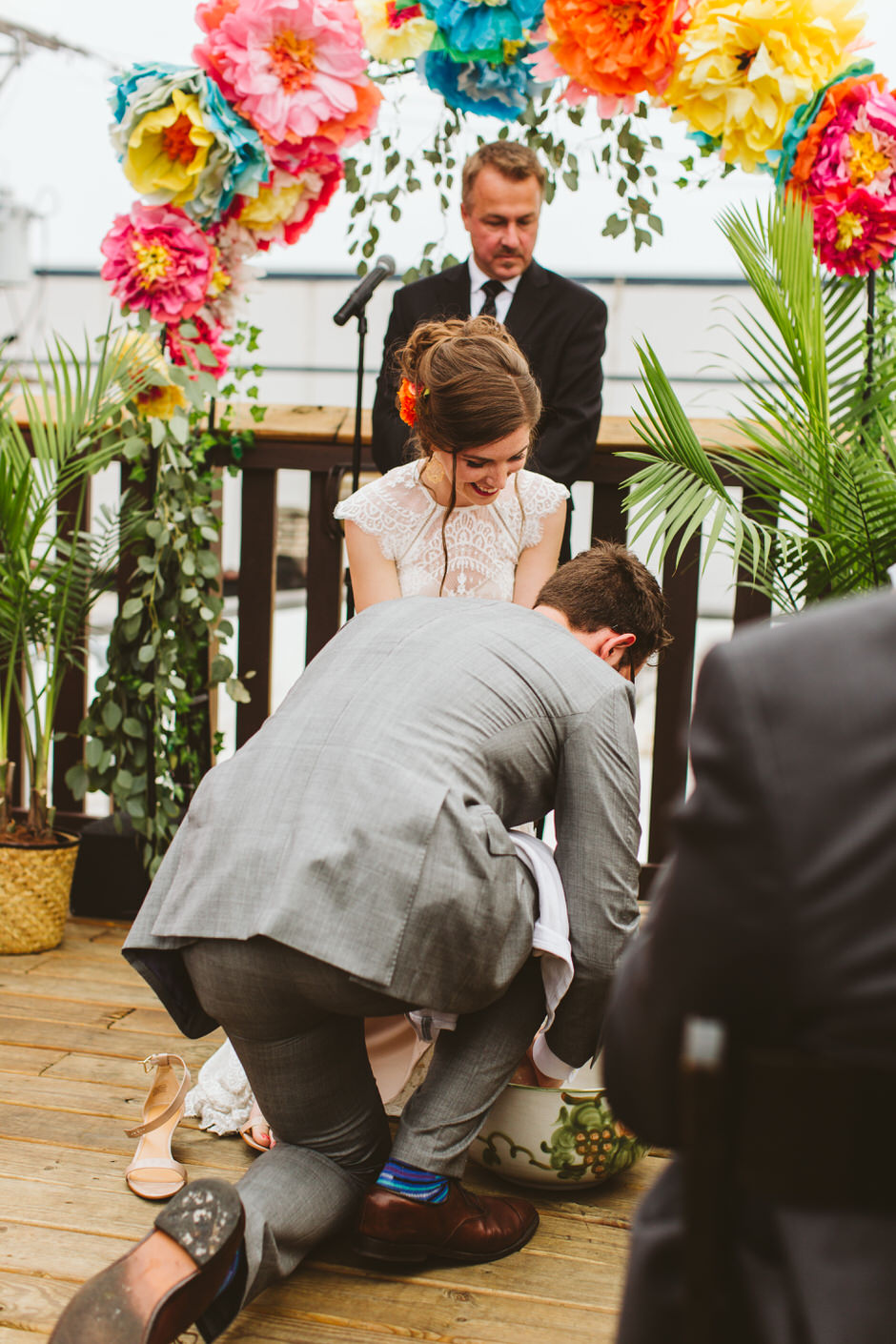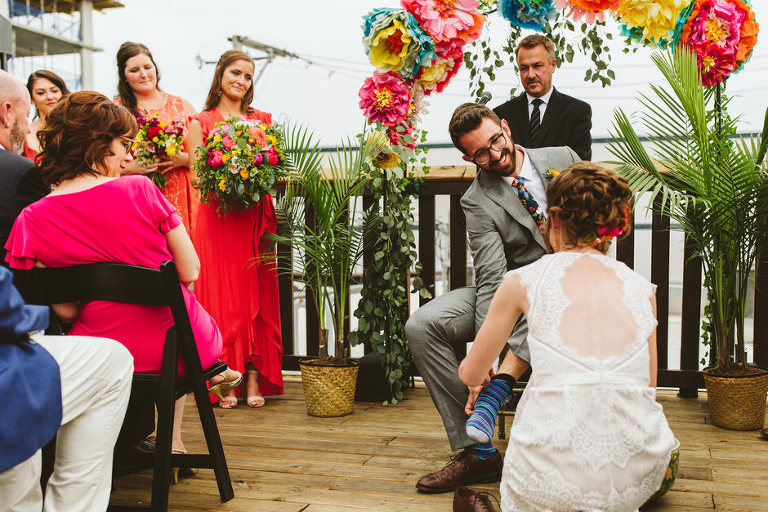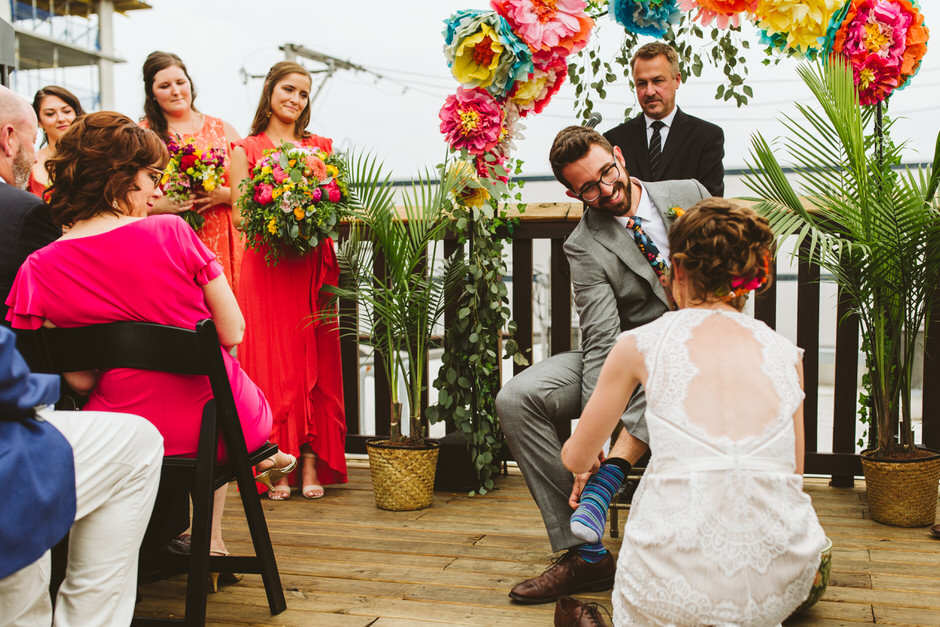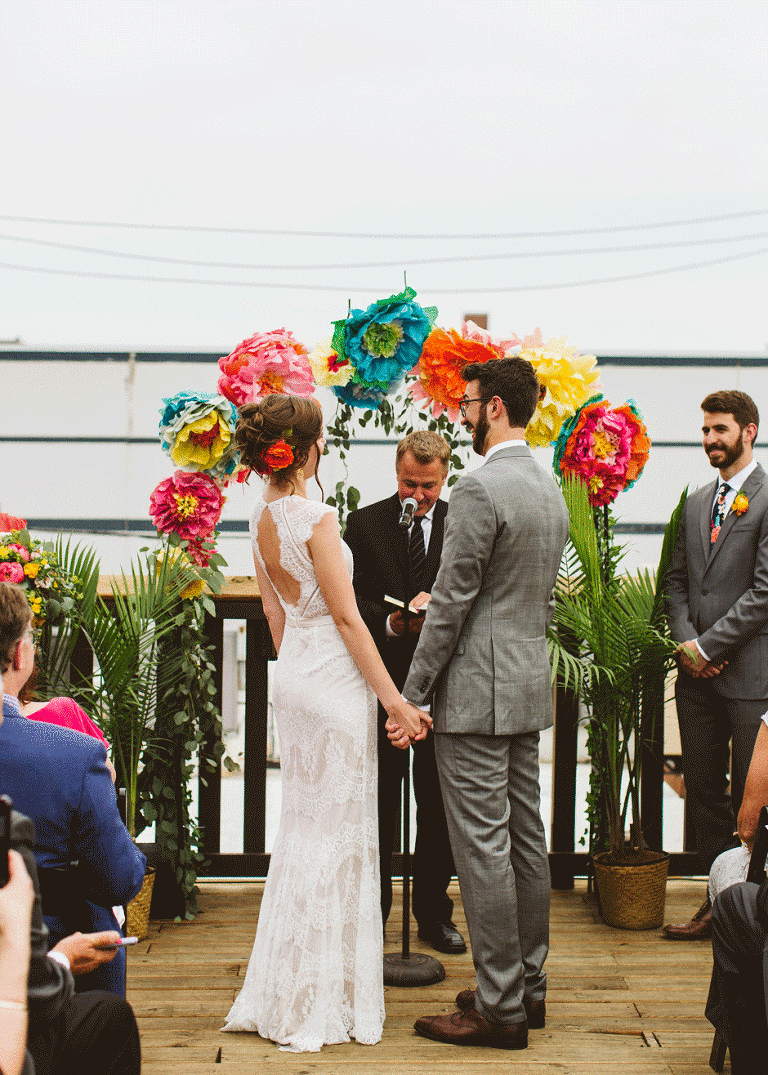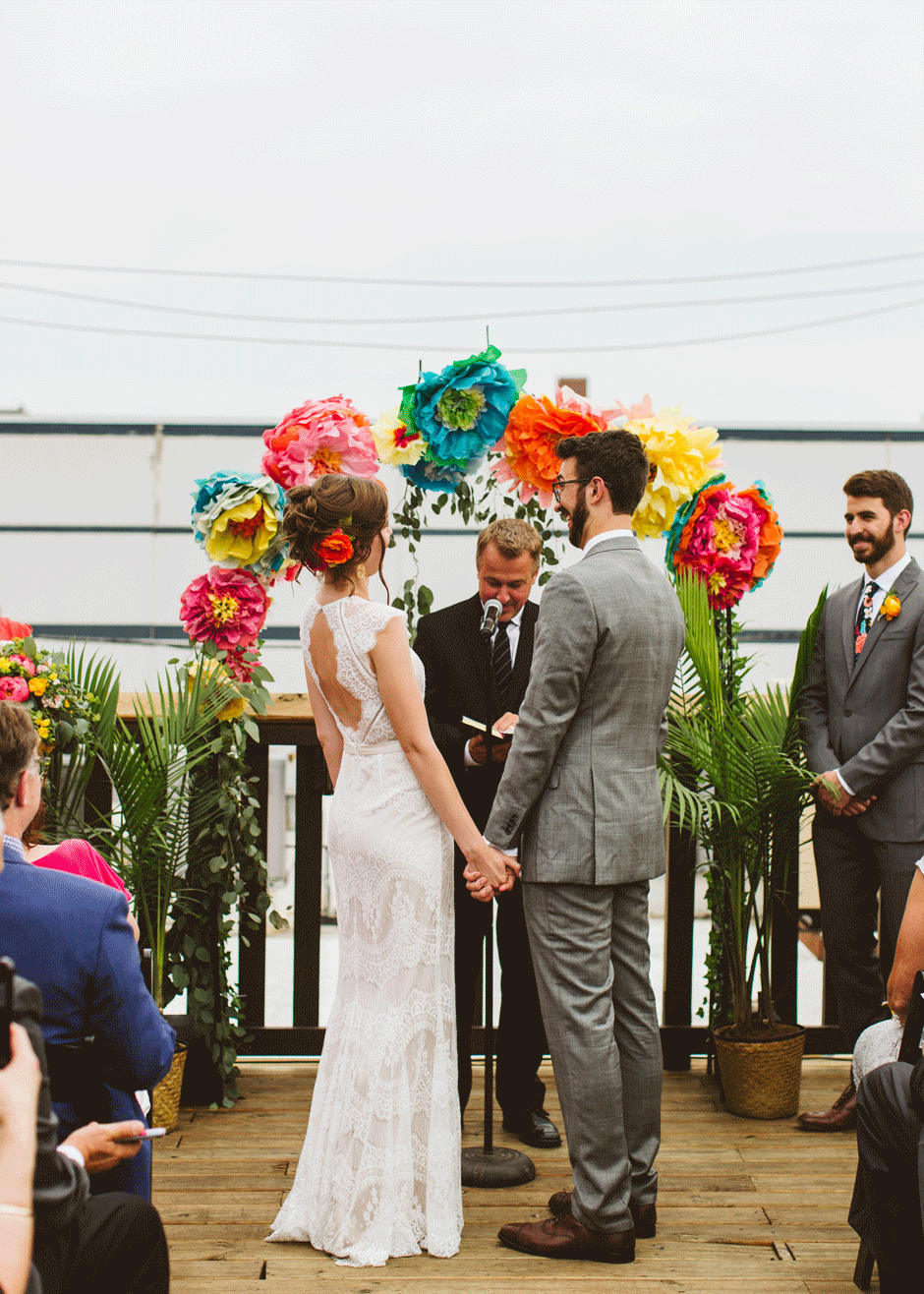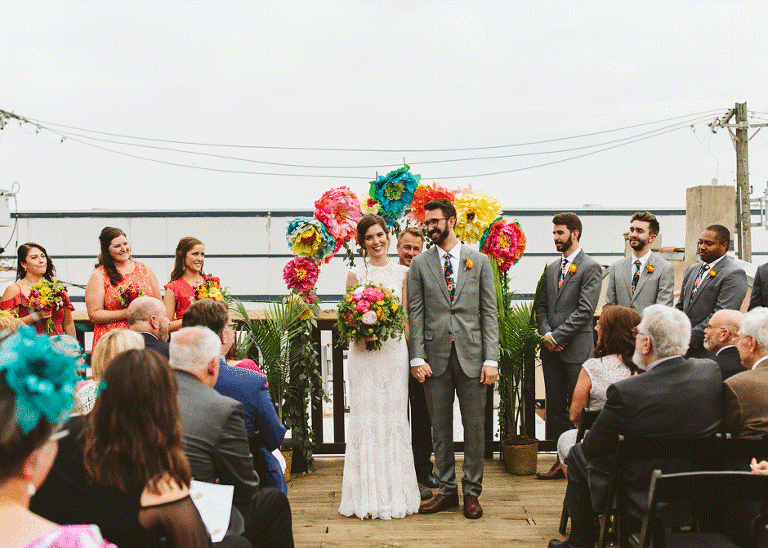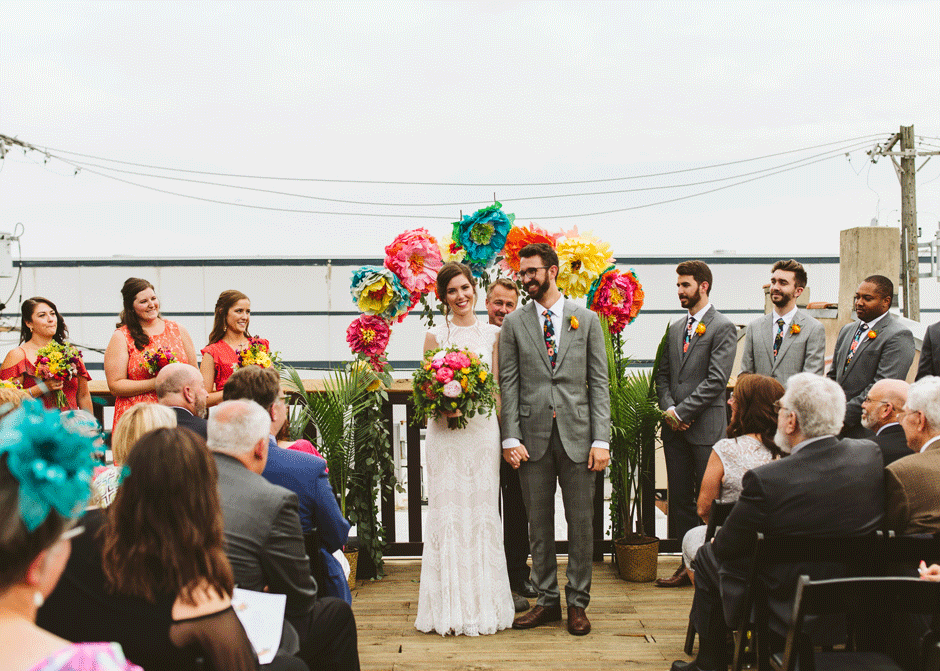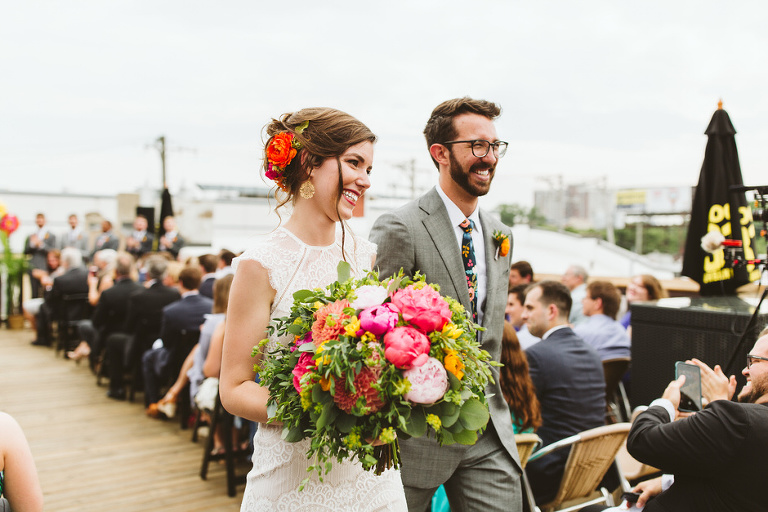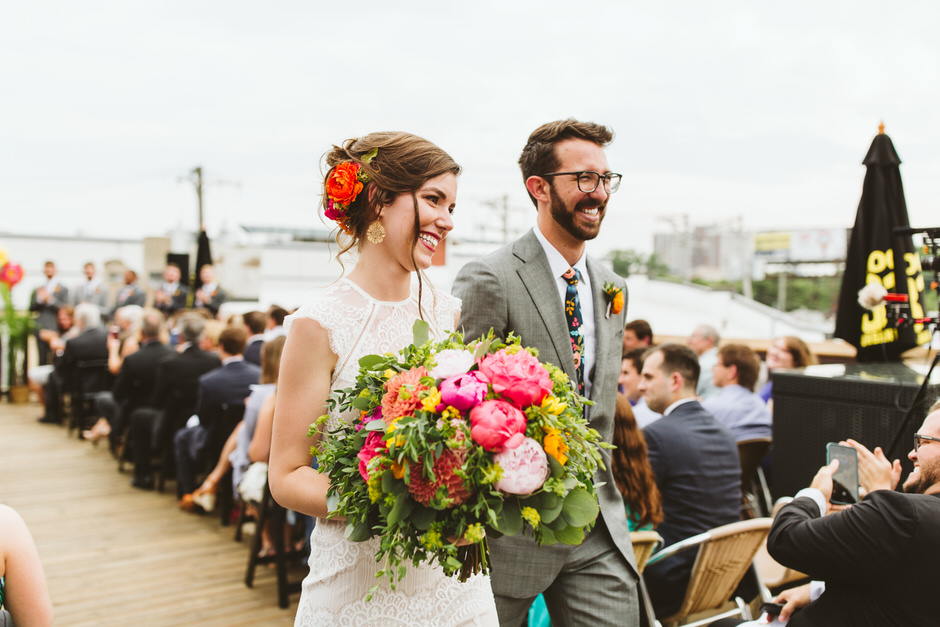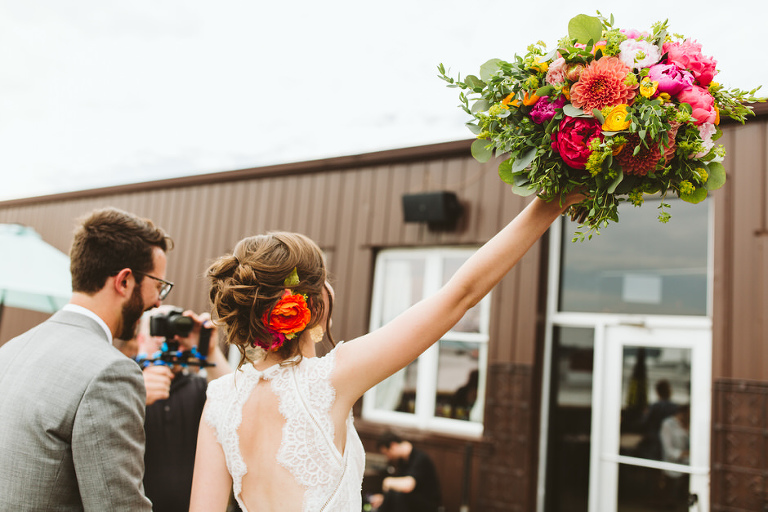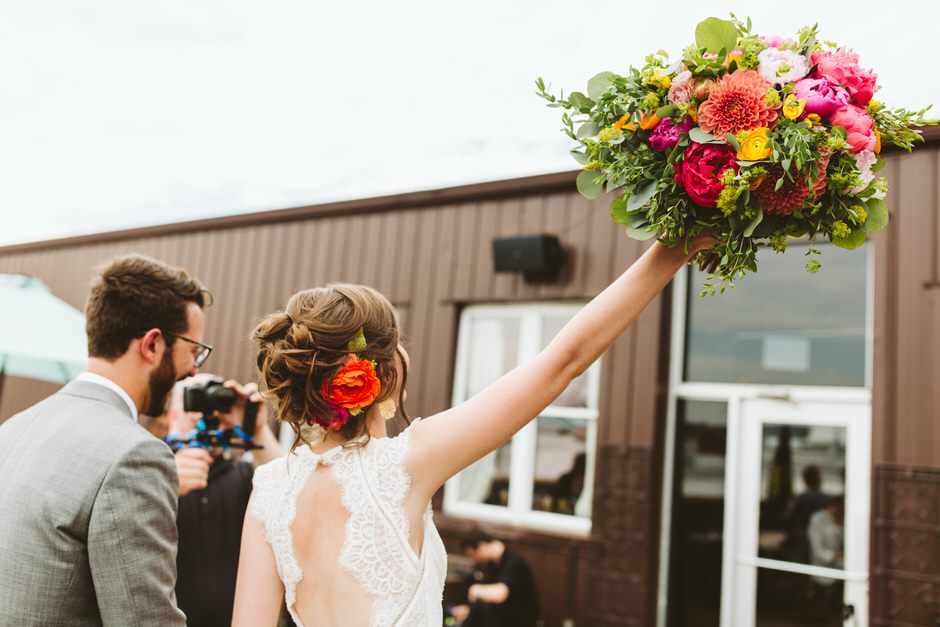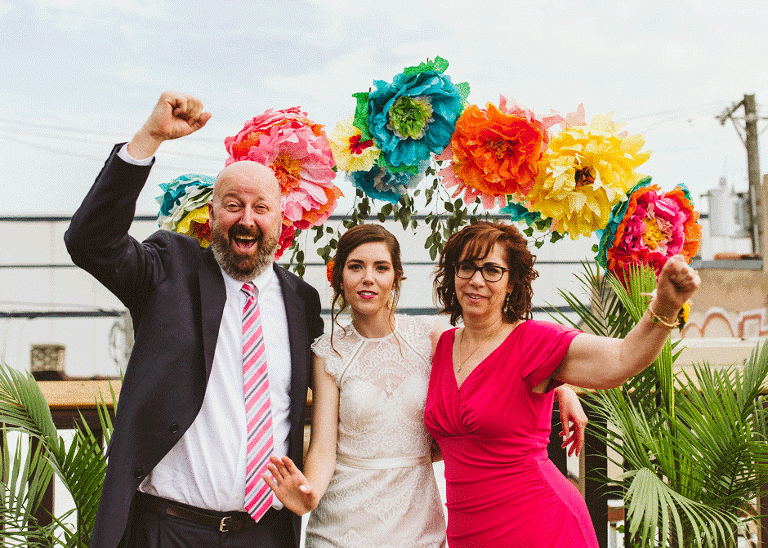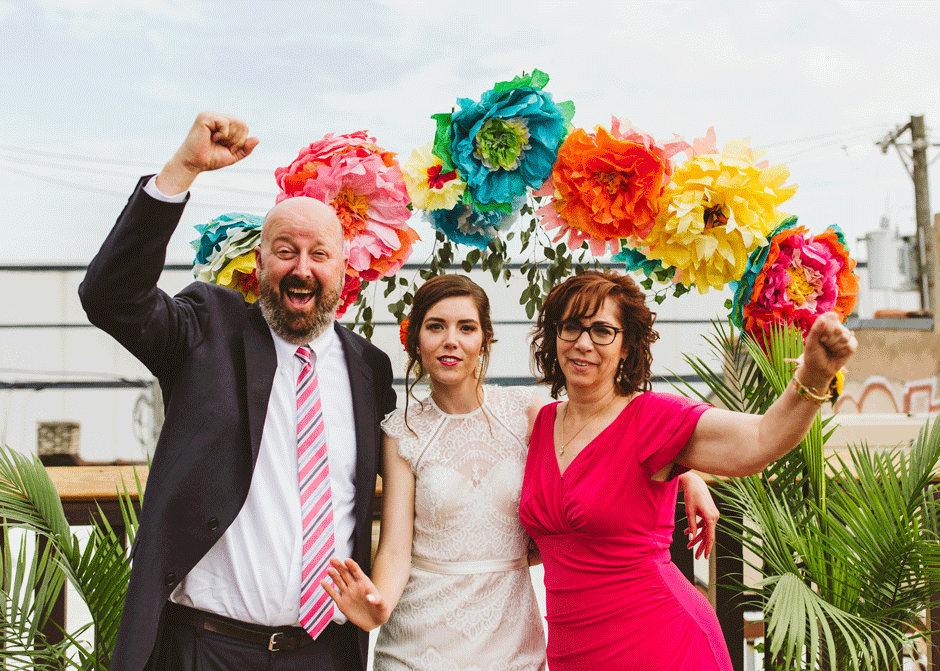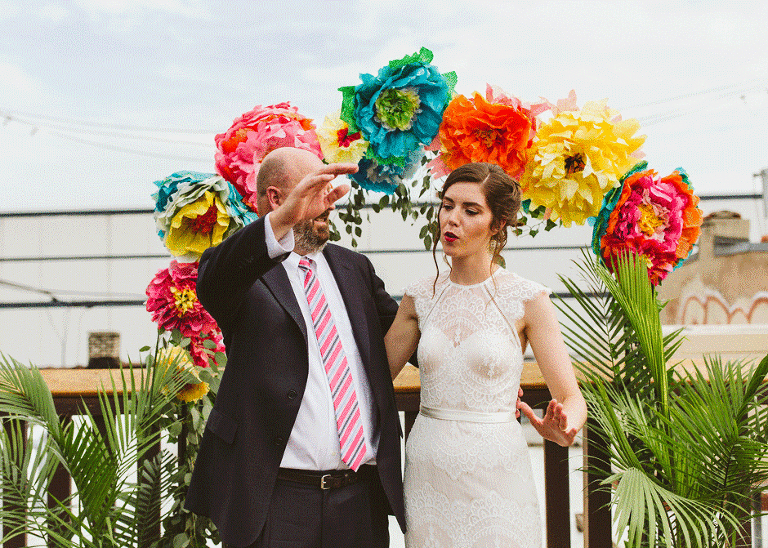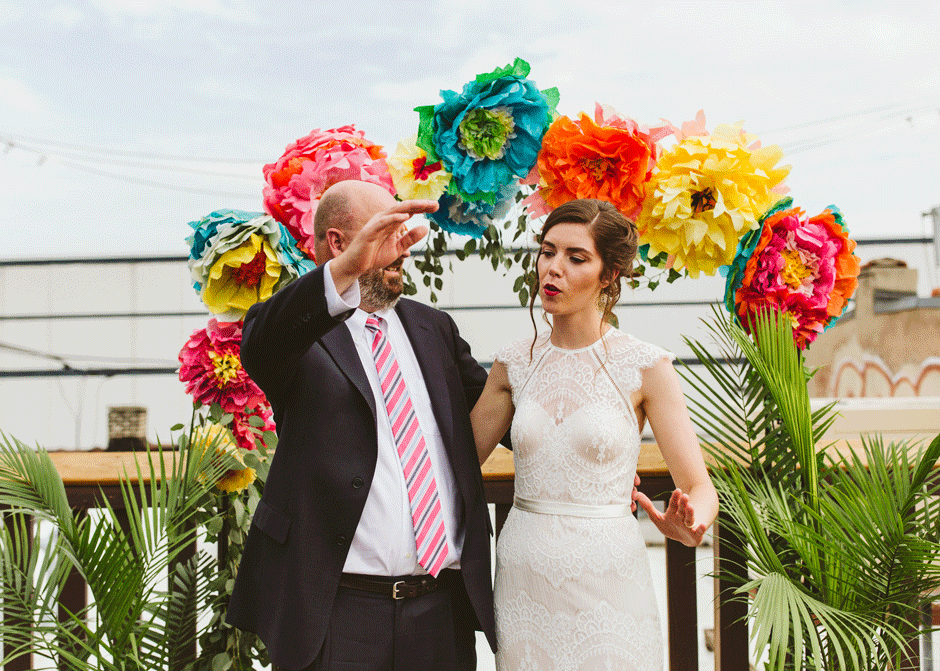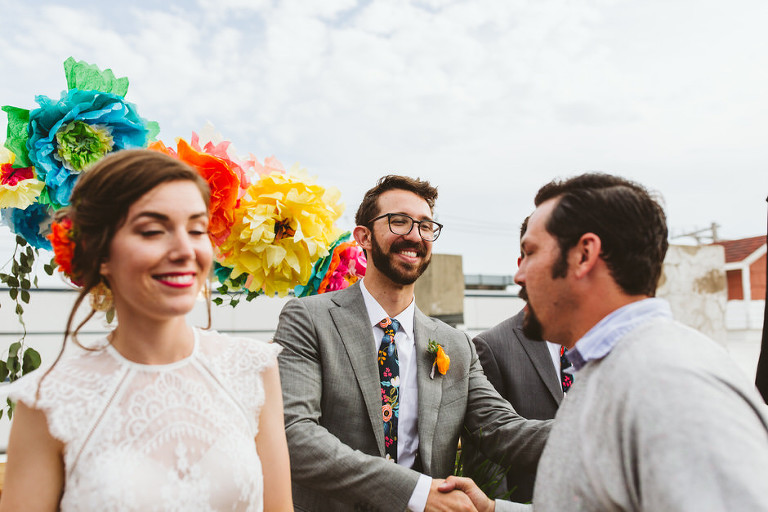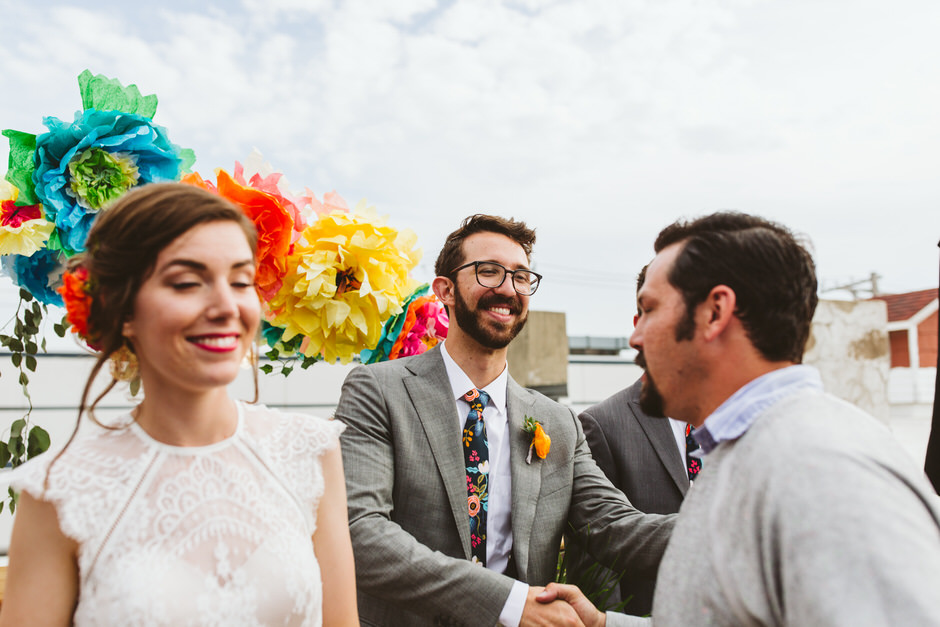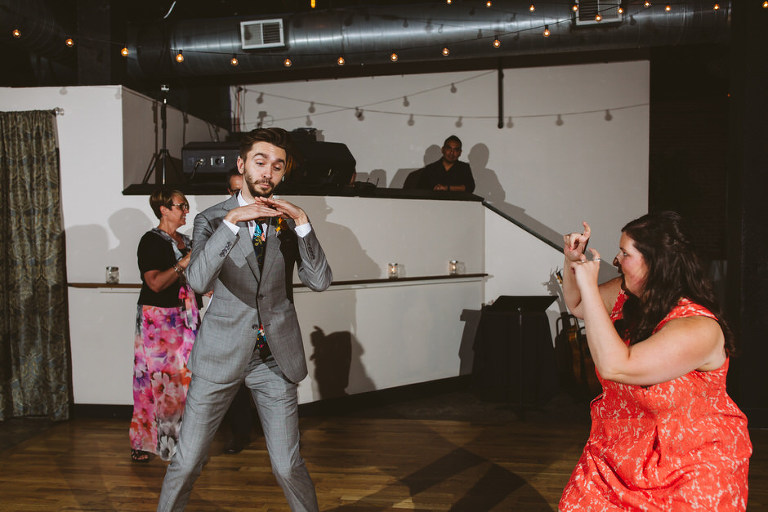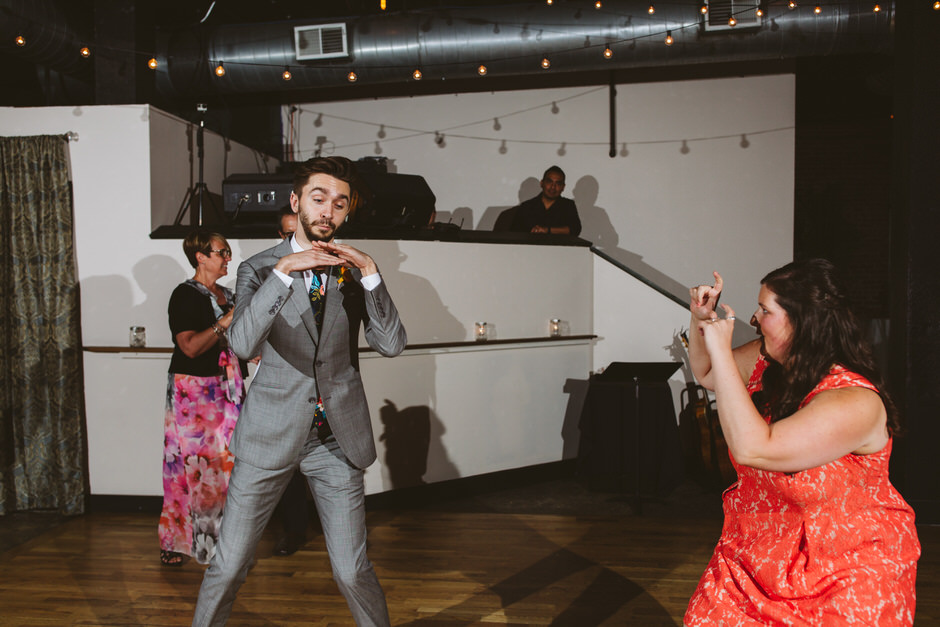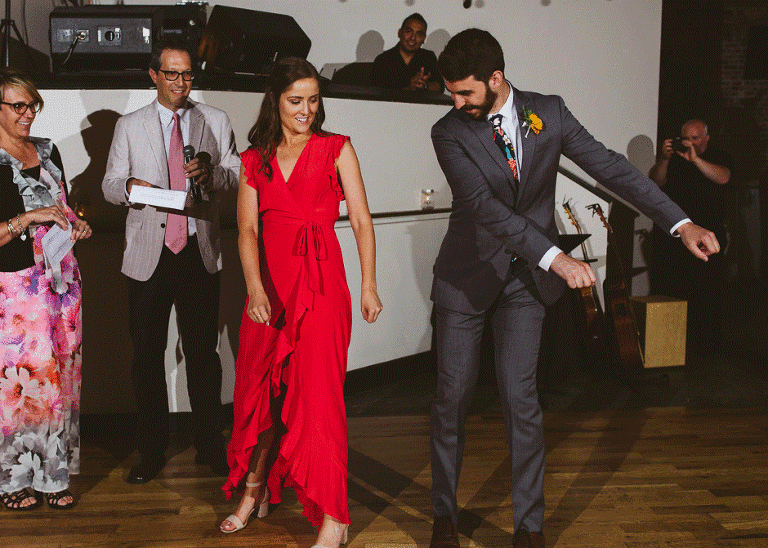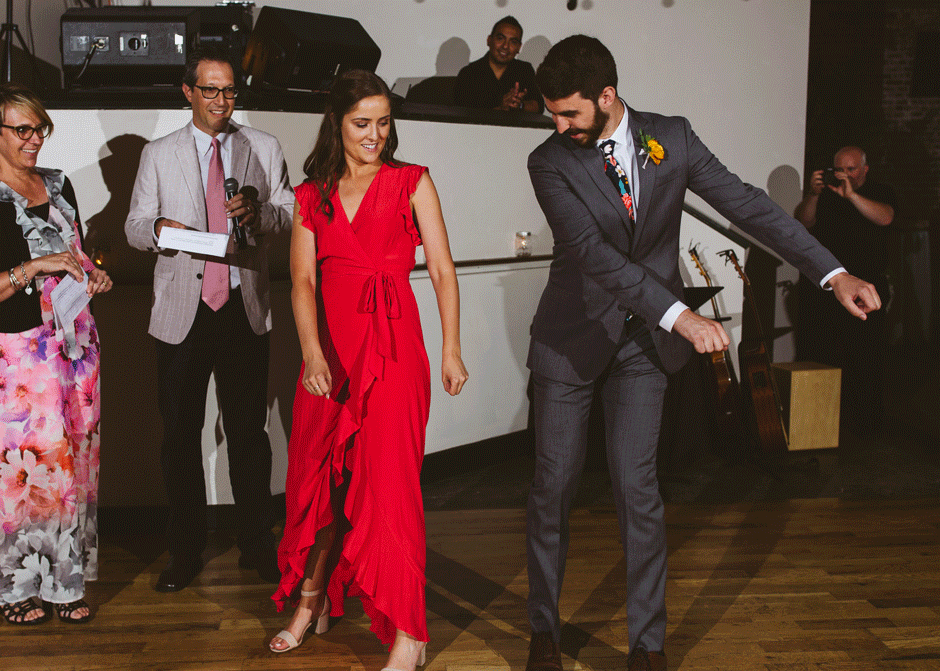 Reception/Dancing/Music: 
What a night! Sarah's aunt and uncle Emceed the reception to keep with the personal theme. The speeches made us laugh and left us teary-eyed. We devoured pies from Chicago's Bang Bang Pie and brought out Chicago-style hot dogs for a late-night snack. Brad's crowdsourced playlist and our DJ kept the tunes coming for much dancing and merriment, but the night had to end eventually (despite Sarah's continued Cardi B requests).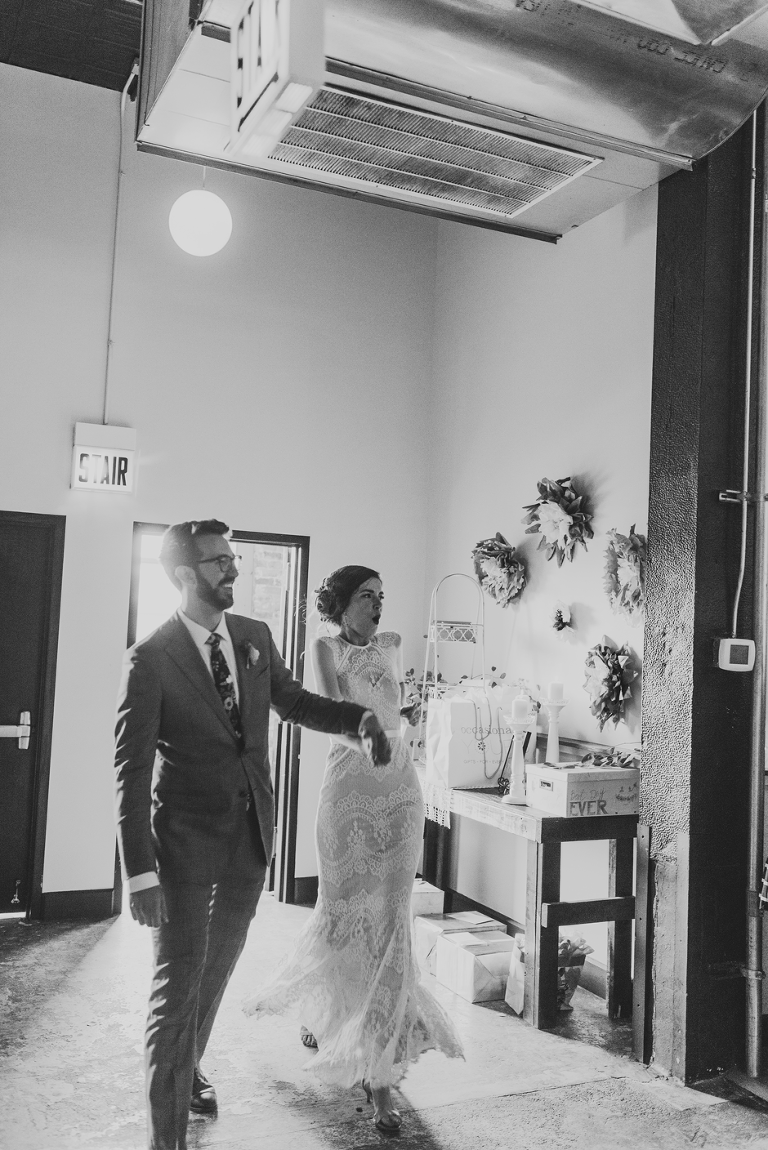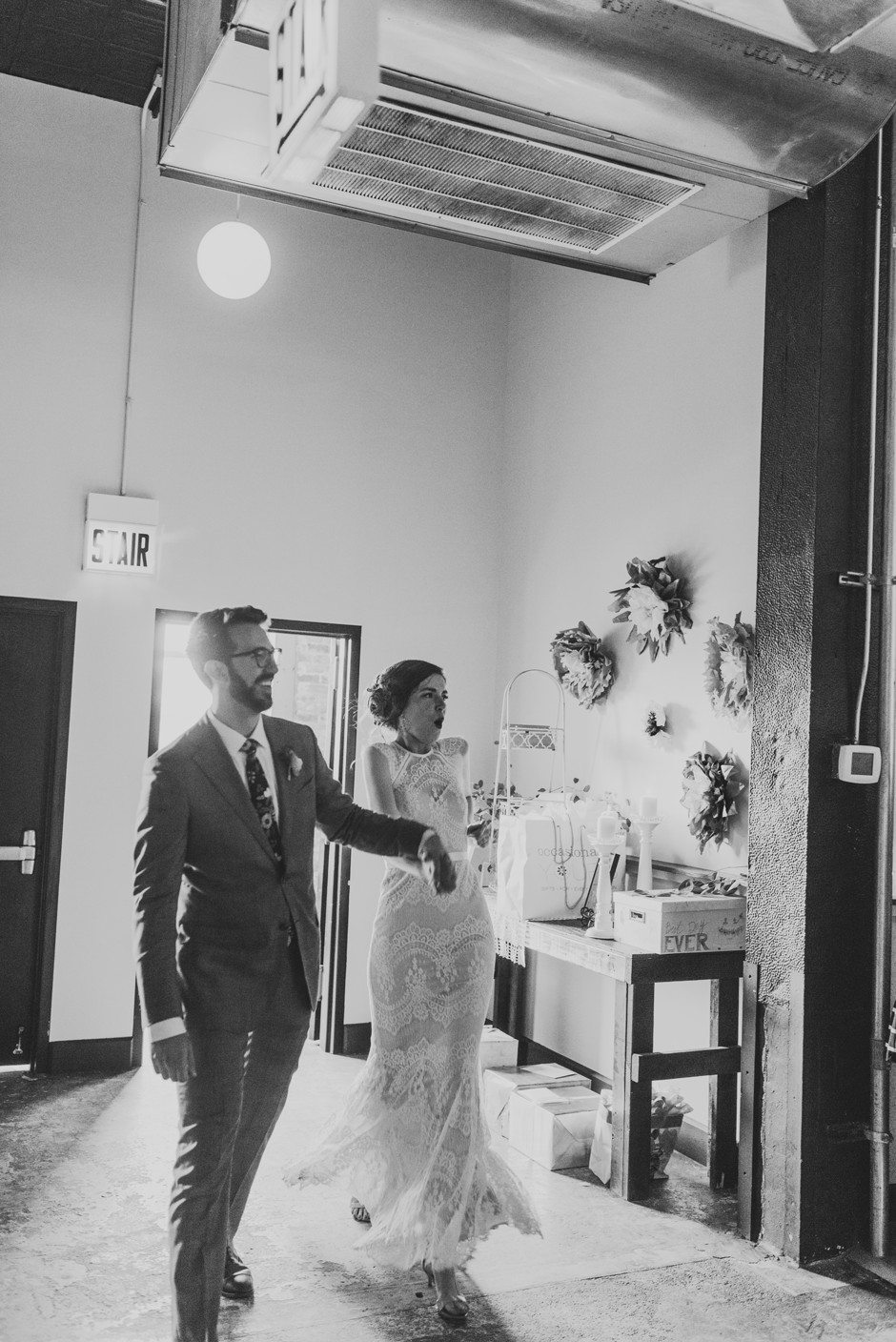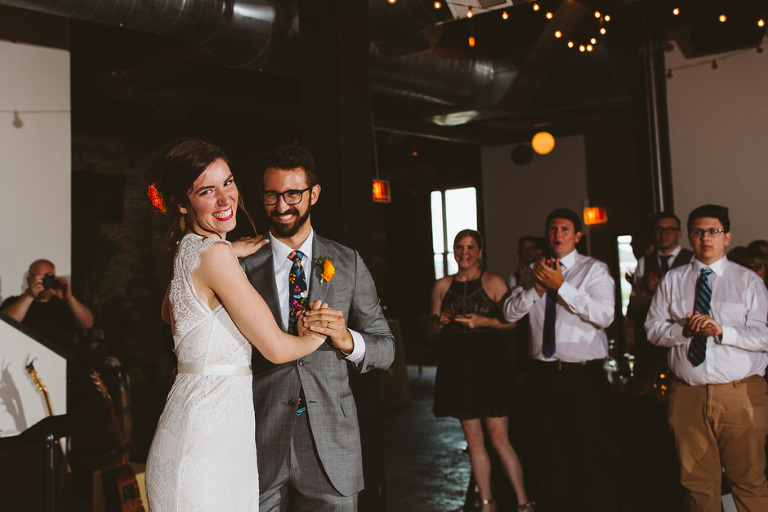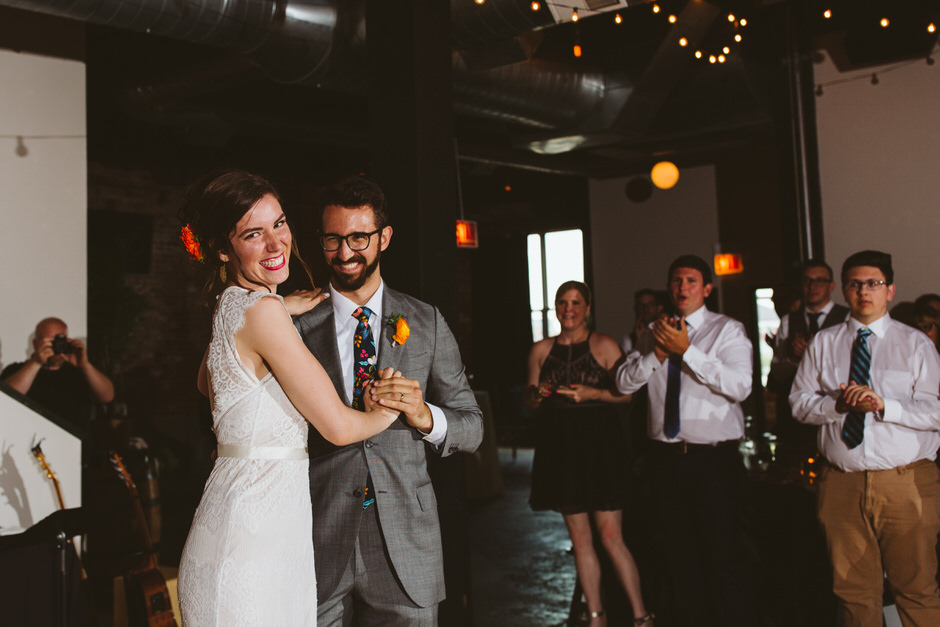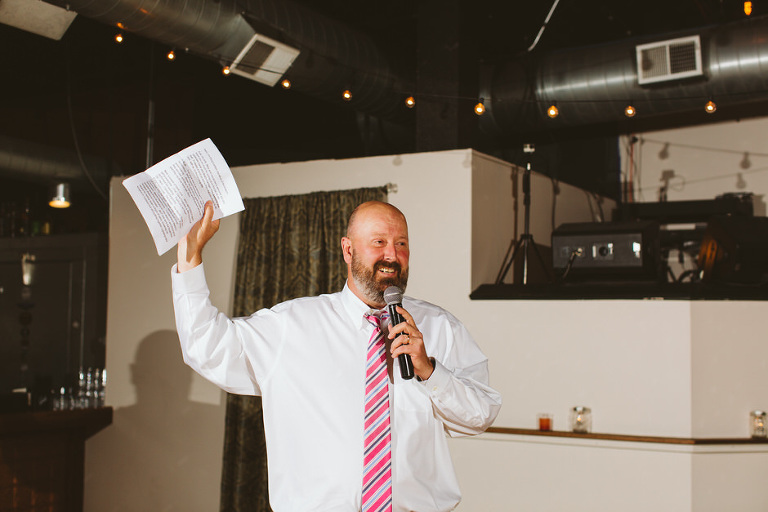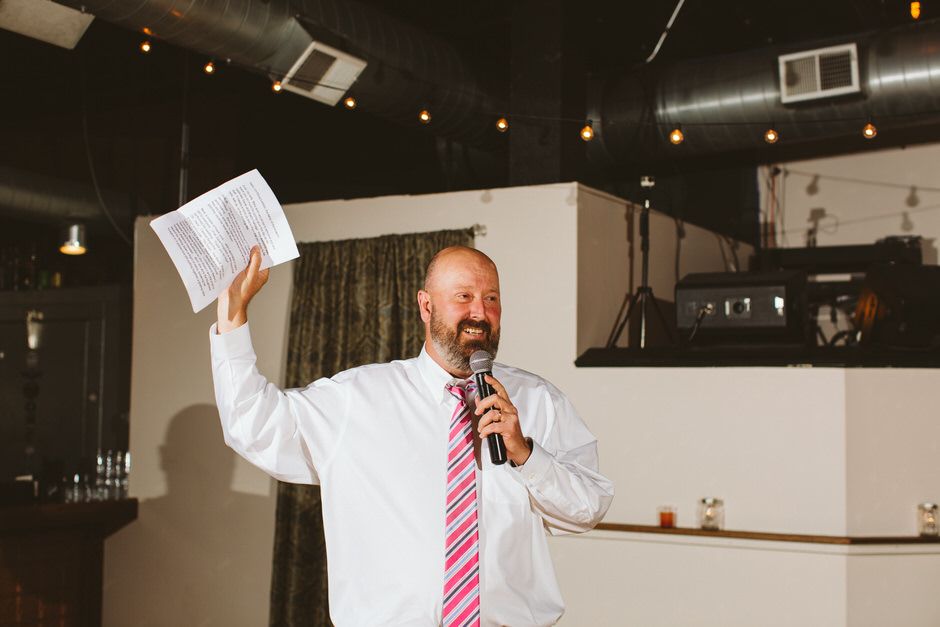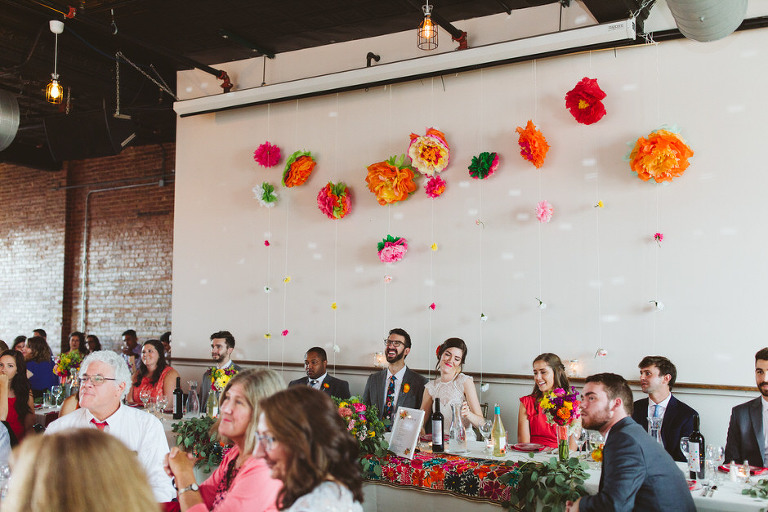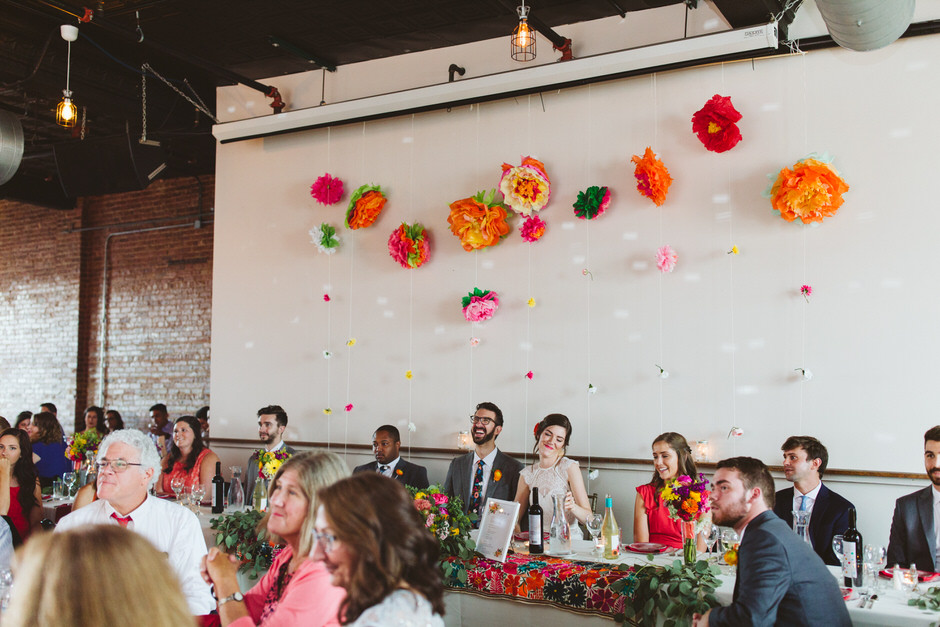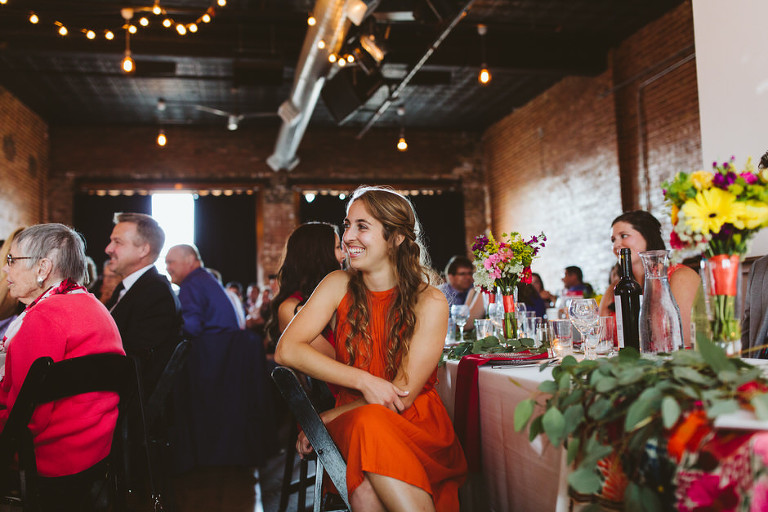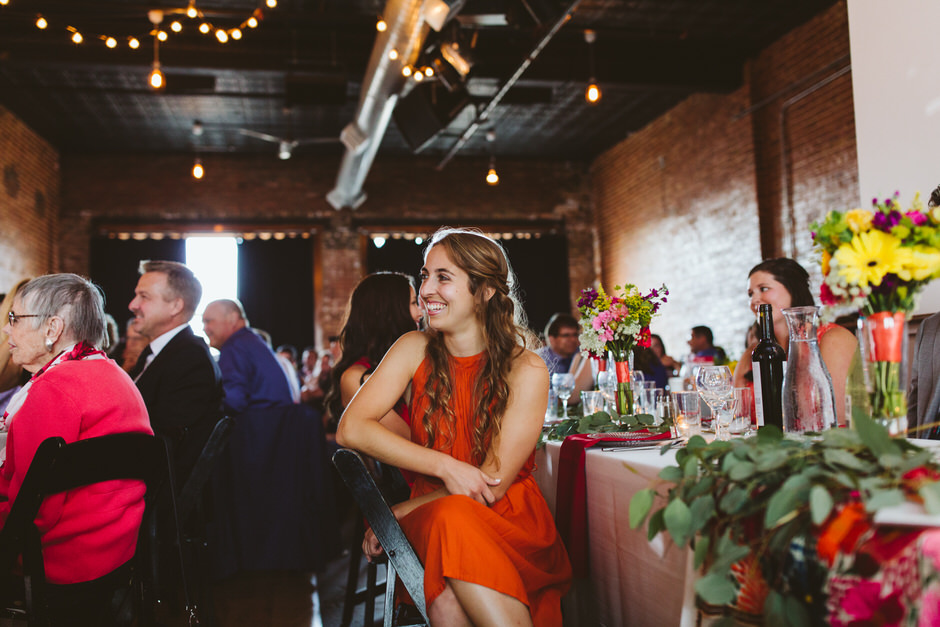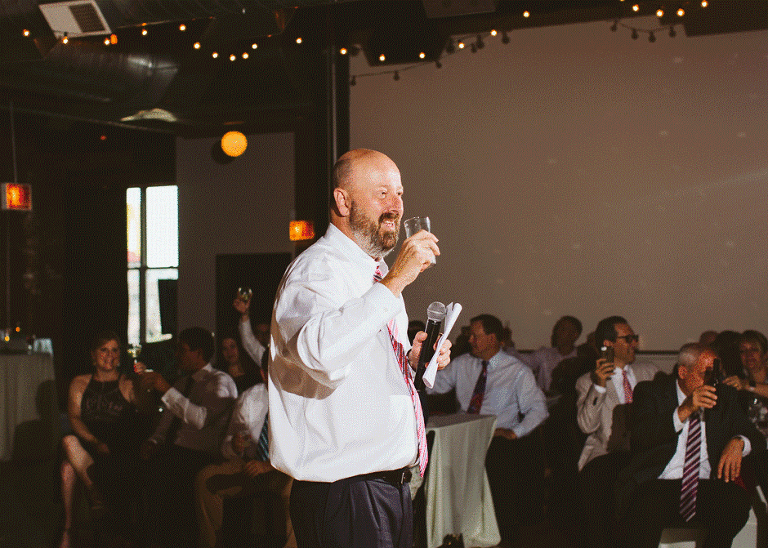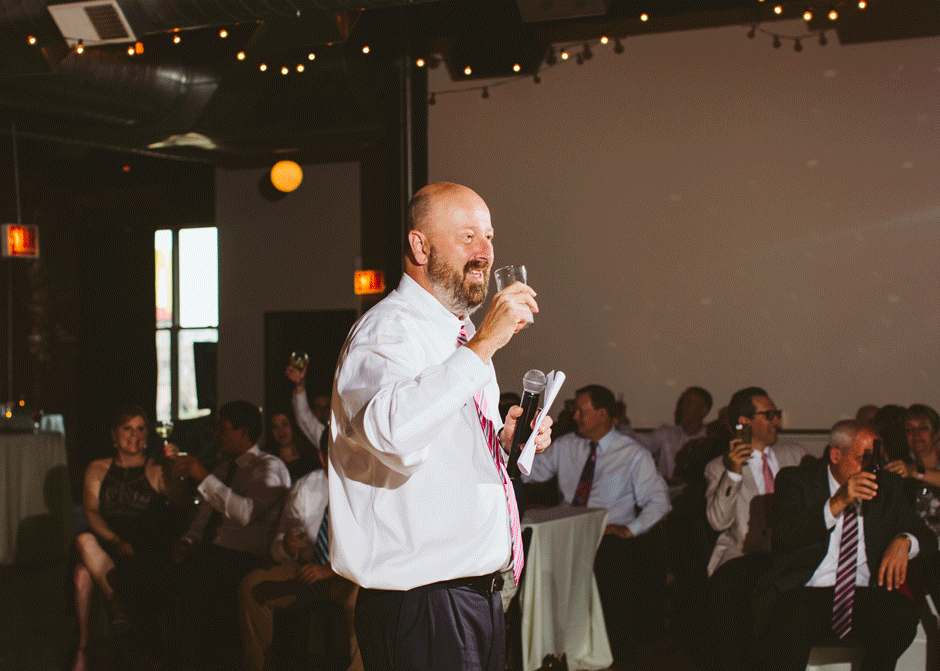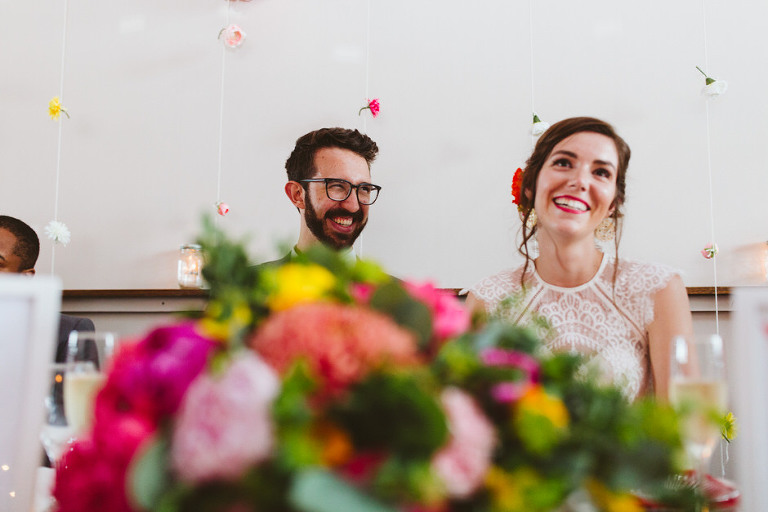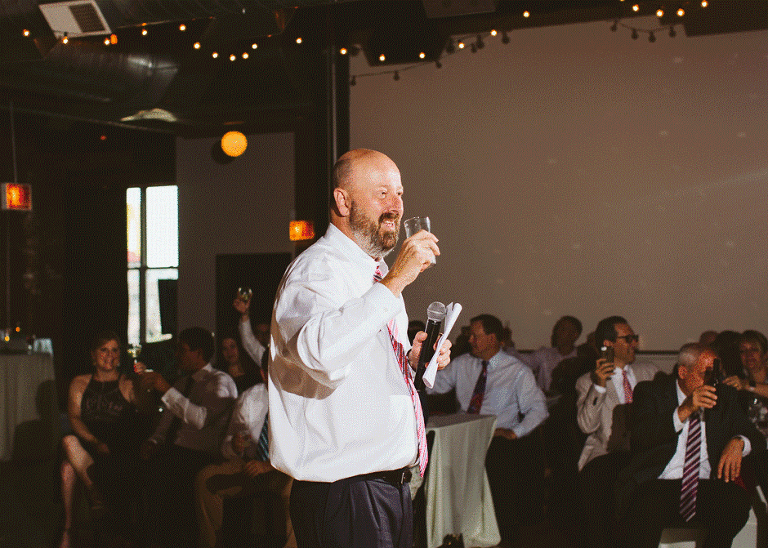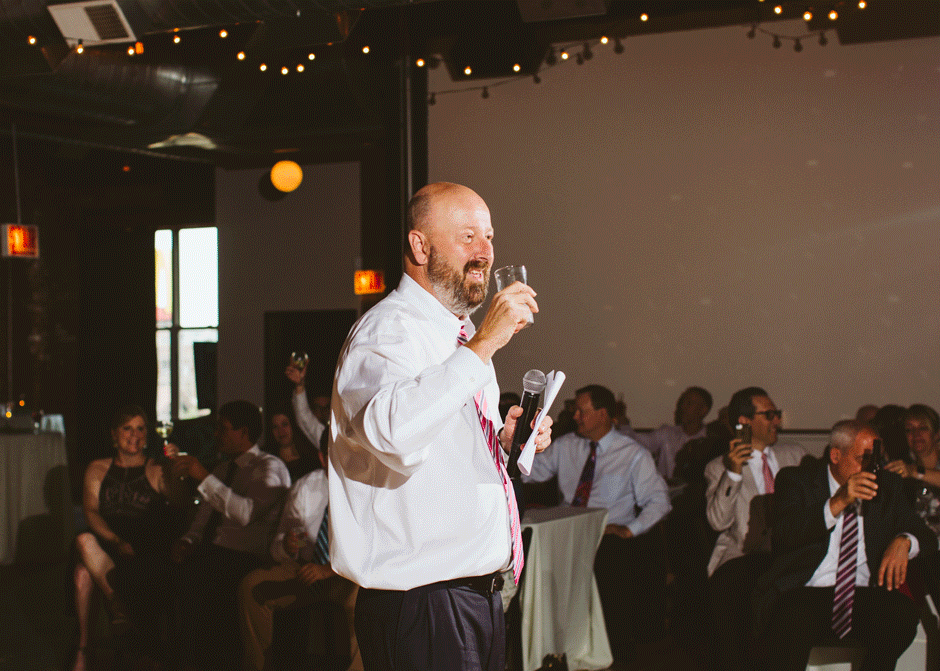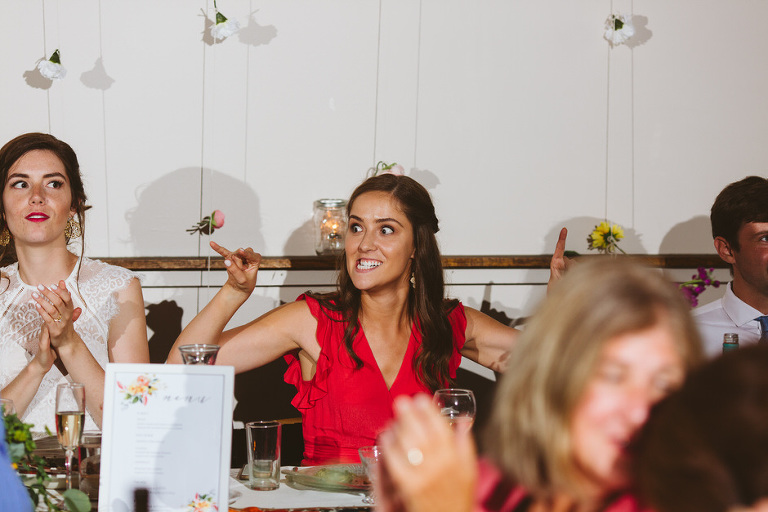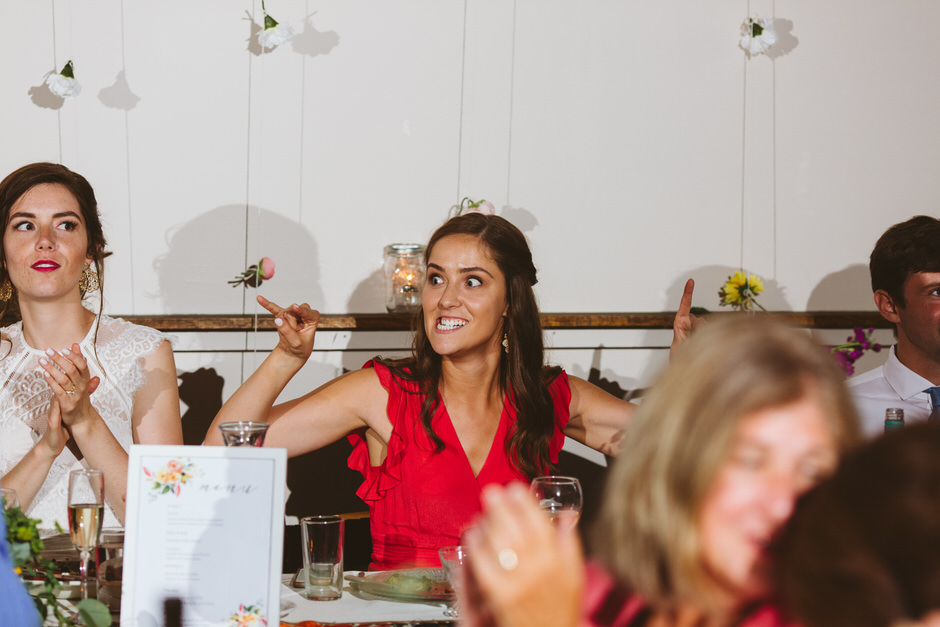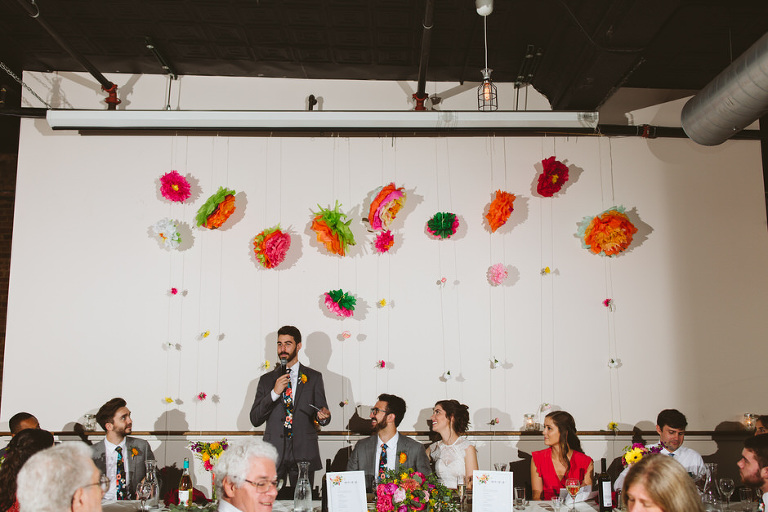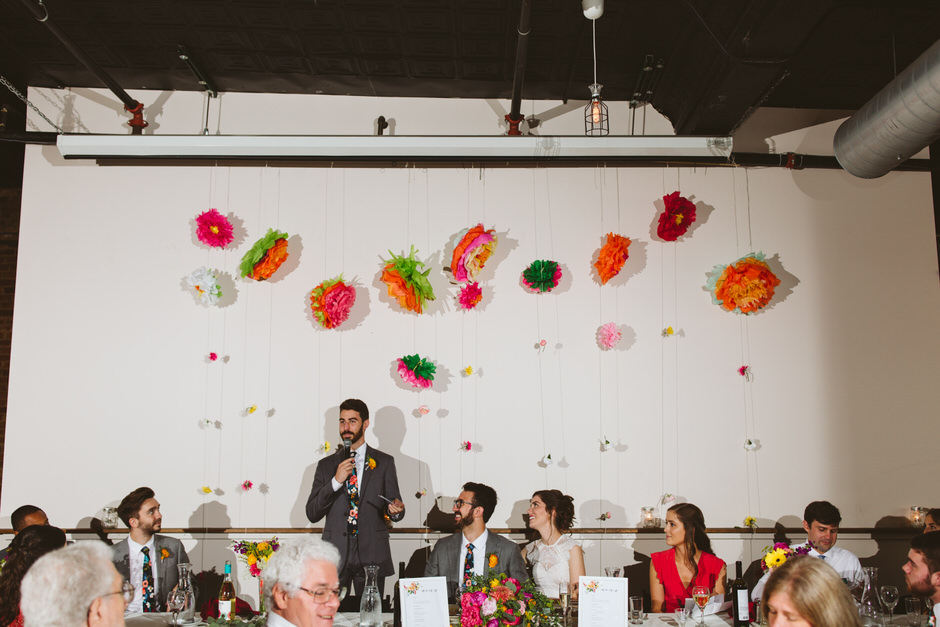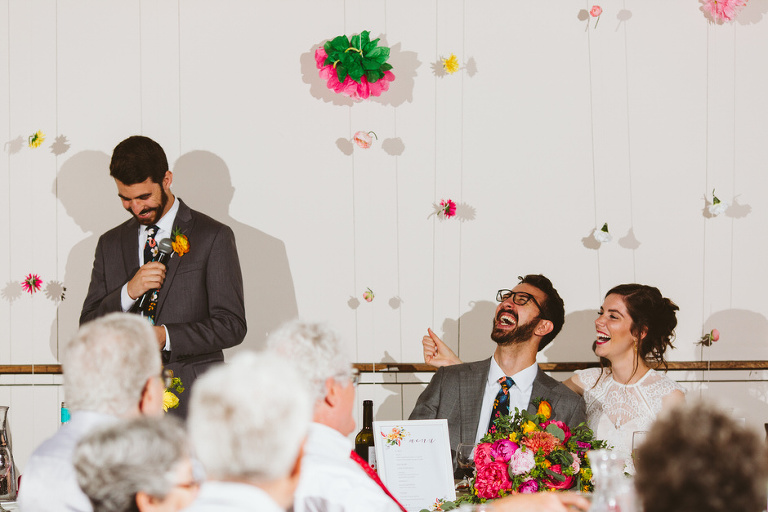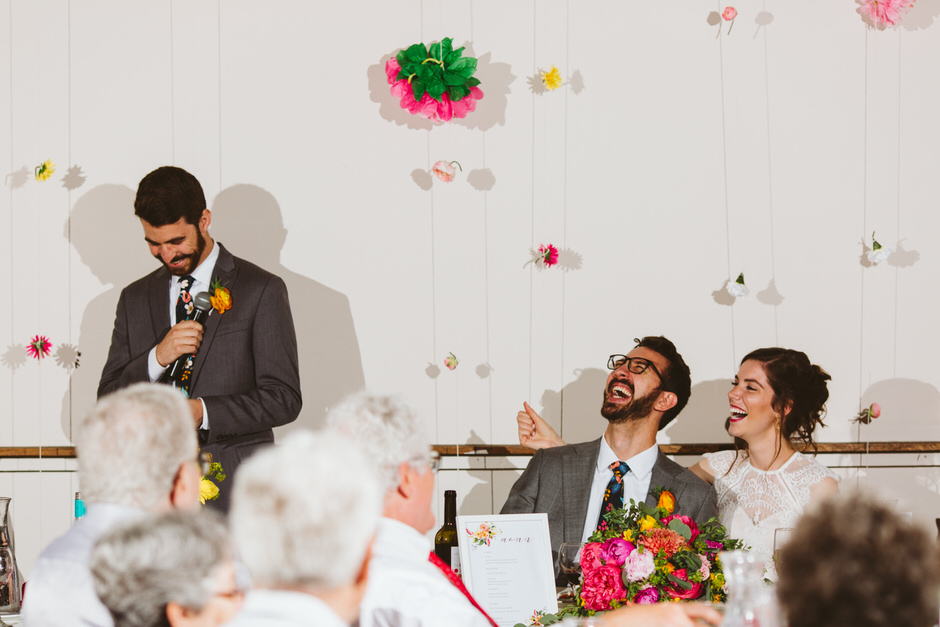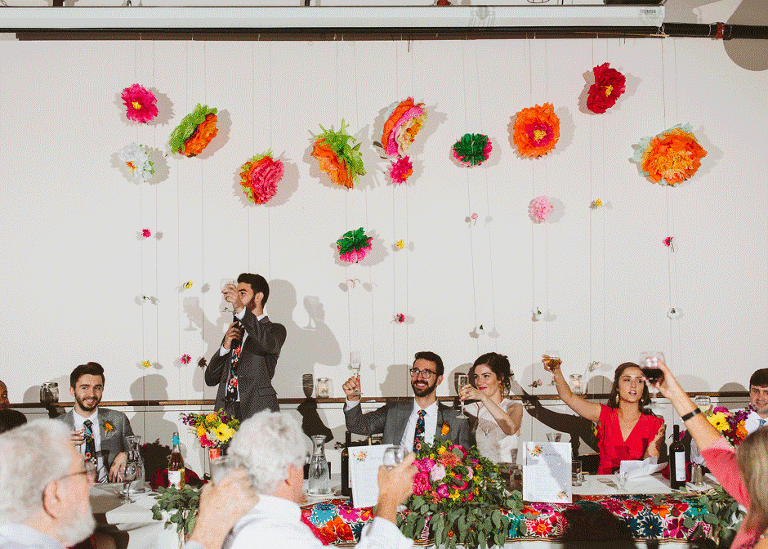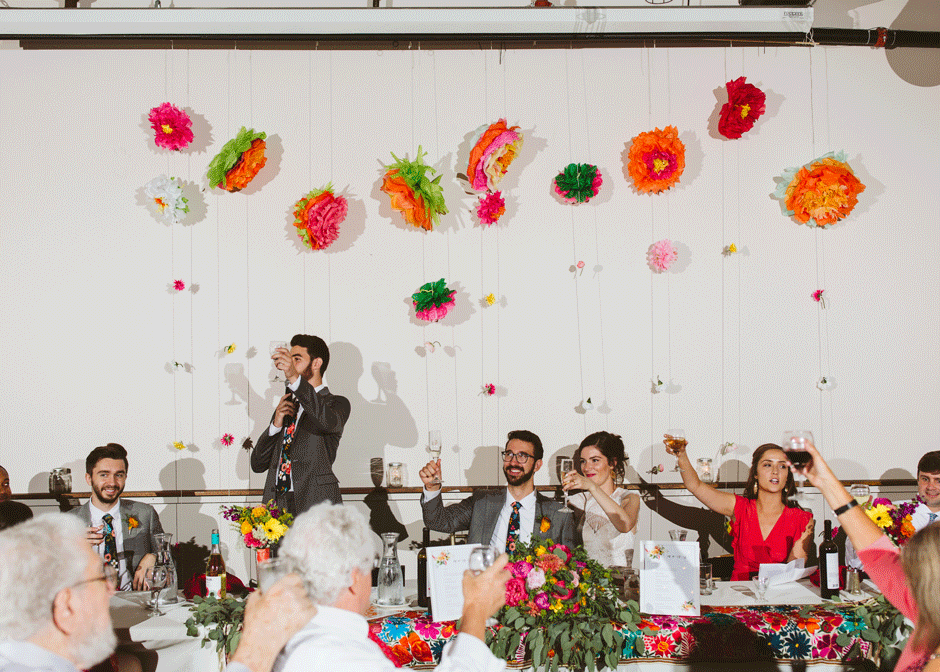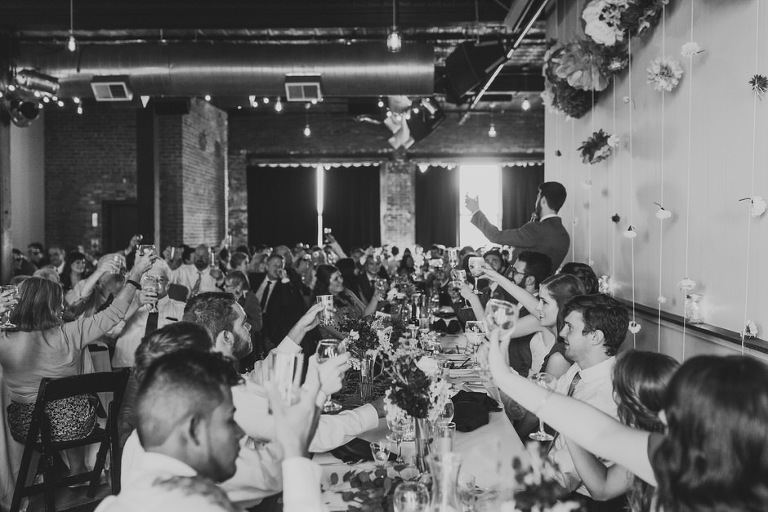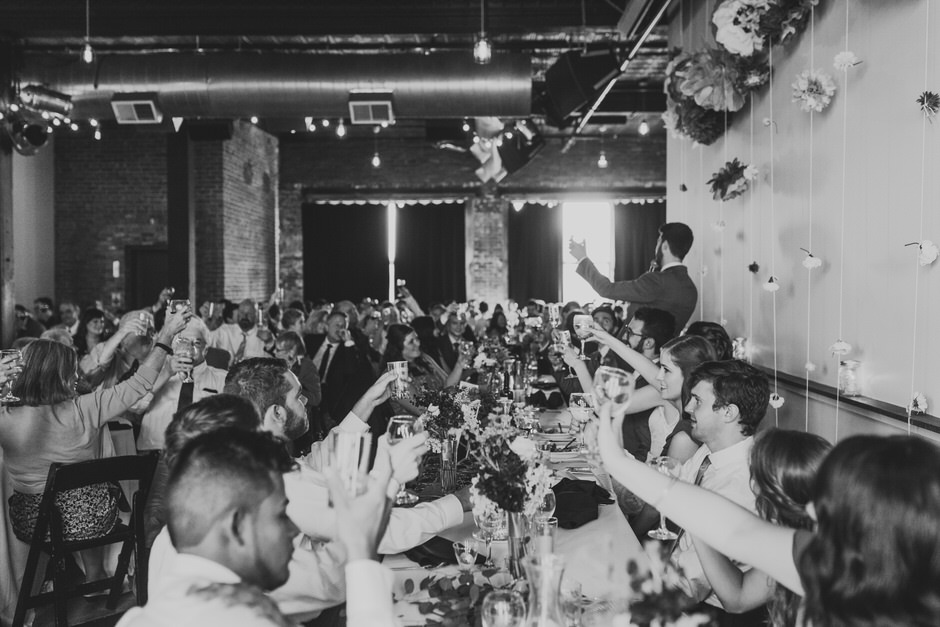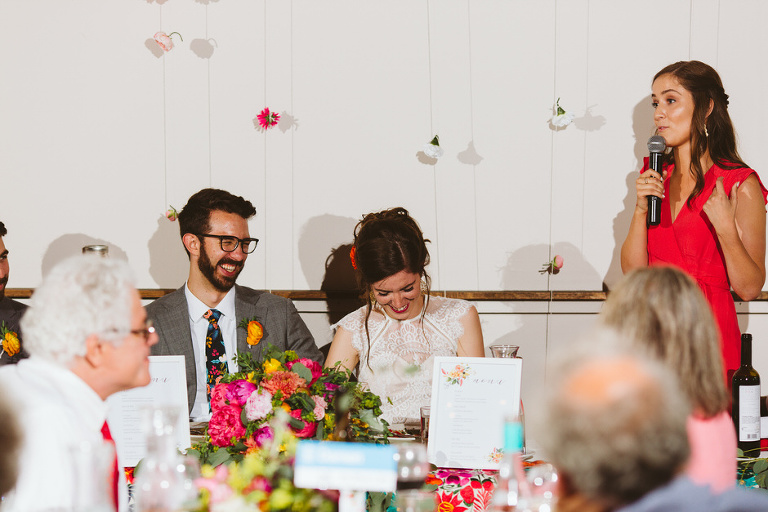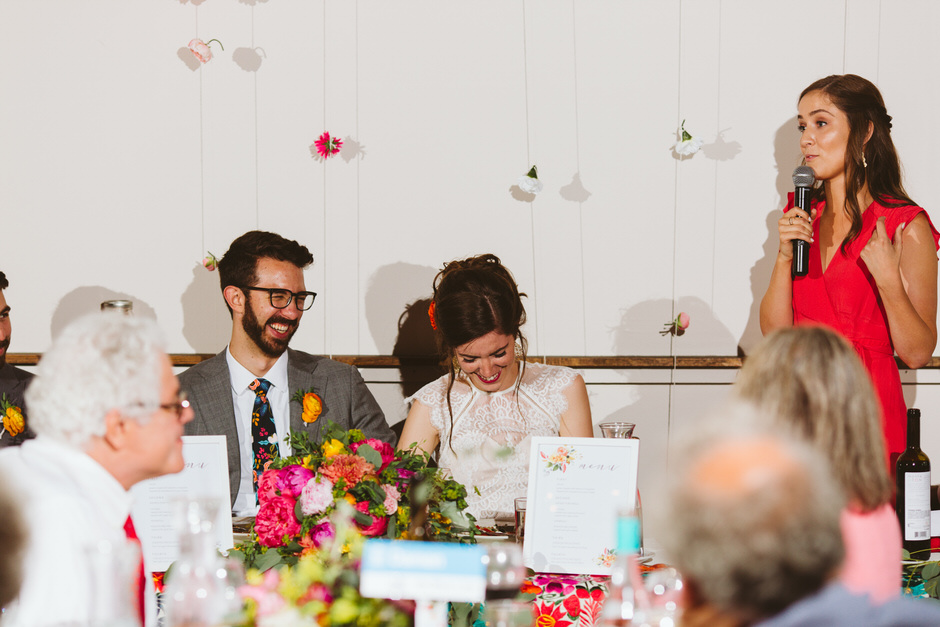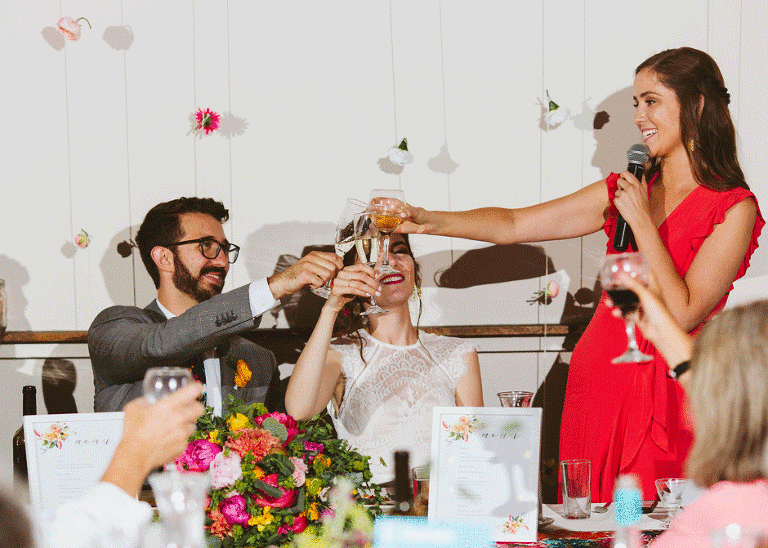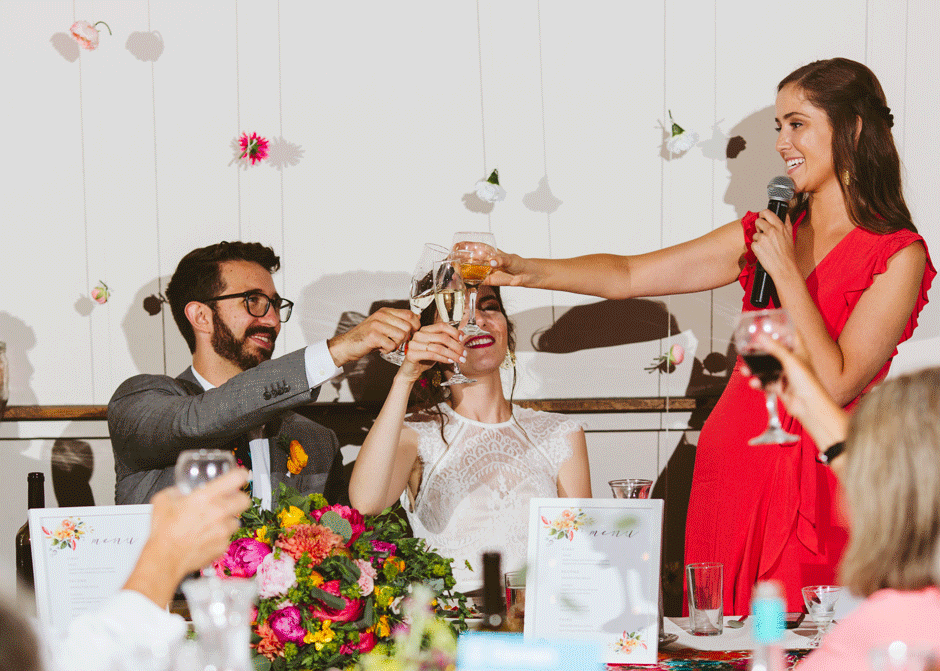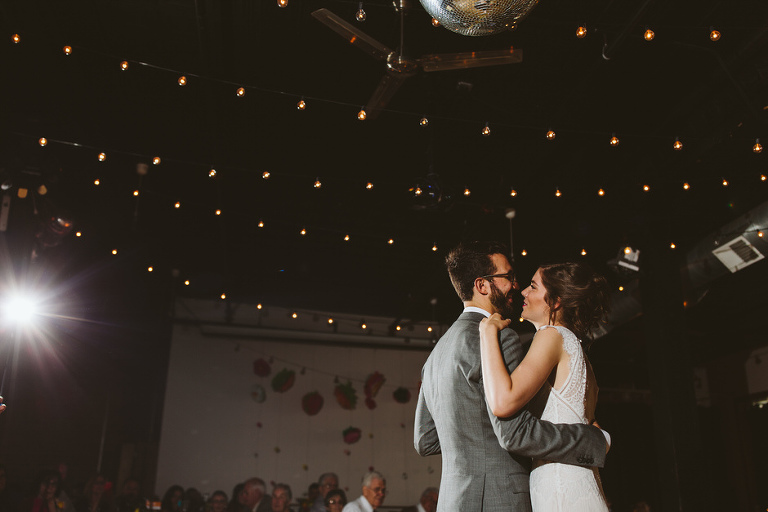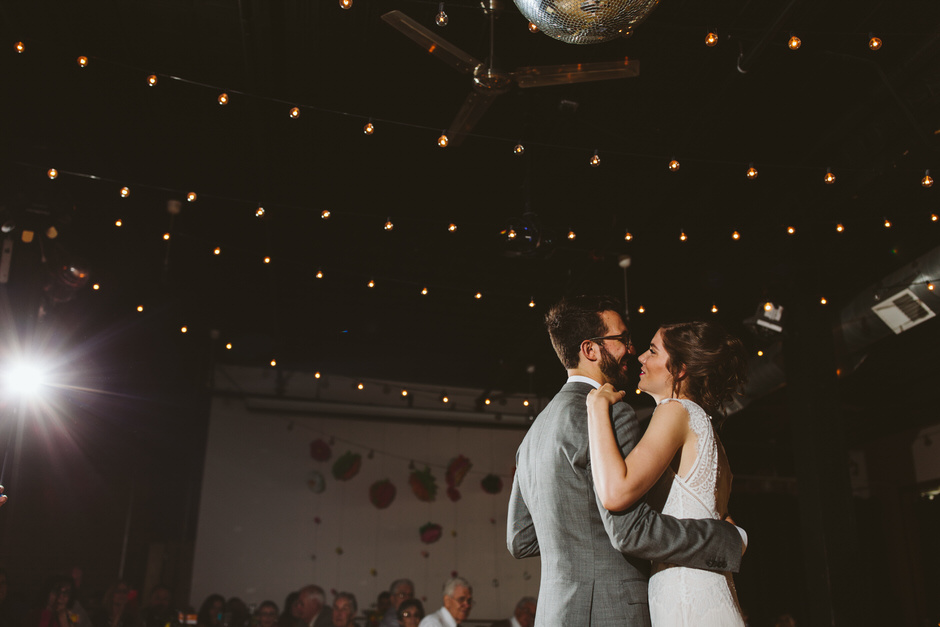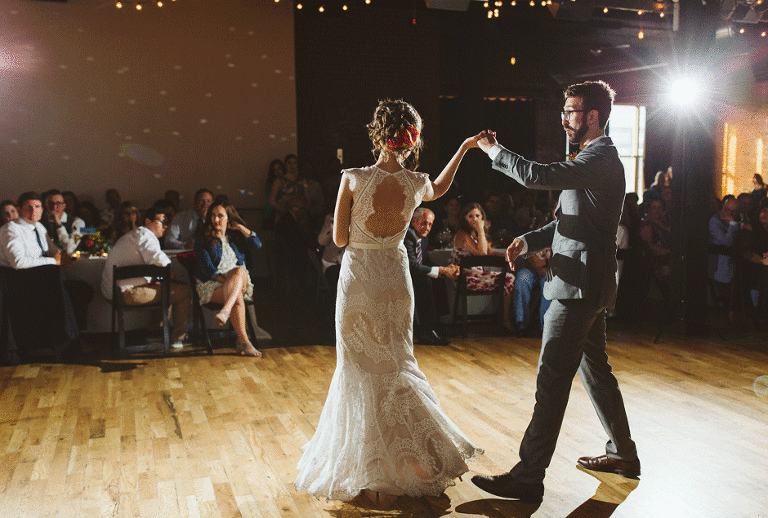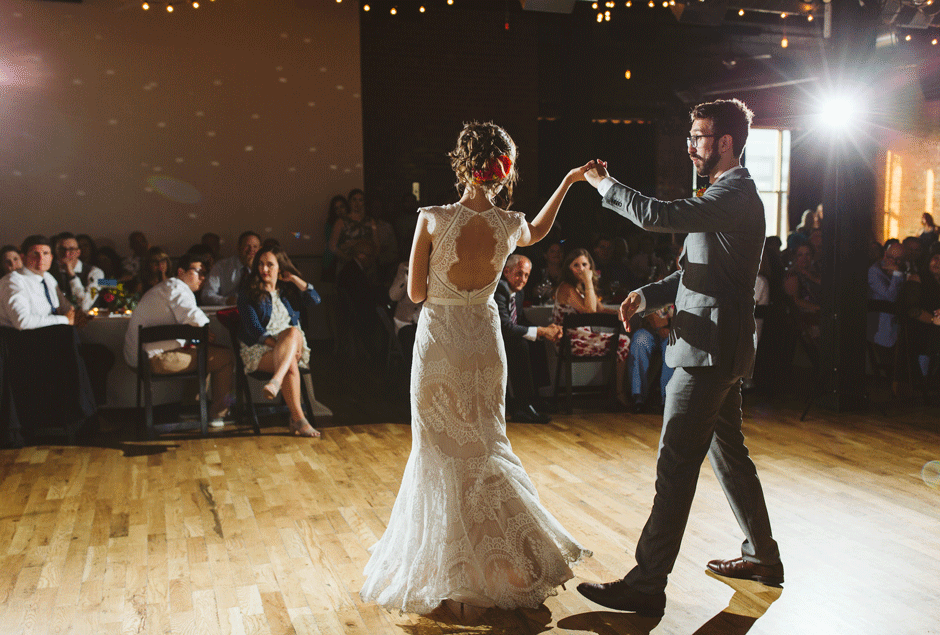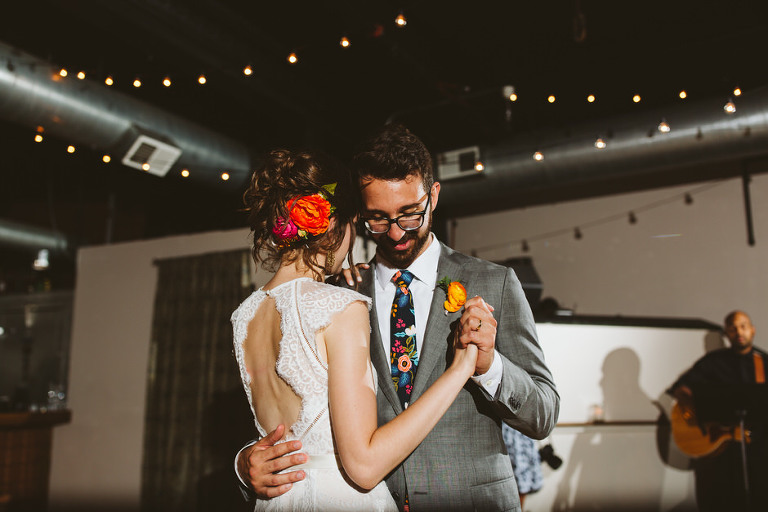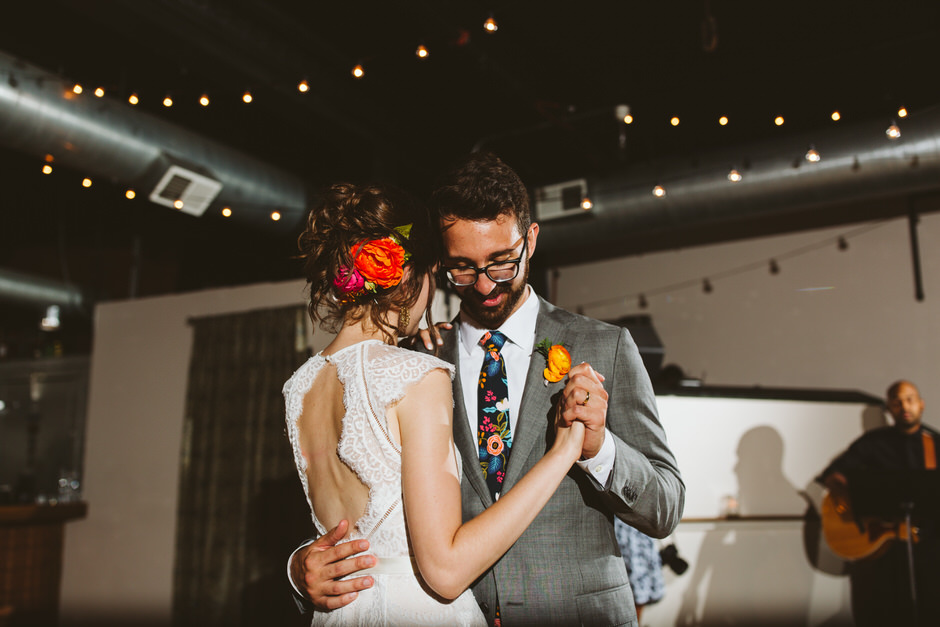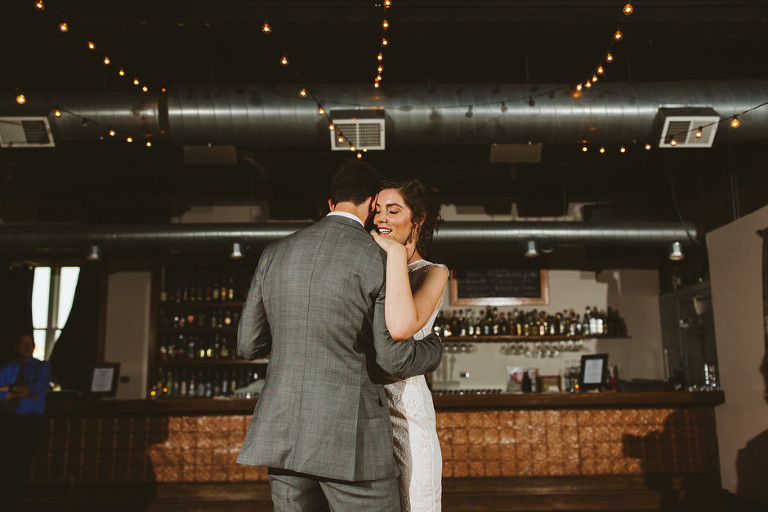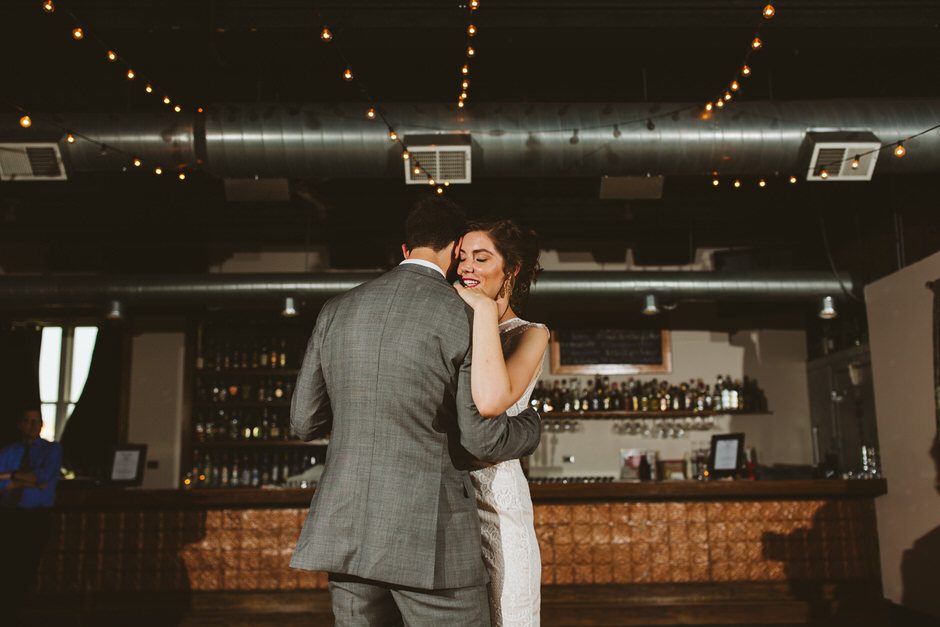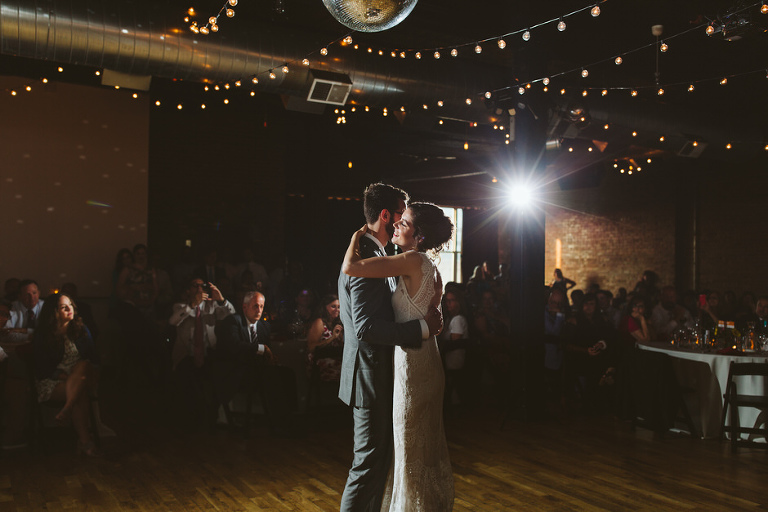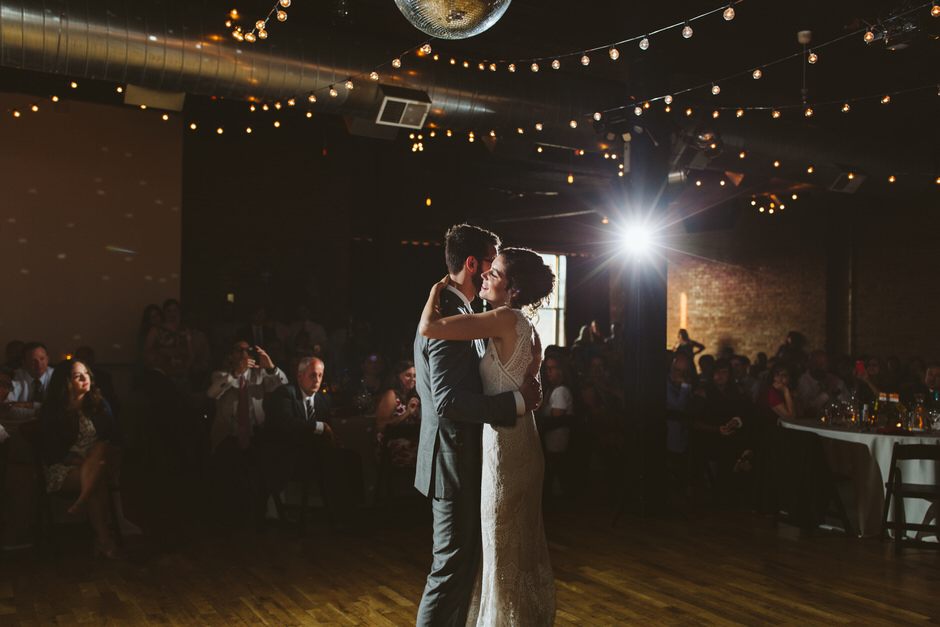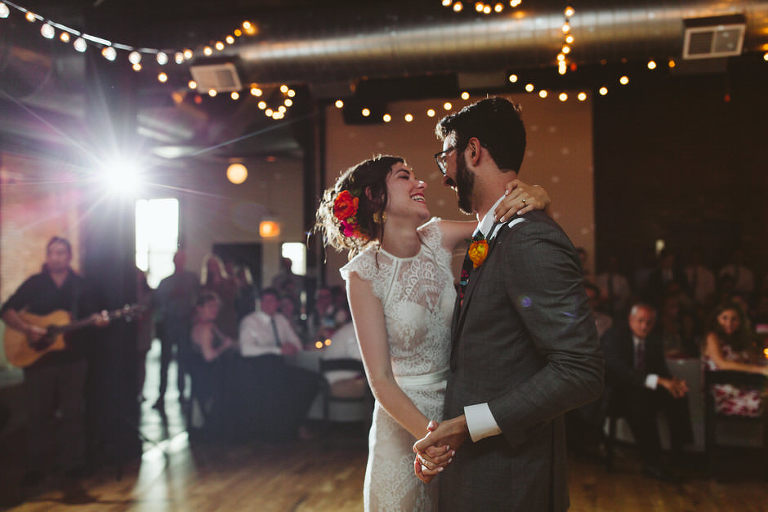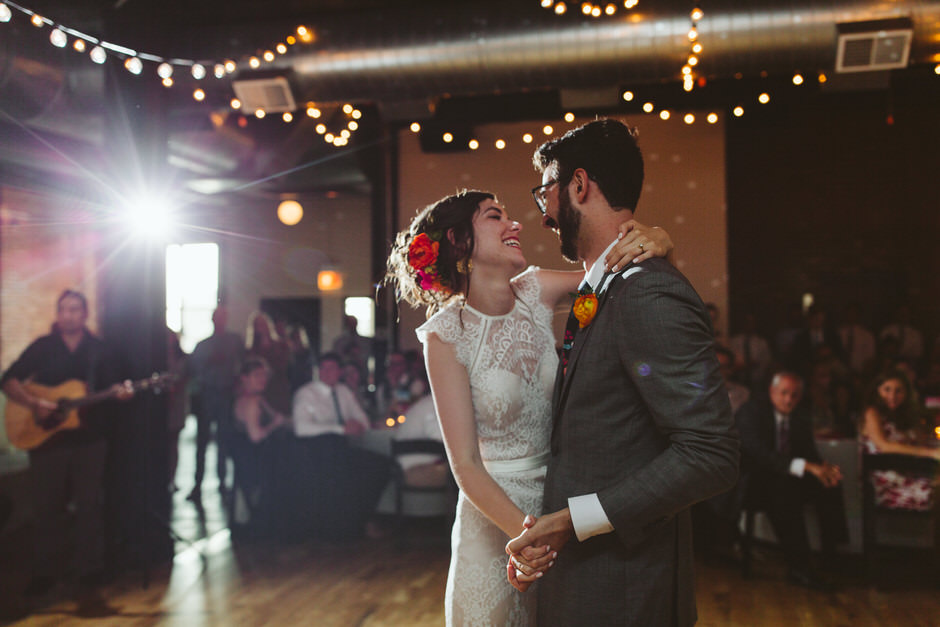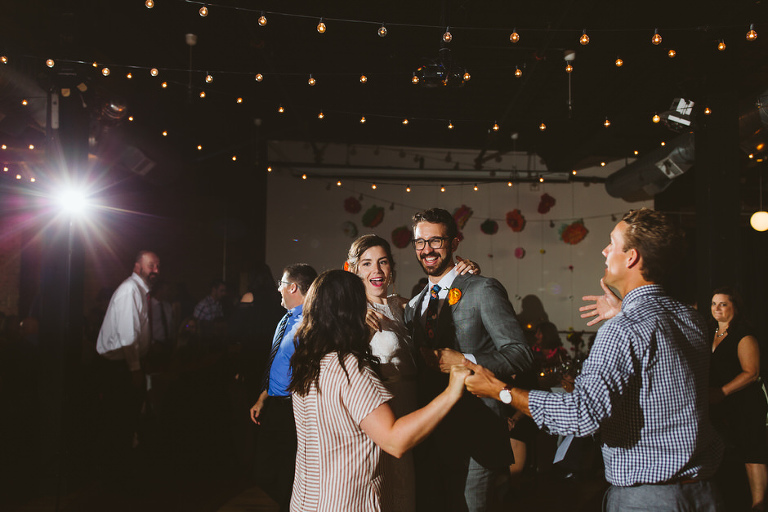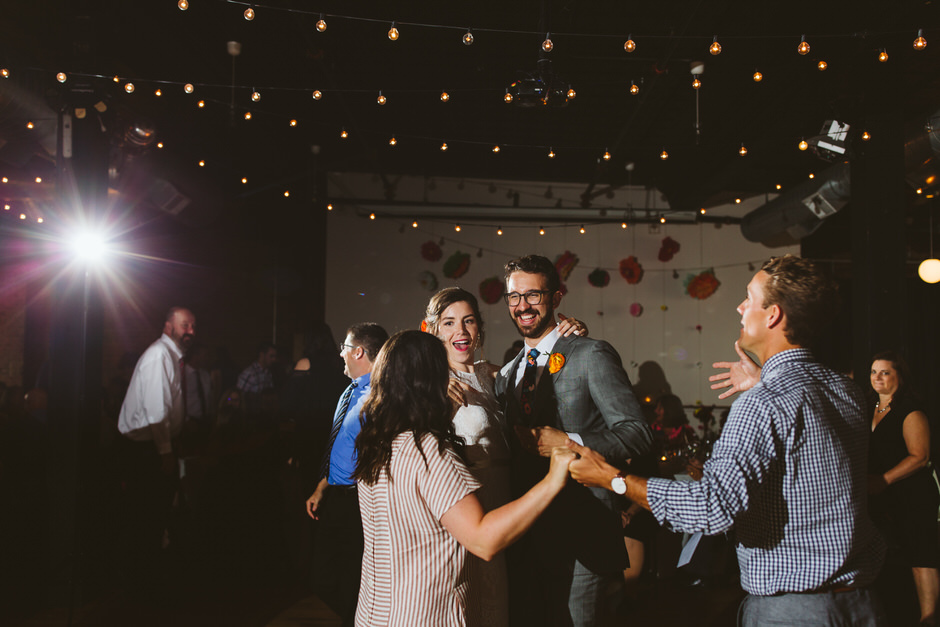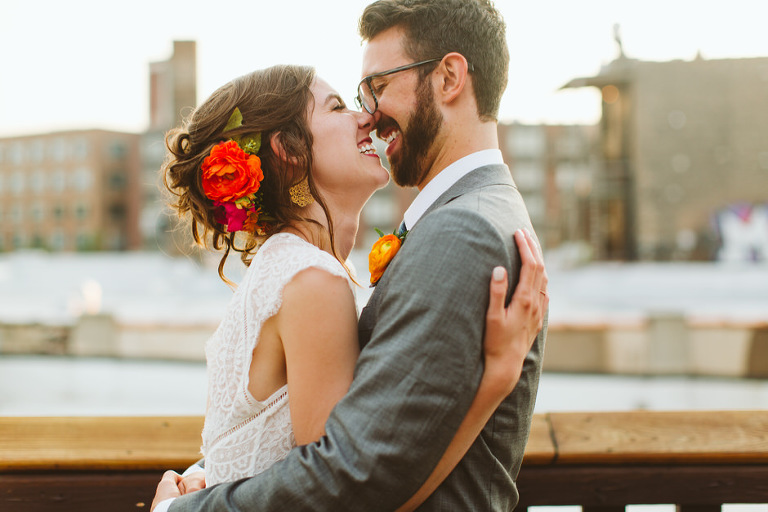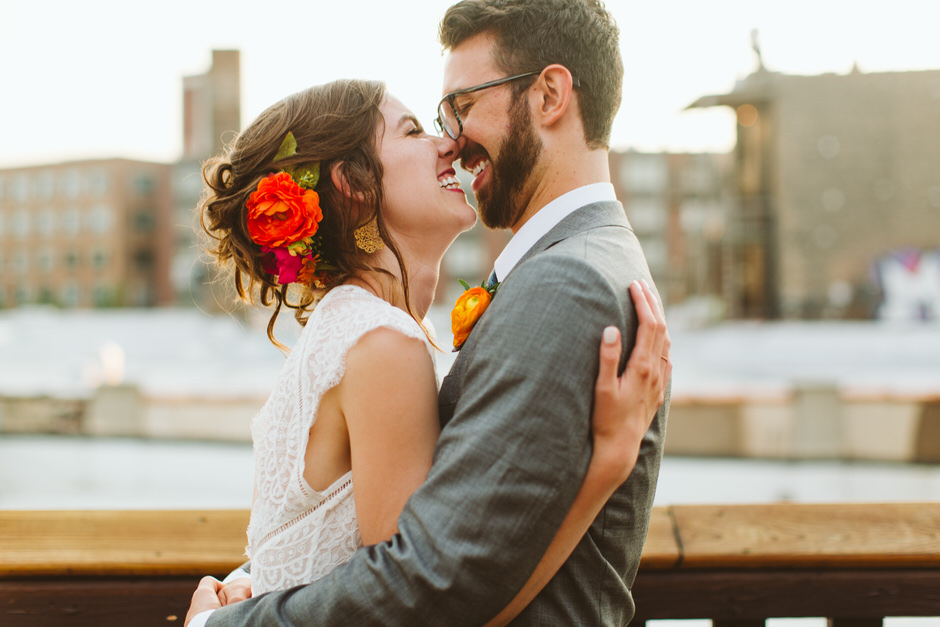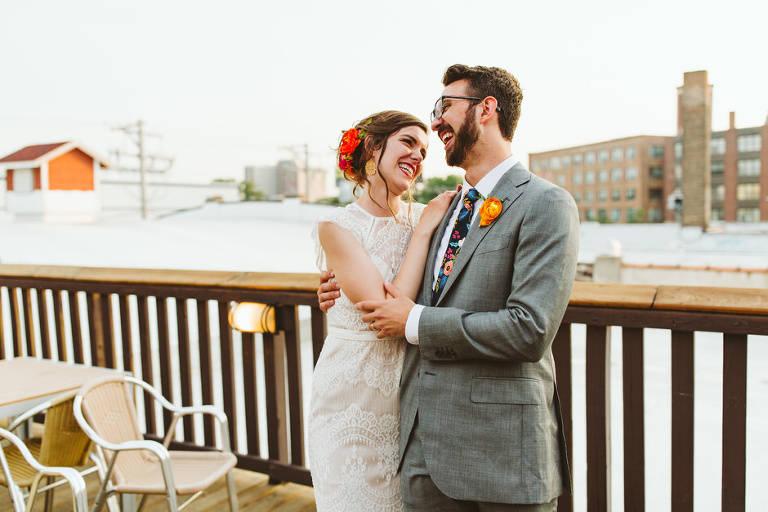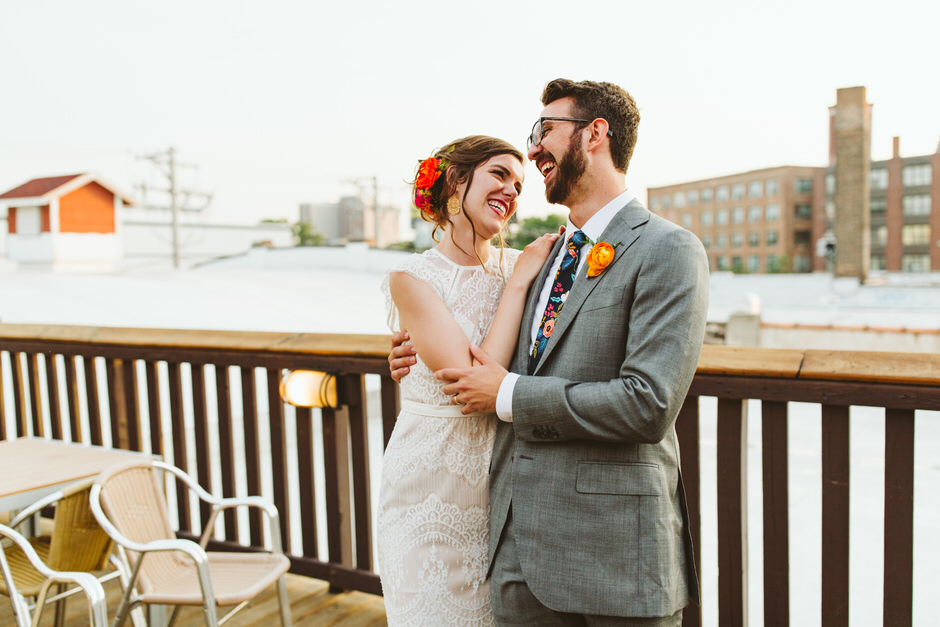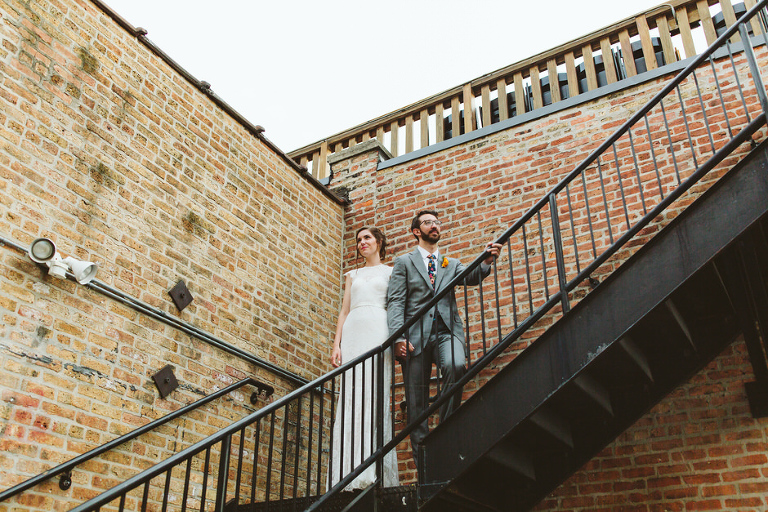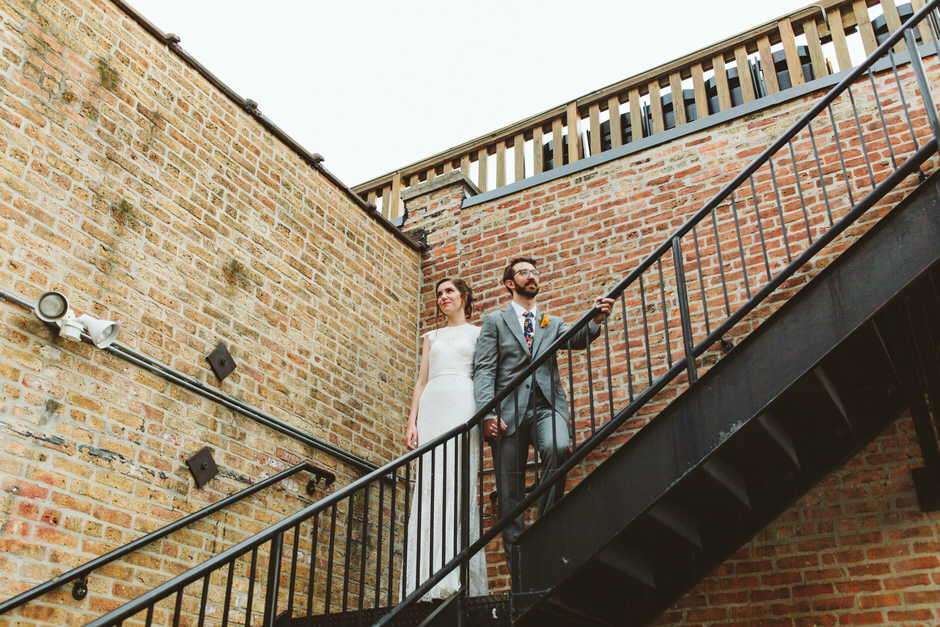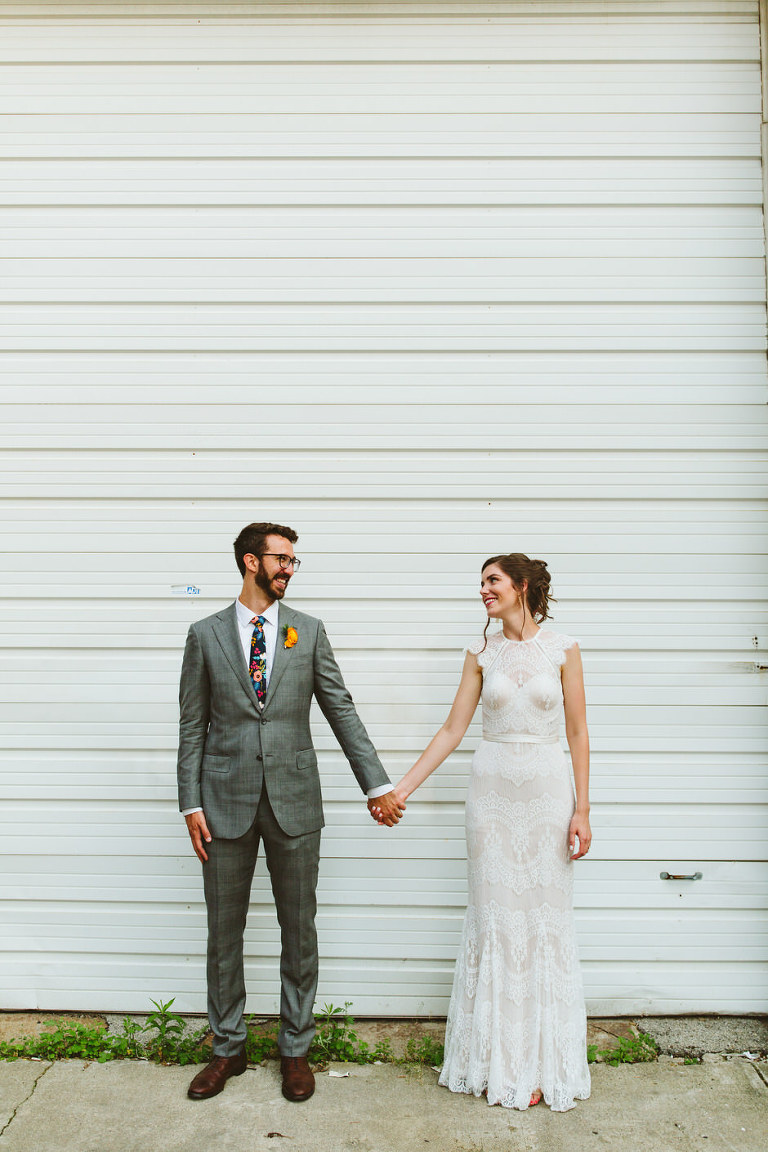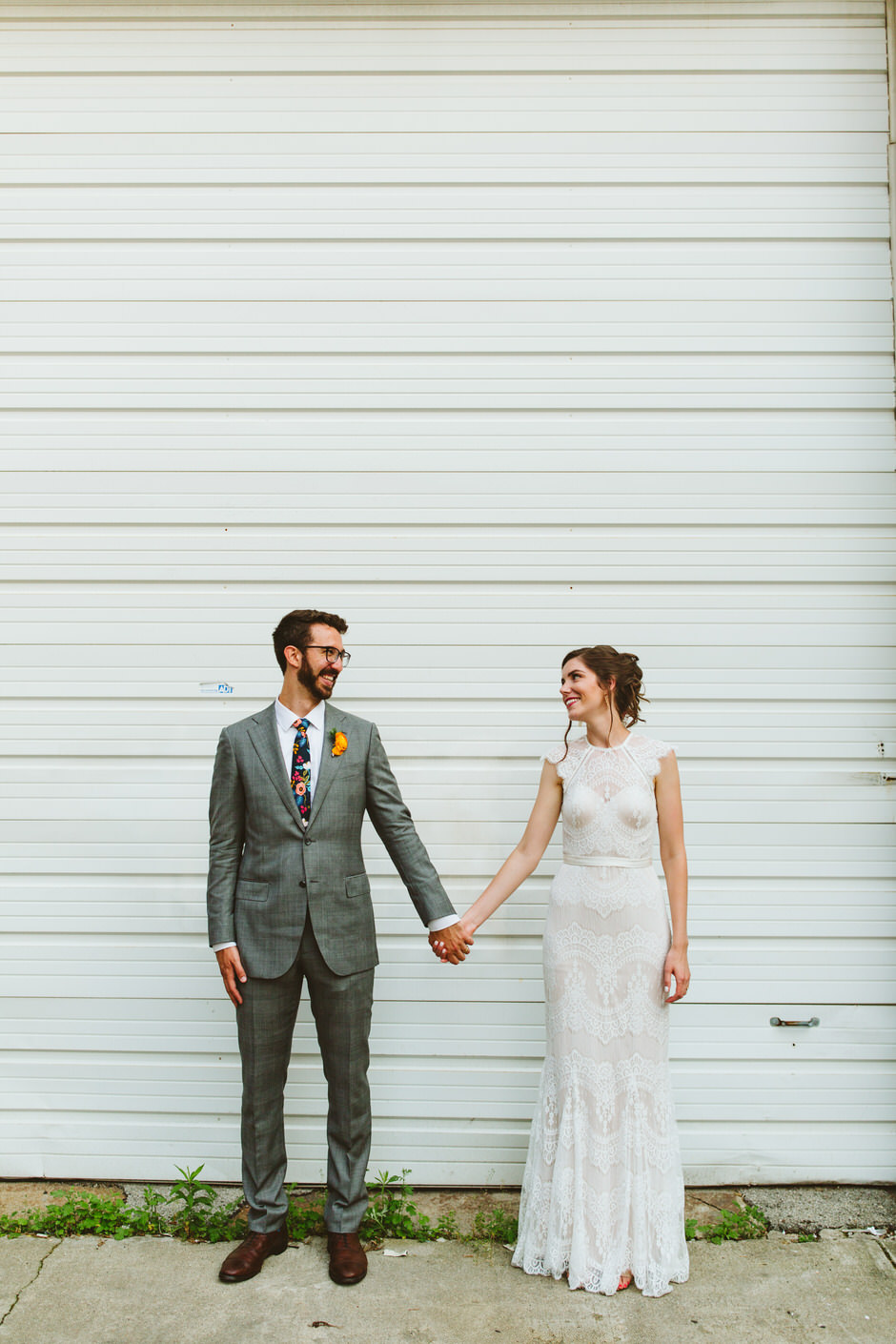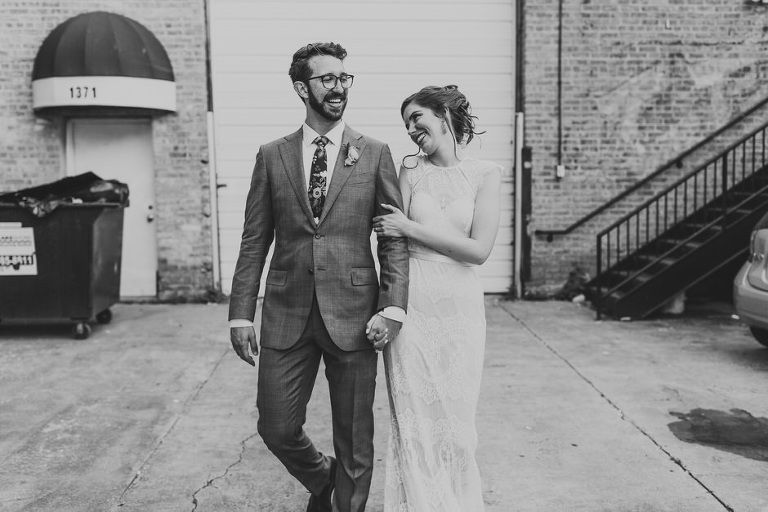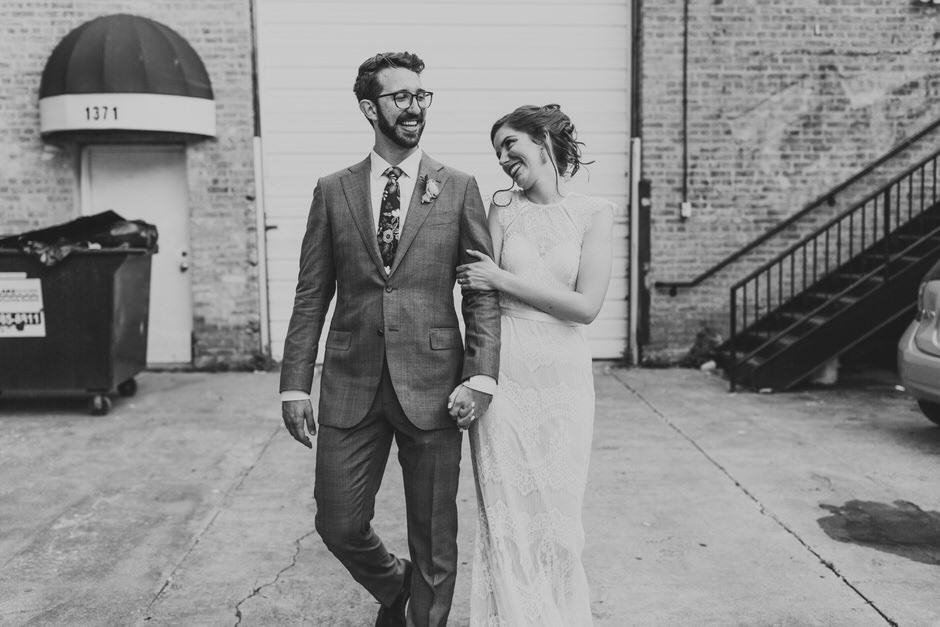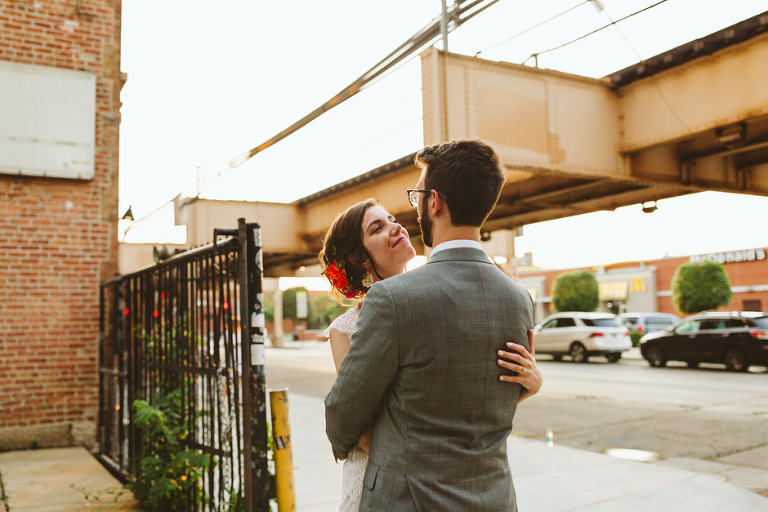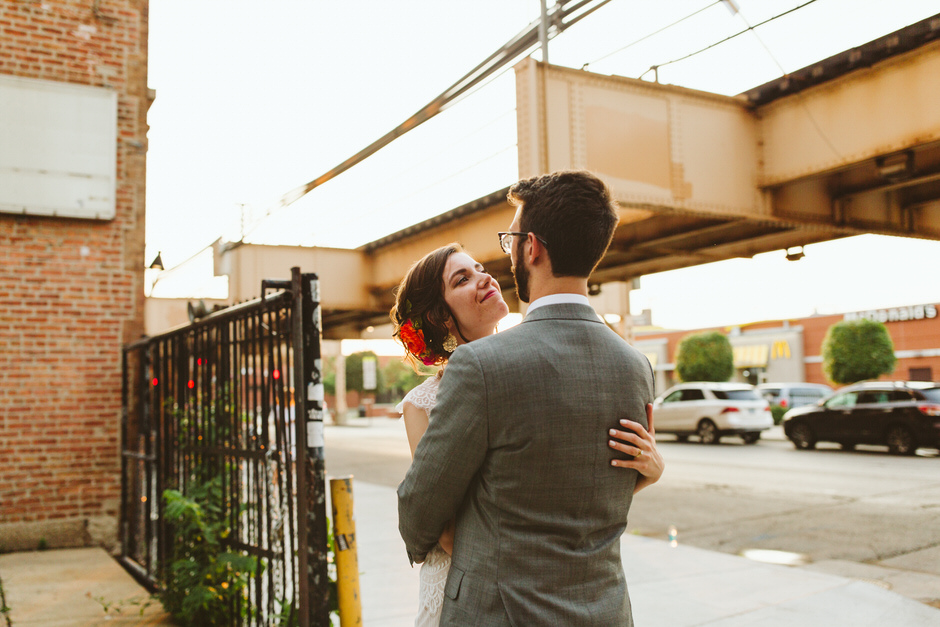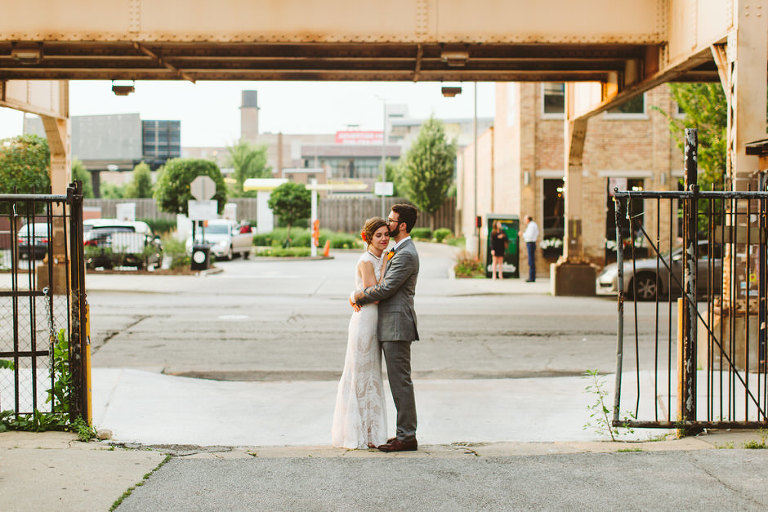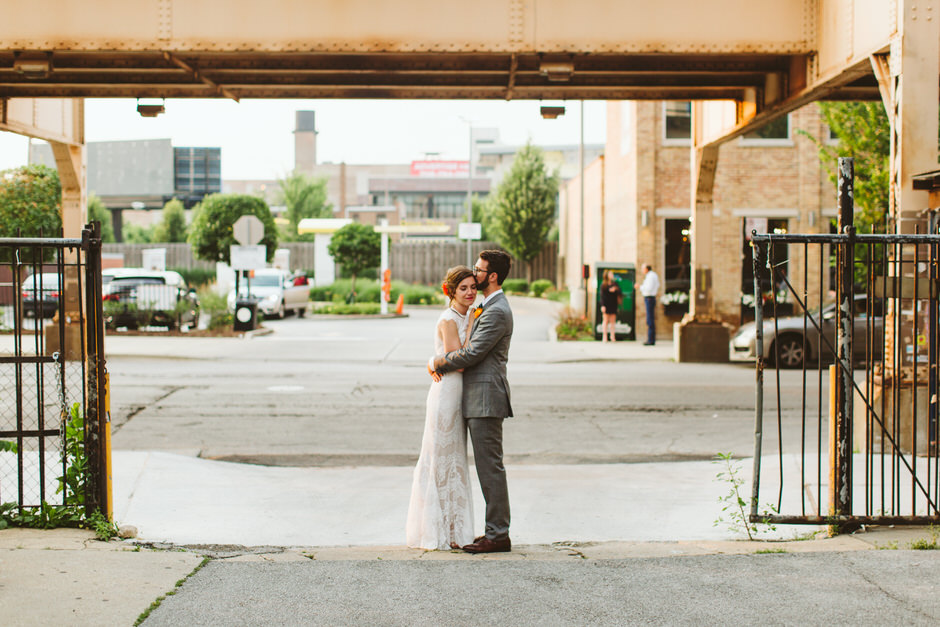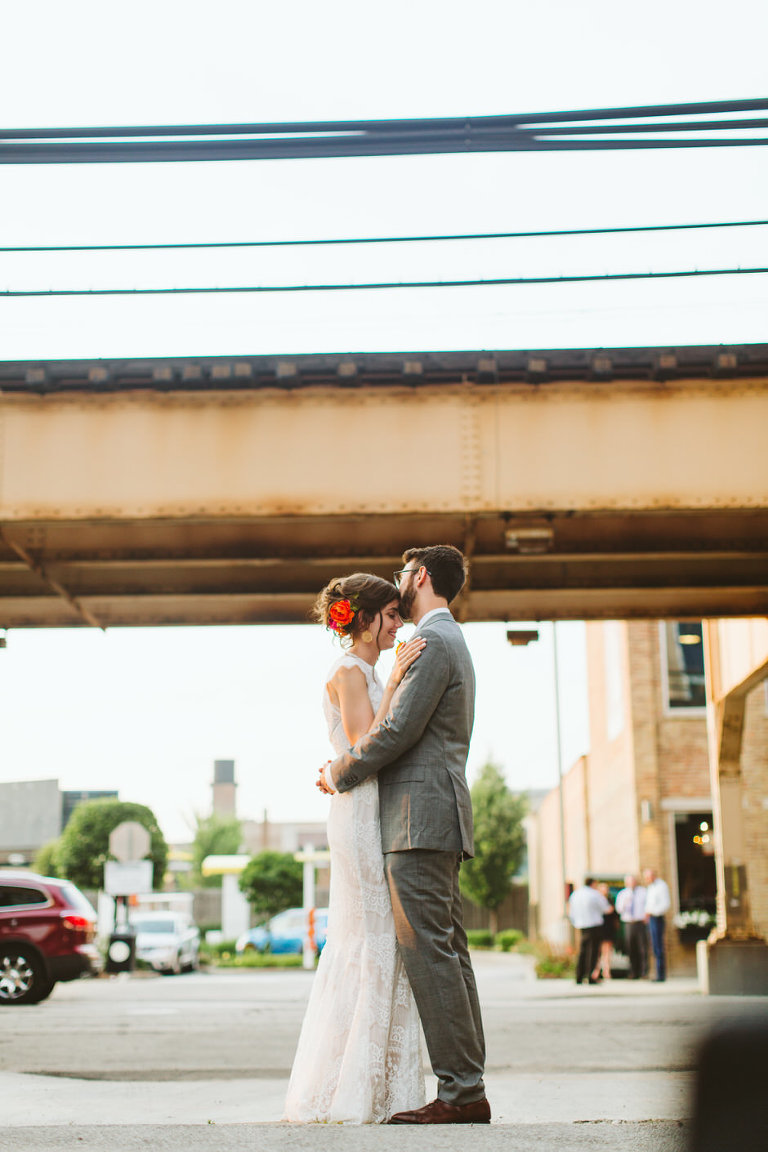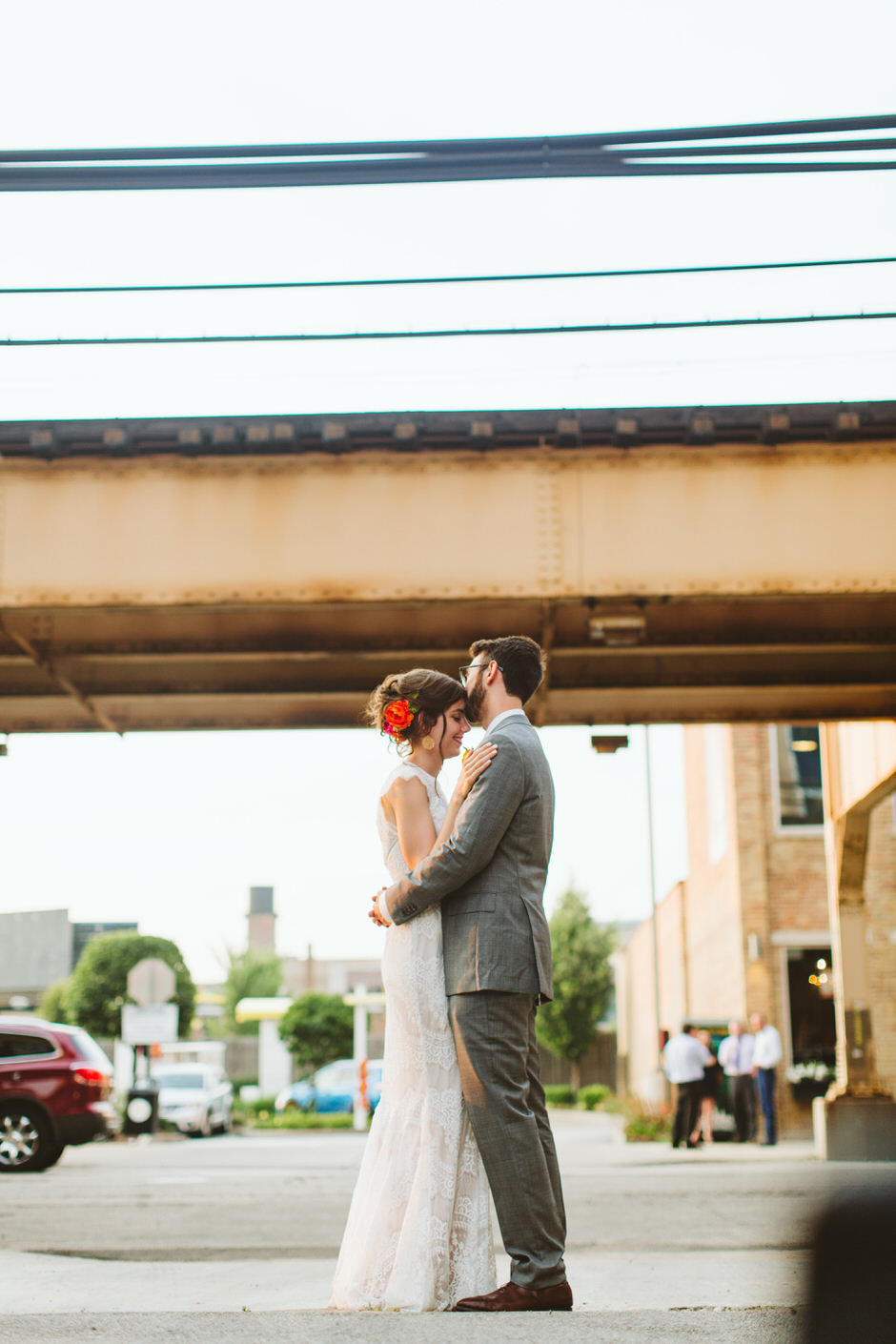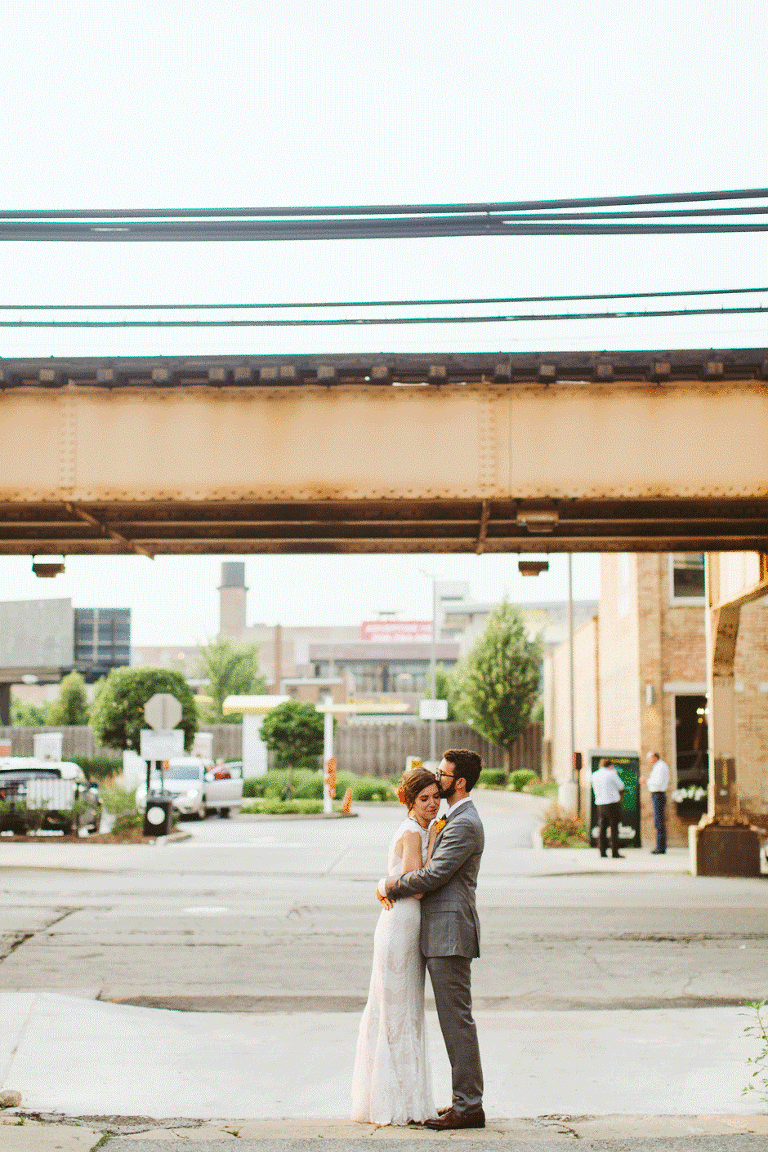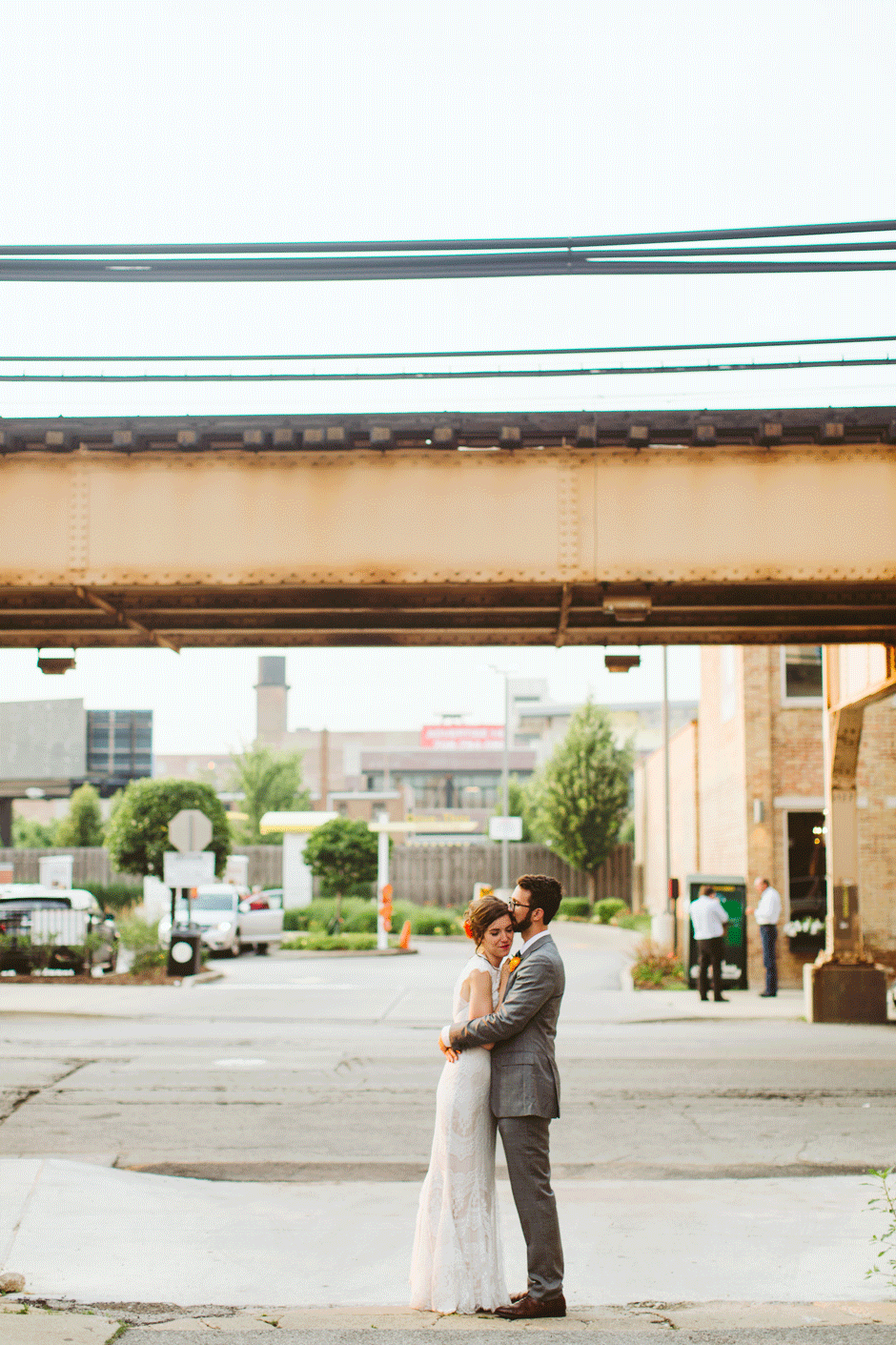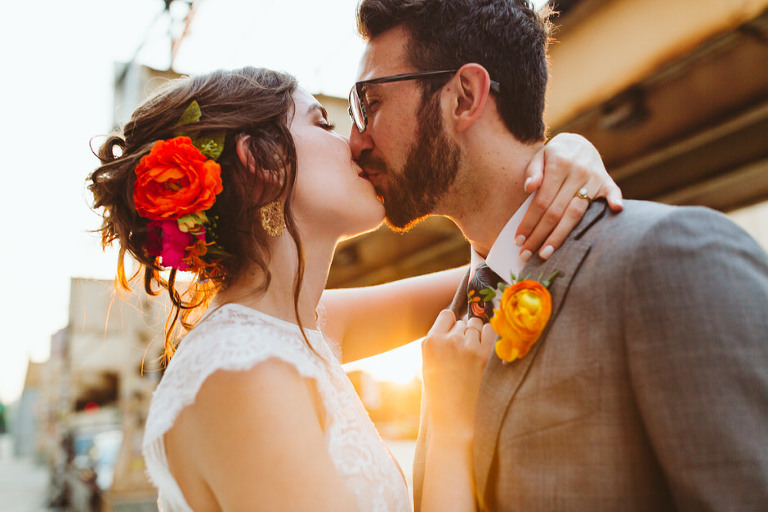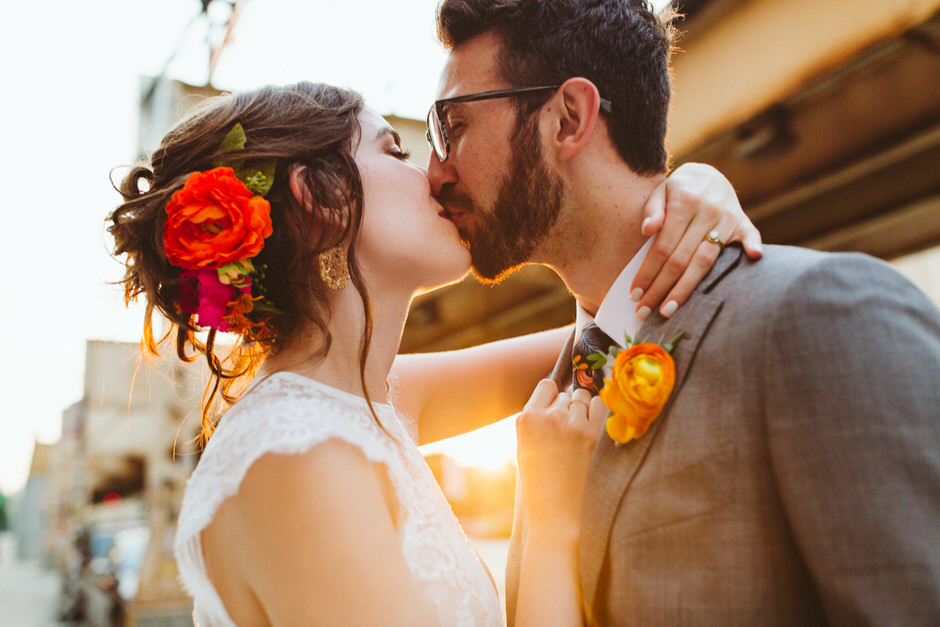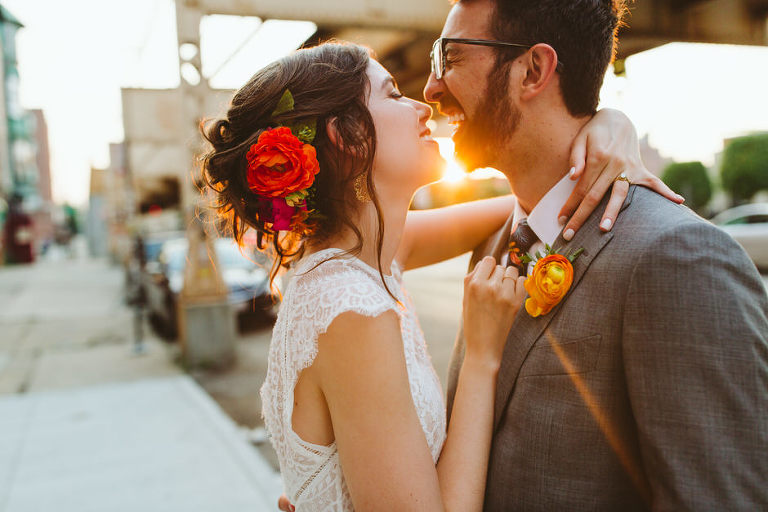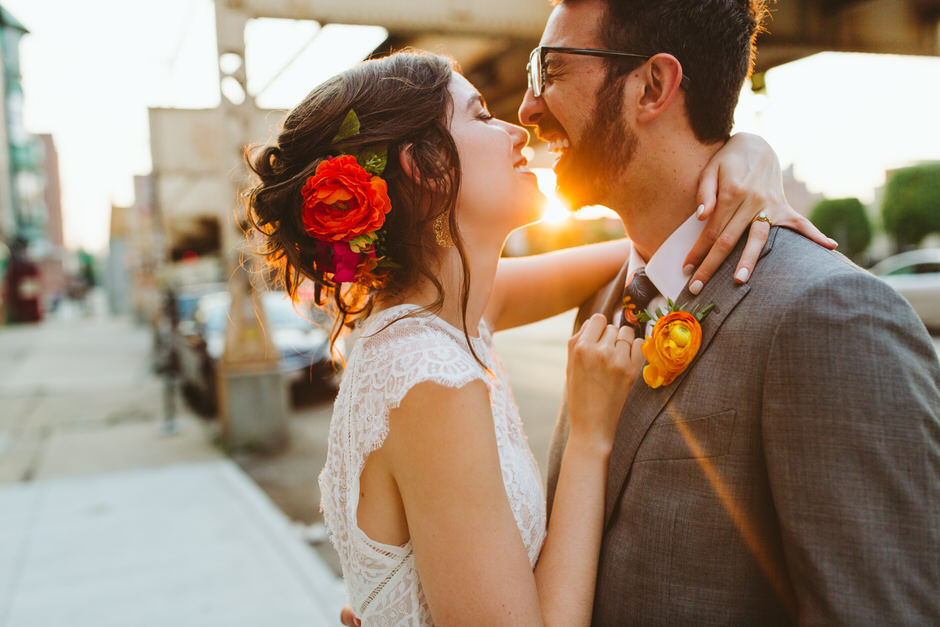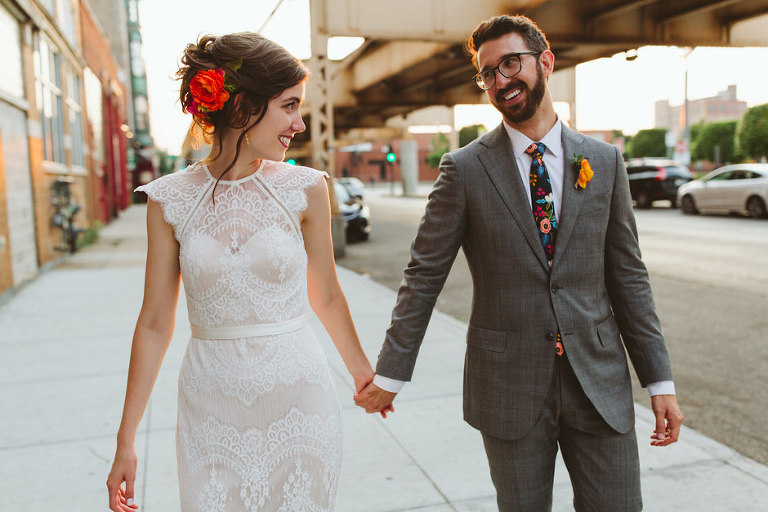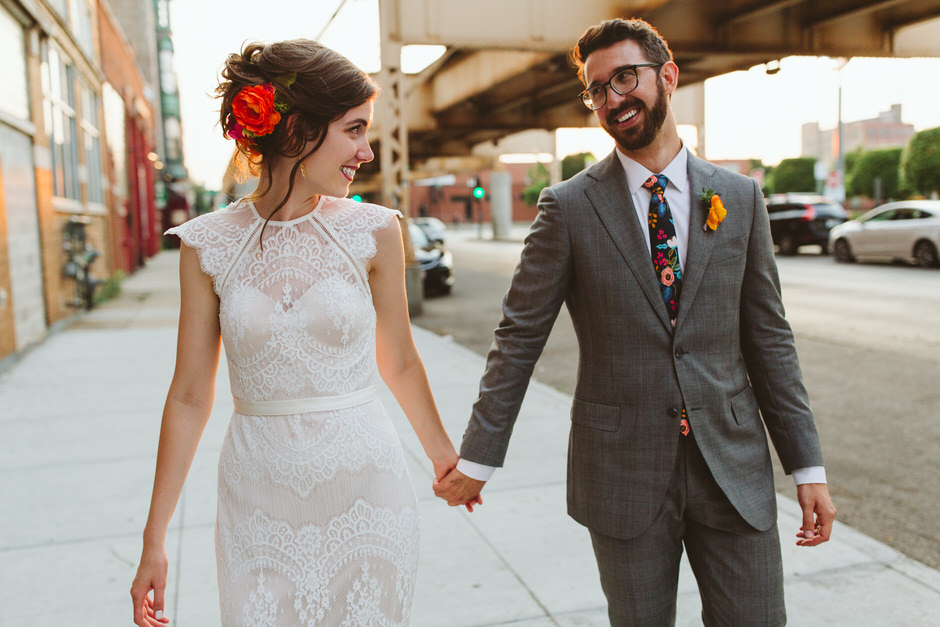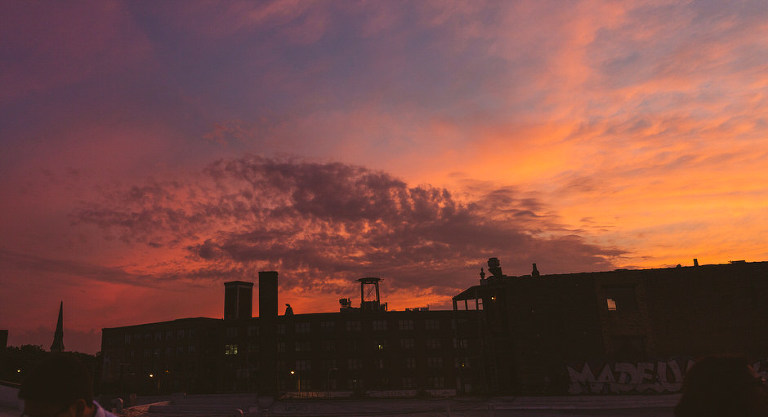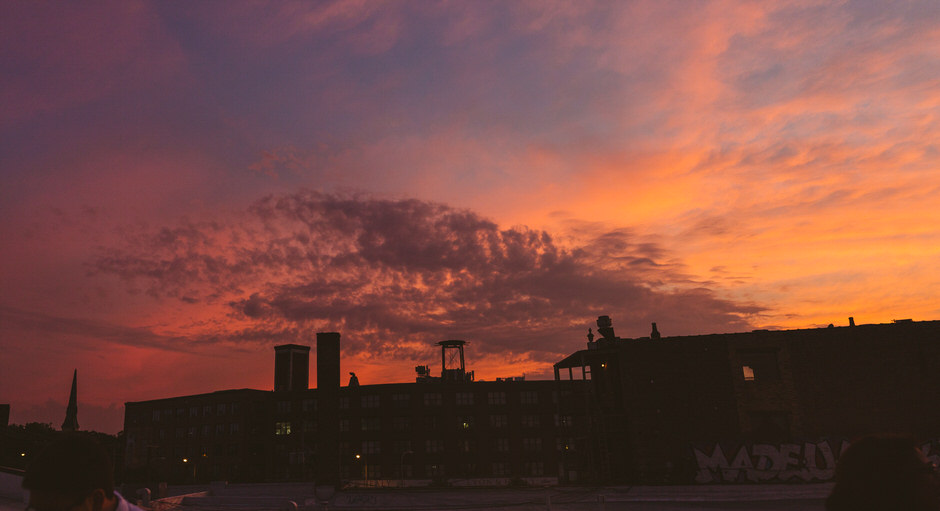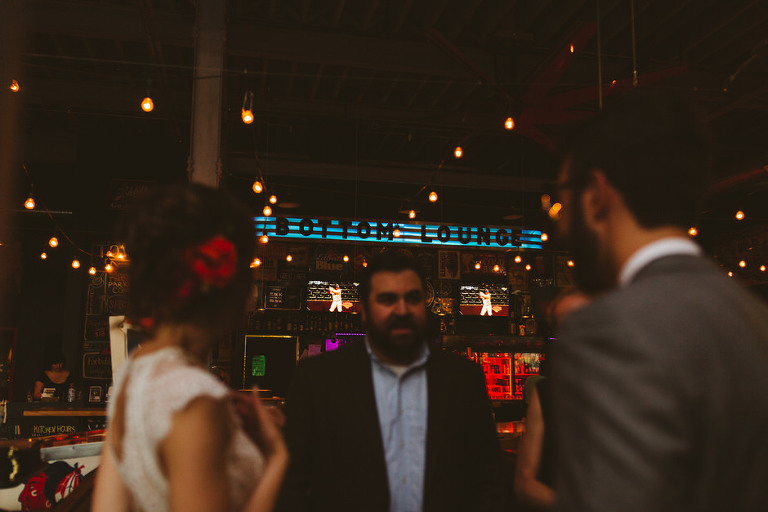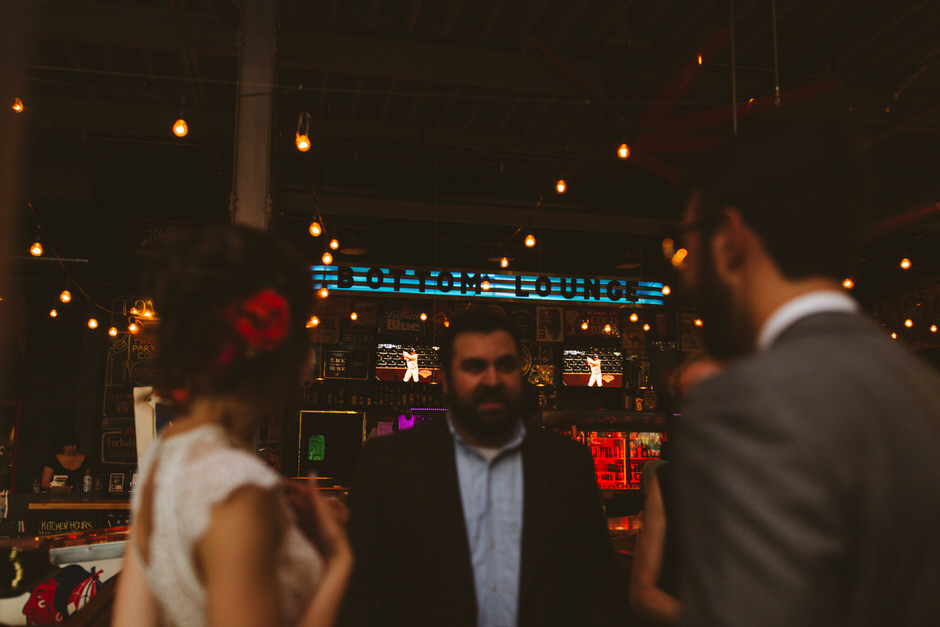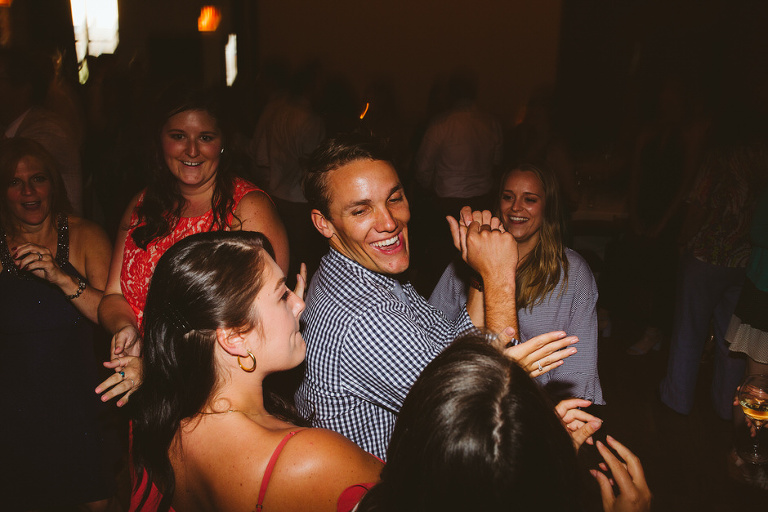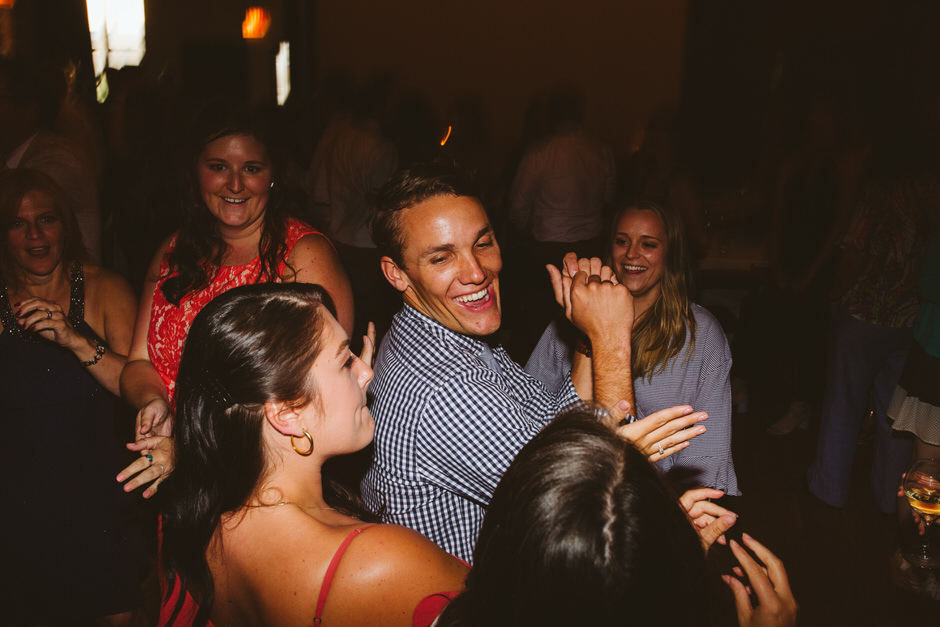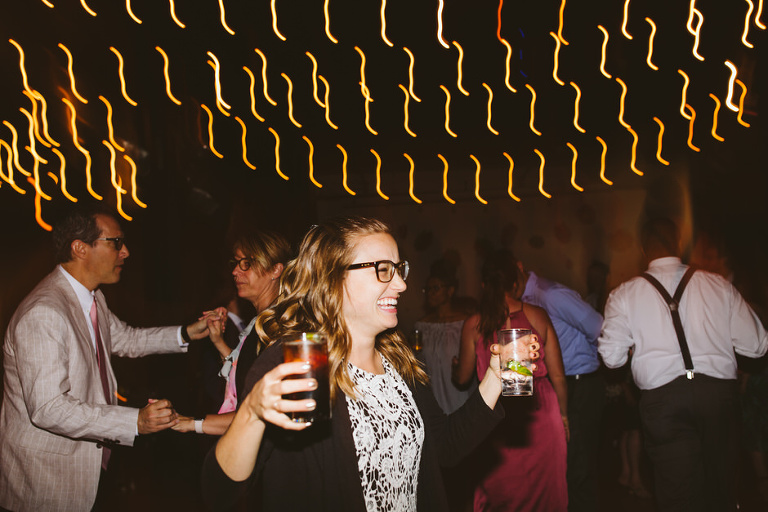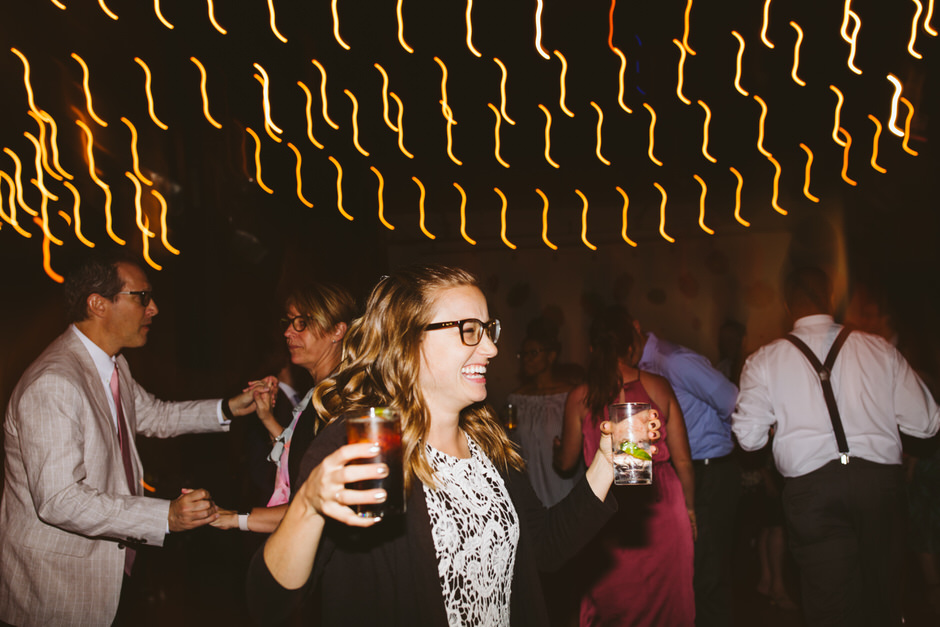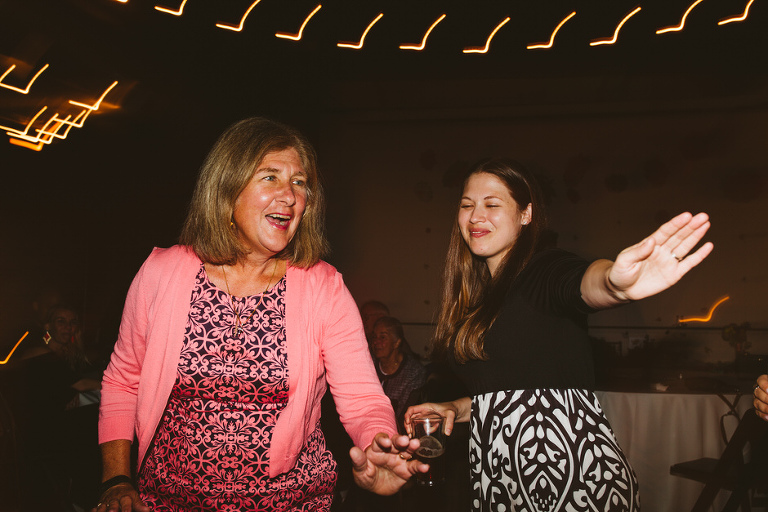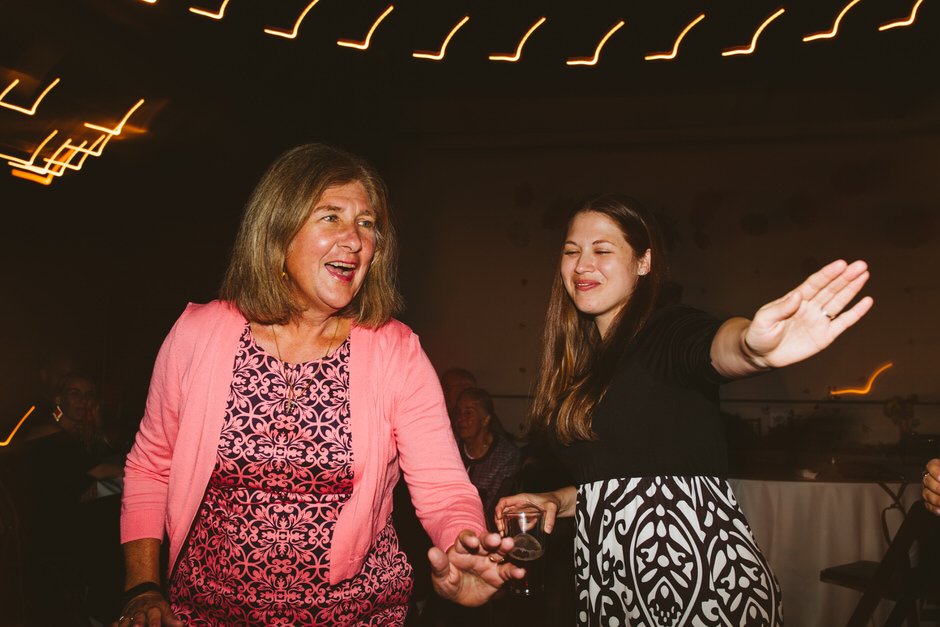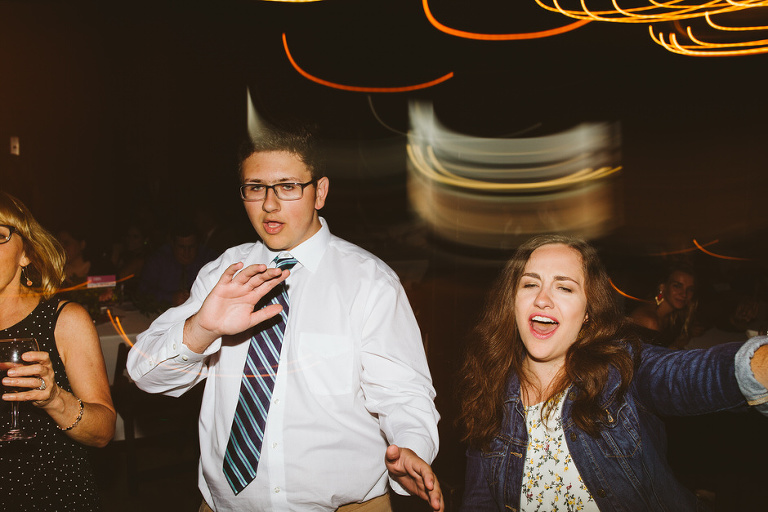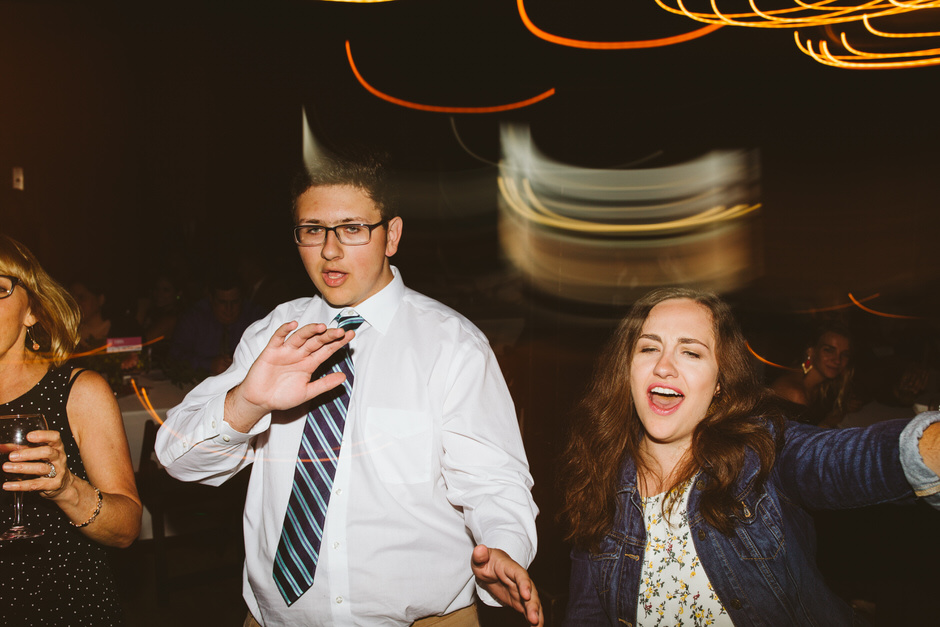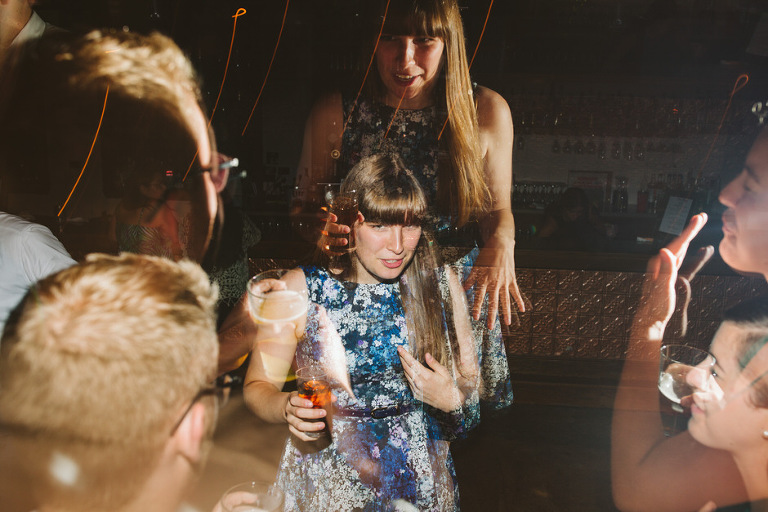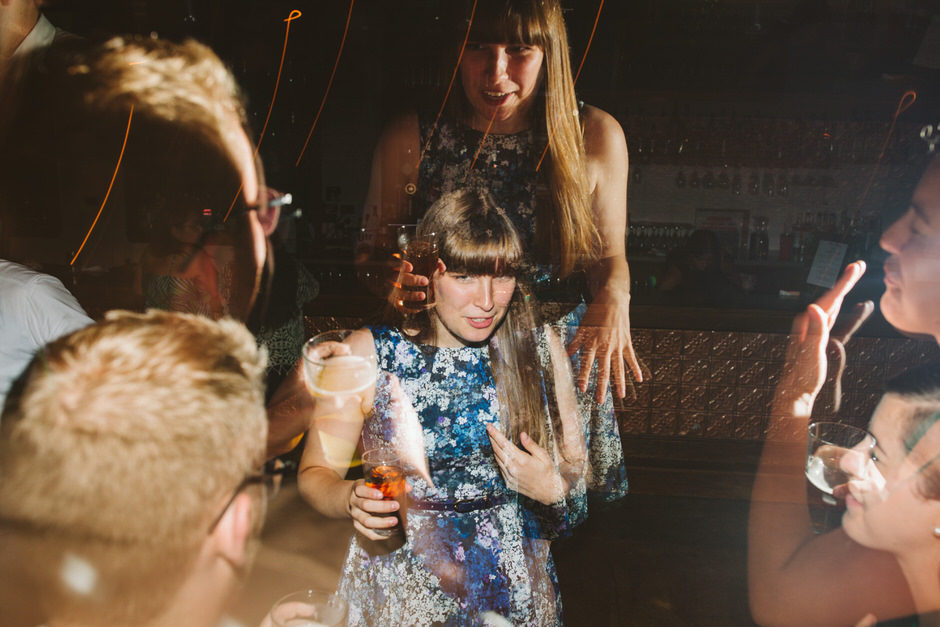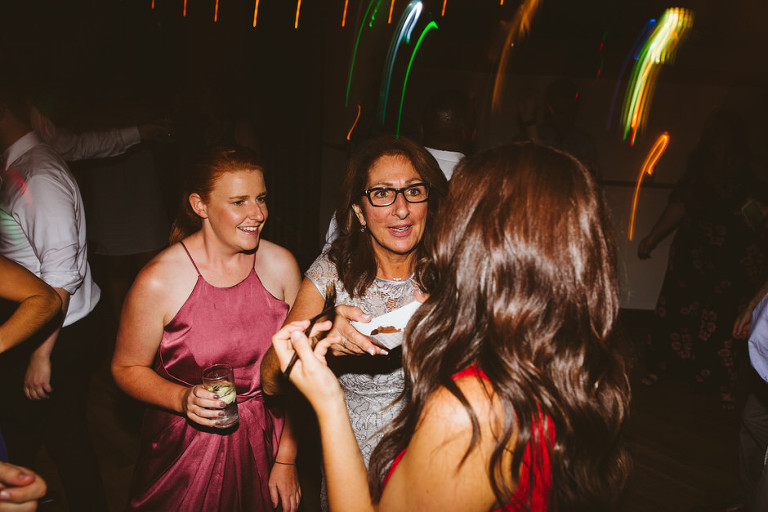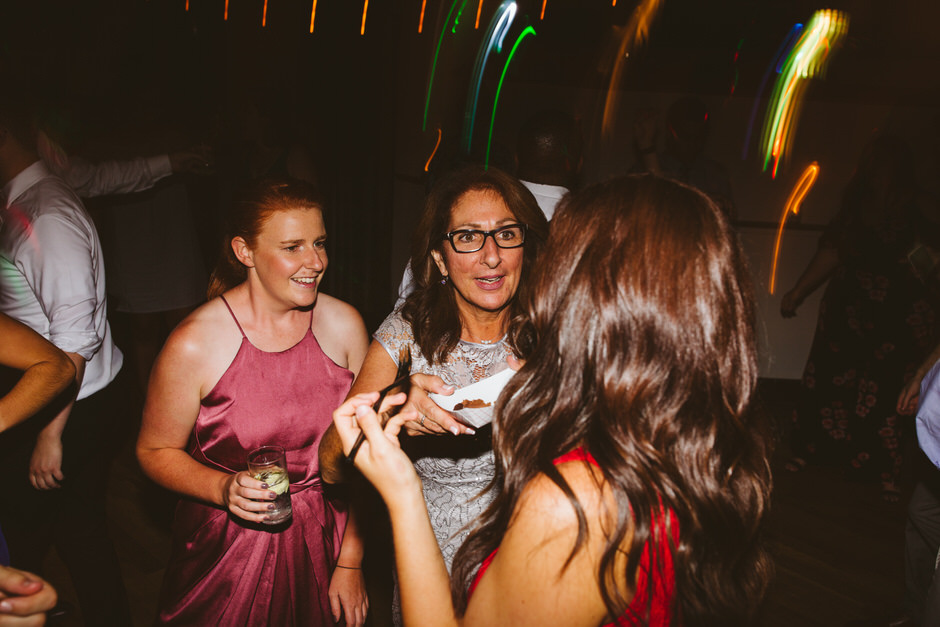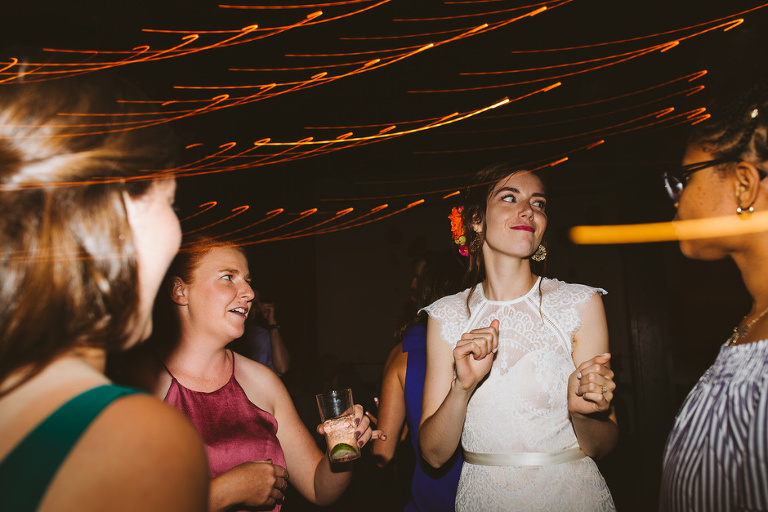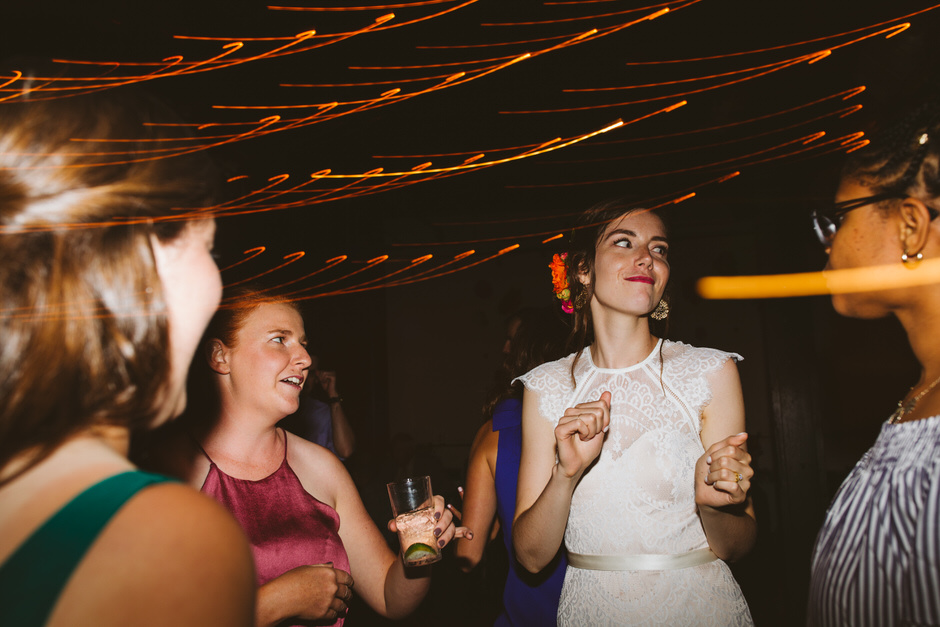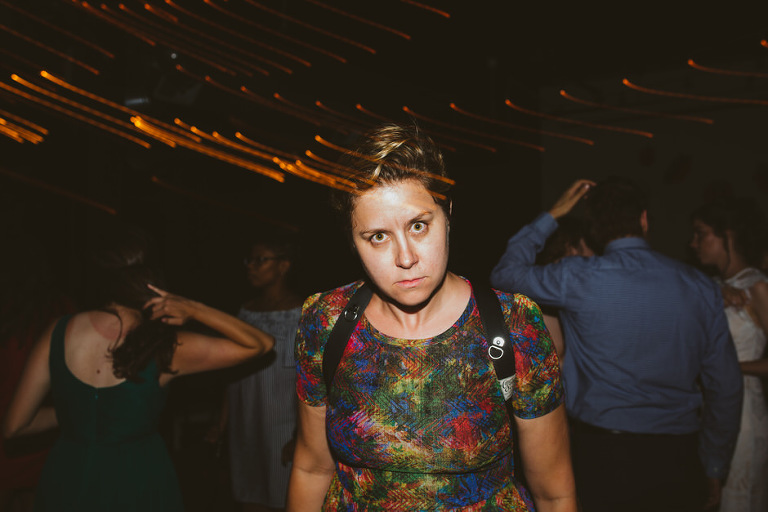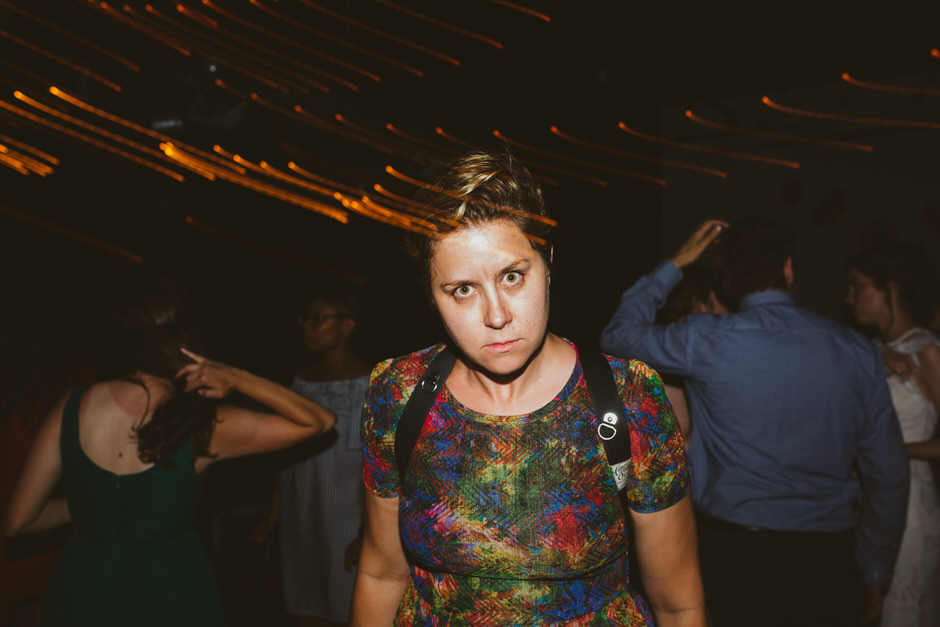 Your Photographer: 
Rachel was pure JOY! She was fun, creative, professional, and so easy to be around. Our families and wedding party all raved about her. The best was that it all felt so natural even for us not-a-photo-couple. With Rachel behind the camera there was plenty of being in the moment and documenting the best day! Katie, her second shooter, also brought her A game and we can't wait to enjoy their amazing work for many years to come. Thank you!!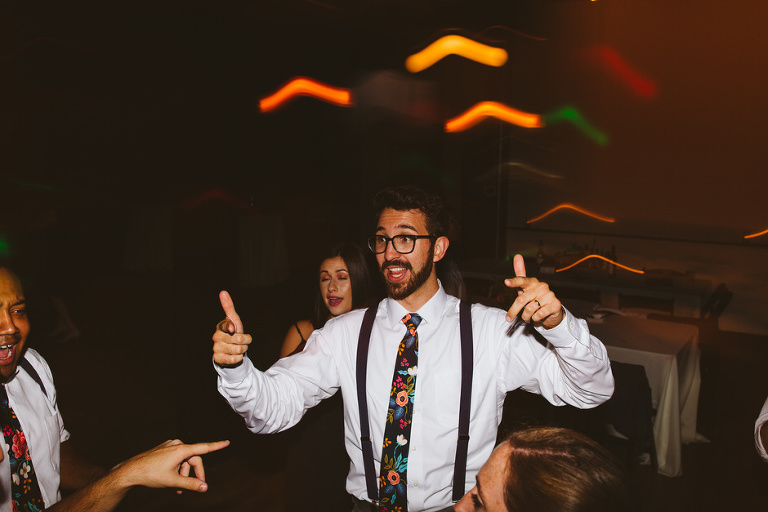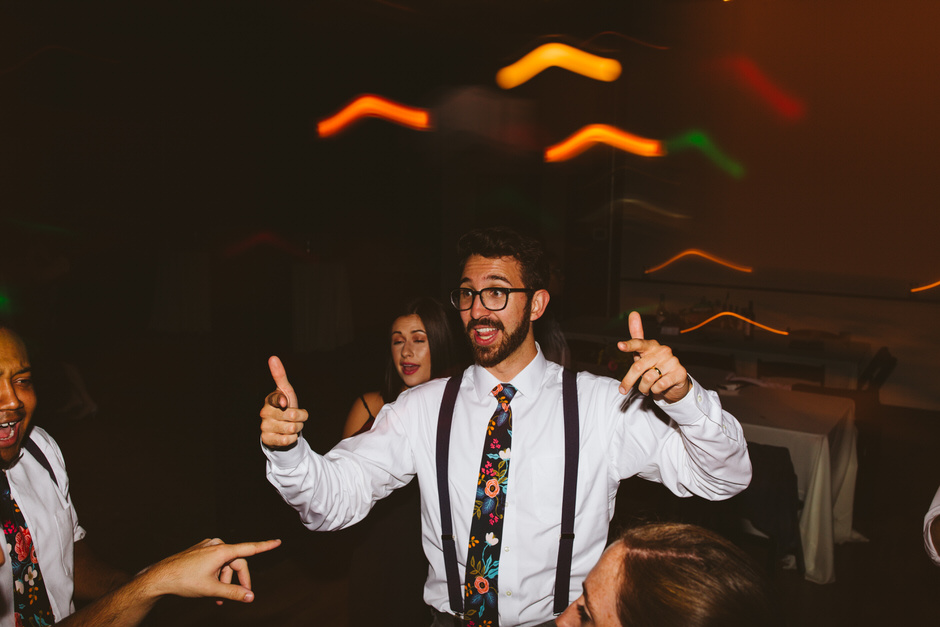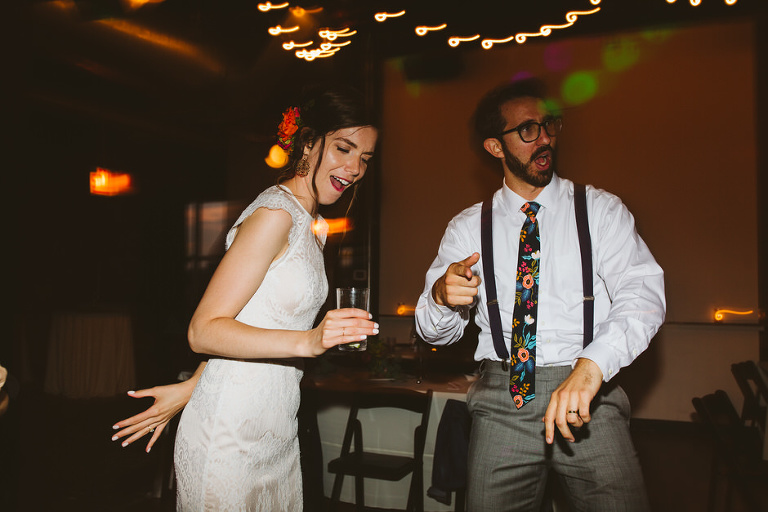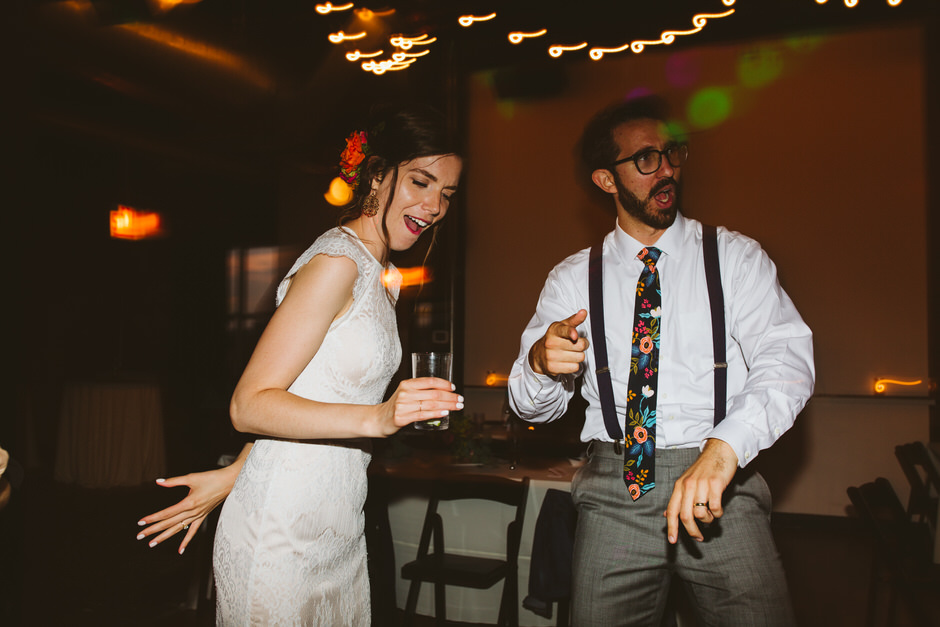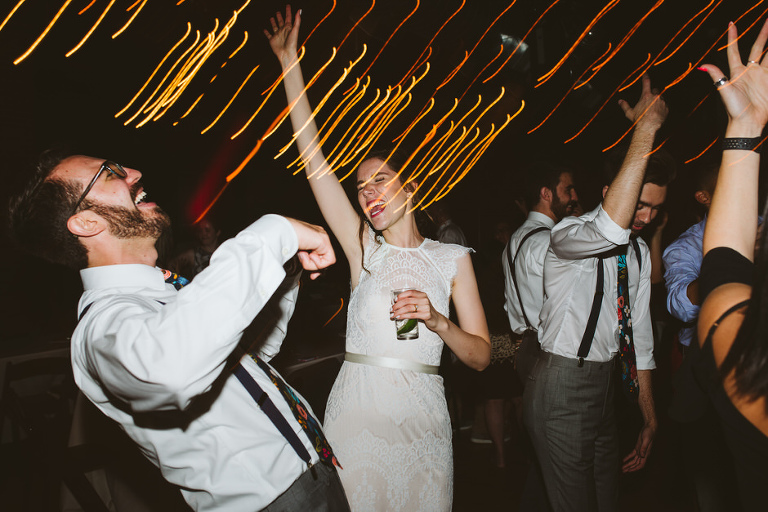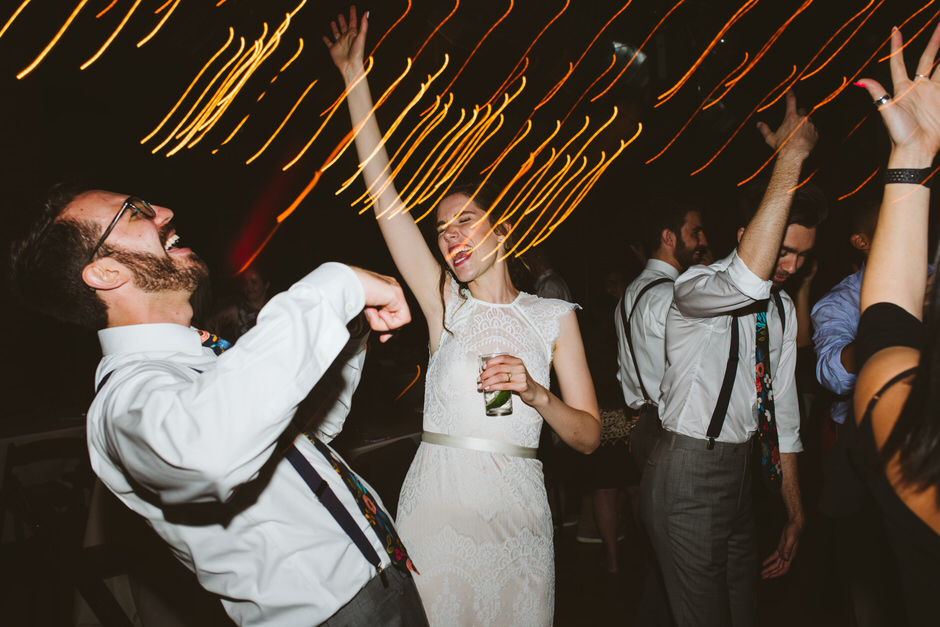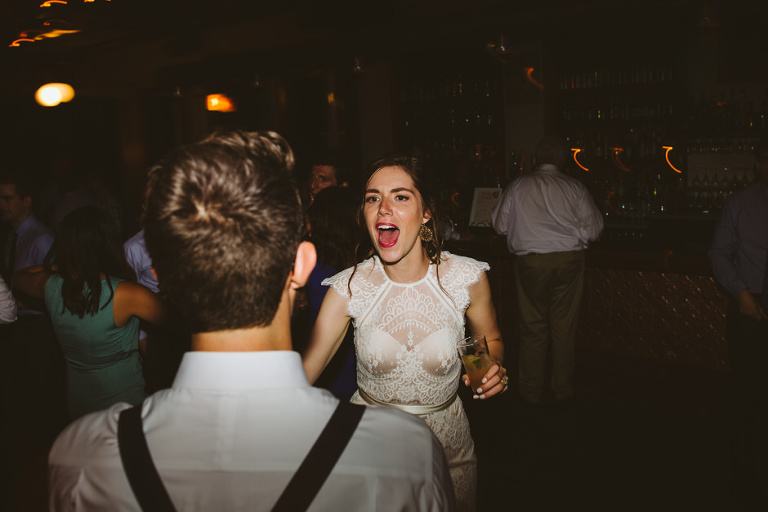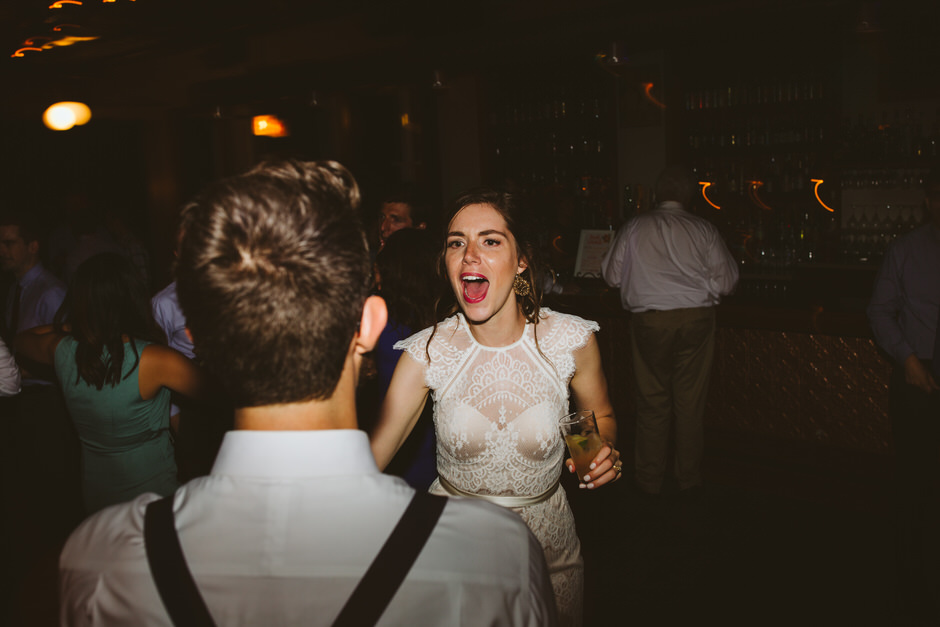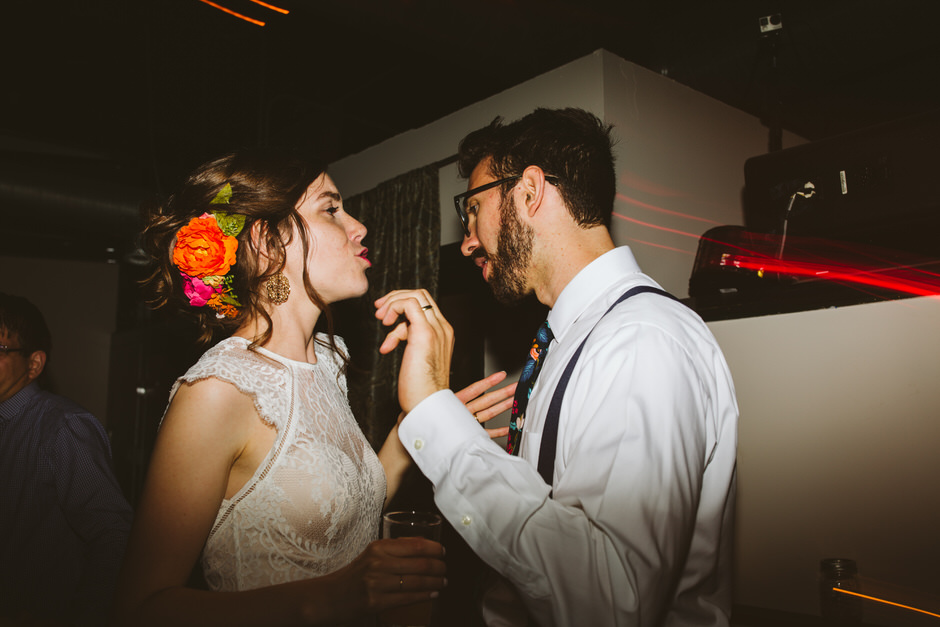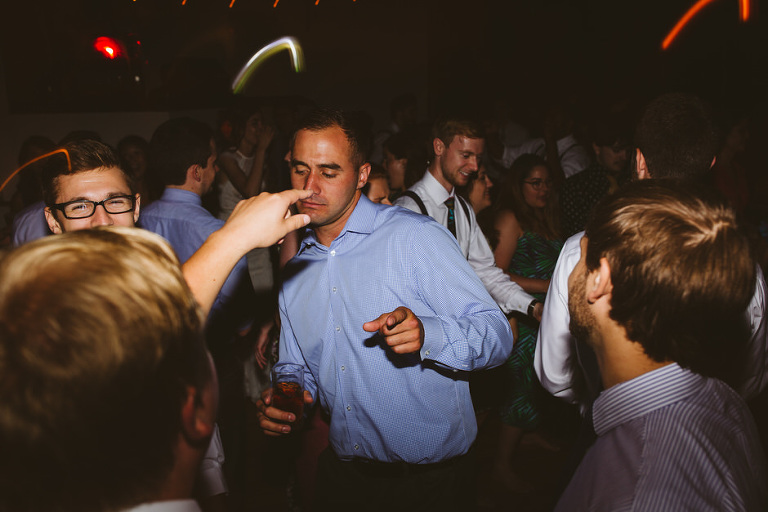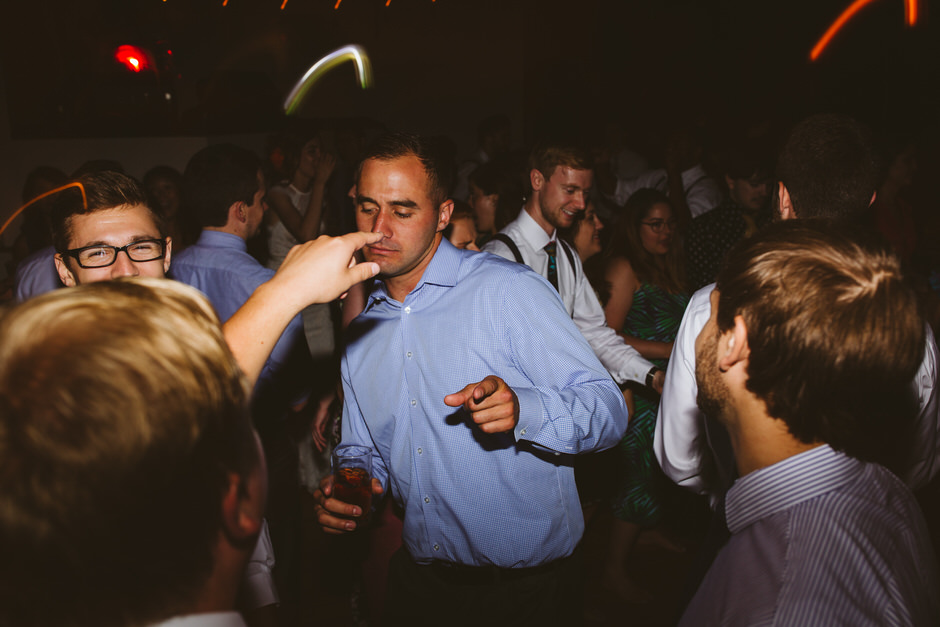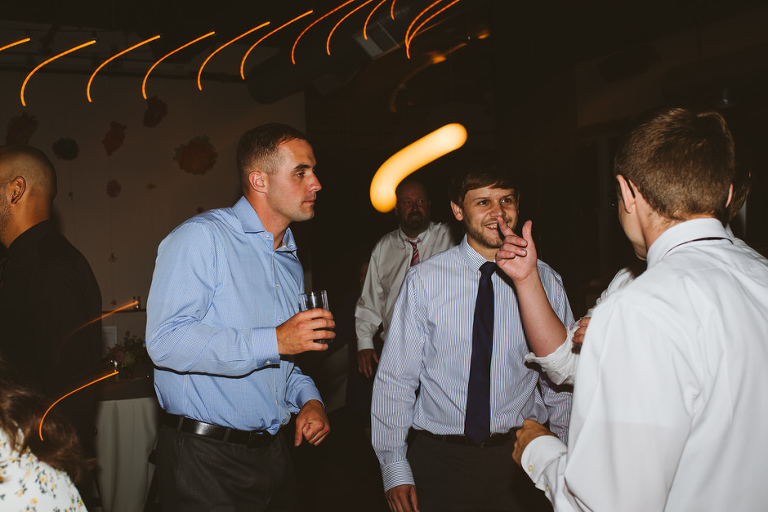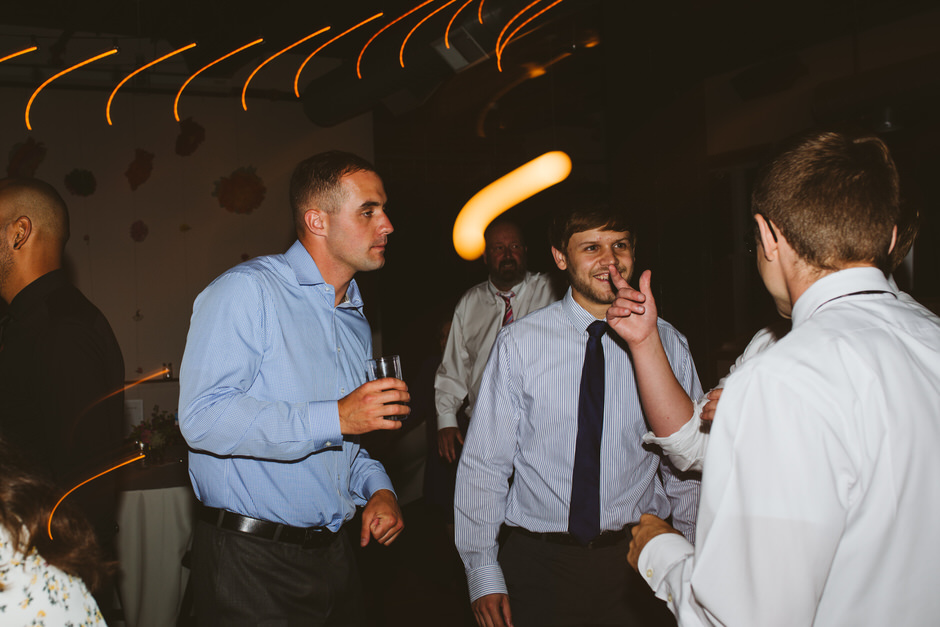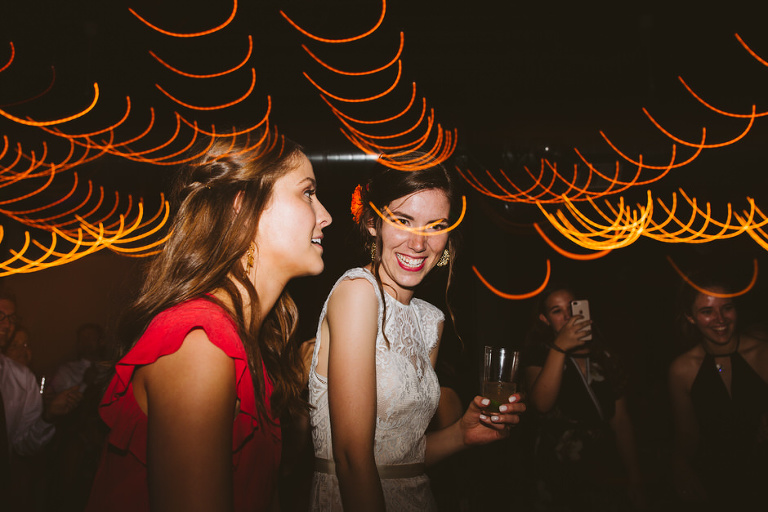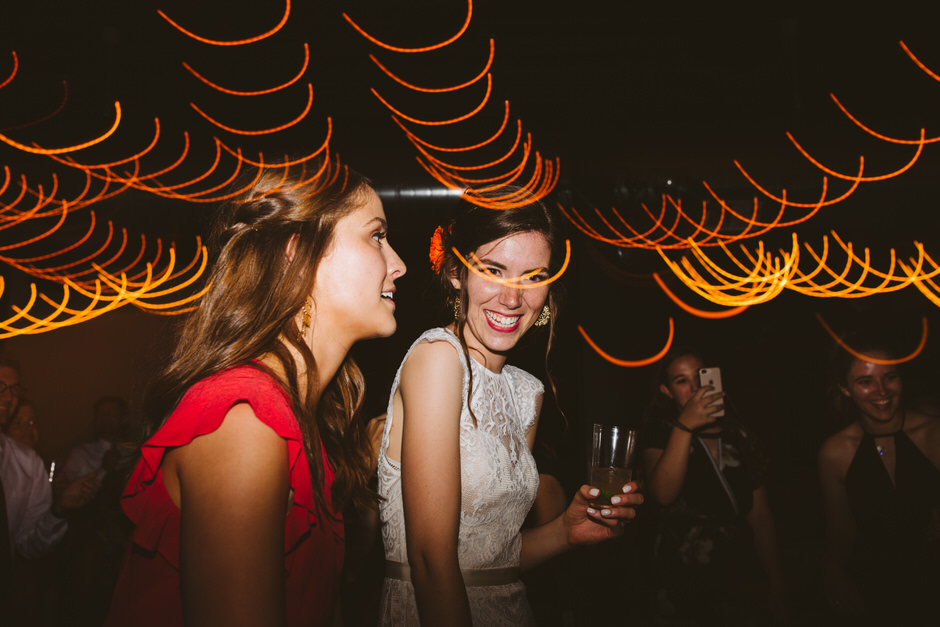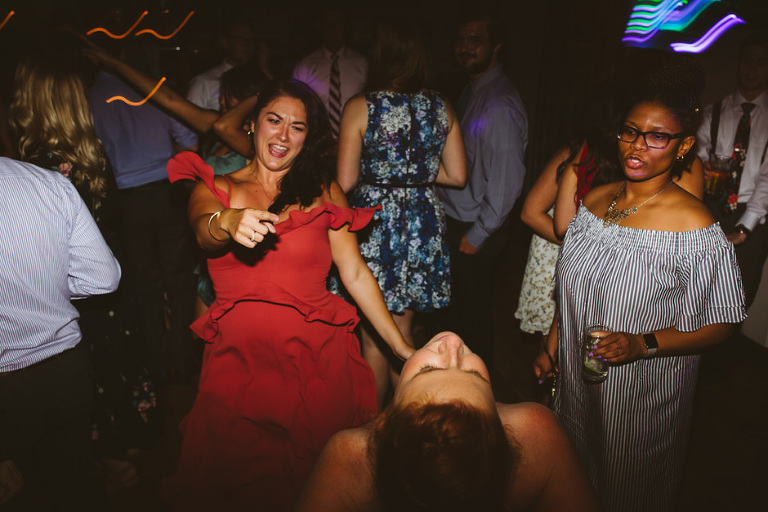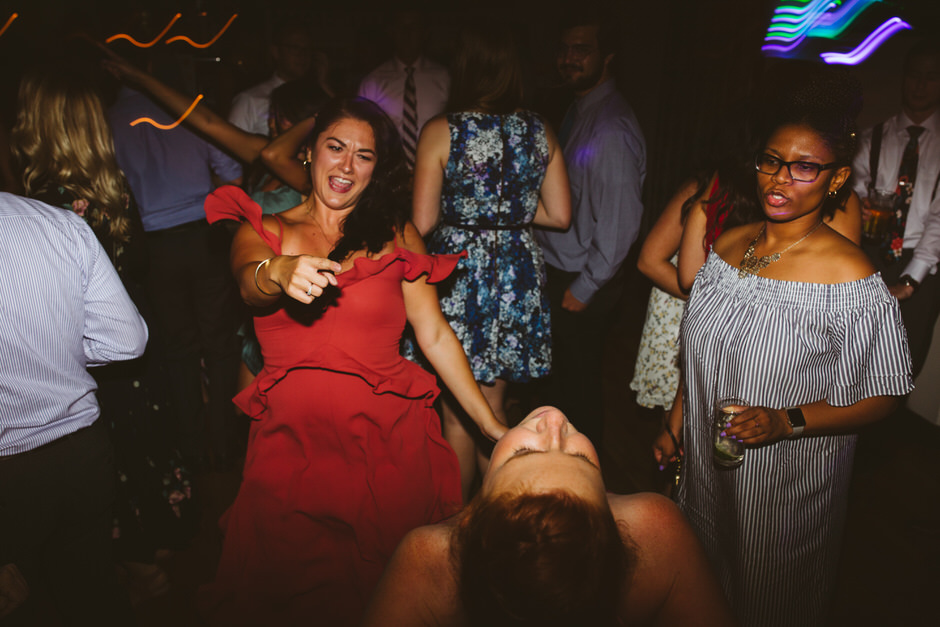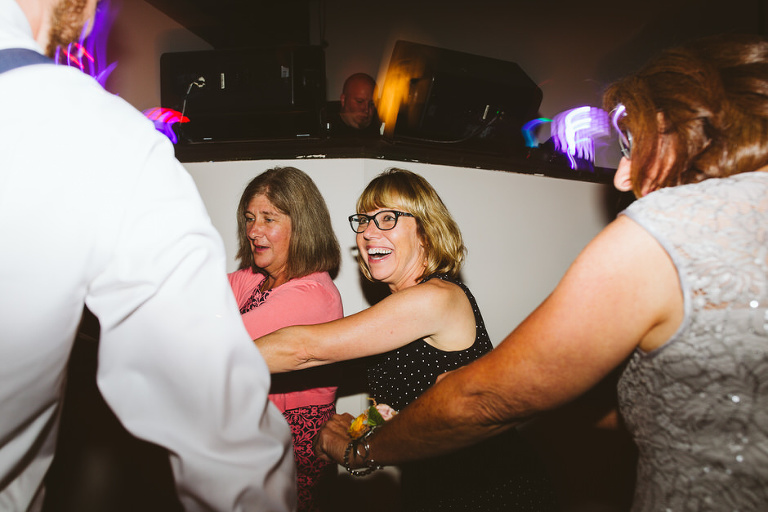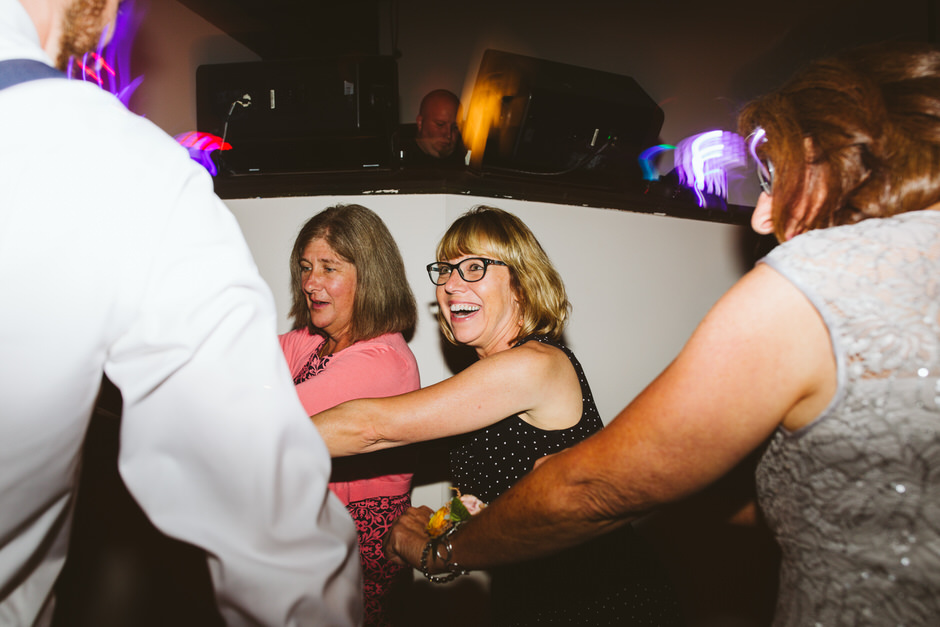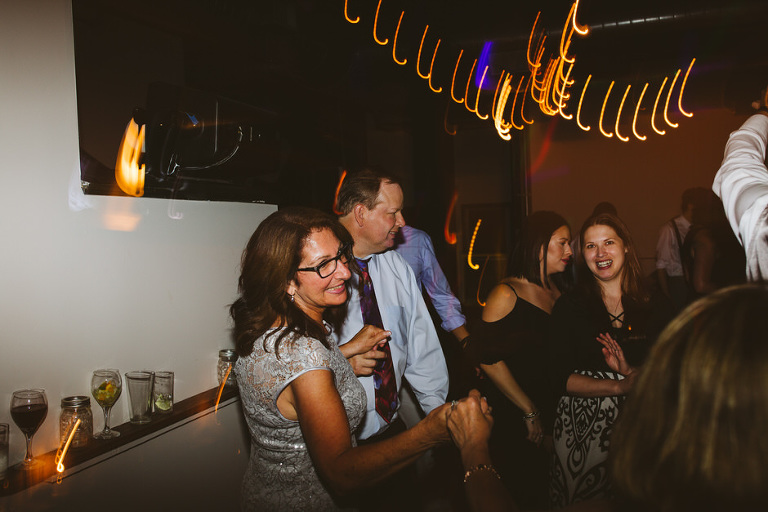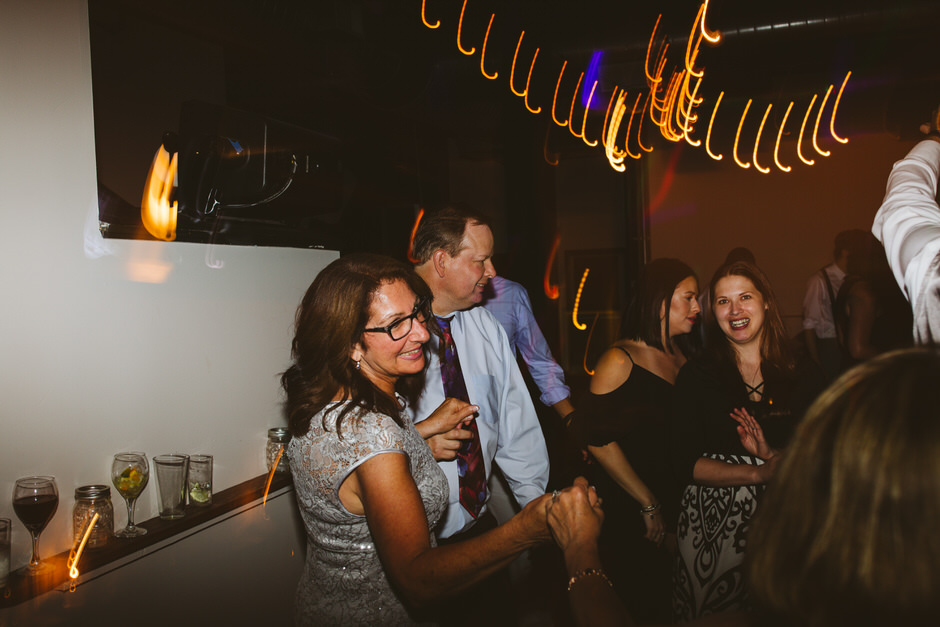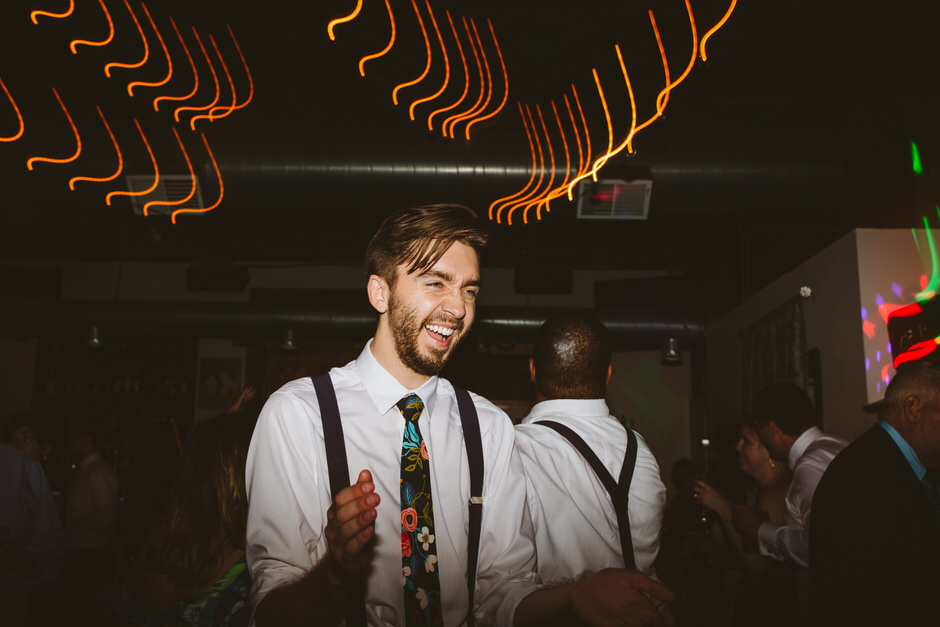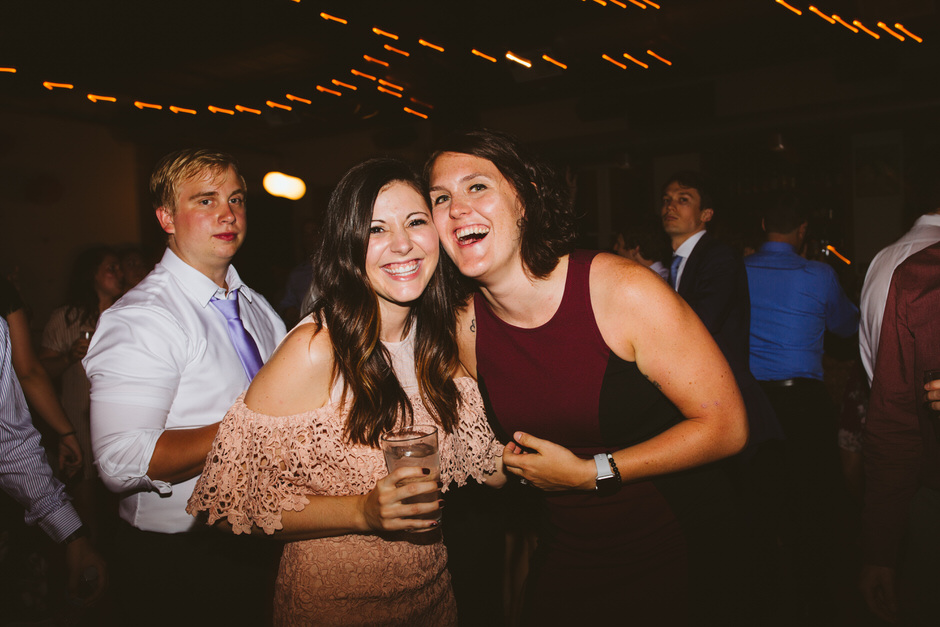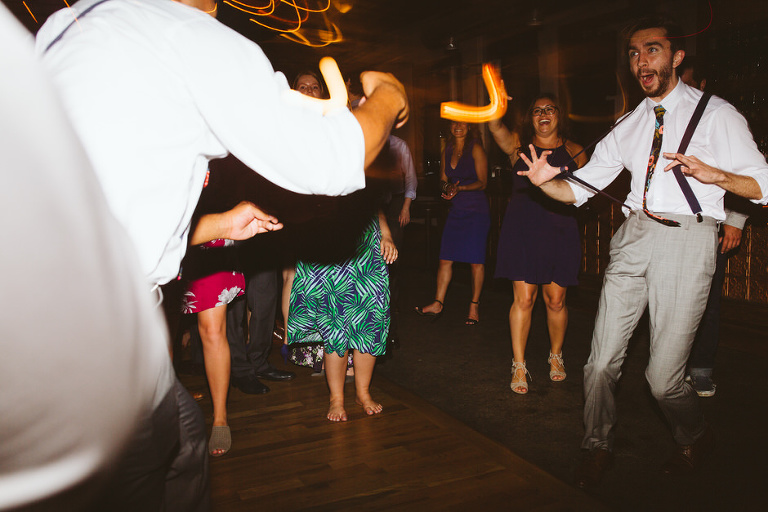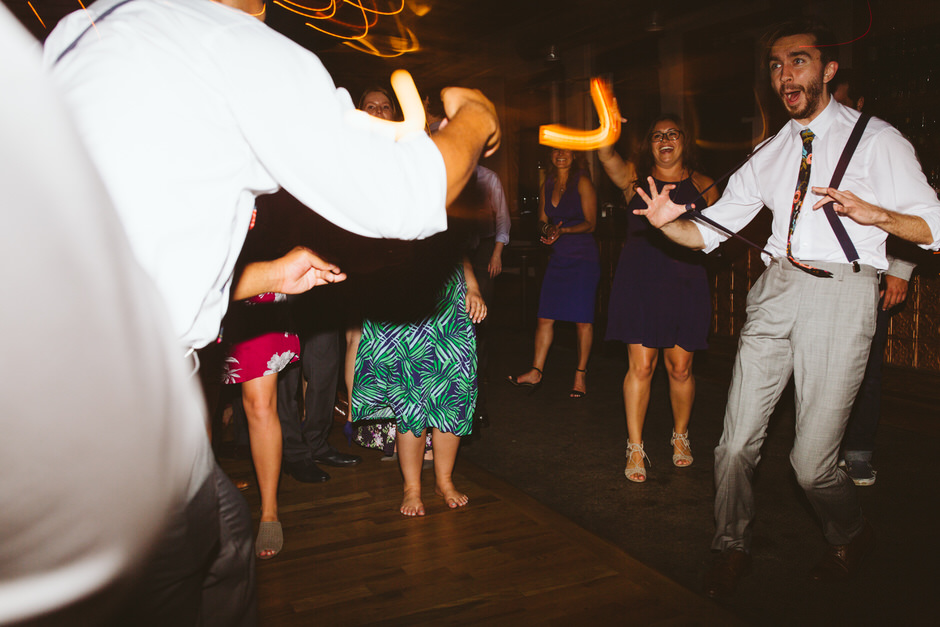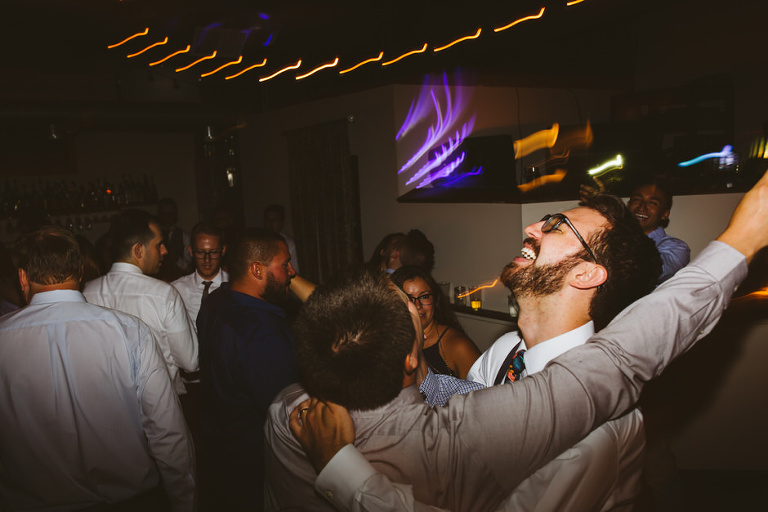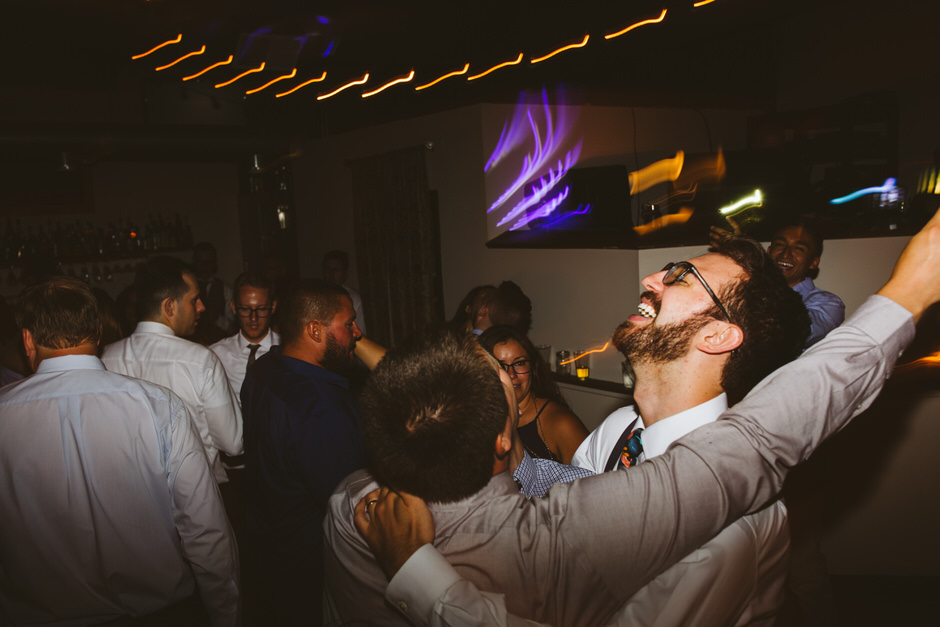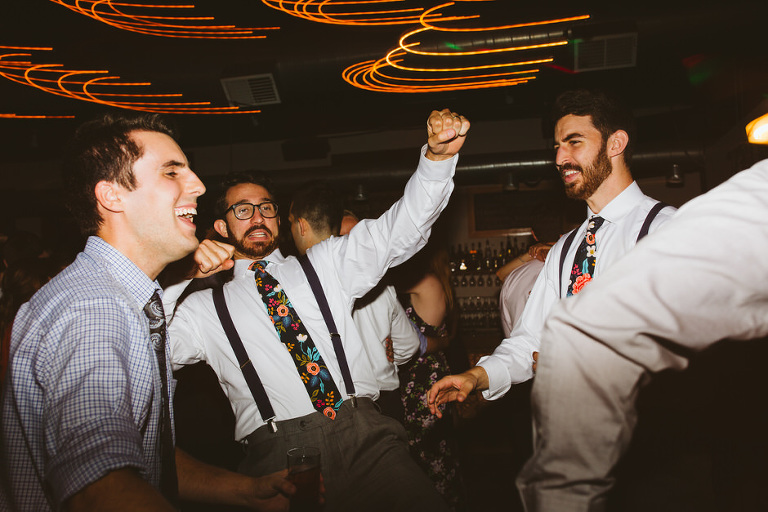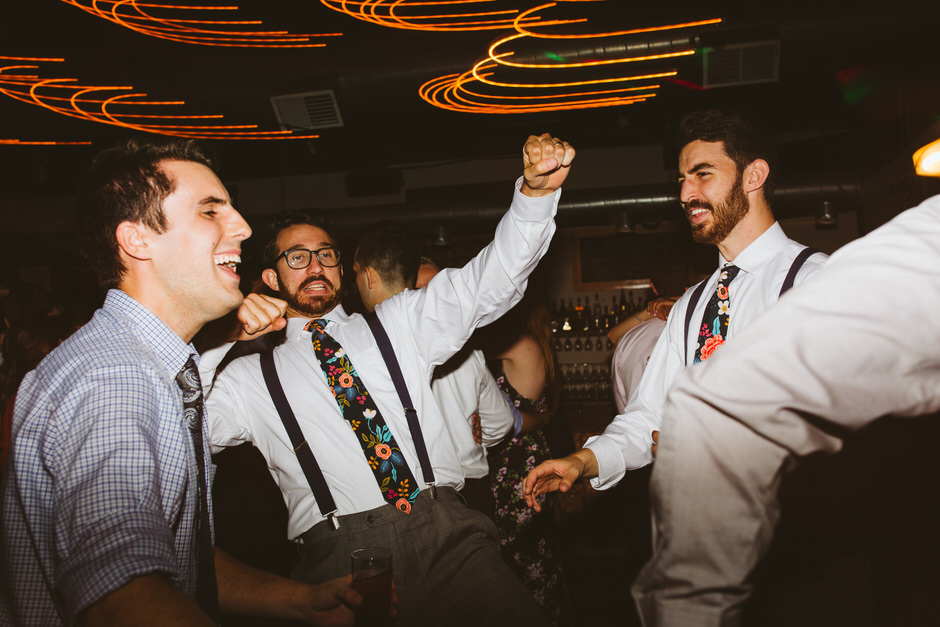 Any Advice for couples planning their wedding?
The day goes so quickly–from a plan to a memory in an instant–so take plenty of moments to just look at your people, the family, friends, wedding party, and, of course, your betrothed, and bask in the lovey glow.