Grand Haven Michigan Beach Wedding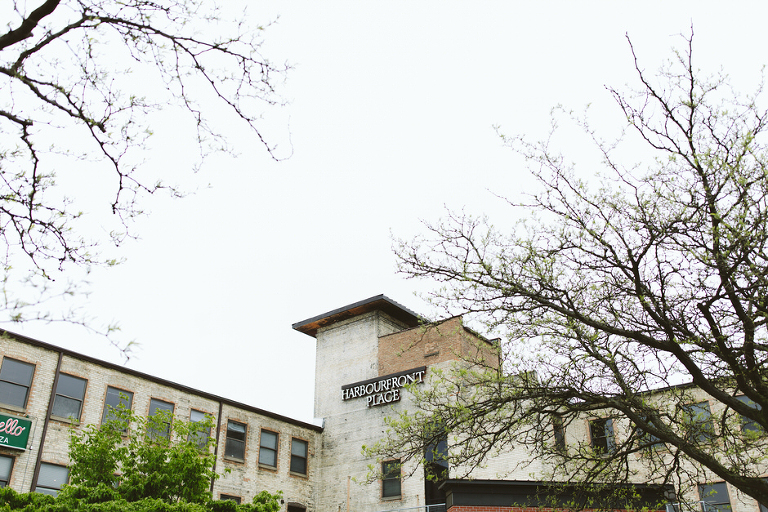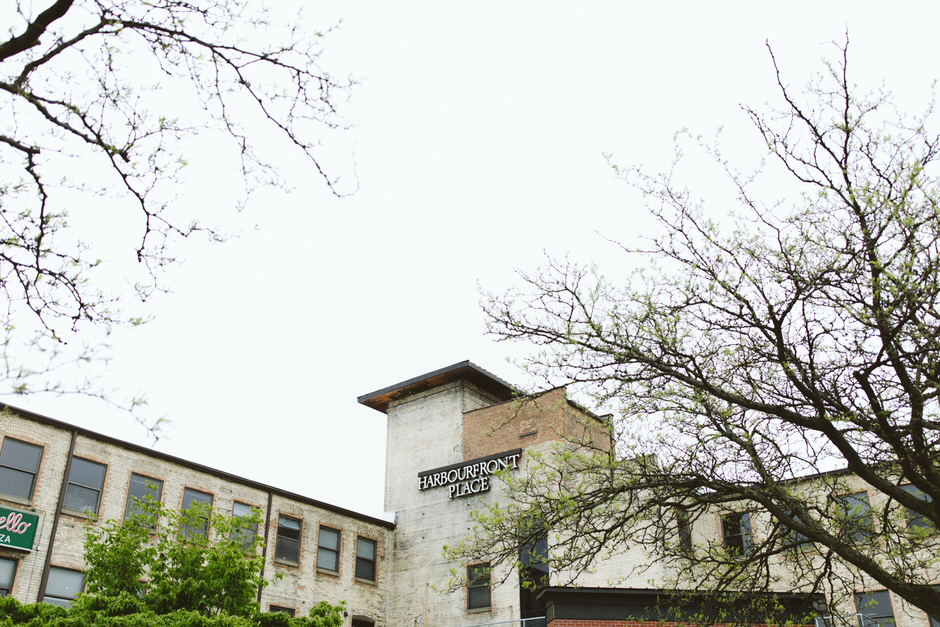 This day and these two mean SO MUCH TO ME! See, I met Ryan first in high school. He was always just this really nice nerdy guy, kinda quiet but once you got to know him a really fun time. I was elated when his FIANCE Renee contacted me about shooting their wedding. Honestly, they are so perfect together you couldn't imagine them being with anyone else!!!! I had a freaking BLAST hanging out with them for their engagement session it's no surprise I enjoyed this wedding more than ever! I will let them take it from here but enjoy this rainy Grand Haven Michigan Beach Wedding.
The Beginning: 
Once upon a time, we both swiped right on OKCupid… and his nerdy-delightful opening lines were a slam dunk! We met up for beers at Bdubs the next day, and it was officially confirmed that Ryan was a fantastic human inside and out 🙂
We both had kids from previous relationships, so we took our time making sure that our blended family was also destined to be a success. On our third anniversary, we were out to dinner downtown Detroit when Ryan whipped out a ring box! Renee said "but of course!" and that was that.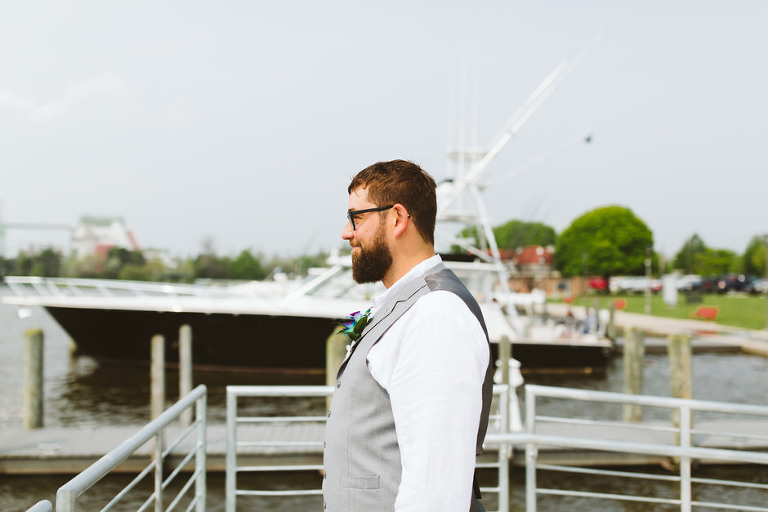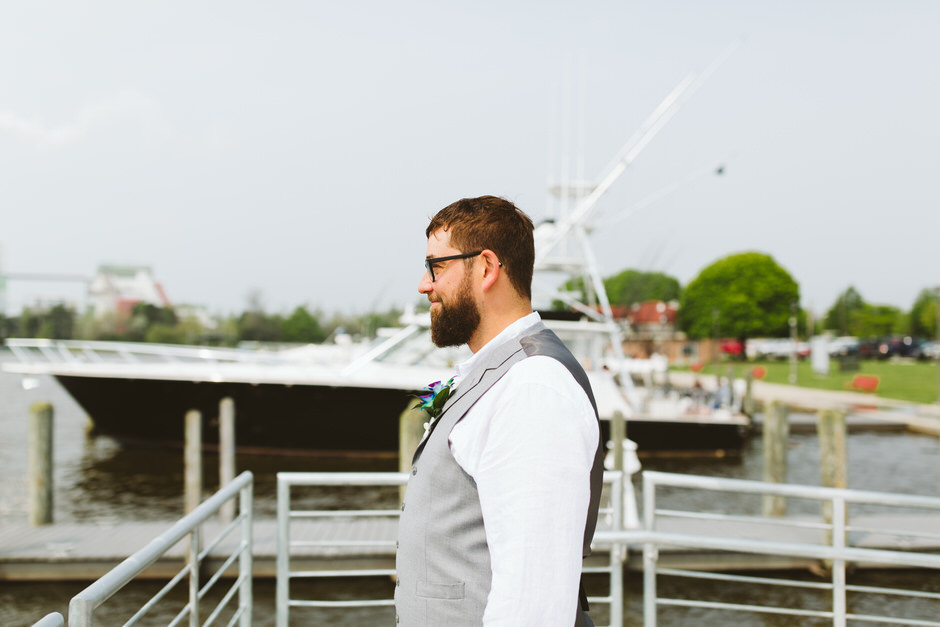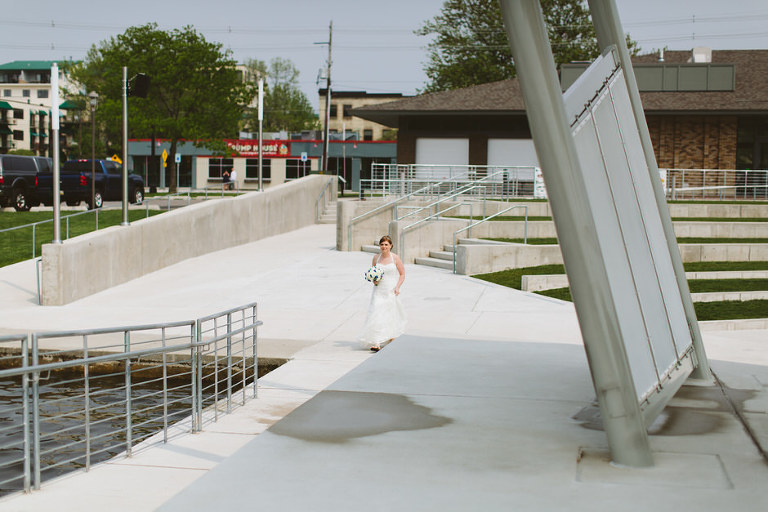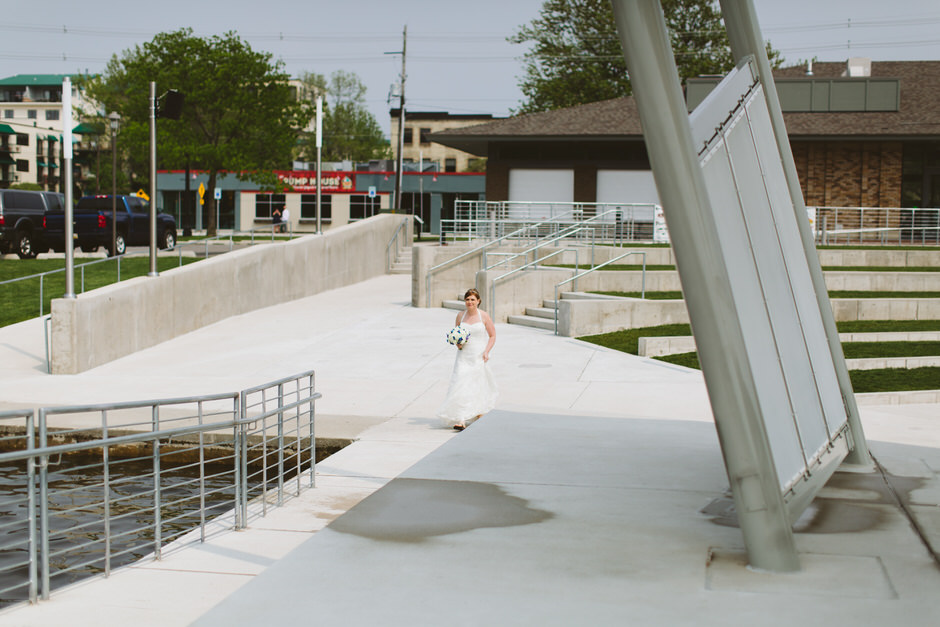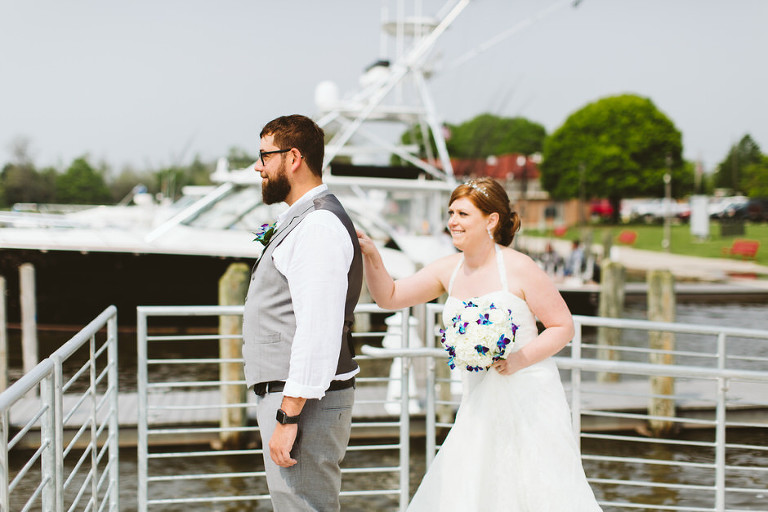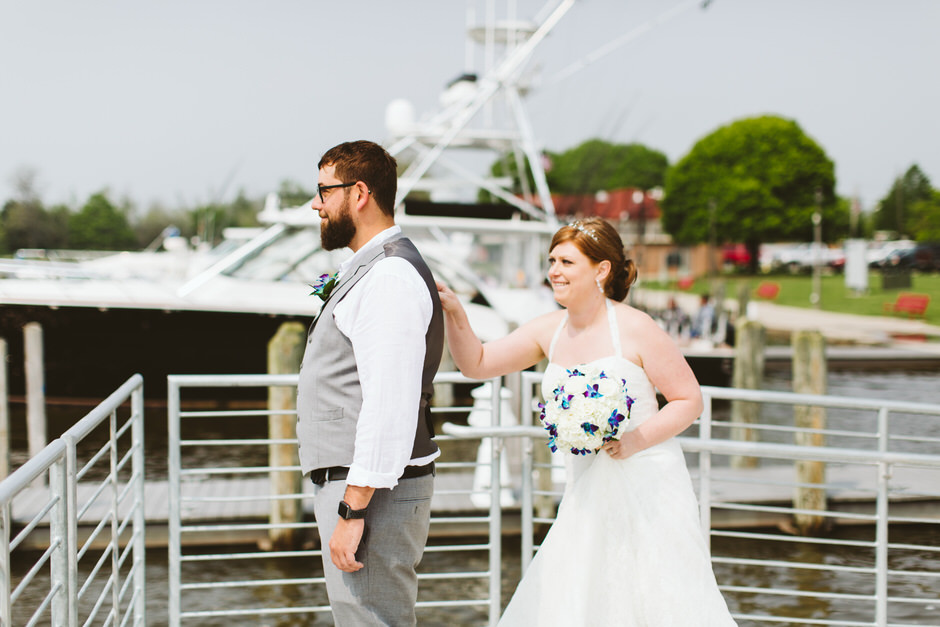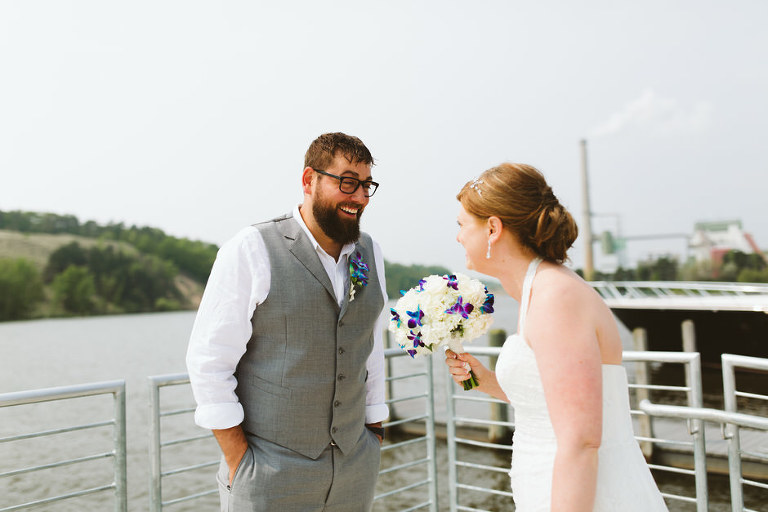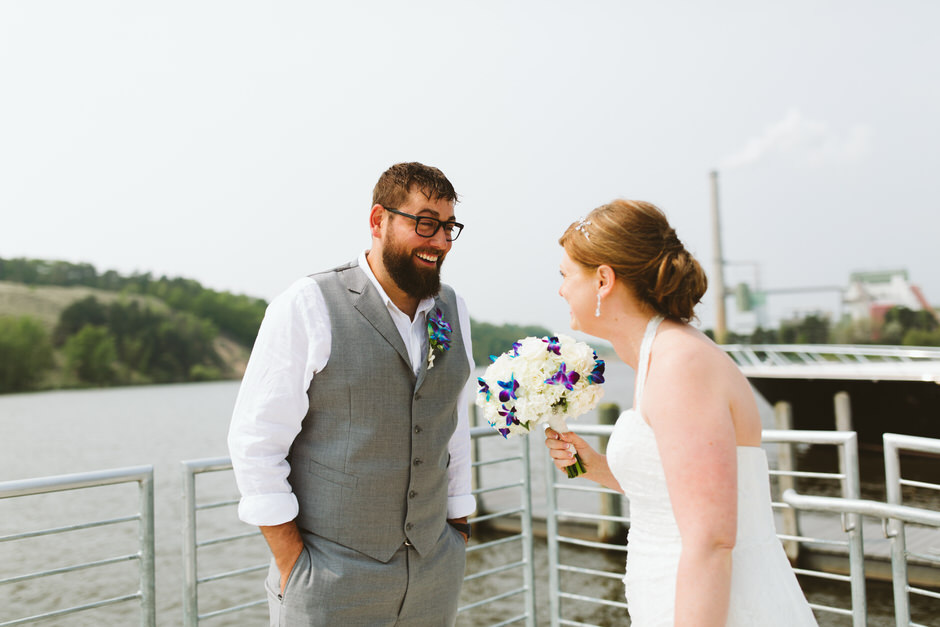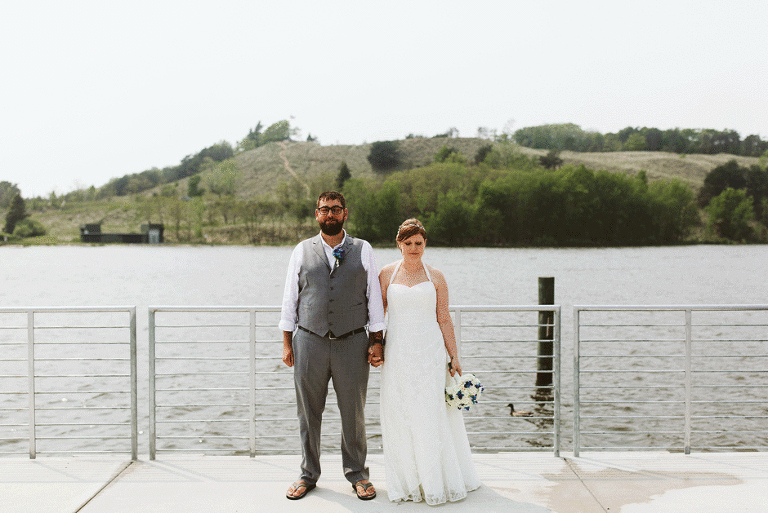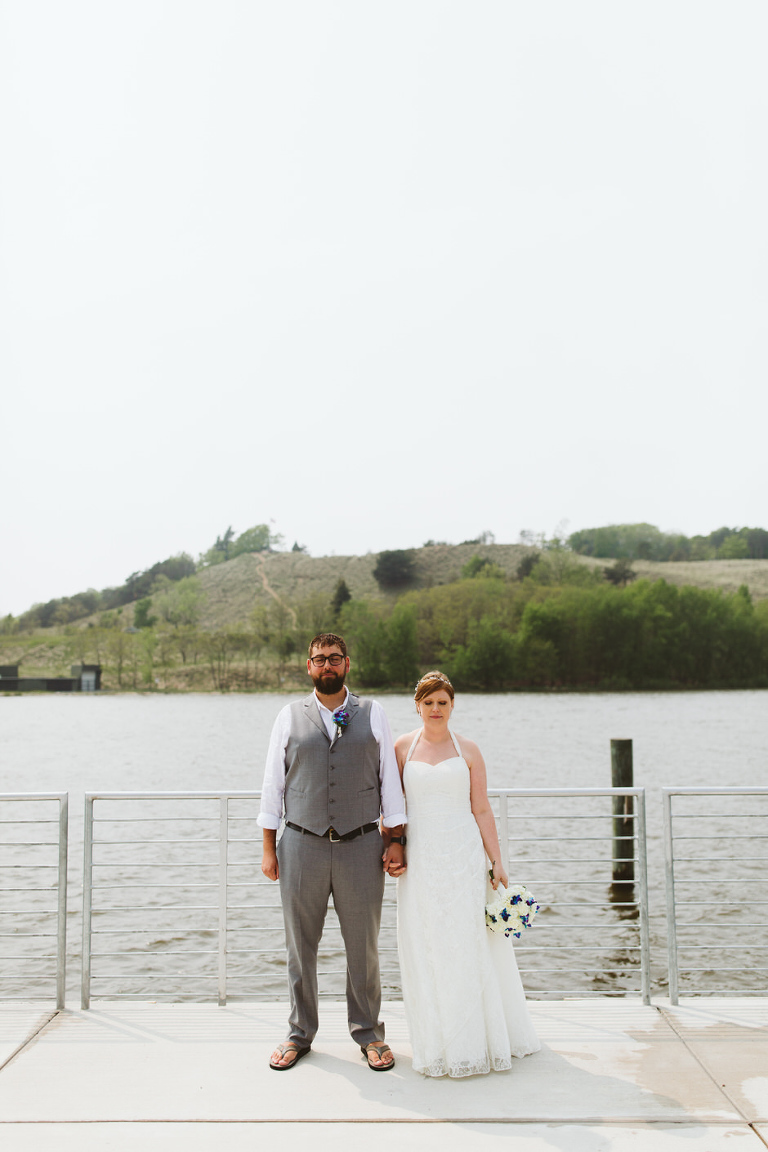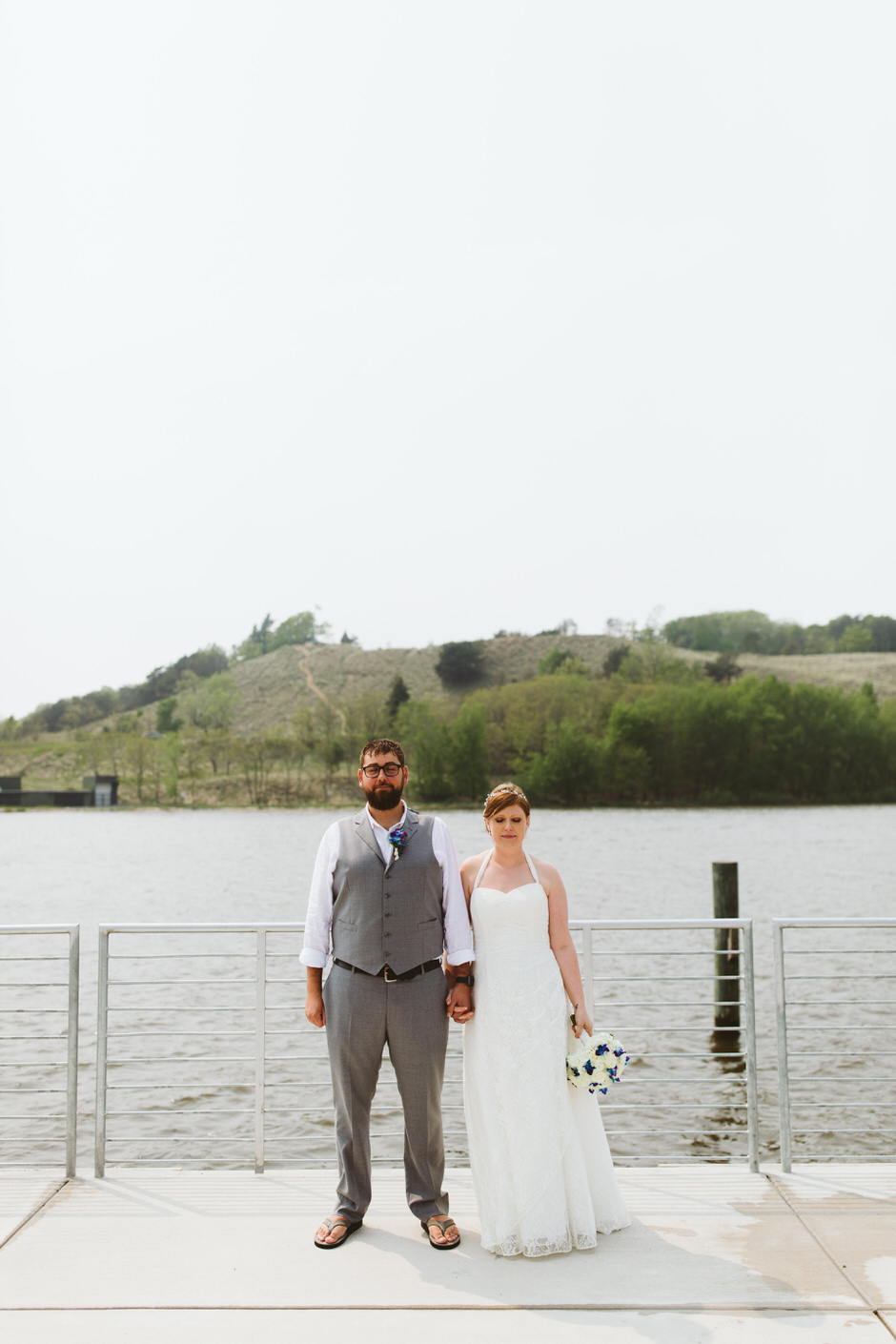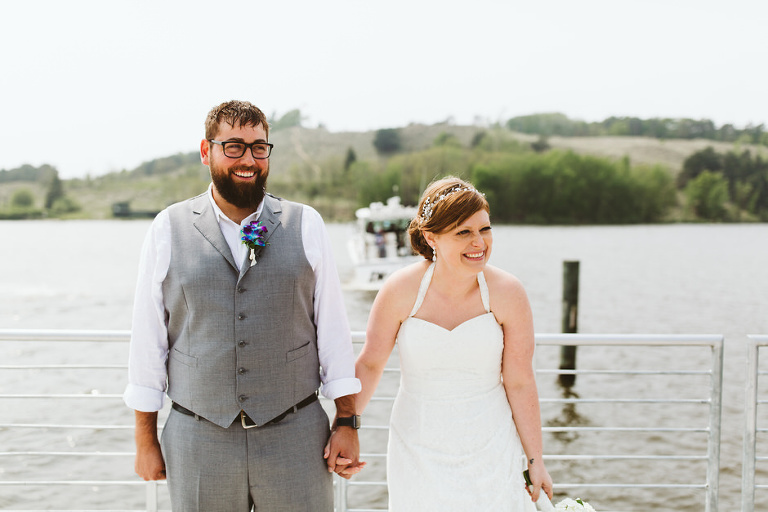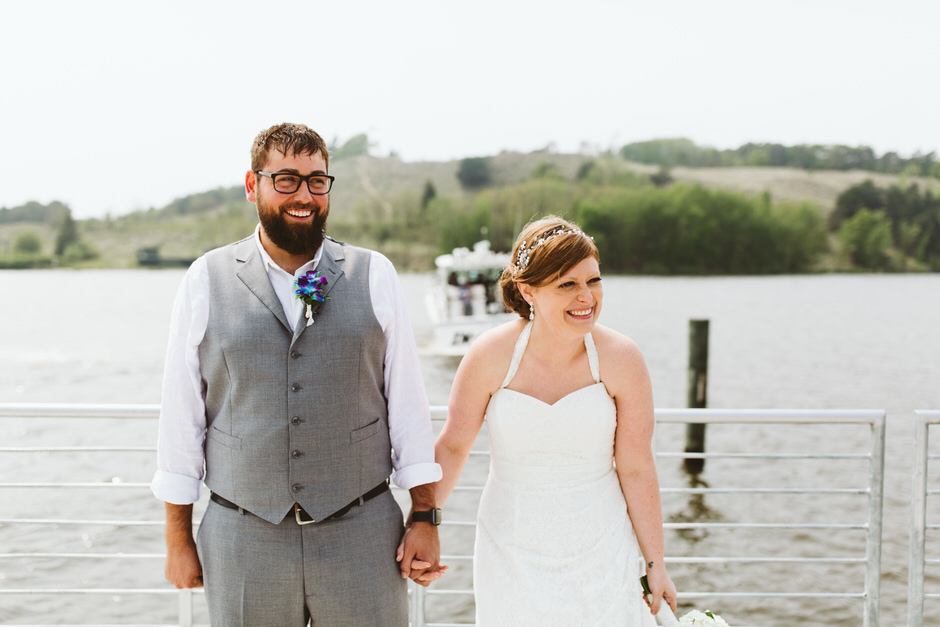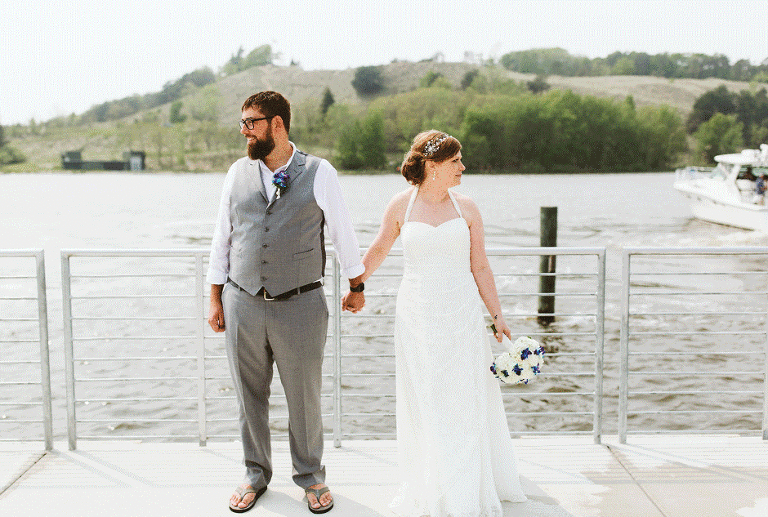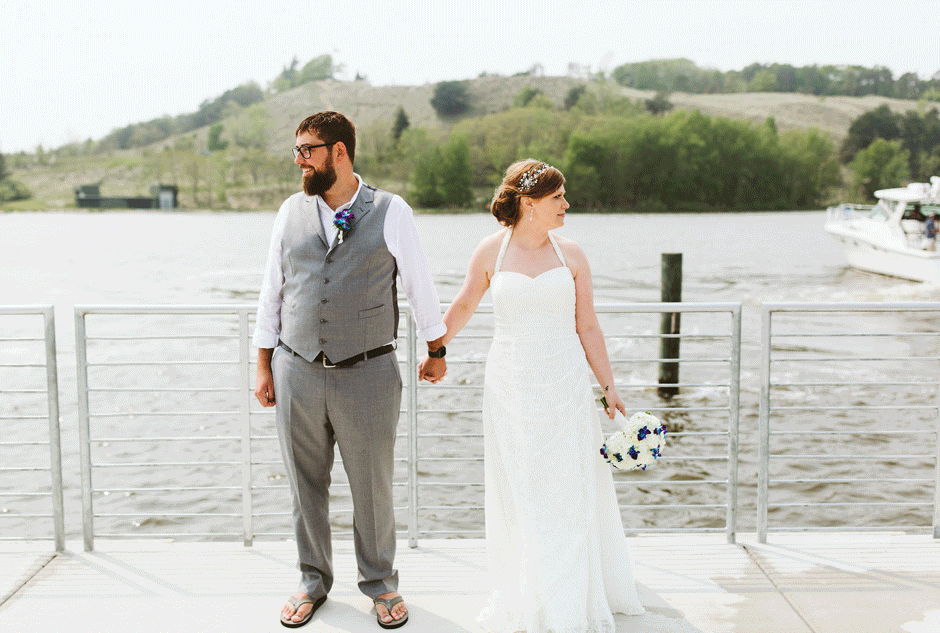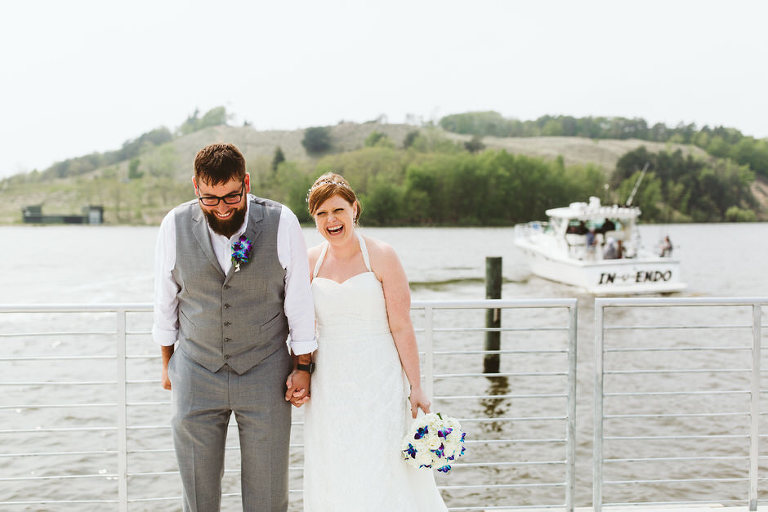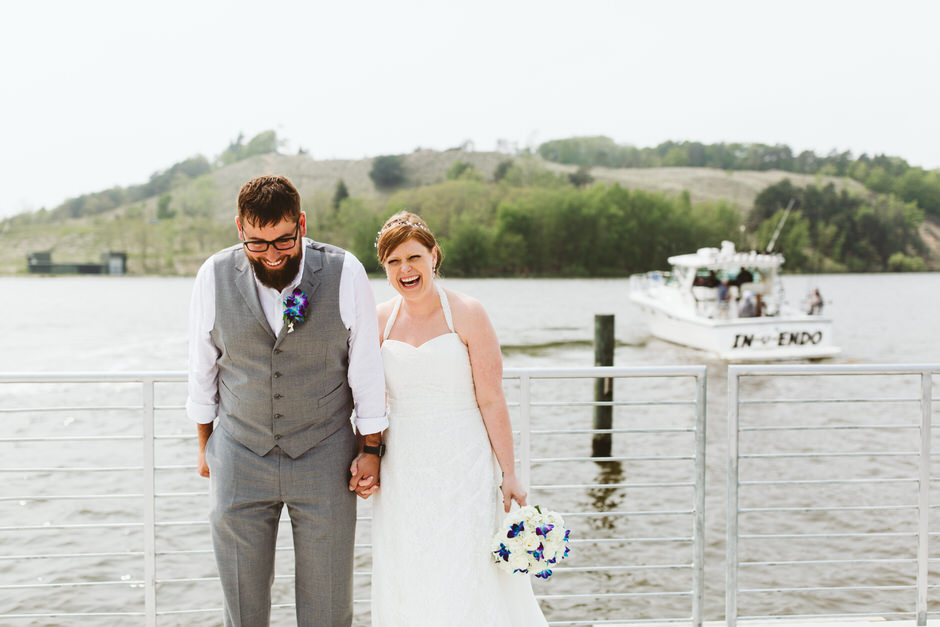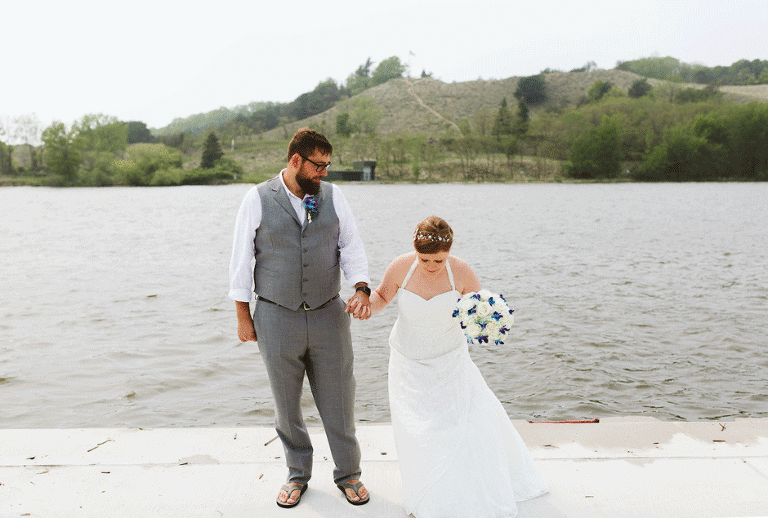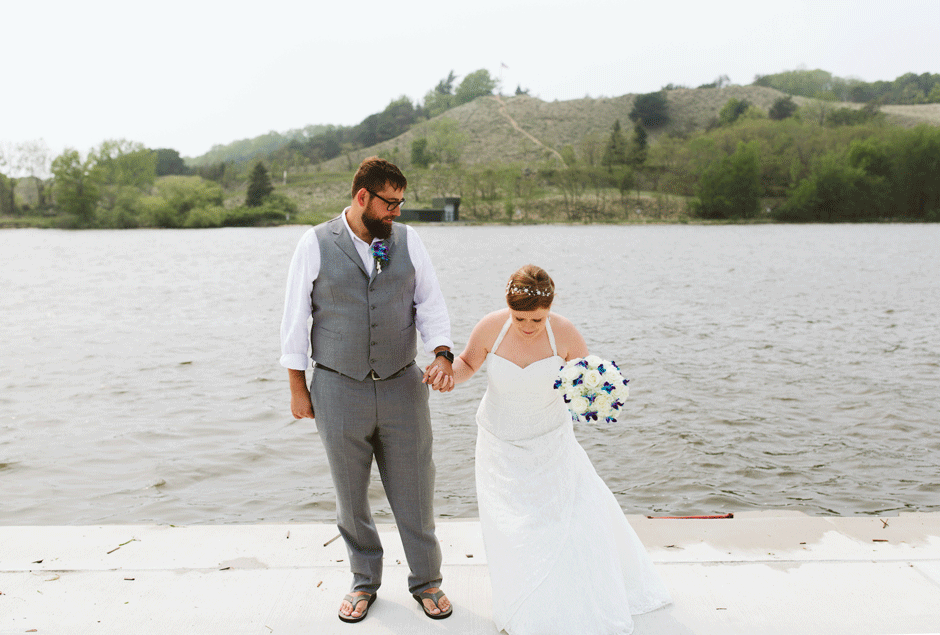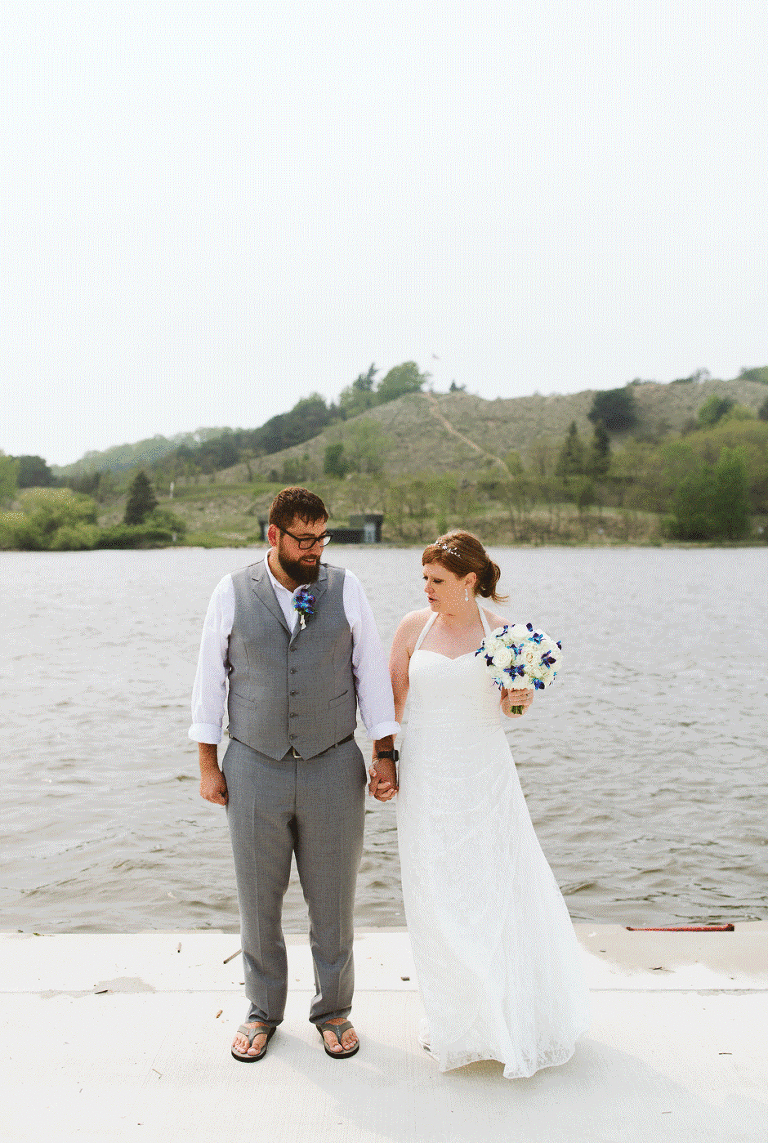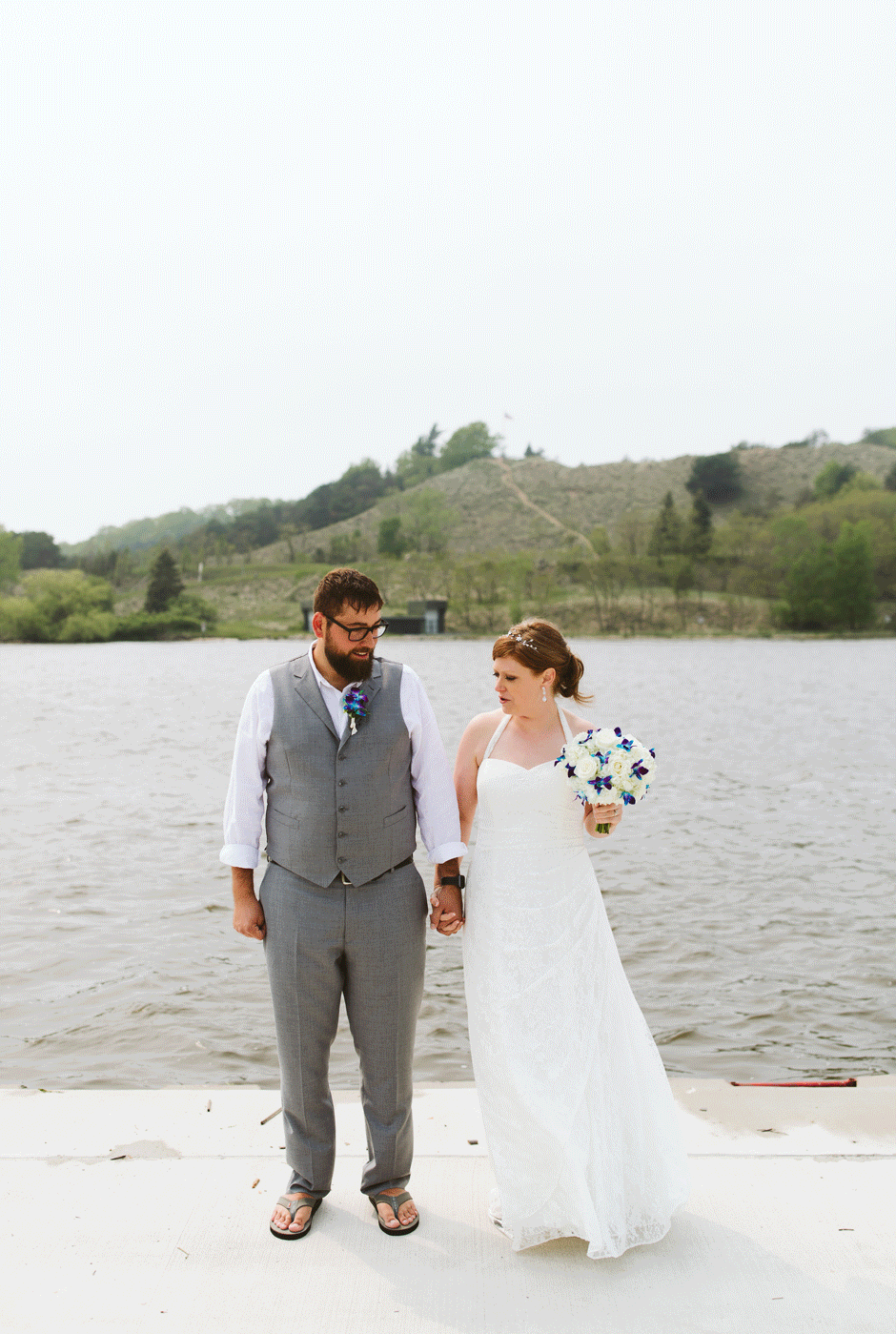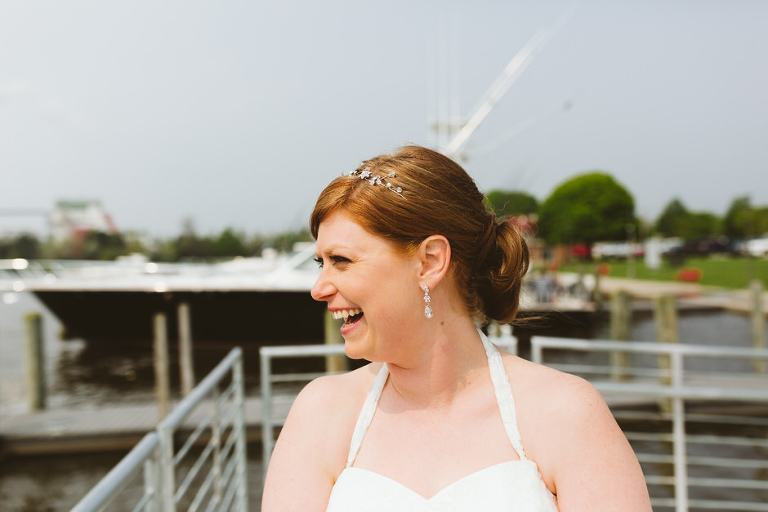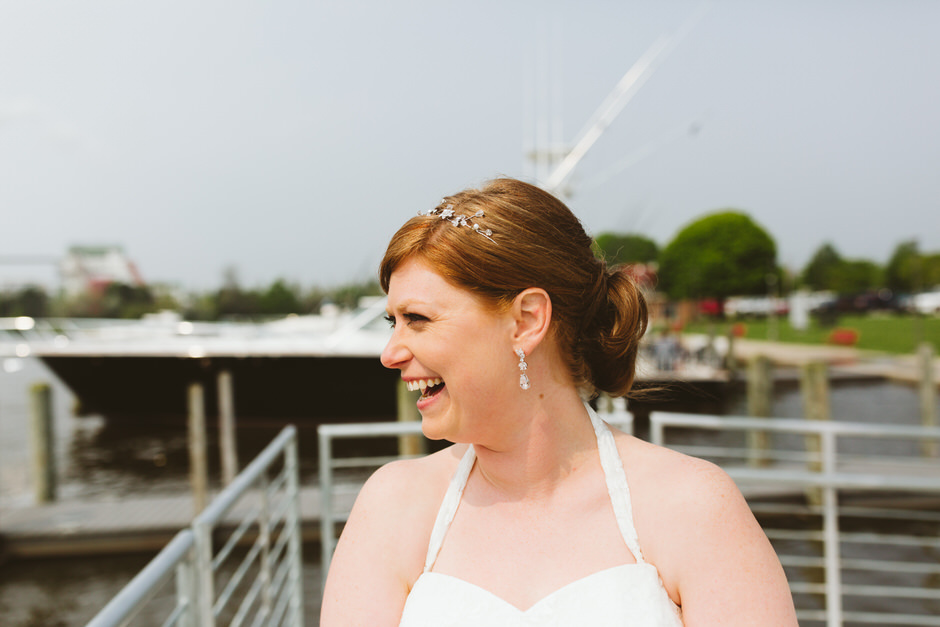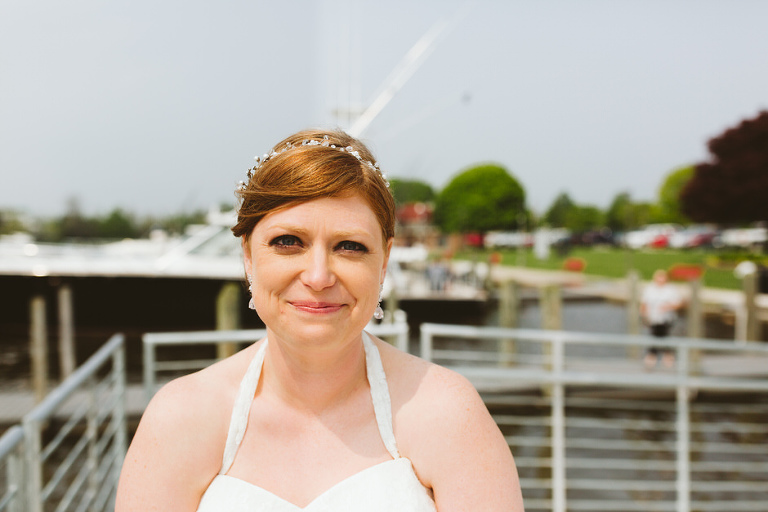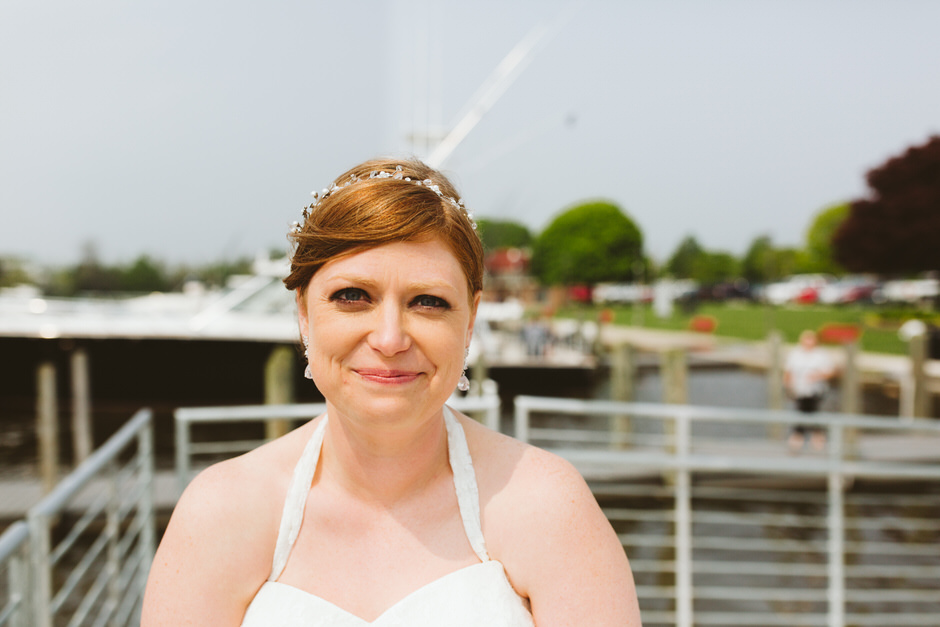 Renee's Dress
Renee's style is super casual, so finding a wedding dress that felt appropriate, still fun and wasn't a million dollars wasn't the easiest thing in the world. The first time she went to look at dresses she couldn't find anything that really felt right; when a 40% off sale at David's Bridal a month later convinced her to try again, she realized that she couldn't stop looking at an ivory lace dress from the David's Bridal Collection that had previously been out of the budget range. With a local seamstress' expert help (shout out to Quality Alterations in Ann Arbor!), we added halter straps and cut off the chapel-length train for a Renee-approved beachy feel 🙂
Ryan's Suit
Knowing that early June on Grand Haven beaches can bring unpredictable temperatures meant Ryan and his boys were destined for breathable but comfy clothes! We found them reasonably-priced stylish linen shirts at Macy's and then worked with Men's Warehouse to order JOE custom pants in a light gray that matched our color palette (along with a matching custom vest for Ryan). He's been a huge fan of Rainbow flip flops for years, so he and the boys wore light gray Rainbows to complete the look.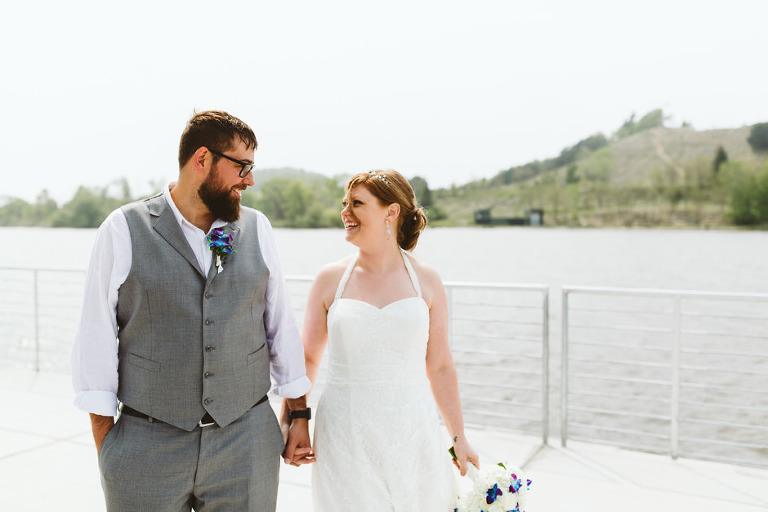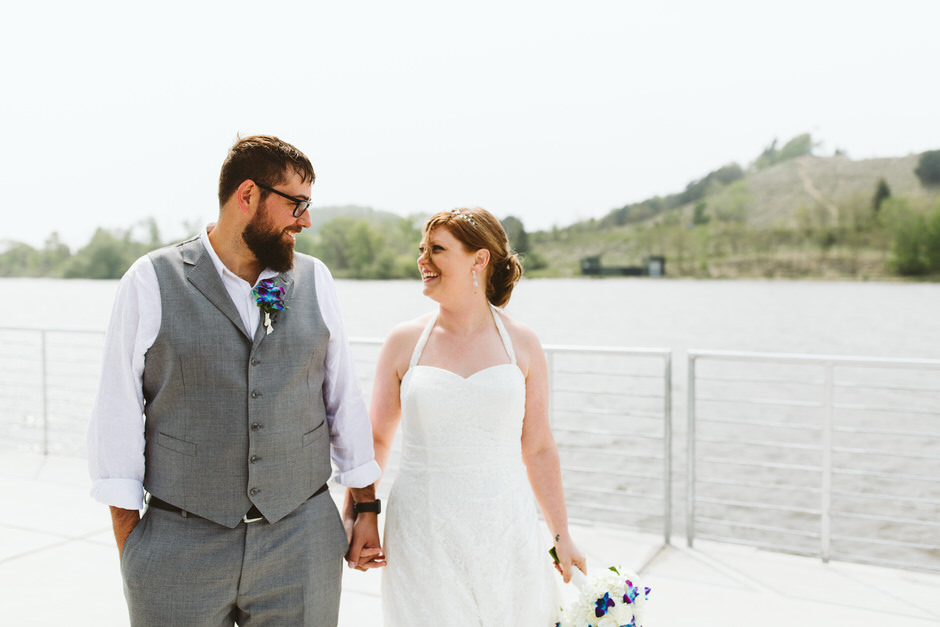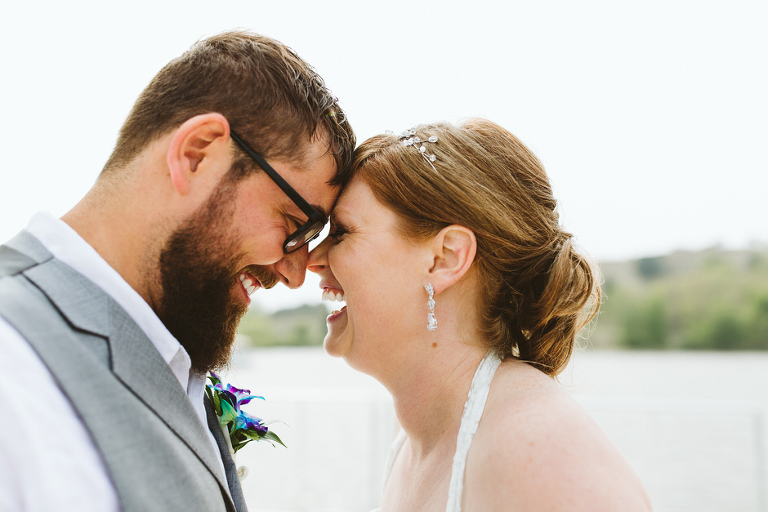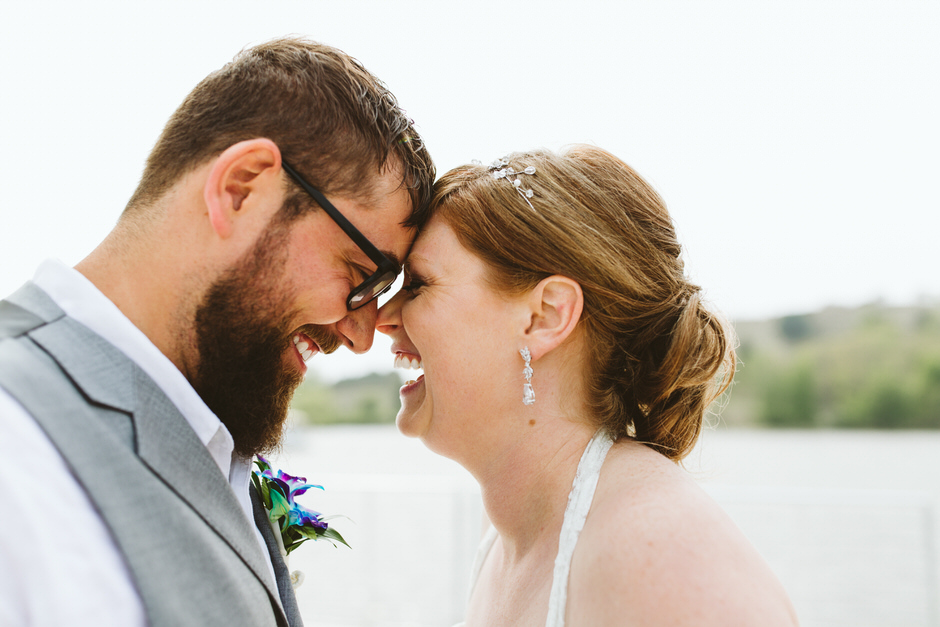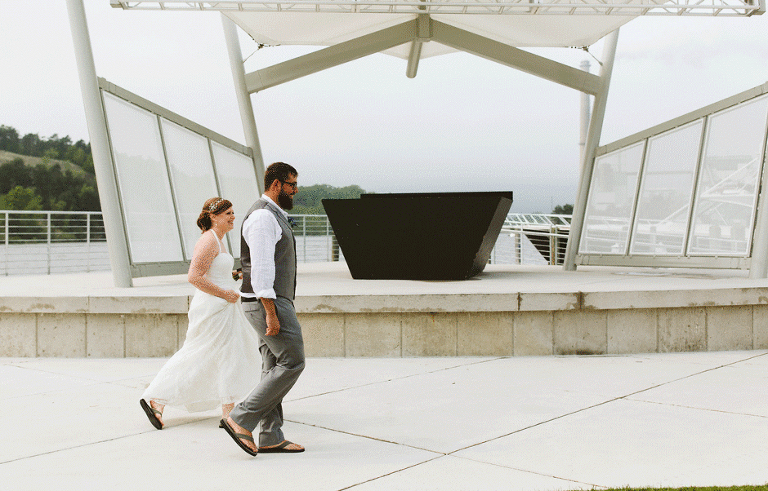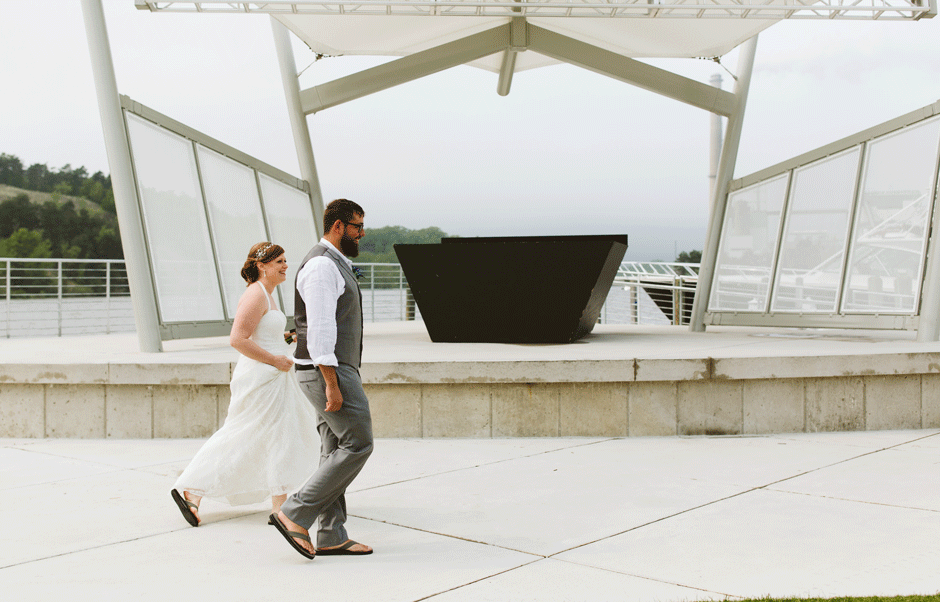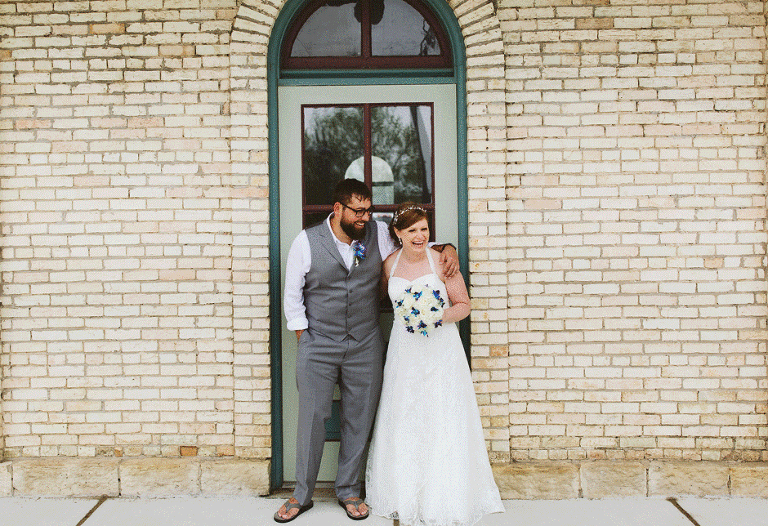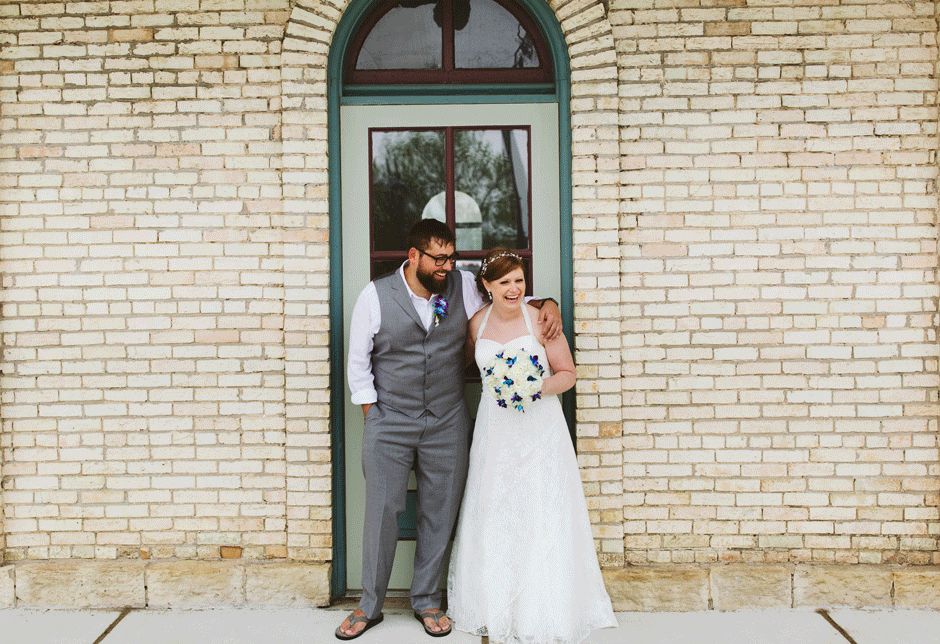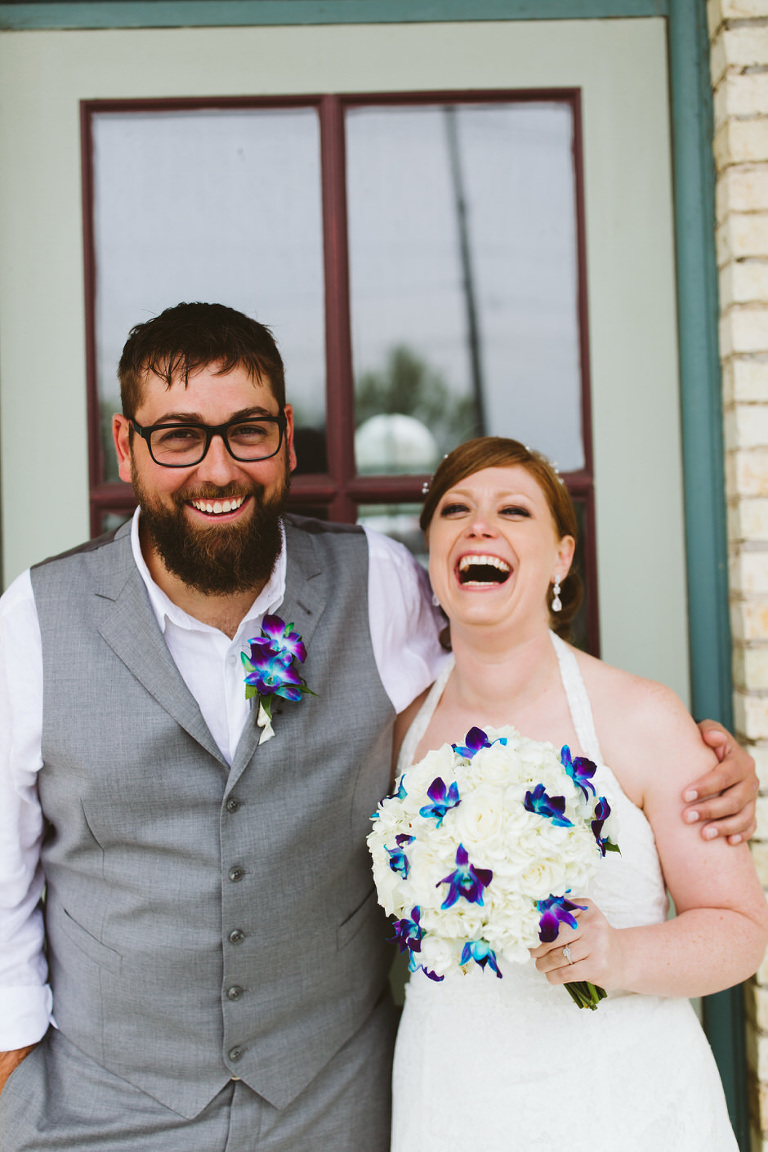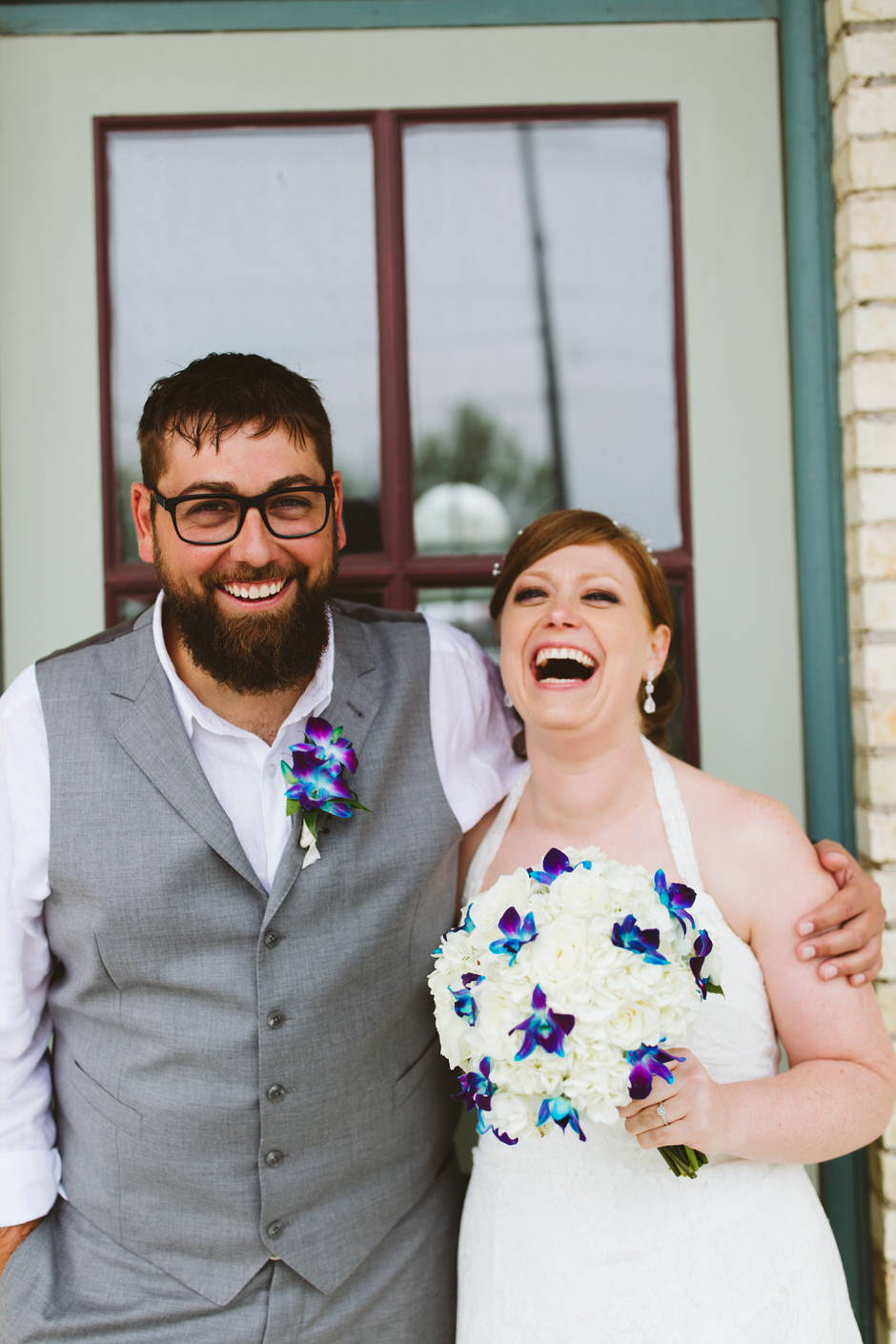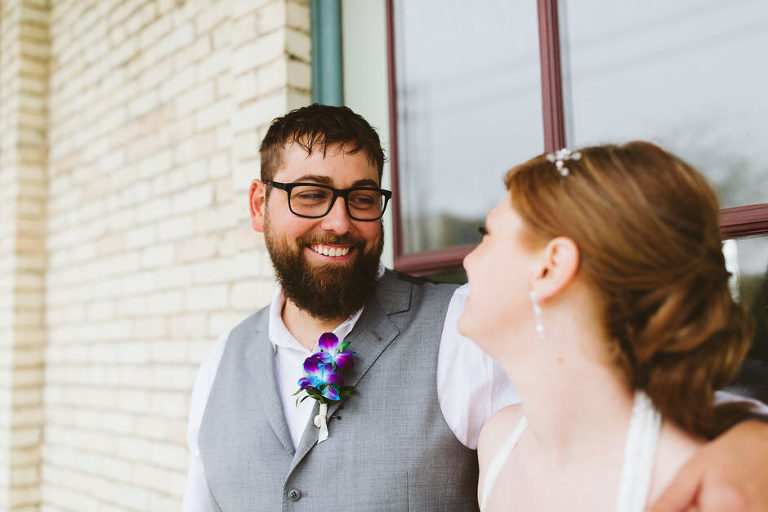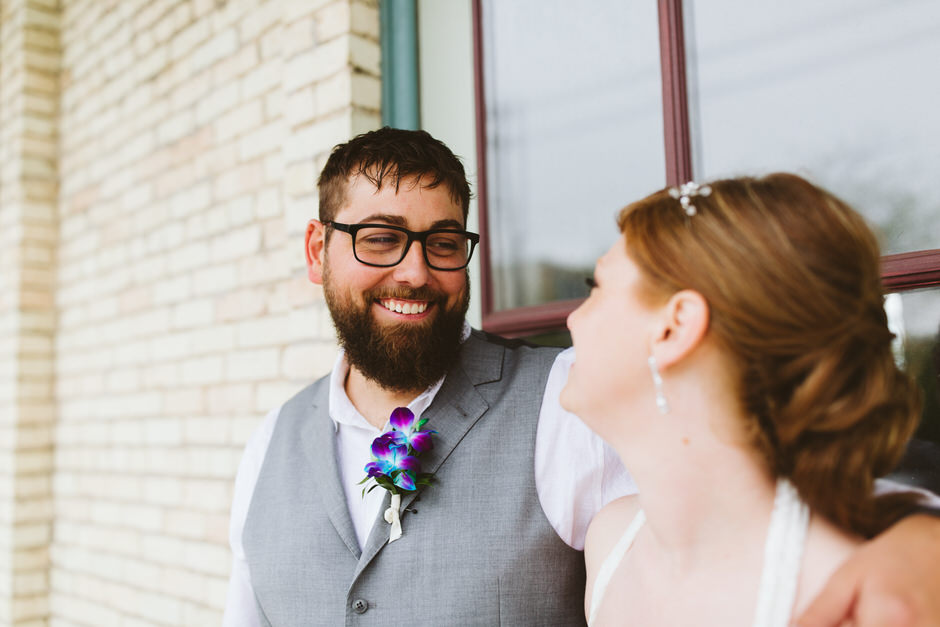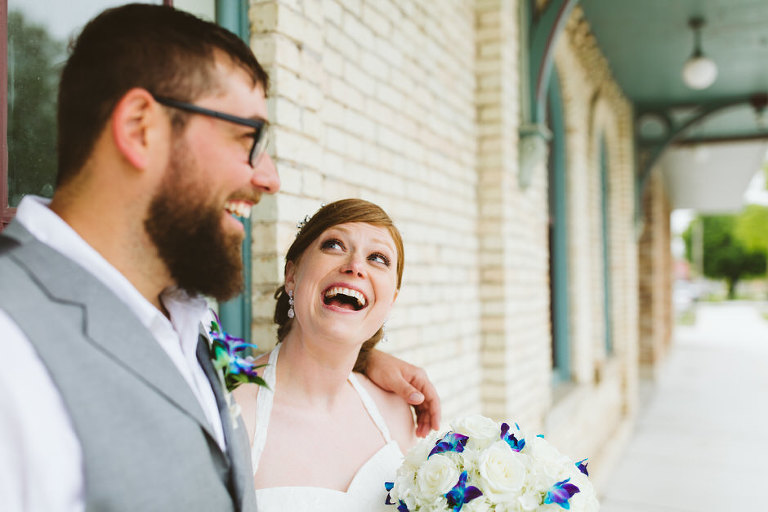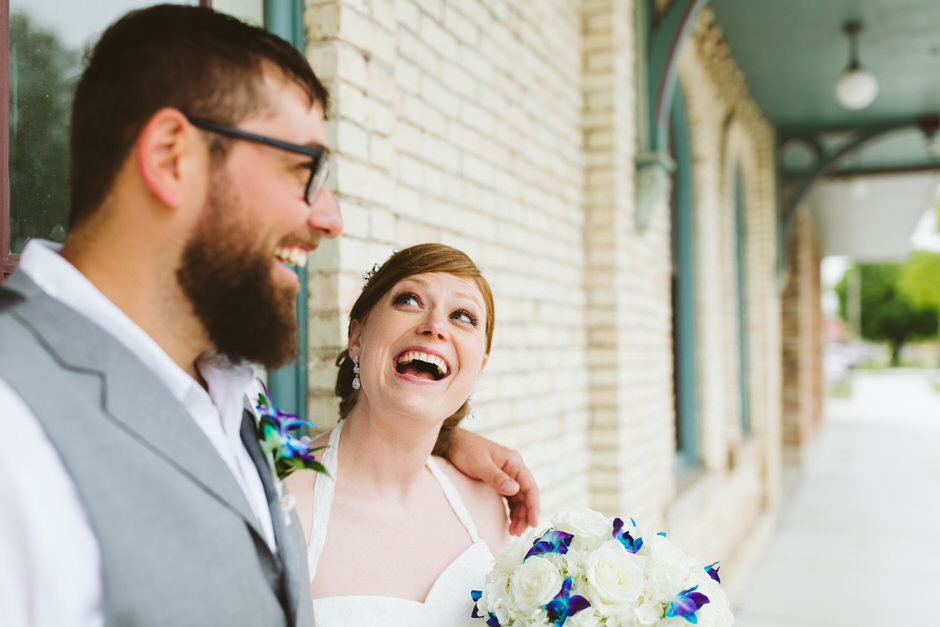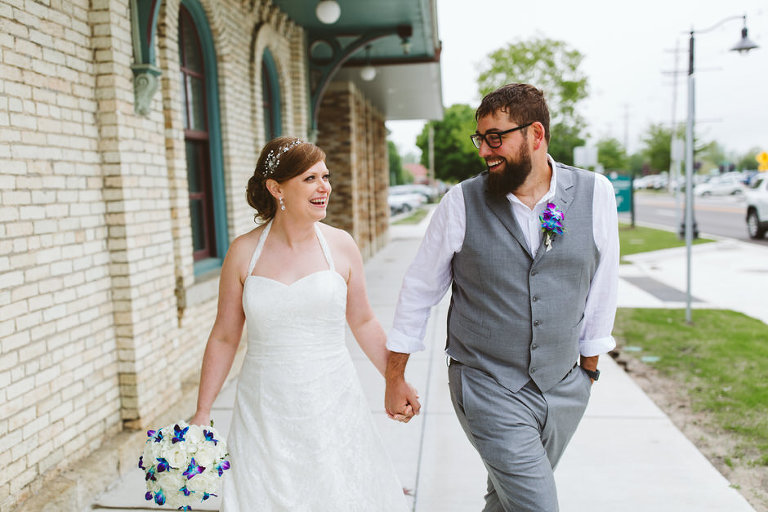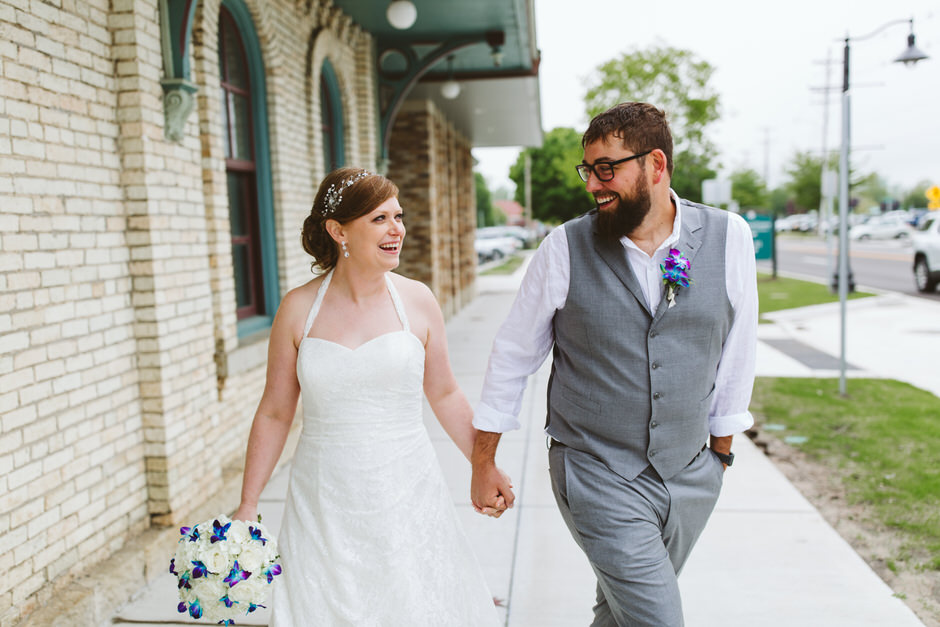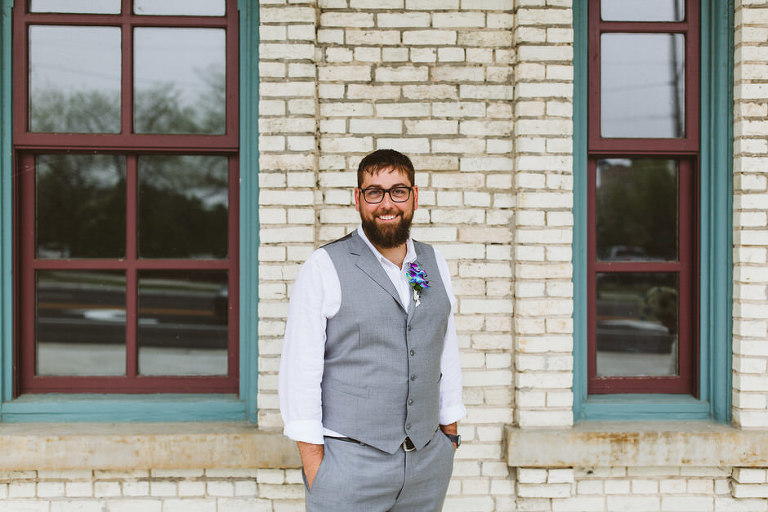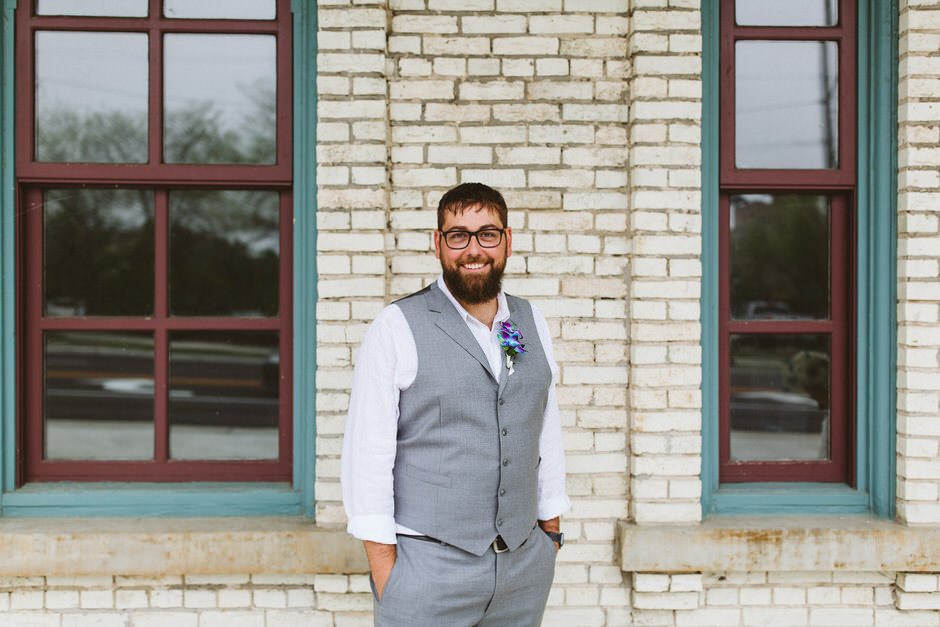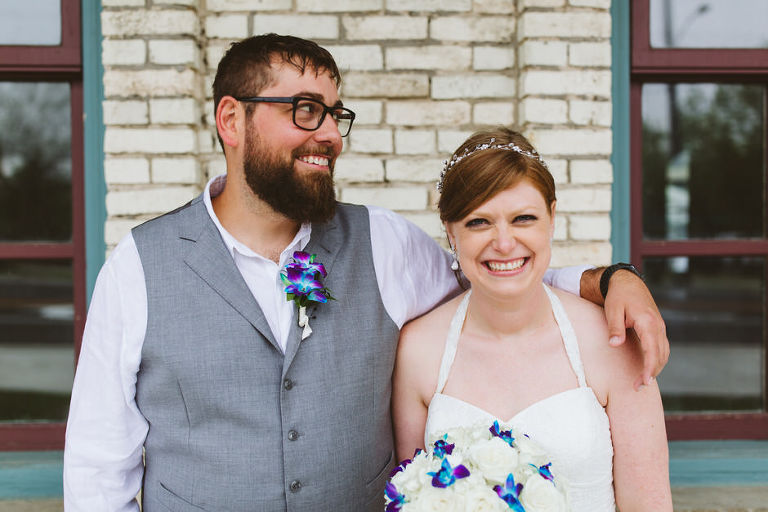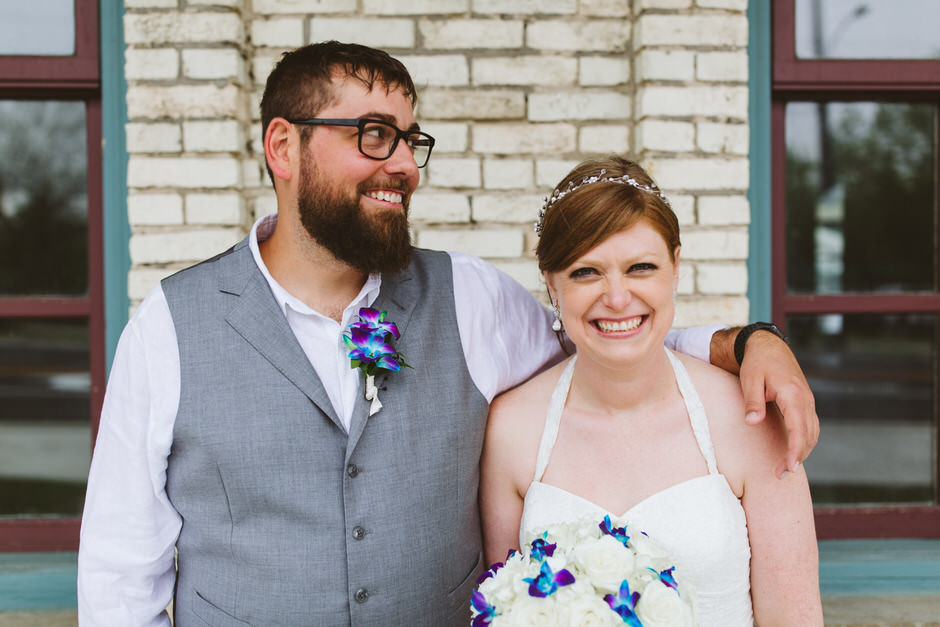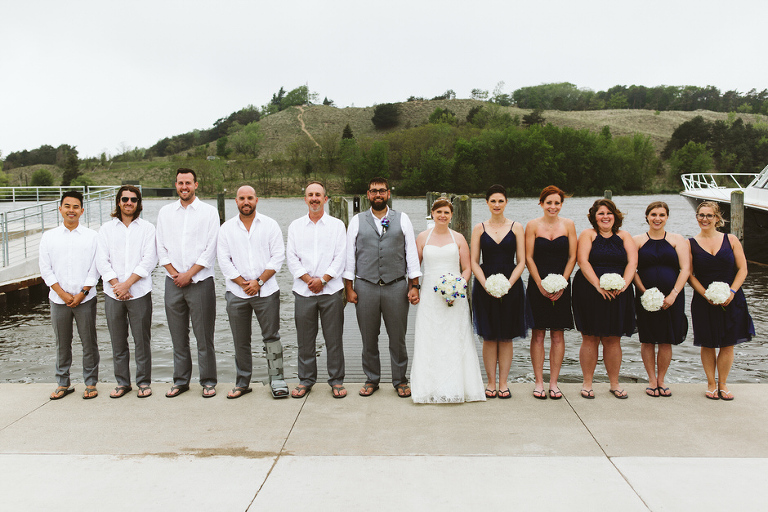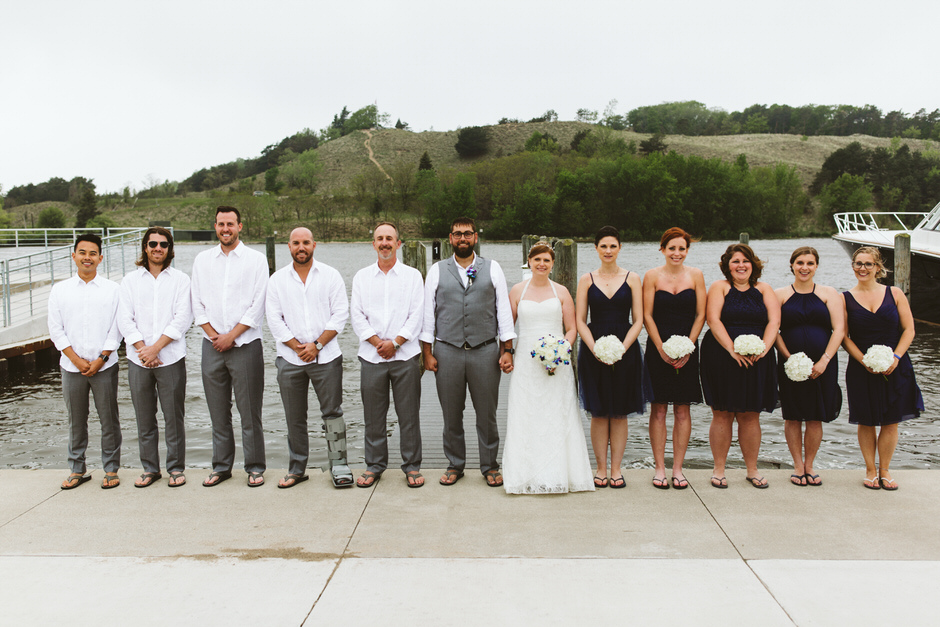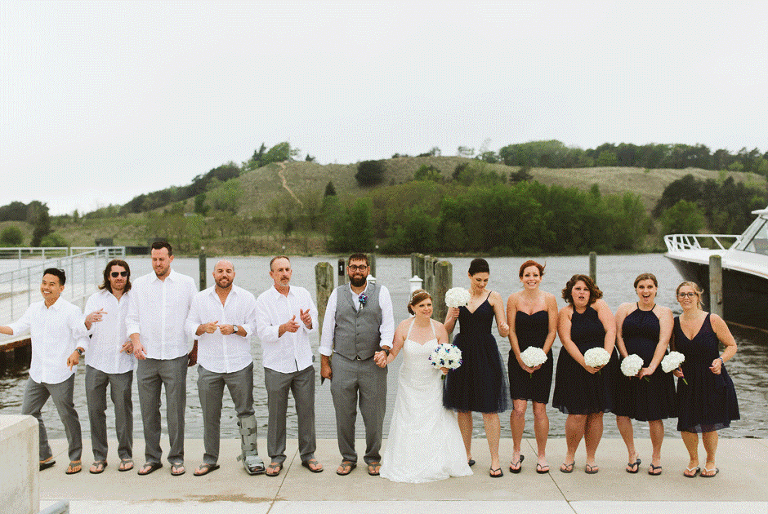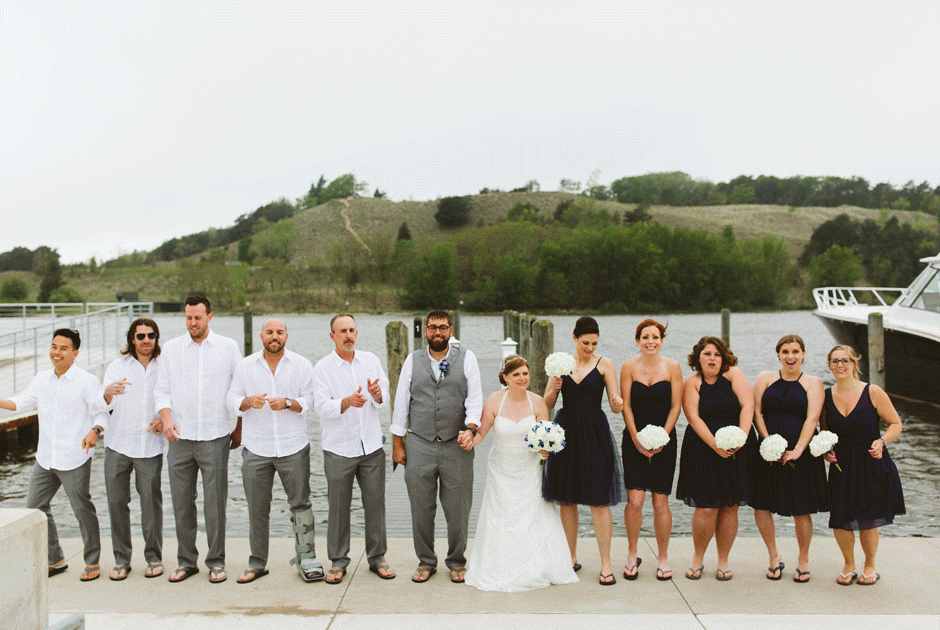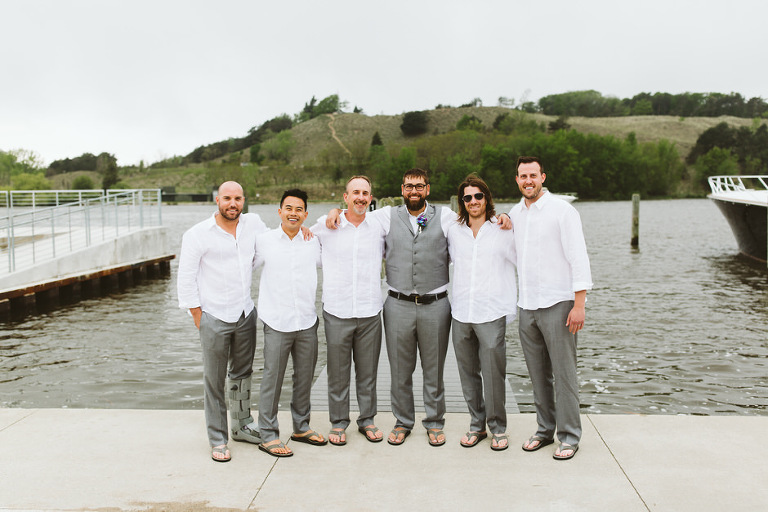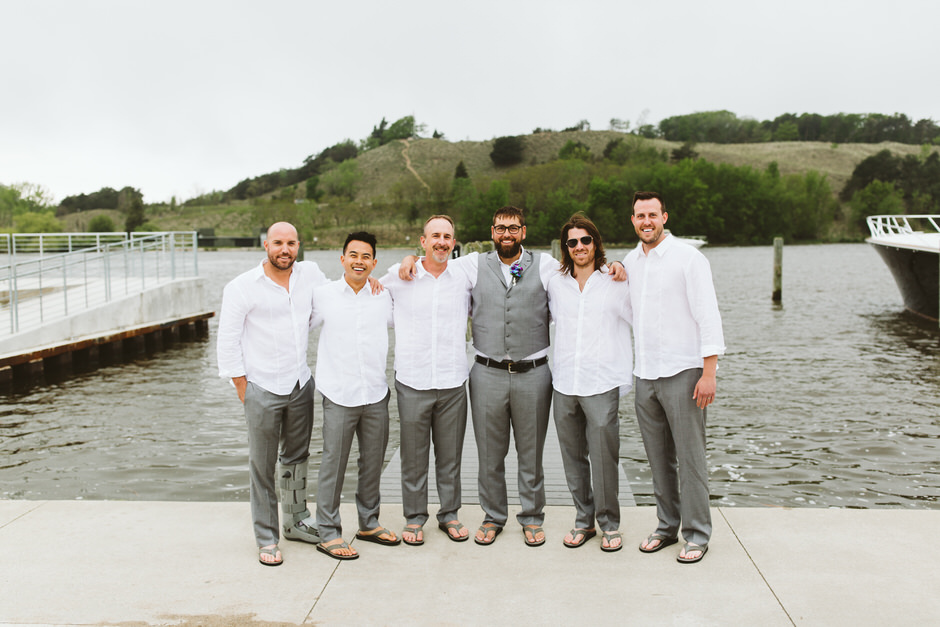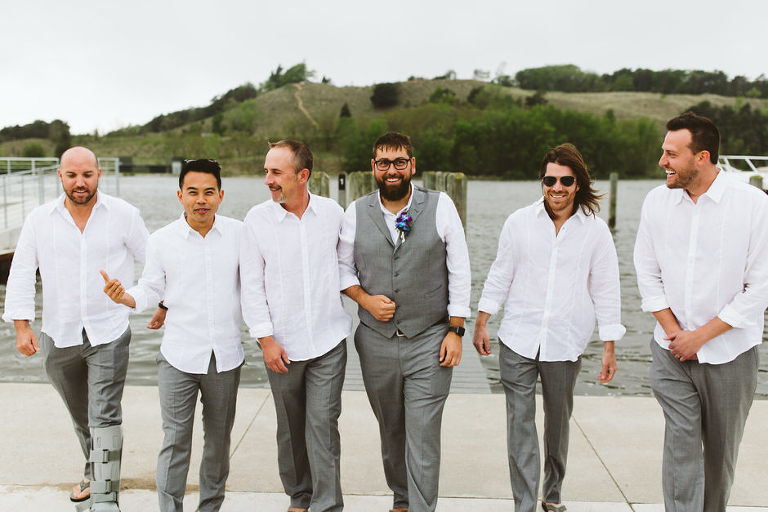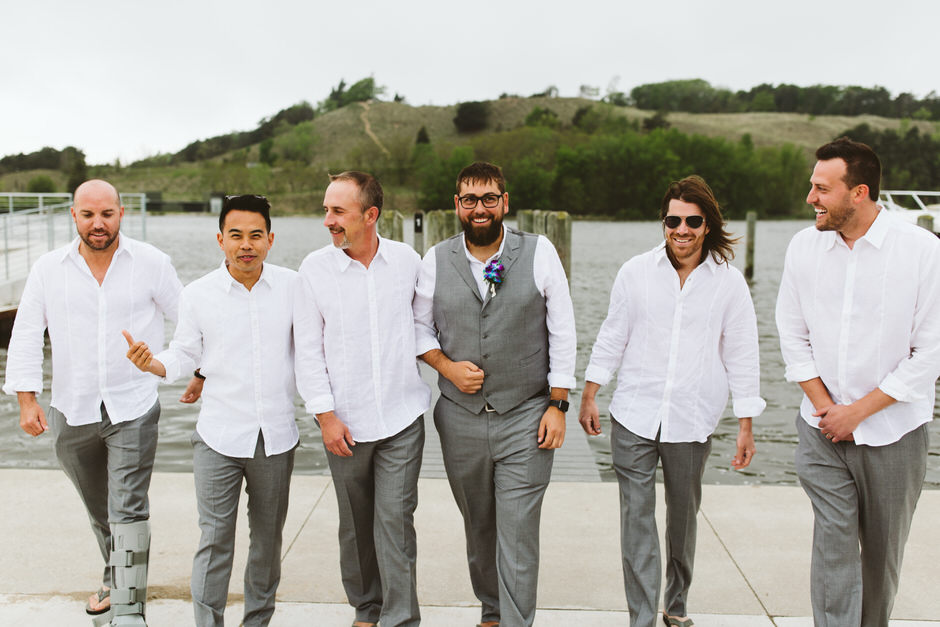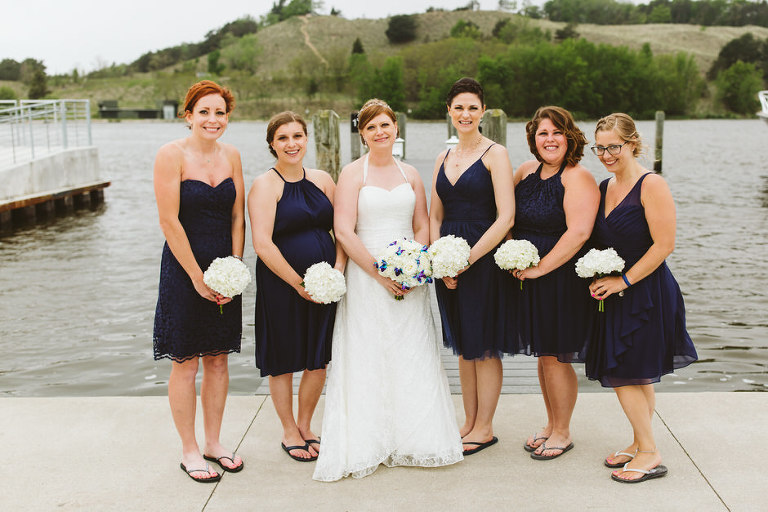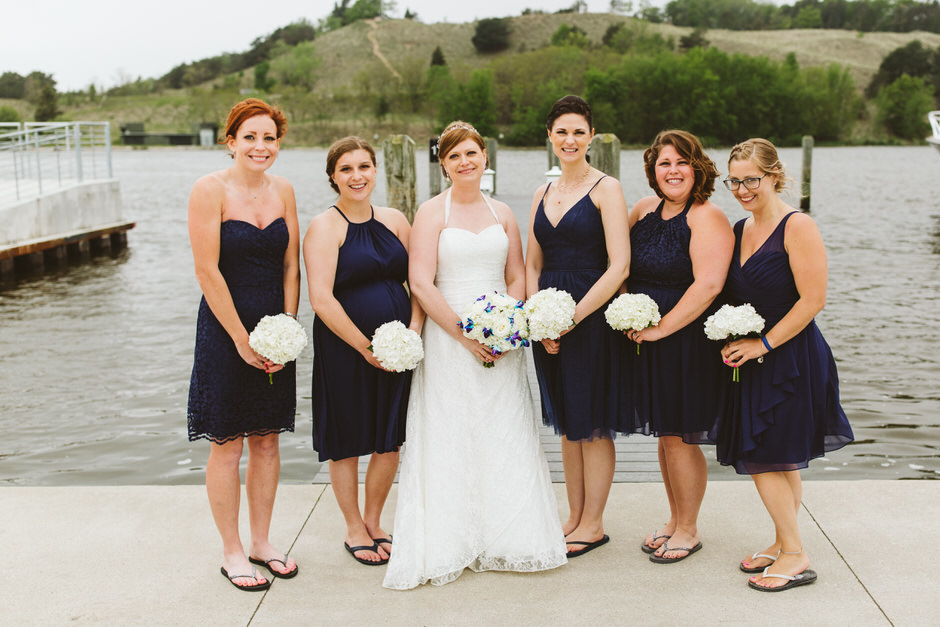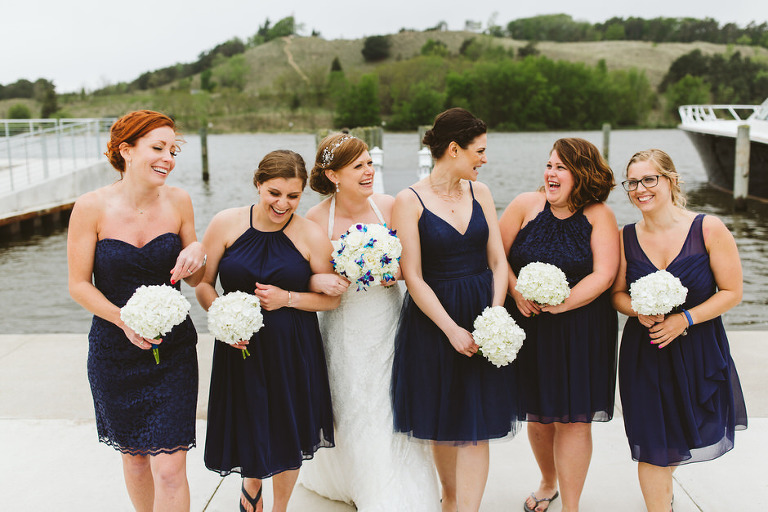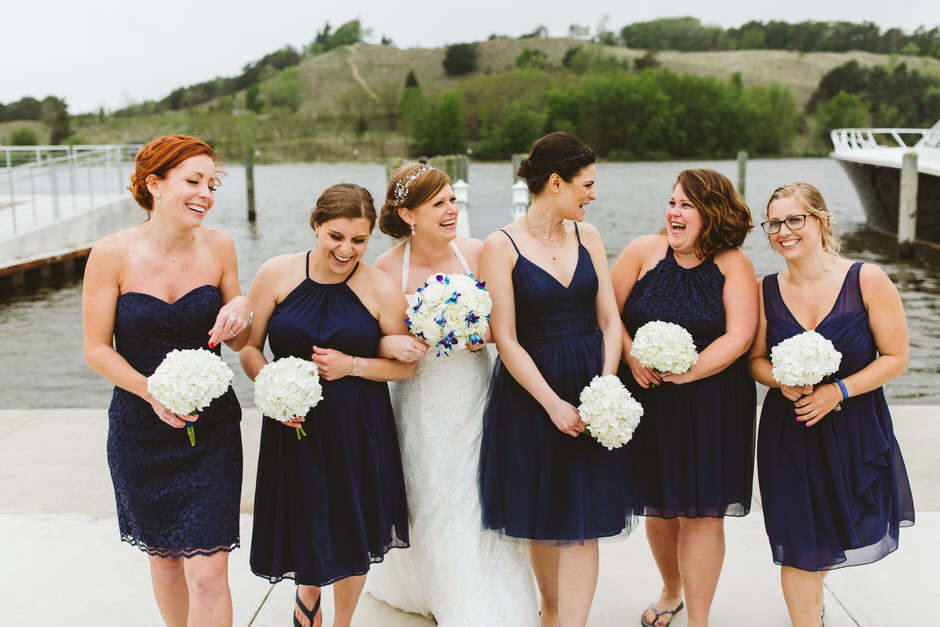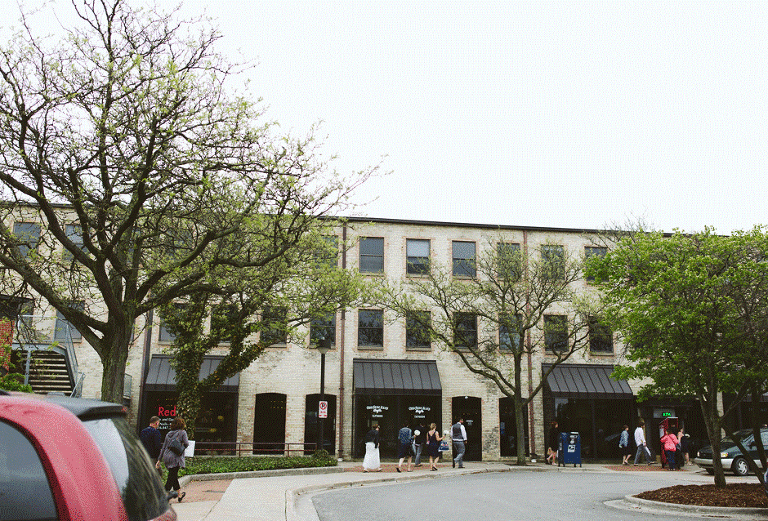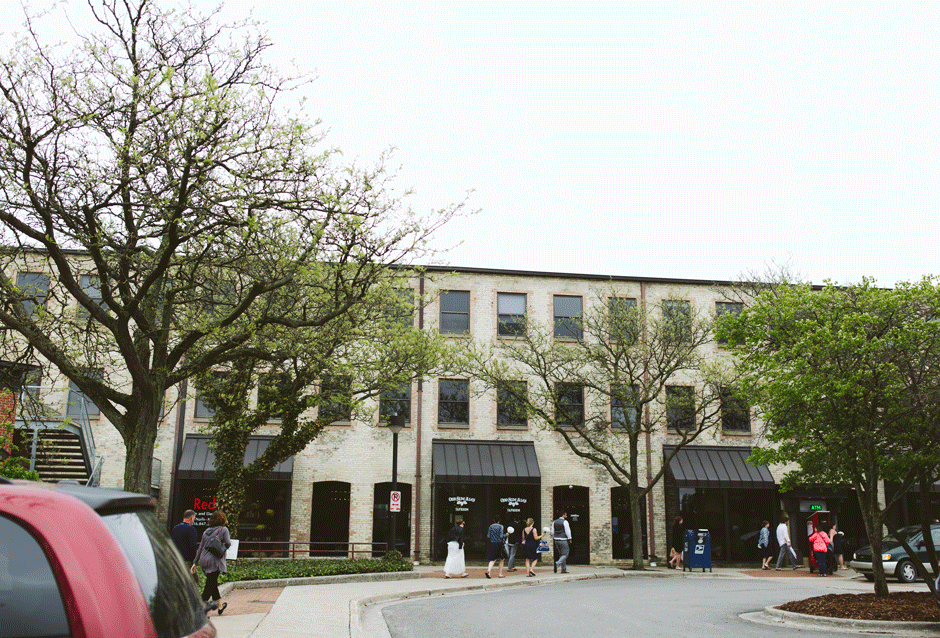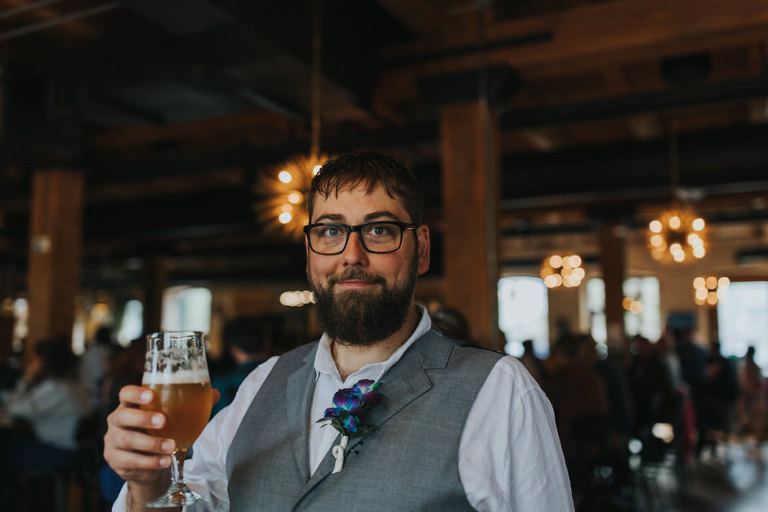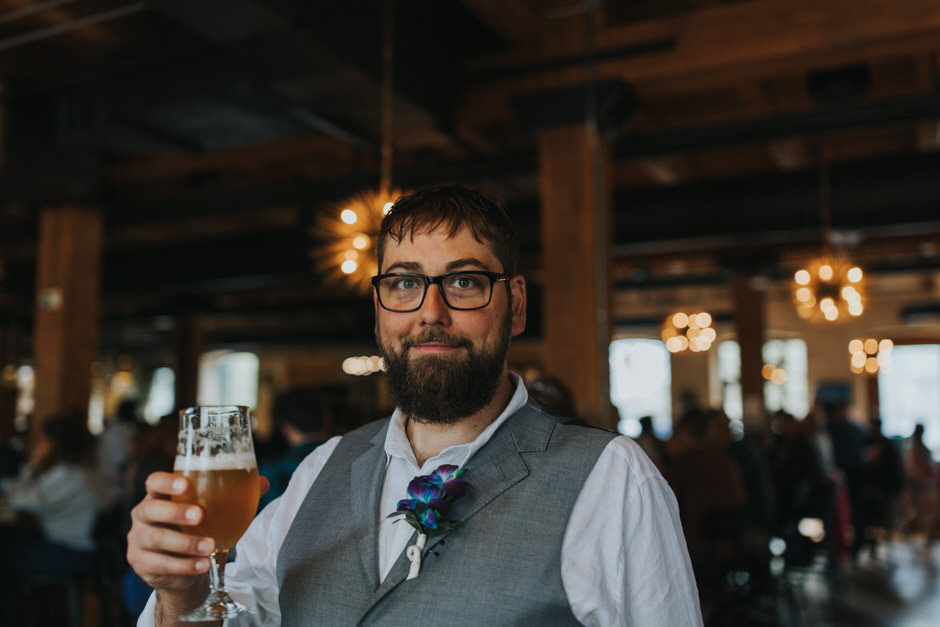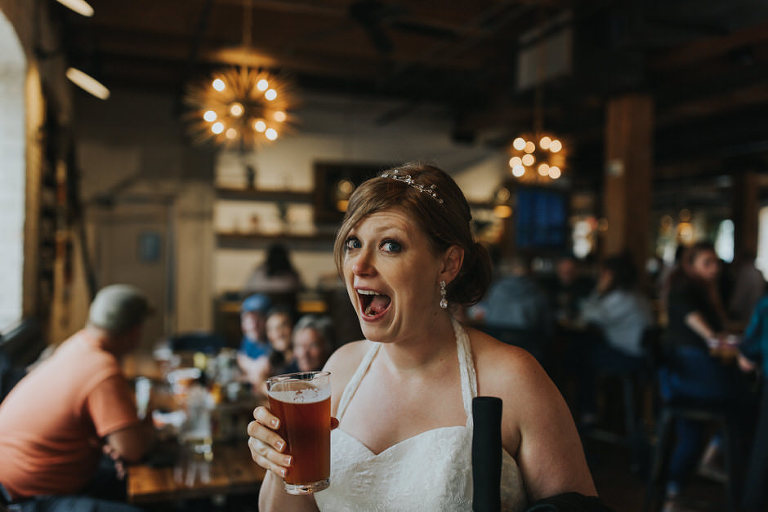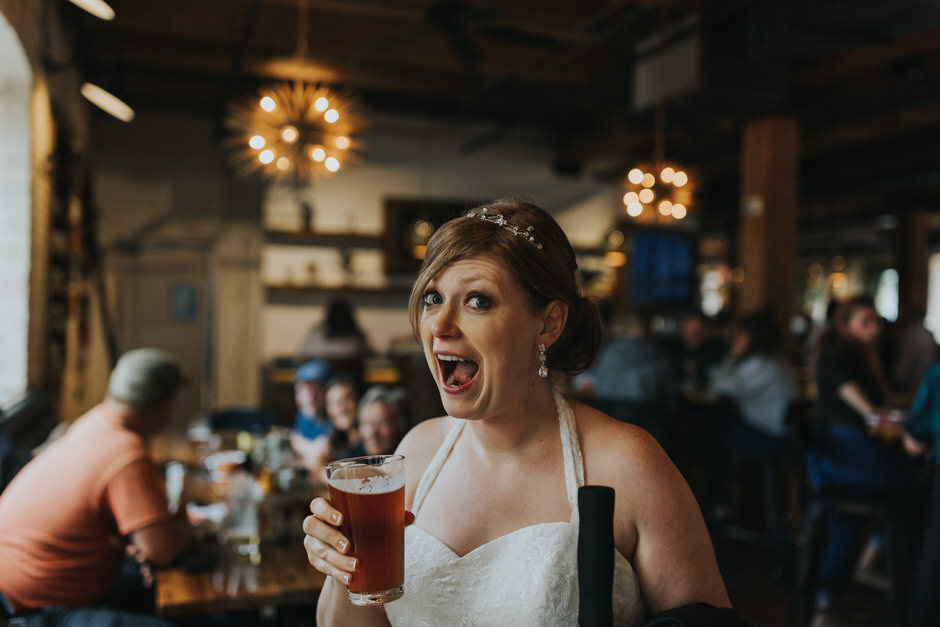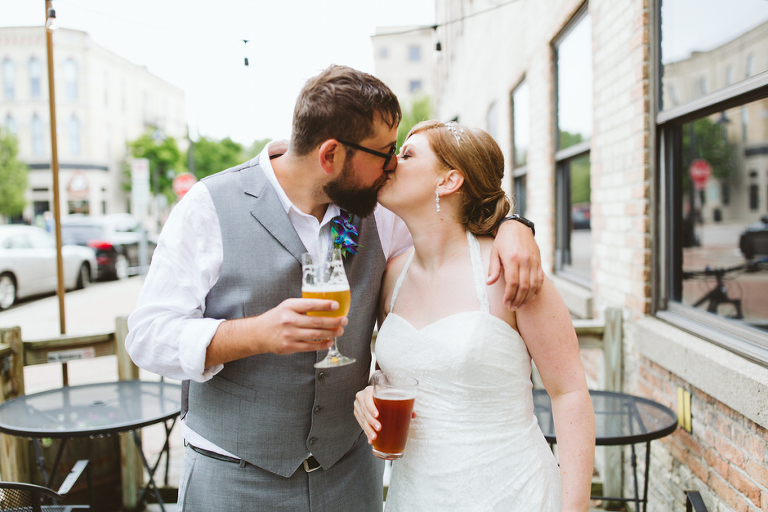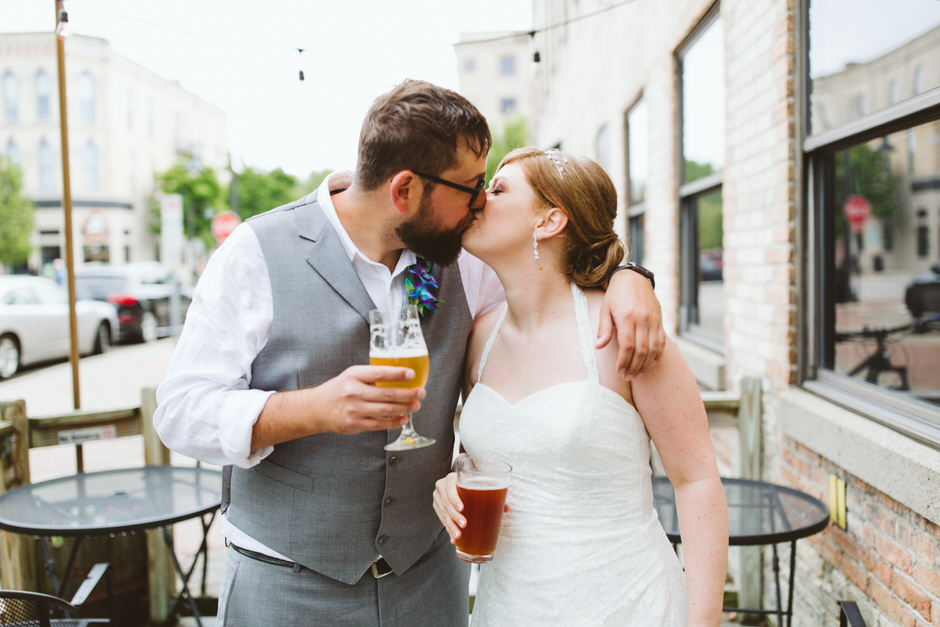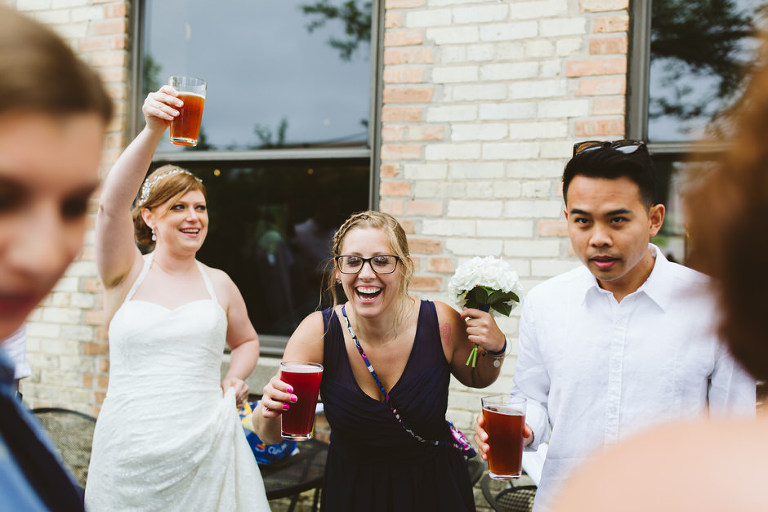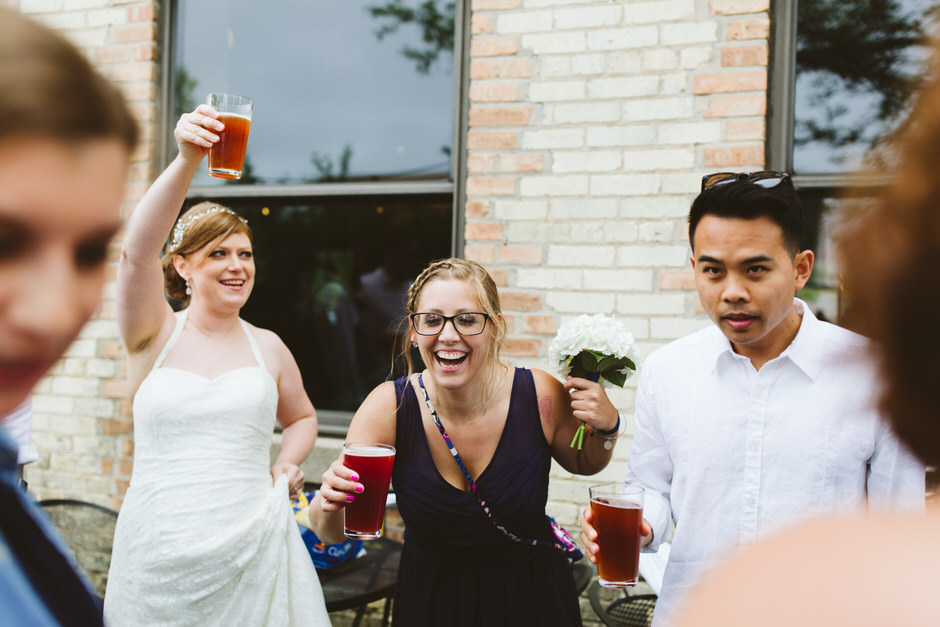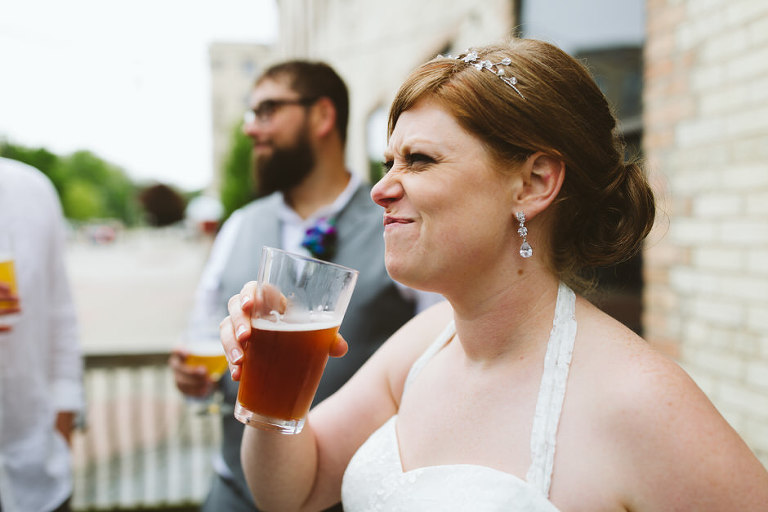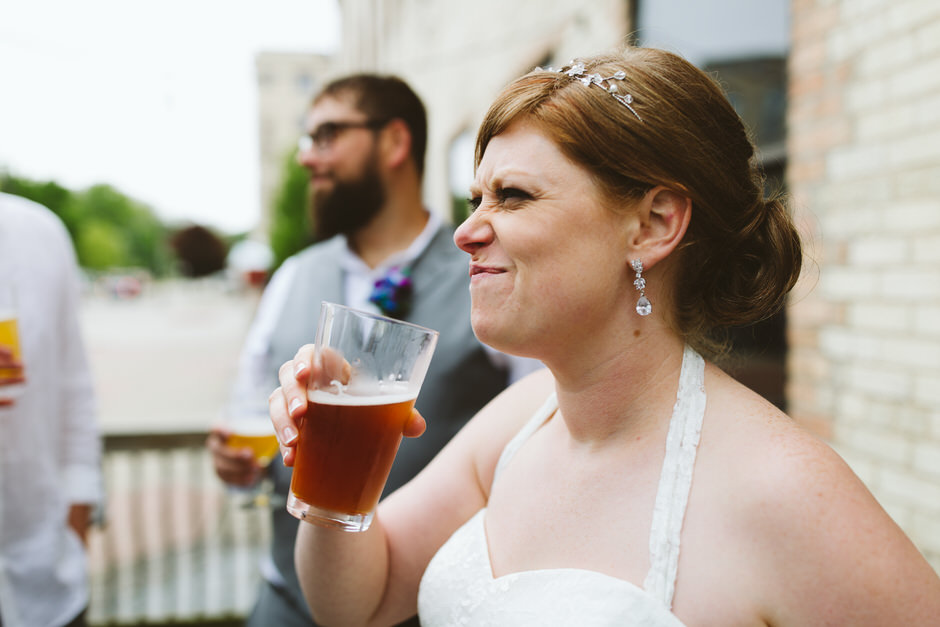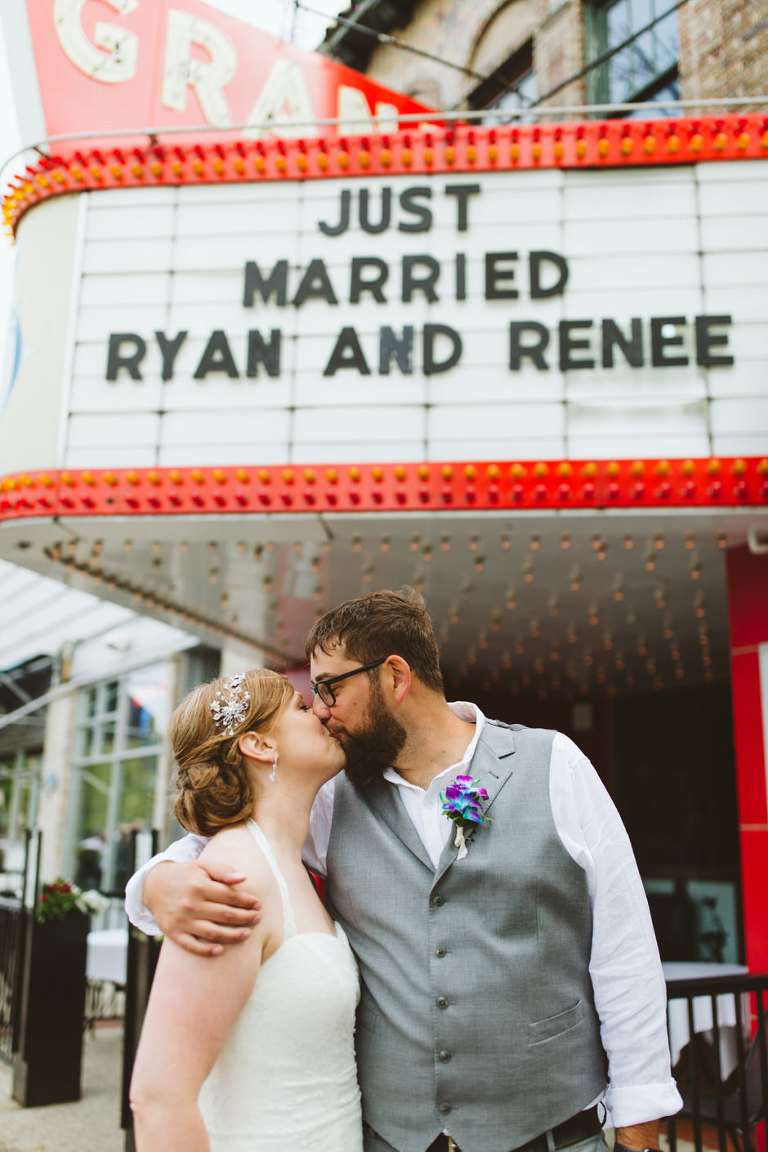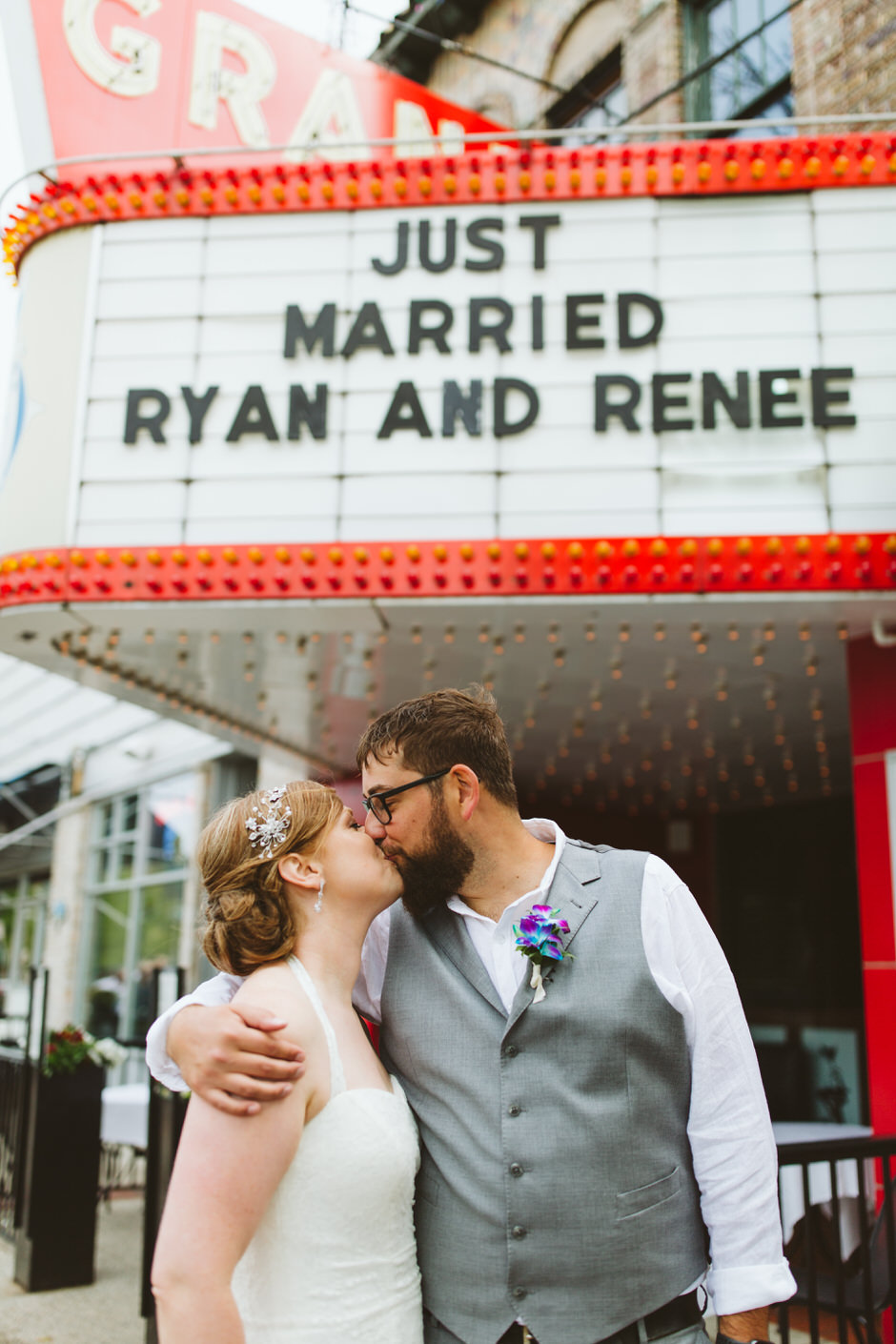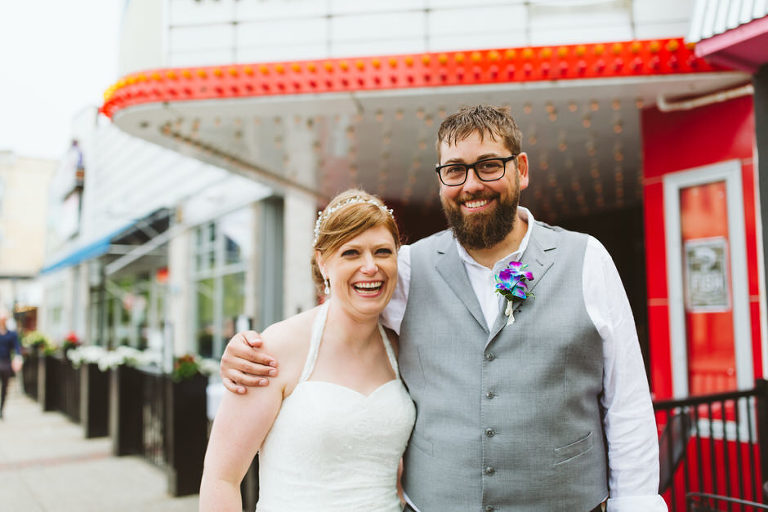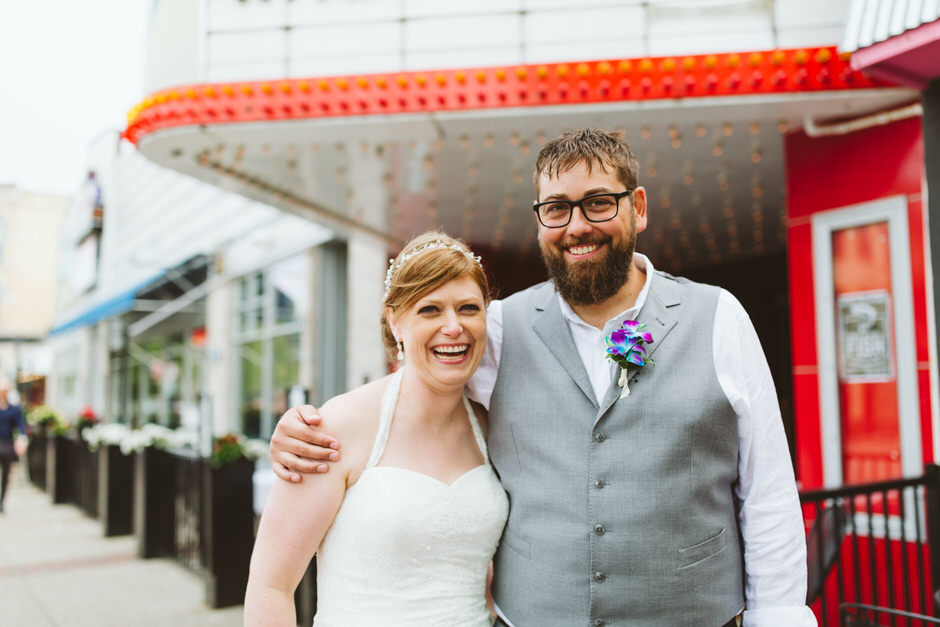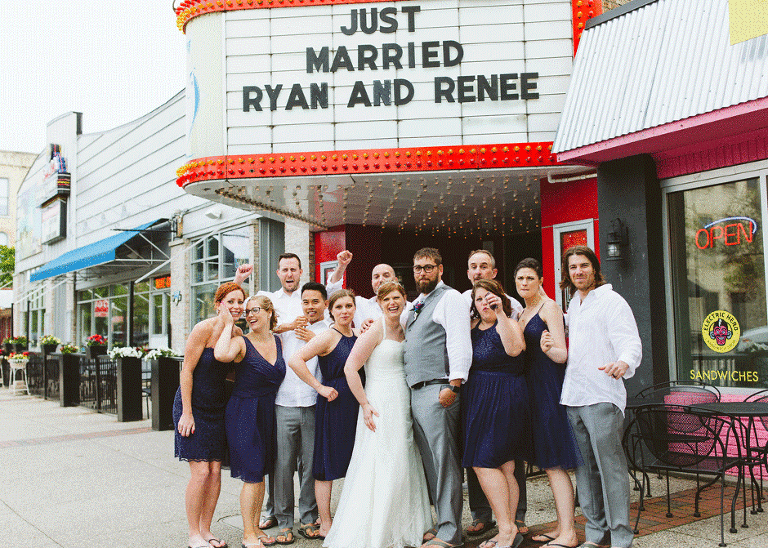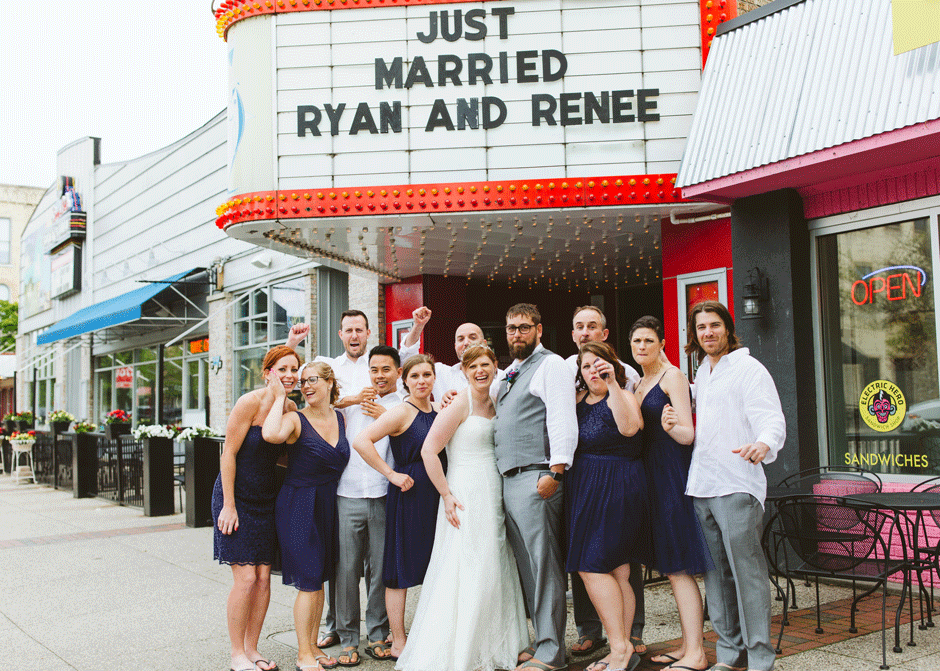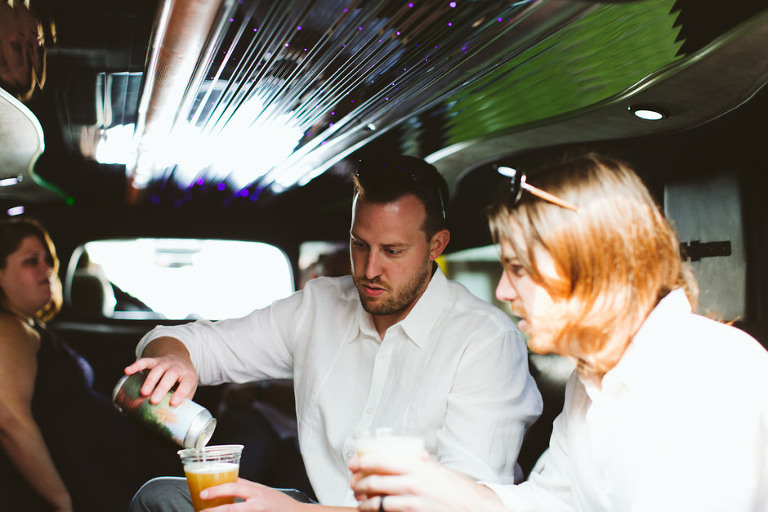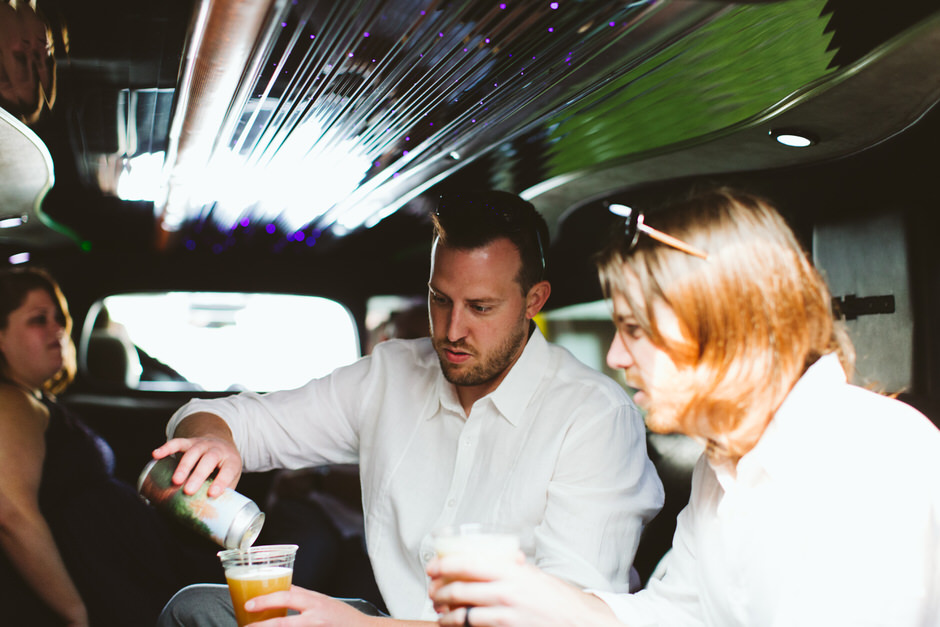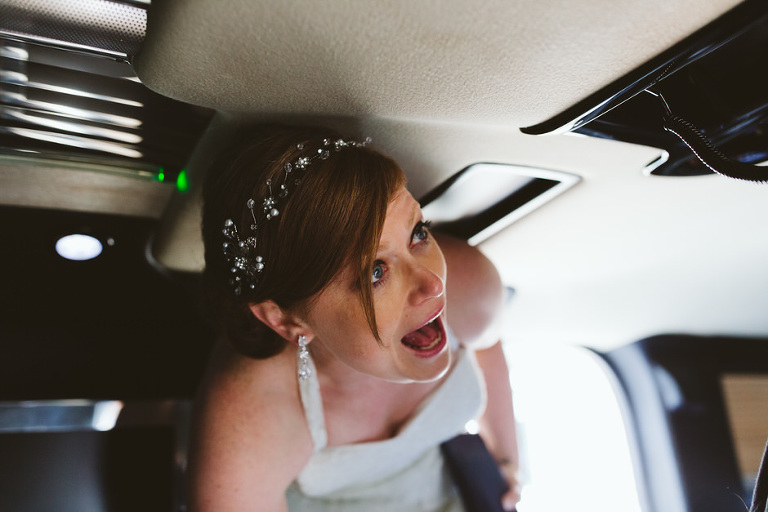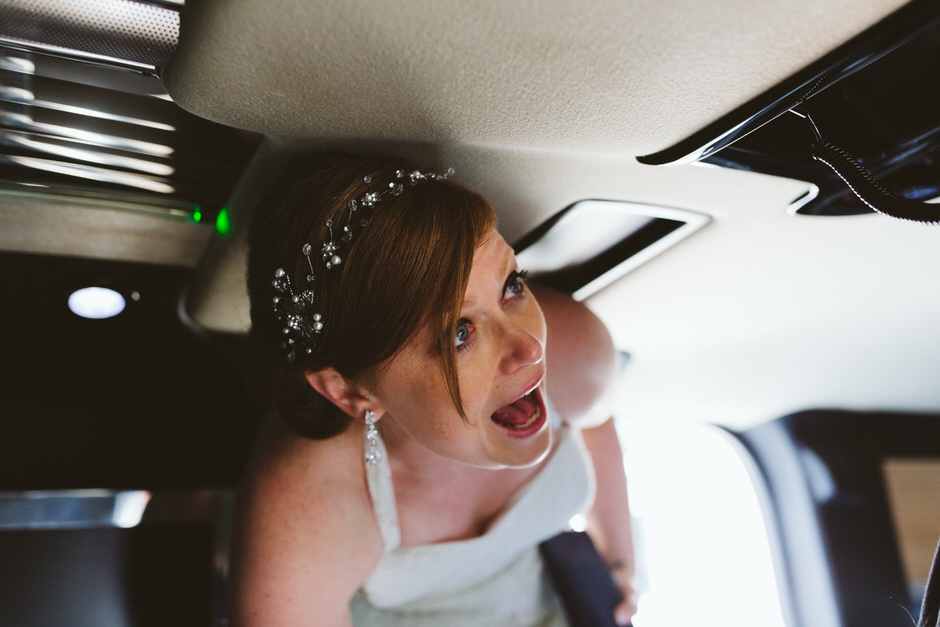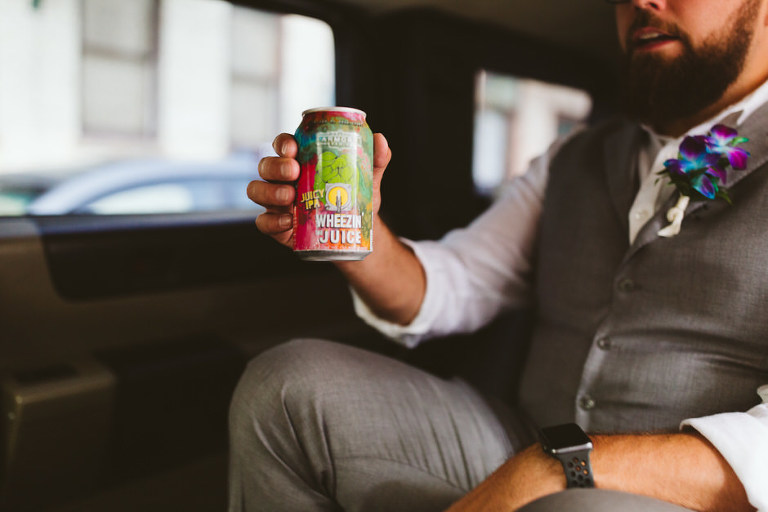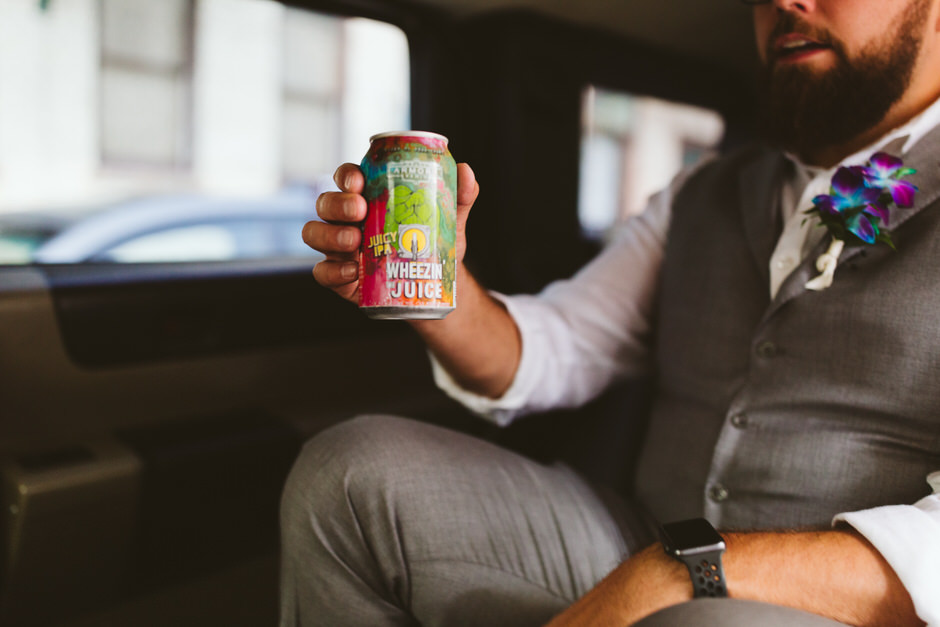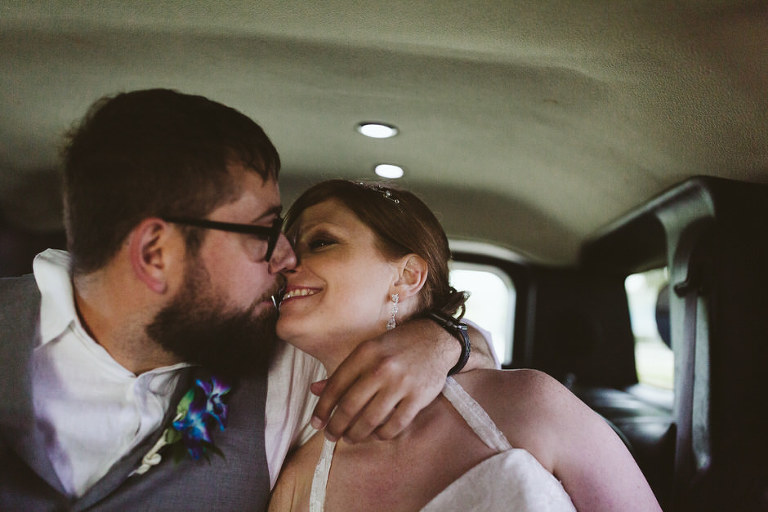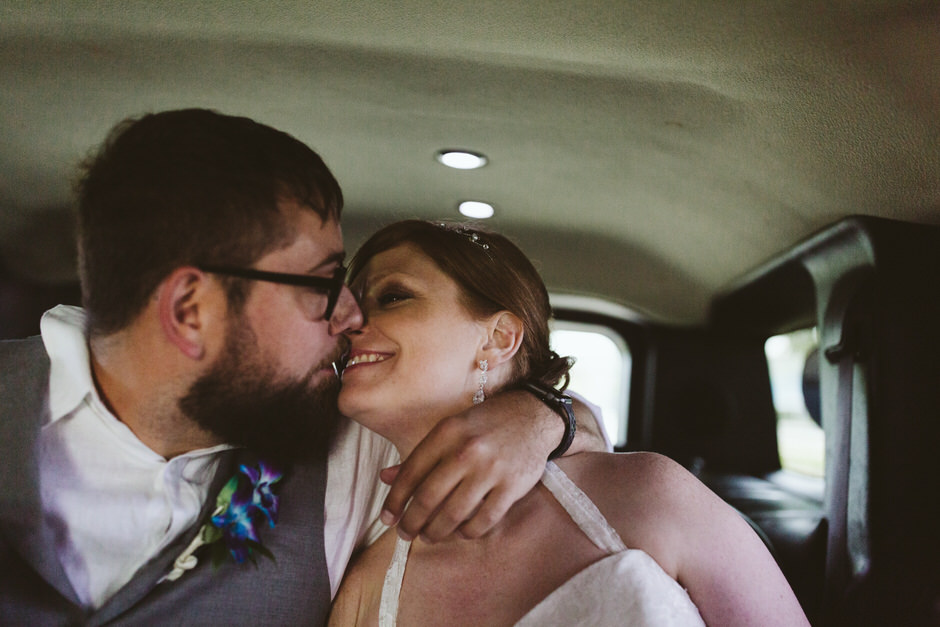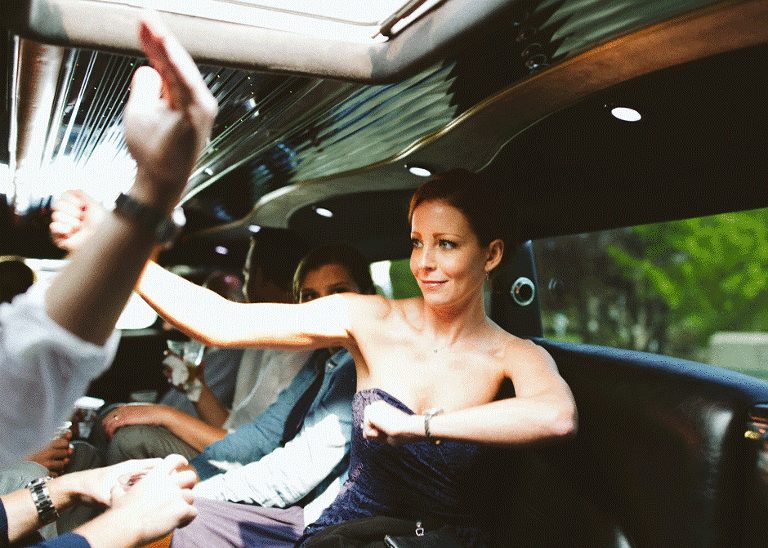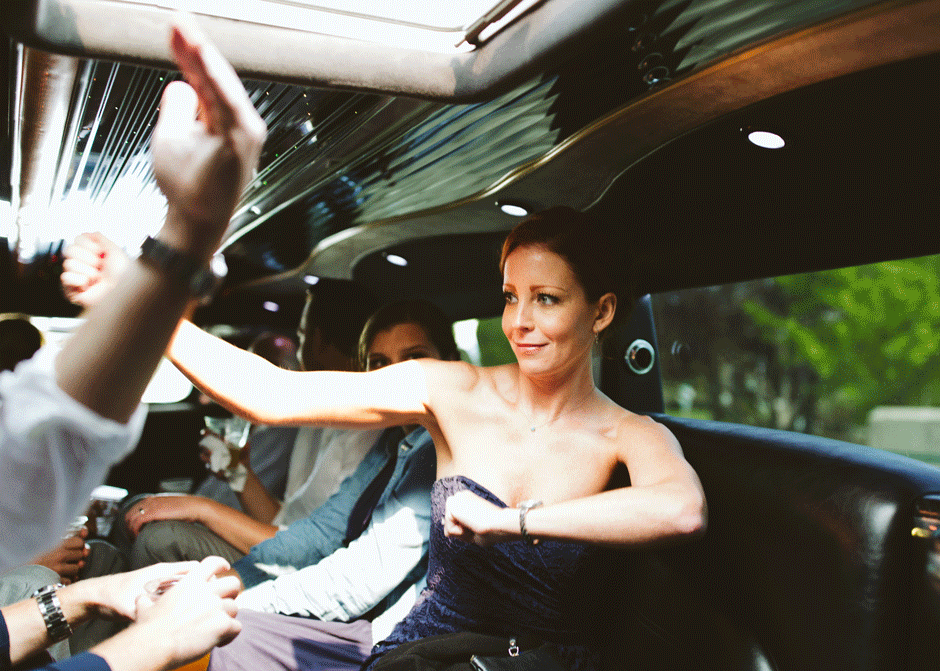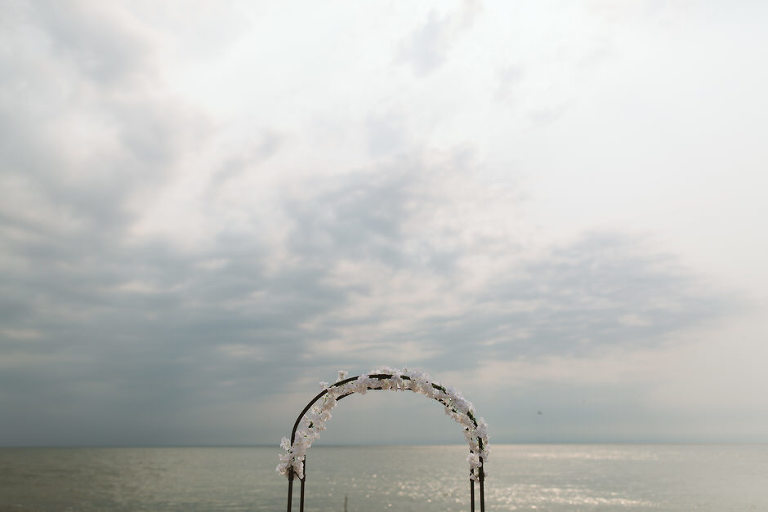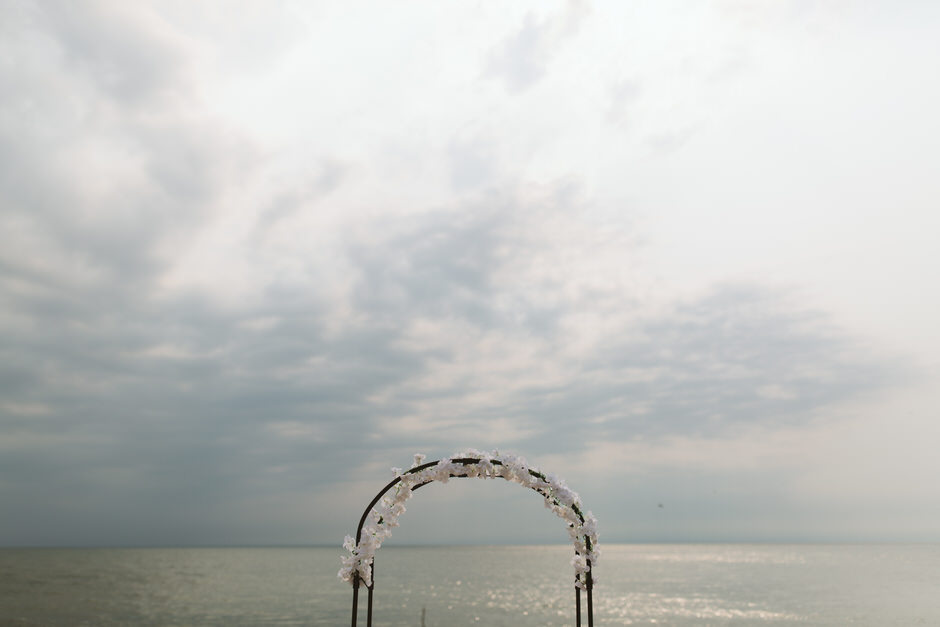 The Ceremony: 
The rain most definitely did not stay away on our wedding day, but luck was on our side — the sun decided to shine during our First Look photos and during the ceremony!
We worked hard to create a script that captured the spirit of our relationship, and with our friend Jack officiating, it was an amazing balance of fun and serious (including our unity shot "ceremony" with tequila)! Musical selections from the Doctor Who soundtrack supplemented our secret theme 😀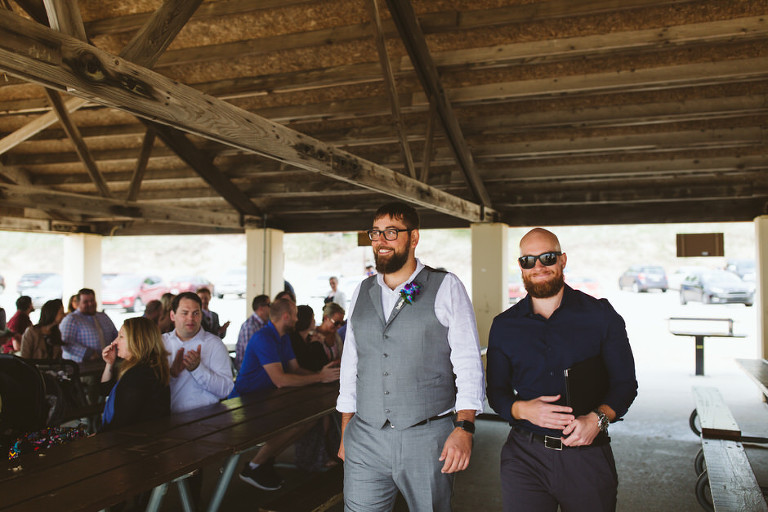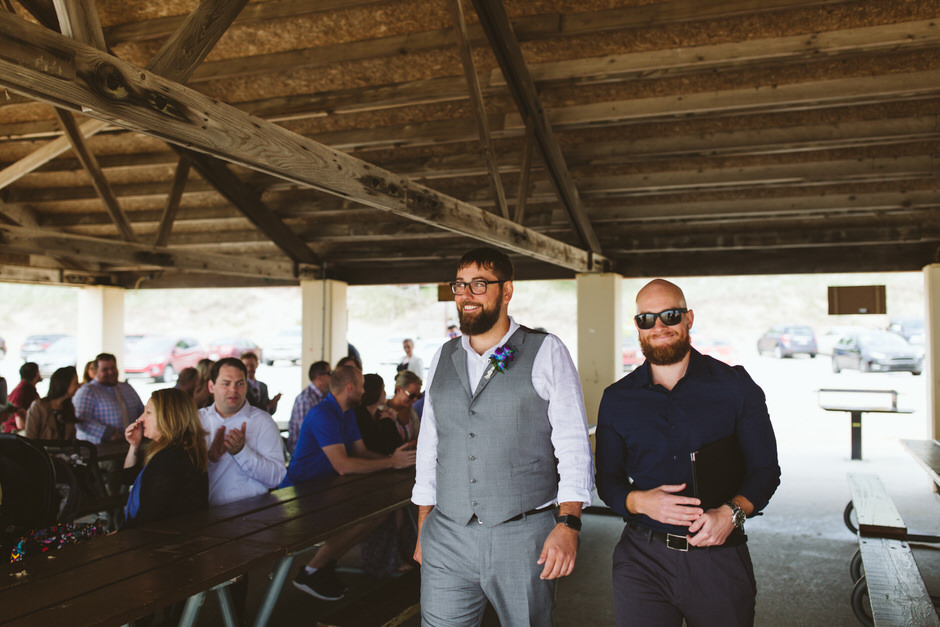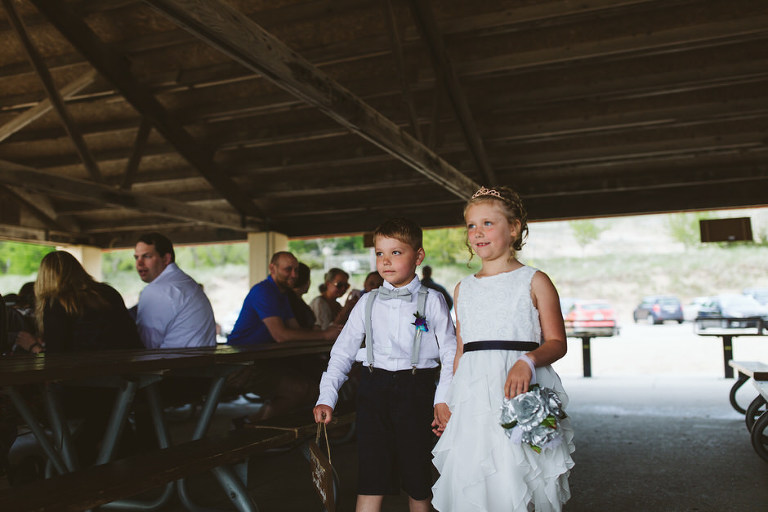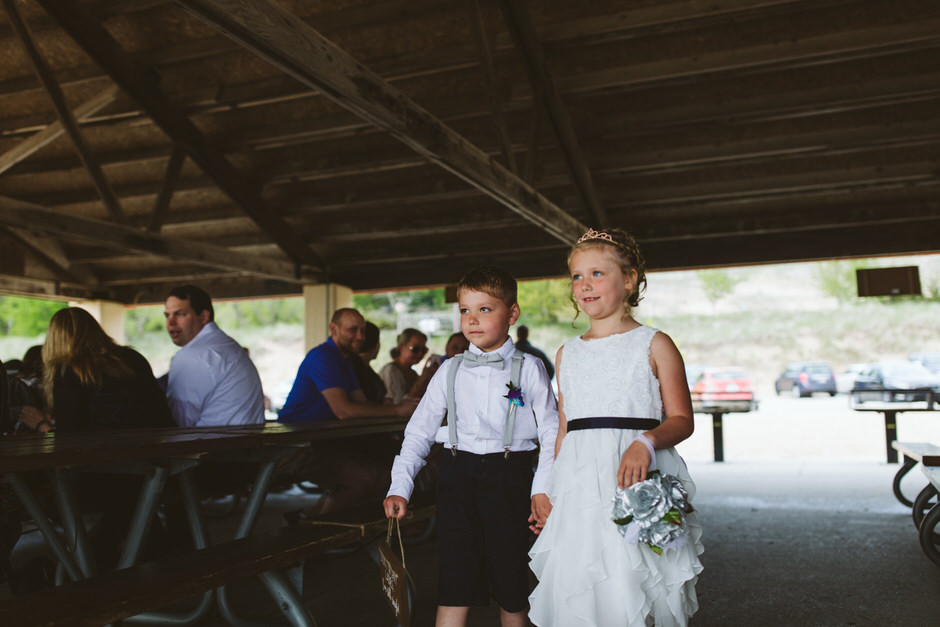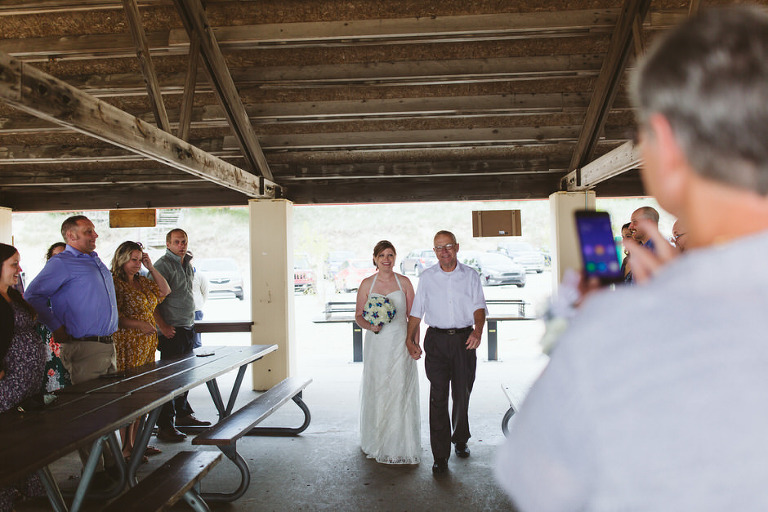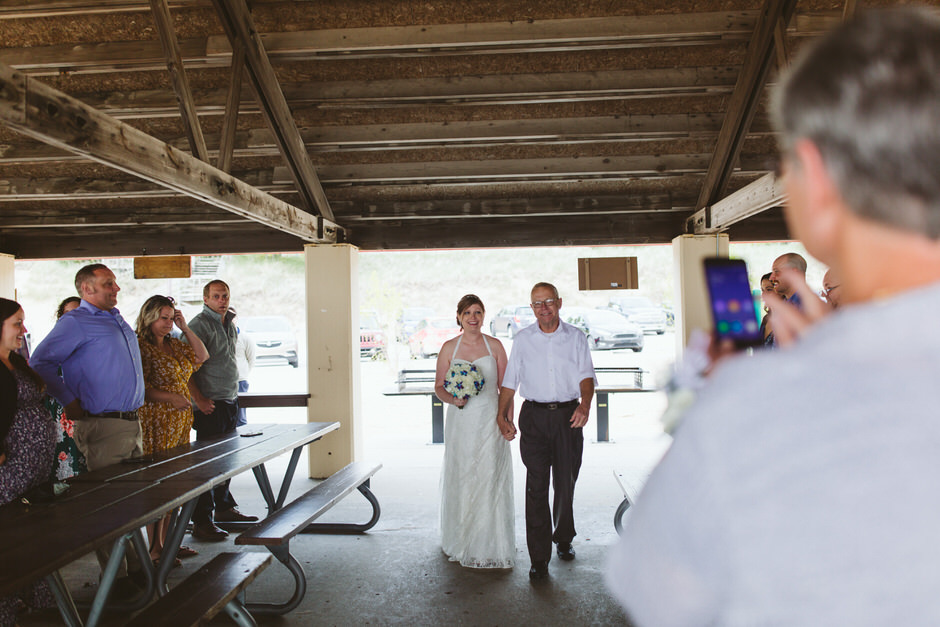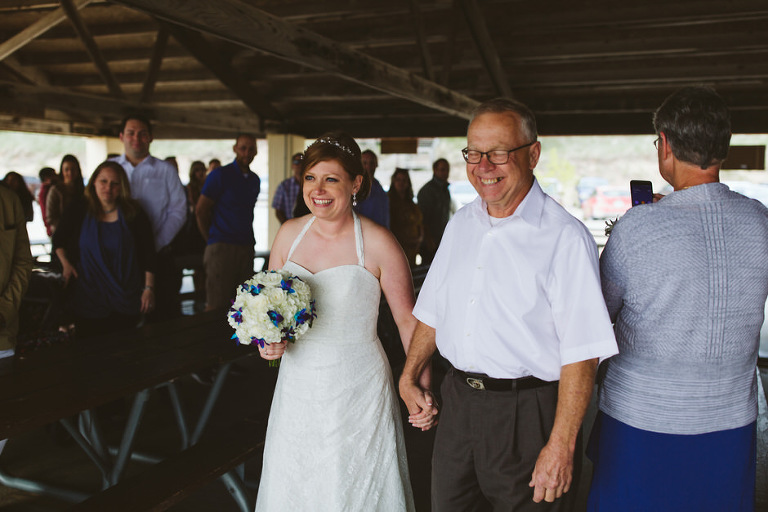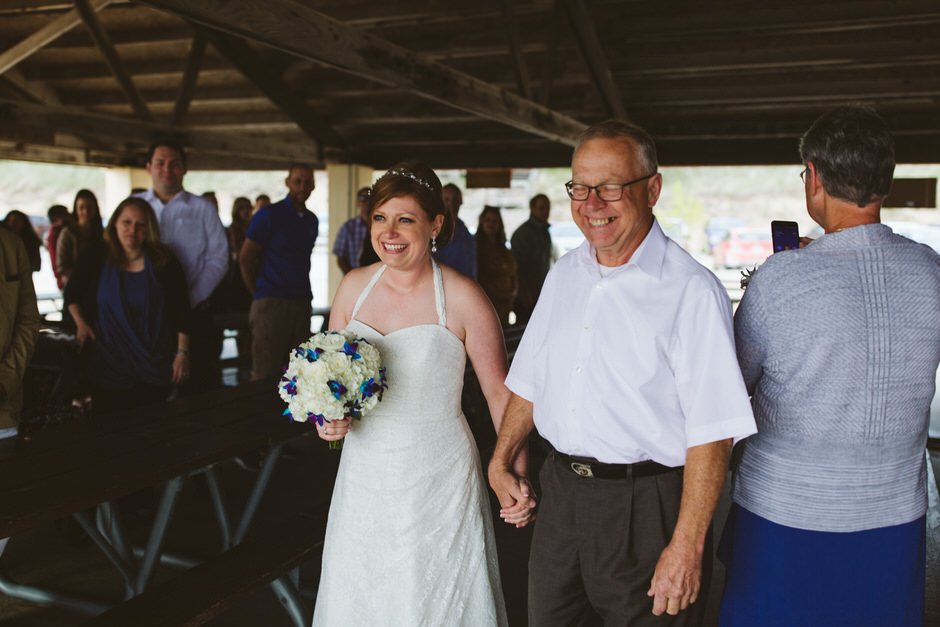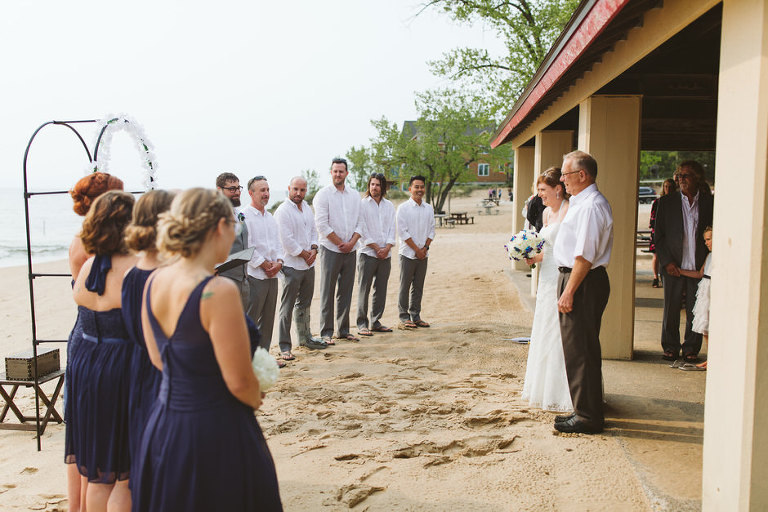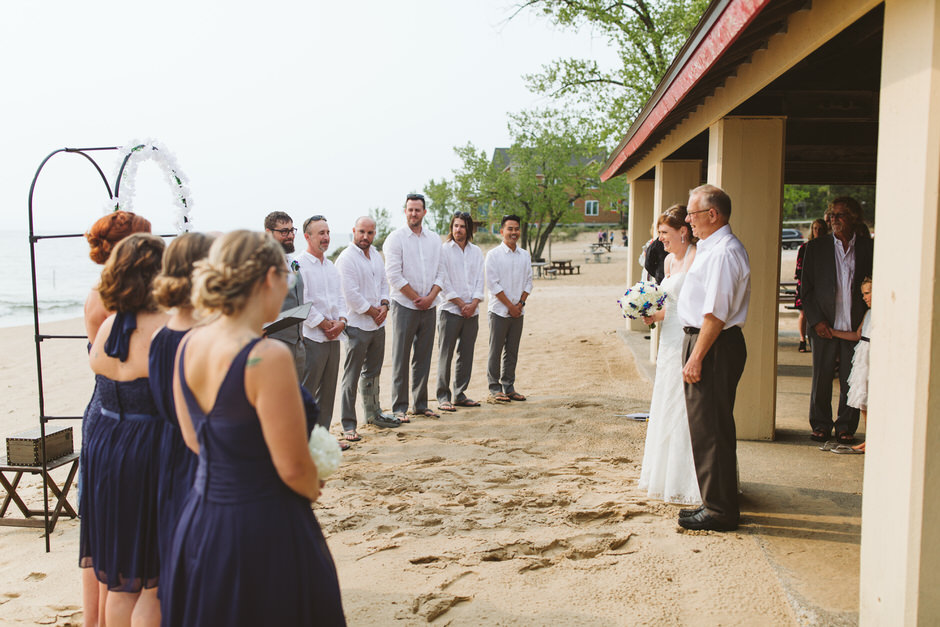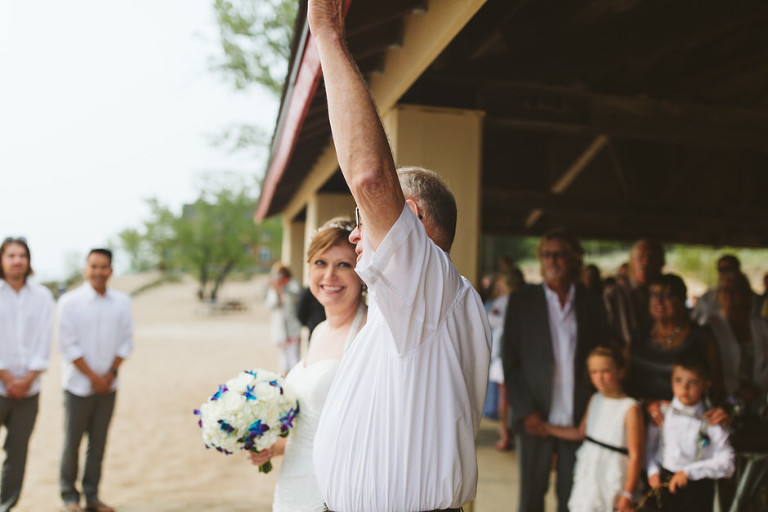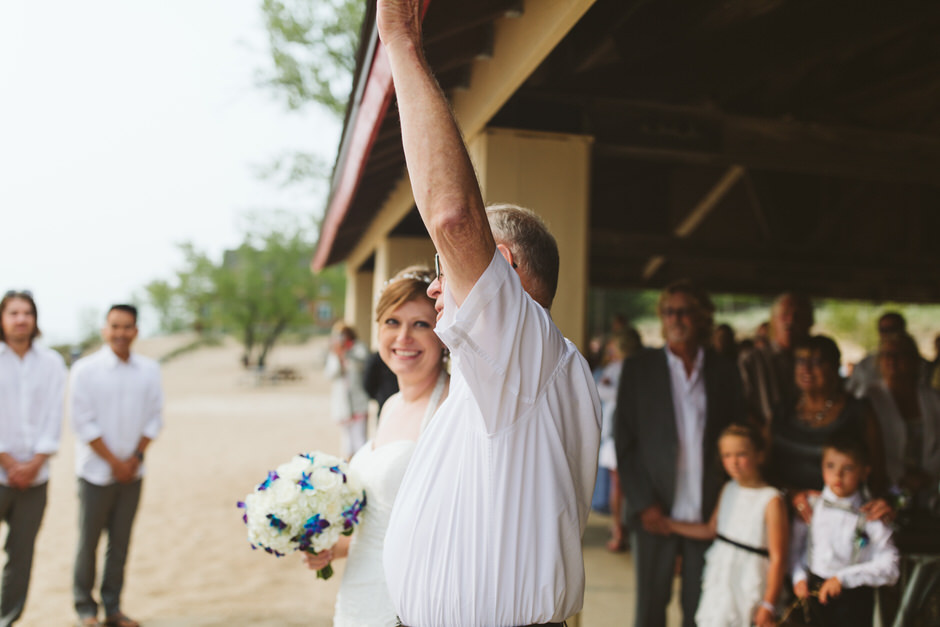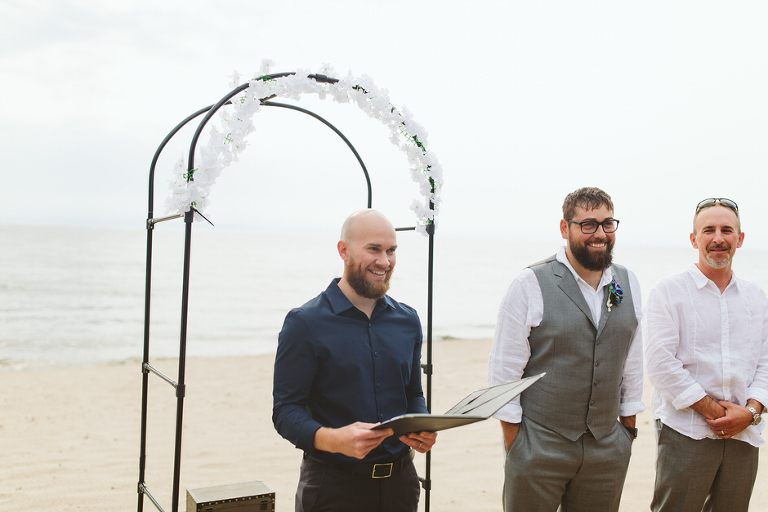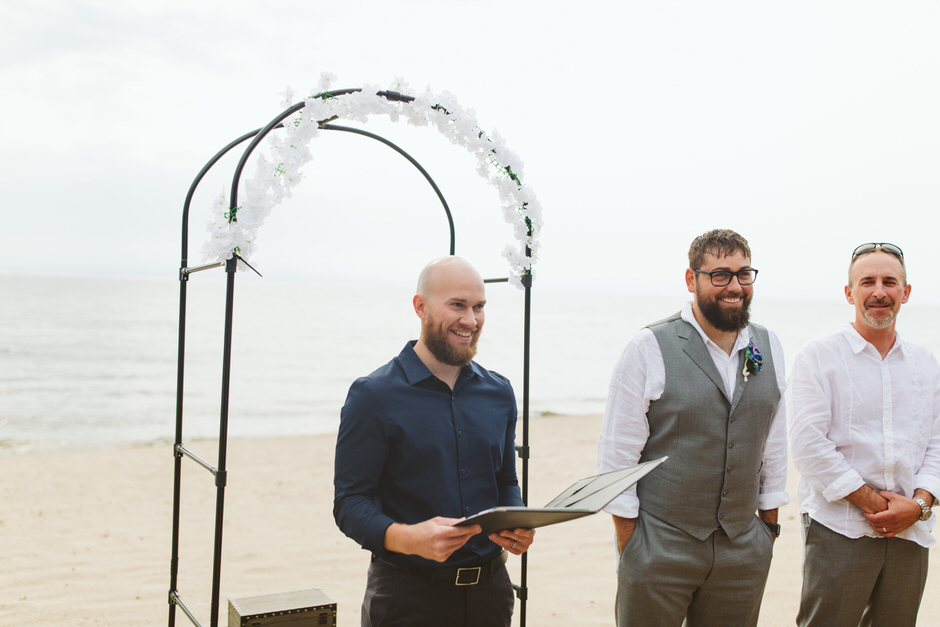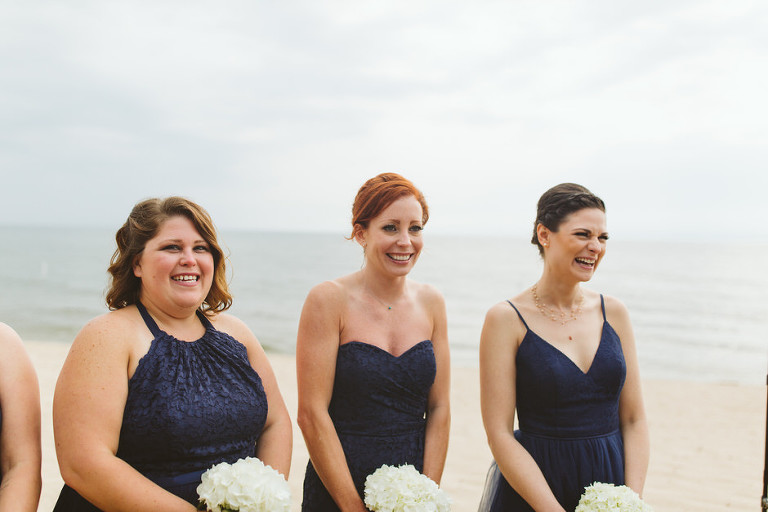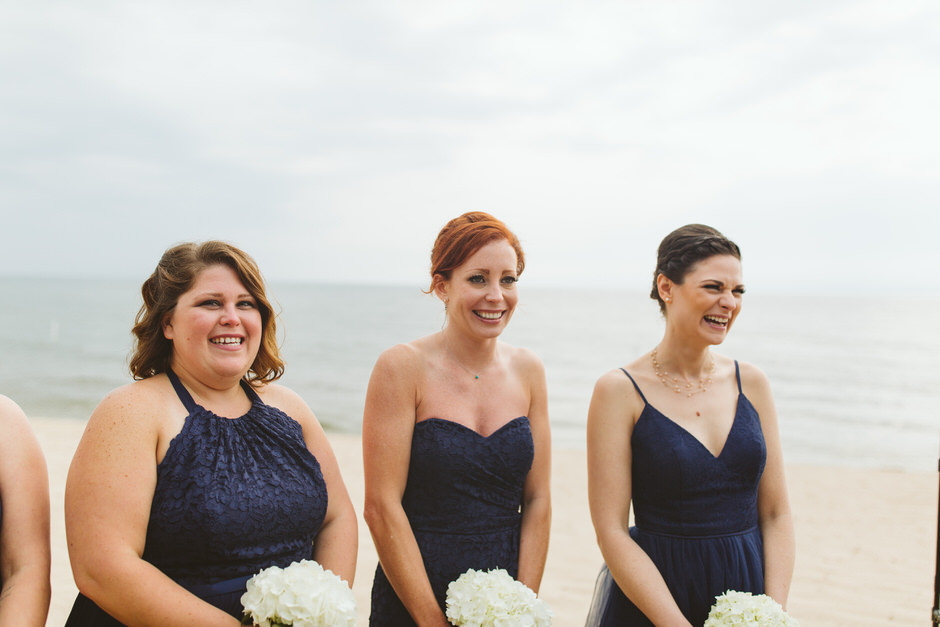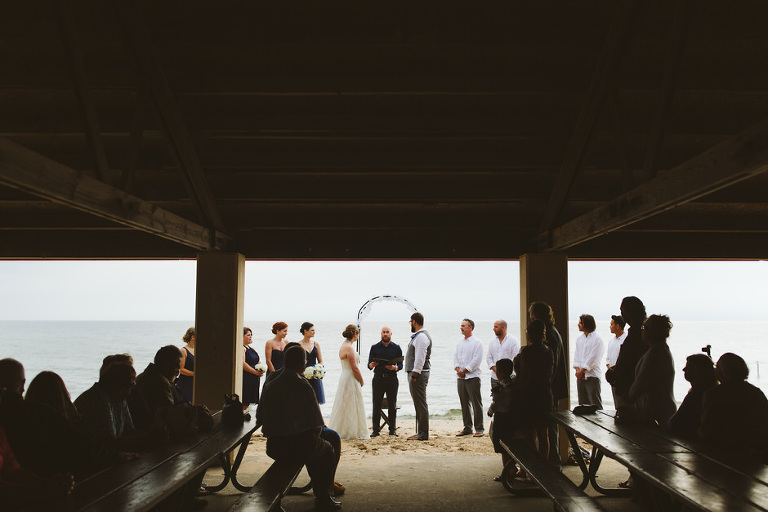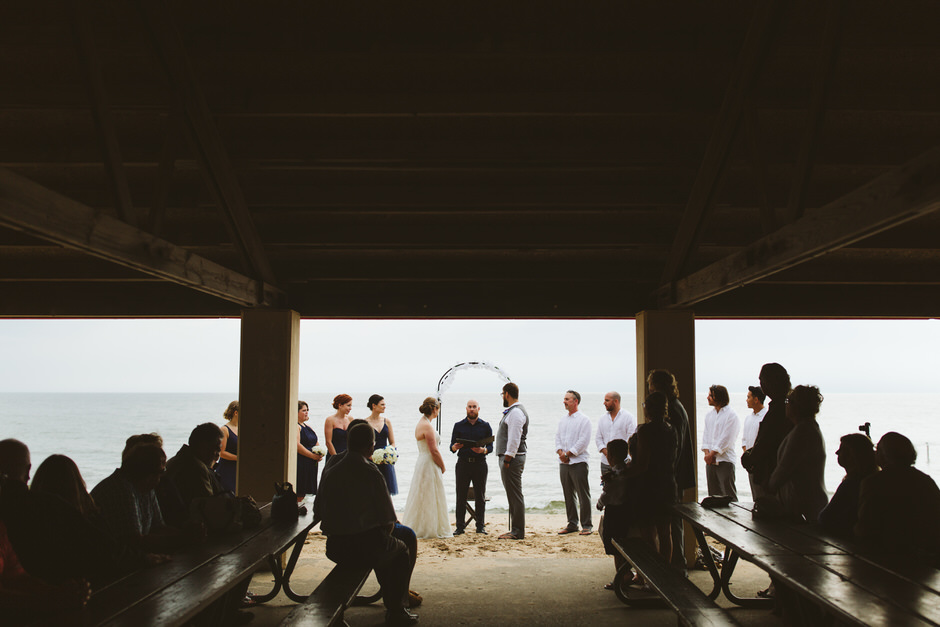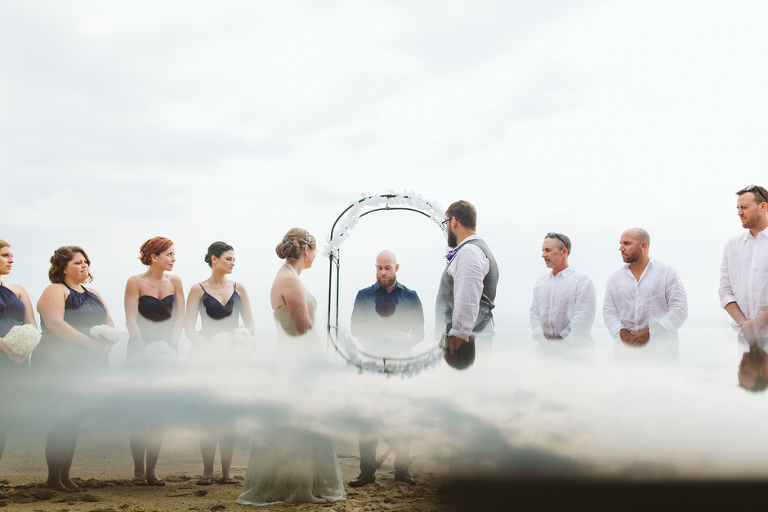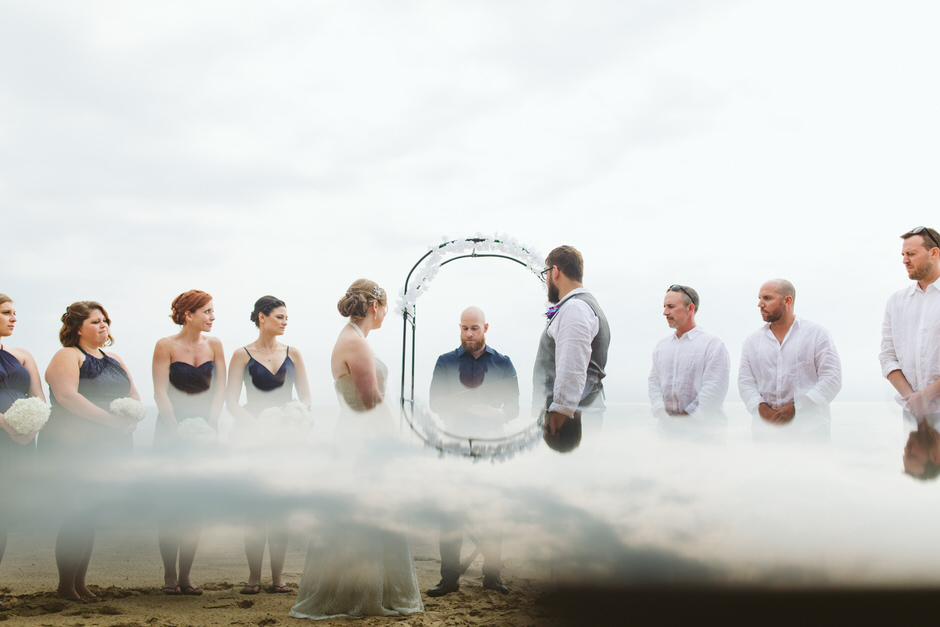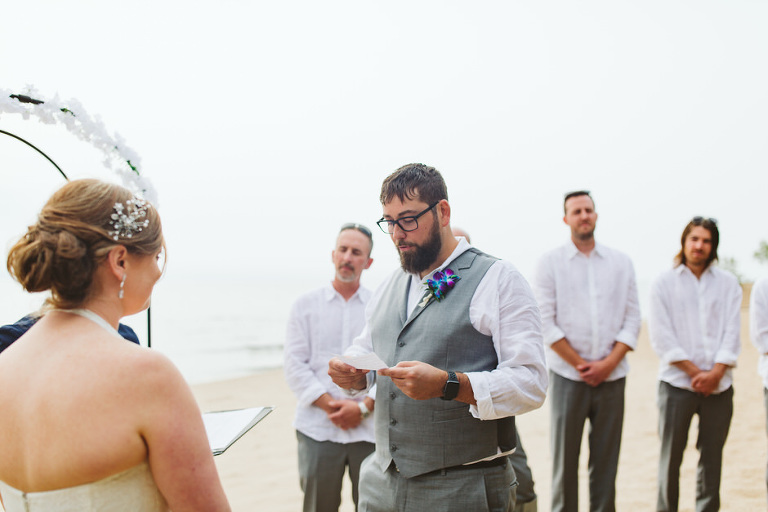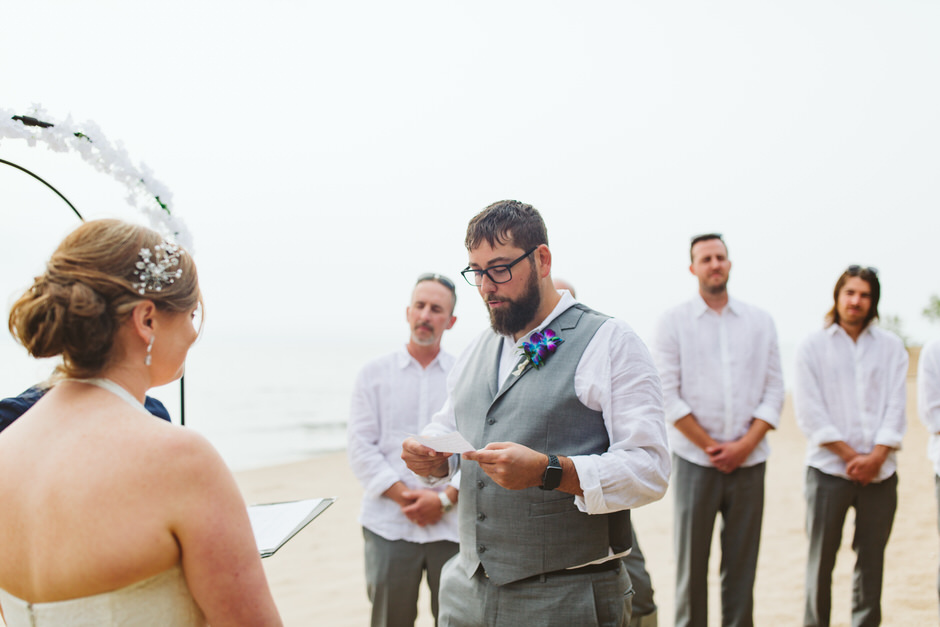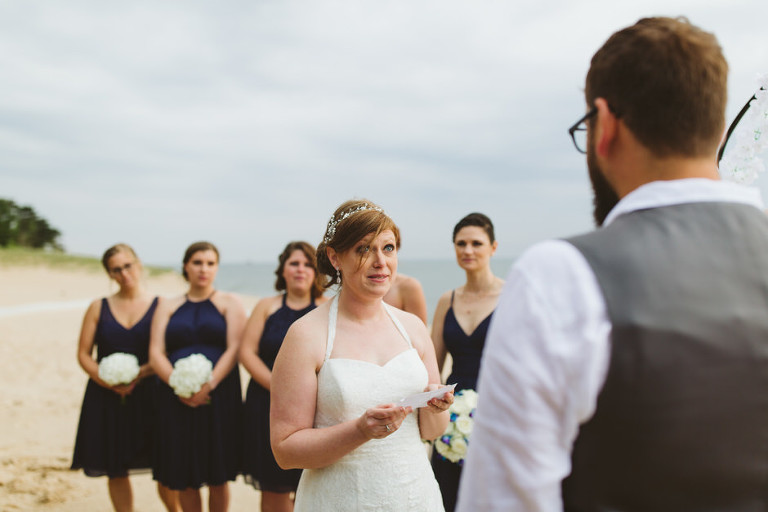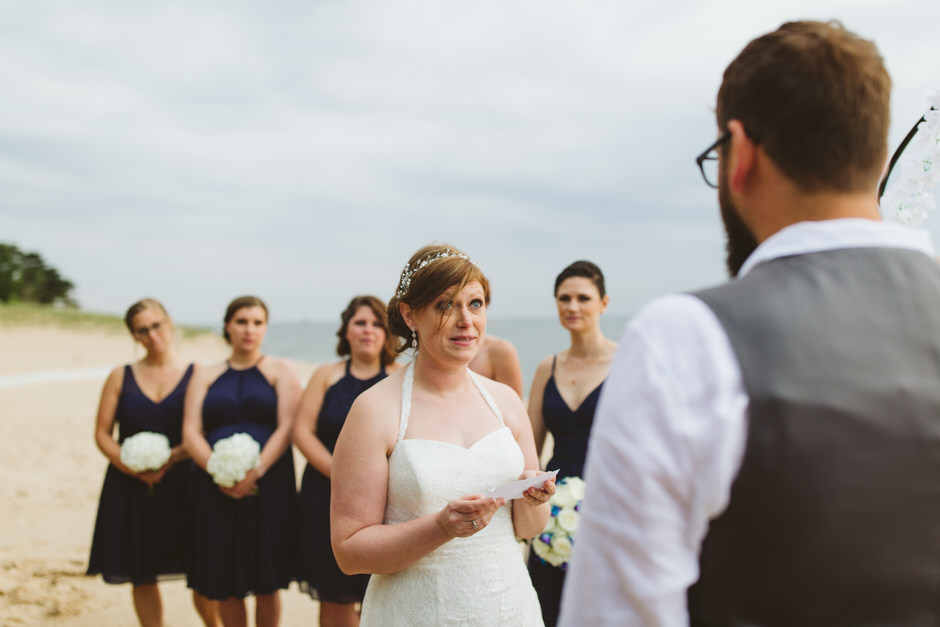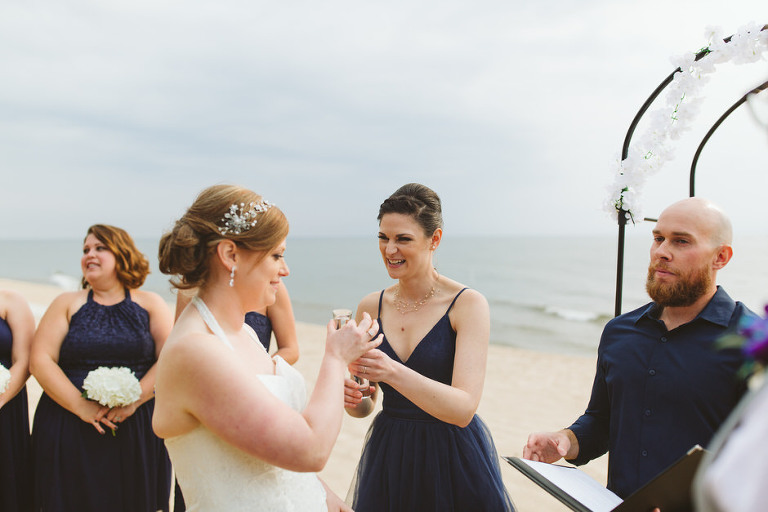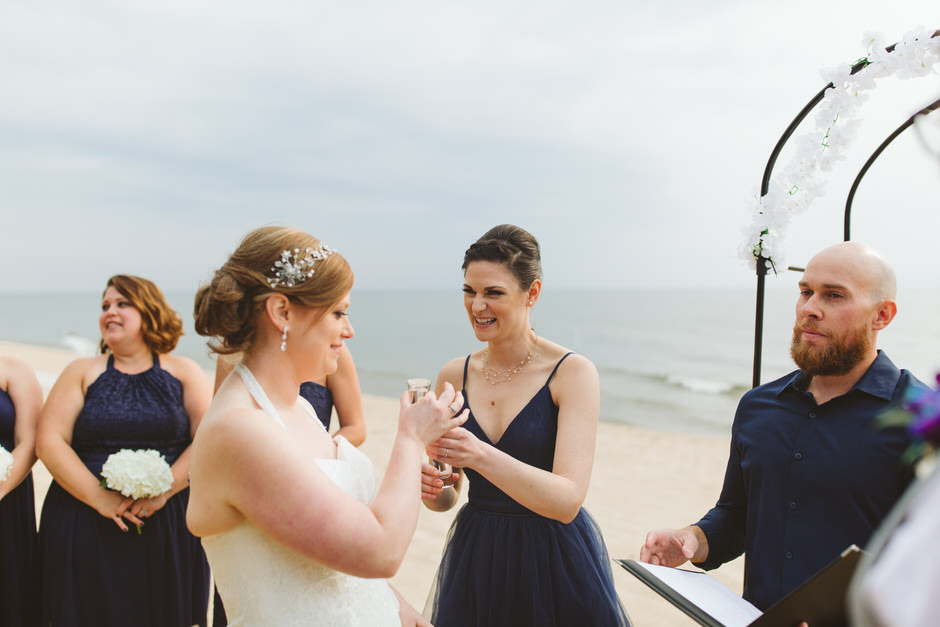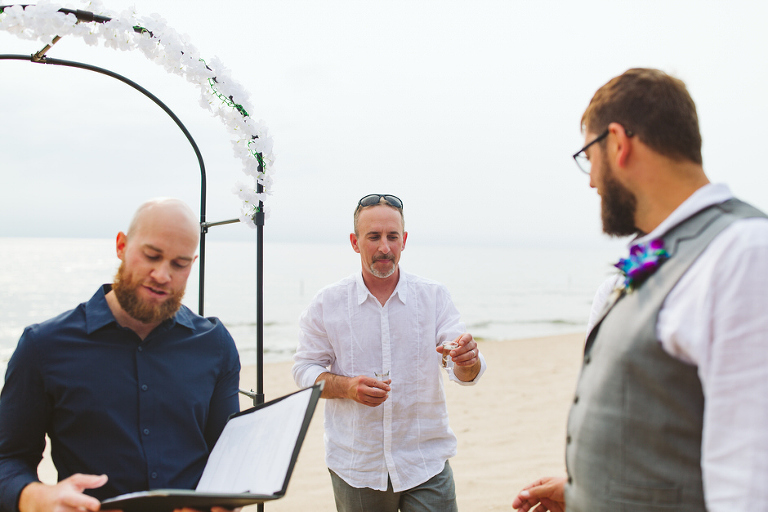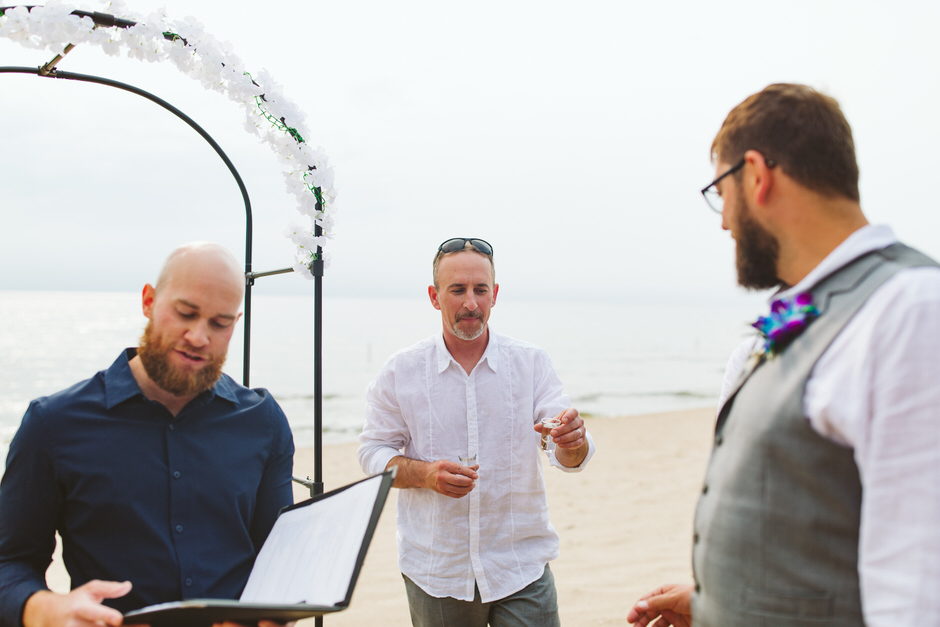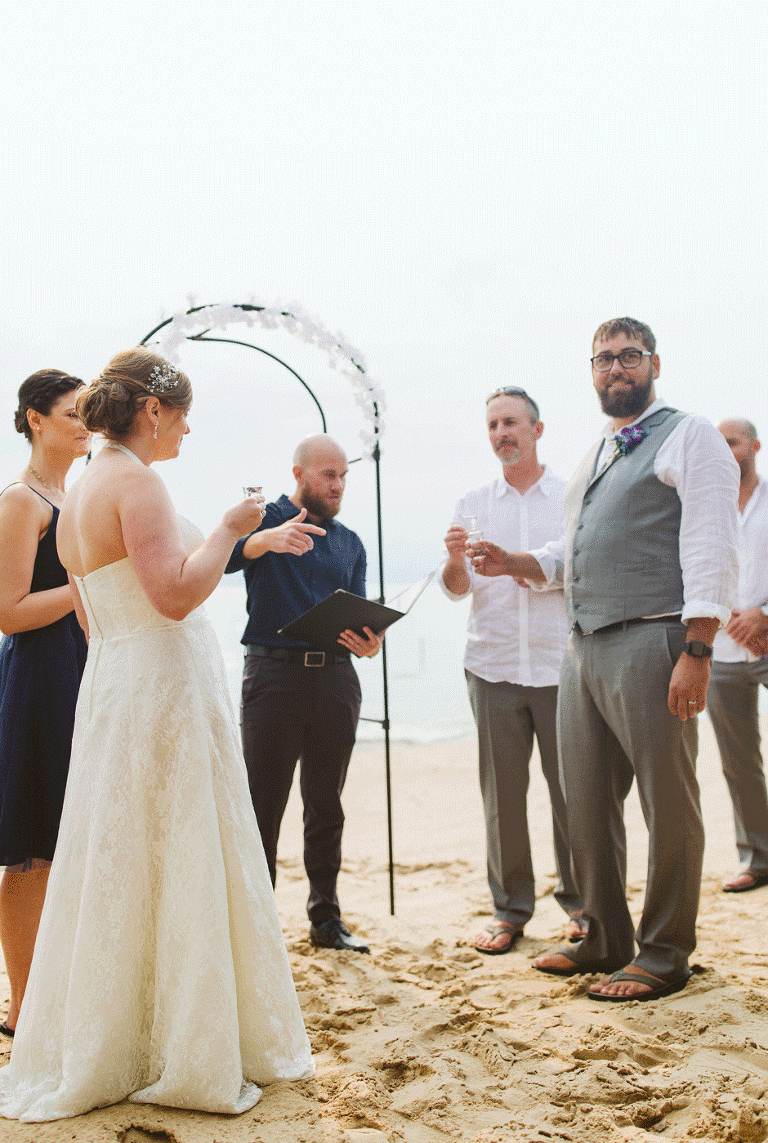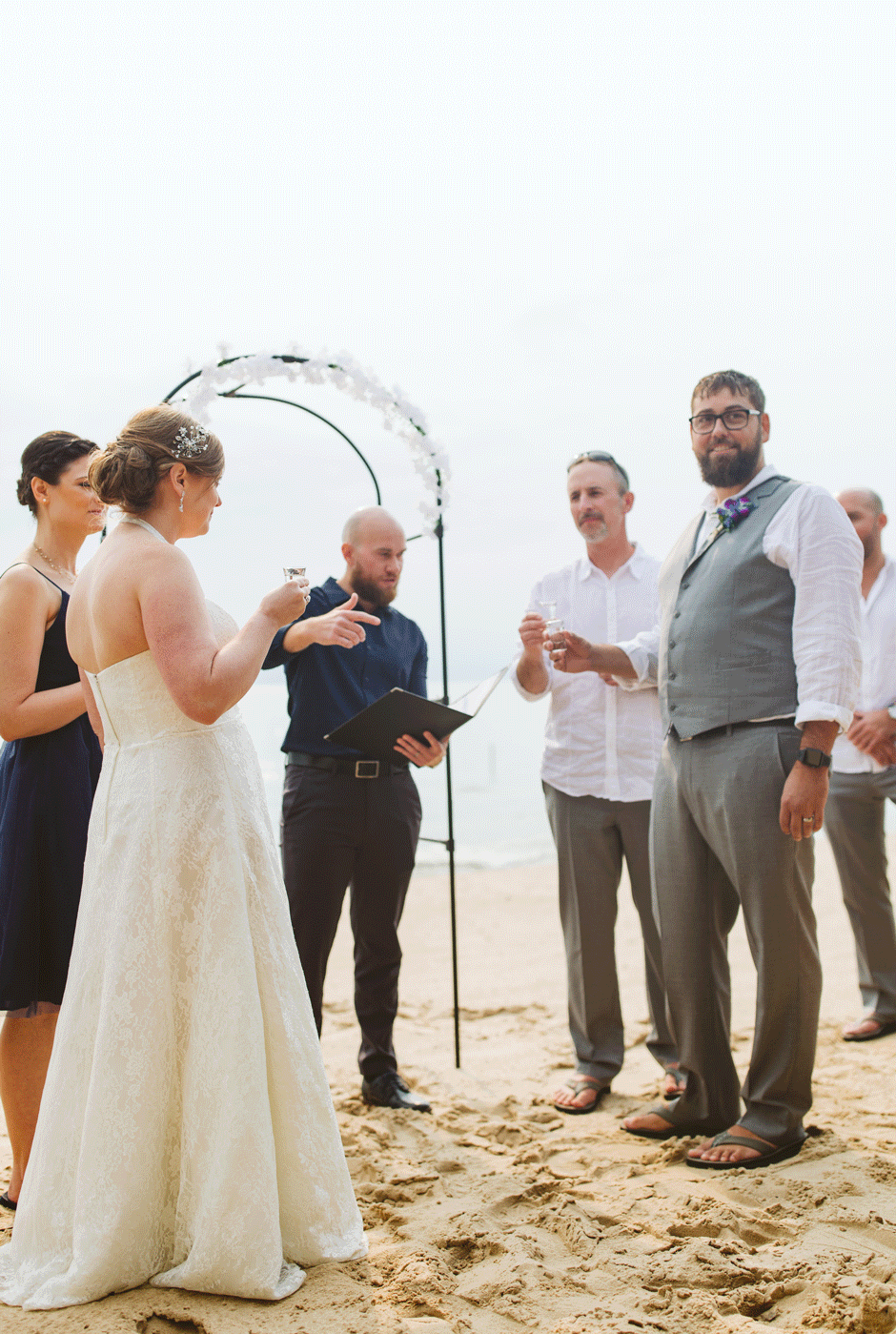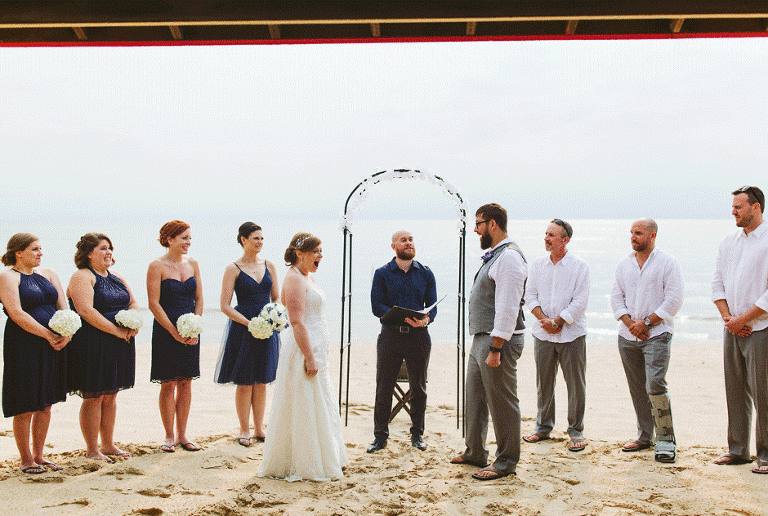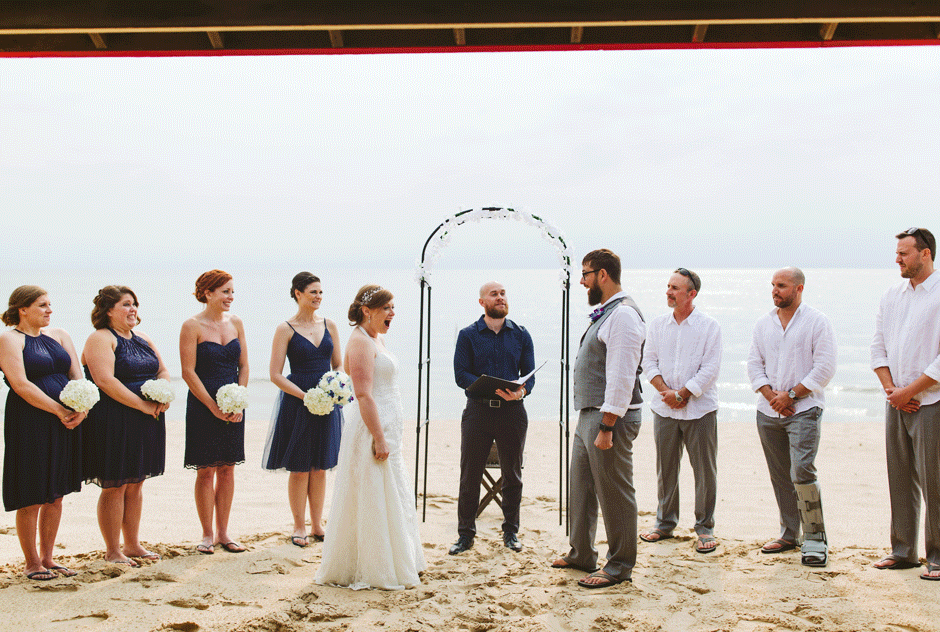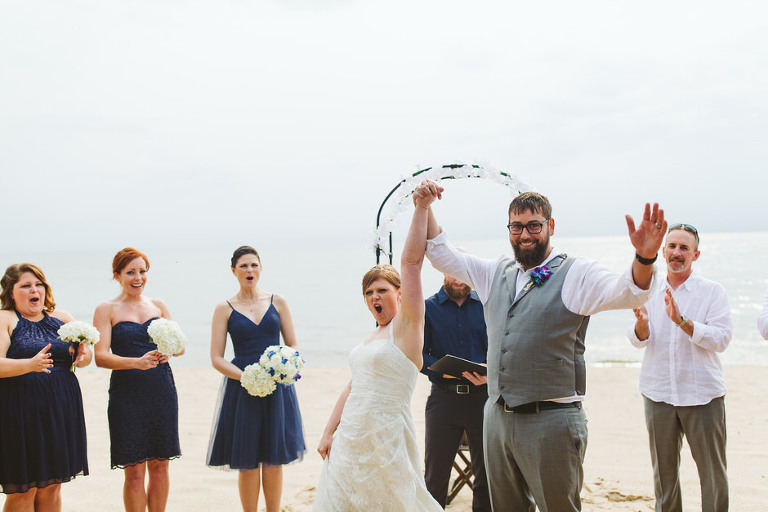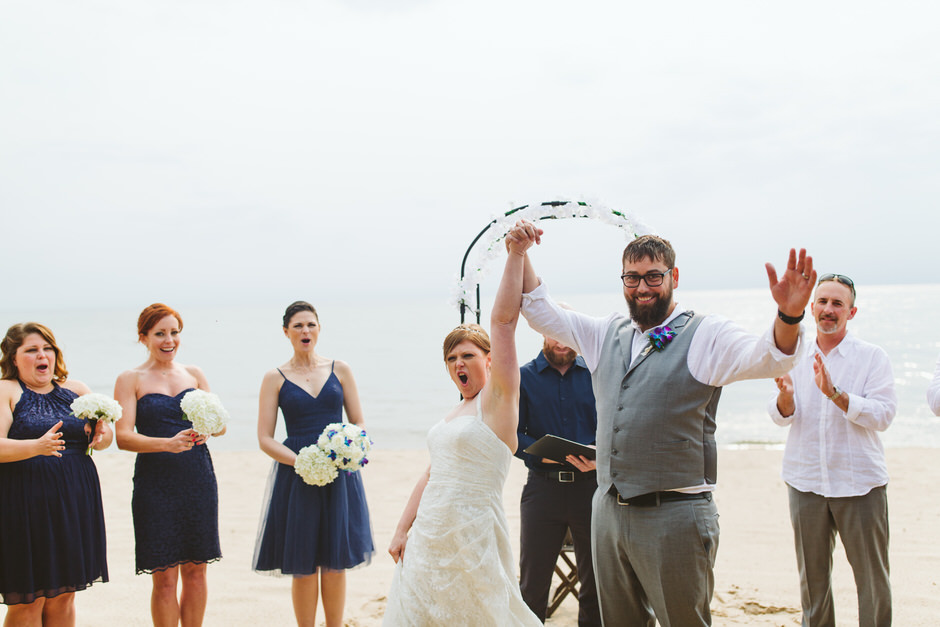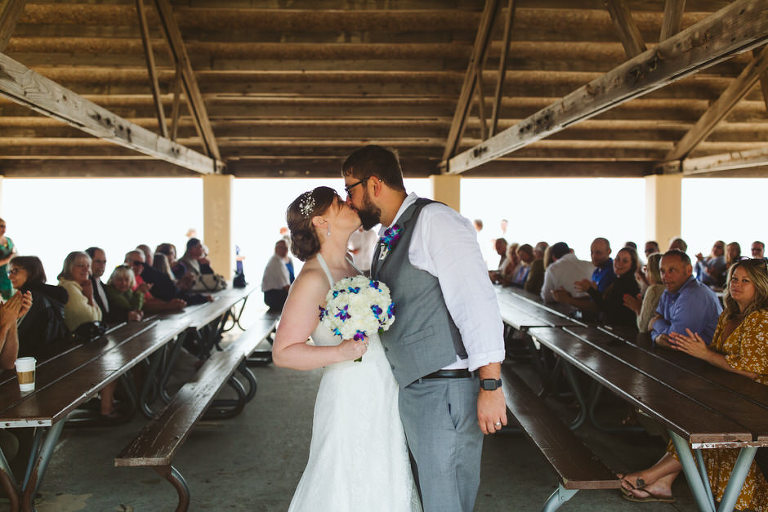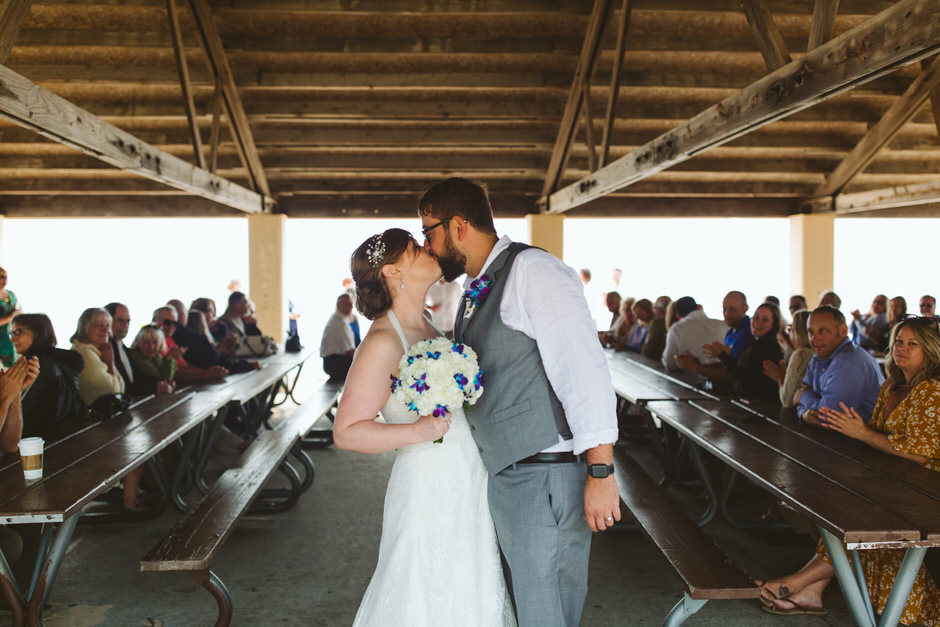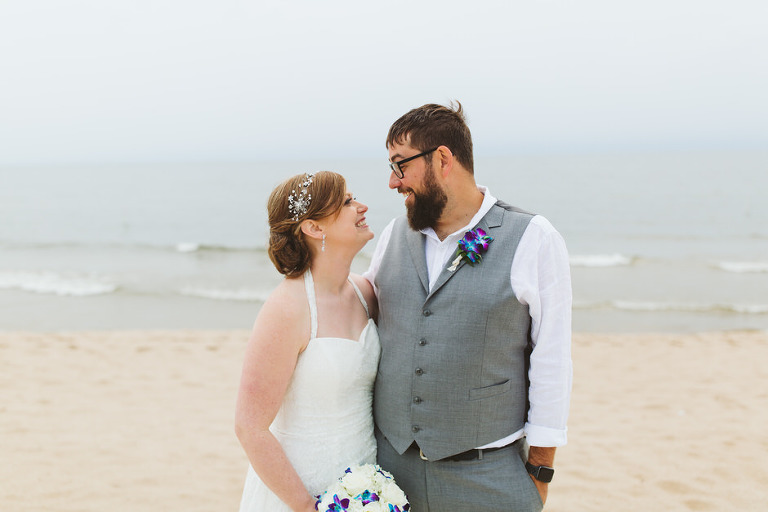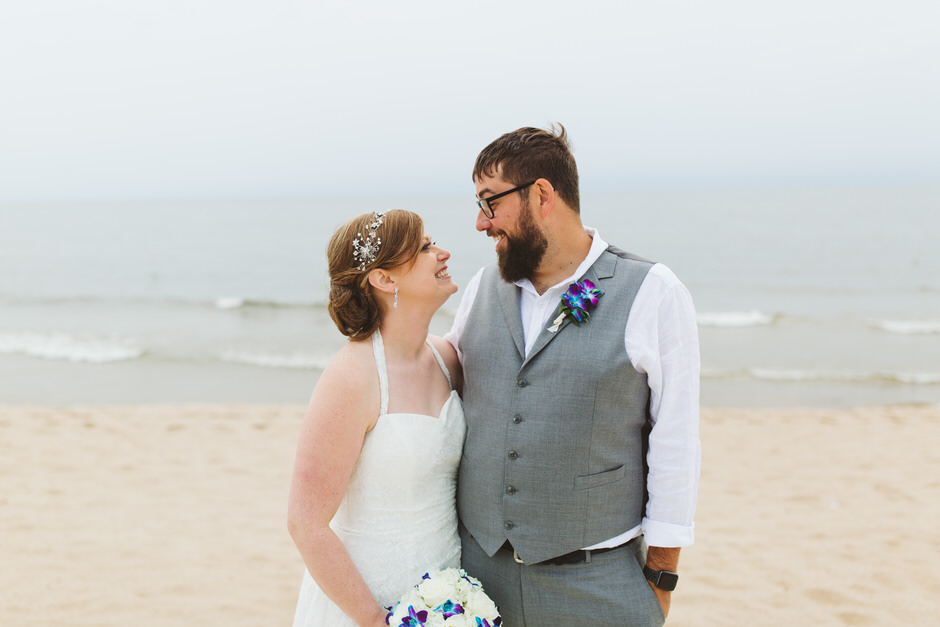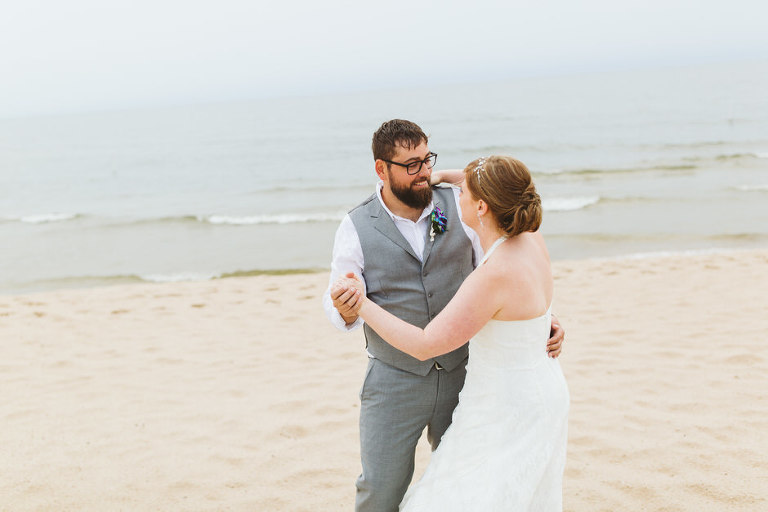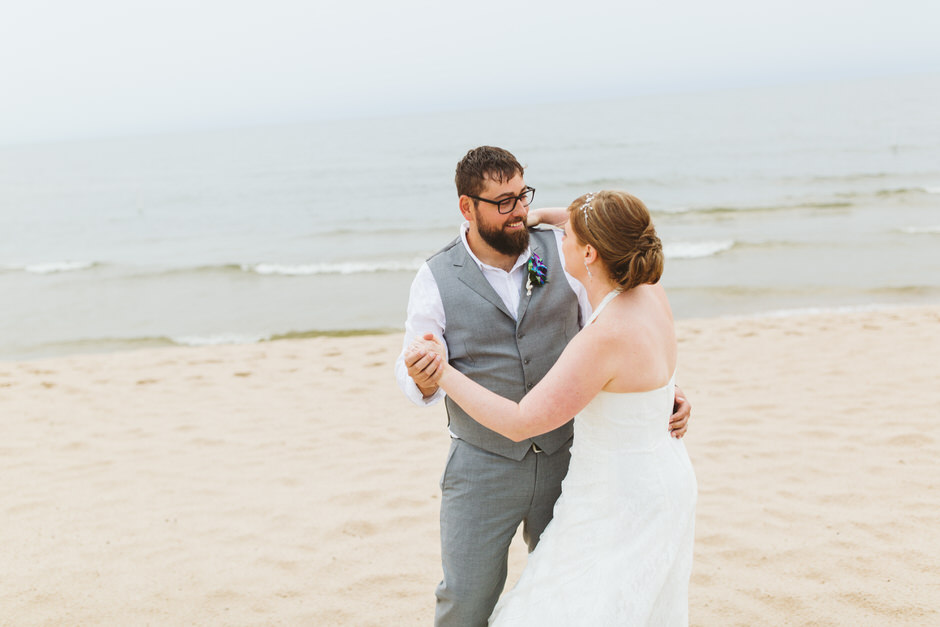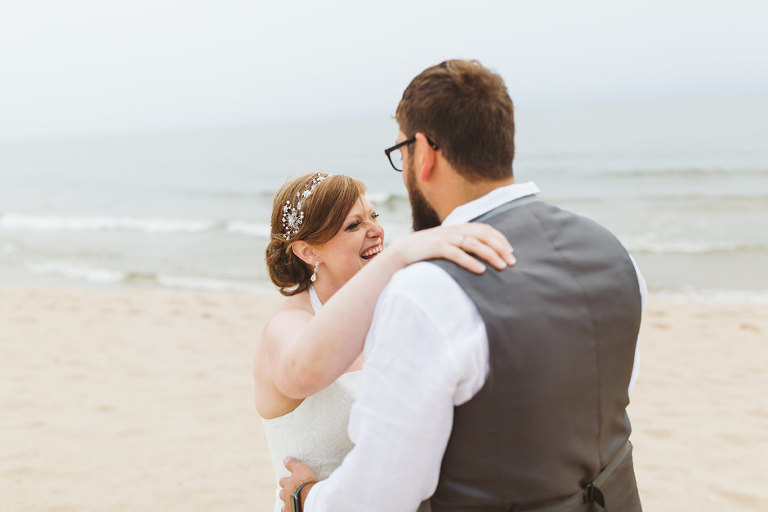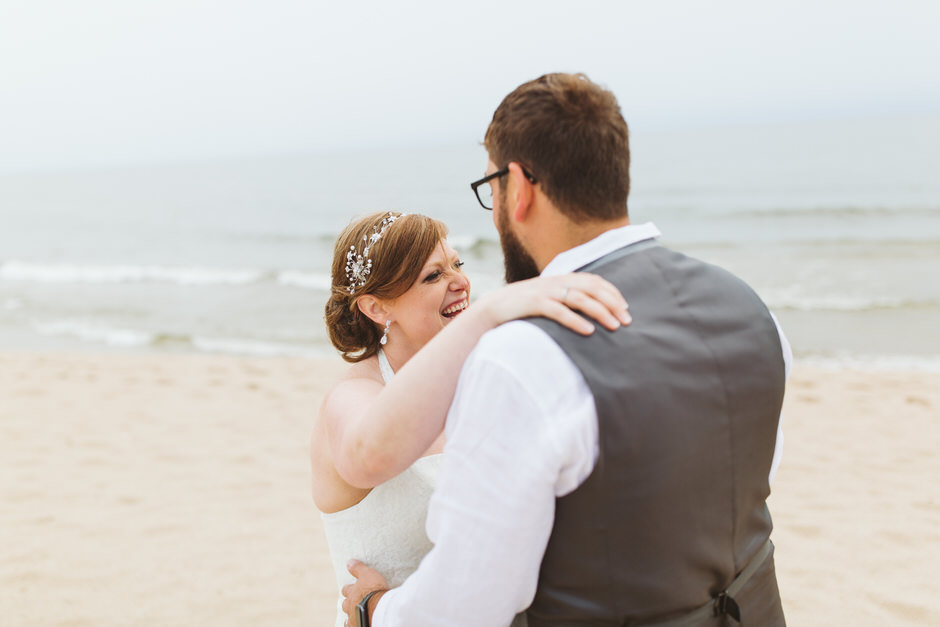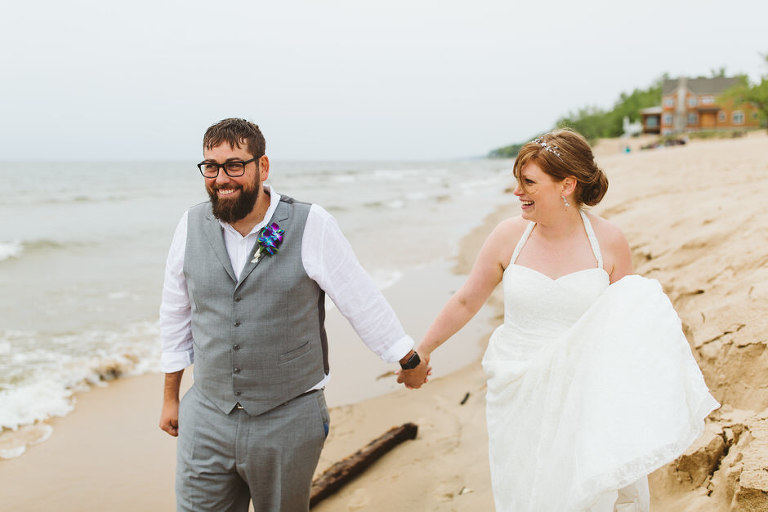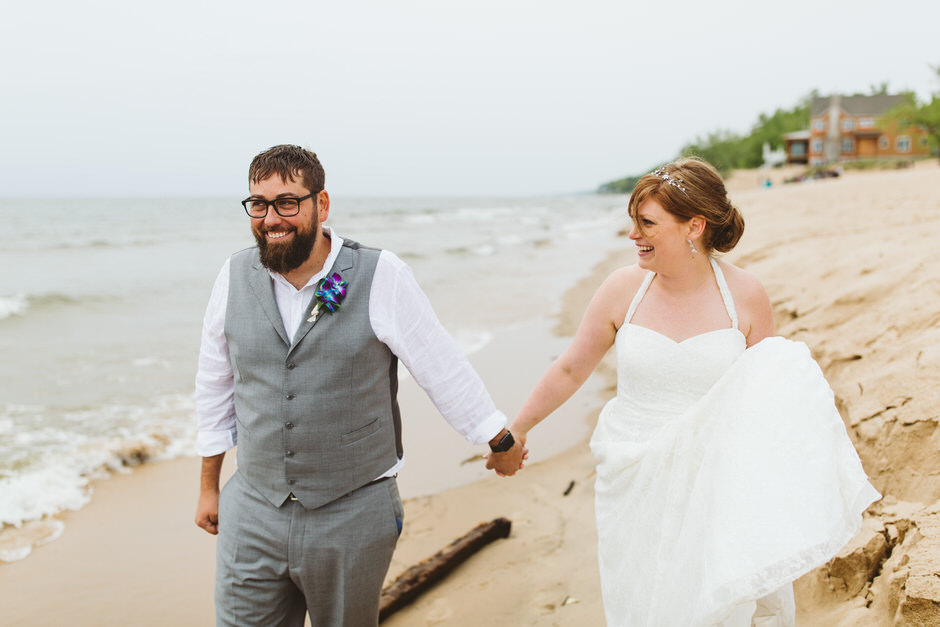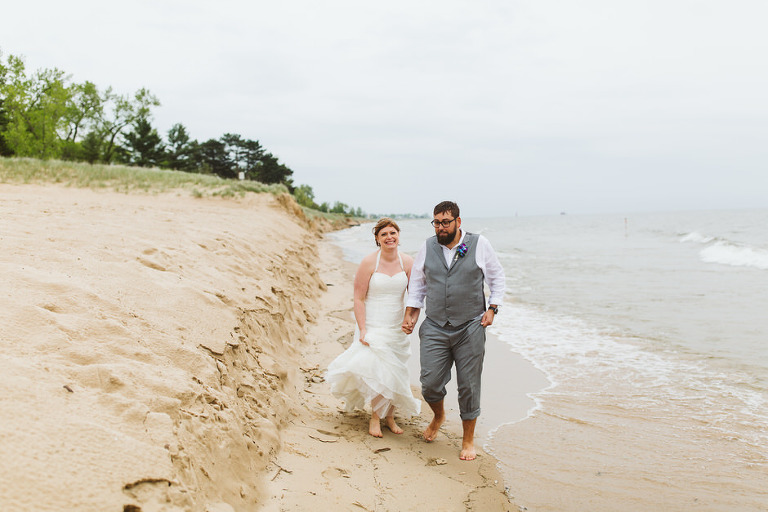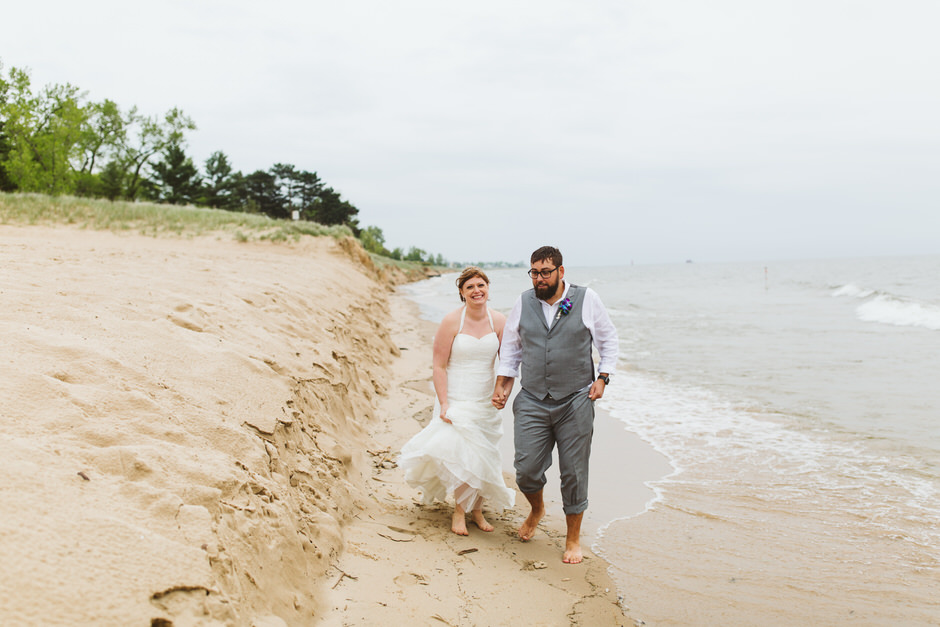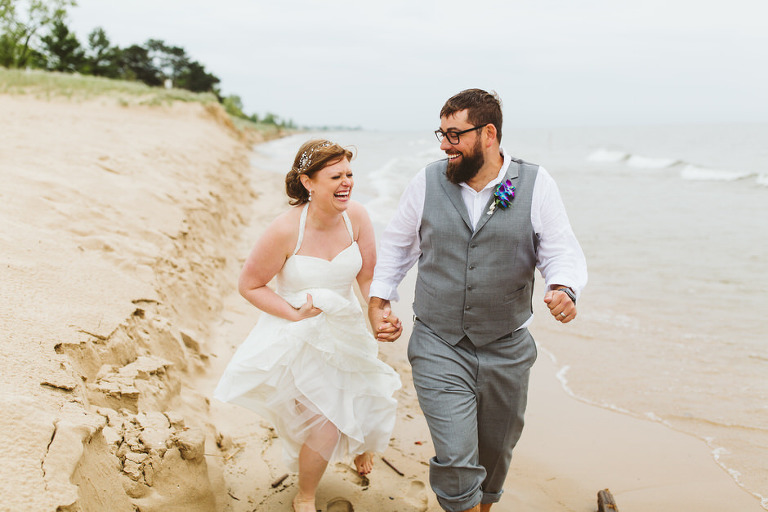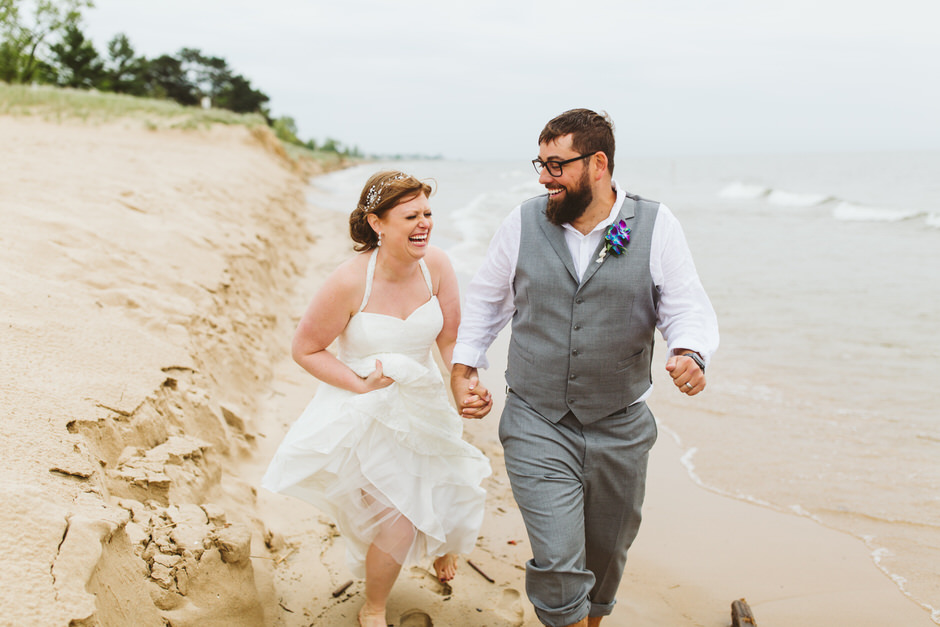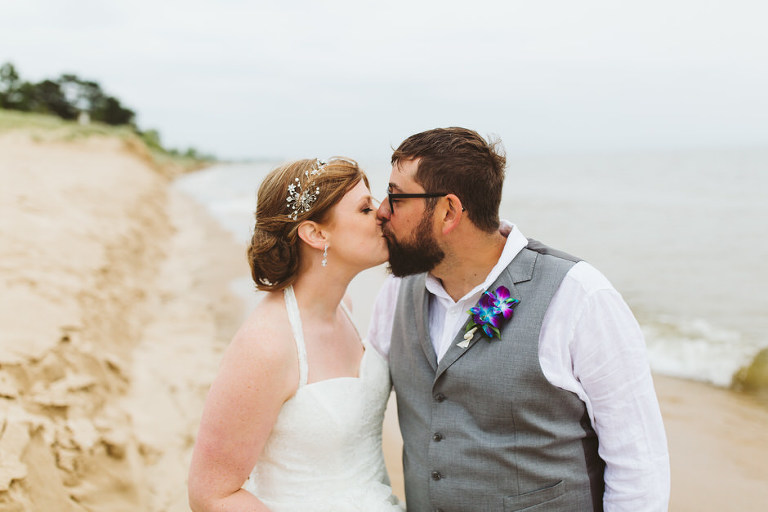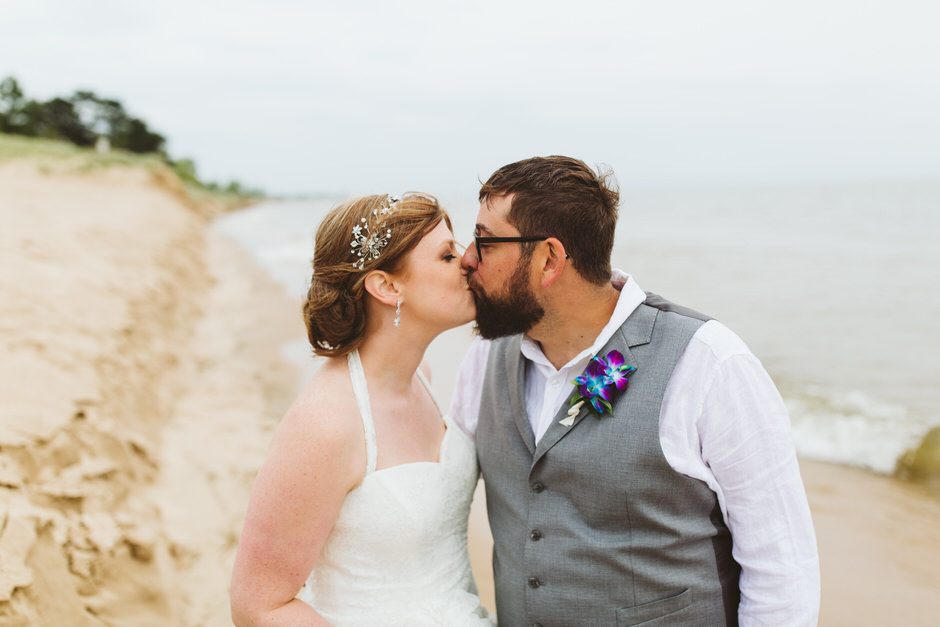 Venues:
Ryan grew up in Grand Haven and knew right away that a beach ceremony was perfect for us; the quiet North Shore Beach in Ferrysburg was exactly what we wanted, and renting the picnic pavilion there meant that we had an easy Plan B in case it rained the day of.
Choosing a reception location was a bit trickier! In the end, it was the Grand Haven Visitors Bureau that mentioned Porto Bello had a popular reception hall… it was the last one on our list of venue tours, and it stole our hearts immediately. The charm of the Story & Clark Piano Factory building and the close proximity of Odd Side Ales helped clinch the deal, especially since our guest list was expected to range from 150-250 people and the venue could fit up to 275. Our life goals were to throw a wicked awesome party to celebrate, and Porto Bello's Harbourfront Grand Hall easily helped us accomplish that!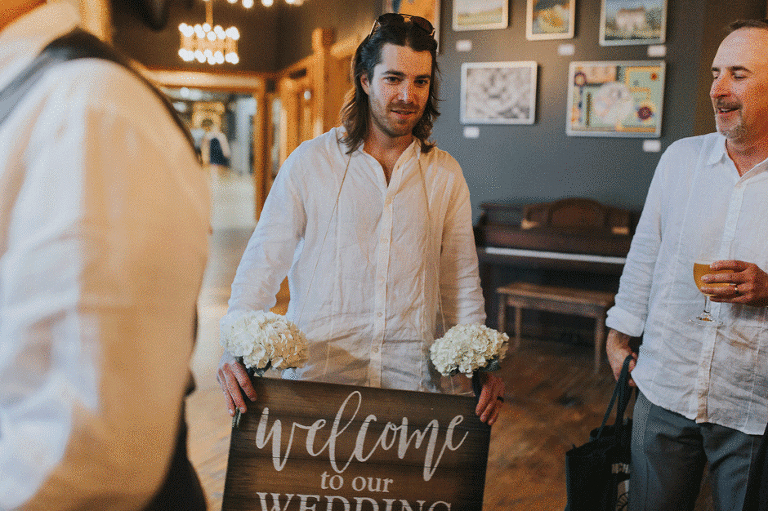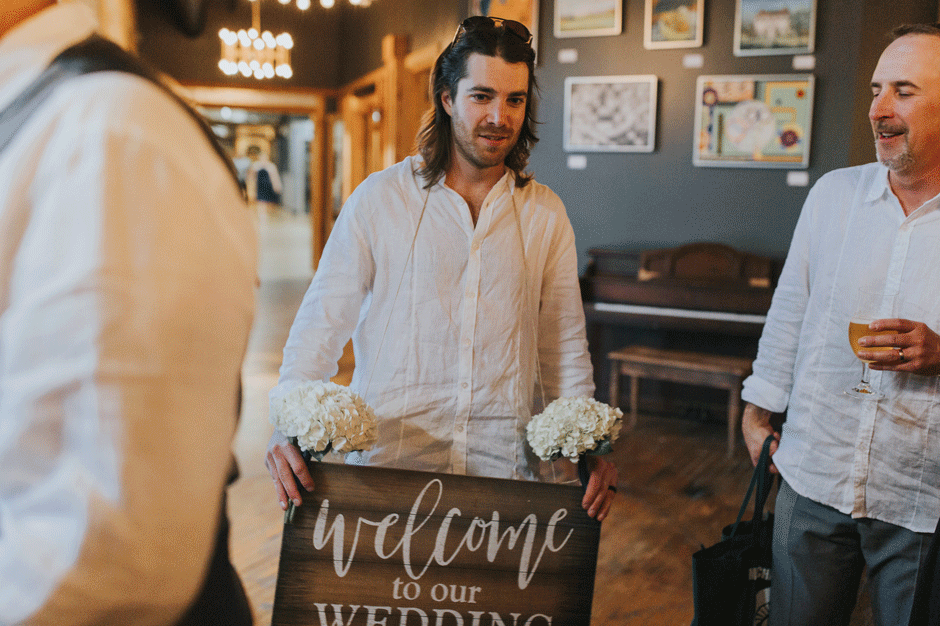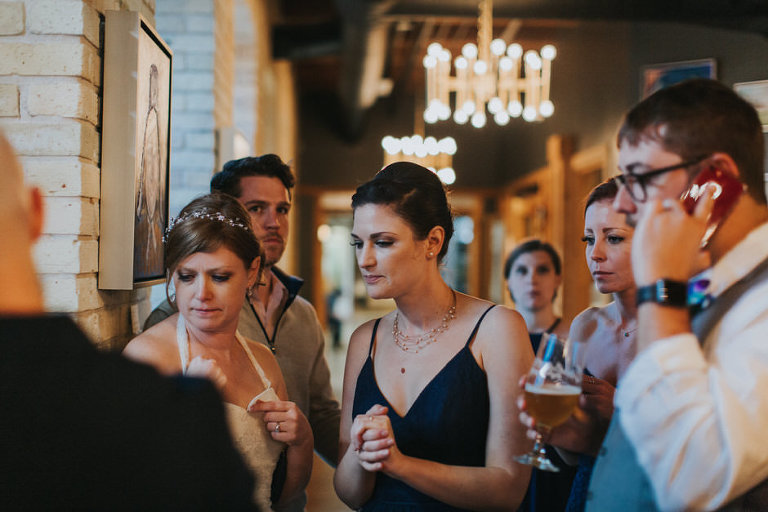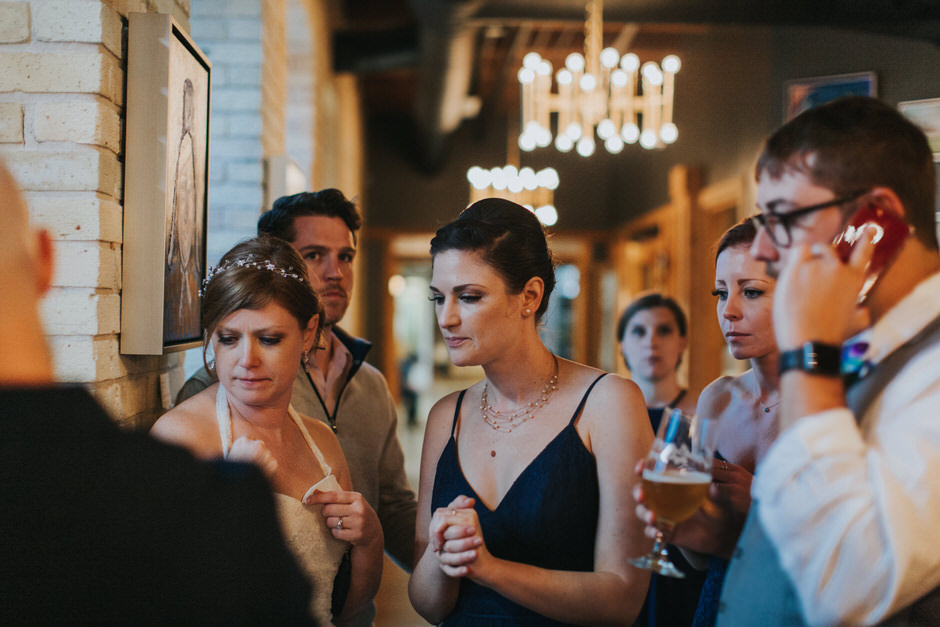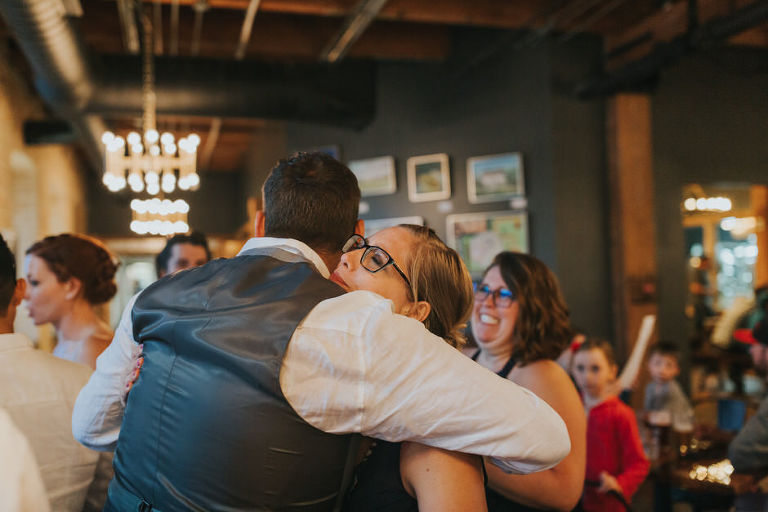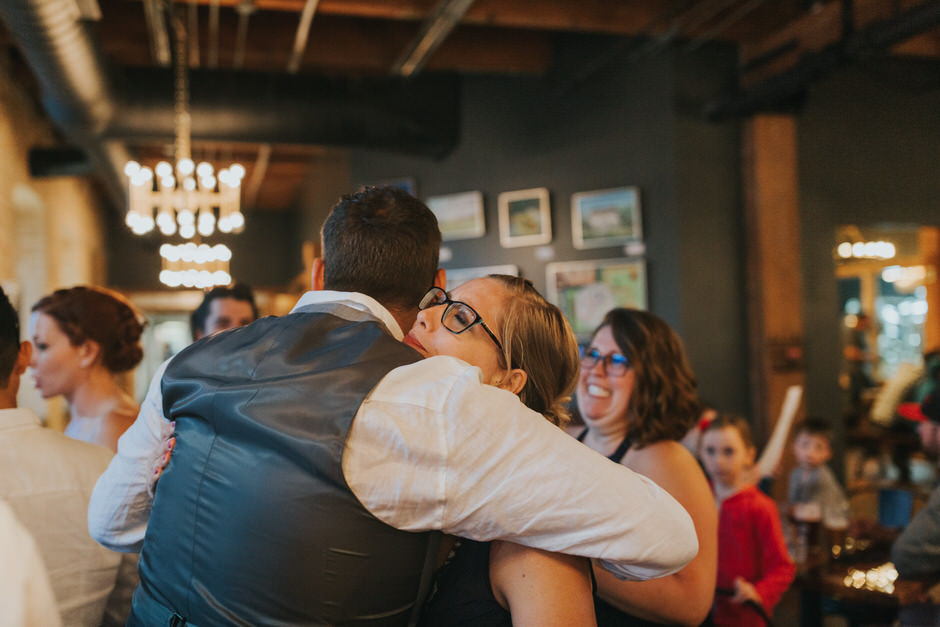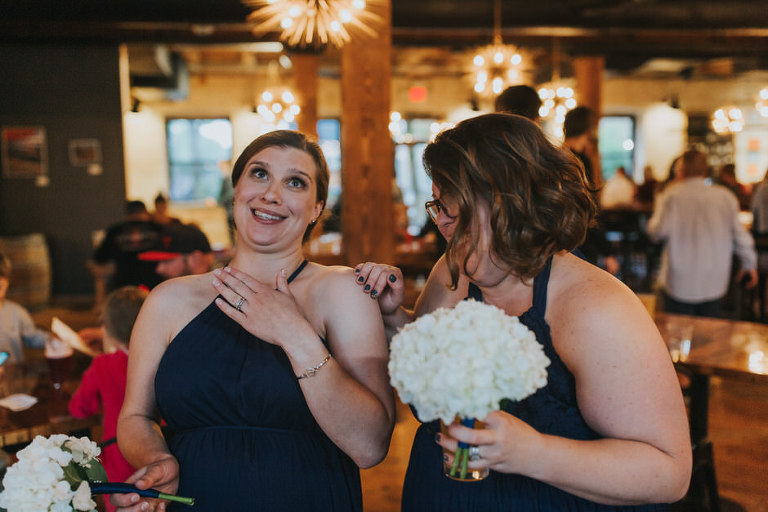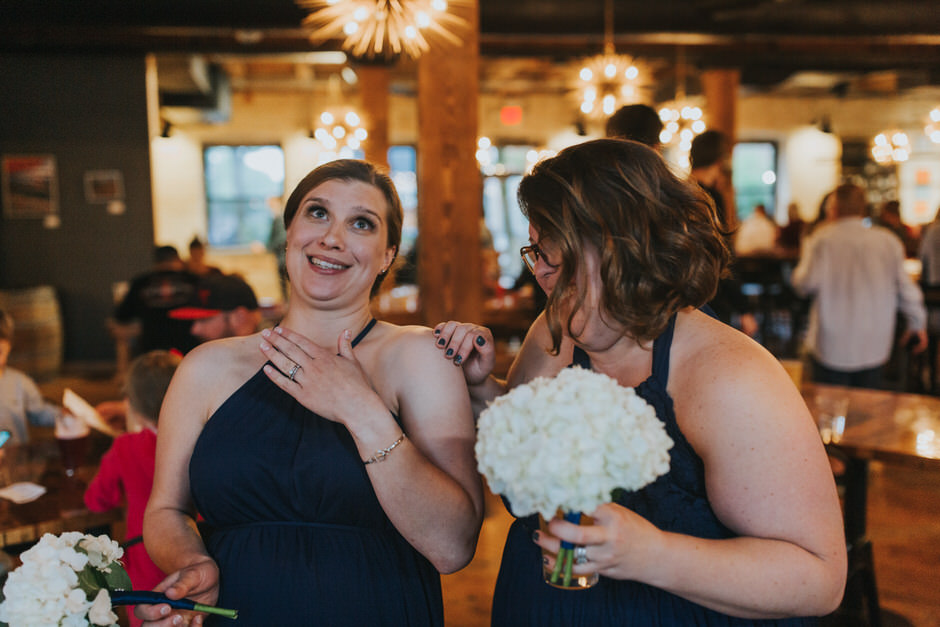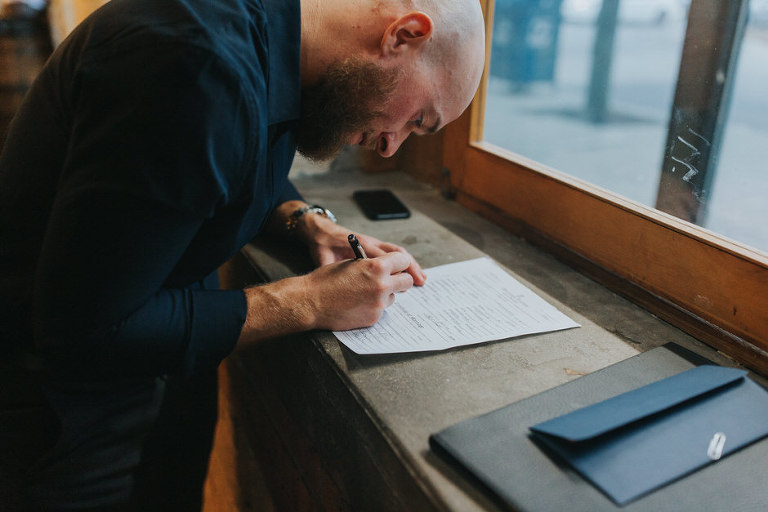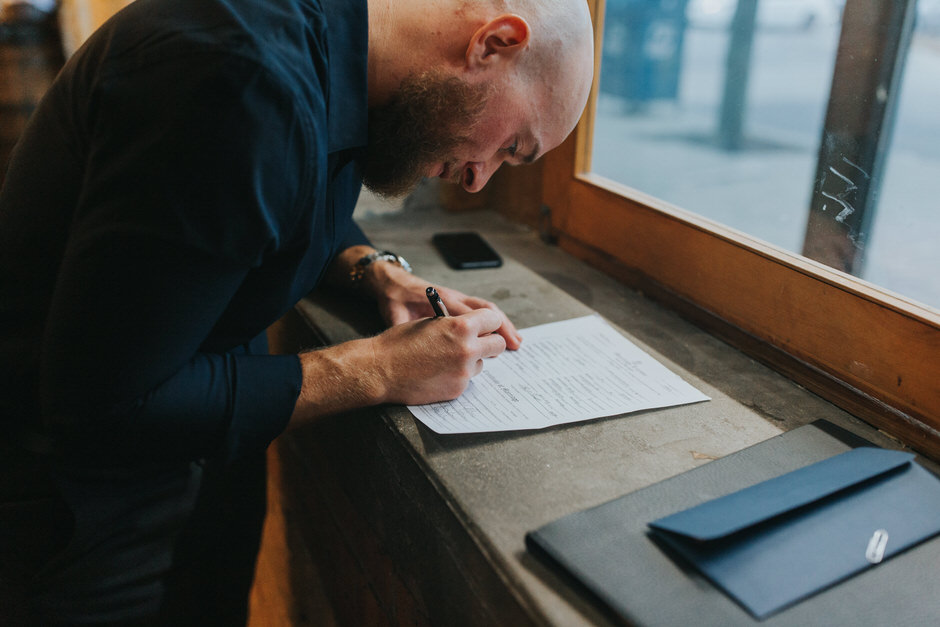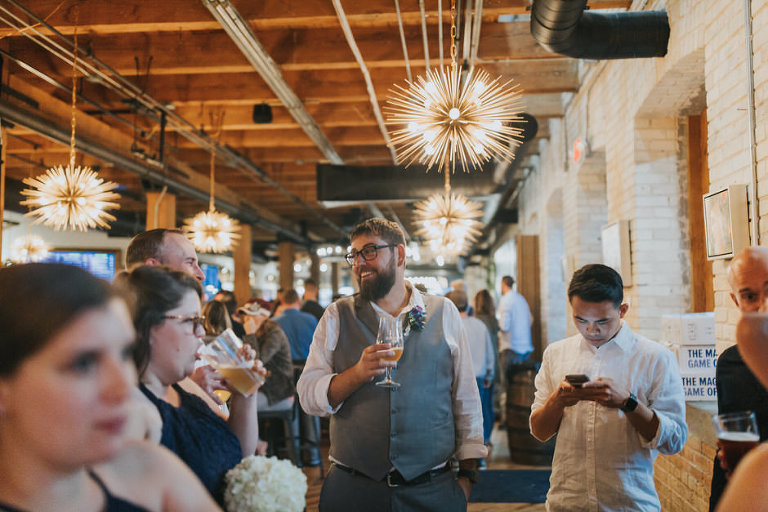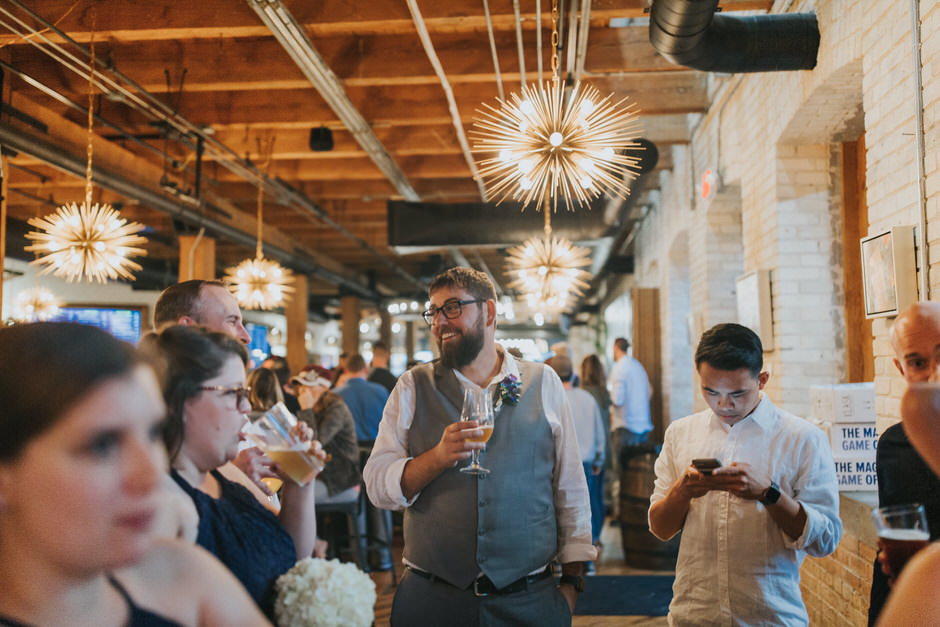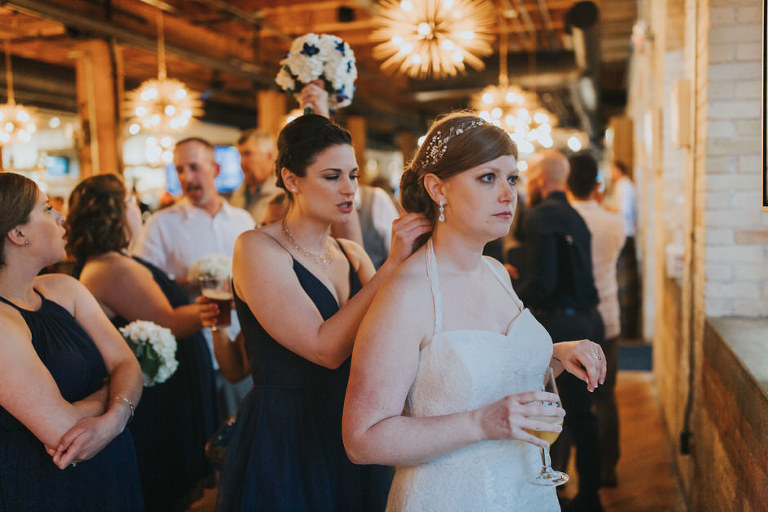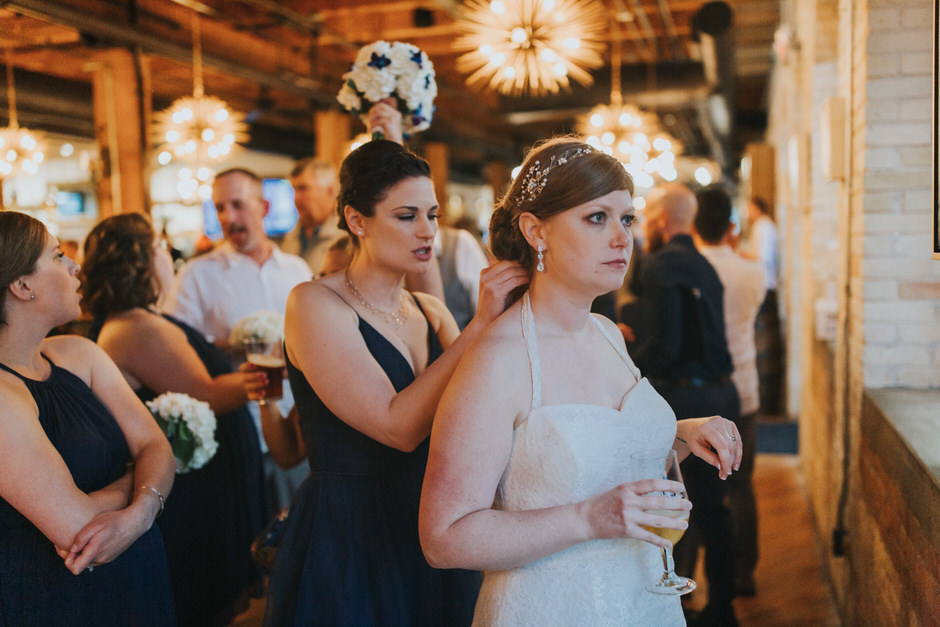 The Decor: 
We're avid Doctor Who fans, and our inner nerds couldn't resist sprinkling fantastic hints of the Doctor throughout the event… but avoided anything over-the-top obvious. Our colors were Tardis (navy) blue, light gray and white, and strayed towards a "rustic" / "starry night" theme that was mostly DIY: mason jars filled with fairy lights, navy burlap table runners, and fun wood-based signage accents. Our orchid and hydrangea flower choices were based partially on Renee's obsession with orchids but mostly what fit within the budget — Linda from Thrifty Florist was immensely helpful when it came to making budget-friendly recommendations that were still in line with our Pinterest inspiration photos!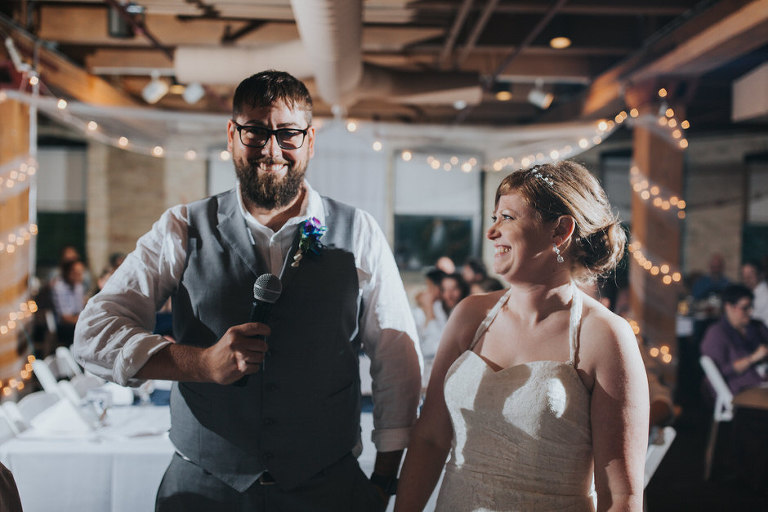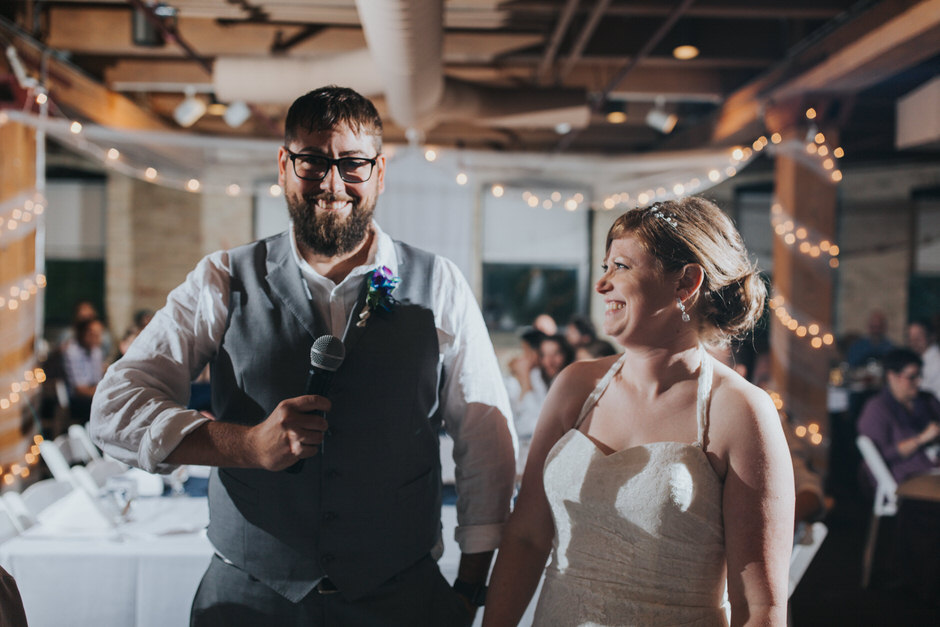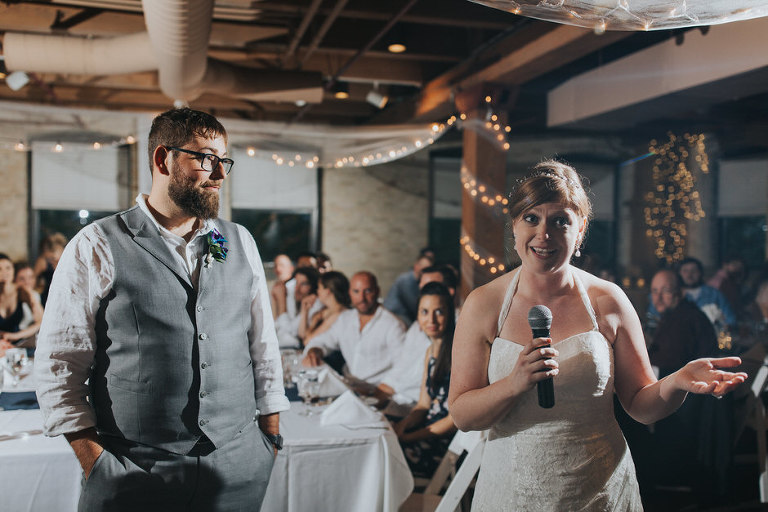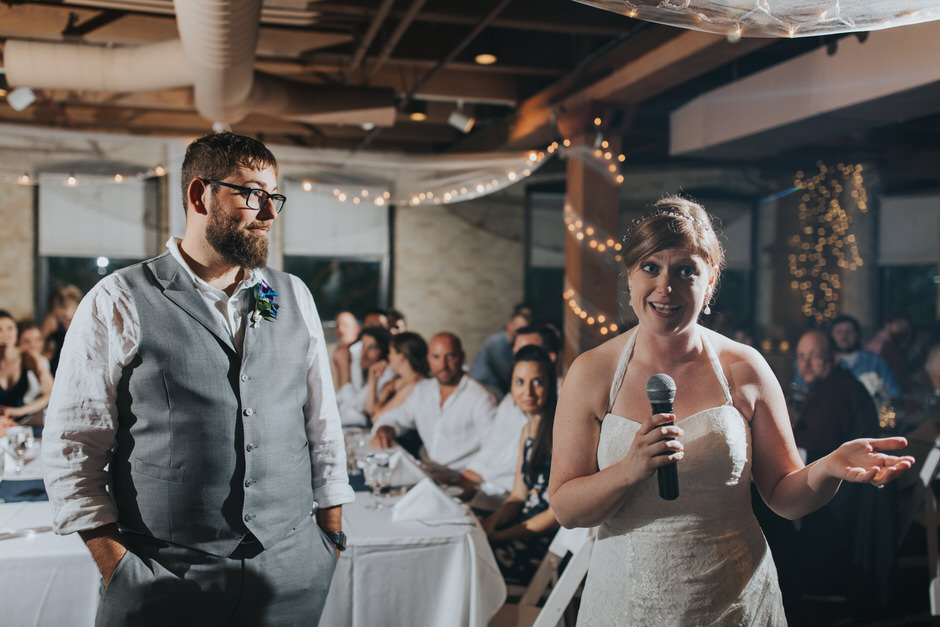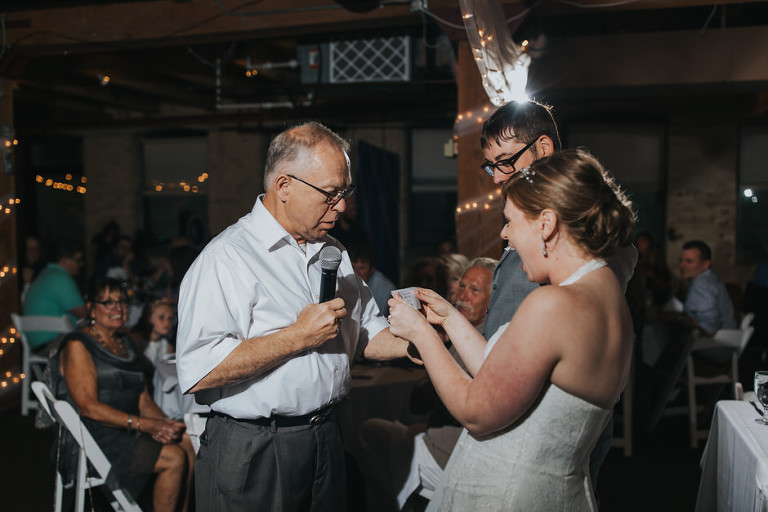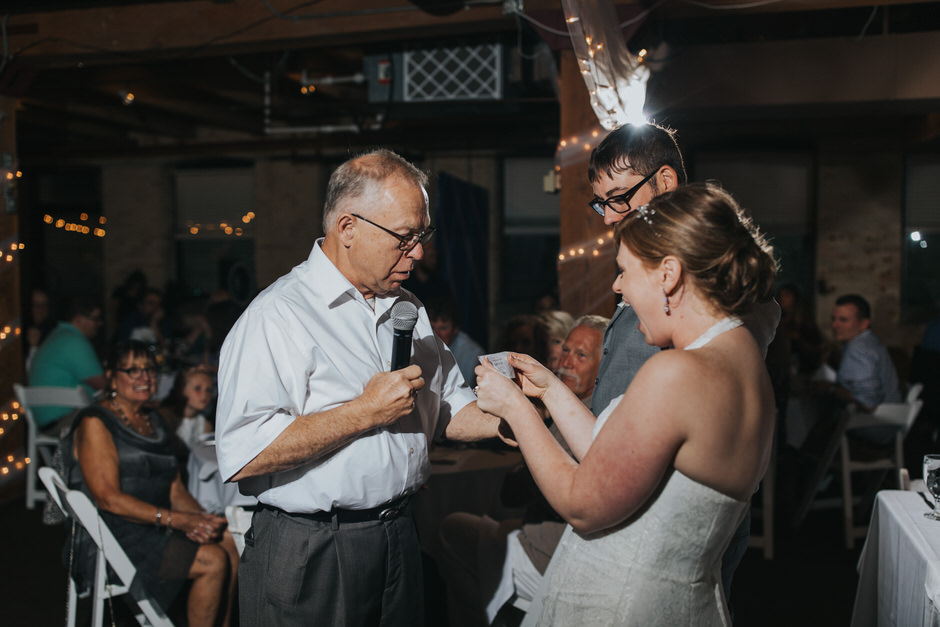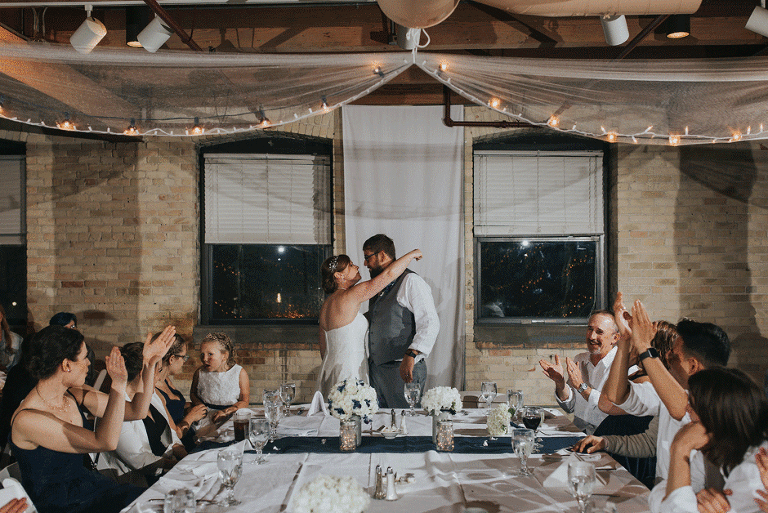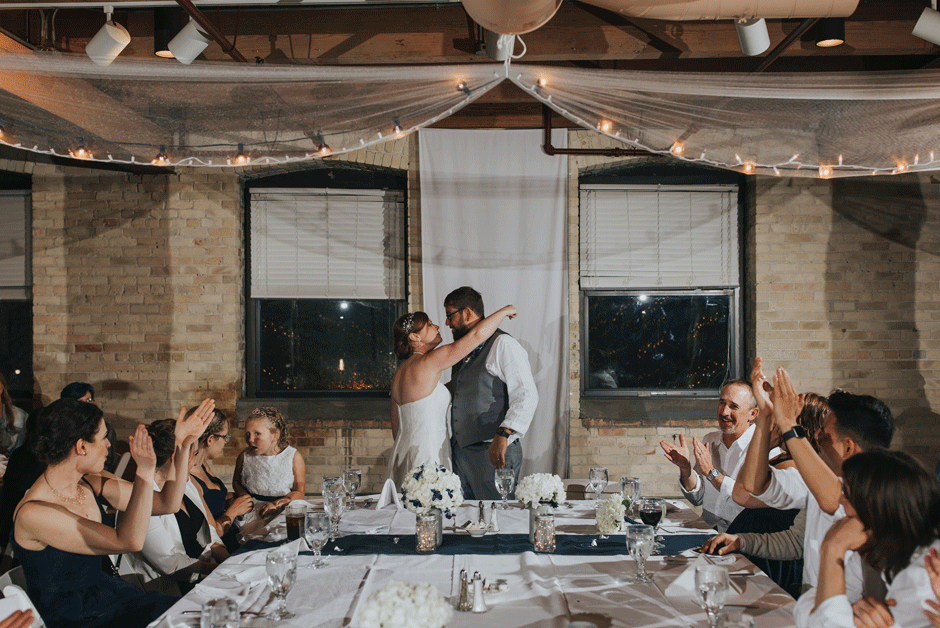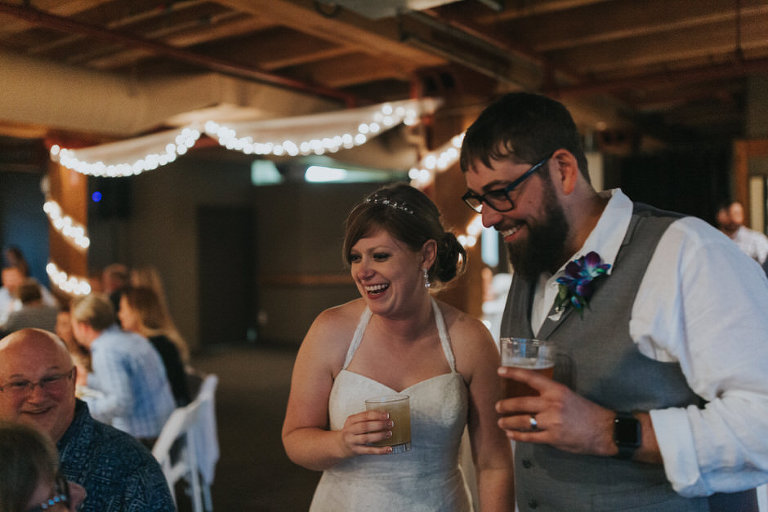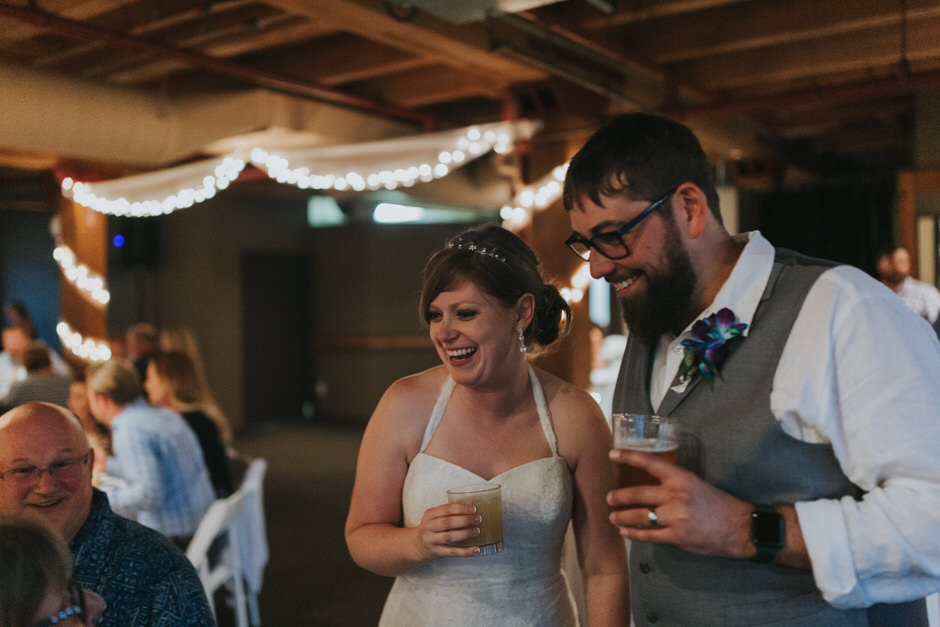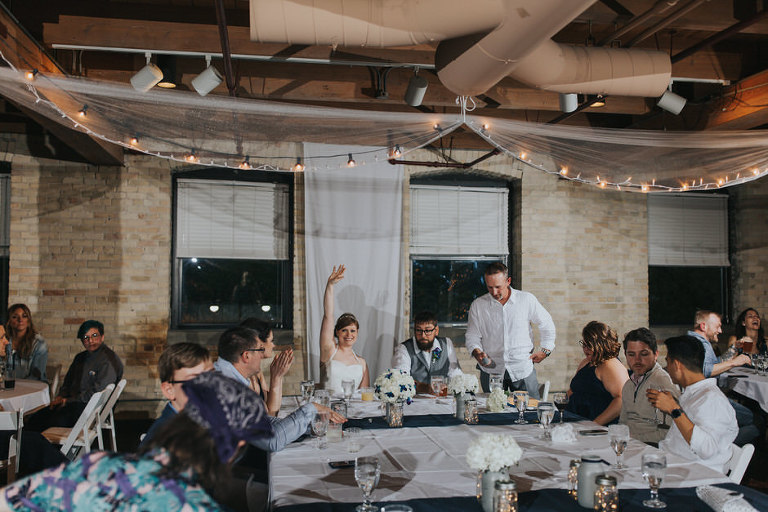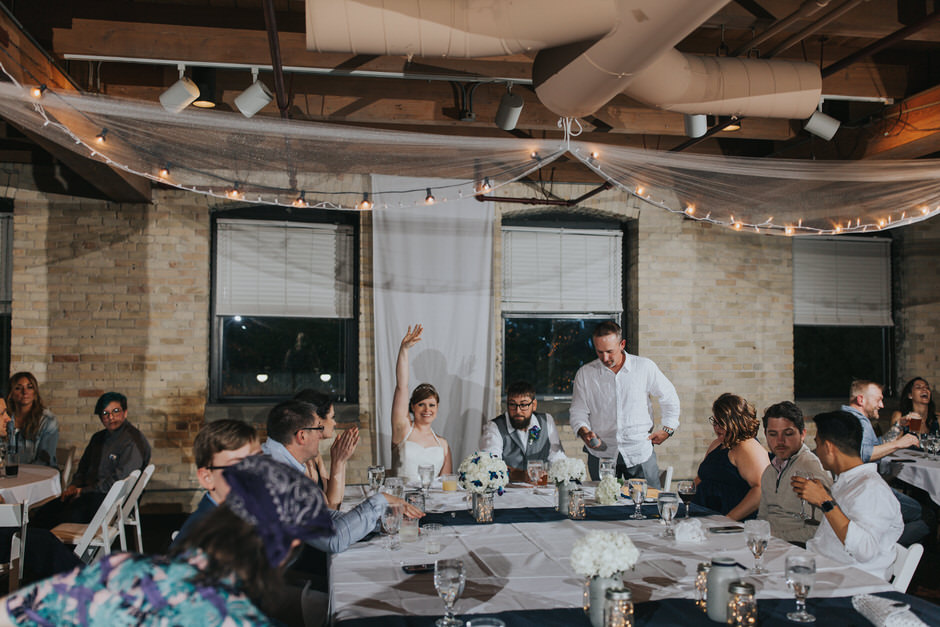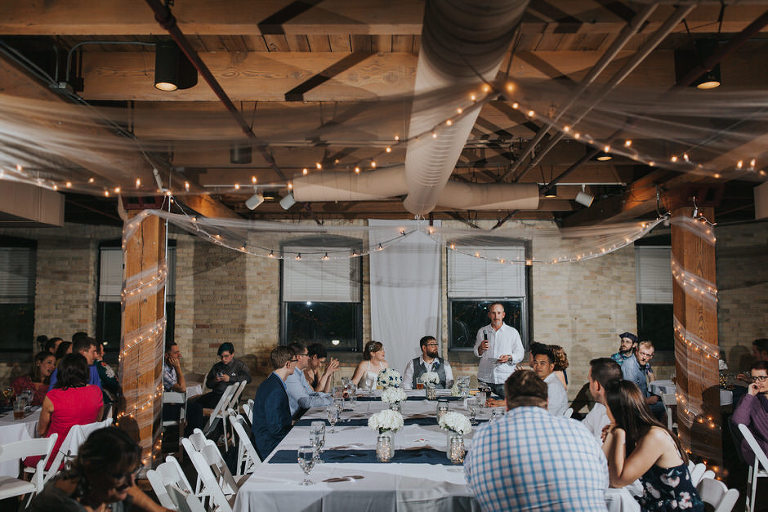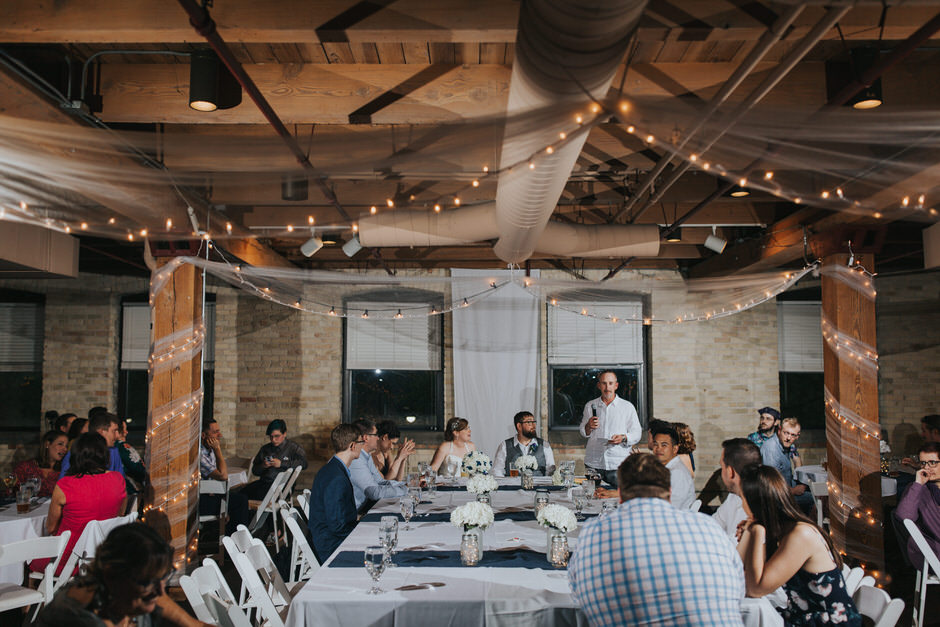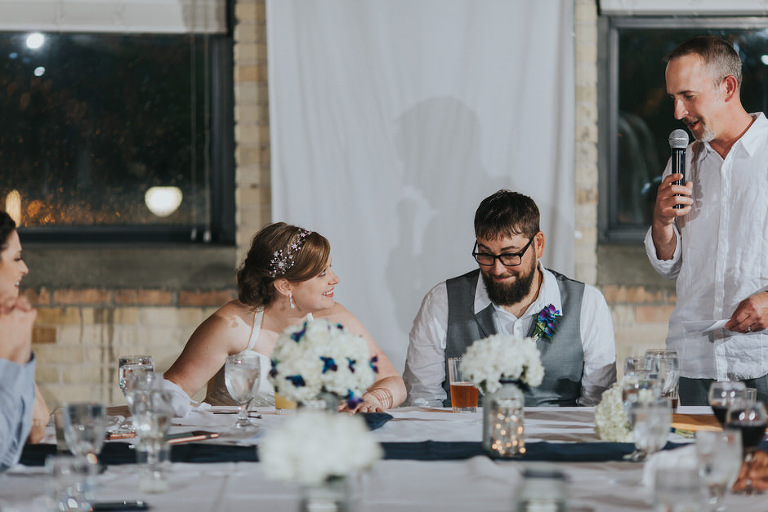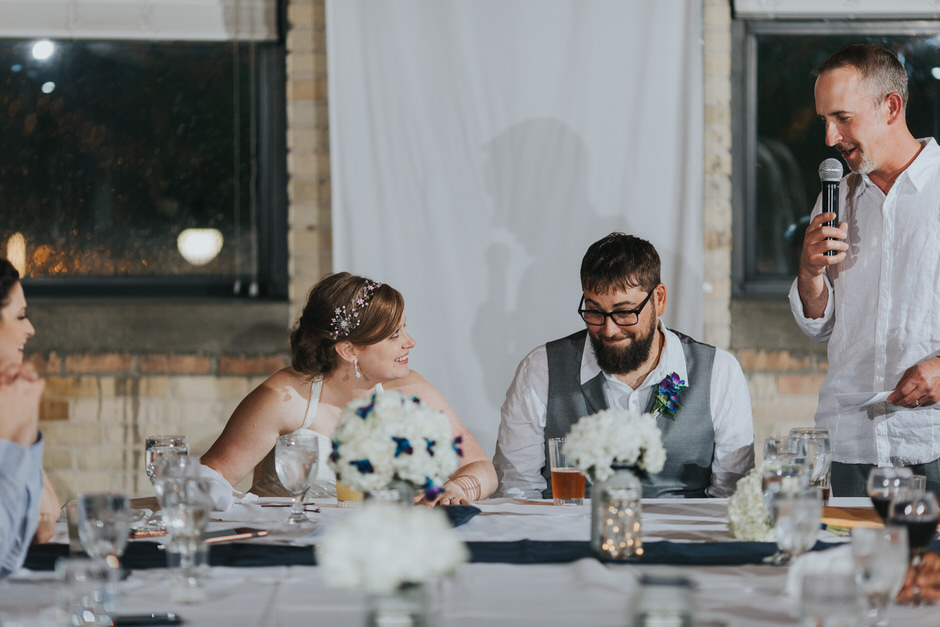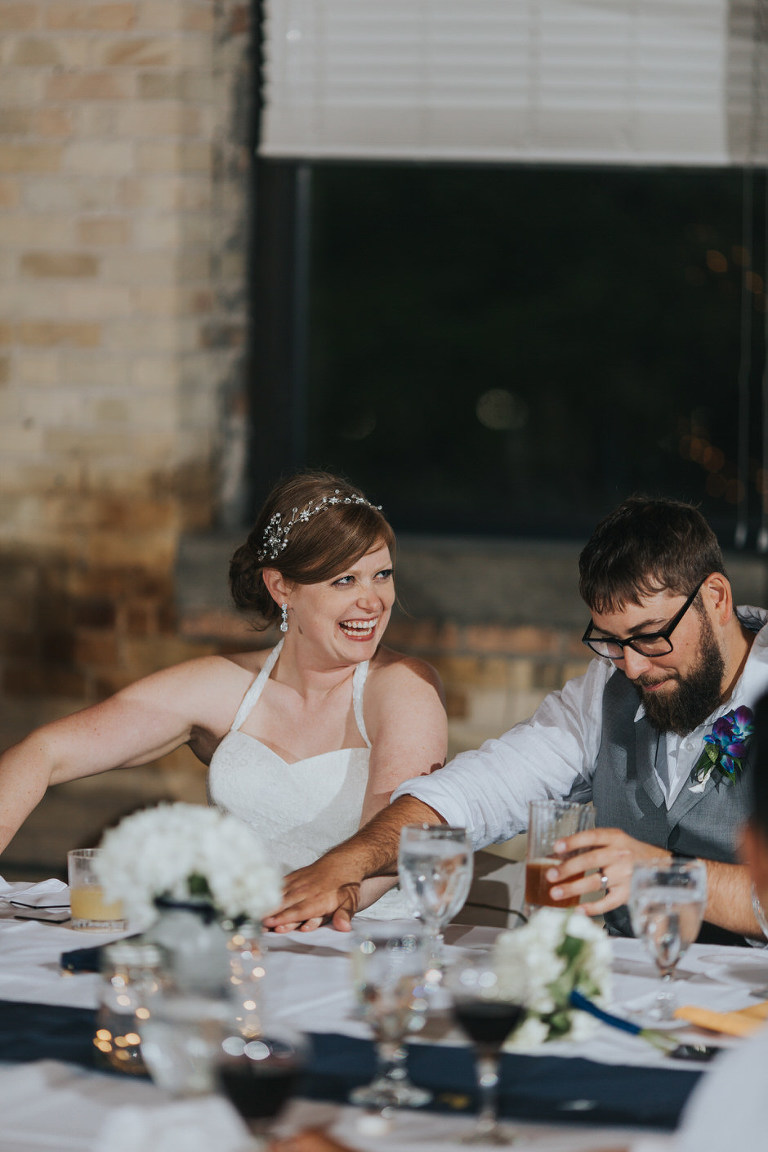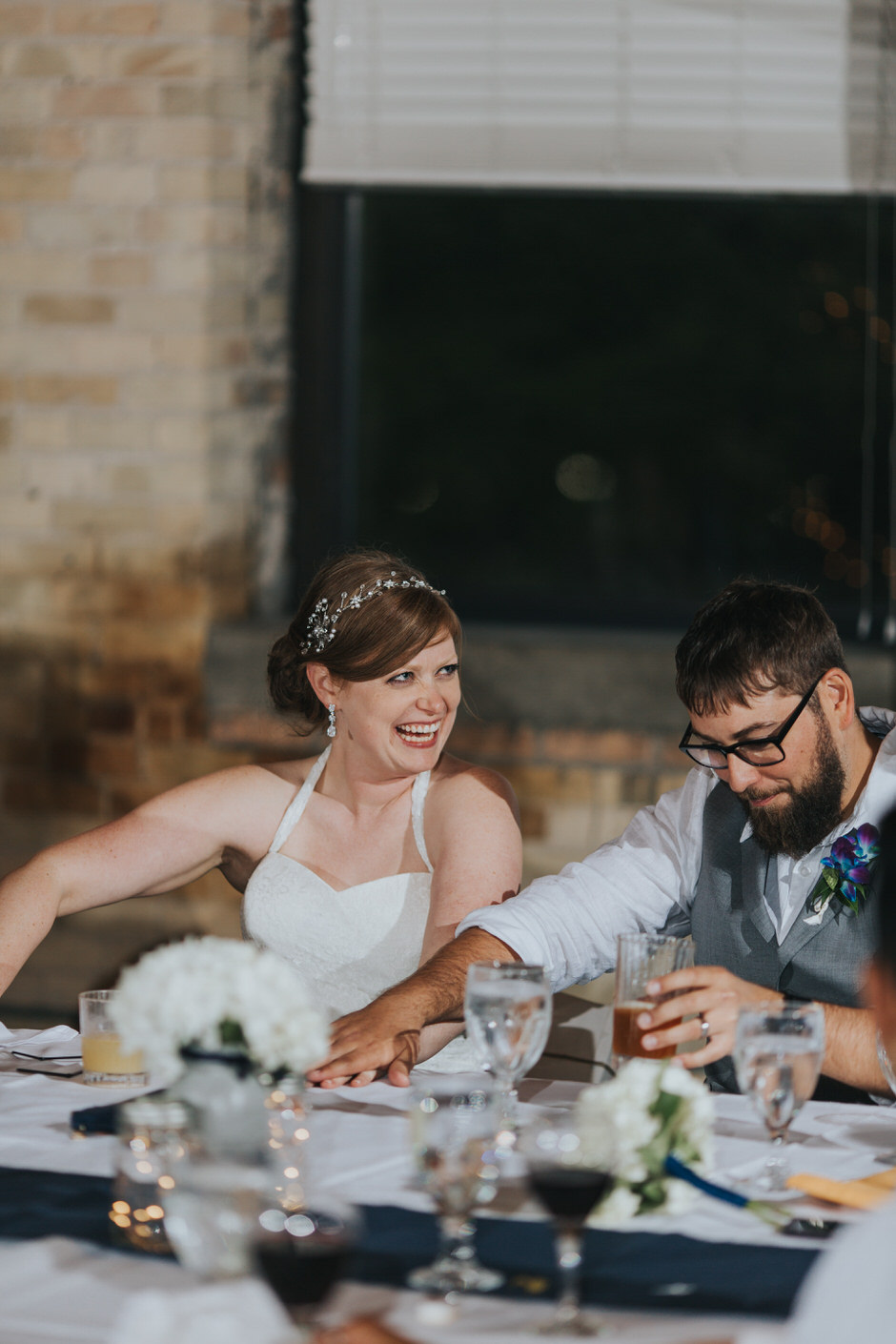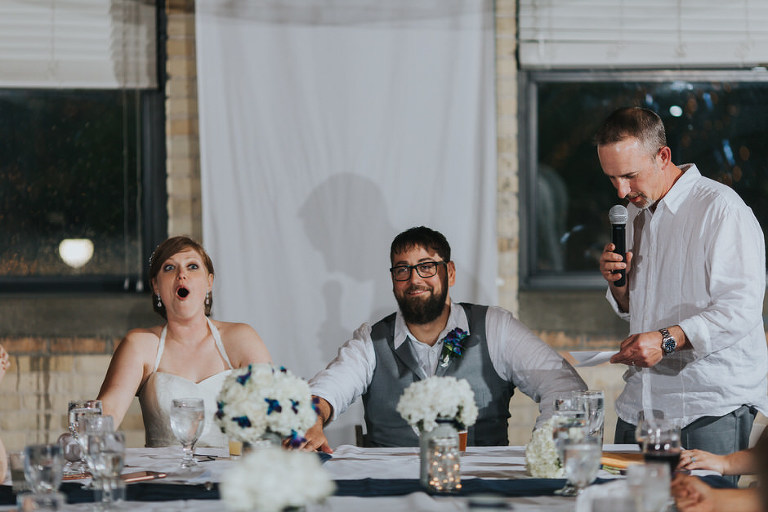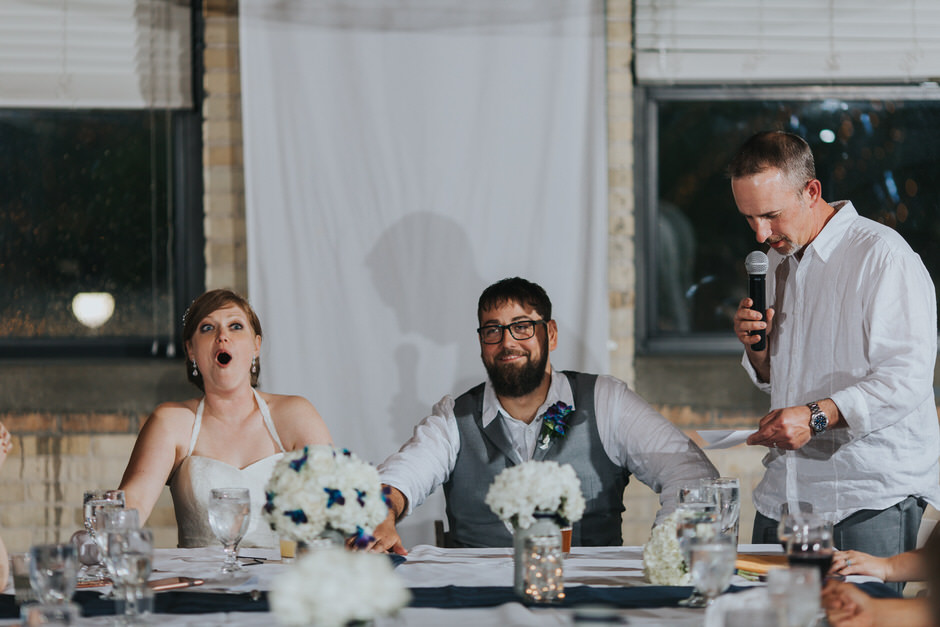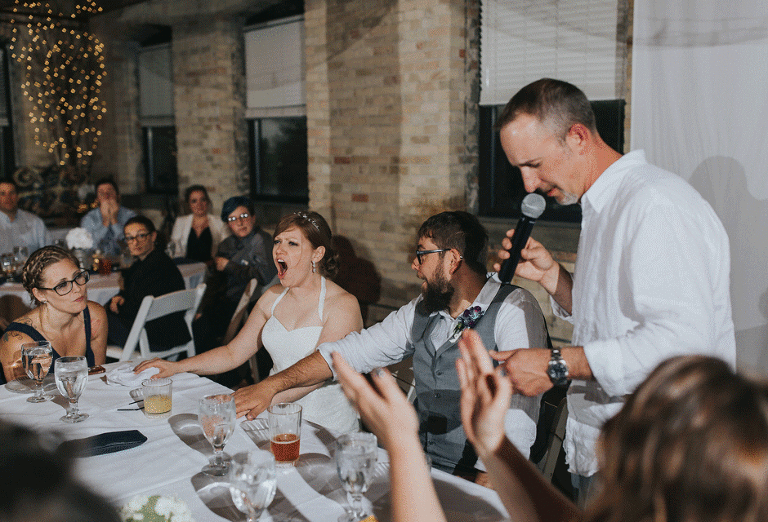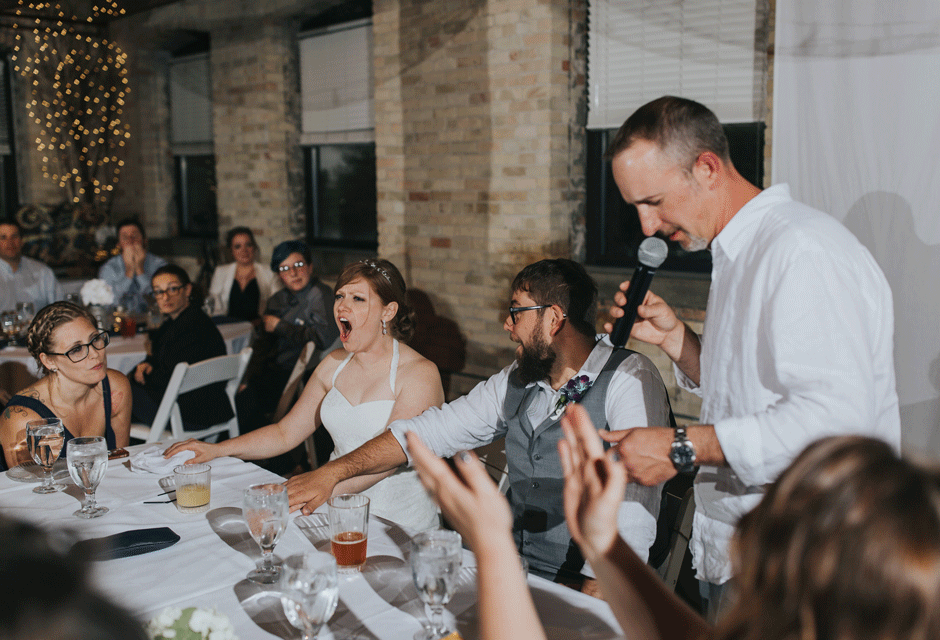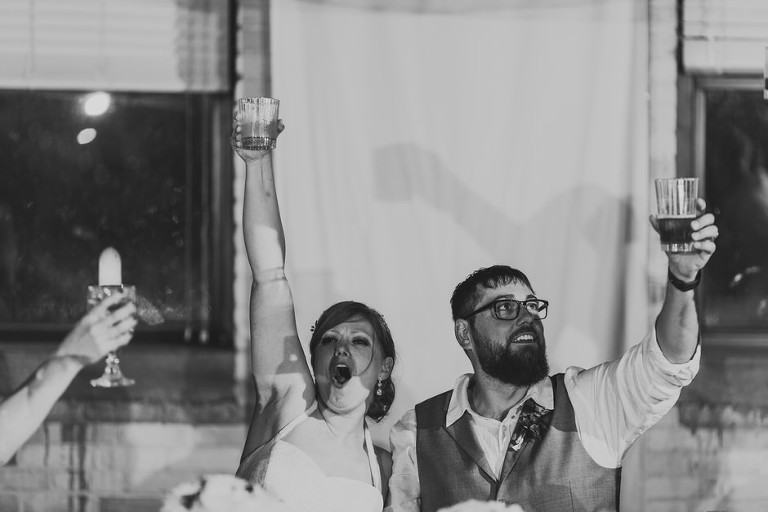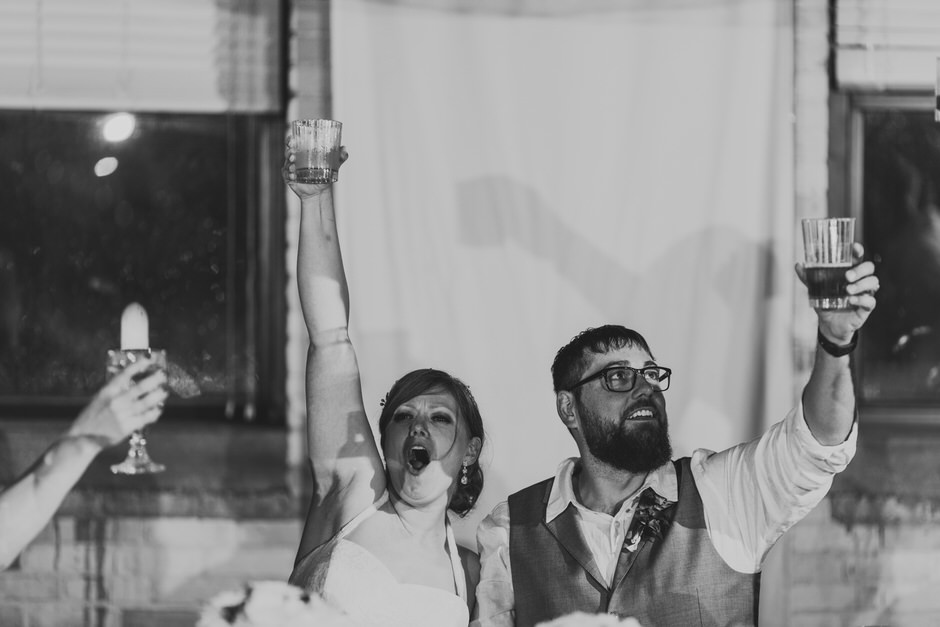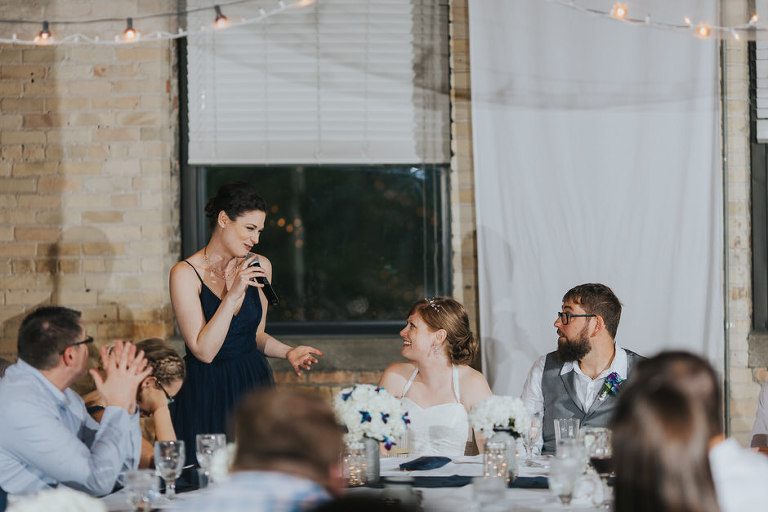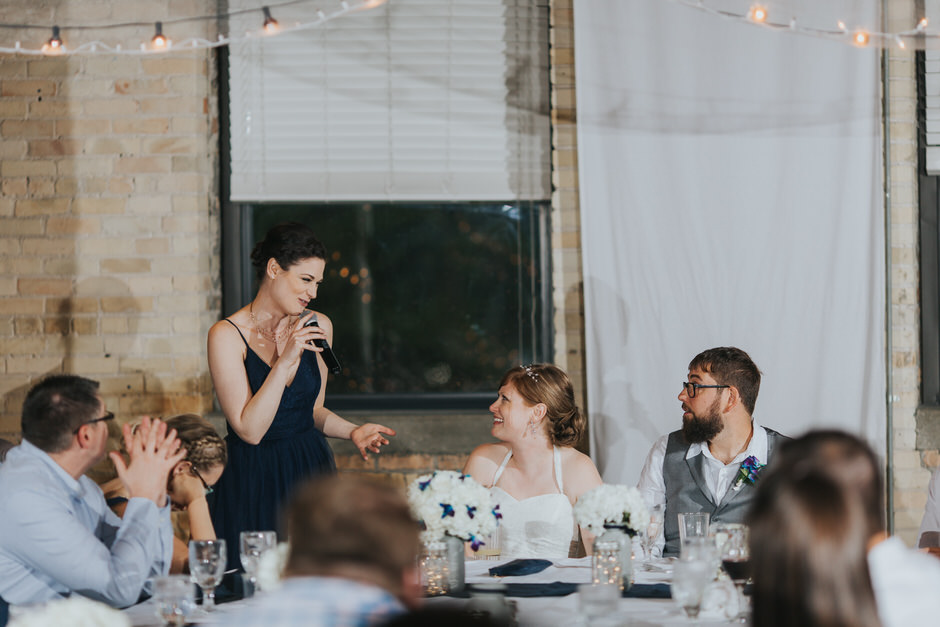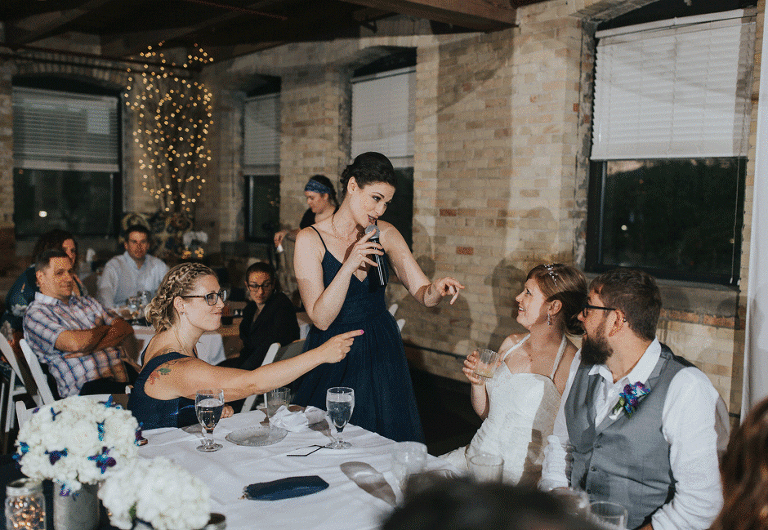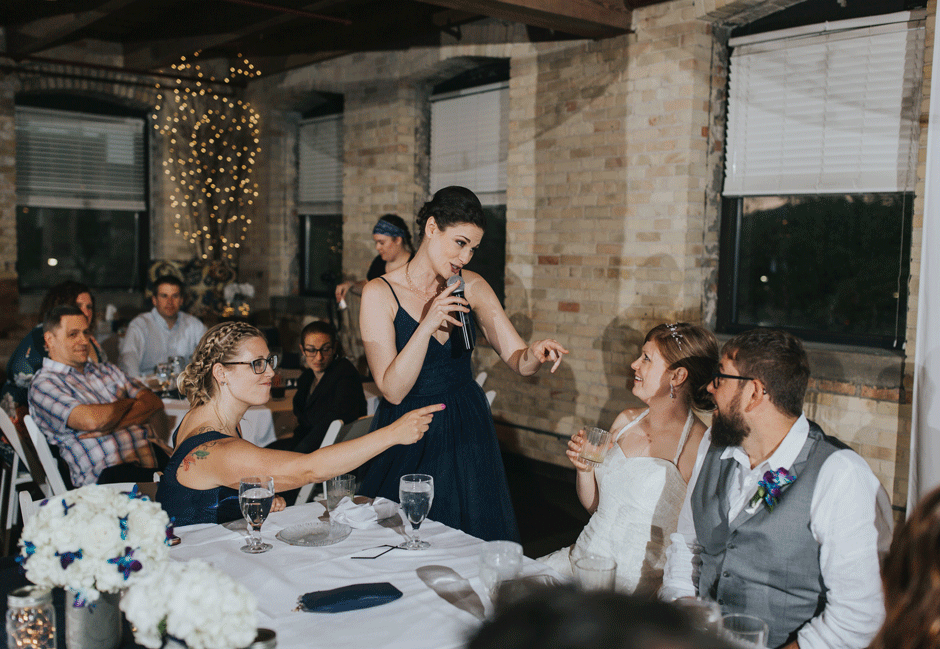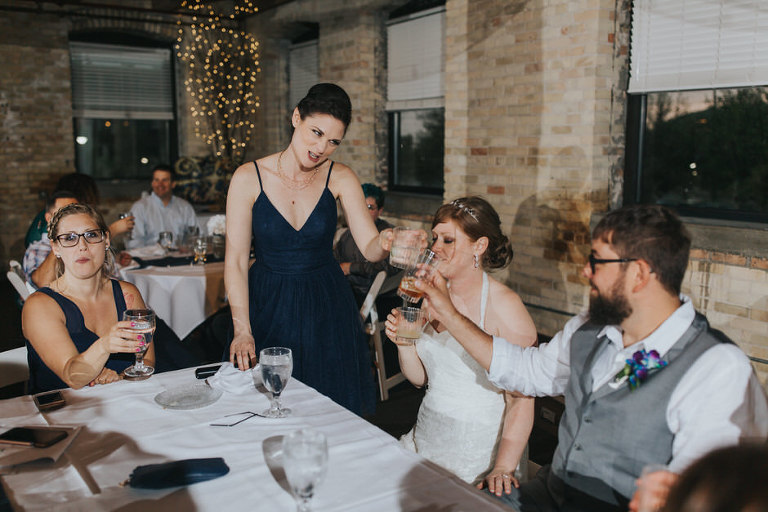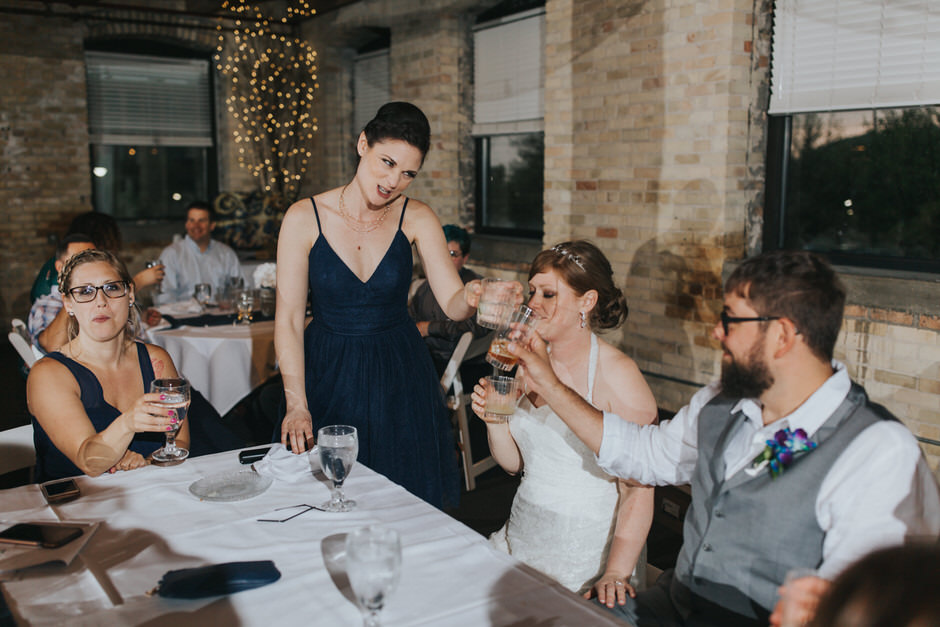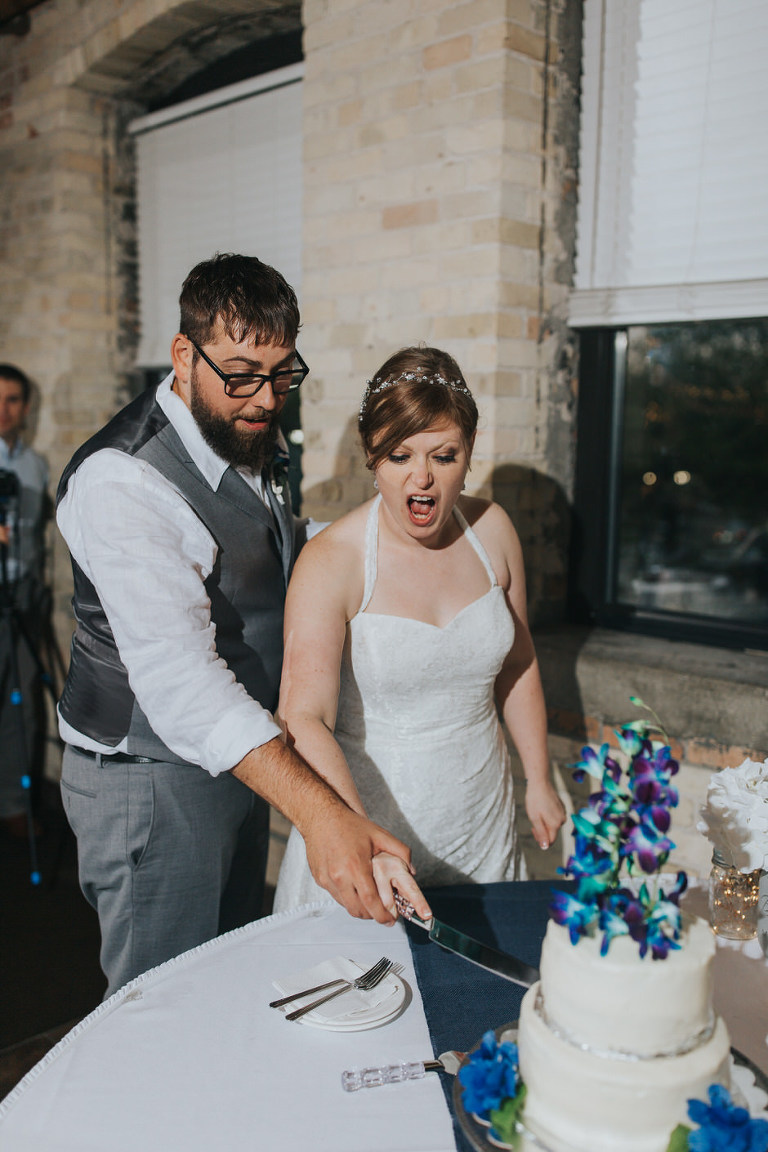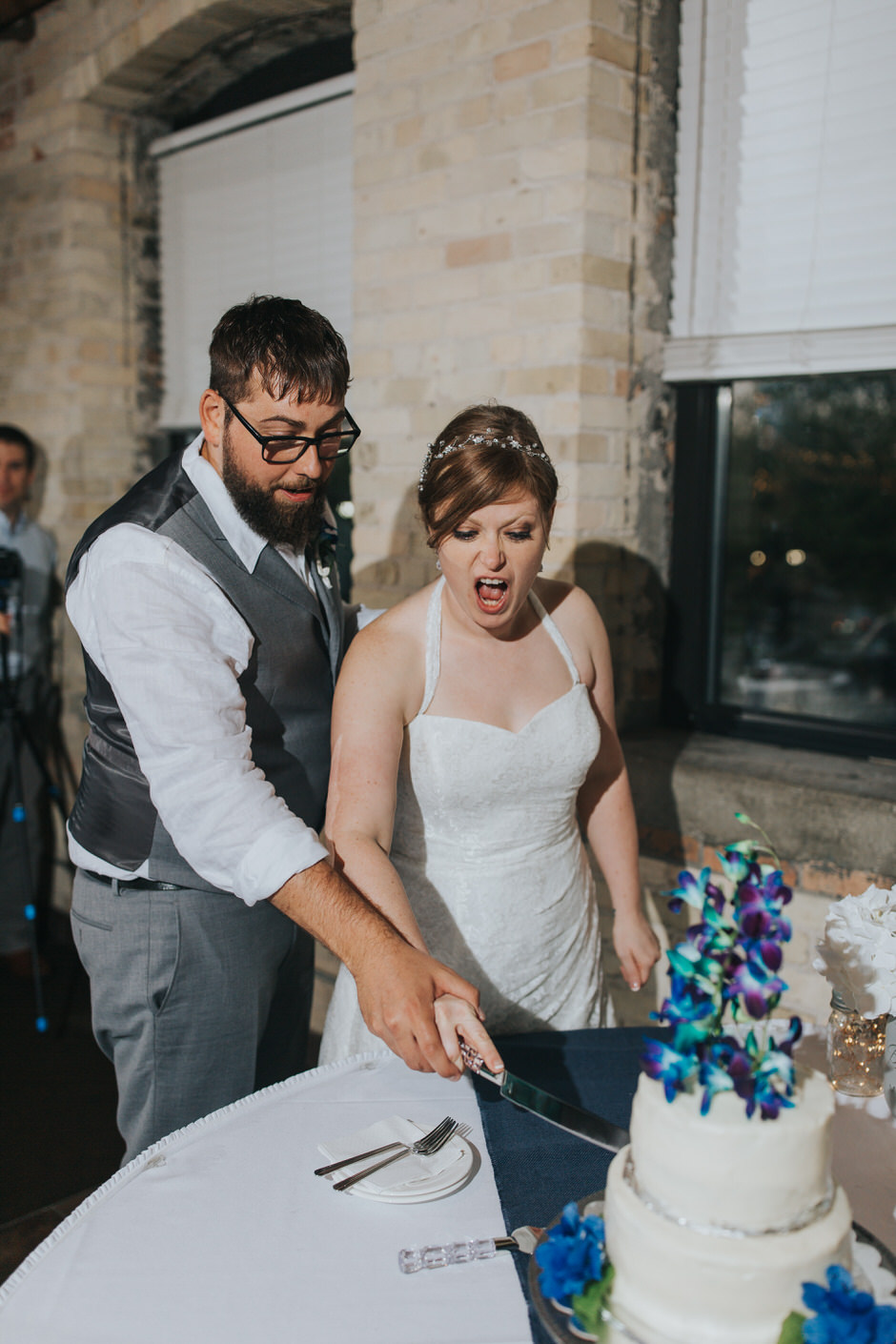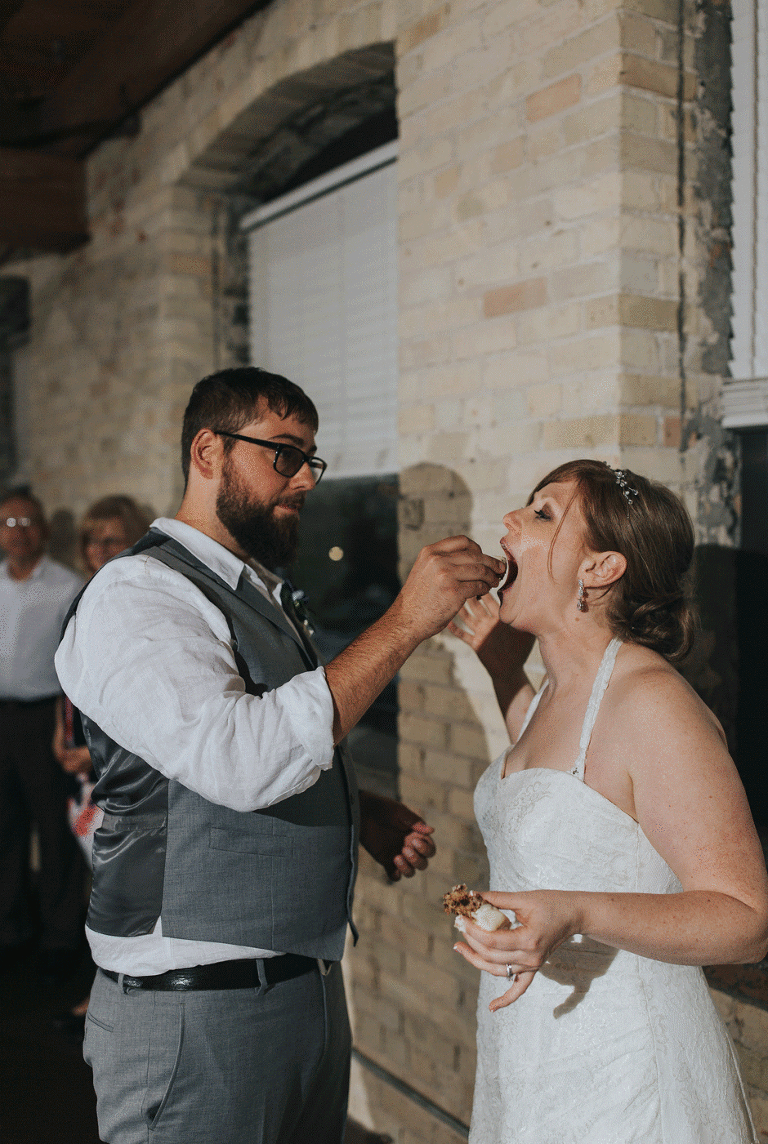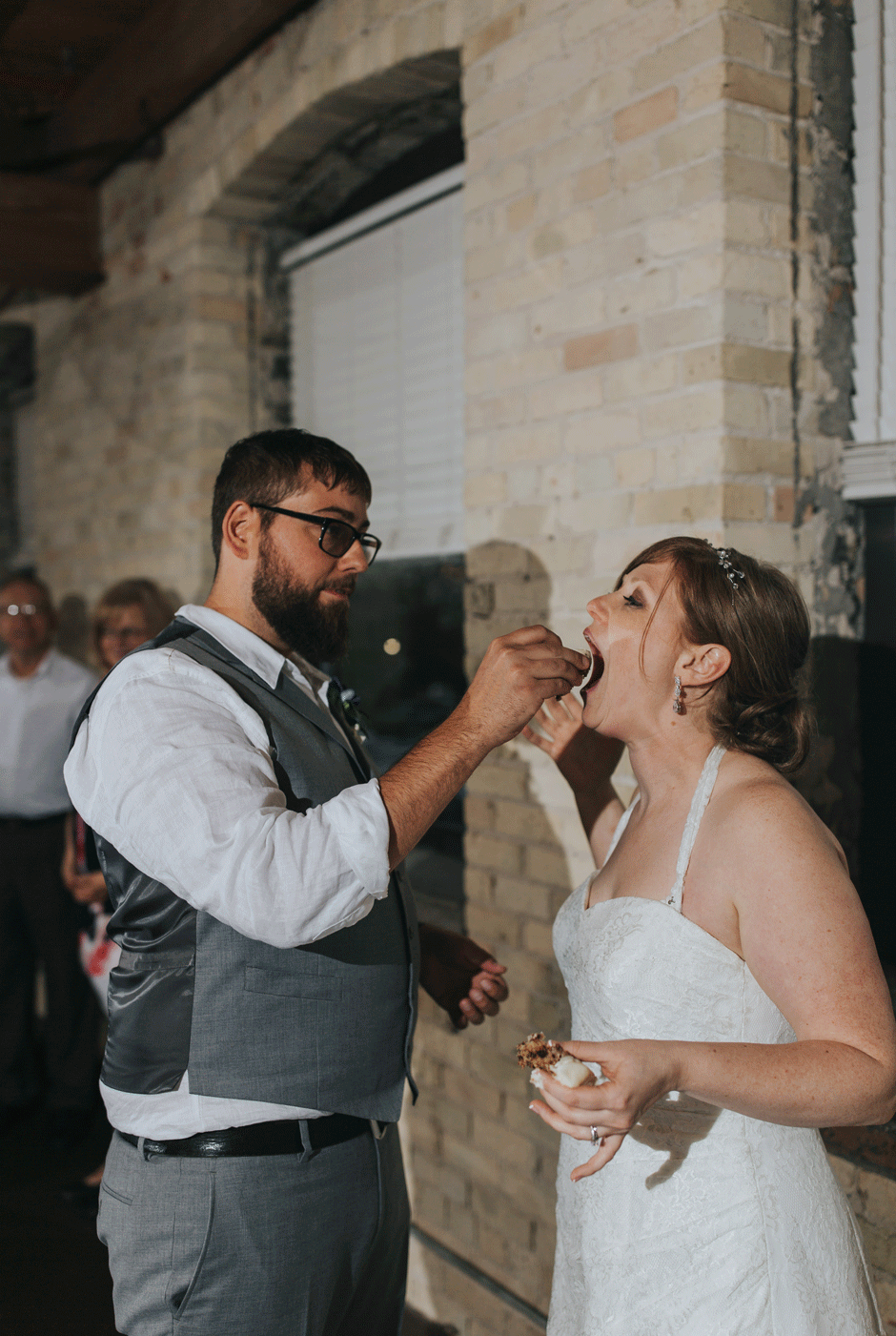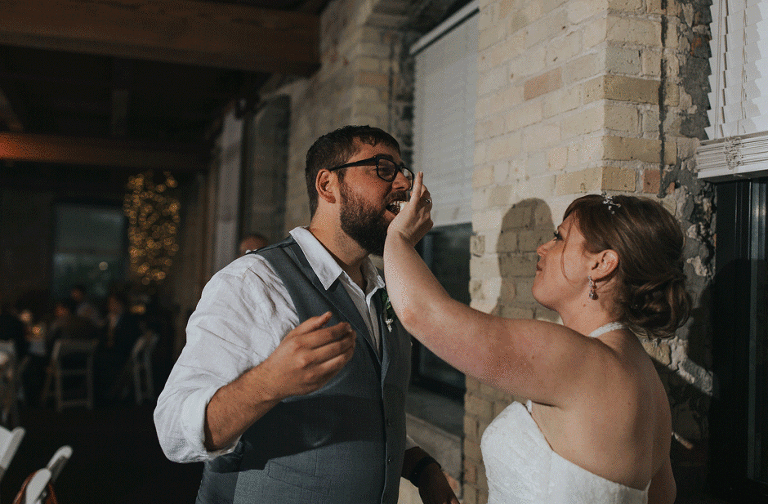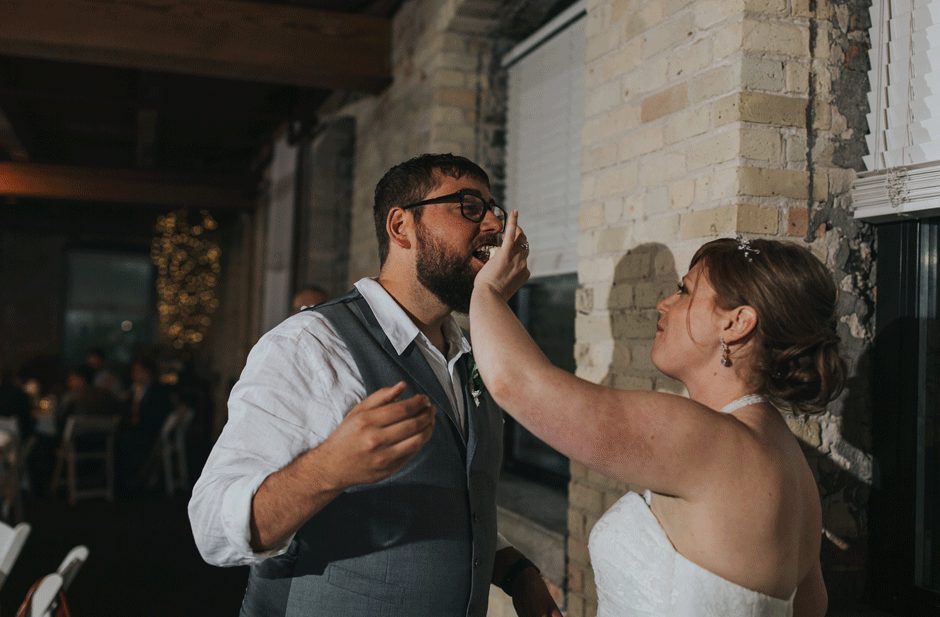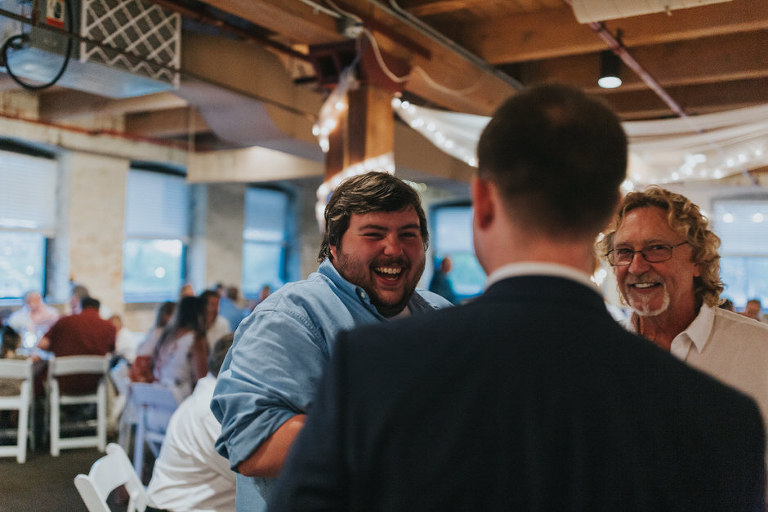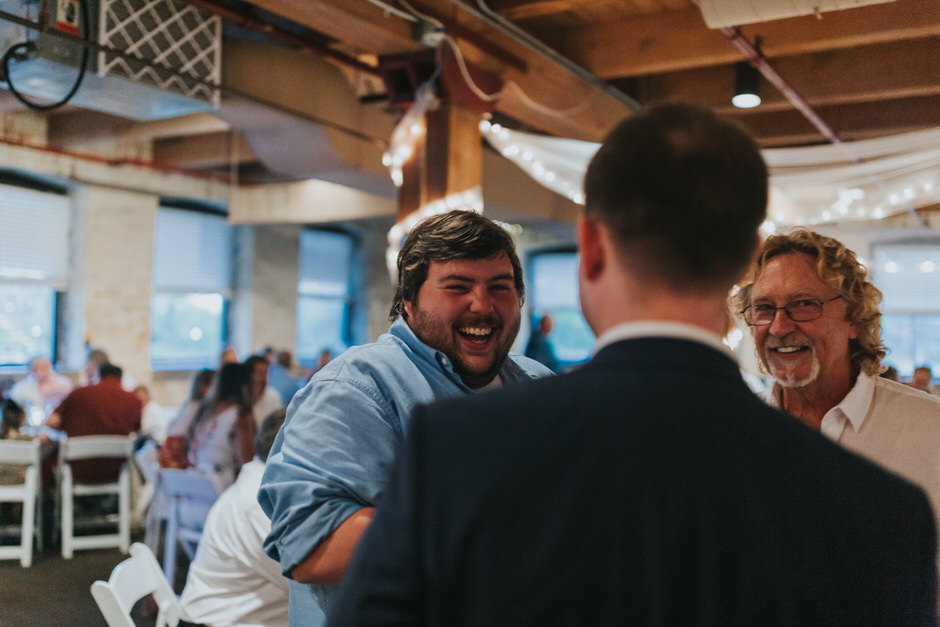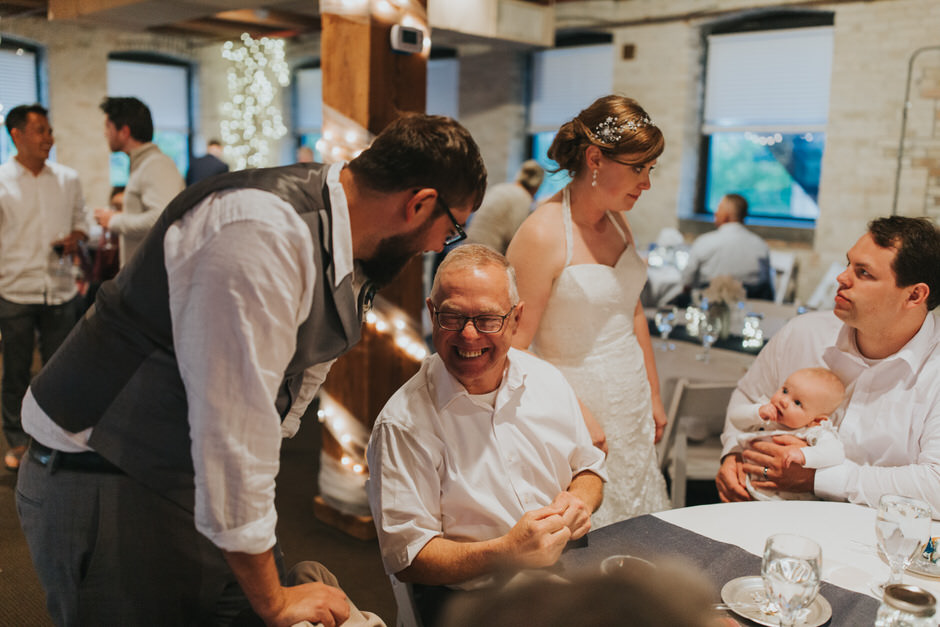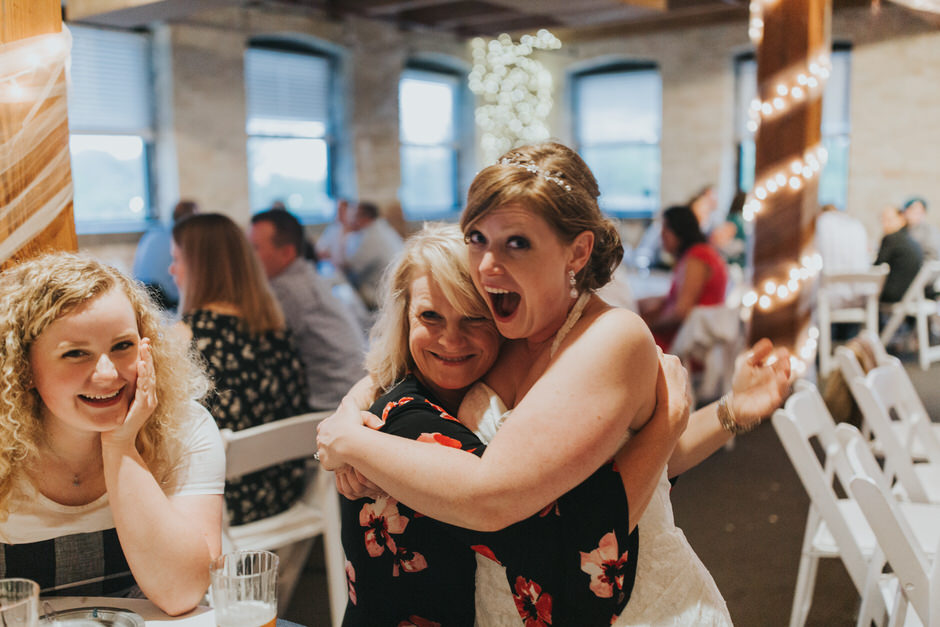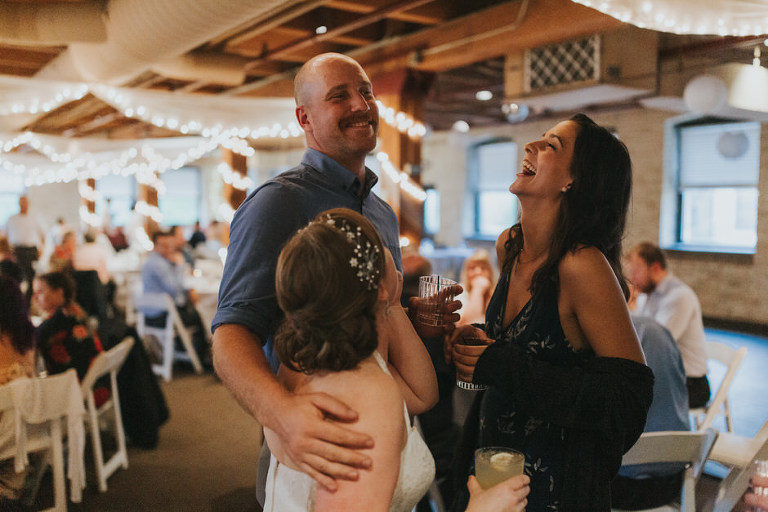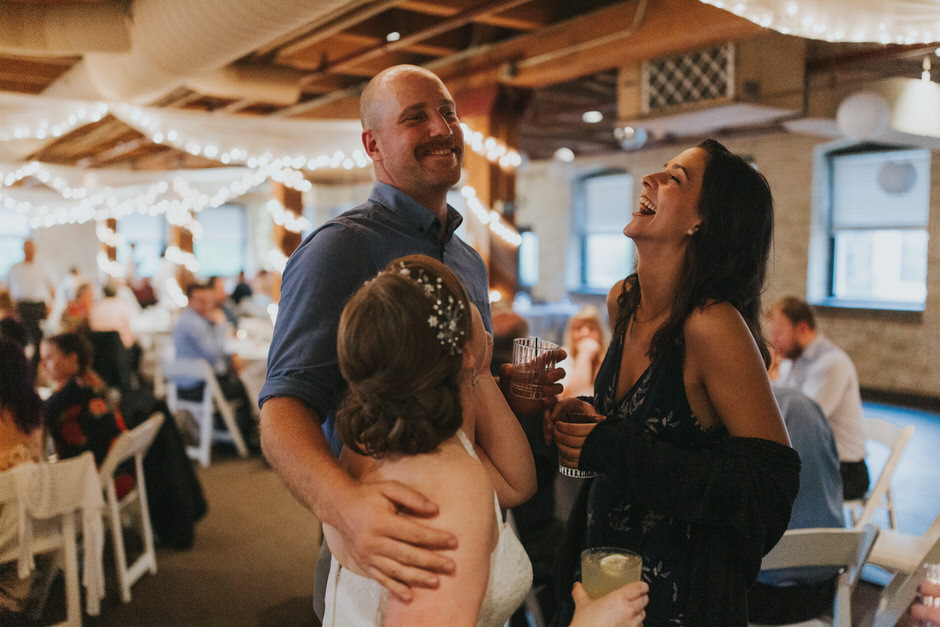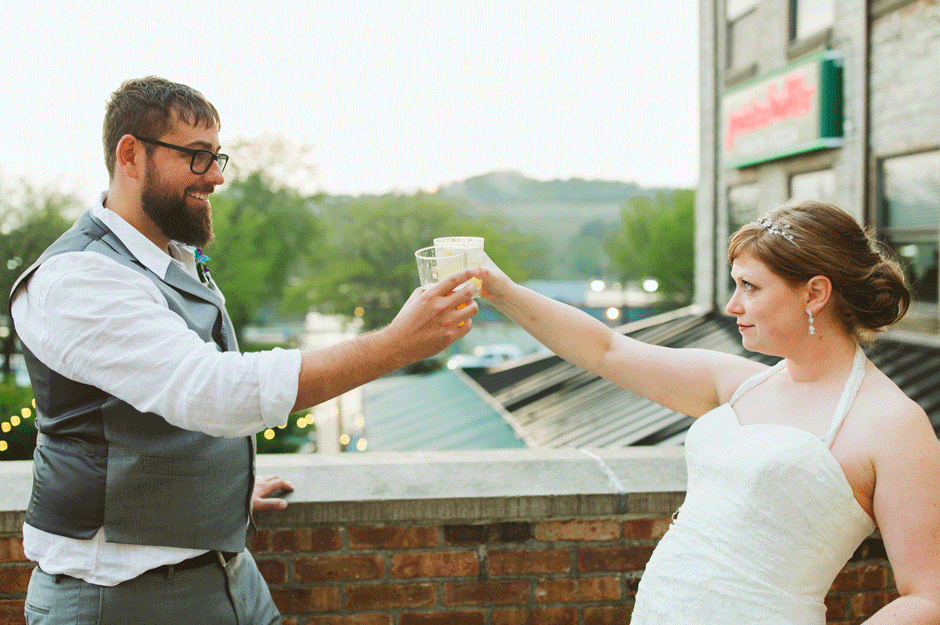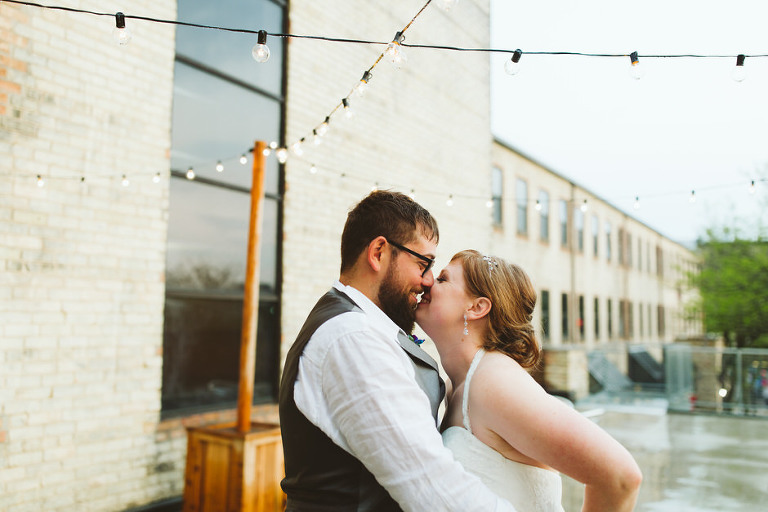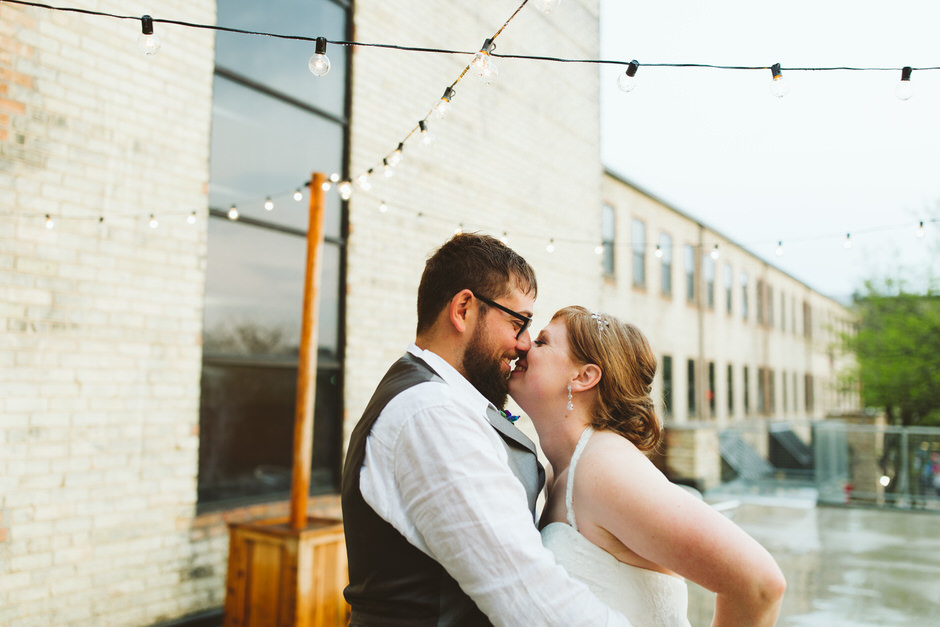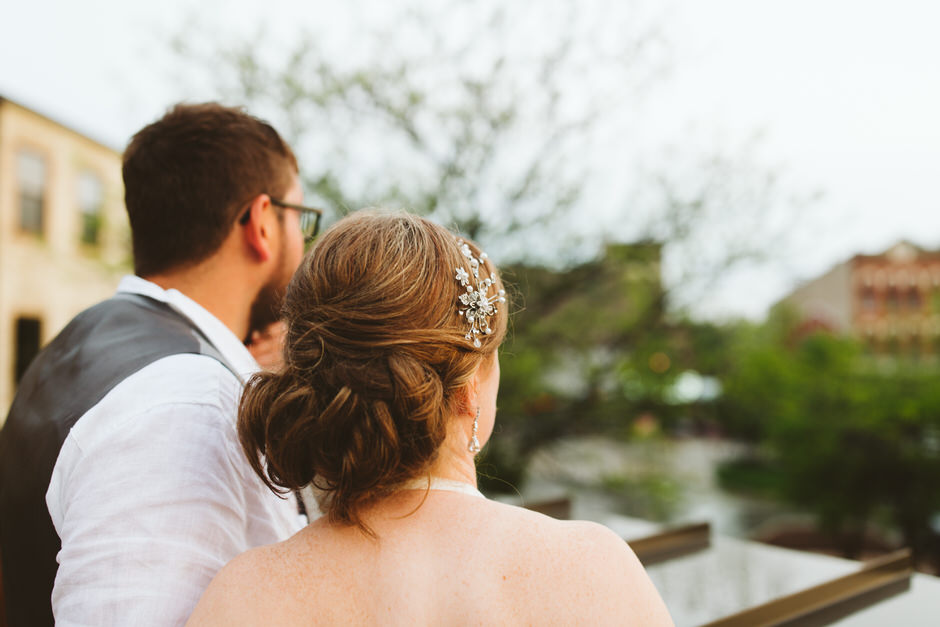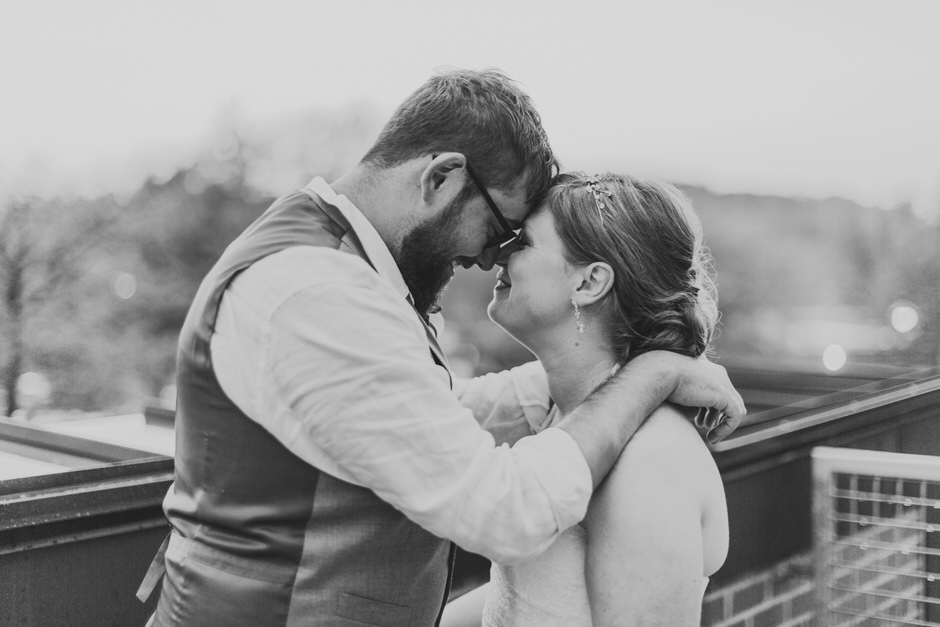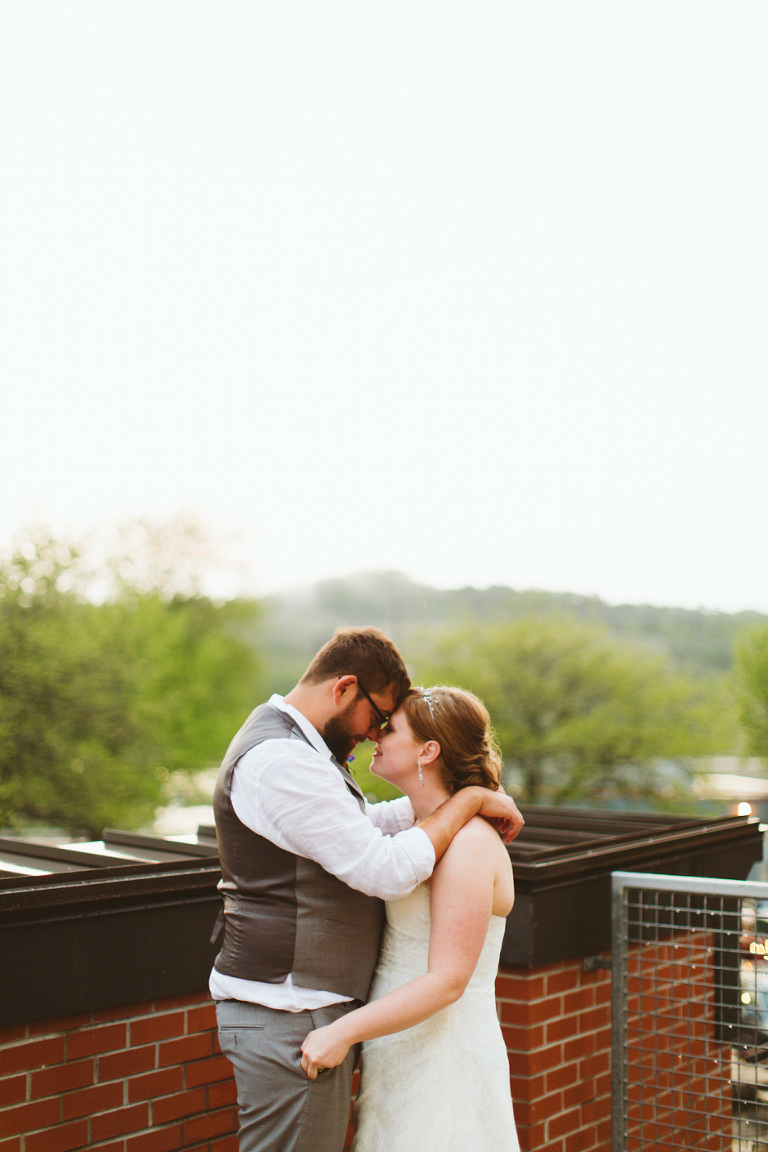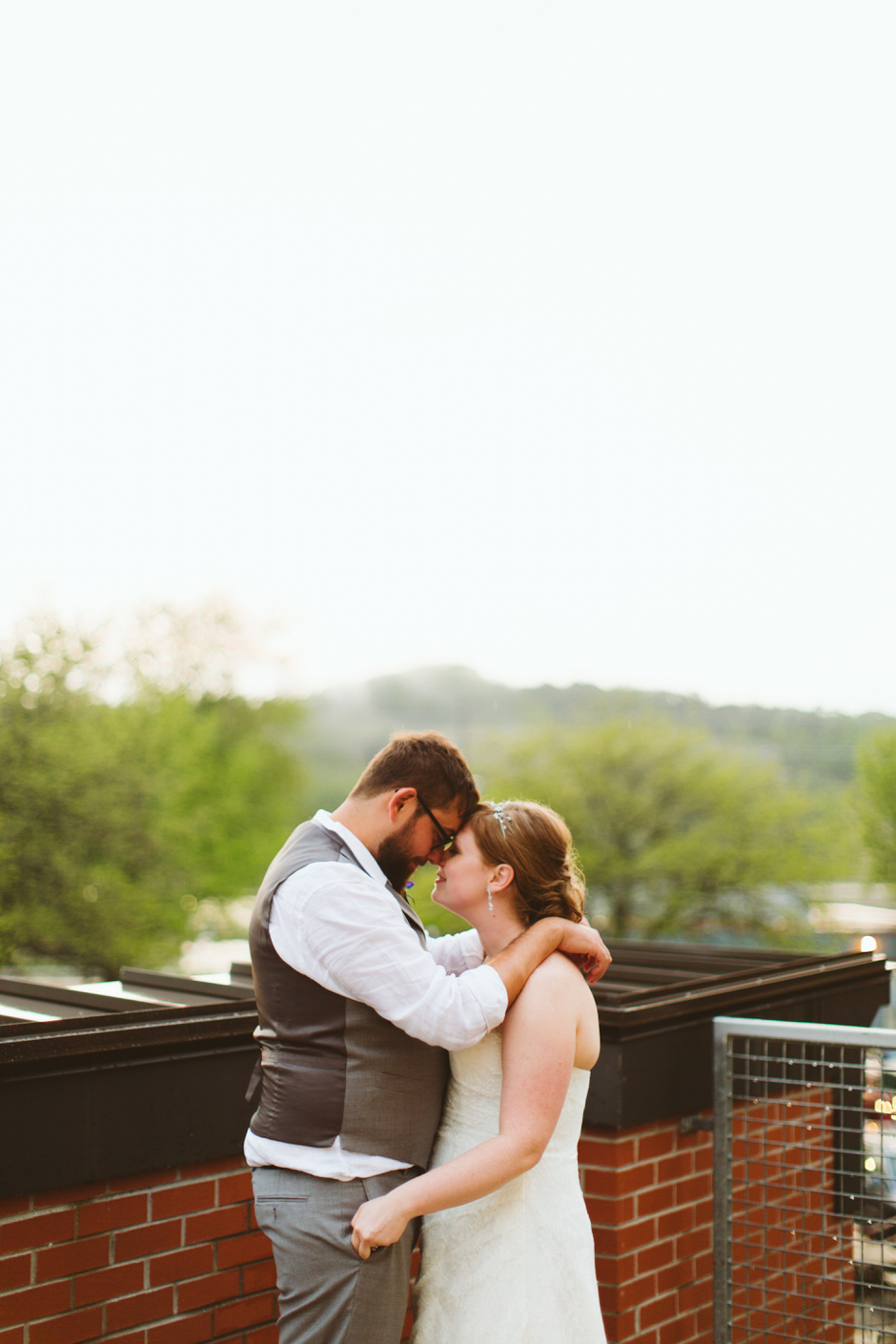 Reception/Dancing/Music: 
Our wicked awesome party was a huge success, according to the stories we've heard since! Our dinner buffet was delicious, the drinks kept flowing and the music kept everyone dancing… We're huge 311 and Blink 182 fans, so our night wouldn't have been complete without a few of our favorite songs; our DJ from Mitten Entertainment read the crowds with ease and had us jammin' all night long.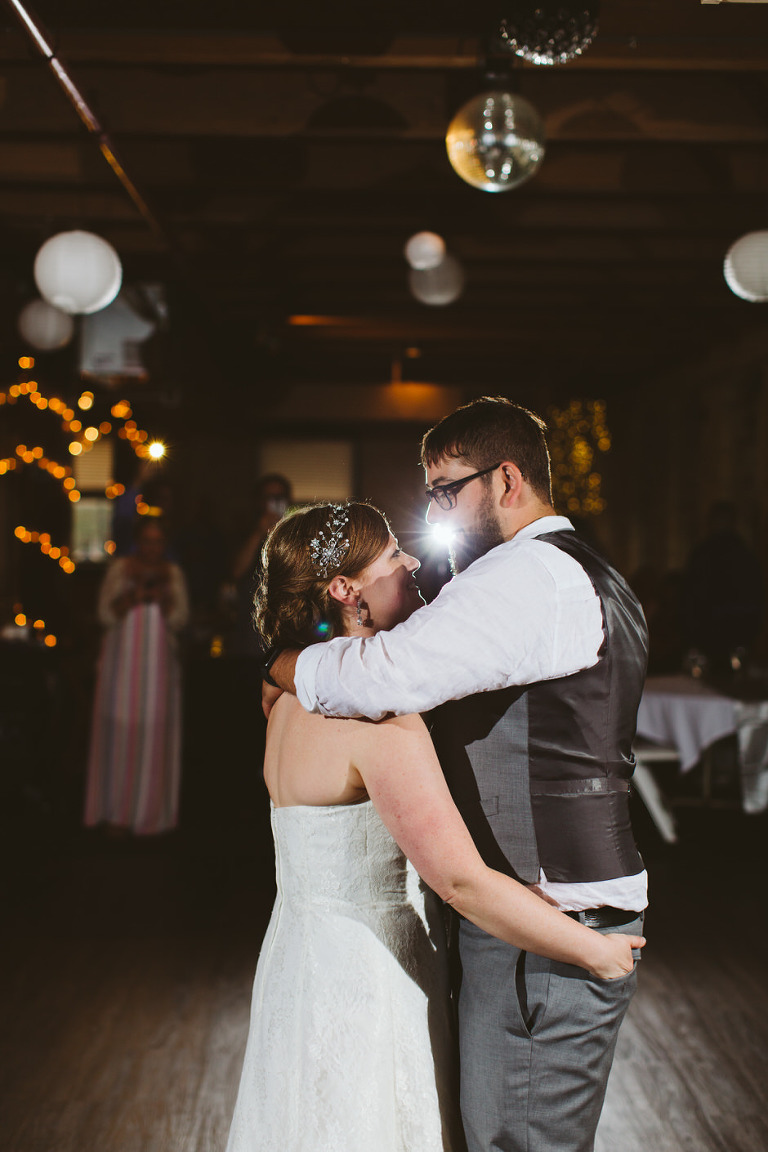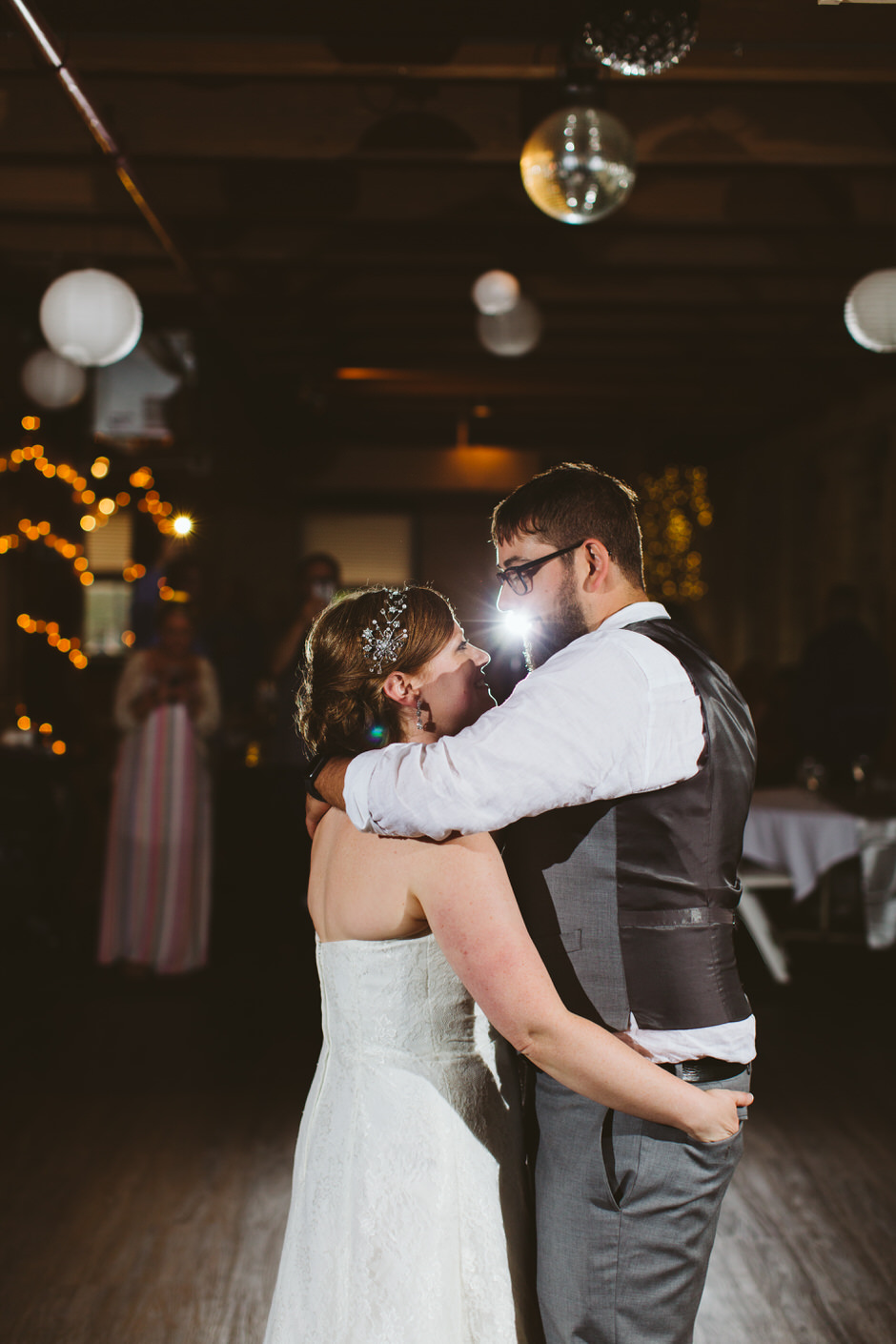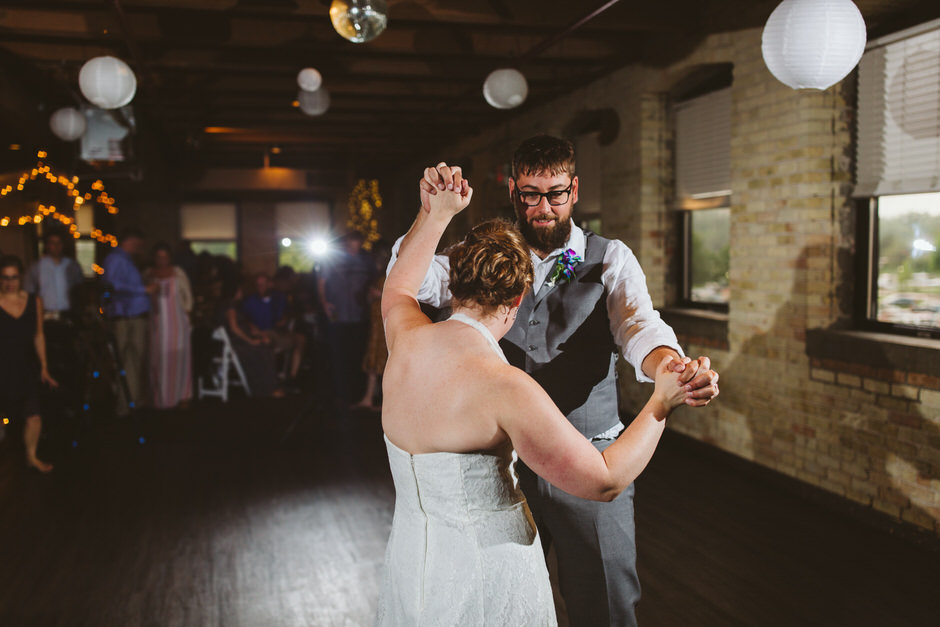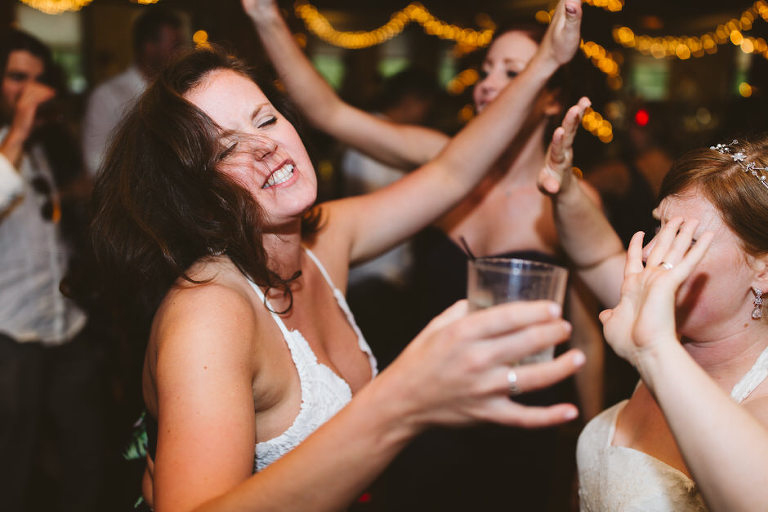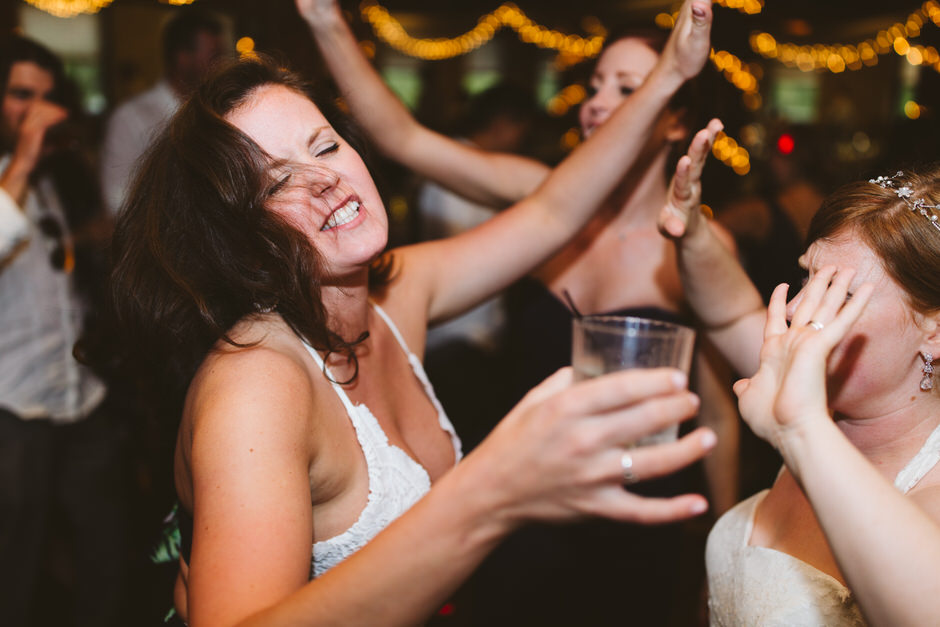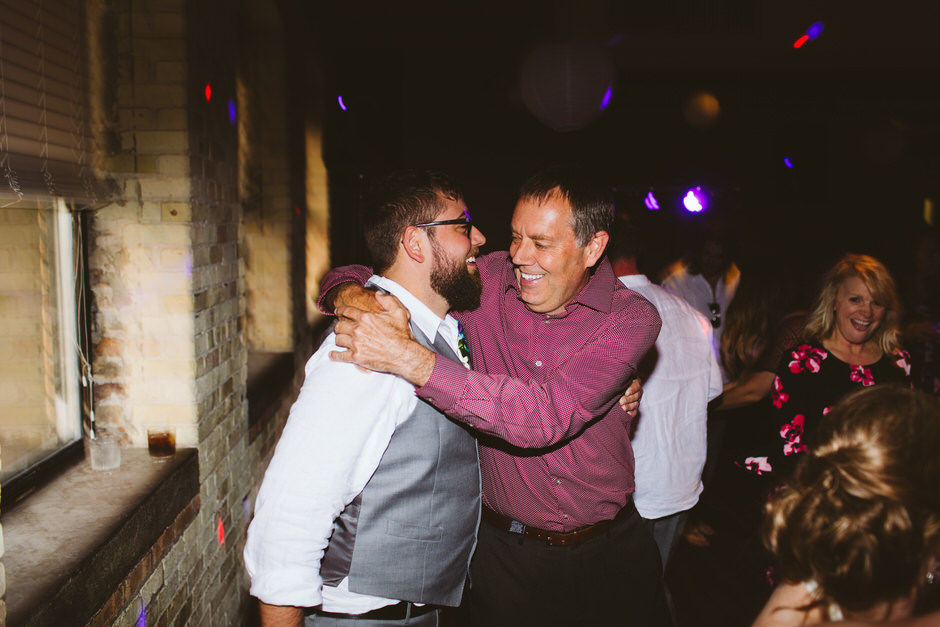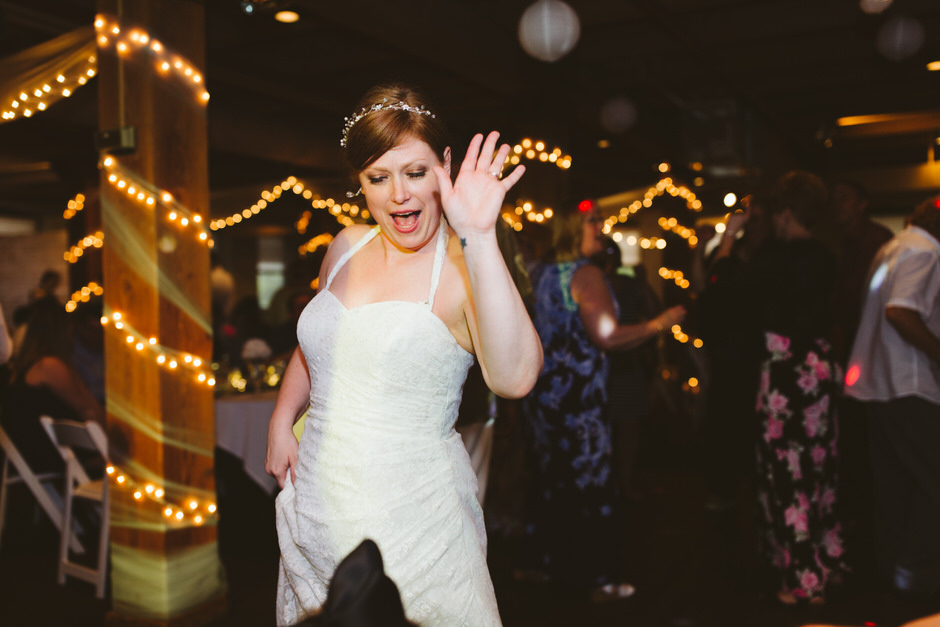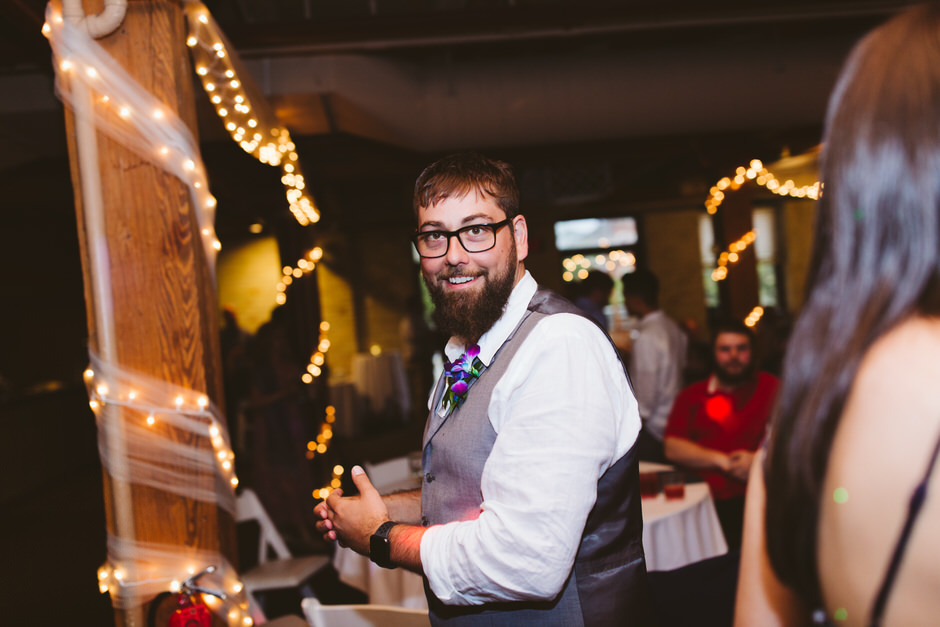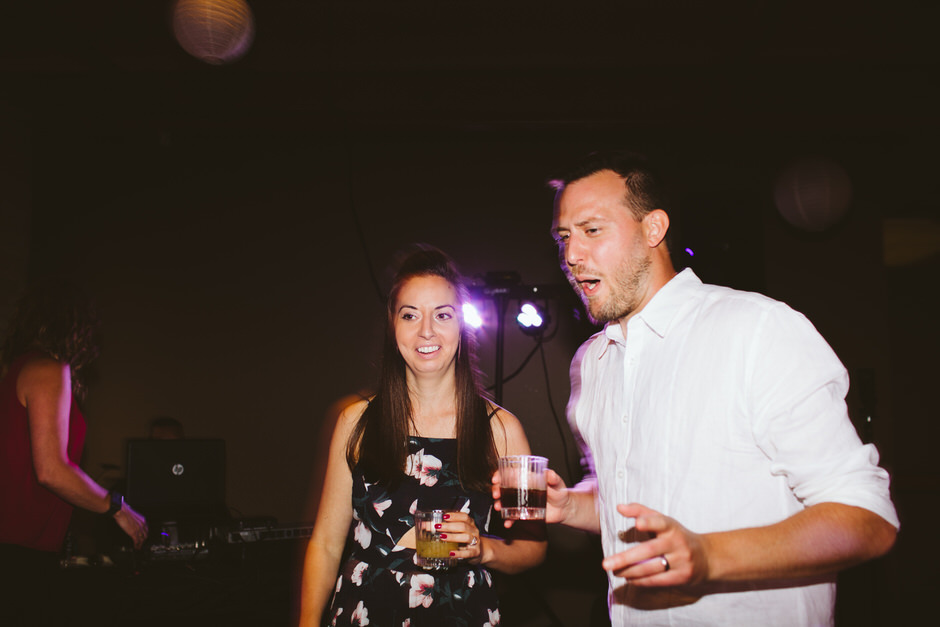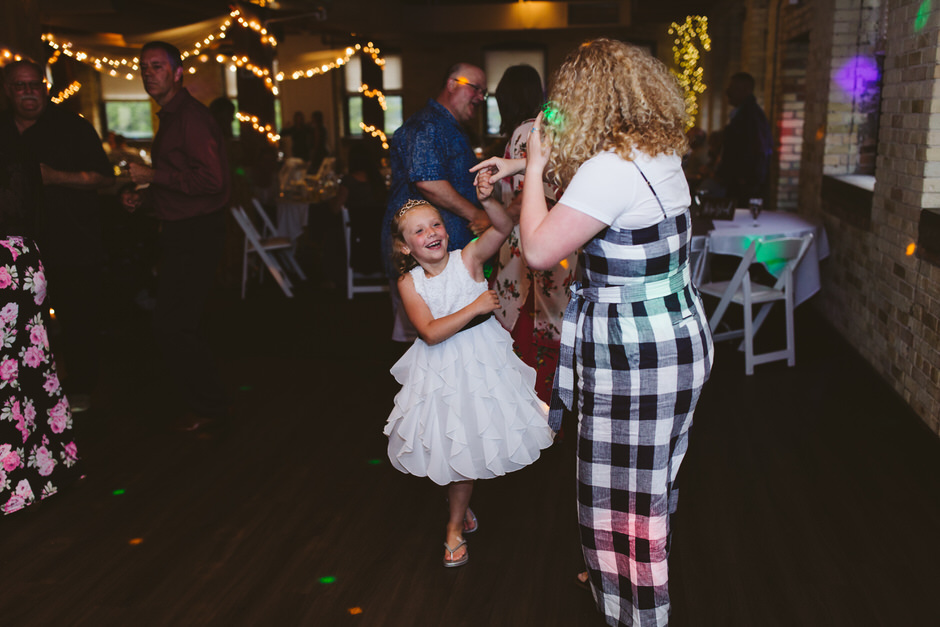 Any Advice for couples planning their wedding?
If you're a to-do list kind of person, find a solution that lets you group tasks by rough due date and track notes — we used a Trello wedding planning template that separated tasks into to-do lists per month, and it was perfect for dumping ideas & thoughts about tasks that didn't need to be finished yet so that you could better focus on what was important in the short-term. It became our shared central location for anything wedding-related that we needed to solve!
Your Photographer: 
Ryan knew Rachel from way back when in high school, and it wasn't even a question for him on who he wanted to photograph our special day… Rachel's energy is contagious. From her reasonable advice while planning to her everpresent skills on the day of the wedding, this girl was key to ensuring we'll have our favorite memories captured forever. She kept us all on schedule, managed to capture all the photos we'd dreamt of, and handled every curveball the day threw at us with finesse!