Meadow Brook Hall Wedding
I just wanna go back and relive this day at Meadow Brook Hall over and over and over again. Never have I ever met a more kind and thoughtful group of people (including guests!) This day was just so perfect in every way. We spent all morning getting ready in the POURING rain. Just watching it cascade down. It wasn't even supposed to rain this day so it was really out of nowhere and quite annoying. We all were diligently watching the forecast and things were not looking good. It looked like we would have to move the ceremony inside. HOWEVER Alex and Eli made a great last minute call and decided to risk it. It ended up being PERFECT. So perfect that the freaking SUN came out during their ceremony and they walked back down the aisle in the sunshine. I am so happy to share this amazing day with everyone. I will leave it up to Alex and Eli from here <3
The Beginning: 
We met at work when I (Alex) was fresh out of college. Eli had been with the company for a few years and was incredibly intimidating. He was this handsome, outgoing, successful salesman that everyone wanted to be. Little did I know at the time, he's the biggest goof that would keep me smiling every day for the rest of my life. We never spoke for about the first 6 months on the job, and one day he randomly asked me if I wanted some Starbucks. I thought this was his way of flirting so I was nervous when he brought the coffee to my desk…then I found out he had gotten coffee for other girls in the office, which made me jealous so I immediately returned the favor by asking him out for a drink after work. The rest was history, and we've been together ever since.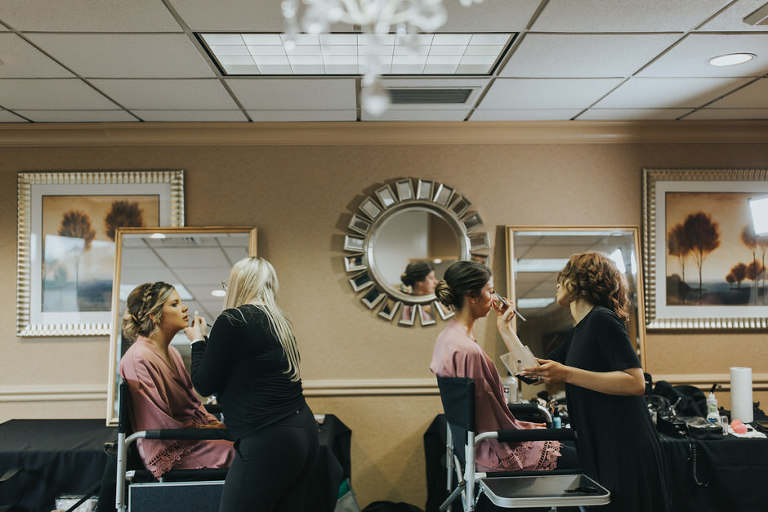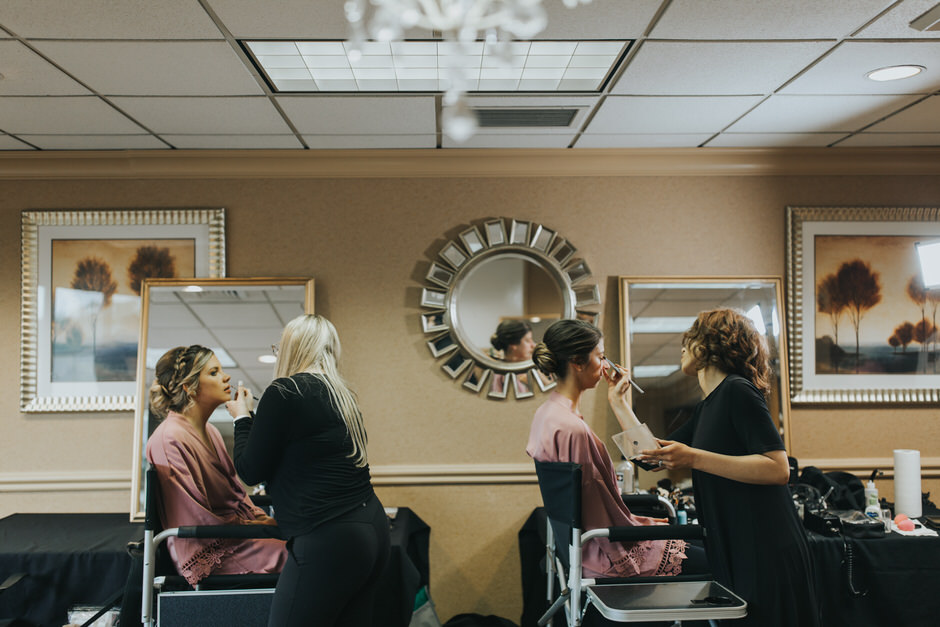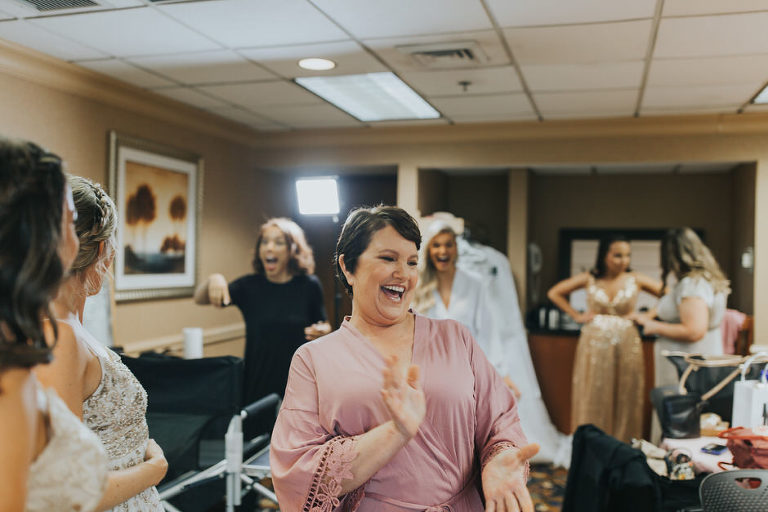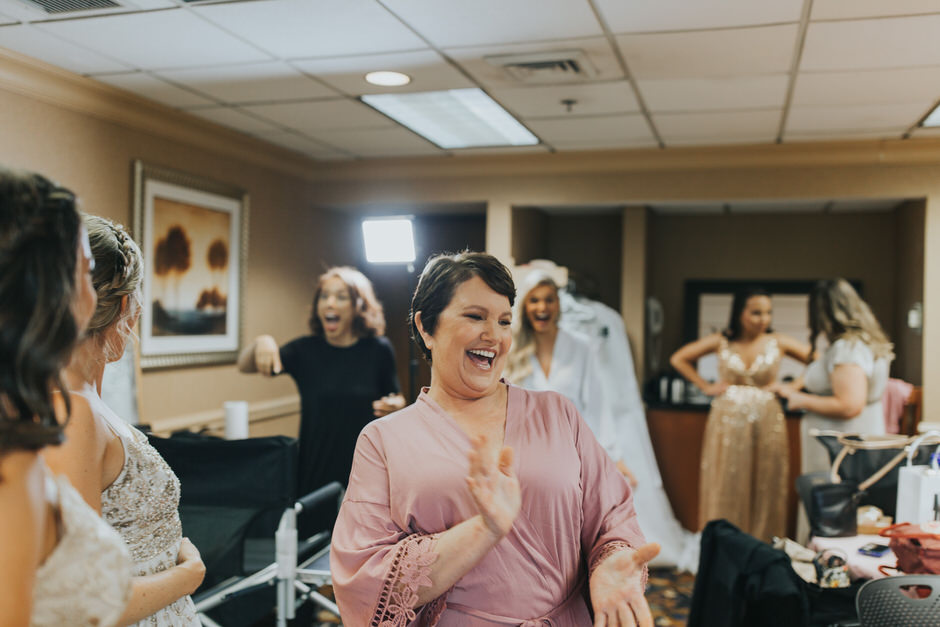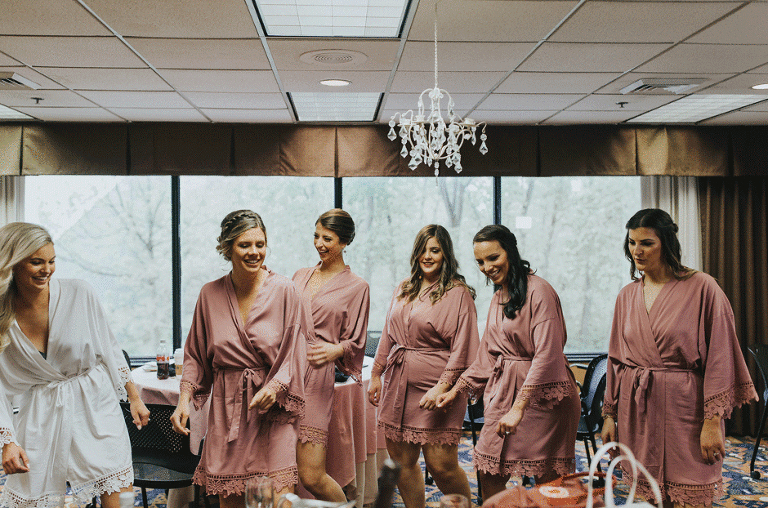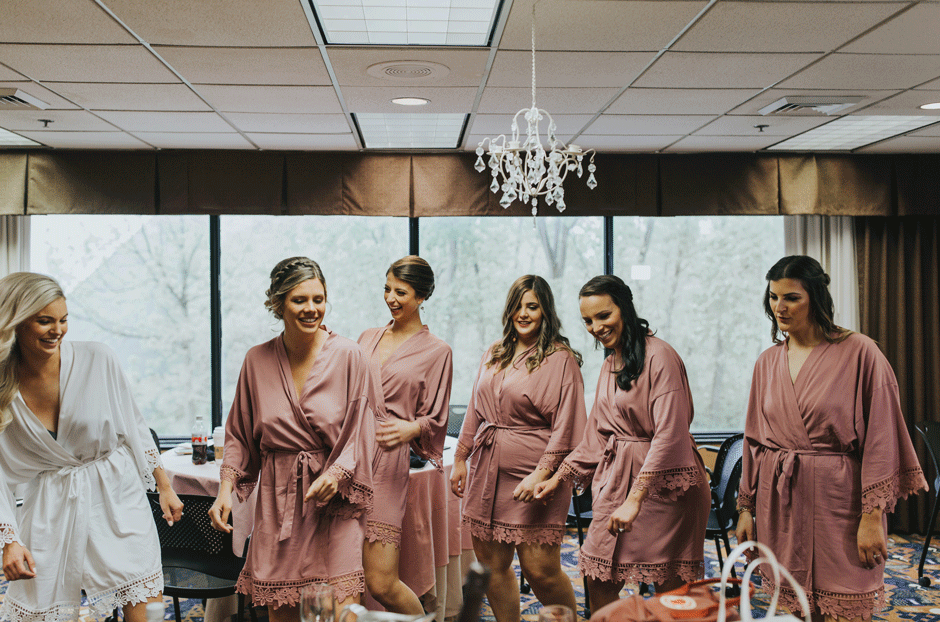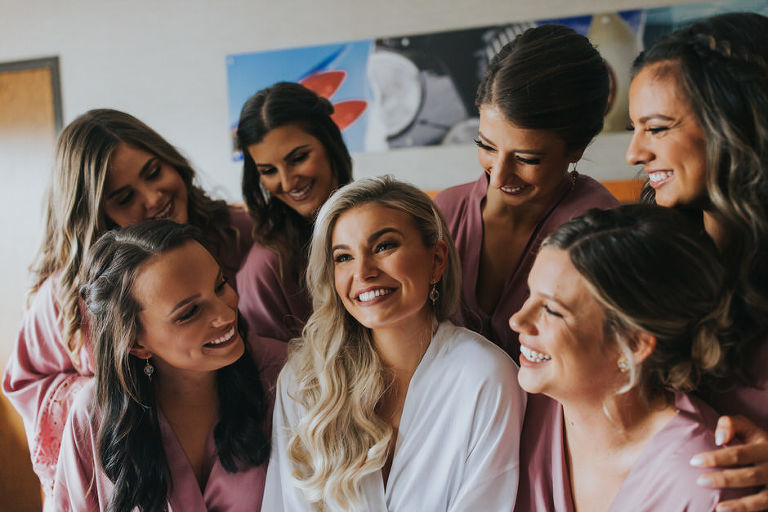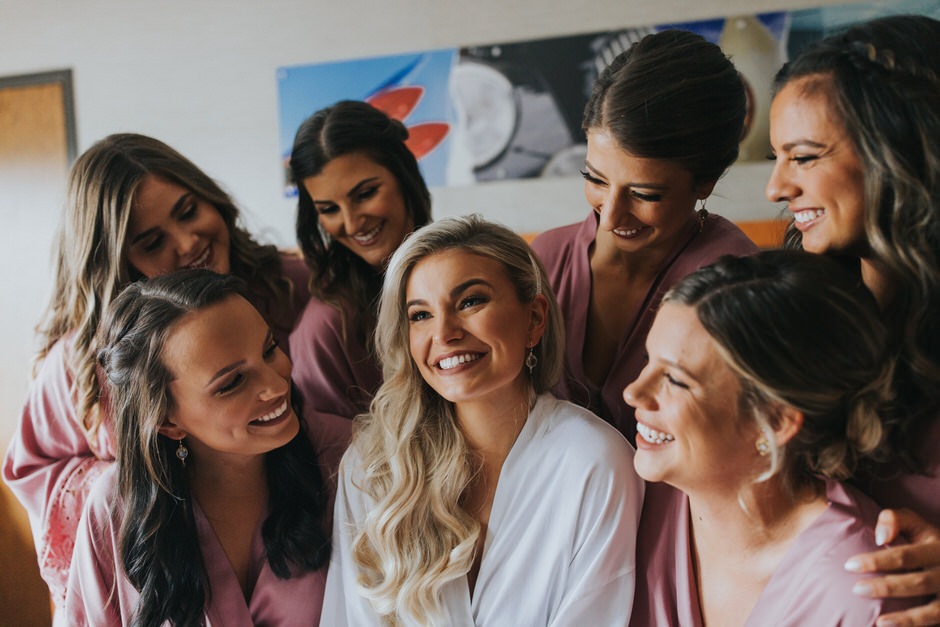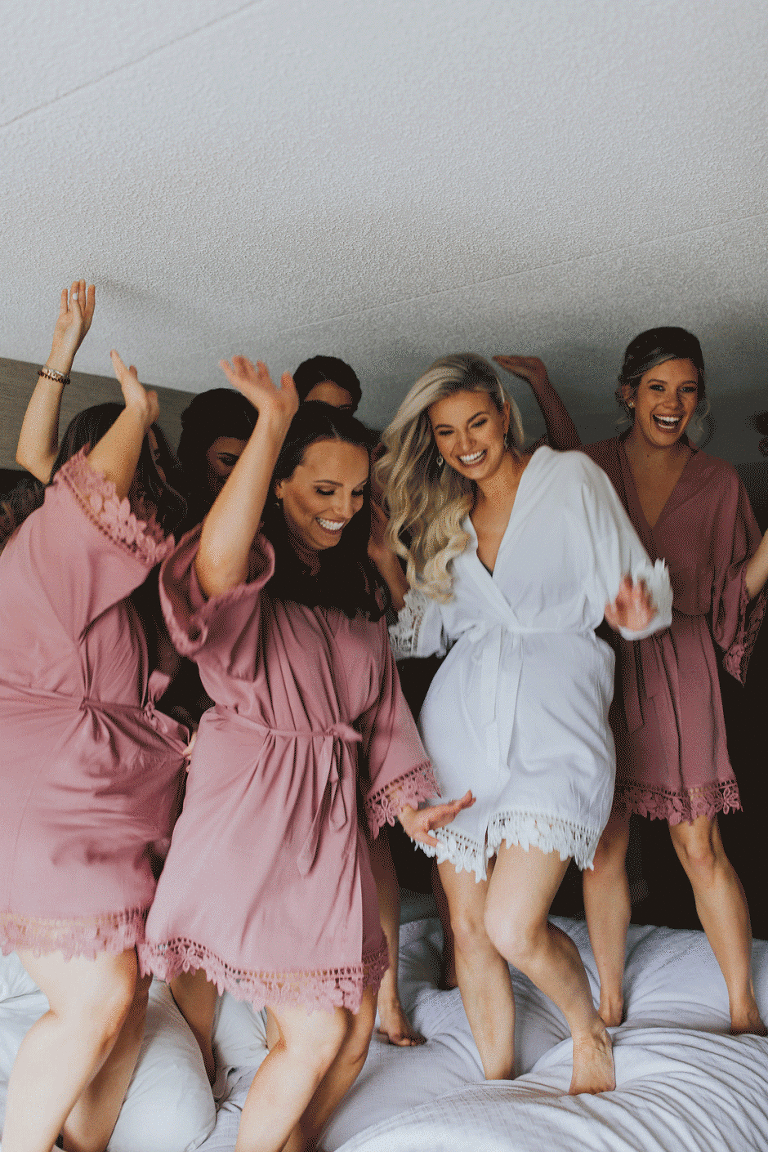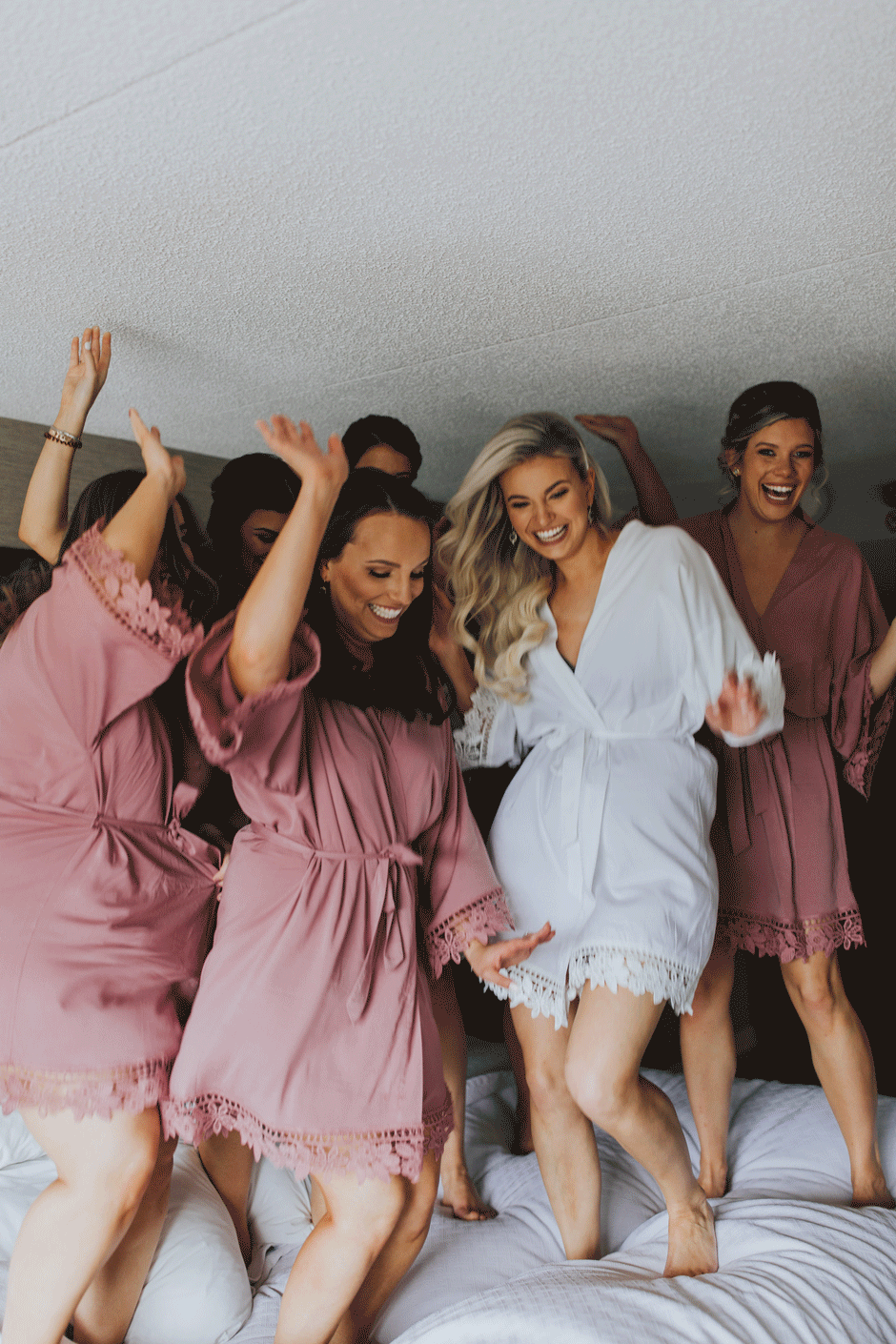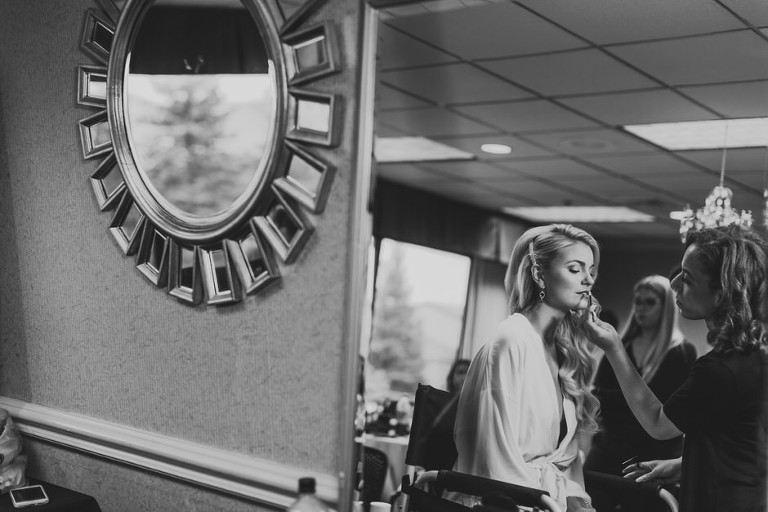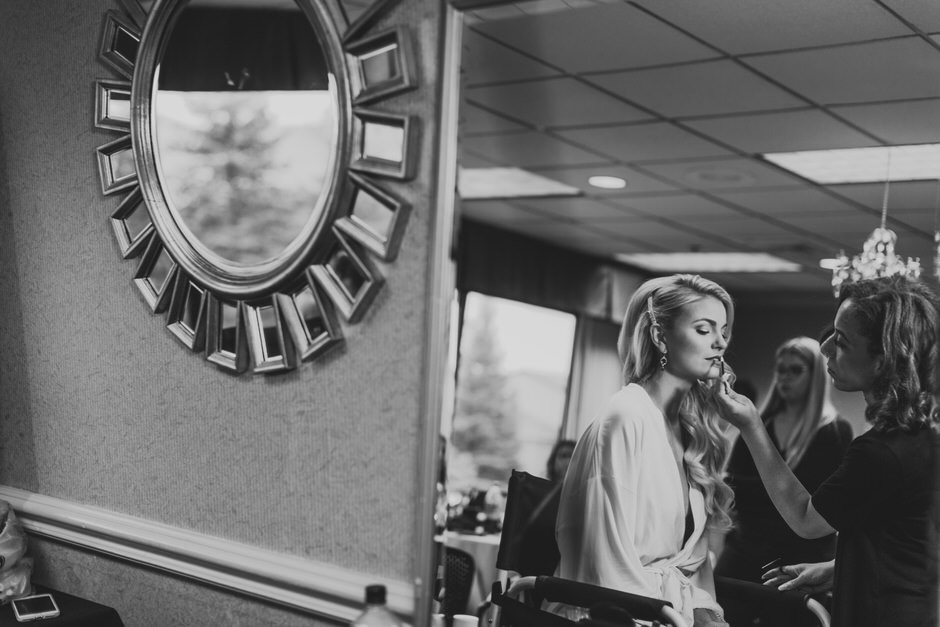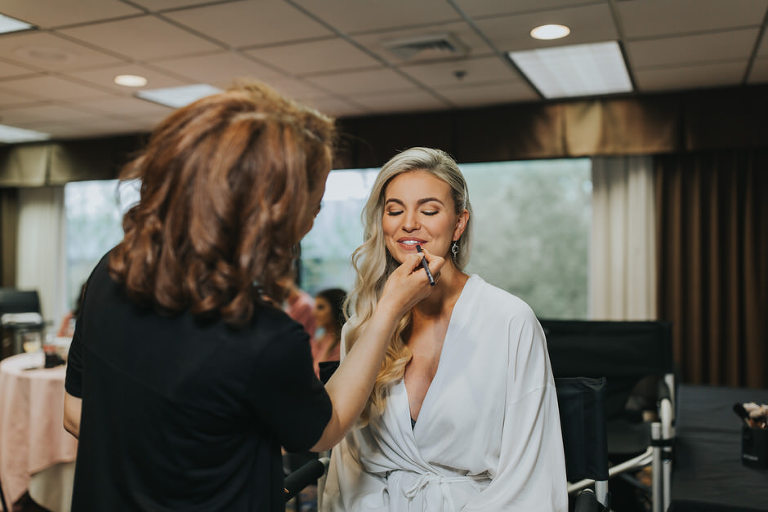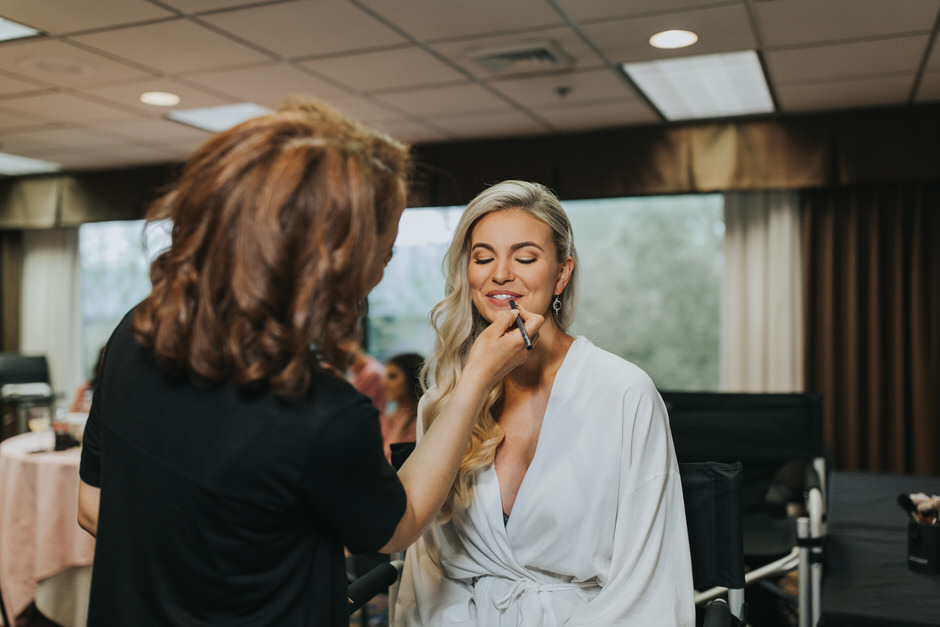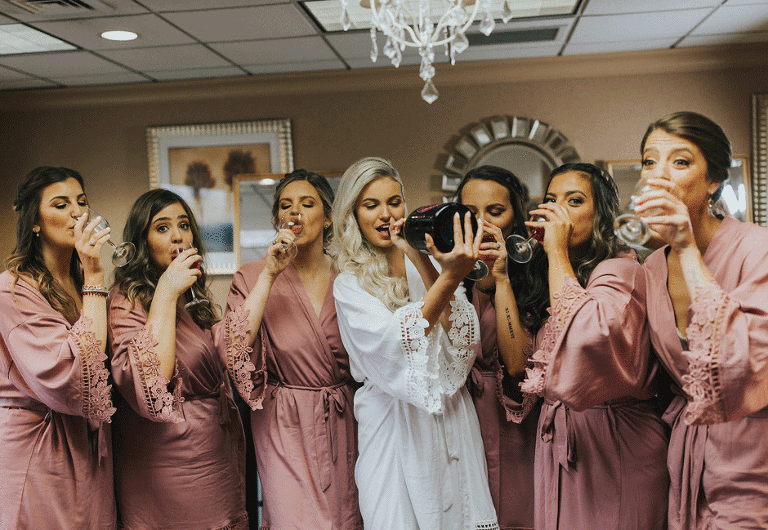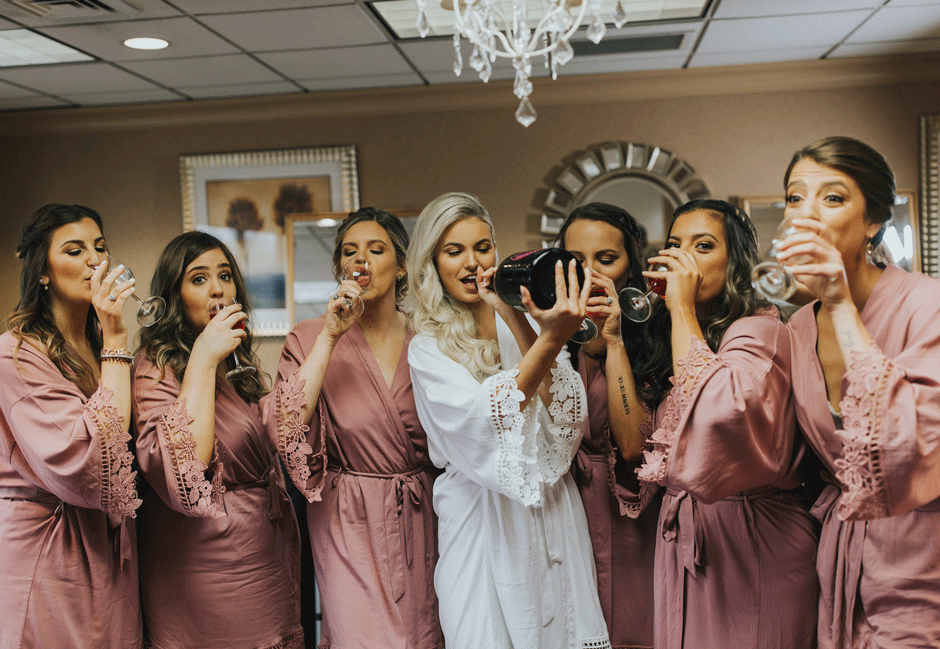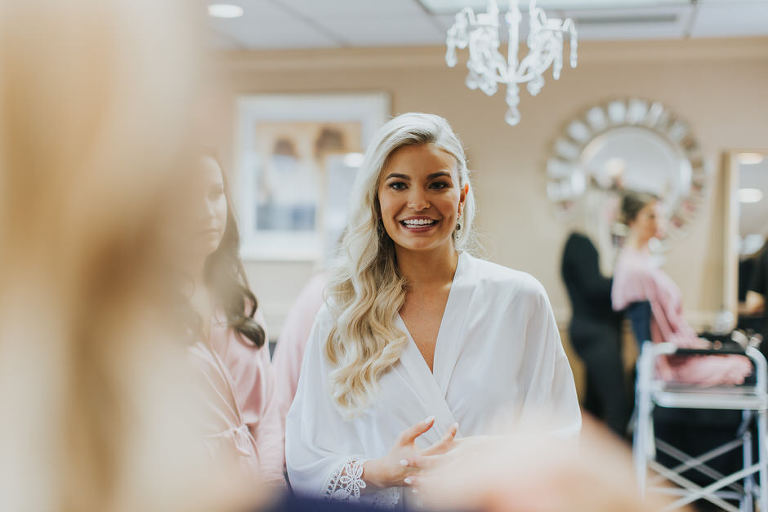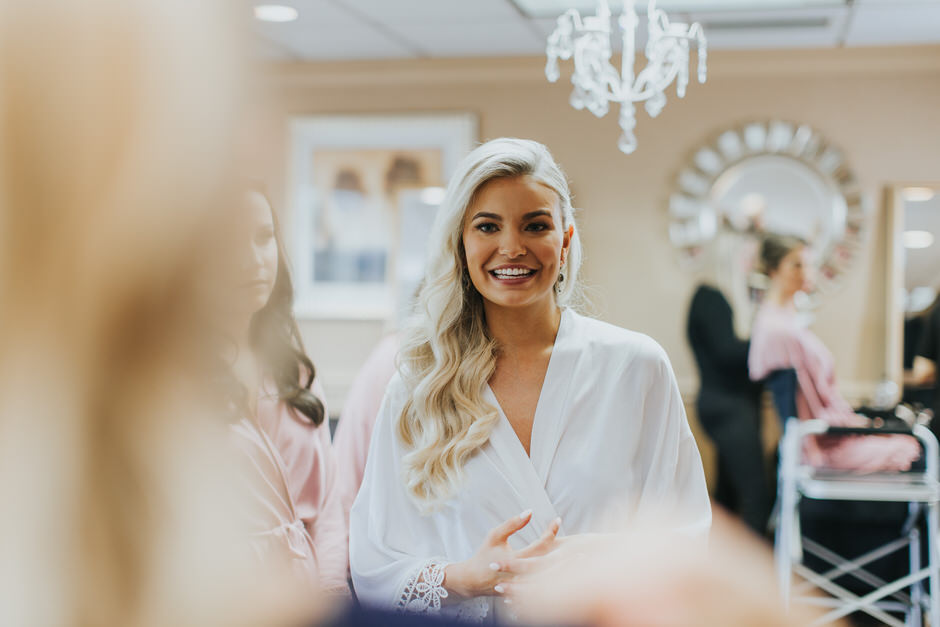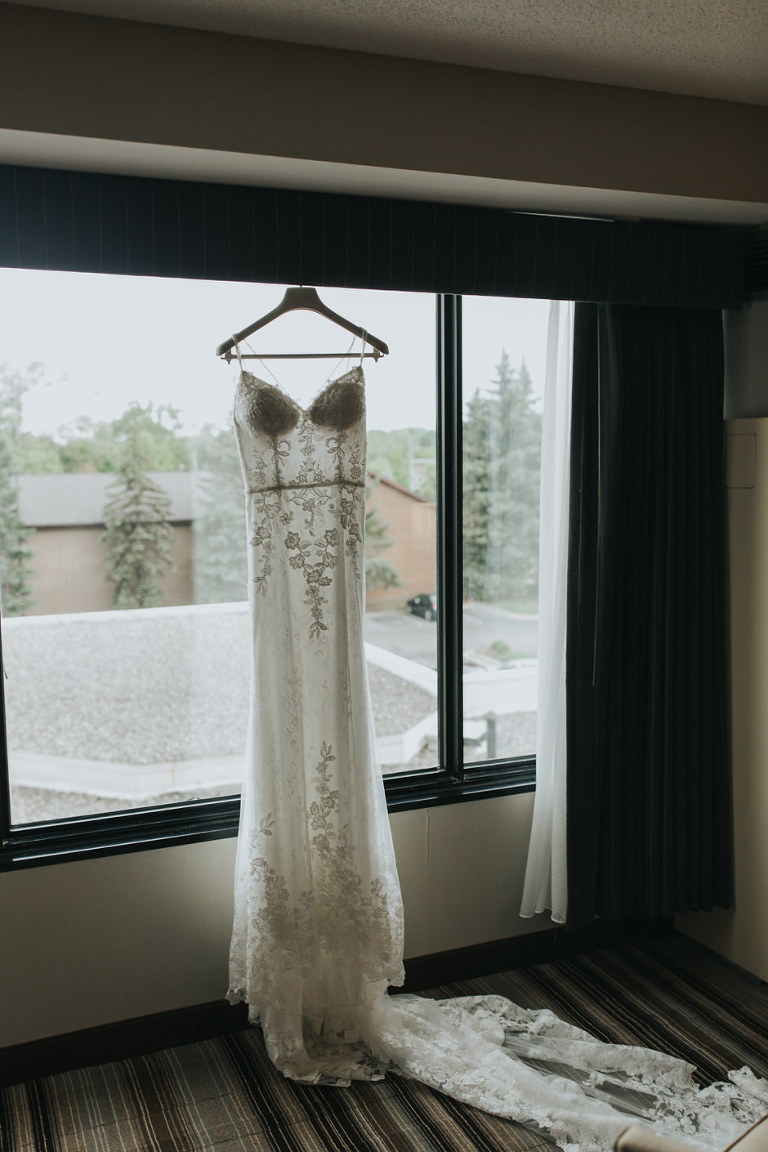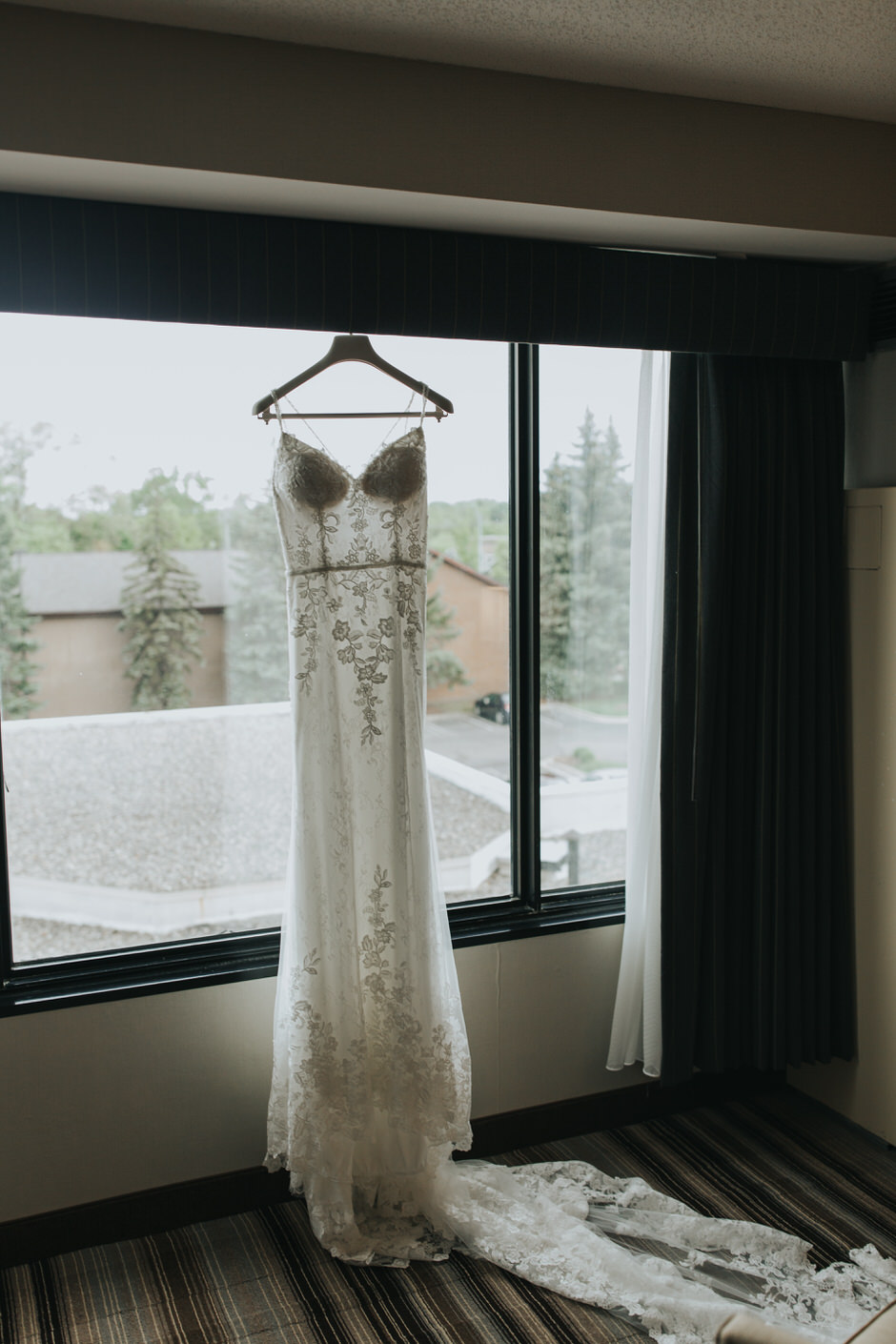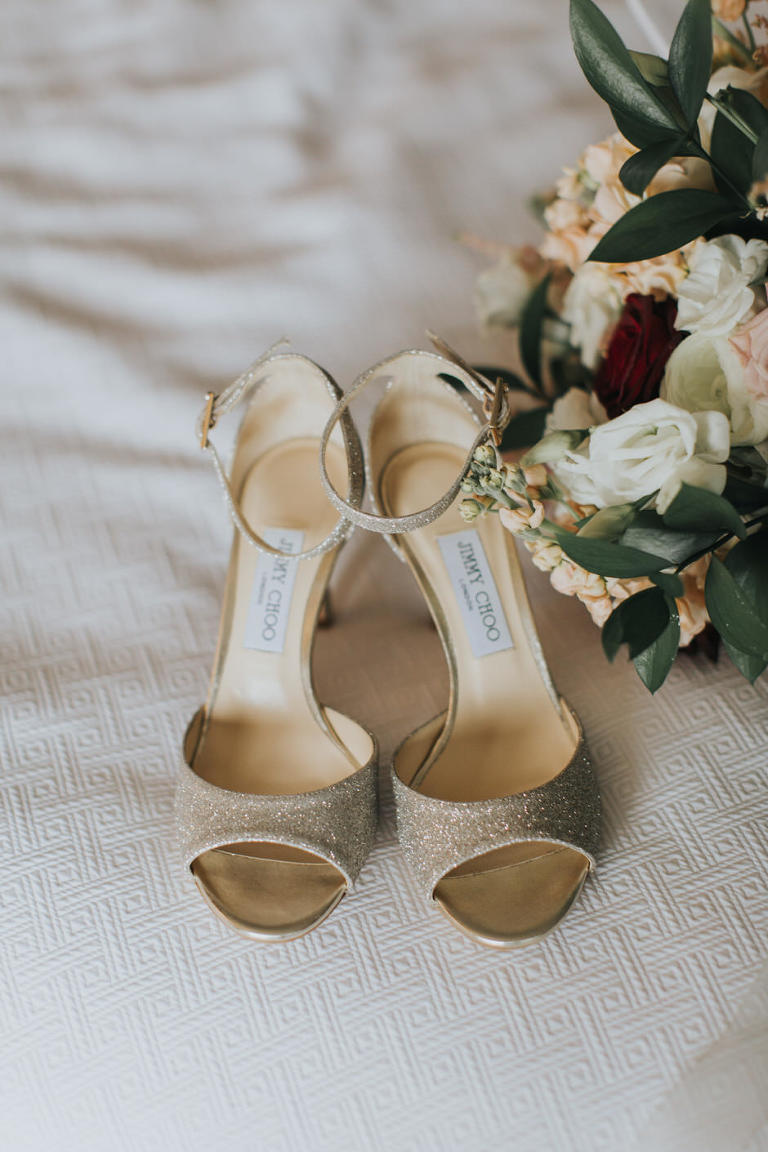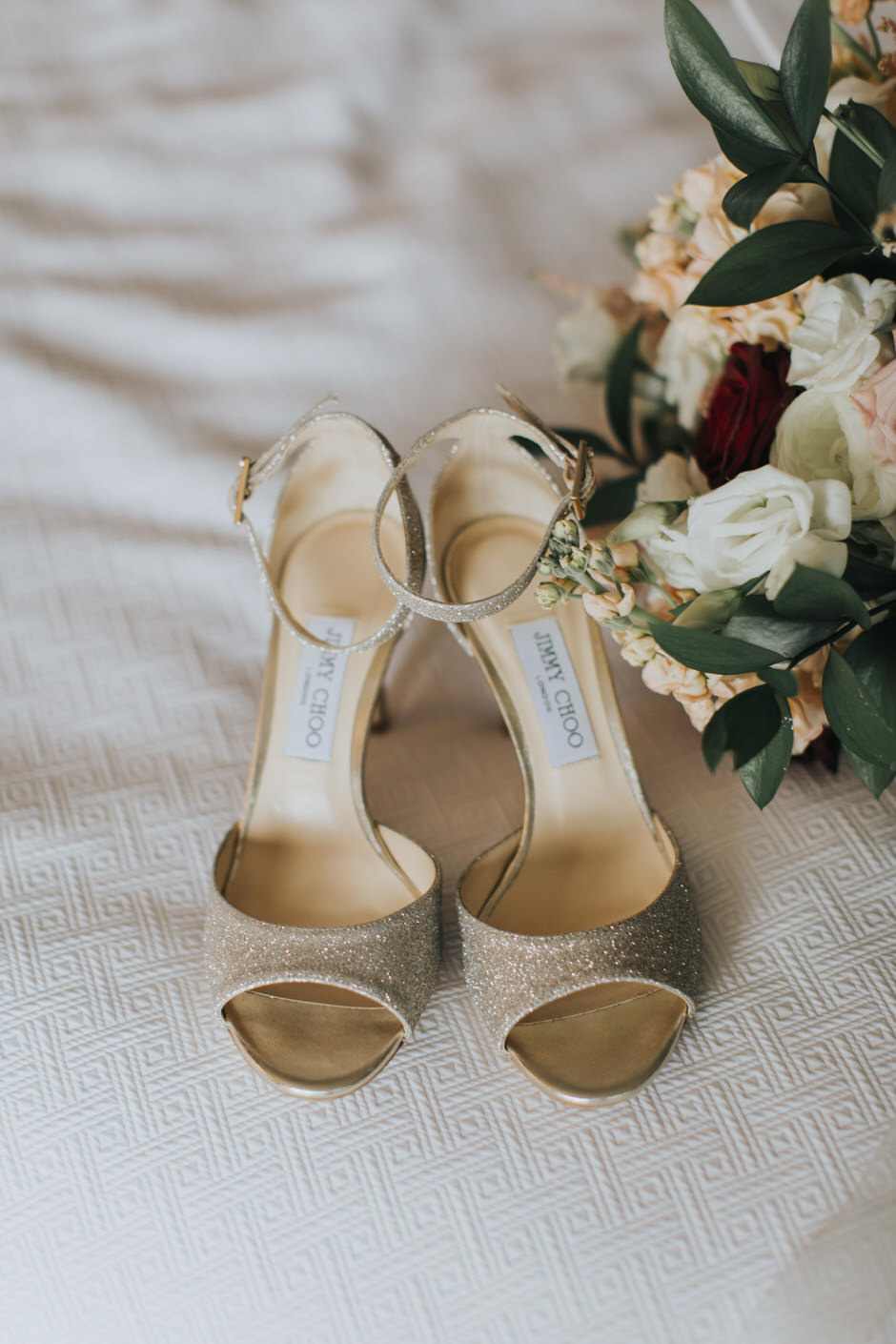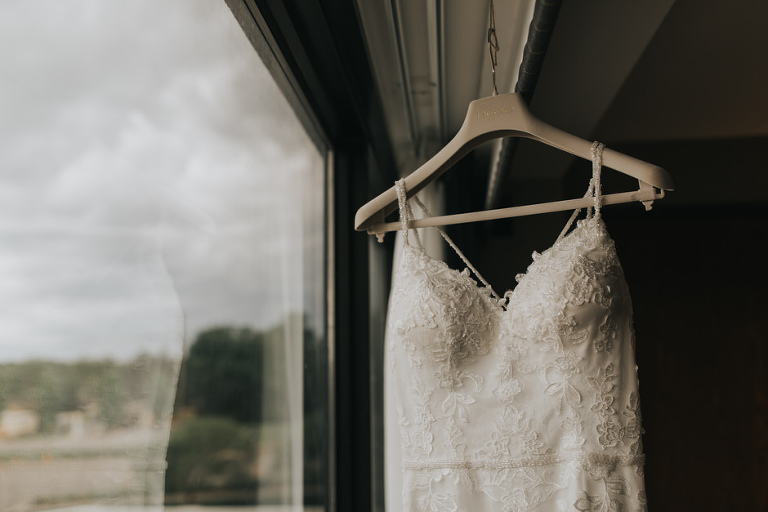 Alex's Dress
I wanted to keep my dress shopping more personal to minimize others' opinions, ensuring I got the dress that I truly wanted and not what others thought I should have; so, I only brought my mom and my sister along. I found my dress at the very first shop we went to, and it was only the second one I tried on! I put on several others, but I kept reverting to this one. When I wore it, I could just picture Eli's face when he'd see me in it for the first time, and I felt so sure about this dress I didn't bother going anywhere else.
Eli's Suit
Eli has always loved keeping his style up to date – he was pickier about his suit, bow tie, cuff links and shoes than the bride! He really wanted a classic look to match the overall style we were going for with the venue, which is why he decided on the classic, black tuxedo with silk lapels. Eli's shoe game is like no other so, naturally, he had to go with an awesome pair of red bottoms to make a statement with the black ensemble.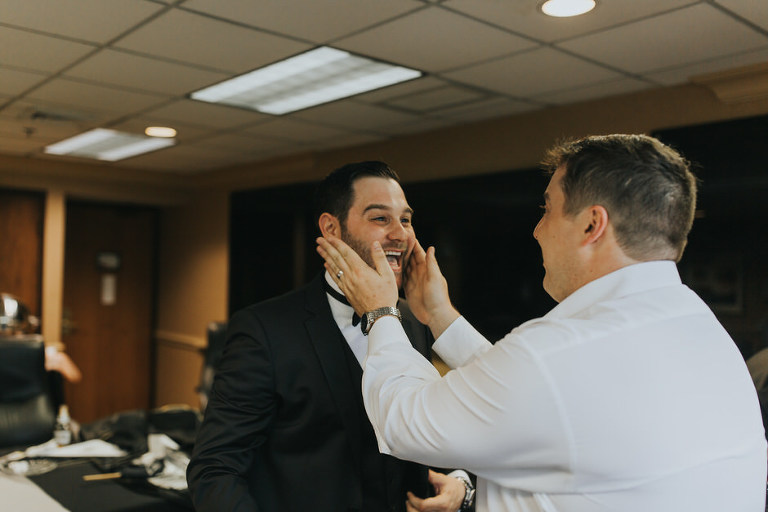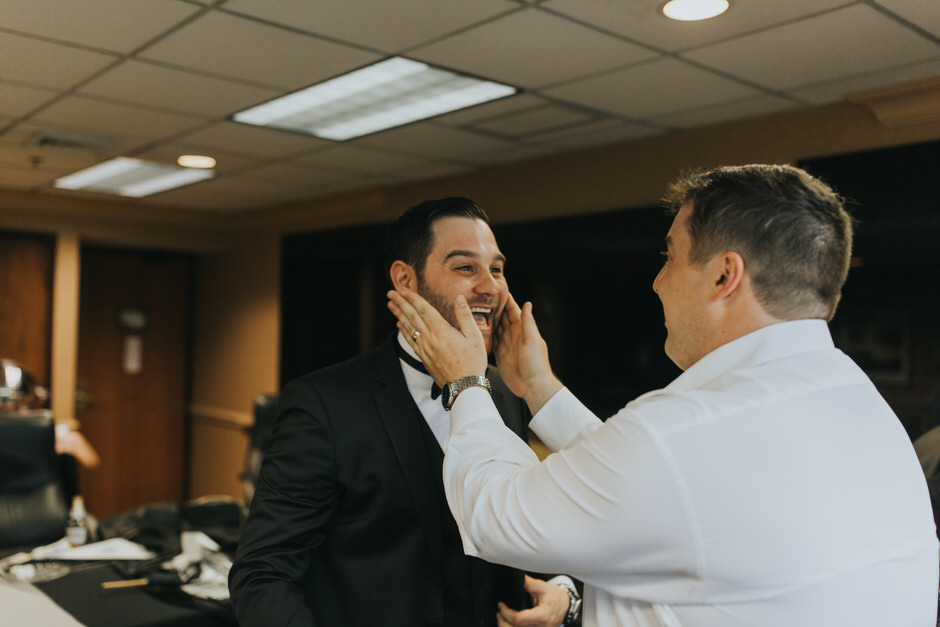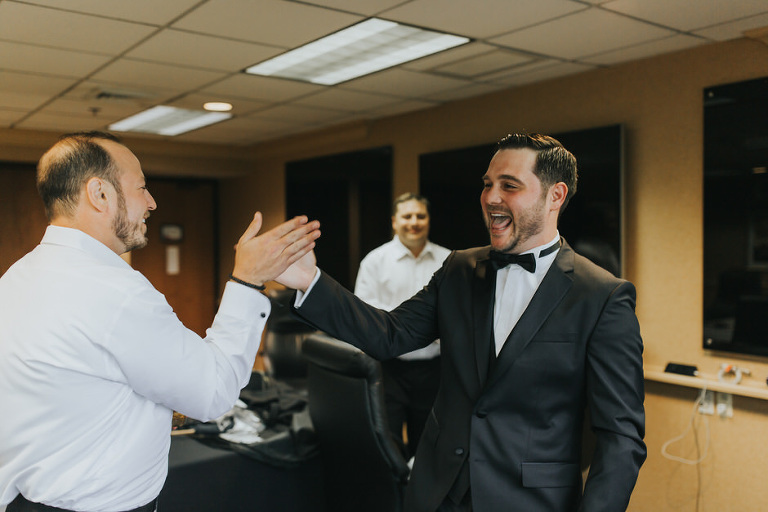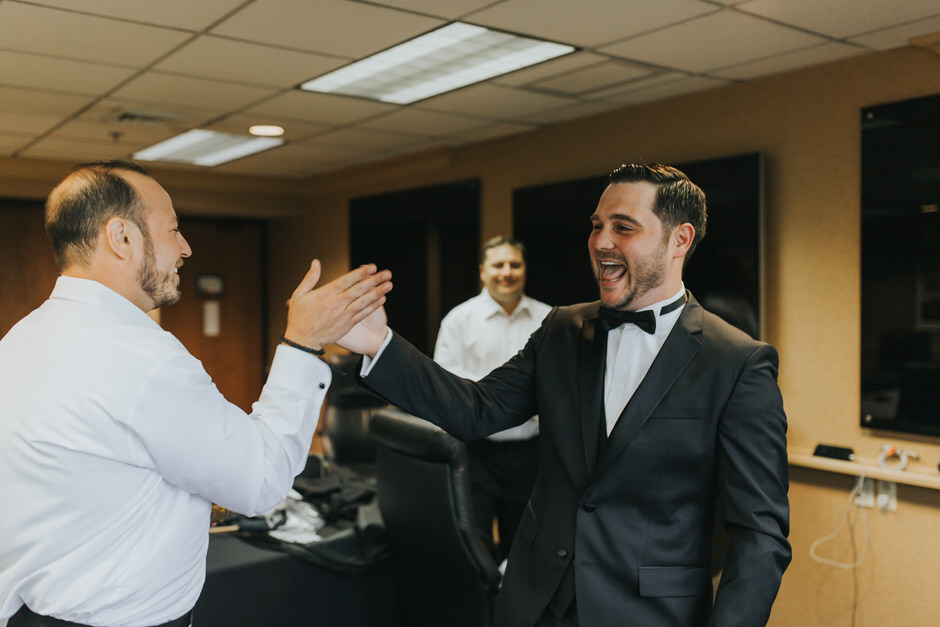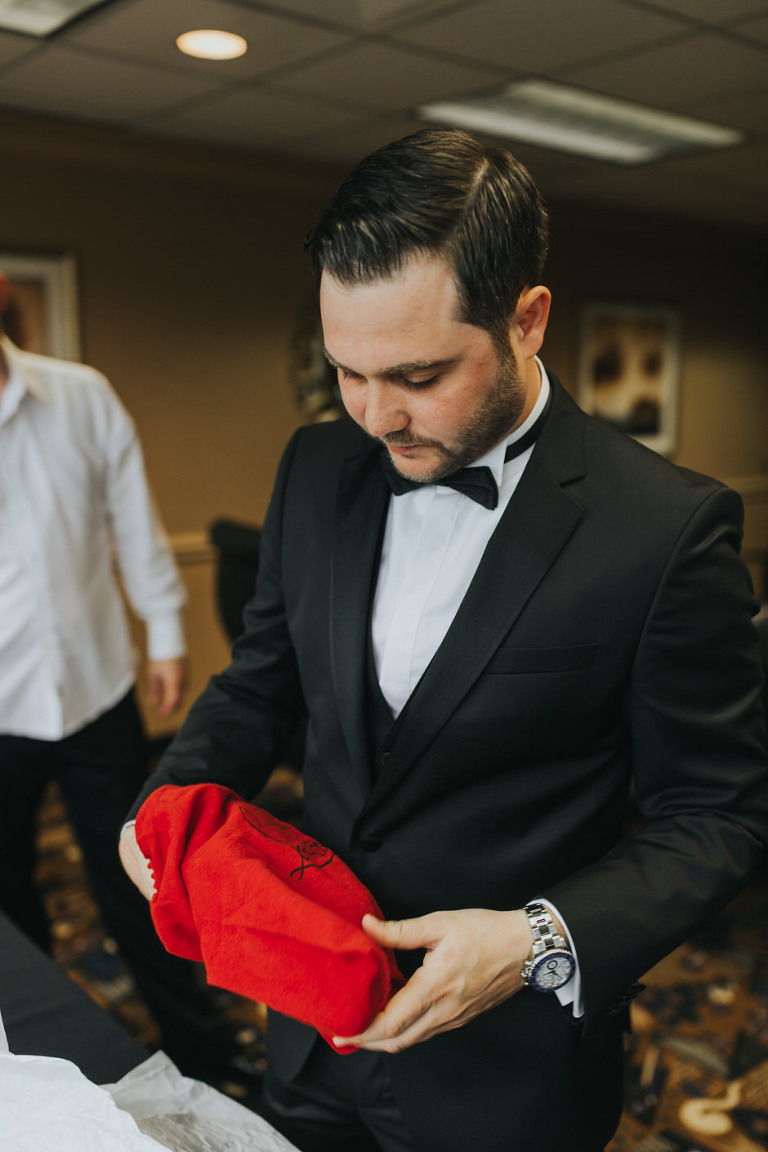 Venue: 
We had looked at about 10 venues, and none matched both of our wish lists. We both agreed it needed to be a venue where ceremony and reception could be at the same place; minimizing travel times for our guests. Eli really wanted a venue that had both an indoor and an outdoor area so that people could enjoy the weather since Michigan only has a few nice months to do this. My big thing was I wanted a venue with a lot of character so that we could keep decorations minimal; I wanted the building to speak for itself and tell a story in its own. We were both getting fed up with disappointment after each venue we visited, and Meadow Brook Hall was the last one we looked at. We both looked at each other after we toured it, and Eli could tell by the look on my face that we wouldn't be checking out anywhere else – we had found the place!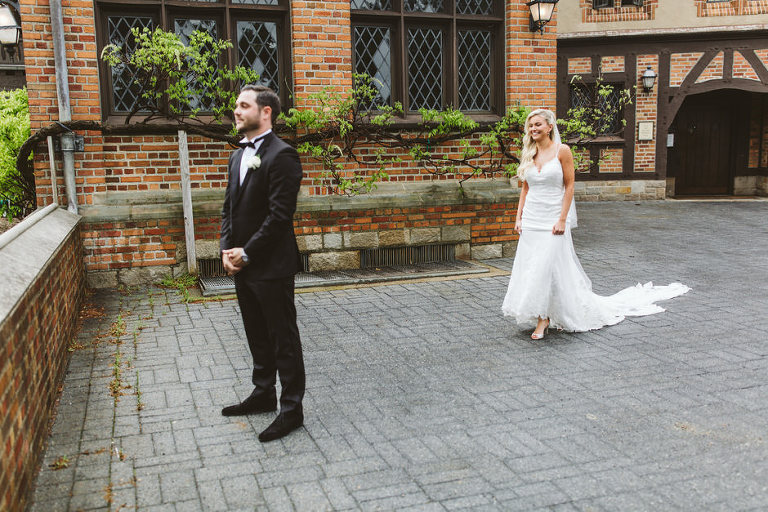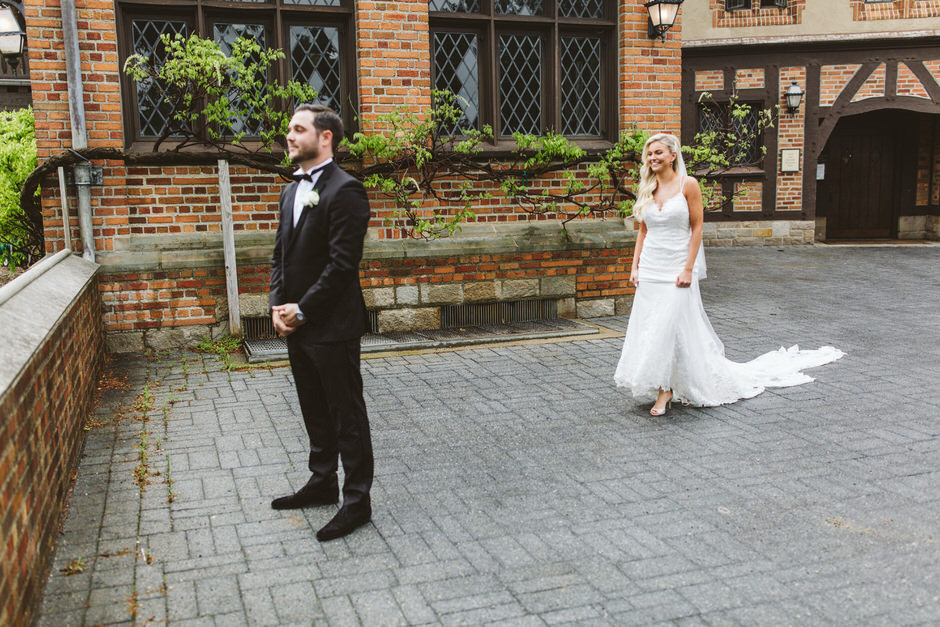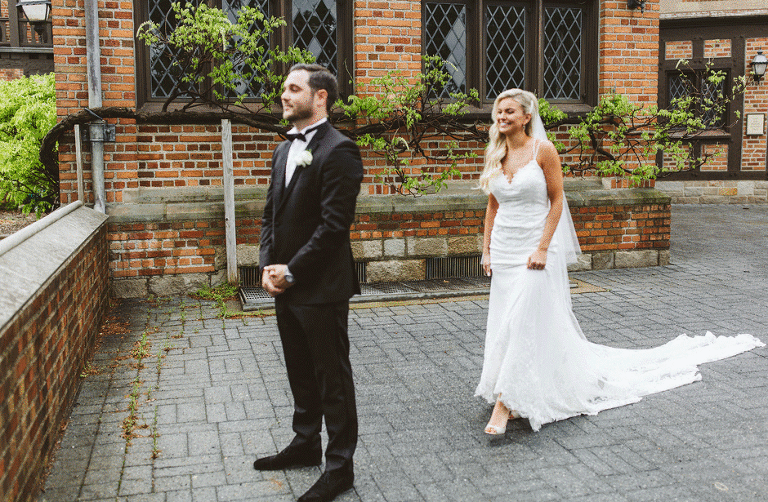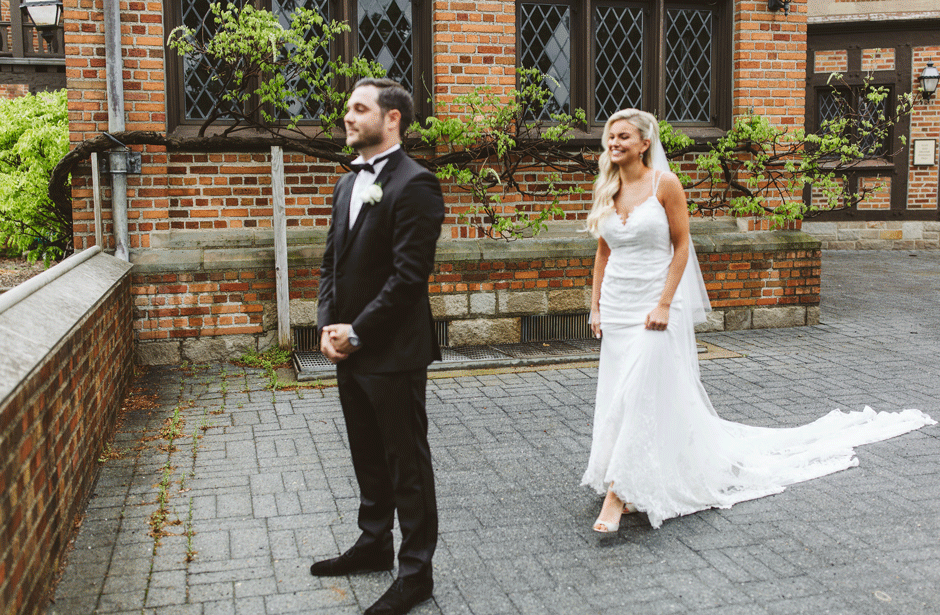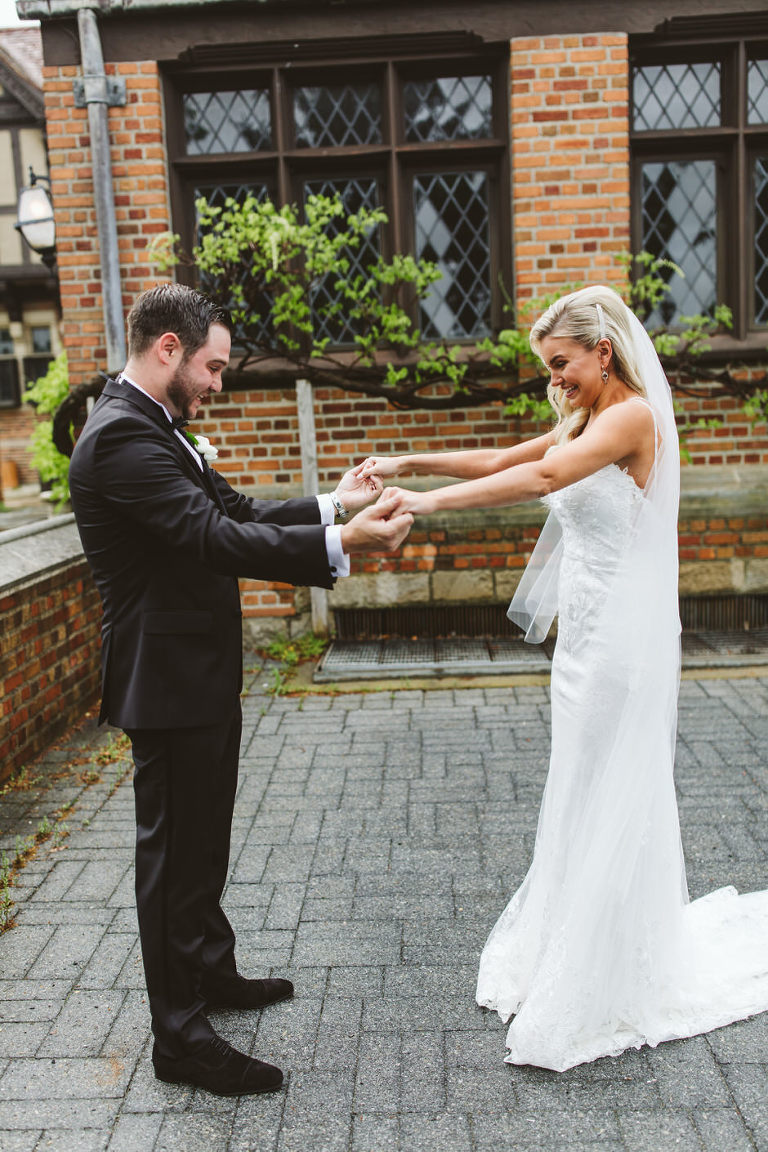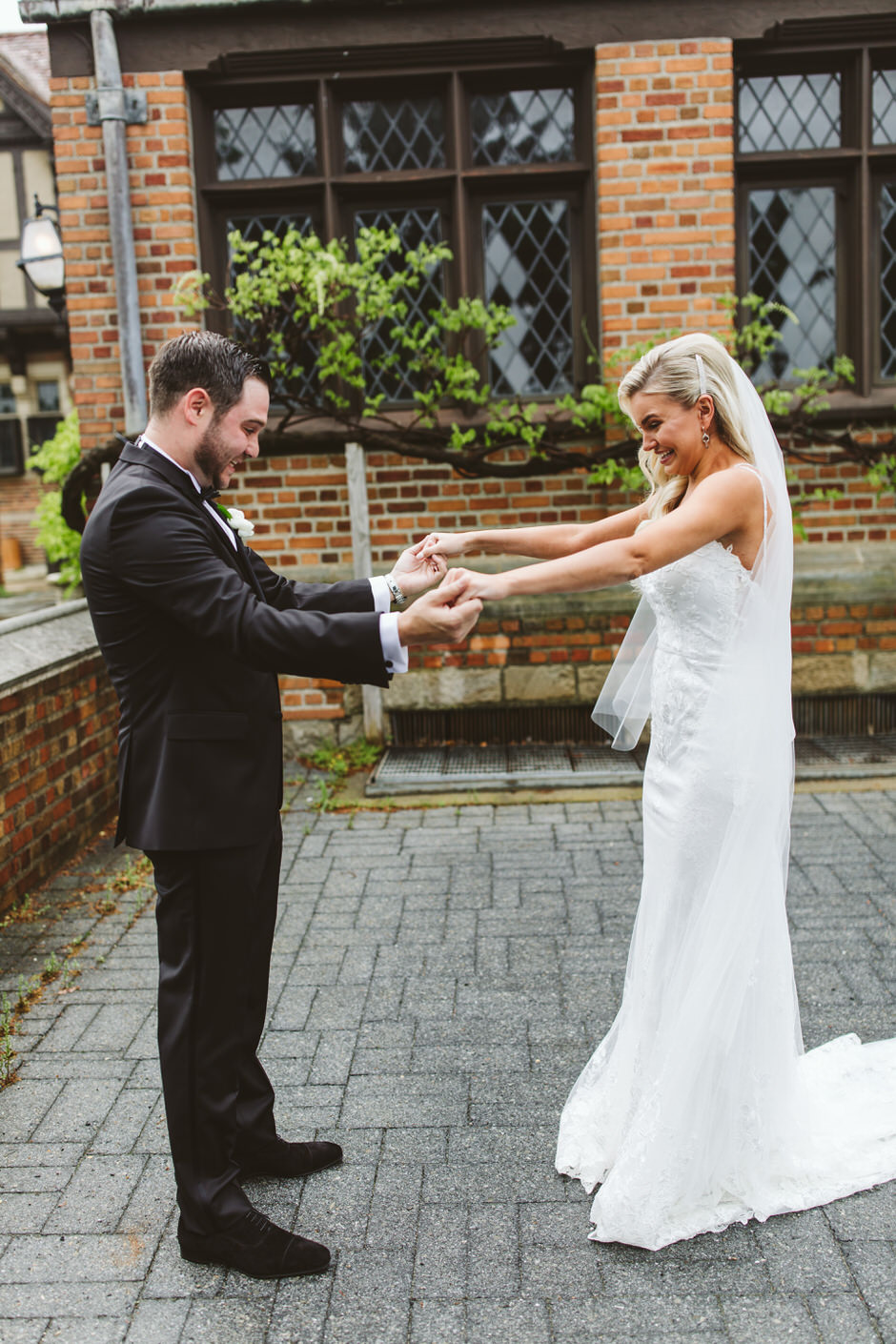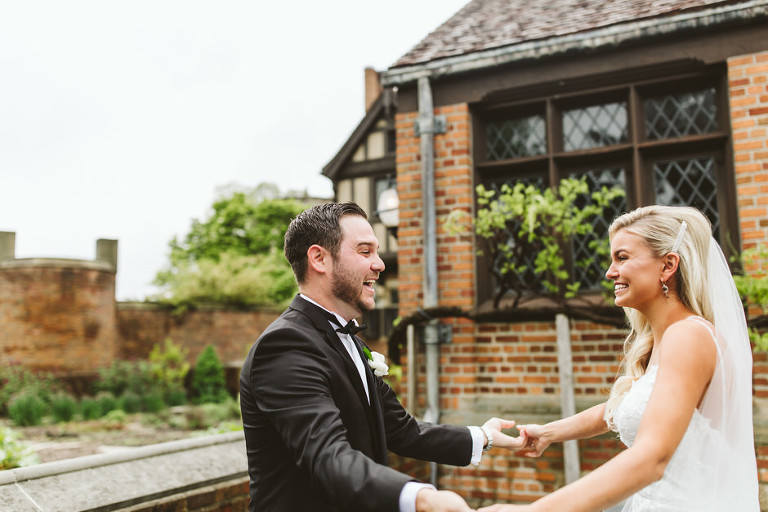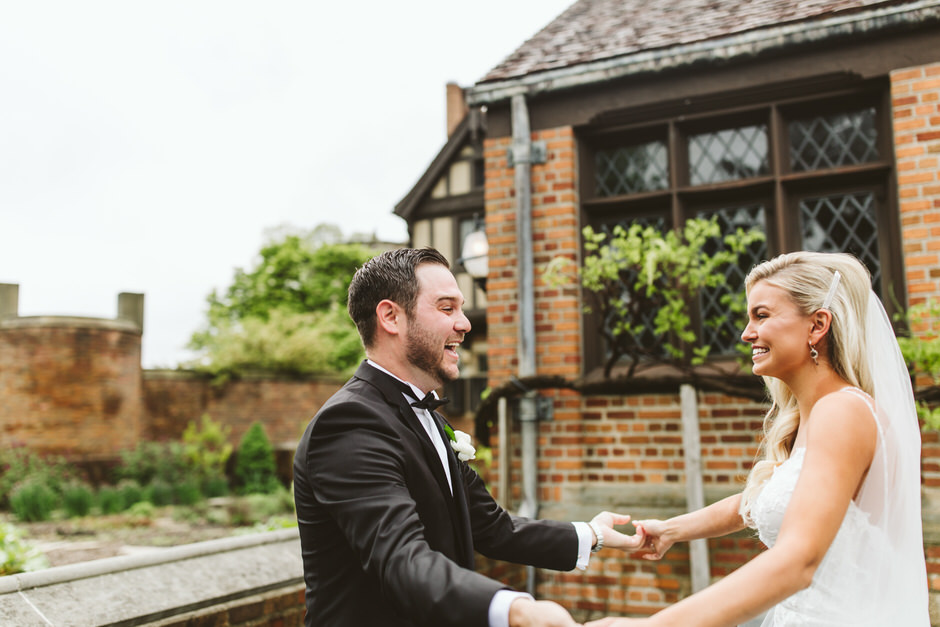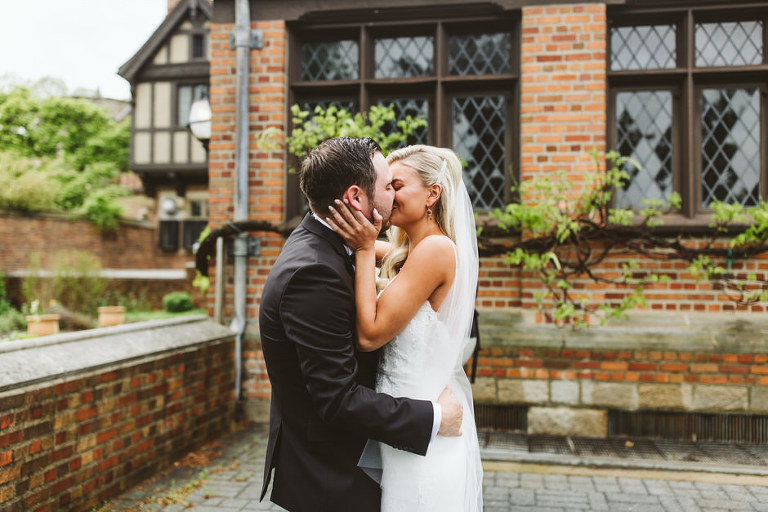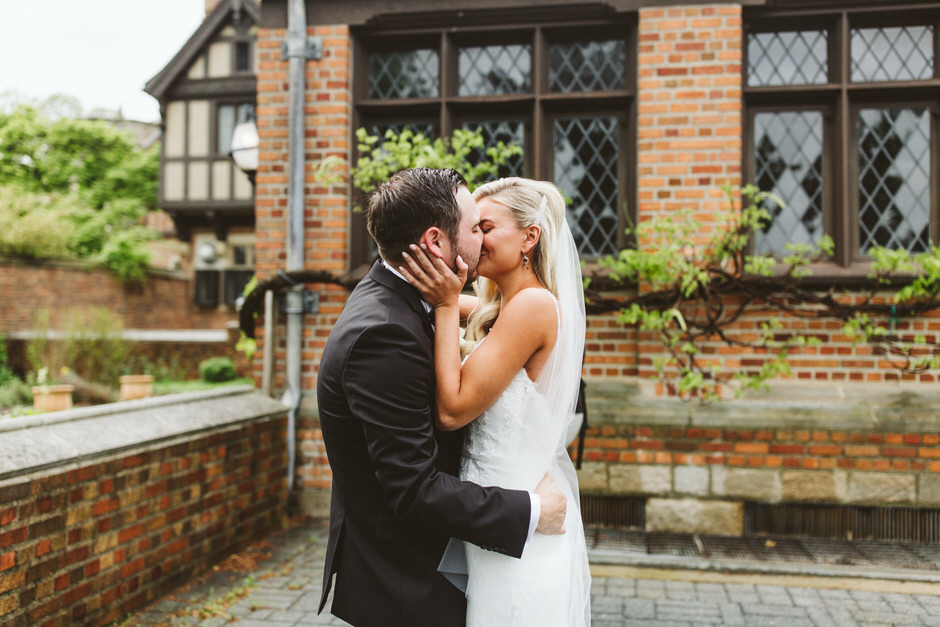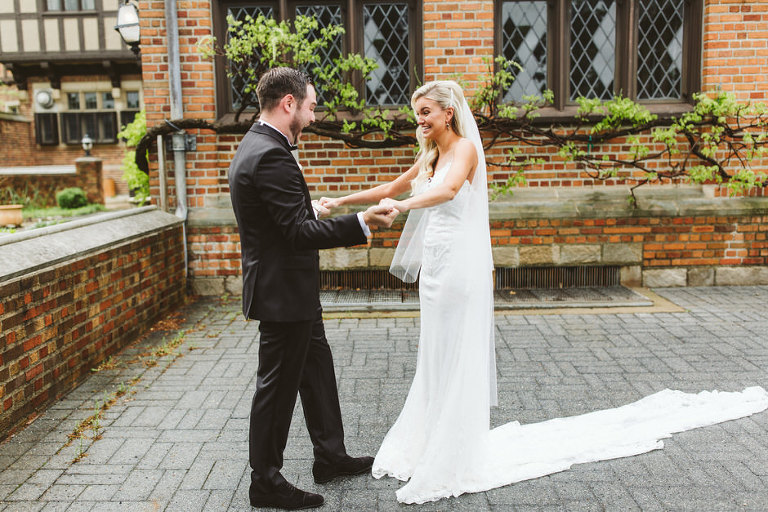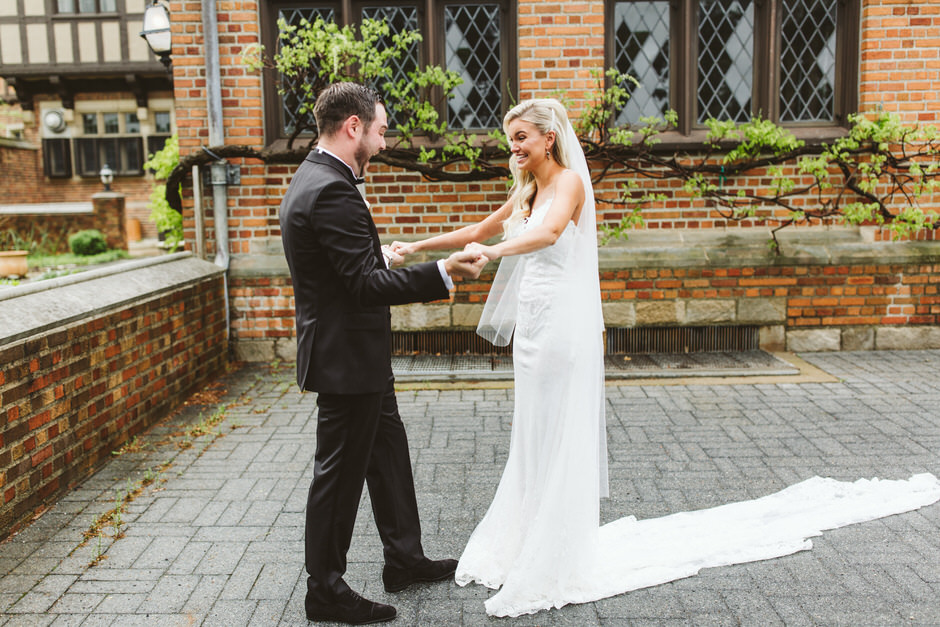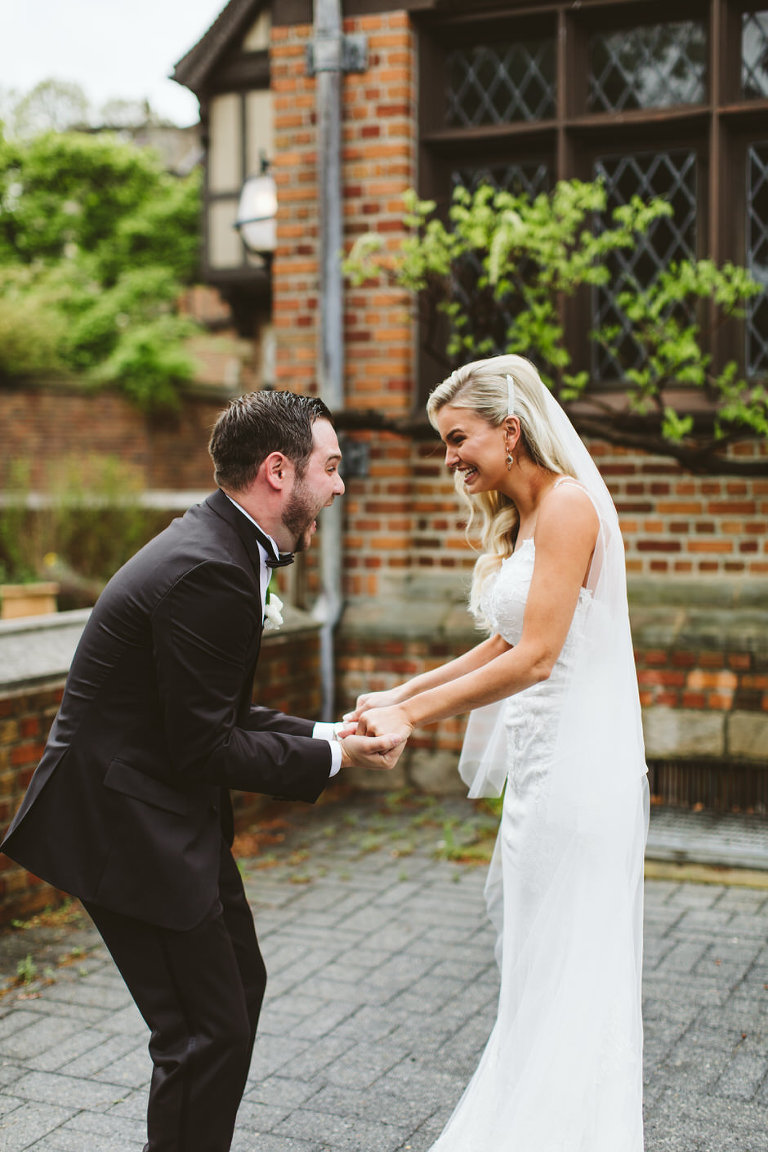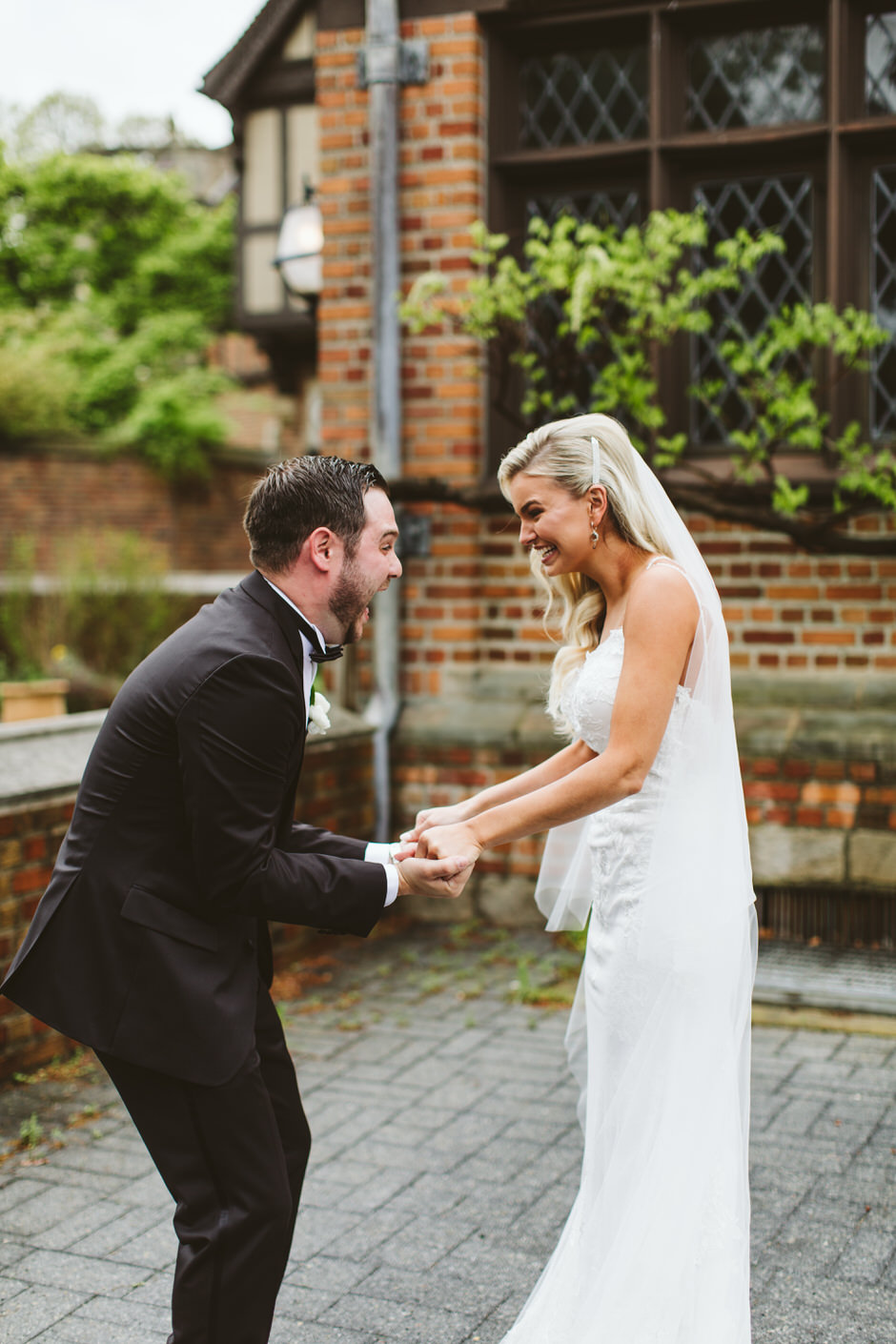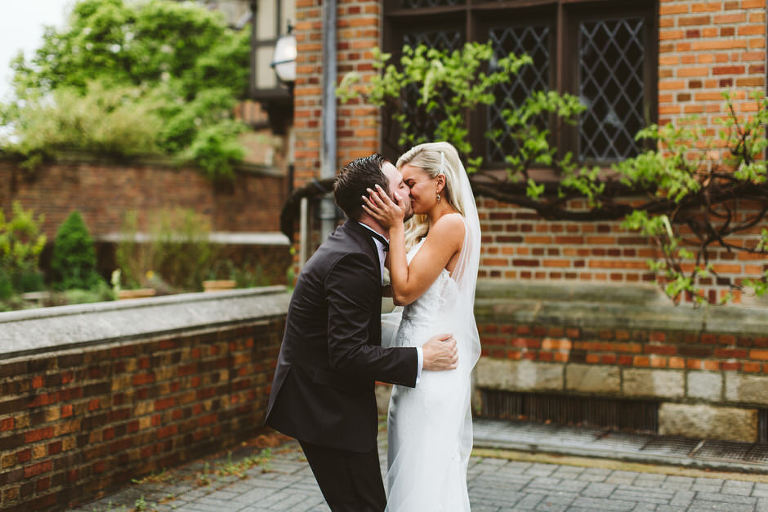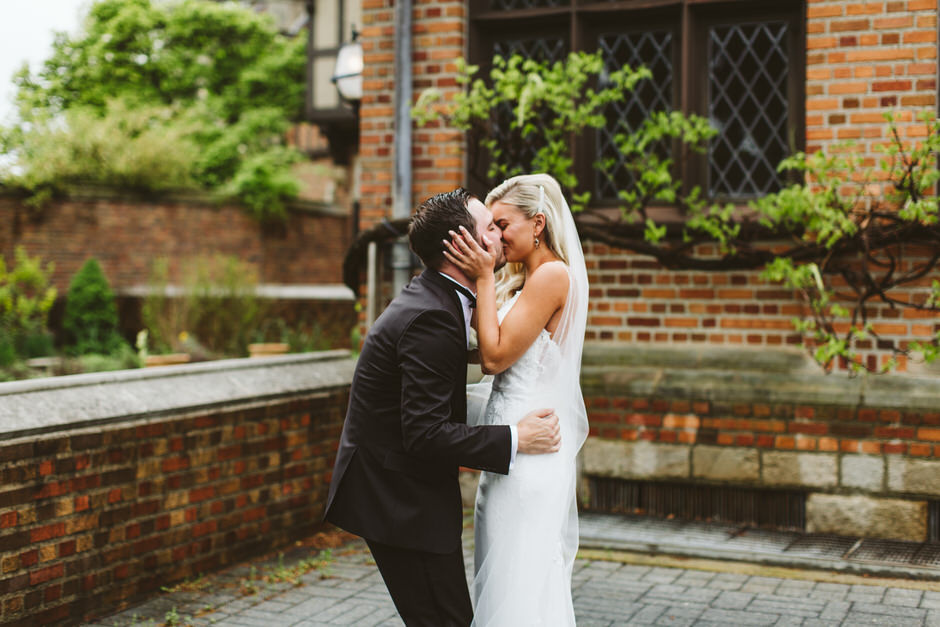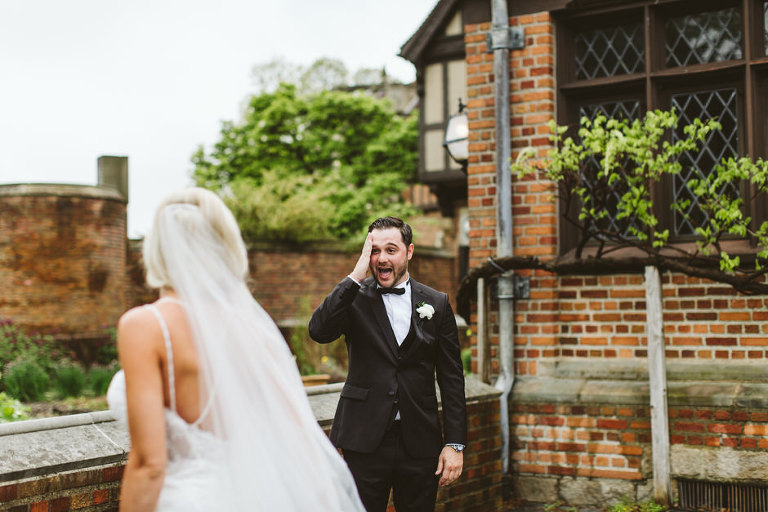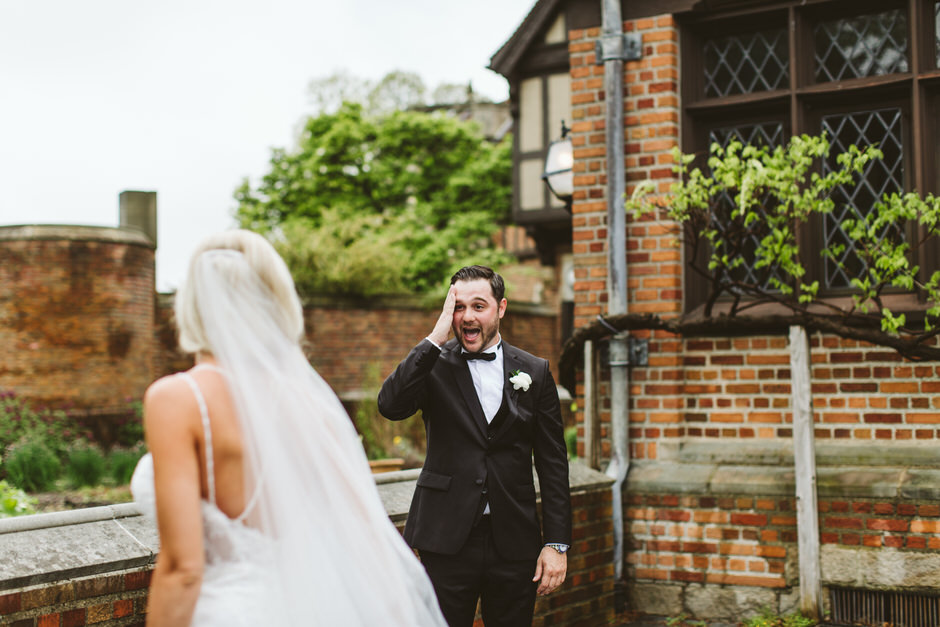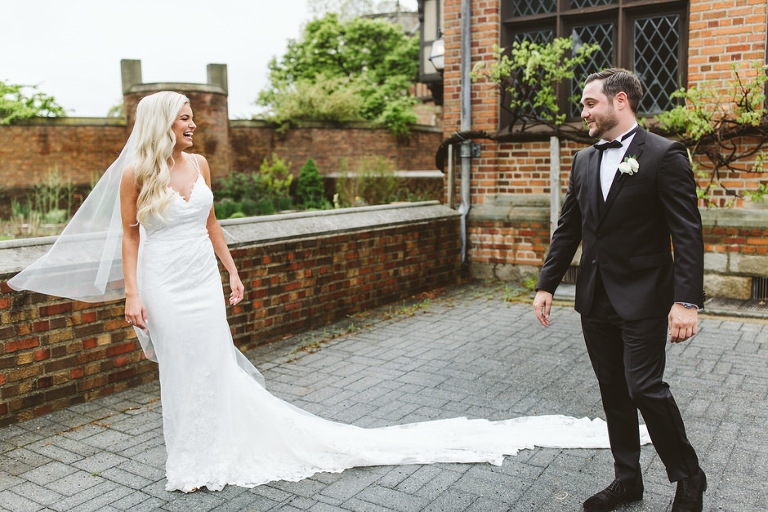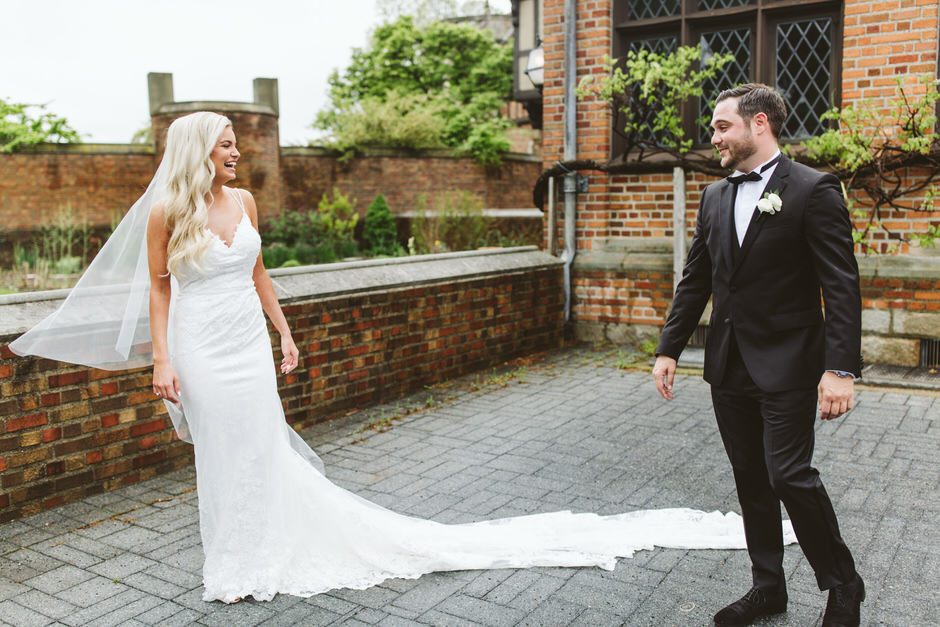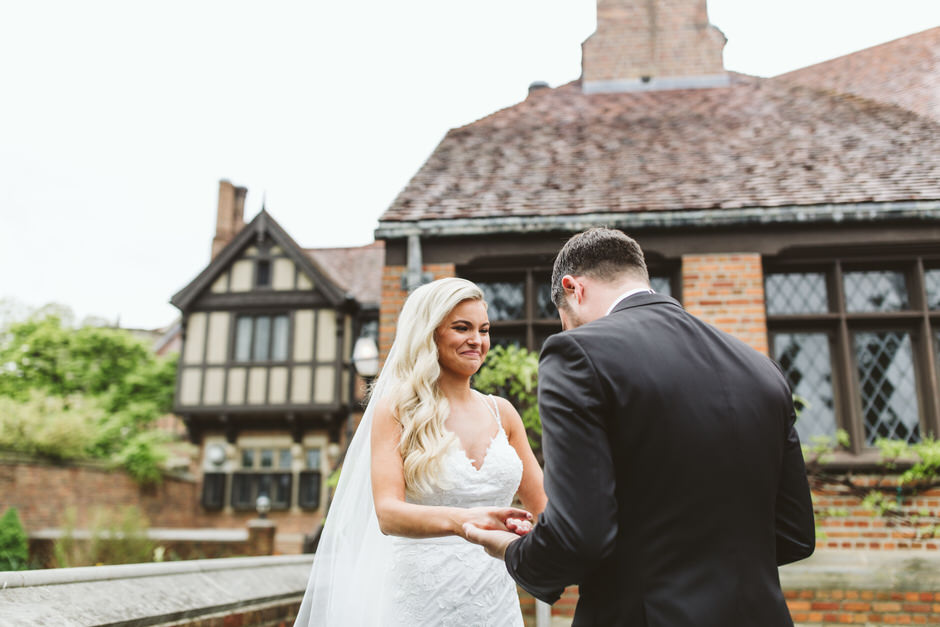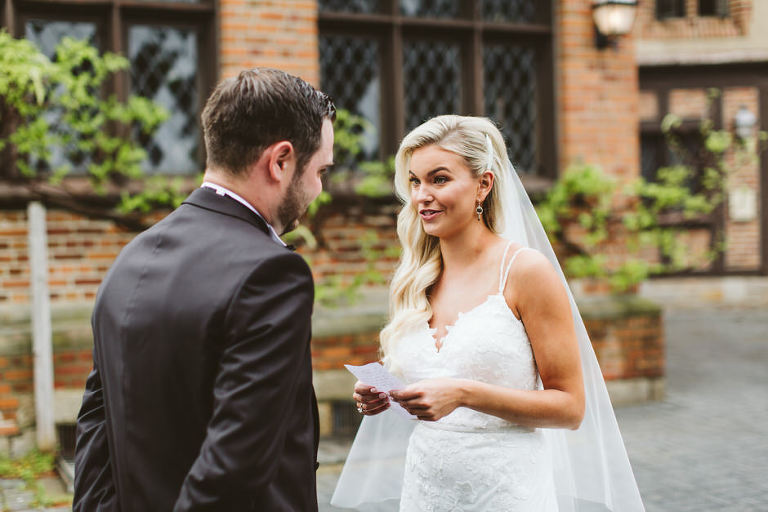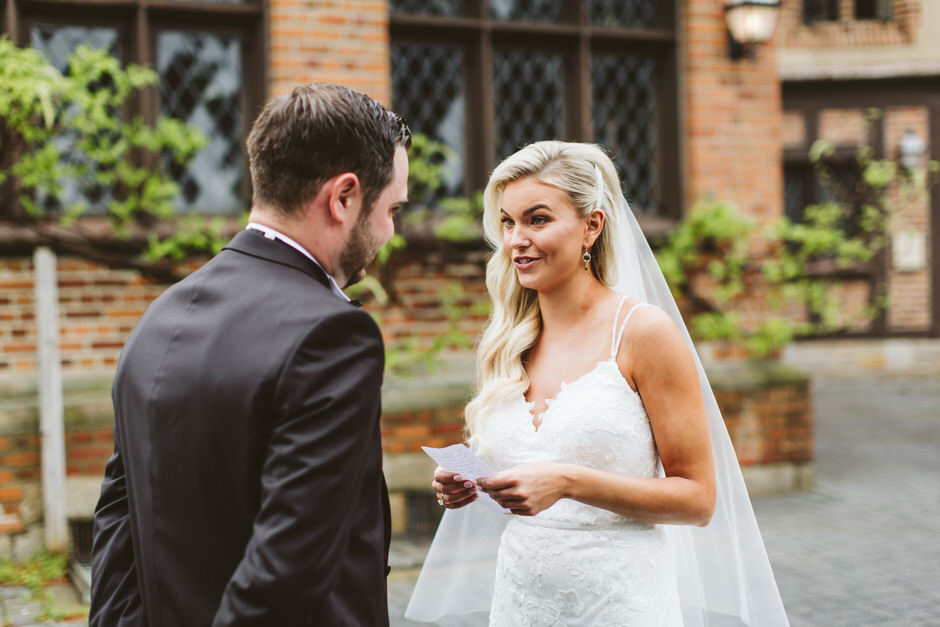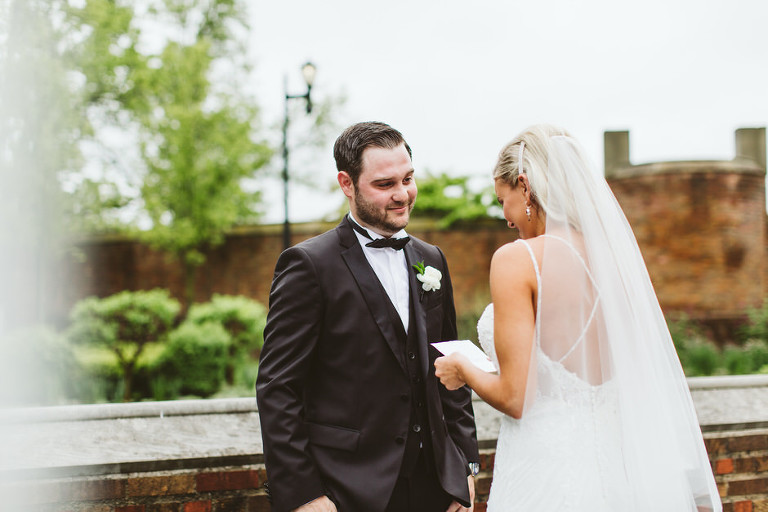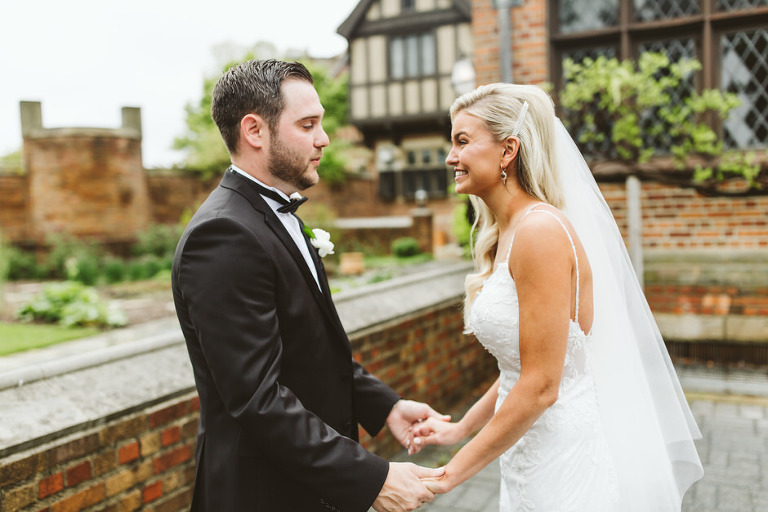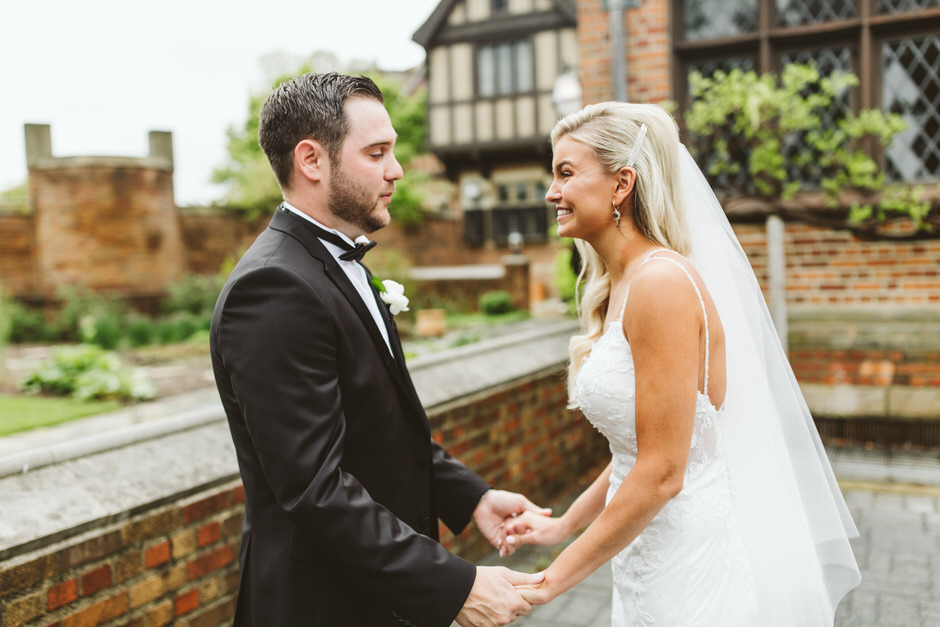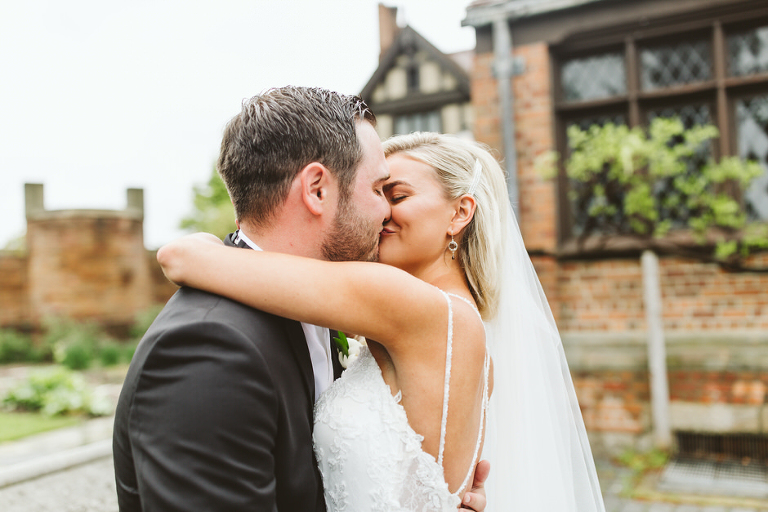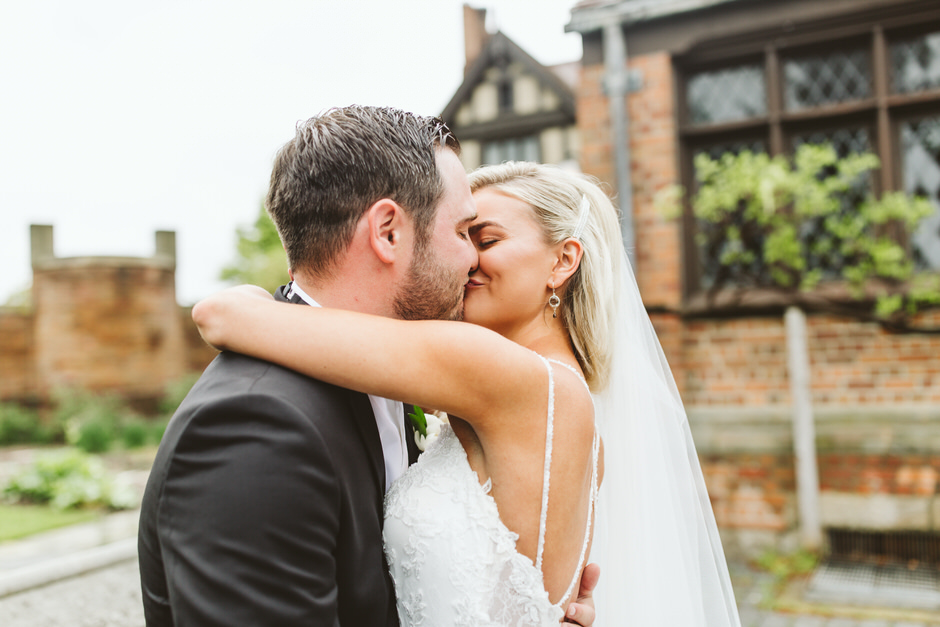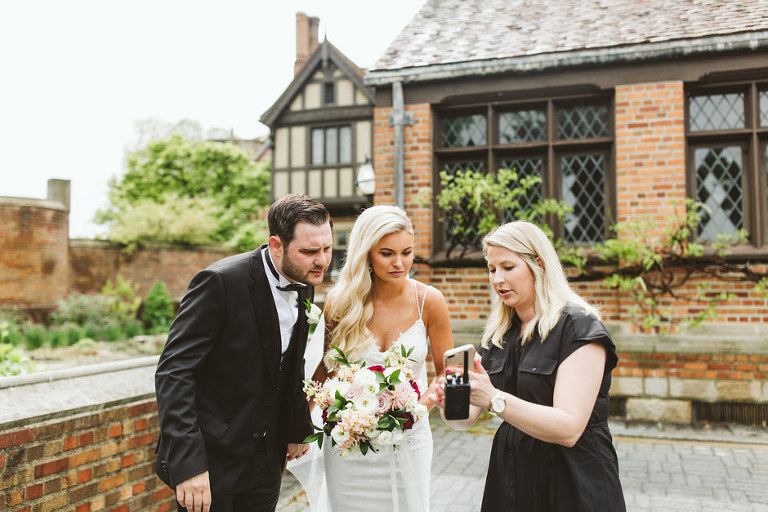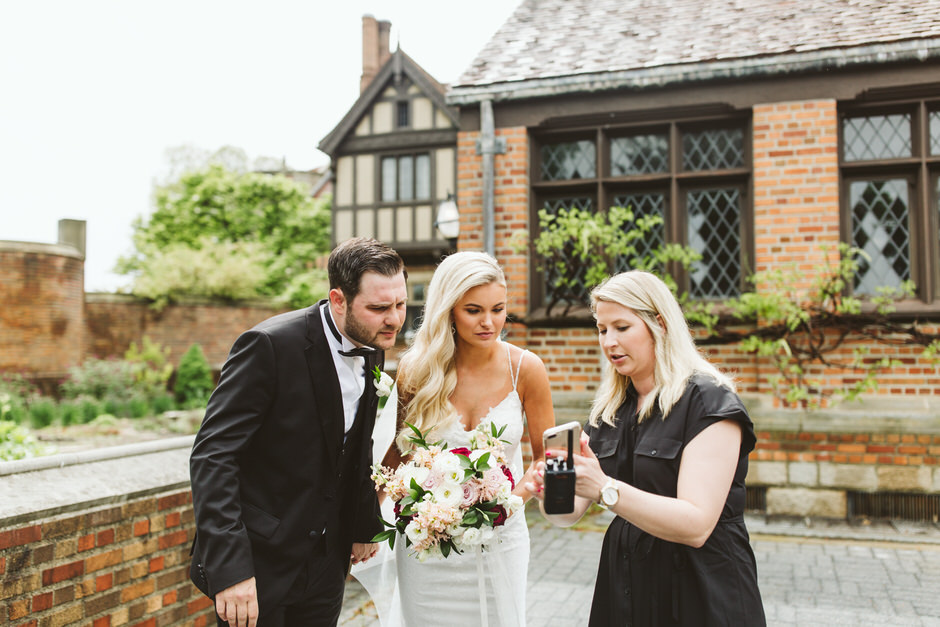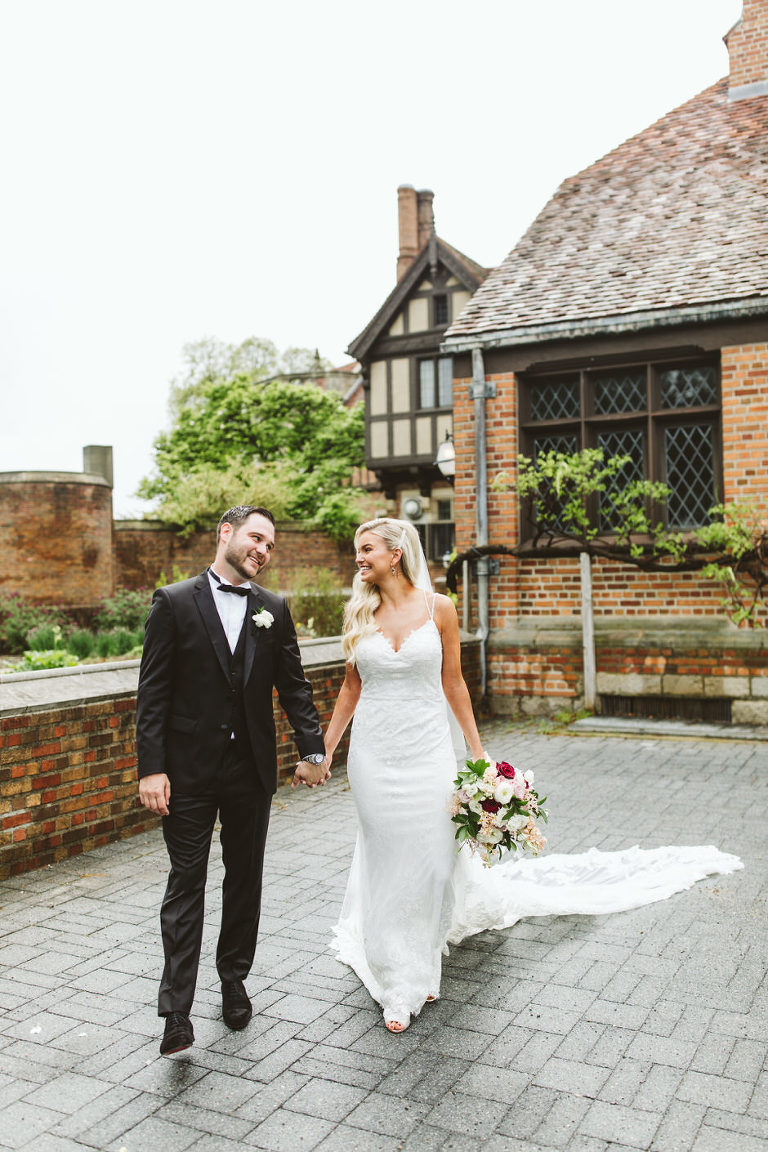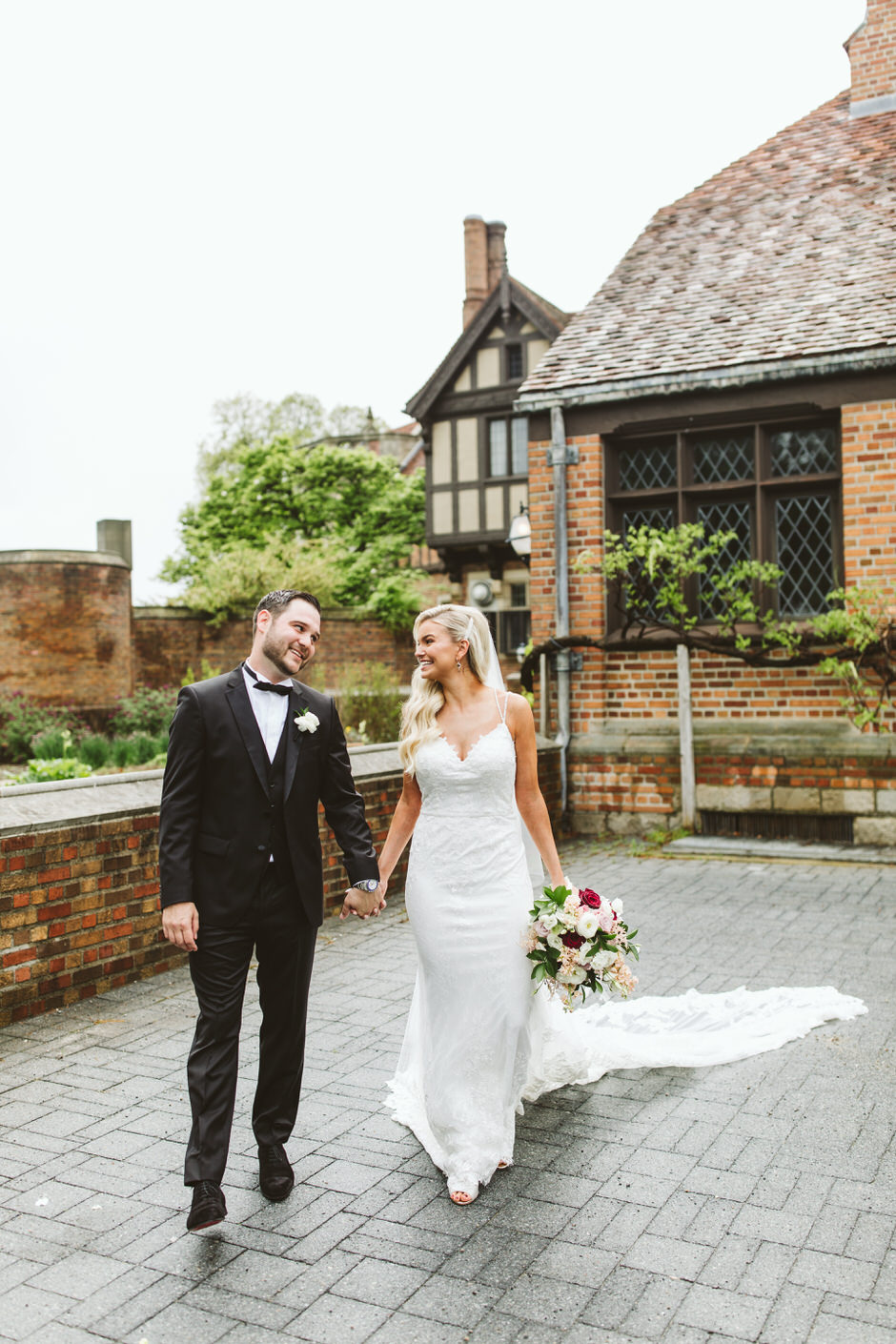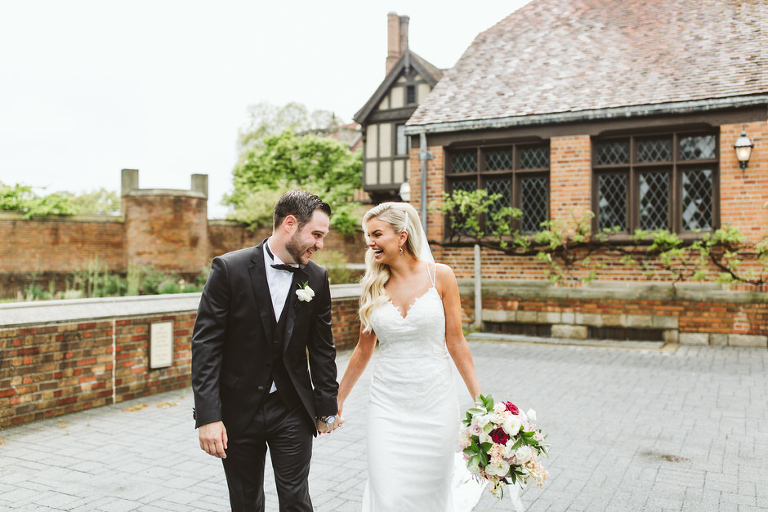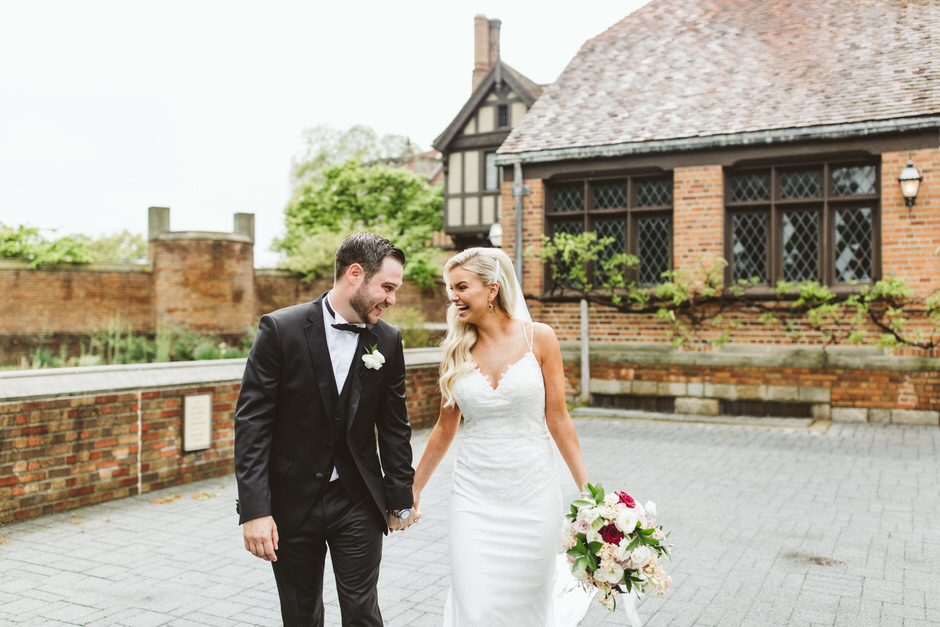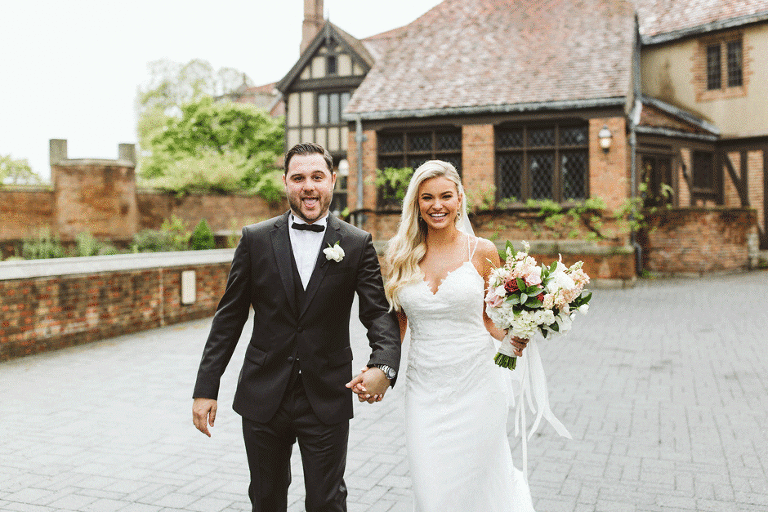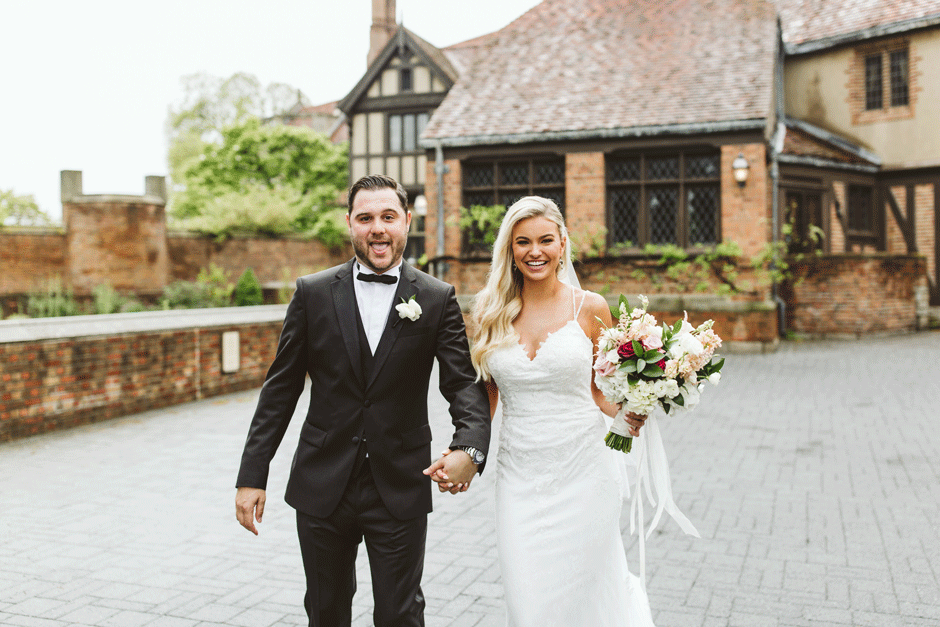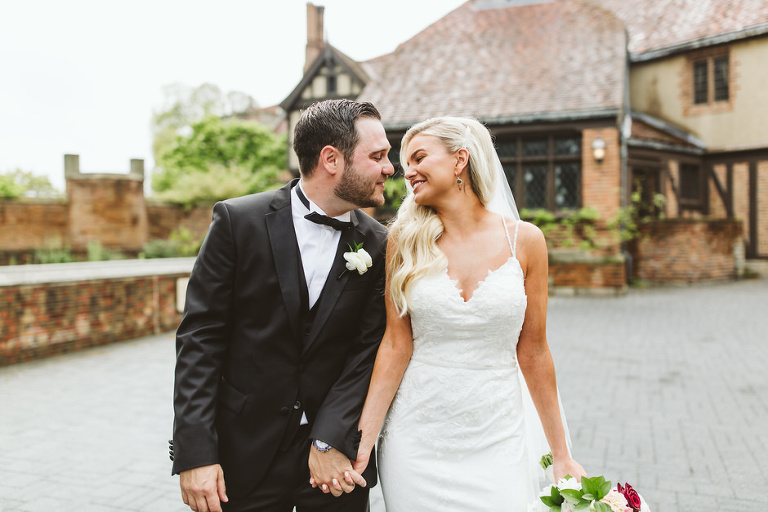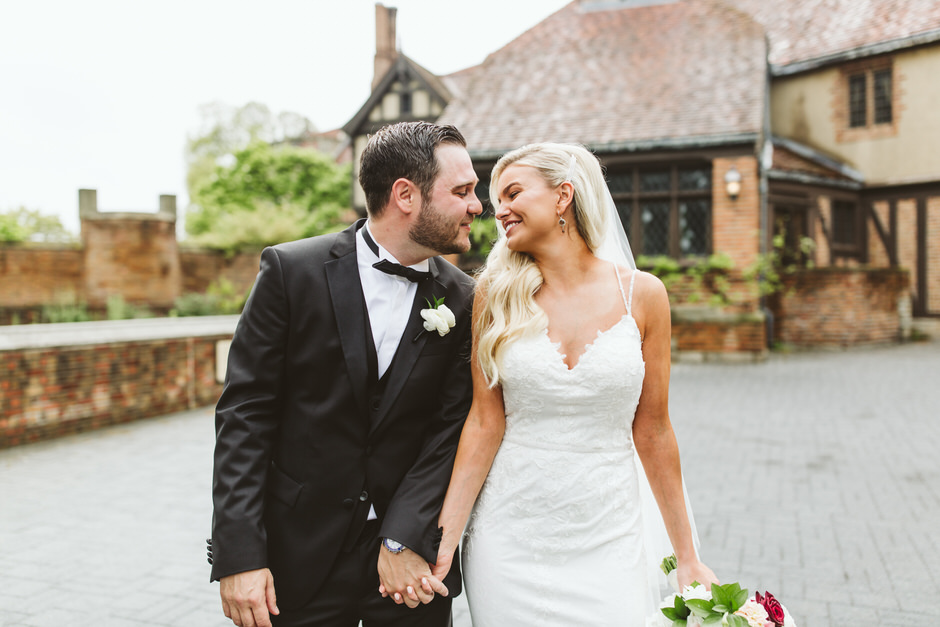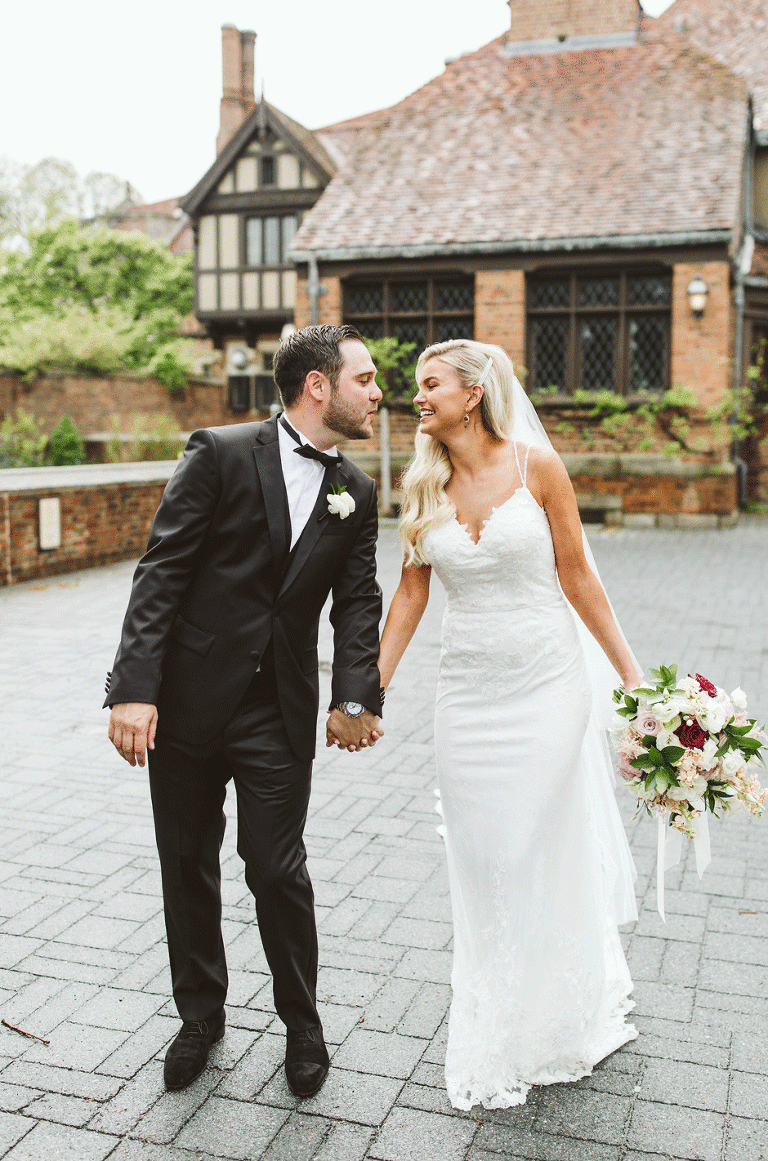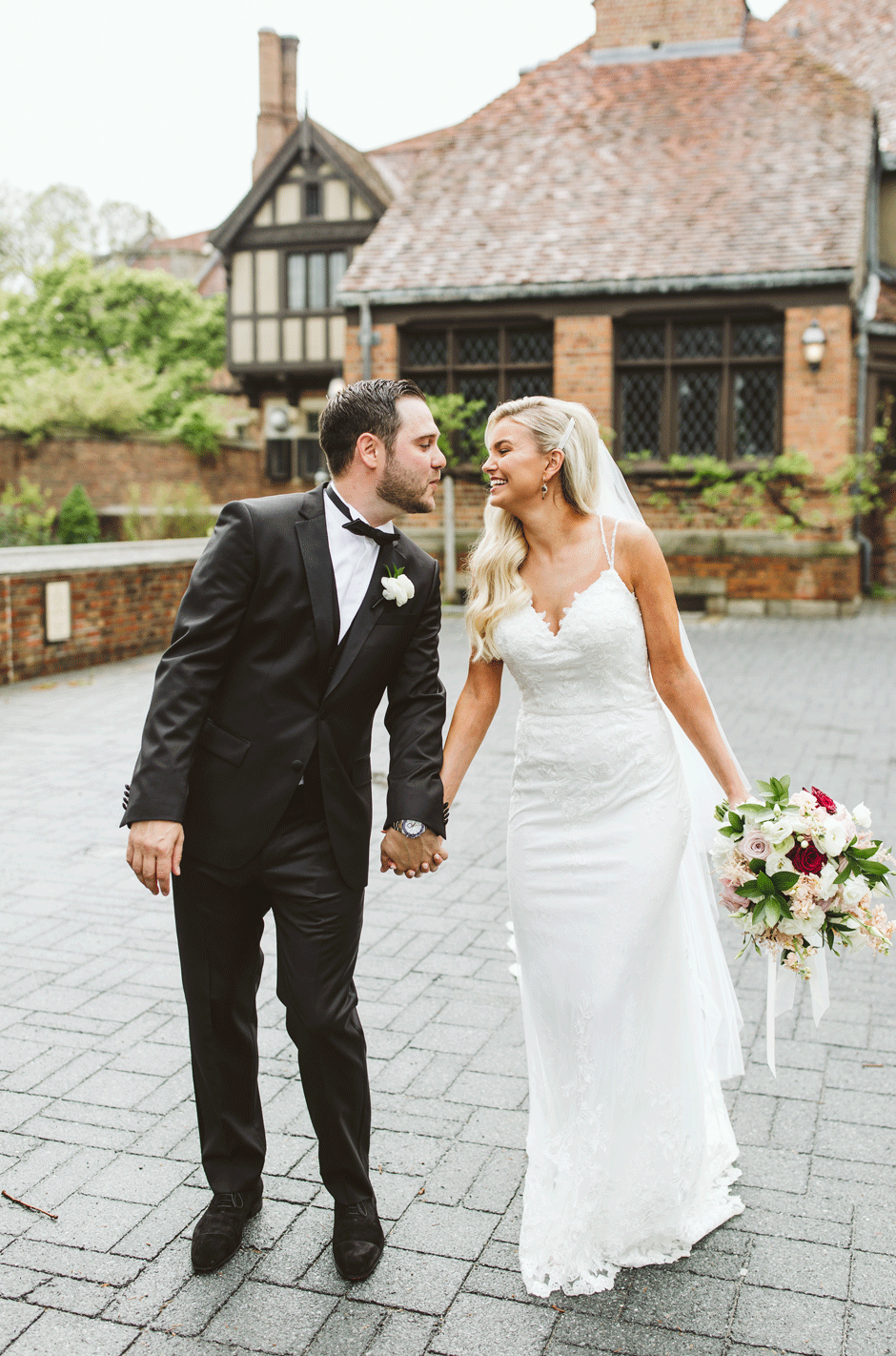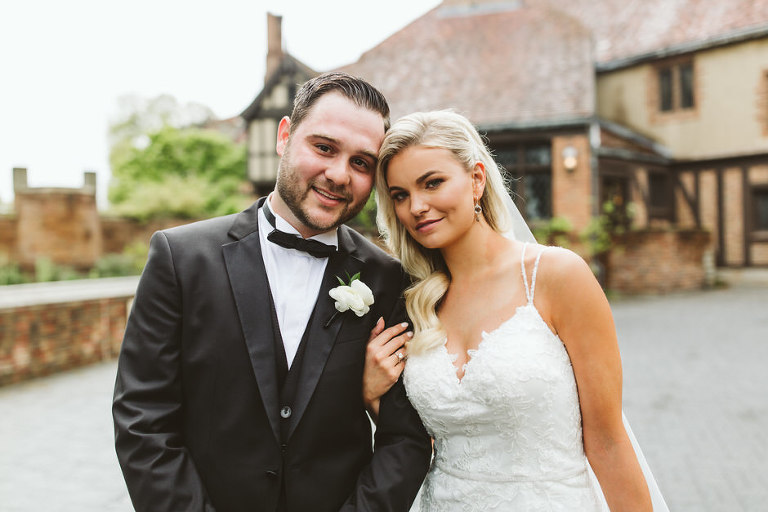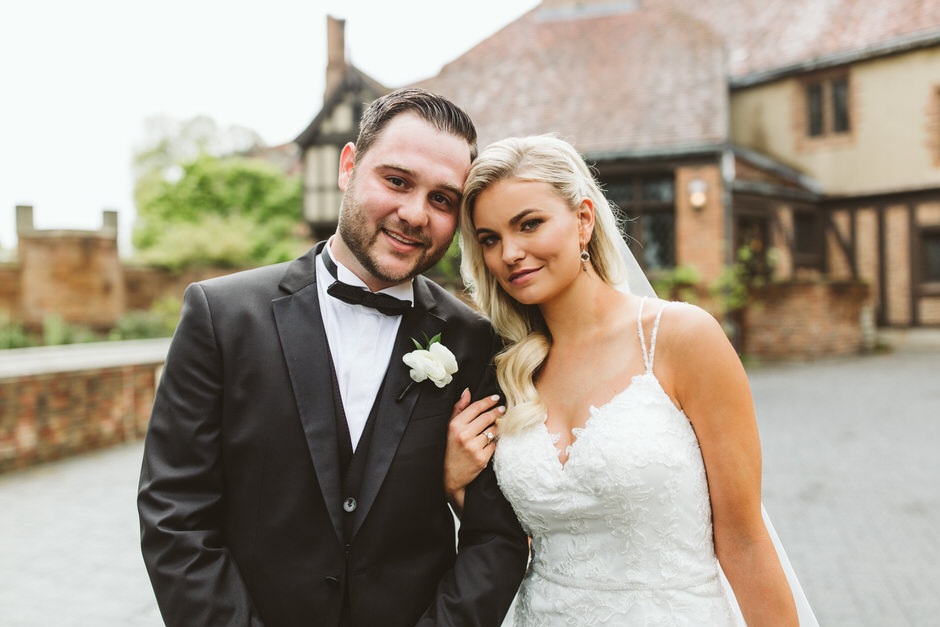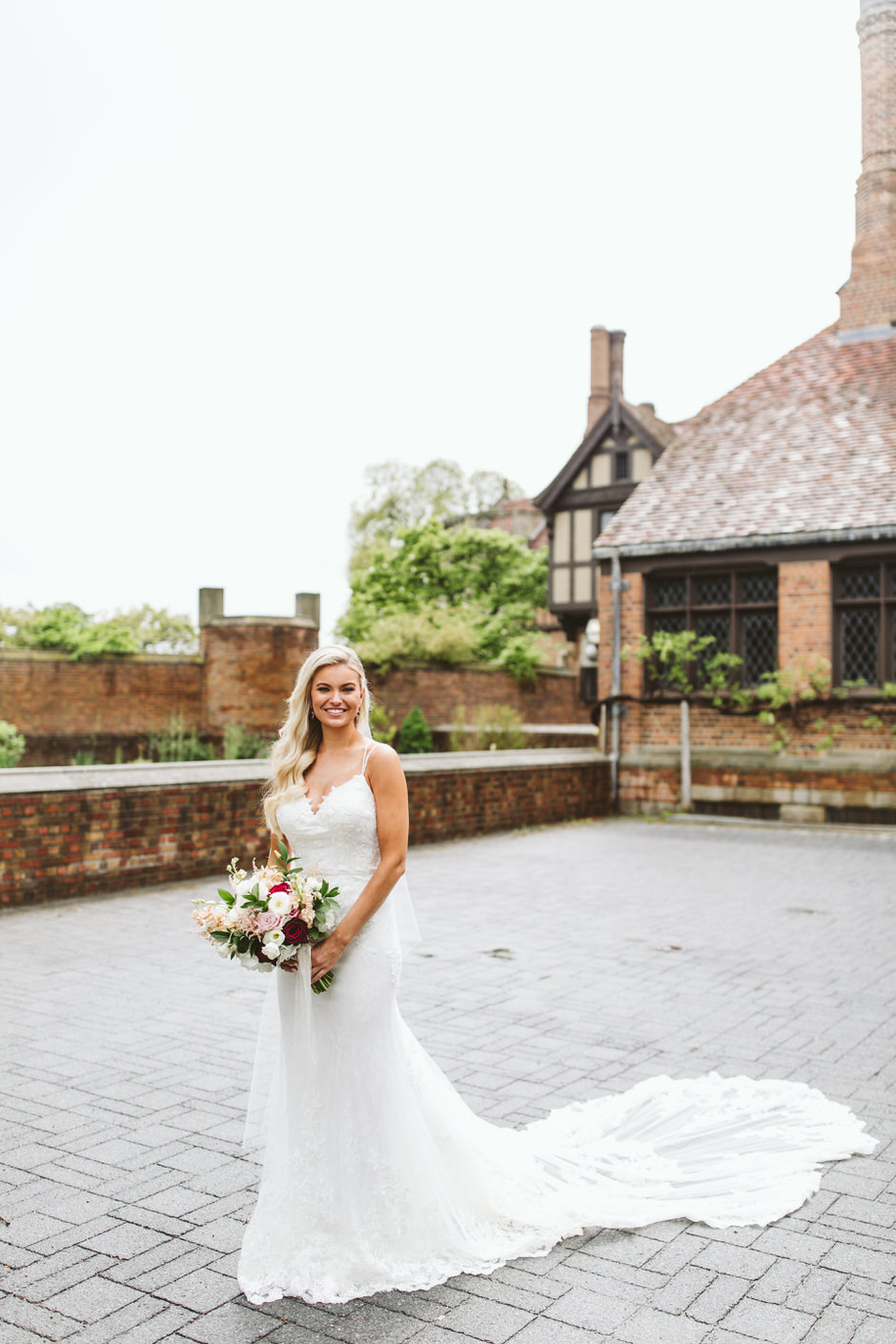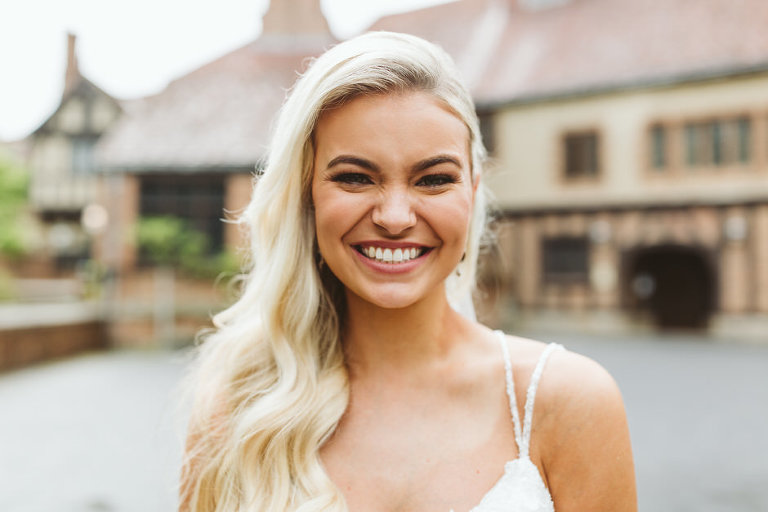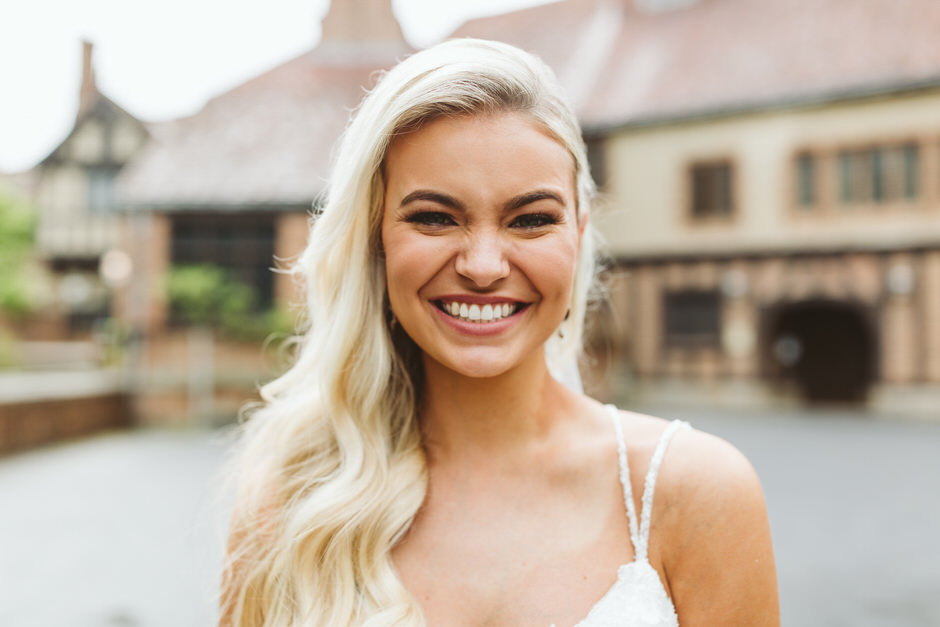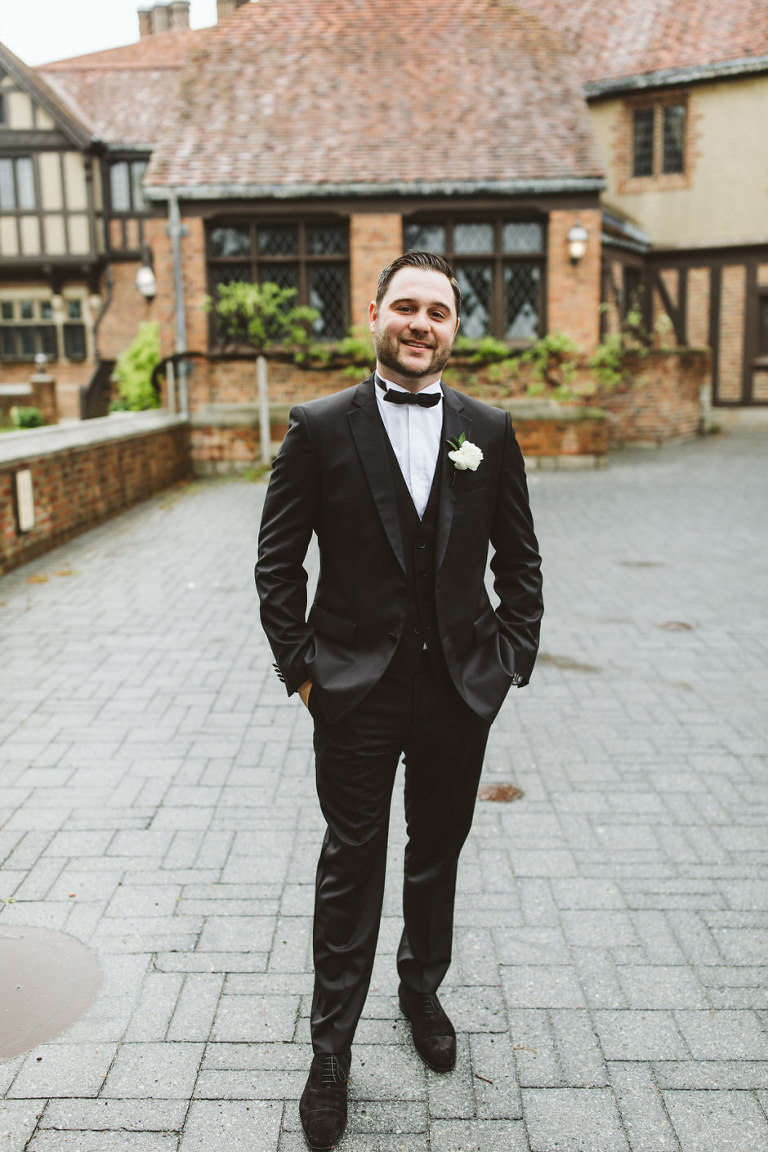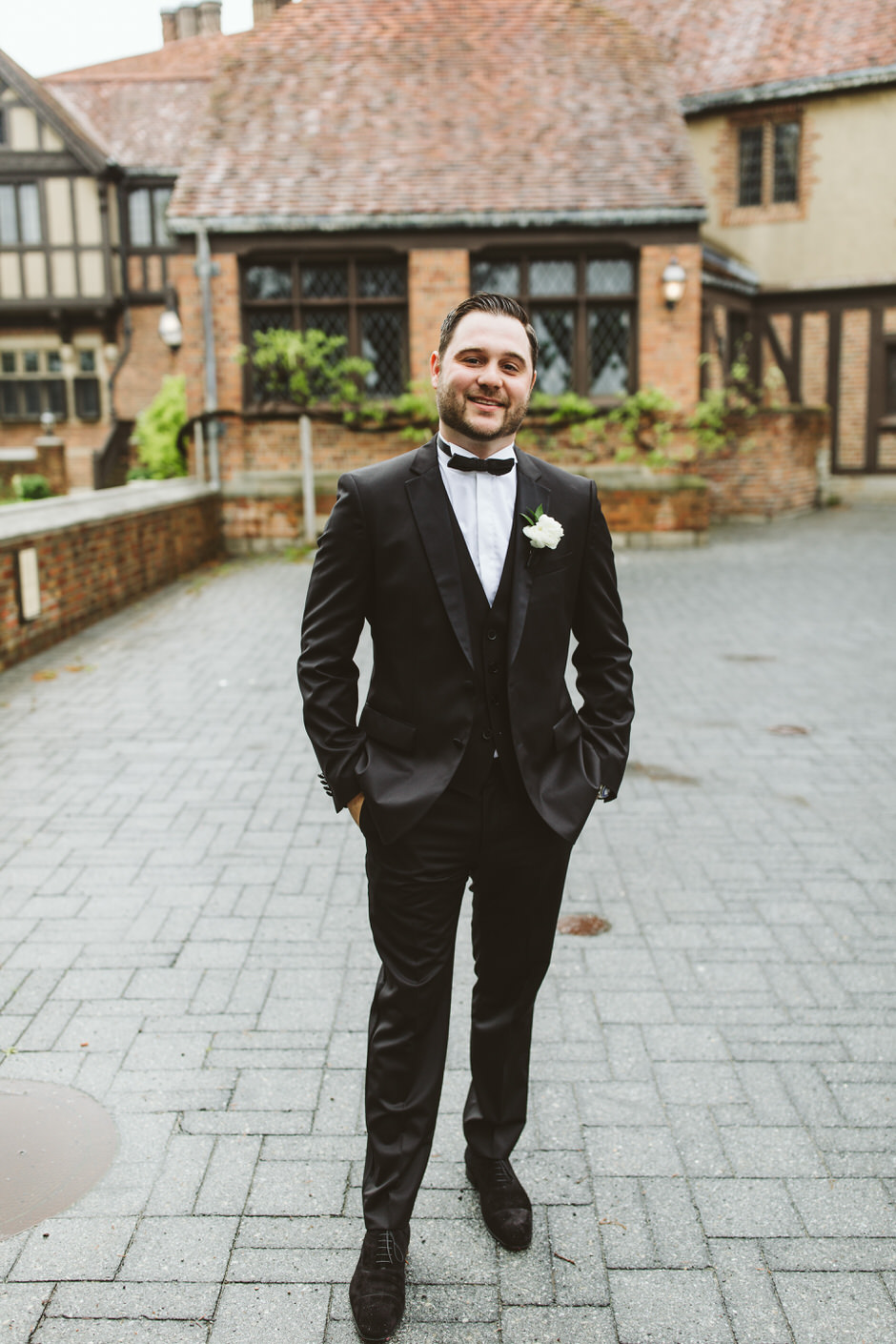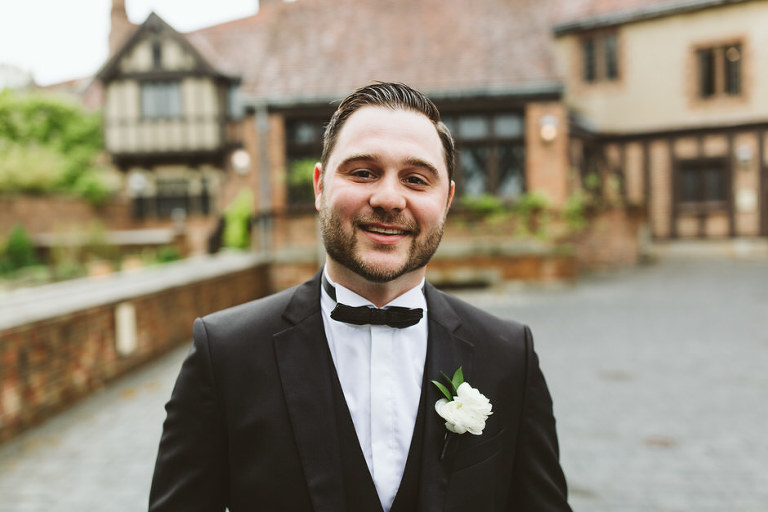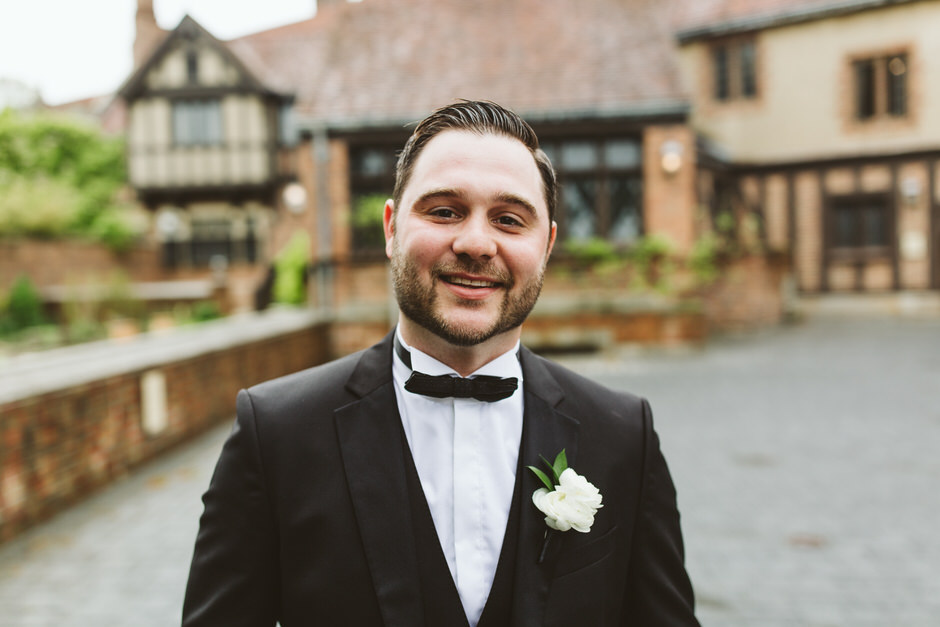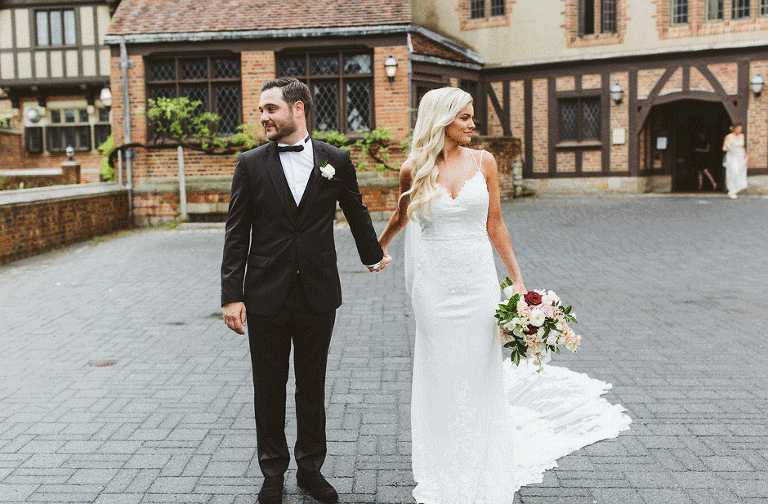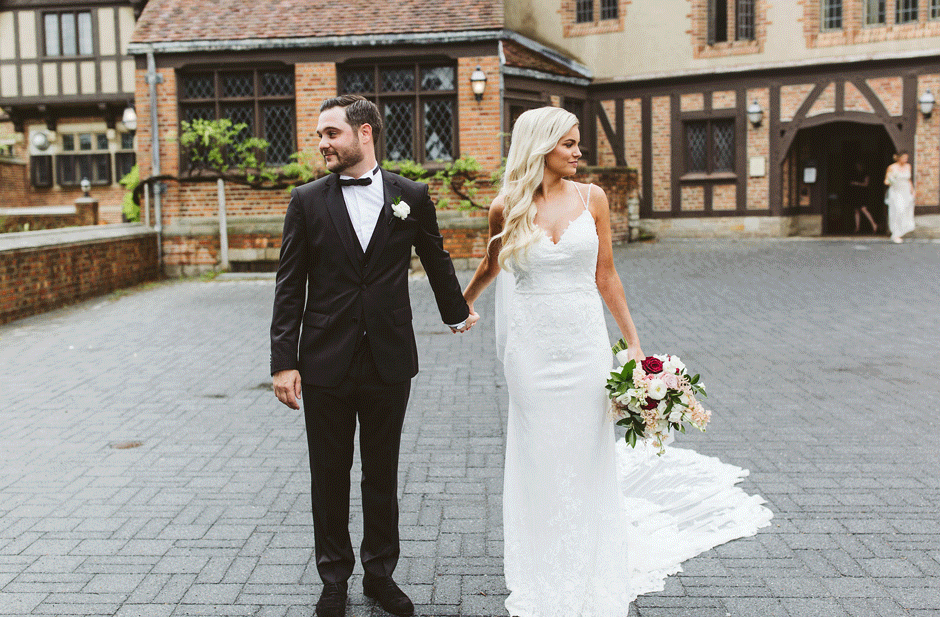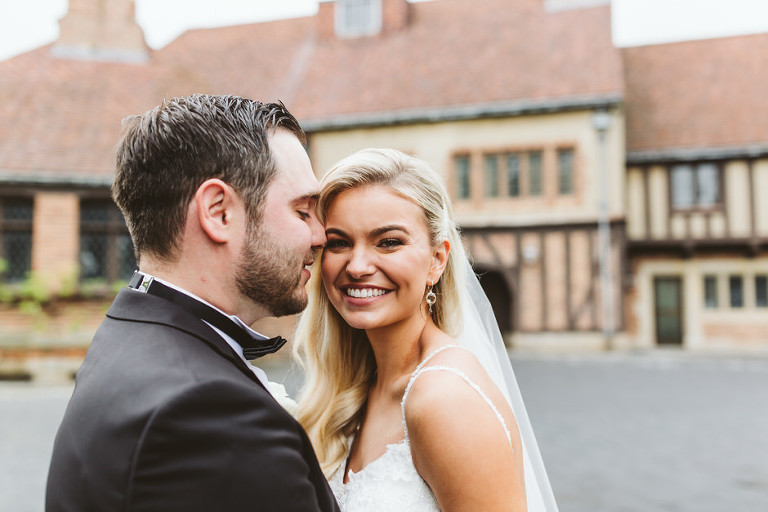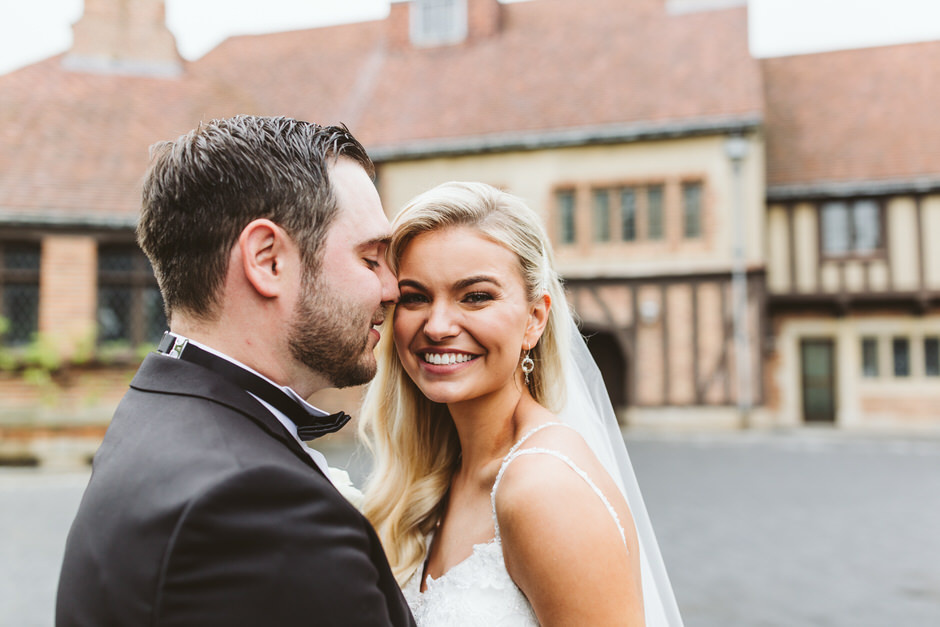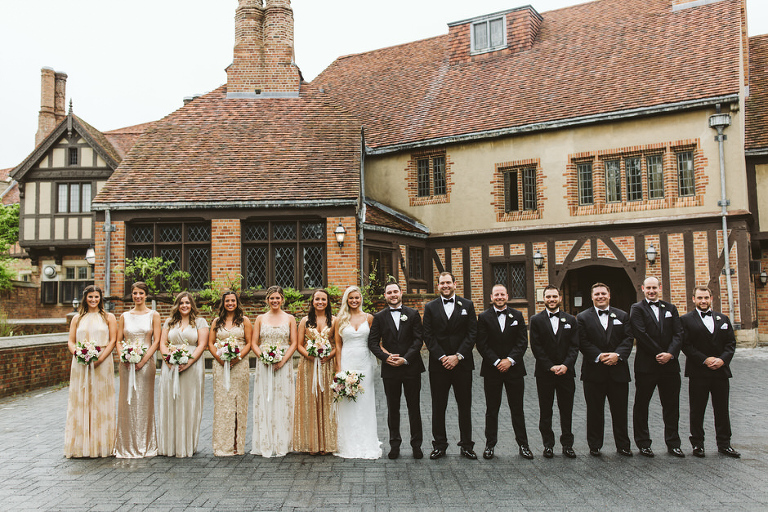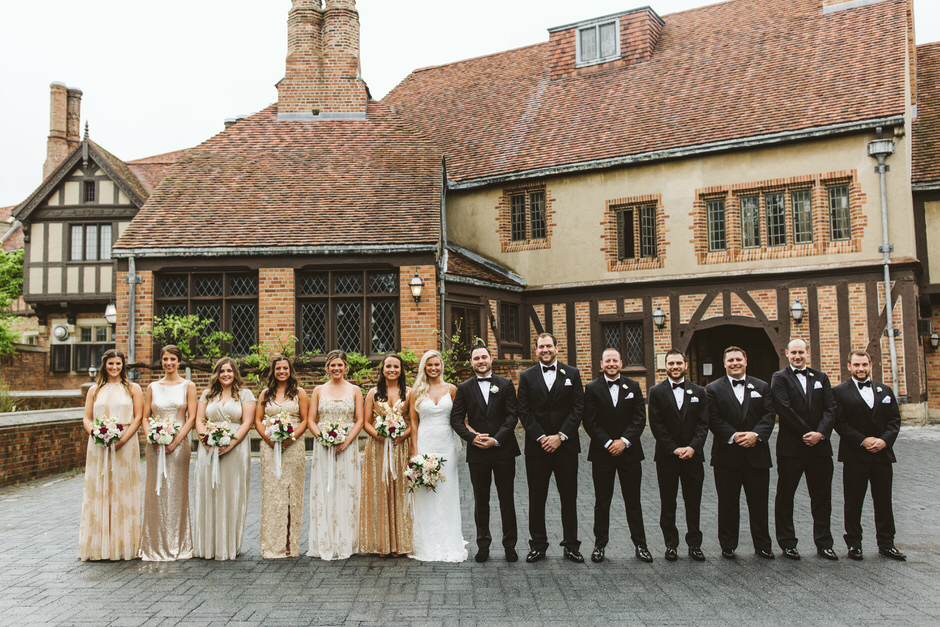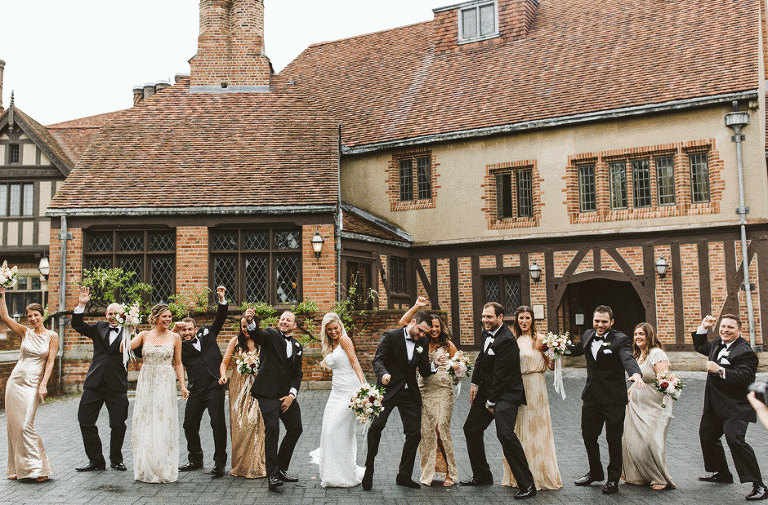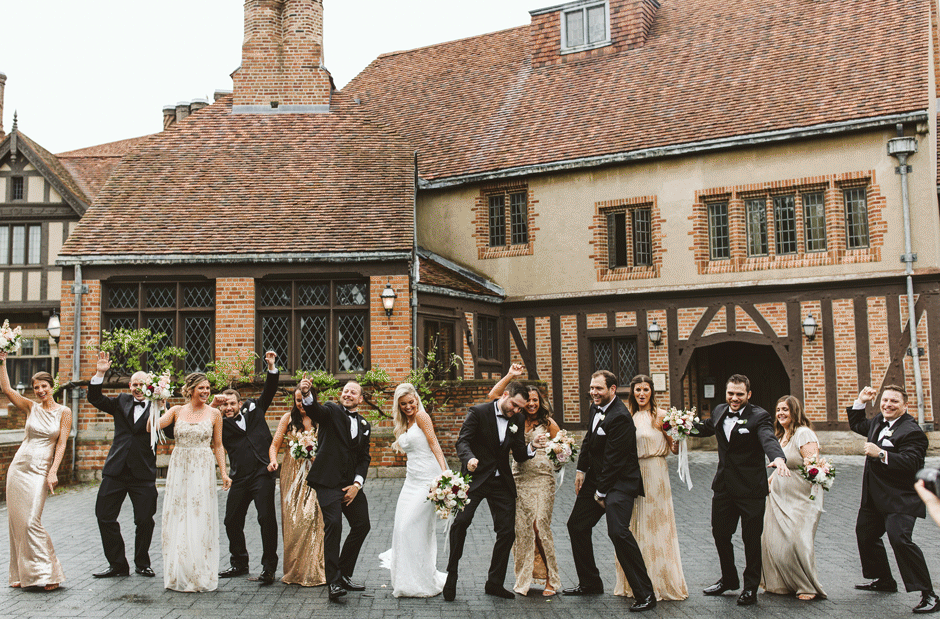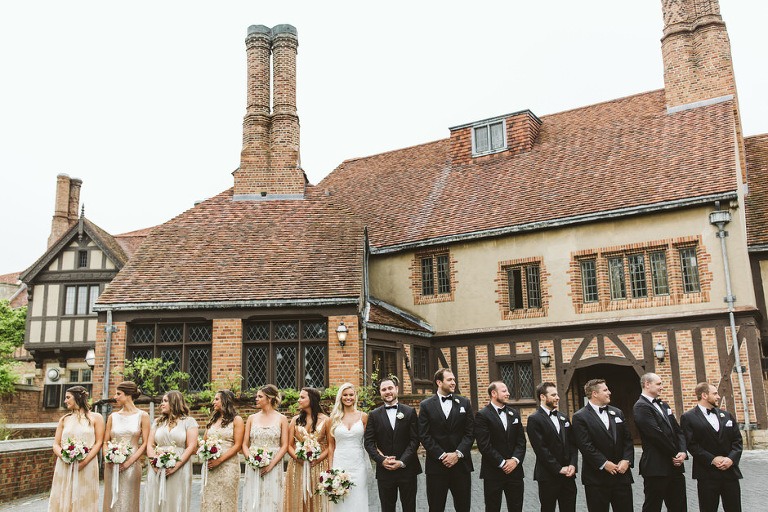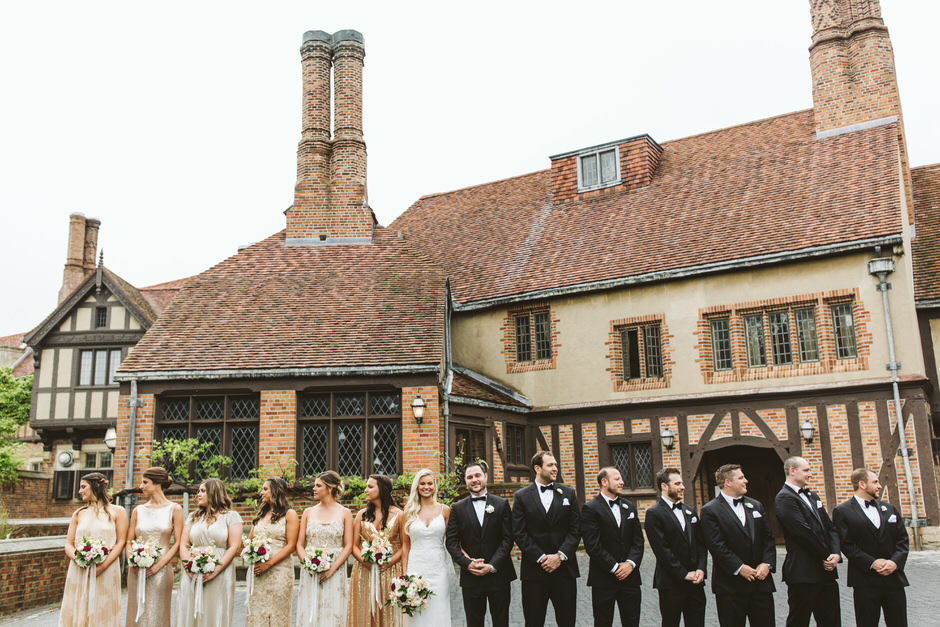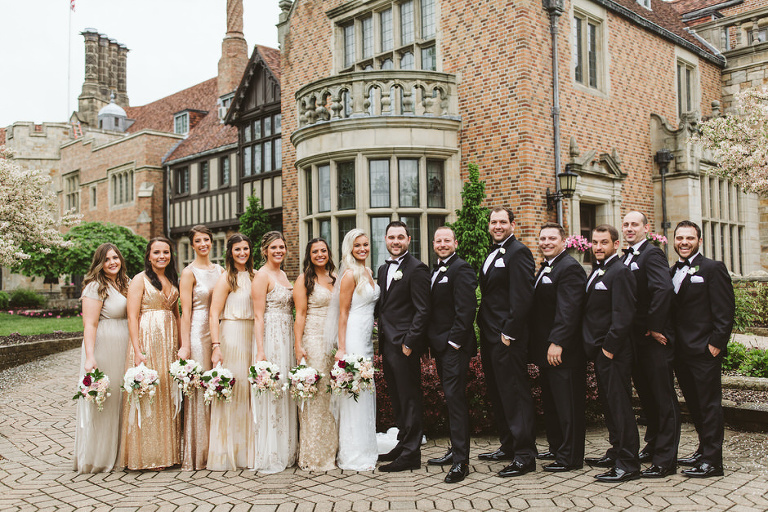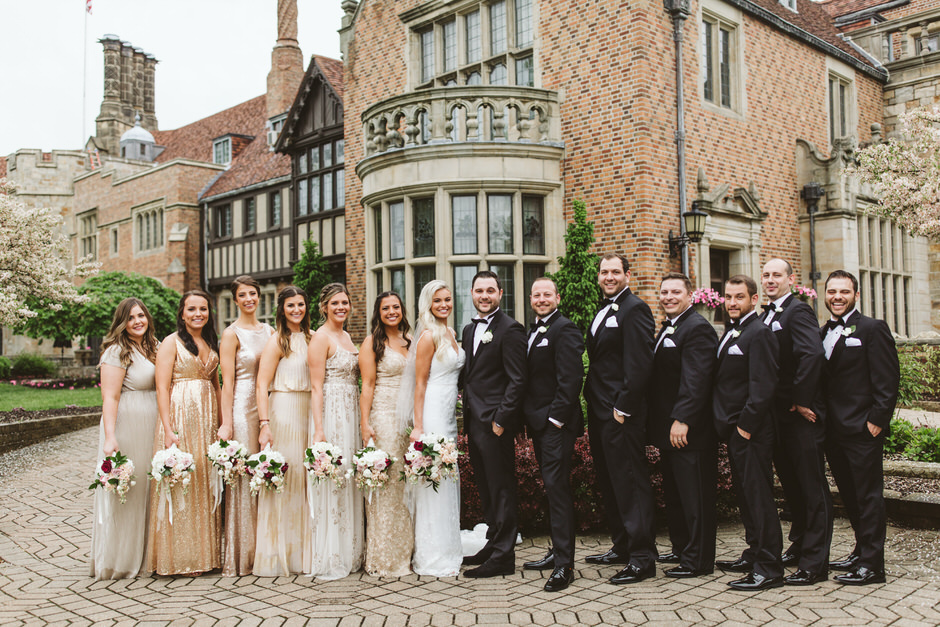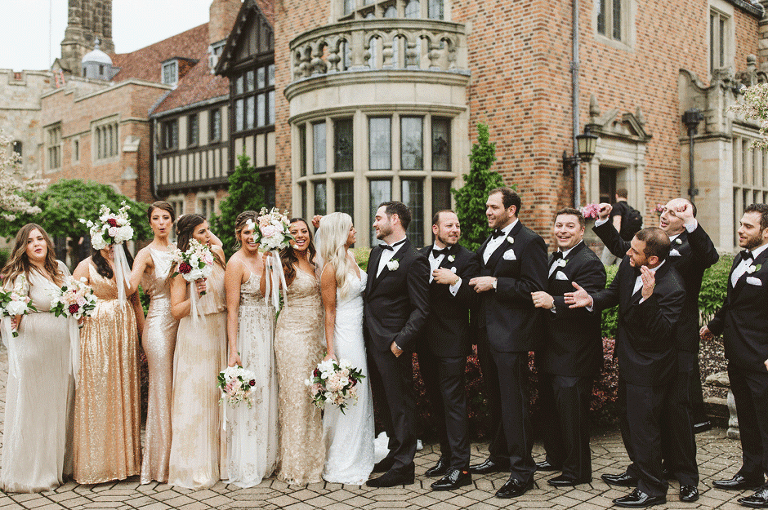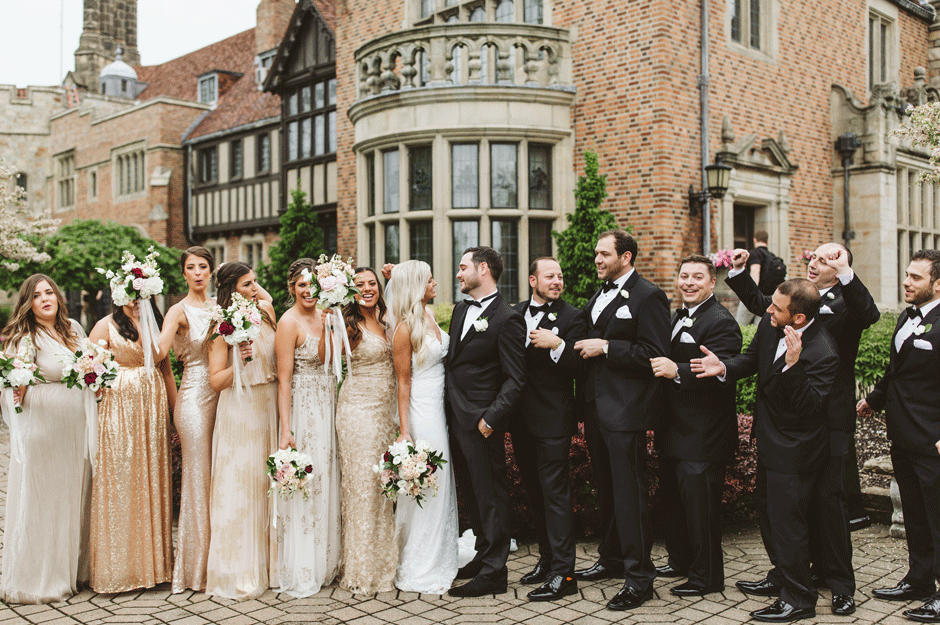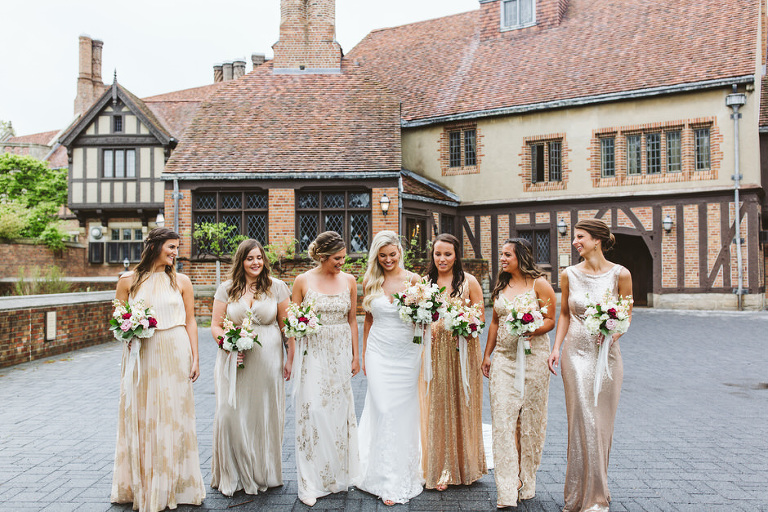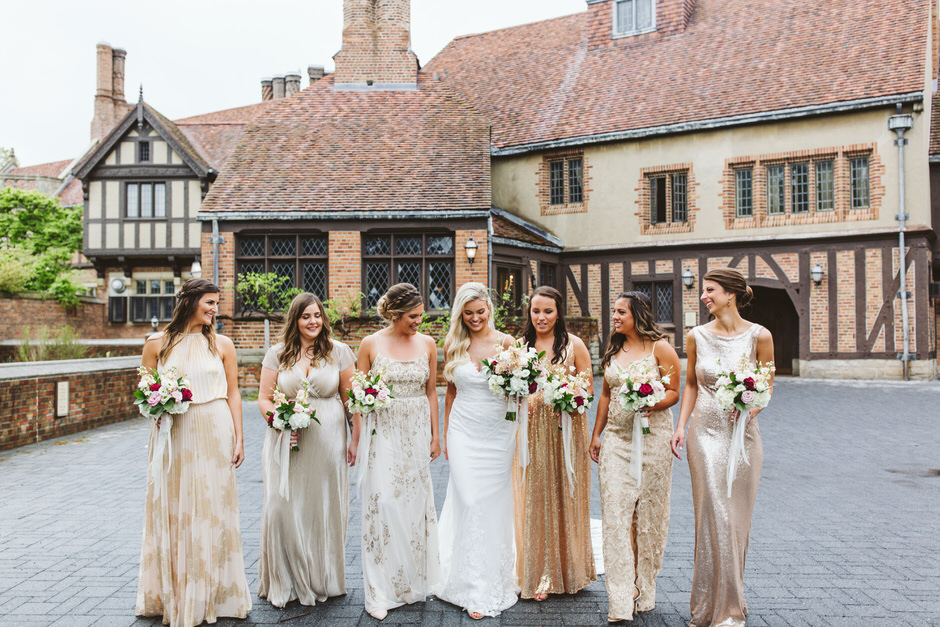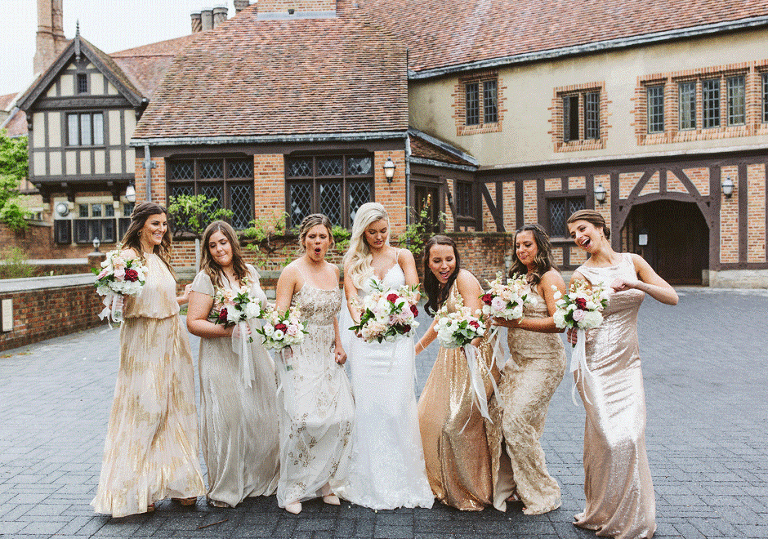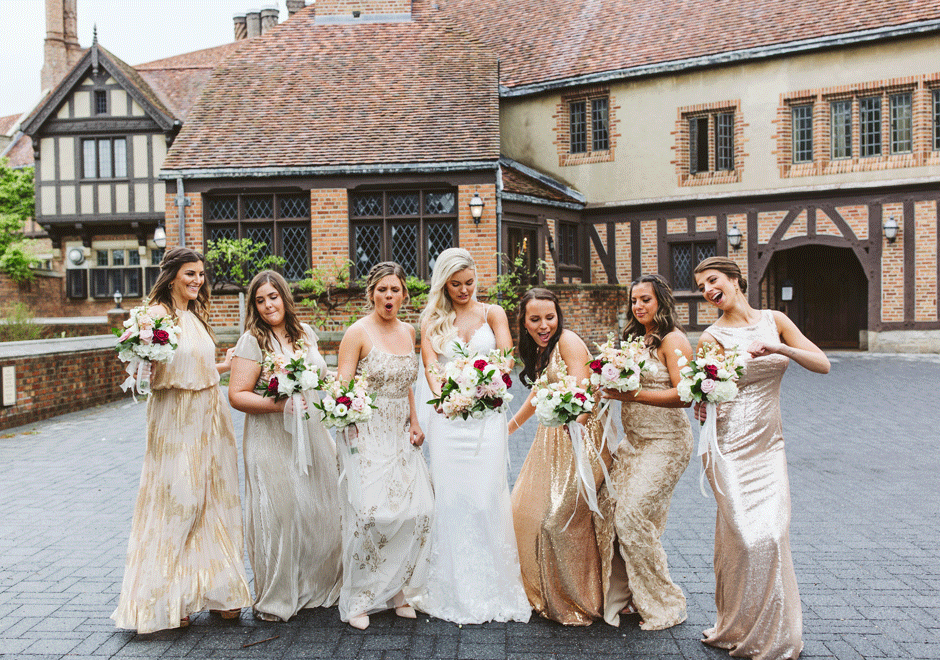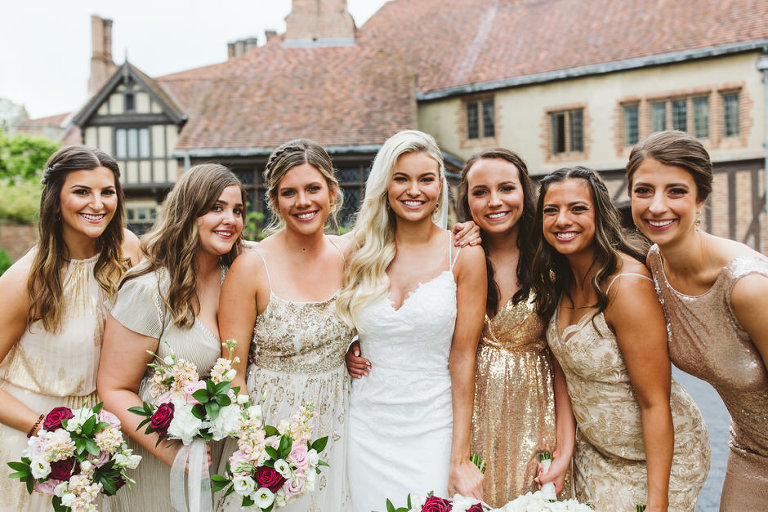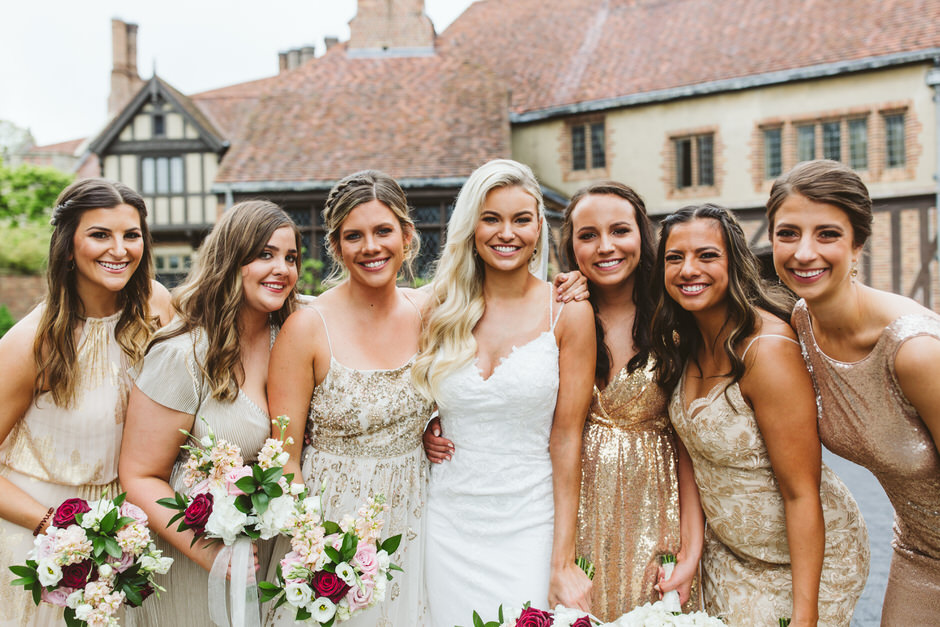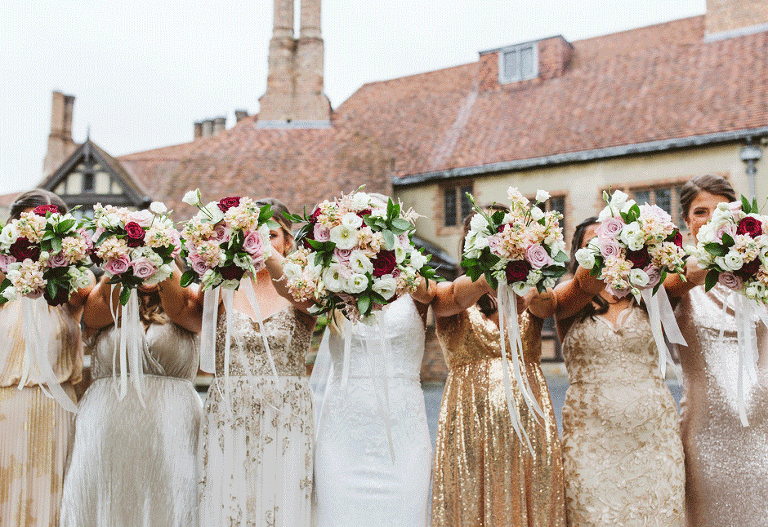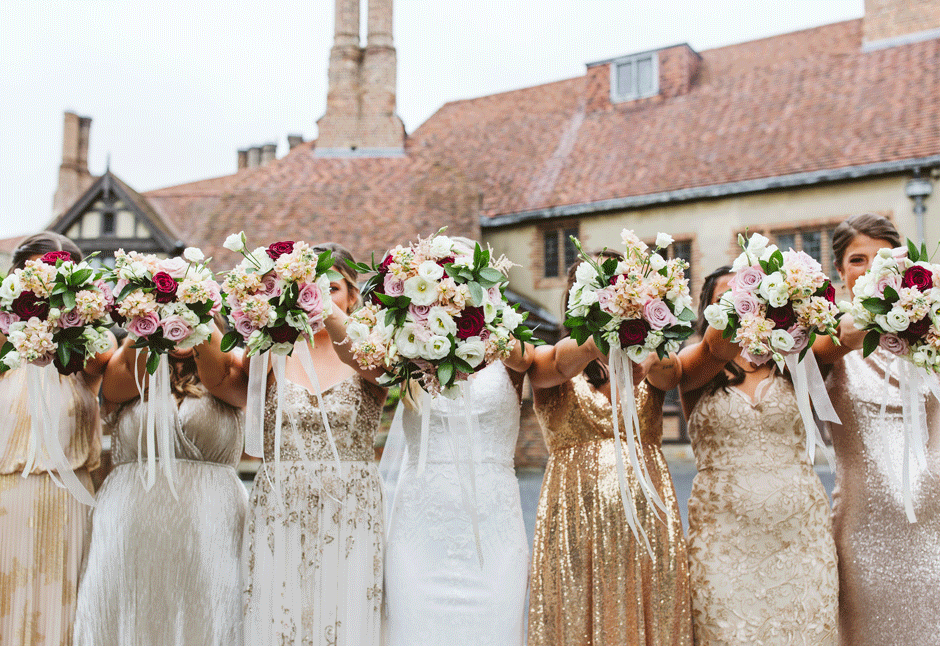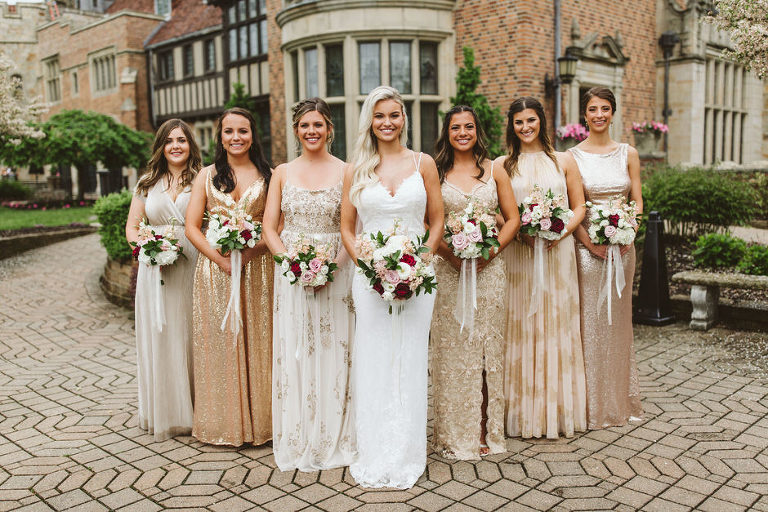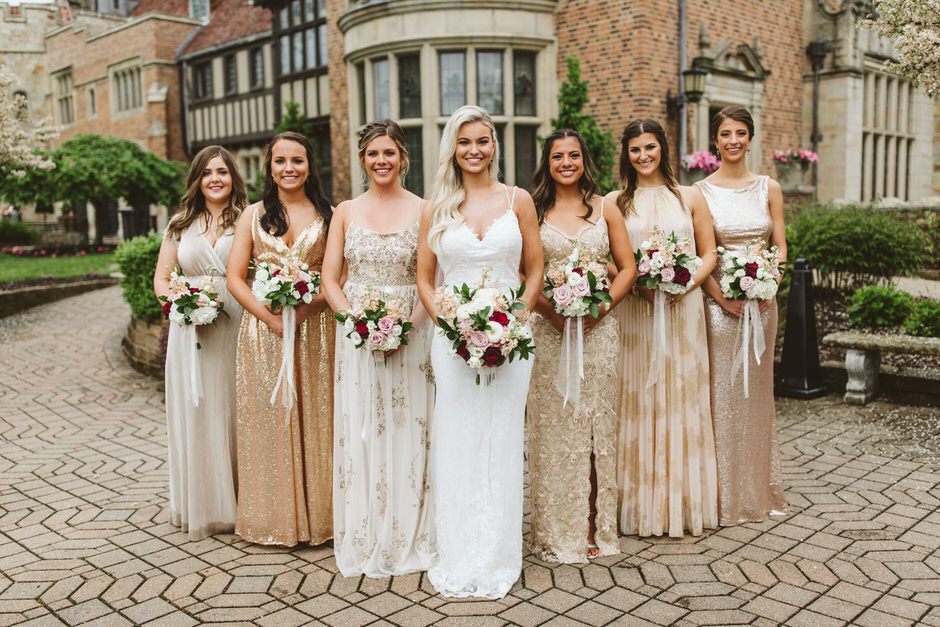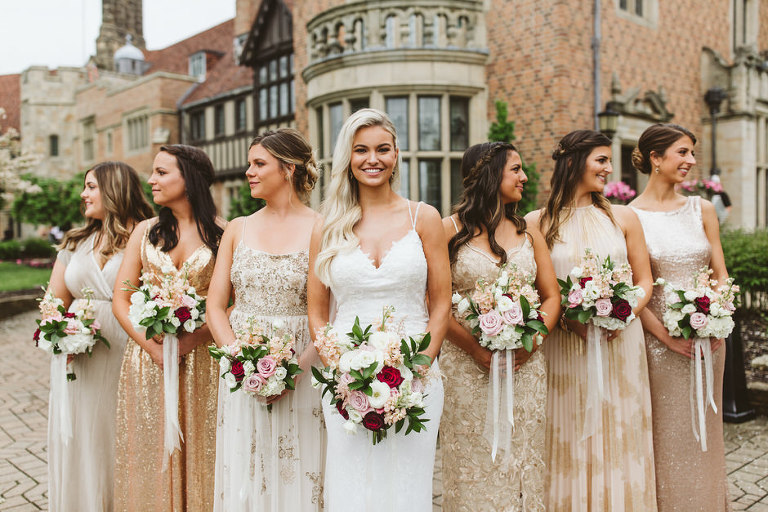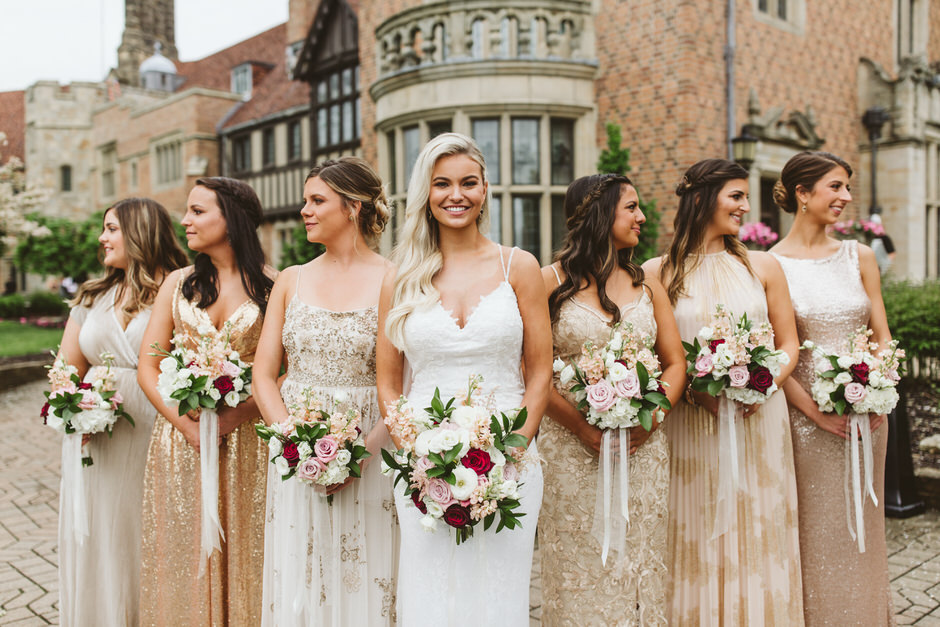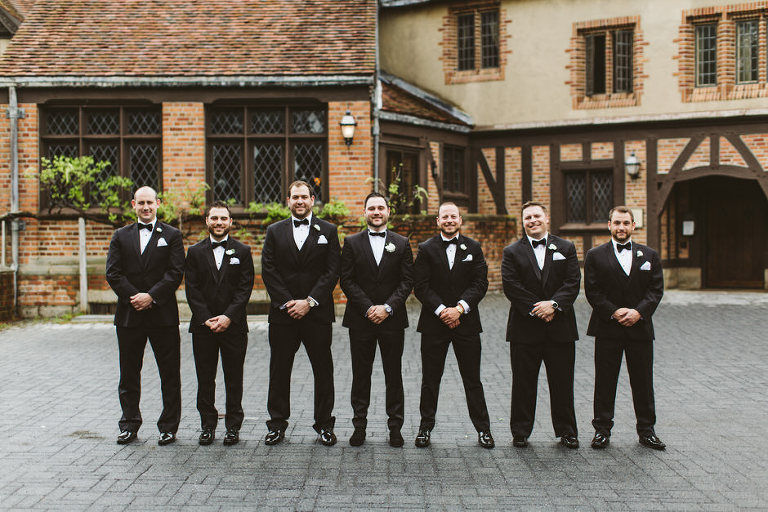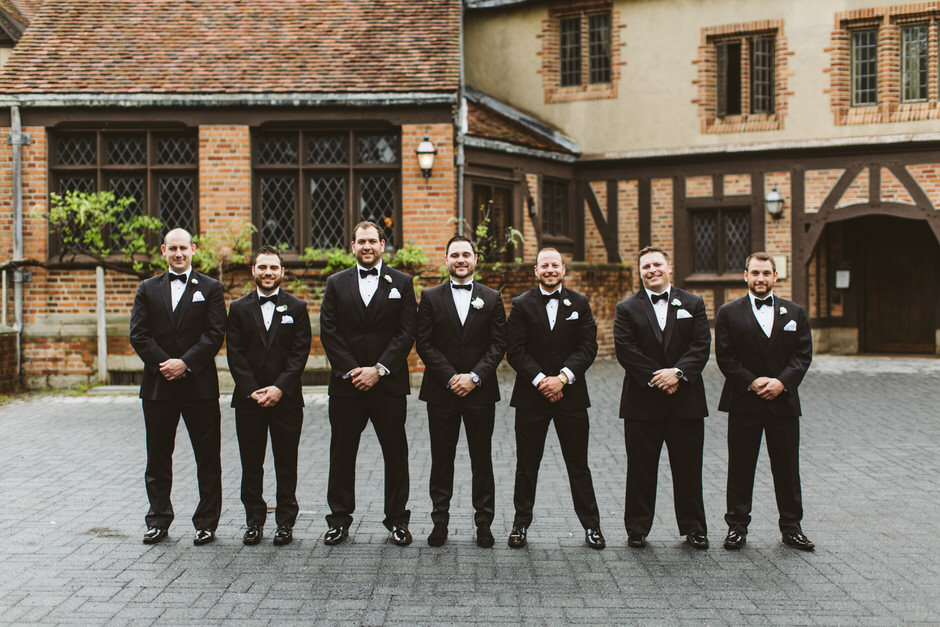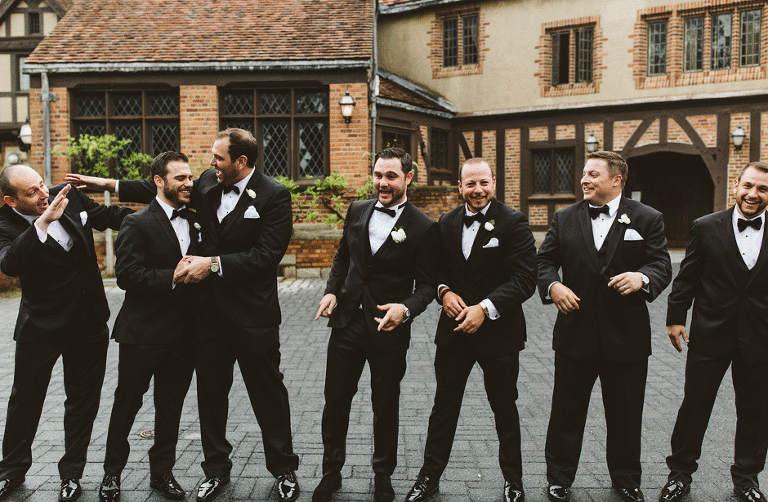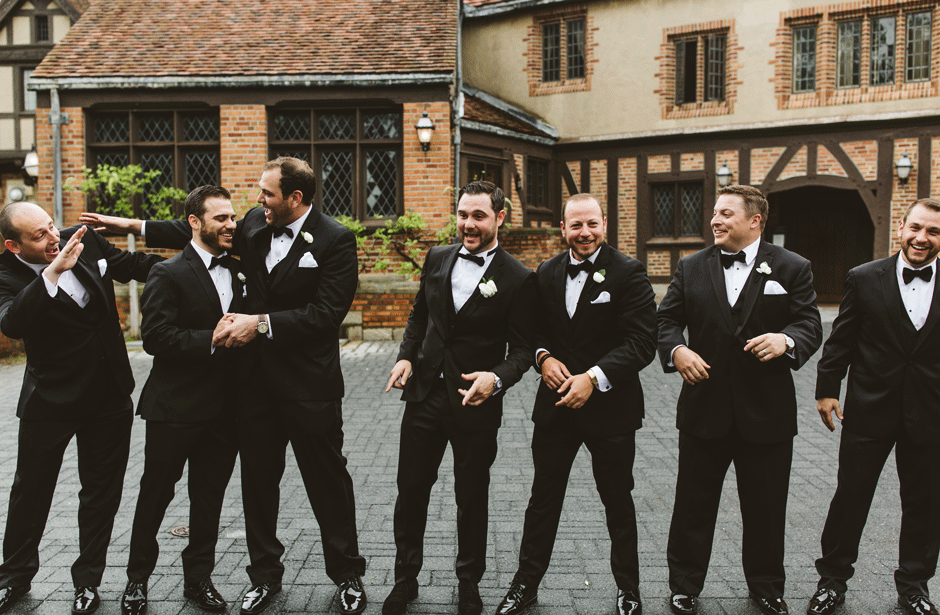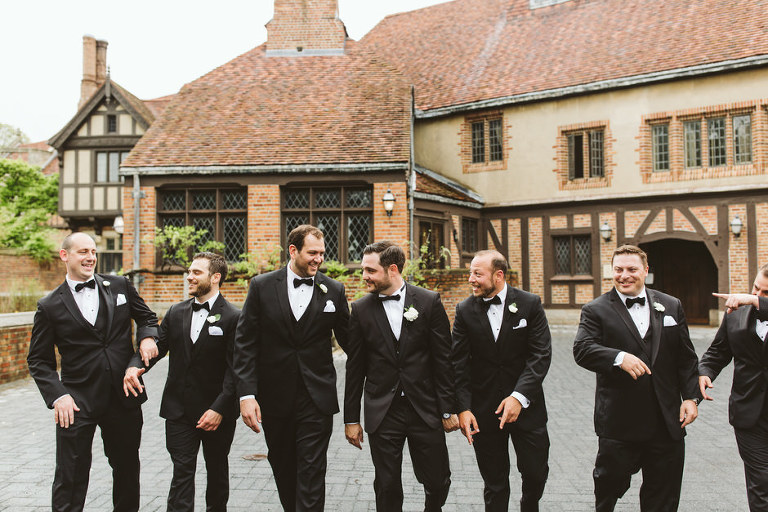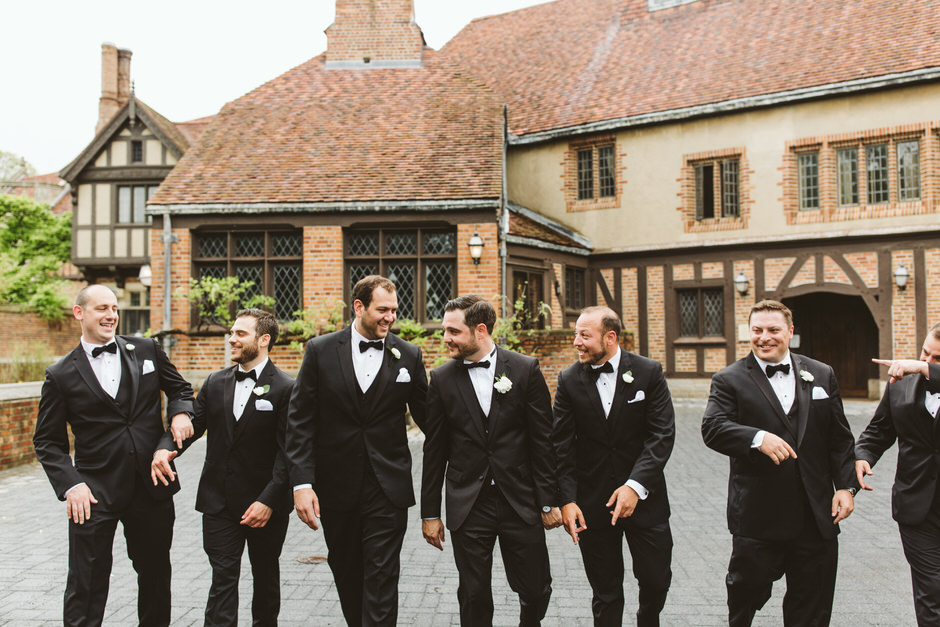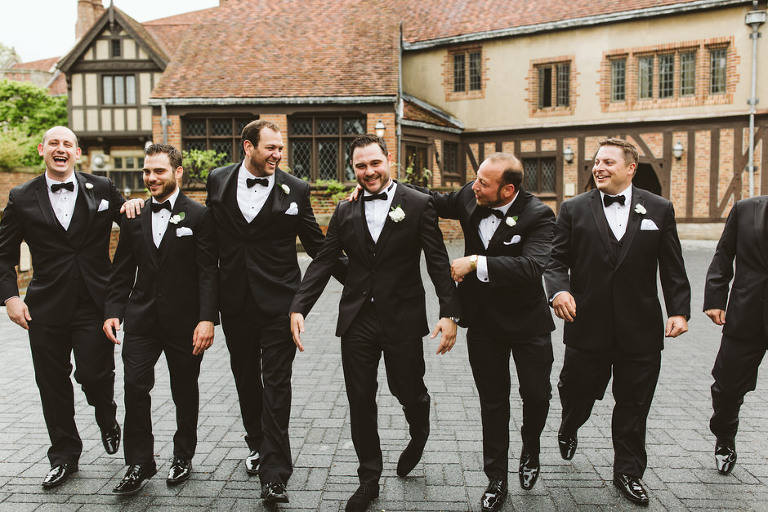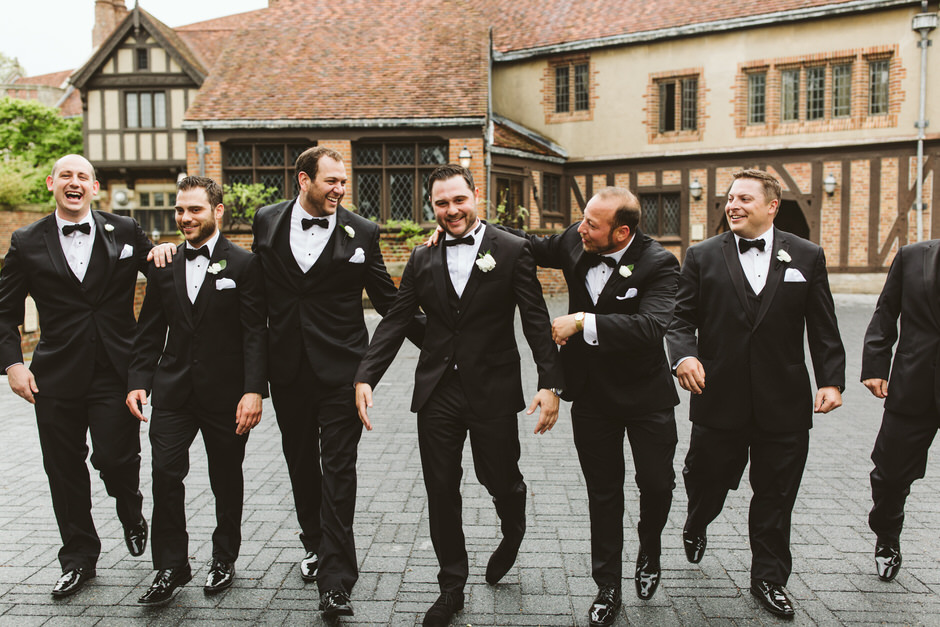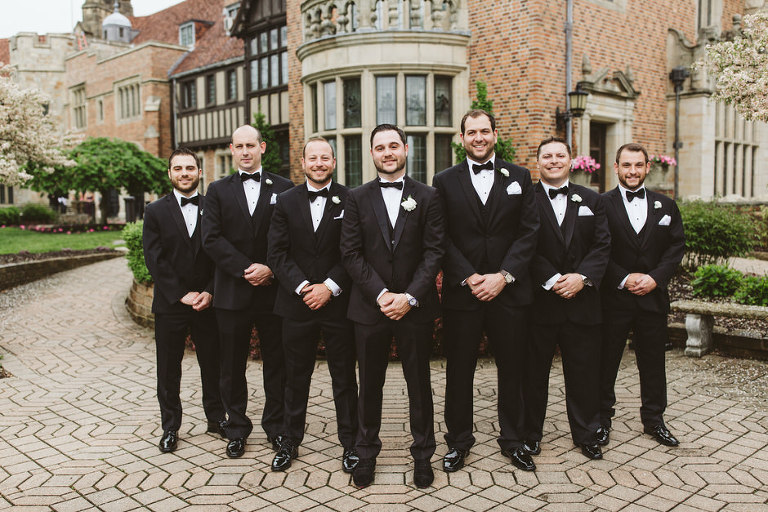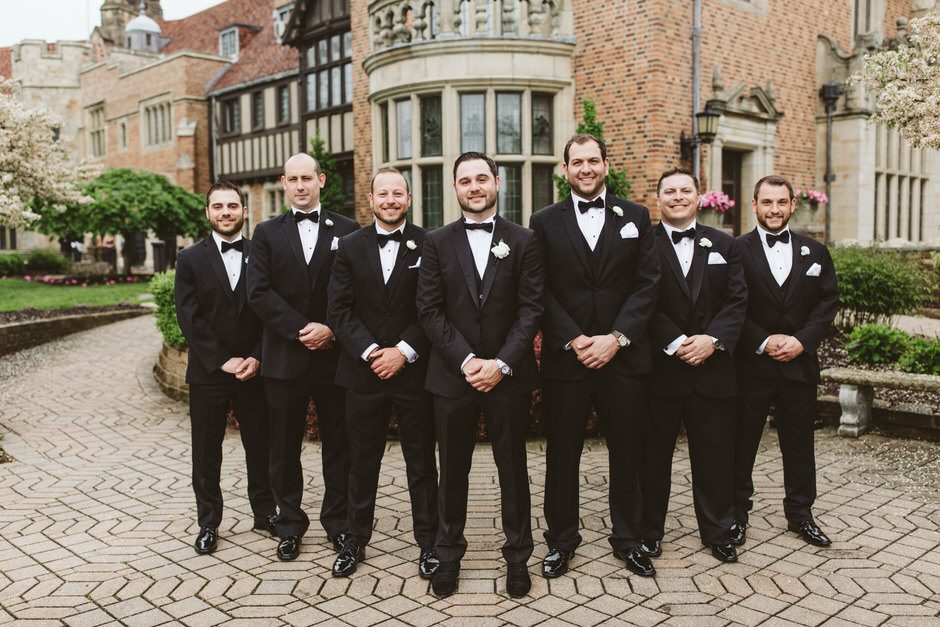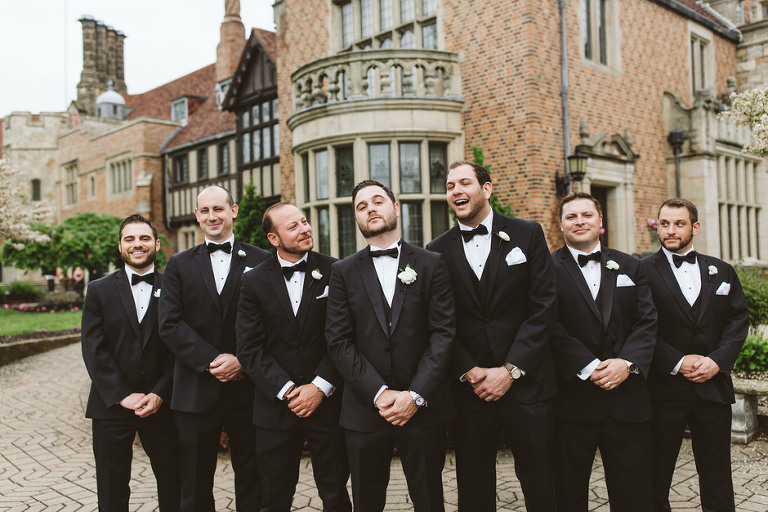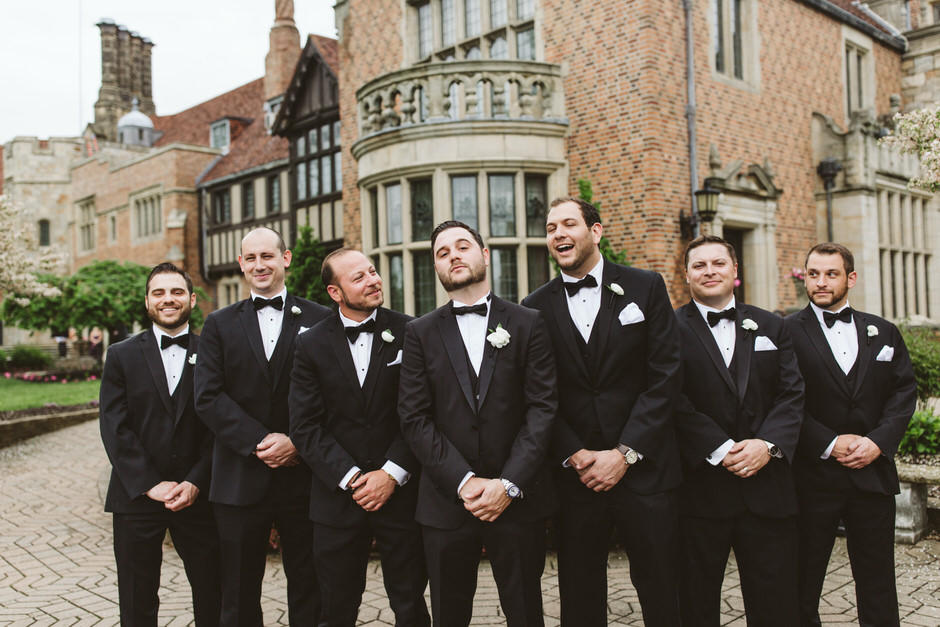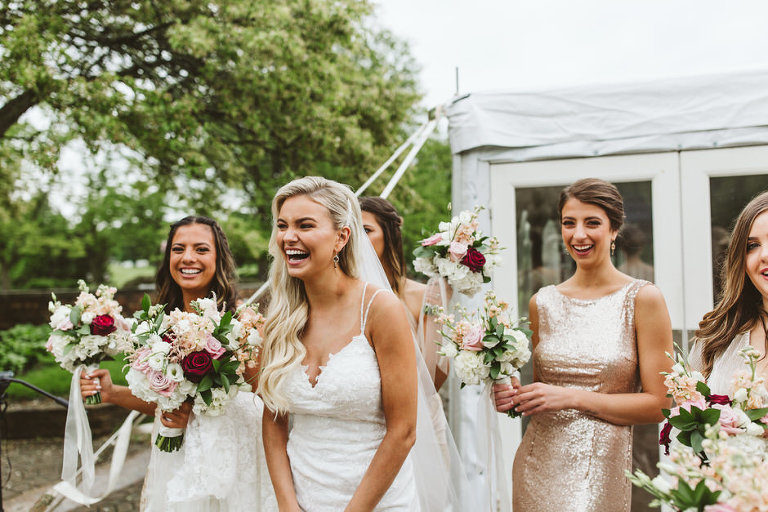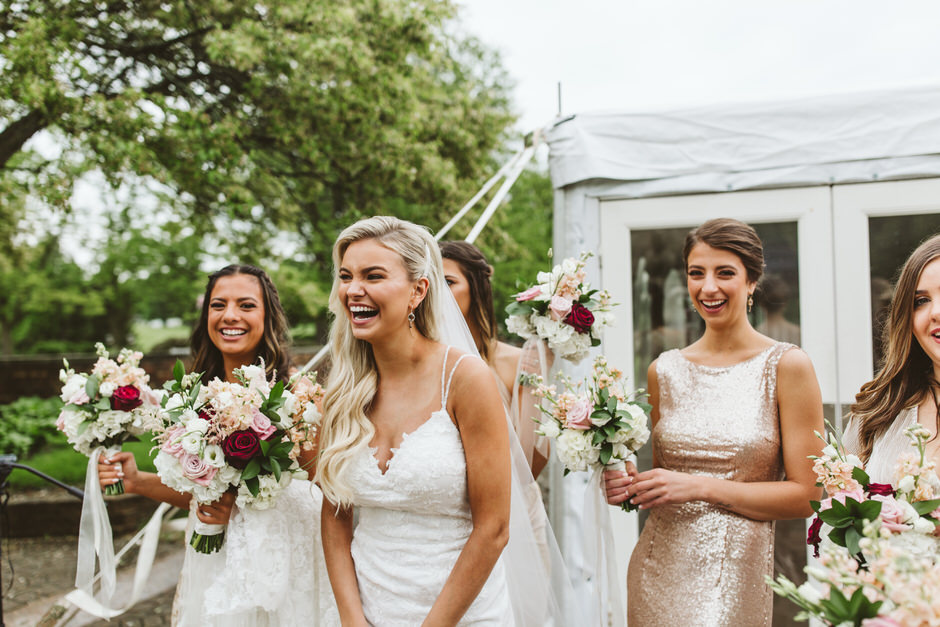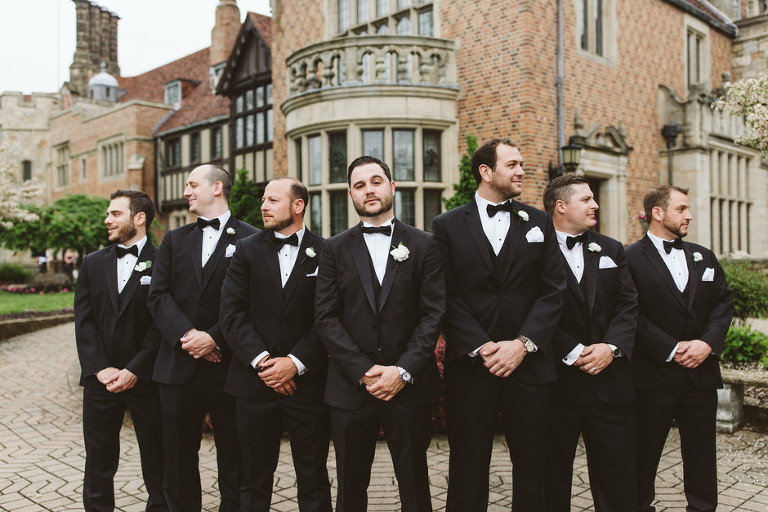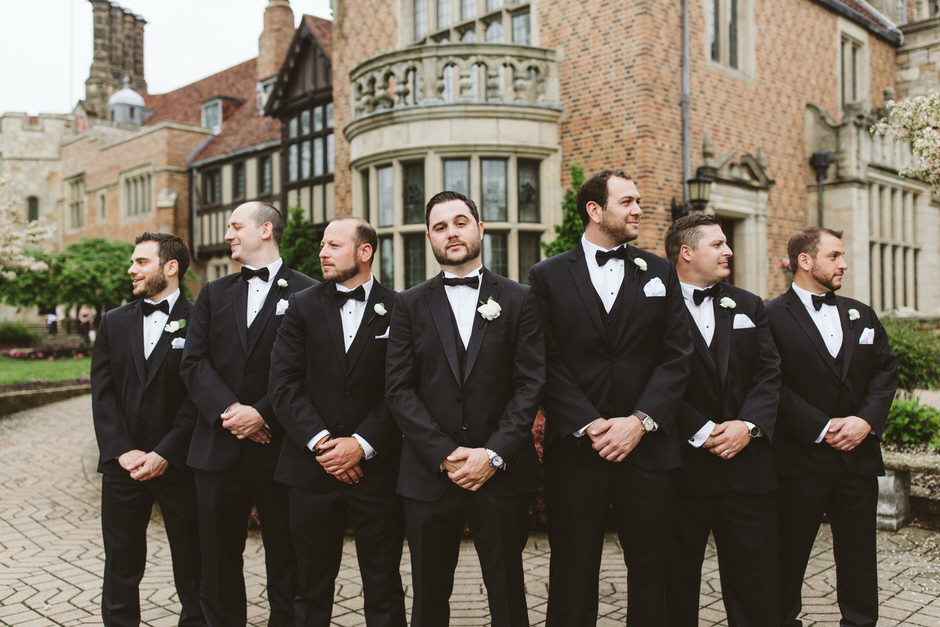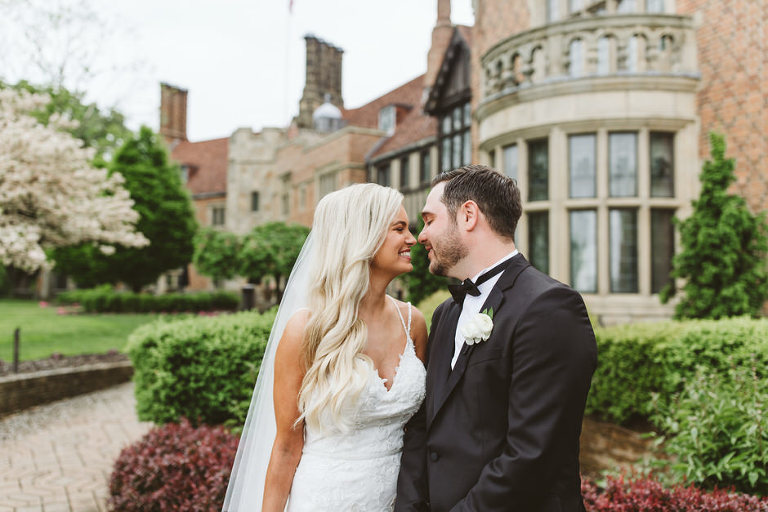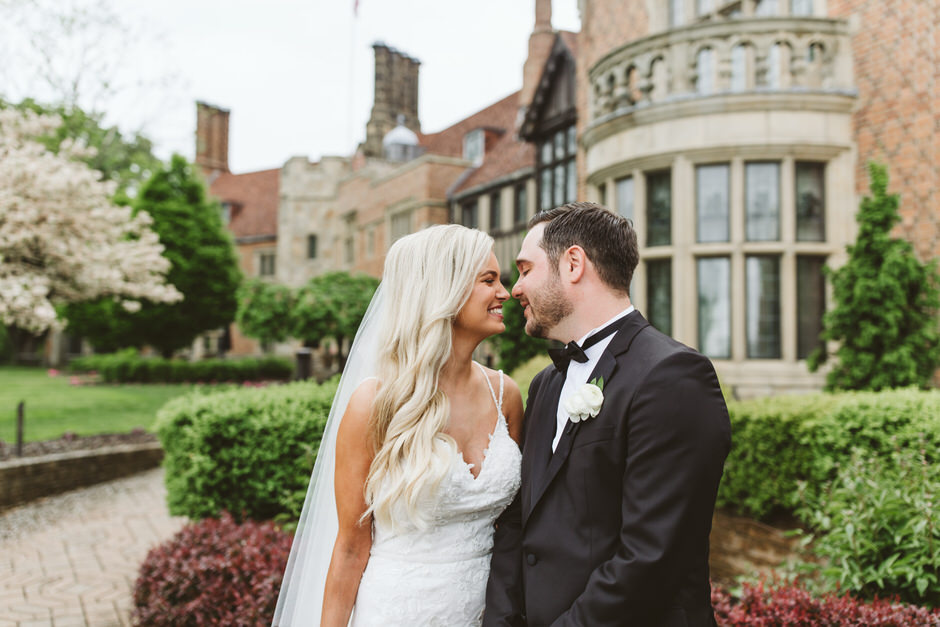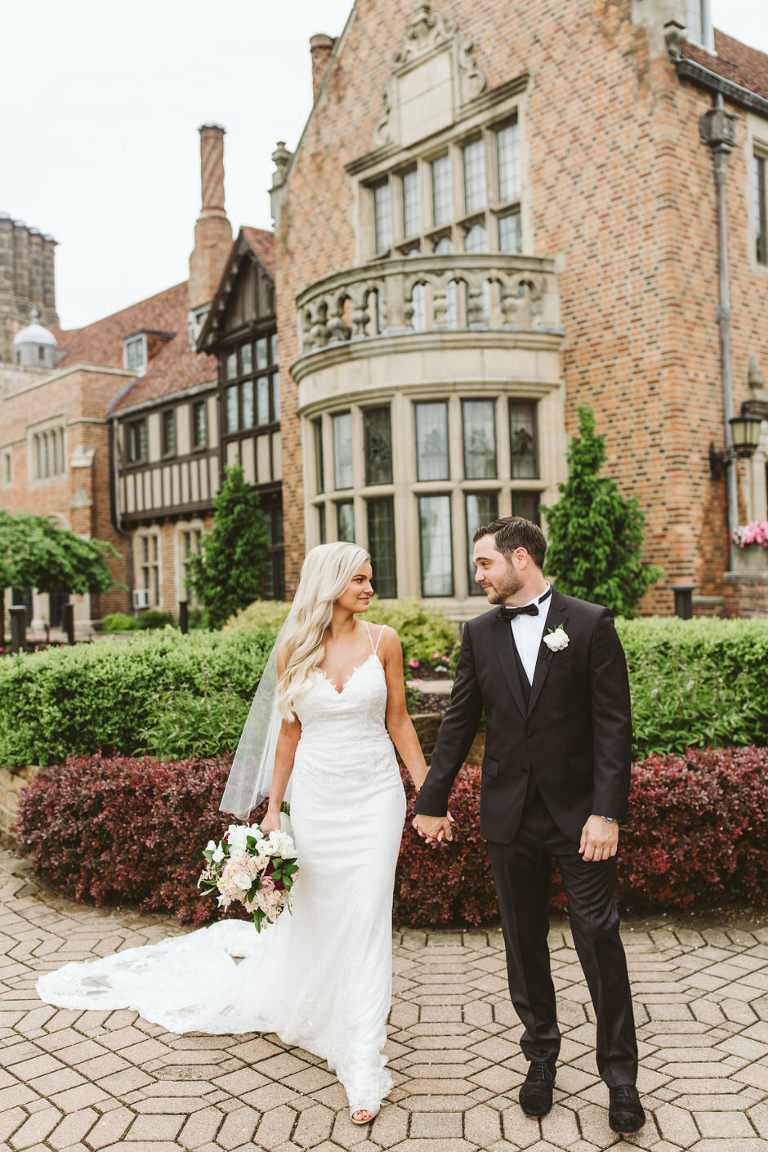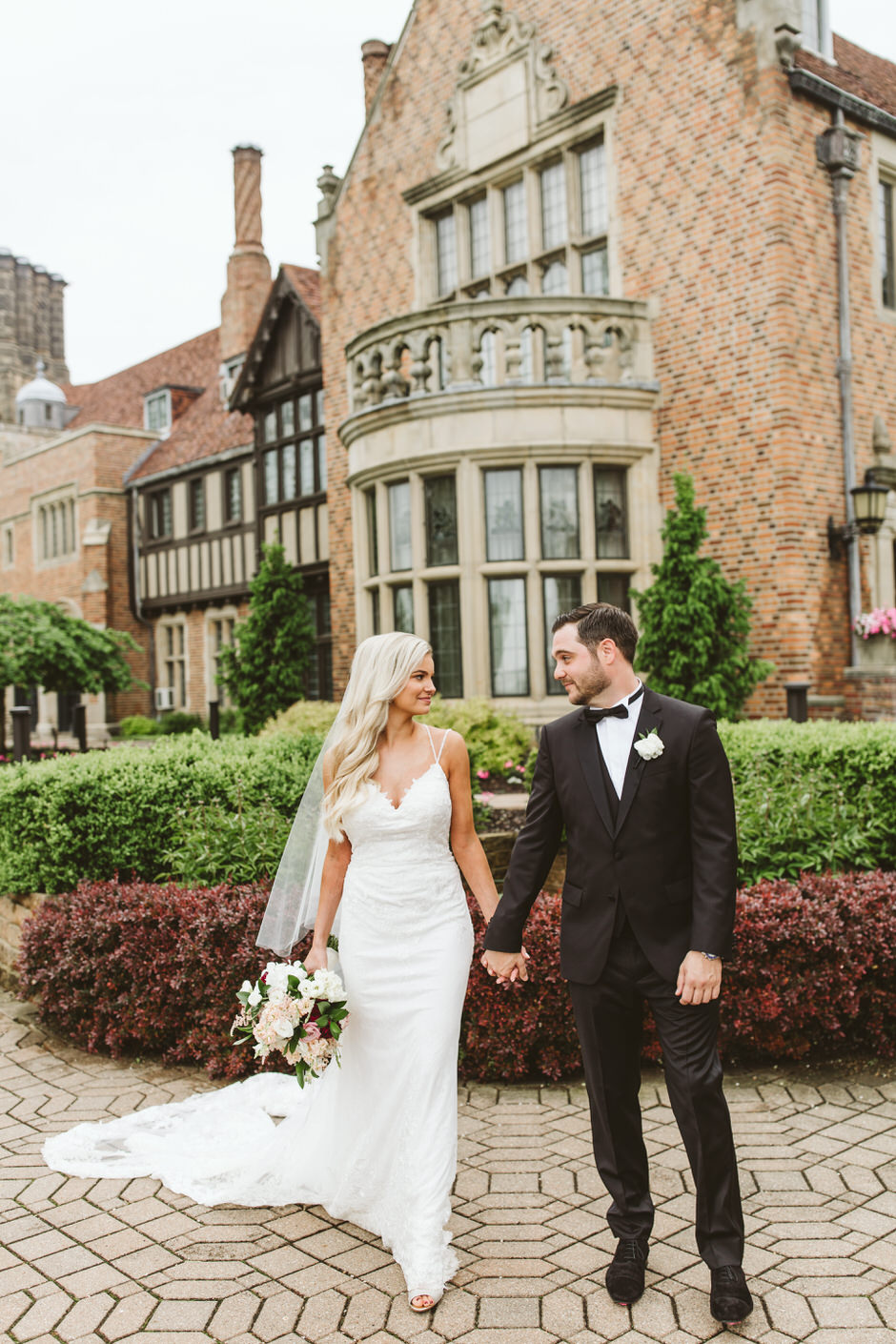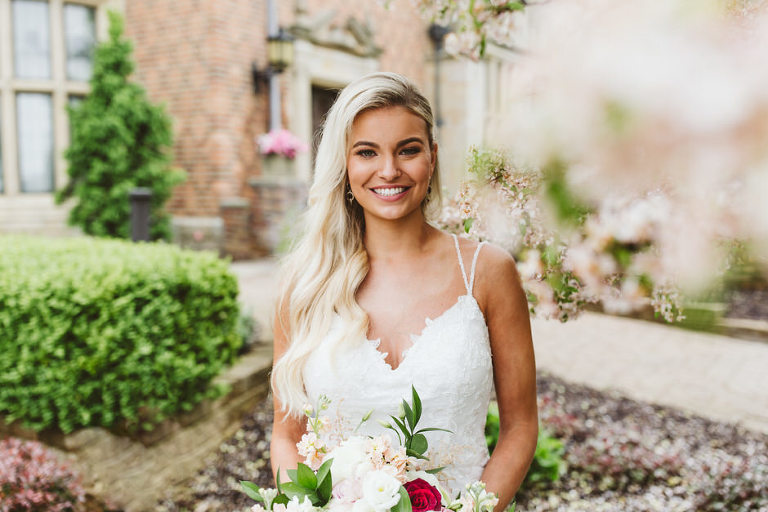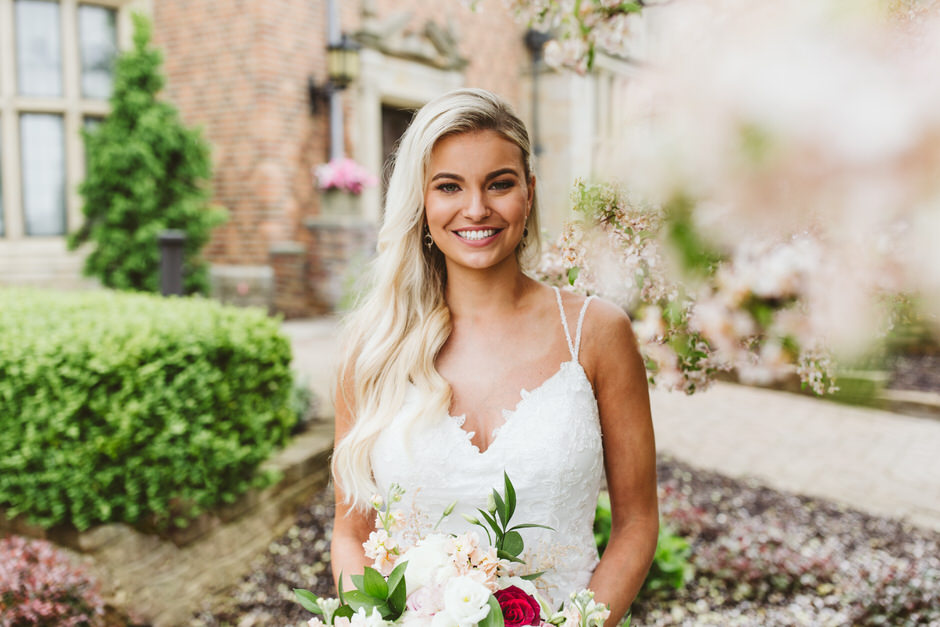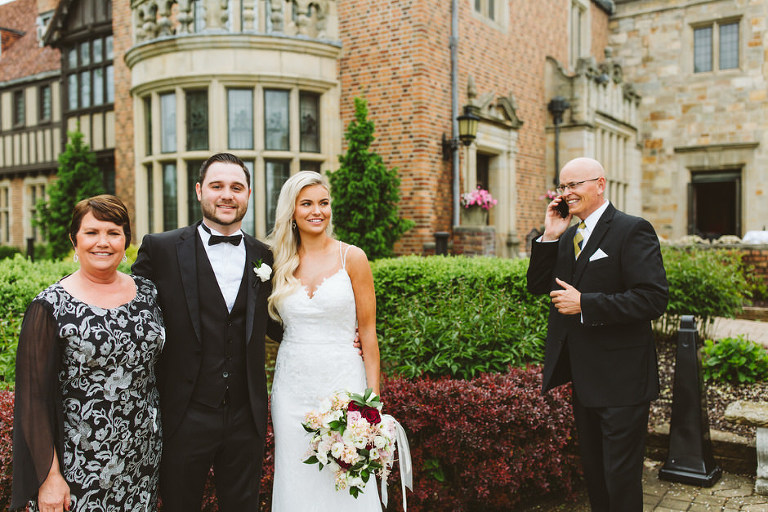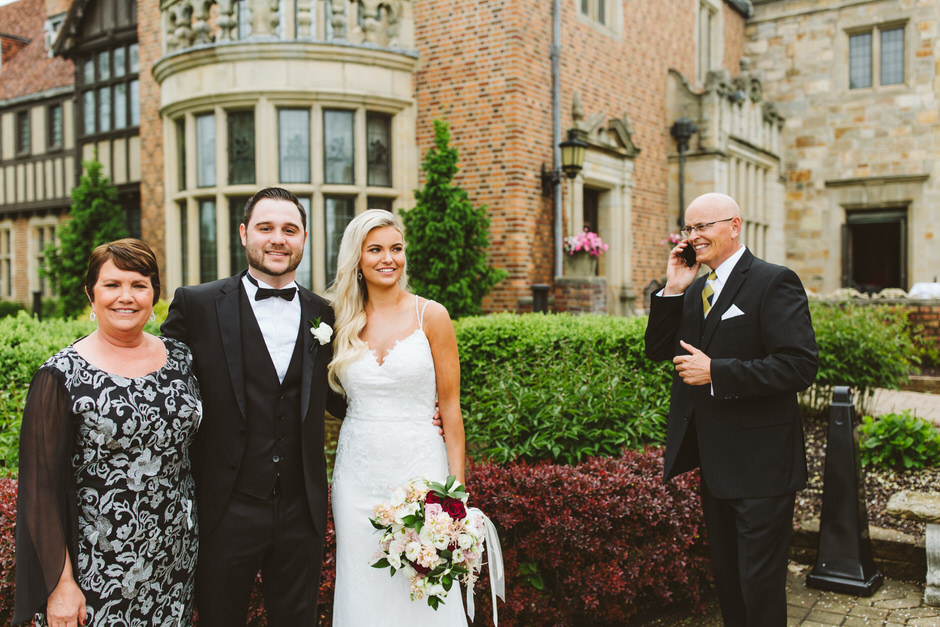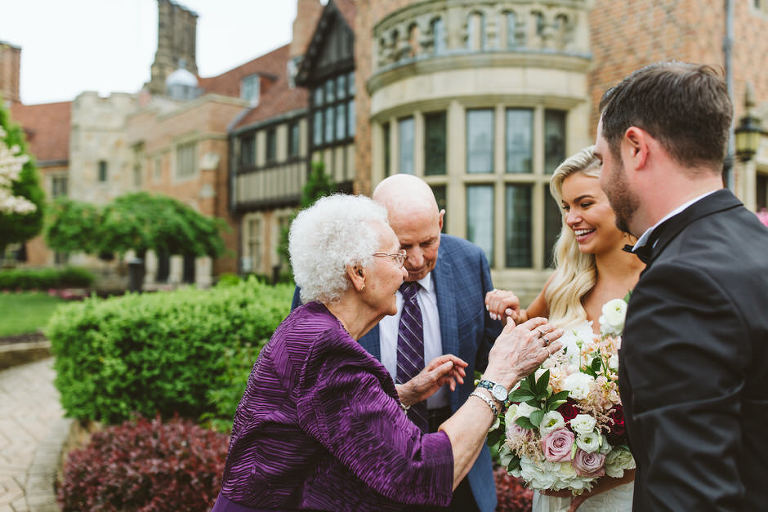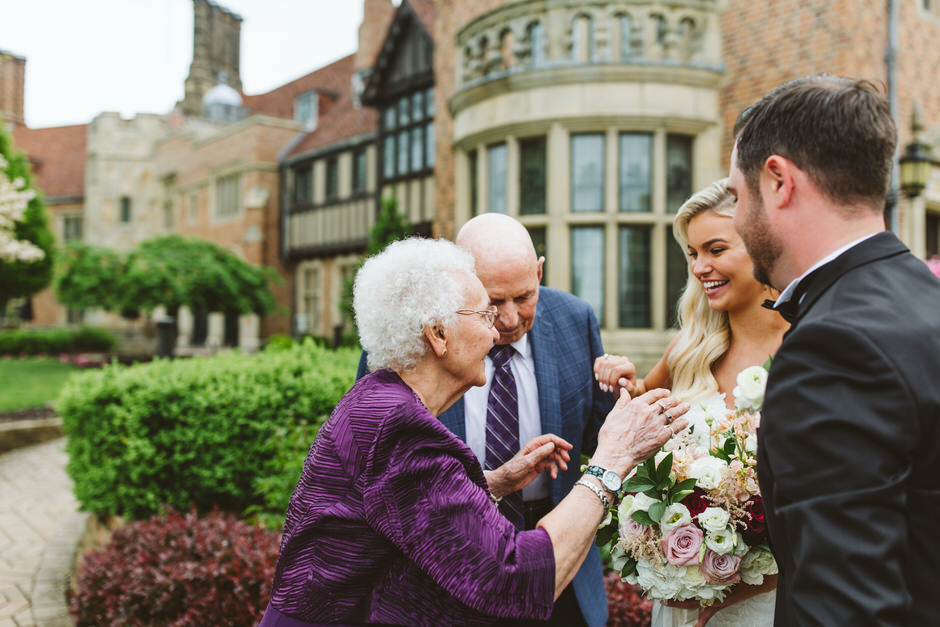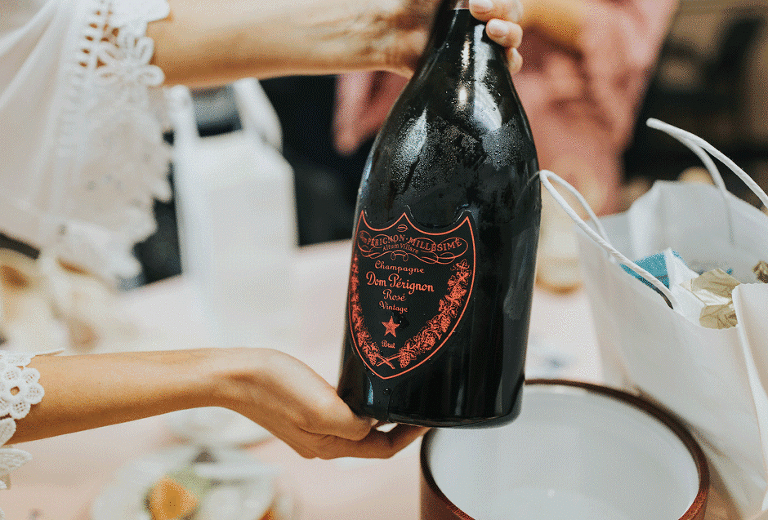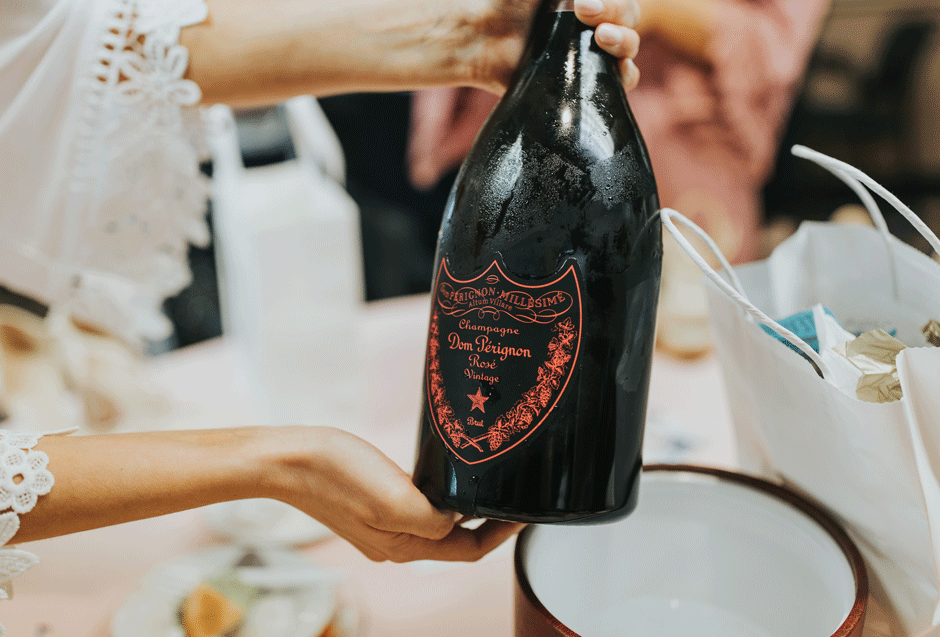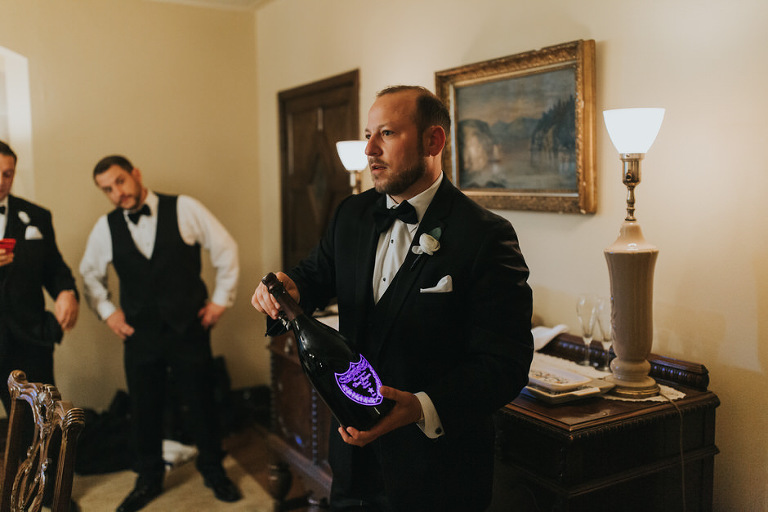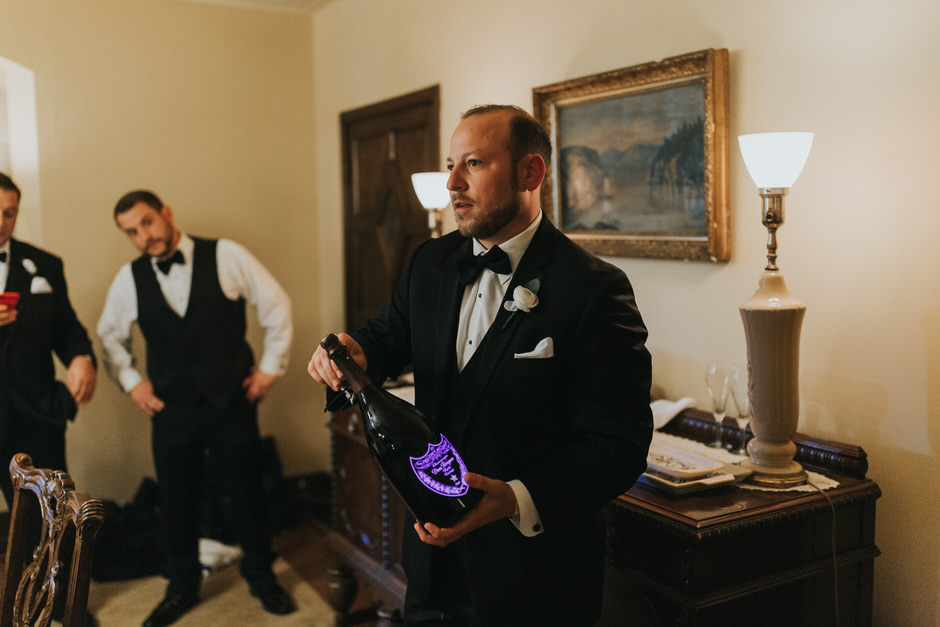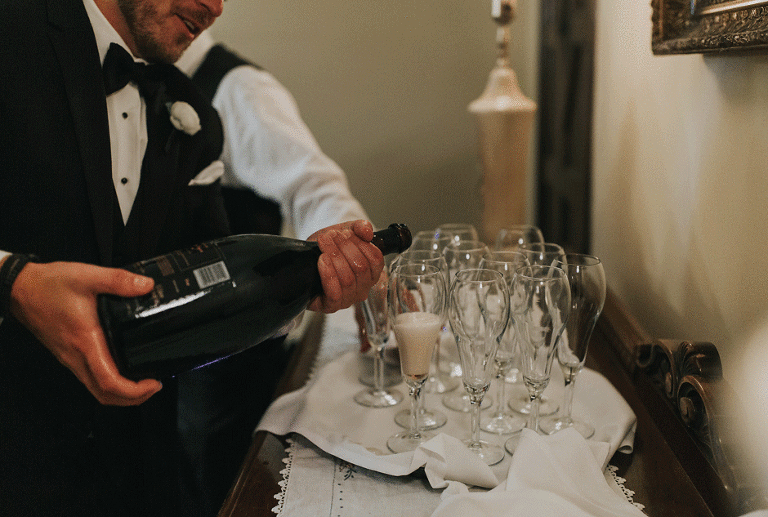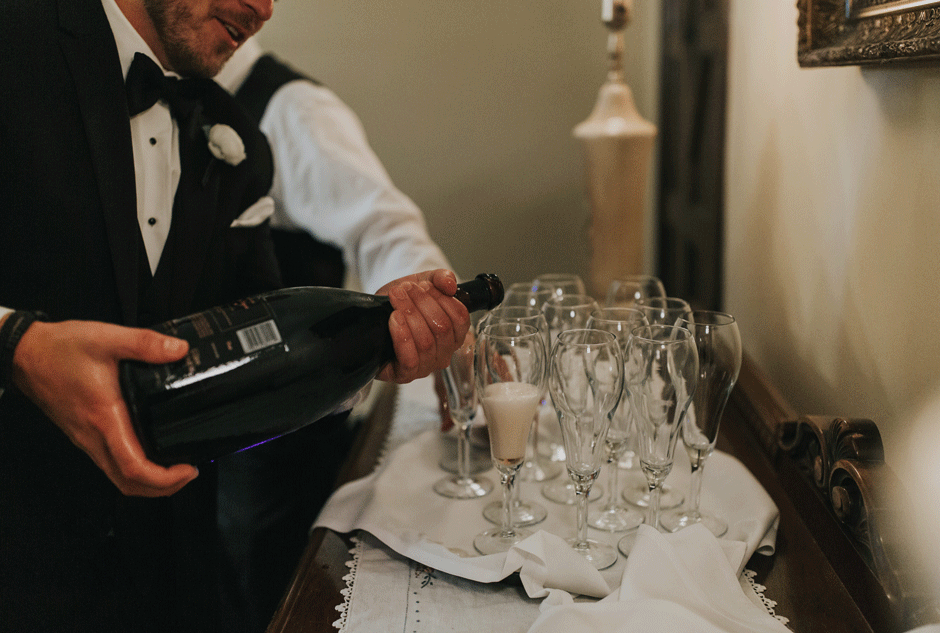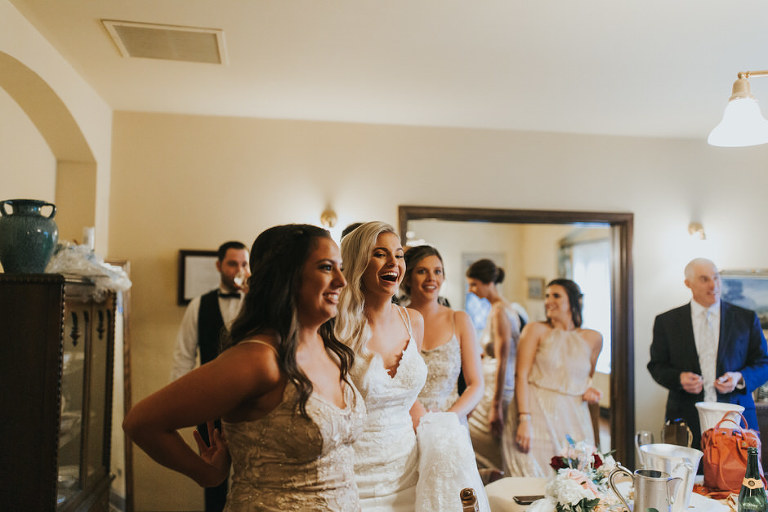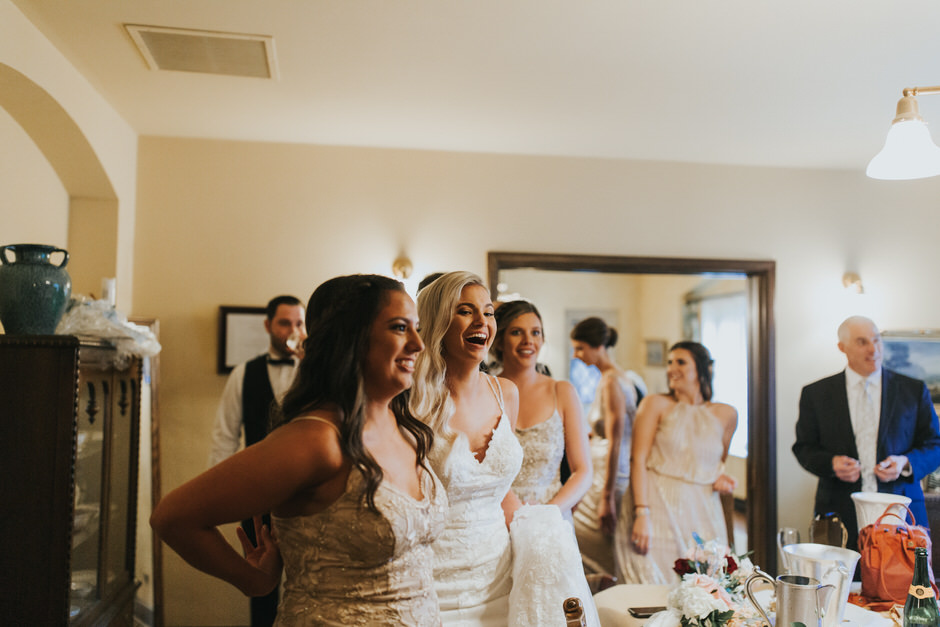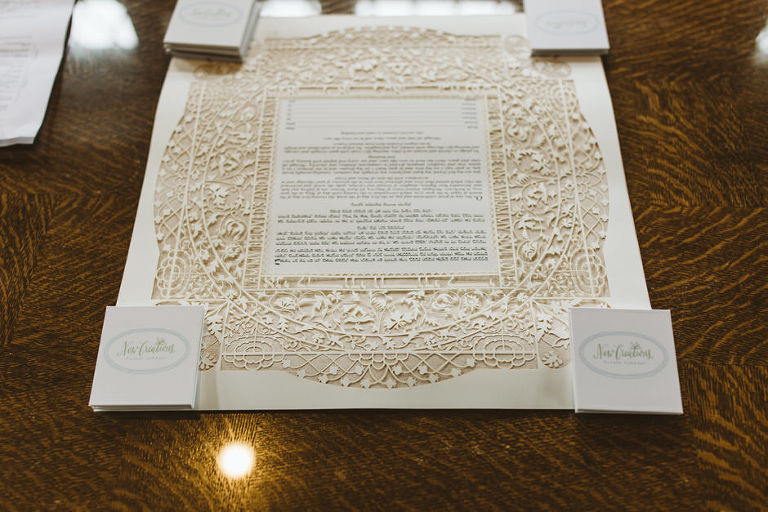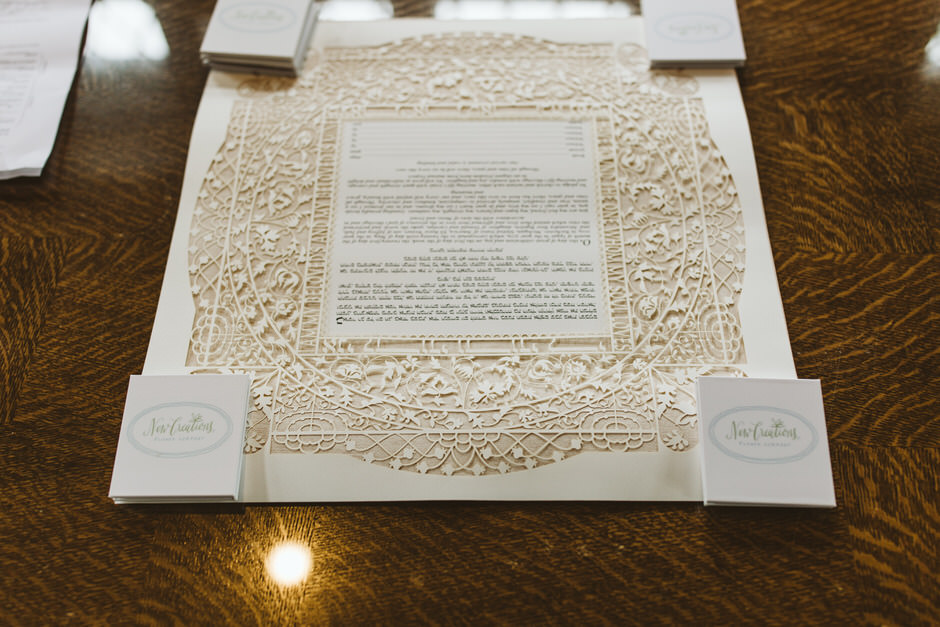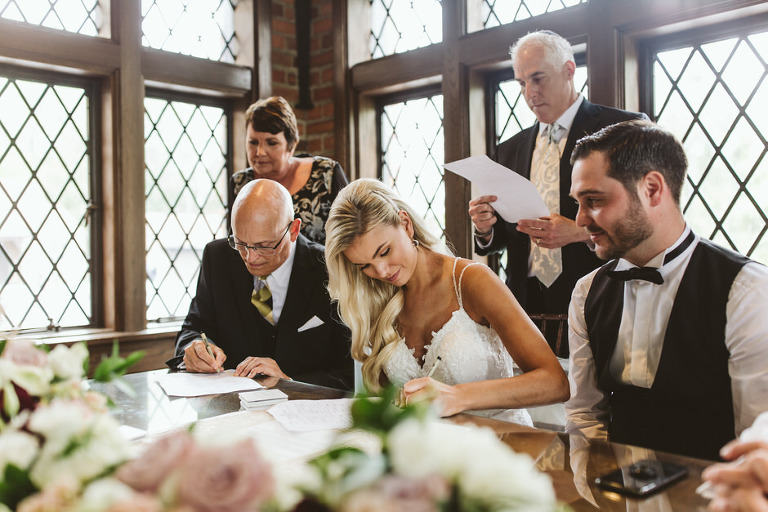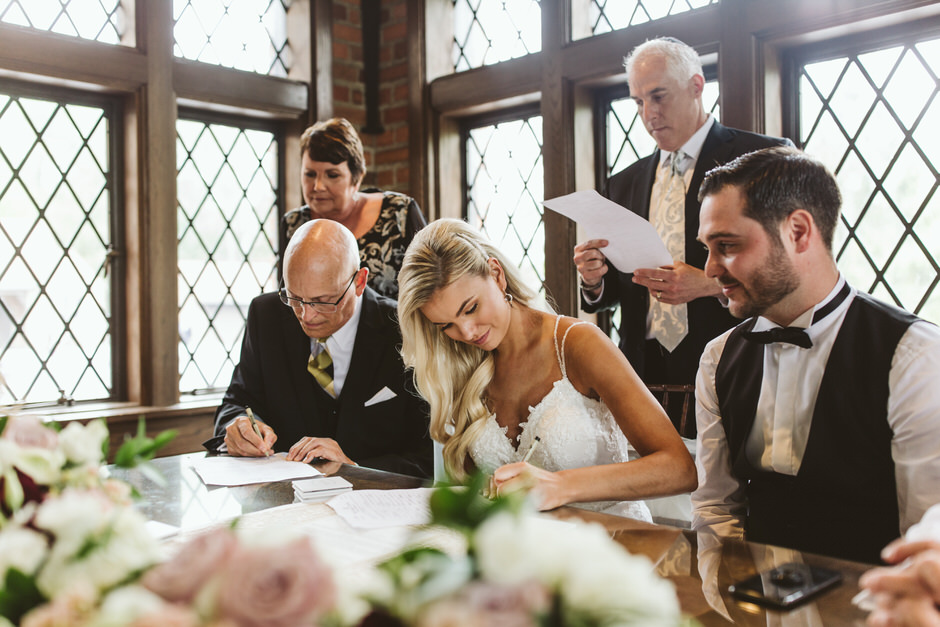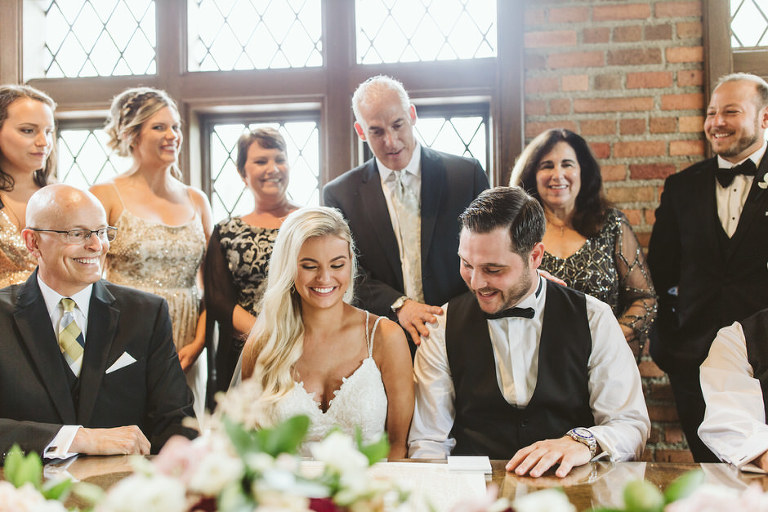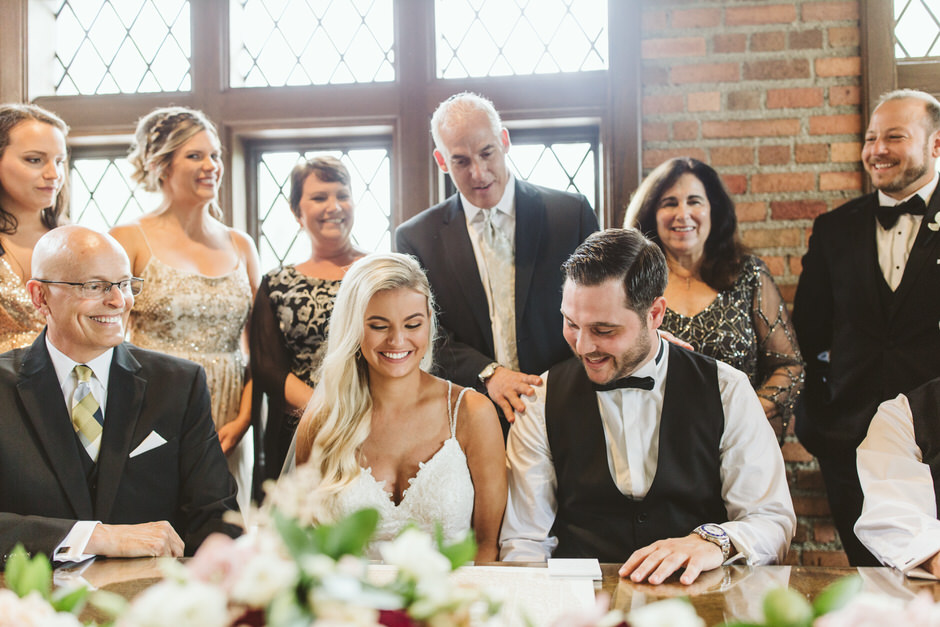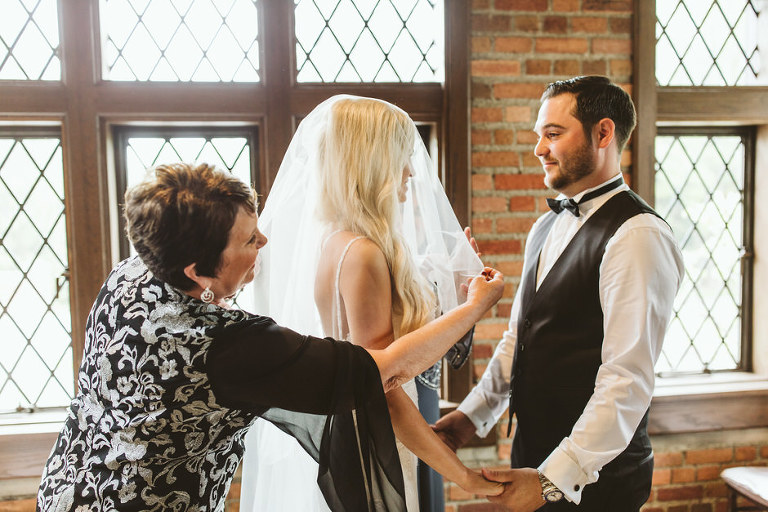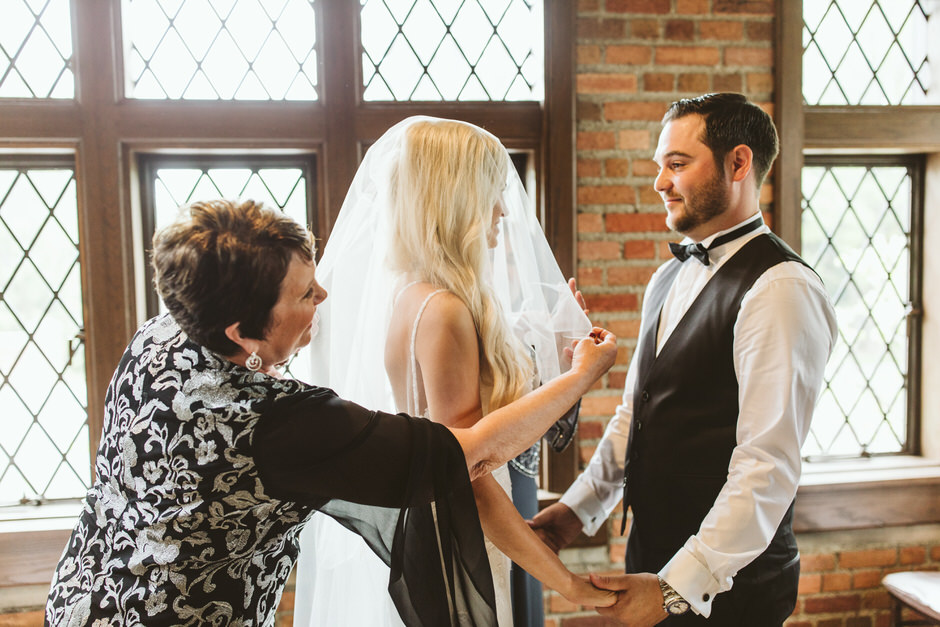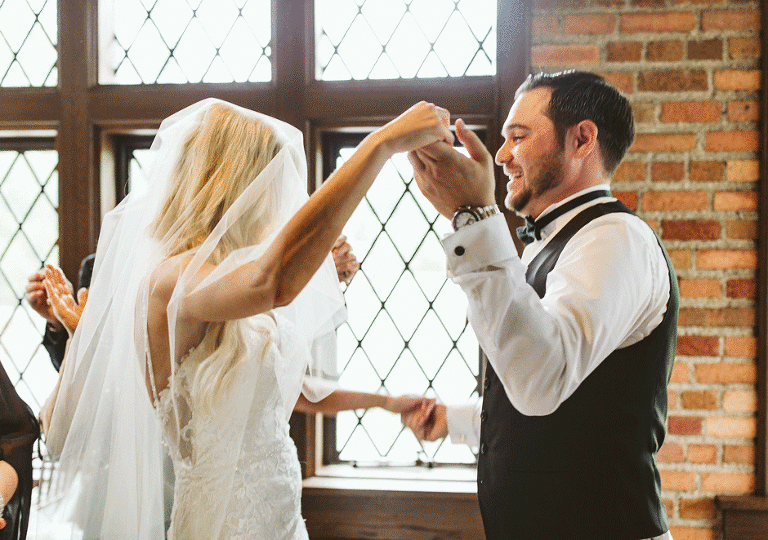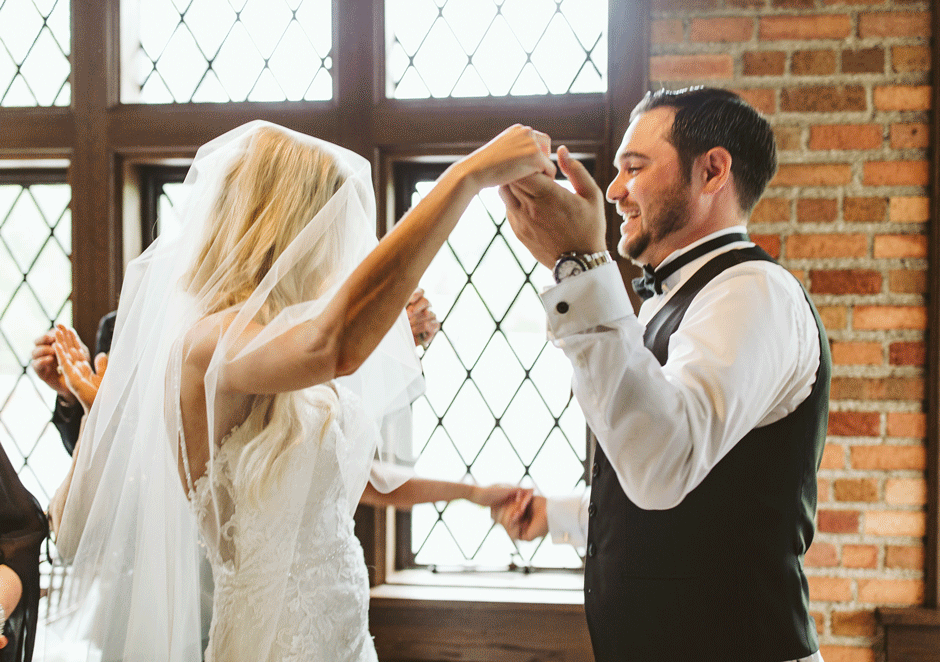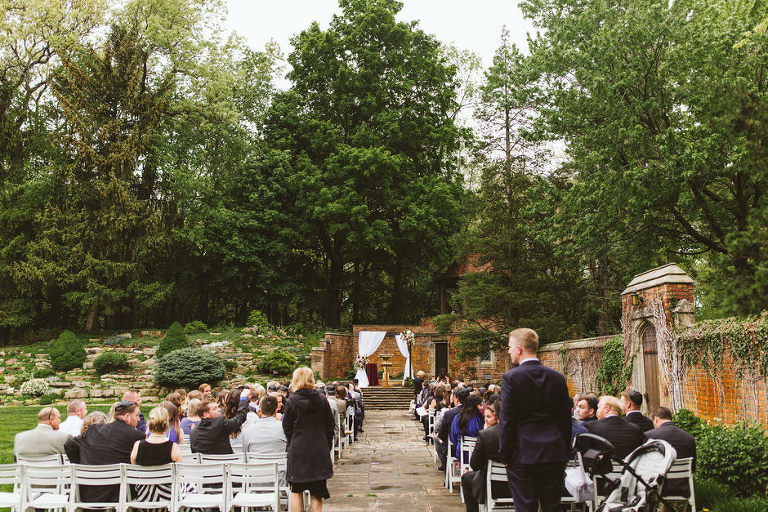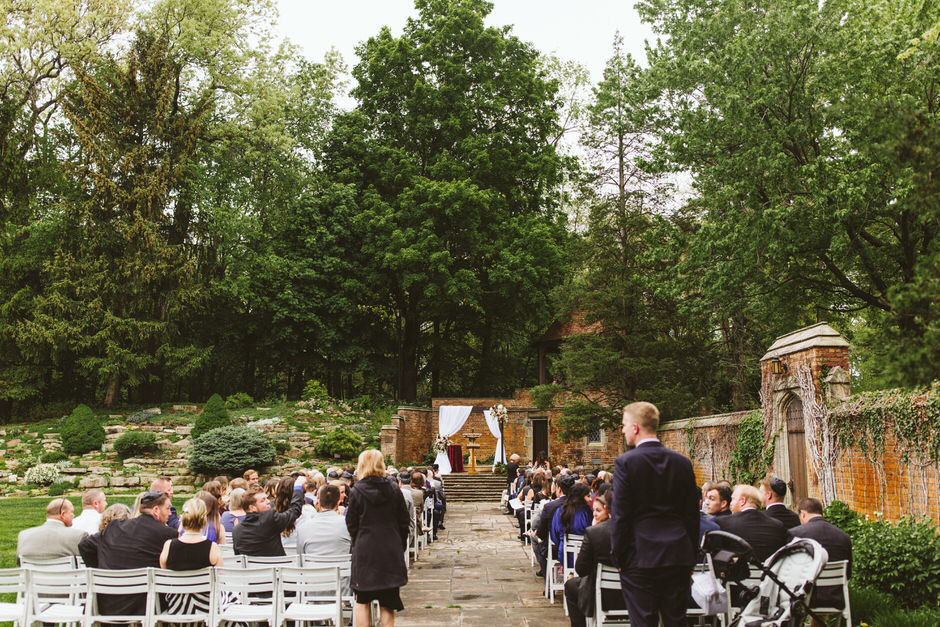 The Ceremony: 
We still get goosebumps thinking back at how PERFECT the ceremony was. Our plan was for the ceremony to take place in the rock garden, and the rain almost ruined those plans. The weather was pretty doom and gloom; it came down to the wire on whether to move the ceremony inside and thank goodness we rolled the dice to keep it outside regardless of the forecast! The rain stopped as everyone took their seats, and as the Rabbi was pronouncing us husband and wife, the sun literally broke through the clouds and shone down on us as we had our first kiss. GOOSEBUMPS. The fact that the quartet played "Don't Stop Believing" as we made our exit made it that much cooler.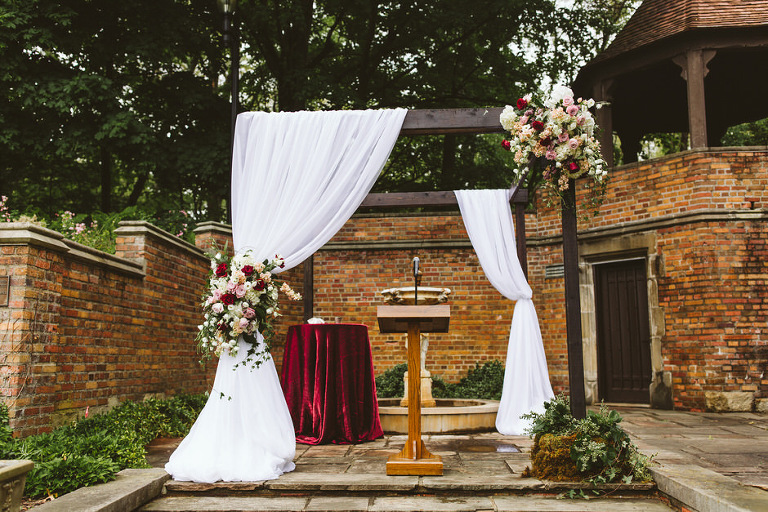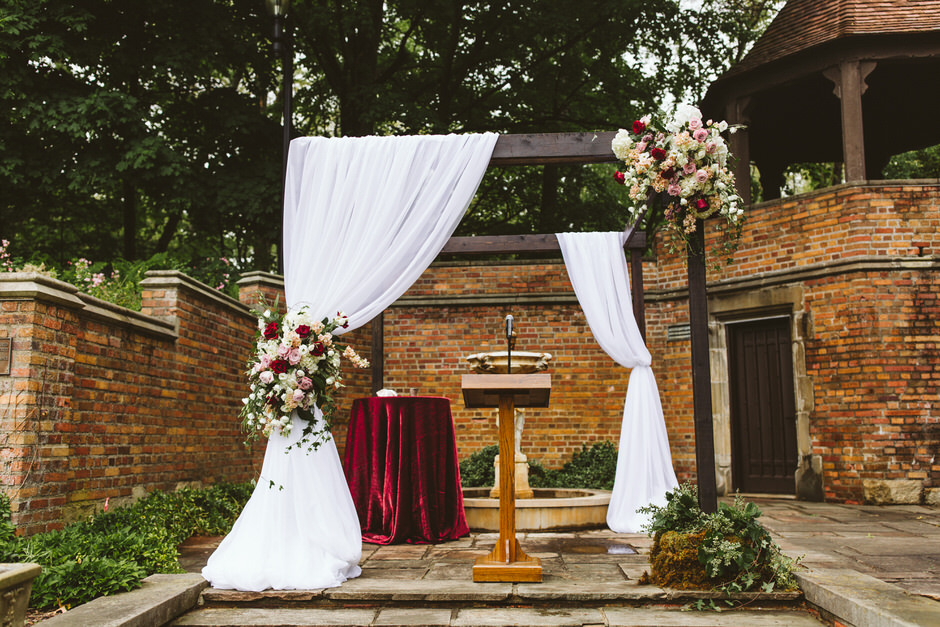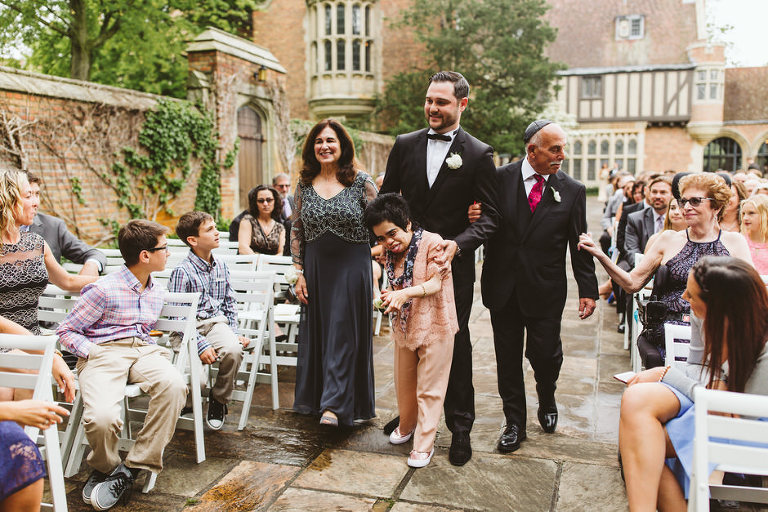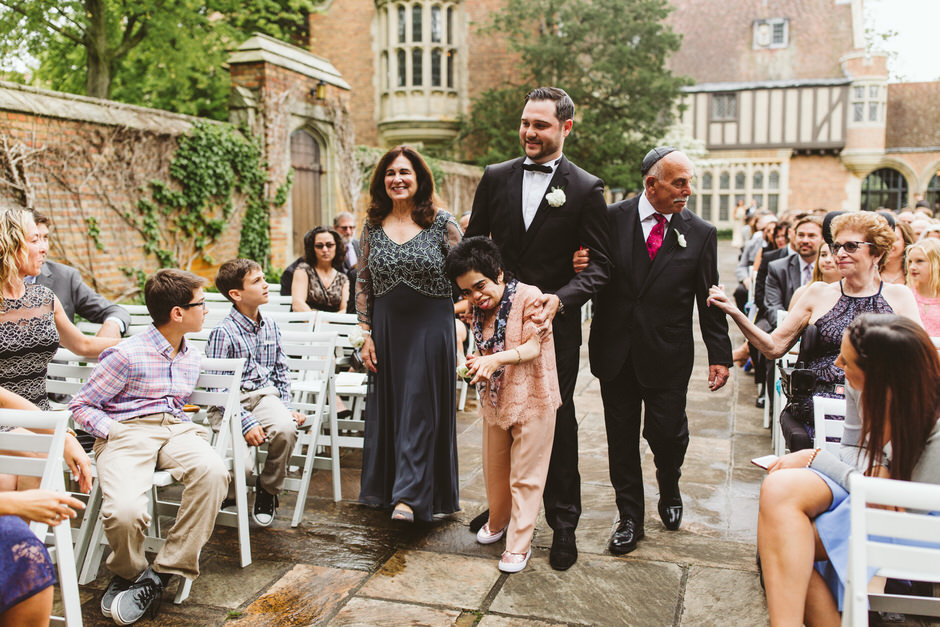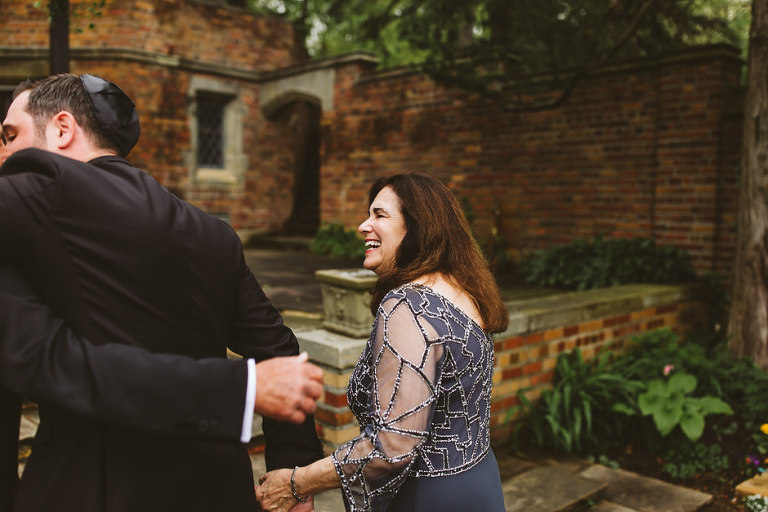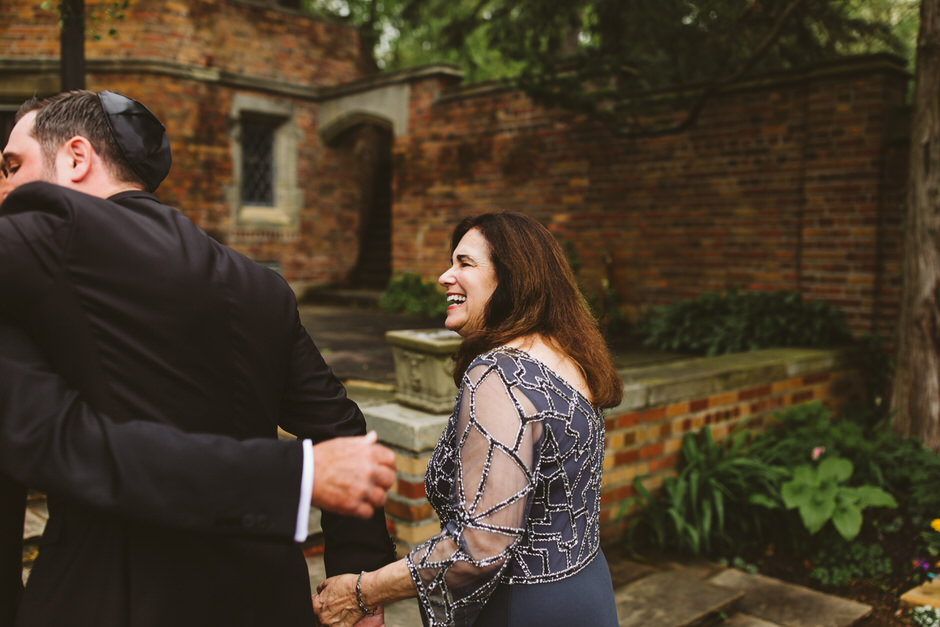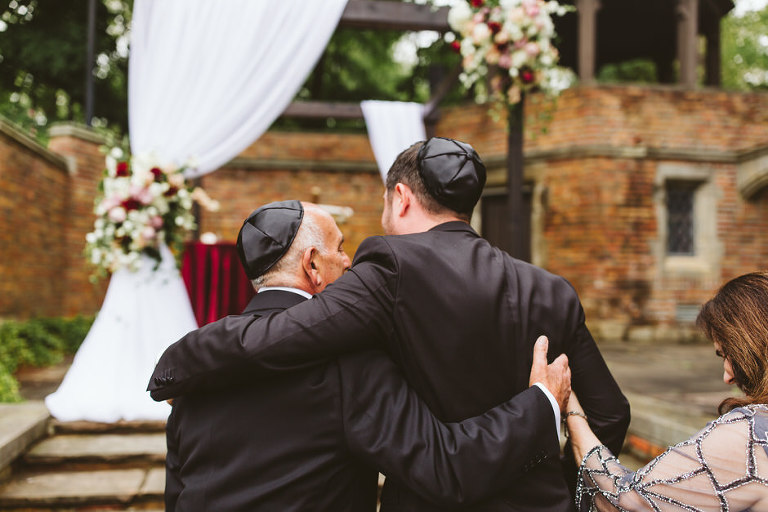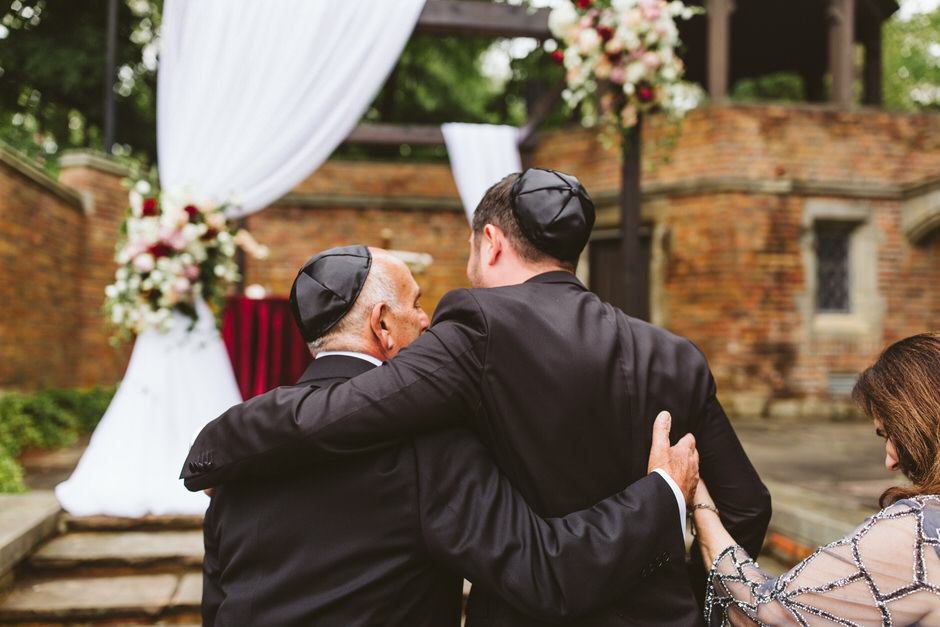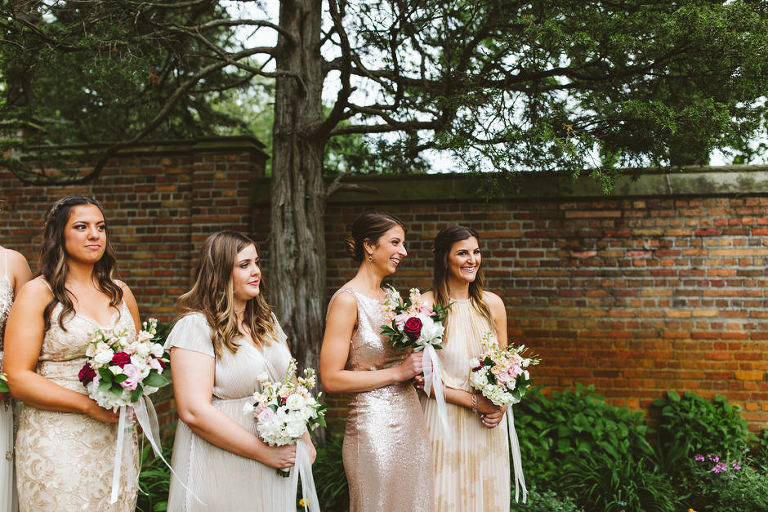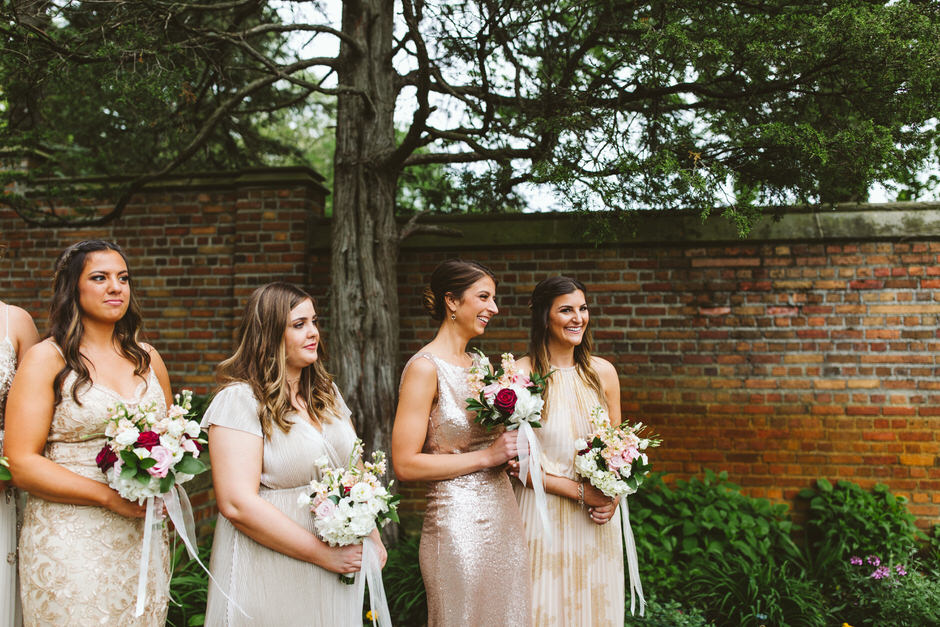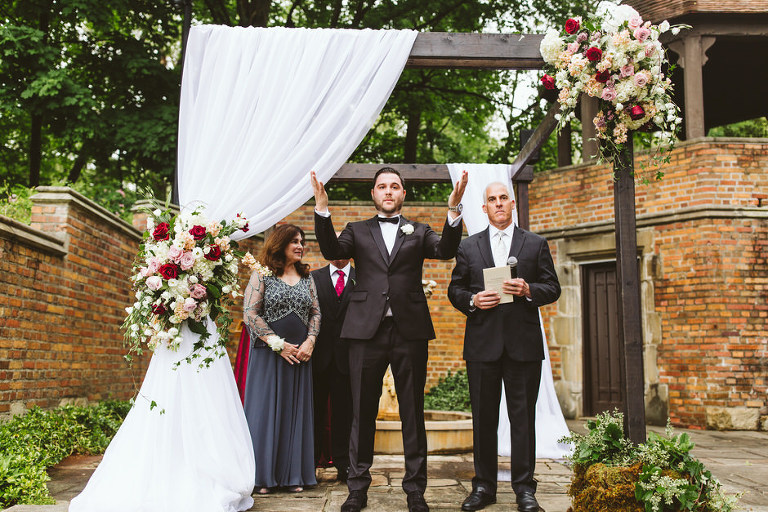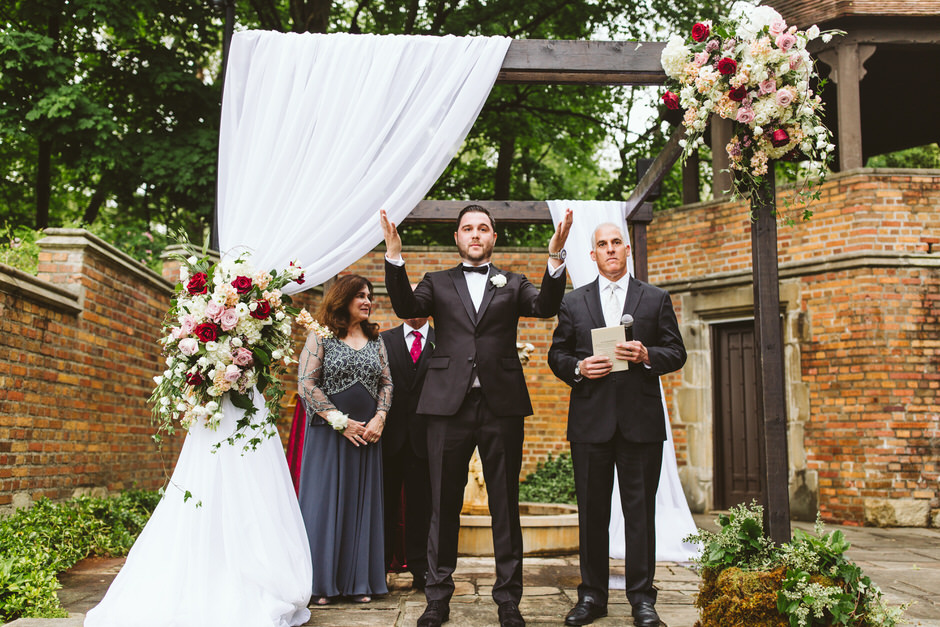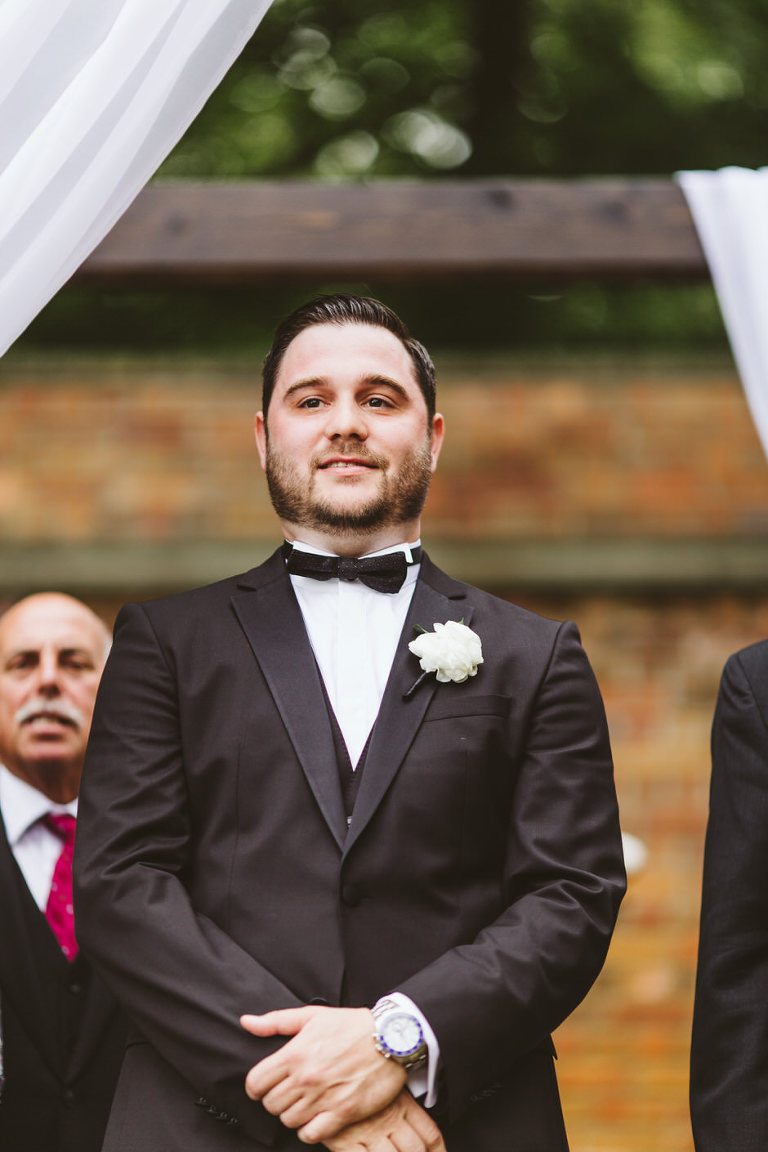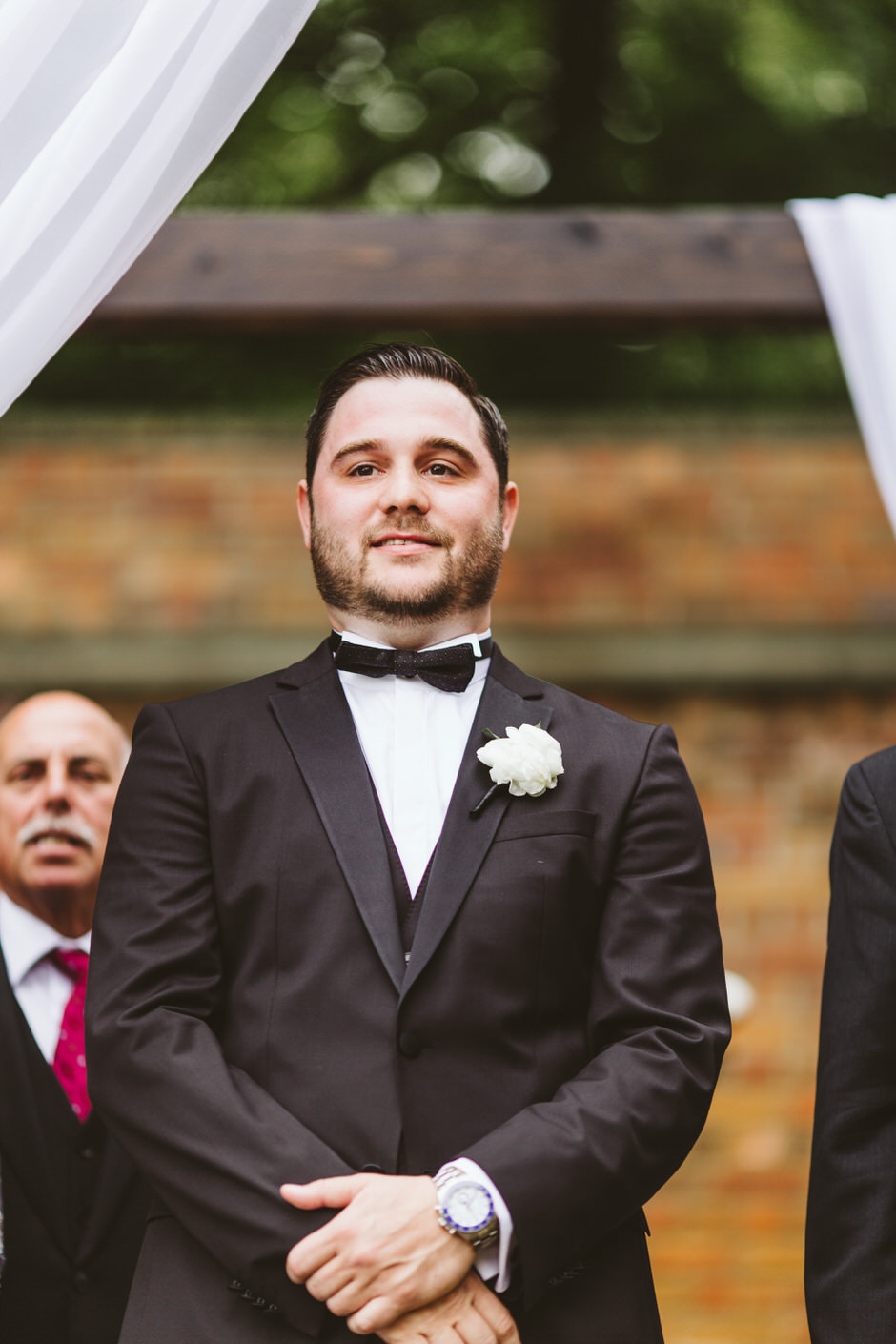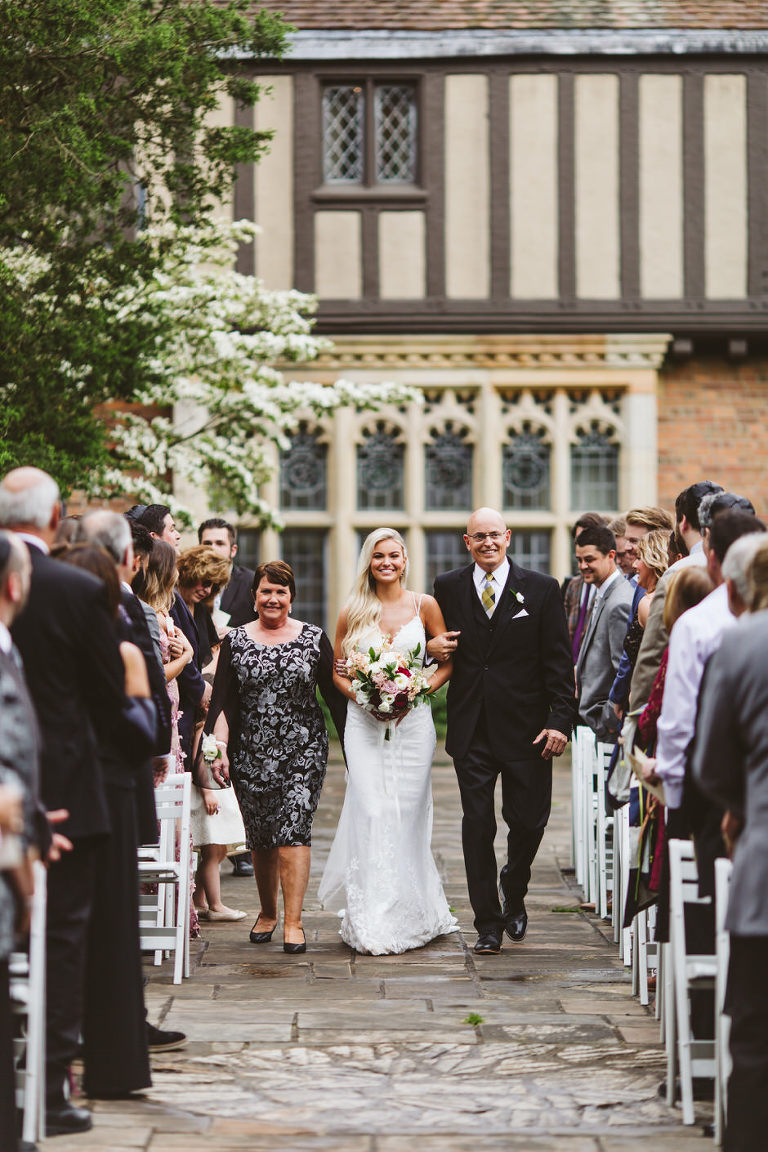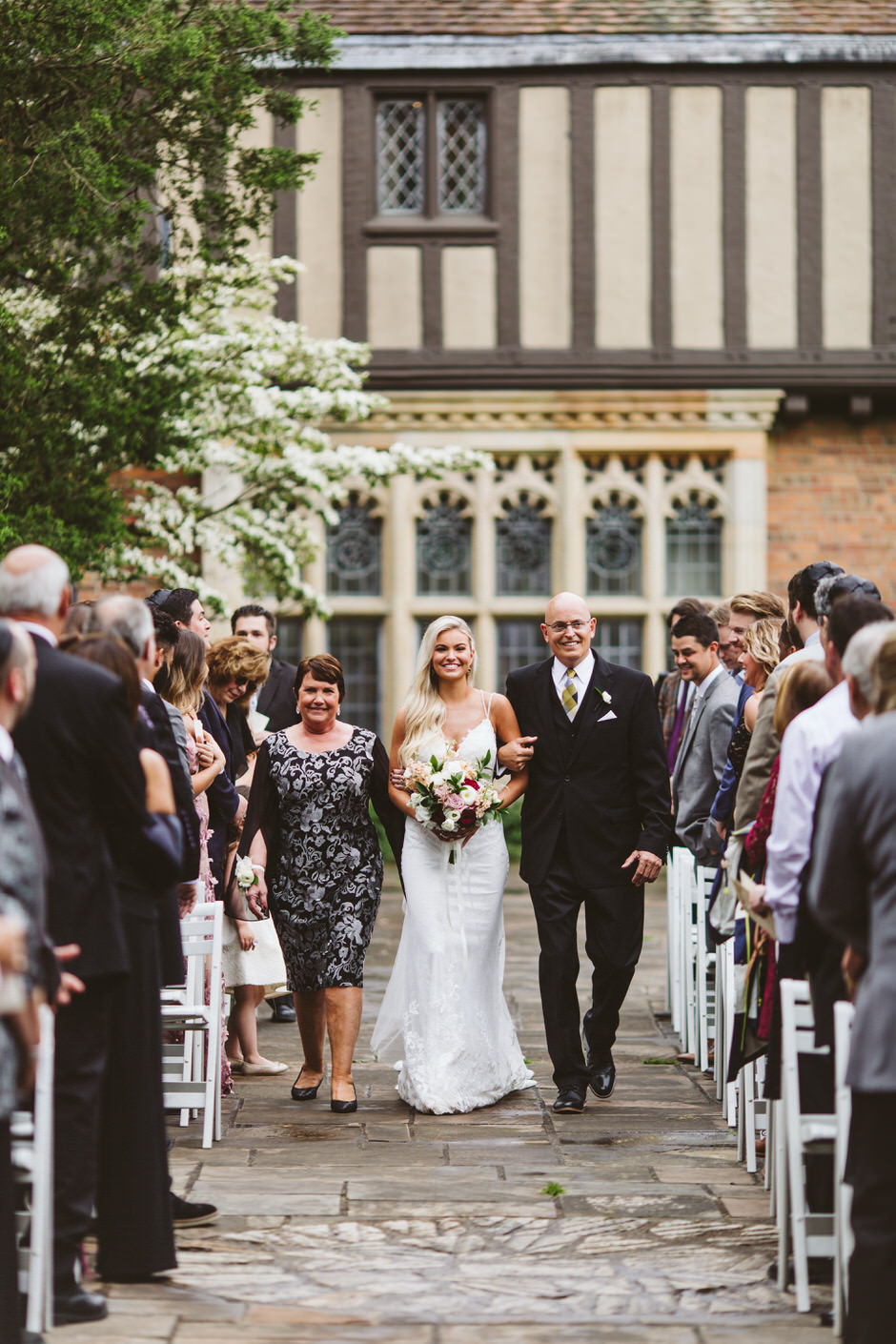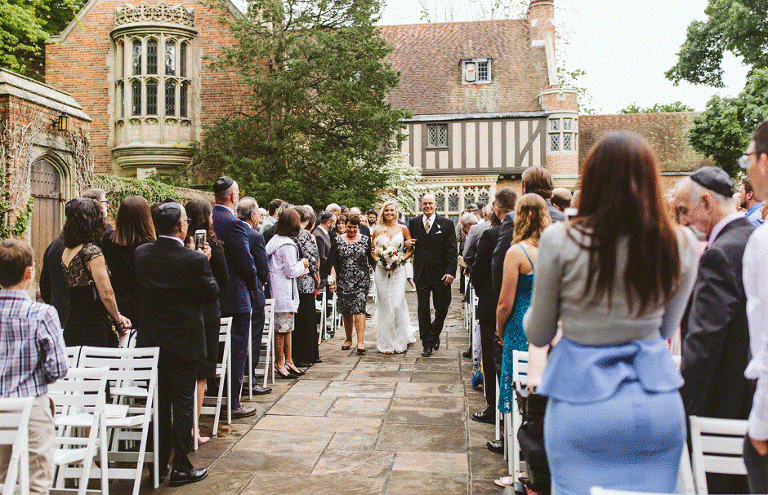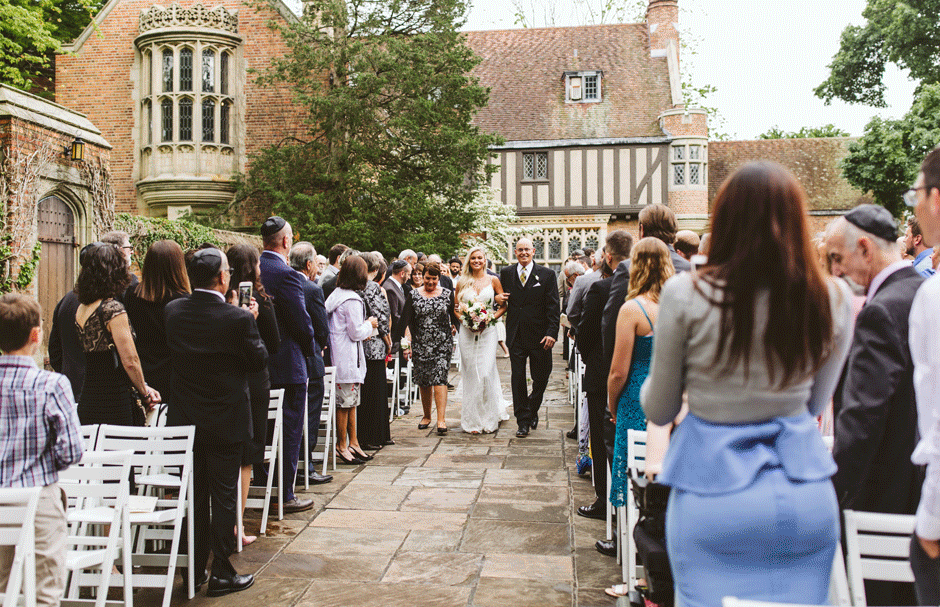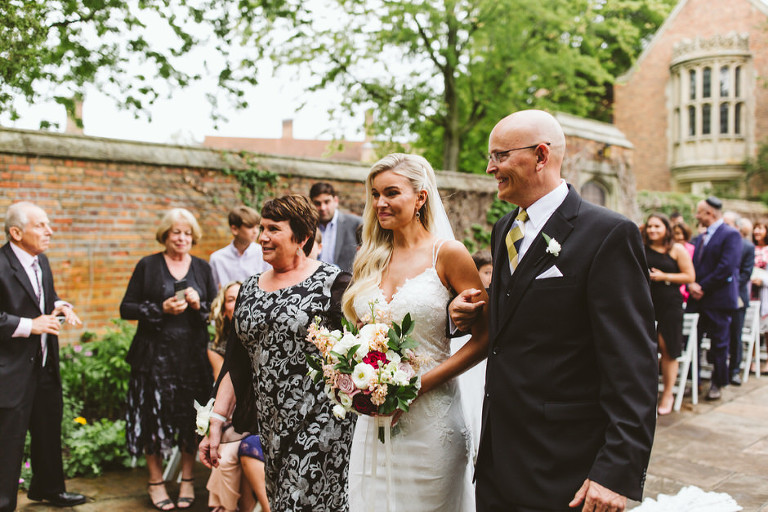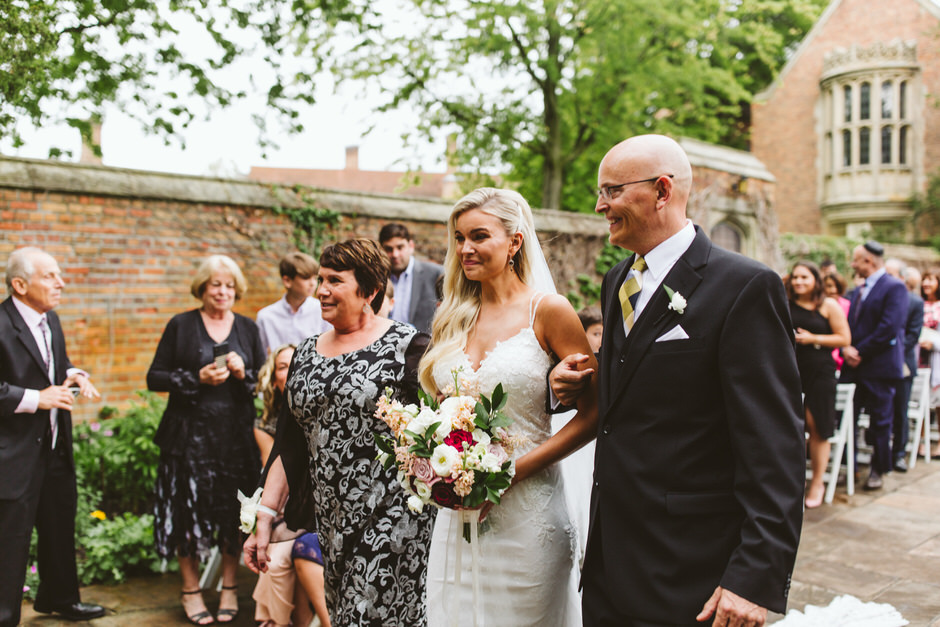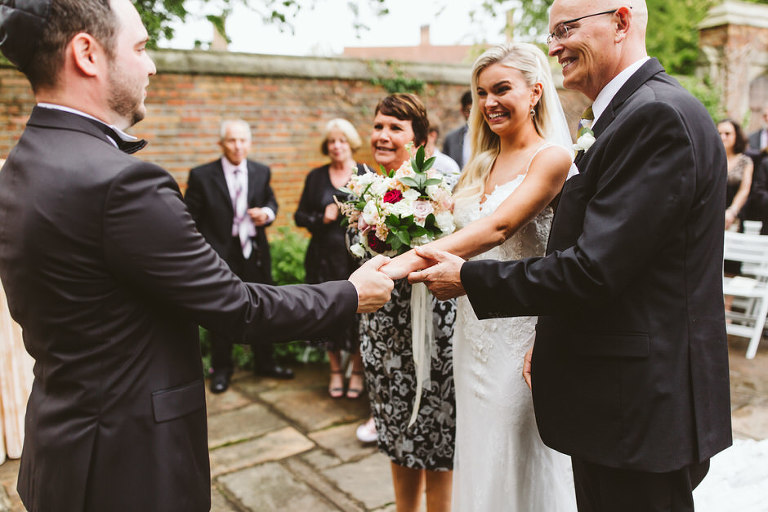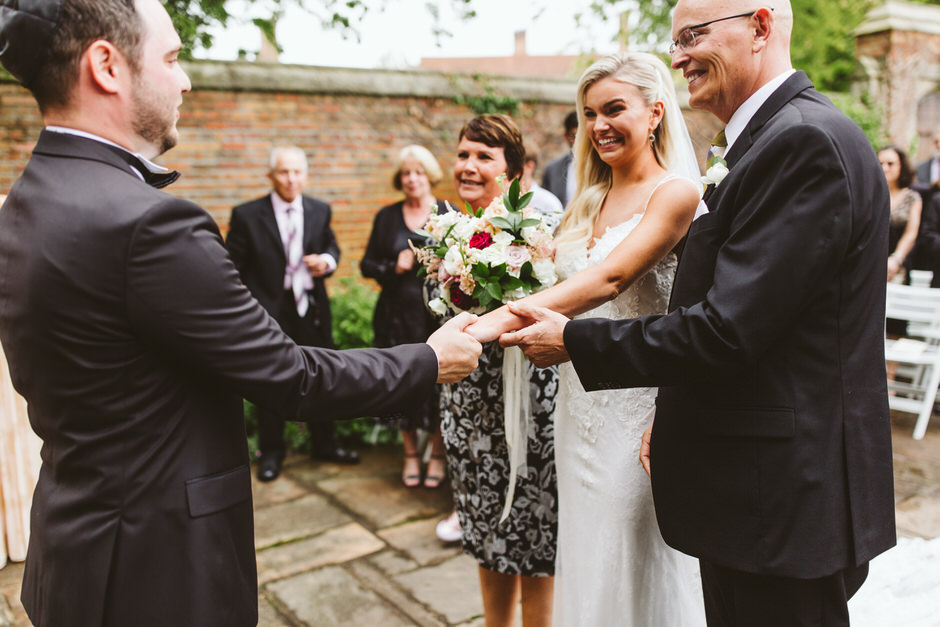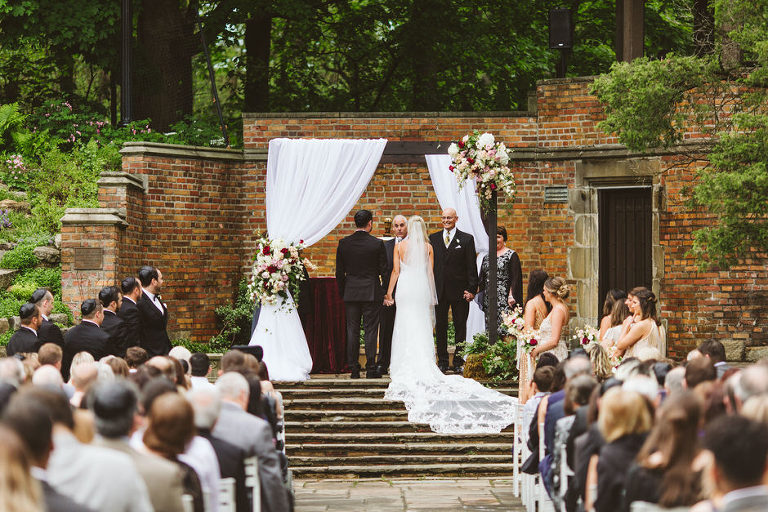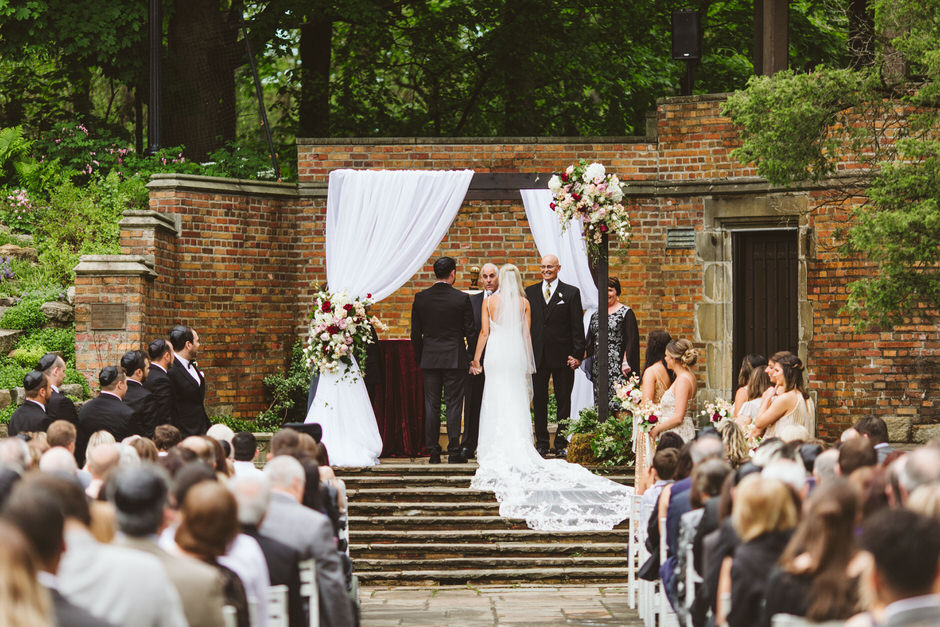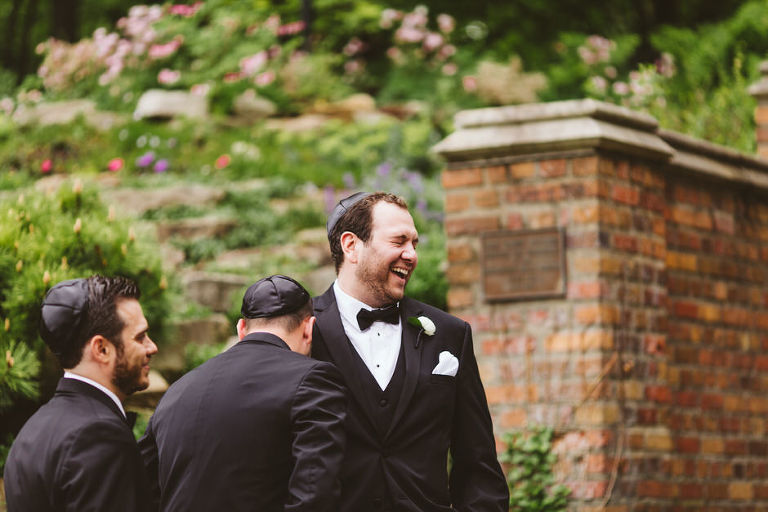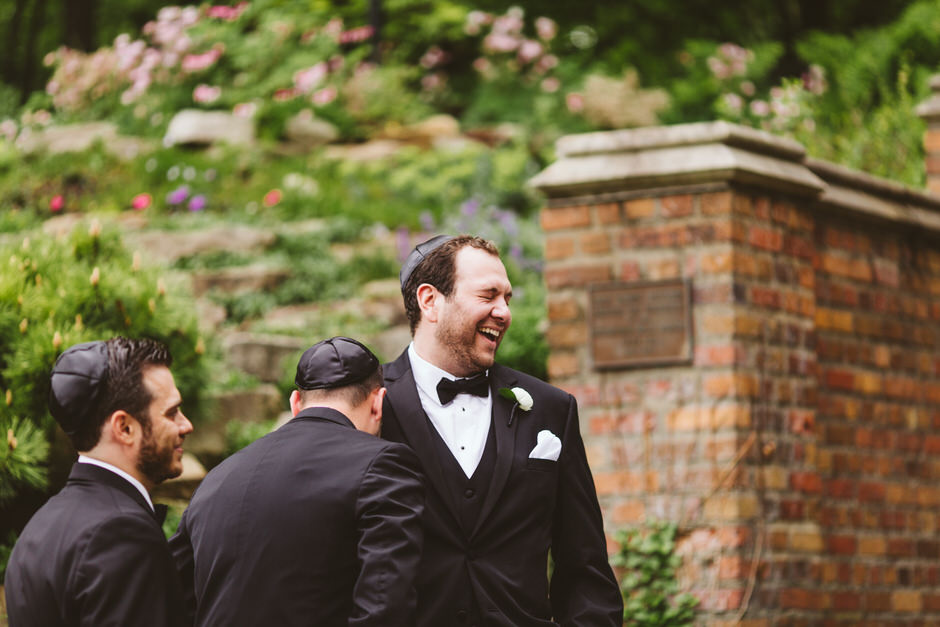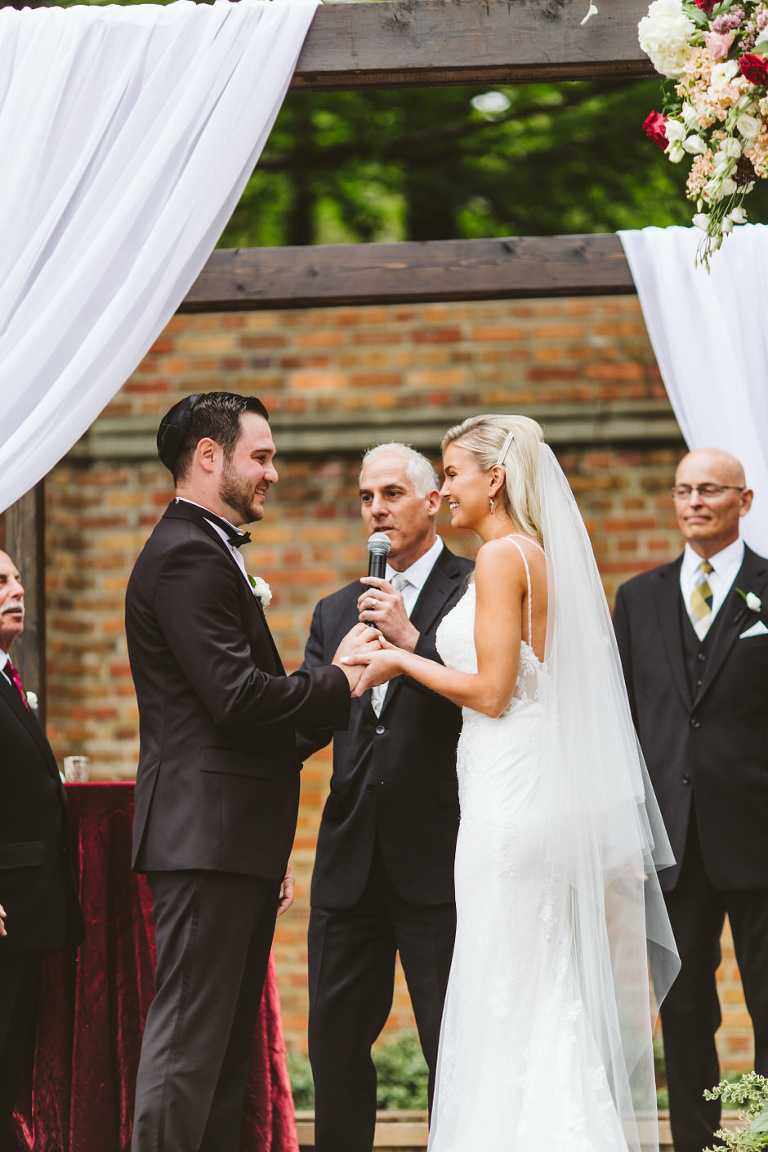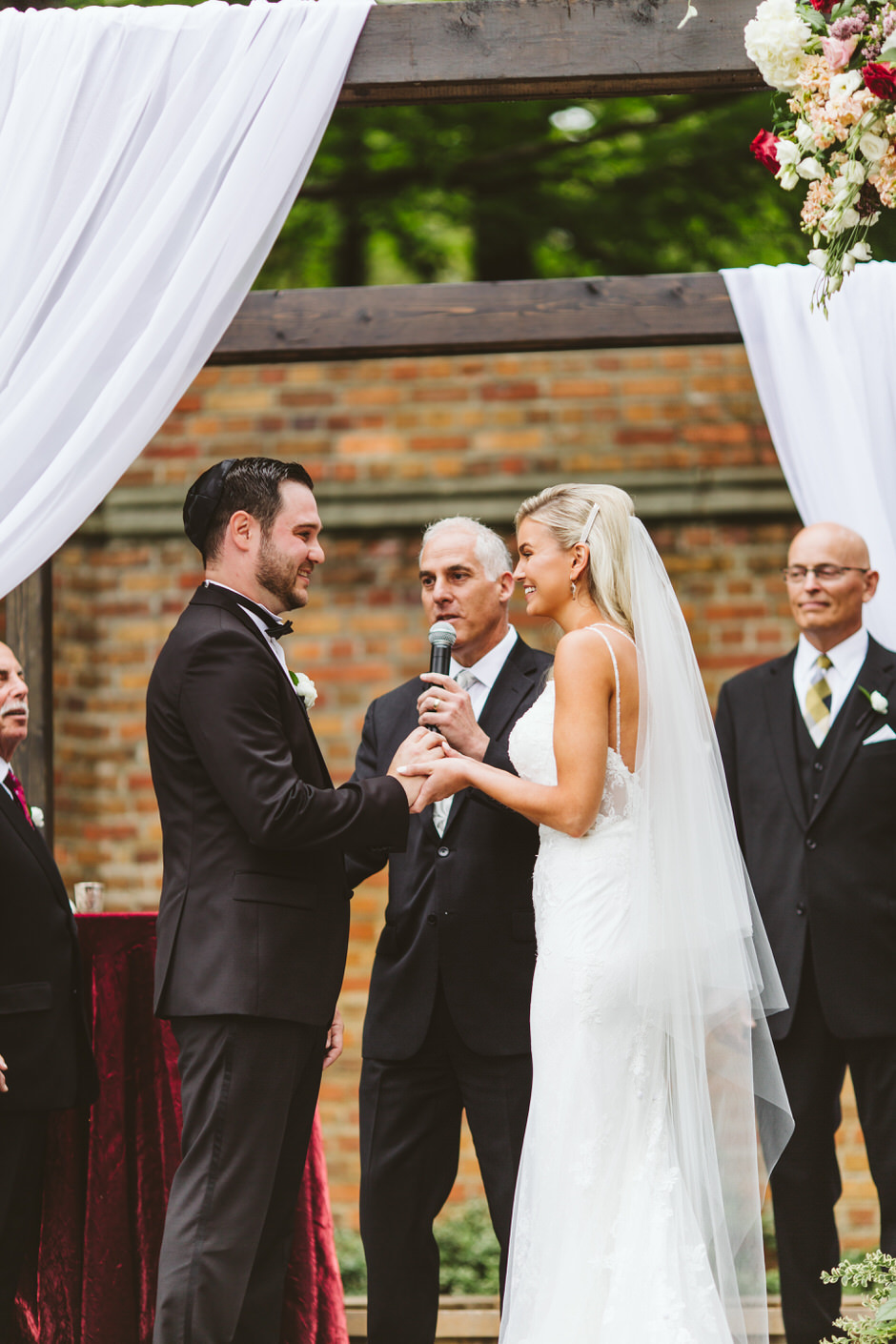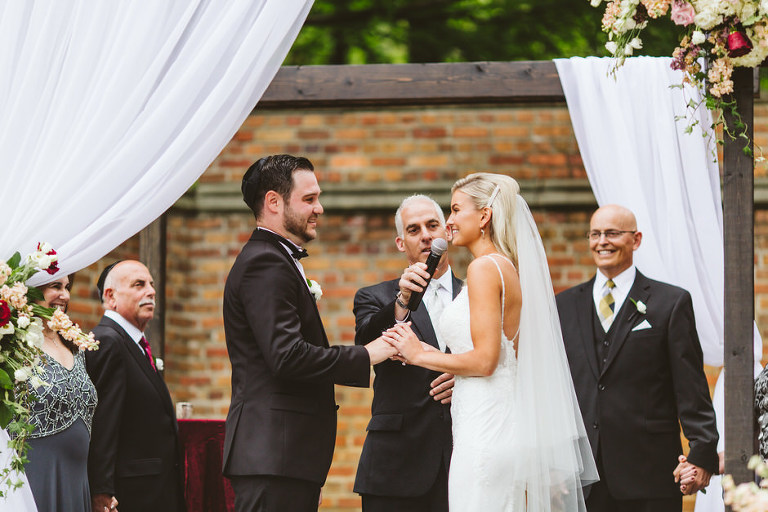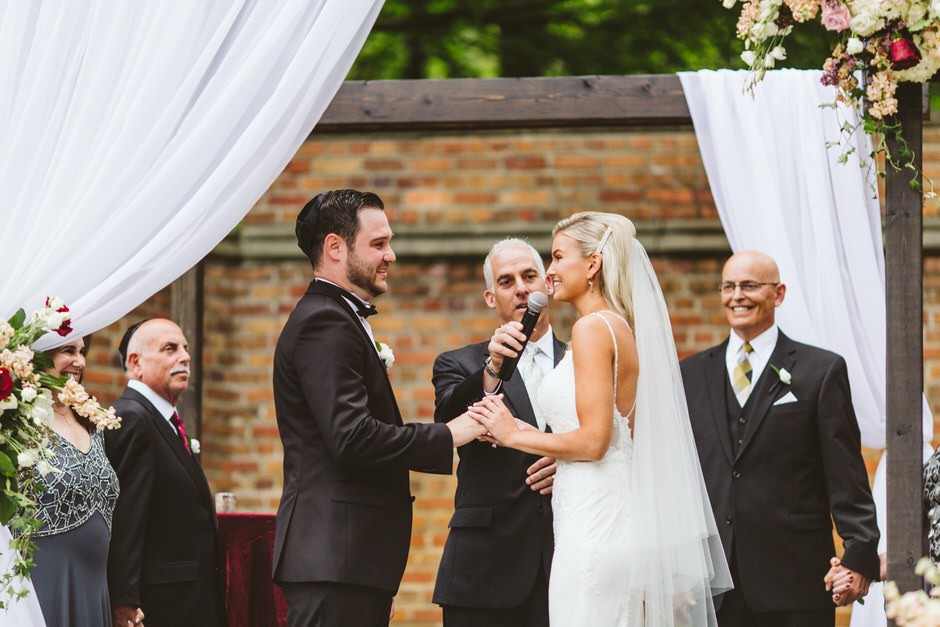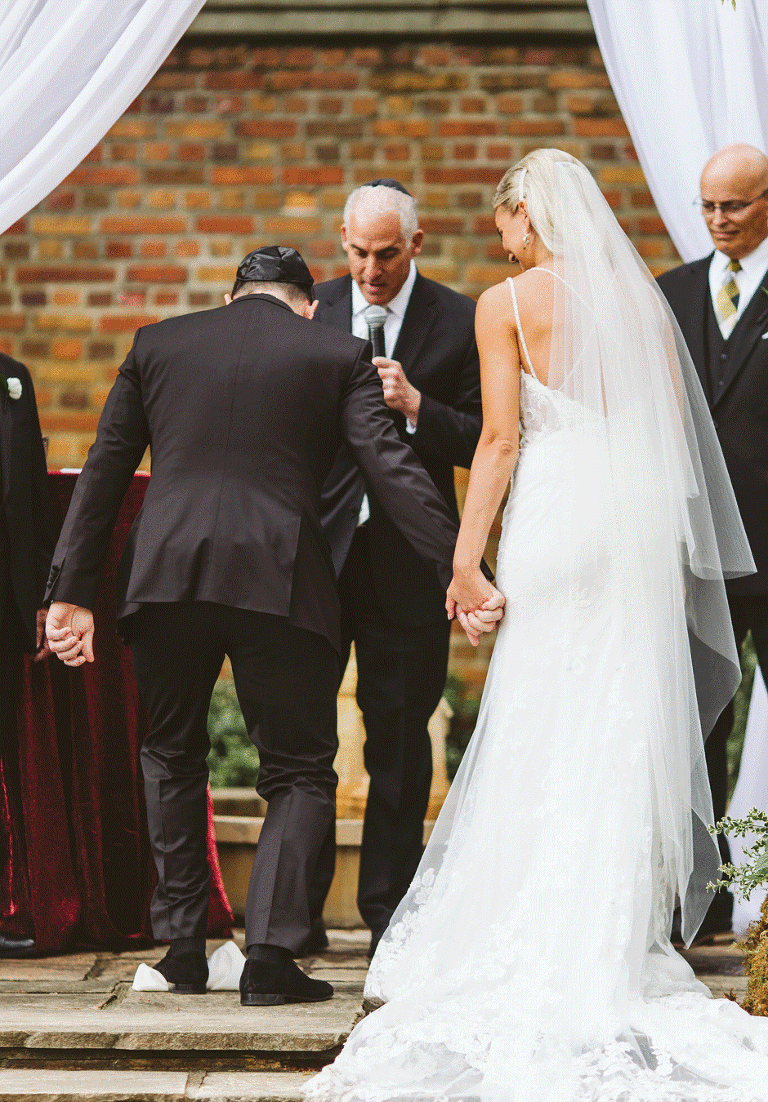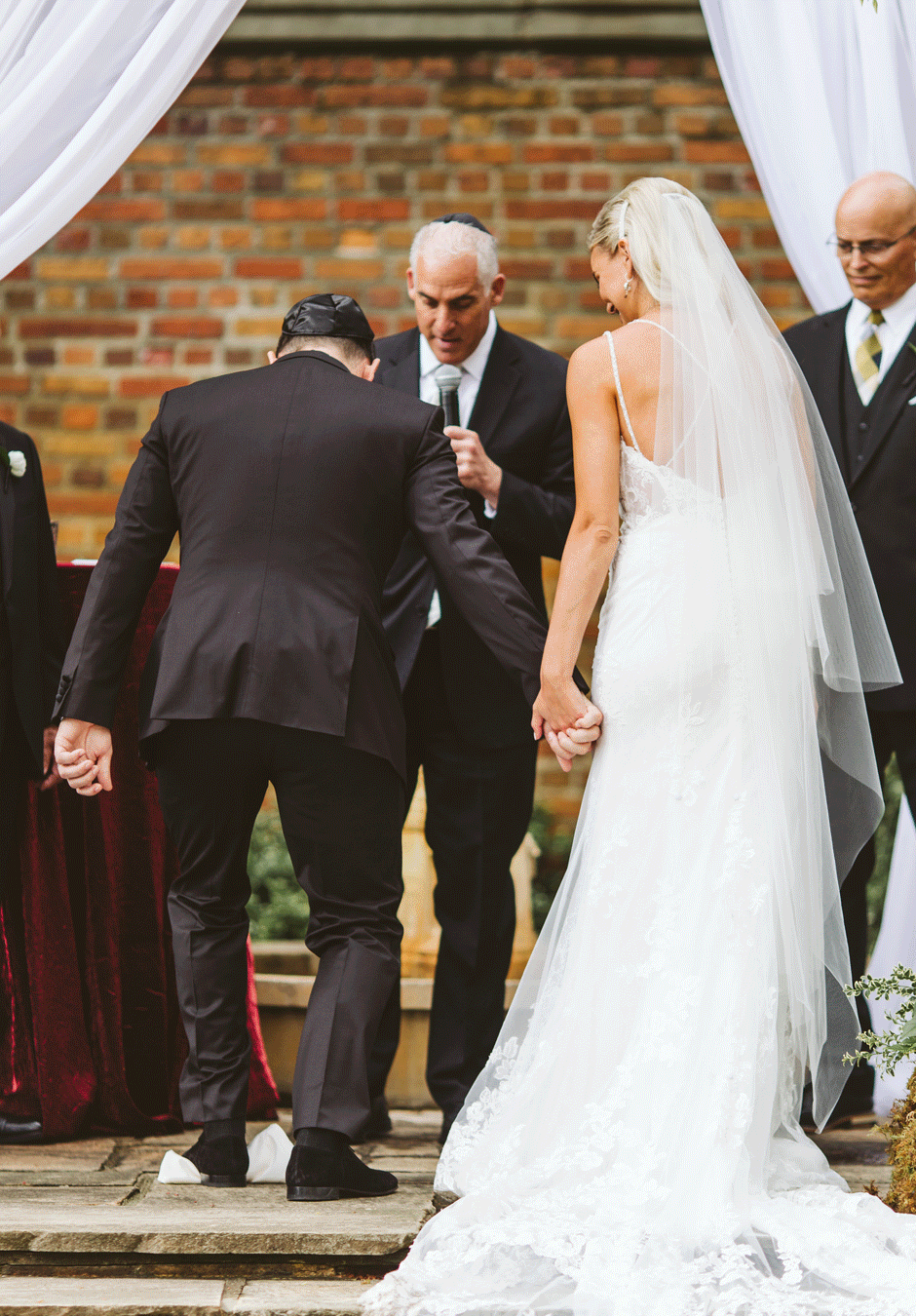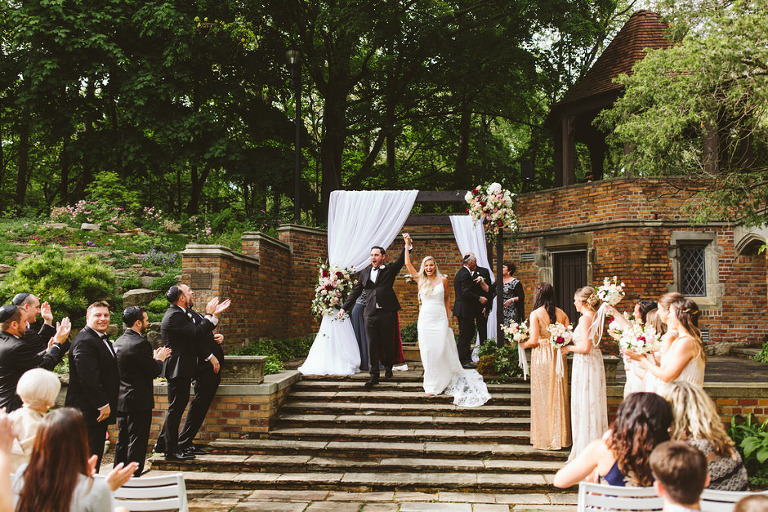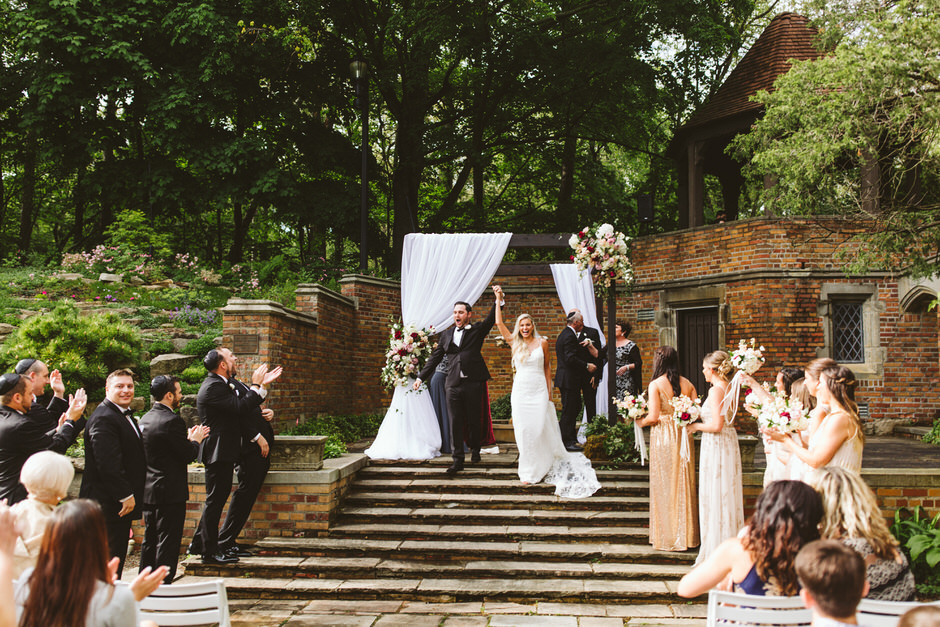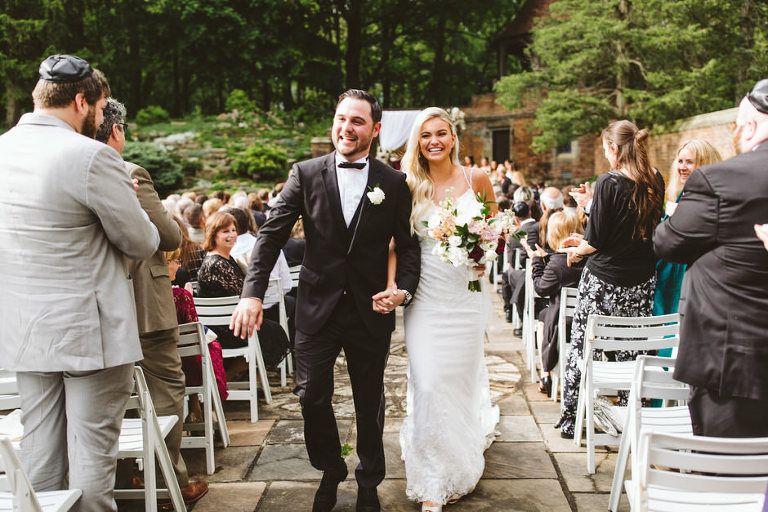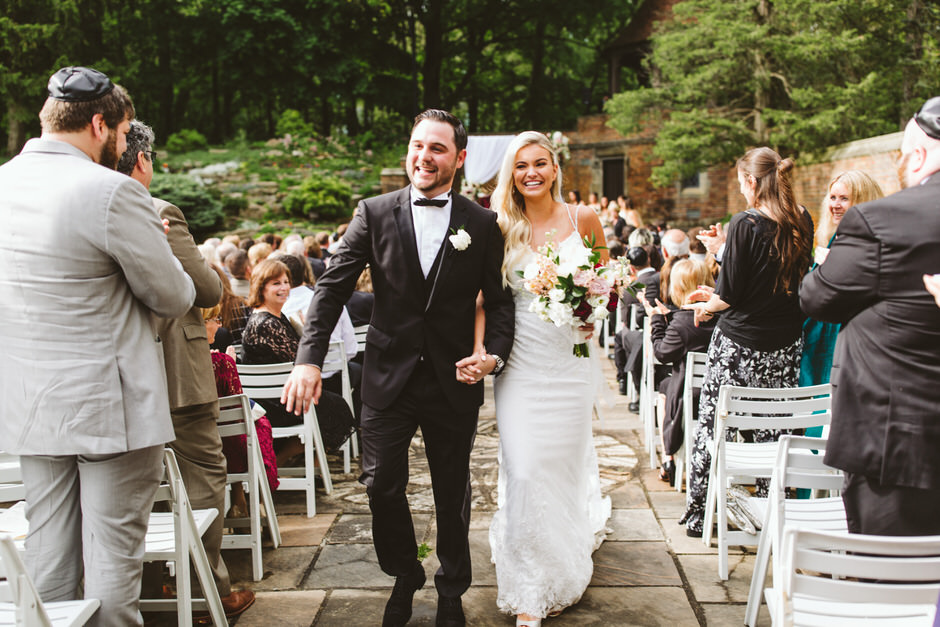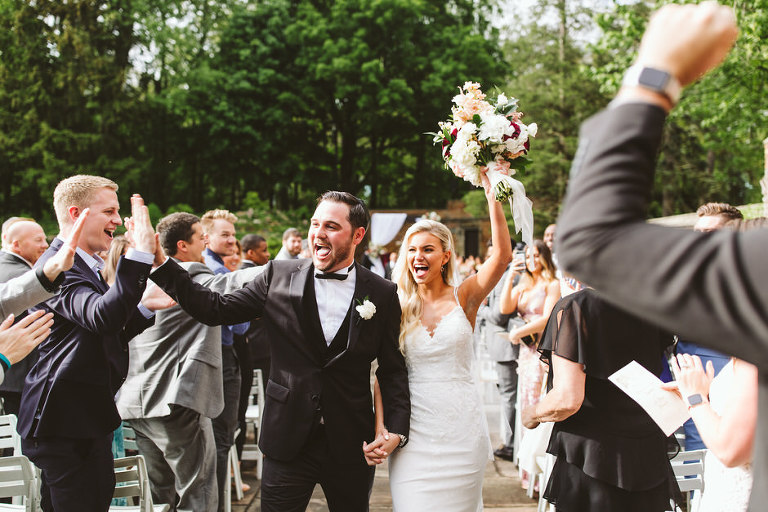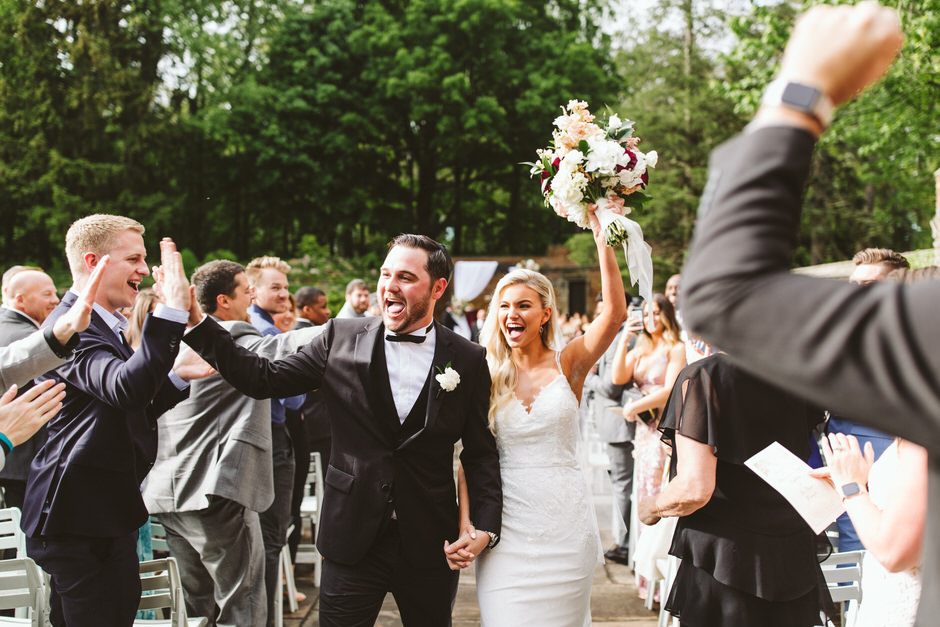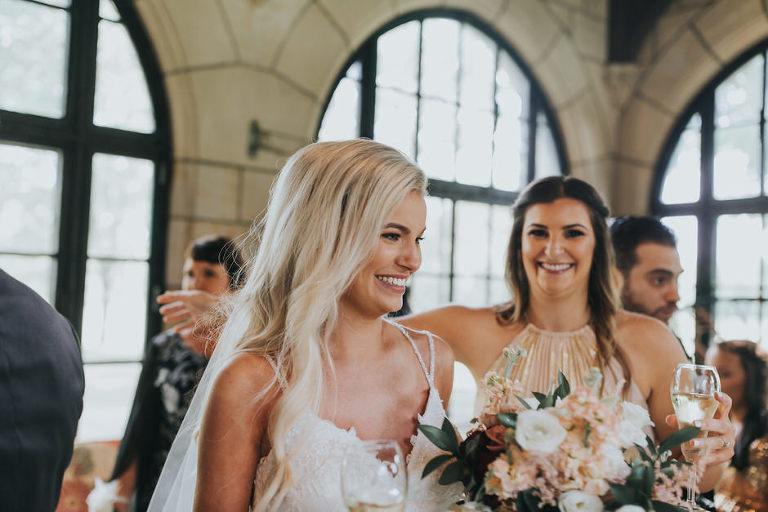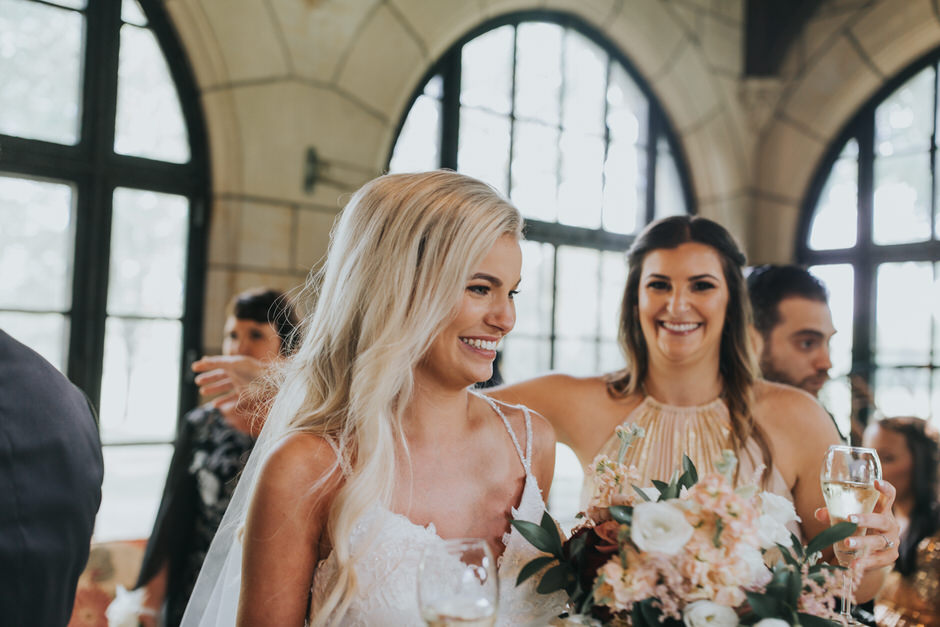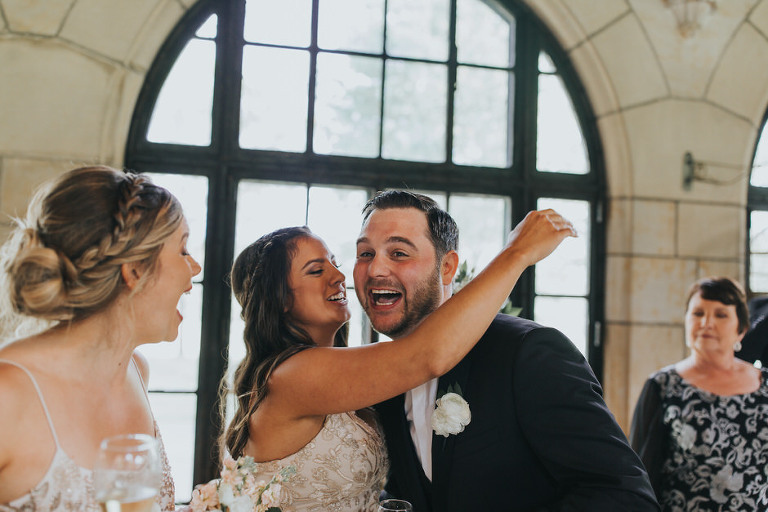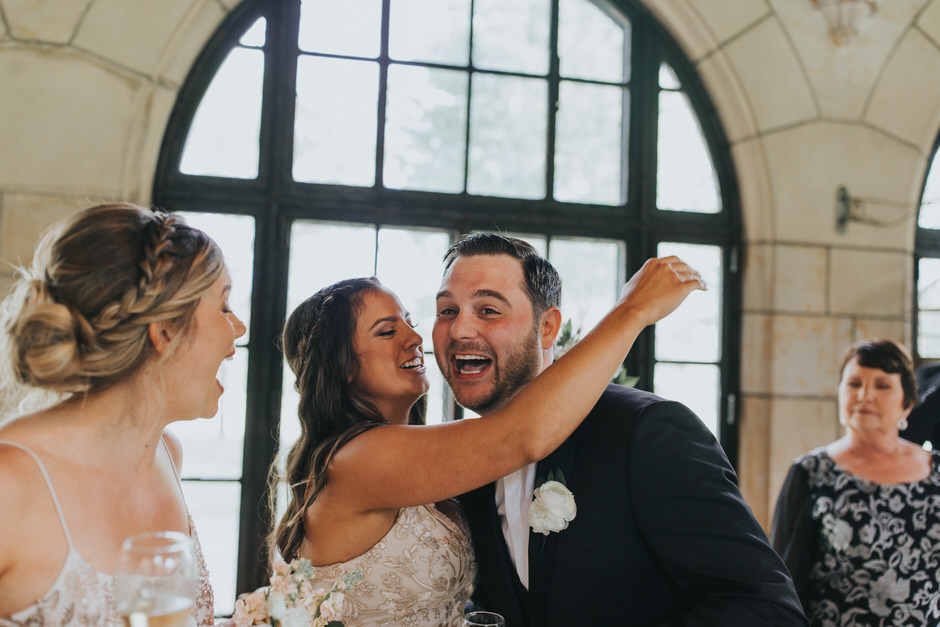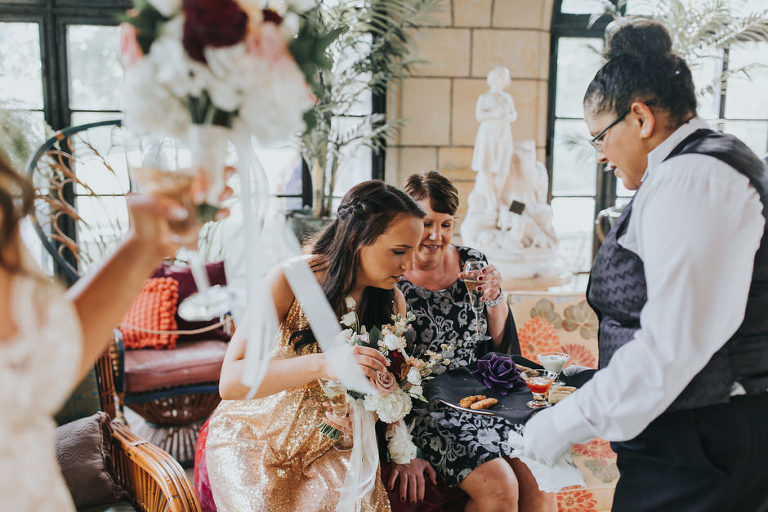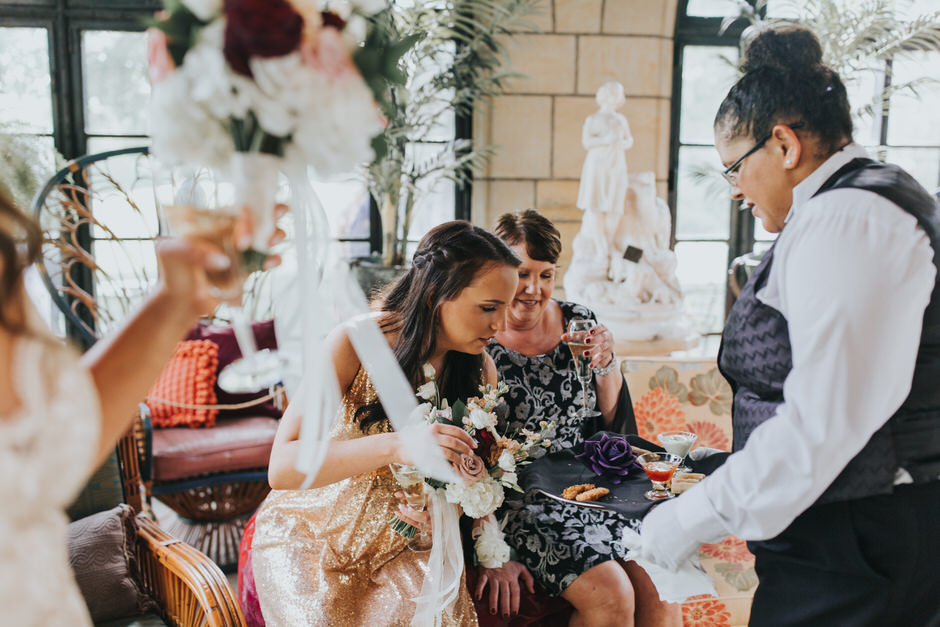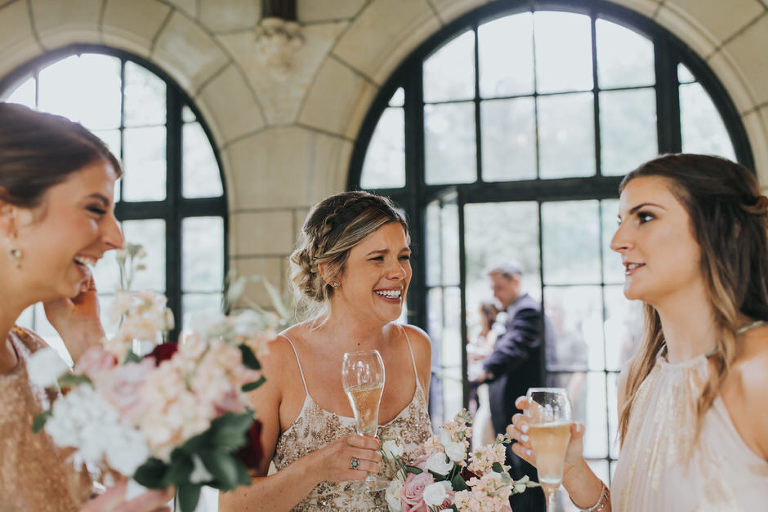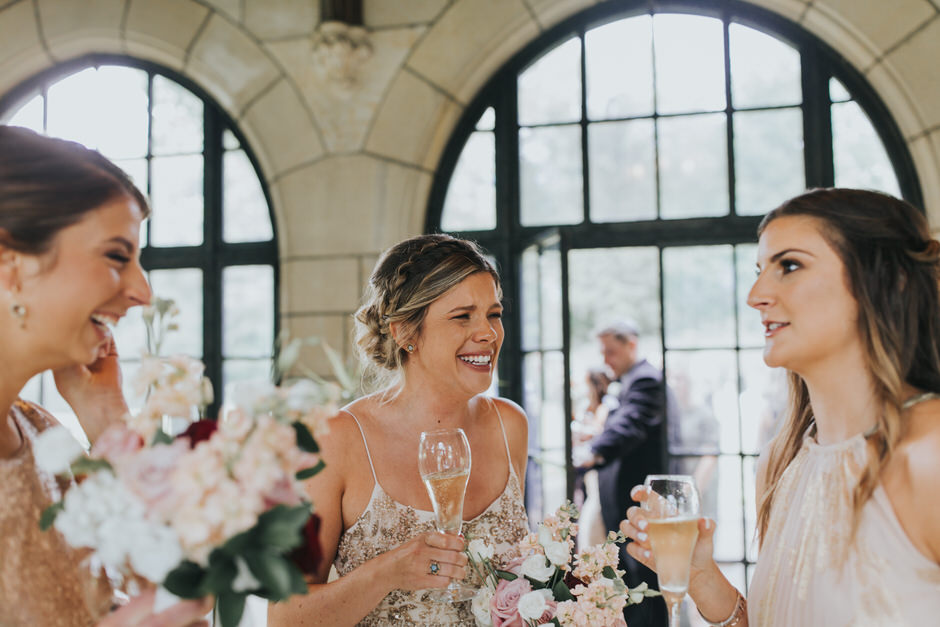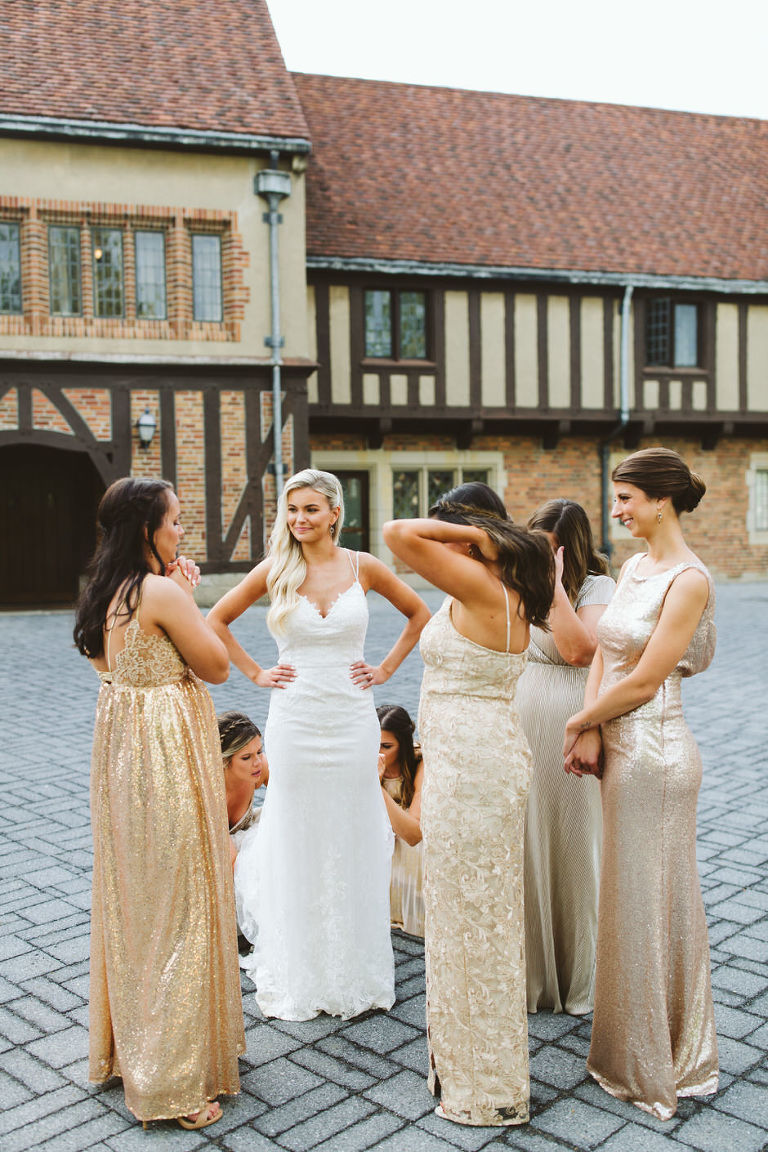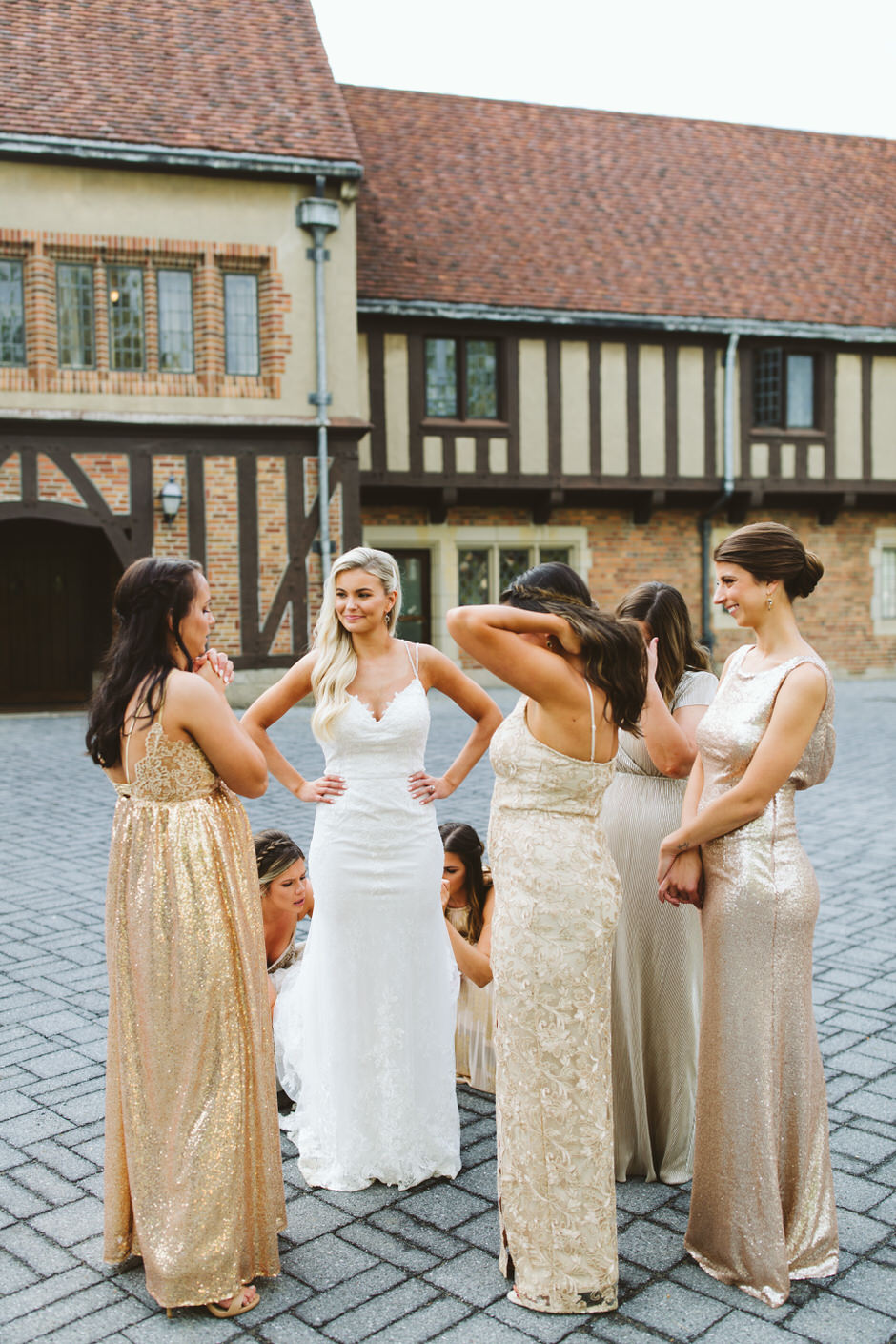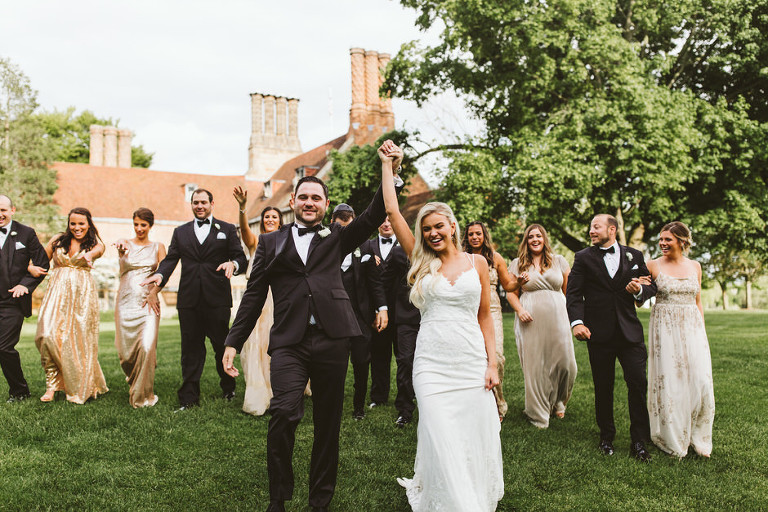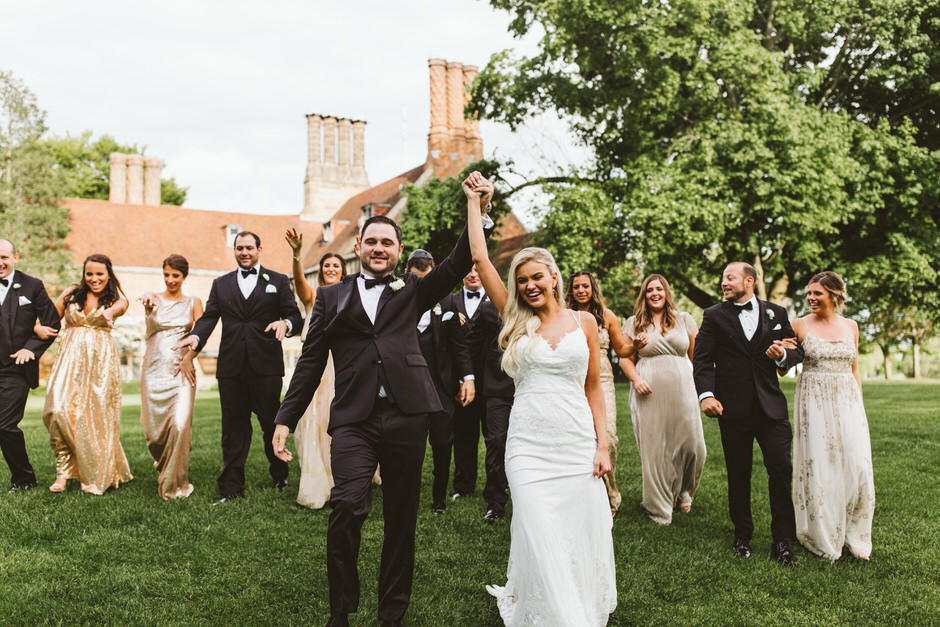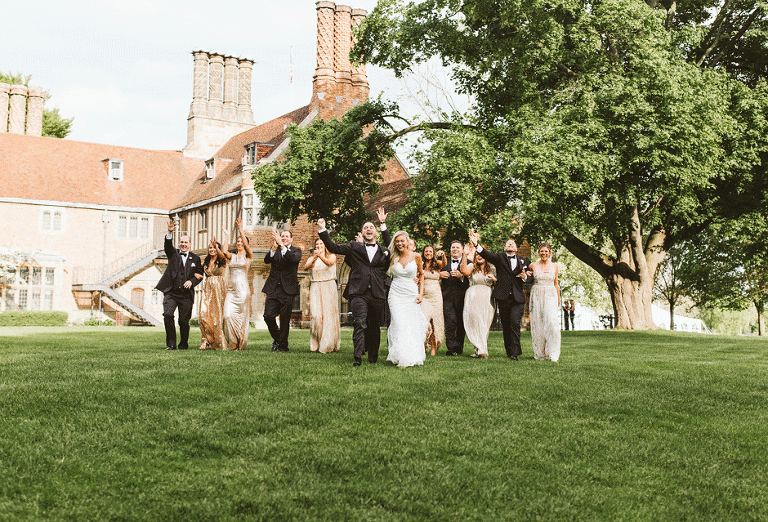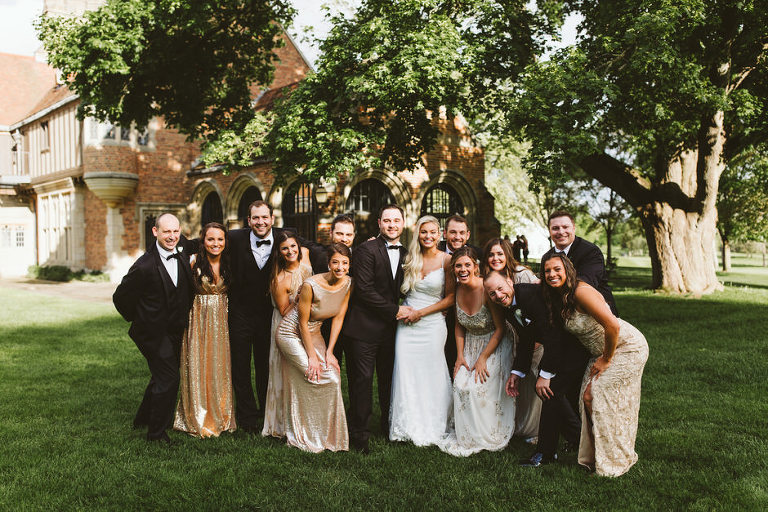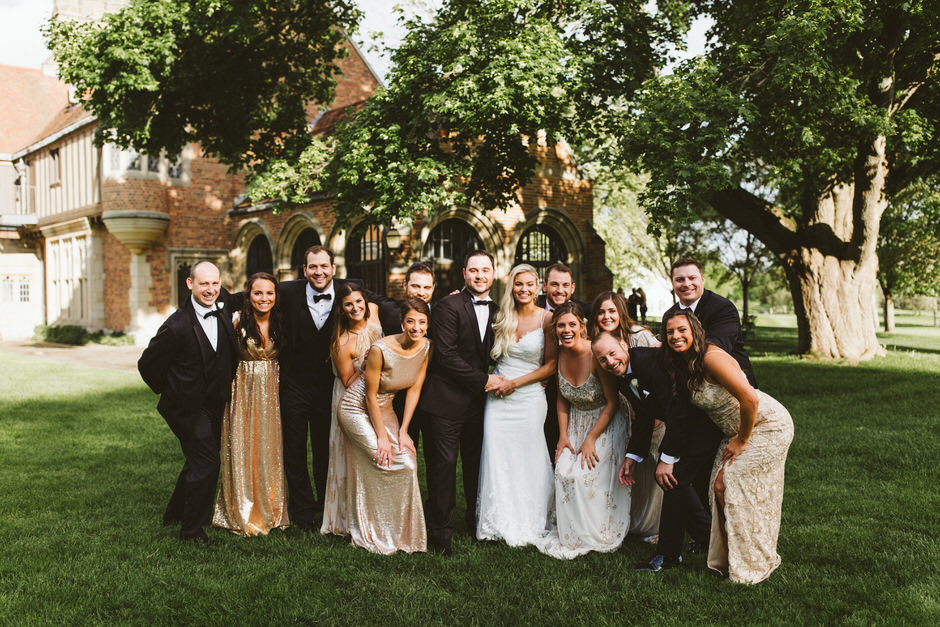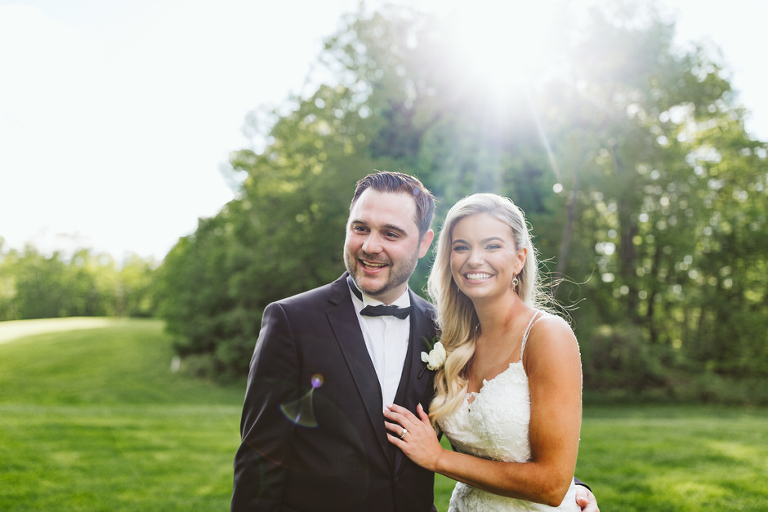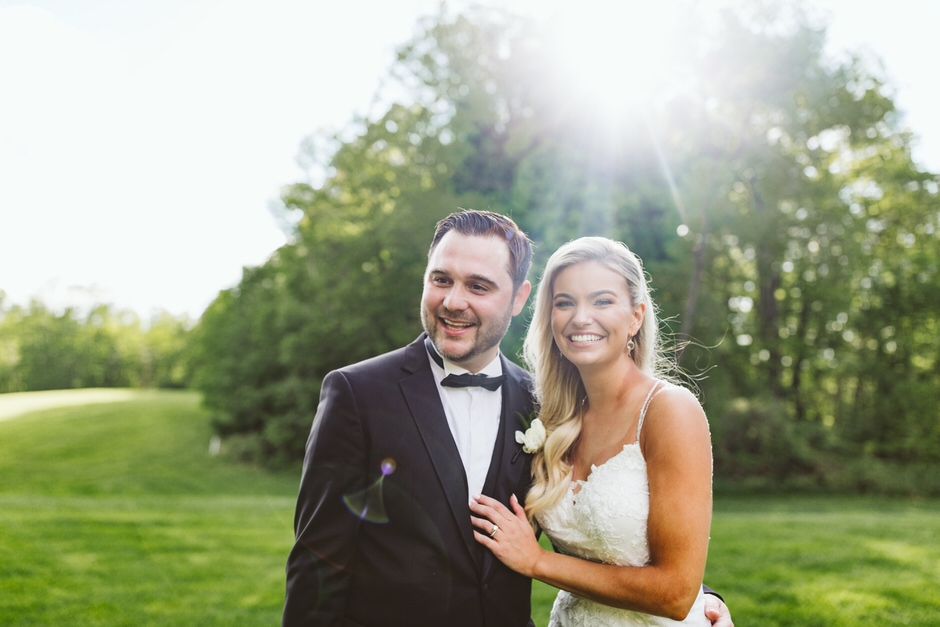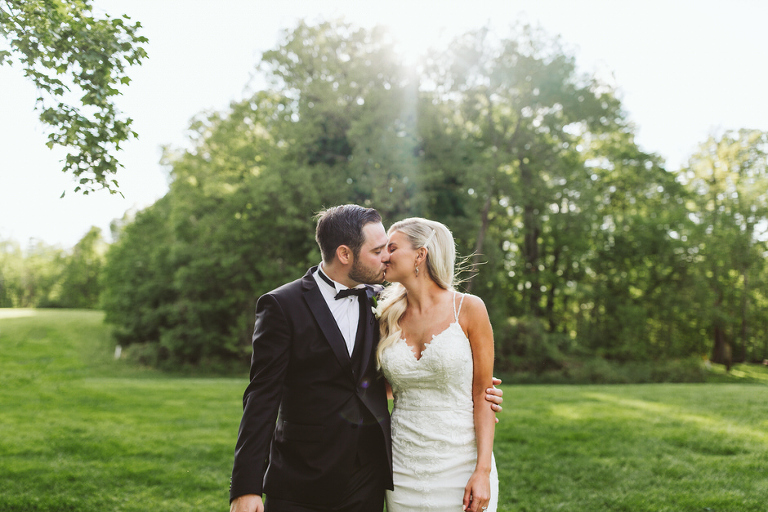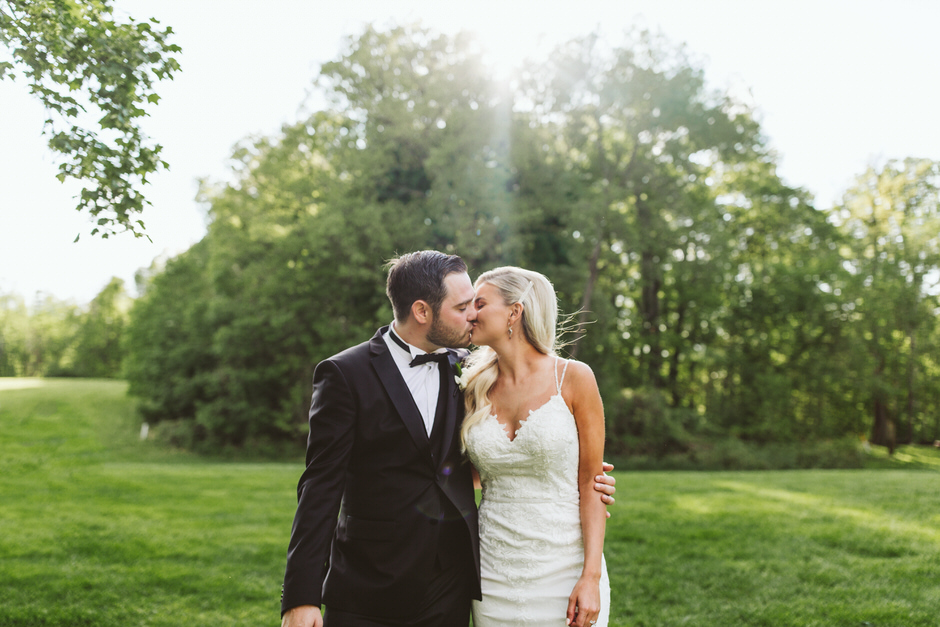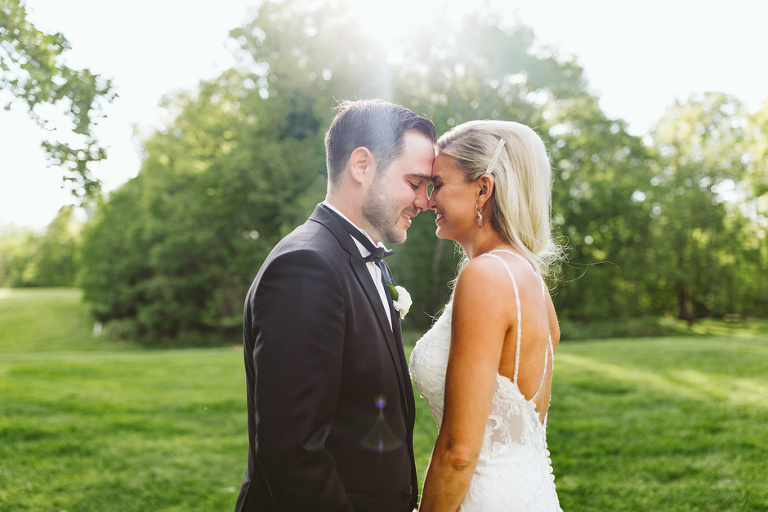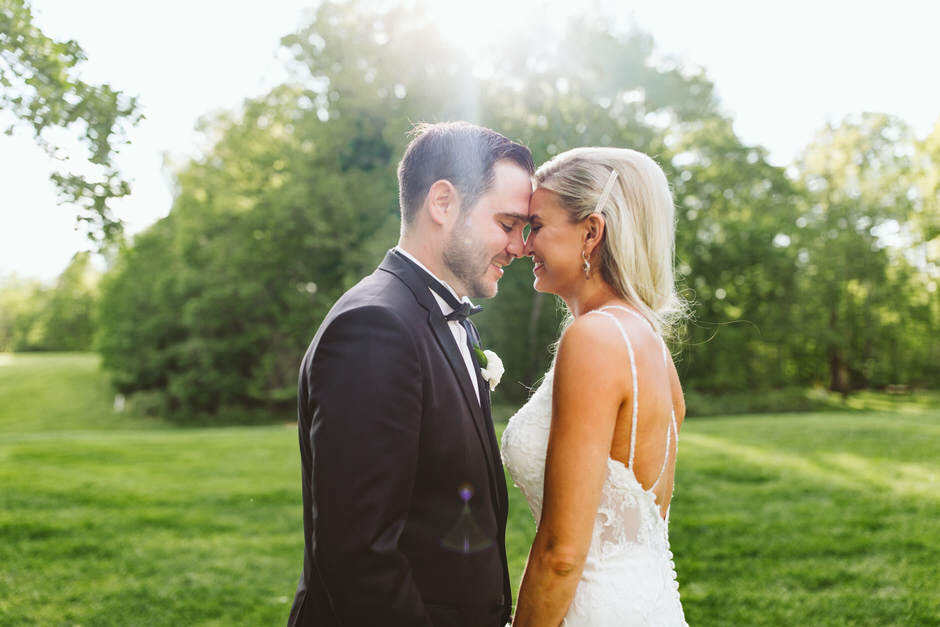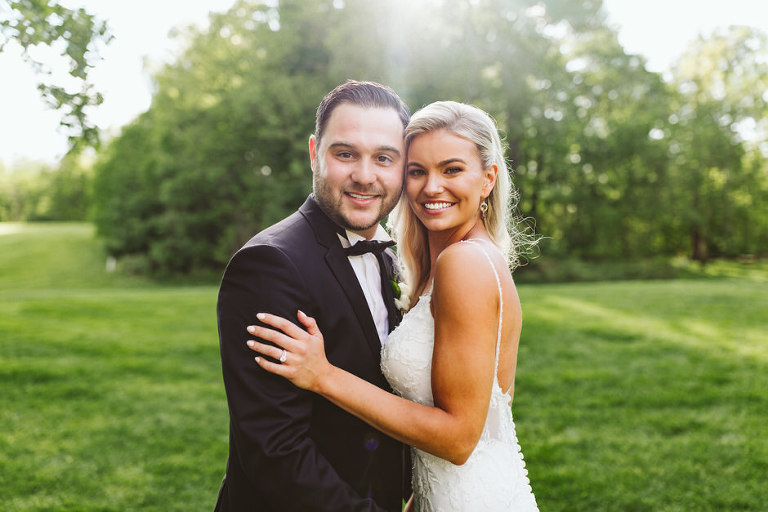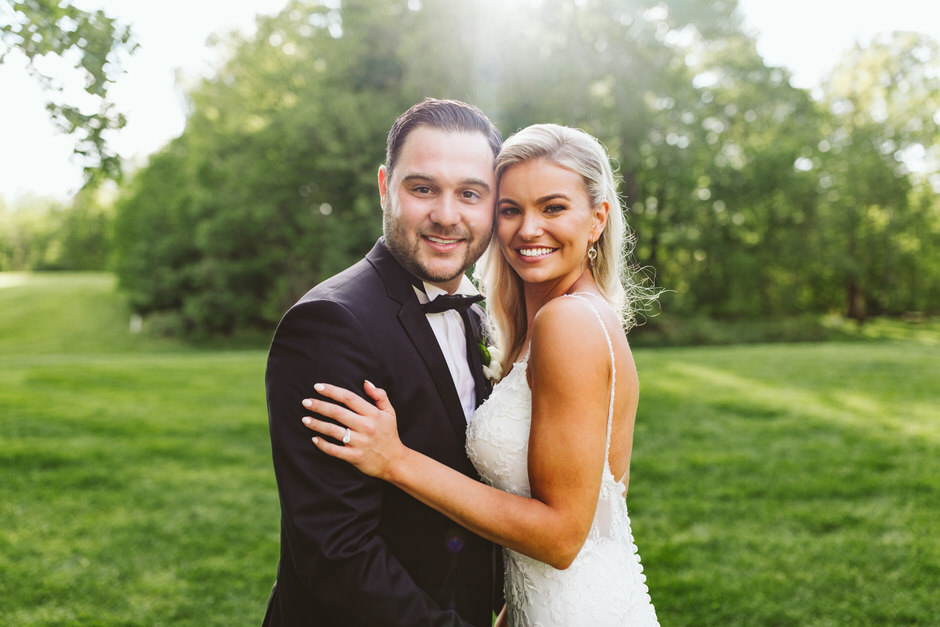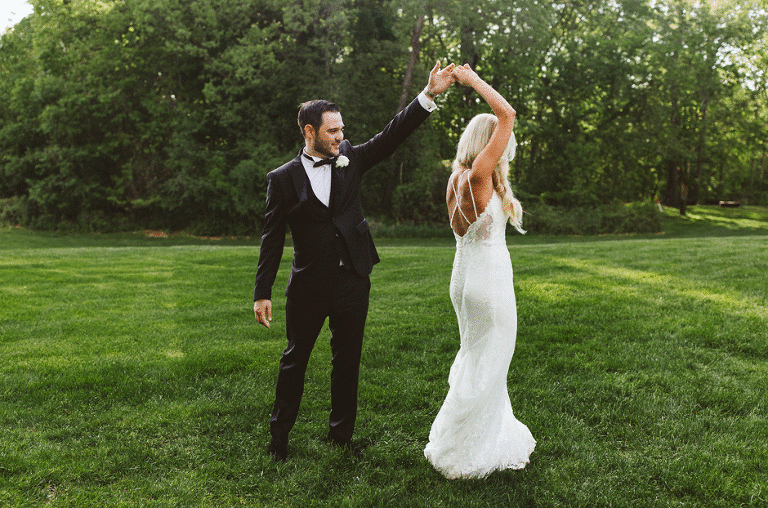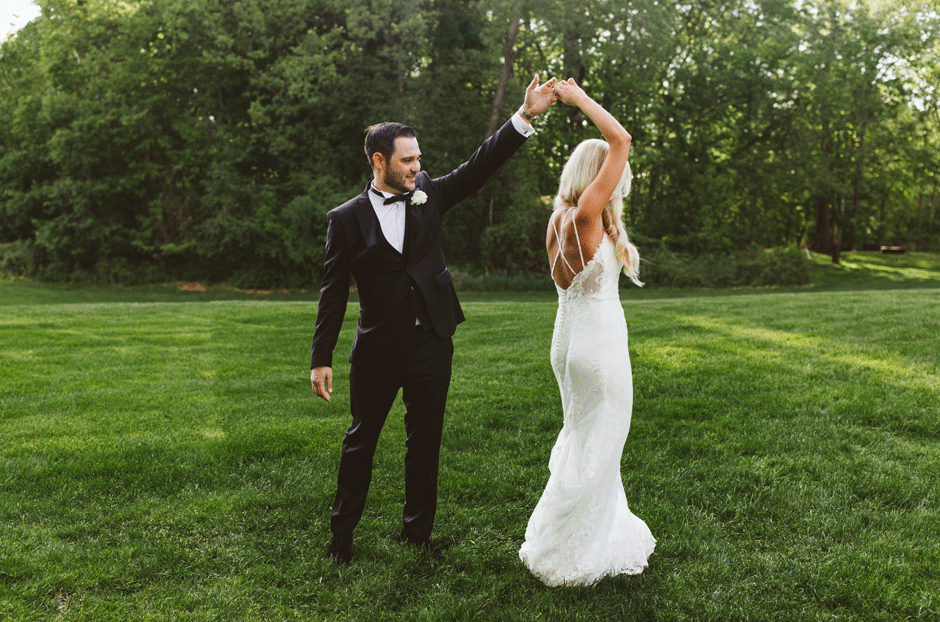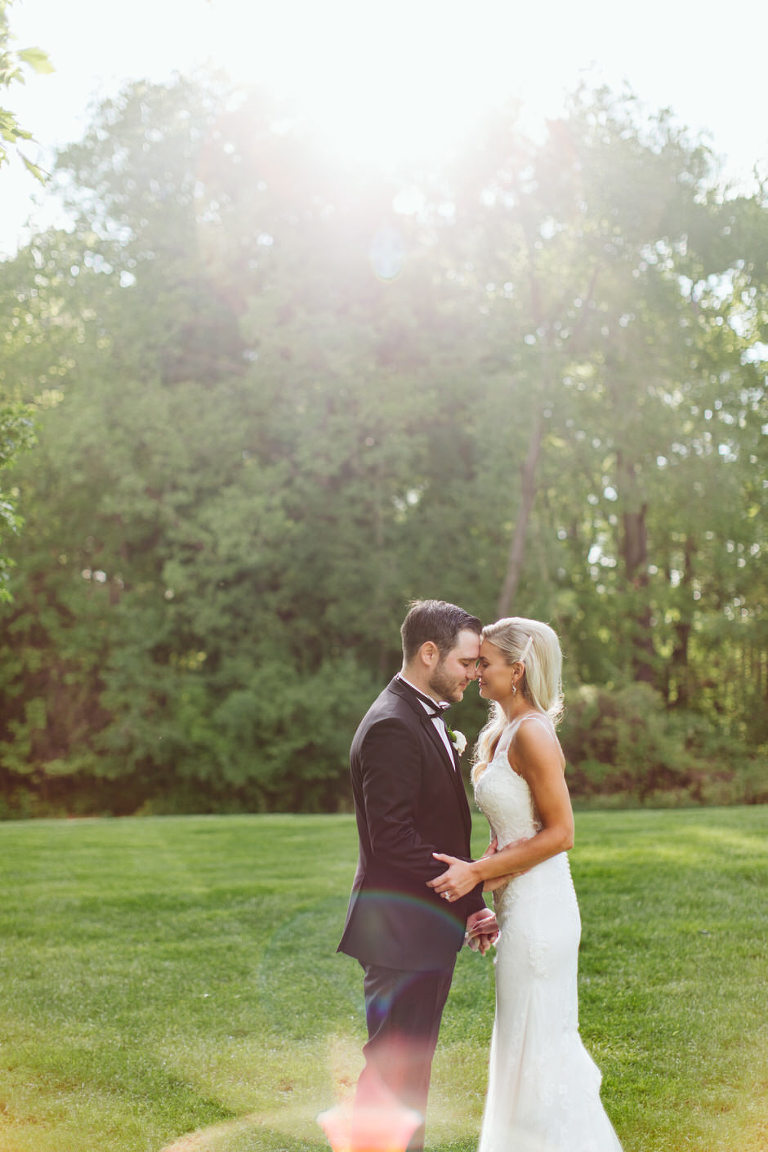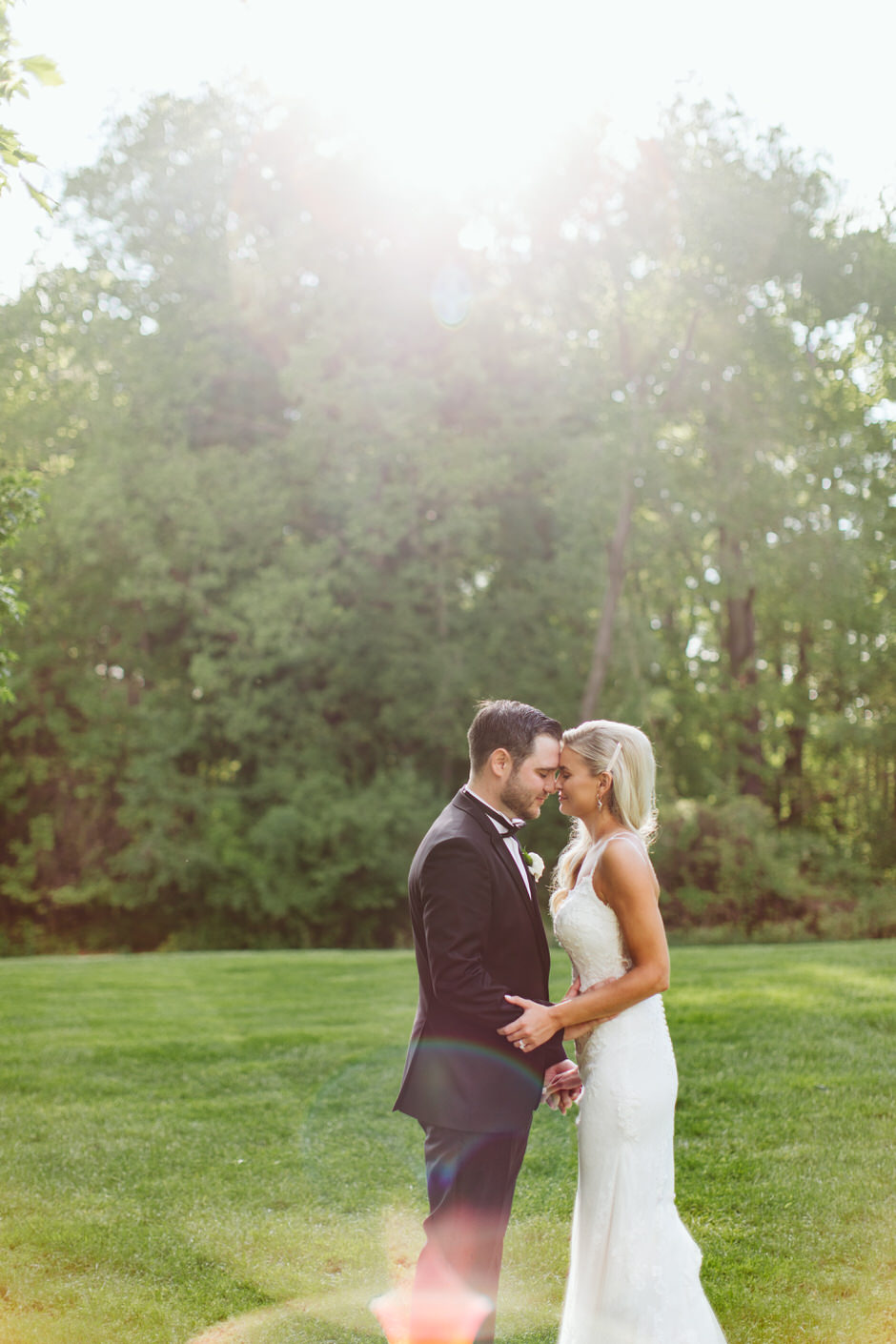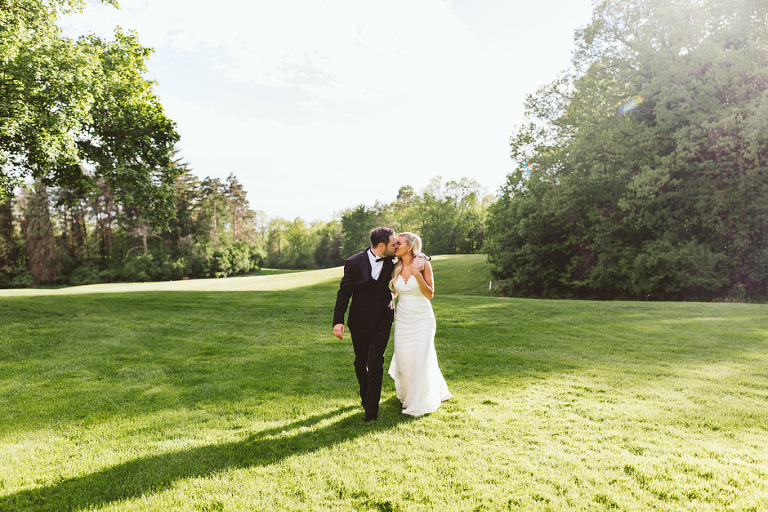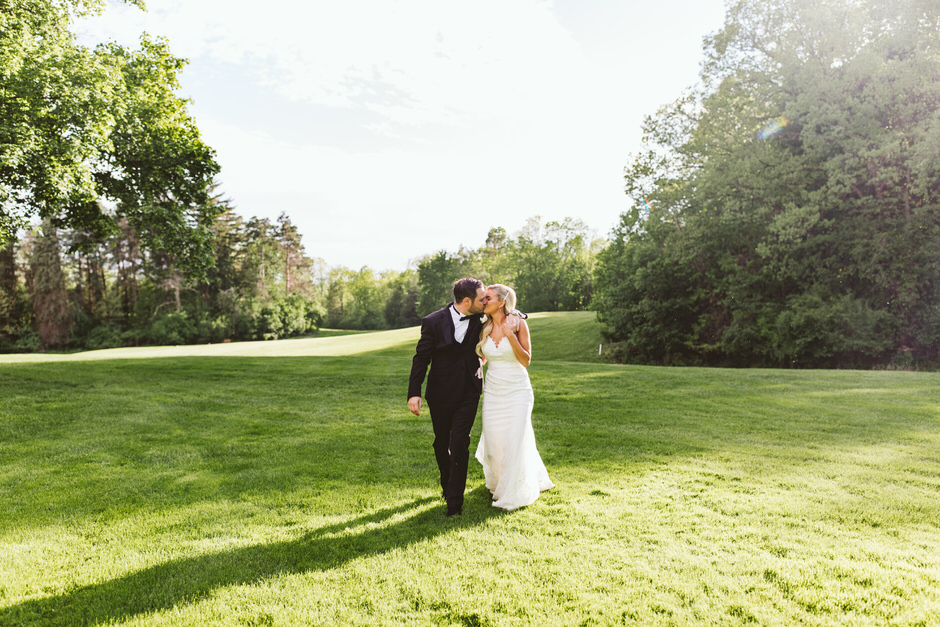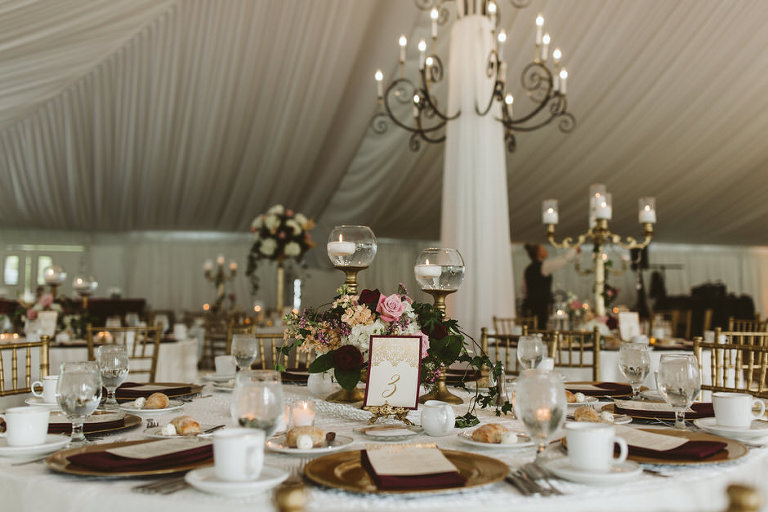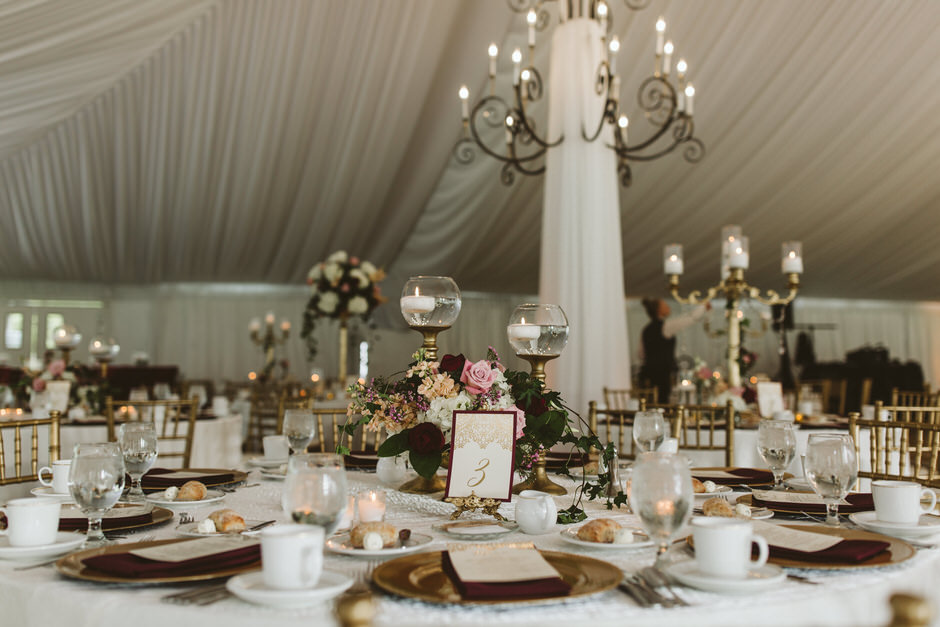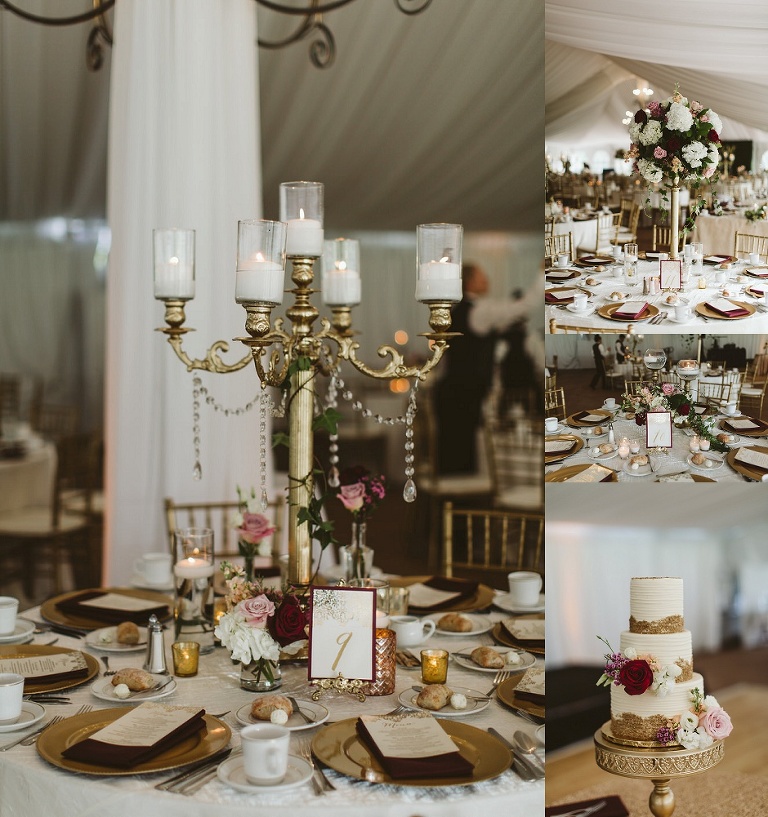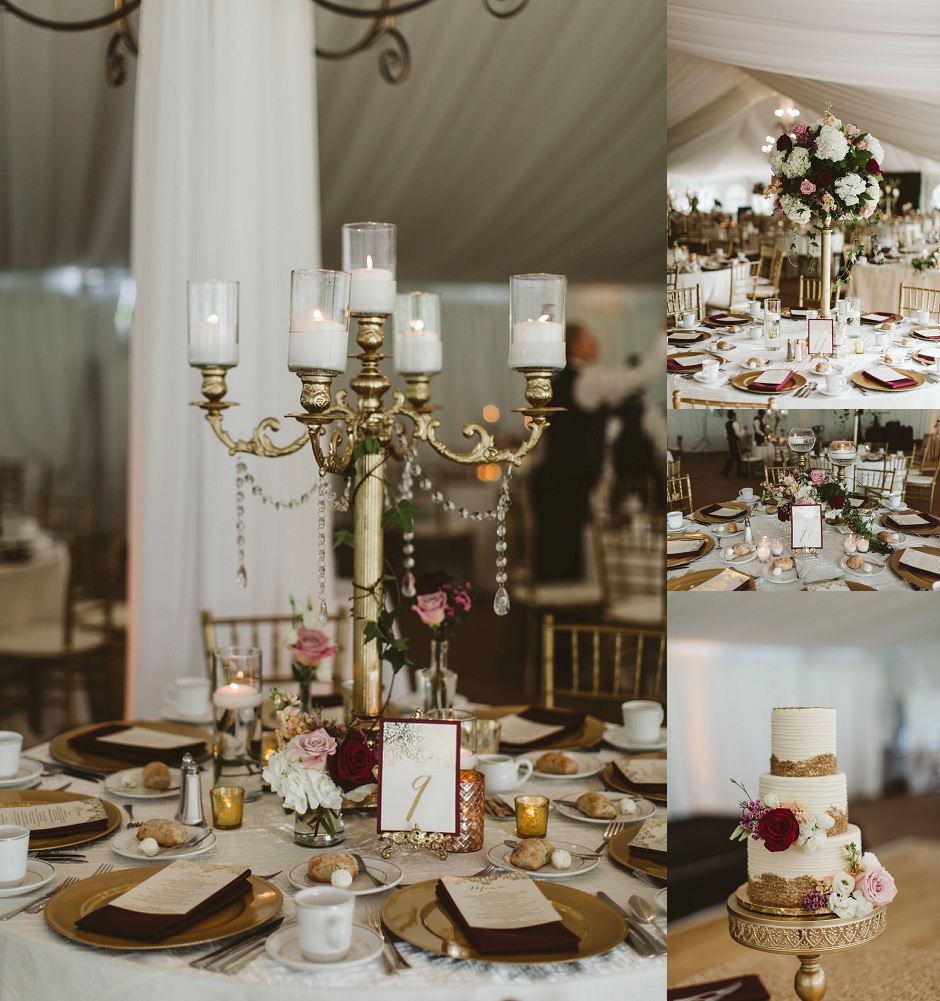 The Decor: 
After finding the venue, I knew exactly the theme I wanted – VINTAGE. The venue, Meadow Brook Hall (previously the Dodge family estate) was built in the 20's and is so beautiful on its own that all I needed to focus on was the reception tent. I wanted the tent to flow with the mansion's interior, so I stuck to a lot of gold and knew I needed candles and flowers with burgundy accents all over. Emerald City Designs helped me bring my ideas to life and it couldn't have been more perfect! My dress had a long lace train, which went with the vintage decor, so I decided to keep with the aesthetic and go with the "classic Hollywood curls" hairdo to really tie everything together. From the venue, to the outfits, to the reception decorations, everything felt like we had gone back in time for the night.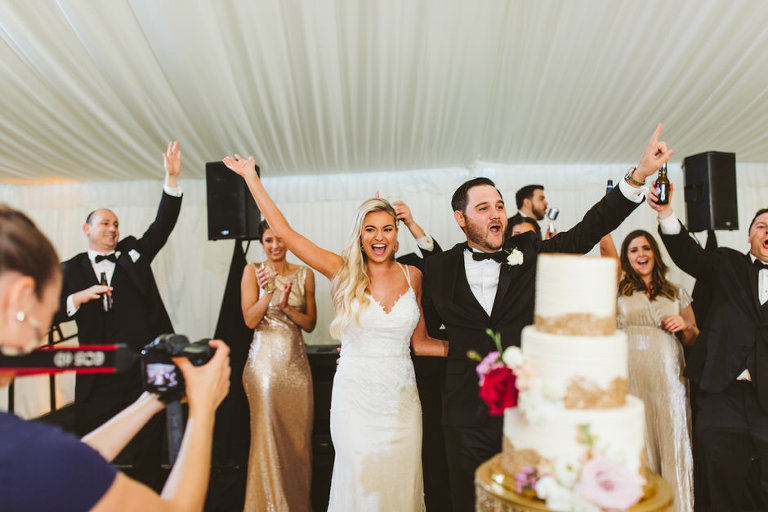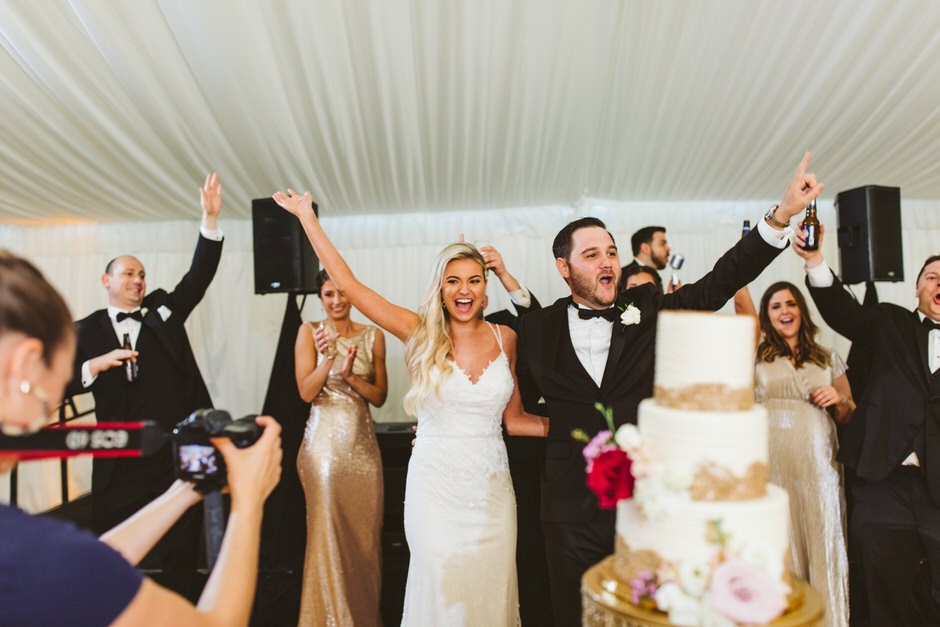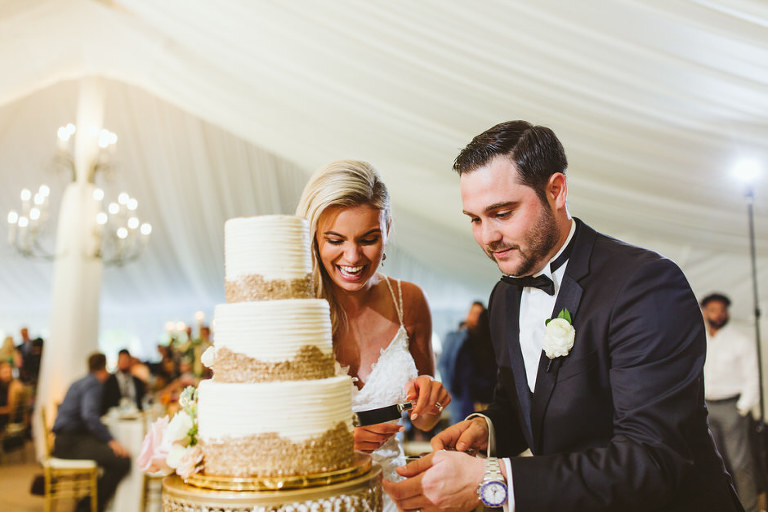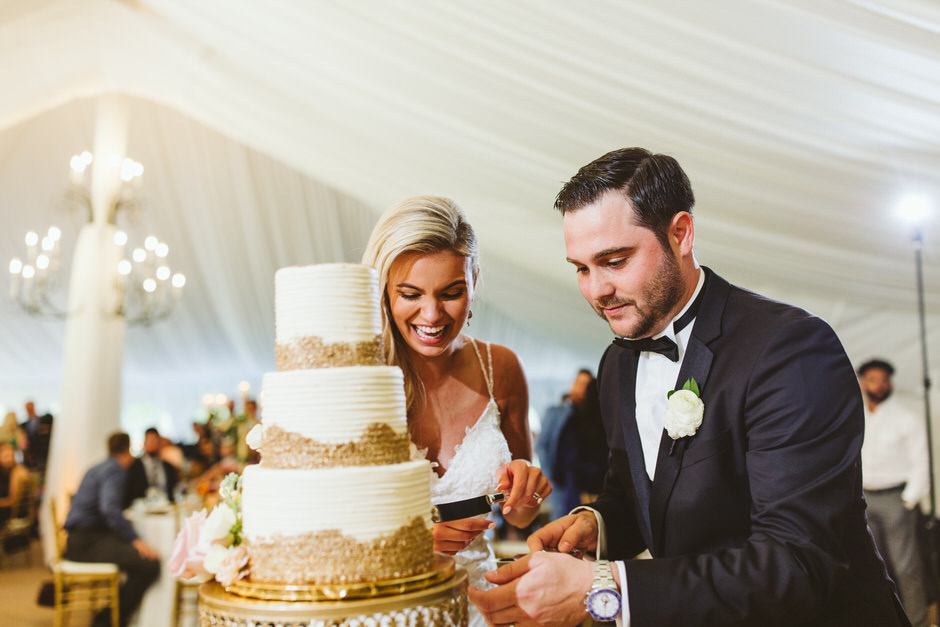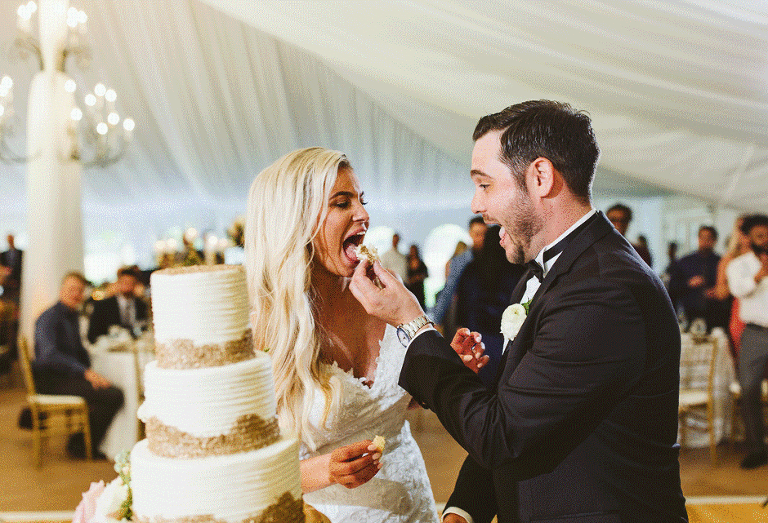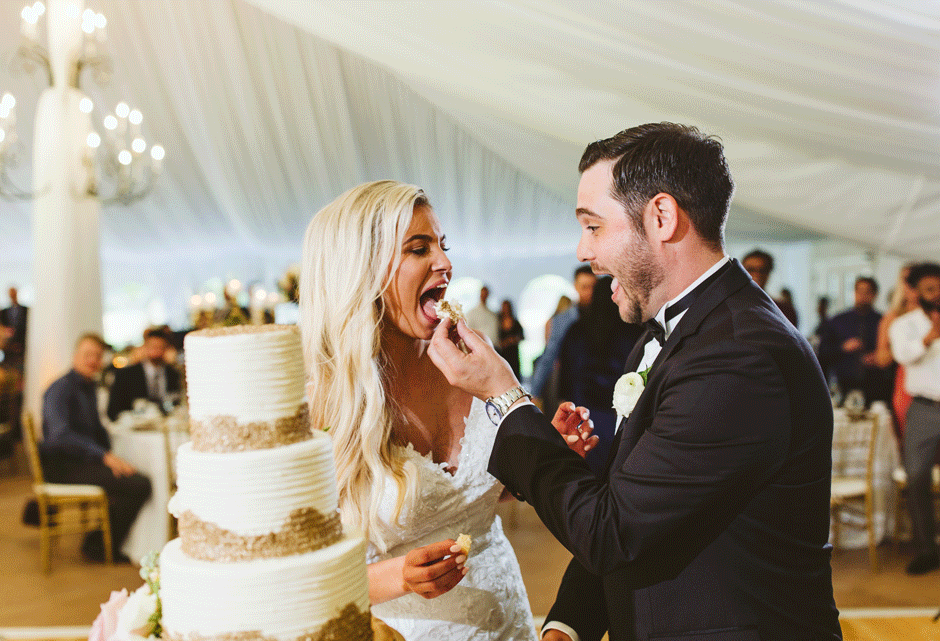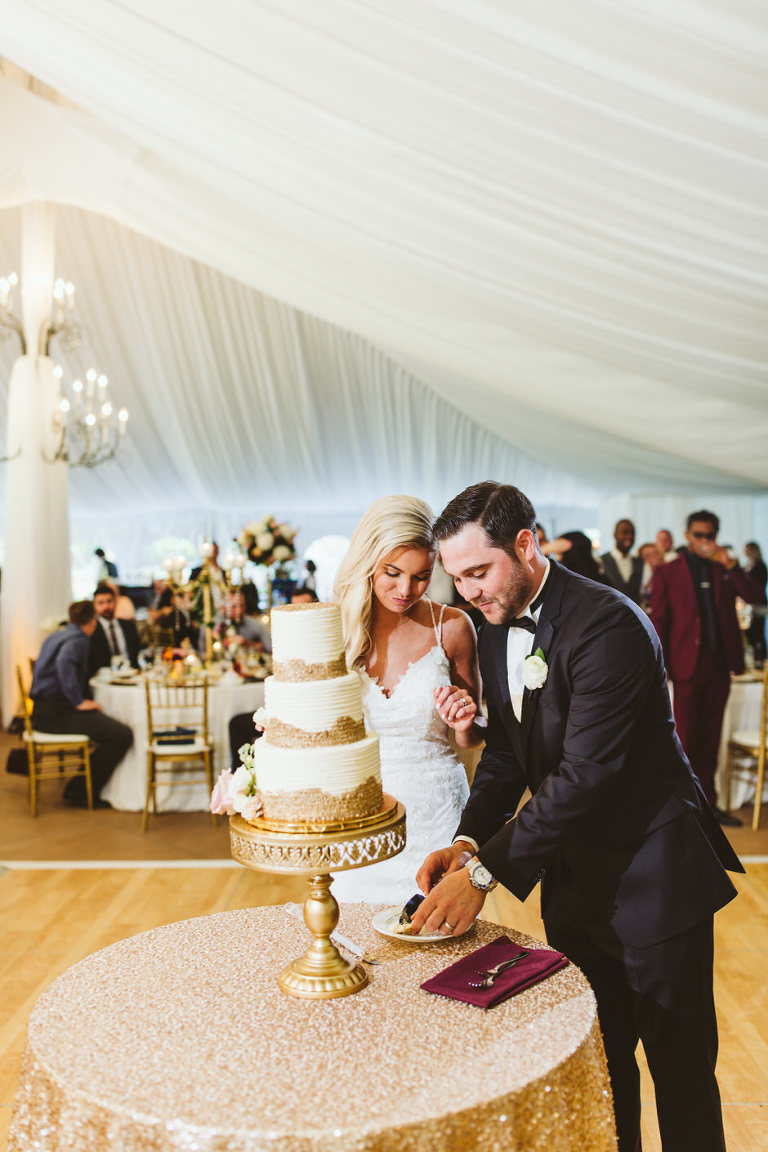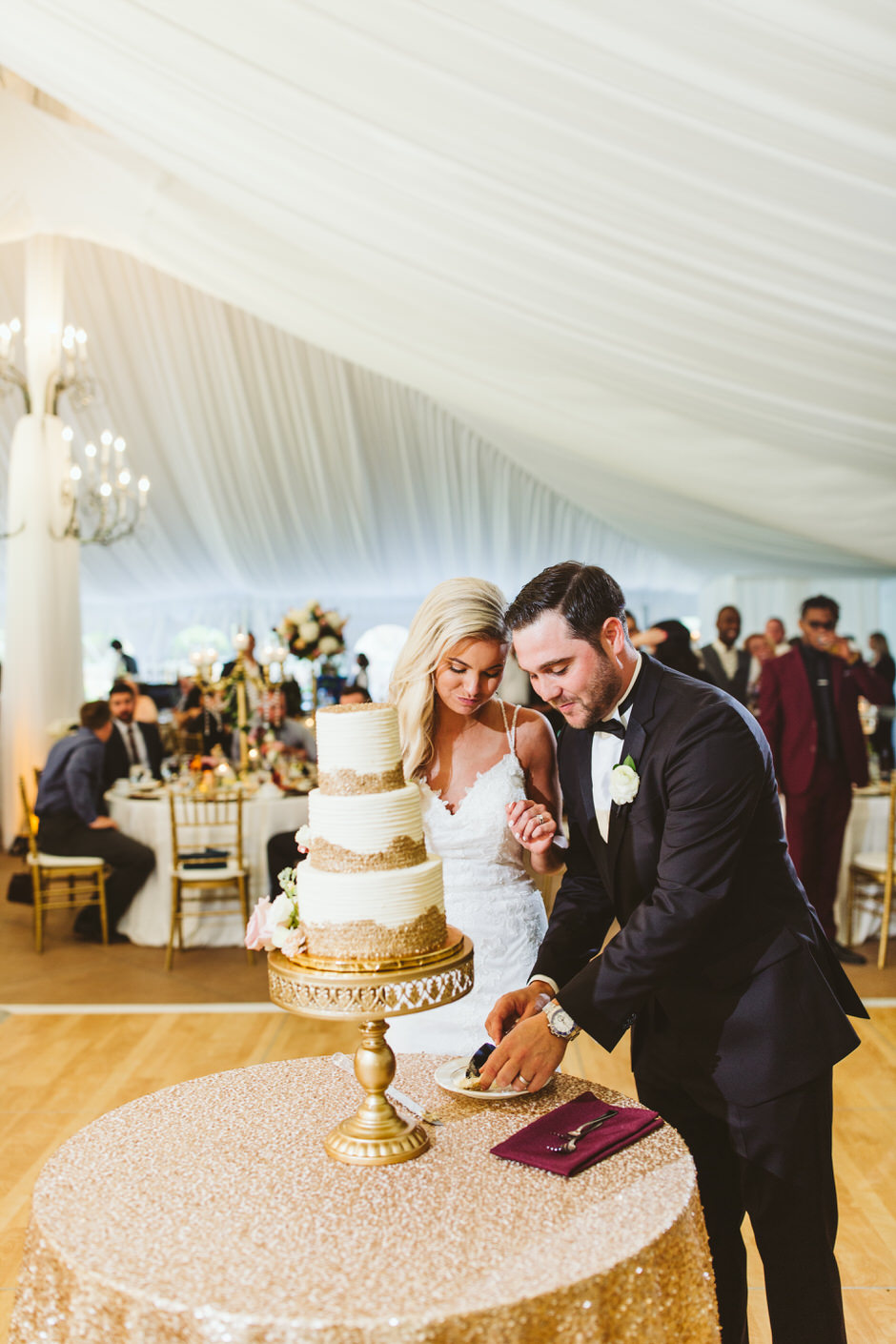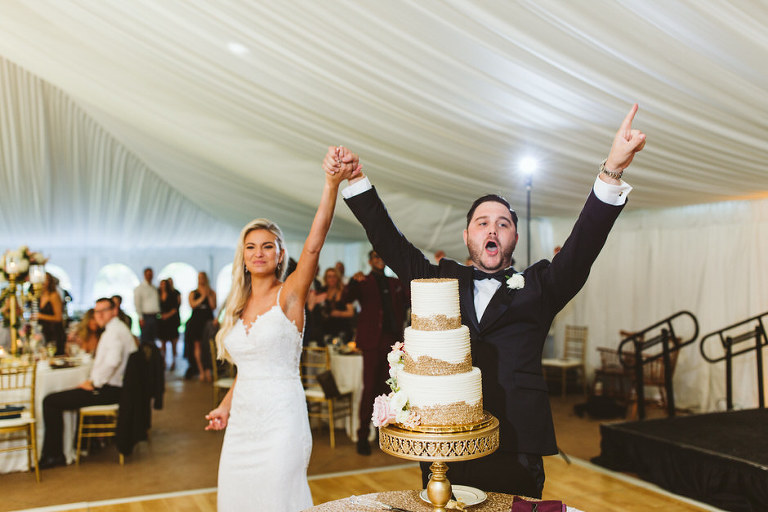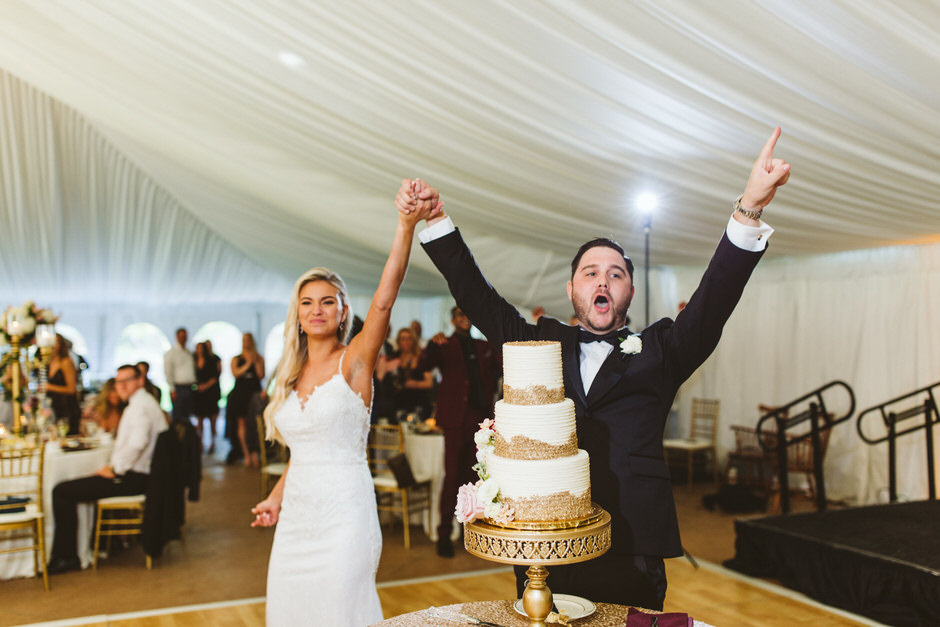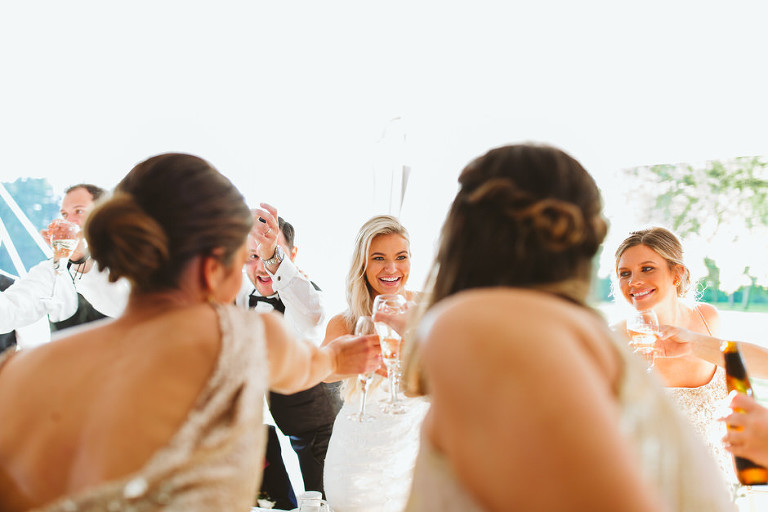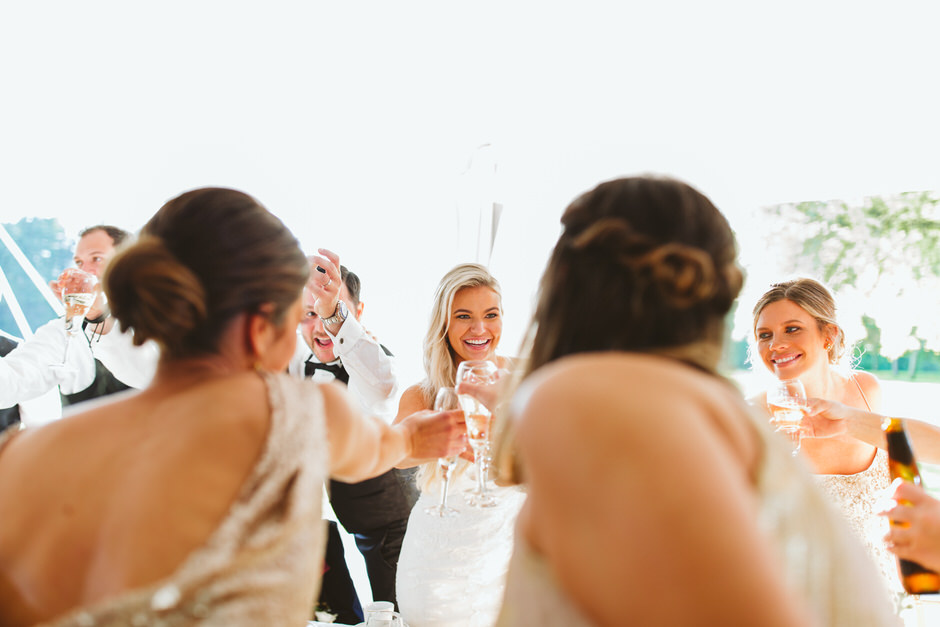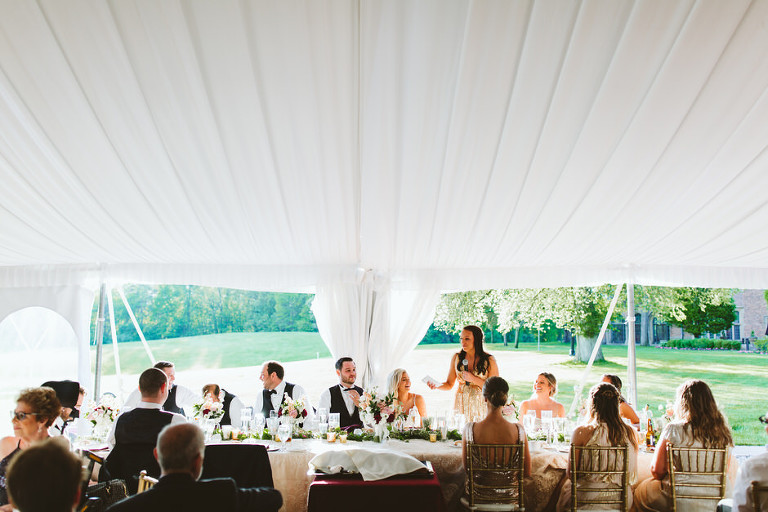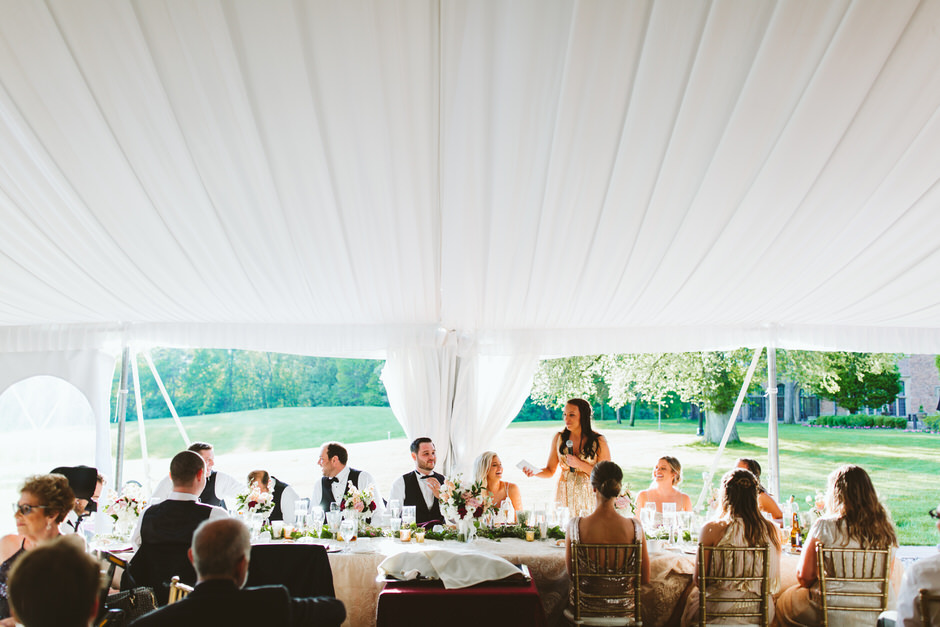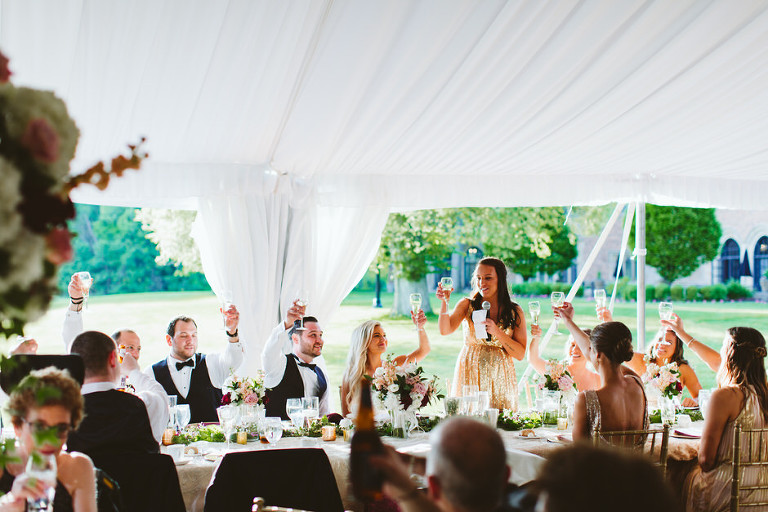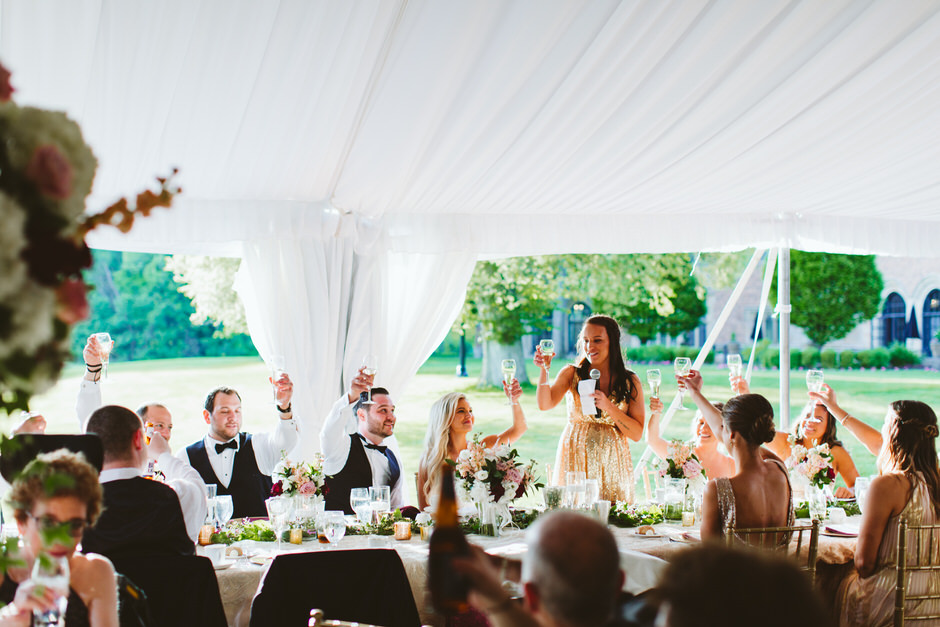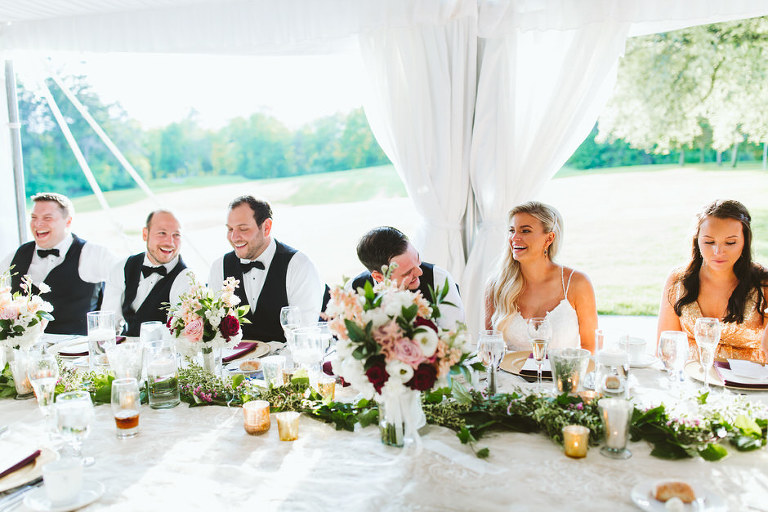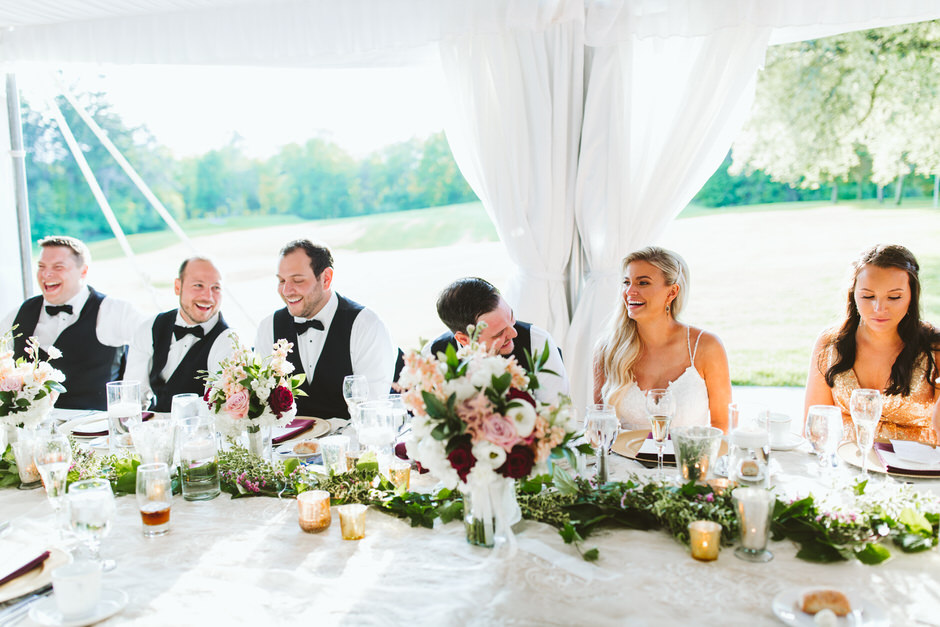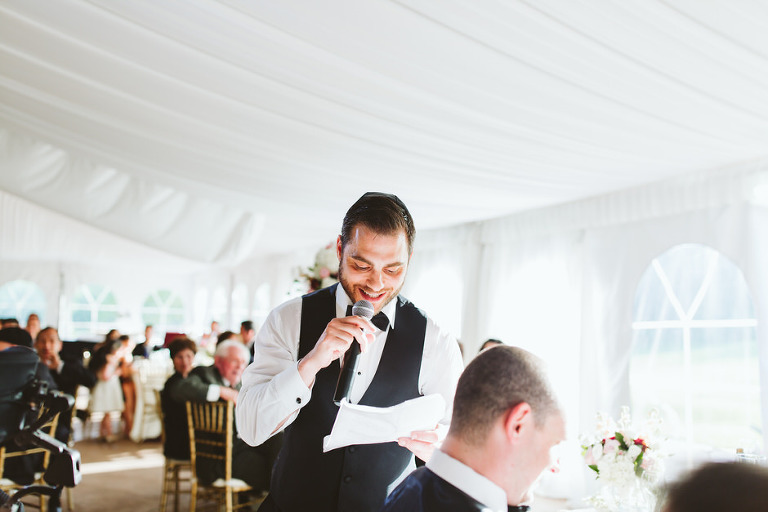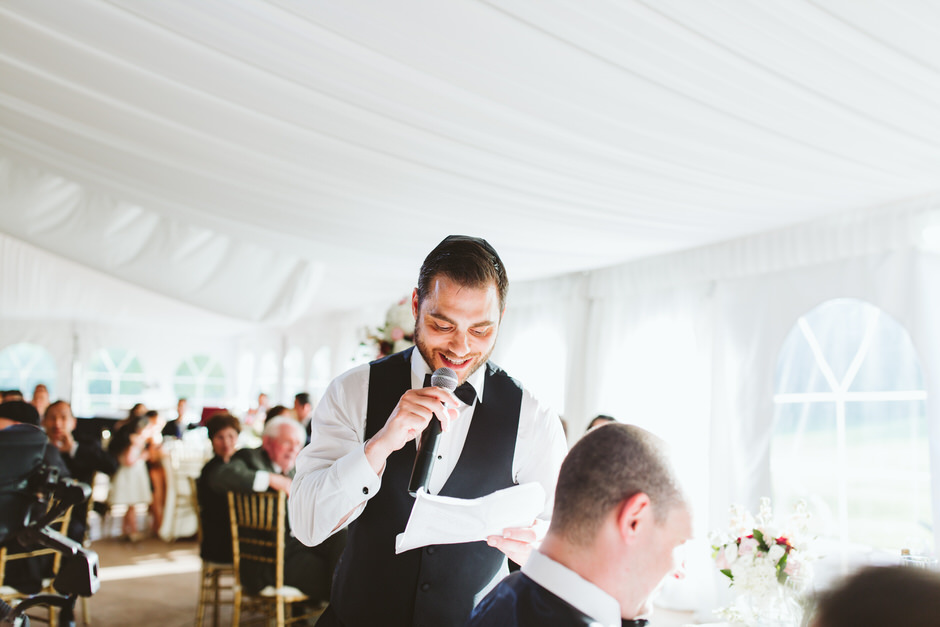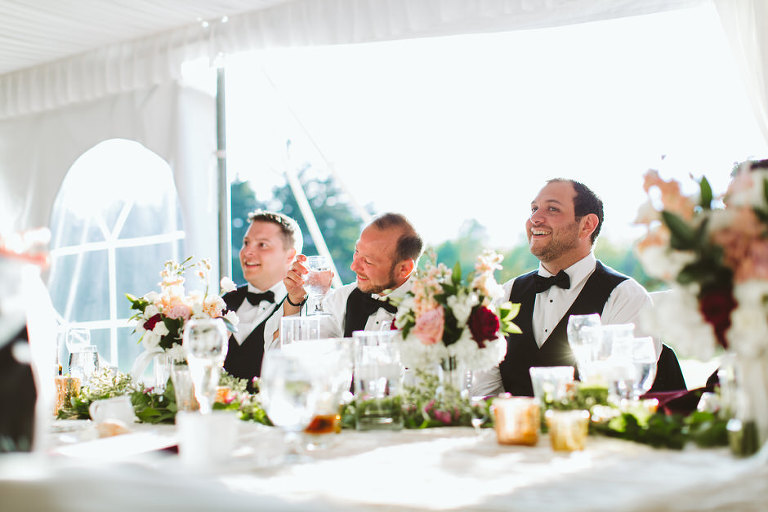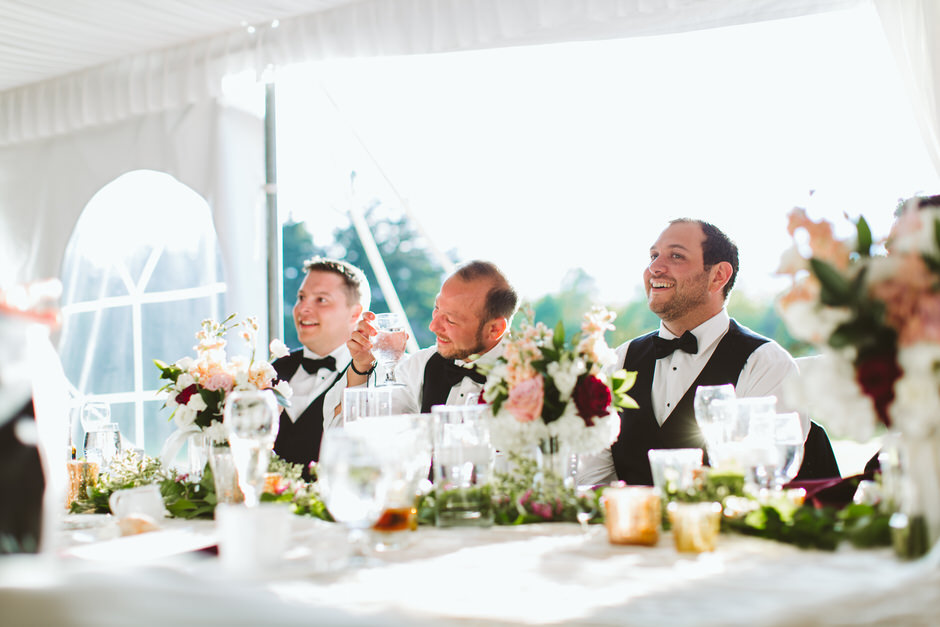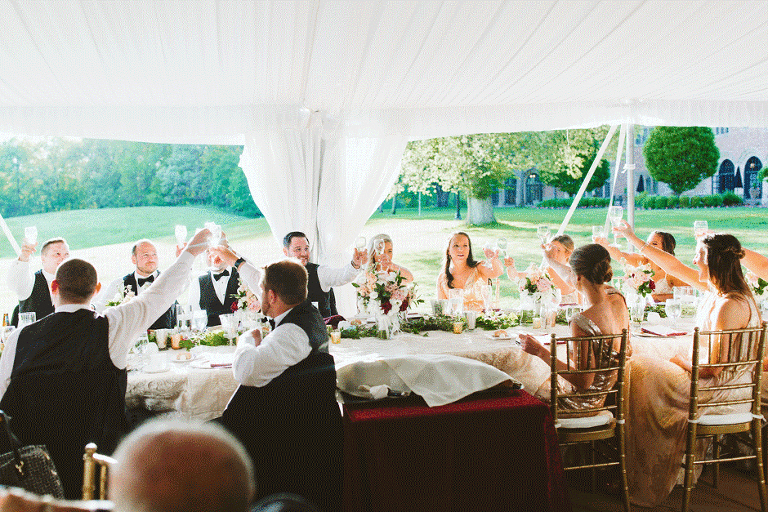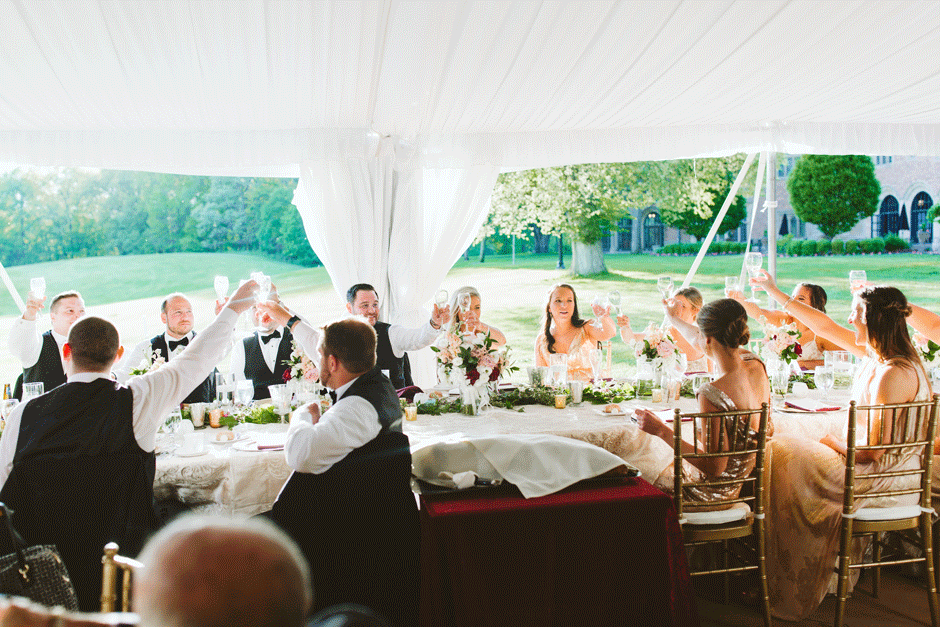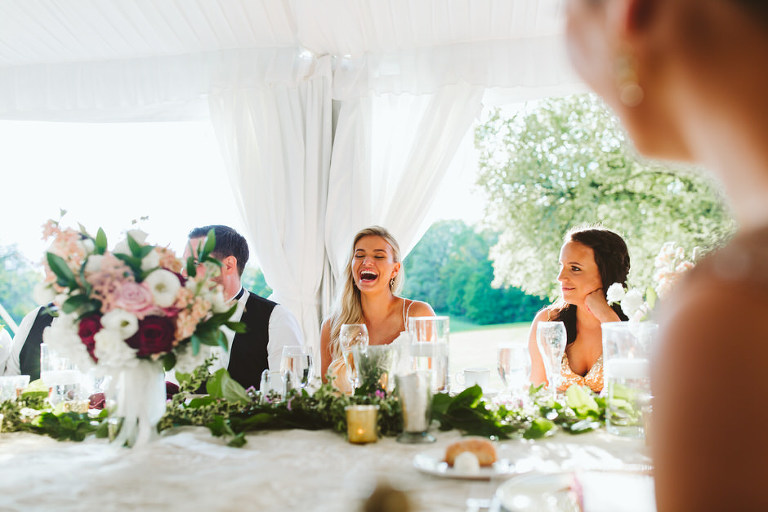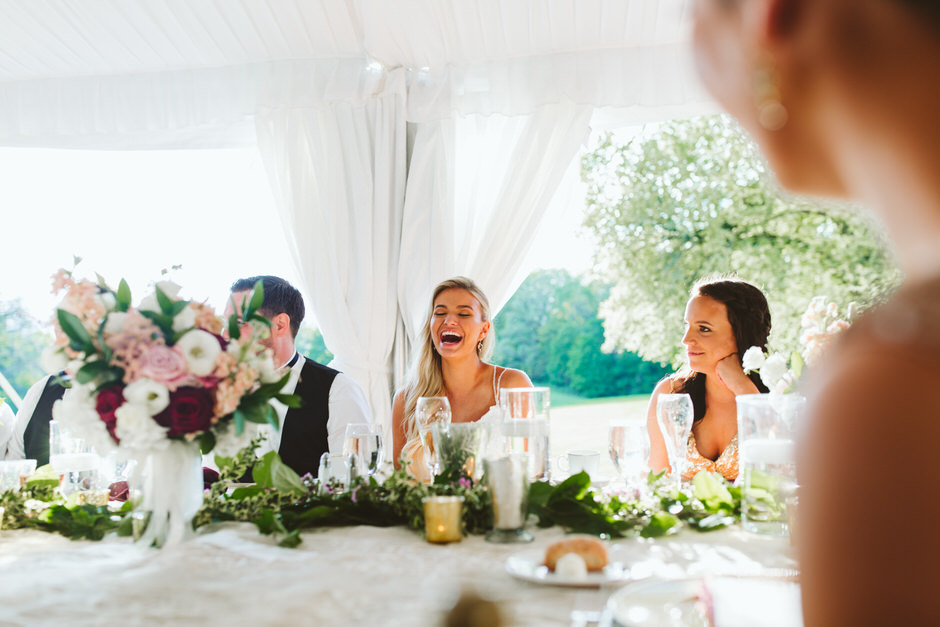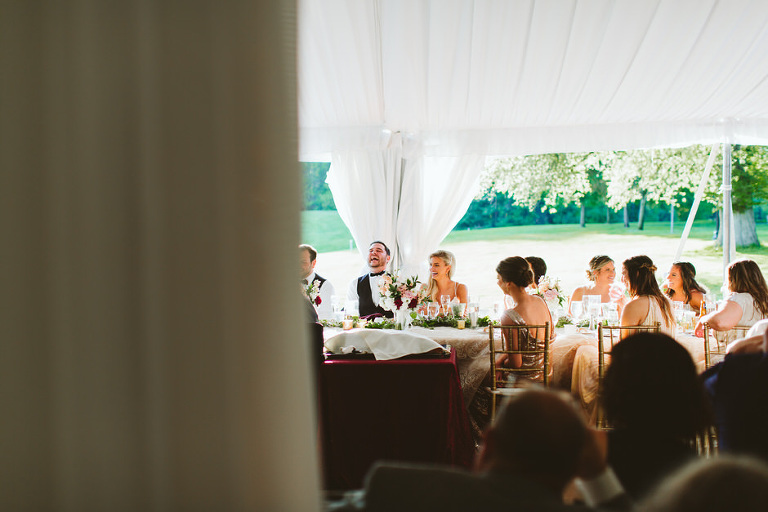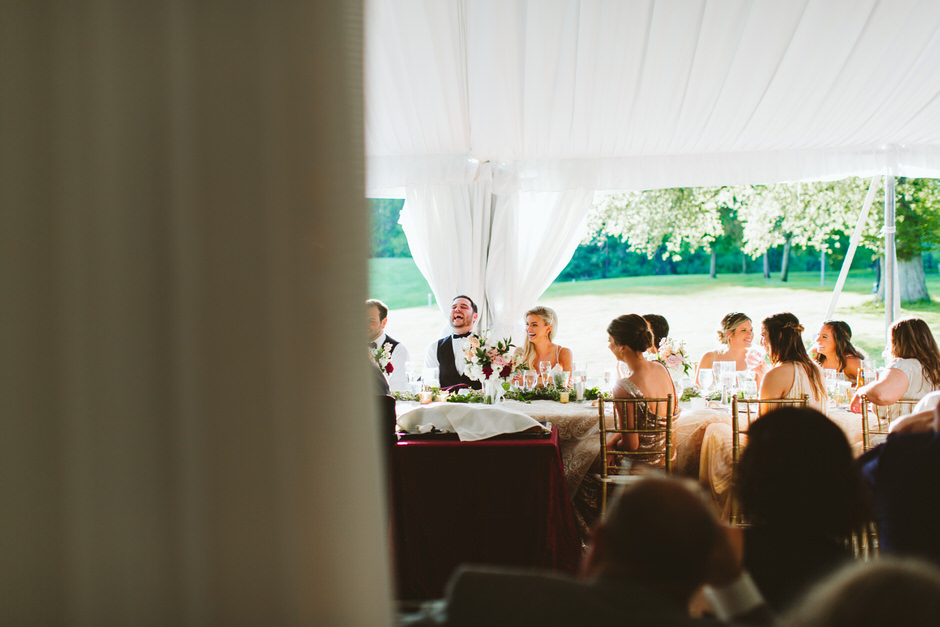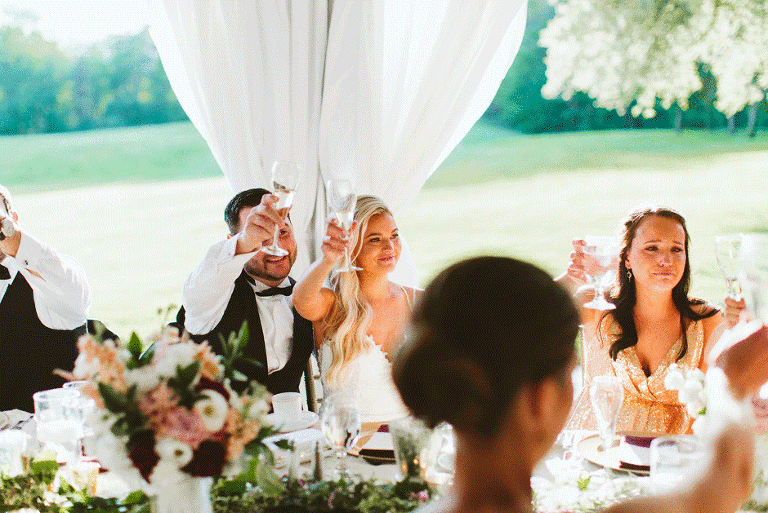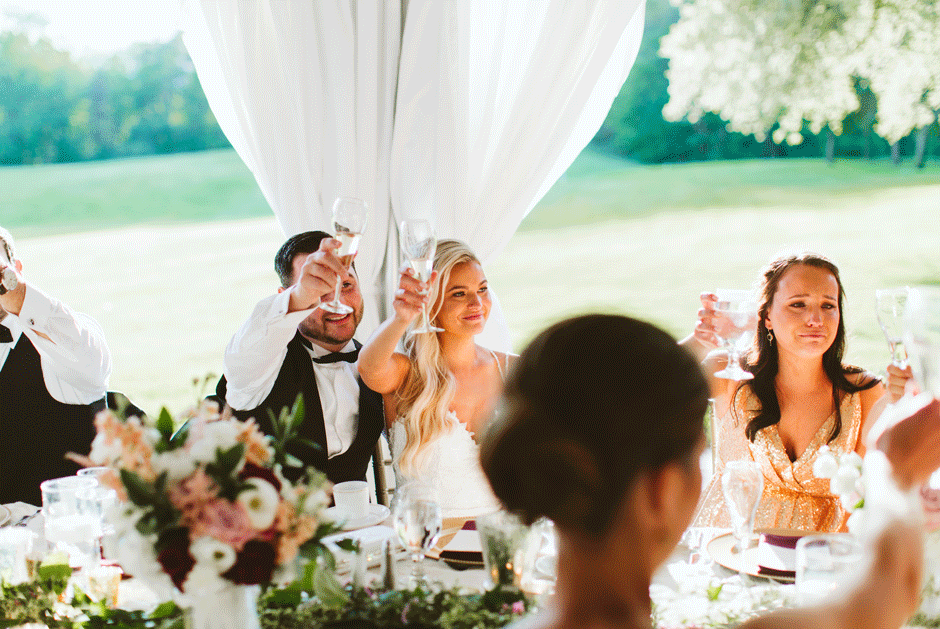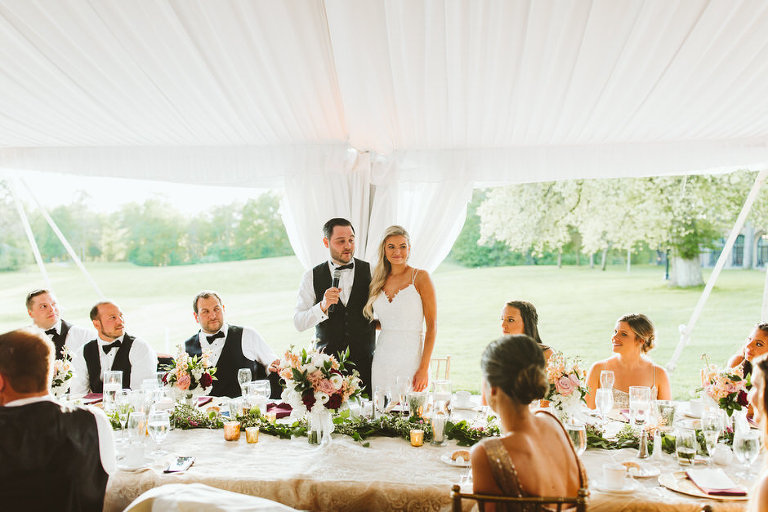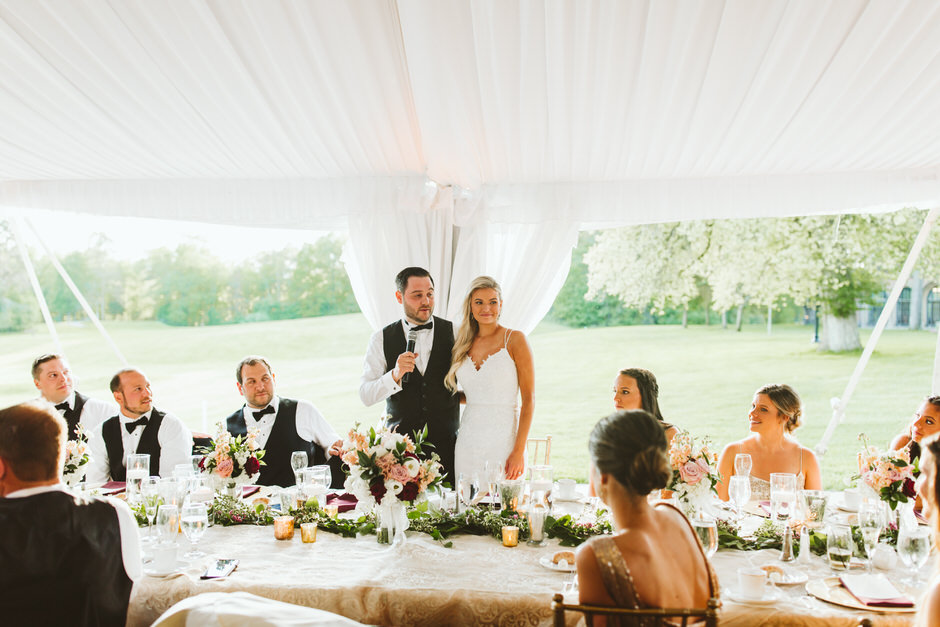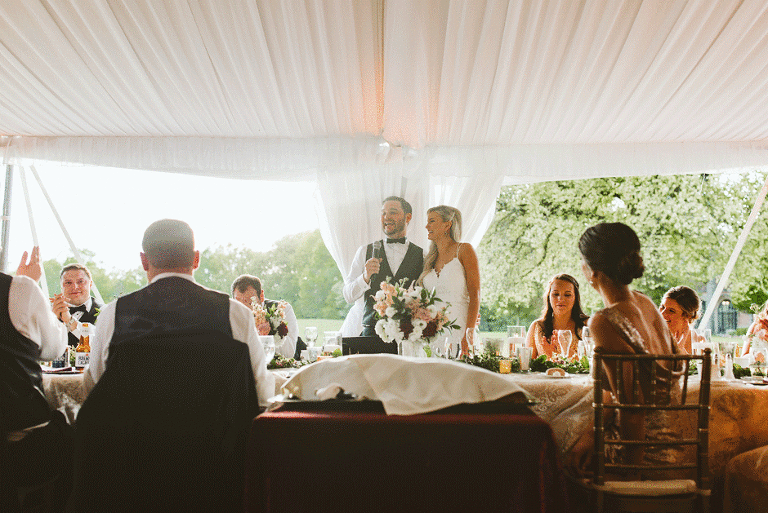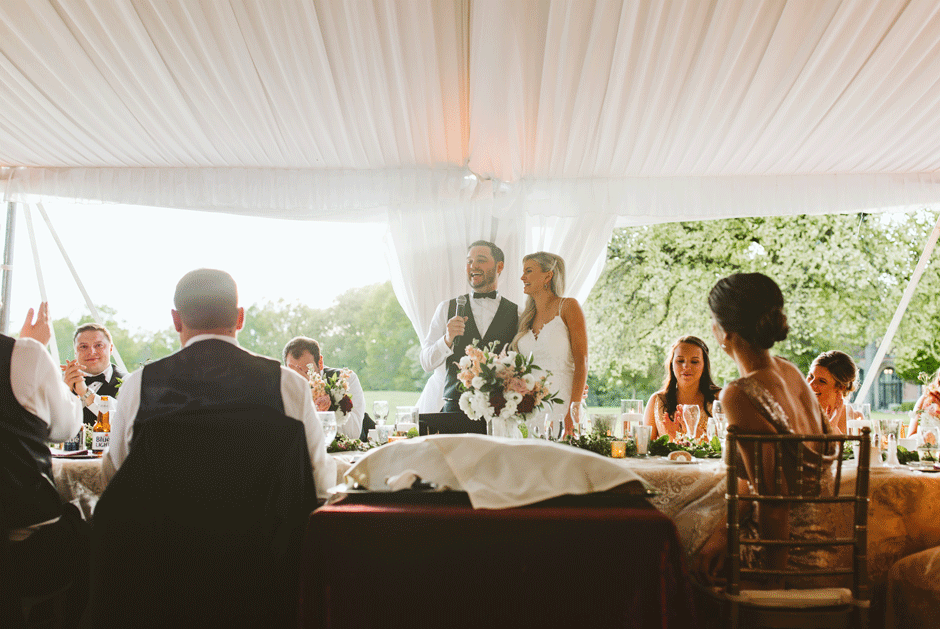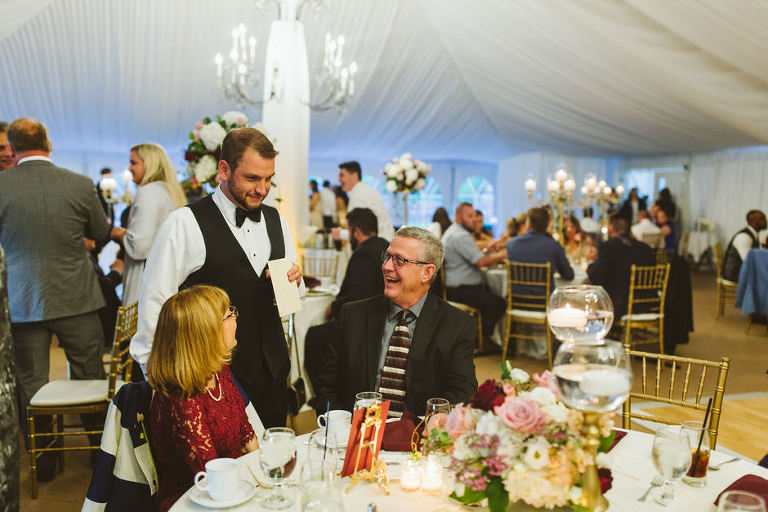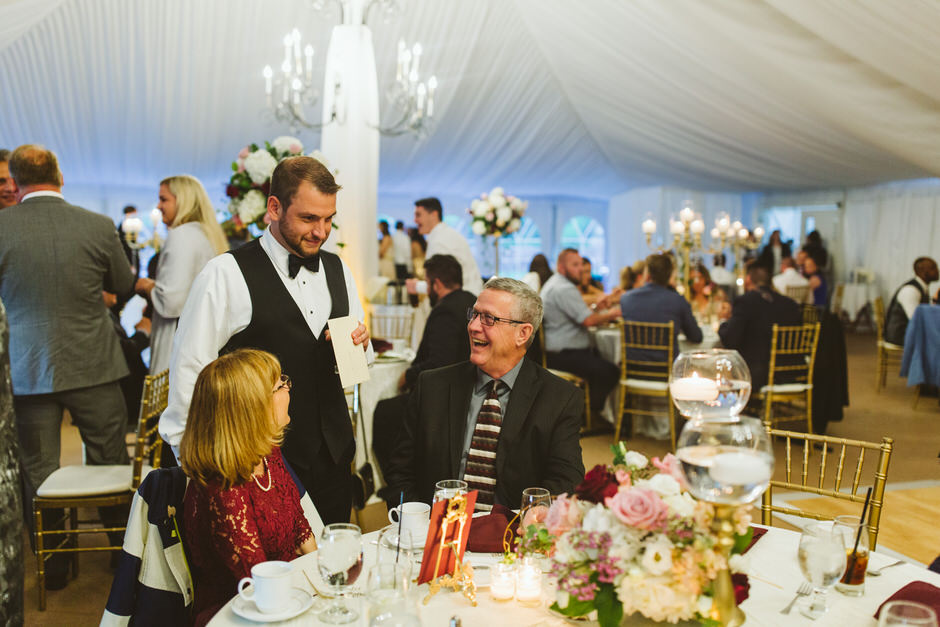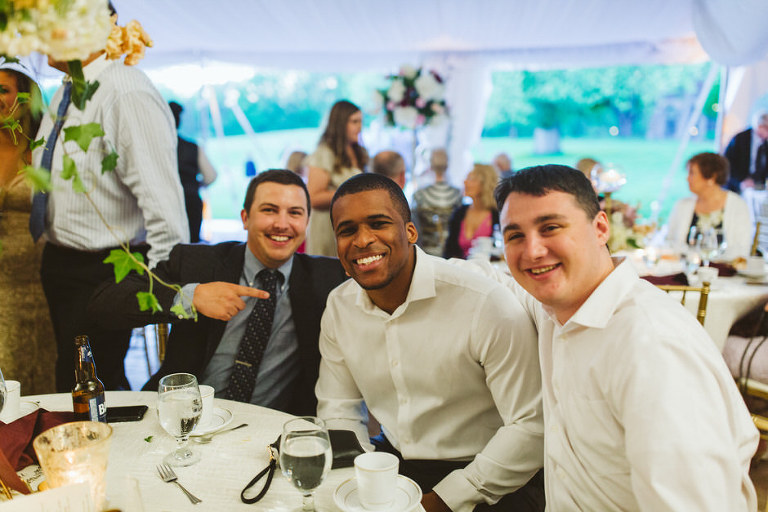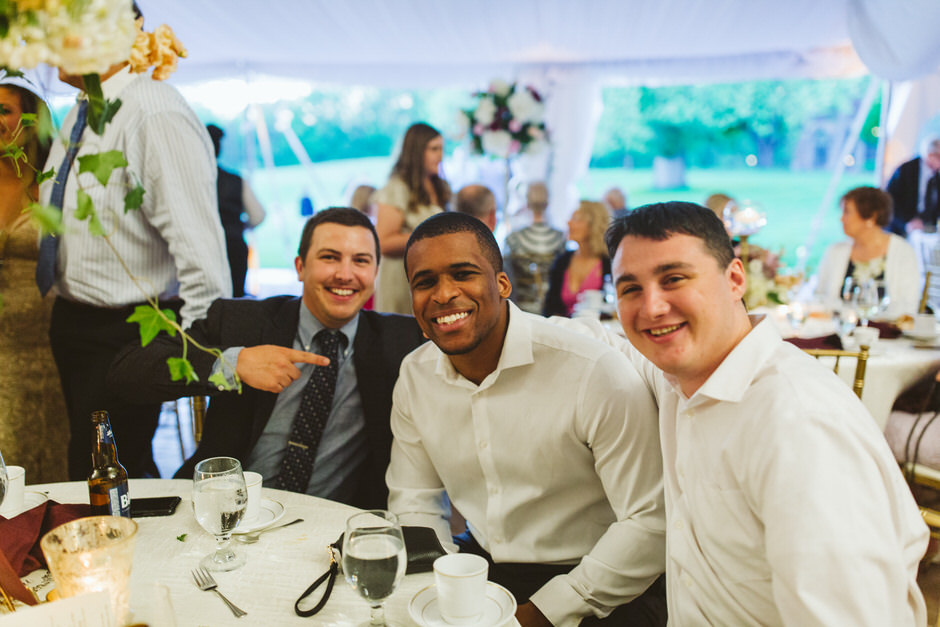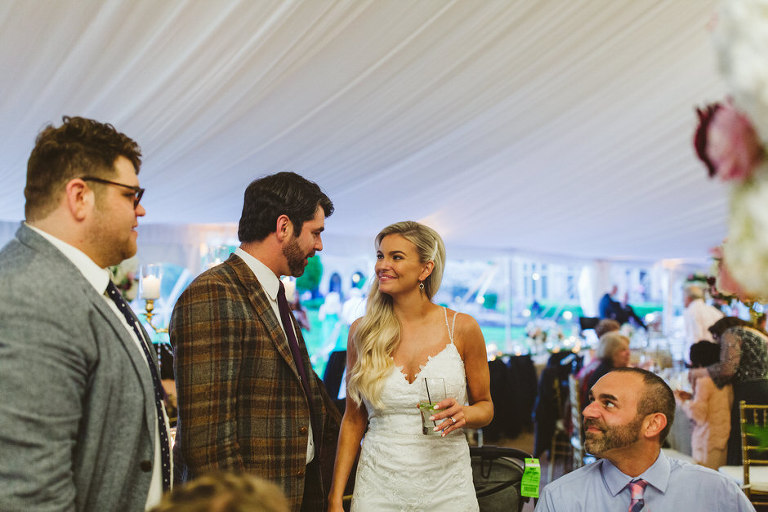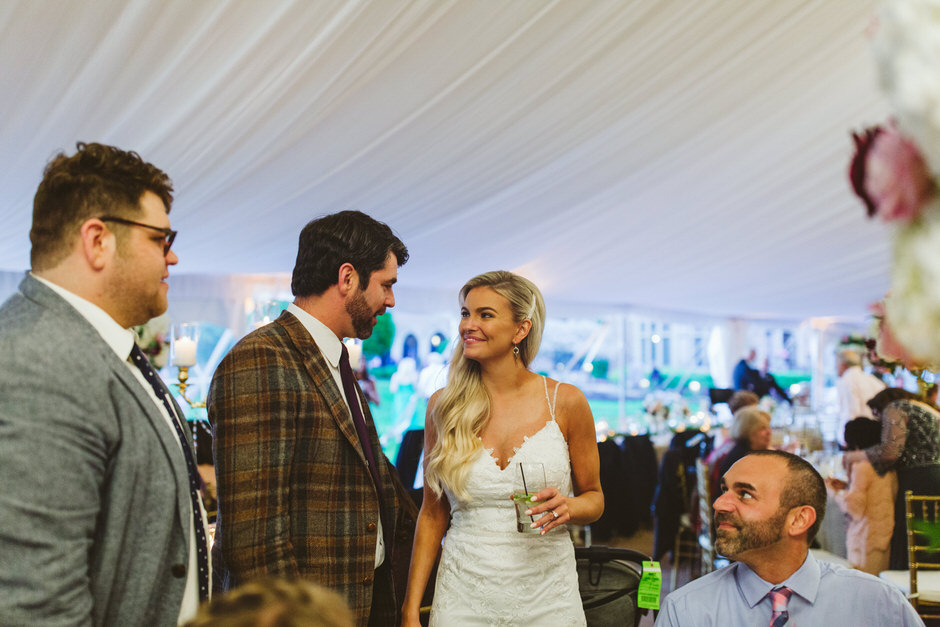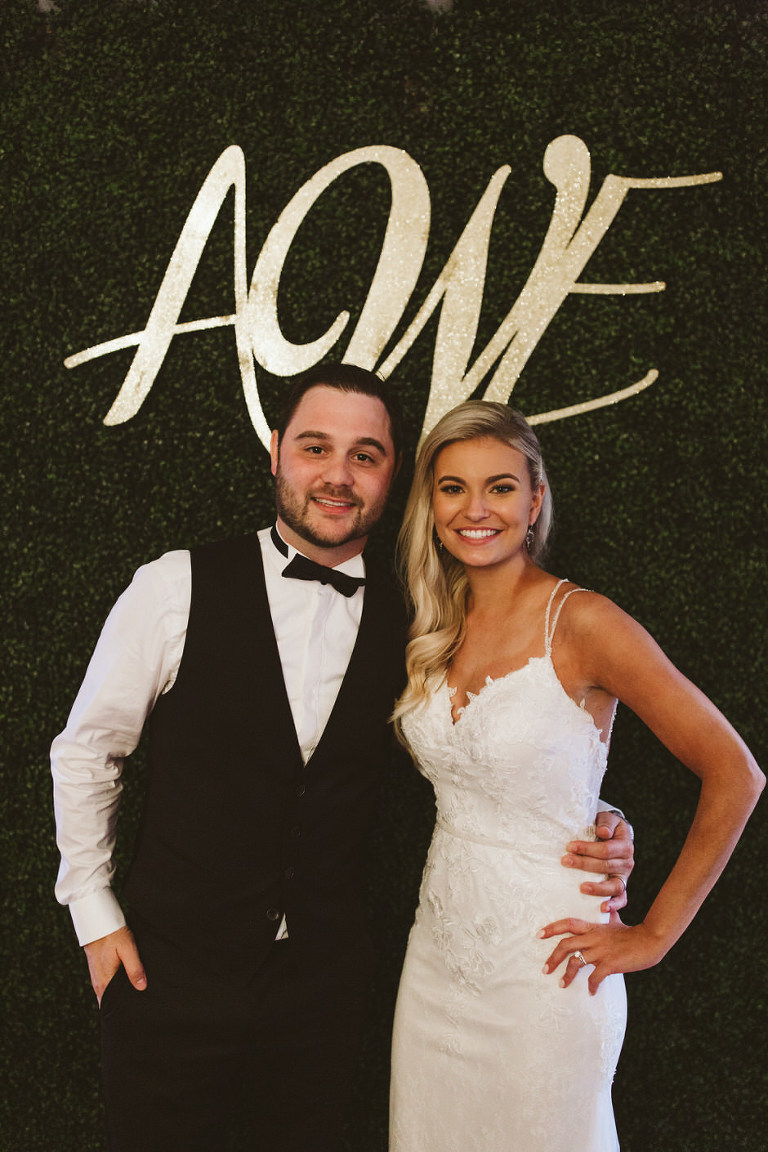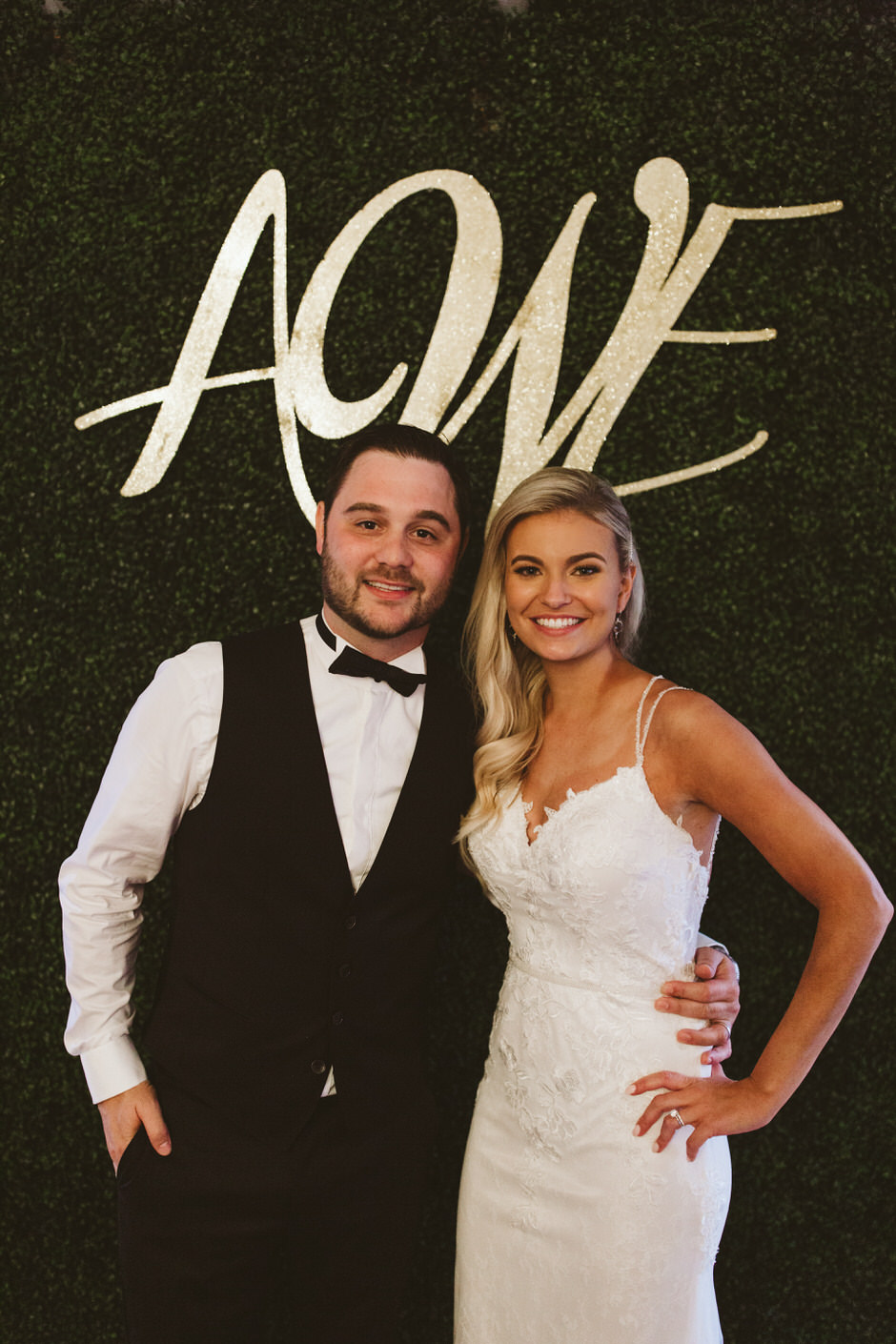 Reception/Dancing/Music: All the fun!
I can't thank our wedding party enough for keeping the dance floor poppin' all night! There wasn't a moment that the floor wasn't packed. The Hora was part terrifying, part AMAZING; being up in the chairs looking down at everyone's faces is a priceless moment – it almost made us forget how scary it was gripping to a chair for dear life. The DJ did an incredible job playing all sorts of music that got people of all ages out on the dance floor. Watching my grandparents get up and dance is a moment I'll never forget; it was like a glimpse into our future.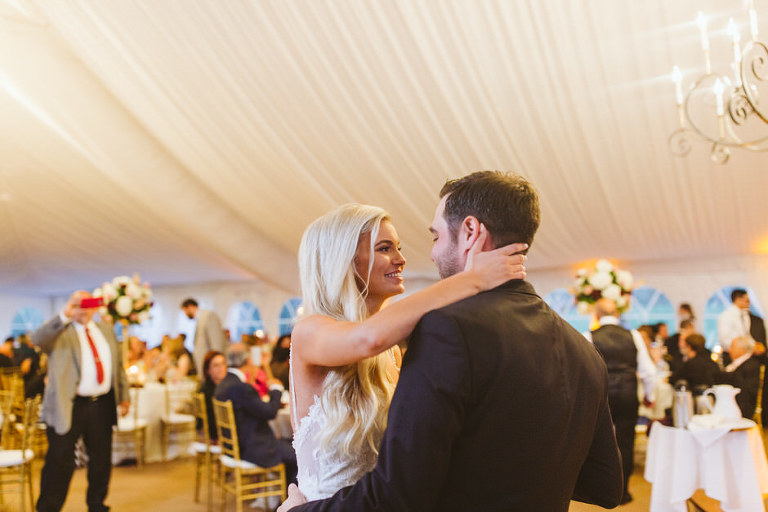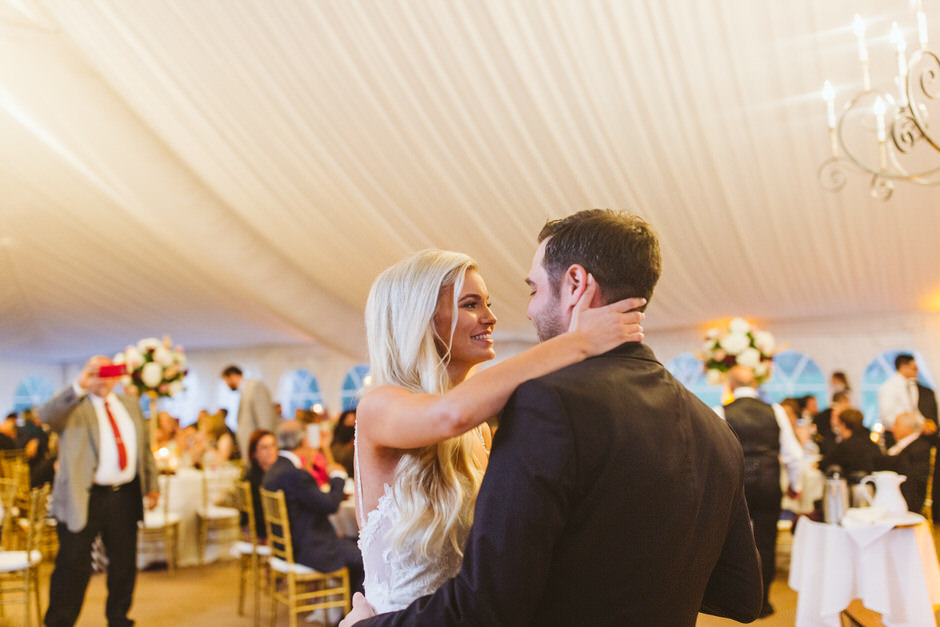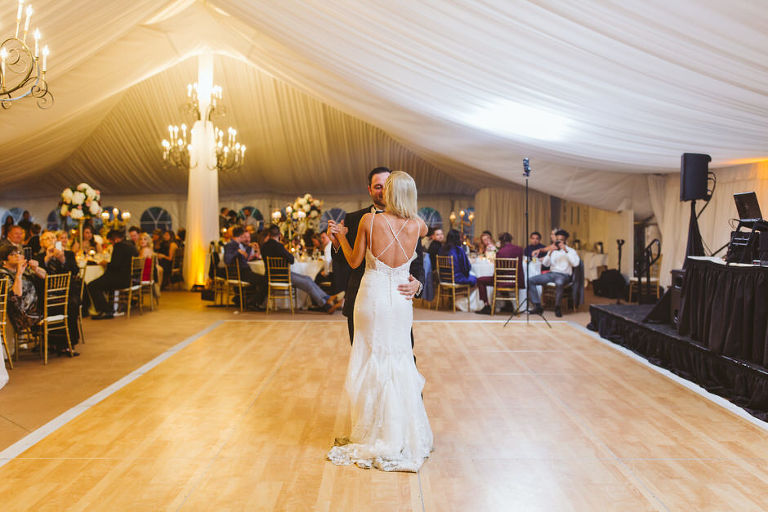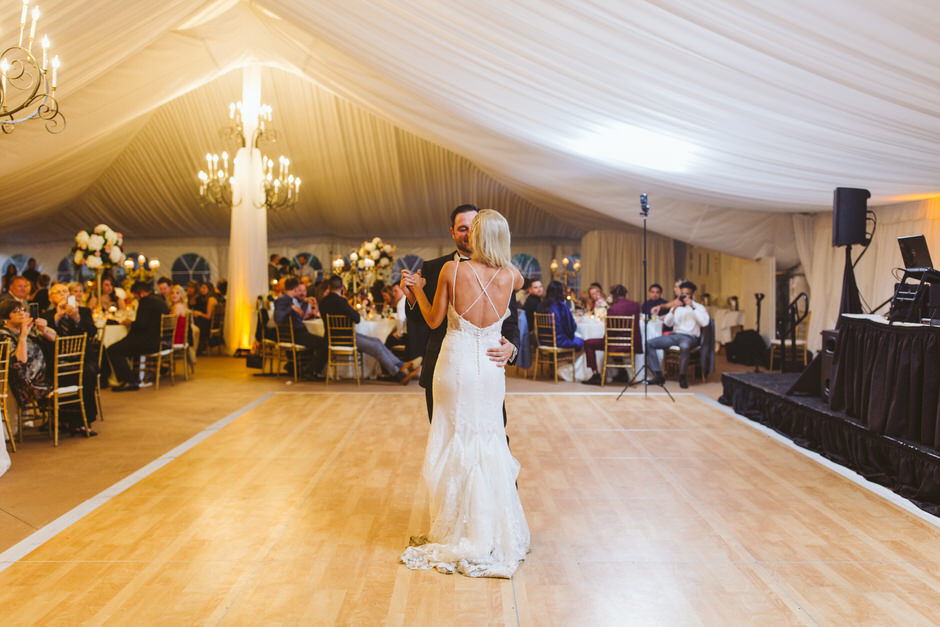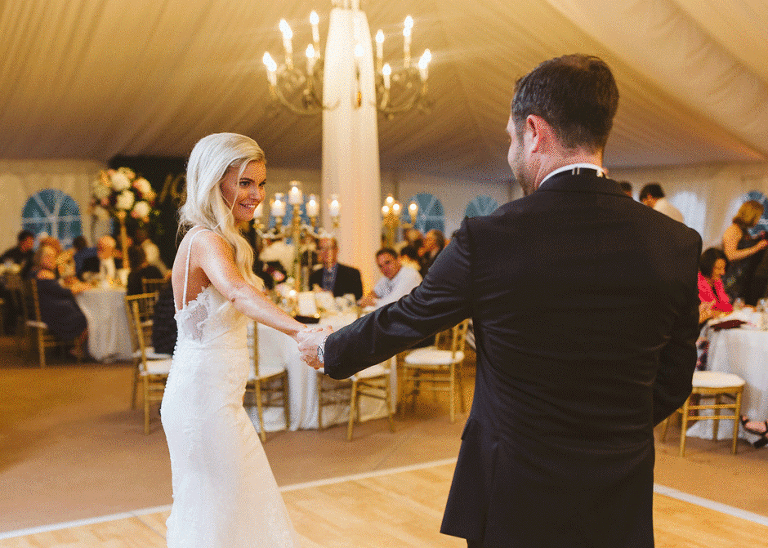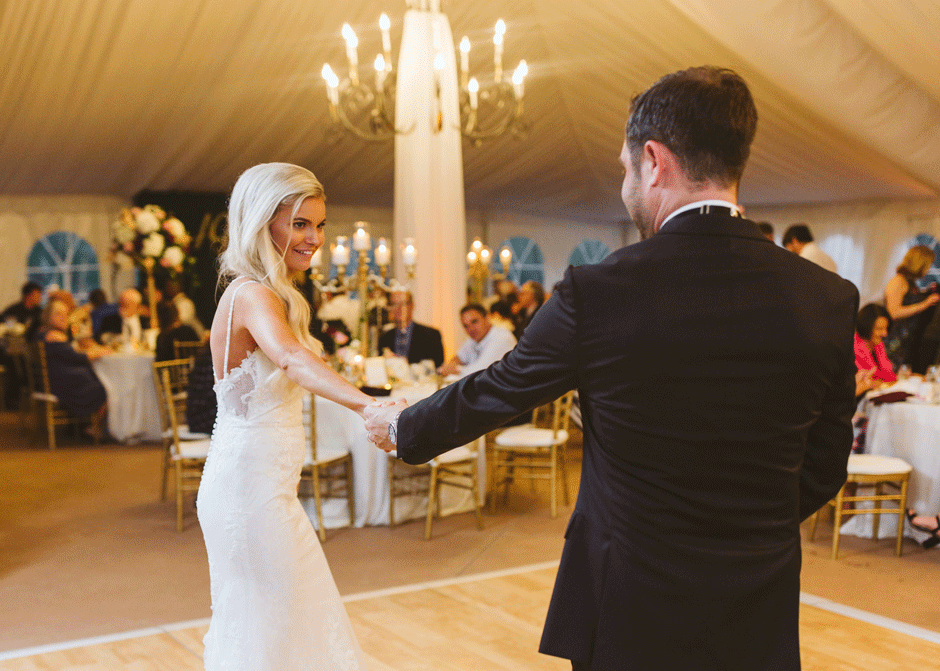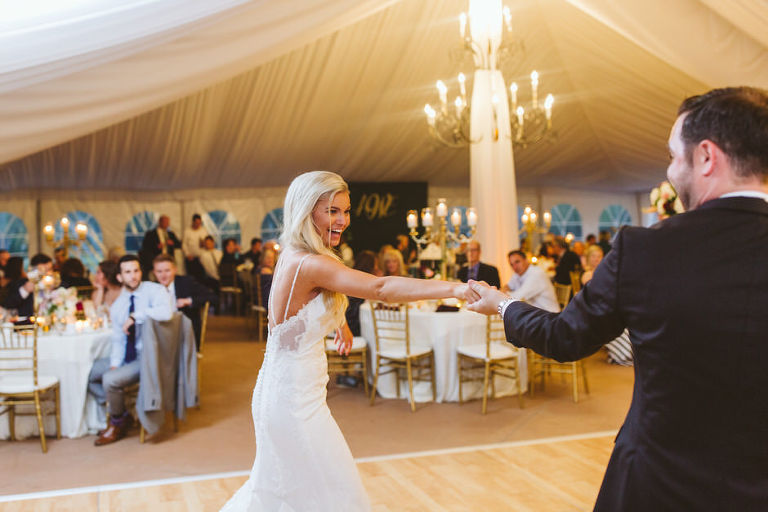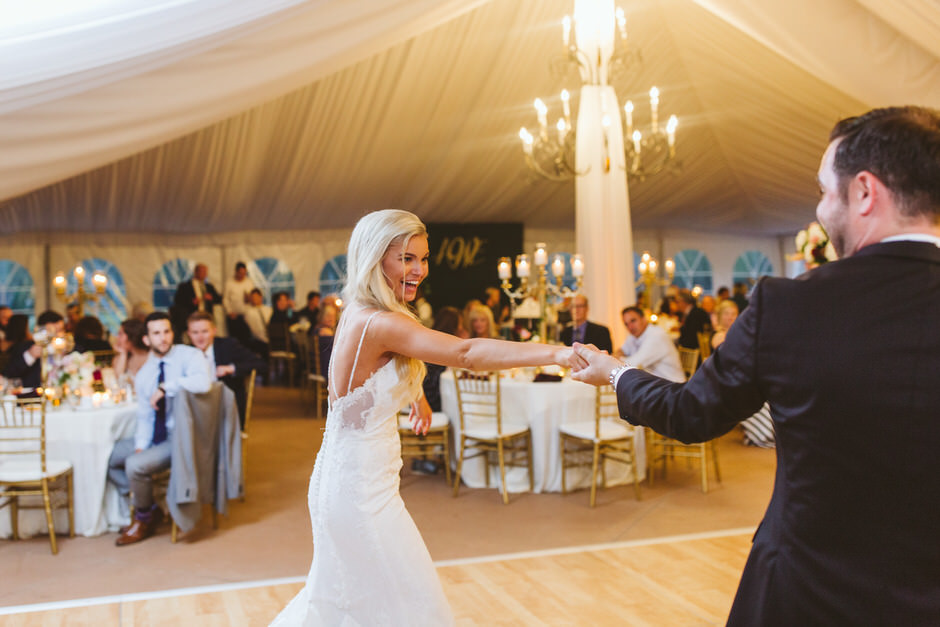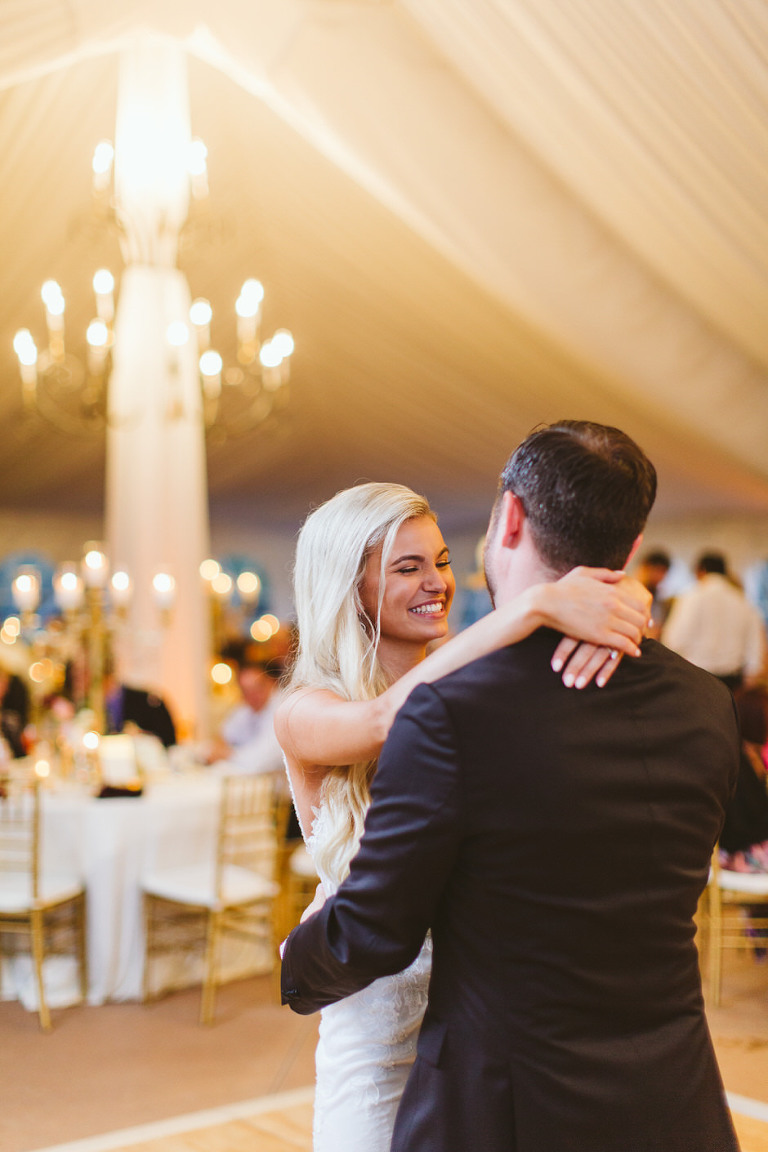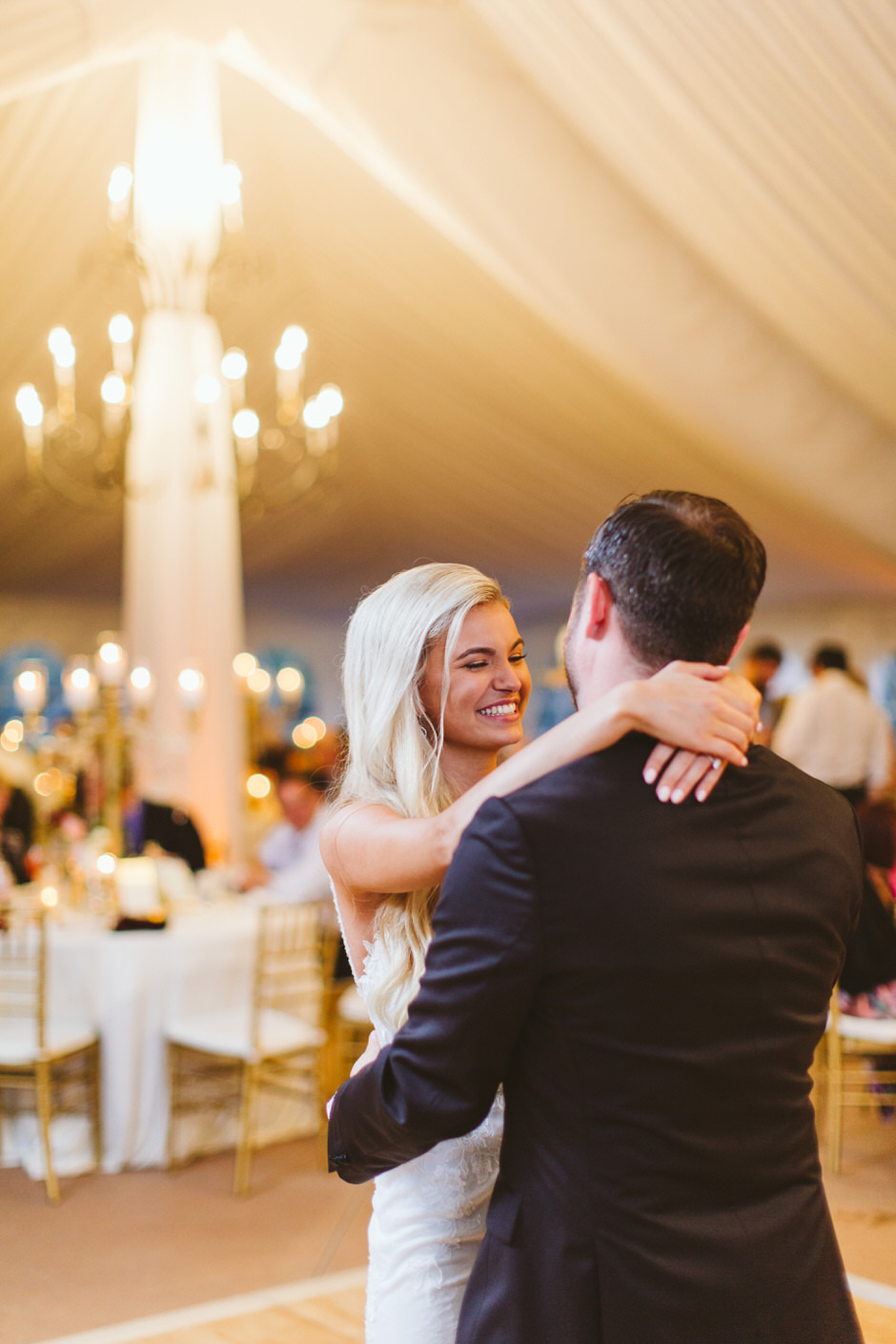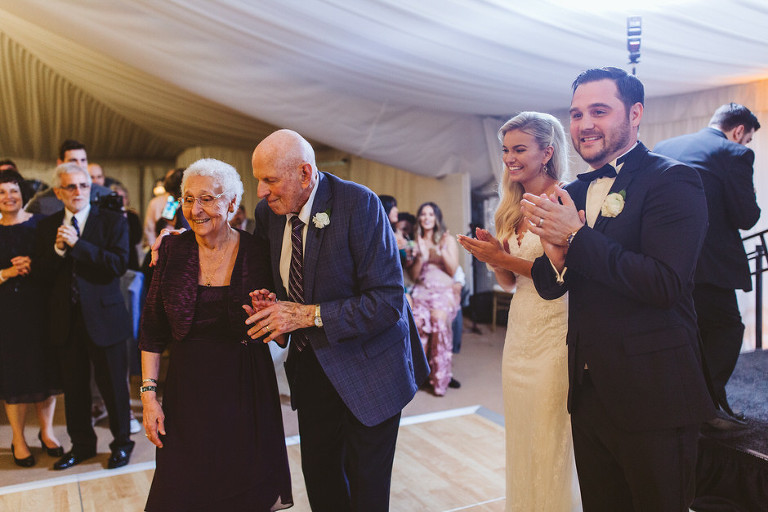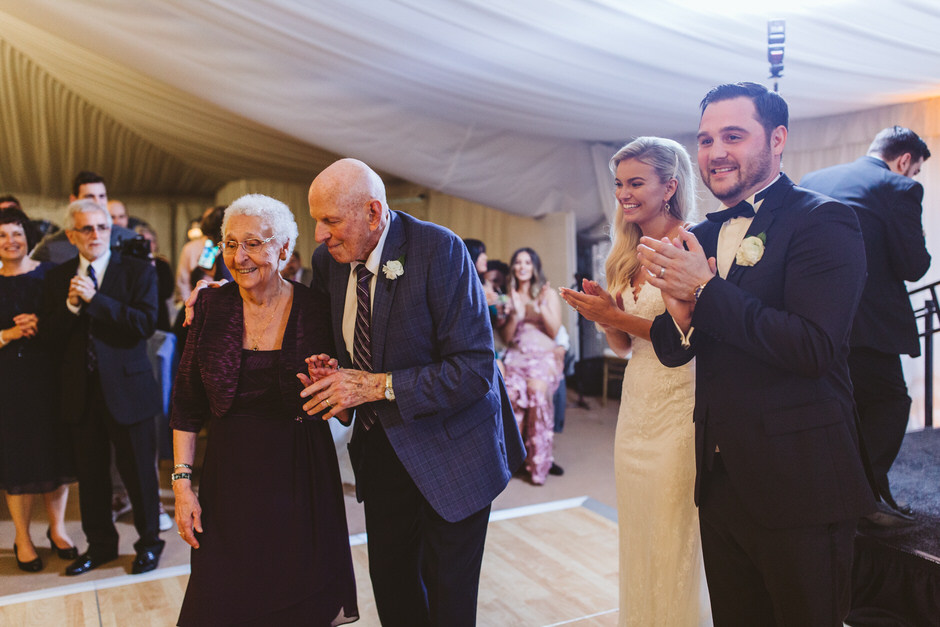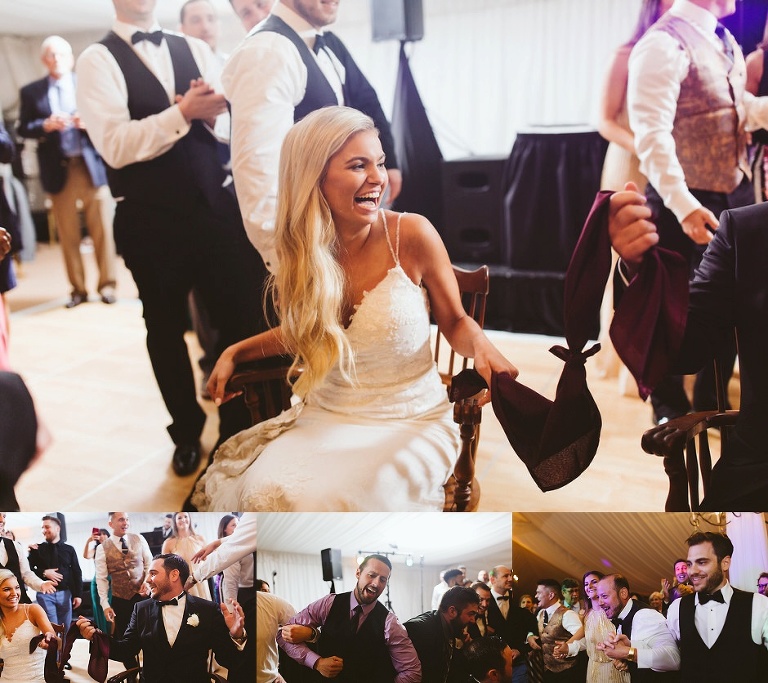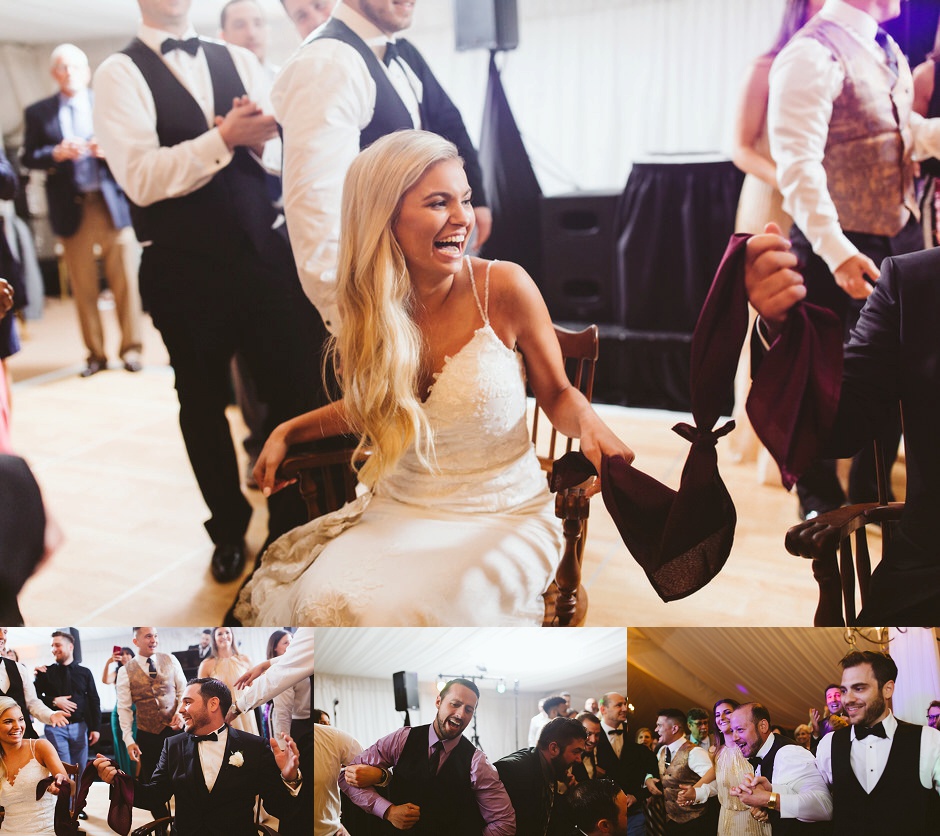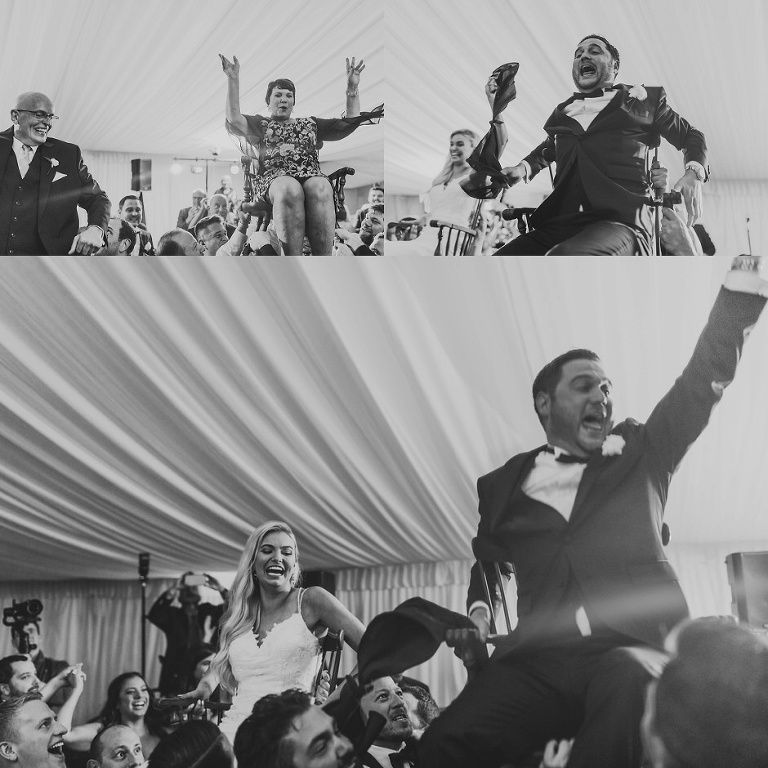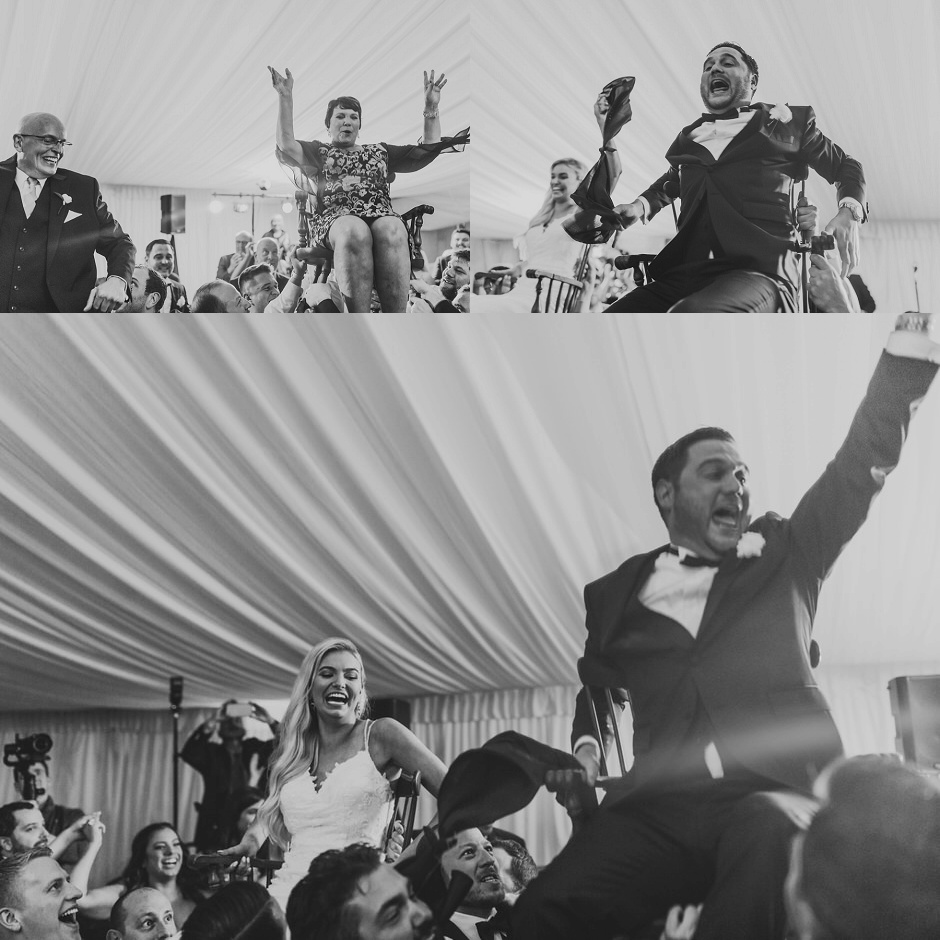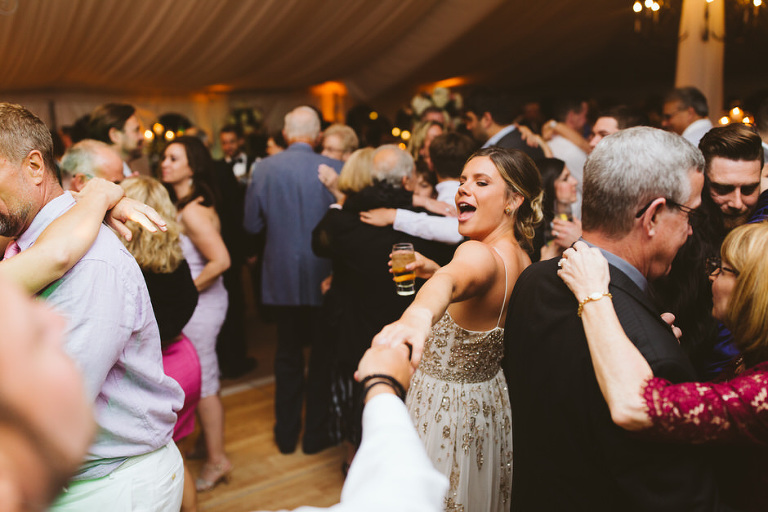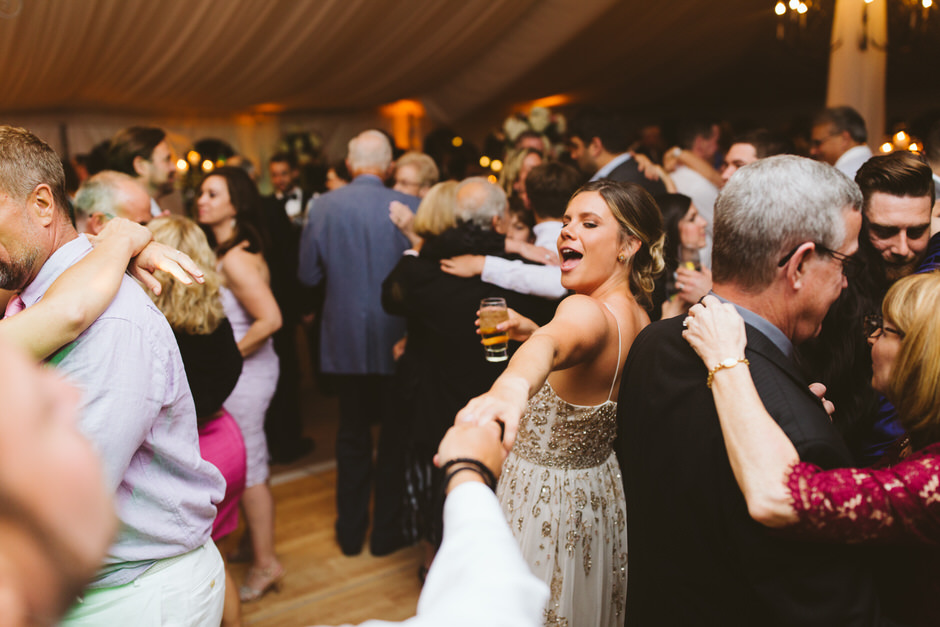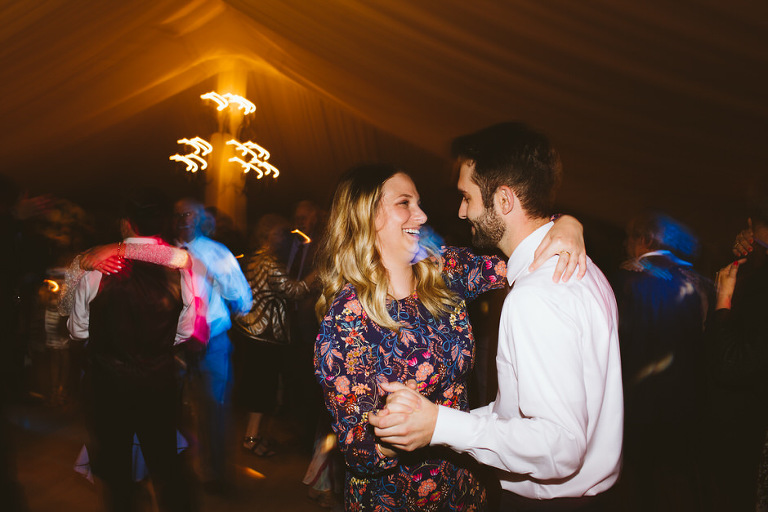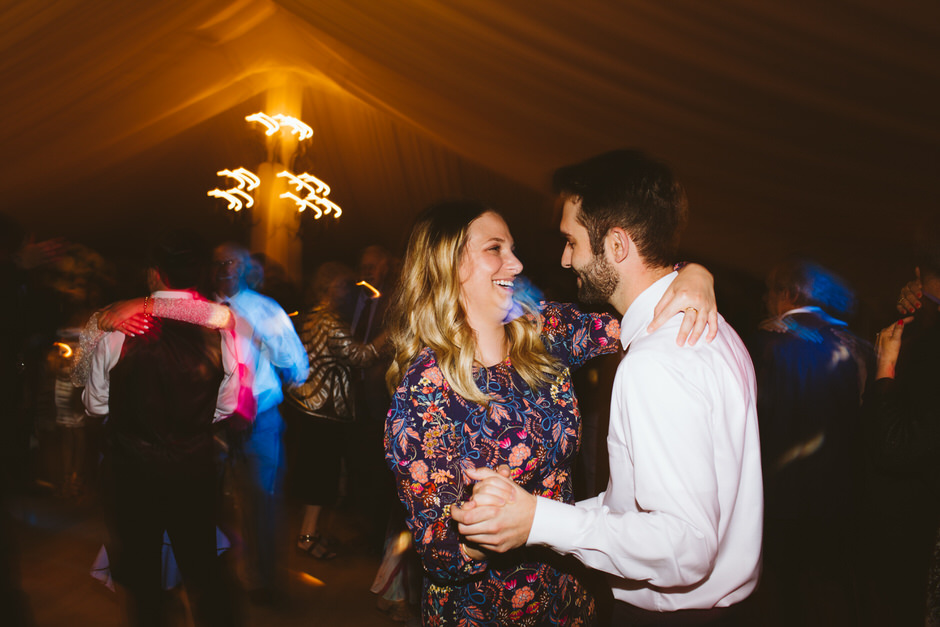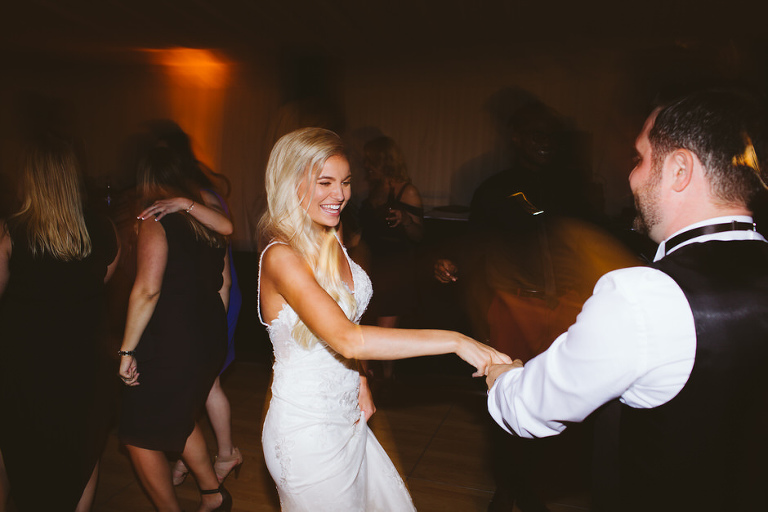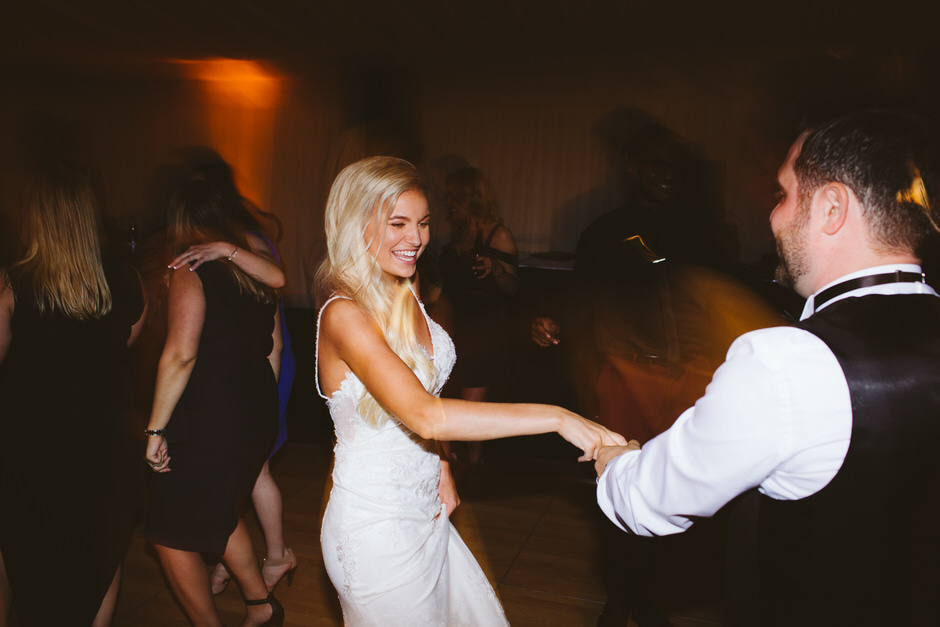 Any Advice for couples planning their wedding?
Don't fall victim to thinking you need to be everywhere at once! Don't get me wrong, our wedding was the best day of our lives, but our biggest regret was not breaking away during the reception to have a moment for just the two of us to soak it all in. Talking to every guest is exhausting; you deserve a moment of solitude to truly appreciate everything happening around you. It happens in the blink of an eye, so make sure you have an amazing photographer to capture everything!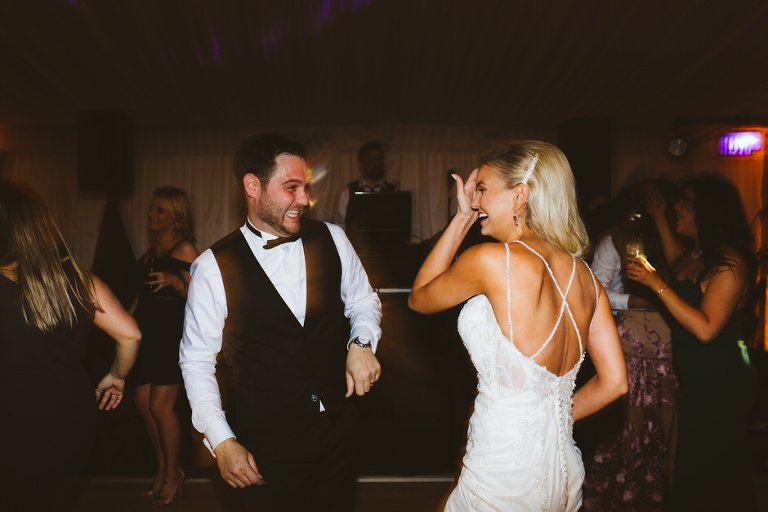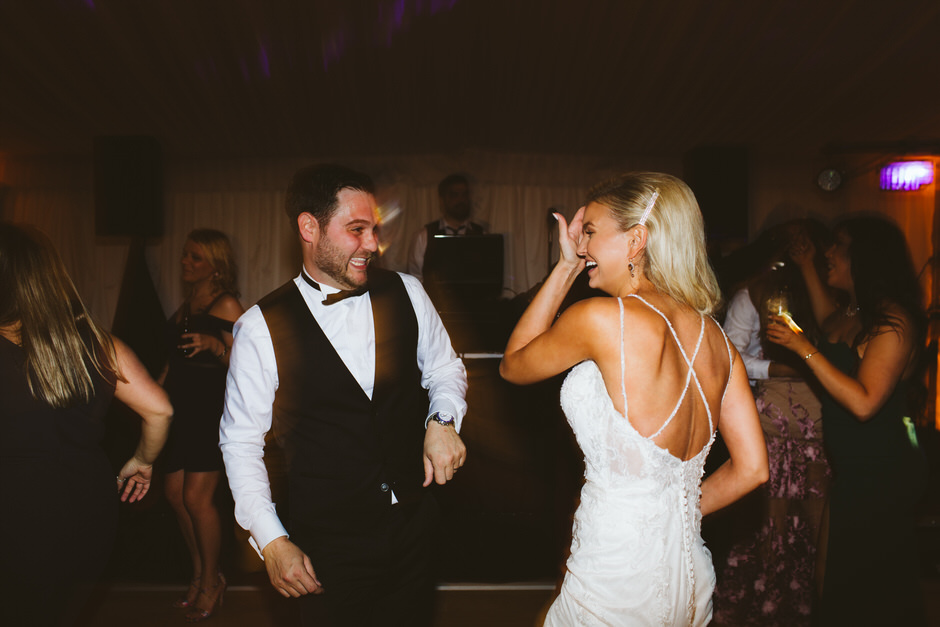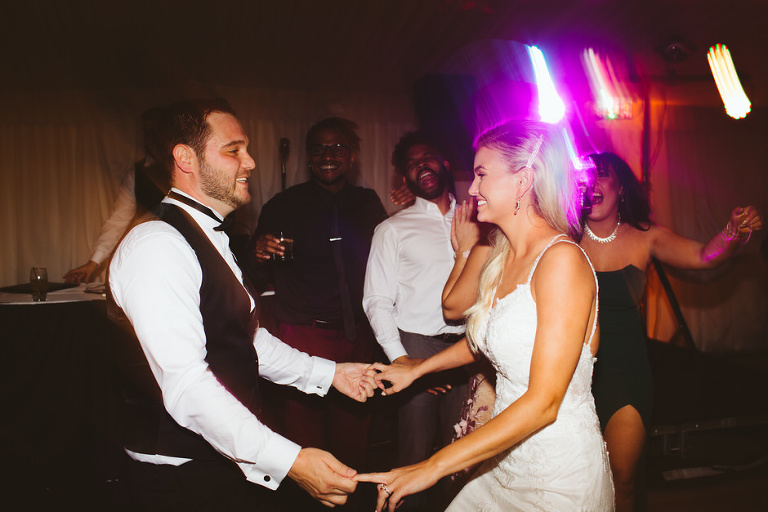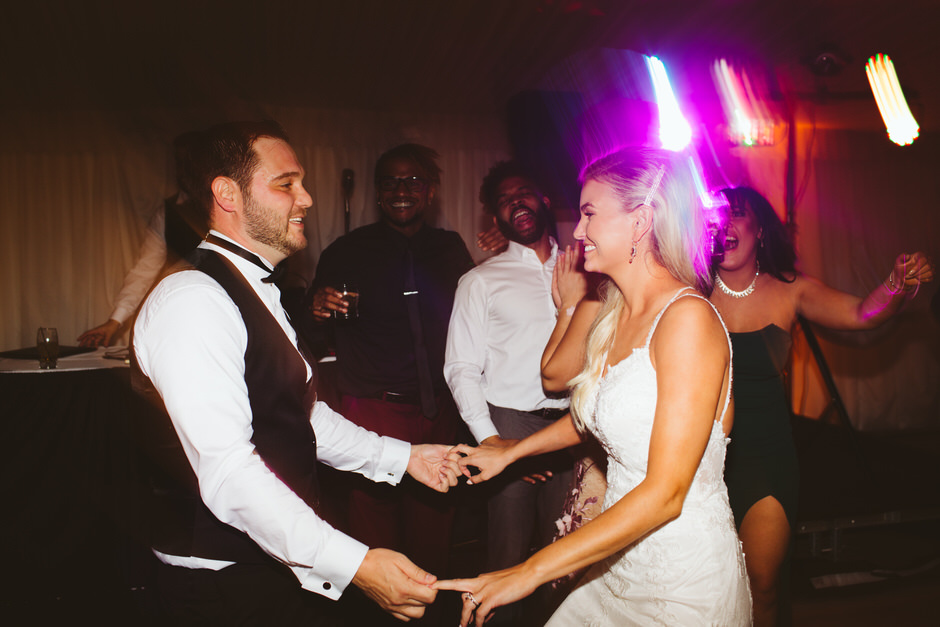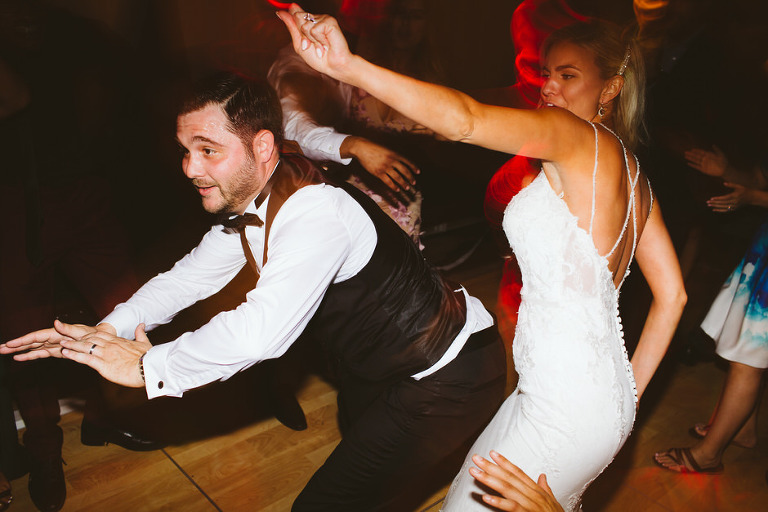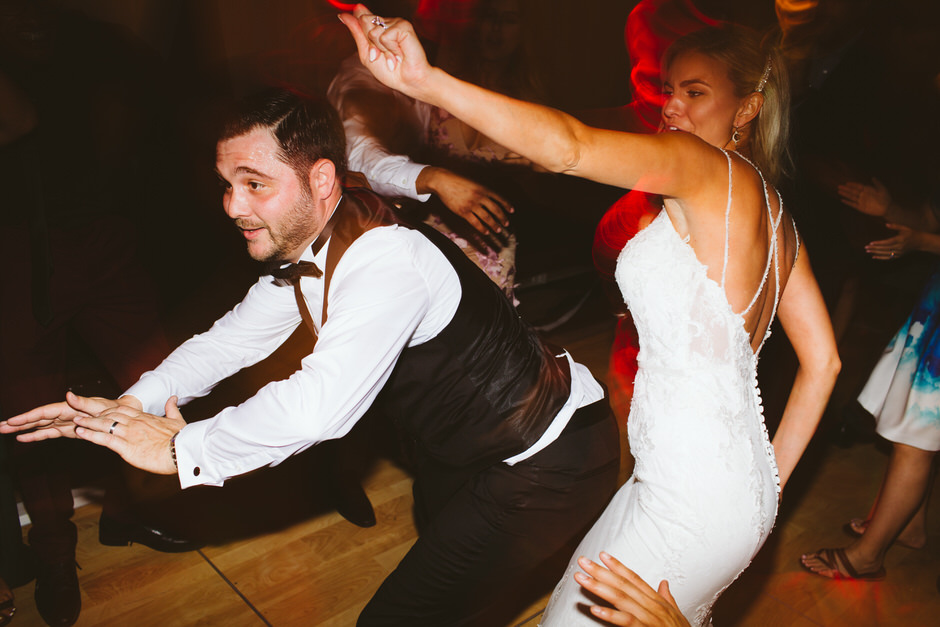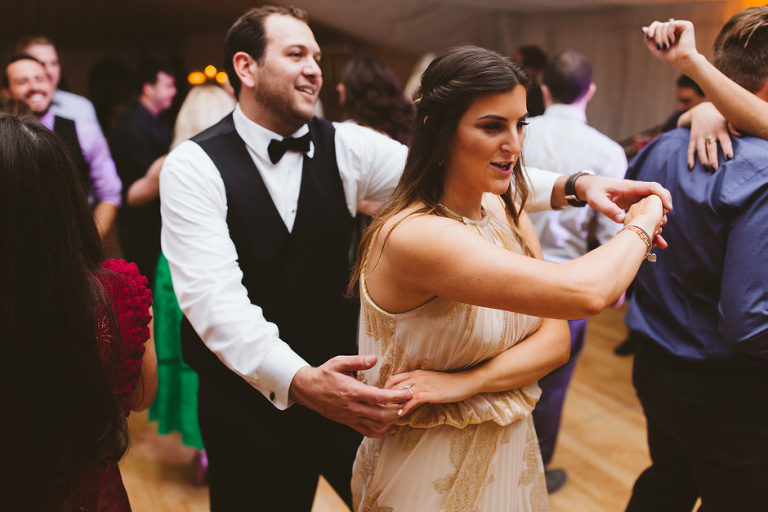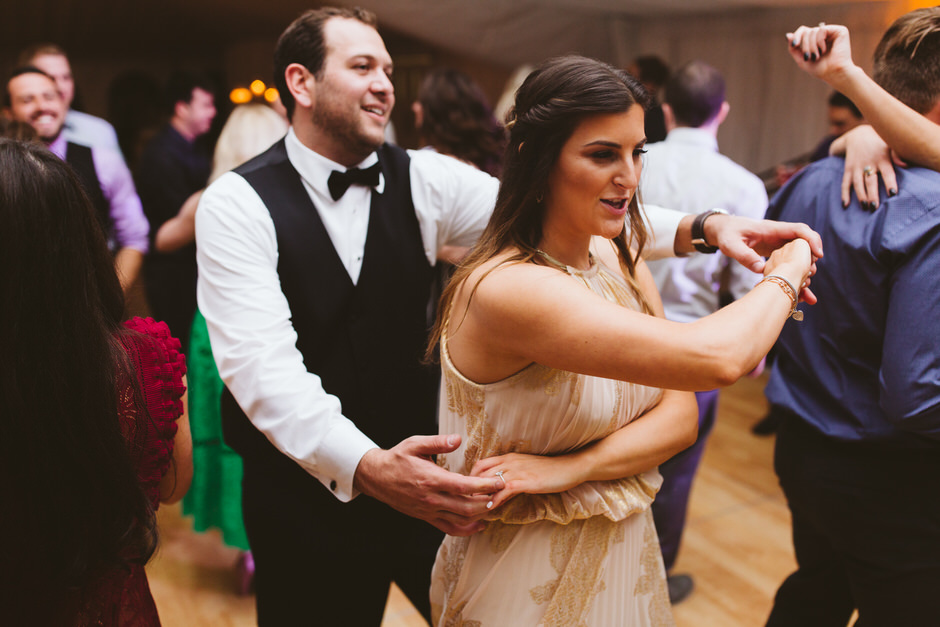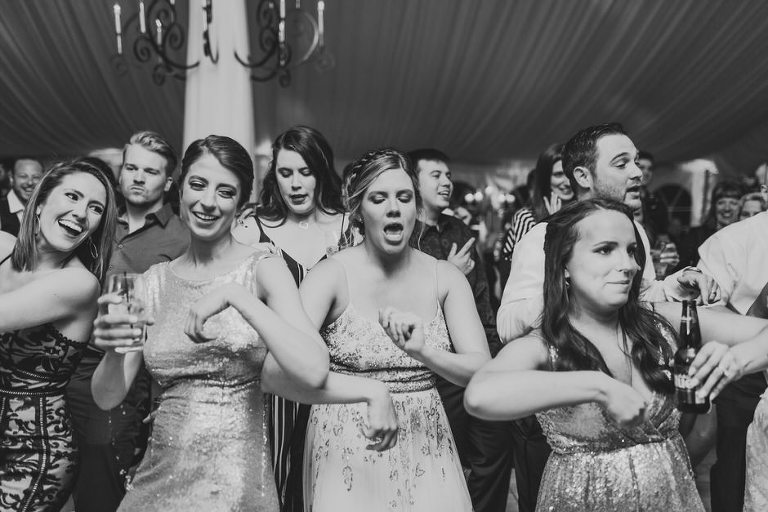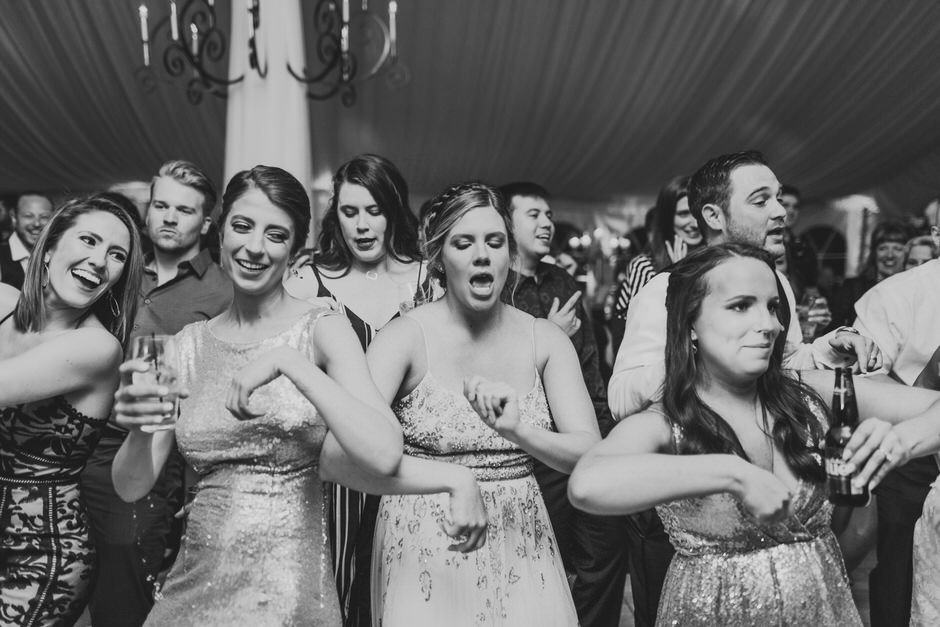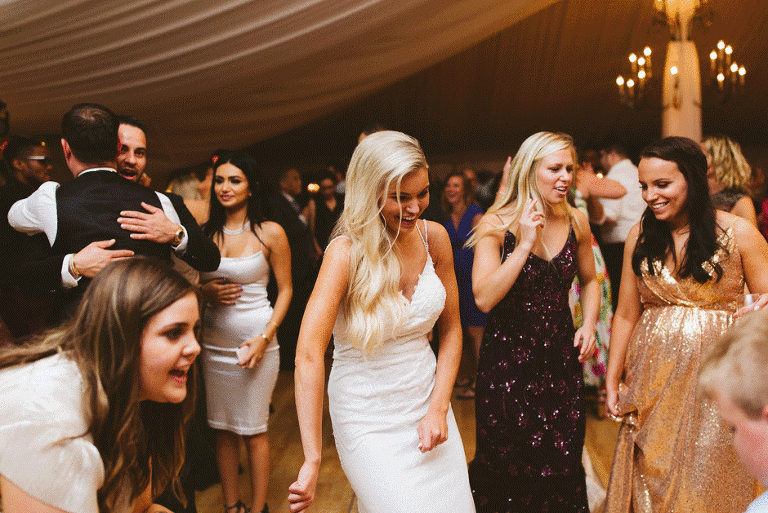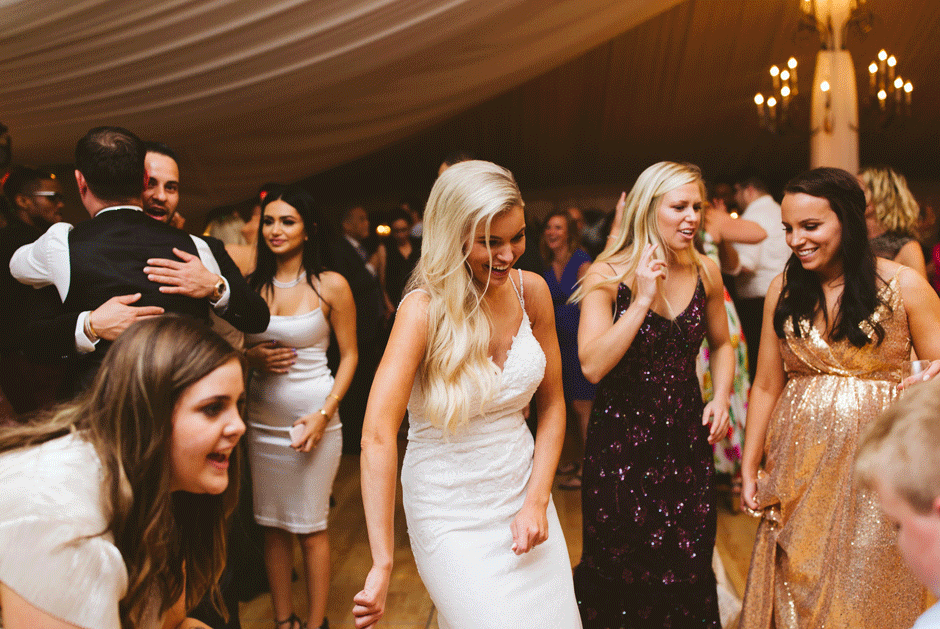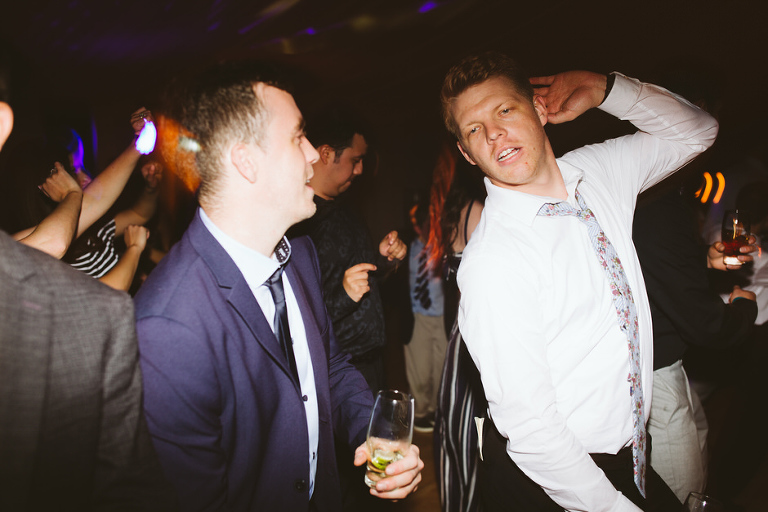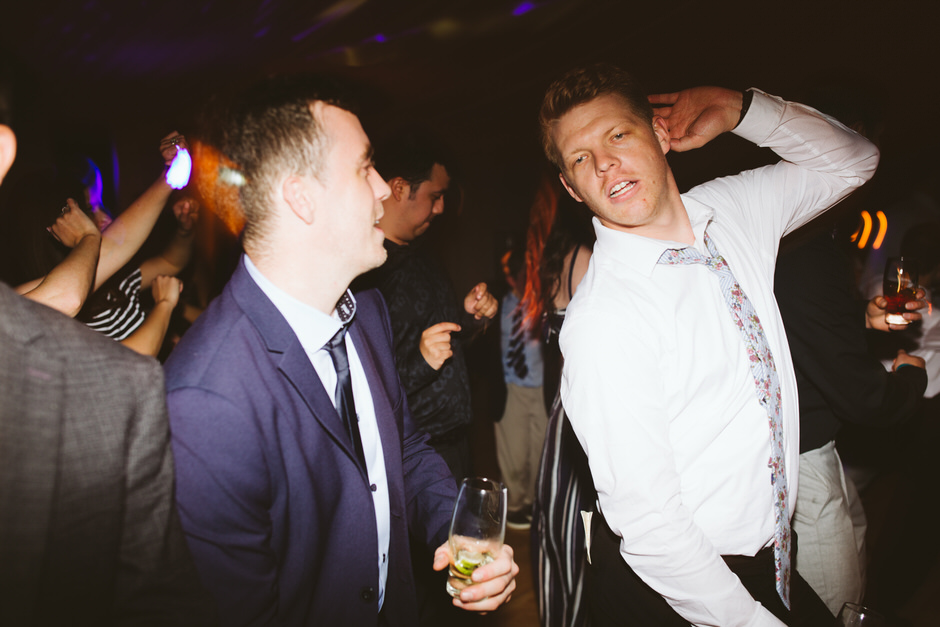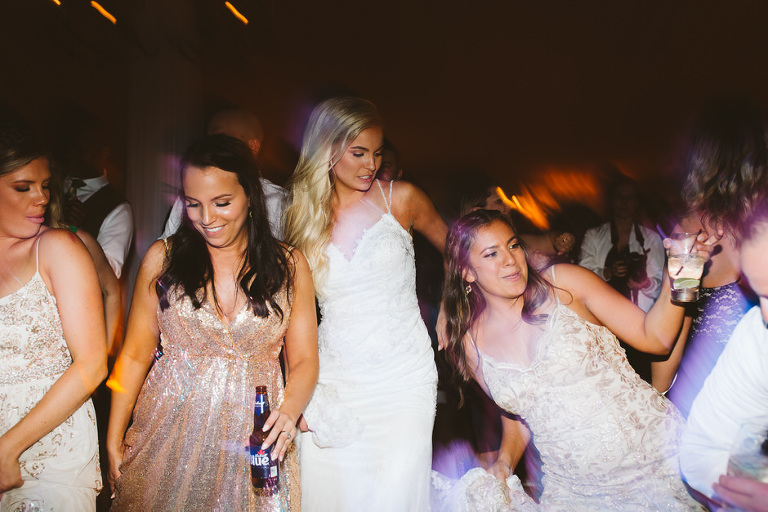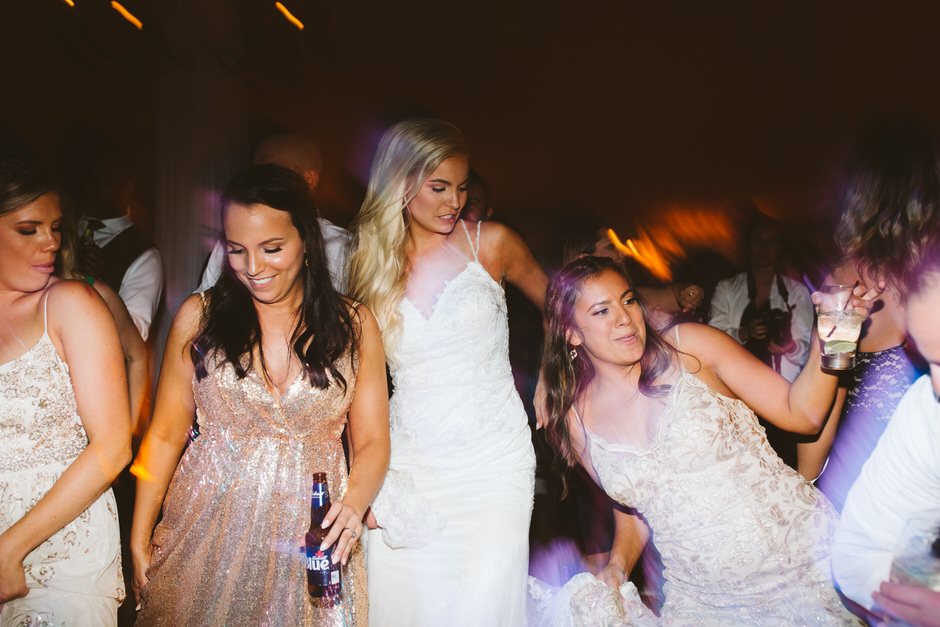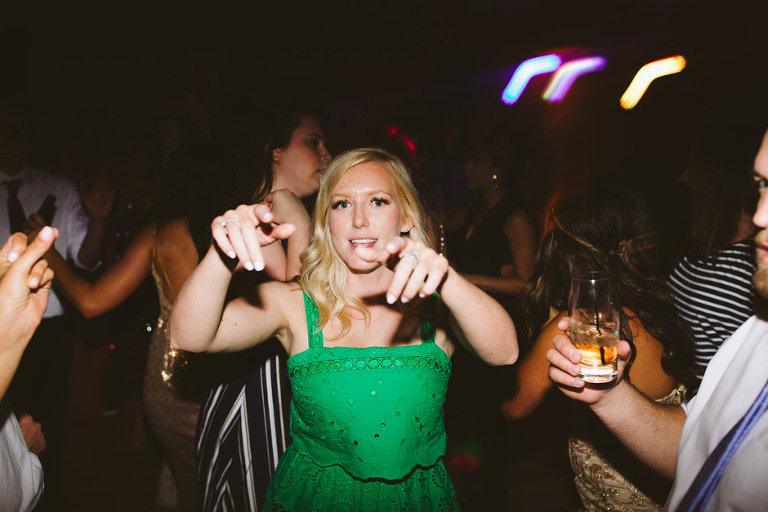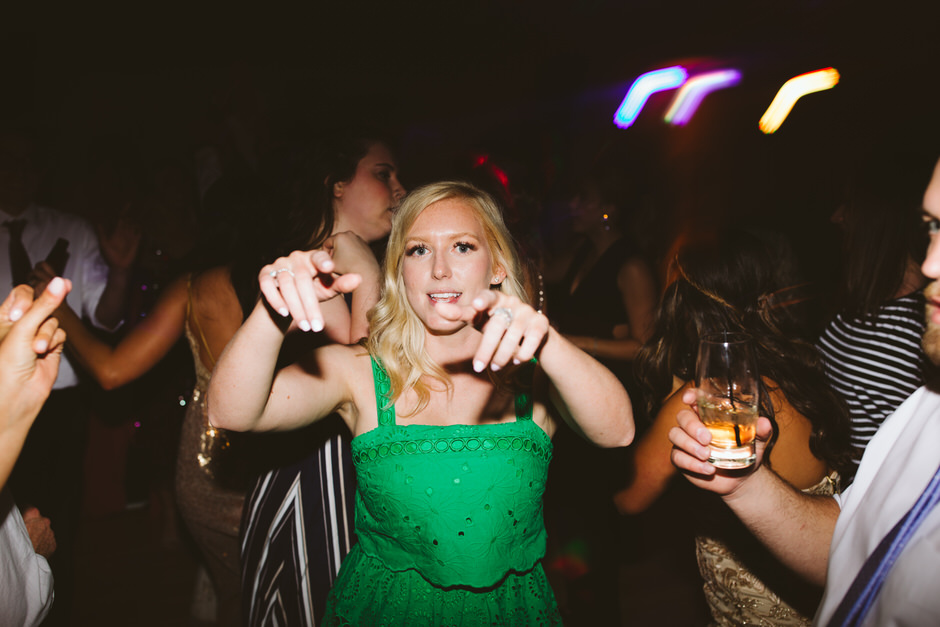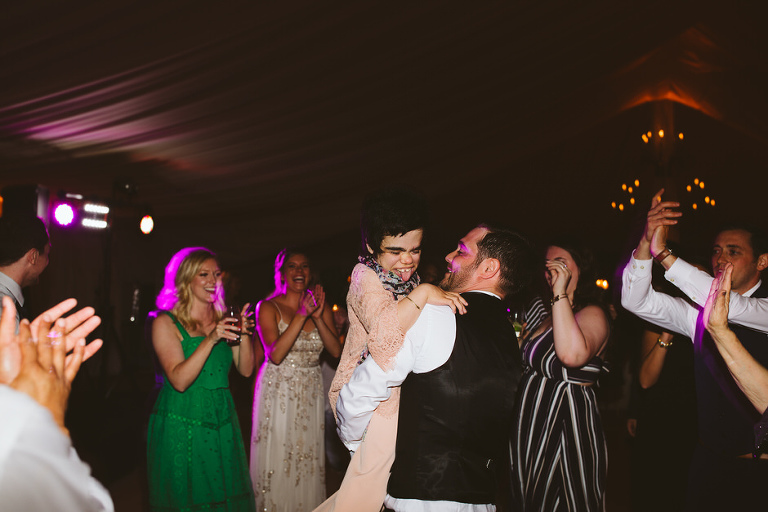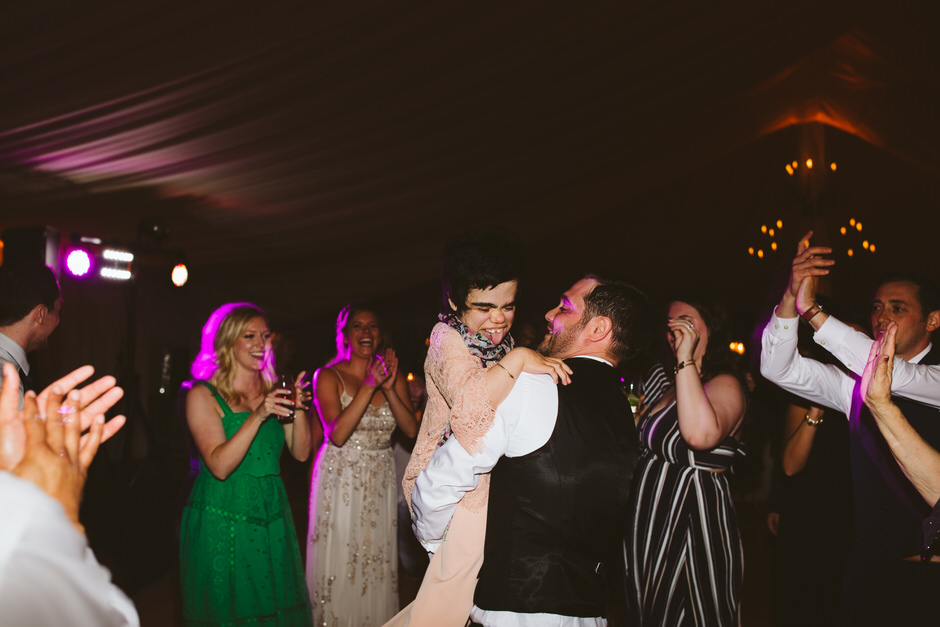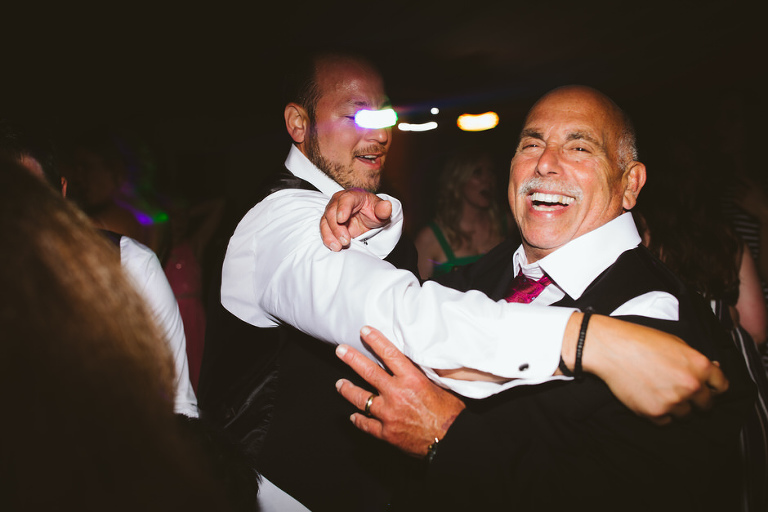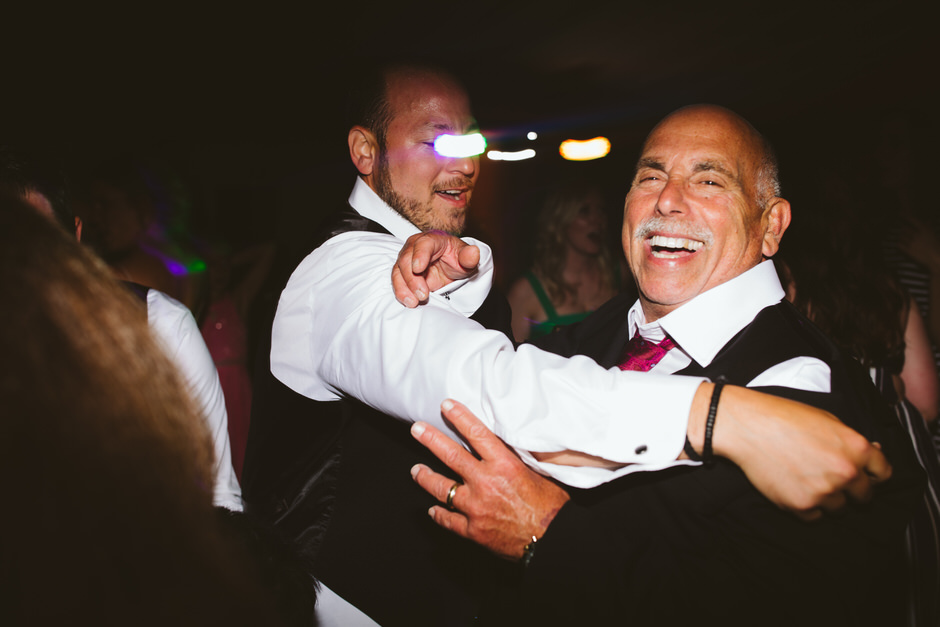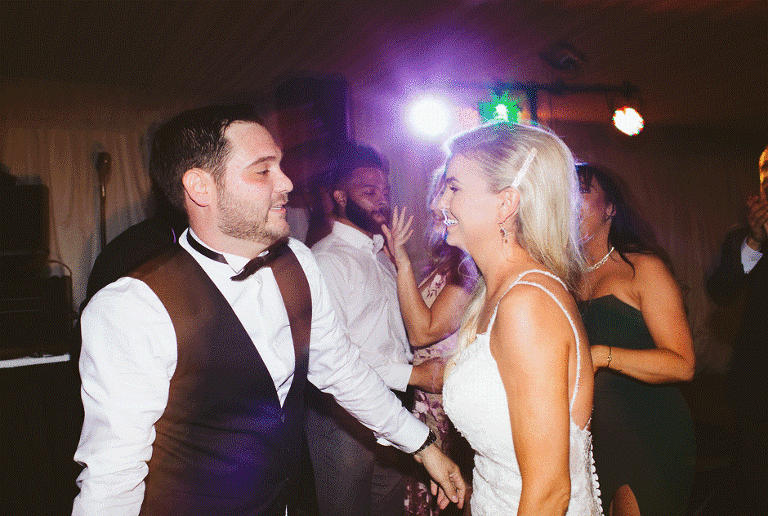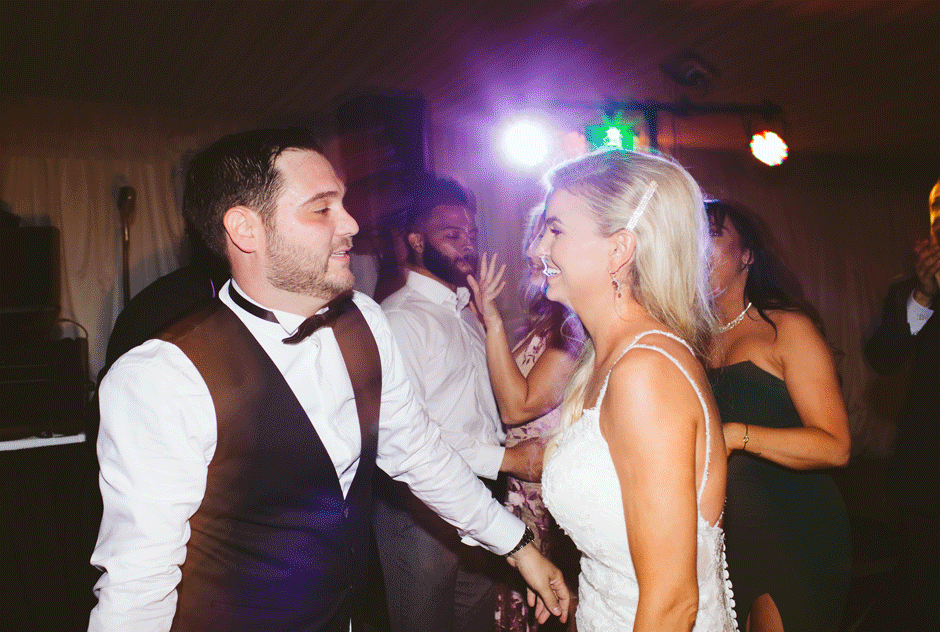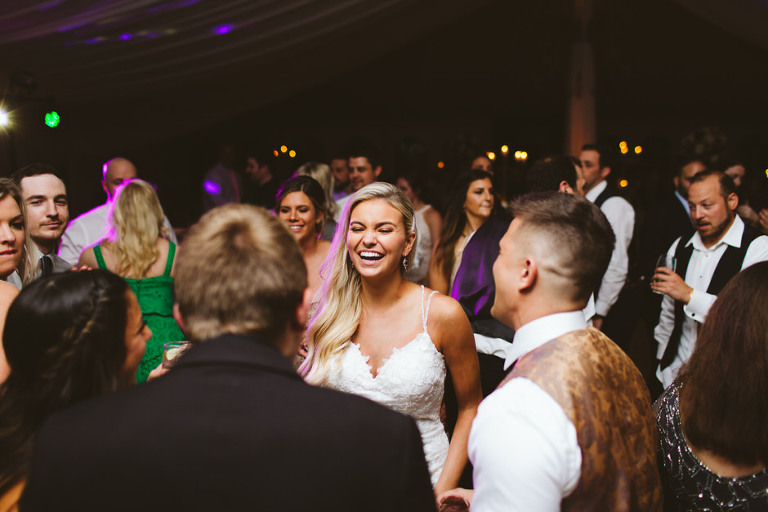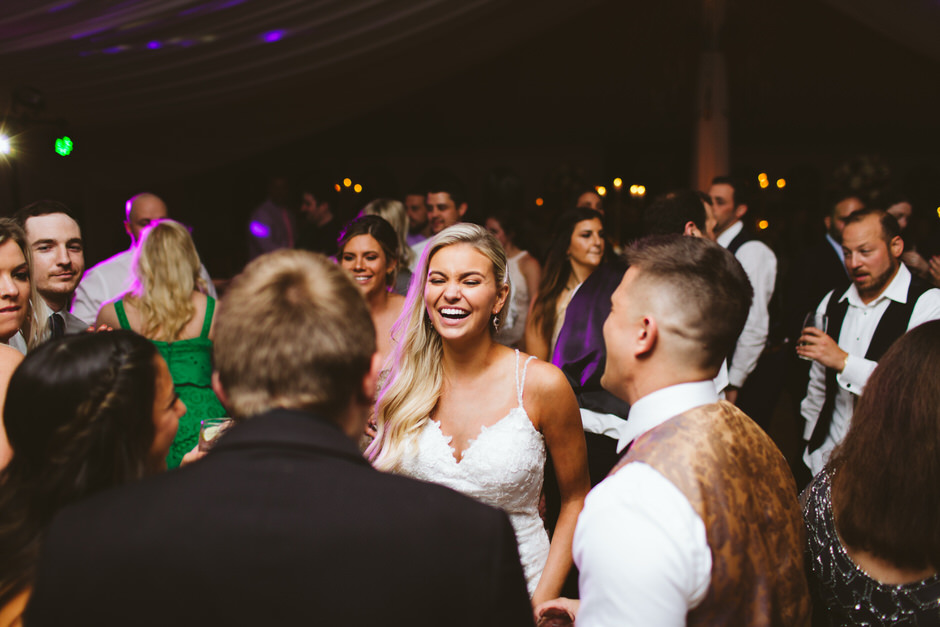 Your Photographer: 
It's impossible to describe how amazing Rachel is in just a few words; she lives and breathes to make her clients' memories the best they could ever imagine. Not only did she drive 3 hours, with the flu, to take our engagement pictures, she still had more energy and enthusiasm than anyone else we'd ever met! That's when we knew we were in perfect hands for our wedding day. She makes everyone feel so comfortable in front of the camera and has the brightest personality; making everyone laugh is one of her best qualities. Outside of her awesome character, her pictures are indescribable. She has a way capturing the candid moments so perfectly that when you look back at them, you go back to that moment and relive it all over again. Rachel's artwork is a living, breathing time machine and we couldn't be more thankful to have her capture the best day of our lives.