Michigan Backyard Wedding
What a time to have and plan a wedding.
Almost all of 2020 is cancelled. In fact Devin and Tom ALMOST cancelled their day but instead of doing so, they opted to convert their planned Zeeland School House 5 wedding to a backyard one. This meant sending out ANOTHER set of invites, changing vendors and reducing their guest list significantly. I can't even imagine! But getting married was SO SO IMPORTANT to them and they wanted to have their closest people with them. It all worked out beautifully on the most gorgeous July day. I am so thankful that some of these small events are still going on <3 I am missing weddings something FIERCE right now. It is a joy to relive this moments. This whole situation has made me realize even more how much I love this job. It is so so important to keep capturing these moments. Who knows when we can all gather again <3 I am going to leave the rest of this story up to Devin. She has an amazing point of view as a COVID bride on how this all went down and some wonderful stories of things that wouldn't have happened without all the changes taking place.
The Beginning:
We were setup by my (Devin's Aunt Toni and Uncle Jon) on a blind date. Tom worked with my Uncle Jon and actually a few other uncles over the years at Gentex. We connected over the phone and decided to meet at Hopcat in downtown Grand Rapids after work on a Friday night. I was going to be across the street with co-workers for a going-away party beforehand and I made sure they would check on me before they left in case the date wasn't going well. Hopcat was packed and Tom and I ended up grabbing two seats at the bar. Me not being a huge craft beer fan at the time and trying not to come off as too "extra", asked the bartender for a Bud Light …. which Hopcat doesn't sell. Thankfully Tom isn't a beer snob, which is possible when you live in "Beer City USA" helped me pick the lightest beer on the menu to order. Conversation flowed easily and I texted my co-workers that I didn't need to be rescued. Turns out Tom had the same idea going into the date and had a friend on standby to use as an excuse to leave early if needed. He texted and told him no need. We stayed there and talked over beers and eventually decided to get pizza next door at Georgio's. We got a couple slices of mac & cheese pizza's, cans of PBR to my relief (no more Kraft beer) and had dinner. Afterwards, Tom walked me back to my car and we said goodnight. We've been together ever since!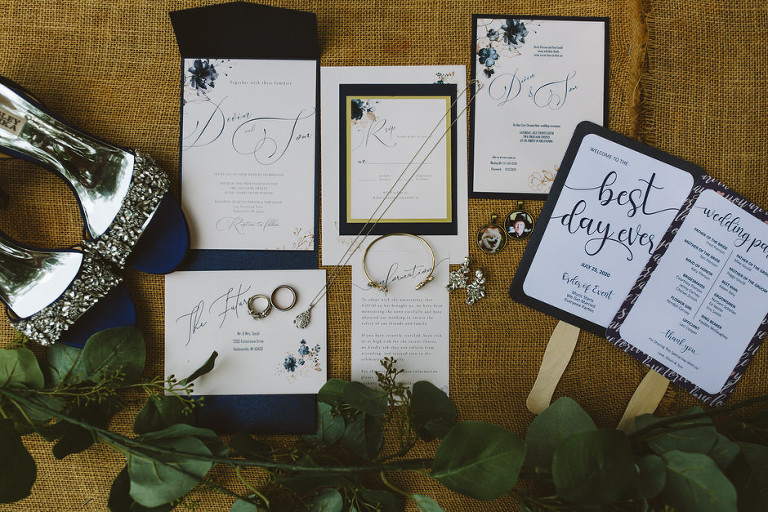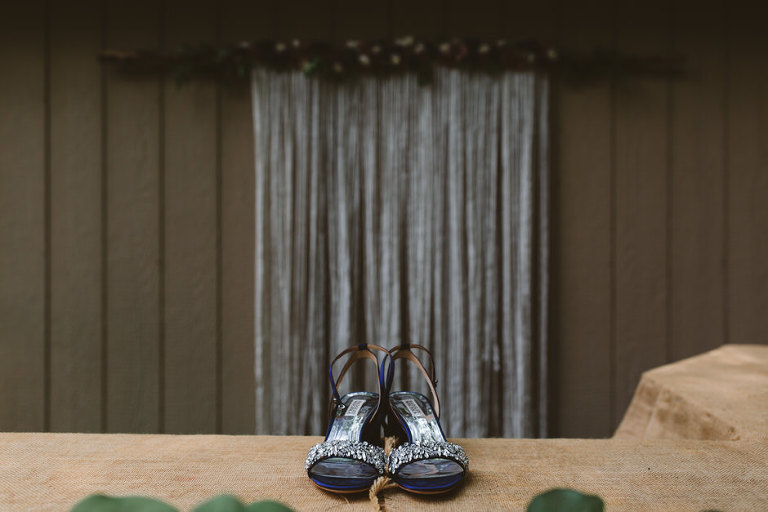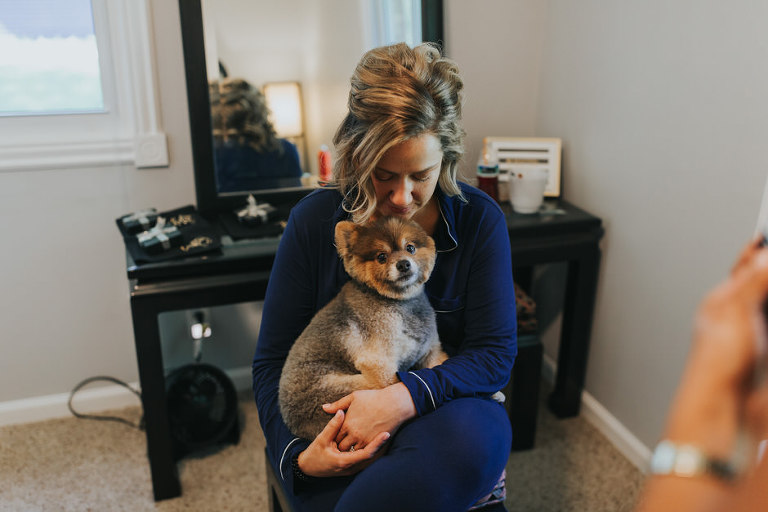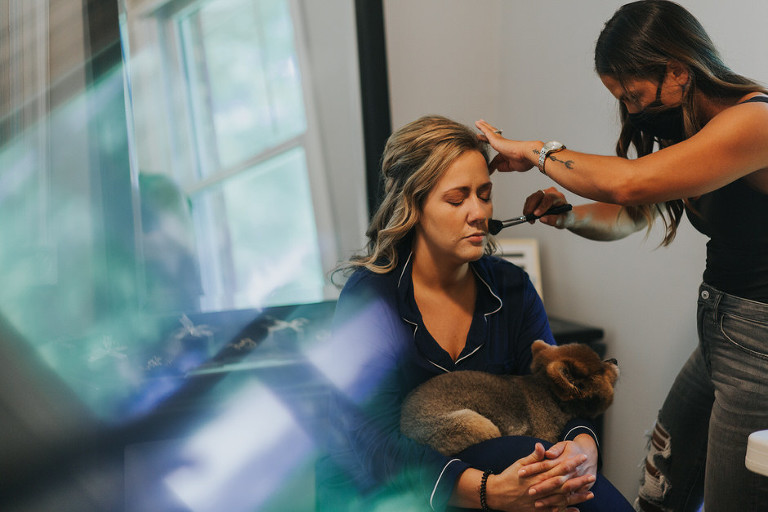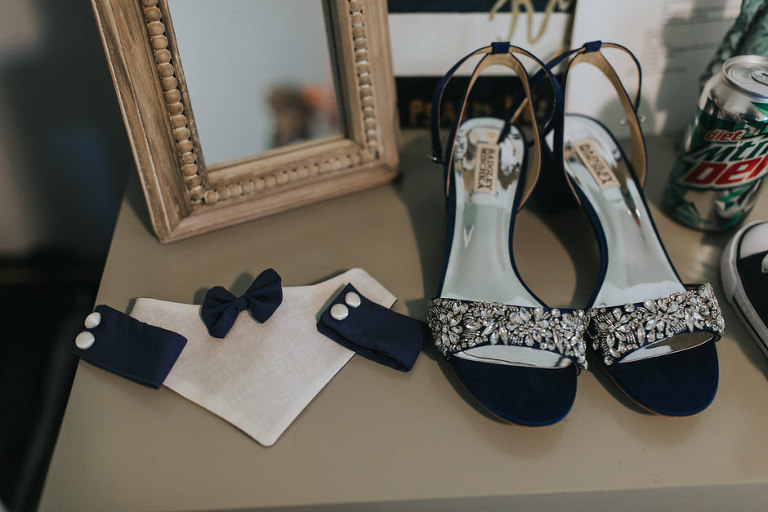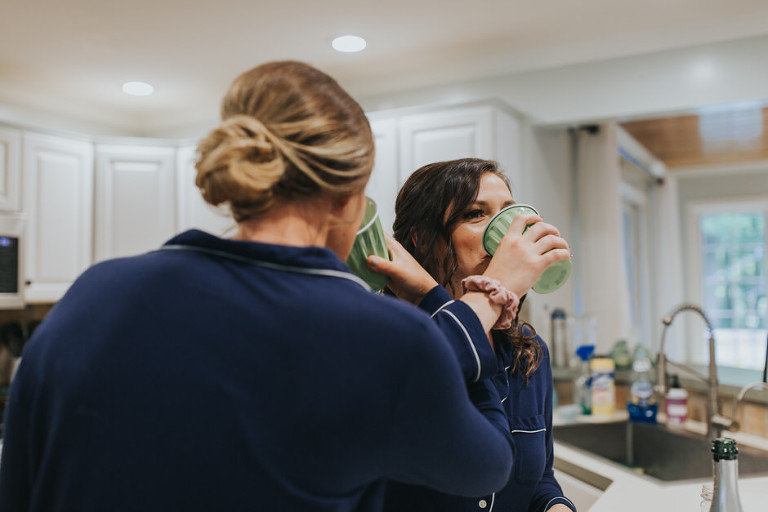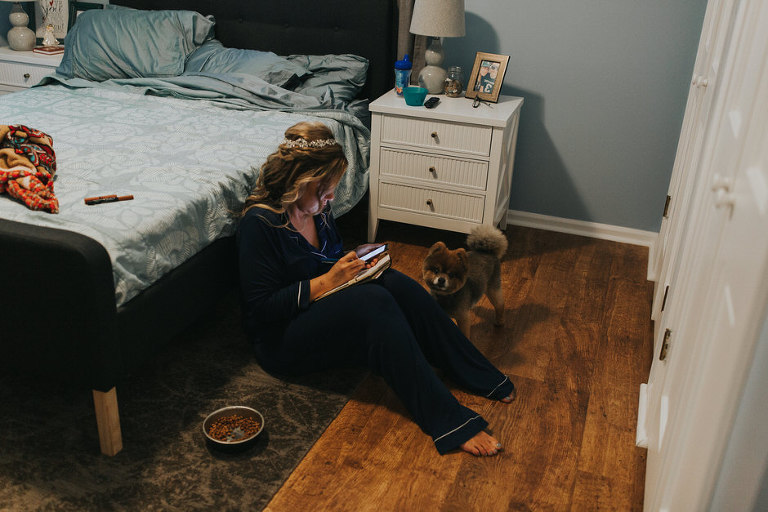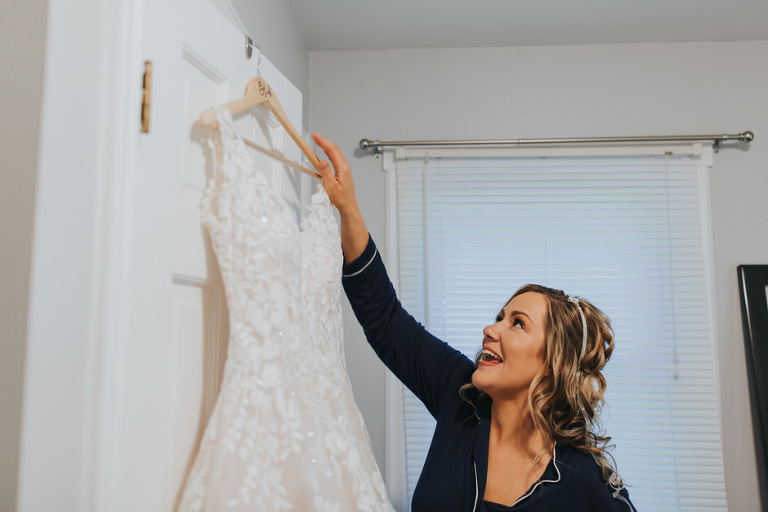 Devin's Dress
I setup a time to go to Becker's Bridal with my mom, future mother in law and two sisters to try on dresses. It was my first time going to a bridal salon and I have to admit, I was really nervous I wouldn't find a dress I would love. Well, that didn't end up being an issue. My sisters and I pulled some dresses from the floor and when I started trying them on, it was like each dress kept getting better than the last. I loved each one, but each dress was very much a certain style (sleek and modern vs ball gown) and I wasn't sure which one was the right "fit" for my personality. The bridal consultant pulled a few more dresses for me and that's how I found "the one". It's was an Allure Romance, champagne, ivory and nude color dress. I walked out of the dressing room and my future MIL got teary and then I got teary and my sisters and mom said, "that's the one". It was perfect; glittery, swishy, and IT HAD POCKETS! I did need to have quite a bit of alteration work done to make it fit like a glove. Becker's suggested HA Alterations in Standale and they were amazing to work with and did an incredible job. I highly recommend them.
I included two charms on my bridal bouquet. One had a photo of Smokey, Bandit's older sister and who was such a huge piece of our family and had passed away unexpectedly in the Spring of 2020. It felt right to have her picture on the bouquet, I know she would have loved being included and if she were still here would have been dressed so adorably. The other had a photo of my Grandpa Myers who I was incredibly close with and miss dearly. Grandpa loved Tom and would have been so happy that we were getting married.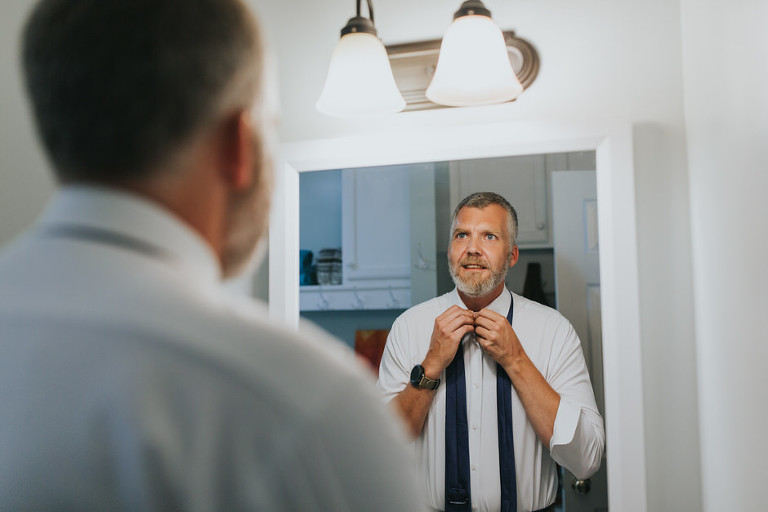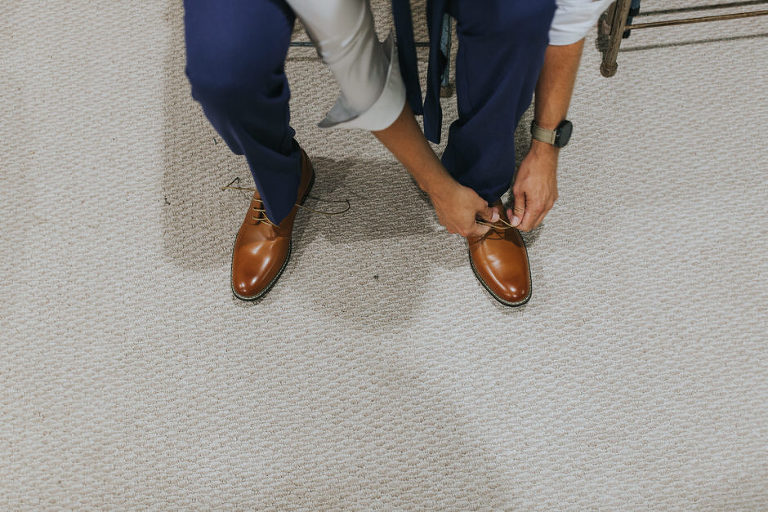 Tom's Suit
We had just started looking at suits for Tom right before all the shutdowns that happened due to COVID. We knew we were most likely changing our wedding plans to have a backyard wedding and knew it was going to be a hot July day. We decided to keep it simple and went with what we could purchase online and decided to forgo a suit jacket. Tom was very happy with that decision when it 90 degrees on July 25.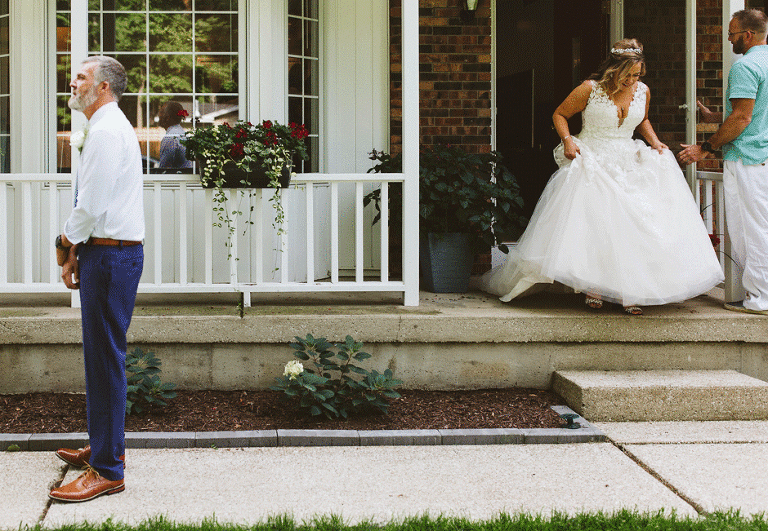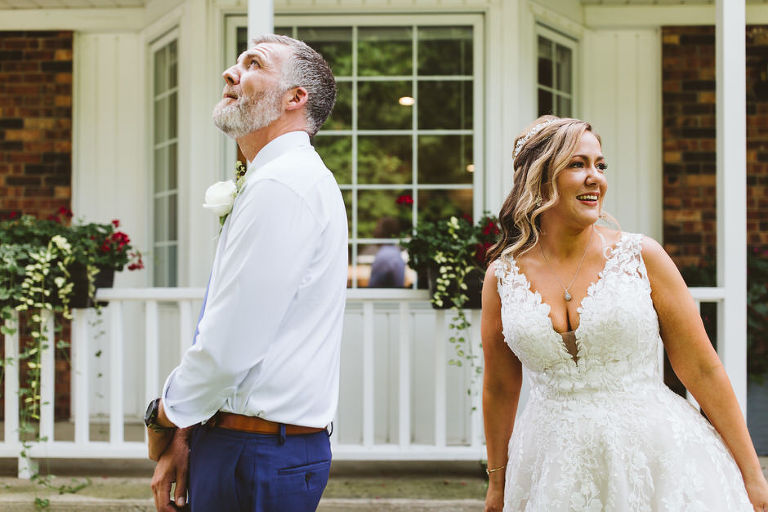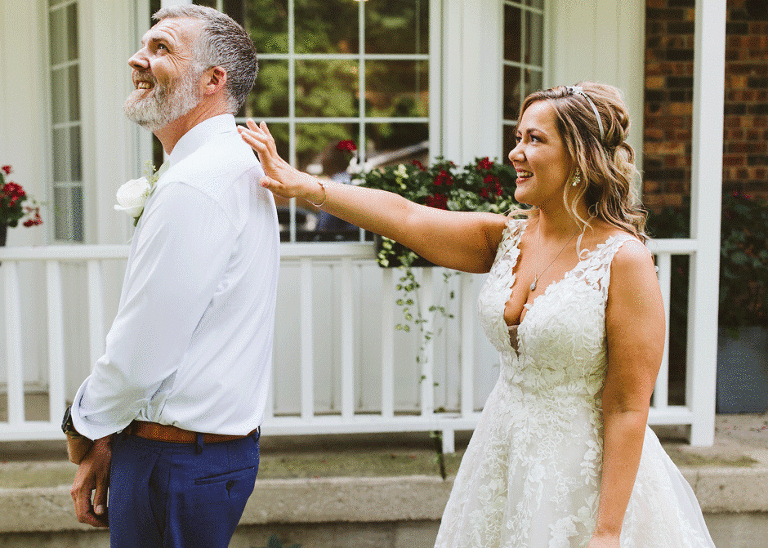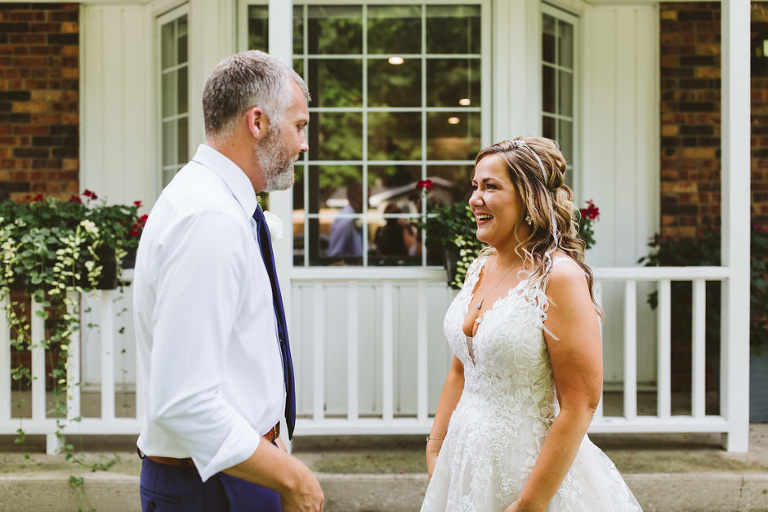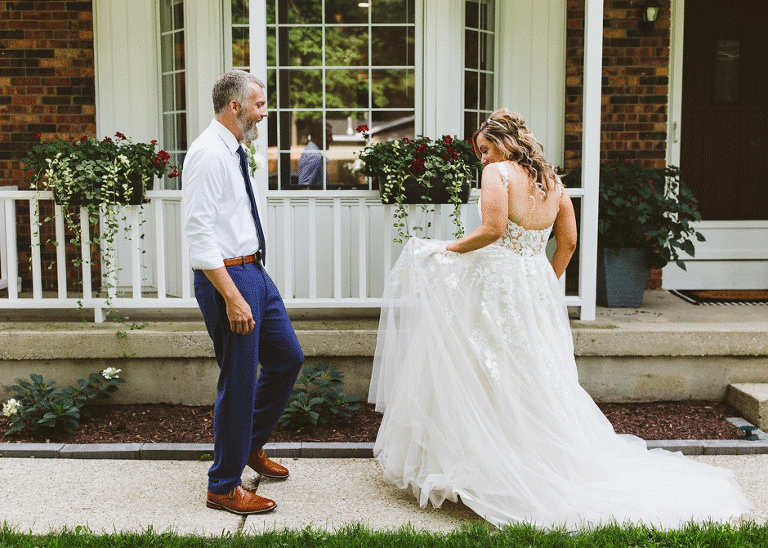 Venue: 
Tom and I had rented a house on the NE side of Grand Rapids for many years. In late June of 2019, we got a message from our landlord saying that he has appreciated us as renters, but his daughter was moving back to Michigan and needed a place to live. He gave us a month and a half to find a new place. Talk about a moment of panic. We had talked about buying a house before nothing serious and had decided we wanted to wait until after our wedding. We had to put some wheels in motion and fast. We found a house we really liked the following Monday, worked with a realtor to get in to see it that same week on Wednesday, put an offer in the same day, and found out our offer was accepted that Friday! In today's market, it was pretty unbelievable and felt like it was meant to be. I share all that because when COVID-19 happened, we decided that we didn't want to push our date and would still get married on July 25, 2020. We talked it over and it just felt like the right decision to move everything to our backyard (and we had a backyard to move it too!). We live in a quiet neighborhood, so we wanted to give everyone a heads up that we would be having a small backyard wedding. I designed a little notecard with a cute message for everyone. Our neighbors were so sweet. Many stopped and talked when they saw us out in the yard and said how happy they were for us. More than a few even let us know we could use their driveway/yards for parking. A few even dropped off cards and gifts.
It made the wedding day feel so special and intimate to have it in the place that we have been making our home. I don't think we'll ever be able to move!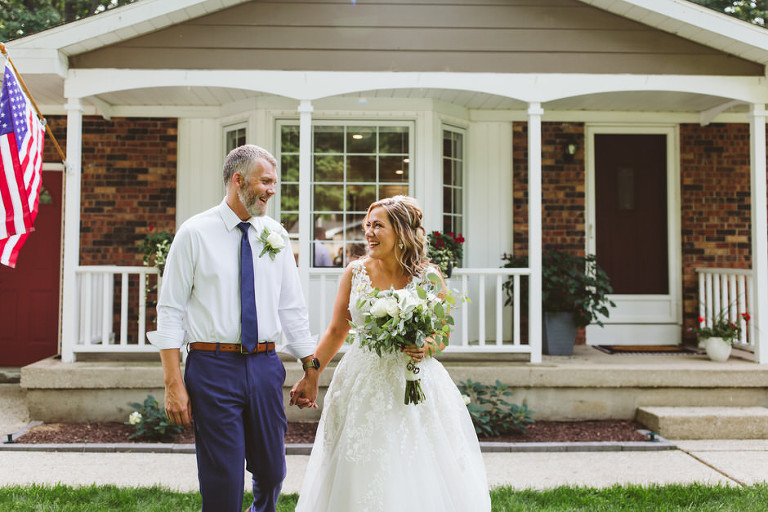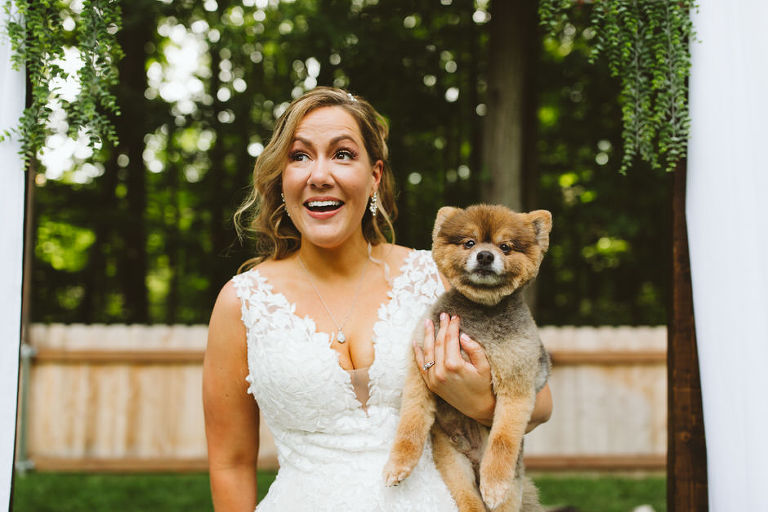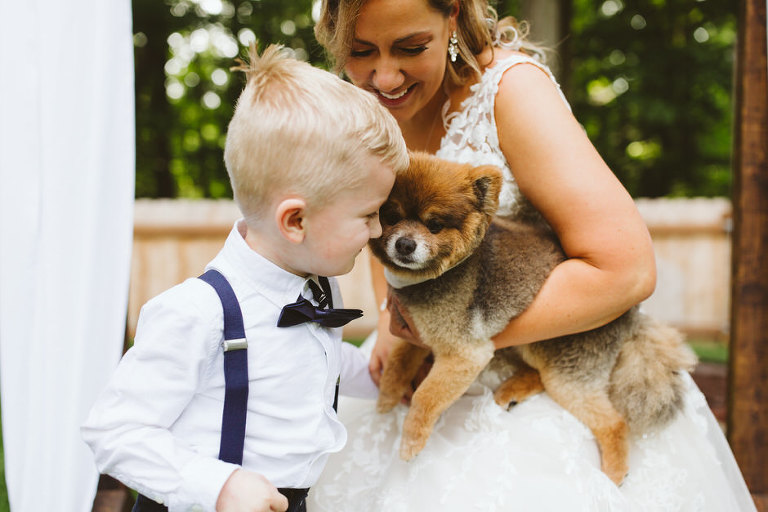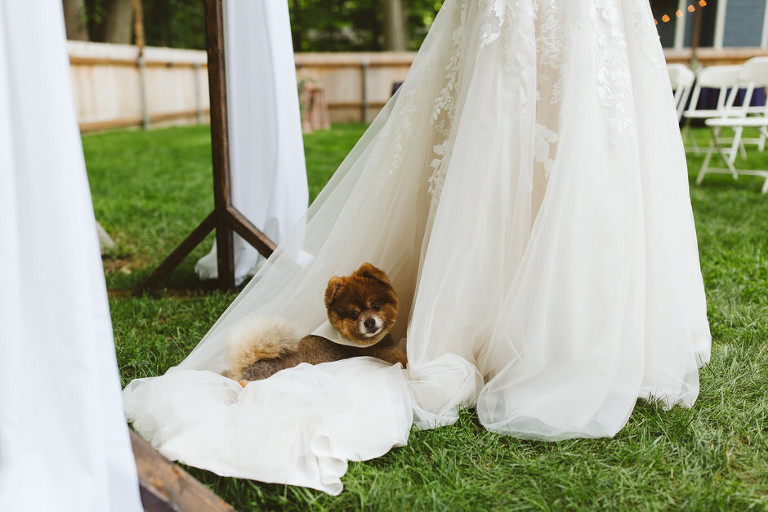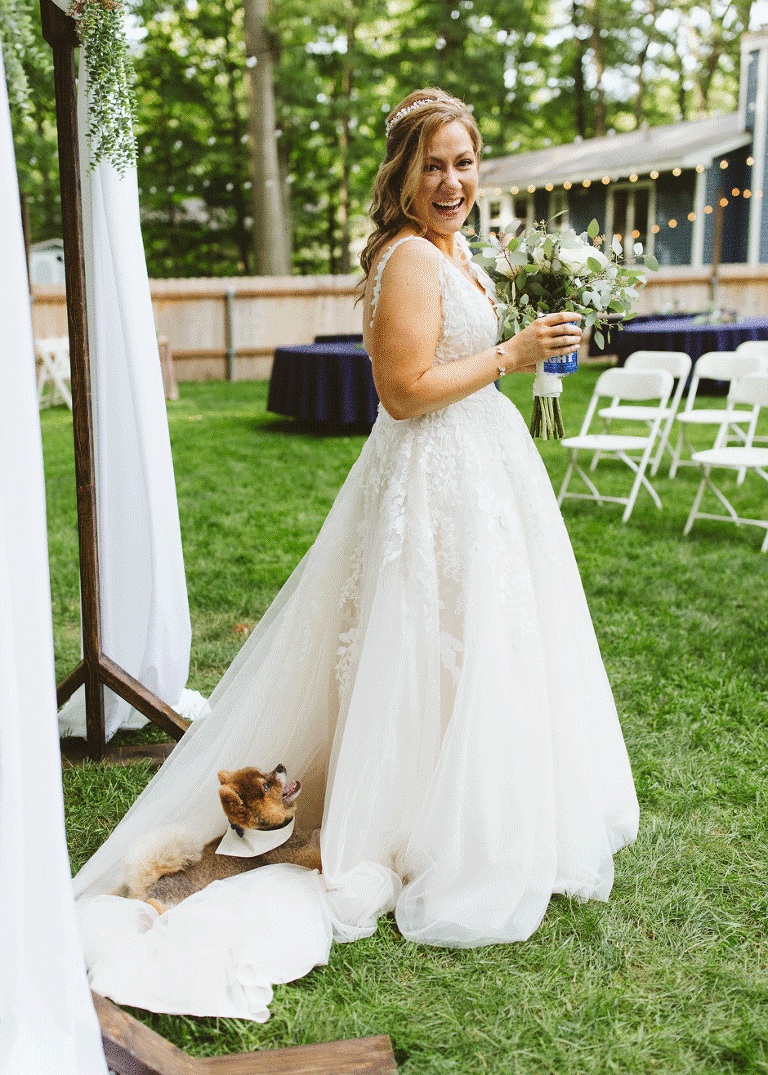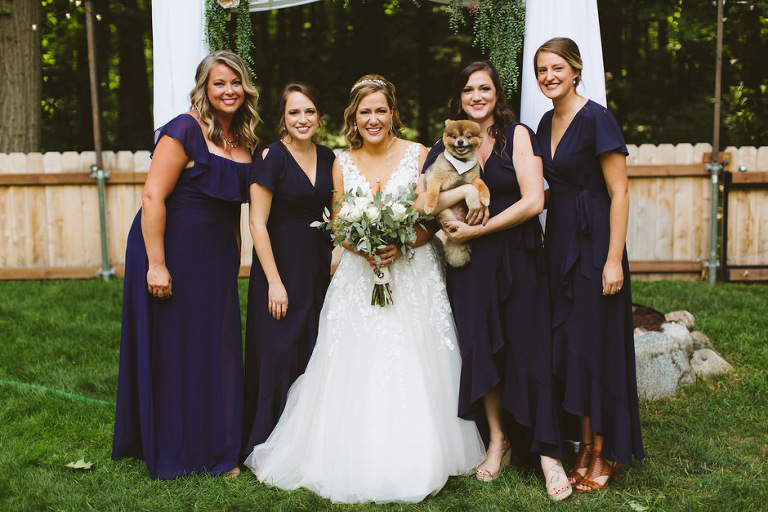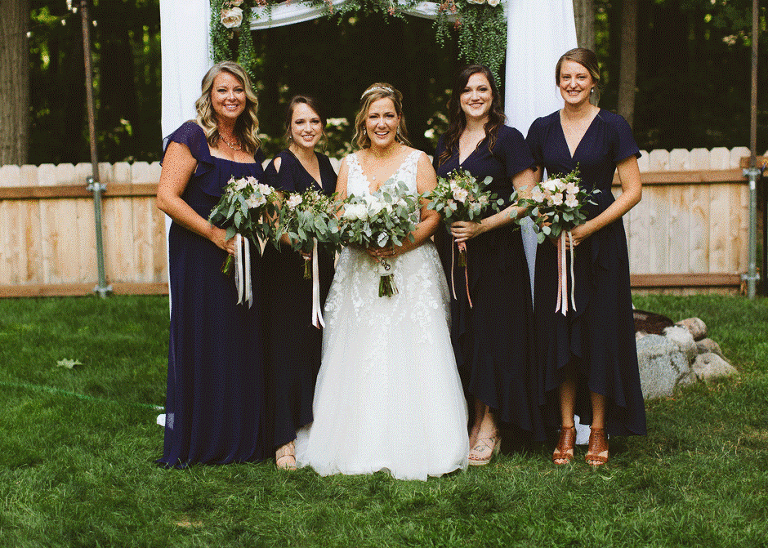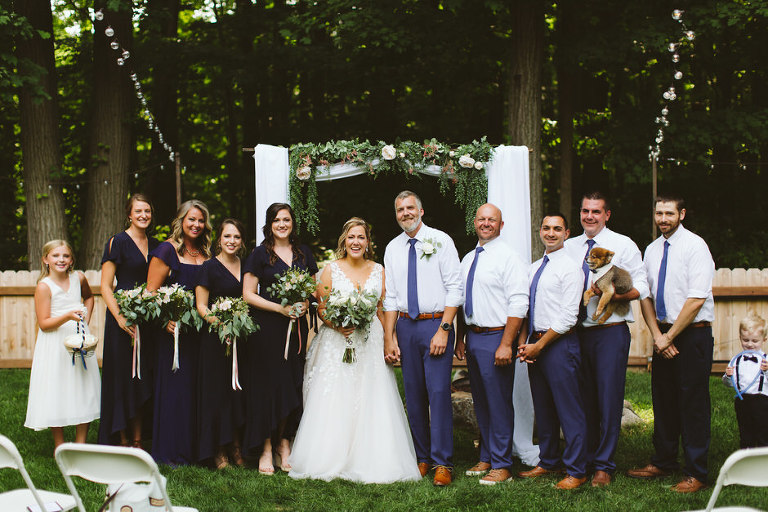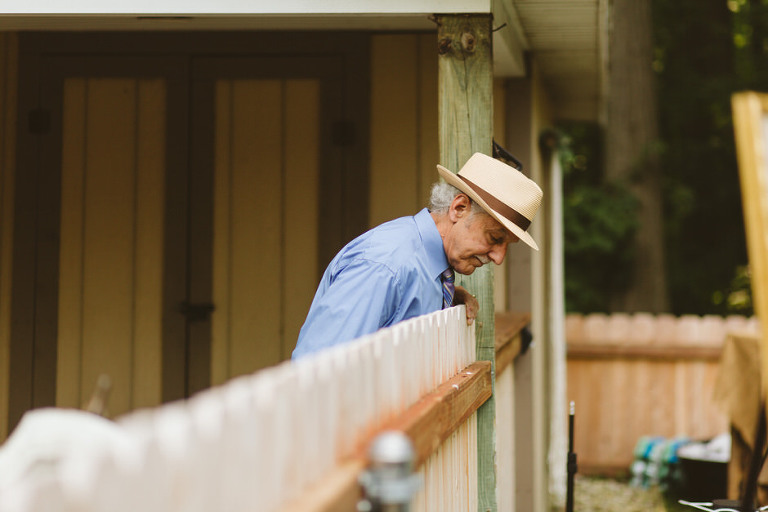 The Ceremony: 
Our next-door neighbor ended up being our officiant. Our original vendor had to back out and when I mentioned it to our neighbor, she said I'm ordained, I can marry you. Tom and I were able to write every single piece of our ceremony and make it meaningful for our relationship and what we want our relationship to be in marriage. It felt important to us to keep the ceremony honest and true to who we are as individuals as well as together as a couple.
Having everything at our house made it so much easier to have our doggo Bandit be a part of the day. We had Kayden, our nephew and ringbearer walk Bandit down the aisle. Kayden loves to play in Uncle Tom's shop when he comes over. Being a little boy who just turned 4, he found some old tubing in the shop that he declared were snakes. Kayden was adamant that he was going to walk his "snake" down the aisle too. The rehearsal the night before the wedding went well and Kayden, Bandit and the "snake" made it down the aisle no problem. When the real deal happened, it was adorable because Bandit tried to take Kayden on a detour through the chairs and guests. Kayden got Bandit back to the aisle (with a little help) and it provided that perfect adorable little kid moment that I and let's be honest, everyone loves at weddings.
Devin's brother-in-law, Nick, is a tech guru and took over the "virtual" portion of our wedding. He was able to set it up to be live via Zoom and we were able to have our friends and family be able to join us for the ceremony.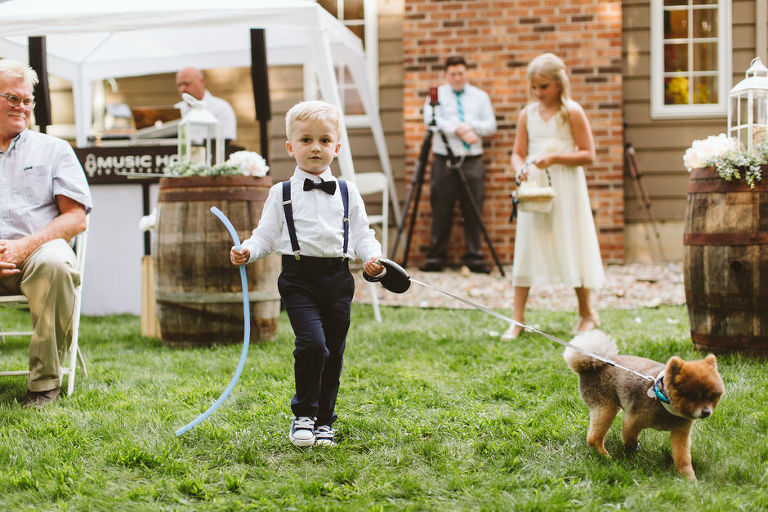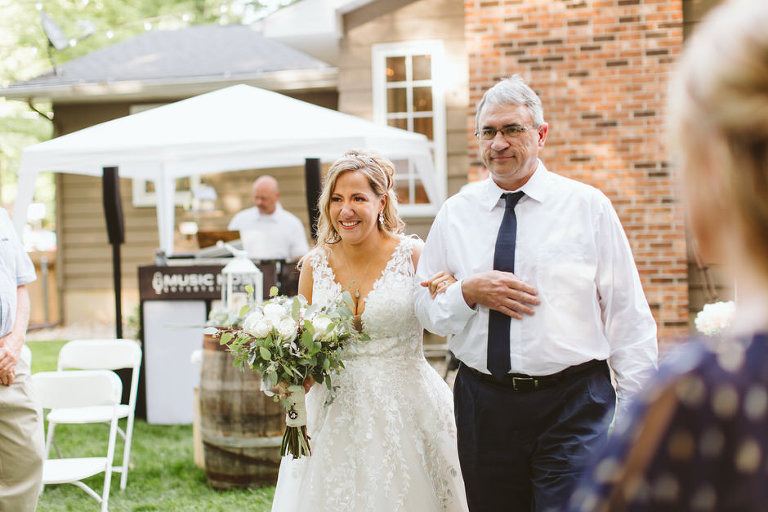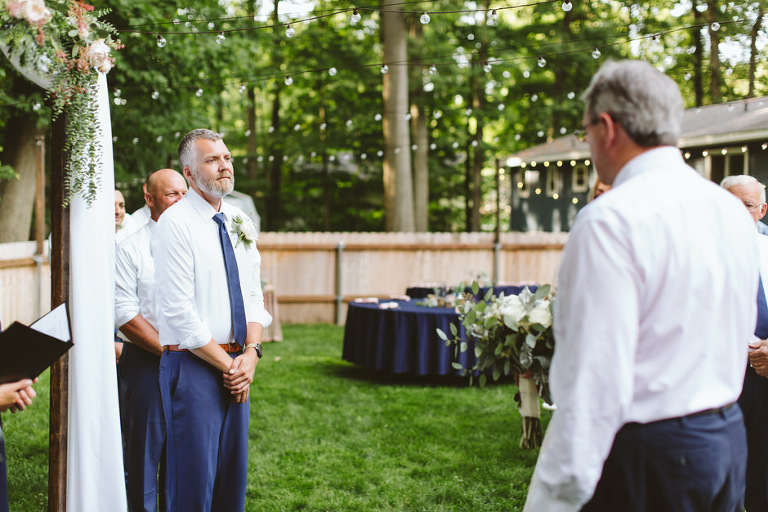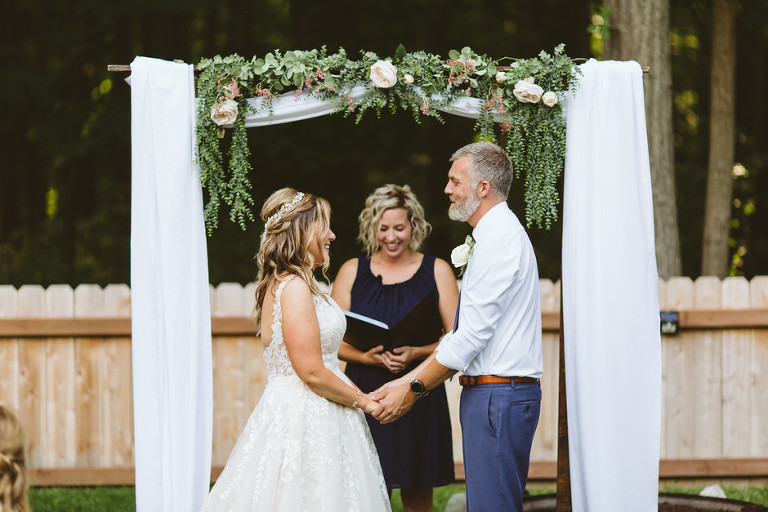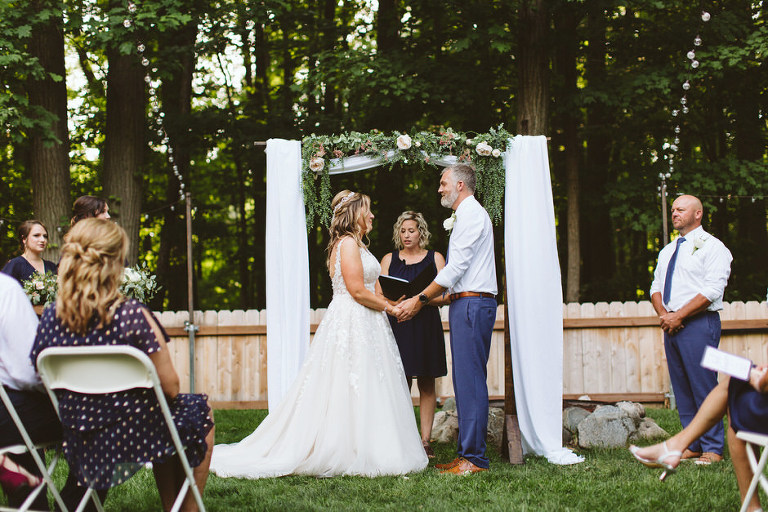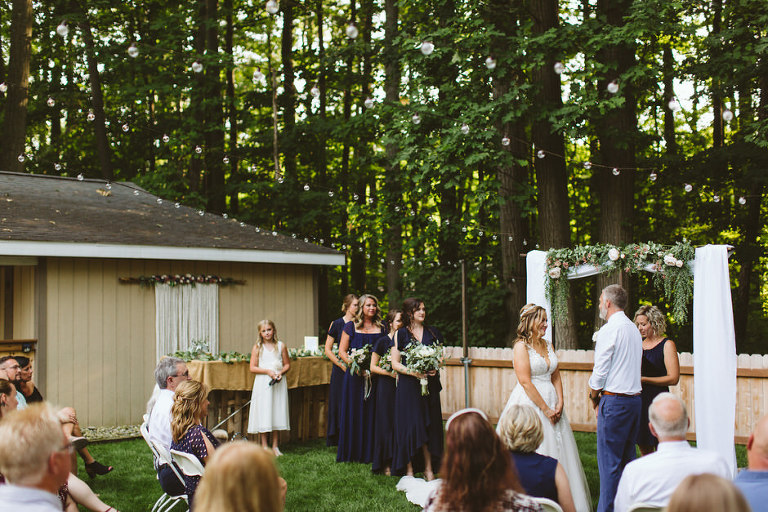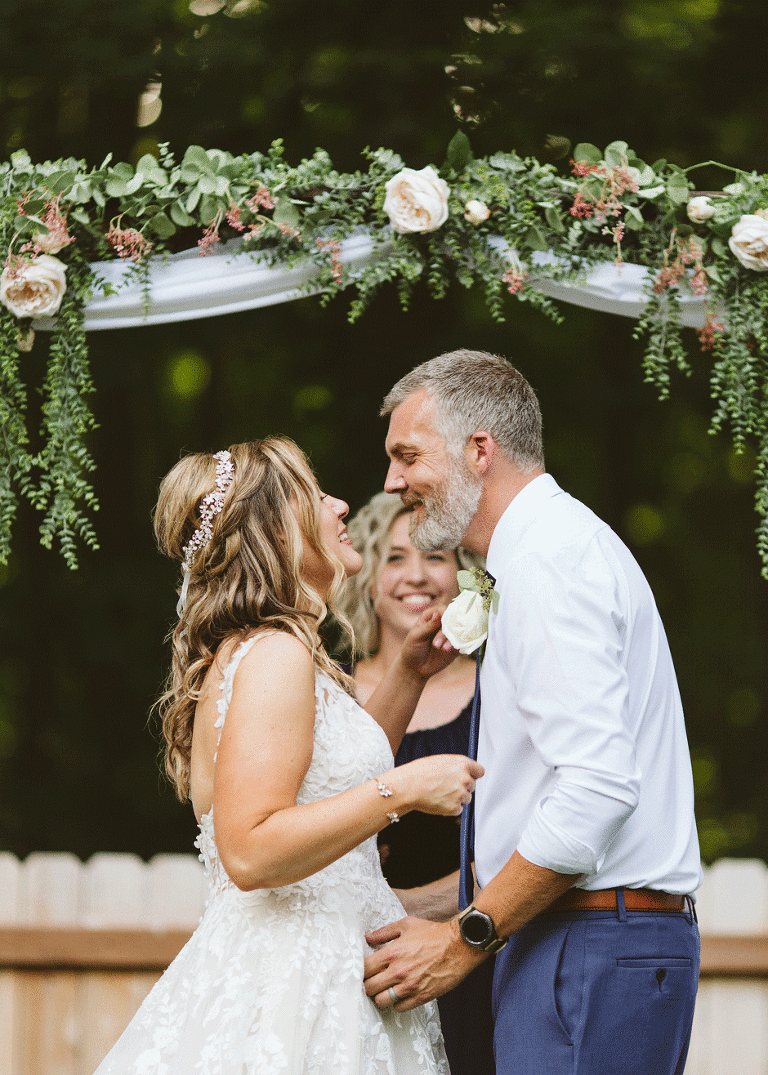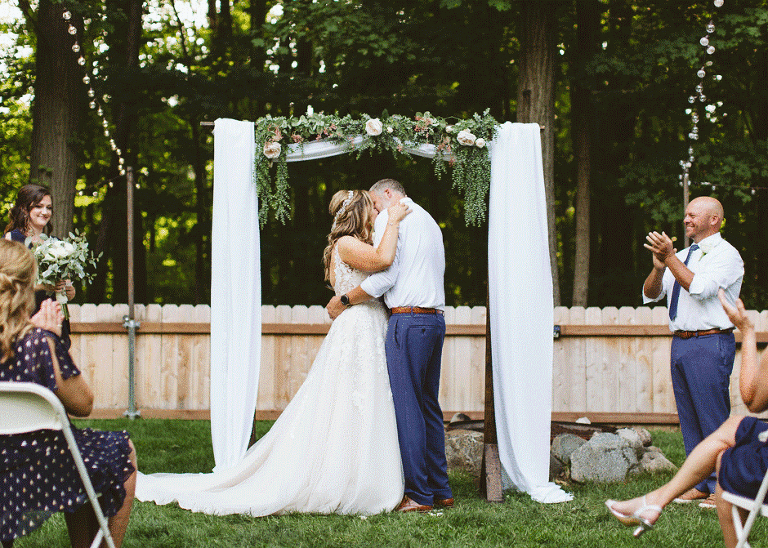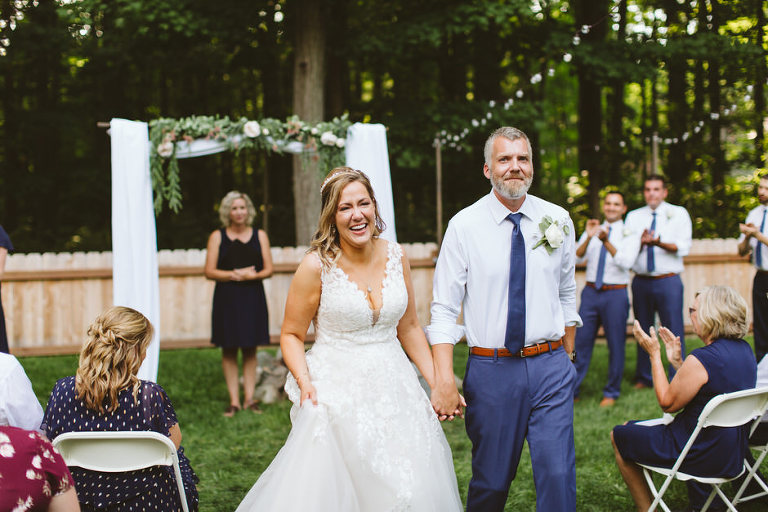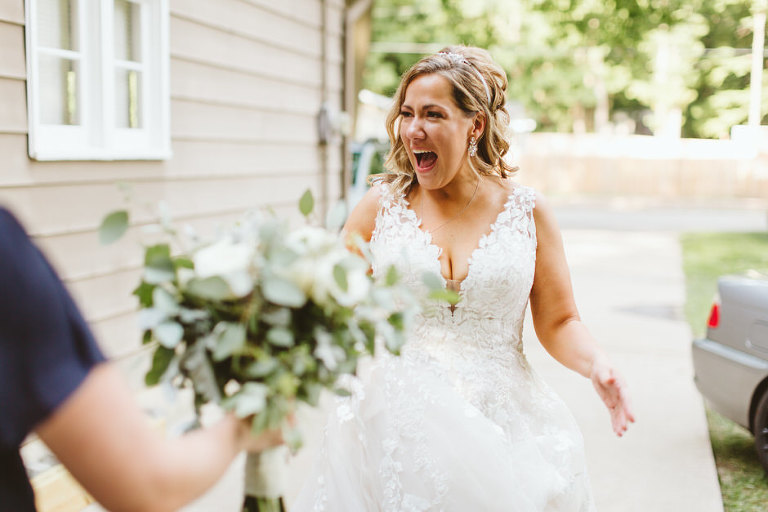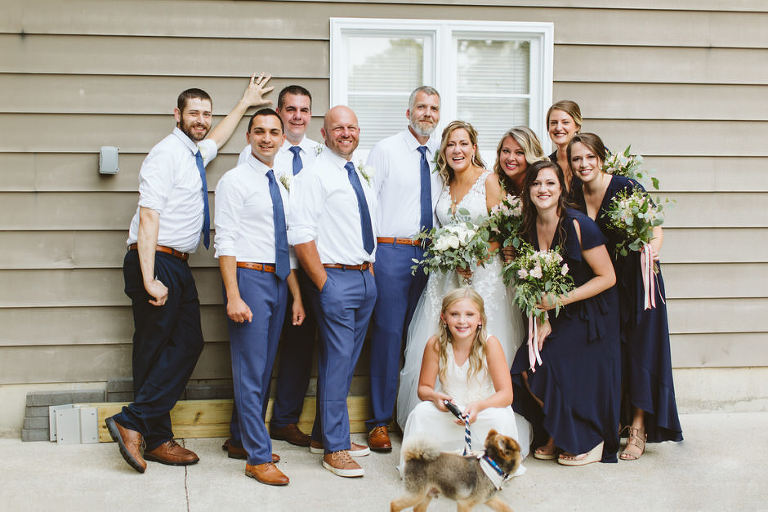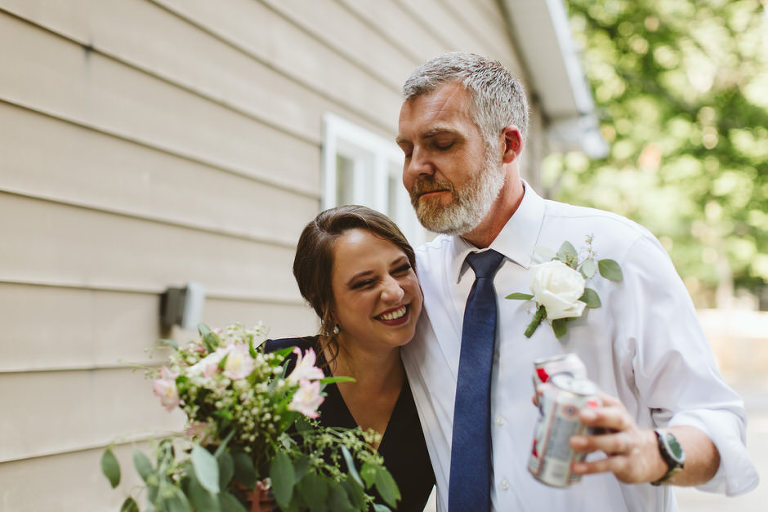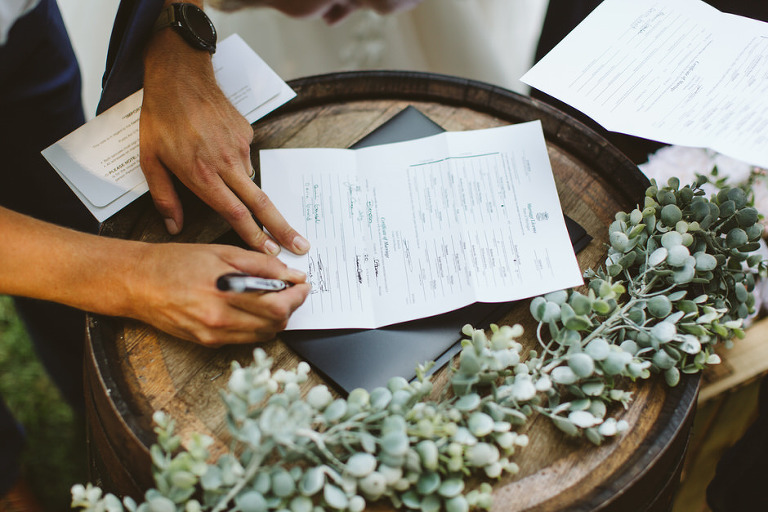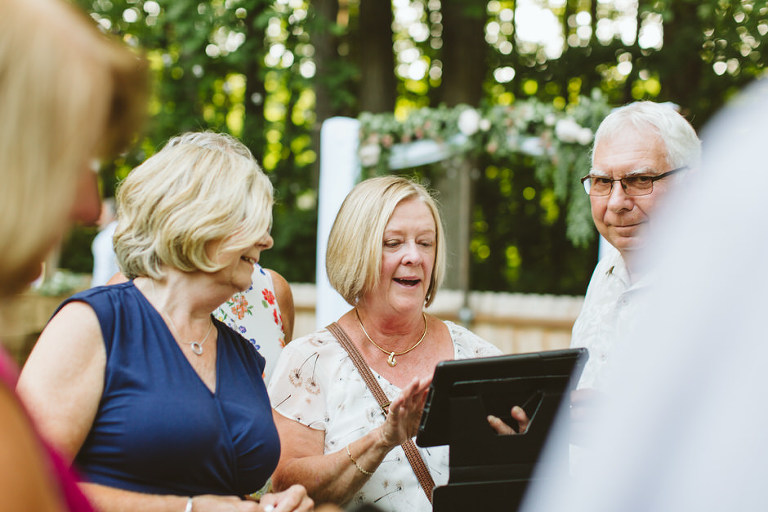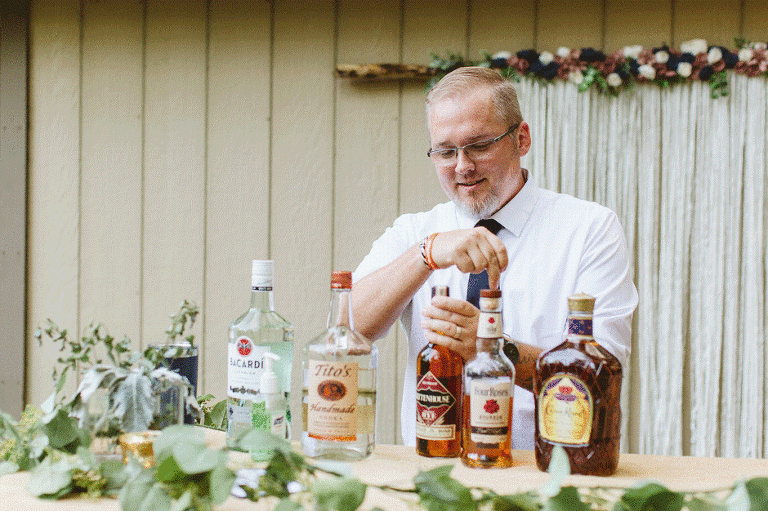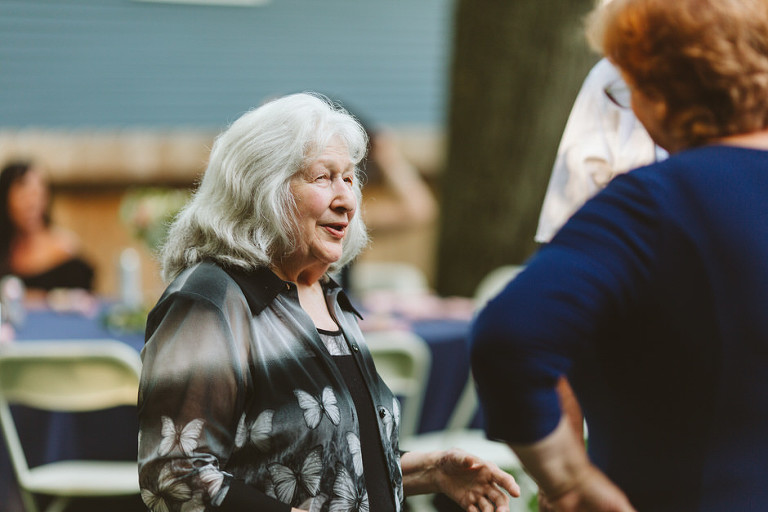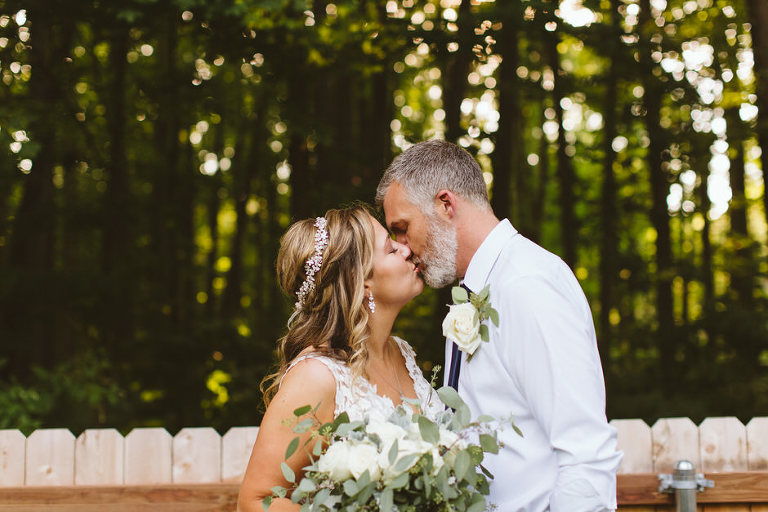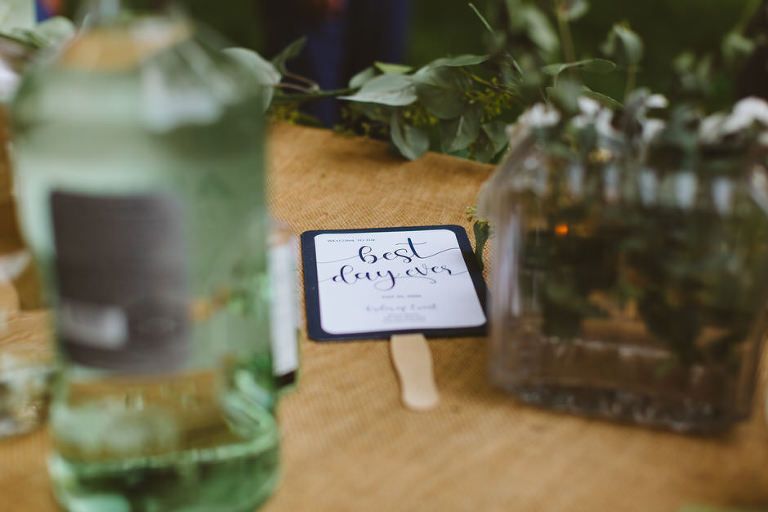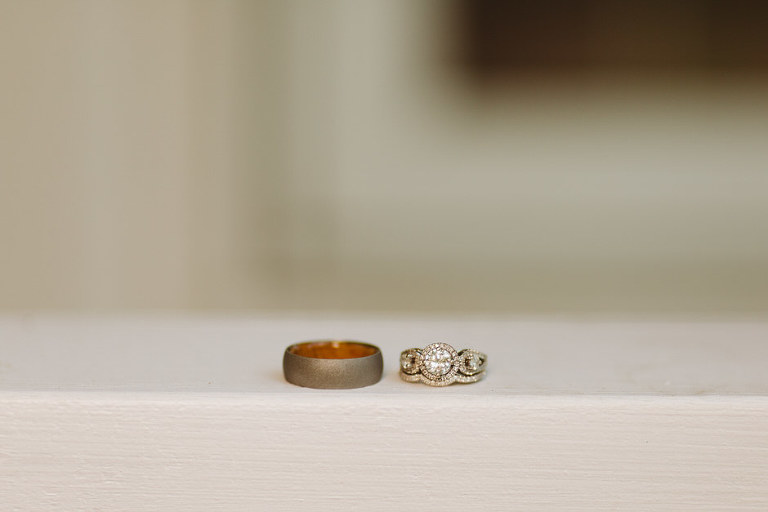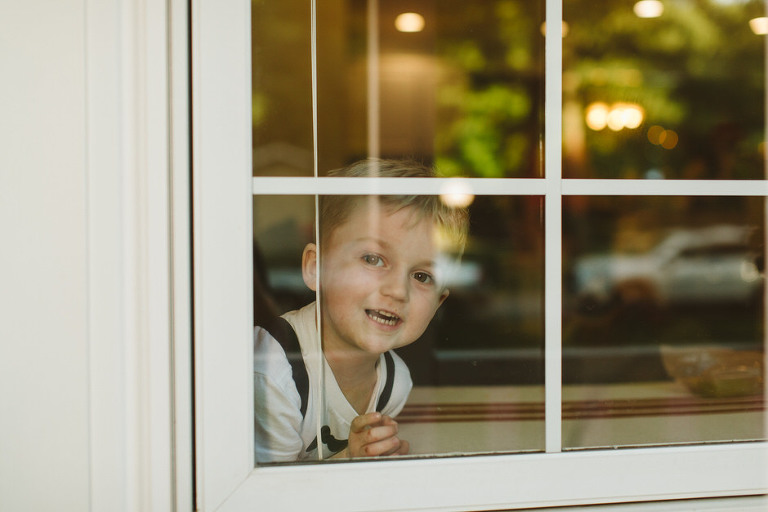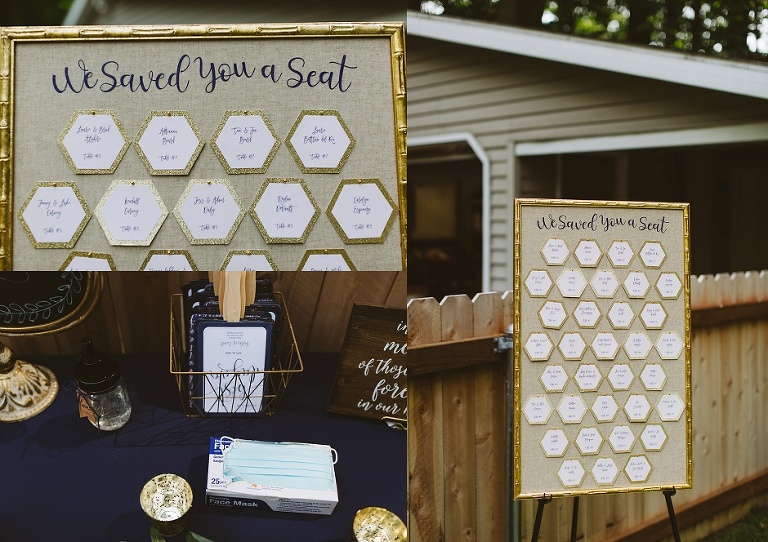 The Decor: 
I love all things gold and sparkly. Our wedding colors were dark blue, dusty rose and gold (with greenery as accents. I love a good craft project and so does my friend Laurie. Together, we were able to come up with how to bring all those Pinterest ideas (you know what I'm talking about) to life. The seating chart (Laurie cut all those hexagons by hand btw), wedding programs, hand sanitizers, table numbers, bridal party gifts were all DIY.
Our original venue had a lot of the bigger decoration pieces that we were going to use. When we moved to our backyard, we had to find some additional décor that we originally didn't plan on doing. I found whiskey barrels and Tom helped me get them to not smell terrible to use and line the aisle for the ceremony and then they could also be used for cocktail tables later in the night. I found a long stick in the woods behind our house and envisioned it becoming a backdrop for behind the bar we were going to setup. I hung it up to dry out a bit and Tom's reaction was pretty funny and something along the lines of what the heck are you doing with that. I was able to sand it, harden the wood and stain it to make it the perfect piece to use for a macramé flower décor piece. It was probably one of my favorite wedding DIY projects to work on. My cousin Adrianna came over and helped me glue all the flowers on because I kept burning myself with the hot glue gun. I'm personally obsessed with lighting and really wanted to string patio lights over our entire backyard for the wedding. I showed Tom a few ideas (that I found on Pinterest of course) and asked if he thought we could make something work for our yard. He totally ran with that project from doing the math to figure out how many strands we needed to making special poles to attach everything to and running electric outdoors to be able to plug everything in. It looked incredible and provided just the right amount of light be able to dance the night away after the sun went down. I also loved putting together our arbor. I rented the wood piece and white draping from
Consider It Done Event Rentals
but then I purchased floral and put it all together myself. It was so satisfying to see it come to life and I fell in love with how it turned out. I was so fortunate to find Consider It Done Event Rentals who I was able to rent some additional items from that would have been difficult/expensive to purchase outright. They were so easy to work with.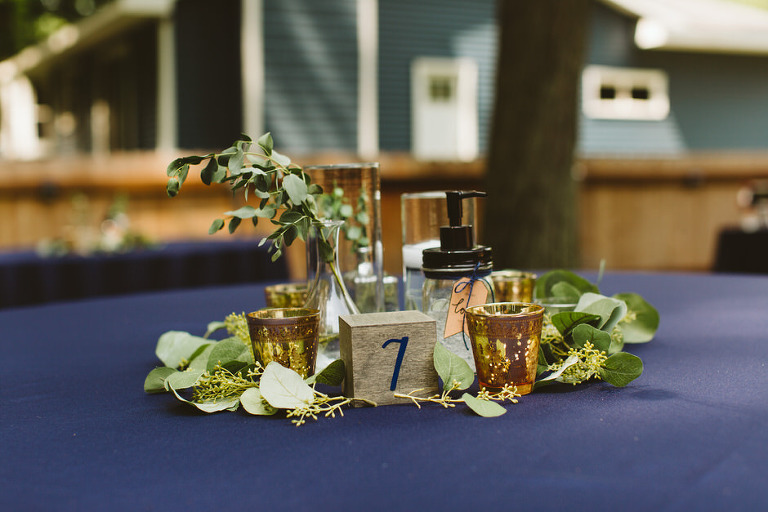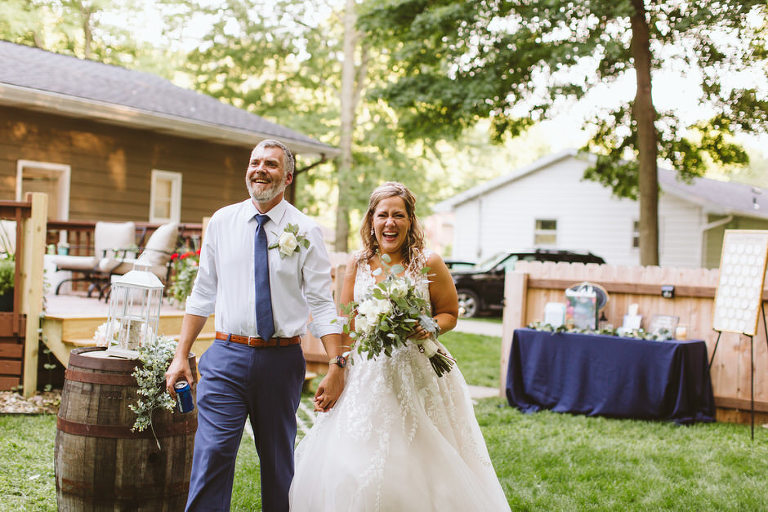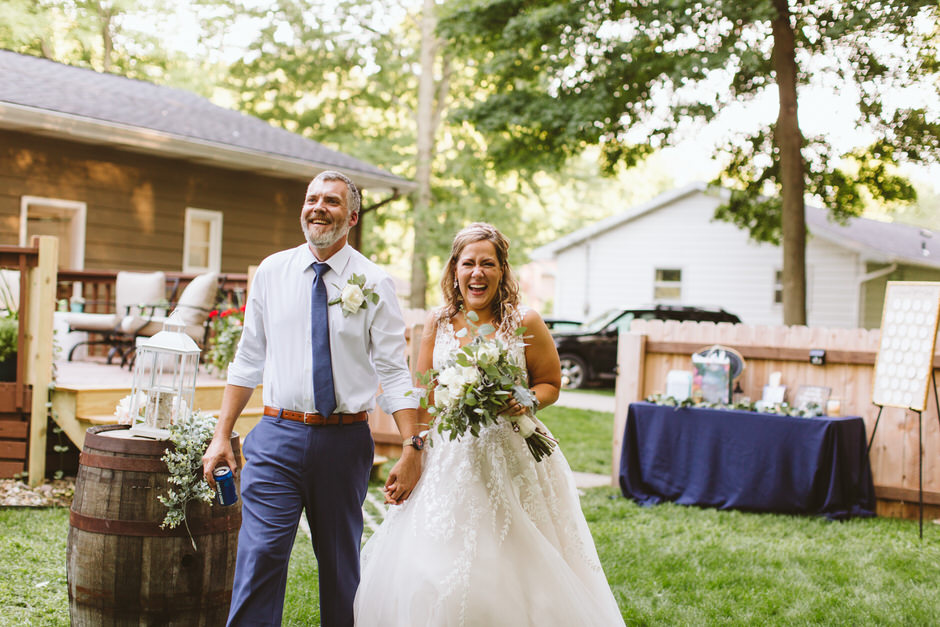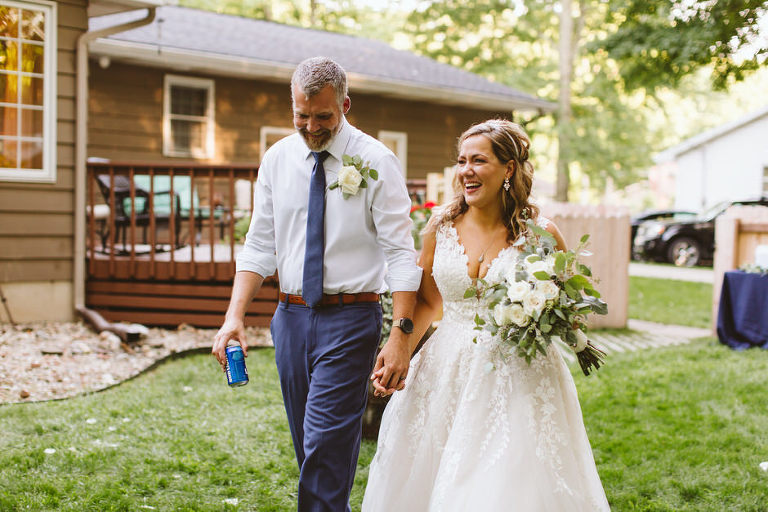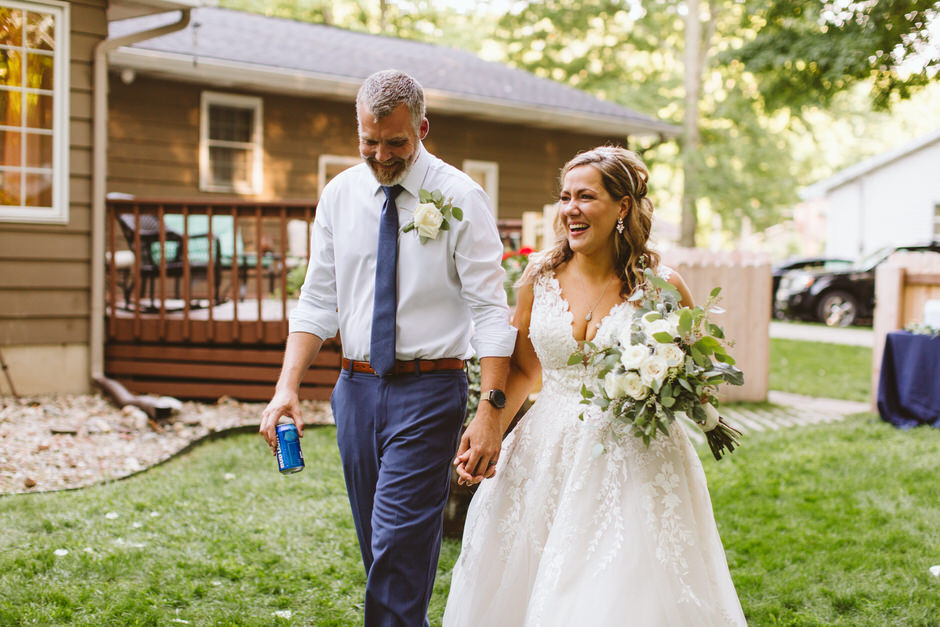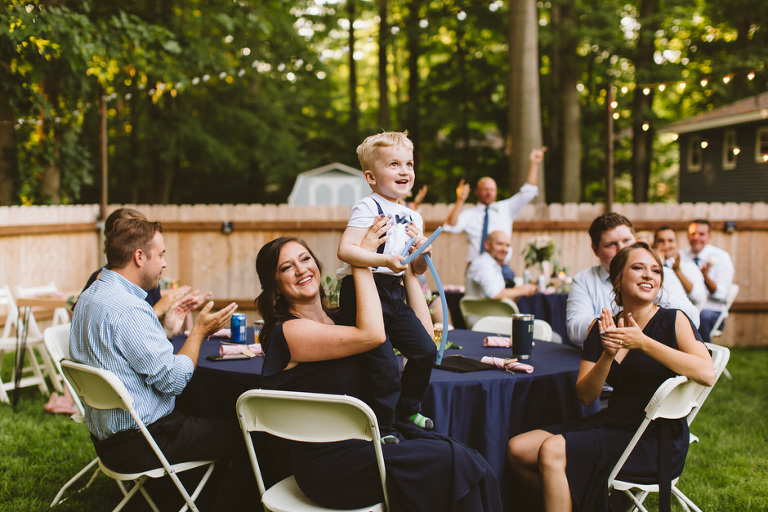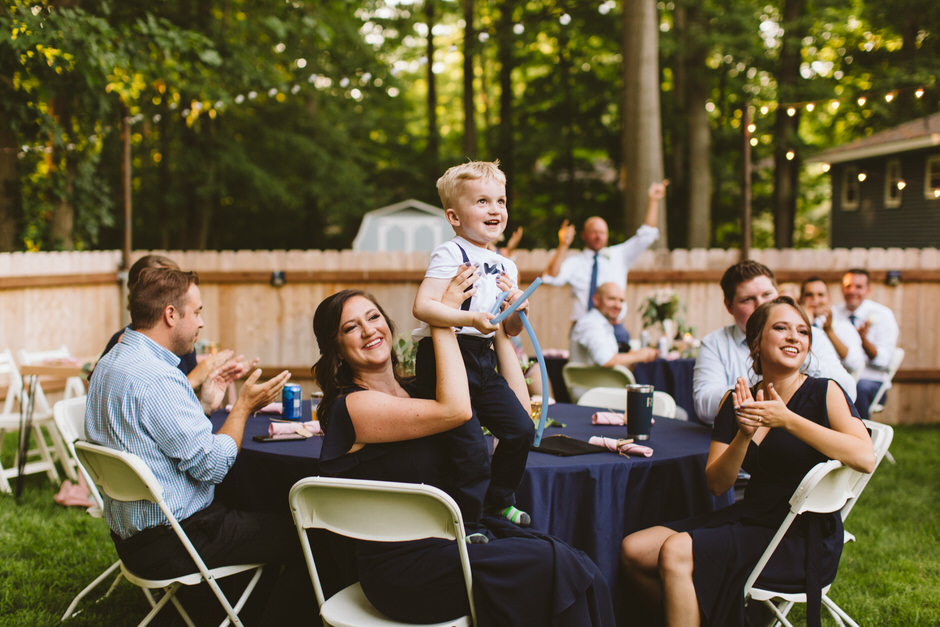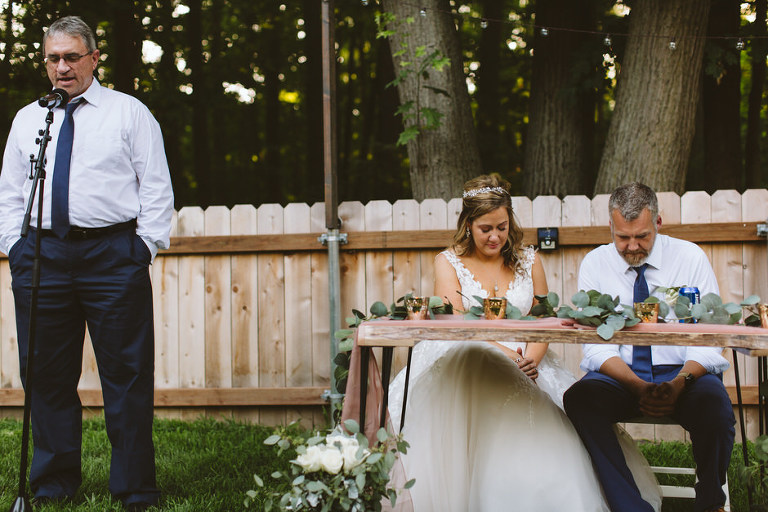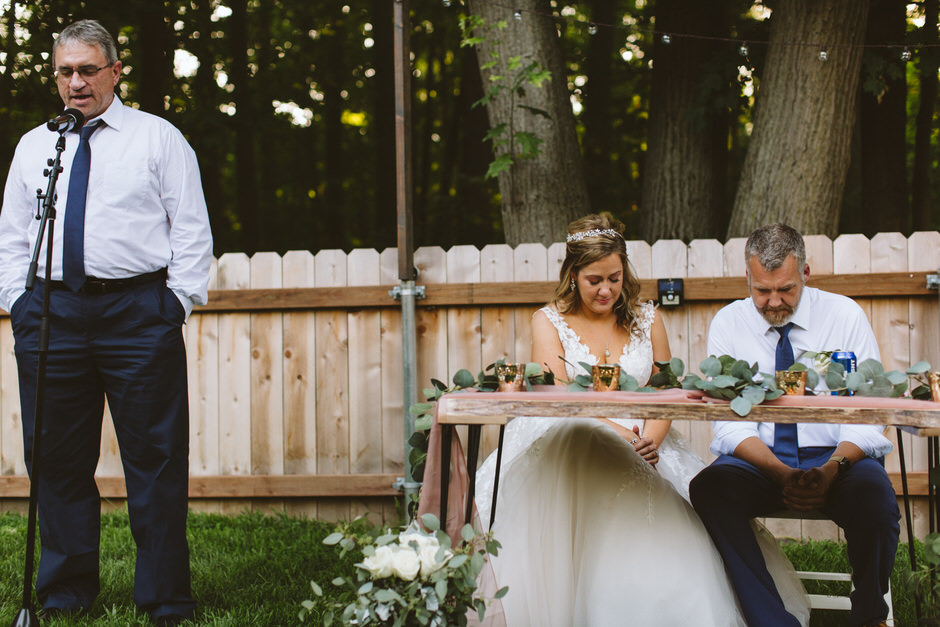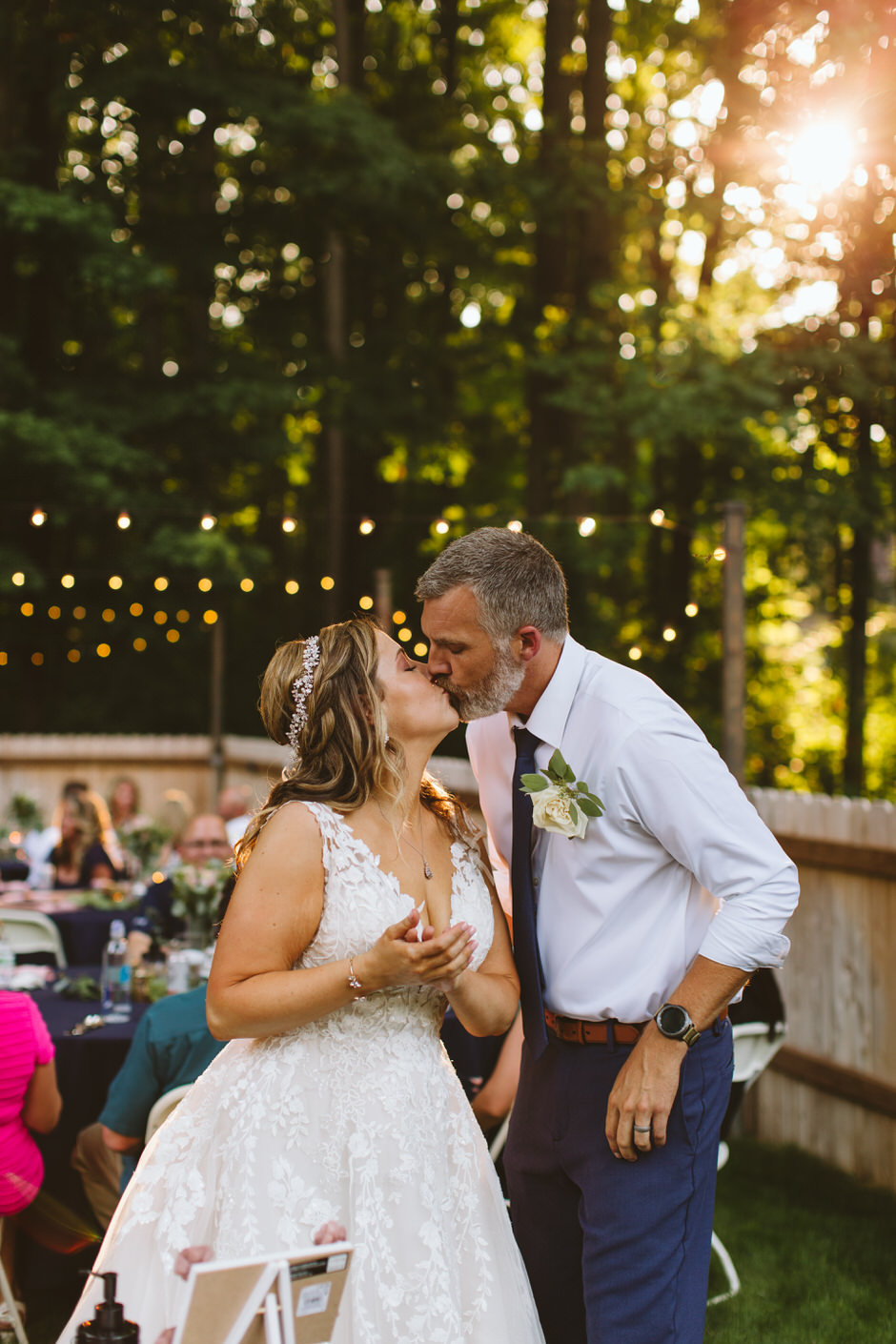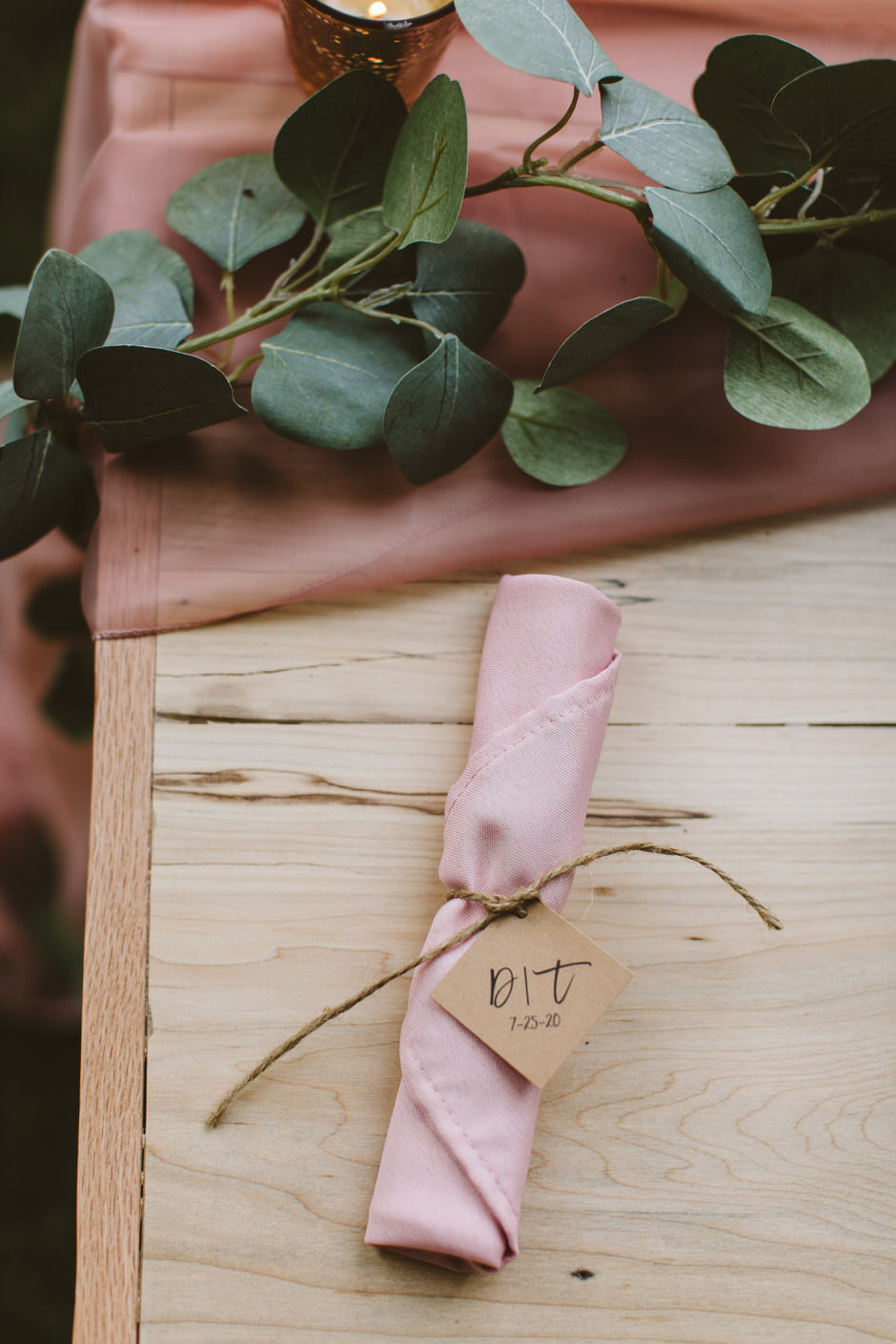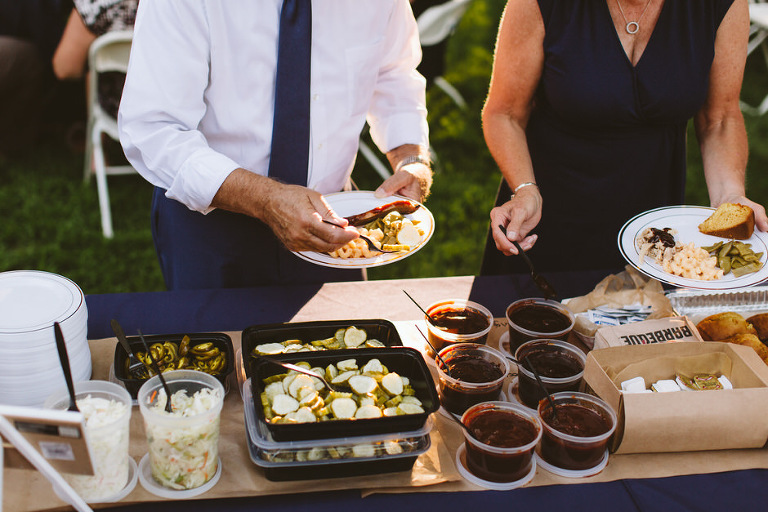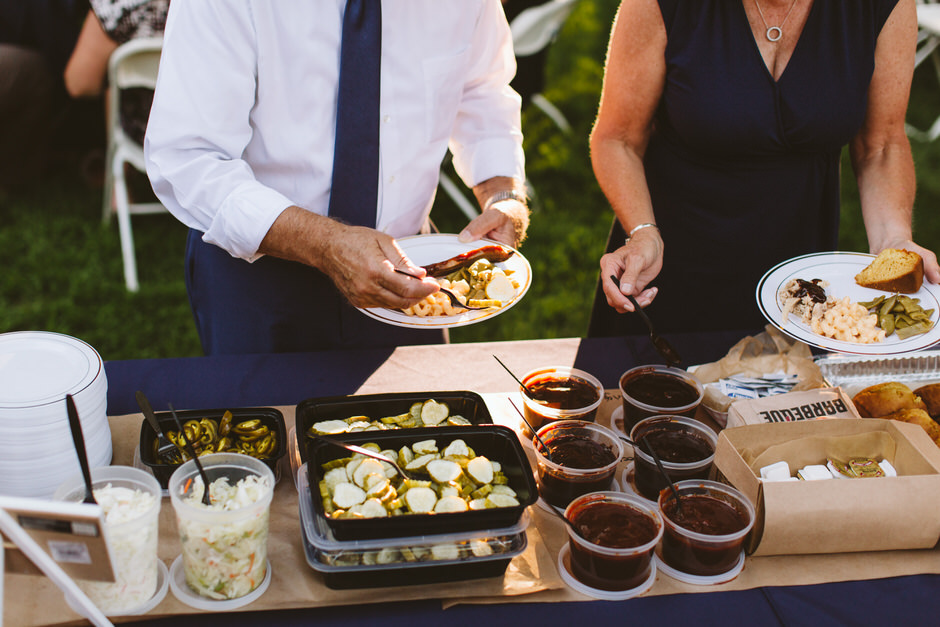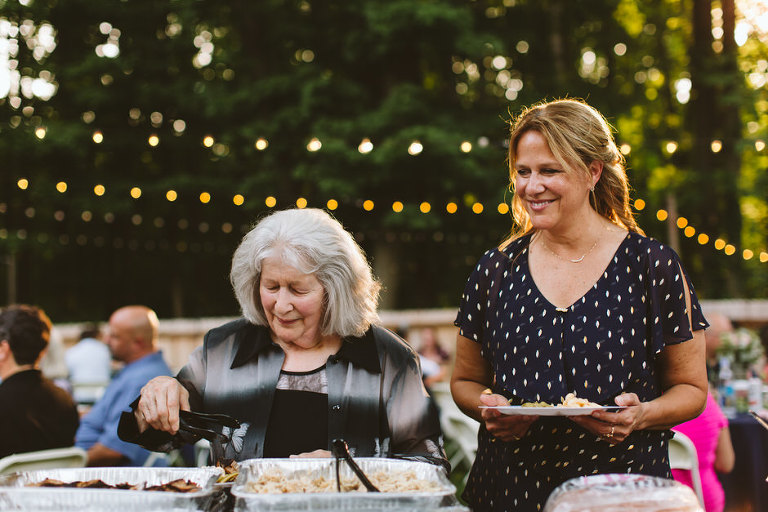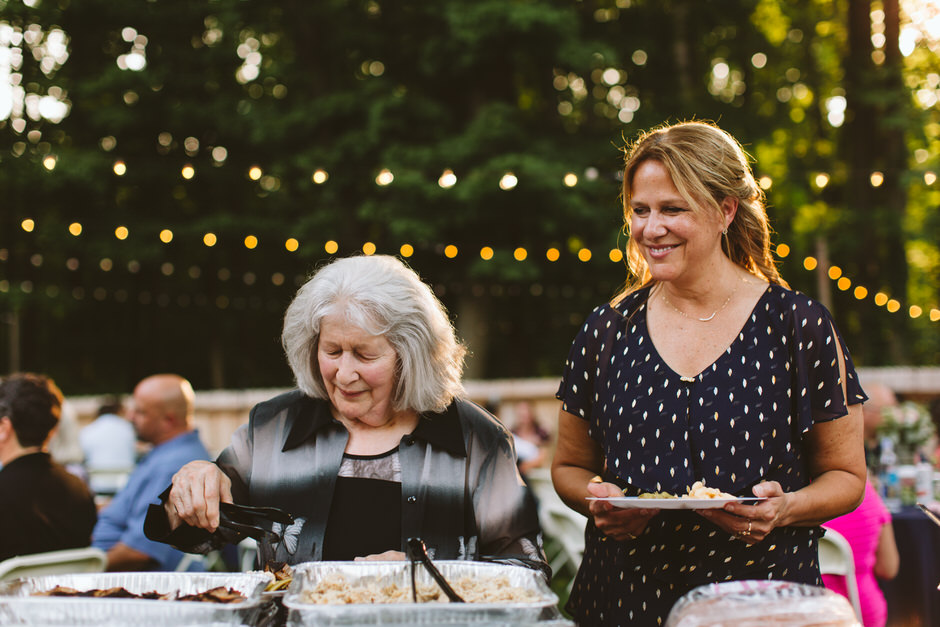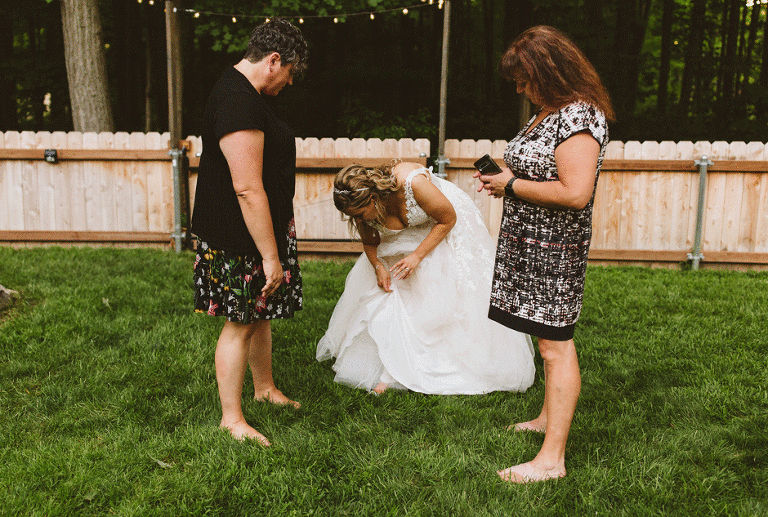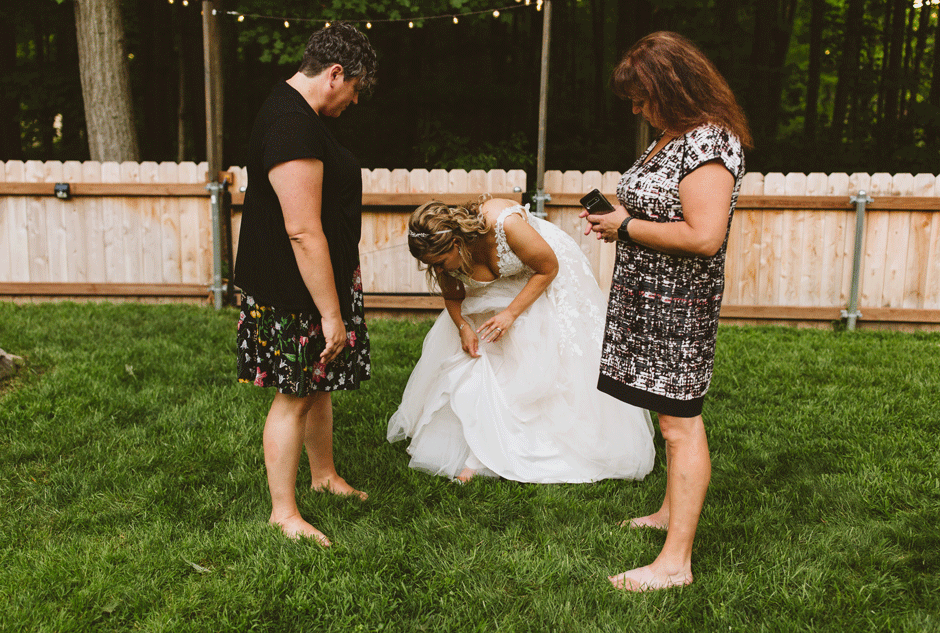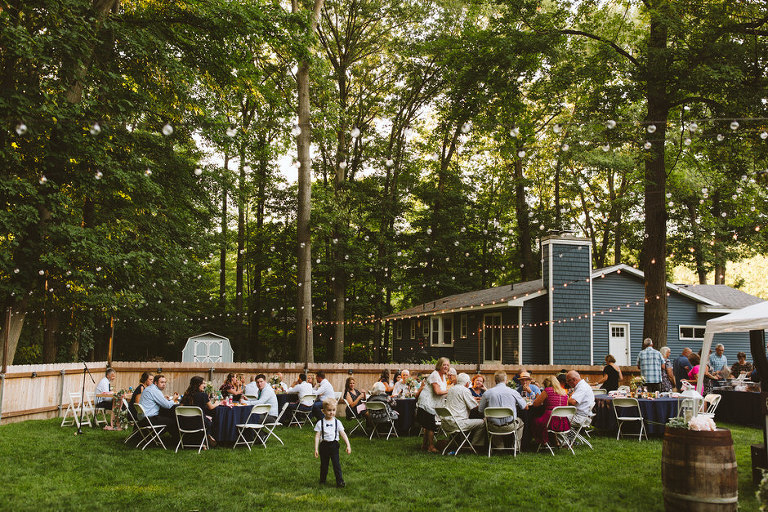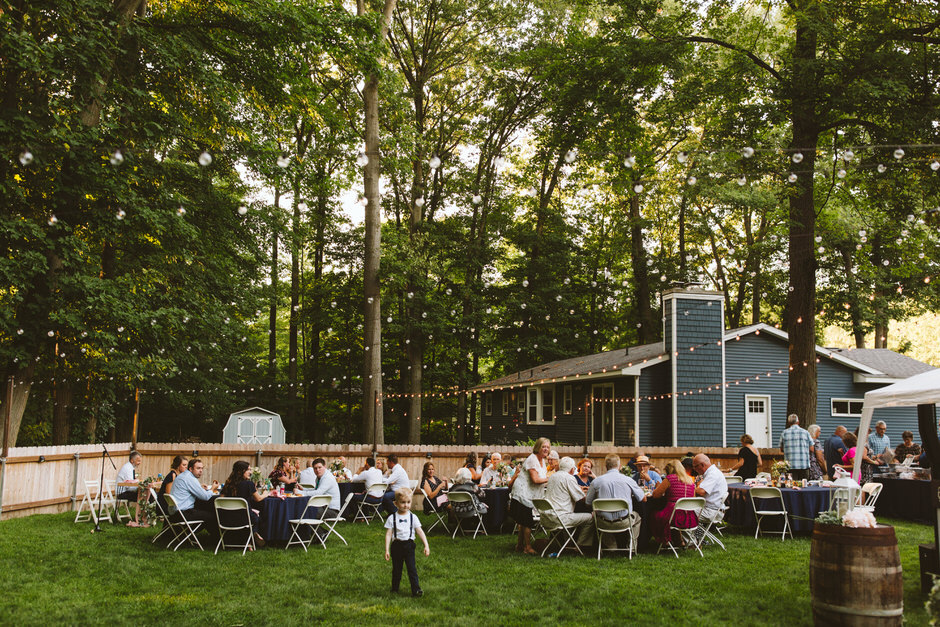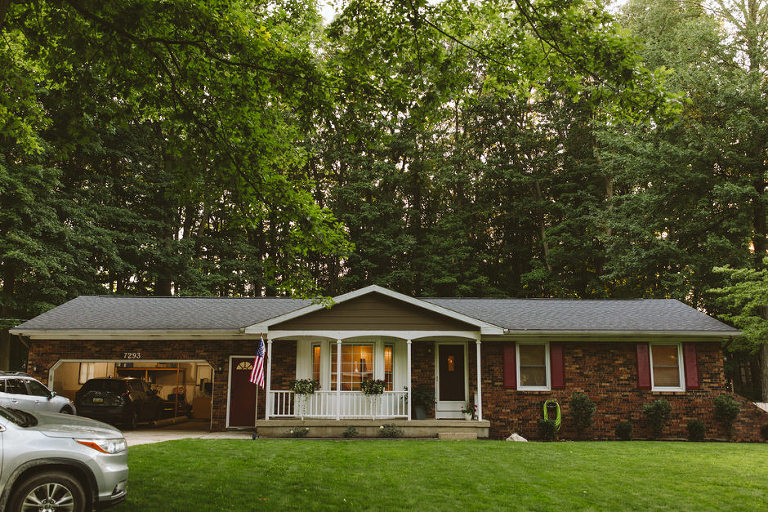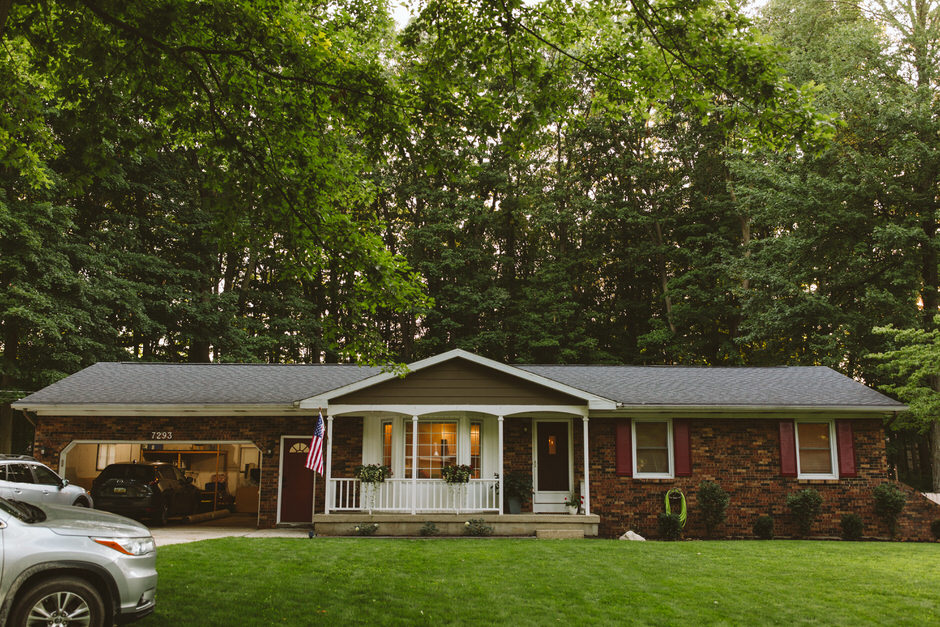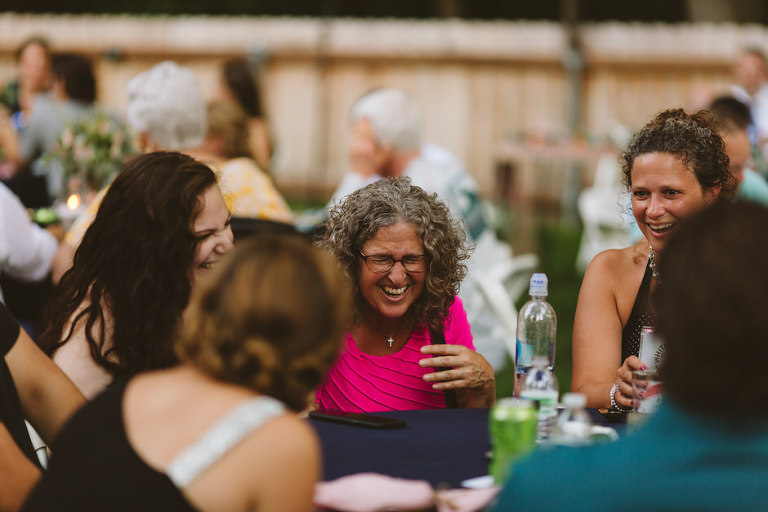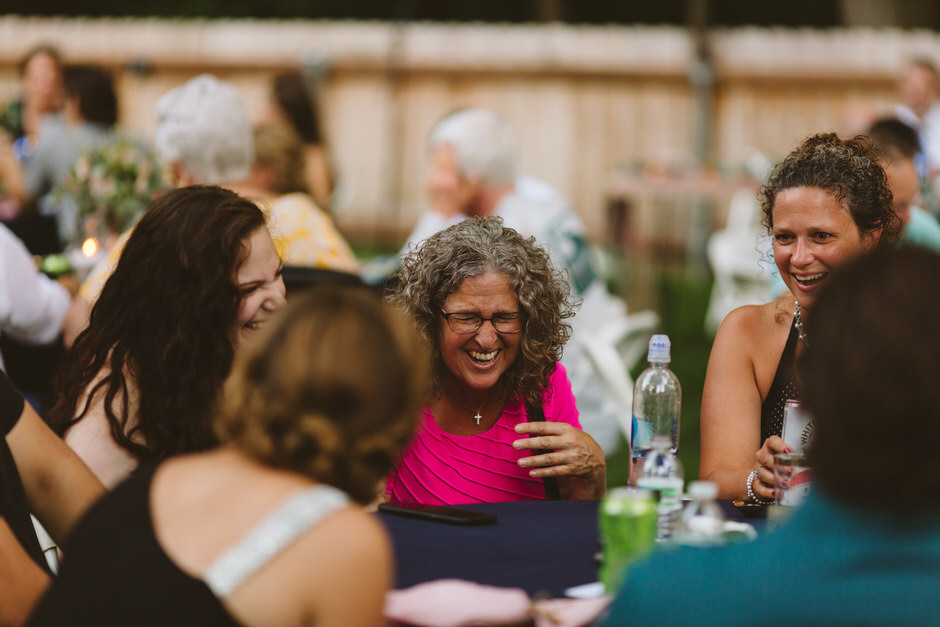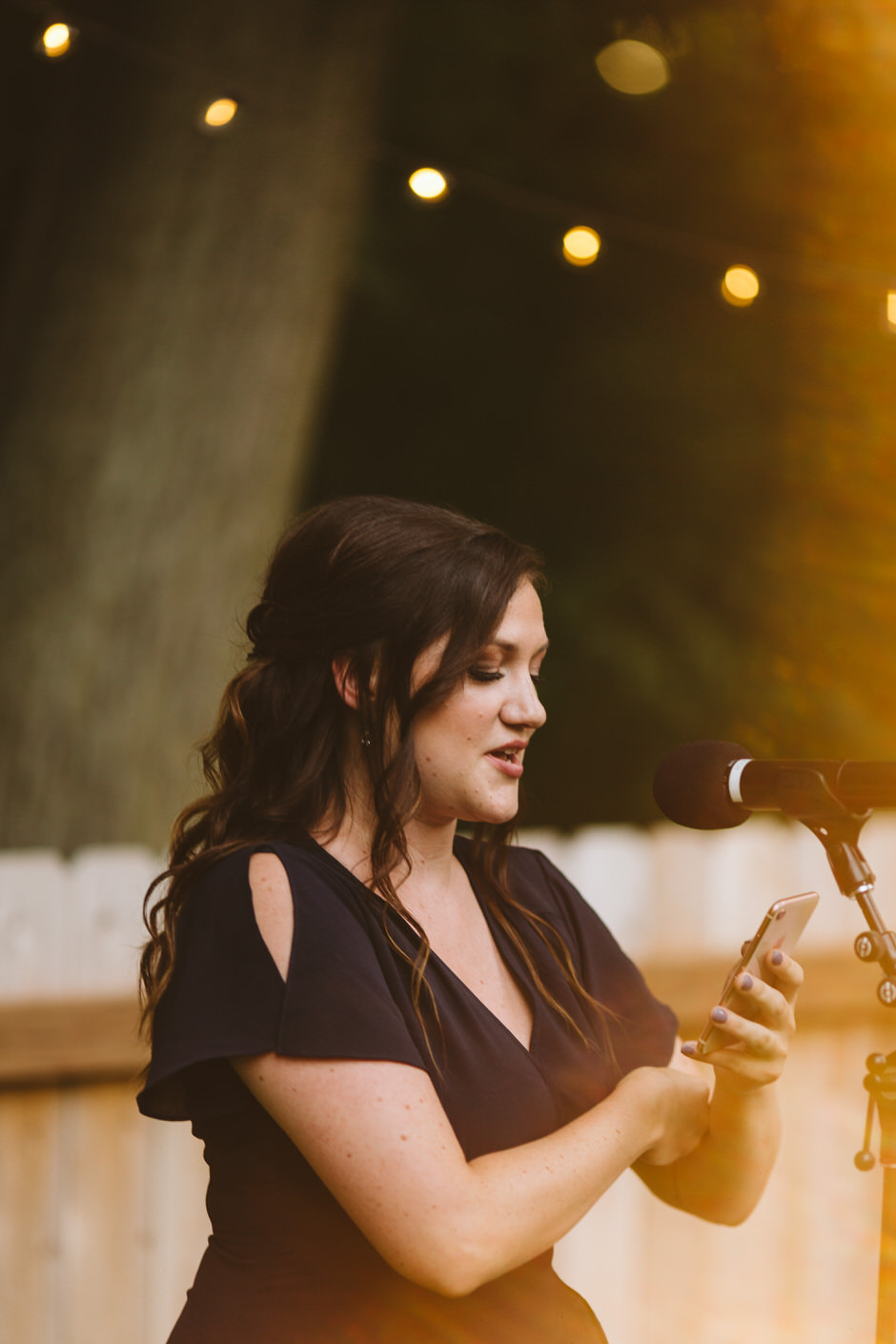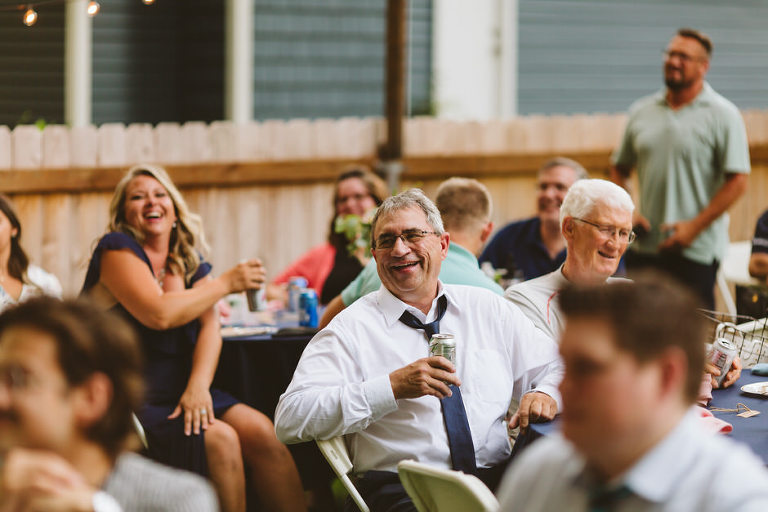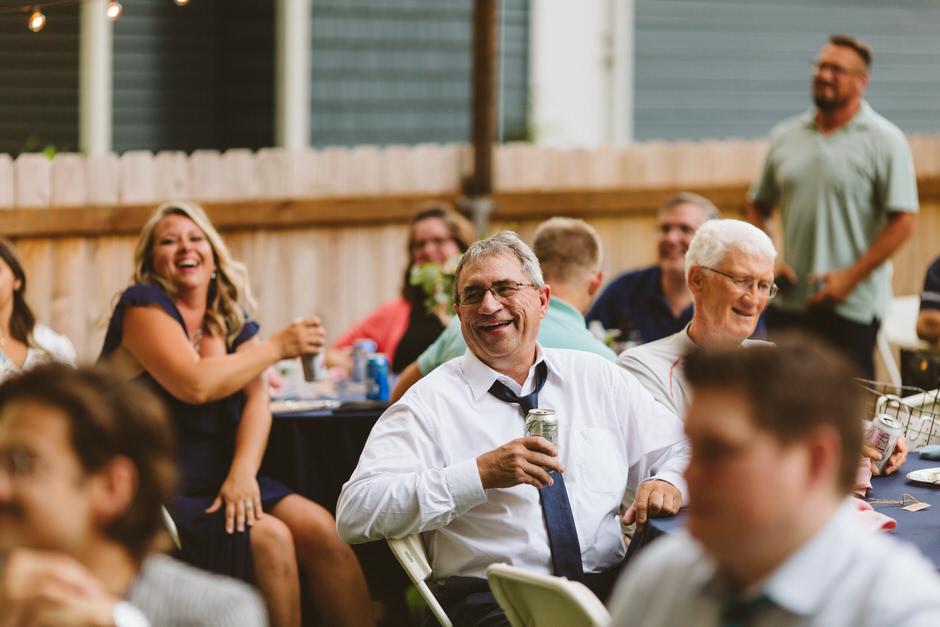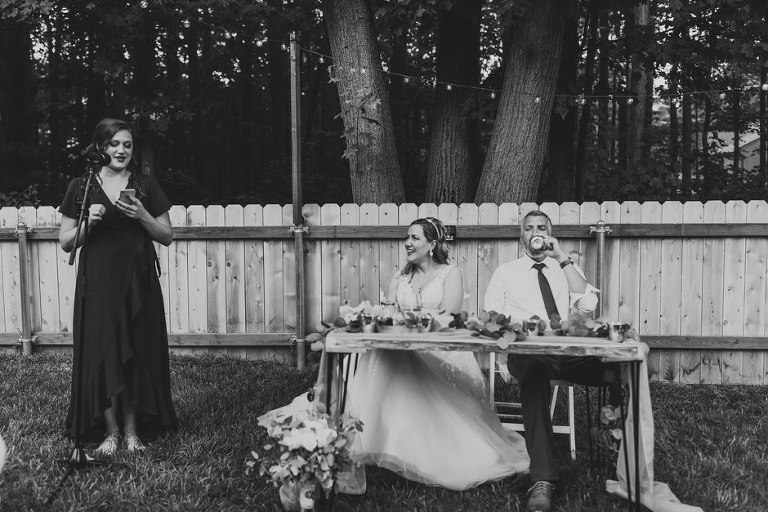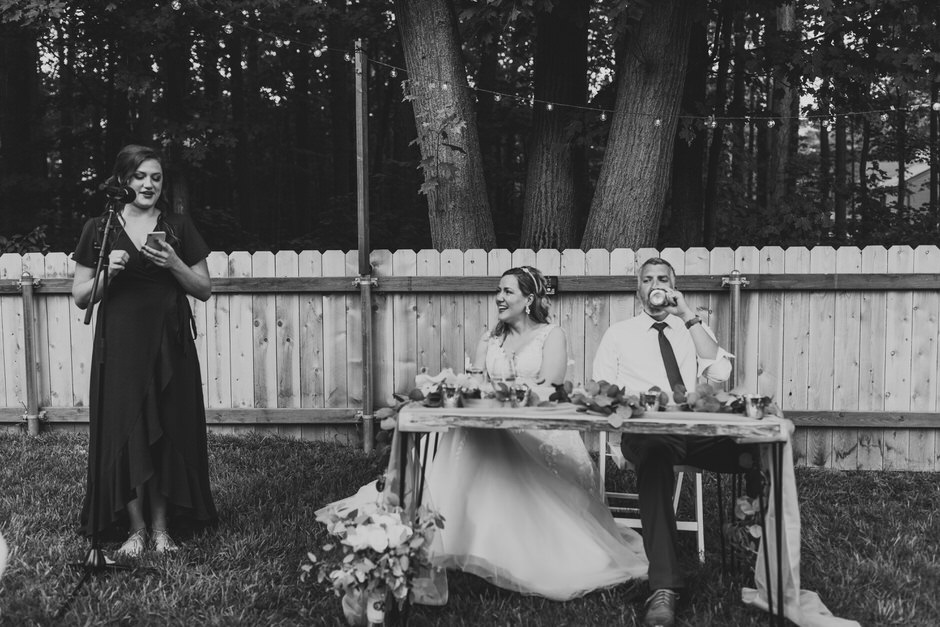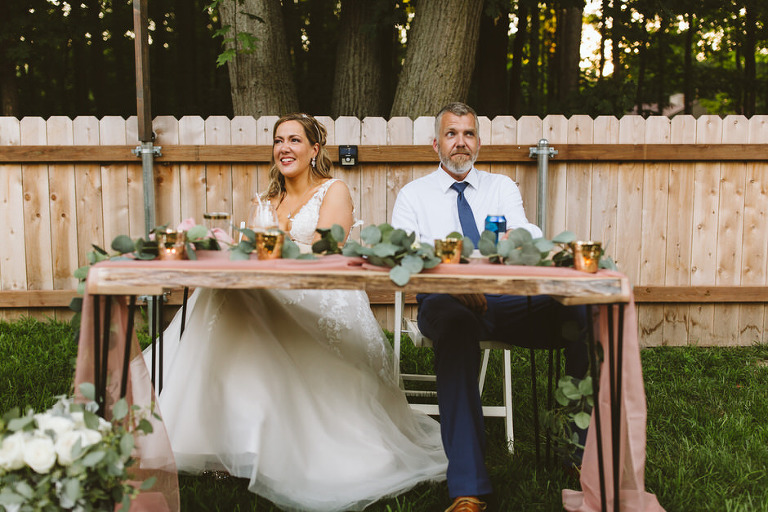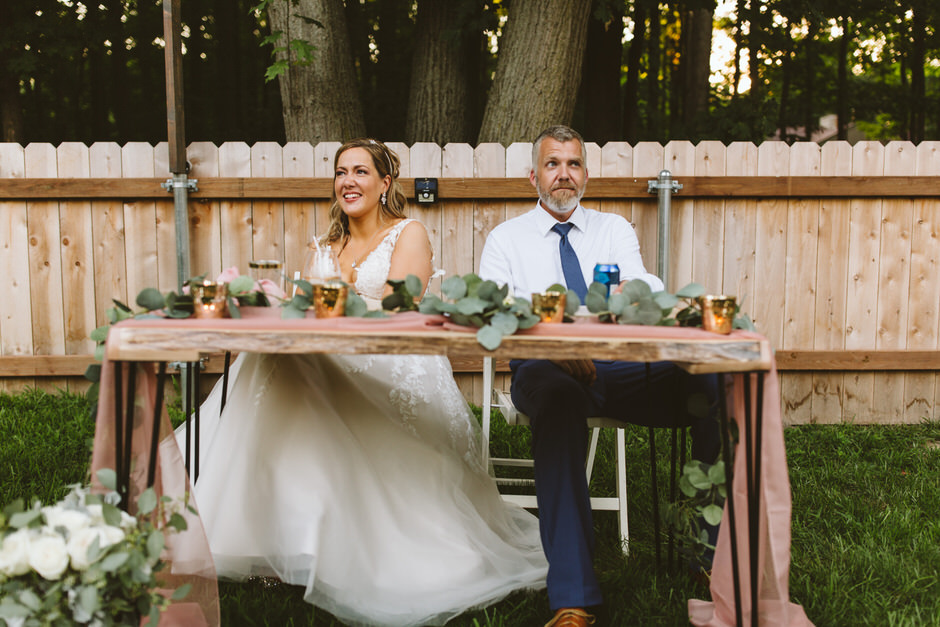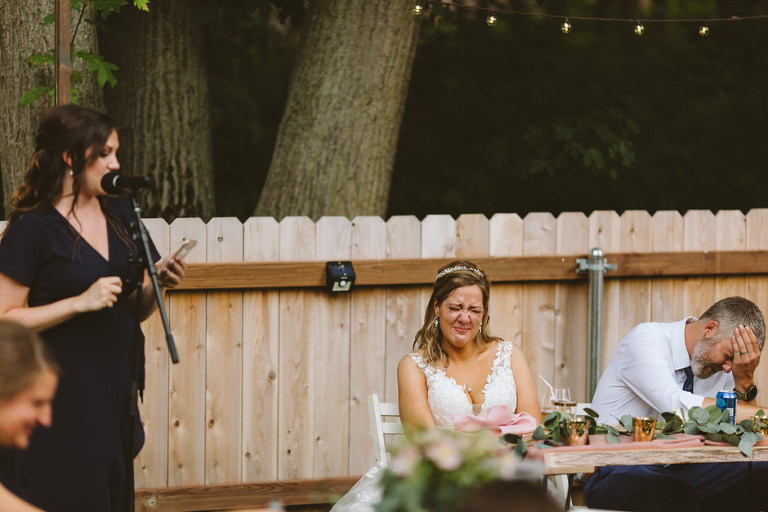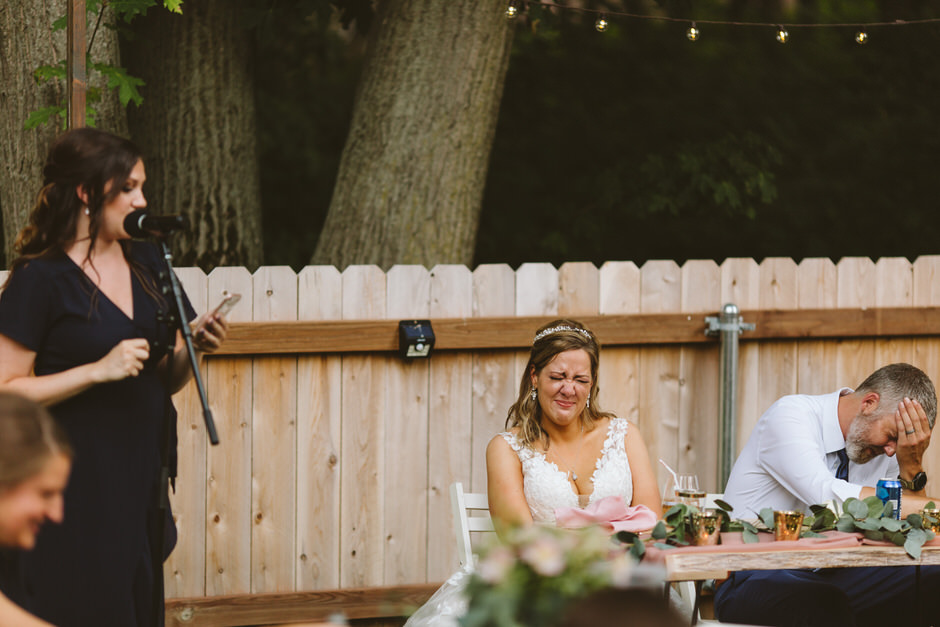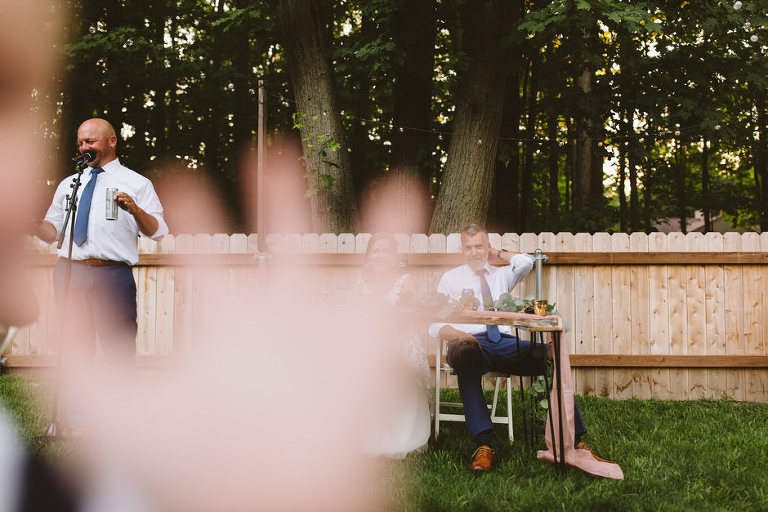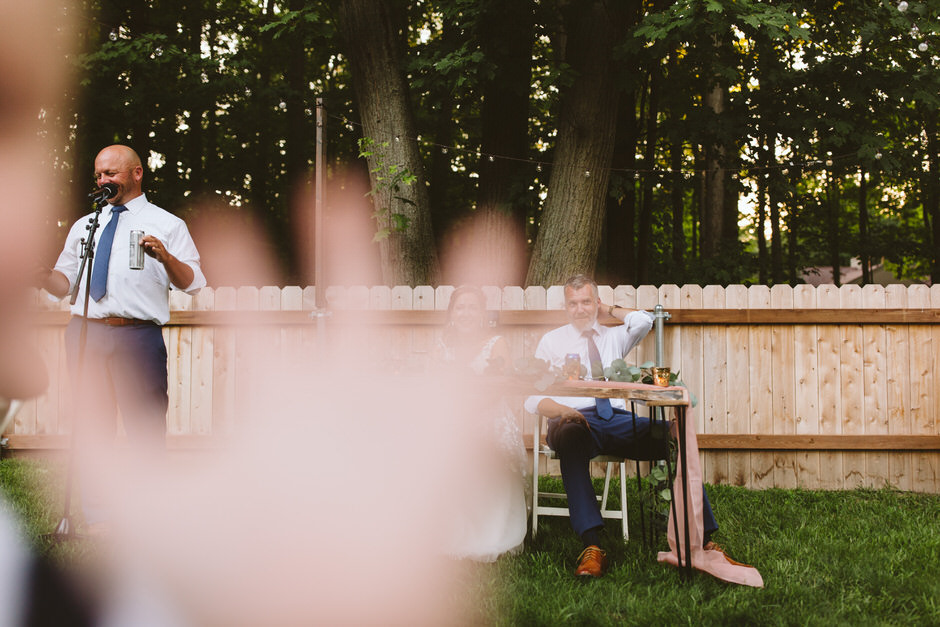 rach here: one of my highlights of this day was the ring bearer interrupting me during the best mans speech for a little photo session <3 it lasted longer than it seems here 😛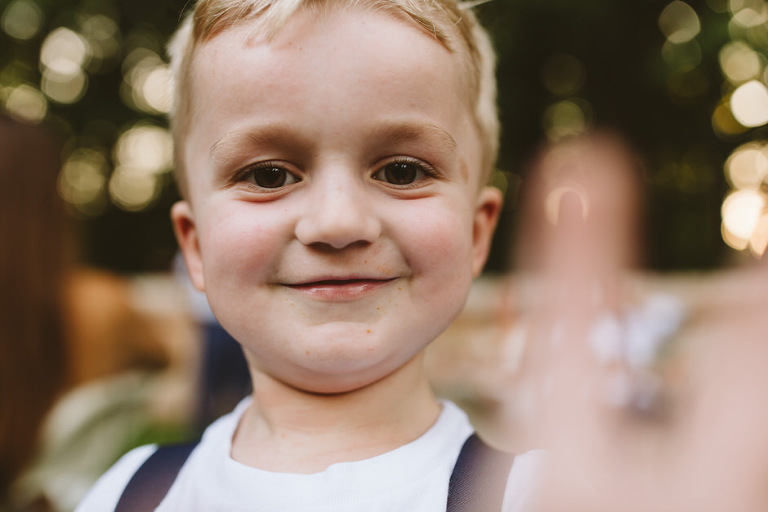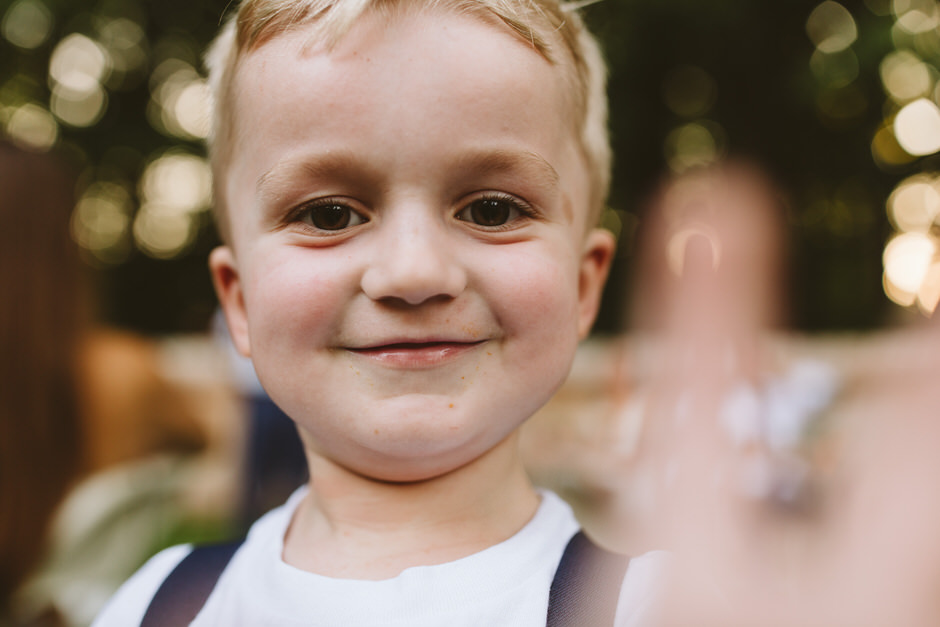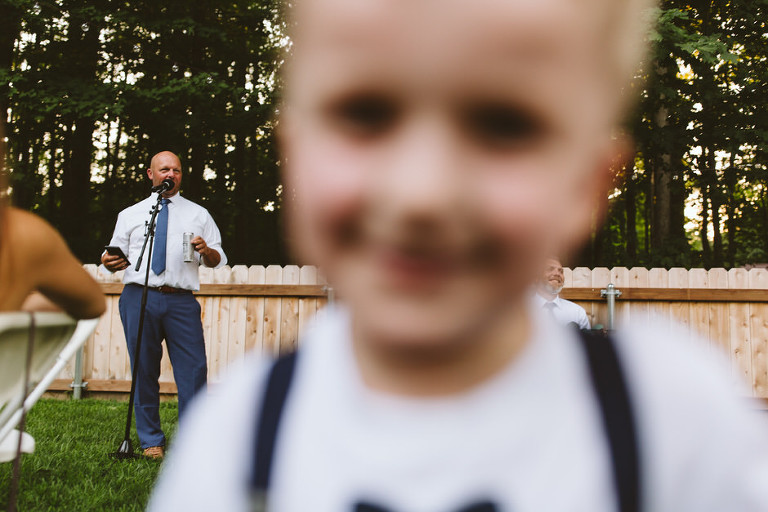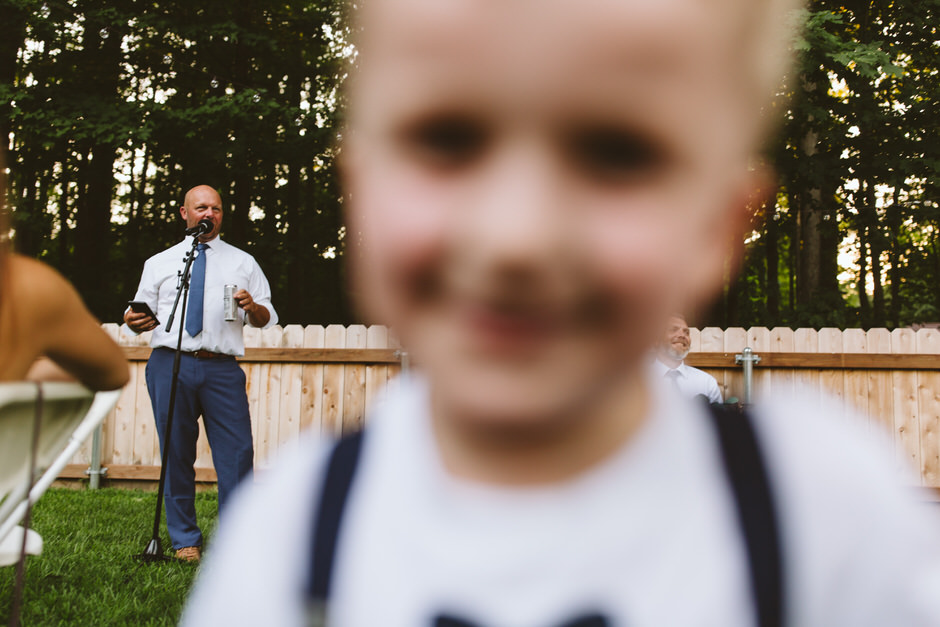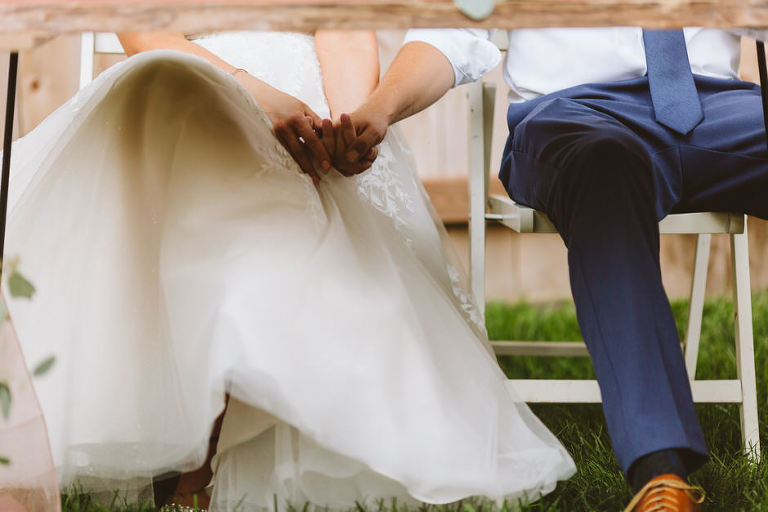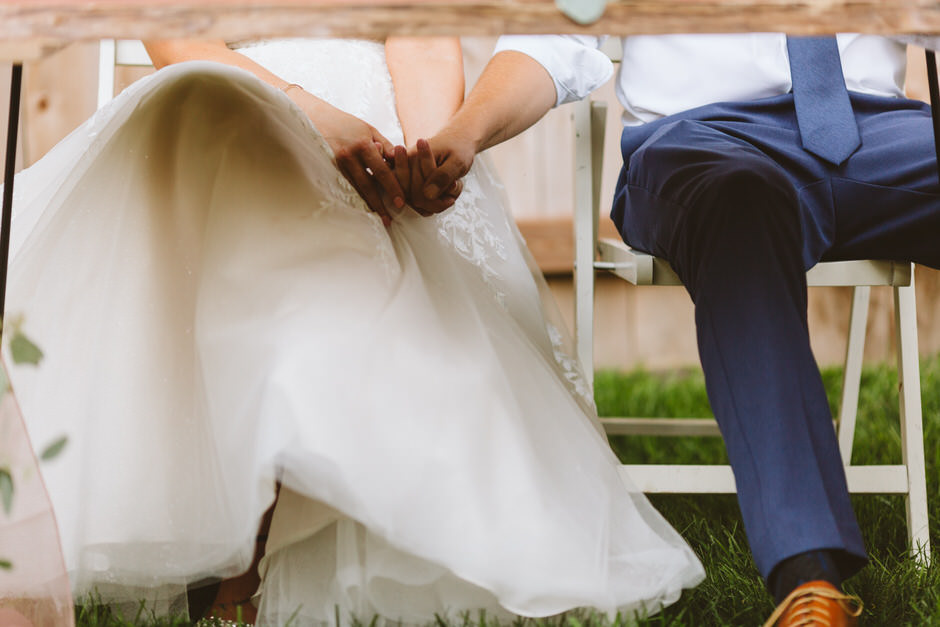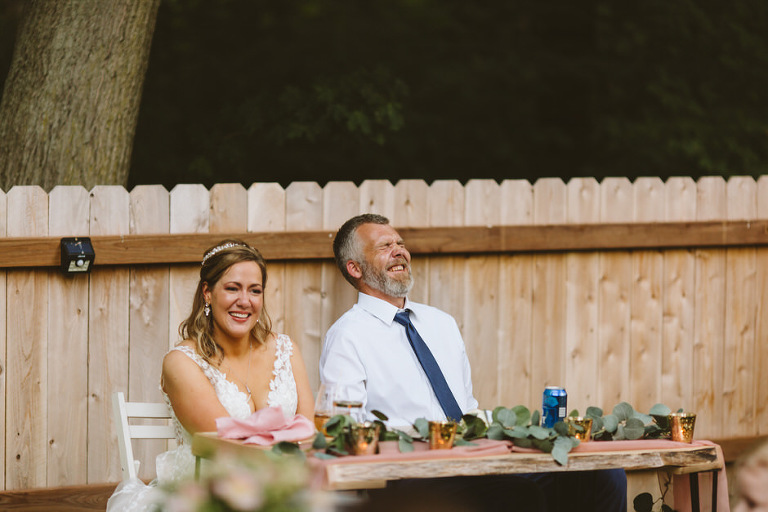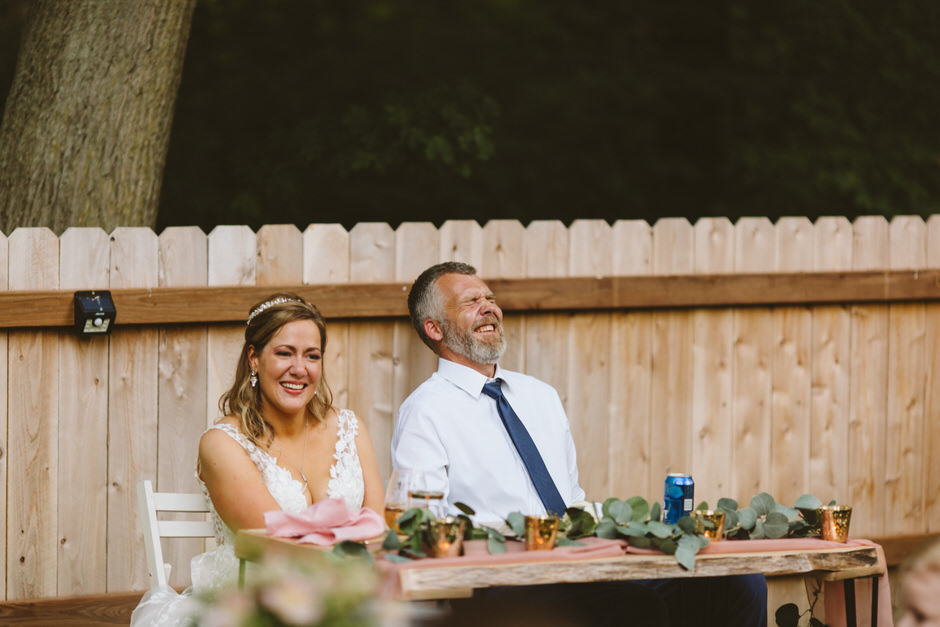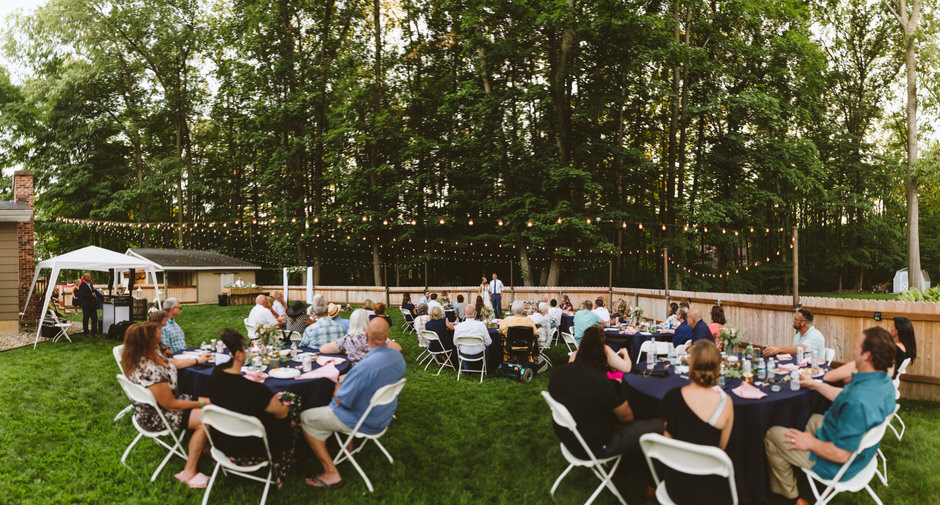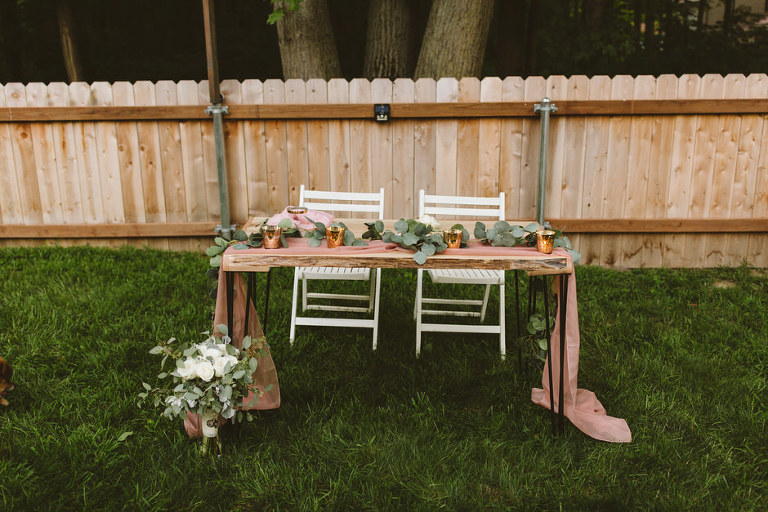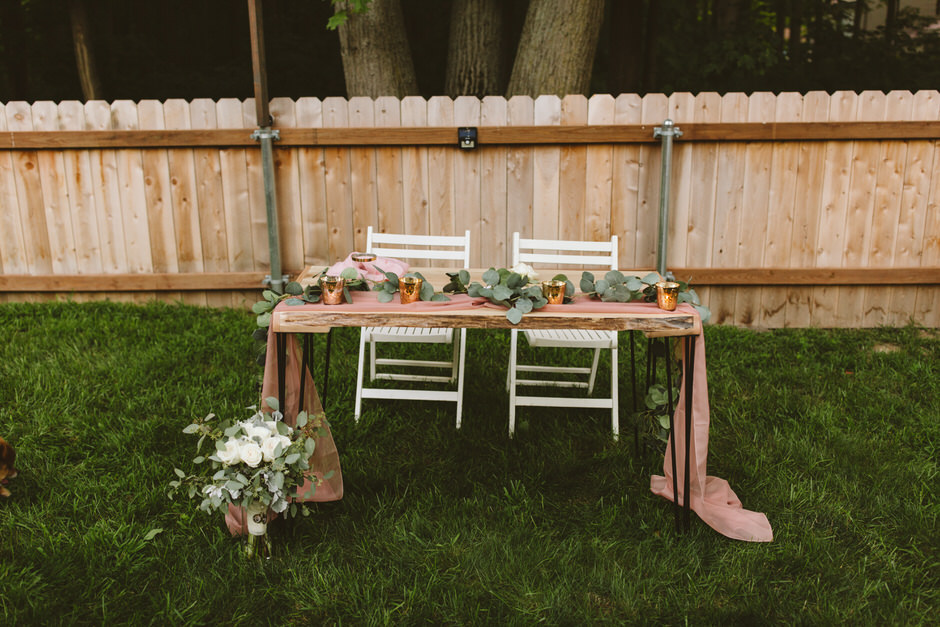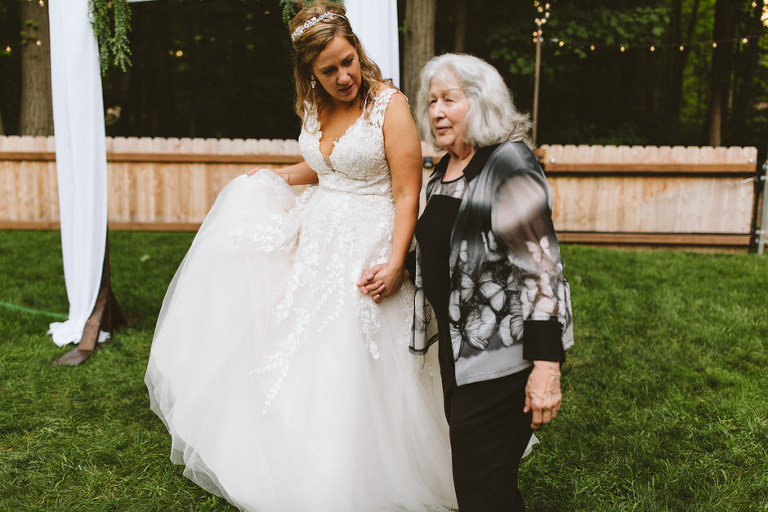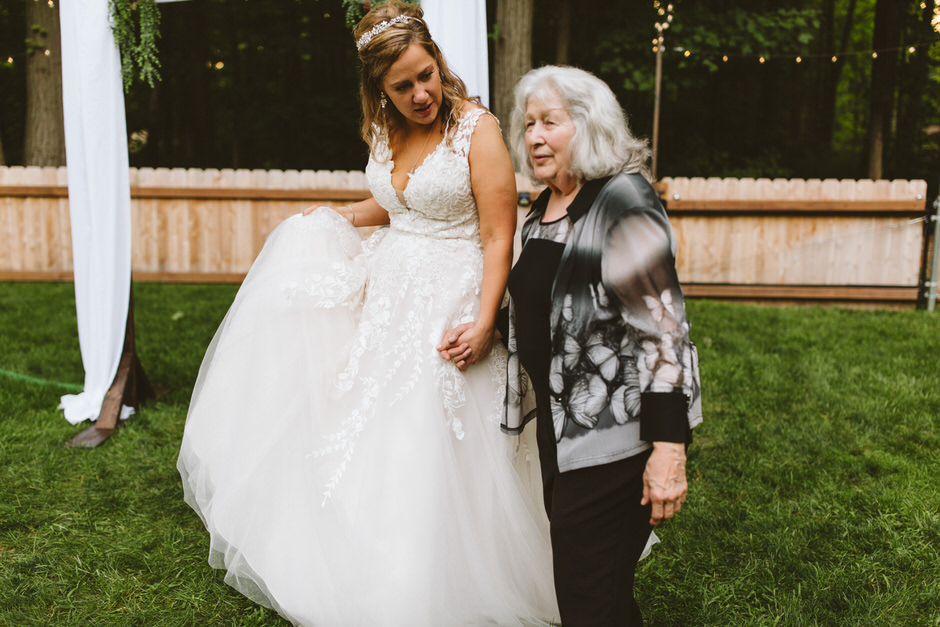 Reception/Dancing/Music: 
Having a more intimate wedding meant that we could spend a lot of time with those who did come. Bandit and Kayden thought it was a party for them and totally hammed it up and lived their best lives. We had a makeshift dance floor in the middle of the yard, and it was an absolute blast to just let loose and have fun. We still haven't figured out who the culprit behind everything in our kitchen being re-arranged was! We woke up the next day and someone had rearranged our kitchen drawers and flipped everything on the fridge upside down. The guys all stashed beer cans throughout Tom's shop for him to find the next day. They claim there's still some hiding that Tom hasn't found yet.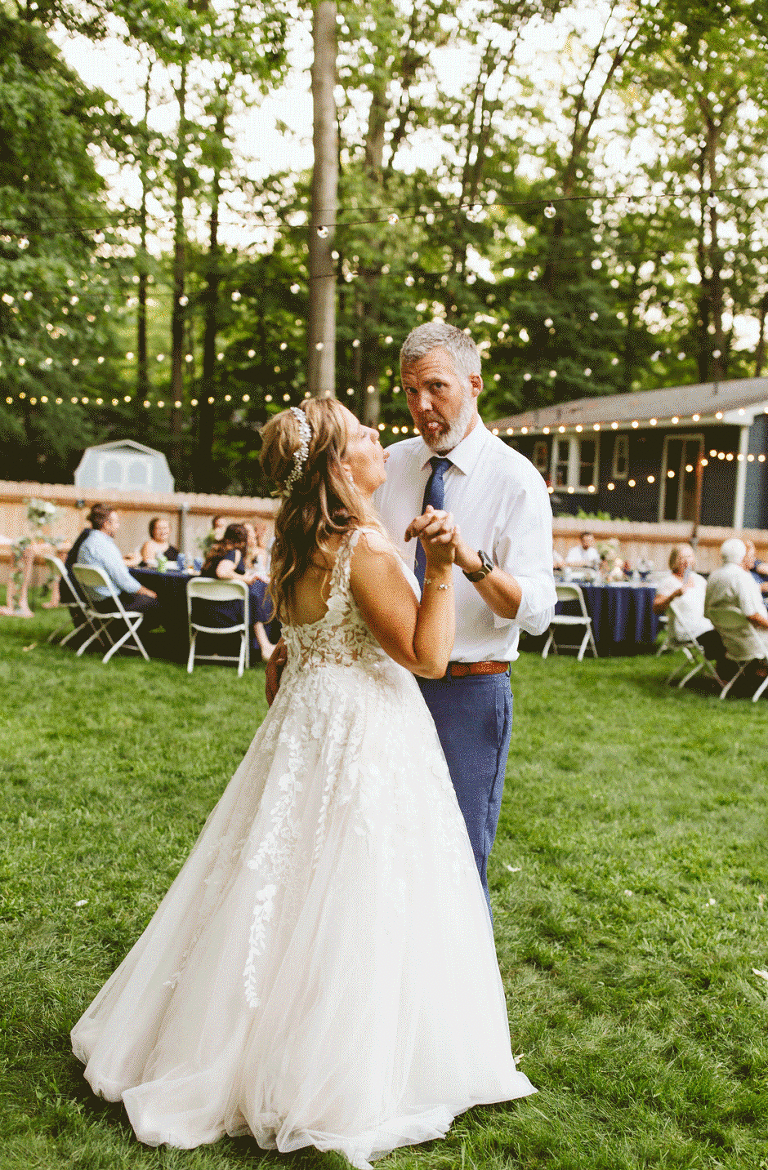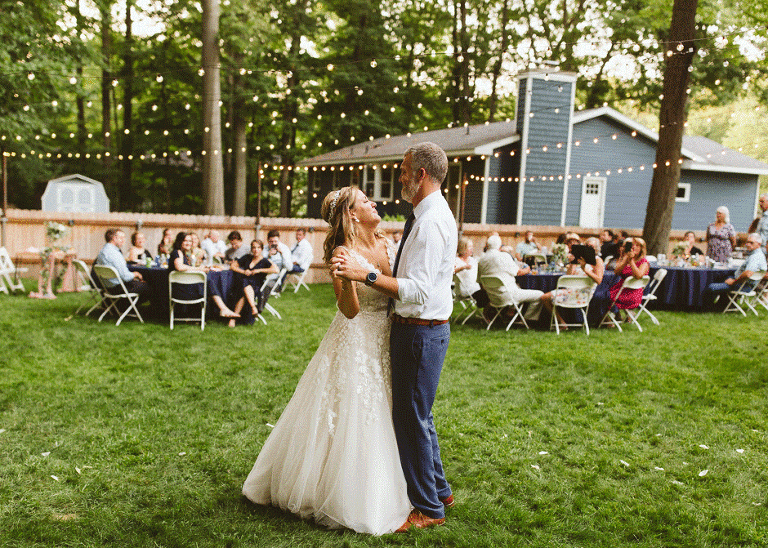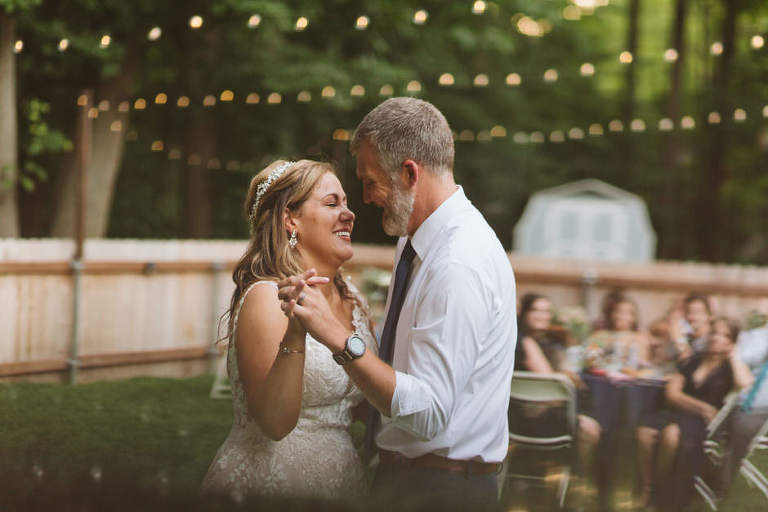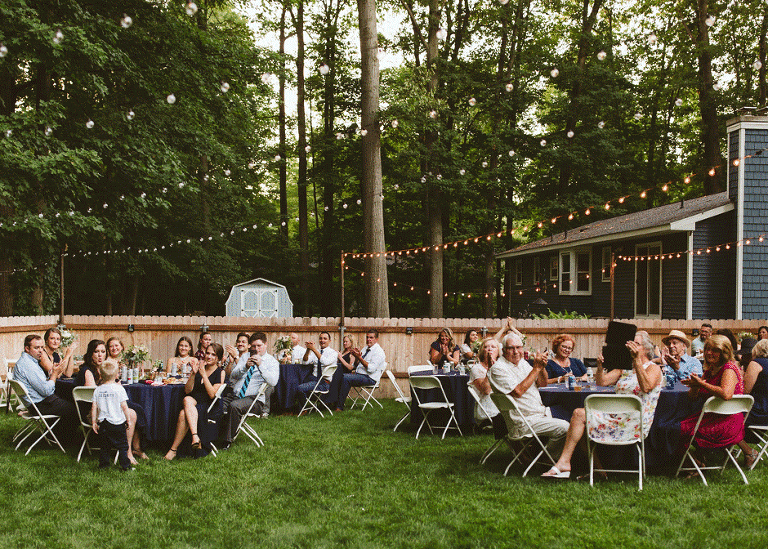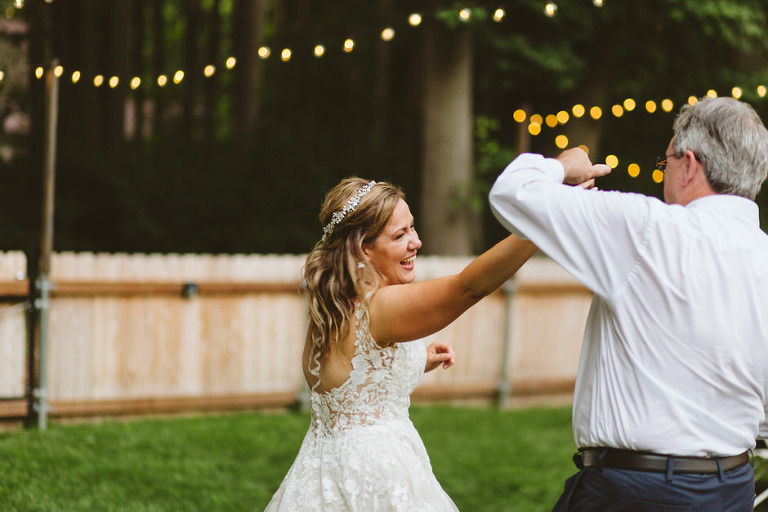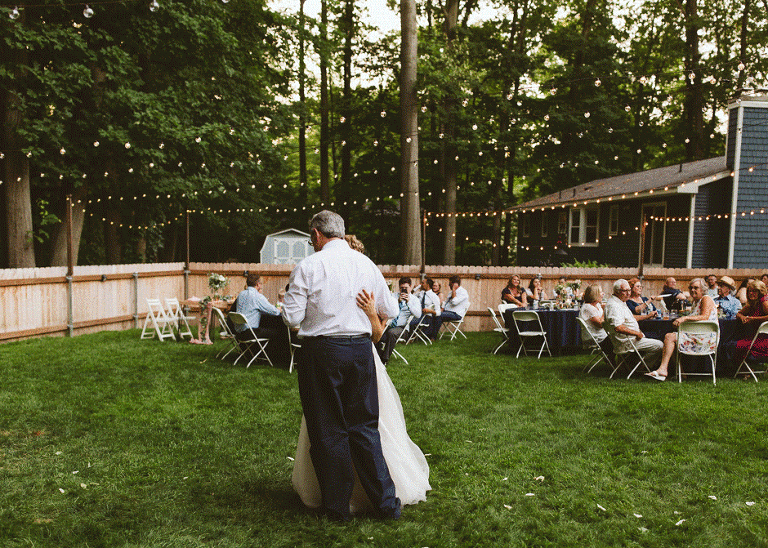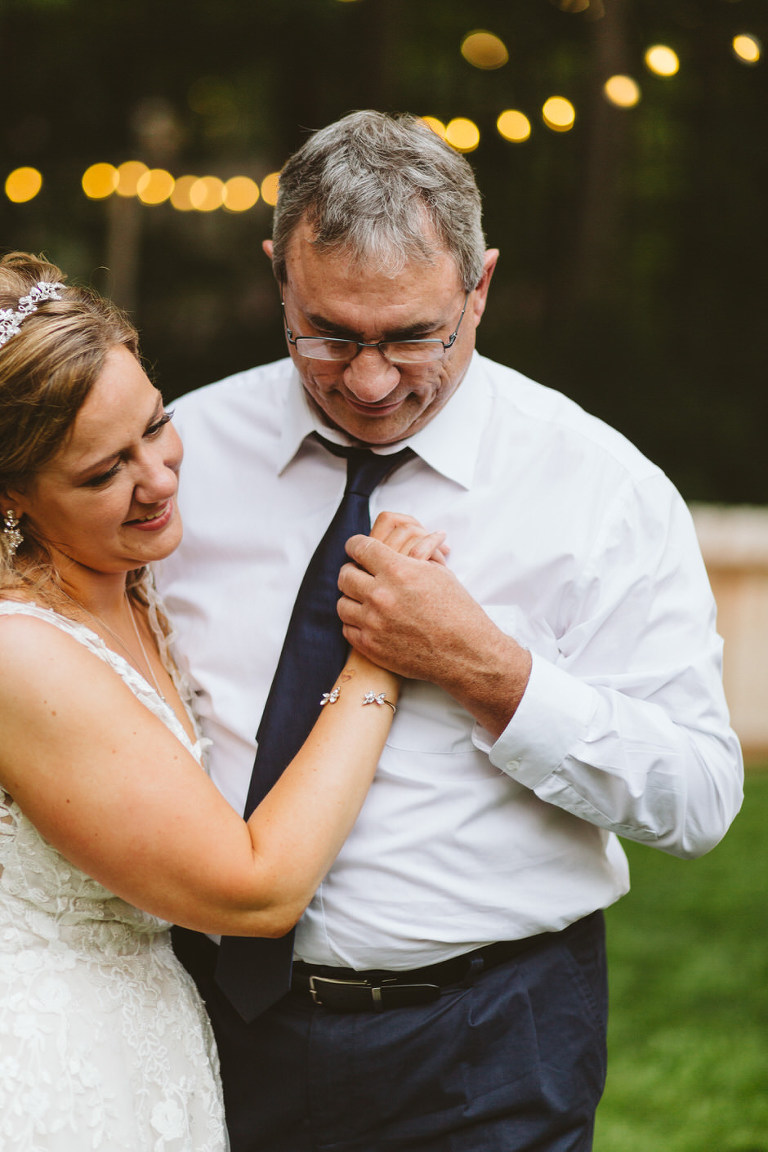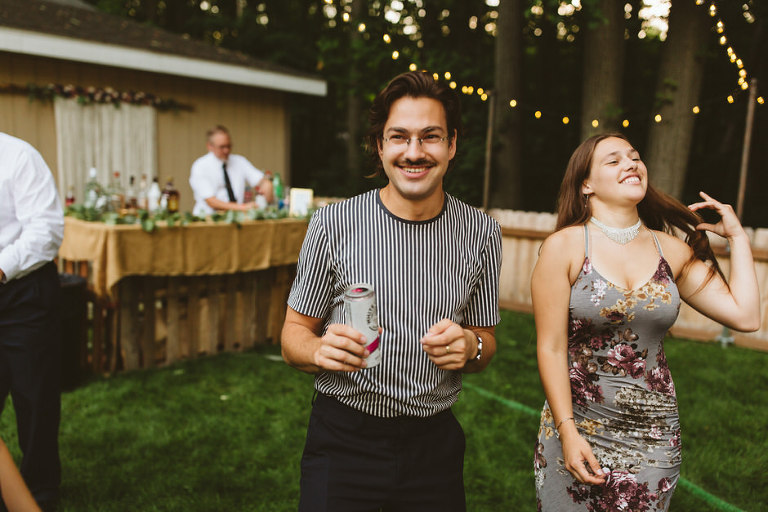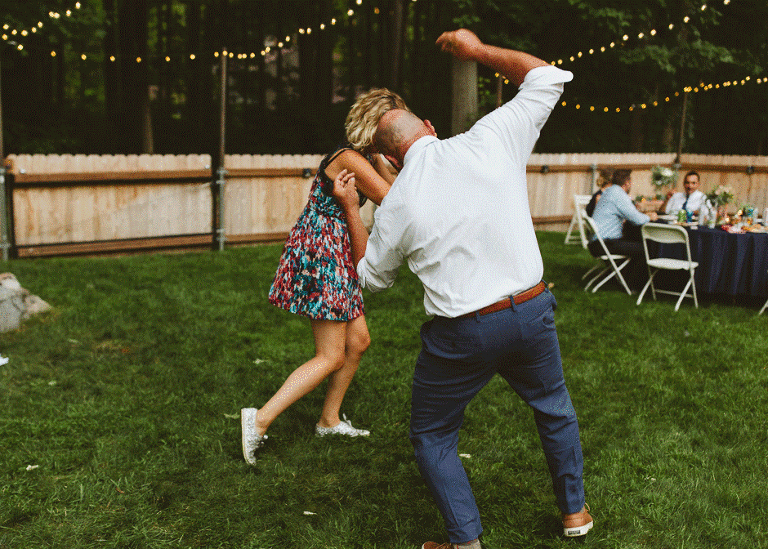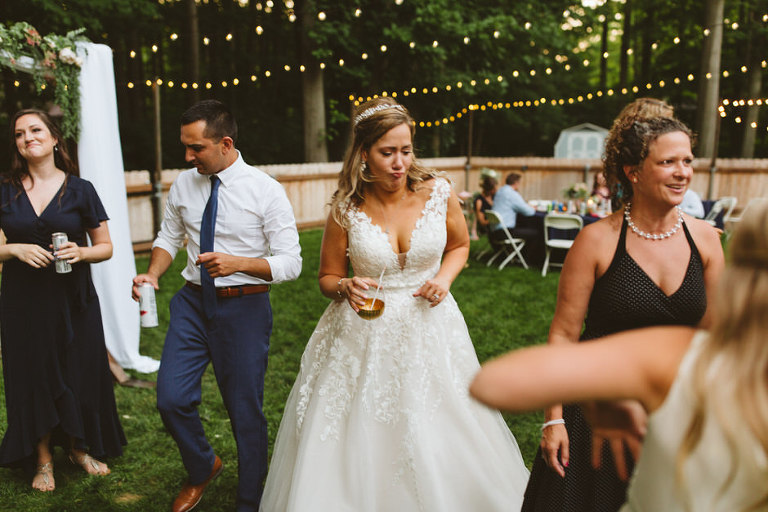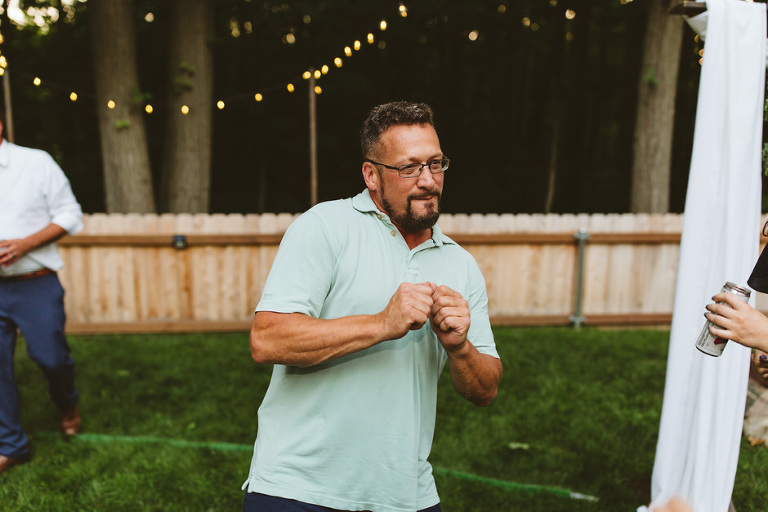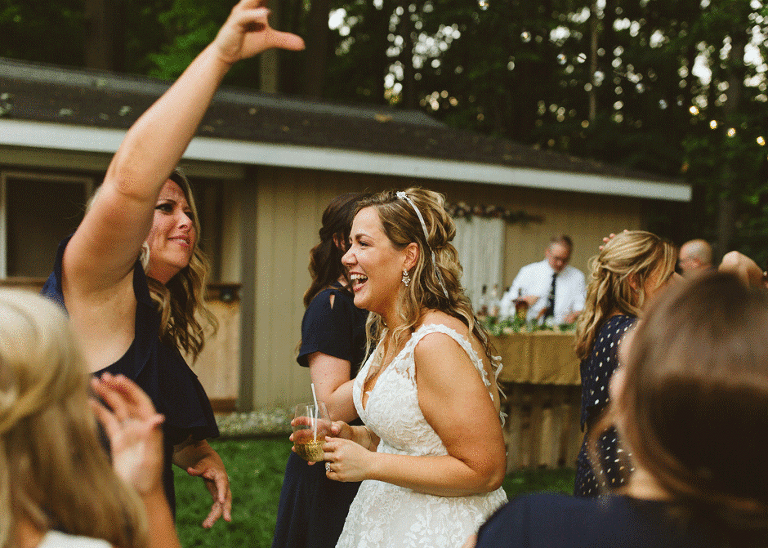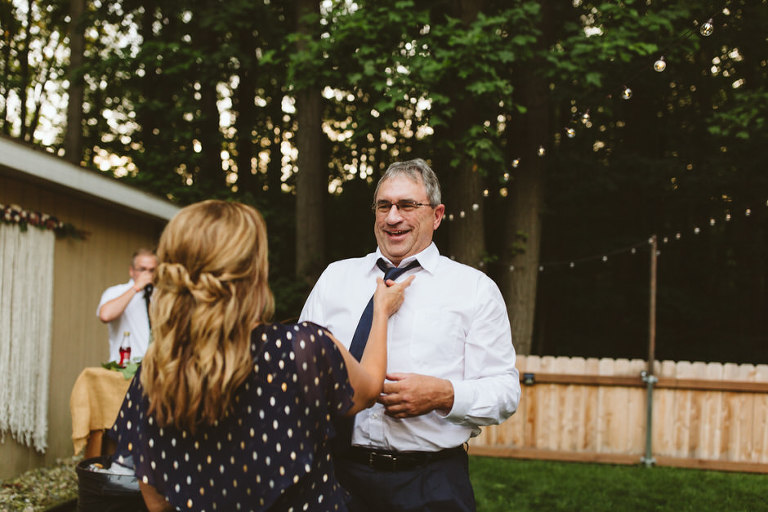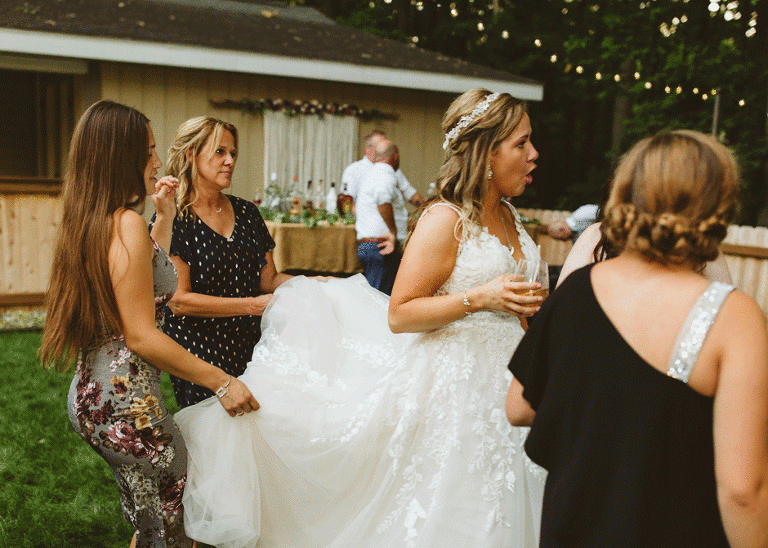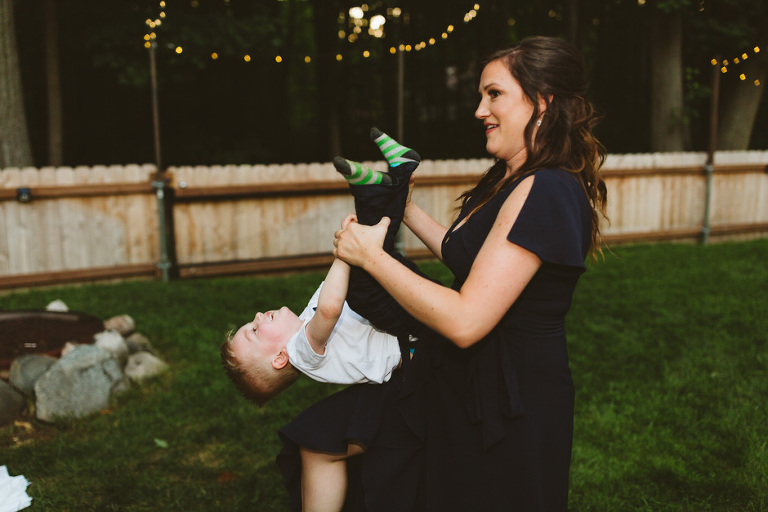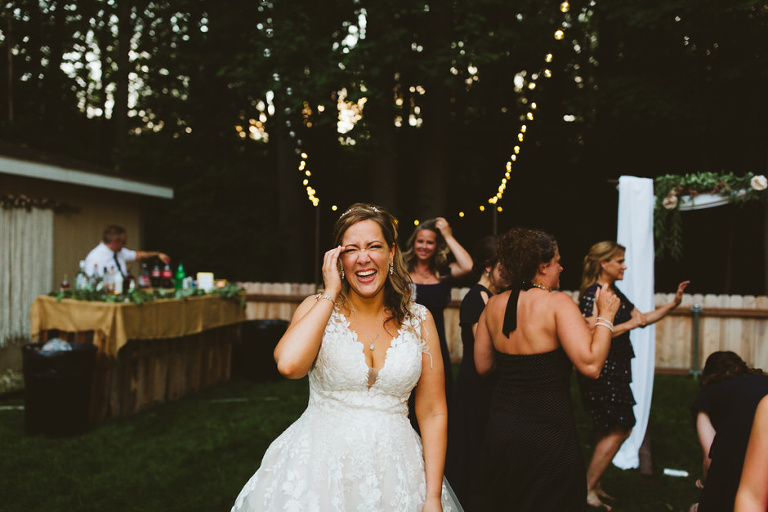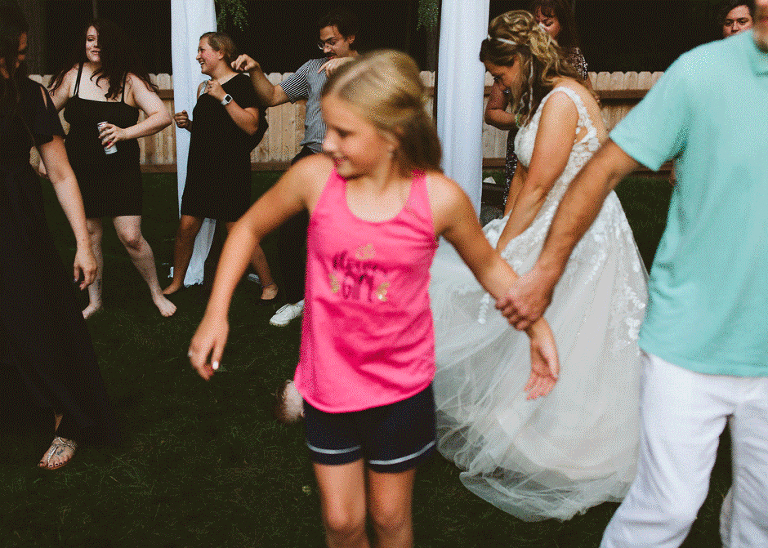 Any Advice for couples planning their wedding?
As everyone is adjusting and adapting to what weddings can look like right now due to COVID-19, don't get discouraged. Have an honest conversation with your partner and talk through what's important to you for your special day. Because at the end of the day that's what's it all about. Don't let the craziness of the world we live-in take away from it.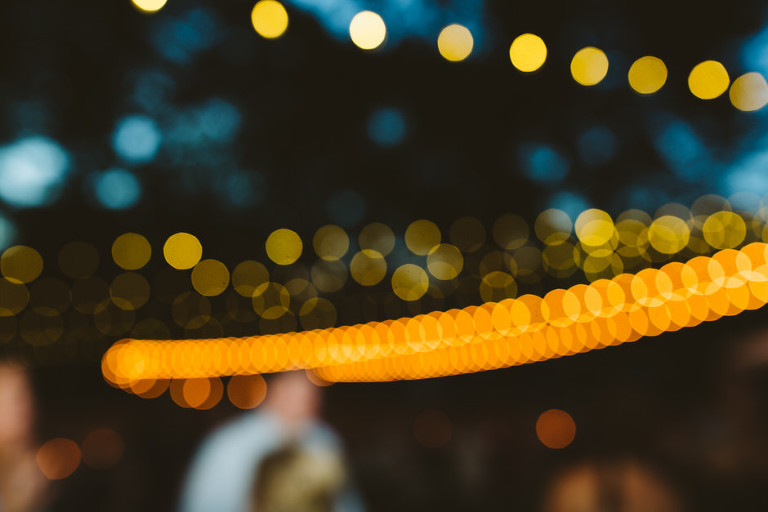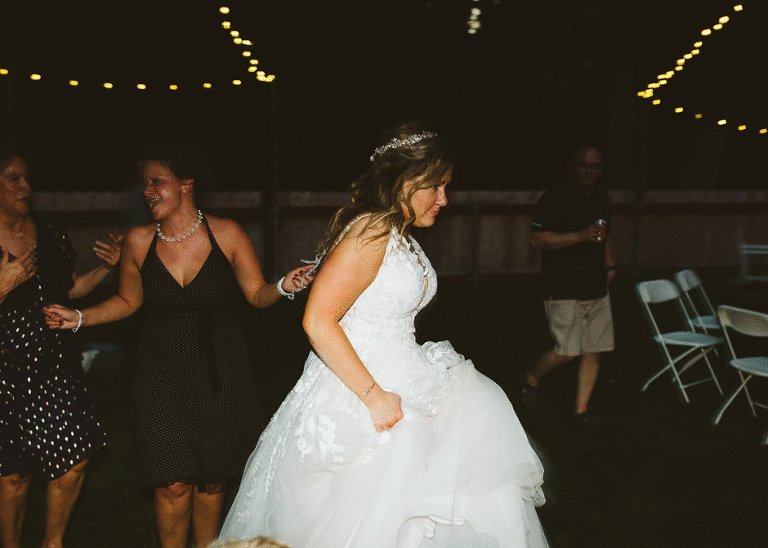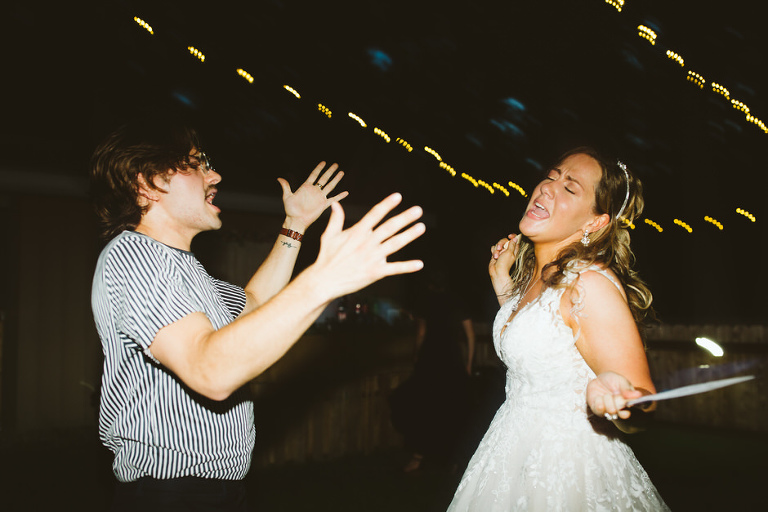 Your Photographer: 
We absolutely loved Rachels energy and passion. She made us feel so comfortable and was nearly as excited for our wedding as we were. Keeping our group on schedule can be a difficult task and she was able to keep us on schedule, while having fun at the same time. She's not just a talented photographer, she's an incredible human being and we are so grateful that she was apart of our special day.
Thank you for checking out this Michigan Backyard Wedding Photographer blog and gallery! I am so thankful you came to my blog to check some things out. If you want are interested in having a rad fun wedding photographer like Rachel Kaye at your amazing michigan backyard wedding please don't hesitate to contact me at hello@rachelkayephoto.com to chat about how I can help you!